Sunday-Sunday & Any Day Arrival Ski Apartments 16/17
Sunday-Sunday stays and any day arrival are available on various residences on selected dates and apartment types (all subject to availability). The applicable price is either the same as for the usual Saturday arrival or pro-rata and includes a Standard Eurotunnel crossing from Folkestone to Calais with a car with Free FlexiPlus upgrade on selected dates on a self-catering basis. A supplement will apply for travel on certain peak dates. Other routes and operators available (including P&O routes from Hull to Zeebrugge or Rotterdam plus Brittany Ferries route from Portsmouth to Caen). Accommodation only deduct £180.  
We don't arrange flights, as we believe that you can get better value by shopping around and booking direct with the low cost carriers and the main airlines trying to compete with them! There are numerous flights to Geneva from London and many other regional airports – see our Flights page. We can then arrange competitive car hire or private transfers to your hotel depending on the airport. You can also book public bus shuttles if you are price sensitive, but we cannot arrange this for you. Quite often you will be left waiting around for these, due to their schedules.
Flexible arrival dates over Christmas and New Year
Many of our residences and hotels are offering flexible arrival dates over the festive period. Arrive when you like and for as long as you like.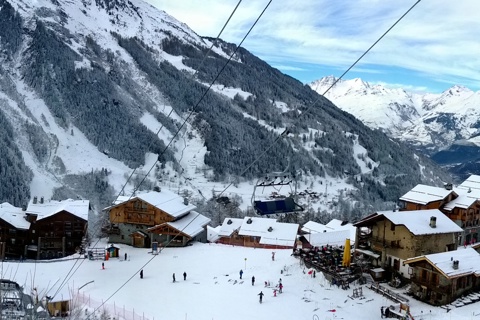 We have a selection of self-catering ski apartments/chalets that are available Sunday-Sunday or any day arrival, subject to availability (as well as the usual Sat-Sat):
Grand Massif (Flaine)
Samoens - 'Neige et Roc' - Studio apartments available on a Sun-Sun basis on request
Samoens - 'La Reine des Pres' - Sundays commencing 08/01, 15/01, 22/01, 12/03, 19/03. Valid on apartment types 2 bed 6, 3 bed 8
Les Carroz – 'Chalets de Leana' - Sundays commencing 08/01, 15/01, 22/01. Valid on apartment type 2 bed 6
HOTELS:
Samoens - 'Neige et Roc' - Sun-Sun arrivals
Le Morillon - 'Le Morillon' - Sun-Sun arrivals
Portes du Soleil
Chatel - 'Les Chalets d'Angele' - Sundays commencing 08/01, 15/01, 22/01, 12/03, 19/03Valid on apartment types 1 bed 4, 2 bed 6, 3 bed 8
Mont Blanc 
Les Houches – 'Hameau de Pierre Blanche' - Sundays commencing 08/01, 15/01, 22/01, 12/03, 19/03. Valid on apartment types 1 bed 4, 2 bed 6, 3 bed 8

Grand Bornand – 'Le Village de Lessy' - Sundays commencing 01/01, 08/01, 15/01, 22/01, 12/03, 19/03
Valid on apartment types 2 bed 6 silver, 2 bed 6, 3 bed 8
Les Saisies – 'Hameau du Beaufortain' - Sundays commencing 08/01, 15/01, 22/01, 12/03, 19/03
Valid on apartment types 1 bed 4, 2 bed 6 silver, 2 bed 6, 3 bed 8
Les Saisies - 'Le Village des Lapons' - Any date arrival between 07/01 - 04/02 and 04/03 to end of season on types 1 bedroom 2/4, 2 bedroom 4/6 apartments 
Pro-rata price

St Gervais - 'Les Arolles' - Any date arrival between 07/01 - 04/02 and 04/03 to end of season on types 1 bedroom 2/4, 2 bedroom 4/6 and 3 bedroom apartments
Pro-rata price

Argentiere - 'Le Cristal' - Any date arrival between 07/01 - 04/02 and 04/03 to end of season on types 1 bedroom alcove 4/5 apartments
Pro-rata price
Tarentaise 
Tignes 1800 – 'Kalinda Village' - Sundays commencing 08/01, 15/01, 22/01, 12/03, 19/03
Valid on apartment types 1 bed 4, 2 bed 6, 3 bed 8
Sainte Foy – 'Les Fermes de Sainte Foy' - Sundays commencing 08/01, 15/01, 22/01, 12/03, 19/03
Valid on apartment types 2 bed 6, 3 bed 8

La Rosiere – 'Cimes Blanches' - Sundays commencing 08/01, 15/01, 22/01, 12/03, 19/03
Valid on apartment types 1 bed 4, 2 bed 6, 3 bed 8

La Rosiere – 'Lodge Hemera' Sundays commencing 08/01, 15/01, 22/01, 12/03, 19/03
Valid on apartment types 2 bed 6
3 Valleys 
Brides les Bains (Meribel) – 'Cybele' - Any date arrival between 07/01 - 04/02 and 04/03 on types Studio 4 or 1 Bed Alc 8 
Pro-rata price
Paradiski
Peisey Vallandry – 'Oree des Cimes' - Sundays commencing 08/01, 15/01, 22/01, 12/03, 19/03
Valid on apartment types 1 bed 4, 2 bed 6, 3 bed 8 

Peisey Vallandry – 'Oree des Neiges' - Sundays commencing 08/01, 15/01, 22/01, 12/03, 19/03
Valid on apartment types 2 bed 6, 3 bed 8

Bourg St Maurice – 'Le Coeur d'Or' - Sundays commencing 01/01, 08/01, 15/01, 22/01, 12/03, 19/03
Valid on apartment types 1 bed 4, 1 bed alcove 6, 2 bed 6

Champagny – 'Les Alpages de Champagny' - Sundays commencing 08/01, 15/01, 22/01, 12/03, 19/03
Valid on apartment types 1 bed 4, 2 bed 6, 3 bed 8 
Montchavin - 'Les 3 Glaciers - Any date arrival between 07/01 - 04/02 and 04/03 to end of season on types 1 bedroom 2/4, 1 bedroom alcove 4/6, 2 bedroom 4/6 and 2 bedroom alcove 6/8 apartments
Pro-rata price
Maurienne Valley 
Val Cenis – 'Les Chalets de Flambeau' - Sundays commencing 08/01, 15/01, 22/01, 12/03, 19/03
Valid on apartment types 1 bed 4, 2 bed 6, 3 bed 8 
Valloire - 'Chalets du Galibier' - Any date arrival between 07/01 - 04/02 and 04/03 to end of season on all types except 2 bedroom Alcove Duplex apartments
Pro-rata price

La Toussuire - 'Ecrin des Sybelles' - Any date arrival between 07/01 - 04/02 and 04/03 to end of season on types 1 bedroom 2/4, 1 bedroom alcove 4/6 and 3 bedroom apartments
Pro-rata price

La Toussuire - 'Balcons des Aiguilles' -  Any date arrival between 07/01 - 04/02 and 04/03 to end of season on types 1 bedroom alcove 4/6 apartments
Pro-rata price

La Toussuire - 'Hauts de Comborciere' -  Any date arrival between 07/01 - 04/02 and 04/03 to end of season on types 1 bedroom 2/4, 2 bedroom 4/6 apartments
Pro-rata price
Val Cenis - 'St Charles apartments' - Flexible stays and non-Sat arrivlas between 10/12-03/01 and 24/03-15/05
Oisans
Montgenevre – 'Chalets des Dolines' - Sundays commencing 08/01, 15/01, 22/01. Valid on apartment type 1 bed 4, 2 bed 6
Serre Chevalier – 'Hameau du Rocher Blanc' - Any date arrival between 07/01 - 04/02 and 04/03 to end of season on types 1 bedroom 2/4, 2 bedroom apartments
Pro-rata price