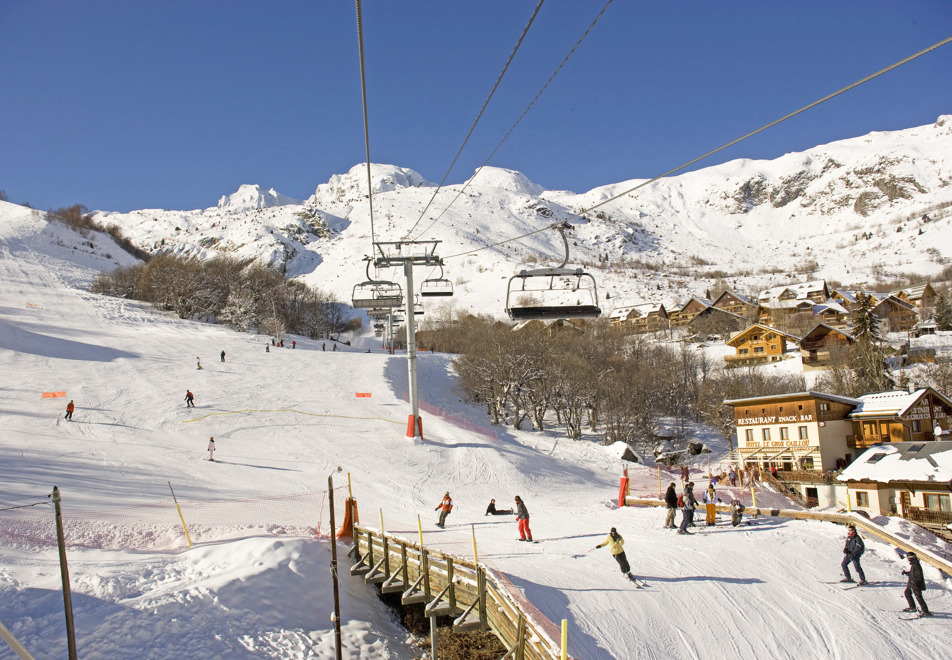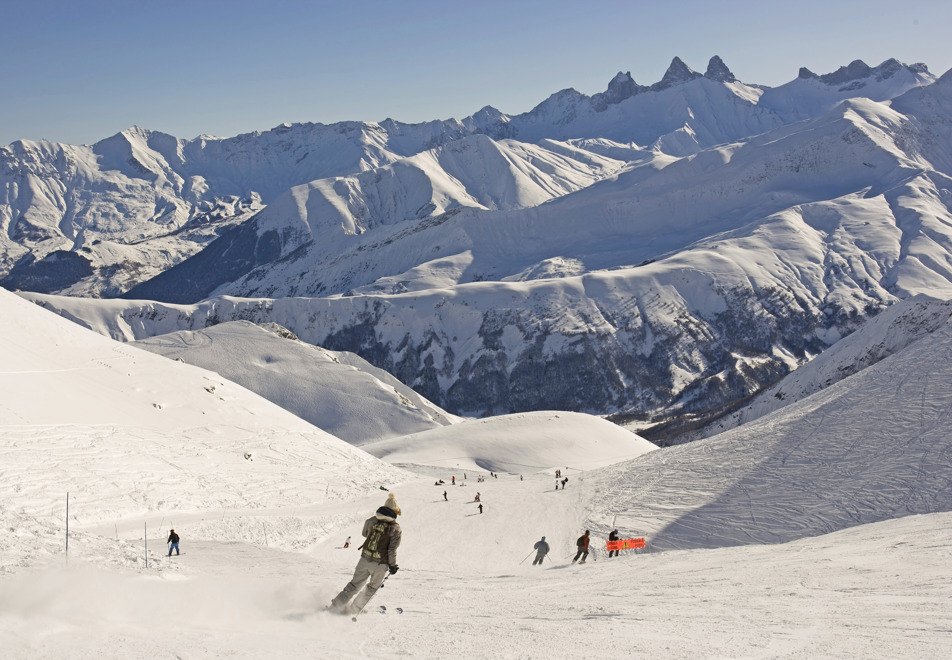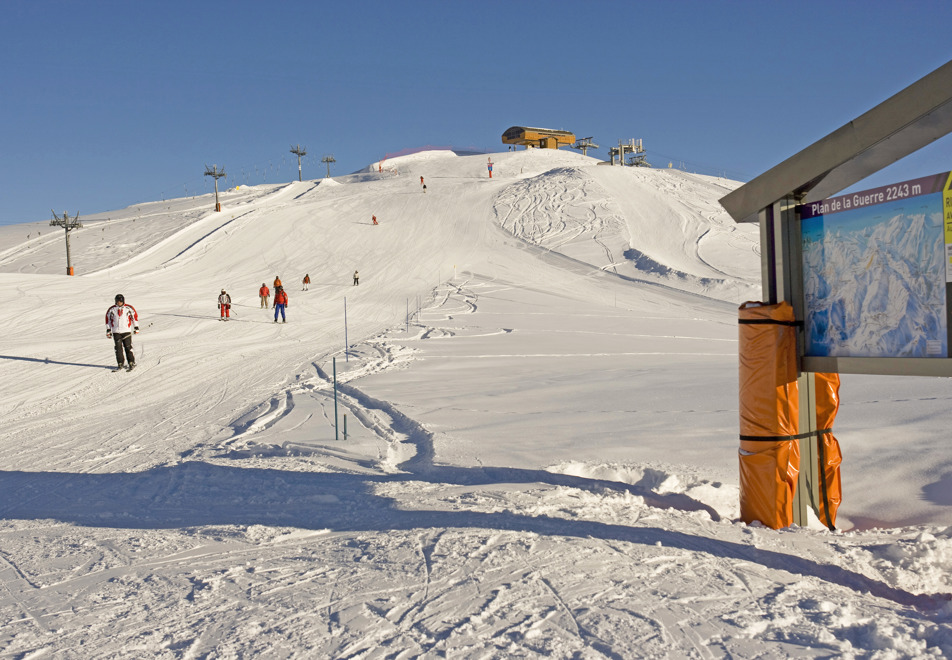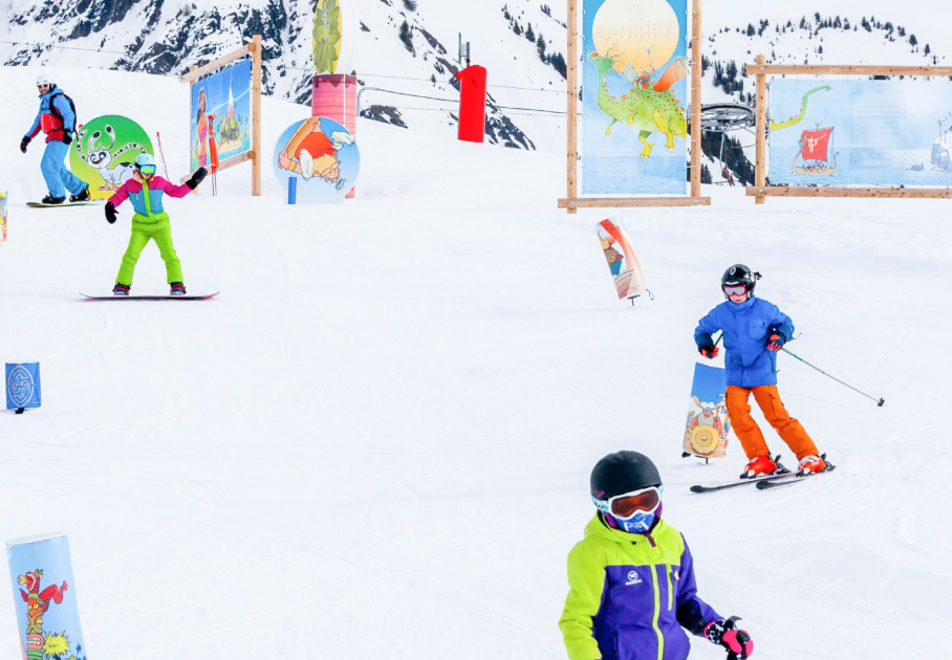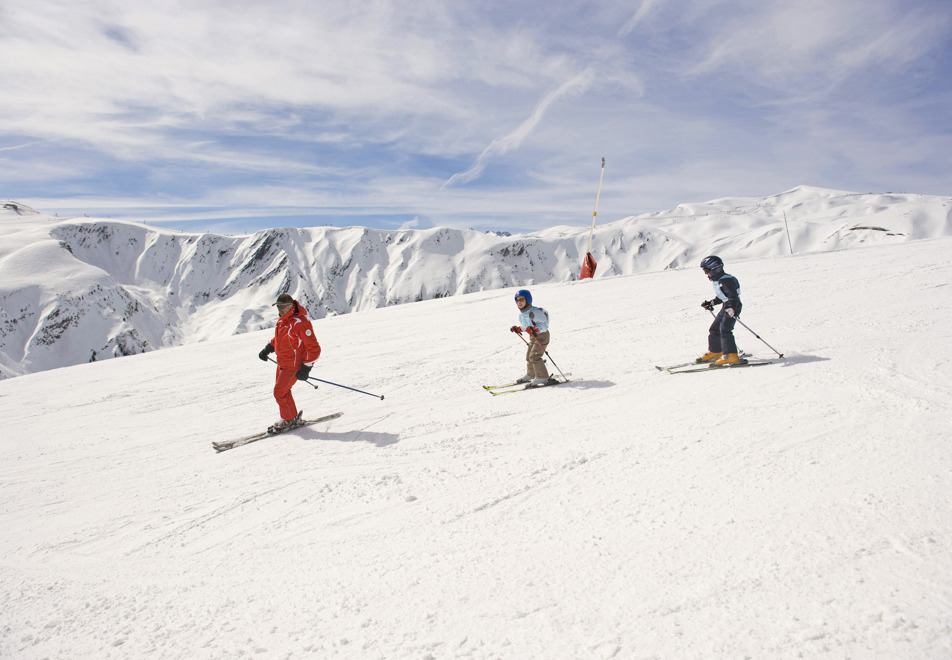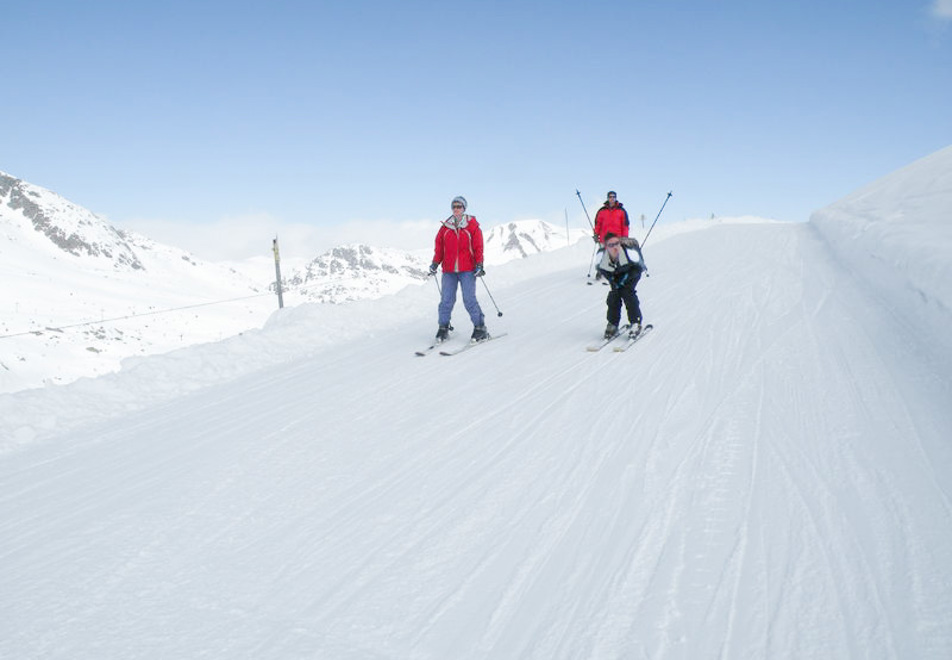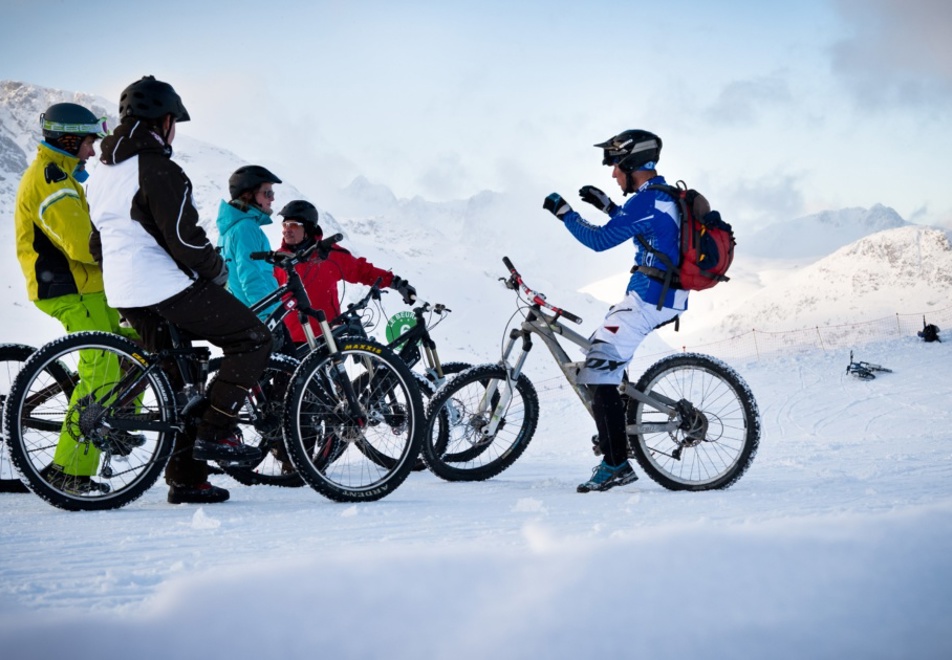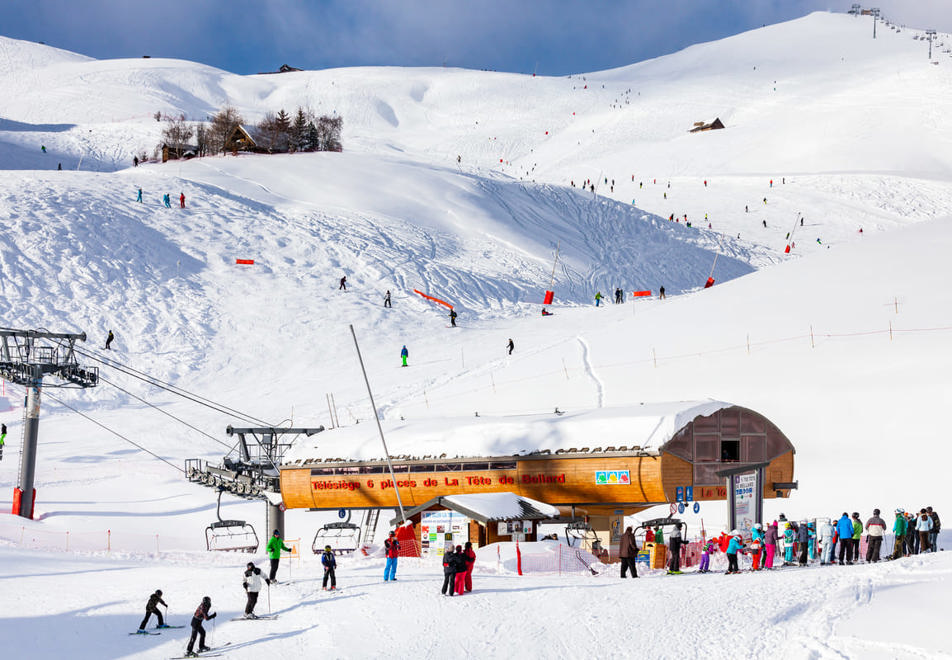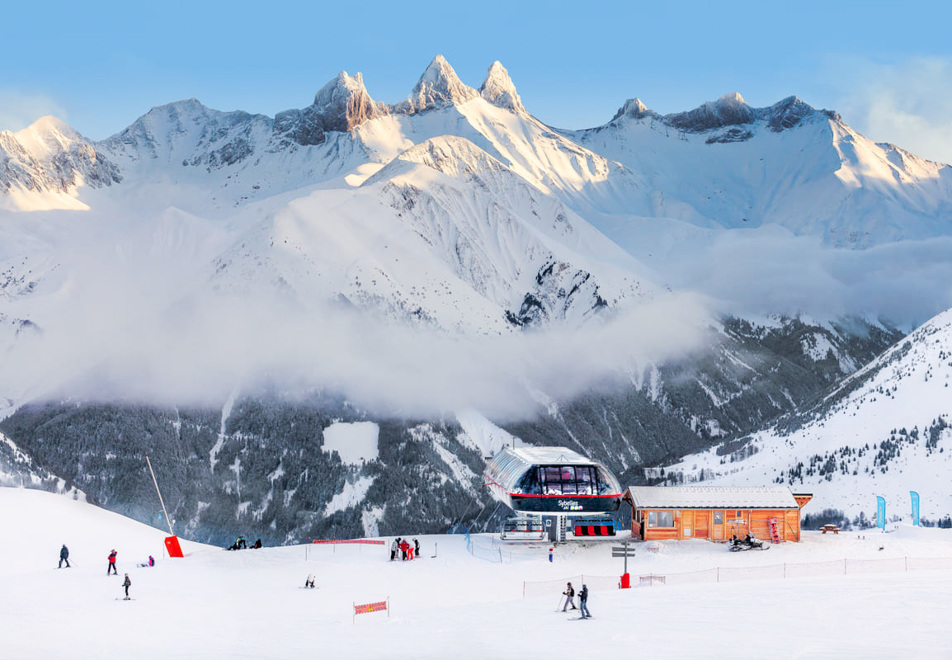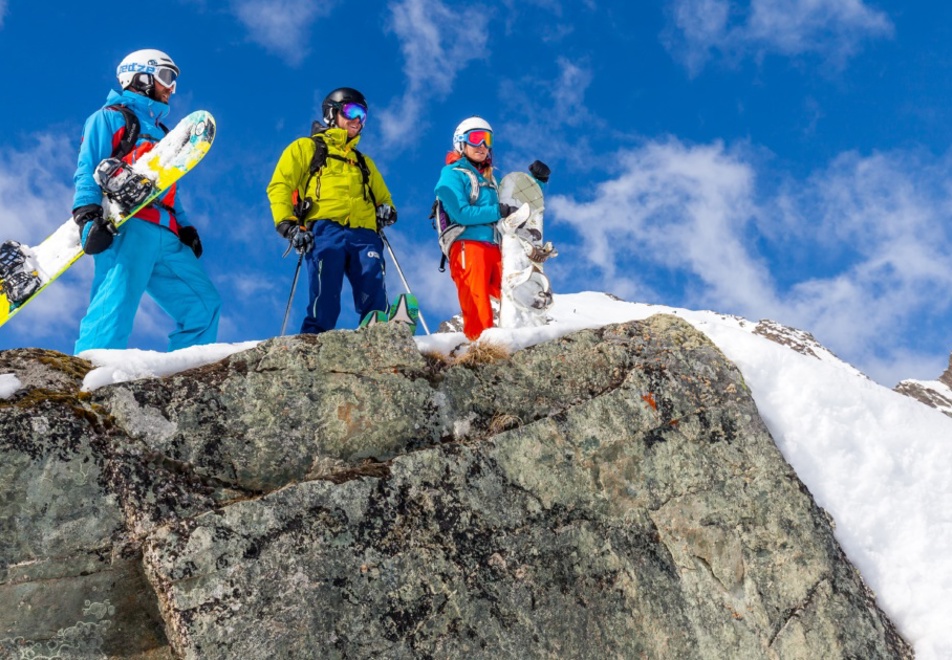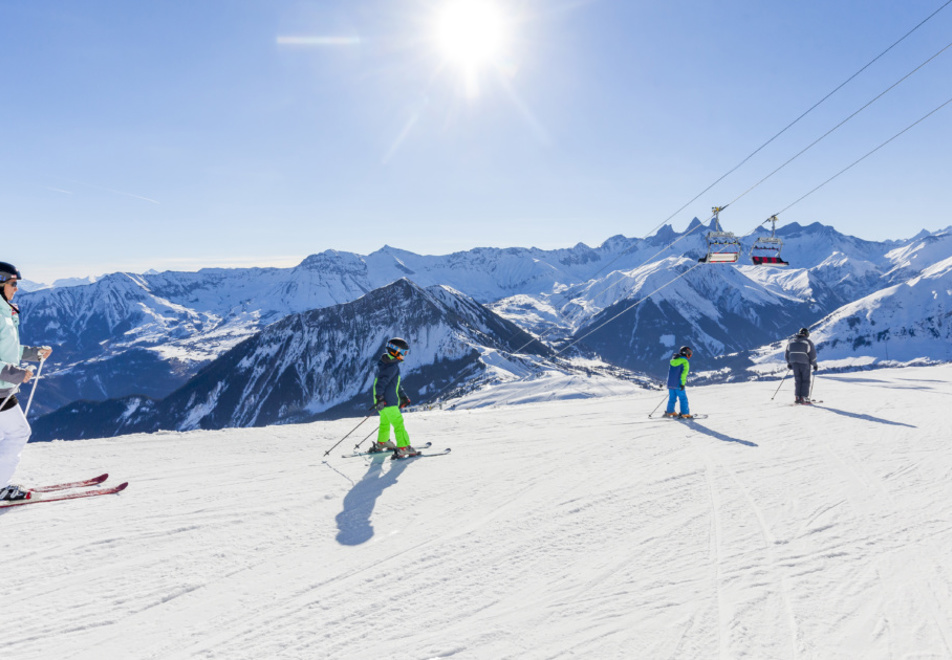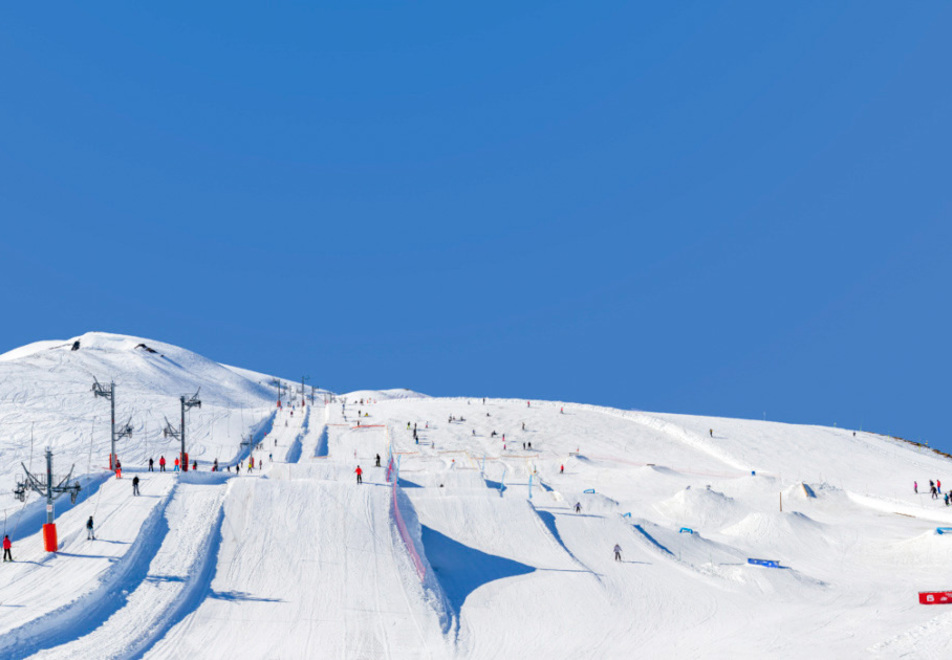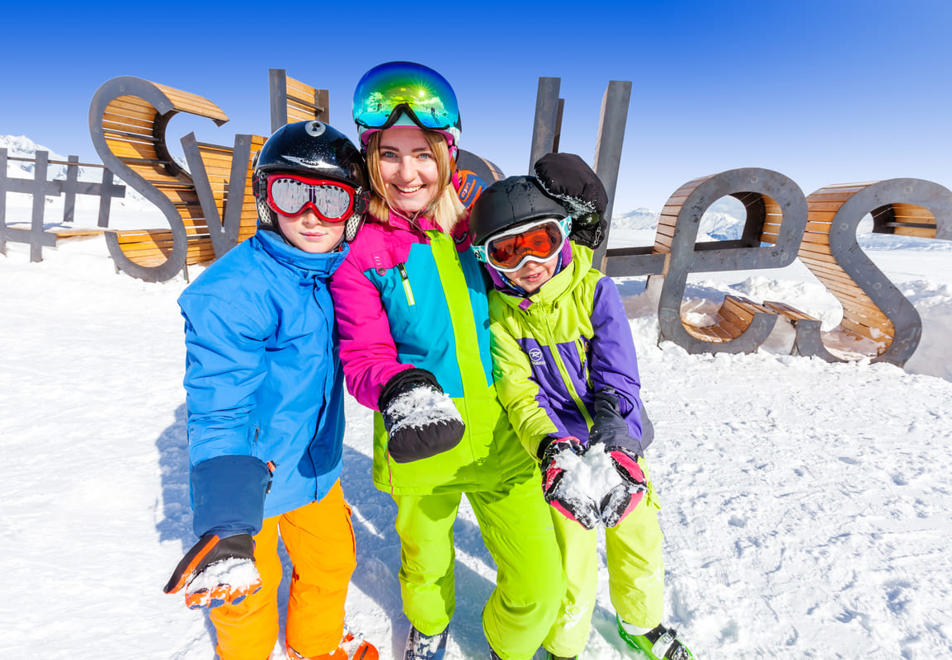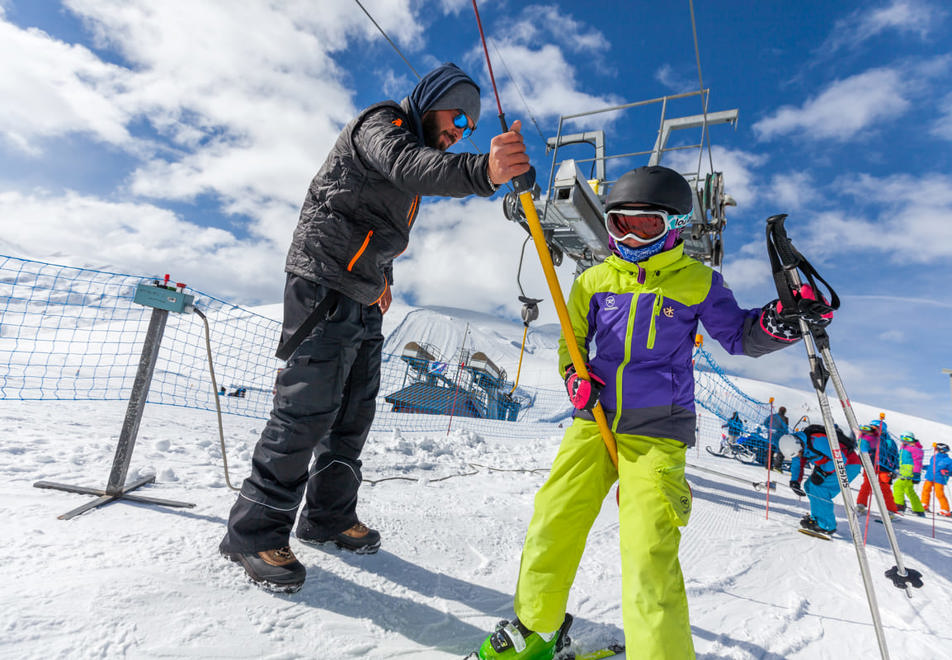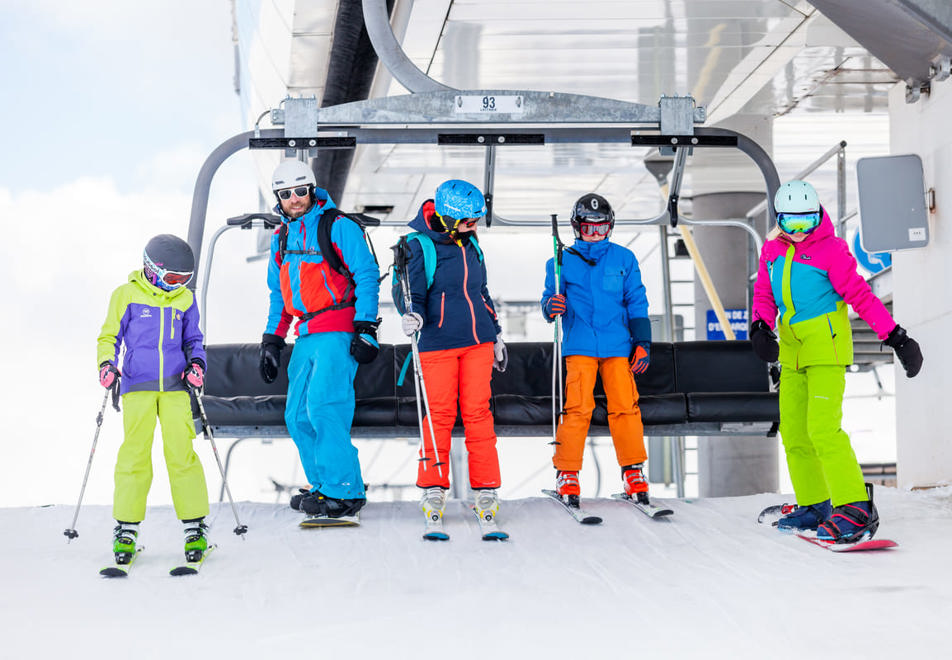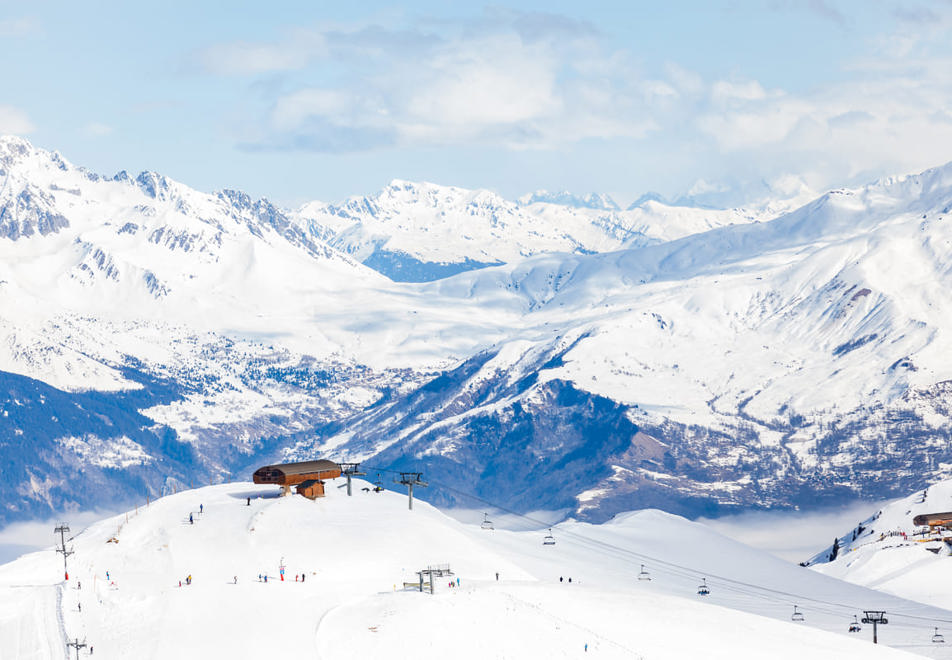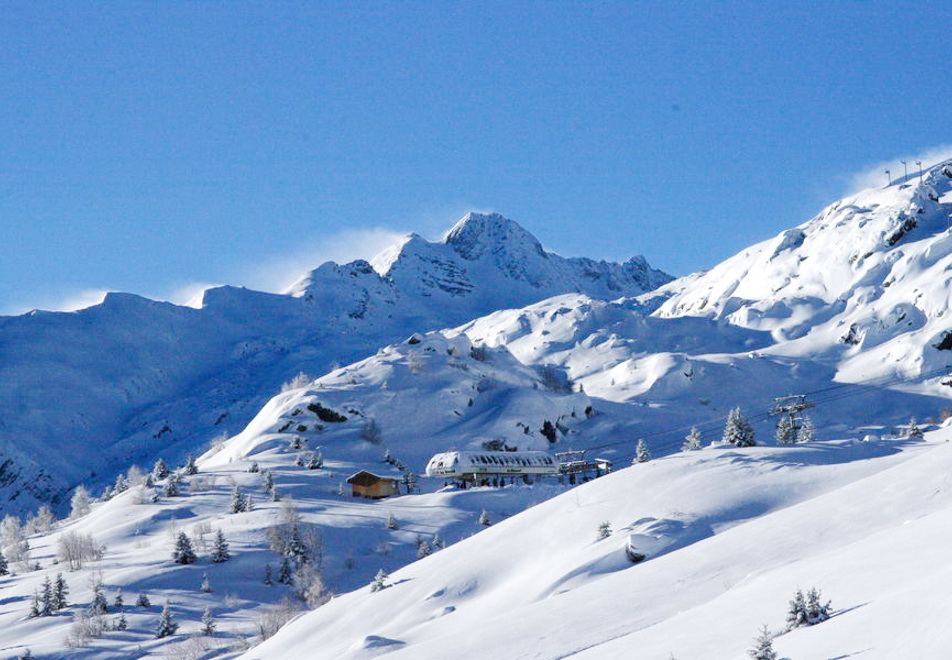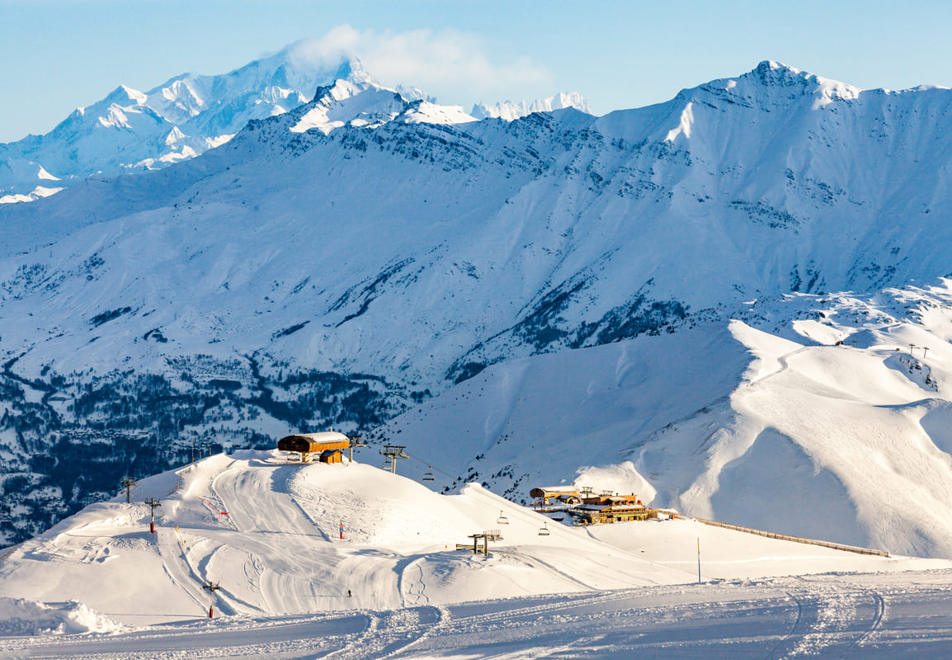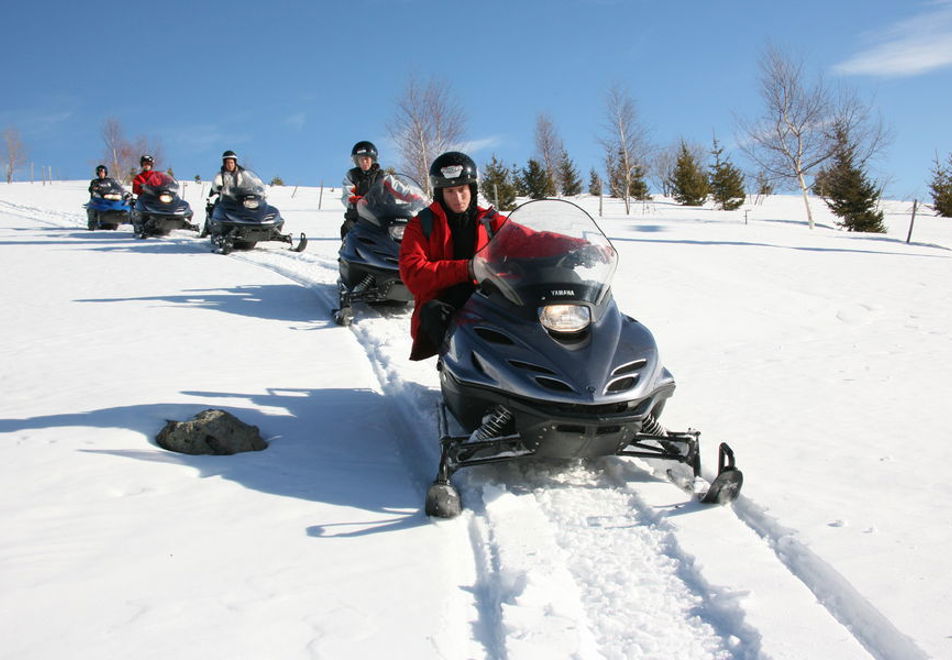 Thinking of skiing in St Sorlin d'Arves? Sitting on a high sunny plateau above the Maurienne Valley, Saint Sorlin is surrounded by majestic peaks such as the 3500-m Aiguilles d'Arves and L'Etendard.
Why St Sorlin d'Arves Ski Resort?
Stunning scenery
Traditional village with welcoming ambience
Fully linked to the Sybelles ski domain
St Sorlin Resort Information
This is a quaint mountain village of carefully preserved Savoyard farmhouses and long-established shops built around an early 17th-century Baroque church. 
Saint Sorlin is a proud community that has successfully managed to preserve its ambience and traditions down the years – on feast days the villagers dress up in their colourful traditional costume. You can visit the farmhouse cheese factory to watch Beaufort being made, and the village museum provides a fascinating insight into an Alpine community where the pace of life has always been dictated by the seasons.
At the same time, Saint Sorlin caters for the exacting demands of a 21st century ski holiday with a choice of restaurants, bars, a 'traiteur' selling delicious regional specialties, and even a hairdressing salon.
Peak Retreats features a range of ski apartments in Saint Sorlin d'Arves. All our accommodation is hand-selected and chosen to provide an ideal base for a St Sorlin ski holiday. 
Les Sybelles Information
Six unusual ski resorts untouched by mass tourism in 2003, under the name of Les Sybelles, now make up one of the most recently connected ski areas in France. With its varied ski slopes spread over 393 ha between 1100 and 2620m alt., the Sybelles ski area is one of the large linked ski areas. It is the 4th ski area in France and the 7th in Europe and offers a wide variety of slopes for all levels for technical skiing or easy skiing. Connections between resorts are favored by fast ski lifts accessible to beginners who can also discover by roaming the summits of Sybelles only by the blue runs.
The Sybelles ski area offers exceptional views of the entire Alps from Mont Blanc to the famous Aiguilles d'Arves or the Belledonne chain and the Ecrins. Visible from the slopes accessible to skiers but also to pedestrians by detachable chairlifts, Les Sybelles has 360° panoramas.
Ski greener - always aware and always committed to a more sustainable future, Les Sybelles have entered into a partnership with EDF to source exclusively renewable energy. All energy requirements for the production of artificial snow and the operation of the ski lifts will be covered by the supply of "green" energy coming exclusively from hydraulic dams and certified 100% renewable.
Le Corbier, Saint-Sorlin-d'Arves, Saint-Jean-d'Arves, La Toussuire, Saint-Colomban-des-Villards, Les Bottières: 6 individual resorts linked by the central peak of Ouillon with an altitude of 2,431 metres.
By the start of 2022, almost €35 million will have been invested in Les Sybelles ski area. The goal is to improve inter-valley links and offer ever more freedom, comfort, and speed to skiers, through creating, growing, and securing the slopes, extending the artificial snow network, and building new ski lifts. Three new ski lifts will complete the ski area: - a new fixed-grip chairlift in La Toussuire was ready for winter 2019. - 'Le Gaston Express', a detachable chair lift in Le Corbier for winter 2020 and the opening of a cable car in the Saint-Sorlin-d'Arves sector for winter 2021.
Les Sybelles has 1 AOP (recognised local product) - Arvan Valley's Beaufort cheese. It was a Bronze medal winner at the Concours Général Agricole in 2019. A 'Made in Les Sybelles' product called The Sybelles Bulles - is a 2015 special vintage AOP sparkling wine, produced in collaboration with Philippe Viallet, one of the best wine producers in Savoie.
SAINT SORLIN SKIING
The village's own 120km ski area is now fully linked into the giant Sybelles circuit which offers an impressive 310km of piste above the villages of Le Corbier, St Jean d'Arves, La Toussuire, Les Bottières, and St Colomban des Villards. The skiing here is suited to all standards and snowboarders have the choice of two terrain parks.
Saint-Sorlin is fully linked to the Sybelles ski domain, the largest in the Maurienne Valley with 310km of piste and six resorts (and the fourth largest in France!). Other resorts include La Toussuire, Les Bottières, Le Corbier, Saint-Jean d'Arves, Saint-Colomban.
Les Sybelles (a clever play on words – it's based on "Les Six Belles" – the "six prettiest" – resorts!)  is a huge ski area with two snowparks including thirty modules, an Arvapark, ski routes for hiking, cross-country skiing and snowshoeing, sleigh rides, snowmobiling, and "baptêmes de neige" flights in a microlight or hang-glider. And let's not forget the gastronomic delights: fondue, raclette, reblochonnade, tartiflette and many traditional Savoyard recipes await you at the local restaurants.
Find out about the linked ski area of Les Sybelles in our Les Sybelles resort guide.
Additional ski fact info, main ski info in resort facts box at top of page (22/23):
Saint Sorlin only - 120km of pistes, 17 lifts (9 chairlifts, 5 draglifts, 3 carpet), 39 slopes:
Green slopes: 9
Blue slopes: 14
Red slopes: 9
Black slopes: 7
ST SORLIN SKIING
ST SORLIN AND LES SYBELLES BEGINNERS
In each of the Les Sybelles resorts they have a dedicated beginners' area. In St Sorlin, the beginners' nursery slopes are right by the village and La Balme offers plenty of runs to progress to with further green and blue runs.
These are the lifts where you can access beginner slopes:
Télésiège du Plan du Moulin (chair)
Téléski du Mollard (draglift)
Télésiège de la Lauze (chair)
Téléski des Choucas (draglift)
Tapis du Mollard (magic carpet)
Téléski Bobby (draglift)
Tapis des Choseaux (magic carpet)
The installation in 2022 of a new covered conveyor belt has improved access to the beginners' area in Le Mollard. This new installation in the centre of the village complements the Bobby surface lift and allows young skiers and snowboarders to easily and comfortably join the beginners' slope.
ST SORLIN AND LES SYBELLES INTERMEDIATES
There are a number of red slopes at La Balme and Les Perrons just above St Sorlin going up to 2600m and further intermediate opportunities across into La Toussuire.
ST SORLIN AND LES SYBELLES EXPERTS
There are a couple of black runs at La Balme and a longer black run at Perrons linking back down into the village. But over a quarter of the slopes in Les Sybelles are red runs. And there's a snowpark at the top of Le Corbier.
ST SORLIN AND LES SYBELLES SNOWBOARDERS
The terrain is suited to beginner and intermediate snowboarders.
ST SORLIN AND LES SYBELLES OFF-PISTE
In Saint Sorlin, Les Perrons has the best off-piste in the area.
ST SORLIN RESORT RUNS
Most of these resort runs are green.
LES SYBELLES FUN AREAS
THE SNOWPARK
The Sybelles Snowpark, located at the foot of the Ouillon (along the telescopes of the Torret No. 18 - Saint Sorlin d'Arves ski area) - ), is designed for mad riders freestyle. 
The snowpark is composed of:
RED LEVEL:
4 tables
1 Box montée
1 Tbox C gauche
1 Tbox C droite
1 Tbox plat-desc
1 Box double
1 Step Up
1 Pyramide
1 Trp JIB
1 Hip
BLACK LEVEL:
2 tables
2 tables pro
1 rail montée
A rail Lip
Including 4 lines of descent with woops and bumps, 1 "Shred zone" and 1 "cool zone".

Composition:
1 green line (XS) with 5 woops
1 blue line (S) with 3 bumps (tables)
1 red line (M) with 3 bumps (tables)
1 Shred zone (XL) with 10 modules and 2 bumps
1 Cool area with 4 beginner modules, sun loungers and picnic tables.
BOARDERCROSS
The Les Sybelles Boardercross are located:
On the La Toussuire side (along the Pierre du Turc blue slope) and offers a 1.5km long ski cross circuit comprising 14 bends and 14 whoops, a series of mini-bumps providing incredible sensations
The Mont Cuinat Boardercross in Saint Colomban des Villards offering a 600m dedicated space with 7 banked bends
Beginner into the winter sports? The new Boarderkid is ready to welcome you at the snow front at Rougemont, offering a 100m dedicated area!
THE FUN VIKINGS RUN
The fun track of the Vikings, located on the blue slope of the Plateau of Saint Jean d'Arves and extended on the green slope of the Escargot, offers playful modules, funny turns and a photo frame for the souvenirs on the theme of the Vikings. All accessible from 4 years old for the pleasure of young and old.
SNOWPY MOUNTAIN
Snowpy Mountain is the play area of ​​La Toussuire for children. This area is also embellished with a brand new chairlift "Les 2 Croix" supported by the ski lift "Chamois" to facilitate and smooth traffic around this new area. 3 areas to discover:
Relaxation zone (Snowpy Relax) - hammocks, cabanas, deckchairs, swings and picnic tables for a family break. A giant sculpture of Snowpy, the crazy white rabbit, will be the point of attraction of the area,
Mini KL track (Snowpy Speed) - the mini KL (Kilometer Launched) for family downhill records. From the totems of departure to the arrival signal, you will enjoy to race and know your speed with the LED display,
Fun track full of activities (Snowpy Stars Camp) - the fun way to ski like a star! A slope full of experiences with many funny modules: a fired portico, a TAP hand, an arch, chimes, rotating hands and Snowpy figurines everywhere.
FREERIDE PISTES
The ski area Sybelles offers freeride areas. These are identified tracks, safe and ungroomed for all lovers of powder skiing and addicts of the ride in nature areas. Rendez-vous side Saint Sorlin d'Arves – Bartavelle slopes, Perrons Bas and Perdrix.
St Sorlin Ski Hire (Pre-bookable)
Pre-book your St Sorlin d'Arves ski hire with Peak Retreats.
To download the ski extras form, see 'Helpful links' further down the page.
Please note, these Pound Sterling prices are for indication only. They will fluctuate based on Euro/£ exchange rate. Please call us for the latest prices.
Special offers: *7 days for the price of 6.  Free Skis/snowboard & boots (Blue/Red) for party leaders of groups of 10 or more all taking equipment. 1 Free helmet per child aged 6 and under for every adult booking skis or snowboards & boots (must be under same booking reference and requested on form above). Other duration prices on request - Cross Country ski prices on request.
Find out more about Peak Retreats ski hire
---
St Sorlin Ski Passes (Pre-bookable)
Pre-book your St Sorlin d'Arves lift passes with Peak Retreats. Find out more about Peak Retreats ski passes
To download the ski extras form, see 'Helpful links' further down the page.
Please note, these Pound Sterling prices are for indication only. They will fluctuate based on Euro/£ exchange rate. Please call us for the latest prices.
Other lift passes on offer (to buy locally in resort in Euros):
If you wish to book only half day or a day pass, or perhaps a few days consecutive or non-consecutive (Peak Retreats usually only pre-book 6+ days passes), then these can be bought in resort at the lift pass office, in €'s. This may suit those who only ski a few times during the week or who only want to ski the immediate local area rather than the full area (there are usually various lift passes on offer that cover different parts of the ski area). Each resort usually has a beginner's pass too which covers a small area in which to learn, which may be all you need for a few days as a beginner (some areas are even free). Prices can be found on the tourist office website if you need a guide.
St Sorlin Ski School (Pre-bookable)
Pre-book your St Sorlin d'Arves ESF ski school with Peak Retreats. Find out more about Peak Retreats ski school
Ski school for children is available to book from 2.5 years to 17 years, in St Sorlin, with Peak Retreats. 2.5-5-year-olds will go into the Piou Piou lessons. Children can learn to snowboard from 8 years+.
For ski school times and prices, please download the ski extras form from the 'Helpful links' further down the page. Please note these are just guiding prices. Please call us for the latest prices.
St Sorlin d'Arves 

private lessons (not pre-bookable, book direct):

Individual tuitions can only be purchased directly from the ski school. Peak Retreats cannot pre-book these.

How to book:
You can book online with ESF St Sorlin or contact them by phone on 0033 479 59 71 53. It is advisable to book before you go and in good time as instructors get very busy, especially in Peak times.

Prices vary from resort to resort but are around €40-80 per 1 hour lesson for 1 or 2 people (the more people you have the cheaper it usually is so you can split the cost). Most resorts offer a choice of 1 hour, 1.5 hours or 2 hour lessons. These may be in the morning or afternoon and are usually at select times. If you only fancy just one private lesson, this is usually fine. Otherwise, you can book a course of private lessons over as many days (consecutive or non-consecutive) as you'd like. However, it is more cost-effective to book group lessons for the week (which we pre-book).
---
St Sorlin d'Arves non-skiing childcare (not pre-bookable, book direct)
Les Petits Diables Nursery
Look after children from 3 months – 6 years in nursery and 6-12 years in daycare. Sun-Fri 8.45am-5.30pm.
Meals and snacks are at clients' expense, possibly catered meal. Please register in advance.
How to book:
Please contact them direct for prices and to book. It is advisable to book before you go and in good time as spaces get filled quickly, especially in Peak times.
0033 479 59 72 19 or lespetitsdiables73@hotmail.fr  
LES PETITS DIABLES - GUERIN Martine
RESIDENCE L'OUILLON
73530 ST SORLIN D ARVES
Babysitting services available – see with tourist office for a list.
Top winter activities to experience in St Sorlin d'Arves!
Please note Peak Retreats do not book any activities and most activities are payable.
Snowsport activities:
Sledging
A secured sledge area is located under the Plan du Moulin road (depending on snow conditions.
Mountain guides
Snowshoes walk and hikes, in small groups and supervised by Mountain guides. Panoramic outings for a morning, afternoon or full day, to high altitudes by way of the chairlift, by night under torchlight. Forest, pastures and chalets, discovery of the mountain environment and heritage. Programs and registration in all sports stores and at Arvan photo.
Alpinism
From April: ski touring, Vallée Blanche (Chamonix), snow shoe outings (mountain and high mountain), iron way, climbing alpinism. Slide show, mountain and alpinism lectures.
Snowmobile skidoo
Accompanied 2 seats skidoo outings are proposed every day. Discover Saint Sorlin d'Arves and its large area in a different way.
Snow bike + Fat bike
Downhill Mountain biking on snow when the ski area closes. 7 kilometre run 800-metre descent. Thrills and giggles guaranteed (bike + helmet+ support).
Other activities:
Paragliding and Microlight
Fly over the Sybelles ski area with a professional. Paragliding take off on foot or ski. First flight from 6 years old. Information and registration by phone
High forest course
Explore the forest by moving from tree to tree in safety, with family, friends. Open to all from April, depending on weather and snow conditions - on request.
Baroque church
Guided tour every week.
Stroll through the hamlets
Walking through saint Sorlin d'Arves hamlets. Please ask for the free French booklet at the tourist office for a walk around the hamlets of Saint Sorlin and its heritage.
Bus excursions
Day excursion in Winter: Turin every Wednesday, Information and booking at the Tourist Office. Also trips, concerts, shows…
Please note: All the above information is for information only. For the most up-to-date information please visit the resort tourist office website. All prices for activities are in local currency (€ Euros) and are bookable and payable locally in resort.              
St Sorlin Tourist Office     
St Sorlin Tourist Information
Tel +33 479 59 71 77
www.saintsorlindarves.com 
St Sorlin d'Arves Resort News & Events 2023/24
News:
Events: 
16th-17th December 2023 - come and celebrate the 20th anniversary of Les Sybelles with a festive DJ set at Ouillon
21st December 2023 - meet Father Christmas on the slopes at Ouillon
28th December 2023 - Festi'kids
30th December 2023 - giant oyster bar and Sybelles bubbles tasting at 2400m
13th-14th January 2024 - Festival des Sybelles, 2 festive days to have fun at 2400m alt. with a musical stage set up in Ouillon with Mont Blanc as a backdrop. DJ sets on Saturday, pop-rock atmosphere and French variety on Sunday
15th, 22nd, 29th February 2024 + 7th March 2024 - Festi'kids
17th March 2023 - traditional Beaufort cheese making (Beaufort au sommet)
30th-31st March 2024 - Féria des Cimes, 2 days of skiing, rugby and fun! Entertainment, games, fun facilities, kids' tournaments, musical atmosphere and gourmet village
St Sorlin Après-Ski, Bars & Restaurants
15 bars/restaurants. Disco/pubs – 2. D'Sybell Club open from, 11pm-4am at Plan au Moulin. Free bus service on request.
L'Avalanche pub/café open from 1pm-2am -  Pub, concerts, sports broadcast, free WiFi access. In a fun and festive atmosphere, beers, cocktails, shooters and music.
St Sorlin Restaurants
HORS PISTE (WINES / COCKTAILS / TEA ROOM / PANCAKES)
Les Gentianes
0033 4 79 64 47 90
PIZZA DI PEPPINO
A home made pizza dough in the Sicilian tradition, quality products mostly imported from Italy. On site or delivery.
les balcons de st sorlin
Tel: 0033 6 76 13 09 66
LE GROS CAILLOU
Snack-bar, savoyard specialities. Lunch and diner. South facing terrace. On slope restaurant, near skiers bridge.
Tel: 0033 4 79 59 71 19
LES NEIGES
Friendly atmosphere, fireplace, specialities and home made desserts. Fine wines, topic nights and take away. 
Tel: 0033 4 79 59 71 57
LE CHOUCAS
Envoy, at lunch time, our quiet and sunny terrace, just at the foot of slopes.
Tel: 0033 4 79 59 71 29
L'AUBERGE DES TURINS 
Mountain pasture chalet, warm atmosphere. Panoramic view and south facing terrace. Savoyard specialities, menus. 
Route du Col de la Croix de Fer
Tel: 0033 4 79 05 92 69
LE CHALET DU MOULIN
Located at Plan du Moulin - At the foot of the slopes. Solarium terrace south facing. At lunch: self service + Savoyard specialities.
Evening: Savoyard specialities, refined cuisine.Warm atmosphere. Free private shuttle service on request. Daily open.
le plan du moulin
Tel: 0033 4 79 59 56 85
LE RÉGAL SAVOYARD
Traditional cooking, savoyard specialities, menus, pizzas, take away.
LES FERMES DE ST SORLIN
Tel: 0033 4 79 59 16 02
CHEZ NATH'
Lounge with fireplace, panoramic terrace, friendly atmosphere. Snack, bar, savoyard specialities, pancakes, ice cream, take away....
Tel: 0033 4 79 20 47 44
L'ARBATE
Gourmet Bistrot
Tel: 0033 4 79 59 78 91
LA PETITE FERME
Restaurant bar bowling located located on the snow front , behind the tourist office, we welcome you in a warm and family atmosphere o try different menus, pizza, and local specialities. Take away, free WiFi, free private shuttle from 7 pm. Open daily until 2am.
Tel: 0033 4 79 20 47 41
RESTAURANT BAROCK
Located in the residence l'Orée des pistes" and open to all. Accessible from the ski slopes or from the road of Col de la Croix de Fer, it propose Savoyard specialities.
Tel: 0033 4 79 56 84 57
LE CENTRE
Located in the heart of the village, near the Tourist Office. Savoyard Specialities, different dishes and pizzas on site or takeaway.
Centre village
Tel: 0033 4 79 83 08 98
L'AVALANCHE RESTAURANT PIZZERIA 
Friendly atmosphere, savoyard specialities, menu, pizzas, take away, terrace. Open every day .
Tel: 0033 4 79 59 10 53
LE CERF AUX BOIS D'ARGENT
Located on the slopes, welcomes guests in an atmosphere both elegant and relaxed around a large terrace for lunch and a typical room and warm arourd its fireplace in evening.
Route des Prés Plans
Tel: 0033 4 79 59 70 21
GRANDMONT
GRANDMONT the restaurant at the top of the village next to the artificial lake bathing and the "Grotte du Yéti", offers traditional cuisine, Savoyard specialities and pizzas.
Tel: 0033 4 79 59 85 14
LE BEAUSOLEIL
On the snow front , bar, menu, Savoyard specialities. Take away. Panoramic south facing terrace
Tel: 0033 4 79 59 71 42
St Sorlin Mountain Restaurants
L'ALPES
Facing the Aiguilles d'Arves and panoramic view on the village. Easy access with Plan du Moulin chairlift, possible for pedestrian and with snowshoes.
Tel: 0033 6 81 91 33 12
LE TETRAS
Jacqueline and Christophe welcome you in their old pasture chalet at the bottom of "3 lacs" chairlift. Terrace, solarium.
Tel: 0033 4 79 59 36 79
LE SAINT S'O
At the heart of the ski area, located at the 3 lacs chairlift departure, th ST'SO is the restaurant for you with its varied menu, fast service from 10:30am to 4:30pm, sunny terrace, room with fireplace. Take away.  Pedestrian and snowshoes access.
Tel: 0033 4 79 59 36 90 ou 06 73 64 73 42 
LA BERGERIE
Access by "Plan du Moulin Express" chairlift – « Les Boulevards » slope. Pedestrian and snowshoes access. South-facing terrace, solarium, views over the Aiguilles d'Arves. Crêpes at any hour. Home cooking, quick service, Take-away. Children entertainment. 
Tel: 0033 6 75 37 43 89 
---
St Sorlin Amenities
St Sorlin d'Arves is served by a range of amenities including:
Welcome drink on Sundays with presentation of the resort by the Tourist Office.
Doctors, pharmacy, cash point, bakery, hairdresser, bakery open until 7pm, Sherpa, laundrette, butchers.
Chemist is open 9-12am + 2.30-7pm.
Sherpa is open - Winter opening hours: 8-12.30am / 3-7.30pm every day.
Bakery Opening hours 7am-7.30pm every day.
Tabacconist / newspaper and magazines / souvenirs / games, open every day 7.30-12.30am / 2.30-7.30pm
Getting to St Sorlin d'Arves, France
By Road:
Driving distance from Calais 957 km (9 hrs 35 mins)
From Calais, take A26 Motorway towards Reims and Troyes, then Dijon, Lyon, then A43 Motorway Exit Saint-Jean de Maurienne. Follow signs to 'Vallee de l'Aran' via the D 926 (20 km from the motorway exit).
Last general petrol station in Saint Jean de Maurienne although petrol station now at the entrance of Saint Jean d'Arves, direction Col de la Croix de Fer. Self-service 24h/24. Credit card payment only.
By Rail:
Saint-Jean de Maurienne station (22km)
In winter there are schedule bus transfers from the SNCF rail station of Saint-Jean de Maurienne to the above resorts.
Lyon - Train station directly inside the airport. It takes approx. 1h30 by train from Lyon Saint Exupéry to Saint Jean de Maurienne.
Grenoble - It takes approx. 1h30 by train from Grenoble to Saint Jean de Maurienne.
Chambery - It takes approx. 50 mins by train from Chambéry to Saint Jean de Maurienne.
Geneva - It takes approx. 2h40 by train from Geneva to Saint Jean de Maurienne.
Bus ticket from St Jean de Maurienne to St Sorlin:
At your service on Saturday to facilitate your arrival and departure! Purchase tickets at office de Tourisme de Saint Sorlin d'Arves (at least 48 hours before departure). Booking by phone, mail or online.
Airports:
Chambery 80 km from Saint Sorlin (1 hour)
Grenoble 120km from Saint Sorlin (2 hours)
Turin Airport is 166km from Saint Sorlin (2 hours)
www.aeroportoditorino.it
Geneva 188 km from Saint Sorlin (2 hours)  
www.gva.ch/en
Lyon Saint-Exupery 200 km from Saint Sorlin (2 hours)
Public shuttle bus transfers from airports
Lyon Airport - St Sorlin via St Jean de Maurienne (www.lys-altibus.com). 
Chambery Airport - St Sorlin via St Jean de Maurienne (www.lys-altibus.com). 
Saint Sorlin d'Arves Airport Transfer
For pre-bookable private transfer rates with Peak Retreats, view here. 
Getting around Saint Sorlin
Free Ski bus service from Sunday to Friday 8.30am to 7.30pm and on Saturday 9-12am and 1.30-6.30pm. Stops see on village map.
Les Sybelles ski bus from ST SORLIN D'ARVES (Plan du Moulin) to ST JEAN D'ARVES (La Chal).
---
St Sorlin d'Arves Opening Dates
17/12/22 - 14/04/23