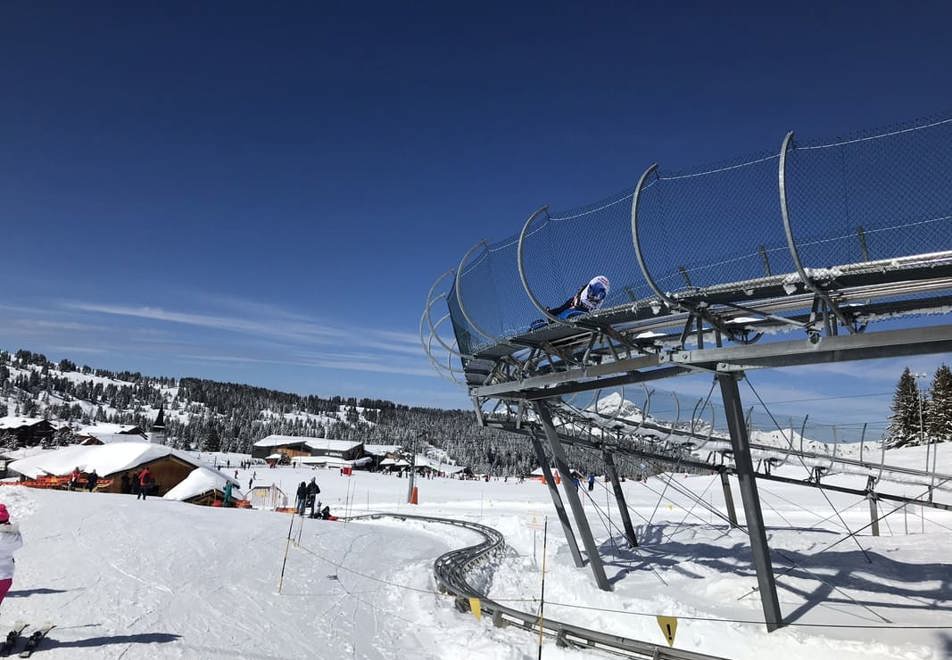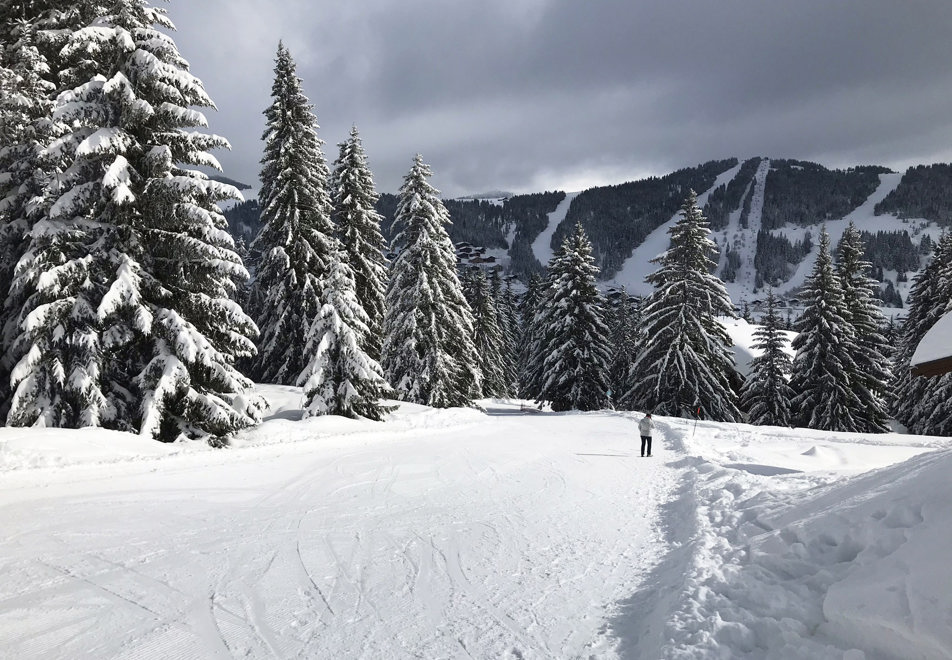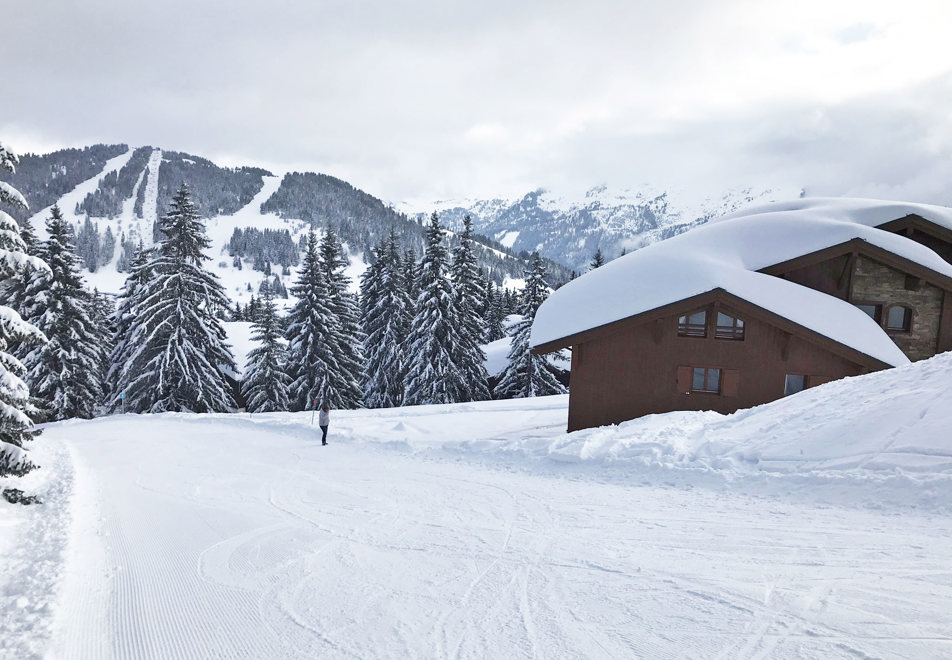 Thinking of skiing in Les Saisies? Proximity to Mont Blanc ensures good snow cover and stunning views. Easy access from the motorway. Les Saisies is a vibrant village with a great aprés-ski.
Why Les Saisies Ski Resort?
It's easily accessed by motorway from Albertville to the South and Megève to the North
The close proximity of Mont Blanc not only provides superb views but also above average snow coverage
It's a large vibrant village with a decent amount of après-ski
It's France's top Olympic cross-country ski area
Read Briony Key's review on Family Ski News, 'Living the high life in Les Saisies'! 
Les Saisies (Mont Blanc) Information
Half-way between the 'Beaufortain' and the 'Val d'Arly' valleys, two magnificent Savoy areas,  offers a spectacular setting with glorious views across to Mont Blanc. The 'Beaufortain' region, with its wonderful scenery, is sometimes called 'The French Tyrol'.
Les Saisies itself sprang to international prominence during the 1992 Winter Olympic Games at Albertville in the French Alps. It's a charming French ski resort with timber-clad chalets and a bustling high street complete with some 40 shops and a big selection of bars, crêperies, grills and restaurants offering delicious Savoyard dishes.
With its 360-degree panorama ranging from Alpine meadows to the snow-capped summit of Mont Blanc in Beaufortain, Aravis, and close to the Chartreuse Mountains, Les Saisies offers stunning scenery and the chance of wonderful discoveries. The ski resort of Les Saisies is a set of typical Beaufortain villages, where visitors can enjoy both the architecture and their traditional way of life.
Peak Retreats offers a range of Les Saisies accommodation options. All of Les Saisies' ski apartments have been hand-picked and are of a very high standard (3 & 4*), providing the ideal base for a Les Saisies ski holiday.
Interested in buying an apartment in Les Saisies or Cohennoz/Crest Voland? See our Buying in the Alps section.
Read about one of our loyal client's Christmas in Les Saisies with her family to learn more about this charming resort.
LES SAISIES SKI AREA
Best recognised as a major centre for cross-country skiing since it hosted the 1992 Albertville Winter Olympic events, Les Saisies also has extensive alpine skiing shared with its neighbours to form the 'Espace Diamant'. This links six pretty Alpine villages: Crest Voland Cohennoz, Flumet, Hauteluce, Notre-Dame-de-Bellecombe, Praz sur Arly and Les Saisies.
Set among forests and alpine meadows, with stunning views of Mont Blanc, the Beaufortain and Aravis ranges, the ski area extends between the Beaufortain and Val d'Arly, offering really varied terrain.
Les Saisies benefits from above-average snow conditions – the French weather centre confirms that since 1982 the average accumulated snowfall is superior to all surrounding mountain ranges!
Even if your children are too small to take the chairlift, this need not stop them from having a go at skiing! Three rope tows are available for them: at Les Trolles, located in the cross-country ski park (also accessible to adults), Les Lutins, near the snow garden and at Les Gobelins at Bisanne 1500m. They are safe and easy to use - and FREE!
Within the Espace Diamant ski domain, you have access to ski the other areas including Notre-Dame-de-Bellecombe which is fully lift-linked to Les Saisies.
Les Saisies is the top Nordic ski resort in France. The Olympic area has 120km of tracks for every skill level (from beginner to expert). It extends over a large sunny plateau between 1570m and 1760m, which guarantees a long season of snow cover. See more details under 'The skiing'.
Additional ski fact info,
main ski info in resort facts box at top of page

(22/23):

Les Saisies local area - 77km of pistes, 30 lifts (1 gondola, 15 chairlift, 9 draglift, 4 other), 65 slopes:

Green slopes: 10
Blue slopes: 32
Red slopes: 16
Black slopes: 7
LES SAISIES SKIING
LES SAISIES BEGINNERS
Les Saisies is an ideal resort for beginners who will find plenty of gentle nursery slopes and long, wide blue runs to progress on.
LES SAISIES INTERMEDIATES
Intermediates will enjoy well-kept pistes on which to gain confidence and easy links into Crest-Voland and the runs from the top of Mont-Lachet.
LES SAISIES EXPERTS
Advanced skiers will be keen to discover the black run from the top of Légette with its narrow couloirs, and the off-piste runs through the trees. Hauteluce's ski area has a variety of challenging runs and is a favourite among local free-riders.
LES SAISIES RESORT RUNS
There are multiple access points, so the resort runs are of all levels from green to black.
CROSS COUNTRY/NORDIC SKIING
Stats:
120km of tracks
2 ski lifts
17 tracks
1 Nordic park
The largest Nordic area in France, there are 120km of tracks for every skill level (from beginner to expert). Thanks to its high altitude, Les Saisies cross country area is one of the best in the Alps for its snow level. Each year you can Nordic ski from early December (at the latest) until the end of April.
Raphaël Poirée, 7 times World Biathlon Champion and Nordic Ambassador in Les Saisies explains that "Cross-country skiing in Les Saisies is better than in Norway. In Les Saisies there is more snow, more sunshine, more light and it isn't as cold as in Scandinavia".
You can get FREE access to the Nordic area with a valid downhill/alpine ski lift pass. Nordic skiers can take the Gentianes skilift to easily reach La La Palette. From La Palette you can find breathtaking views of the mountain ranges and of course Mont Blanc.
Les Saisies also have 'Les Marmottons' track for children. It's a nature treasure hunt to learn Nordic skiing the smooth and fun way. The children follow the Marmotton trying to complete challenges to get their degree. For children aged 5-10 years.
Les Saisies ski hire & lift passes (pre-bookable)
Pre-book your 6 day+ Les Saisies ski hire and/or Les Saisies lift pass with Peak Retreats.
To download the ski extras form see 'Helpful links' further down the page. Please note that prices are for indication only. They will fluctuate based on Euro/£ exchange rate. Please call us for the latest prices.
Other lift passes are available to buy in the resort such as half or full-day passes (for those who only wish to ski the odd day) or one-use lift passes for pedestrians. Some resorts also offer specific beginner area passes and cross country passes.
Les Saisies group ski school (pre-bookable)
Ski school for children is available to book from 3 years to 13 years in Les Saisies with Peak Retreats. Children can learn to snowboard from 9 years+. We can also book private lessons. For non-skiing childcare, please enquire.
To download the ski extras form see 'Helpful links' further down the page. Please note that prices are for indication only. They will fluctuate based on Euro/£ exchange rate. Please call us for the latest prices.
Les Saisies private lessons (not pre-bookable)
Private lessons with an instructor can only be arranged directly with the ESF ski school. Peak Retreats cannot pre-book these. Private lessons are usually around €40-60 per hour (depending on resort, time of day and period) and becomes cheaper the more hours you take and the more people you have to share the hours with i.e with family members or friends. Some resorts insist on a minimum of 3 sessions to be booked at once.
Contact ESF Les Saisies for private lessons - 0033 4 79 38 90 40
---
Les Saisies childcare (not pre-bookable)
Childcare from 2-3 years (non-skiers)
ESF Club Nounours - daycare in centre of resort. A team of professionals will take care of your child from 2 to 3 years old to offer them indoor and outdoor activities adapted to their age and rhythm. No ski lessons included with this package.
Please contact ESF Club Nounours direct as we cannot pre-book this kids club - 0033 4 79 38 90 40.
It is advisable to book before you go and in good time as spaces get filled quickly, especially in Peak times. A childhood vaccination record will be needed. 
---
Babysitters (not pre-bookable)
A list of babysitters is available from the tourist office.
Top winter activities to experience in Les Saisies
Please bote Peak Retreats do not book any activities and most activities are payable
Snowsport activities:
Mountain twister
A toboggan run on rails! Race down a 750m long track around 360° and 540° bends.
Baby park®
Dog-sledging experience for kids age 3 to 7.
Walking, snow-shoeing and Nordic walking itineraries
Enjoy a number of itineraries on foot or on snowshoes. Discover the natural surroundings and magnificent panoramic views. 2 chair lifts are open to pedestrians. A map of footpaths and trails is available from the Tourist Information Office.
Horse-drawn sleigh rides
Discover the beautiful natural surroundings in a horse-drawn sleigh and enjoy a completely different view of the resort.
Dog sledging
Enjoy a ride on a comfortable dogsled driven by one of our enthusiastic and experienced mushers.
Snow-shoe outings Marie & David Crocket
Every Thursday, Beatrice Jiguet, a qualified mountain leader, proposes an evening snow-shoe excursion for kid's age 5 to 12 years. Children can enjoy pretending to be trappers, equipped with fur hats, headlamps and small snow shovels. On the programme: igloo building, animal footprints, orienteering and astrology!
Ice climbing
Learn to climb the ice or perfect your technique under the supervision of a qualified mountain guide.
Snowmobile outings
Outings are organized every evening on an accredited circuit.
Ski touring
Learn and progress on our ski touring outings, under the supervision of a qualified mountain guide.
Snow grooming
Experience Enjoy a 20-minute discovery ride as a passenger or a 45-minute driving lesson.
Ski joering
Enjoy skiing behind a horse in a specially prepared area.
Other activities:
Mont Blanc balcony view
In winter, from late December to mid-April, ski through the snow by taking the Chard du Beurre chairlift. If you prefer a more traditional approach, you can access the Balcon du Mont-Blanc on foot or snowshoes during the winter. Follow the specially prepared footpaths to immerse yourself in the magical winter landscape and admire the snow-capped peaks.  
10 pin Bowling (Le 1650)
A 6-lane bowling alley for fun packed evenings.
Paragliding
The triple French champions, "Les Volatiles", propose a choice of tandem initiation flights.
Fun footpaths
Discover the different aspects of Les Saisies and the village of Hauteluce along one of our fun footpaths. Satellite guidance available on request.
Panoramic flights
Enjoy magnificent scenery on a Mont-Blanc discovery flight or circuit.
Discover Local heritage
Enjoy a choice of guided heritage walks, conferences and activities for children.
The enchanted forest
Accessible on skis only Come and discover the fairy tale world of the enchanted forest. Follow clues to find Tauron's log cabin and his book of magical spells.
Please note: All the above information is for information only. For the most up-to-date information please visit the resort tourist office website. All prices for activities are in local currency (€ Euros) and are bookable and payable locally in resort.
Les Saisies Tourist Office
Les Saisies Tourist Information
Tourist Office Tel. 00 33 4 79 38 90 30, Fax. 00 33 4 79 38 96 29
www.lessaisies.com
Les Saisies Resort News and Events 2022/23
News:
Organised by Les Saisies Tourist board, 

The Christmas Trail

, is a 10km or 20km race, run through the picturesque scenery of Les Saisies domaine - starting at 9.30am on 

11th December 2022.
Events:
Christmas Week 19th December - 25th December 2022 A Christmas week for young and old alike. Live magical moments, participate in workshops, thrill in the shows and be present on New Year's Eve for the 24th great fireworks display.
Until 2022 26th December - 31st December 2022 A week of shows, magical moments and games to end 2022 and welcome 2023 to the mountains.
Etoile des Saisies 2nd April 2023 Cross-country long-distance competition. Competitors soar on tracks of 42 km or 21 km in the middle of a warm and enthusiastic audience. Discover the fabulous Nordic skiing area of Les Saisies which hosted the 1992 Winter Olympic games. Young people also have their own races on 1.5-km loop, 3 km and 10 km. Free access to Nordic trails for everyone on the day of the competition.
La Cuberote 8th April 2023 

Telemark event Telemarkers in disguise, course with many obstacles, great spectacle, joy and happiness. The local Savoyard word "Cubéroter" means "to fall".

Closing of the season 21st April 2023 To say goodbye to the winter season as it should be, come and enjoy the dancefloor.
Les Saisies Restaurants, Bars, Nightclubs & Shops
Les Saisies has 18 restaurants (including 4 in Hauteluce and 2 in Bisanne 1500) and 5 bars/pubs/discos. 
'Un Flocon dans le Thé' is a deli and tea room for which offers a wide range of teas, organic coffees and yummy hot chocolates. There is also an 'Cookiserie', an area dedicated to homemade cookies and cakes which can be enjoyed there or taken away.
Les Saisies Bars and Pubs
L'Olympe Café 
247 avenue des Jeux Olympiques
73620 Les Saisies
Phone: 0033 4 79 38 90 37
Bar / pub. Concerts, karaoké, pool, giant screen for sports broadcast. Every day appetizer from 17h to 19h. Free WiFi & Internet computer for customers....
La Cordée 
Phone: 0033 4 79 38 92 94
Beer bar, rhums... Nice atmosphere, party, concerts, sports broadcast... Pub open until 2h AM.  
Le Copon 
555 bis avenue des J.O.
73620 Les Saisies
Phone: 0033 4 79 38 99 38
Warm & mountain setting. Bar -pub - lounge
LR et JD 
Les balcons du Mont-BLanc
73270 Bisanne 1500
Phone: 0033 4 79 38 09 64
Champagne bar. Grocery, local products (charcuterie, wine, jam, cheese). Tea room.
Les Saisies Amenities
Les Saisies is served by a range of amenities including 4 grocery stores, 4 butchers/caterers, 2 bakeries, 5 boutiques, 2 newsagents, 7 artisans, a medical centre, doctors, pharmacy, banks/cash points, post office, cinema and a laundrette.
Accessing Les Saisies, France
By Road:
Driving distance from Calais to Les Saisies 563 miles (approx 8hrs)
From Calais, take A26 Motorway towards Reims and Troyes, then Dijon, Mâcon then 'Autoroute Blanche' Motorway (A40 Mâcon – Cluses) exit Sallanches. Follow signs to Megeve. 25km from the motorway exit to Les Saisies.
By Rail:
Albertville 25km (1 hour) +33.0.(8)20.205.330
Airports:
Chambery Airport is 92km from Les Saisies (1 hour)
www.chambery-airport.com
Geneva Airport is 92km from Les Saisies (1 ½ hours)
www.gva.ch 
Bus between Geneva and Megève (about 1h30 / www.borini.com ou www.altibus.com), then a taxi between Megève and Les Saisies (about 50 €) 
More information: 00.41.22.798.20.00  or www.gva.ch
Grenoble is 159km from Les Saisies (1 ½ hours)
www.grenoble-airport.com
Lyon Saint-Exupery is 169km from Les Saisies (2 hours)
New shuttle between the airport and Les Saisies every Saturday: Leaving the airport at 12:30 pm, arriving to Albertville at 2:15 pm / Next shuttle leaving Albertville at 3 pm, arriving to Les Saisies at 4:30 pm. Return: leaving Les Saisies at 7:30 am, arriving to Albertville at 9 am / Newt shuttle leaving Albertville at 9:15 am, arrving to the airport at 11 am. More information: +33.(0)4.26.007.007 or www.lyonaeroports.com/eng
Getting around Les Saisies
A free shuttle bus service runs everyday around Les Saisies during the winter season. Also shuttles run between the villages of Les Saisies, Bisanne 1500 & Belleville / Hauteluce.
3 tours in the resort:
 LINE 1: Hameau du Beaufortain (via la route de la fôret & l'avenue des J.O.) <> Parking du col
 LINE 4: Chalets du Lac residence (via la route de la Traie) <> Parking du col
 LINE 5: Hauts Lieux residence (via l'avenue des cimes) <> Parking du col
2 tours from the resort to Hauteluce village & valley or Bisanne 1500: 
LINE 2: Bisanne 1500 <> Hameau du Beaufortain residence <> Les Saisies parking du col
LINE 3 & 6: Belleville <> Hauteluce <> Les Saisies parking du col
There are designated parking areas in the resort.
---
Les Saisies Opening Dates
Les Saisies ski area is open: 17/12/22 - 21/04/23