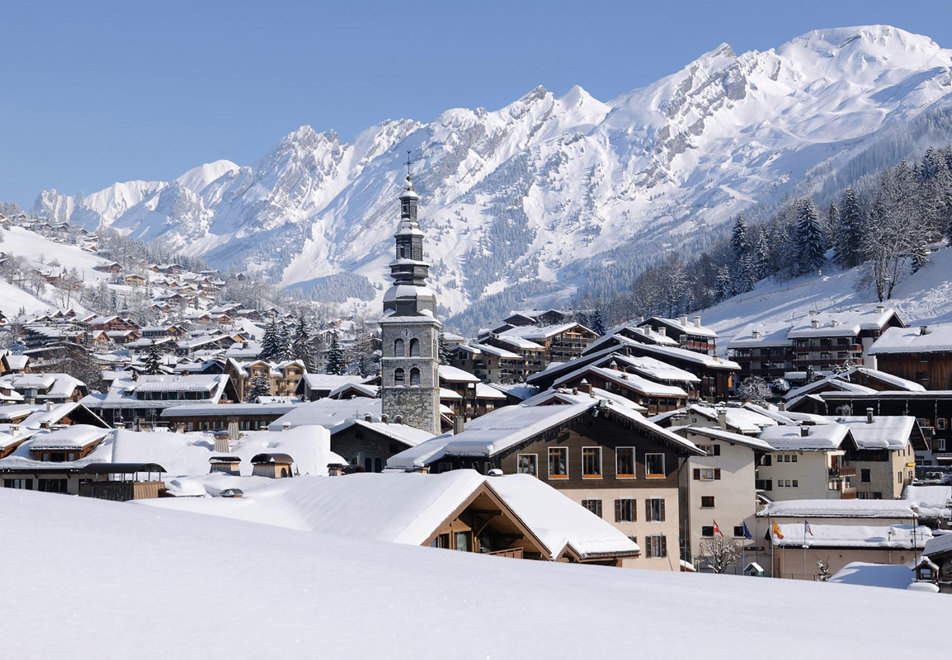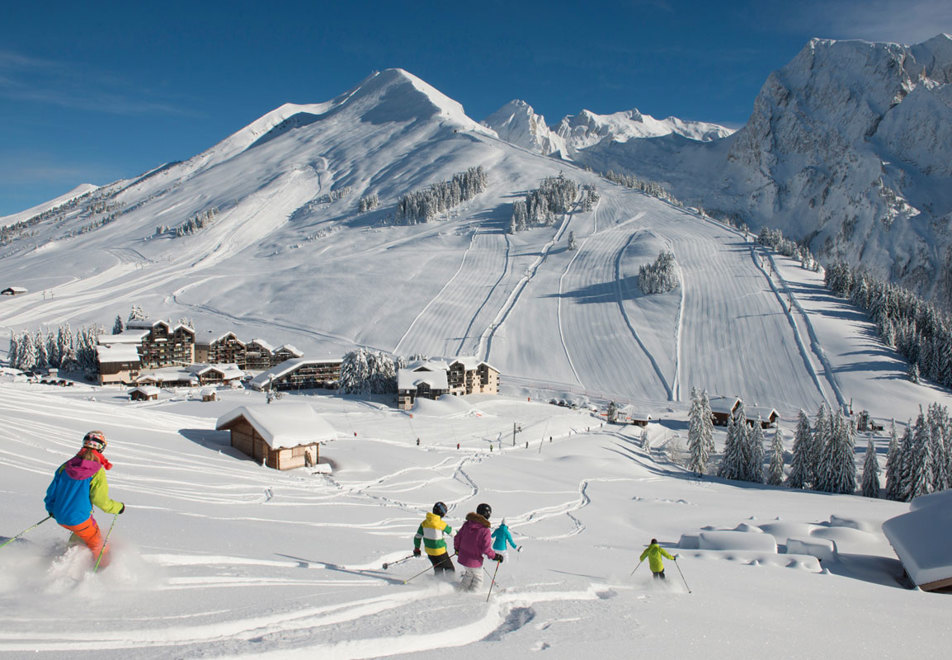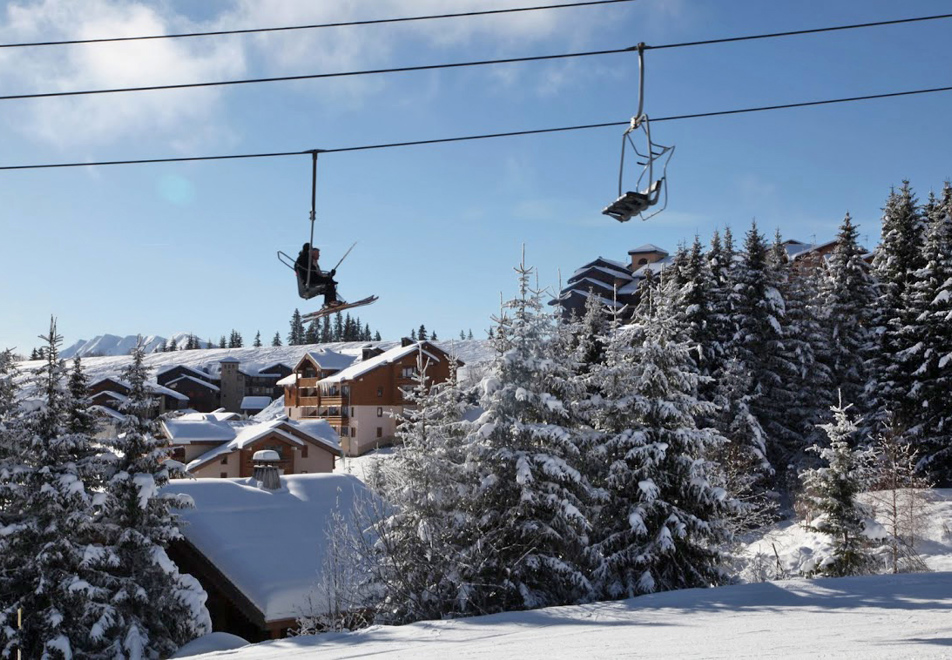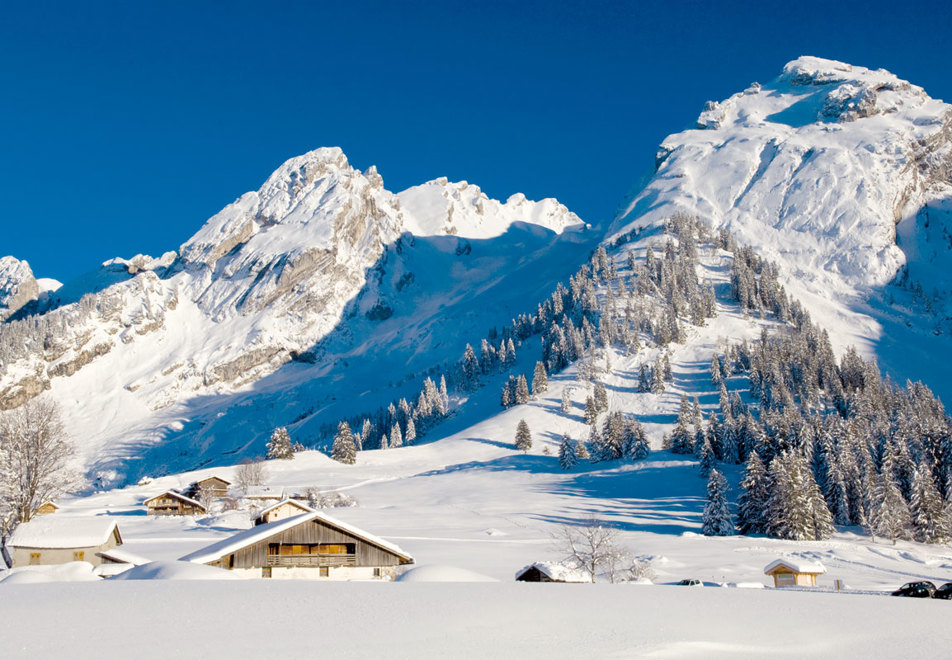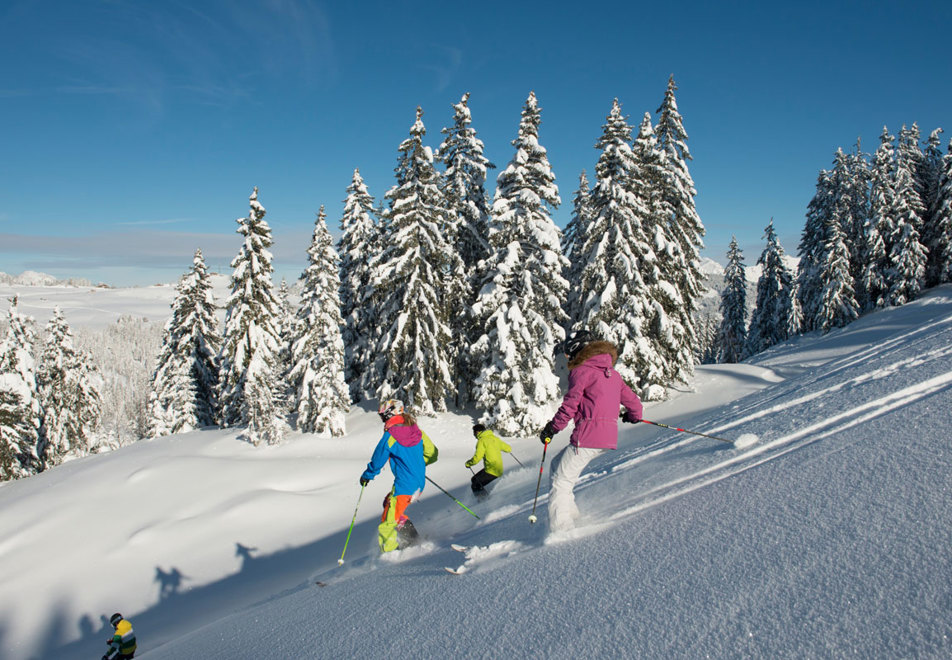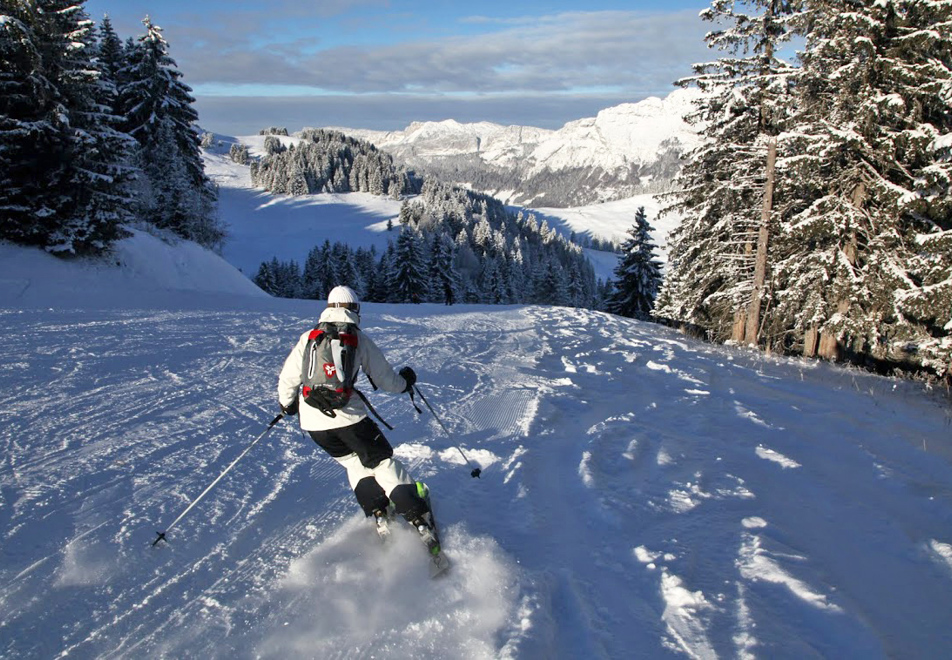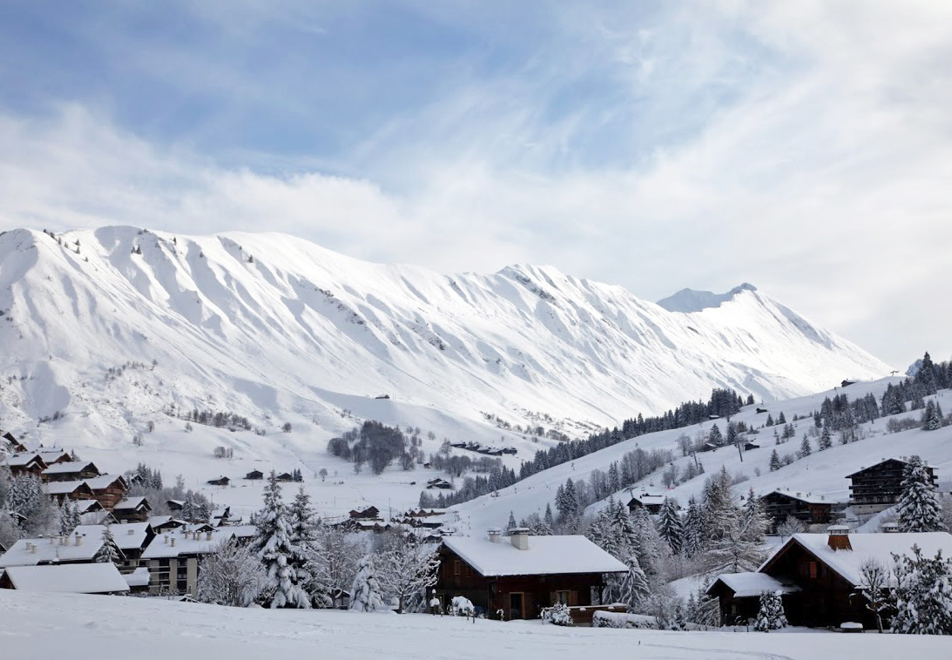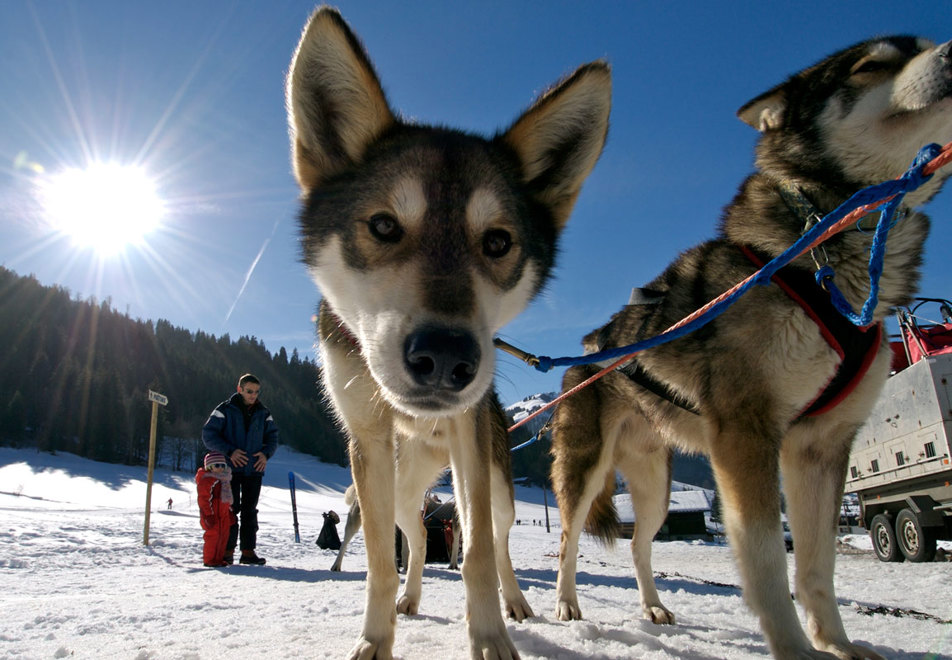 Thinking of skiing in La Clusaz? La Clusaz is a traditional & friendly mountain village. One of the most easily accessible resorts from Geneva (1hr) and one of the shortest drives from Calais too.
Why La Clusaz Ski Resort?
Short transfer from Geneva airport - just 1 hour away
One of the quickest drives from Calais
A dynamic international resort boasting an exceptional ski area
'Famille Plus' resort - good children's facilities and great for families
The centre of the village has been improved in order to improve pedestrian access
La Clusaz (Aravis-Lake Annecy) Information
The Lake Annecy Ski Resorts represent and bring together the four resorts of the Massif des Aravis: La Clusaz, Le Grand-Bornand, Manigod and Saint-Jean-de-Sixt.
At the crossroads of Europe, La Clusaz is a charming village with traditional architecture - a friendly mountain village that's retained its charm and is one of the most accessible resorts from Geneva (just an hour away) and one of the closest to Calais too.
A dynamic international resort, La Clusaz boasts an exceptional ski area and offers a unique journey in an unspoilt setting. From the most serious skiers and boarders to après-ski enthusiasts, everyone will be happy with their choice of La Clusaz.
The centre of the village has had a facelift in order to improve pedestrian access. There are now two paved areas in front of the church and town hall, with large terraces in front of the arched arcades and shops. Small trees, sourced from local area, have been added to the area and are gently lit in the evenings.
Peak Retreats offers a range of La Clusaz accommodation options. All of La Clusaz' ski apartments and hotels have been hand-picked and are of a very high standard (3, 4 & 5*), providing the ideal base for a La Clusaz ski holiday.
Journalist Rob Freeman gave La Clusaz a 'perfect ten' in his recent review - read his article here! 
LA CLUSAZ SKI AREA 
A genuine mountain village with more than 132km of pistes in the La Clusaz domain - and a ski bus link to neighbouring Grand Bornand (the Aravis ski area combines both Grand Bornand and La Clusaz) provides further skiing opportunities. The region is suited to all levels of skiers from beginners to experts.
The La Clusaz domain has some of the best snow conditions in France, the Aravis massif forming the first 'natural barrier' to the Alps and so capturing much of the precipitation.
The skiing is divided into five sections – Beauregard, l'Aiguille, Balme, l'Etale and Crioux-Fry/Merdassier. Most of the runs are west or north-west facing, so the snow is generally relatively good. The best snow can perhaps be found on the west-facing slopes of La Balme.
Additional ski fact info,
main ski info in resort facts box at top of page

(21/22):

The Aravis lift pass links Le Grand Bornand and La Clusaz by shuttle bus. The resorts are not lift-linked.

You can also use a smaller lift pass covering just La Clusaz.

La Clusaz local area

125km of pistes, 49 lifts, 85 slopes:

Green slopes: 16
Blue slopes: 31
Red slopes: 30
Black slopes: 8
LA CLUSAZ SKIING
LA CLUSAZ BEGINNERS
Beginners are well catered for in La Clusaz. Nursery slopes can be found at village level at Beauregard and Cret du Merle. For gentle blues try Beauregard (there's a long blue run at 1650m down to a village called Guy Perillat) – you can then move onto the Cret du Merle for a few more challenges. There's also a green slope there, and some long green runs at Bois de la Motte too.
LA CLUSAZ INTERMEDIATES
La Clusaz has some ideal terrain for intermediates and there are plenty of runs to choose from. The majority of red runs are above 1650m. Again try Beauregard for some great blue pistes. For more challenging and wider blue runs head for L'Etale and L'Aiguille. More advanced skiers should head for La Balme
LA CLUSAZ EXPERTS
La Clusaz is well-known for its spectacular off-piste skiing and its terrific gullies and bowls. Over the years, it has become a Mecca for off-piste skiing/freeriding with its untamed and extraordinary mountains. So it's not surprising that it's become a hotbed for freeriding champions of all ages. Some good expert runs can be found at La Balme – particularly the black Vraille run which is very steep. There's also an off-piste sector called Combe de Bellachat on the opposite side of this sector. A long black run, La Noire, runs from Beauregard to the village.
LA CLUSAZ SNOWBOARDING
Fortunately, most of the draglifts can be avoided! For beginners, there are some good nursery slopes with chairlift links and La Balme is good for free-riders.
LA CLUSAZ RESORT RUNS
Depending on which area of the La Clusaz ski domain you're coming from, there are resort runs of all levels from green to black.
La Clusaz is known for it's tasty Reblochon cheese! This 2021/22 season the resort that has long offered visitors cheese farm visits is upping its cheese game by renaming the 2.5km long Envers blue slope as the Reblochon Run.
LA CLUSAZ
NIGHT SKIING
La Clusaz organises "Full Moon" evenings when you can ski by moonlight on the Cret du Loup and Cret du Merle areas. Normally this event runs from 9pm to 1am.
There's also floodlit skiing every week from 8.30pm to 10.30pm, as well as on the piste by the Patinoire gondola. Free. 
La Clusaz Ski Hire
Pre-book your La Clusaz ski hire with Peak Retreats.
To download the ski extras form, see 'Helpful links' further down the page.

Please note, these Pound Sterling prices are for indication only. They will fluctuate based on Euro/£ exchange rate. Please call us for the latest prices.
Special offers: Free Skis/snowboard & boots (Superior Carver) for party leaders of groups of 10 or more all taking equipment. 1 Free helmet per child aged 6 and under for every adult booking skis or snowboards & boots.
Find out more about Peak Retreats ski hire
---
La Clusaz Ski Passes
Pre-book your La Clusaz lift passes with Peak Retreats. Find out more about Peak Retreats ski passes
To download the ski extras form, see 'Helpful links' further down the page.

Please note, these Pound Sterling prices are for indication only. They will fluctuate based on Euro/£ exchange rate. Please call us for the latest prices.
Other lift pass on offer (to buy locally in resort in Euros):
La Clusaz/Manigod ski pass –daily rates 17/18:
4 consecutive hours - €28 children, €34.40 adults
Day - €30 children, €38.60 adults
La Clusaz Ski School
Pre-book your La Clusaz ski school with Peak Retreats. Find out more about Peak Retreats ski school
Ski school for children is available to book from 3 years to 13 years, in La Clusaz, with Peak Retreats. 3-4 year olds will go into Club Piou lessons. Children can learn to snowboard from 10 years+.
For ski school times and prices, please download the ski extras form from the 'Helpful links' further down the page. Please note these are just guiding prices. Please call us for the latest prices.
Please note that lesson times are subject to change right until the last minute - you will be advised. Outside French school holidays the ski school reserves the right to cancel group lessons should numbers be insufficient.  For peak periods - Christmas, New Year, February half-term and Easter - we strongly recommend that you book as early as possible and in any case at least 6 weeks prior to the required dates. Morning lessons tend to get booked up first and therefore we may only be able to offer afternoon classes within 6 weeks of departure. In some resorts English speaking instructors may not always be available, particularly at peak times.
We cannot always guarantee that prices will be cheaper than in resort. When ski packs prices are calculated, the currency is bought at the exchange rates that apply at the time. You can be assured that once you have booked your extras, if the pound depreciates, you will not be charged more for your ski packs, enabling you to budget for your holiday in advance.
La Clusaz Individual Tuitions 

(18/19 prices, NOT pre-bookable)

Practical times that allow you to ski together and share lunch

OTHER DATES   
1-hour lesson 1-2 pers 44 €, 3-4 pers 58 €  
1h30 lesson 1-2 pers 66 €, 3-4 pers 87 €  
2h lesson 1-2 pers 88 €, 3-4 pers 116 €  

The instructor will base their lesson on the lowest level student. Do not recommend putting people with very different levels together and try to avoid mixing adults and children.

Individual tuitions can only be purchased directly from the ski school. Peak Retreats cannot pre-book these.

Ski school contact numbers for private lessons:

Ecole du Ski Francais La Clusaz 0033 4 50 02 40 83
Ski Lockers/lockers
Ski lockers available at le Bossonnet and at the ski pass office at champ Giguet.  Left luggage lockers available at the bus station.
La Clusaz Child Care
La Clusaz has acquired the Famille Plus & the highly exclusive Top of the French Alps label (TOTFA - only 16 resorts appear on this list) for its childcare facilities. Please view here to view more information on the Famille Plus & Top of the French Alps label.
CHILDCARE ONLY  (NO SKI LESSONS)
Club des Mouflets
For children who are not skiers aged from 8 months to 4 years, 24 places. Booking and health record compulsory. 
Tel. +33 (0)4 50 02 48 91 - Fax. +33 (0)4 50 32 65 21 - creche@laclusaz.fr
+33 (0) 4 50 32 65 42 – Older children
+33 (0) 4 50 32 65 43 – Younger children
2018/19 Prices:
1/2 day afternoon (1.30pm - 5.30pm) 35€ 
1/2 day morning plus meal (8.30am - 12.15pm) 35€
Day + meal (8h30 -17h30): 50 € 
Please contact Club des Mouflets for full day prices.
Club des Champions
For children aged from 3 to below 6 years. 40 places including 8 reserved for children from 3 to 3 and a half years. Booking is compulsory. Indoor, outdoor activities, ski option in the ESF snow garden or in group lessons depending on the age of the child. 
Club des Champions
1 Place de l'Église
Tel. +33 (0)4 50 32 69 50 - info@club-laclusaz.com 
www.club-laclusaz.com
2018/19 Prices:

1/2 day without meal 25€
1 day without meal 40€
6 1/2 days without meals 125€
6 full days without meals 200€
Meal and watch (noon to 2pm)15 €

A discount of 10% for the 2nd child from the same family on the same booking.
Booking essential
Top winter activities to experience in La Clusaz
Please note: Peak Retreats do not book any activities and most activities are payable.
Snowsport activities:
New viewing platform for 19/20
Change your perspective and look at the mountains from a different angle. On the Col de Balme, it will be opening its doors to an exceptional viewpoint. The glass viewing platform is suspended for an unrivalled view over the Mont Blanc massif.
Ski freeride
La Clusaz is well known for its exceptional off-piste skiing, its unique geographical location and its impressive and magnificent coombs. It has long become established as the hub of Freeriding and is well known as a great destination for free riders, where after just 20 minutes' walk you can access breath-taking untouched slopes. It comes as little surprise that the resort has been a hotbed of champions for generations with the recent two-times world champion Loic Collomb Patton, you are more than likely to spot some as you ski down.
LCZ Family Run by Columbia:
Located in the Mini Loup sector, it's the ideal zone to learn the basics of Freestyle. Skiers and snowboarders can have fun as they safely try out the discipline. LCZ Family Run is also a giant picnic area open to all and the track that leads to the obligatory selfie in front of the letters!
Ski touring
Ski touring is making a comeback. It is attracting a new breed of people who are looking for a more ecological approach, where they can experience the wilderness in the mountains. The resort has adapted to this new trend with several suggested itineraries to explore and enjoy.
La Clusaz offers two marked trails for ski touring in free practice! These trails are open only during runway opening hours.
BEAUREGARD (initiation level) Start: 1000m (Giguet field) / Finish: 1600m (Station) 600m / Distance : 5km / Return by the tracks of Beauregard
ETALE (confirmed level) Start: 1300m (Parking des Joux) / Finish: 2000m (First aid station) Height difference: 700m / Distance: 4km / Return by the Grouse Track (Black)
Nordic skiing
Nordic skiing has become popular again. The sports ticks all the boxes in the current trends of getting in shape through exploring nature. It is an authentic, ecological, and also a highly effective sport. The major advantage of this time-honoured sport is its location in the heart of the natural environment, silent and untouched. The perfect activity to switch off from daily life and get away from it all.
Snowshoe hiking
Snowshoe hiking gives privileged access to areas the skiers can't get to, where you can enjoy the silence and overwhelming natural beauty. The La Clusaz mountain guides will take you to these places where you can share in the wonder of their beauty. Experience a unique hike and choose a themed excursion, for example, to follow the forest animal tracks, to hike along the ridge of the Aravis for outstanding panoramic views or for a nocturnal hike including a delicious Savoyard meal.
Ice rink
1000 m² of ice under a wooden roof. Skate hire, individual or group lessons, seminars and evening sessions. Ice games: Modules on the ice and small chairs, seals and dolphins to allow children to slide with playful support. Every morning.
Hurricane bumpers on ice:
Let yourself go to the whirlwinds and stamp the other participants! A new activity at the rink. Unaccompanied from 6 years / accompanied by 1 parent: from 3 years.
Horse-drawn sledge rides
Enjoy the magnificent views over La Clusaz in winter on a horse-drawn sledge. Leaves from the Confins plateau.
Takamaka
The TAKAMAKA team will take you on an exceptional experience on a Snow Racer, descend the mountain on a veritable snow kart!
Ice circuit
Come and test electric vehicles on the ice. Located just outside the village on the Route des Confins.
Dog sledging
Full day excursions on reservation only (each person has a sledge with 4 dogs). Maximum 6 people. Groups accepted on reservation.
Husky's spirit
Come and enjoy a wonderful adventure with René Duc, the professional musher. Spend a fantastic time with him and his dogs on the Col des Aravis, only 10 minutes from La Clusaz.
---
Other activities:
Aravis leisure centre
Heated pools: 1 outdoor pool 25m + 1 indoor, Jacuzzi, paddling pools, fountain. Fitness: fitness suite, hammam, and sauna. Activities: swimming lessons, aquabike, gym, yoga…
Bowling
A bowling alley in the heart of La Clusaz! Open in the afternoon. 4 tracks for 7 players each / 2 Bonzini Baby foot / 2 Billiards / 1 darts game / Contests and animations.
Casino imperial (Lake Annecy)
Enjoy a night out in Annecy (nearby) at the Casino Impérial with its traditional games and slot machines!
Paragliding
The « S-en-Ciel » team will take you up for a tandem paraglide over La Clusaz. First flights, training flight, adrenalin rush flights
Library
Culture and library for all. Consultation, book lending, encyclopaedias and internet search.
Cinema
Widescreen, stereo Dolby sound. Showings every day.
Market
All year. Every Monday in the church square.
Le Hameau des Alpes
Discover the richness of local culture and heritage in the different display areas, where you can have fun learning all about the making of Reblochon Fermier, discover the origins of skiing, see a traditional oven, sawmill and traditional lofts. A great family visit
Discover la Clusaz with gisèle
Enrolment at the Tourist Office at least one day before. Local heritage guides will take you on a walk through the village to discover the secrets of our history and traditions. On Thursdays at 9.45am, leaves from the tourist office.
Horse-drawn carriage
Visit La Clusaz in a horse-drawn carriage. A choice of tours is possible, just ask the driver! Reservation not required (except weddings and groups).
Guided farm visit
Stroll through the alpine meadows and meet with local farmers to discover how Reblochon is made. On Fridays from in front of the tourist office. Enrolment at the Tourist Office at least one day before.
Nordic areas
Plateau des confins (1420 - 1650m):
Official Nordic location for the World Cup awarded level 4 « Nordic France » and « Family Plus » At the heart of the Aravis mountain range, sunny and varied tracks for all abilities. Relax and re-energise, guaranteed! 550 km of tracks including a 7km link with the Grand Bornand domain. Children's snow garden / Nordic Club des pioupious. Nordic Ski Park: Slalom, jumps, tunnel, loom, ski hockey, ski football. Nordic Cross: fun and technical circuit open to all. Laser Biathlon. Shuttle link from the village When you're there: Information post, first aid post, picnic room, ski schools, sports shop, hotels, restaurants, car parking.
Plateau de Beauregard:
The Nordic area on Beauregard offers classic and skating cross-country tracks as well as prepared tracks for walkers and snowshoe walkers. 20 km of tracks, 8 tracks. Access from the village via the Beauregard cable car or by car and shuttle via the Col de la Croix Fry. When you're there: first aid post, picnic room, ski lessons, sports shops, hotels, restaurants and car parking.
Please note: All the above information only. For the most up-to-date information please visit the resort tourist office website. All activities will be in local currency (€ Euros) and are bookable and payable locally in resort.
La Clusaz Resort News and Events 2021/22
News:
The 2.5km l'Envers blue run has been made into an educational track to learn about local fauna with games, fun activities and information. Learn about the history of mixed farming in La Clusaz through the work of the farmers, their dedication to the preservation of the alpine environment and of course about the history of Reblochon Fermier. Accessible only with a ski pass.
The famous Merle slope will now be floodlit at the end of the day so that skiers can continue to ski long into the evening. In addition, there will be various winter sports' themed evenings organised and fun, artistic colour-themed activities where the snow becomes a blank canvas!
Events:
Paret Night Session 23rd December 2021-17th March 2022

Discover the paret, a traditional wooden sledge.

Christmas Shows 20th December 2021-31st December 2021 La Clusaz has been organising the famous Christmas Pestacles for more than 20 years, the biggest, family, street theatre festival organised in the winter in the Alps. People of all ages gather in the village for a magical and wonderful celebration of Christmas in the heart of the Aravis. The "Pestacles" are all about celebrating in a Christmas wonderland.
Night Skiing 21st December 2021-12th April 2022
Santa Claus Parade 24th December 2021

During his world tour, Santa Claus will pass through the sky of La Clusaz and come to meet you on the Champ-Giguet. On this occasion Santa Claus has many surprises in store for you, as only he can do...

Snowman Building Contest 18th December 2021-5th March 2022

Reveal the artist in you! You think you are the best snowman sculptor? In team or solo, come and take up the challenge of the best snowman sculptor, and win many gifts!

Treasure Hunt 18th December 2021-7th May 2022 With family or friends, discover the village of La Clusaz through a brand new treasure hunt! Billy the little Aries has lost his summer friends and it's up to you to help him find them...

New Years Eve

31st December 2021

The ESF instructors offer you an exceptional Ski Show to finish 2021 in the best way possible.
The "Bélier Blanc" Trail 8th January 2022 The Trail du Bélier Blanc is a festive & convivial rendezvous, dressed in its most beautiful white cape to make you live an extraordinary adventure!
Ski Touring Week 17th January 2022-21st January 2022

Discover the world of ski touring and off-piste skiing! Throughout the week, you will find many activities: Initiations, equipment tests, DVA workshops...with a special evening on the slopes on Saturday night!

Confins Trail N' Ski 23rd January 2022 This competition is brought to you by ESF nordic Confins - La Clusaz.
Freestyle Week 1st February 2022-5th February 2022 La Clusaz is one of France's cradles of Freestyle and Freeride skiing. Its champions, from Edgar Grospiron to Candide Thovex and Loïc Collomb-Patton, have never stopped improving in their disciplines.
Fireshow - Swings and Sparks! Every Thursday in February 2022. 
Ski Show 14th February 2022-21st February 2022 La Clusaz welcomes you with a torchlight descent and a magnificent Ski Show from the French Ski School. Come and taste mulled wine, hot chocolate and discover the farmhouse reblochon!

Carnival 1st March 2022

Good Vibes Week 21st March 2022-25th March 2022 Little sister of the La Clusaz Yoga Festival which takes place every summer, Good Vibes Week gives you the opportunity to enjoy life at its simplest and take time for yourself, in an inspiring natural environment.
Radiomeuh Circus Festival 31st March 2022-3rd April 2022 Little sister of the La Clusaz Yoga Festival which takes place every summer, Good Vibes Week gives you the opportunity to enjoy life at its simplest and take time for yourself, in an inspiring natural environment.
Ice Skating Gala 11th April 2022
Deli Foly 24th April 2022 Since 1987, this spectacular and completely crazy event has brought together 150 participants and several thousand spectators in the sumptuous setting of the Confins. The objective is to cross the Lac des Confins.
Season Finale 1st May 2022
Further details can be found on the tourist office website: www.laclusaz.com
La Clusaz Restaurants, Bars & Aprés-ski
10 bars, restaurants, and a nightclub open from 11pm - 5am all week.
La Clusaz Altitude Restaurants
If you want a delicious lunch and succulent deserts, head to Le Bercail, an old chalet on le Cret du Merle slope.
La Clusaz Amenities
La Clusaz is served by a range of amenities including: more than 200 shops and services including supermarkets, banks, doctors, pharmacies, sports shops.
Currency exchange in banks during week and in tourist office at weekends and public holidays.
Internet terminals and WiFi – tourist office & Cyber Espace/Services Académie.
Getting to La Clusaz, France
By Road:
Driving distance from Calais to La Clusaz: 536 miles (approx 7hr30).
The Massif des Aravis is easily reachable:
- Motorway A 40 (Autoroute Blanche); exit N° 16 Bonneville, direction Stations des Aravis at 20 km 
- Motorway A 41 exit Annecy Nord direction Thônes / Stations des Aravis at 30 km
By Rail: 
SNCF station of Annecy at 32km. 
Réservation: 0033 8 92 35 35 35 
Daily link by bus – Voyages Crolard: +33 (0)4 50 02 20 58
www.voyages-crolard.com
Airports:
Annecy-Meythet airport at 32 km (30 mins)
www.annecy.aeroport.fr
Shuttle bus between airport, TGV railway station and La Clusaz.
Geneva airport at 50km from Grand Bornand (1 hour)
www.gva.ch
Shuttle bus between Geneva and La Clusaz (www.gare-routiere.com)
Chambery Airport is 75km from Grand Bornand (1 ¼ hours)
www.chambery-airport.com
Lyon - Saint Exupéry airport at 150km (1 ¾ hours)
www.lyonaeroports.com
www.altibus.com. TGV high speed train connection between Lyon and Annecy.
Grenoble Airport is 165km from Grand Bornand (1 ¾ hours)
www.grenoble-airport.com
Public shuttle bus transfers from airport
Lyon Airport - La Clusaz via Annecy (www.lys-altibus.com). 
Geneva Airport - La Clusaz (www.coach-station.com).
La Clusaz Airport Transfer
For pre-bookable private transfer rates with Peak Retreats, view here. 
Getting around the resort
Departures every 30mins from the Salon des Dames car park. Inter-resort shuttle buses are free for holders of an Aravis pass. From La Clusaz to Grand Bornand takes 10 mins. Departs every 30mins from the Salon des Dames car park from 9am (8.30am in February) to 12.30pm and from 1.30pm to 6pm. Regular ski bus every 20 mins.
Parking
Salon des Dames car park – 420 covered parking spaces at entrance to the village. Height limit 2.35m. Open 24/7. Coach and shuttle bus boarding area.
La Croix car park – 333 covered paying spaces in the village (1.80m limit). Open 24/7.
Les Chenons car park – 500 free parking spaces at the Balme Massif.
Ski Lockers/lockers
Ski lockers available at le Bossonnet and at the ski pass office at champ Giguet. Left luggage lockers available at the bus station.
Other
Currency exchange – in banks during the week and in the tourist office at the weekends and on public holidays.
Luggage storage available at the bus station.
---
La Clusaz 

resort season dates
La Clusaz ski area is open: 04/12/21 - 01/05/22