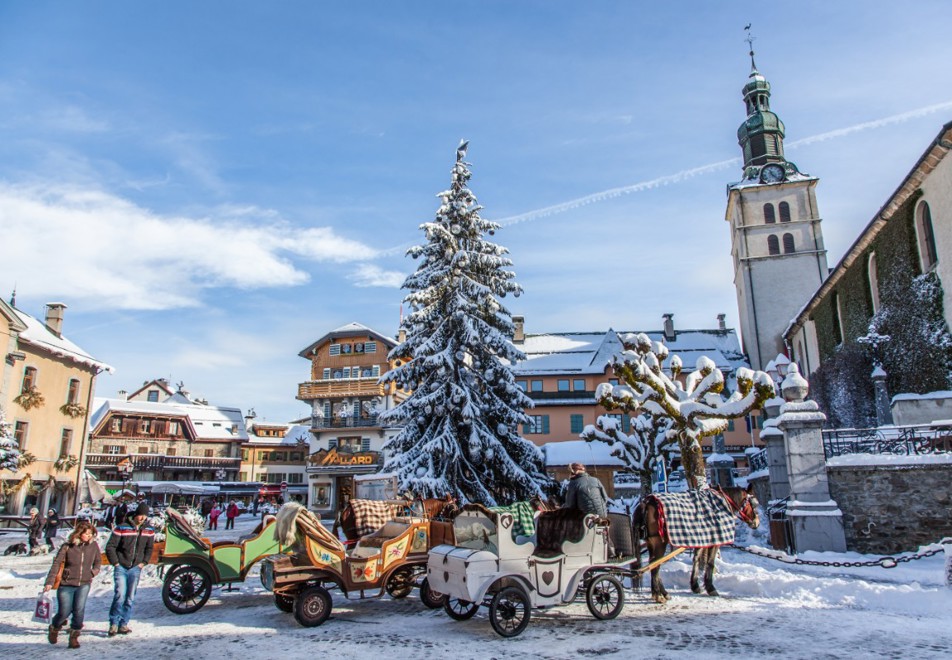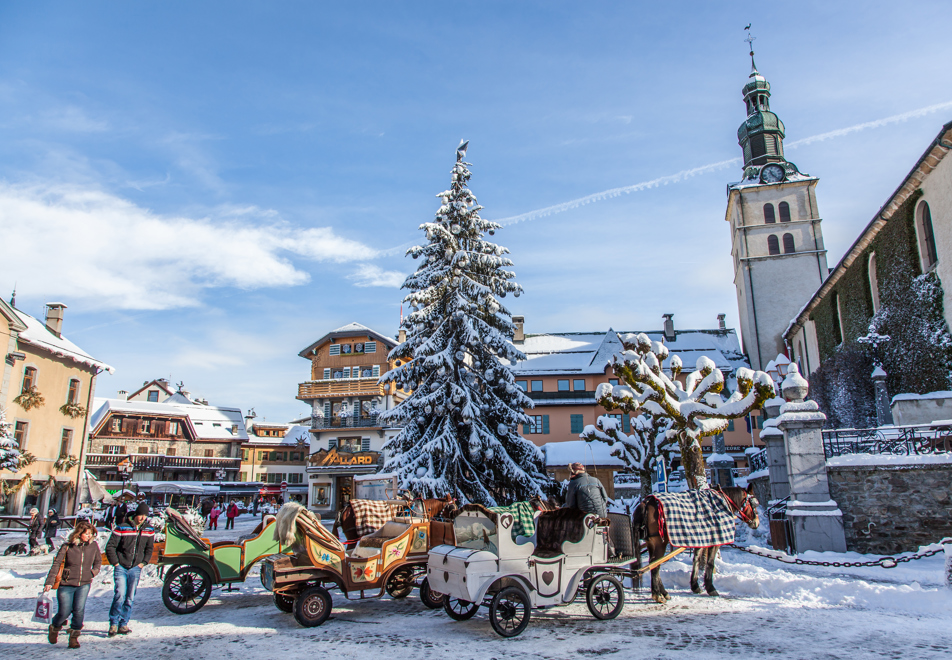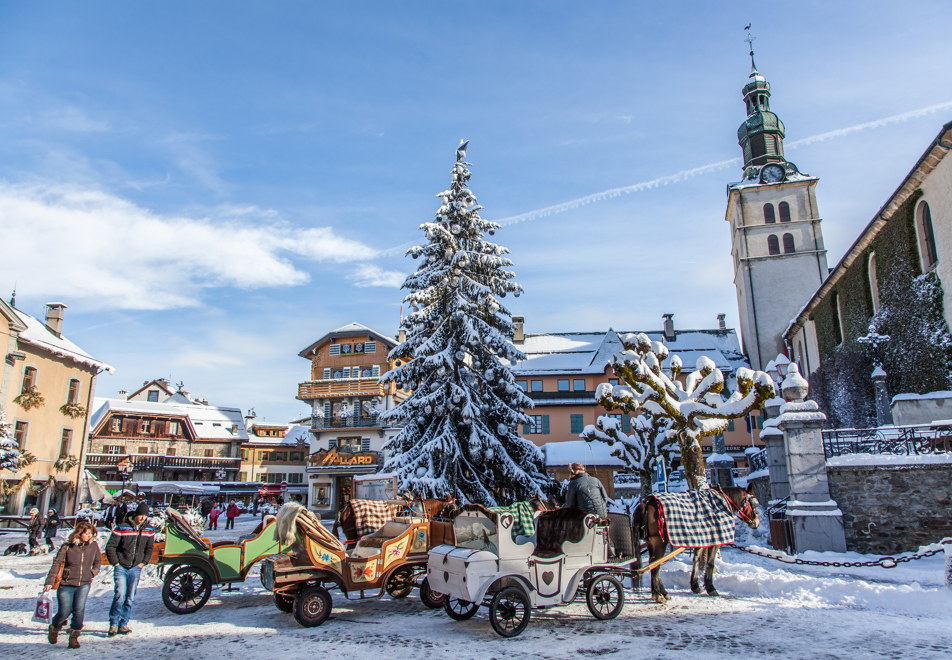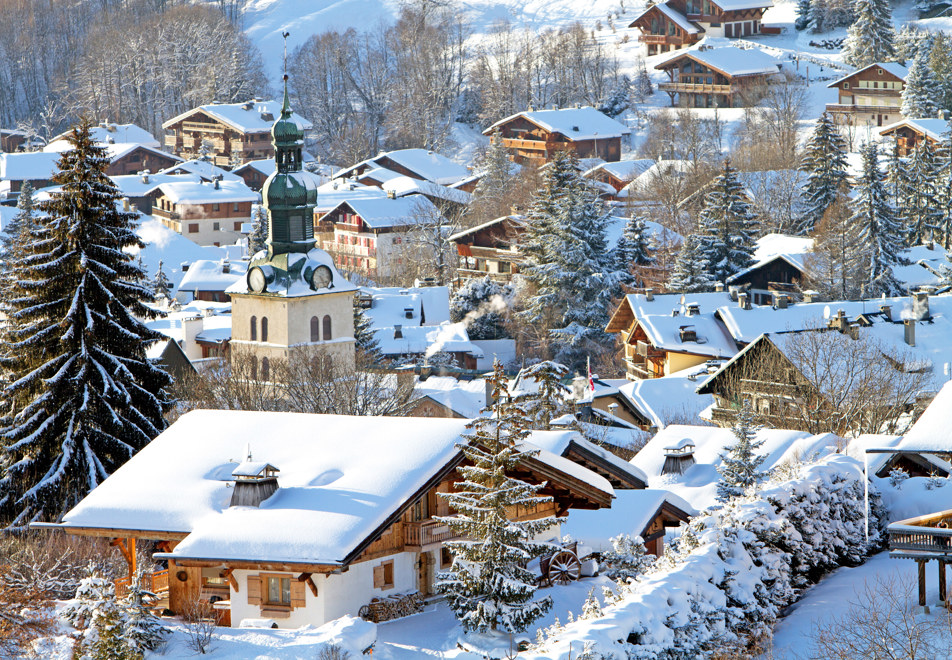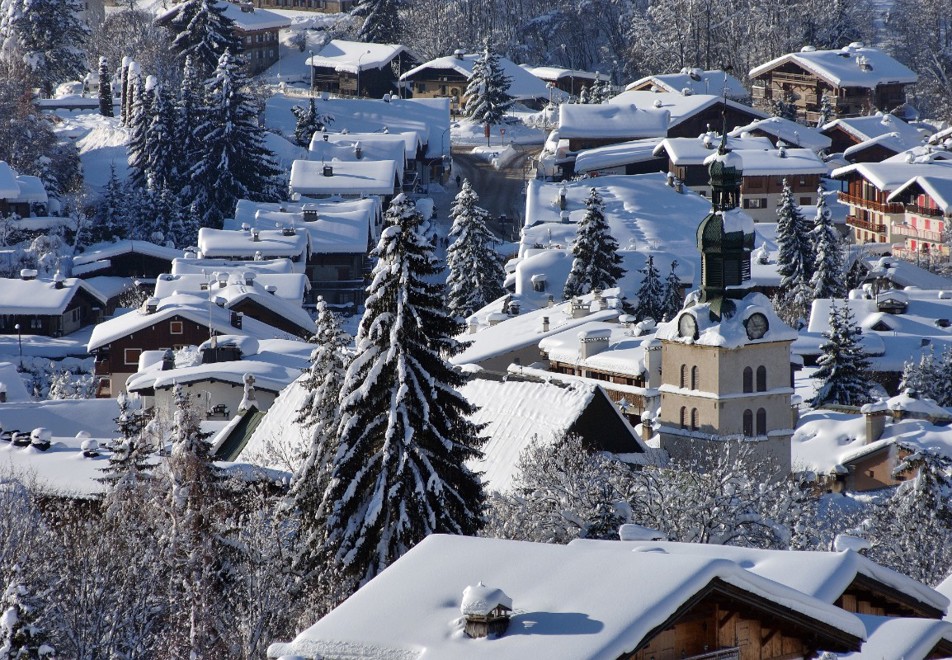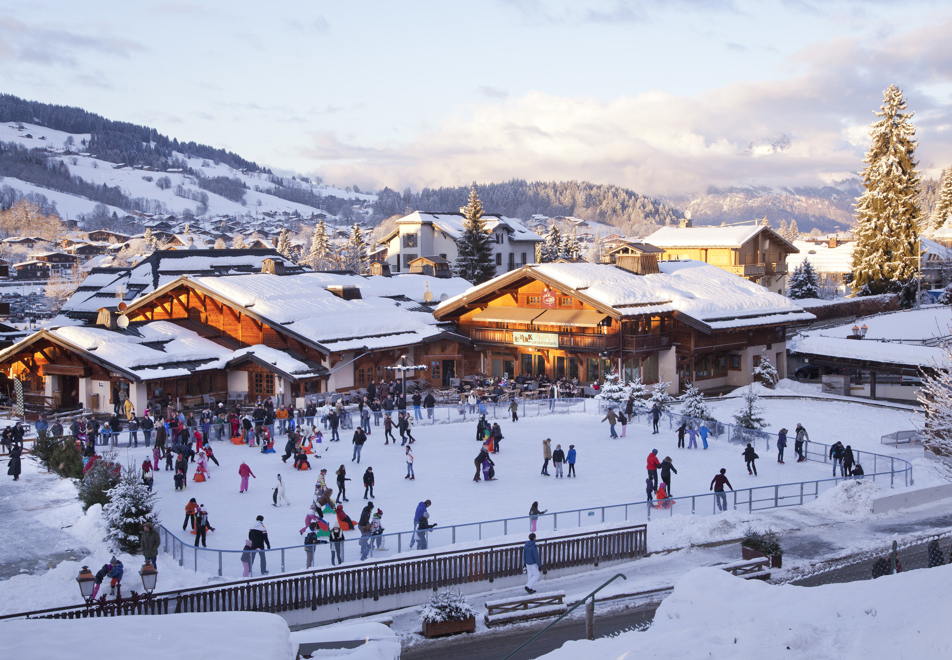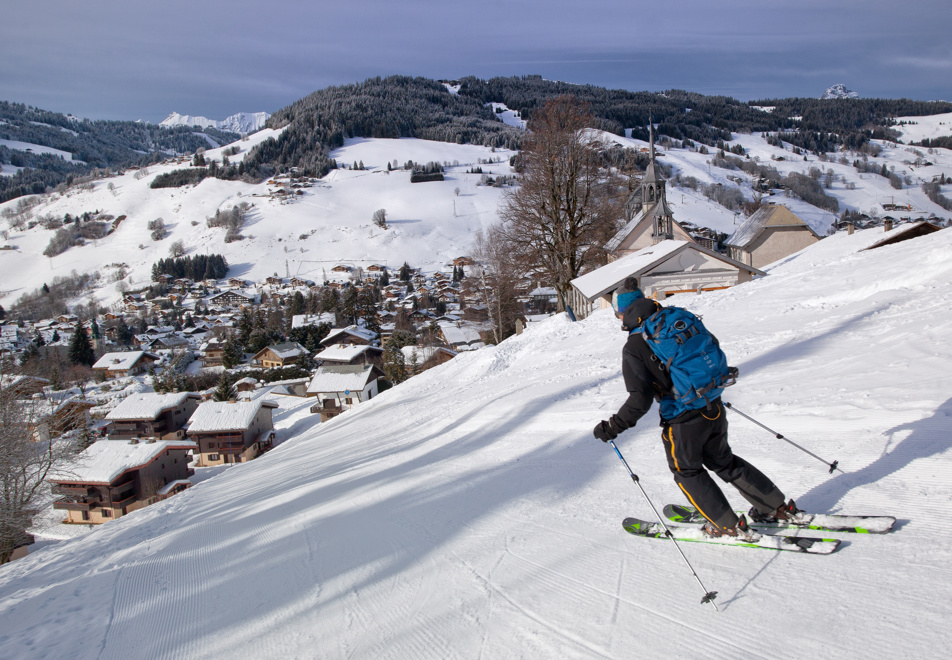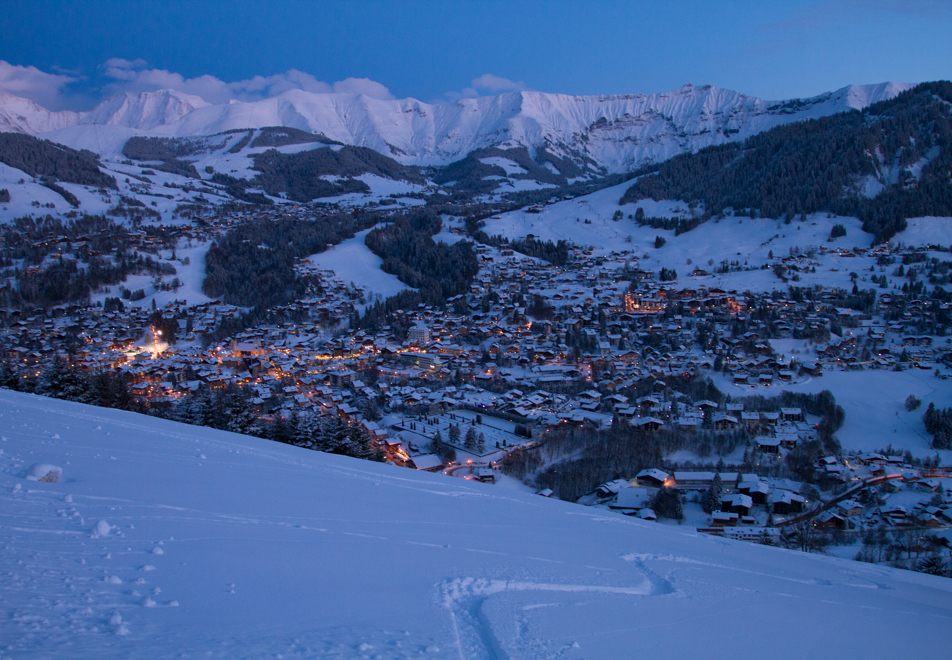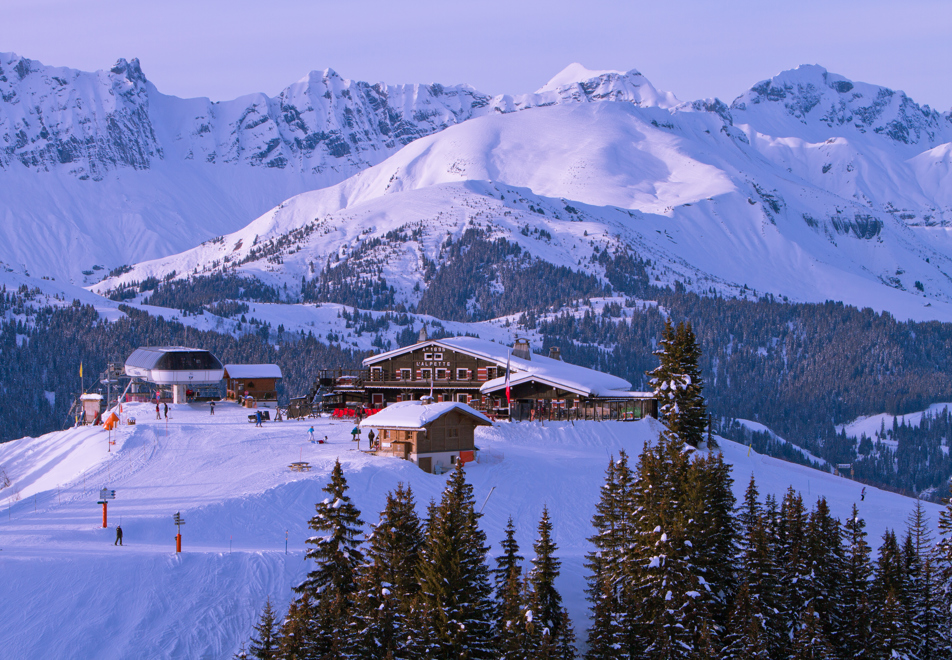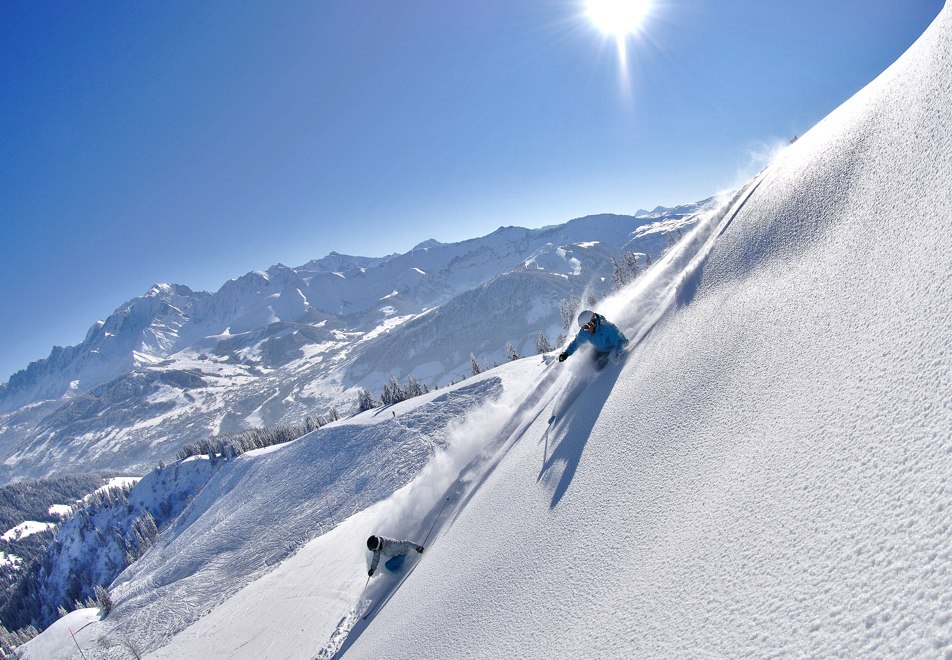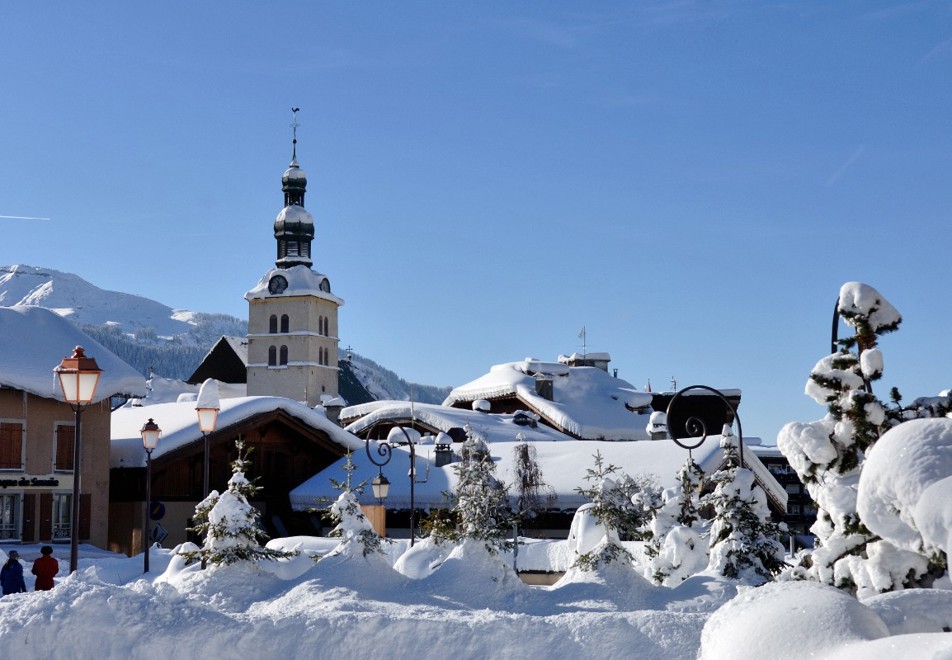 Thinking of skiing in Megeve? An enchanting town set in a picturesque and sunny setting, Megeve has retained its heritage and old rustic charm to become one of the most fashionable resorts in France.
Why Megève Ski Resort?
A unique and incomparable ambiance – and a high standard of restaurants including Michelin starred
A scenic setting with splendid views – and an attractive medieval town centre
There's a wide range of après-ski and non-skiing activities
Large linked ski area and excellent cross-country trails – lots of tree-lined skiing
Megeve Resort Information
Conceived in the 1920s as a French alternative to Saint-Moritz, Megève was the first purpose-built resort in the Alps and is nestled in the heart of Mont Blanc. Originally Megeve was a quaint farming village, but once it started to become a ski resort it was a favourite of many royals. In 1933 the farmers of the village invested in the Rochebrune area with the construction of the first cable car to be used by skiers ('benne rouge').
Megève is one of the best resorts in the Alps for non-skiers. This quintessential Haute-Savoie village has a beautifully preserved medieval centre - pedestrianised - with narrow cobbled streets, tastefully restored buildings, fountains, a pretty church, horse-drawn sleighs, and a weekly market, an open-ice rink and plenty of marked paths for walkers. There is a lot of heritage and history to discover.
There are lots of shops in Megève - upmarket clothing from luxury boutiques, jewellery, food, antique and gift shops. The choice is endless - so much so that if you can't ski you could do a lot worse than wander round town window-shopping. In short, Megève is a resort to taste the classic French 'art de vivre'.
Megève is very easily accessed from Sallanches (13km - motorway exit and TGV train).
MEGEVE SKI AREA
Megève has a huge ski area with ideal slopes - mainly set in woods - for intermediate cruising. It's also a great area for beginners with easily accessed nursery slopes at Mont d'Arbois. Megève has three areas - Rochebrune, Mont d'Arbois and Le Jaillet. The scenery is particularly spectacular with views of Mont Blanc from many of its runs, especially the red Epaule run.
Two of Megève fixed-grip chairlifts – the  Petit Rochebrune and the Grands Champs - are equipped with the Magnestick system to make it safer for children to ride them.
The Chamois gondola is within walking distance of Megève centre and gives access to Rochebrune. Le Jaillet's gondola starts from out of town. Rochebrune offers arguably the most attractive runs in the area in a delightful tree-lined sector whilst the vast Mont d'Arbois area links to Saint-Gervais. The wooded slopes make it a great resort in poor weather as the trees shelter you from the winds and heavy snowfall.
Mont Arbois is the largest and highest mountain area with plenty of slope variation which can be accessed from the town and from the La Princesse gondola out of town. The Mont Joly area has some of Megève's highest slopes.
The slopes above the resort are sunny but there are north-east facing slopes to Le Bettex and down to Saint-Gervais.
Additional ski fact info,
main ski info in resort facts box at top of page

(21/22):

Depending on where you stay in Megeve, you could purchase the large area Evasion Mont Blanc pass, the smaller Portes du Mont Blanc pass which covers one part of the mountain as described below or just a local Megeve pass.

Les Portes du Mont Blanc only (Combloux + Megève Le Jaillet + La Giettaz + Cordon (not connected by ski)

100km of pistes, 29 lifts (1 gondola, 8 chairlift, 17 draglift, 3 carpet), 69 slopes:

Green slopes: 13
Blue slopes: 18
Red slopes: 30
Black slopes: 8

St Gervais, St Nicolas, Megeve (not Jaillet) only - St Gervais is lift-linked to St Nicolas and Megeve

57 lifts, 121 slopes:

Green slopes: 25
Blue slopes: 36
Red slopes: 43
Black slopes: 17

Megeve local area

37 lifts (7 gondola, 12 chairlift, 15 draglift, 4 carpet), 22 slopes:

Green slopes: 20
Blue slopes: 13
Red slopes: 31
Black slopes: 13
MEGEVE SKIING
MEGEVE BEGINNERS
There are beginners' slopes at valley level and some others further up too. There are plenty of easy greens and blues. For those venturing off the nursery slopes, there are lots of long/gentle super- smooth pistes to boost your confidence.
LIVRAZ – A playful, fun area designed for both children and adults. The bumps and jumps are a big attraction for teenagers and thrill seekers - but also families. This partly sealed-off, gently sloping site is also the ideal playground for children who are being introduced to the sport - a mini-mountain of perfect snow where they can learn in safety!
MEGEVE INTERMEDIATES
The slopes are predominantly easy intermediate skiing so intermediates are relatively spoilt for choice. The slopes above Combloux are well worth exploring. There are long easy blue runs in the local Megève sector for less confident skiers. A number of gentle runs lead down from Mont d'Arbois to Le Bettex and La Princesse.
MEGEVE EXPERTS
For experts, the Mont Joly and Mont Joux section offer the steepest slopes. Côte 2000 has a small section of steep runs, including some good off-piste. For expert skiers, Megève is an ideal base to enjoy no fewer than 13 nearby resorts (including Chamonix and Argentière).
MEGEVE OFF-PISTE
The off-piste is far less skied than in most of the other Mont Blanc resorts and the area through the trees towards La Princesse provides superlative powder skiing. There is some serious off-piste to be found in the Mont Joly and Mont Joux section. Côte 2000 has a small section of steep runs and some good off-piste.
MEGEVE SNOWBOARDING
For freeriders there's lots of untracked off-piste powder. And Megève is ideal for beginners, with plenty of runs that are quite wide and gentle. Chairlifts and gondolas are in abundance, so draglifts are normally avoidable.
Megeve Ski Hire
Pre-book your Megeve ski hire with Peak Retreats. Please enquire for prices.
Please note, these Pound Sterling prices are for indication only. They will fluctuate based on Euro/£ exchange rate. Please call us for the latest prices.
Special offers: Free Skis/snowboard & boots (Superior Carver) for party leaders of groups of 10 or more all taking equipment. 1 Free helmet per child aged 6 and under for every adult booking skis or snowboards & boots. 
Find out more about Peak Retreats ski hire
---
Megeve Ski Passes
Pre-book your Megeve lift passes with Peak Retreats. Find out more about Peak Retreats ski passes
Please note, these Pound Sterling prices are for indication only. They will fluctuate based on Euro/£ exchange rate. Please call us for the latest prices.
Other lift pass on offer (to buy locally in resort in Euros):
Evasion Mont Blanc day passes 16/17:
Adult 1 day pass €46, child €37
Mont Blanc 1 day passes 16/17:
Adult 1 day pass €62, child €52.70
Beginner pass 2016/17:
€21/day
The beginner Rochebrune-Mont d'Arbois ski pass enables you to take the beginners ski lifts of that area. 
€10/day
The beginner Princesse ski pass enables you to ski on the bottom button lift of Princesse. 
Megeve Ski School
Pre-book your Megeve ESF ski school with Peak Retreats. Find out more about Peak Retreats ski school
Ski school for children is available to book from 3 years to 12 years, in Megeve, with Peak Retreats. 3-4-year-olds will go into the Piou Piou lessons.
To book your ski school, download the ski extras form from the 'Helpful links' further down the page.
Please note that lesson times are subject to change right until the last minute - you will be advised. Outside French school holidays, the ski school reserves the right to cancel group lessons should numbers be insufficient.  For peak periods - Christmas, New Year, February half-term and Easter - we strongly recommend that you book as early as possible and in any case at least 6 weeks prior to the required dates. Morning lessons tend to get booked up first and therefore we may only be able to offer afternoon classes within 6 weeks of departure. In some resorts, English speaking instructors may not always be available, particularly at peak times.
We cannot always guarantee that prices will be cheaper than in the resort. When ski packs prices are calculated, the currency is bought at the exchange rates that apply at the time. You can be assured that once you have booked your extras, if the pound depreciates, you will not be charged more for your ski packs, enabling you to budget for your holiday in advance.
Megeve Individual tuitions 

(18/19 prices, NOT pre-bookable)

1 to 2 people (55 minutes) - From 47 €
1 to 2 people (for 1h 55 minutes) - From 94 €
3 to 5 people (55 minutes) - From  62 €
3 to 5 people (for 1h 55 minutes) - 124 €

Individual tuitions can only be purchased directly from the ski school. Peak Retreats cannot pre-book these.

Please note that prices are only an indication and are subject to change

Ski school Megeve contact numbers for private lessons only:

ESF Megeve, Tel.: +33 (0)4 50 21 0
Megeve Child Care
Megeve has acquired the Famille Plus & the highly exclusive Top of the French Alps label (TOTFA - only 16 resorts appear on this list) for its childcare facilities.  Please view here for more information on the Famille Plus label.                          
Les P'tites Frimousses - Daycare centre for babies
For children aged 12 months to 3 years old.
Welcoming your children from Monday to Friday for a full day, for half days or for mornings with lunch. Please note a doctor's certificate will be required to attest suitability for life in groups. Due to the limited number of places available, please make sure you book in advance. Also, open outside of school holidays.
Guide prices for 2018/19:
1 full day with lunch: 75 €
1 morning without lunch: 36 €; 1 morning with lunch: 58 €
1 afternoon: 36 €
5 full days from Monday to Friday: 325 €
5 mornings without lunch: 151 €; 5 mornings with lunch: 250 €
5 afternoons: 151 €
3001 route Edmond de Rothschild,
74120 Megève
Tel. 04 50 21 18 69 or 04 50 58 77 84 - service.enfance@megeve.fr
Family Day Care Centre Meg Loisirs
Activity centre for the 3 to 12 years old.
Located next to the Sport centre. Due to the limited number of places available, please make sure you book in advance.
26 Allée des Lutins BP 84,
74120 Megève
Tel. 04 50 58 77 84 - service.enfance@megeve.fr  
Megeve Resort Activities
The Palais centre
The largest well-being centre in the Alps with 10,000m2 of additional spaces opened recently. Swimming pool, spa, hammam, saunas, fitness room, climbing wall with 5,500 holds, skating rink, gymnasium etc.
Downhill 4's toboggan
An unforgettable experience by day or at night. Solo or in a pair, climb into a toboggan and prepare yourself
for an adrenaline ride through winding turns and tunnels with changes in height and speed.
Megeve Walking
Walking in Megeve area is excellent with around 50km of marked classified paths.
Megeve Dog Sledding
An adult must come with the child.
More information and booking only by mail at: montduvillard@aol.com
Tel. +33 (0)4 50 21 37 03
Megeve Paint ball
An unforgettable experience! From 8 years old 2 paintball sites in the middle of the Cote 2000 forest with 7 different game scenarios for 1 to 2 hrs of fun. Special equipment from 8 to 12 years old.
Route de la Cote 2000.
Tel. +33 (0)6 09 81 31 17 - paintballxp@paintballexperience.net
www.paintballexperience.net
Megeve Sports Centre
Open air ice rink 
Animations for children
Olympic ice rink 
60m x 30m 
Musical animations, late evening openings. 
Swimming pools 
Heated indoor pool of 25 x 12,50 m and a heated indoor children's pool of 12,50 x 12,50 m.
Climbing Wall 
Artificial structure of more than 200m2. Equipment not provided. Access exclusively for those accompanied by a guide.
Indoor tennis court
Free for children under 5 years old (also for the swimming pool and the ice rinks)
Megeve Tobogganing areas
Pré Saint Amour in heart of the village, Livraz, upper cable car station at Jaillet - for under 6 years old.
Area Cote 2000 (accessible from February), la Caboche - from 6 years old.
Megeve Bowling
Le Canadien
For families and children from the age of 5. Open at 2pm. 
Lanes equipped with automatic rails (bumpers), simulator video games, bar, snack and pancakes.
Free wireless system for clients.
370, route de Sallanches
Tel: +33 (0)4 50 21 18 40
Megeve Snowshoeing
Tel. +33 (0)4 50 21 55 11 - guides.megeve@wanadoo.fr 
www.guides-megeve.com
Megeve Paragliding
Tel. +33 (0)6 62 13 27 71 - megeve.parapente@orange.fr 
Megeve Mont Blanc Helicopters
Tel: +33 (0)4 50 92 78 00
www.mbh.fr
Megeve Hot Air Balloon
Flights at heights between 1500 and 2500 metres. One hour of views over the highest mountains of the Alps, as well as the chains of Mont Blanc, Aravis, Beaufortain, Bauges and Fiz. Champagne on landing and journey in 4x4 car back to the meeting point.
673, route du Val d'Arly
Praz sur Arly
Tel: +33 (0)4 50 55 50 60
www.alpes-montgolfiere.fr
Megeve Adventure Park
Assault course in the heart of the forest. From 5-10 years - special level. Book in advance.
Cote 2000 Aventure
330 route du plan de cassioz
74120 Praz sur Arly
Tel. 0033 06 76 29 71 04 - cote2000aventure@aliceadsl.fr
Dinner Under a Yurt
Spend an evening aloft and enjoy dinner under a Mongolian Yurt. Enjoy an evening after skiing by spending a magical evening in a traditional alpine chalet, enjoying a traditional mountain meal. Ski back to the village underneath the twinkly Milky Way or enjoy the thrills of heading home on a sledge under the supervision of professionals.
Snowshoeing and Igloo Adventures
Organised by the "Mountain Guides Office", the 'Lapland Kids' outings offer the chance to try out snowshoeing across mountain fields and forests. Discover and enjoy the local winter fauna and flora or take part in a group activity, such as the building of an igloo.
Markets
Monday morning: N.D. de Bellecombe
Tuesday morning: Annecy old town & Flumet
Tuesday all day long: Aoste in Italy & Moûtiers
Wednesday morning: Beaufort & Ugine
Thursday all day long: Albertville
Friday morning: Annecy old town, Mégève & Moûtiers
Friday all day long: Crest-Voland (only in winter)
Saturday morning: Annecy, Chamonix, Sallanches & Ugine
Saturday all day long: Torino in Italy
Sunday all day long: Crest-Voland (only in winter)
Please note: All the above information is for information only. For the most up-to-date information please visit the resort tourist office website. All prices for activities are in local currency (€ Euros) and are bookable and payable locally in resort.
Megeve Tourist Office 
70 Rue Monseigneur Conseil, Megeve
Tel. +33 (0)4 50 21 27 28 or +33 (0)4 50 21 29 52 - megeve@megeve.com
www.megeve.com
Megeve Ski Activities
There are 30 mountain restaurants in Megeve.
Megeve Big Air Bag
Discover the freestyle Airbag! It's a 165m2 mattress, lined with an air pocket, specially designed for the safe reception of jumpers. 
Megeve Magnestick
Megève is equipped with 2 chairlifts with the Magnestick system: "Petit Rochebrune" and "Grands Champs". Two places are equipped on each chair of these two fixed grip chairlifts.
Megeve Snowpark and half pipe
At Mont Joux and Le Jaillet.
Waidzai Park in Megeve
Under Grands Champs chairlift, attractive modules: whoops, pyramids, up-turned bends
Megeve Cross-country skiing
38km of tracks
La Liveraz cross-country skiing tracks & play area has 18km of tracks. It's open every day from 9am to 4.30pm, and can be accessed by the free Meg ski bus.
• Cross-country skiing: free for children under 6, with easy beginners loop
• Fun beginners' trail: Snow parks with moguls, ski jumps, upturned bends, from 4 years old.
• Secured tobogganing area, free for children.
• Trekking by foot or with snowshoes.
• Snack bar and picnic area.
Mont d'Arbois - Encraty: 10 km
Odier - Plaine d'Arly: 5 km
Cassioz - Praz sur Arly: 5 km
Tracks of Mont d'Arbois, Plaine d'Arly et Cassioz are all free access.
Megeve Heliski
Accompanied by a guide. In collaboration with Mont Blanc Helicopter. One to several rotations in Switzerland or Italy. Reserved for very good skiers out. Banned in France, the removals are still possible in Heliskiing abroad, especially in Valle d'Aosta (Italy) and in the Valais (Switzerland). Away from the crowd and marked the lifts tracks, you escape for a few hours on the pristine slopes of the Swiss and Italian Alps and descents of rare intensity. It is possible to consider several runs with different orientations depending sunshine and snow conditions at the time. Generally two rotations suitable for intermediate skiers to spend a good day. A meal in a mountain refuge allows a welcome stop for the lunch break.  Transfers sites can be done from the airfield Megeve by the company MBH.
Tel: 0033 4 50 21 55 11 - guides.megeve@wanadoo.fr
www.guides-megeve.com 
Megeve Resort News & Events 2021/22
News:
Megève celebrates its centenary! The Megève winter sports resort was opened in December 1921 which means 2021 marked its 100th anniversary. 
Events:
Exhibition 18th December 2021-18th April 2022 In its magnificent exhibition space: Espace d'Arts moderne et contemporain Edith Allard in the Palais, Megève presents an exhibition devoted to the theme of mountains in the world of comics.
Climbing Duo Initiation 11th January-3rd May 2022 Discover in duo the bases of climbing with coaches. 
Grande Odyssée Savoie Mont Blanc 12th January 2022 Once again, Megève is hosting a stage of the world's most difficult sledding race, first organised eighteen years ago by Henry Kam and Nicolas Vanier.
Jumping Ski Race 29th January 2022 International Jumping of Megève hosts its famous ski race.
Edelweiss Megève Ski 29th January 2022 Experts and novices gather on the start line for an unusual ski-touring adventure. Set off and then decide on your distance during the race.
Back to Back Freeski Invitational 18th-20th March 2022 This event has a format that is unique in Europe: an aerial Base-jump & speed-riding show broadcast live with a parallel backcountry competition with 25 international pro skiers/snowboarders.
Festival International Jazz 31st March-2nd April 2022 Ibrahim Maalouf, Pink Martini and the JAMY artists: Isabel Sörling, Sly Johnson et Robin McKelle will meet you to ignite the scene of this memorable festival.
More information can be found on the tourist office website: www.megeve.com
Megeve Après-ski, Bars & Restaurants
Megeve is a very lively station with a cosmopolitan atmosphere. There are 90 bars and restaurants (11 being bars) open winter and summer, 3 cinemas and lots of shops, including smart clothing, jewellery, antiques and groceries. Megeve is a paradise for non-skiers! Market on Fridays.
There are 9 altitude restaurants in Megeve.
Folie Douce to liven up Megève
Megève's quiet and sophisticated après scene is going to get something of a shake-up: at the top of Mont Joux the latest branch of the Folie Douce is due to open, introducing the chain's trademark Austrian-style afternoon party scene. This will be the fifth in the Folie Douce chain, which started in Val d'Isère and spread to Val Thorens, Méribel and Alpe d'Huez. 
Le Bambini, Megève
At 1,000m Le Bambini is a new Italian mountain restaurant for 2021. After opening in Paris and Saint Tropez, Le Piaf is coming to Megève. With its cocktail bar and fun restaurant, it will be the new place to be. 
Megeve bars and clubs
Le Bar des Alpes
Rue de la poste
Tél. +33 (0)4 50 93 08 15

Le Bar des Trappeurs
Hotel Lodge Park
Tél. +33 (0)4 50 93 05 03

La Calèche
Place de l'Église
Tél. +33 (0)4 50 58 99 13

Le Cocoon Club
Route Edmond de Rothschild
Tél. +33 (0)4 50 21 09 91

Le Georges
Hôtel Mont-Blanc
Tél. +33 (0)4 50 21 20 02

Le Palo Alto
Rue Charles Feige
Tél. +33 (0)4 50 91 82 58

M le vin
50, rue Saint François
Tél. +33 (0)4 50 34 41 49

Le Saint Paul
Impasse Saint Paul
Tél. +33 (0)4 50 91 93 03

Le Chalet
367, route du crêt
Tél. +33 (0)4 50 21 01 01

La Sauvageonne
Route du Leutaz
Tél. +33 (0)4 50 91 90 81

Stefano Forever
Allée du sporting de Rochebrune
Tél. +33 (0) 4 50 93 39 18
Megeve Amenities
Megeve is served by a range of amenities including: mini-supermarket, cash point, doctors, pharmacies, physiotherapists, dentists, launderettes/dry cleaning, bakeries and a casino. 
Getting to Megeve, France
By Road:
Driving distance from Calais to Megeve 549 miles (7 hrs35)
From Calais, take A26 Motorway towards Reims and Troyes, then Dijon, Mâcon then 'Autoroute Blanche' Motorway (A40 Mâcon – Cluses) exit Sallanches (no 20). Follow signs to Megeve (13 km from the motorway exit).
By Rail:
Sallanches station: 12km (7 miles) from Megève (terminus St Gervais les Bains / Le Fayet)
- TGV train from Paris, change at Annecy on weekdays
- Shuttle Bus service to resort from Sallanches station
Tel: +33 (0)4 50 21 25 18 - sat17@wanadoo.fr
www.sat-montblanc.com
Shuttle bus service to resort from Geneva's bus station (The dorsière square)
Tel: +33 (0)4 50 21 18 24 - www.borini.com 
SNCF info and reservation
Tel: +33 (0) 892 35 35 35 - www.voyages-sncf.com
Airports:
Geneva Airport is 70km from Megeve
www.gva.ch (select Transportation in the menu)
Lyon Saint-Exupery is 160 km from Megeve
www.lyonaeroports.com
Public shuttle bus transfers from the airport
There is a coach from Geneva Airport - Megeve
www.coach-station.com
Ski Bus: Free for Rochebrune, Mont d'Arbois, Cote 2000, Jaillet, Cassioz and Princesse.
Megeve Airport Transfer
For pre-bookable private transfer rates with Peak Retreats, view here. 
---
Megeve Opening and Closing dates
Megeve opens from 18/12/21 - 27/04/22