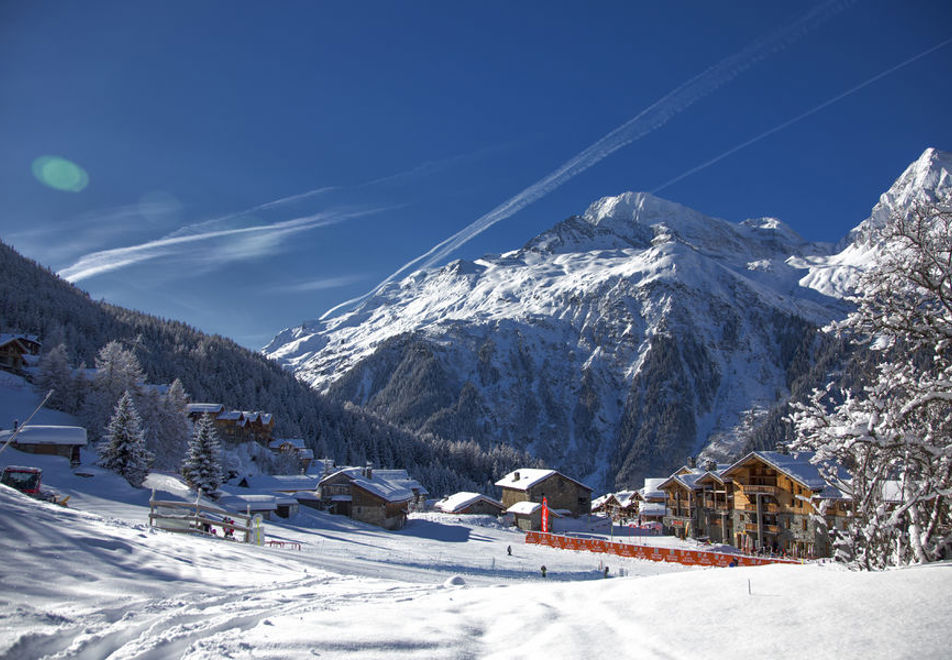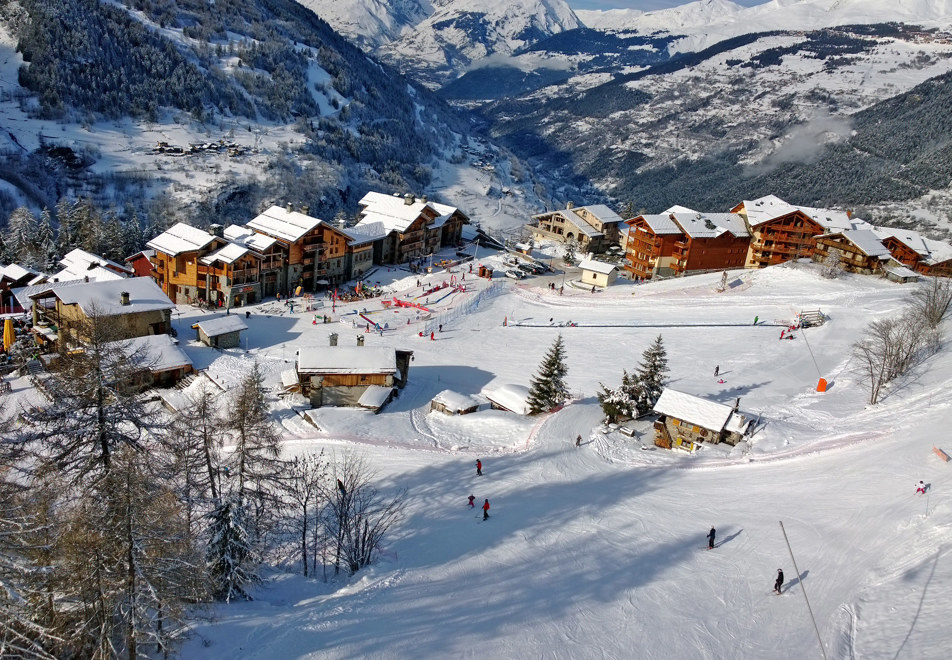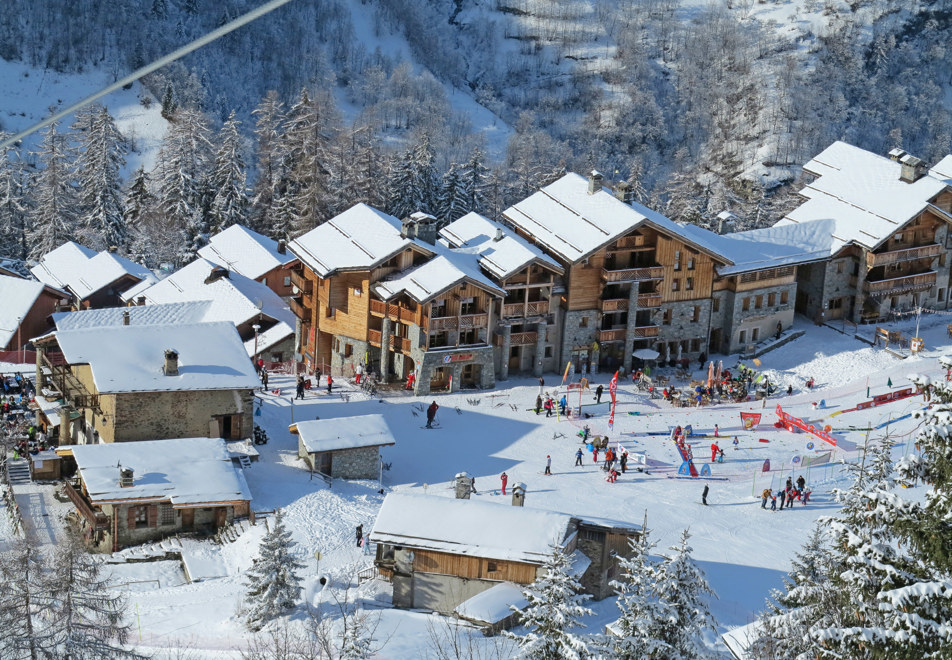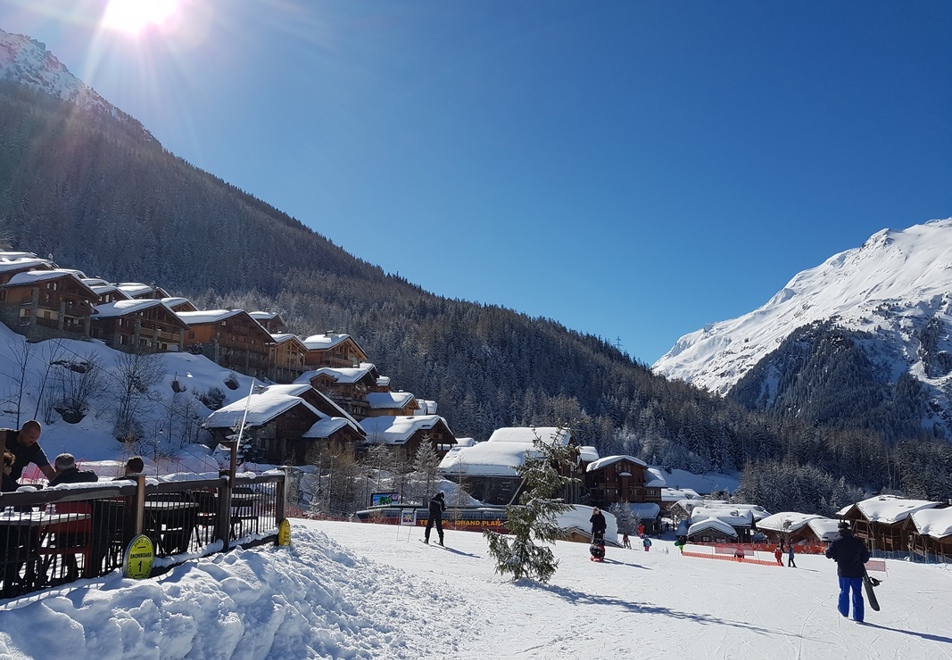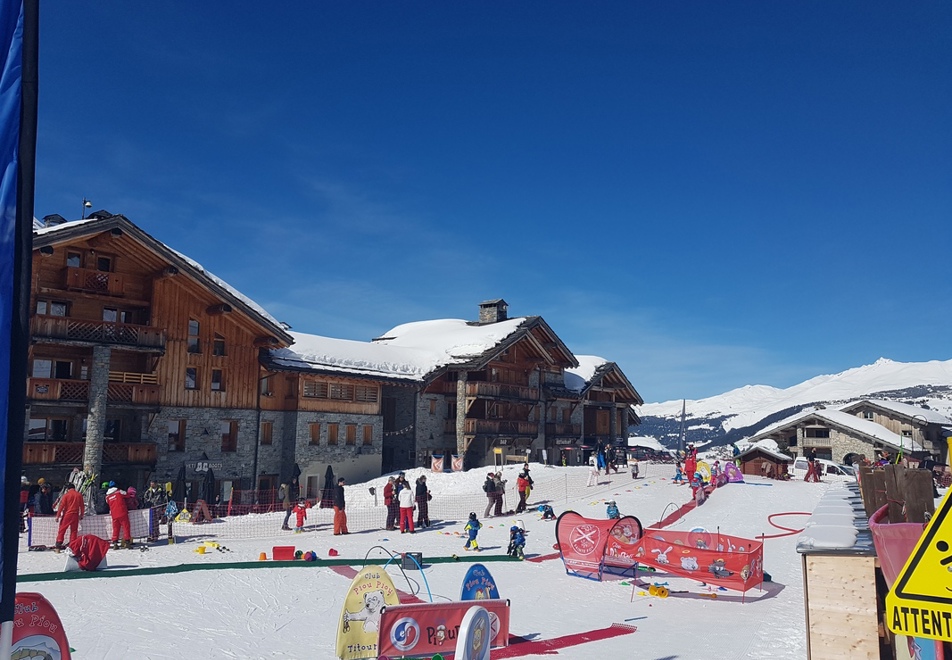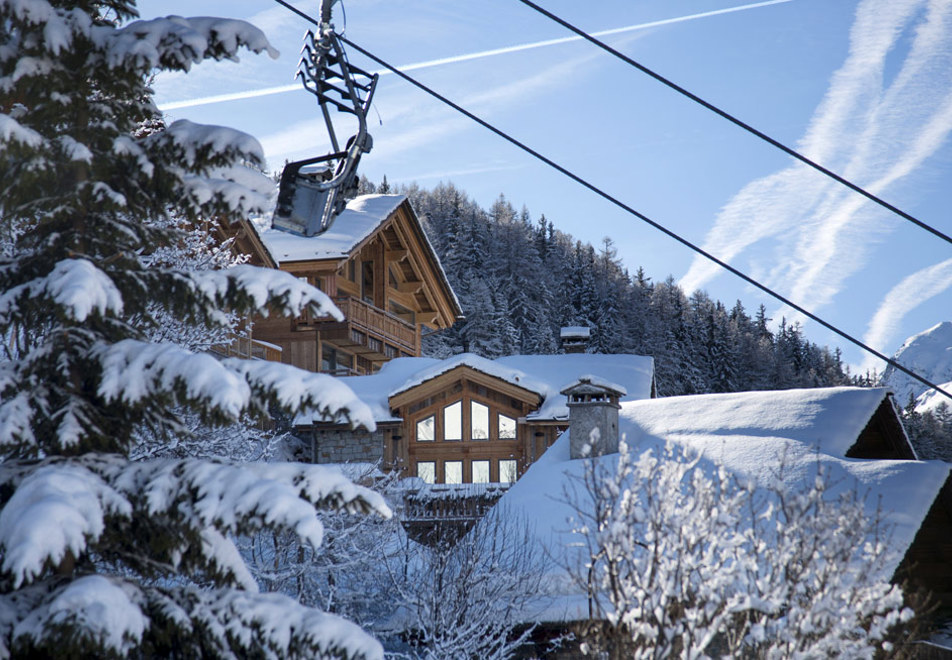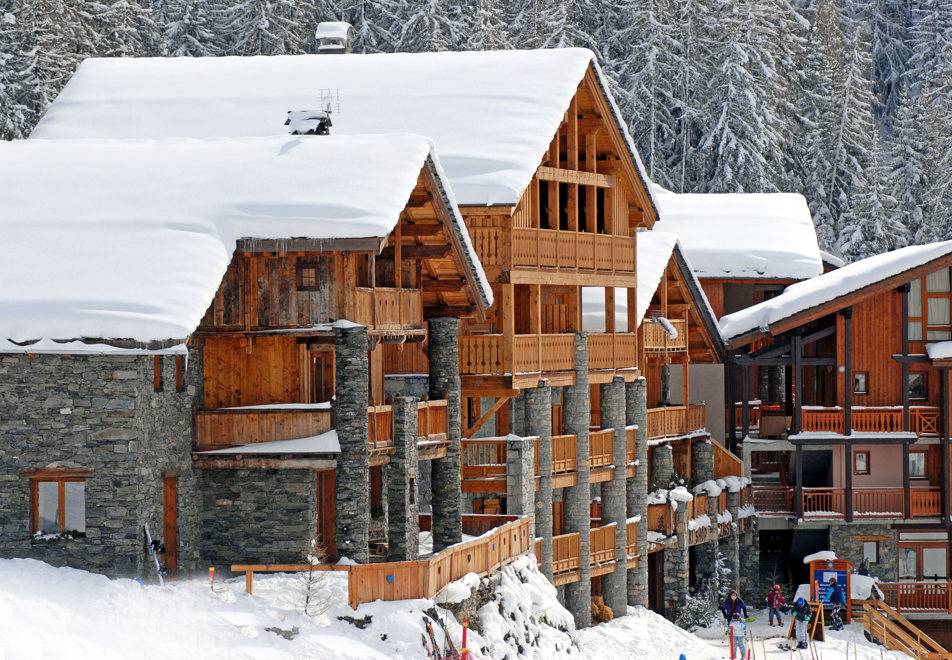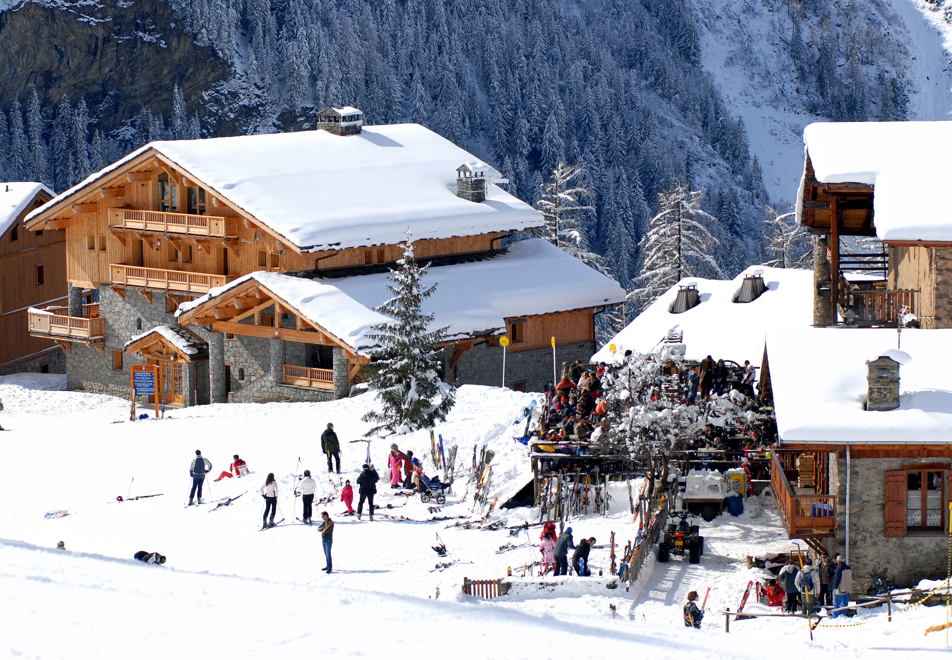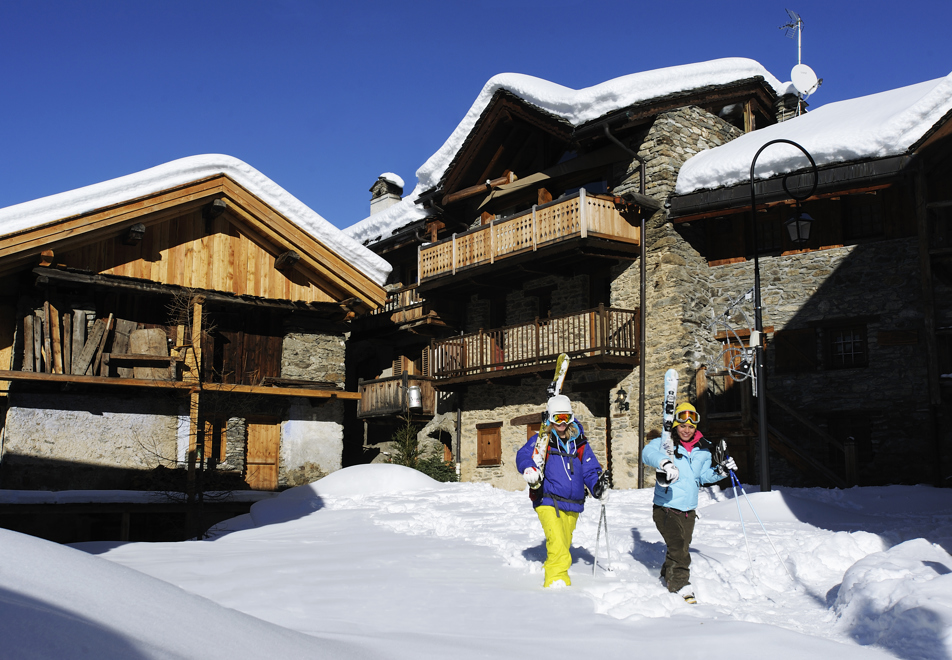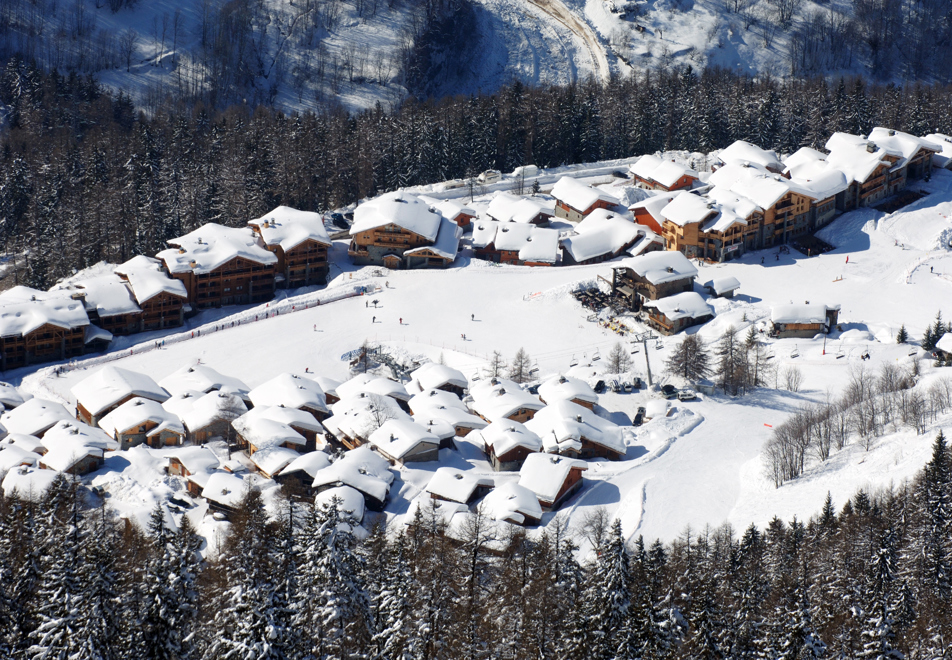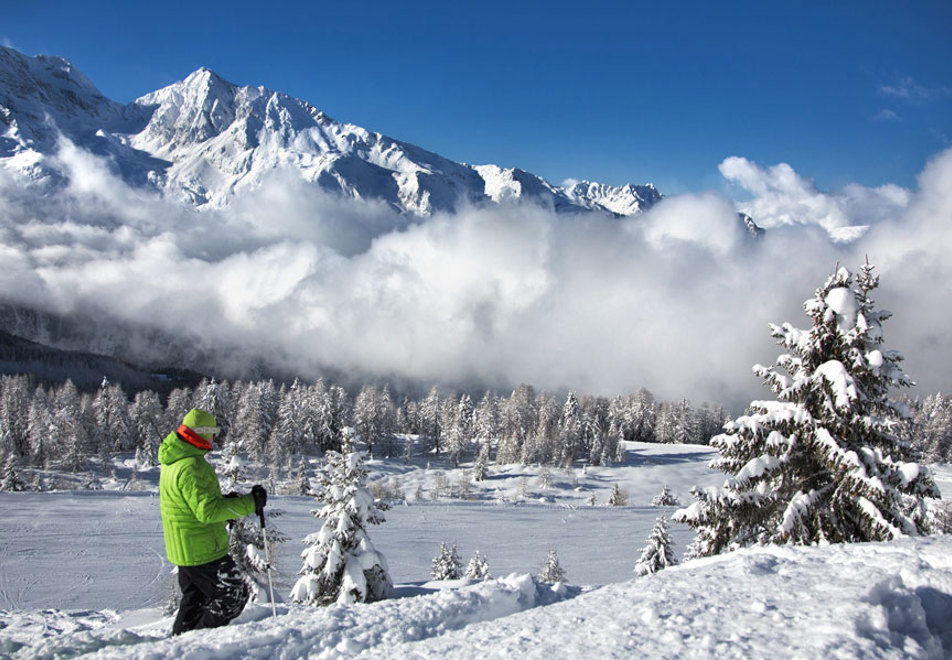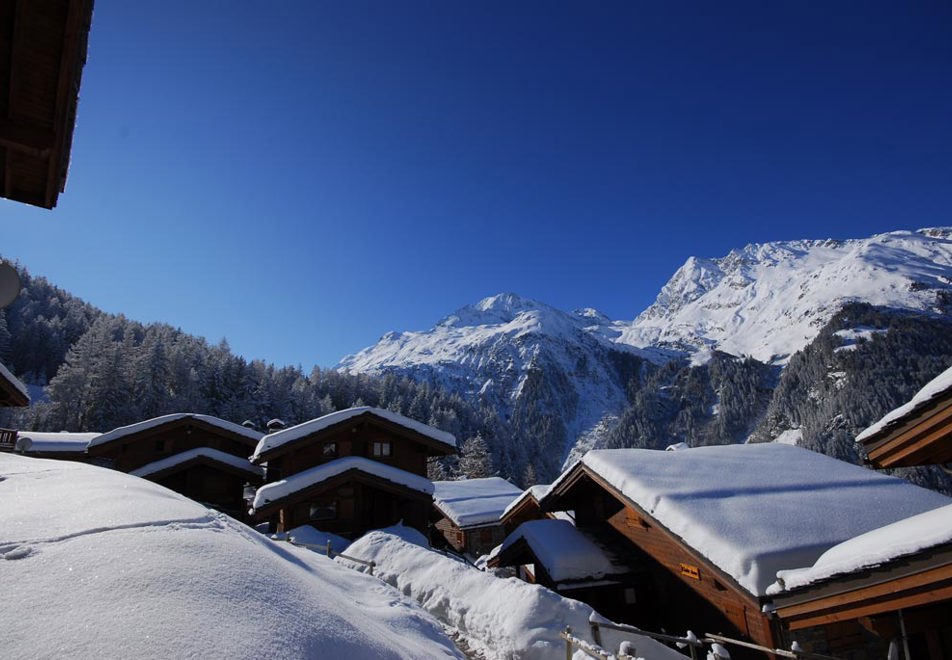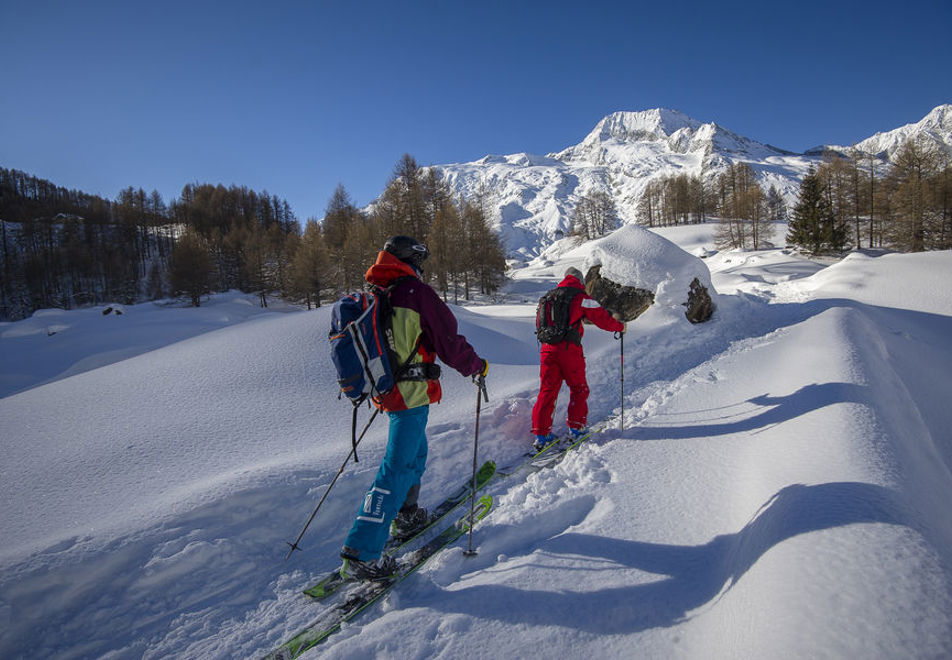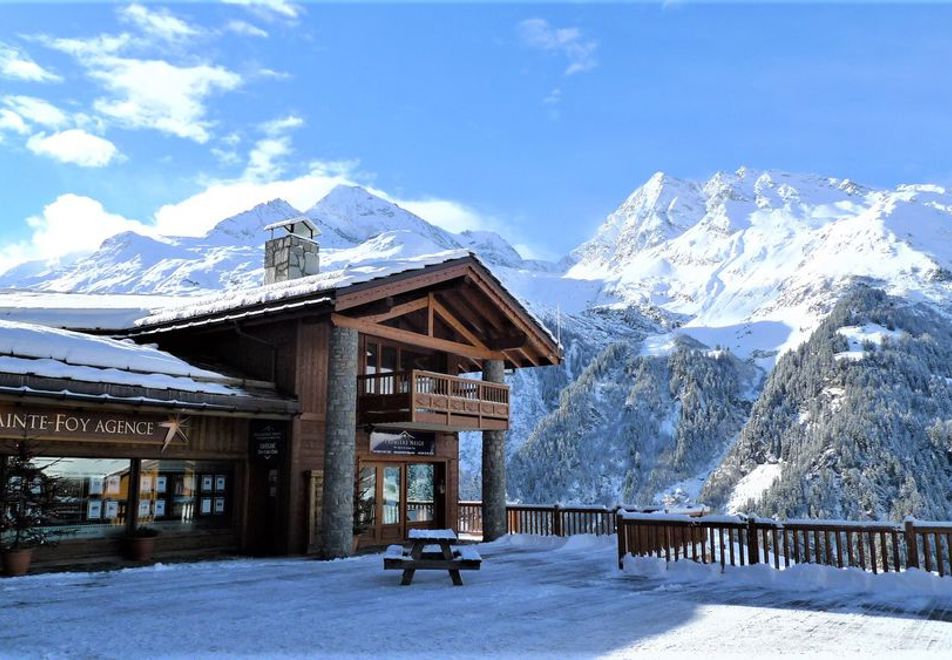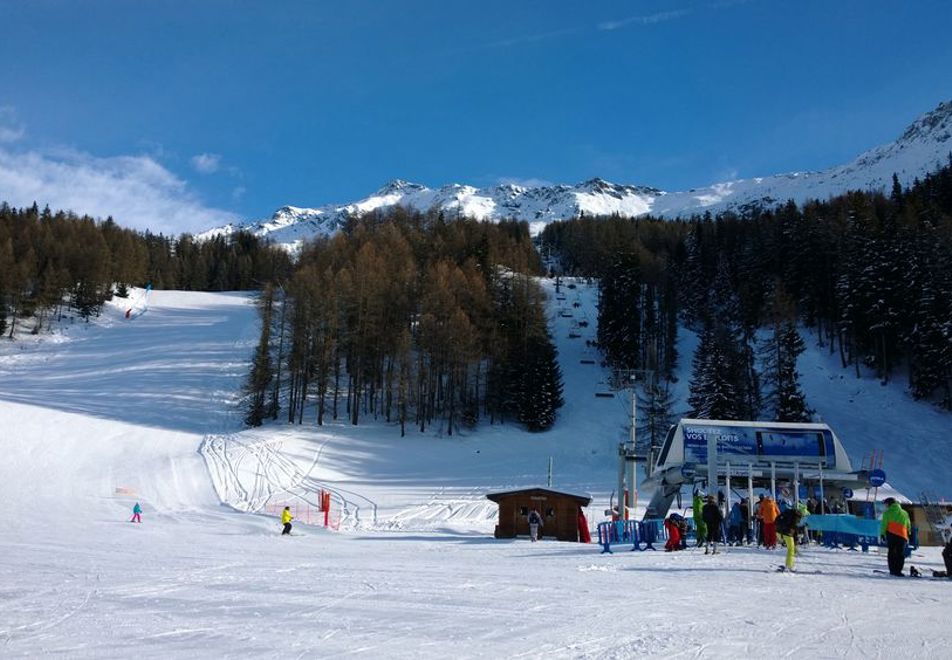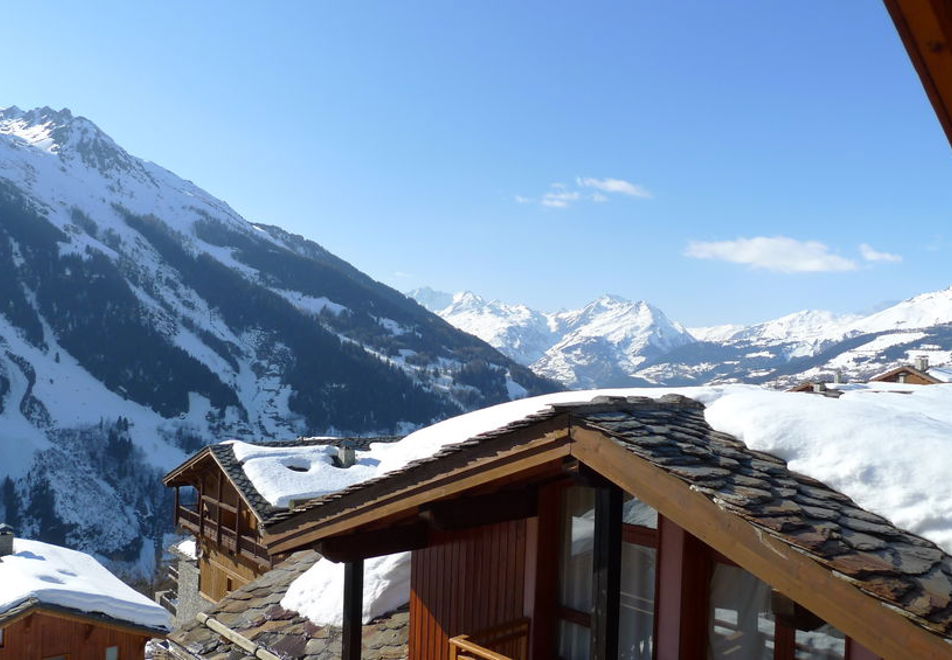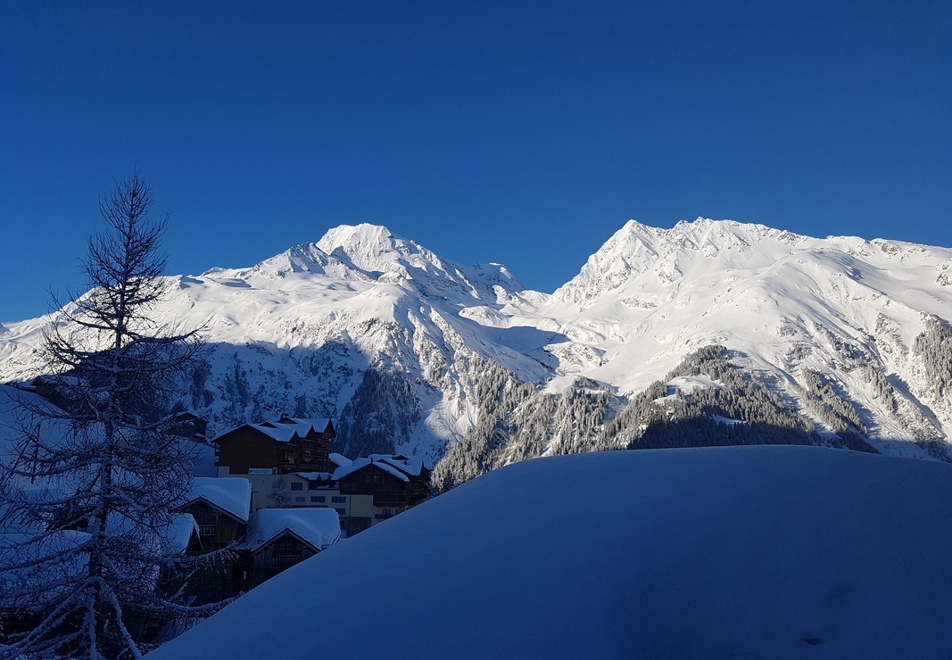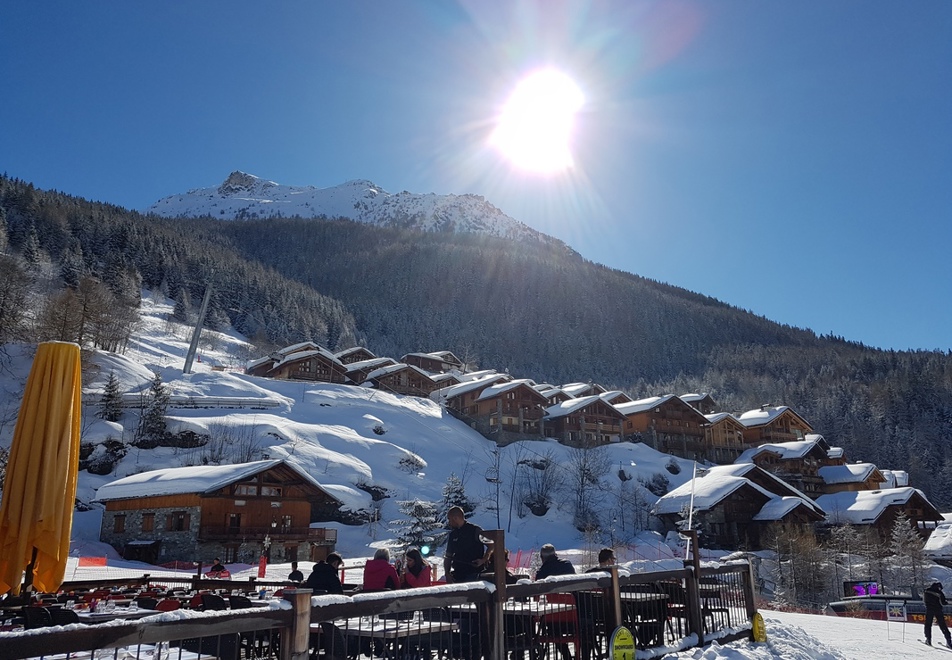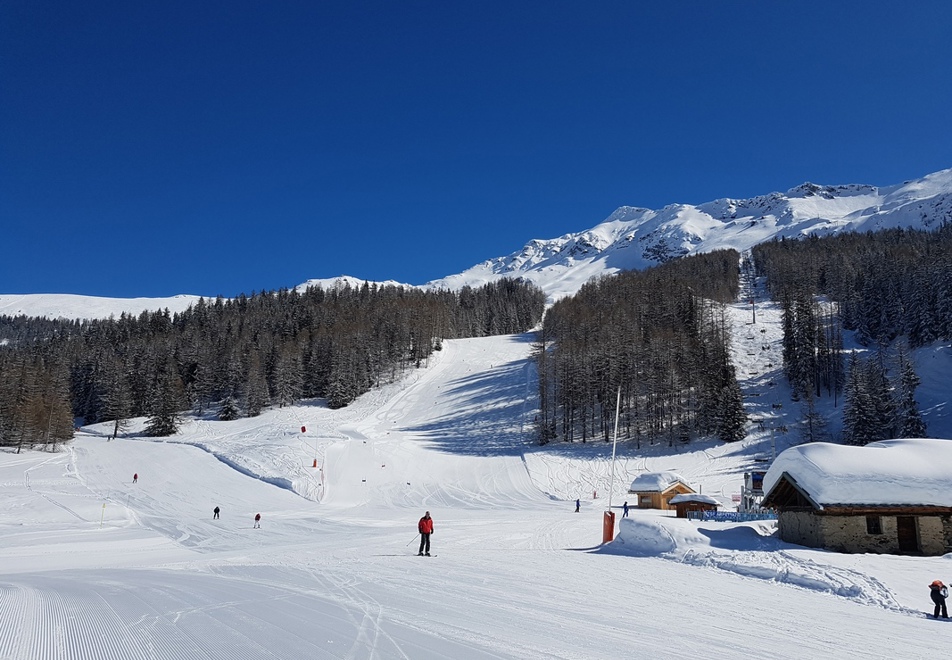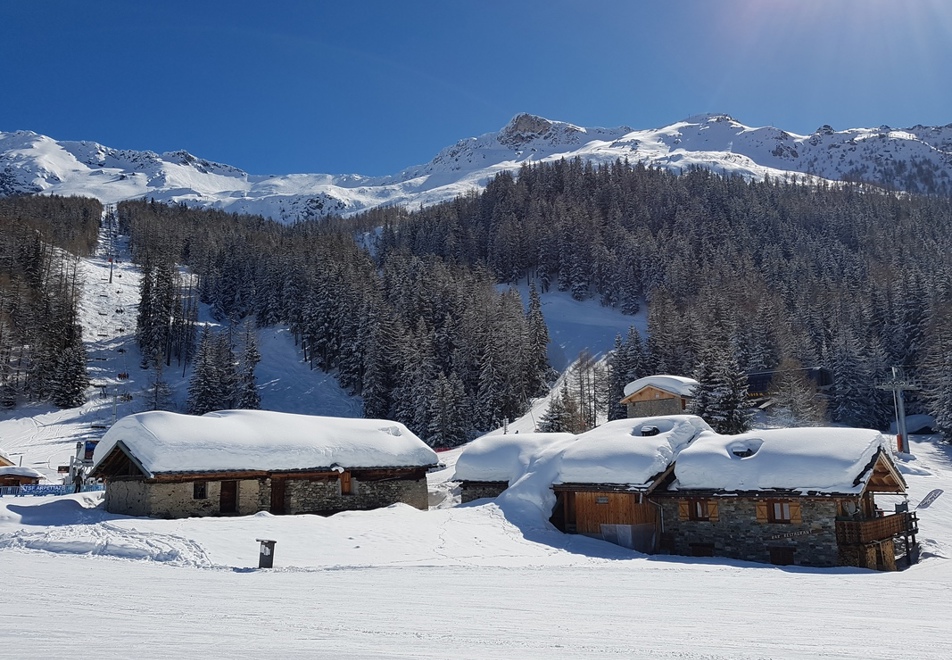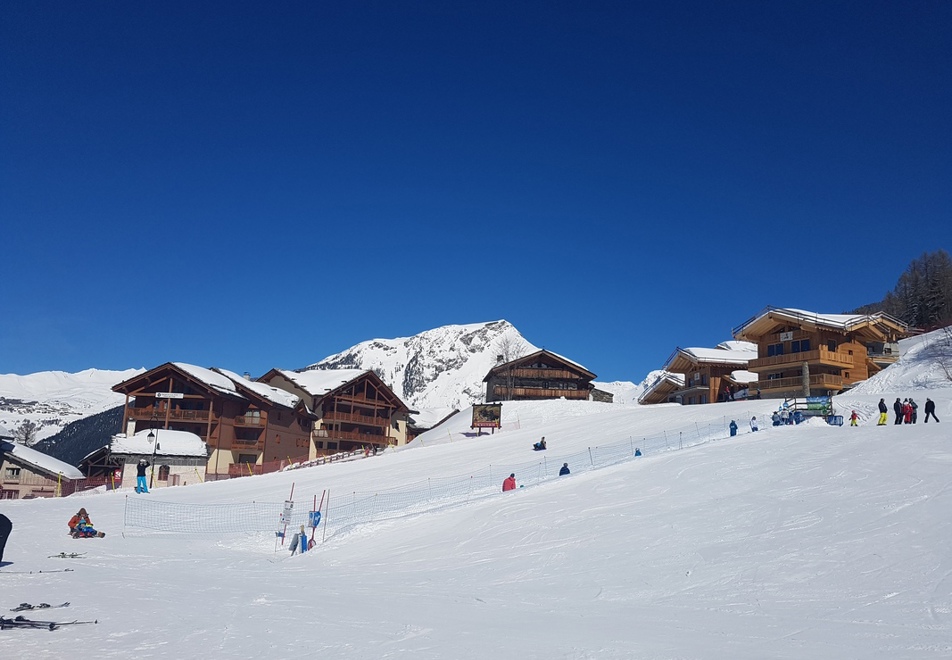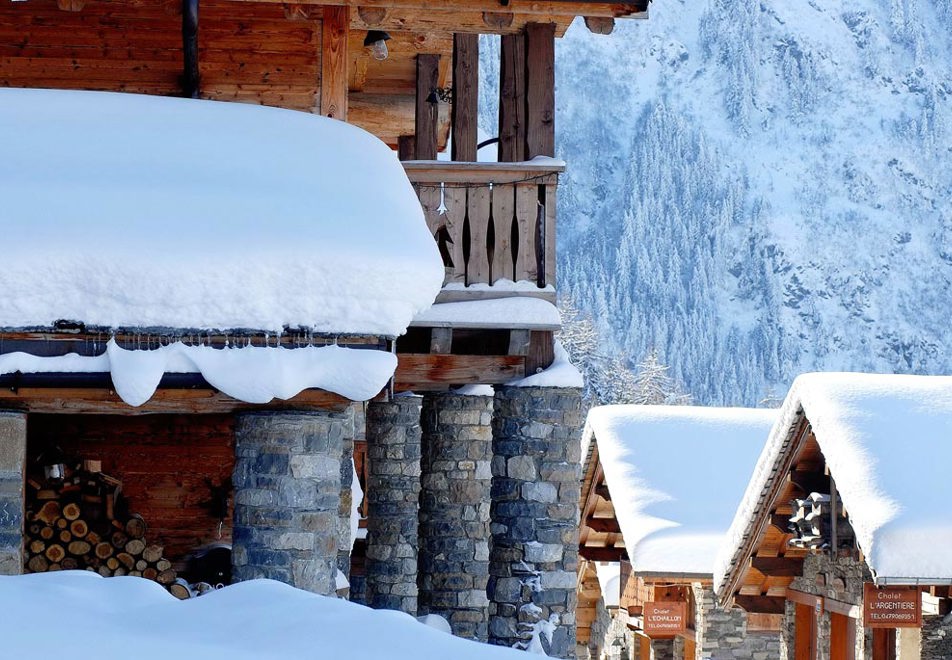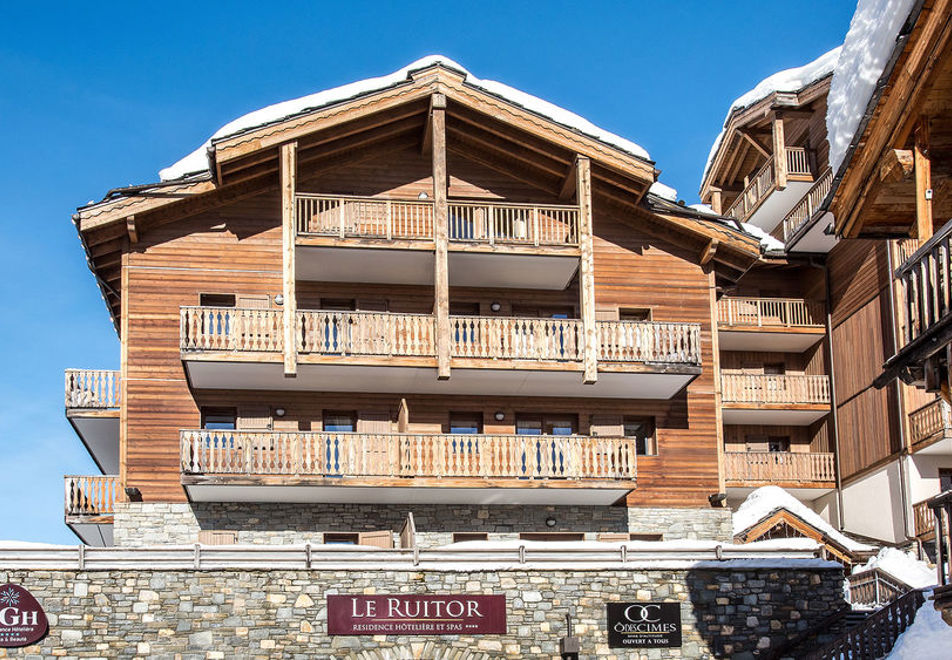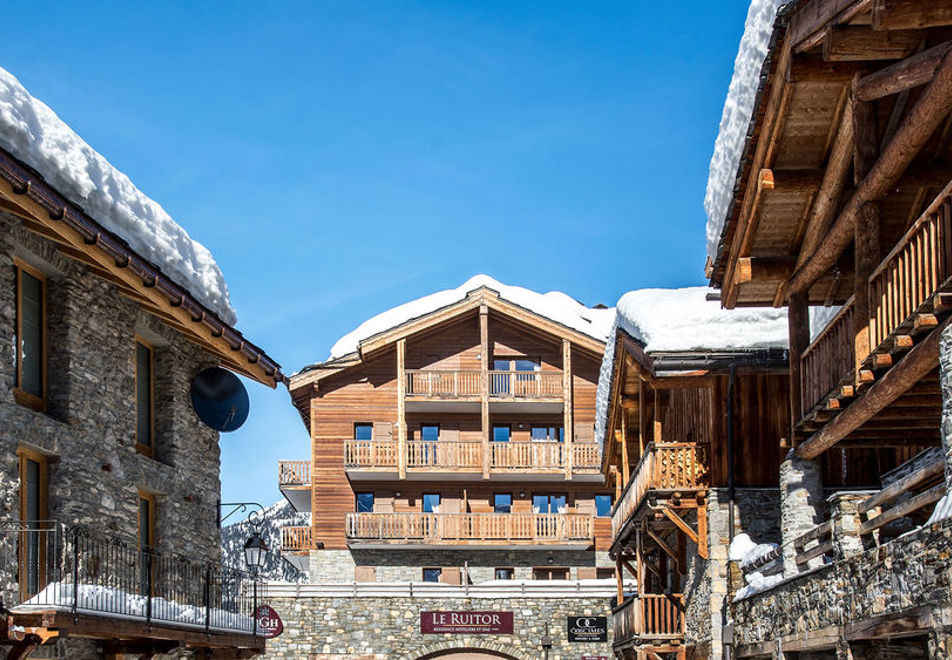 Thinking of skiing in Sainte Foy Tarentaise? Sainte Foy has been described as the "best-kept secret in the Alps" perfect for families, yet offering outstanding off-piste to intermediates and experts.
Why Sainte Foy Tarentaise Ski Resort?
No crowds in a pretty blend of old

and new and in a

superb mountain setting
It's within a short drive to the renowned resorts of Val d'Isère, Tignes and Les Arcs (but you need a car)

There's

outstanding off-piste skiing for intermediates and experts with great snow conditions
The resort has beautiful tree-lined slopes
Sainte Foy Information
Sainte Foy Tarentaise became a ski resort in 1990 and is only a few miles from such big names as Tignes, Val d'Isère and Les Arcs. There are no high-rise buildings in Sainte Foy, just chalet-style buildings that nestle amongst the trees and incorporate local Savoyard features such as round stone columns and stone-lab roofs.
Sainte Foy is a seamless blend of old and new created to offer guests comfort, space and refined luxury - a refreshing change from the concrete jungles found in some of the larger Alpine resorts nearby.
Sainte Foy Tarentaise has some very good eating places. From Alpine chalets preparing dishes "like grandma used to make" to haute-cuisine restaurants there's something for all tastes. There is a small selection of bars and shops and Sainte Foy apartments are not far from the lifts or nursery slope.
Non-skiers in Ste Foy can indulge in dog sledding, superb guided snowshoe walks to many local hamlets, snow biking, heli-skiing (in Italy, just across the border) and paragliding.
There's a bus service in Sainte-Foy ski resort to the surrounding Sainte Foy Tarentaise villages, but from a practical point of view, a car is recommended if you want to travel outside the main Sainte Foy resort.
Sainte-Foy was recently rated by Peak Retreats' clients amongst the top 10 resorts they would recommend to a friend. And it has been voted one of the top resorts for families too.
Peak Retreats offers a range of Sainte Foy accommodation options. All of Sainte Foy's ski apartments have been hand-picked and are of a very high standard (3 & 4*), providing the ideal base for a Sainte Foy ski holiday.
Two of our loyal clients return to Sainte Foy every season:
Read Jennie's guest blog about her family ski holiday or 
Read Mr E's blog post about his family's experience
Sainte Foy ski area
Although at first sight the Sainte Foy ski area (1,550m-2,620m) might not appear to add up to that much, it's the place ski instructors from the nearby larger resorts come to on their days off. That should tell you something about the quality of the skiing!
The resort benefits from around 25 slopes in total formed of green, blue, red and black gradients.
Perhaps its biggest appeal for more accomplished skiers and boarders is the vast areas of easy (and not quite so easy) highly rated off-piste, with over 1,000 metres of vertical drop. Sainte-Foy has an excellent snow record throughout the winter thanks to the north-west exposure.
An exhilarating heli-drop can take you to even wilder, more awe-inspiring landscapes across the Italian border (heli-skiing is not allowed in France).
The Natural Zone – Natur' Grand Bois - take a trail through the heart of the forest – skiing in truly natural surroundings and accessible to all! In association with the National Forestry Office (O.N.F.), discover the locality and its history and understand the preservation of these ancient forests better. Silence prevails during this trek through bygone years, in which "returning to the source" and "serenity" are the keywords. It offers a sheltered trail of 1km.
The pleasant and uncrowded easy green and blue pistes run through the treeline and are perfect for those starting out, young or old!
Sainte Foy is 100% equipped with snow cannons on slopes under 2100m.
Sainte Foy skiing info
SAINTE FOY BEGINNERS
Skiing is free for all beginners on the village ski slopes (for both adults and children) at the bottom of the piste (opposite Les Fermes de Ste Foy) but the choice in terms of green pistes is fairly limited.
Marmots and Gallopins: 2 magic carpets offering free access. To learn skiing free and safe on the two green slopes of Marmots and Galopins.
There's a long green run to progress to, plus a blue resort run - then gentle blue runs higher up. The ski area offers 7 blue slopes accessible to beginners on the first two sectors (Plan Bois slopes, Chapel, Combes, Charmettes, Grand Solliet, Natur'Renard (not groomed) Crêt Serru du Bas. Ski pass required.
A short distance away, kids can discover sleeping marmots in an old milk cellar, symbolizing a burrow, which hosts a wooden sculpture of 4 sleeping marmots.
The entrance of the cellar is protected by a grid for safety reasons.
We count on you to leave the site clean!
It's a great ski area for beginners/families as it's usually less crowded than many mainstream ski resorts.
The chairlifts are all equipped with kid stopper fittings, fixed onto the restraining bar in front of each seat cushion, to ensure greater comfort and safety for young kids.
SAINTE FOY INTERMEDIATES
The red runs are well suited to intermediates looking to sharpen their technique. The run from the Col de l'Aiguille is one of the best.
The latest is a red south-west-facing slope in the La Marquise sector built, served by the Les Marquises chairlift. At the starting point, there is a Chamois sign that gives children and adults instructions for off-piste skiing, and advice about precautions to take.
Ski between the fir trees on the Natur'Renard trail, (piste n°25), an ungroomed blue piste where kids can discover the joys of natural skiing and learn all about the lives of foxes. SAINTE FOY EXPERTS & OFF-PISTE
The more daring should take a guide to explore and ski Sainte-Foy on one of the renowned off-piste routes to the deserted farming hamlet of Le Monal, or the infamous 1700m vertical descent on the north face of Foglietta. Ste-Foy Tarentaise's proximity to the Italian border makes it easy to arrange a day's heli-skiing above La Thuile and La Rosière.
The classified hamlet of Le Monal is the valley's best-kept secret. From the top of the resort, ski down through virgin powder amid awe-inspiring landscapes. You can enjoy sublime views of Le Monal, the symbol of an eternal Savoie, set against the backdrop of the glaciers of Mont Pourri.
Patrolled but unpisted routes:
- Natur'Shaper Paradise (n○20 on the ski map)
Skiing down from Marquises, with a nice and smooth start, Sharper's paradise is a great choice to test your skills
- Natur'Morion (n○1 on the ski map)
Skiing down from the Aiguille, enjoy the atmosphere of famous couloirs above you and improve in the steep section
- Natur'Crystal Dark (n○2 on the ski map)
Skiing down from the Aiguille, traverse and discover the beauty of Sainte Foy surroundings
SAINTE FOY SKI TOURING
You can discover an exceptional ski touring area among the peaks and valleys of Mercuel, Le Clou and Le Monal. These are accessible via the ski lifts. There are multiple routes for an energizing experience, always accompanied by a mountain professional.
Ski touring is also a great alternative in poorer weather. Starting from the resort, you can climb at your own pace through the forest along one of the three marked taster routes with a gradual ascent of 150 to 700 meters, then ski back down in safety along the marked ski slopes.
You can also link up with the Italian valleys of Valgrisenche and Val d'Aosta just over the summit ridge that forms the border between France and Italy.
SAINTE FOY RESORT RUNS
Resort runs are green, blue and red, so that makes it easy for all levels to return to the resort by ski.

OTHER EASILY ACCESSIBLE SKI AREAS
Villaroger, Les Arcs, Paradiski  – this is the closest from Sainte Foy being only about 15 mins drive away. It is the backdoor to Paradiski's huge 425km of slopes.
Tignes Les Brevieres – this is just under 20 mins drive away. It is the backdoor to Tignes Val d'Isere's vast slopes (Val d'Isere village is about 30 mins drive away).
La Rosière – this is about 30 mins drive away.
For Les Arcs and Val d'Isere, see our sister company Ski Collection
Sainte Foy Ski Hire
Pre-book your Sainte Foy ski hire with Peak Retreats.
To download the ski extras form, see 'Helpful links' further down the page.
Please note, these Pound Sterling prices are for indication only. They will fluctuate based on Euro/£ exchange rate. Please call us for the latest prices.
Special offers: *7 days for the price of 6.  Free Skis/snowboard & boots (Blue/Red) for party leaders of groups of 10 or more all taking equipment. 1 Free helmet per child aged 6 and under for every adult booking skis or snowboards & boots (must be under same booking reference and requested on form above). Other duration prices on request - Cross Country ski prices on request.
Find out more about Peak Retreats ski hire
---
Sainte Foy Ski Passes
Pre-book your Sainte Foy lift passes with Peak Retreats. Find out more about Peak Retreats ski passes
To download the ski extras form, see 'Helpful links' further down the page.
Please note, these Pound Sterling prices are for indication only. They will fluctuate based on Euro/£ exchange rate. Please call us for the latest prices.
Other lift passes are available to buy in resort such as half or full day passes for beginners or those who only wish to ski the odd day. Some resorts also offer specific passes for beginners areas or smaller area. You can also buy cross country ski passes, one use lift passes (for non skiers) and obtain free passes for very young children.
Sainte Foy Tarentaise is located in the Savoie in the Haute Tarentaise, 6km from Villaroger in Les Arcs, 15km from Val d'Isère, 13km from Tignes – Les Brévières, and 16km from La Rosière, so there is a possibility to ski in other resorts. Please note! There is no shuttle bus or ski lift running between Villaroger / Les Arcs and Sainte Foy Tarentaise ski resort (8km) or town (2km).
Sainte Foy Group Ski School
Pre-book your Sainte Foy group ski school with Peak Retreats. Find out more about Peak Retreats ski school.
Ski school for children is available to book from 3 to 15 years, in Sainte Foy, with Peak Retreats. 3 year olds will go into Ourson lessons. Children can learn to snowboard from 10 years+. We can also book ski + lunch + childcare for 4-11 years olds with lunch.
For ski school times and prices, please download the ski extras form from the 'Helpful links' further down the page. Please note these are just guiding prices. Please call us for the latest prices.
Please note that lesson times are subject to change right until the last minute - you will be advised. Outside French school holidays, the ski school reserves the right to cancel group lessons should numbers be insufficient. For peak periods - Christmas, New Year, February half-term and Easter - we strongly recommend that you book as early as possible and in any case at least 6 weeks prior to the required dates. Morning lessons tend to get booked up first and therefore we may only be able to offer afternoon classes within 6 weeks of departure. In some resorts, English speaking instructors may not always be available, particularly at peak times.
We cannot always guarantee that prices will be cheaper than in the resort. When ski packs prices are calculated, the currency is bought at the exchange rates that apply at the time. You can be assured that once you have booked your extras, if the pound depreciates, you will not be charged more for your ski packs, enabling you to budget for your holiday in advance.
Client feedback: "ESF very well organised and well run. No concerns regarding leaving children as they were all given bibs and all carried their own contact details. The instructors spoke good English".  -  Mrs G, Sainte-Foy


Sainte Foy private lessons (not pre-bookable, book direct with ski school)
Private lessons with an instructor can only be arranged directly with the ESF ski school. Peak Retreats cannot pre-book these. Private lessons are usually around €40-60 per hour (depending on resort, time of day and period) and becomes cheaper the more hours you take and the more people you have to share the hours with i.e with family members or friends. Some resorts insist on a minimum of 3 sessions to be booked at once.
Contact ESF Sainte Foy for private lessons
Tel: 0033 479 06 96 76
Email: info@esfsaintefoy.com
---
Sainte Foy Childcare (not pre-bookable, book direct with club)
Childcare from 3-11 years (non-skiers)
Cathy, Emily and Barbara will welcome your children from 3 years old to 11 years old in Les P'Tits Trappeurs club. They offer your child outdoor/indoor activities like snowshoeing, fauna and flora discovery, games etc.
The activities are proposed according to the weather and the availability of staff. They can liaise between the ski schools of the resort and the kids club.
Open all winter season between 8.45am and 4.45pm. Closed on Saturday.
Please note children must be potty-trained.
Prices and availability - please contact club direct. Usually on offer half or full day(s) with or without meals. It is advisable to book before you go and in good time as spaces get filled quickly, especially in Peak times.
Contact Les P'Tits Trappeurs club
Tel: 0033 479 06 97 92
Email: lespetitstrappeurs@loisirs-solutions.com
---
Babysitters
List of babysitters available from the tourist office.
Sainte Foy Resort News & Events 2021/22
News:
Replacement of the Arpettaz chairlift with a new 6-seater detachable chairlift means that 3000 people p/h can travel this winter!
For your comfort, even more fluidity on the Grand Plan chairlift, the addition of 14 new seats, bringing the speed skiers per hour from 1450 to 2000 skiers per hour. (2020- 2021)
A beginner freestyle zone on the Hte part of the Les Combes slope
A fun trail on the Chapelle trail
A boardercross area starting on the right edge going down from the bottom Crêt Serru track
This year Sainte Foy celebrates 30 years since it was first developed as a resort!
New Winter Mountain Cart! At the closing of the domain, descend the Charmettes track aboard the mountain cart. The summer version was great which is why this mountain cart is now equipped for snow!
Events:
Le Trophee des Galopins 11th December 2021-18th April 2022 - Parallel slalom race at night open to all children who want to discover the competition. With Beaufort tasting, games and 2x500g of Beaufort to be won!
Christmas Fireworks 24th December 2021
Holiday Makers Grand Prix 4th February-9th March 2022 - There's the chance for an unforgettable experience racing against the clock. 
La Montee de Sainte Foy 18th January 2022 - ESF Sainte Foy hosts the 6th edition of the Montee de Sainte Foy. 
Season Finale 17th April 2022 - Watch or take part in the fancy dress giant slalom organised by the Ski Club and ESF. 
La Polet's Cup 18th April 2022 - Race organised by ESF ski school. Participate or just watch the show! End the season on a high in fancy dress too!
Sainte Foy après-ski, bars & restaurants
There are a few bars and restaurants in Sainte Foy. For more lively après ski, Val d'Isere, Tignes and Les Arcs are a short drive away for more choice.
Restaurants in Sainte Foy + its surrounding hamlets include:
Chez Leon
Located on the slopes, Chez Léon offers Savoyard specialties such as Tartiflette, its must. Large terrace with a magnificent view of Mont Pourri.
La Coeur
Friendly family restaurant.
La Bergerie
Spacious Savoyard-style room or on terrace with a panoramic view at the foot of the slopes. Savoyard specialties as well as signature dishes prepared by chef Alexandre. You will be delighted by the desserts made by Audrey "Maison Pfister". Pizzas on the spot or to take away. Wide choice of take-away dishes on reservation (see menu on Facebook page "Restaurant La Bergerie").

La Maison a Colonnes
18th Century farmhouse serving Savoyard specialties facing Mont Pourri.
Chez Merie
Located in the small hamlet of Le Miroir, serving local and original cuisine.

Le Monal
Since 1888 and 6 générations, Le Monal offers a seasonal gourmet menu in a warm and welcoming atmosphere. 

Le Saint Germain
In the heart of the resort, Le Saint Germain is also a delicatessen and a caterer. A large choice of wines by the glass to taste with our boards of local products, to consume on-site, or to take away.

Le W
Enjoy family cuisine around a bistro menu, pizzas, burgers, gourmet dishes, Savoyard specialties such as truffle fondue and their famous blueberry tart. Spacious restaurant on 2 floors and large terrace with a view of the mountains in the heart of the resort next to the Tourist Office. Takeaway available.

Le Garde Manger
Terrace restaurant in the pretty hamlet of La Mazure, is open every day in fine weather for lunch, snacks and refreshments. Gourmet cuisine 100% homemade, made with products from our garden, regional, organic. Reservation advised by phone or Facebook (le Garde Manger Manger by Chalet Aline).

Les Brevettes
Restaurant serves a dish of the day, prepared with fresh produce.
Les Marquises
In the middle of the slopes, a delicious menu with typical plancha and fresh produce to savor facing Mont Pourri and the Glacier of Turia. A breath-taking panorama. For those in a hurry, Les Marquises also offers a snack service.

1580m
Coffee shop and restaurant. Located at top of old village with views to Mount Pourri.
White Bear
Bar, tapas, cocktails, pizza to takeaway. DJs.
Yeti Boots Cafe
Pub neat to ESF ski school on slopes. Takeaway food corner available.
---
Sainte Foy Amenities
Sainte Foy is served by a range of amenities including a general food store, post office, ski shop, souvenir shop, newsagents in St Foy Tarentaise.
A cash machine is at your service on the parking Maisonnettes (P3).
Nearest petrol station is 16km at Bourg St Maurice.
Getting to Sainte Foy, France
By road:
Distance from Calais to Sainte Foy 610 miles (9hrs 15). Motorway A26 Reims, Dijon A6 Maçon A43/A430 Albertville. Main road N90 Bourg Saint Maurice and follow signs for Sainte Foy. Listen to Autoroute FM (107.7 FM) for traffic news in English.
All mountains passes (Col du Petit Saint Bernard, Col de l'Iseran, Col de la Madeleine, Cormet de Roselend…) are closed during winter.
By rail:
Take the Eurostar from London St Pancras (or Ashford, Kent). See our train services page for more information. The nearest train station to Sainte Foy is roughly 10 miles away in Bourg St Maurice.
By air:
4 international airports nearby. See our flying page for information on airlines (however we don't book flights).

Chambery Savoie Mont Blanc Airport to Orelle is roughly 77 miles, approximately 1hr 30
Lyon-Saint Exupery Airport to Orelle is roughly 125 miles, approximately 2hrs 15 mins
Geneva Airport to Orelle is roughly 126 miles, approximately 2hrs 30 mins
Grenoble Alpes Isere Airport to Orelle is roughly 122 miles, approximately 2hrs 15 mins
Private taxi transfers:
Private taxi transfers from airports and train stations are pre-bookable with Peak Retreats. See our airport & station transfers page for more information.
Car Hire:
Peak Retreats can arrange very competitive car hire at all airports, train stations and other town locations. See our car hire page for more information.
Bus Transfers:
Altibus/Bens Bus/Snow bus (and the likes of) offer shared bus lines from French/Swiss airports and some SNCF train stations to ski resorts. We don't book these (or have any affiliation with), we invite you to do your own research.
Resort Shuttle Bus in Val Thorens:
There are shuttle buses that serve Sainte Foy and its hamlets.
---
Sainte Foy Opening Dates

Sainte Foy Snow Report – 2013-2018 (5 season average)
Here is the snow record data for Sainte Foy. The first row shows the week for which the measurement applies eg. February 3 is the 3rd week in February. Top slopes shows the average snow cover in cm at the top of the ski area. Bottom Slopes shows the average snow cover in cm at the bottom of the ski area (this is generally where the nursery pistes are located). About 10 cm is generally enough to ski but it very much depends on what's below ie. grass or more rocky surface.
5 year ski season average for Sainte Foy:
| | | | | | | | | | | | | | | | | | | | | |
| --- | --- | --- | --- | --- | --- | --- | --- | --- | --- | --- | --- | --- | --- | --- | --- | --- | --- | --- | --- | --- |
| Month | Nov | Dec | Dec | Dec | Dec | Jan | Jan | Jan | Jan | Feb | Feb | Feb | Feb | Mar | Mar | Mar | Mar | Apr | Apr | Apr |
| Week | 4 | 1 | 2 | 3 | 4 | 1 | 2 | 3 | 4 | 1 | 2 | 3 | 4 | 1 | 2 | 3 | 4 | 1 | 2 | 3 |
| Upper Slopes (cm) | 8 | 25 | 51 | 61 | 93 | 130 | 151 | 178 | 191 | 205 | 217 | 204 | 213 | 229 | 232 | 213 | 213 | 198 | 175 | 33 |
| Lower Slopes (cm) | 5 | 15 | 29 | 31 | 51 | 67 | 68 | 86 | 92 | 94 | 95 | 91 | 91 | 97 | 97 | 85 | 79 | 63 | 51 | 6 |
Current snow conditions may be available to view on the Sainte Foy webcam, available from the Tourist Office website.