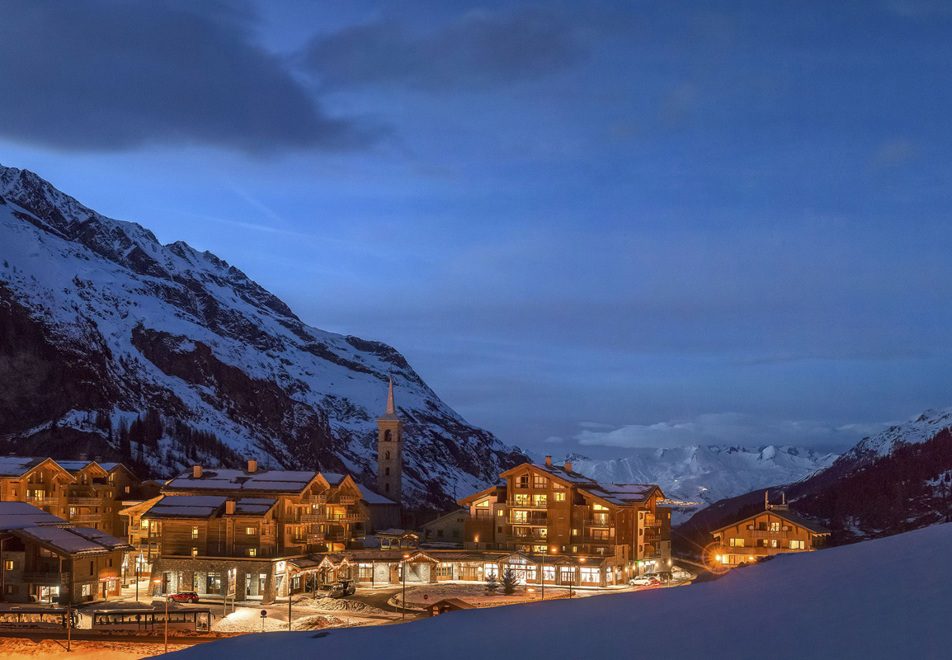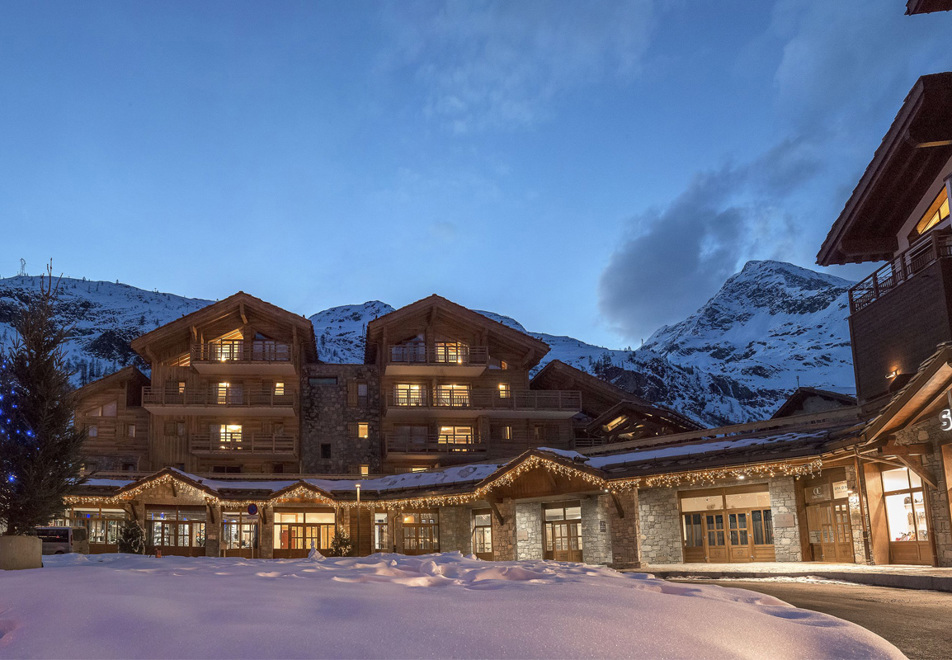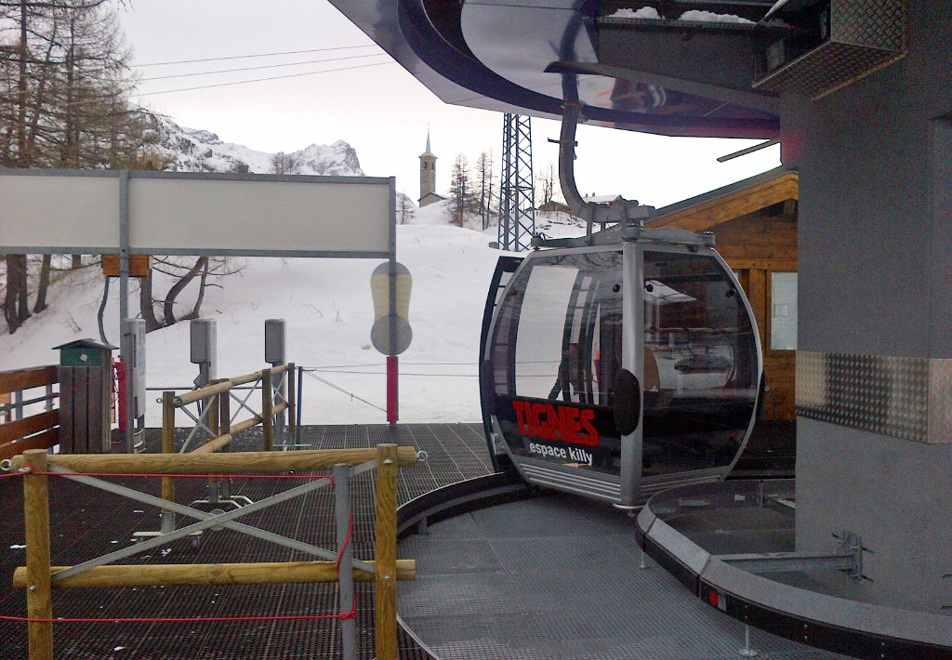 Thinking of skiing in Tignes? Tignes offers some of Europe's highest skiing and with summer ski on the glacier, Tignes is proud of its snow-sure reputation. Tignes 1800 offers a large beginners area.
Why Tignes 1800 Ski Resort?
It has direct

ski access to the massive

Tignes Val d'Isere area (formerly 

Espace Killy)
It's a quiet alternative to the other bustling resorts in Tignes and a brand new developed area
It has a large beginners' area
Tignes 1800/Tignes Les Boisses Information
There's been a village in the valley for centuries - long before the first ski lifts arrived! But these days when you come here to ski the Tignes Val d'Isere - you can stay in the newly developed Tignes les Boisses.
The village of Tignes Les Boisses 1800 is undergoing massive changes which will continue into the years to come. The first major development has been the creation of a new road linking the dam to Tignes Le Lac and Tignes Val Claret which avoids the centre of Tignes Les Boisses. The traffic that used to drive through this village has now virtually stopped. The former road is likely to be replaced by a green slope in the winter, where a large area for beginners will be created in the heart of the village. Tignes has been voted one of the top resorts for experts.
There's a regular free resort shuttle between Tignes les Boisses (stopping at Kalinda Village) and Tignes Le Lac. The journey duration is 15 minutes.
The old two-seater chairlift that takes skiers from Tignes Les Boisses to the Marais area en route to the Aiguille Perceé has been replaced by a brand new gondola costing six million euros. In November 2010, the new Boisses gondola opened for the very first time: bigger and faster than the chairlift it replaced, it now takes you to the Marais (2180m) in only four minutes!
Other major developments include a brand new 2000-square-metre city plan (with shops, a bar and restaurant, ski school office and crèche). And to throw in a little culture, the new Tignes village will spread out around the historic church at Boisses (the parish Church of Saint Jacques de Tignes). Built in the 1950s, it's a replica of the one that was destroyed in the old village when the dam (Barrage de Tignes) was open. It boasts fine furnishing and baroque-style paintings.
Structured around three small squares, the new pedestrianised village takes its inspiration from the hamlets of old, whilst at the same time allowing you to ski right up to your door. With this new set-up, Tignes is able to extend its scope for families in particular. They'll be able to benefit from the advantages of an internationally renowned ski resort, but still be far from the party centre and the cosmopolitan bustle of Tignes 2100.
Peak Retreats offers a range of Tignes accommodation options. All of Tignes' ski apartments have been hand-picked and are of a very high standard (3 & 4*), providing the ideal base for a Tignes ski holiday.
History of Les Boisses
The old village of Tignes is experiencing a rebirth. The history began in 1947, just before the construction of Tignes' famous dam. At the time, the hamlet of les Boisses was a little Alpine village with mountain pasture chalets. In the 1930s, the first skiers began to reach les Boisses. In 1952, once the dam had been opened and the old village of Tignes had been swallowed up, Tignes les Boisses became the communal centre, due to its ideal location half way between les Brévières (1550m) and Tignes le Lac at 2100 metres. However Tignes les Boisses was quickly abandoned in the early 50s by those in favour of developing Tignes le Lac at 2100 metres instead. Until 1975, the les Boisses plateau remained Tignes' official administrative centre until it was transferred to Tignes le Lac. Up until now, the les Boisses plateau has always been at the heart of a series of missed opportunities; but today, this very special plateau is finally being developed.
Interested in buying an apartment in Tignes? See our Buying in the Alps section.
TIGNES SKI AREA
Tignes les Boisses 1800 is fully ski connected to Tignes, with its exceptional variety of skiing possibilities including some of the most extensive off-piste in the world.  Its altitude and resulting snow reliability, along with a huge arsenal of snow guns when needed, means it is normally possible to ski at least 1,400 vertical metres from November until the lifts close in May.
Snowmaking in Tignes
Tignes operates 352 snowguns dispersed over the entire skiable area: from the top of the Double M run to Les Brévières and from the Tovière summit. Thanks to their continued operation, you can ski from one mountain to another. The water is taken directly from a natural lake at 2100 metres. No chemicals are added.
Snowcats groom 60% of the skiable area daily (green, blue and red runs). Black runs – such as Naturides® runs – are not consistently groomed in order to preserve the natural state of their terrain. They develop a layer of powder after snowfall and mogul fields after several days. If you're an experienced skier, you can take advantage of these less-travelled runs, which are marked, secured and patrolled like any other.
Naturides® runs
At Tovière: Paquerettes, the Envers de Campanules runs, along with Grizzly and Aster
At the Palet area: the Guerlain Chicherit and Golf runs
Skiing in Tignes Les Boisses itself is ideal for families or groups looking for a relaxing base. There are tree-lined slopes directly above Tignes 1800 and Les Brévières, and as there are no other tree-lined areas, these prove great little areas in snowy or windy weather. The lift system is second-to-none, with many new high-speed lifts, thanks to investment when Val d'Isère hosted the Alpine Ski World Championships in 2009.
There's lift access to yet more skiing at Sainte Foy (10 minutes) and Les Arcs (45 minutes' drive) from Tignes 1800, whilst La Rosière is 40 minutes' drive and La Plagne, 60 minutes away. Those with their own car can drive to either Val d'Isère or the main Tignes resort in about a quarter of an hour. A day of skiing at most of these resorts is possible at no additional cost for those with lift passes valid for six days or more.
For Val d'Isere, see details with our sister company Ski Collection
Additional ski fact info, main ski info in resort facts box at top of page
Tignes only - 150km of pistes, 47 lifts, 67 slopes:
Green slopes: 1
Blue slopes: 40
Red slopes: 16
Black slopes: 10
TIGNES SKIING
TIGNES BEGINNERS
There's a brand new beginners' area in the village itself. This is an excellent area for children. Once more confident, beginners can take the gondola towards Tignes 2,100m, and from there reach all the slopes of Tignes and Val d'Isère. Enjoy free access to eight Tignes lifts to practise your first curves before hitting the slopes of the vast Tignes-Val d'Isère ski area.
Lognan is ideal for novices and families as the slopes are broad and not especially difficult.
TIGNES INTERMEDIATES
Tignes and Val d'Isère ski domain is perfect for the adventurous intermediate. Tignes has extensive intermediate slopes with big lift networks. One of Tignes' biggest asset is its glacier – the Grande Motte. From Val Claret, take the funicular up to 3000m and more in seven minutes and from there you'll find a selection of blue, red and black runs. The blues are quite wide (and lots of fun!) so for low intermediates this isn't normally a problem.
TIGNES EXPERTS
Tignes and Val d'Isère is a Mecca for experts. Tignes has converted many of its black runs in 'naturides' which means they are never groomed -  but they are marked, patrolled and avalanche protected. The Sache black run is a descent of 1200m vertical down a breathtaking valley in the national park, overlooked by the Sache glacier. Starting from l'Aiguille Perceé at 2750m you finally arrive down in Les Brévières below the Tignes dam.
TIGNES OFF-PISTE
Tignes Val d'Isere is renowned for offering some of the best lift-served off-piste skiing in the world. There's a vast variety of terrain to suit all levels from intermediate to hard-core freerider. For first timers, Lognan is ideal.
Heli-skiing is available in Tignes, but it's a bizarre form as heli drops are forbidden in France. But from Tovière you can ski down towards the Lac du Chevril to be picked up by a helicopter at the end of the run (a neat way of getting round the heliskiing ban in France!).
TIGNES SNOWBOARDERS
Tignes has always been a popular area for snowboarders. There are lots of easily accessible off-piste area ideal for snowboarders. Luckily drags can generally be avoided as chairs and gondolas are more favoured. Pistes in Tignes, such as Piste H and Carline, are often quite wide. 
Tignes 1800 Ski Hire
Pre-book your Tignes 1800 ski hire with Peak Retreats.
To download the ski extras form, see 'Helpful links' further down the page.
Please note, these Pound Sterling prices are for indication only. They will fluctuate based on Euro/£ exchange rate. Please call us for the latest prices.
Special offers: *7 days for the price of 6.  Free Skis/snowboard & boots (Blue/Red) for party leaders of groups of 10 or more all taking equipment. 1 Free helmet per child aged 6 and under for every adult booking skis or snowboards & boots (must be under same booking reference and requested on form above). Other duration prices on request - Cross Country ski prices on request.
Find out more about Peak Retreats ski hire
---
Tignes 1800 Ski Passes
Pre-book your Tignes lift passes with Peak Retreats. Find out more about Peak Retreats ski passes
To download the ski extras form, see 'Helpful links' further down the page.
Please note, these Pound Sterling prices are for indication only. They will fluctuate based on Euro/£ exchange rate. Please call us for the latest prices.
Free lifts in Tignes
Beginner?
In Tignes, enjoy free access to 6 lifts to practice your first curves before hitting the slopes of the Espace Killy Tignes-Val d'Isère ski area: 
Tignes le Lac / Le Lavachet:
 - Rosset chairlift
 - Lavachet skilift
Tignes Val Claret:
 - Claret skilift
 - Bollin chairlift
Tignes les Brévières:

 - Brévières chairlift
 - Pitôts skilift
Other lift pass on offer (to buy locally in resort in Euros):
Tignes Val d'Isere ski pass – ½ day and daily rates 2017/18 :
½ day - €35.50 children, €44 adults
Day - €46 children, €57 adults
Tignes ski pass – ½ day and daily rates 2017/18:
½ day - €31 children, €39 adults
Day - €38 children, €48 adults
Tignes 1800 Ski School
Pre-book your Tignes 1800 ESF ski school with Peak Retreats. Find out more about Peak Retreats ski school
Ski school for children is available to book from 4 years to 13 years, in Tignes, with Peak Retreats. 3 year olds will go into the Piou Piou lessons.
To download the ski extras form, see 'Helpful links' further down the page.
Please note, these Pound Sterling prices are for indication only. They will fluctuate based on Euro/£ exchange rate. Please call us for the latest prices.
Please note that lesson times are subject to change right until the last minute - you will be advised. Outside French school holidays the ski school reserves the right to cancel group lessons should numbers be insufficient. For peak periods - Christmas, New Year, February half-term and Easter - we strongly recommend that you book as early as possible and in any case at least 6 weeks prior to the required dates. Morning lessons tend to get booked up first and therefore we may only be able to offer afternoon classes within 6 weeks of departure. In some resorts English speaking instructors may not always be available, particularly at peak times.
We cannot always guarantee that prices will be cheaper than in resort. When ski packs prices are calculated, the currency is bought at the exchange rates that apply at the time. You can be assured that once you have booked your extras, if the pound depreciates, you will not be charged more for your ski packs, enabling you to budget for your holiday in advance.
Tignes Individual Tuitions 
(18/19 prices, NOT pre-bookable)
Individual tuition can only be purchased directly from the ski school. Peak Retreats cannot pre-book these.
Around €50 - €75 for 1 - 1.5 hour lessons between 12.15pm and 1.45pm. 
Please note that prices are only an indication and are subject to change
Ski school Tignes contact numbers for private lessons:
Ecole du Ski Français: Tel. 04 79 06 30 28 - Fax: 04 79 06 41 14
---
Tignes le Lac Child Care
Les Marmottons – Ski nursery
Not in Tignes 1800, this nursery is in Le Lac part of Tignes.


Children from 2.5yo to 5 yo.
Children stages - Ski lessons in English, in an exclusive area.
Morning from 9am to 12am
Afternoon from 2:15pm to 5pm
Meal: 
5 half days: from 100€
6 half days: from 120€
Contact :
Route du Rosset, Tignes
+33 4 79 06 51 67
ESF Ski Lessons for children
Children can ski from 3 years old in Tignes with ESF Tignes. See ski school tab. Peak Retreats can pre-book this.
Tignes Resort Activities
Activities in Tignes as a whole in various villages:
Tignes for pedestrians
There are specific lift passes for pedestrians!
 - Enjoy breathtaking landscapes: take the funicular and head to the cable car to enjoy the view on the famous peaks and mountains around: the Mont Pourri, ridges of the Grande Sassière, the Grande Casse (highest point of La Vanoise: altitude of 3,856 metres) and of course the majestic Mont Blanc (in the distance). You will find 3 viewpoint indicators on your route. You can also take the Sache or Brevieres gondolas.
 - Enjoy a lunch at an altitude restaurant: stop by the terrace of the Panoramic restaurant thanks to the funicular, or head to the Chaudannes or Tichot chairlifts, or the Aeroski gondola.
 - Staying in Tignes les Brevieres? Take the Brevieres chairlift for free to get to the bus stop in Tignes les Boisses.
Pedestrians, snowshoeing, cross-country skiing: discover the Plateau du Marais itinary!
A 1,5 km long marked itinary, suitable for everyone, adults and children, to enjoy the fresh air of the mountains surrounded by the breathtaking landscapes of the Tignes - Val d'Isère ski area. Access by the Boisses and Brévières gondolas.
Tignes Snake Gliss
You like sledging? You will love the Snake Gliss!
Come with your friends and family and try this sledge train... Expect a lot of fun and laughs
Tignes Le Lac
Phone: +33 4 79 06 32 65
Tignes Ice driving circuit
In Tignes les Brévières
Ice Driving School – 0033 609 42 68 95
Tignes Helicopter flights
Evolution 2 – 0033 479 06 35 76
Tignes Heli-skiing
Bureau des Guides – 0033 479 06 42 76
Tignes Snowmobiling
In Tignes, nothing stops the fun! At nightfall, the snow becomes a terrain to discover a unique sport combining nighttime discovery and adrenaline – snowmobiling. As an enthusiast of nature and motor sport, you'll enjoy the pleasure of driving a motorized vehicle while exploring the resort beneath the starry sky.
Ecole de motoneige
Snowmobile school in Tignes, Chaudannes yurt
73320 Tignes
Phone: +33 6 07 10 19 62
E-mail: tignesmotoneige@yahoo.fr
Tignes Paragliding
Evolution 2 – 0033 479 06 35 76
Tignes Ice skating
To expand your skating possibilities, Tignes also offers 'Disco on Ice' evenings every Thrusday (from December to February, depending weather conditions) from 8.00pm to 10.00pm. Just like its Canadian counterparts, Tignes skating rink is an open-air rink, located on the frozen lake in the heart of the resort at Tignes le Lac. Have a great time on the 800-m² surface area divided in 2 zones featuring game area, ice hockey and a 'fun' square. Admission to Tignes skating rink is free, so by all means take full advantage!
Tignes Mountain bike on snow
When the ski runs close, the mountain bikes arrive in the starting blocks! Travel up in the gondola and ride down the deserted pistes as the sun sets. This is another way to sample the joys of snowsports, but on 2 wheels this time…
Phone: +33 6 60 18 33 34
E-mail: philippe@happyphyll.fr
Tignes Dogsledding
Tignes les Brévières
Chlorophyll – 0033 660 18 33 34
Tignes Bowling
Tignes Aquacentre
Situated at the heart of Tignes on the banks of the lake, Le Lagon offers a combination of five fantastic aqua leisure facilities:
Get FREE access to the Lagon swimming pool with your 2-to-15 day Tignes ski pass.
• For swimming
25-metre swimming pool with 6 lanes, swimming lessons etc.
• For relaxation
Bubble bed, whirlpool seat, geyser, swimming against the current, waterfall etc.
• For recreation
Recreational pool with 3-lane waterslide, leisure pool, paddling pool, mini-whirlpool bath, toadstool fountain etc.
• For well-being
Wellness centre with steam room, saunas, Jacuzzis, recreational showers, solarium etc.
• For health and fitness
Fitness centre with cardio-weight training area and studio for exercise classes etc.
Tignes Bungee
Bungee trampoline permit you to realize jumps & acrobatics till 6 metres high. Accessible by children (from 2 years and a half) and adults.
Tignes Microlighting
Discovery flights in a microlight, a state-of-the-art modern, reliable and powerful machine, the very best for flying in the mountains.
You just have to take your ski off, seat on the machine and find yourself propelled and enjoy the stunning panoramic views, flying on the slopes, between the peaks.
Contact :
Loic and Felix TOUSSAINT
 loicsnowrider@hotmail.fr
+33 6 78 31 41 91
Tignes Yurt Evening
With a harness, snowshoes, a dog and your family or friends, come along discover our base camp located at 2.250m.
A night tour on the sled completely alone on the mountains, then an aperitif and a typical dinner is waiting for you under a Mongolian yurt.
After few songs, some photos, it's time to go back to the resort by sledge
Contact : Cedric OX Manager
+33 6 81 21 92 09
www.outdoor-experiences.fr
Please note: All the above information is for information only. For the most up-to-date information please visit the resort tourist office website. All prices for activities are in local currency (€ Euros) and are bookable and payable locally in resort.
Tignes Tourist Office
73321. Tel. 33 (0)4 79 40 03 03
www.tignes.net
Tignes Resort News and Events 2018/19
Resort news:
New lifts

 

- in 2018, the Sache cable car and the Brévières chairlift will be replaced by an 8 places cable car in order to connect Brévières with Boisses. Also, the capacity of the Boisses gondola will continue to be improved to 3,000 passengers per hour with 47 cabins
Tignes Unveils World's Largest and Highest 'Open-Top' Cable Car - Tignes has unveiled its upgraded Grande Motte glacier cable car, and the big news is that now you can ride up on top of the cabins. Climbing from 3,034m to 3456m in five minutes, the cable car originally opened in 1975 and the new cabins are part of a full overhaul of the area which includes the creation of 'Altitude Experiences' which will include a viewing platform and indoor exhibition accessible to all and due to open in May next year as part of the full 17 million upgrade project. The two new 'open-top' cabins designed in Switzerland by Garaventa AG will offer passengers a unique 360-degree view of one of the most beautiful panoramas of the French Alps with views of Mont Blanc, the Cime de Bellecôte and the Aiguille de la Grande Sassière (3,747 m). Each cabin can hold 100 people indoors and 20 on the roof. However, the rooftop open-air sections will not operate in autumn and winter due to likely weather conditions at altitude, and will first be open to the public next May - see Tignes Val Claret &  Le Lac, Tignes 1800 and Tignes Les Brevieres in summer. 
Future news:
2018-2020: NEW EXPERIENCE ON THE GRANDE MOTTE GLACIER

 

- Tignes are spending 3 years designing and developing the Grande Motte top

2020: MODERNIZATION OF THE MARAIS CHAIRLIFT

 

- Before 2020, the Marais chairlift will be replaced by a new machine to faster access to the Aiguille Percée at 2723m. During the same year, a magic carpet will be created

 

sur

 

le plateau du Marais

2021: NEW AIGUILLE ROUGE DETACHABLE CHAIRLIFT

 

- Aiguille Rouge will be replaced with a detachable chairlift to increase passengers comfort
Events:
New

 

Year's

 

Eve Pop Rock Party - 31st December 2018

 

- come and celebrate New Year's Eve with Tignes & French radio RTL2 on Tignes le Lac snow front! Grab your down jacket and Moonboots and get ready to dance to the greatest POP-ROCK bootlegs on the highest dance floor in Europe!
Freestyle event - 18th-21st March 2019

 

- the superpipe looking good, all lit up, the best riders of the freestyle planet showing off their best tricks, the supporters putting the finishing enclosure on fire...Freestyle will be king in Tignes from for the Ultimate Ears Freestyle Tour, final of the Halfpipe World Cup!
European snow pride and gay pride - 16th-23rd March 2019

 

- every winter since 2008, Tignes have waved the rainbow flag, the emblem of the LGBT community (lesbian - gay - bi - trans). The resort is hosting once again the biggest gay ski week in Europe: the European Snow Pride, i.e. one week full of skiing and partying dedicated to the European LGBT community!
Live in Tignes by Francofolies - 3 days of ski, sun and music - 16th-18th April 2019 - Tignes is hosting the 4th edition of the "LIVE IN TIGNES by FRANCOFOLIES" music festival! On the programme: 3 days of free concerts on the pistes and at the heart of the resort
Check the Tignes tourist office website for more exciting news: www.tignes.net
Tignes Après-ski, Bars & Restaurants
There are two restaurants at Kalinda Village:
- 'Ô 1800' - traditional and Savoyard specialties 
- 'Le Four 7' - more international and snacks
There is no shortage of restaurants or bars with nearly 60 of each to choose from in the wider Tignes area (although this is mostly at Tignes Le Lac & Tignes Val Claret which are about 15mins drive max from Les Boisses – a few more are found at Les Brevieres which is about 10 mins drive max). There are also some nightclubs again at Tignes Le Lac & Val Claret. Places to eat with more atmosphere are to be found in Val Claret: Le Caveau, Petit Savoyard and La Pignatta. While Le-Lac is a natural focus for immediate après-ski drinks.
There is a regular free resort shuttle between Tignes les Boisses (stopping at Kalinda Village) and Tignes Le Lac. Journey duration is 15 minutes.
Tignes Amenities
Tignes (main altitude villages) has a bowling alley, 2 cinemas and over 200 shops including mini markets, a bakery, sports shops, clothing shops, banks, a post office, hairdressers and a doctor's surgery. Tobacconists, supermarket, post office, cash machine, tourist office, ice driving circuit.
Getting to Tignes, France
By road:
Driving distance from Calais 625 miles to Tignes 9hrs 30
From Calais take the A26 motorway via Reims, Dijon and Maçon to Lyon A43/A430 to Albertville and then N90 via Moutiers. Take the (D902) from Bourg St. Maurice towards Tignes / Val D'Isere, then take the turning on the right to Tignes Les Boisses 1850 (after Tignes les Brevieres).
By Rail:
Train to Bourg St Maurice. From here you can get a taxi to take you the last 20 miles up to Tignes.
Or www.altibus.com for bus transfer - 00 33 4 79 68 32 96
Bourg St Maurice train station private transfer - from £40pp based on 4 sharing. Prebookable via Peak Retreats.
Airports:
Chambery is 135km from Tignes les Brevieres (1 ¾ hours)
www.chambery-airport.com
Grenoble Airport is 204km from Tignes les Brevieres (2 ½ hours)
www.grenoble-airport.com
Lyon is 211km from Tignes les Brevieres (2 ½ hours)
www.lyonairport.com
Geneva is 214km from Tignes les Brevieres (2 ½ hours)
www.gva.ch/en
Public bus shuttle transfers from the airport
Chambery Airport - Tignes les Boisses via Moutiers (www.lys-altibus.com). 
Tignes les Boisses Airport Transfer
For pre-bookable private transfer rates with Peak Retreats, view here. 
Getting around Tignes
Just to make getting around the resort quick and easy, Tignes has developed its own free shuttle service: 21 stops from Tignes les Boisses to Tignes Val Claret Grande Motte.
Tignes Val d'Isere Opening Dates
From Saturday the 30th of November 2019 till Sunday the 3rd of May 2020

Please note that next winter, for the first time, Tignes & Val d'Isère have decided to close at the same date. A potential big "Tignes/Val d'Isère closing party" is to be announced later on…