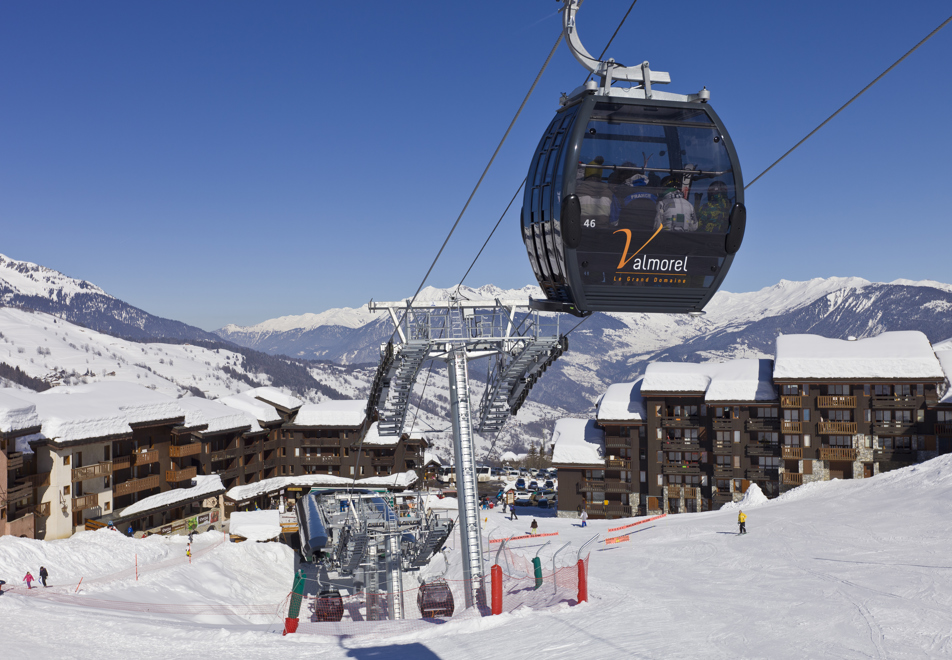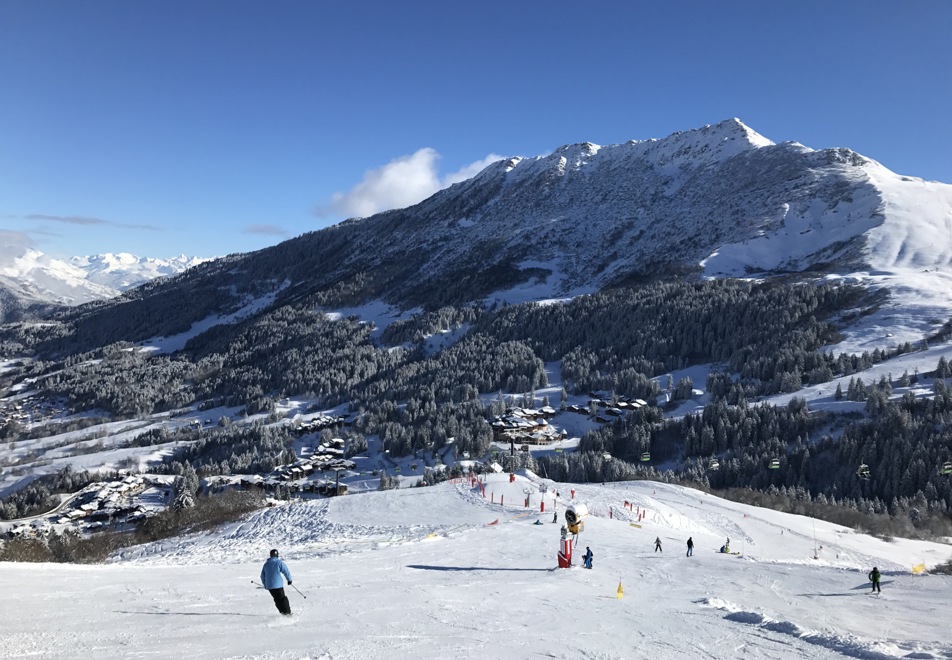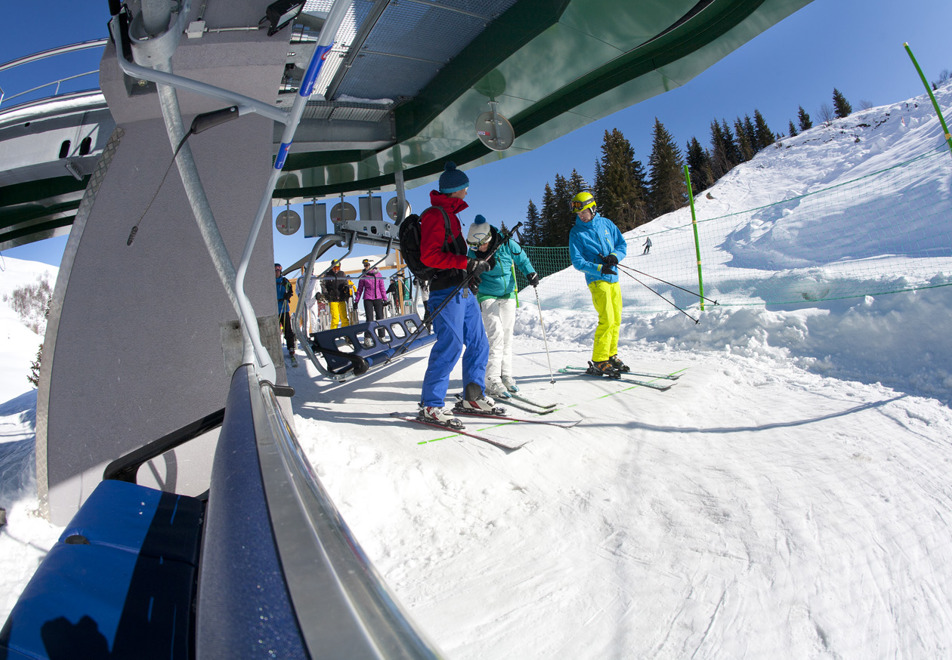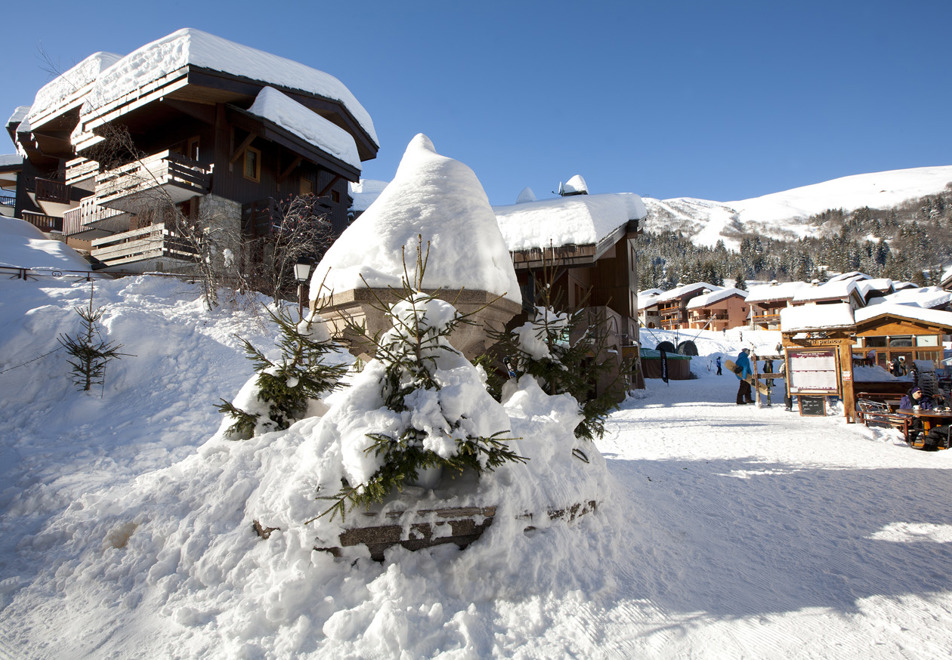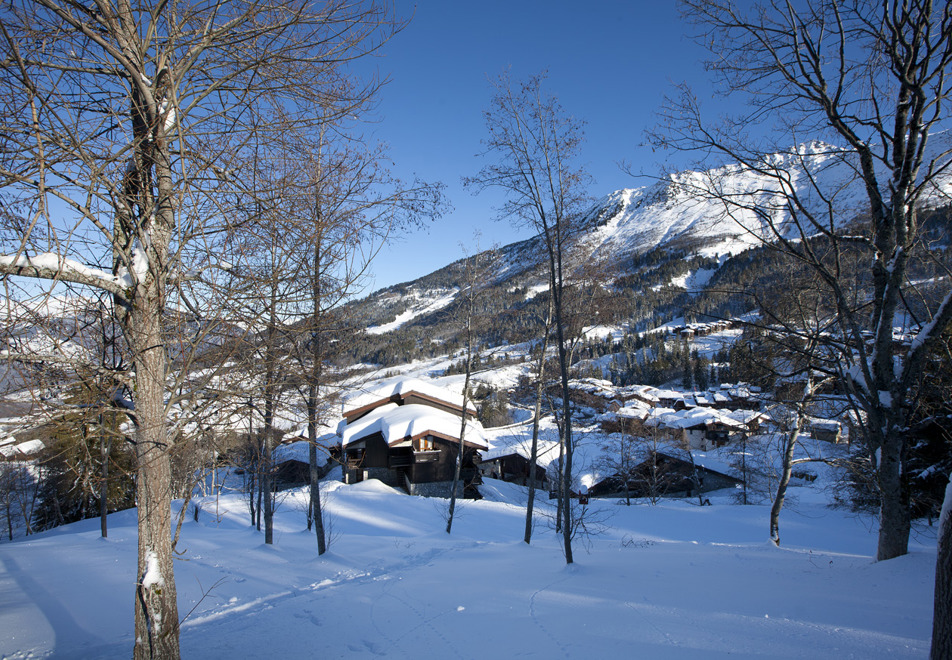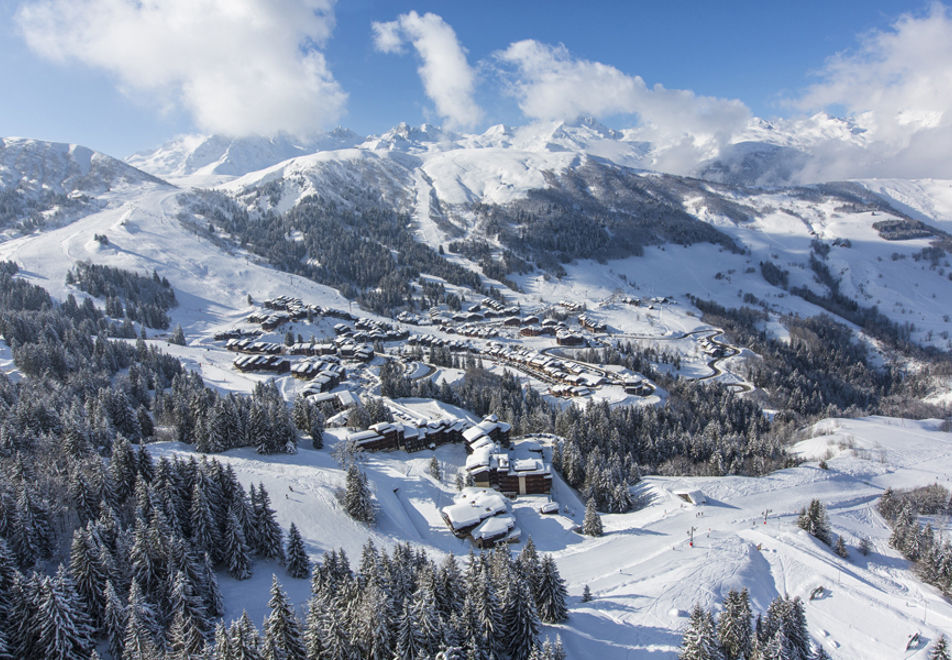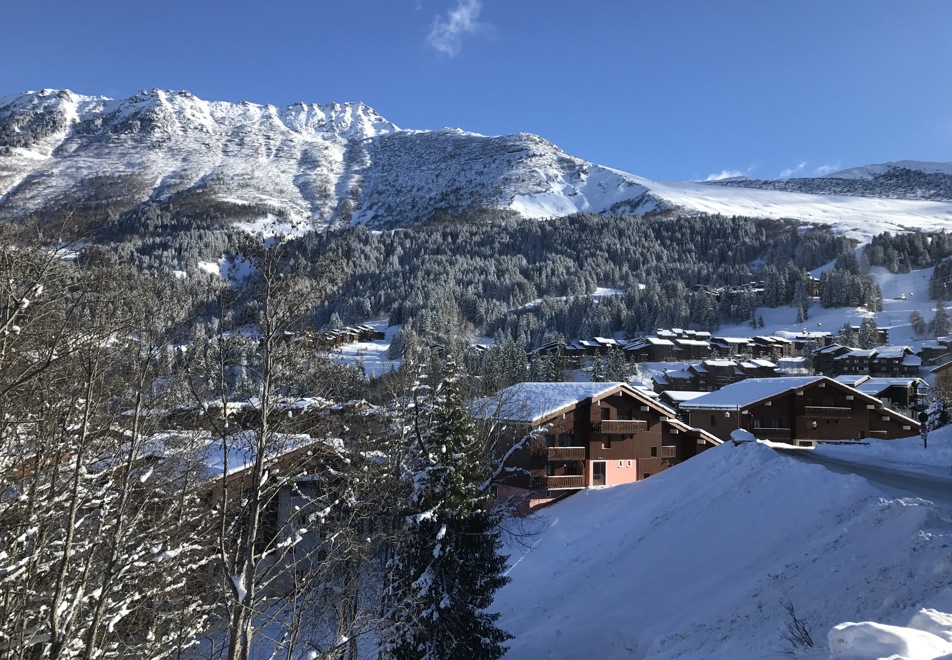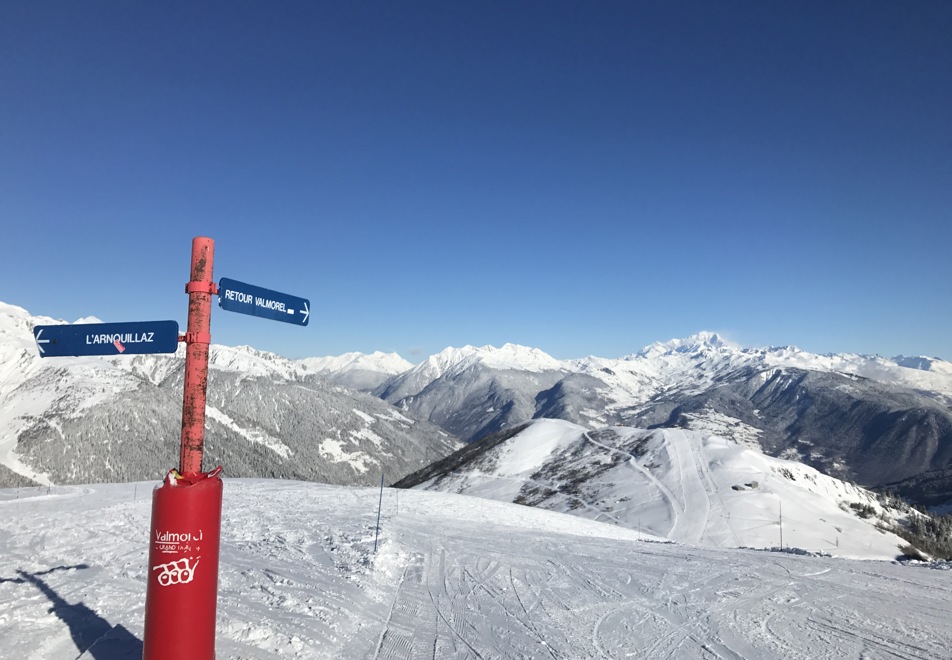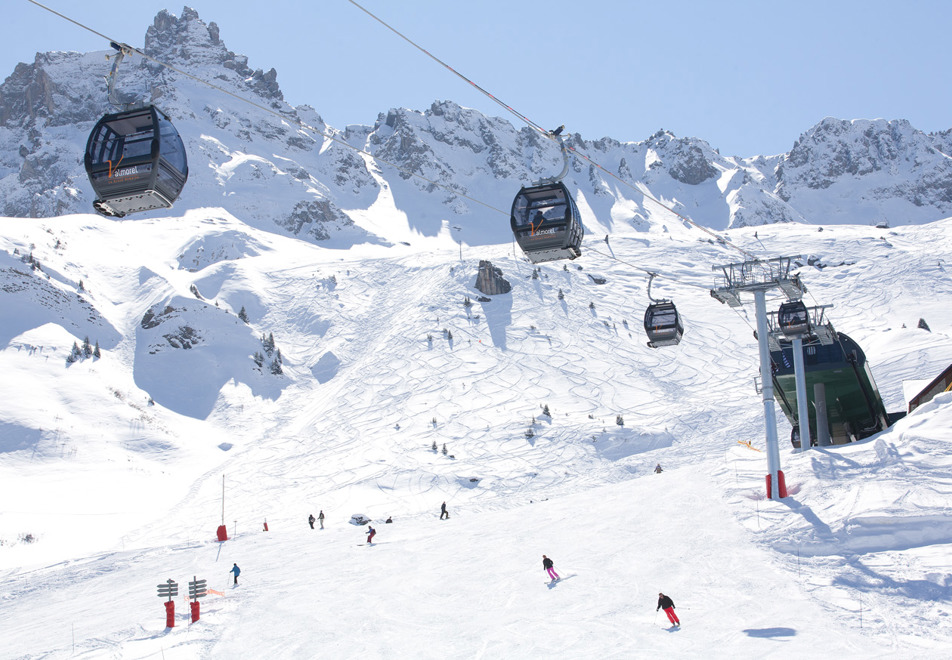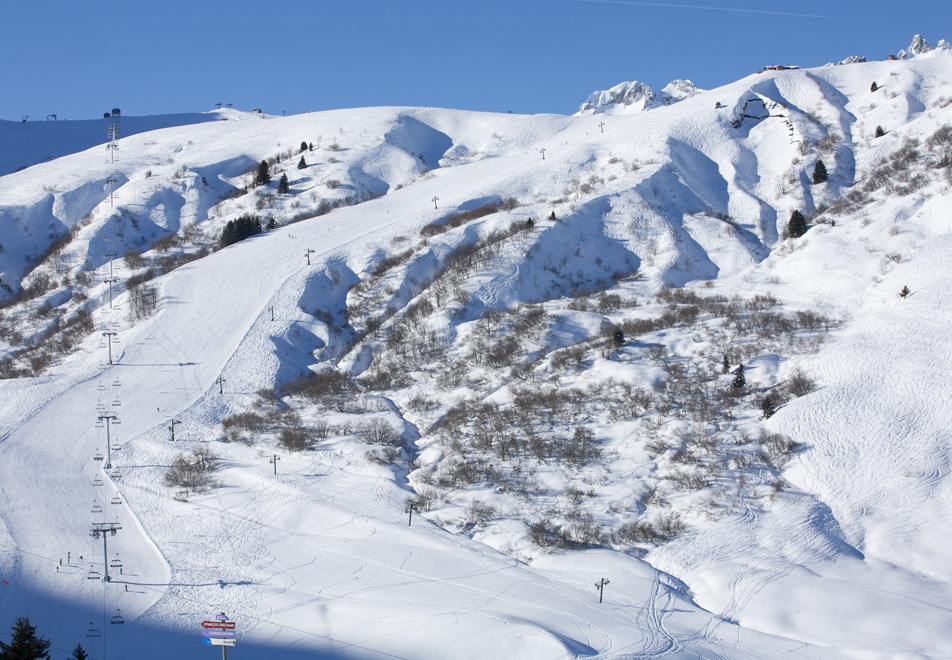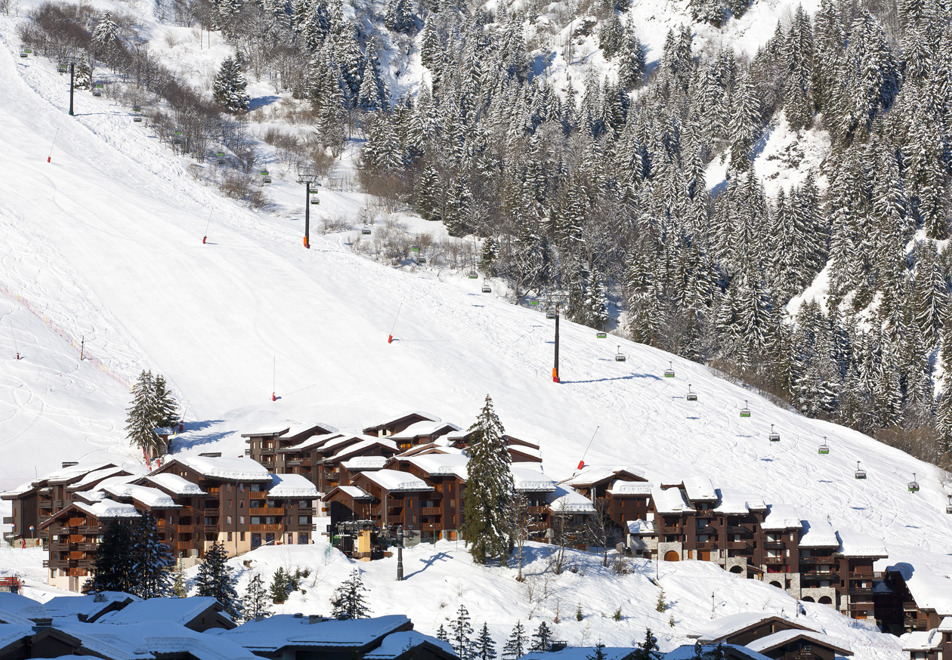 Thinking of skiing in Valmorel? Known as 'Valmorel la Belle', the setting alone in the heart of the Massif de la Tarentaise is simply beautiful and is a firm family favourite ski resort.
Why Valmorel Ski Resort?
Ski-in/ski-out access to over 165km of intermediate pistes
Voted 'Best Family Ski Resort' at the 2014 World Snow Awards
Attractive purpose-built resort
'Famille Plus' resort - good children's facilities and great for families
Car-free resort centre
Valmorel Resort Information
Recently featured in The Guardian as one of the ten best-value family ski holidays, the purpose-built, family-friendly ski village has been developing steadily since the late 1970s. 
Low-rise chalet-style developments have a pleasing, premium look, are well proportioned and incorporate stone, timber and attractively painted stucco, with traditional Savoyard design features. The end results integrate successfully with the surrounding unspoilt high-mountain landscapes, whose aspect is softened locally by extensive tracts of forest.
The compact heart of the village has most essential services located conveniently around a single, car-free street. Elsewhere development has been mostly in clusters, taking account of return runs and thus taking full advantage of the ski-in/ski-out potential. Getting around is easy, with free half-hourly shuttle buses serving outlying accommodation. Road access is straightforward, too, and there are direct TGV high-speed rail services from Paris, plus Eurostar Ski Trains from London, into nearby Moûtiers (15km). You'll need to pay for car parking in the traffic-free village, although there are 180 free unsecured parking spaces in nearby Crey (1.5km).
For non-skiers, or for anyone with the urge to add a little variety to their stay, the range of outdoor activities includes snowshoeing, ice-climbing and Segway hire.
Founder of The Dad Network, Al Ferguson, visited Valmorel with his family. In his review, he says, "this resort really does cater for all abilities...We had a truly wonderful time whether it was skiing, eating, shopping, sledding or relaxing. This resort is by far the best we've been to and we will certainly hope to return again soon!" 
In Briony Key's review on Ski Bible, she says, 'friendly people, friendly on the pocket, with plenty to keep skiers and non-skiers happy, Valmorel rocks'! 
Peak Retreats offers hotel rooms and apartments in Valmorel. All our accommodation is hand-picked and of a very high standard (3 & 4*), providing the ideal base for a Valmorel ski holiday.
Interested in buying an apartment in Valmorel? See our Buying in the Alps section. 
VALMOREL SKI AREA
Considering the convenient, accessible location and the extent of terrain on offer, it's perhaps surprising that Valmorel seems so far to have slipped below the radar of most British skiers. The main village begins at around 1400m and is lift-linked to Celliers, Doucy Combelouvière and (beyond the famous Col de la Madeleine) Saint François Longchamp. The resulting 165km of pistes are spread across an impressive 3600 hectares whose combined terrain is known as Le Grand Domaine. Currently, there are 50 ski lifts, skier capacity having received a major boost with the addition of two powerful new high-speed installations – a six-seater chairlift and an eight-seater gondola.
Despite the altitudes (1300-2550m) being relatively modest, the geographical location attracts dependable snowfalls, and by way of further assurance, 315 snow canons help maintain snow quality on key runs.
The Grand Domaine's real strength is its suitability for families, early intermediates, and beginners, and Valmorel makes a fine base from which to explore it.
Additional ski fact info,
main ski info in resort facts box at top of page

(21/22):

Valmorel local area

95km of pistes, 45 slopes:

Green slopes: 13
Blue slopes: 15
Red slopes: 12
Black slopes: 5
VALMOREL SKIING
VALMOREL BEGINNERS
There are special beginners' areas for "gentle" ski learning. These are specially designed, reserved and made safe for learning and improving confidence. There are three mini-zone areas for beginners and skiers who want to make a few turns:
The Charmette-Bois de la Croix sector (Valmorel): four draglifts and a treadmill are available to

help

learn and develop confidence.
On top of the gondola Pierrafort (Valmorel):

the Malatrai draglift and the Roches Blanches carpet

are

ideal

for families with young children.

They're also accessible to pedestrians

.
In the Combelouvière area, the easy and sunny Echappeaux-Charmettes zone is in an "enchanted forest".
There's one free drag-lift in Valmorel - the Blanchot - for first-time skiers.
Novices can also get a safe, sheltered foretaste of the blue runs on the green-graded Chantemerle, which drops through the trees into Doucy Combelouvière. Crossing over into Saint François Longchamp adds a sense of covering some distance (you're now in the Maurienne Valley) and a different perspective on things, without the risk of getting out of your depth, ability-wise. In fact, the additional 57km of pistes on this side are even gentler, being mostly greens and blues.
VALMOREL INTERMEDIATES
The local runs are mostly blue graded. The blues are well linked, to offer some enjoyable cruising. There are some gentle blue runs in Saint François Longchamp too.
VALMOREL EXPERTS
At first glance, the flattering, mostly undemanding terrain might put off advanced skiers, but there's worthwhile off-piste to explore and a handful of black-graded pistes includes some highly rated runs with dependable snow quality. They're accessed above Valmorel via higher drag lifts like Mottet (2394m), Riondet (2262m) and Gollet (2000m), or above Saint François Longchamp via Schuss (2099m). More experienced skiers will enjoy the red graded pistes which depart from beside the black runs mentioned above, plus the descents from either side of the Col de la Madeleine. There are also 'virgin areas', like the Lauzière mountain range, with its numerous off-piste gulleys.
Valmorel Ski Hire (Pre-bookable)
Pre-book your Valmorel ski hire with Peak Retreats.
To download the ski extras form, see 'Helpful links' further down the page.
Please note, these Pound Sterling prices are for indication only. They will fluctuate based on Euro/£ exchange rate. Please call us for the latest prices.
Special offers: *7 days for the price of 6.  Free Skis/snowboard & boots (Blue/Red) for party leaders of groups of 10 or more all taking equipment. 1 Free helmet per child aged 6 and under for every adult booking skis or snowboards & boots (must be under same booking reference and requested on form above). Other duration prices on request - Cross Country ski prices on request.
Find out more about Peak Retreats ski hire
---
Valmorel Ski Passes (Pre-bookable)
Pre-book your Valmorel lift passes with Peak Retreats. Find out more about Peak Retreats ski passes
To download the ski extras form, see 'Helpful links' further down the page.
Please note, these Pound Sterling prices are for indication only. They will fluctuate based on Euro/£ exchange rate. Please call us for the latest prices.
Other lift pass on offer (to buy locally in resort in Euros):
Valmorel ski pass – ½ day and daily rates 2019/20:
1/2 day - €33.10/adults, €27.20/child
Day - €44.30/adults, €36.30/child
Senior passes also available. Under 5's are free.
Grand Domaine ski pass - ½ day and daily rates 2019/20:
Afternoon from 12.15pm - 35,00€/adults, 28,80€/child
Lie-in from 11.00am - 42,20€/adults, 34,60€/child
Day - 46,60€/adults, 38,20€/child
Valmorel beginners' areas Pass (only available in the ticket office) 19/20:
Morning until 1.00pm - 24,90€/adults, 17,80€/child
Afternoon from 12.30pm - 24,90€/adults 17,80€/child
Day - 29,60€/adults, 23,00€/child
Includes:
Rocher drag lift
Blanchot drag lift (free for all)
Bois de la Croix carpet
Pierrafort gondola

 For 1/2 day of ski => only 1 ascent allowed 
 For 1 day of ski => 2 

Roches Blanches carpet
Malatrai drag lift
Pedestrians pass available (only available in the ticket office):
Lifts open to walkers with pedestrian skipasses from 10.00 am to 4.00 pm:
Lanchettes chairlift
Pierrafort telecabin
Celliers telecabin
Combelouvière chairlift
Altispace chairlift (at a fixed time between 10.00 am and 4.00 pm every day)
Télébourg
Mottet chairlift
Télébourg Pass (only available in the ticket office):
The Télébourg is open every day from 8.30am to 11.30pm. FREE on Fridays after 4.00pm and all day on Saturdays.
Valmorel Ski School (Pre-bookable)
Pre-book your Valmorel ESF ski school with Peak Retreats. Find out more about Peak Retreats ski school
Ski school for children is available to book from 3 years to 12 years, in Valmorel, with Peak Retreats. 3-4 year olds will go into the Piou Piou lessons. Children can learn to snowboard from 8 years+.
For ski school times and prices, please download the ski extras form from the 'Helpful links' further down the page. Please note these are just guiding prices. Please call us for the latest prices.
Please note that lesson times are subject to change right until the last minute - you will be advised. Outside French school holidays the ski school reserves the right to cancel group lessons should numbers be insufficient. For peak periods - Christmas, New Year, February half-term and Easter - we strongly recommend that you book as early as possible and in any case at least 6 weeks prior to the required dates. Morning lessons tend to get booked up first and therefore we may only be able to offer afternoon classes within 6 weeks of departure. In some resorts, English speaking instructors may not always be available, particularly at peak times.
We cannot always guarantee that prices will be cheaper than in the resort. When ski packs prices are calculated, the currency is bought at the exchange rates that apply at the time. You can be assured that once you have booked your extras, if the pound depreciates, you will not be charged more for your ski packs, enabling you to budget for your holiday in advance.
Valmorel private lessons 19/20 (not pre-bookable, book direct):
Individual tuitions can only be purchased directly from the ski school. Peak Retreats cannot pre-book these.
1 hour 30: 1-2 pers - €70-80, 3 pers - €80-90
Please note that prices are only an indication and are subject to change
Ski school Valmorel contact number for private lessons:
Ecole du Ski Francais Valmorel +33 (0)4 79 09 81 86
---
Valmorel Child Care
Valmorel has held the Famille Plus label for its childcare facilities since 2014.
The Piou-Piou Children's Club
For children from 18 months - 3 years (no ski)
Contact ESF: 0033 479 09 81 86
Supervision is provided by qualified carers, who are educated and respectful to what the children require or need. The friendly carers will organise fun activities for the children inside or outside depending on the weather. A fact sheet on the habits and preferences of your child must be completed on arrival at Club Piou Piou. Please also provide the health record for your child.
| | |
| --- | --- |
| morning                 | 08:45 - 12:15  |
| afternoon  | 13:45 - 17:15  |
| full day |  08:45 - 17:15 |
February holidays
| | |
| --- | --- |
| morning | 08:30 - 12:00 |
| afternoon | 13:45 - 17:15 |
| full day | 08:30 - 17:15 |
19/20 prices:
SINGLE TICKET PRICE - SUNDAY TO FRIDAY PRICE
1 half daycare session (subject to availability) - 41€
1 meal - 19€
6 half days without lunch
8.45 - 12.15 or 1.45 - 5.15: €170
6 half days with lunch
8.45 - 1.45 or 11.45 - 5.15: €284
6 days without lunch
8.45 - 12.15, 1.45 - 5.15: €299
6 days with meals
8.45 - 5.15: €394
Valmorel Resort Activities
Free activities
The mission of the ski patrol
Access to the slopes before anyone else, it's possible! Valmorel invites you to board the first gondolas before the opening of the slopes, in the company of the first aid patrollers. It is an opportunity to exchange with mountain professionals, to discover the backstage of their profession, and thus leave your first traces on the freshly groomed slopes!
Free (provided you have a valid skipass).
Access from 12 years old (RED slope level required).
Days of the activity: WEDNESDAYS at 8.45am but once in two times at a different location!
10 people maximum. Book online direct with tourist office.
The snow factory
Get behind the scenes of the Valmorel Ski Area by exploring an exciting and unknown aspect of a ski resort: the CULTURE SNOW! Discover the secrets of snowmaking, its usefulness, snowmaking technology, the impact on the environment... in the company of mountain and slope professionals, all this... on skis!Free (provided you have a valid skipass).
Access from 12 years old (blue slope level required ).
Days of the activity: TUESDAYS at 2.00pm
15 people maximum. Book online direct with tourist office.
Paragliding
Have a go at paragliding with a full qualified instructor. Tandem flights also available. Suitable for adults and children over 10 years old. 
Reservations with francky.morard@gmail.com 
Snowshoeing
An easy walk to discover the joys of snowshoeing and an opportunity to taste some local Savoyard food. 
Bookings available with Jean Pascal Simond. 
'Apero-Gliss'
Have an aperitif or a meal in an altitude restaurant (tbc), followed by a mountain descent in a snakeglisse! 
Reservations with esf-valmorel@wanadoo.fr
The 'P'tits Trappeaurs' in the Night
A nature-evening experience for children with camp fires in the snow and slides. 
For more information or reservations see: www.florentespagnac.fr
Mountaineering + a Night in a Refuge
Discover mountaineering with a night in a refuge and a departure at the headlight as the "real mountaineers"!A great experience on the beautiful peaks of the Alpine Arc!
Reservations with rastellovincent@hotmail.fr or jeanmicheldelomier@wanadoo.fr
Ice Climbing
Climb the natural ice cascade in Valmorel
Reservations with rastellovincent@hotmail.fr or jeanmicheldelomier@wanadoo.fr
Airboarding
Descend the mountain on a high-tech inflatable sled/snowboard, monitored by a member of the ESF. 
Reservations with esf-valmorel@wanadoo.fr 
Ski safari
Ski safari on the most beautiful off piste in the Tarentaise, leaving from Valmorel. 
Discovery Walks
3 hours in which you can begin with and discover all the different sides of snow shoe walking and all the other possibilities of walks in the valley either on foot or on snow shoes.
Yesterday Outing
Outing with donkeys or workhorses through snowy paths, food stopover in old chalets around the fire.
Valmorel Spa des Cîmes
Well being and relaxation in the heart of Valmorel's pedestrian street.
Quad Outings
Discover the pleasure of driving on snow in superb surroundings, all around Valmorel,
Ski Touring
A team of committed professionals ready to help you get the best out of your Valmorel holiday.
Please note: All the above information is for information only. For the most up-to-date information please visit the resort tourist office website. All prices for activities are in local currency (€ Euros) and are bookable and payable locally in resort. 
Valmorel Tourist Office       
0033 479 098 555
www.valmorel.com
Valmorel Ski Activities
In addition to the downhill terrain there are seven snowparks, some 50km of groomed routes for cross-country skiers and walkers, plus opportunities to try parapente and speedriding.
On foot or on snowshoes, the 50km of marked and maintained trails discover another side of Grand Domaine. Via the chairlift Altispace, Lanchettes or Combelouviere easily access to altitude range to enjoy a unique panorama.
Valmorel Nordic skiing
20 km of marked-out itineraries leave from Les Avanchers and go towards the Empyrée and Pierre Laron. The style here is more Alpine and access is free. From Valmorel, access to the pistes is by free shuttle buses.
Snowparks in Grand Domaine
Charmettes boardercross (blue category)
The Valmocross (blue category) and Mini snowpark (green category): Sector Arenouillaz.
The Snowpark Gollet (red category): modules, boardercross and a Big Air Bag.
Snowcross Gollet (red category), the Snowcross Noire du Mottet (black category) and the Snowcross Riondet (black category): Secured Zones ungroomed.
Valmorel Resort News and Events 2021/22
News:
The new 6-seater detachable chairlift Biollène has made its appearance on the domain, at the level of the beginner-intermediate sector of Arnouillaz, lightening the landscape of 40 pylons by removing a double lift and replacing a fixed chairlift. The future Biollène chairlift will be the largest lift in the ski resort and one of the main links in the area for both
skiers and pedestrians. 
To better welcome new skiers, Valmorel is improving the Malatrai
beginners' area by covering the Roches Blanches carpet. This area allows you to enjoy a superb view of the surrounding peaks while being in a place suitable for beginners.
Taking pictures and videos of friends on the pistes uses up lots
of battery! No problem, Valmorel has everything planned with charging
stations directly on the ski area because you can't miss a photo at the top of the slopes and it's always better to have a charged phone to find yourself on the Grand Domaine!
Gentle zipline from the top of the Altispace chairlift to the Prariond
piste. The zipline, constructed in Autumn 2020, will be used for its first
winter in December 2021. 
Events:
La Grand Odyssee Savoie Mont Blanc 13th January 2022 The Grande Odyssée is a long-distance dog sled race, organised over several stages across the Alps. Since 2005, it has been the annual dog sled event in Europe.
Winter Spartan Race 29th January-30th January 2022 In 2016, the SPARTAN RACE came to Valmorel for its "winter" version of the race. After the total success of the first editions, the SPARTAN RACE returns to Valmorel for an even crazier obstacle course and always in a snowy setting!
La Valmo'Belle 4th February 2022 La Valmo'Belle

 is a ski touring climb on a marked route in the ski area that takes place over 

2 runs

, with 490 and 560 meters of elevation gain. 

The Valmorel Ski Show 6th February-6th March

2022

A Ski Show in the colour of the party and music this winter. You won't miss the chance to dance in the middle of a ski slope transformed into a gigantic dance floor! The first ski show in which YOU will be the hero!
National Paragliding and Ski Challenge 16th March-18th March 2022

This winter paragliding and skiing challenges are composed of many fun and precise piloting tests in the air and in contact with the snow.

The E-Wax Festival April 16th-April 17th 2022

After the first edition in 2019, and a digital edition in 2021, the E-Wax Festival comes back for a 3rd edition in Valmorel in April 2022!
More information can be found on Valmorel tourist office: www.valmorel.com
Valmorel Après-ski, Bars & Restaurants
Valmorel has a number of restaurants and bars so there is plenty of choice.
Le Ski Roc – Valmorel
Quality food - Wine bar - Chalet style
33 Bourg-Morel; 0033 4 79 09 83 17 
Le Prariond - Valmorel
Quality cuisine - Evenings - View of Mont Blanc
0033 6 09 88 44 05
La Source - Valmorel
At the bottom of the pistes - Cocktail - Grill - Ambience
3 Bourg-Morel; 0033 6 31 46 88 47
Les Marmottons - Les Avanchers-Valmorel
Refined and savoyard cuisine - Open fireplace
La Charmette; 0033 4 79 09 81 80
Les Voiles du Nant - Valmorel
Pedestrian access - View of Mont Blanc
Top of télésiège de l'Altispace; 0033 6 12 32 27 71
Hôtel du Bourg - Pub - Valmorel
Terrace - Open fireplace - Billiards - Internet
Bourg Morel; 0033 4 79 09 86 66 
L'Aigle Blanc - Les Avanchers-Valmorel
In the heart of the forest - Savoyard specialities
l'Empyré; 0033 4 79 09 83 76 
Table du Berger - Valmorel
Savoyard cuisine - Grill - Pancakes
22 Bourg-Morel; 0033 4 79 09 83 19 
Le Jimbo Lolo - Valmorel
Bar tapas & Tex Mex - South America atmosphere
29 Bourg-Morel; 0033 6 86 97 37 14
La Flambée - Valmorel
Pancakes - Raclette - Specialities
Bourg-Morel; 0033 4 79 09 81 61 
L'Ecuelle - Valmorel
Hameau de Crève; 0033 4 79 09 80 84
L'Altipiano - Valmorel
Pedestrian access - Lounge - Play area - Live music
Top of Télécabine de Pierrafort; 0033 6 60 85 85 22
Le Café Alpin - Valmorel
At the bottom of the pistes - A la carte - Specialities - Pizzas
5 Bourg-Morel; 0033 6 03 11 62 51
Le Petit Prince - Valmorel
Savoyard specialities - Pierrades
7 Bourg-Morel; 0033 4 79 09 81 71 
Valmorel Amenities
Valmorel is served by a range of amenities including:
Sherpa supermarkets:
Le Bourg - 07.30-13.00 and 15.30-20.00
Creve Coeur - 07.30-19.30
Cake shop, cheese shop, regional products, Spar, sports shops, doctors, pharmacy, vet (in Moutiers)
Getting to Valmorel, France
By Road
:
Driving Distance from Calais to Valmorel 570 miles or 8hrs20. Go to Albertville on the A43 from Chambéry or the N 212 from Annecy. Take the dual carriageway RN 90 in the direction of Moûtiers. Take exit 37 for Valmorel.
By Rail
:
Quick access with the TGV which arrives at the Moûtiers-Salins/Brides les Bains train station.
Transdev Savoie
Transfers: Train station - Valmorel - Airports correspondances
Buses from the Moutiers bus and train station to the resort, meet trains and coaches throughout the weekend.
0820 205 330
Airports
:
Chambery Airport is 90km from Valmorel (1 hour)
www.chambery-airport.com
Lyon St Exupery is 180km from Valmorel (1 ¾ hours)
www.lyonaeroports.com
Geneva Airport is 125km from Valmorel (1 ¾ hours)
www.gva.ch/en
Public shuttle bus transfers from airports
Lyon Airport - Valmorel via Moutiers (www.lys-altibus.com). 
Geneva Airport - Valmorel via Moutiers (www.coach-station.com). 
Chambery Airport - Valmorel via Moutiers (www.lys-altibus.com). 
Car parking
PLEASE NOTE: In Valmorel, all the car parking is payable. Depending on what you are looking for, there are 530 underground parking spots and 1200 outdoor parking spots. http://www.valmoparc.com  
Access around Valmorel
The "Valmobus" shuttle buses are free and provide links to and from the resort, every day from 8 am to 8 pm (about every 20 minutes). 
Airport Transfer
For pre-bookable private transfer rates with Peak Retreats, view here. 
---
Valmorel resort season dates
Grand Domaine (Valmorel, Doucy, St Francois Longchamp) ski area is open: 18/12/21 - 17/04/22