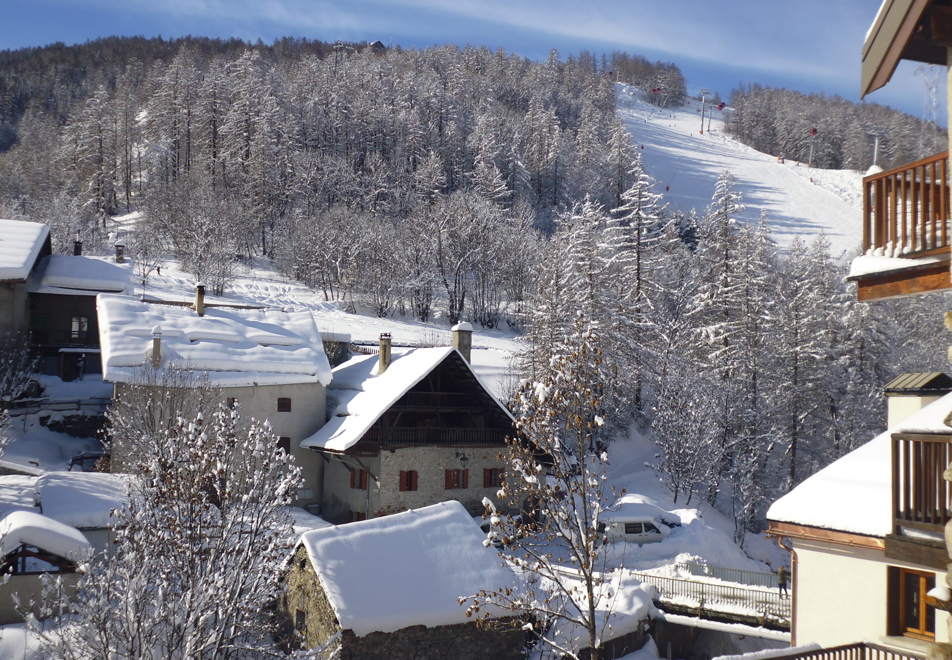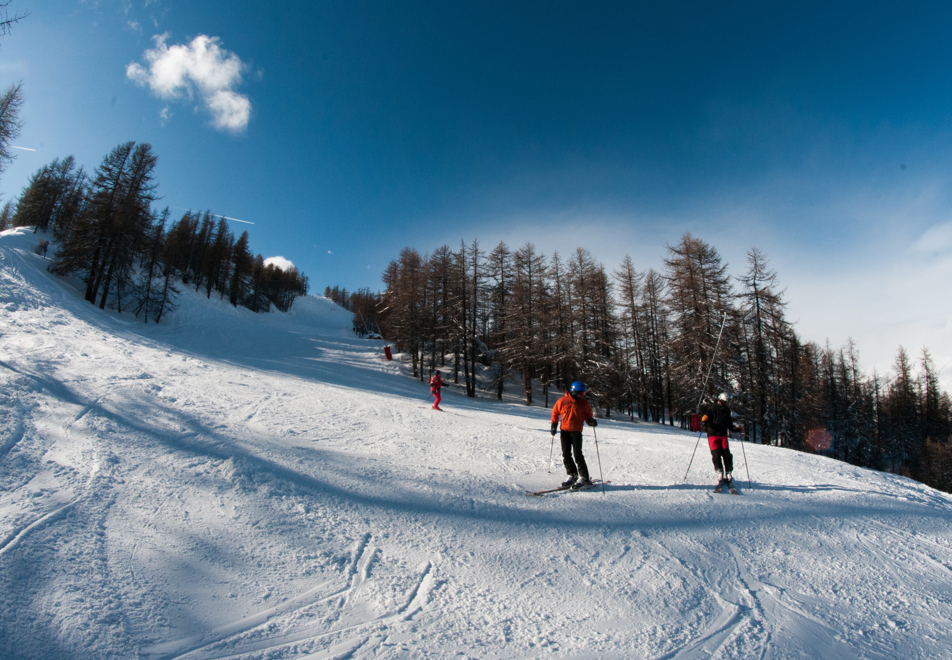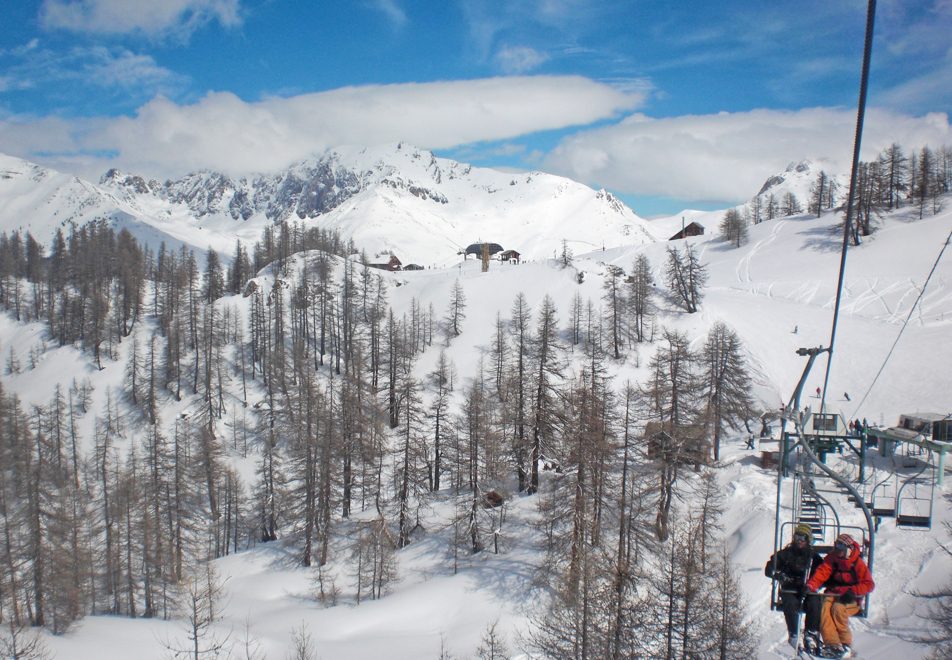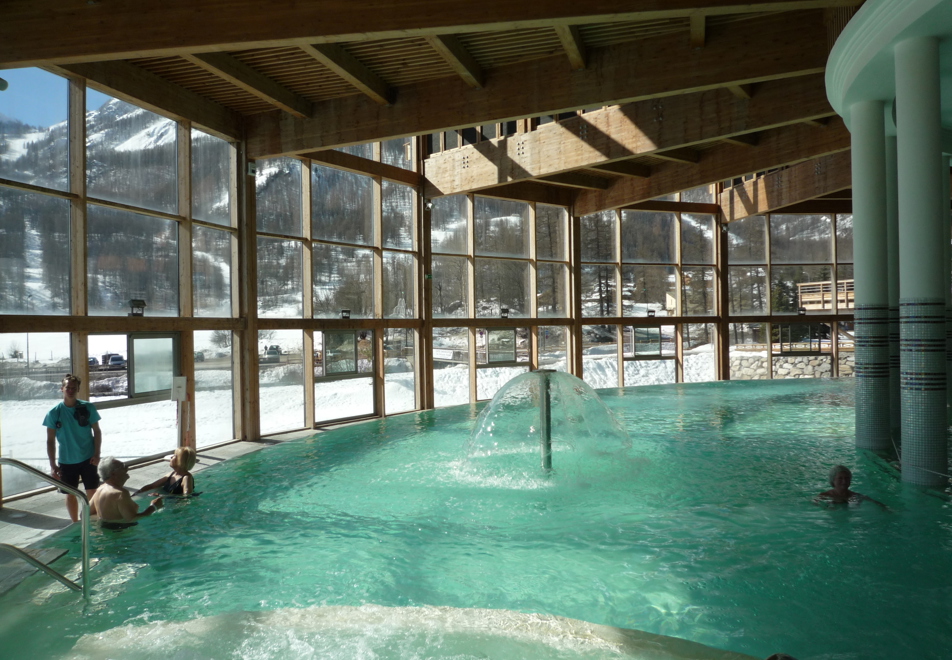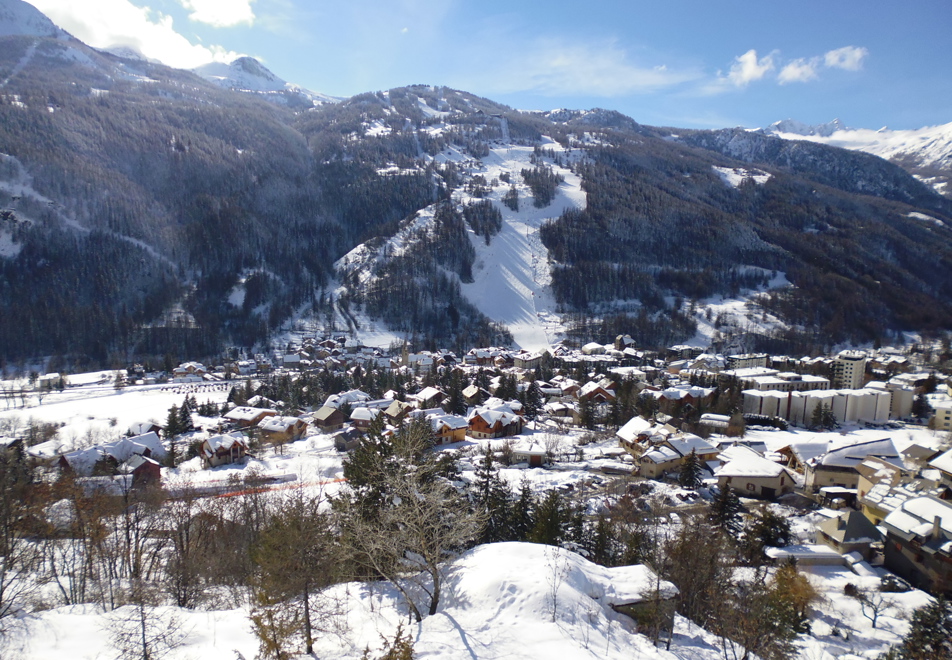 Thinking of skiing in Serre Chevalier? Serre Chevalier is a friendly resort with a large sunny ski area and excellent snow record.
 Why Serre-Chevalier Ski Resort?
A large ski area with a mixture of wooded/open runs
A good snow record and an excellent sunshine record
Friendly resort ambience
Serre Chevalier Resort Information
Serre Chevalier is the resort name for the four main villages located in a sunny, south-facing valley (300 days of sunshine/year) at the foot of the most beautiful peaks in the Ecrins National Park.
All linked by 250km of ski runs and a local bus service, they stretch between the Lautaret pass and fortified Briançon, the highest town in Europe. There are actually 13 villages in total that make up Serre Chevalier's skiing.
Chantemerle (Saint Chaffrey or Serre Chevalier 1350 as the locals call it) is a mixture of modern and traditional ambience and offers a good selection of mini supermarkets, restaurants, bars, nightlife and a fitness centre. Chantemerle village centre is at the foot of the slopes.
The other villages close by are Villeneuve and Mônetier les Bains. Villeneuve is a purpose- built ski village at 1400m offering great central access to the Serre Chevalier ski area. It also has traditional cobbled streets giving it a real French resort feel - and is well catered for with shops, bars and restaurants. Mônetier les Bains is home to the Serre Chevalier Spa.
Driving on ice at the Circuit de Glace and ice-skating are just two popular winter pursuits you can try here. You can also go horse riding, swimming at the Piscine Couverte des Iscles, use the fitness suite and thalasso-therapy at the Espace Thalasse Forme, and try snow scooting or parapenting. You can even learn to drive a piste groomer! For those interested in the night-life during their Serre Chevalier holiday, the Baita disco stays open till 5am.
Serre-Chevalier is rated by Peak Retreats clients amongst the top resorts for good weather. That's not really surprising as the resort is actually part of the Provence Cote d'Azur region and the average number of days of sunshine is indeed greater than most resorts in the Alps. That said, snow conditions have a track record of being excellent too.
Peak Retreats offers a range of Serre Chevalier accommodation. Choose from 4* self catered ski apartments or hotel. All our accommodation is hand-picked and provide an ideal base for a Serre Chevalier ski holiday.
SERRE CHEVALIER SKI AREA
With 250 km of north-facing pistes, Serre Chevalier is highly rated for its snow record, skiing conditions and scenery.  The area has some of France's best terrain for skiing during bad weather and white-outs, with many sheltered woodland runs (trees cover two-thirds of the mountain).
Most of the ski area is above 2000m, and Serre Chevalier has 477 hectares of groomed and maintained ski runs. The majority of the slopes face North or North-East and so snow is usually pretty reliable.
In good weather, there's exceptional scenery, with 360-degree panoramic views over the Ecrins mountains, the Italian Alps and across to Mont Blanc. And there are runs as long as 1500m long to enjoy the views from!
SERRE CHEVALIER SKIING
SERRE CHEVALIER BEGINNERS
For beginners there are several easy areas at mid-mountain (at Serre Ratier and Grand Alpe for example) with green runs leading back to Chantemerle and a nursery slope at the bottom.
SERRE CHEVALIER INTERMEDIATES
Intermediate skiers will enjoy the breadth of the ski area and its efficient lift system, with some of the longest lifts in Europe - and runs of varying gradient and difficulty above and below the tree line. Ski Serre Chevalier's knee-burning Vauban red run is an experience not to be missed!
SERRE CHEVALIER EXPERTS
Advanced skiers have a good selection of red and black runs but can head off-piste for more challenging runs. The tricky 6km Luc Alphand Olympic black run (1000 vertical metres) down to Chantemerle is a must to finish the day in style. If you're not an expert, don't worry, you can take the green La Briance run back to the village - a beautiful route between the larch trees.
SERRE CHEVALIER SNOWBOARDING
With its superb natural terrain, Serre Chevalier is regarded as one of the top snowboarding destinations in France.
SERRE CHEVALIER OFF-PISTE
There are huge amounts of off-piste – both high up and in the trees above Villeneuve and Chantemerle. And La Grave, an off-piste Mecca, is close by.
SERRE CHEVALIER NORDIC SKIING
Stretching from Chantemerle to the Lautaret pass the cross-country ski area in Serre Chevalier has a wide variety of trails. there are 40km of loops from one for beginners (graded green) to longer advanced trails. There's even a biathlon stadium. Explore the map of the cross-country trails in Serre Chevalier.
Other
At Serre Chevalier's Chantmerle, ski lockers are available at the foot of the slopes.
Three new fast six-seater chairlifts have been added above the l'Arvet, Fréjus and Grand Alpe areas.
Serre Chevalier Ski Hire
Pre-book your Serre Chevalier ski hire with Peak Retreats.
To download the ski extras form, see 'Helpful links' further down the page.
Please note, these Pound Sterling prices are for indication only. They will fluctuate based on Euro/£ exchange rate. Please call us for the latest prices.
Special offers: *7 days for the price of 6.  Free Skis/snowboard & boots (Blue/Red) for party leaders of groups of 10 or more all taking equipment. 1 Free helmet per child aged 6 and under for every adult booking skis or snowboards & boots (must be under same booking reference and requested on form above). Other duration prices on request - Cross Country ski prices on request.
Find out more about Peak Retreats ski hire
---
Serre Chevalier Ski Passes
Pre-book your Serre Chevalier lift passes with Peak Retreats. Find out more about Peak Retreats ski passes
To download the ski extras form, see 'Helpful links' further down the page.
Please note, these Pound Sterling prices are for indication only. They will fluctuate based on Euro/£ exchange rate. Please call us for the latest prices.
Other lift passes on offer (to buy locally in resort in Euros):
Smaller areas - Chantemerle and Villeneuve (2019/20):
Day - €40.40 children, €49.50 adults
Serre Chevalier ski pass – ½ day and daily rates (2019/20):
½ day (3 hours) - €35.30 children, €44.10 adults
Day - €41.30 children, €51.50 adults
Beginner passes (2019/20):
Chantemerle
1 return ticket Ratier gondola + Pré Ratier skilifts + Serre Ratier Discovery Area (1 moving carpet) -18,60 €
Villeneuve
1 return ticket Aravet gondola + Aravet Discovery Area (2 moving carpets) + Chazelay, Mickey, Aiche and Bez skilifts - 
20,00 €
Serre Chevalier Ski School
Pre-book your Serre Chevalier ESF ski school with Peak Retreats. Find out more about Peak Retreats ski school
Ski school for children is available to book from 3 years to 12 years, in Serre Chevalier, with Peak Retreats. 3-5 year olds will go into the Piou Piou lessons. Children can learn to snowboard from 8 years+. Under 3's can learn to ski too, contact the ski school direct.
For ski school times and prices, please download the ski extras form from the 'Helpful links' further down the page. Please note these are just guiding prices. Please call us for the latest prices.
Please note that lesson times are subject to change right until the last minute - you will be advised. Outside French school holidays the ski school reserves the right to cancel group lessons should numbers be insufficient. For peak periods - Christmas, New Year, February half-term and Easter - we strongly recommend that you book as early as possible and in any case at least 6 weeks prior to the required dates. Morning lessons tend to get booked up first and therefore we may only be able to offer afternoon classes within 6 weeks of departure. In some resorts English speaking instructors may not always be available, particularly at peak times.
We cannot always guarantee that prices will be cheaper than in resort. When ski packs prices are calculated, the currency is bought at the exchange rates that apply at the time. You can be assured that once you have booked your extras, if the pound depreciates, you will not be charged more for your ski packs, enabling you to budget for your holiday in advance.
Serre Chevalier private lessons (not pre-bookable, book direct)
Please note these are guide prices only. Please speak to the ski school directly.
Individual tuitions can only be purchased directly from the ski school. Peak Retreats cannot pre-book these.
52€ per hour (excluding mornings in New Year and February holidays where €70)
The Shared Lesson
The private lesson shared with 3 other people for 2 hours per day for 5 or 6 days.

Around lunchtime in holidays and mornings off-peak.
6 days 300 €, 5 days 250 €

Ski school Serre Chevalier contact numbers for private lessons. Please note that prices are only an indication and are subject to change
Ecole du Ski Français Serre-Chevalier: 0033 4 92 24 17 41
---
Serre Chevalier Child Care
Serre Chevalier has acquired the Famille Plus label for its childcare facilities. Please view here to view more information on the Famille Plus label.
Nursery - 'Garderie des poussins'
Daycare for 8 months to 6-year-olds (during school Holidays: Children from 18 months to 6 years only)
Your children are welcome to join this playful environment with Martine and his qualified team of carers.
Our ESF team will care for your child and offer them a variety of activities including drawings, games and songs, not to mention the snowmen!
Older children can be supervised during meals or between ski lessons.
Remember to bring their health card and proof of date of birth.
Book by telephone: 0033 4 92 24 03 43 (during the season) or 0033 6 14 24 91 01 (all year)
Please note these are guide prices only. Please speak to the ski school directly to confirm prices and times.
TIMES - NURSERY 'GARDERIE DES POUSSINS'
Morning 8:45 - 11:30
Morning + Meal 9:00 - 13:00
Afternoon + Snack 1:30 - 5:00
Day + Meal + Snack 9:00 - 5:00
1 Day/6 Days prices
Morning 31 €/ 170 €
Morning + Meal 45 €/ 245 €
Afternoon + Snack 35 €/ 195 €
Day + Meal + Snack 65 €/ 365 €

Exclusively for children attending ESF ski school (3 years +)
1 Day/6 Days prices
Morning + Meal until 2 PM 52 €/ 290 €
Meal + Afternoon + Snack 55 €/ 305 €
Supervision around ski lessons (meal included) 40€/ 215 €
Top winter activities to experience in Serre Chevalier!
Please note Peak Retreats do not book any activities and most activities are payable.
Snowsport activities:
Night skiing
Under a starry sky and on beautifully floodlit runs, skiing takes on a magical new dimension!
First tracks
Open the resort's slopes with the ski patrol team and get on the slopes before everyone else!
XXL ski
Extra-large ski days! A selection of lifts open from 8.30 for extra skiing.
Bruts de Neige zone
Ungroomed snow on marked runs to get the feeling of fresh snow safely.
Ski-mojo
This exoskeleton designed for skiers and snowboarders allows you to ski longer with less stiffness and muscular pain in the legs and knees. The concept is a light and comfortable neoprene harness and splints adaptable to all shapes and sizes to bear 1/3 of the body weight, thus reducing pressure on the knees.
Snooc
Combine ski-touring and sledging for completely new sensations! This activity is available in Serre Chevalier, which is a pioneer Snooc resort. Going up, the skier wears two skis with bindings and seal-skins. At the top, he takes off skins and bindings, stacks the skis one on top of the other, fits the seat and suspension in just a few minutes, and sits on the sledge to enjoy the ride down!
Snow kite
This is the winter version of kitesurfing. Snow kite sessions take place on the mythical Lautaret Pass, on skis or on snowboards pulled by a kite!
Ski-joering
Old and young alike will enjoy this unusual activity for horse-lovers: on skis or sledges, pulled by a pony or horse on specially- prepared tracks.
Ski touring:
Nature-lovers are invited to try out ski touring on safe and permanently marked trails in Serre Chevalier's Villeneuve and Monêtier sectors. The uphill trails are in the forest, away from the ski slopes, but with easy escape routes to the runs if necessary. For the descent, you can use the ski runs (during opening times) or go off-piste.
Mountain Kart + Mountain Bob sledge
From the top of the cable car at 2491 metres, speed down 300m. Vertical for a 2km descent on a "Mountain Kart" or on a "Mountain Bob" sledge. Incredible sensations to experience with friends and family (kids must be over 1.3m tall).
Deval'bob
It's a fun 4km sledge run with a 573m. Vertical drop and 26 turns through the larch forest! Deval'Bob is a crazy activity to enjoy with friends and family (kids must be over 12).
Snow groomer ride
Here is an original idea for discovering the ski area differently, on board a specially-equipped grooming machine. You will have amazing views of sunrise or sunset from the top of the mountain and learn about the life of the people who work at night to give you perfect skiing conditions; you will witness the magical work of our snow-groomers or snow-makers by visiting the snow-making facilities, and hear about the history of the resort over breakfast or dinner with a driver, who will tell you stories and anecdotes about the development of the ski area that only he can know.
Ruisseling
Climb up a frozen waterfall using crampons, and through the advice of your guide, learn to understand the ice.
Ice climbing
Initiation courses to climbing on ice are offered on the La Schappe frozen waterfall. For the more adventurous, there are also day-outings with a guide to discover the frozen waterfalls of the valley!
Go-kart on ice
Feel go-kart sensations, but on ice! Skidding, sliding, steering, finding the best curves in safe specially-equipped karts, with studded tyres for a better grip on snow, on the first Go-Kart on Ice circuit in the Hautes Alpes department!
Driving on ice
The famous circuit greets those who love amazing thrills to discover driving on ice, offering an introduction to driving on ice in real racing conditions, on board a vehicle driven by a pro, or with driving lessons with an instructor, to learn how to react in the most extreme road-conditions; perfect for learning how to control your vehicle on snowy roads.
Snowshoeing by night
Go out at night on snowshoes and discover a different aspect of the mountain, enjoy the magical atmosphere of the darkness, admire the stars and learn about the constellations before the return journey with headlamps or burning torches.
Snowshoes and sledges
Go uphill on snowshoes through the forest, with 500m vertical and a 2 to 2.5-hour hike, to reach a magnificent mountain refuge, for a rest and a meal before an hour-long descent on a sledge!
Nordic skiing and biathlon
From Chante merle to the Lautaret Pass, the Nordic skiing area offers an exceptional setting for all levels and disciplines: beginners, sporting, families (a 'nature trail' with picnic area and events), snow-shoes, Nordic hiking and a biathlon stadium offering introductory instruction. 45 km. of trails – 20 km. for snowshoes – a Biathlon stadium with 24 targets certified for European Cup events (the only one in the Hautes Alpes department).
Paintball on snow
With an instructor, you can test your team spirit and competitiveness, using biodegradable paintballs to respect the environment, in a snowy setting.
Fat bike
On this mountain bike equipped with extra-wide tires, you can ride on snow! Ride fat bikes on the ski area leaving from Chantemerle on a specially-prepared trail; you can also find marked trails along the valley, enabling you to ride up and down the valley from the Pontillas Lake in Villeneuve to the hamlet of Le Lauzet above Monêtier-Les-Bains.
Dog sledges
A truly magical activity where you are in contact with the dogs and close to nature.
Snowmobile and dinner
An excursion through the larch forests up to a mountain restaurant where a local dinner awaits you.
Gourmet outing with snowshoes and sledge
Leave on snowshoes for a 2-hour hike in the woods going 500m. Uphill and you will reach a mountain refuge where you can enjoy a mountain-style tea or dinner. After your meal, you will love this crazy descent on an 8km sledge-run, at sunset or by moonlight!
Other activities:
Grands Bains de monetier spa
You can get the benefit of this natural hot water which springs at 44°C in the Grands Bains de Monêtier (nearby), in a gentle setting offering a variety of options for relaxation or recovery after physical strain. The water of the Grands Bains is rich in minerals and promotes total recovery from fatigue thanks to its recognised properties. Facilities include outdoor and indoor pools, a Jacuzzi, a trilogy of different pools from 17° to 40°C, a sauna, hammer, beauty treatments and a restaurant.
Play pool aquatic centre
The water sports Centre in nearby offers both sport and relaxation, with a 25m. Indoor pool, lessons for beginners and experts, water aerobics, aquafit with flippers and training sessions for a triathlon. For your relaxation, the Centre offers a 300 sq. m. play pool with currents, massage sprays, bubble beds, waterfalls, geysers and a river, as well as a giant water-slide and a paddling pool with a water-mushroom. For your well-being, a hammer, a sauna and a Jacuzzi complete the range.
Giant zip line
Located between the Grand Serre (2,491m) and the Grand Alpe (2,193m), experience the zipline of Serre Chevalier for a flight over the slopes at over 100km per hour! You can do this in pairs or alone, and it's accessible to skiers and pedestrians. Enjoy!
Heritage tours
Our Heritage Service organises guided tours all winter to reveal the exceptional cultural heritage of the valley: its forts and monuments classified UNESCO World Heritage, tours of the historic villages of Serre Chevalier, including the Museum of Sacred Art in Monêtier Les Bains, are also available.
Snowshoes and yurt
Starting with a snowshoe outing in the late afternoon up an easy trail through the larch forest, no need for any particular technique, you will come to a real Yurt from the Mongolian steppe, completely fitted with everything you need for a fireside meal and a warming drink.
Snowshoeing in the fortifications
These fortifications are classified UNESCO World Heritage. A visit with a guide takes you up where the view embraces the spectacular landscape. This is a cultural activity unlike any other!
«Gourmands d'histoire» tours
A knowledgeable mixture of history and cookery. This workshop and tour will take you back to the old life of the locals and then invites you to learn how to prepare delicious local dishes using local organic produce.
New escape room
An unusual and fun experience nearby – a mixture of riddles to solve, objects to find and padlocks to open to escape from a closed room; you will go back in local history and discover an incredible universe!
Please note: All the above information is for information only. For the most up-to-date information please visit the resort tourist office website. All prices for activities are in local currency (€ Euros) and are bookable and payable locally in resort.     
Serre Chevalier Tourist Office
Office de Tourism de Serre-Chevalier
Tel: +33 492 24 98 98
www.serre-chevalier.com
Serre Chevalier news & events
What's new this season:
Brand new lift opening in December - part of their strategy to adapt the ski area's carbon footprint, the new Pontillas gondola will link La Salle les Alpes village to the Méa sector in Villeneuve, in just 8 minutes, able to transport 2,800 passengers per hour, more than 500 more per hour than the previous two lifts combined!
What was new last season: 
New giant zip line in Serre Chevalier - Located between the Grand Serre (2,491m) and the Grand Alpe (2,193m), experience the zipline of Serre Chevalier for a flight over the slopes at over 100km per hour! You can do this in pairs or alone, and it's accessible to skiers and pedestrians. 
New Eychauda and Cibouït chairlifts (Monêtier area) - a brand new 6-person high-speed chairlift will be replacing the actual Eychauda, making it much faster to go from Monêtier to Villeneuve. The Cibouït chairlift will also be replaced with a 4-person chairlift. 8 million euros have been invested in the replacement of these two lifts.
New investments in Renewable Energy - last winter, Serre Chevalier Vallée was the first ski resort to produce its own electricity combining three types of renewable energy: hydroelectricity through the snow-making network, photovoltaics with 1420 solar panels, some of which were designed in Serre Chevalier, and micro-wind turbines with 2 wind energy devices. With very positive results after this first winter, new infrastructures are being added: a new wind turbine will be installed near the one already in place at the top of Prorel, 4 extra sites of photovoltaics will be added.
Events taking place in the 2022/23 season:
10th Edition of Ice Kart Trophy 14th January - 28th January 2023
Altitude Jazz Festival 20th January - 28th January 2023 

In the sun for the concerts during the day, and under the stars by the fireside for the evening concerts.

Serre Chevalier Snow Trail 21st January - 22nd January 2023
Ski Show 9th February - 2nd March 2023
"The Four Elements" show 15th February 2023
DJ set The Avener 23rd February 2023
Serre Chevalier Après-ski, Bars & Restaurants
Serre Chevalier offers restaurants and bars, as well as a cabaret, cinemas, nightclubs, theatre, cinema.
Serre-Chevalier Restaurants
Le Royal
Place du Telepherique, 05330 Serre-Chevalier
Le Loup Blanc
Tel. 0033 4 92 24 14 27
1 Route Neuve, 1 route Neuve à Chantemerle, 05330 Serre-Chevalier
Le Petit Chalet
Chantemerle, 05330 Serre-Chevalier
1420
Tel. 0033 4 92 55 41 10
Centre Commercial Pre Long, 05240 Serre-Chevalier
Serre Chevalier Amenities
Serre-Chevalier is home to a whole host of amenities including supermarkets, banks, post offices, dry cleaners, garage, doctors, dentists, cash points and a bureau de change.
Market days Serre Chevalier 1200 Wednesday mornings, Serre Chevalier 1350 Thursdays, Serre Chevalier 1400 Tuesdays, Serre Chevalier 1500 Fridays (to be confirmed).
Getting to Serre Chevalier, France
By Road: 
Driving distance from Calais 613 miles (9hrs 50)
Take A36 through Reims, Dijon A6 Maçon, Lyon then A432/A48 to Grenoble. Take N91 then follow signs for Serre Chevalier.
Airports:
Turin Airport (Italy) is 125km from Serre Che (1 ½ hours)
www.aeroportoditorino.it
Grenoble Airport is 154km from Serre Che (2 ¼  hours)
www.grenoble-airport.com
Chambery is 174km from Serre Chevalier (2 ¼ hours)
www.chambery-airport.com
Lyon-St Exupéry is 251km from Serre Chevalier (2 ¾ hours)
www.lyonaeroports.com
Connection by bus from Saint Exupéry airport or Grenoble railway station –
www.vfd.fr  
Geneva Airport to Serre Chevalier is 295km (3 ¼ hours)
www.gva.ch
Marseille is 300km from Serre Chevalier (3 hours)
Getting around Serre-Chevalier
Serre Chevalier's free ski shuttle buses take you from one end of the valley to the other, stopping at many convenient points along the Route Nationale. It is free for all those with a valid lift pass or Carte d'Hote.
Serre Chevalier Airport Transfers
For pre-bookable private transfer rates with Peak Retreats, view here. 
---
Serre Chevalier

Opening Dates

Serre Chevalier ski area is open: 10/12/22 - 16/04/23