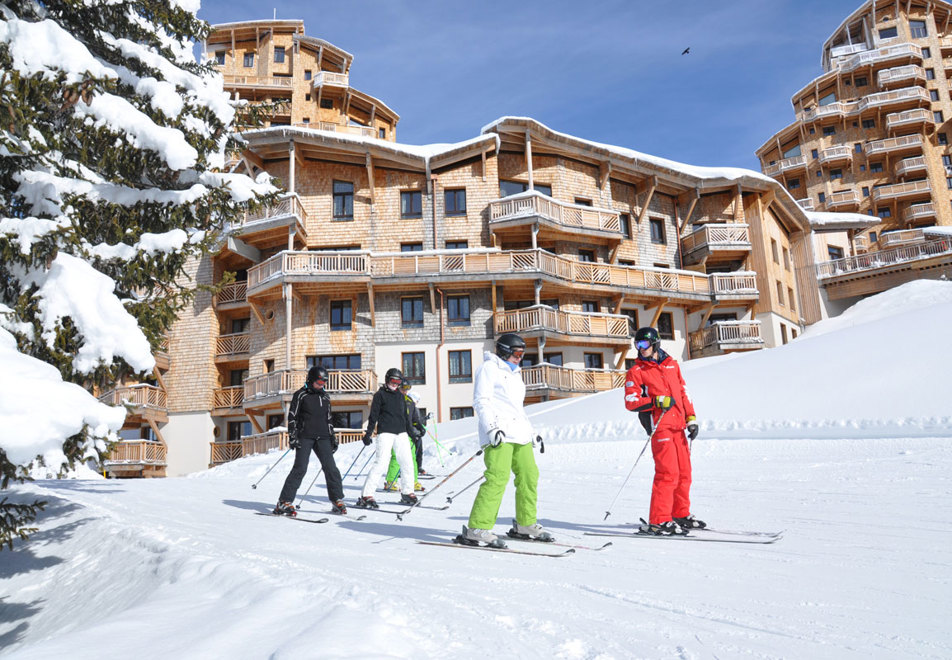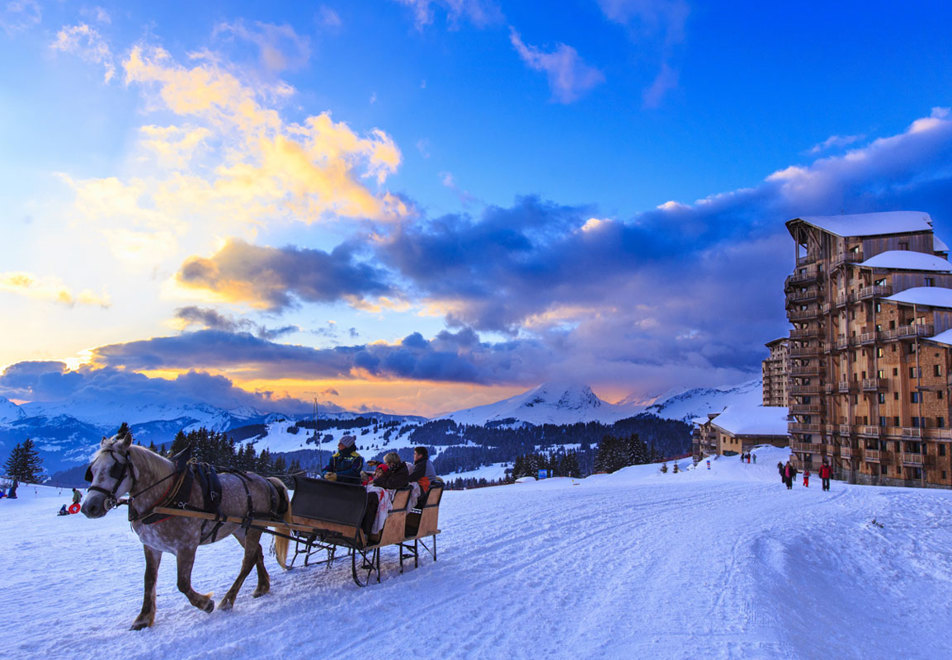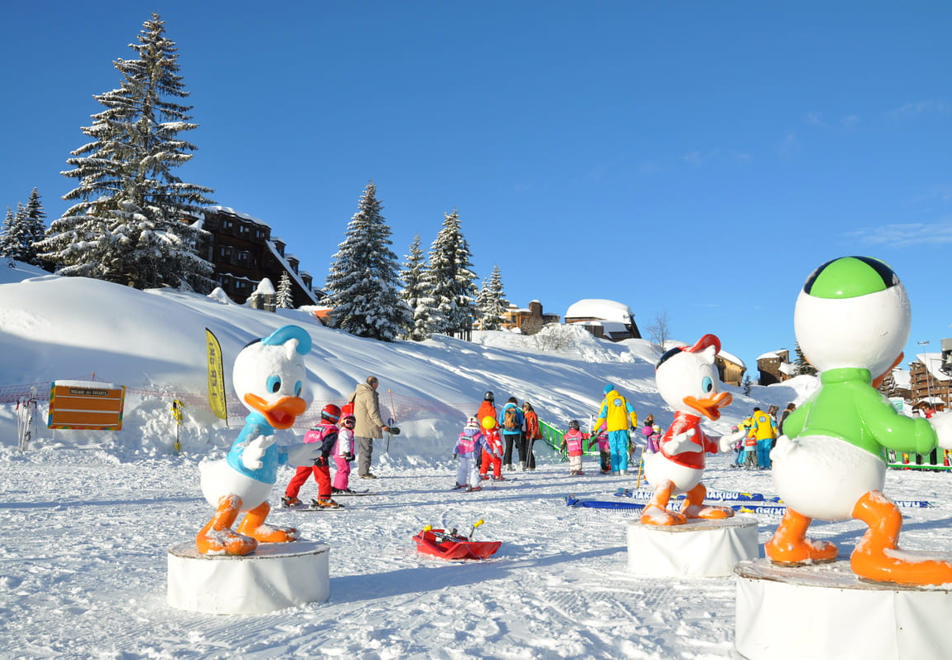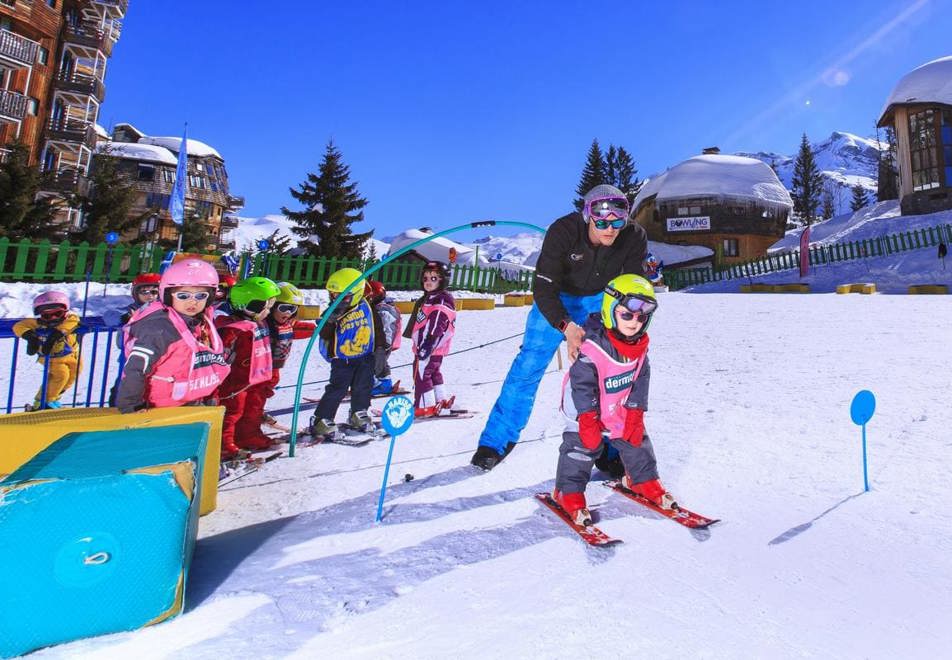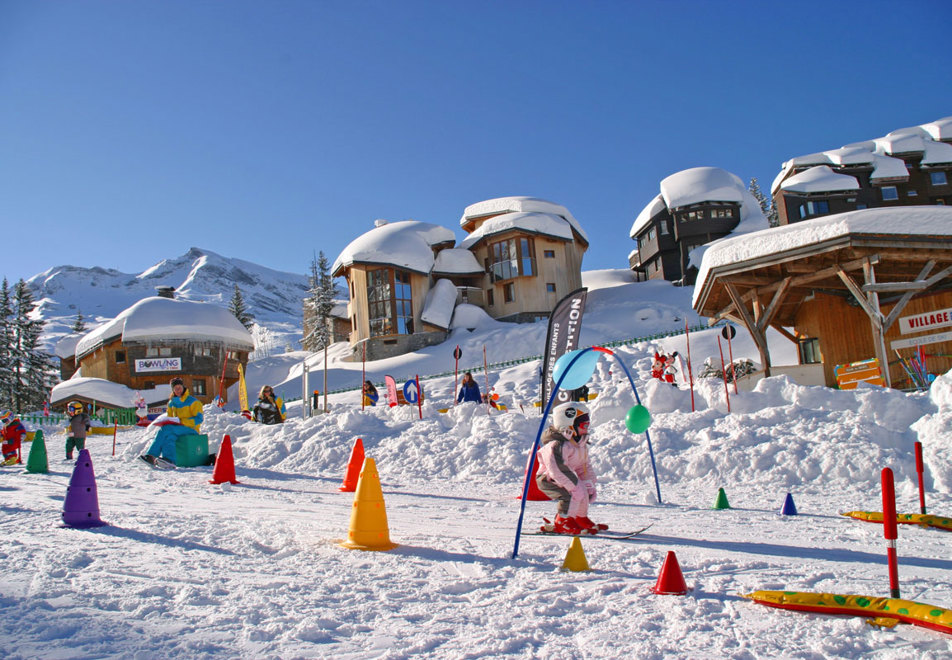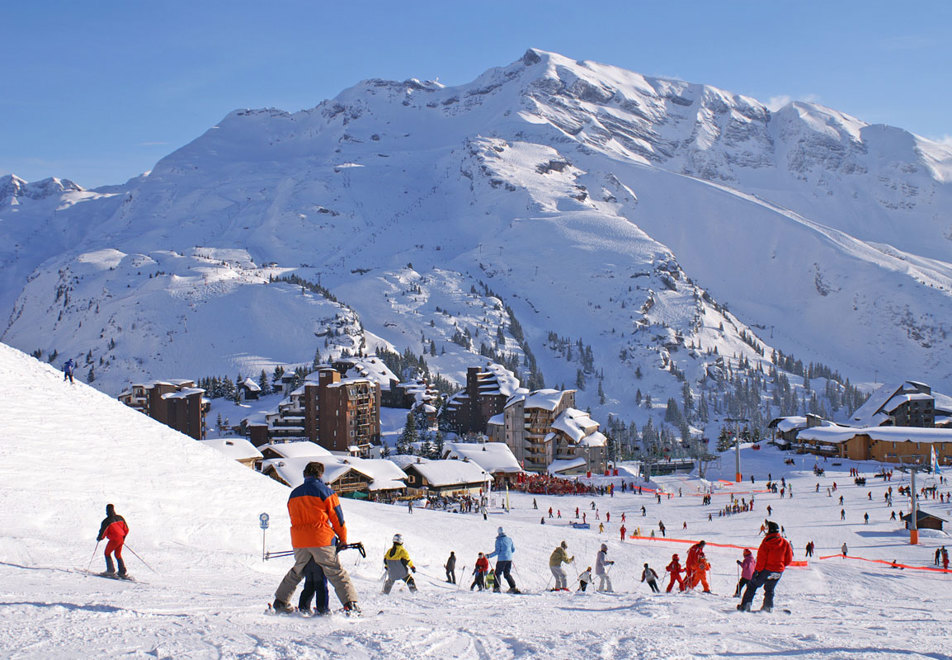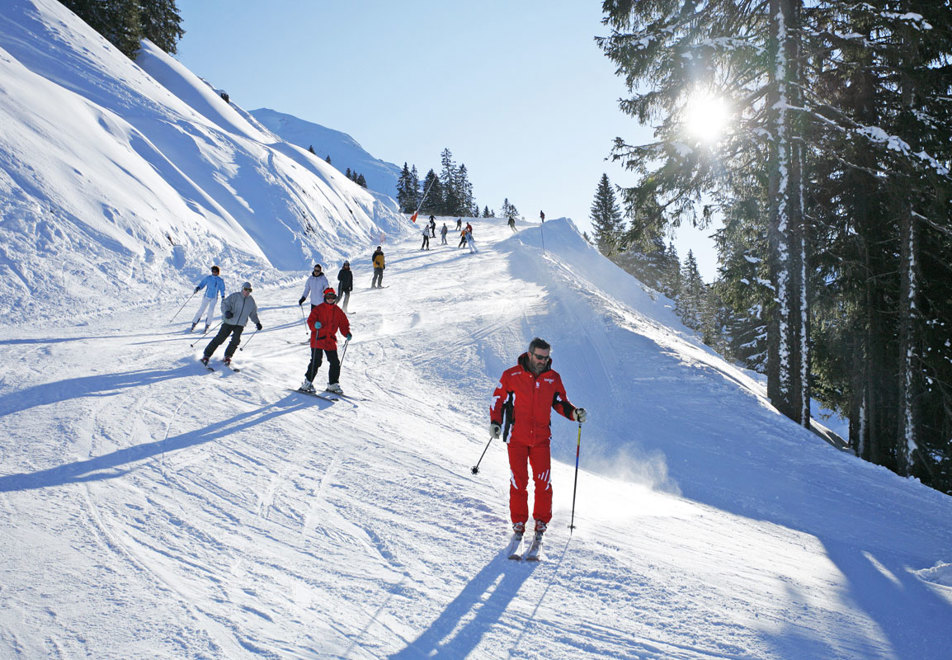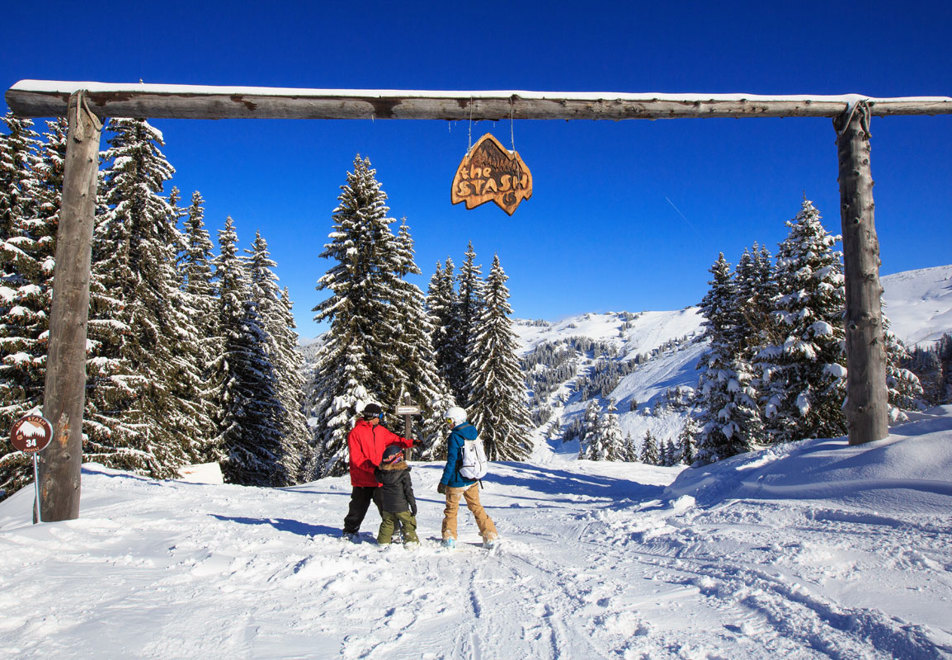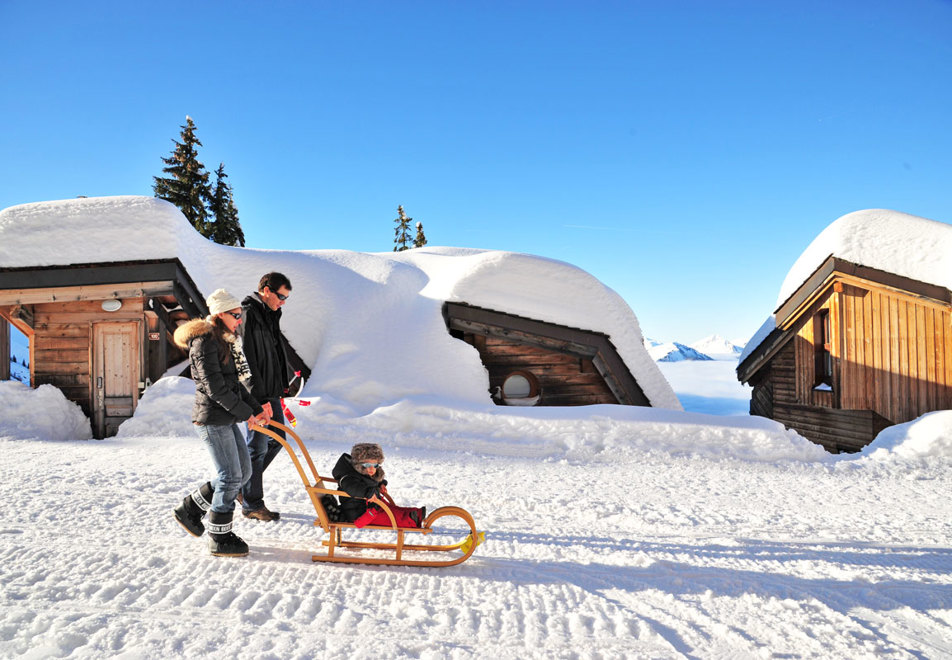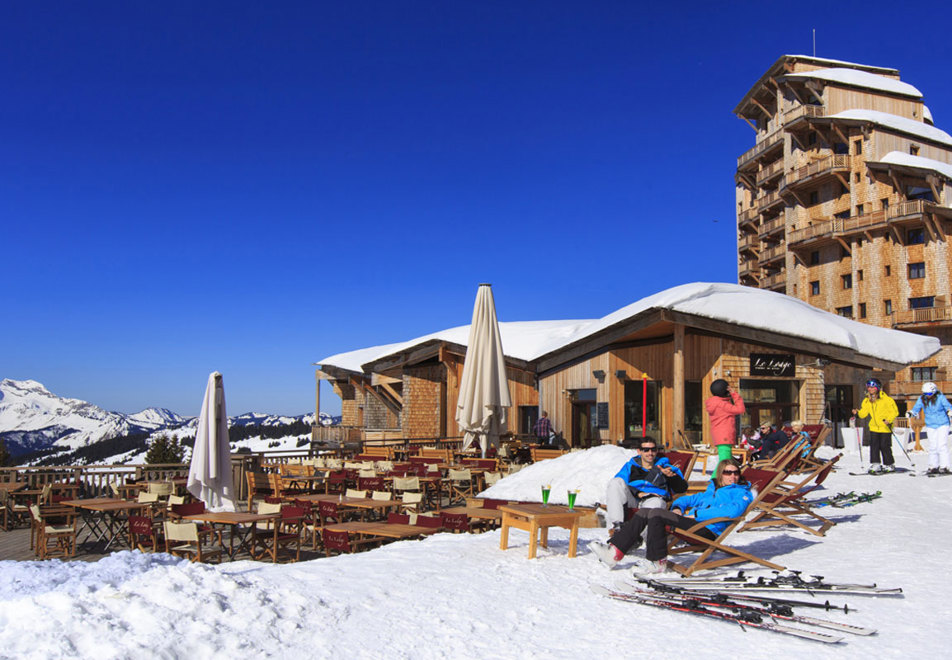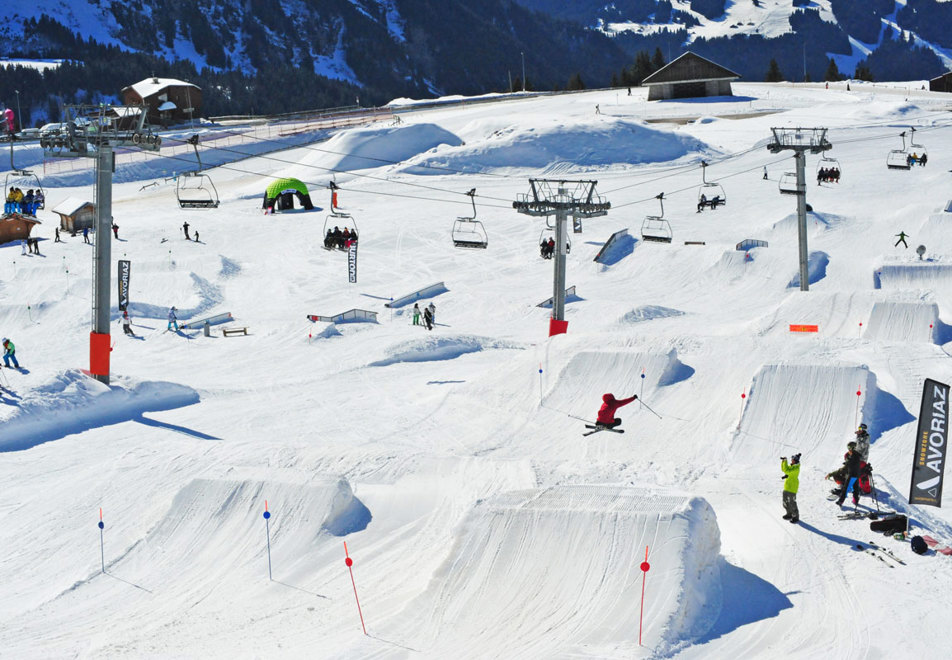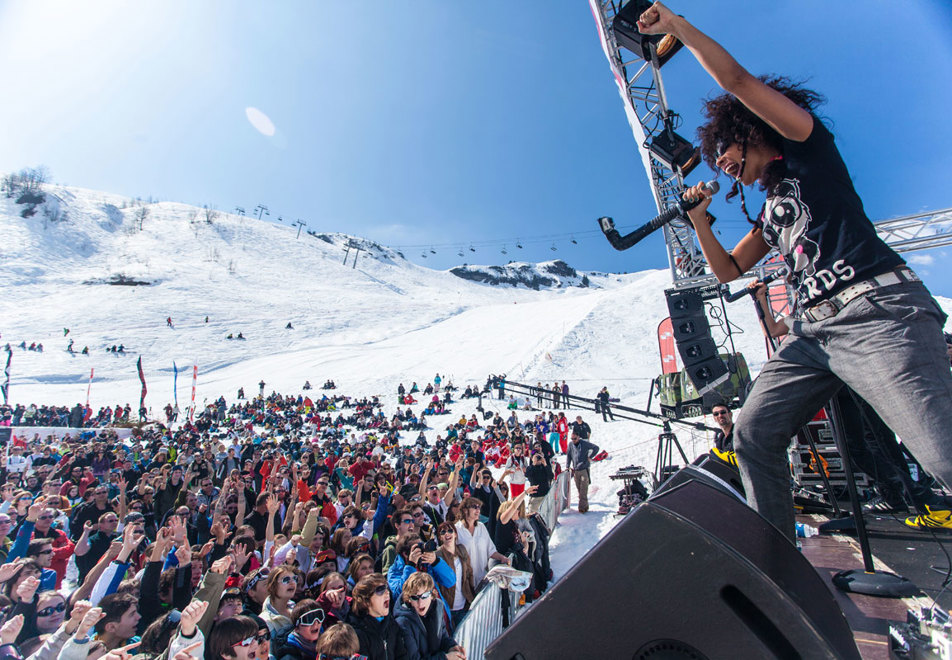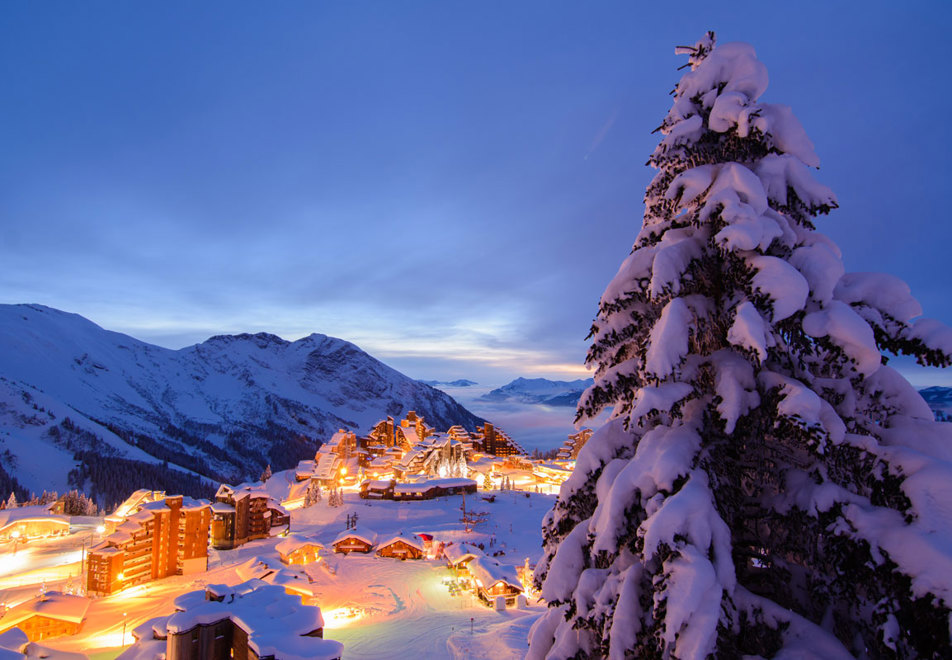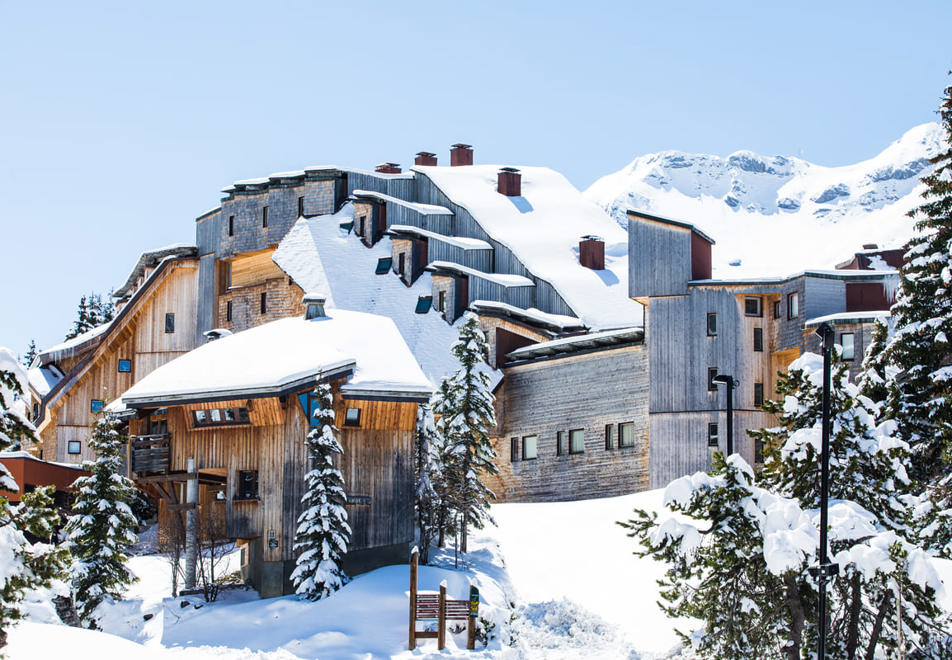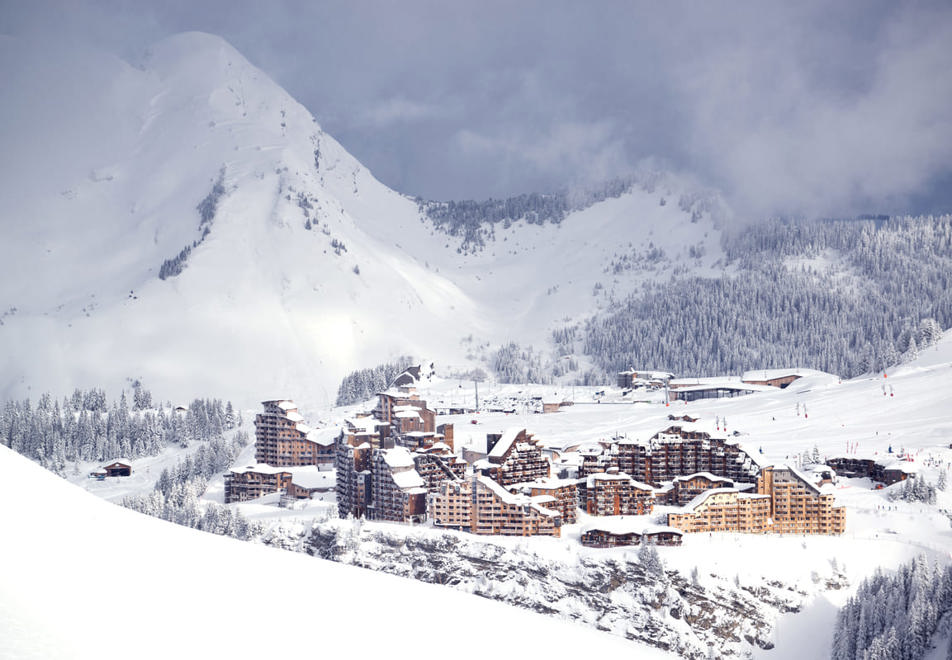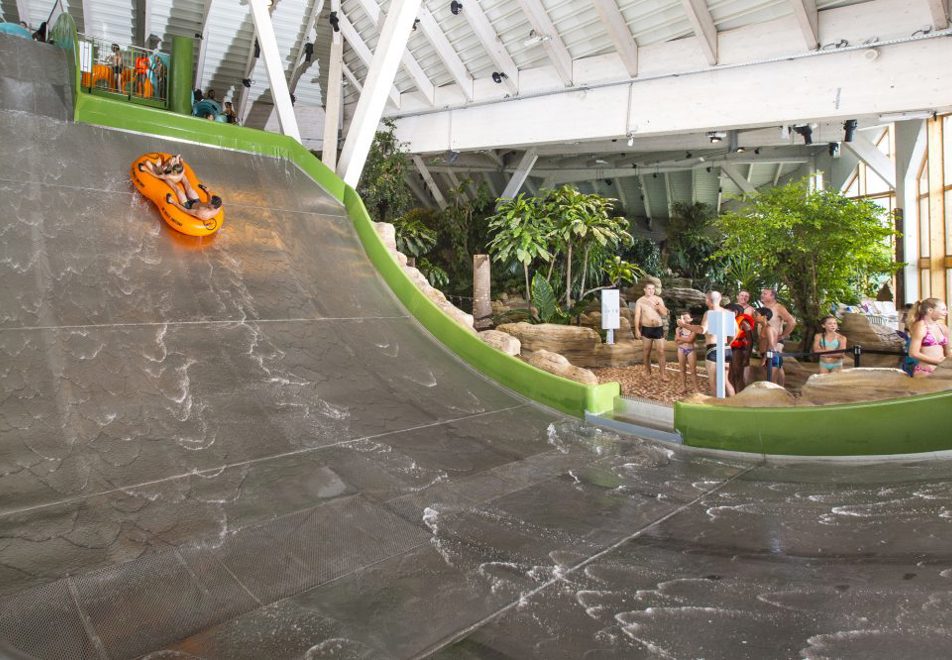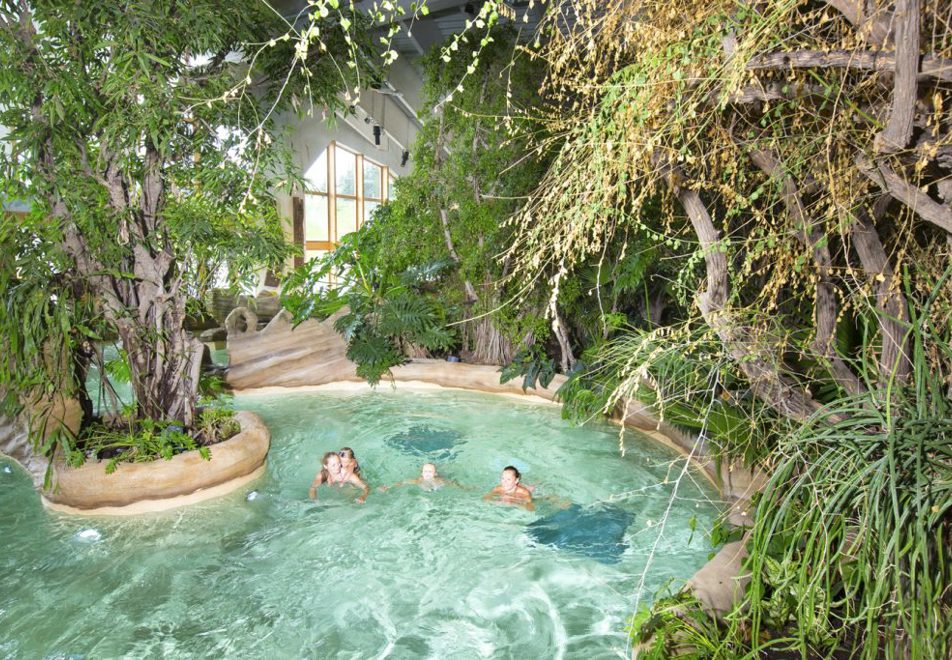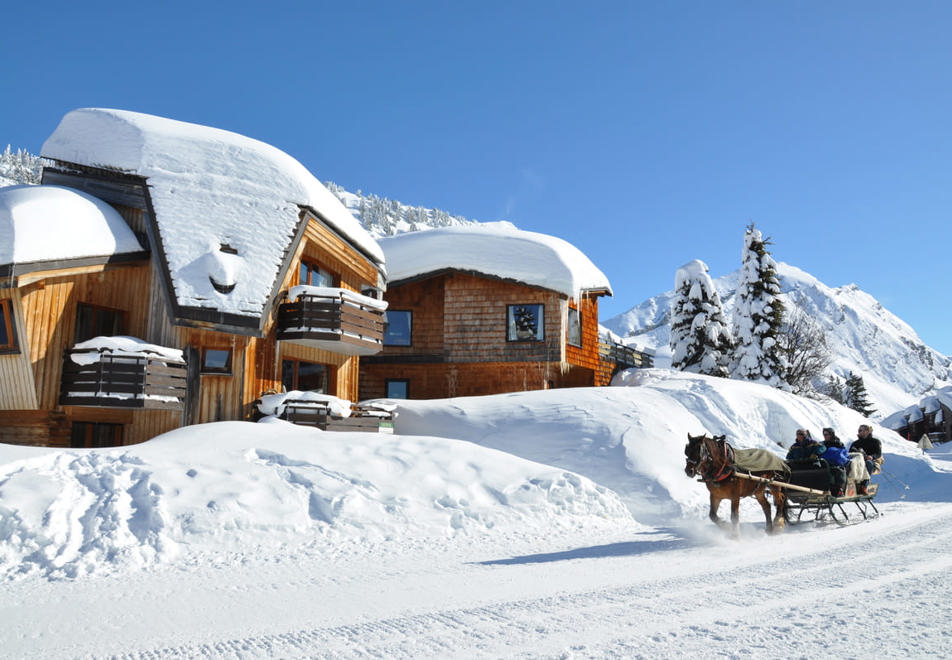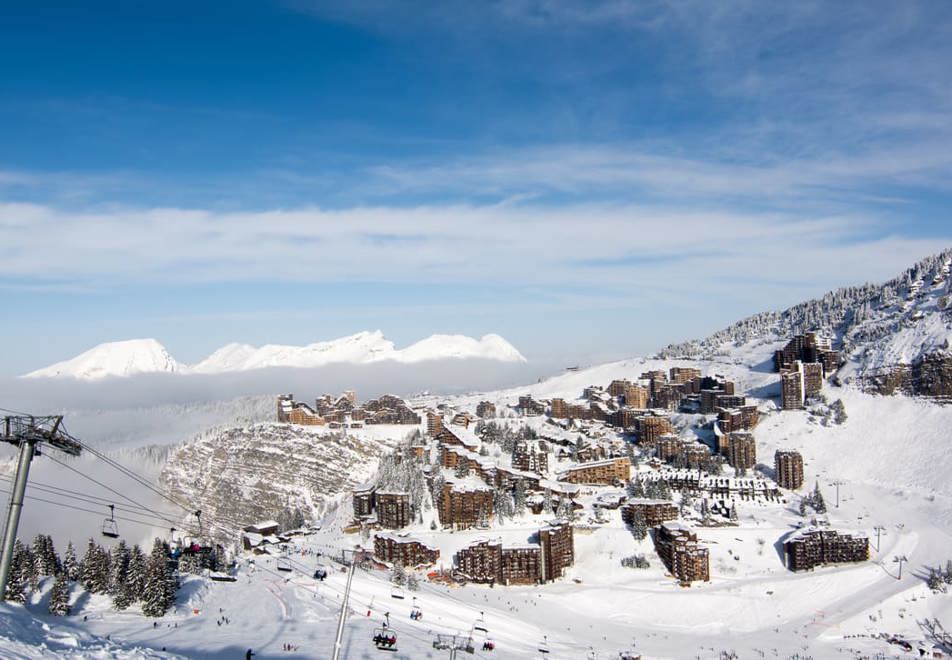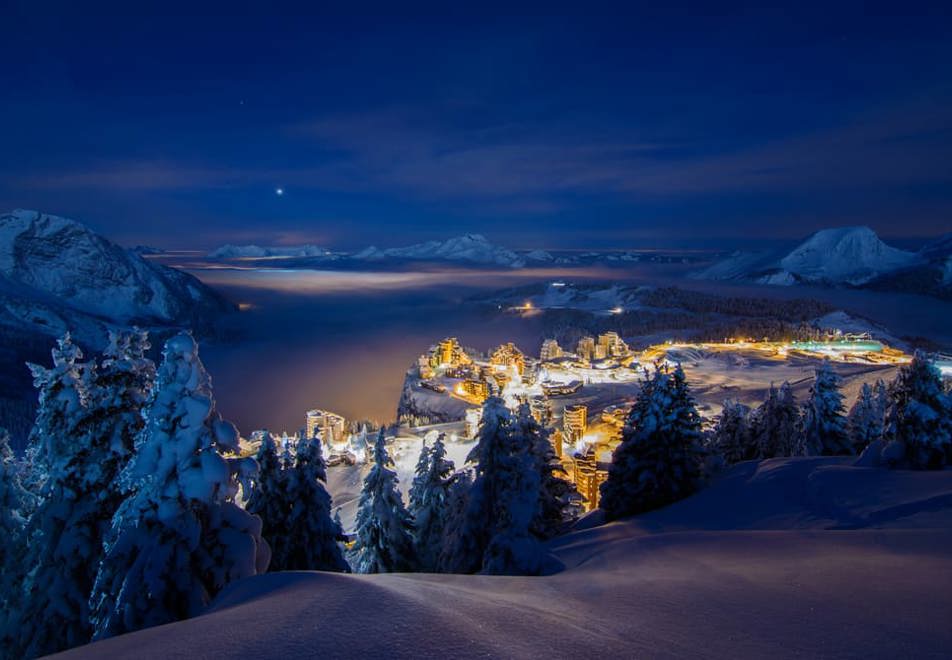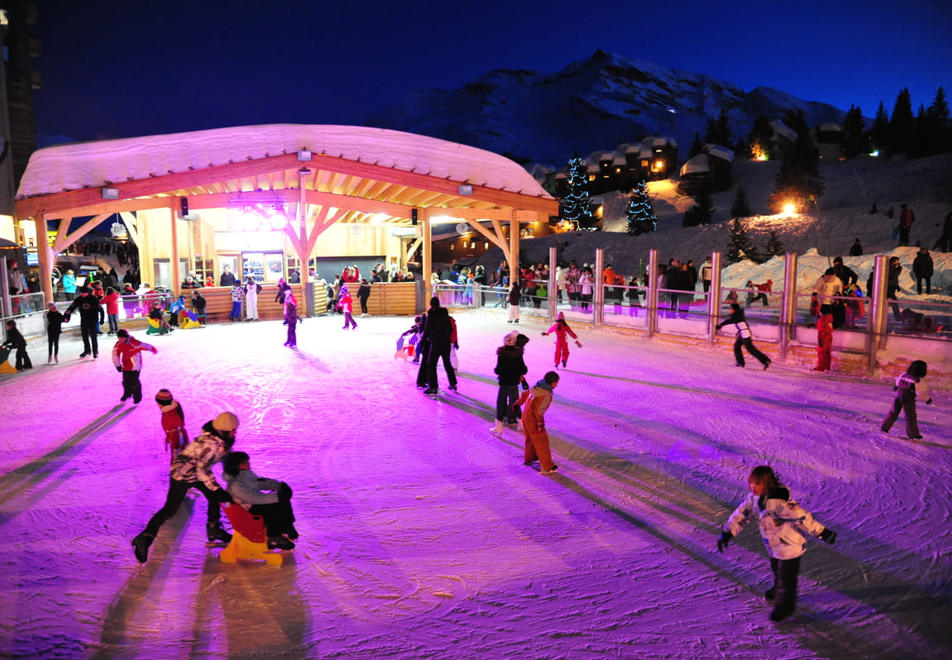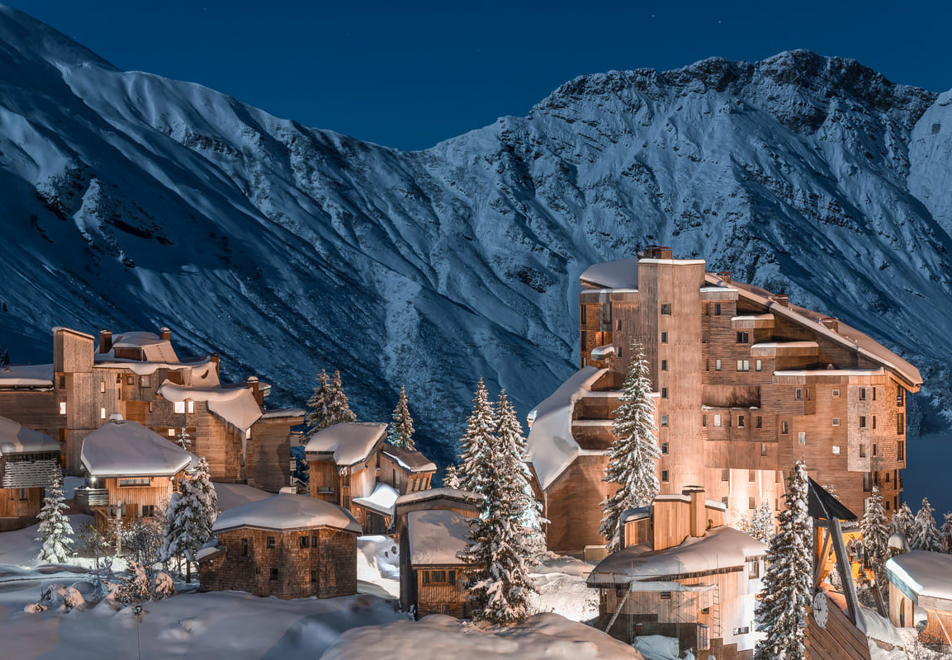 Thinking of skiing in Avoriaz? This charming purpose-built car-free ski resort is 100% ski-in/ski-out. With outstanding scenery and plenty of amenities on the door-step, Avoriaz is a great choice.
Why Avoriaz Ski Resort?
Part of the massive Portes du Soleil (650km of piste) ski network with one of the largest local areas
One of the most easily accessed resorts by car from the UK or Geneva
It is the only village that is completely car-free and skiable in Europe
Jura horses act like taxis pulling sleighs as taxis around the resort
Avoriaz is home to Aquariaz, a very large aquatic centre for swimming and leisure
Avoriaz (Portes du Soleil) Resort
Completely freed of cars, the streets of Avoriaz become part of the ski area and are shared by skiers, horse-drawn sleighs, children on sledges and pedestrians. The masterplan placed Avoriaz 1800 on a gentle slope and ensured it was an entirely ski-in/ski-out resort. There's no need to check whether your accommodation is ski-to-door because, in Avoriaz 1800, you never have to take off your skis. You can even ski to the bakery!
Shortcuts and public lifts allow you to get from one end of the resort to the other on foot in less than 15 minutes which makes it pretty convenient. Avoriaz 1800 is still adding to this pioneering plan in which every new building is located within 10 minutes of the centre.
There is also another method of 'transport'! There are now 20 sleigh drivers and 100 horses providing the daytime taxi service. The independent sleigh drivers are all members of an association. Each owns 5 horses and, in the interest of the animals' wellbeing, no horse works for more than 2 hours at a time.
Originally when the resort opened in 1966, some reindeer from Lapland were brought to Avoriaz 1800 to tow the sleighs, as this was only means of transport there at the time. After a presentation tour of the main cities of the regions, which included parading down the Champs-Elysées, the reindeer finally arrived. Unfortunately, even though the reindeer loved their new home in Avroiaz, the sloped streets meant they had to be replaced by the robust Jura horses which are still helping holidaymakers to get around the resort today.
Since its creation in 1966, Avoriaz 1800 has always been ahead of its time, adopting a responsible approach to mountain tourism. Jean Vuarnet (a downhill skiing World Champion and Olympic Champion) along with Robert Brémond inaugurated the Prodains cable car in 1963.
The architecture mimics the surrounding landscape. The resort's unique contours have earned Avoriaz official recognition as one of the great architectural achievements of the 20th century. Wood is found everywhere. The facades are covered in tiles made of red cedarwood, like those traditionally used on the rooftops of Savoie. Sloped roofs helped the snow to fall off and provide a snowy landscape. You will find 95% of the main living spaces in the apartments of Avoriaz face South. It's a good way to retain heat within the building (thus saving energy and shutters are forbidden!), leaving hallways and such to face North. Even more impressive, a whole sector of Avoriaz has been awarded the 'Clef Verte' label, the top international label for environmentally friendly tourist accommodation. Morzine and Avoriaz have worked together for over a year on projects in 2020 that work towards the Flocon Vert award. As of September 2021, these efforts were awarded the 'Flocon Vert certification' for sustainable resort.
Why the name 'Avoriaz'? Originally the plateau on which the resort is built used to belong to a family of the Chablais region (the counts of Rovorée). After becoming the property of the village of Morzine, the Alpine pastures were known as the 'Rovorée' land which the variations over time in pronunciation gradually changed the name to firstly 'Avorée' then 'Avoréaz', before finally it settled on Avoriaz (with a silent 'z'!).
Avoriaz ski area
The immense Portes du Soleil ski area of 600km consists of no fewer than 12 ski resorts between France and Switzerland:
Abondance

Avoriaz

La Chapelle d'Abondance

Montriond

St Jean d'Aulps in France plus

Champéry

Morgins

Torgon

Val d'Illiez in Switzerland
The Portes du Soleil offers a vast and varied choice of ski terrain, with something for all levels and abilities. The excellent mountain restaurants spread across this impressive ski area allow you to sample the best Savoyard and Swiss cuisine. At the central and highest point of the Portes du Soleil ski area, you will find the lovely and perfectly located ski resort of Avoriaz.

Skiing starts on your doorstep in Avoriaz, with snow-sure slopes there is something for every level of skier, with the main Portes du Soleil circuit easily enjoyed by beginners and intermediates, along with several challenging runs through tough terrain.
Of the 12 ski resorts of the immense ski area of the Portes du Soleil, Avoriaz has the good fortune to occupy the central position, so skiers can go from France to Switzerland for a change of culture.
Additional ski fact info, main ski info in resort facts box at top of page (22/23):
Avoriaz local area - 27 lifts (1 gondola, 15 chairlift, 10 draglift), 51 slopes:
Green slopes: 9
Blue slopes: 25
Red slopes: 10
Black slopes: 2
Avoriaz skiing info
Beginners
Avoriaz is great for beginners and families. The impressive 'Village des Enfants' will welcome youngsters who are keen to experience the sensations of skiing. This 25-acre ski school learning area has been especially designed for children to have fun and learn in complete safety: there are fenced and controlled pistes with bumps, slides, mini tracks, coloured runs, small jumps, magic carpet, and a beginners' teleski.
The beginners' slope Ecole Piste next to the 'La Chapelle Park' is great for first timers making a start. There are also various blue runs which vary in difficulty providing runs for absolute beginners as well as progressing and improving low level skiers.
The Proclou, Gernues, Seraussaix and Qu'mont blue slopes are great for progressing beginners as they are easy and gentle, providing the perfect terrain to build confidence and ability. If you are having ski school lessons during your stay in Avoriaz, these slopes are perfect for trying out and improving what you have been taught that day.
Intermediates
With the majority of the Avoriaz ski slopes being blue and red, there is plenty to keep the intermediates happy and content. By taking the Lac des Intrets lift you will find some demanding blues - Bleue d'Arare and Bleue du Lac - which have good, steady cruising but also have some steeper sections to offer a bit of excitement. Added to this, the views across the village are glorious. Take the Fornet lift to cruise the Bleue du Fornet run and a couple of reds which will bring you back down to the lifts in 'Combe de Chavanette'.
Advanced, off-piste & ski touring
If it's long, challenging, thigh-burning pistes and bumpy mogul fields you are looking for in Avoriaz then you will not be disappointed! Head to the 'Hauts Fort' area on the Avoriaz/Super Morzine lengthy and seriously steep black runs – this area alone should keep you busy all day. The Combe du Machon has very challenging moguls.
Advanced skiers should also try the Pointe de Nyon and Aigle Rouge for their warm-up before the try the moguls of the Aigle Noir. Accessed via the Pointe chairlift.
The Chamossière chairlift will take you to the bumpy Creux black and the Arbis red which starts off very steep with moguls before opening into a high-speed run taking you right back down to the 'Grand Pré' area.
Mur Suisse (Aka the Swiss Wall) is a famous black run which links Chavanette to Planachaux in Switzerland. The vertical drop here is more than 300m, with a slope reaching 80% in some places. Its 1km long and the mogul fields can reach 2m high.
Avoriaz 1800 has 3 trails set aside entirely for ski touring skiers and leading to the legendary Arare ridge! Starting at 'Place Jean Vuarnet' or the bottom of the Prodains Express cable car, follow the specific waymarkers. A guide is recommended.
Avoriaz mountain fun zones
In Avoriaz there are 4 fun areas with different levels of difficulty. 
Avoriaz Snowzone is the team name given to the snow-shapers of Avoriaz 1800. These 14 enthusiasts design, shape and maintain the fun zones and snowparks of the ski area, both day and night, thus sharing their passion for winter sports and helping you progress at your own pace.
THE STASH: all levels - iconic, safe and eco-friendly snowpark of Avoriaz 1800 designed by the famous brand, Burton Snowboard. It features over 100 modules which are concealed in the Lindarets forest, waiting to be tackled by both freeriders and freestylers of all levels!
LIL'STASH: beginners and Intermediates - enchanted forest where little Shreddie hides. It has gas barbecues and picnic tables, as well as wobbly bridges, ropes, sculptures, a slide and other play features, all in the middle of the Proclou forest. Perfect for the whole family!
SNOWPARK DE LA CHAPELLE: all levels - progressive snowpark for riders of all levels, from novice to expert. This is the ideal spot for getting together for a warm-up or to perfect your technique. 4 kicker lines of varying levels of difficulty (XS, S, M and L) to progress at your own pace, and 2 jib lines (S and L) with boxes and rails. Dedicated lift: La chapelle ski tow
SNOWPARK D'ARARE: intermediates and experts - created in 1993, this historic Avoriaz Snowpark has become a legend amongst expert riders. It comprises 2 table lines (L and XL), 2 rail and box lines (M and L) and the Big Air Table (XXL) as well as multiple smaller modules, all sculpted by the shapers!
Ideal for freestyle fans: purchase the 'Park & Stash' lift pass in resort and spend the entire day having fun in the Snowparks of Avoriaz 1800.
Freeride-snowcross
Skiers and snowboarders are invited to experience the thrills of freestyle and powder snow, in the safety of dedicated, ungroomed slopes. These 4 slopes are actually monitored by the ski patrol who make them safe by artificially triggering avalanches and placing markers at danger spots.

La Frontaliére (1.15km) - snowboard cross slope starts at the Swiss border at the top of the Mossettes chairlift
La Combe des Marmottes (2.08km) - easy access to any snowboarder who can handle a blue slope. It varies both in gradient and shape, making this snowboard cross course particularly amusing. It can be reached via the Fornet chairlift
Les Crozats (3.122km) - wide, unspoilt valley starts at Les Hauts-Forts where you get a real feeling of wide open space and virgin territory. Les Crozats then joins the black World Cup slope, then the Prodains sector where you can take the Prodains Express cable car back to Avoriaz 1800
Le Pschott (1.25km) - covers very uneven terrain where a succession of natural canyons make it particularly amusing for those who enjoy inventing their own run. It is accessible via the Fornet chairlift
Avoriaz nordic skiing
There are 23km of Nordic skiing trails in Avoriaz 1800, and enthusiasts will find 250 km of waymarked trails across the Portes du Soleil ski area.  
In the Proclou sector, starting from the resort's Falaise district, the trails wind through pine forests and across wide-open plateaus, offering exceptional views of the surrounding peaks.
The 7 trails of the Nordic ski area include 2 green trails, 2 blue, 2 red and 1 black.
The loop trails from Avoriaz are free of charge. To use the trails accessible by ski lift, you can purchase a pedestrian/Nordic ski lift pass from the ski lift cash desks. 
Avoriaz ski hire & lift passes (pre-bookable)
Pre-book your 6 day+ Avoriaz ski hire and/or Avoriaz lift pass with Peak Retreats.
To download the ski extras form see 'Helpful links' further down the page. Please note that prices are for indication only. They will fluctuate based on Euro/£ exchange rate. Please call us for the latest prices.
Other lift passes are available to buy in the resort such as half or full-day passes (for those who only wish to ski the odd day) or one-use lift passes for pedestrians. Some resorts also offer specific beginner area passes and cross country passes.
Avoriaz group ski school (pre-bookable)
Ski school for children is available to book from 4 years to 11 years in Avoriaz with Peak Retreats. Children can learn to snowboard from 8 years+. 3 year olds can also learn to ski but we cannot pre-book this. Please book direct with ESF.
To download the ski extras form see 'Helpful links' further down the page. Please note that prices are for indication only. They will fluctuate based on Euro/£ exchange rate. Please call us for the latest prices.
Avoriaz private lessons (not pre-bookable)
Private lessons with an instructor can only be arranged directly with the ESF ski school. Peak Retreats cannot pre-book these. Private lessons are usually around €40-60 per hour (depending on resort, time of day and period) and becomes cheaper the more hours you take and the more people you have to share the hours with i.e with family members or friends. Some resorts insist on a minimum of 3 sessions to be booked at once.
Contact ESF Avoriaz for private lessons - 0033 4 50 74 05 65
---
Avoriaz childcare (not pre-bookable)
Childcare from 6 months-5 years (non-skiers)
Discover the Avrizou childcare centre, where children aged from 6 months to 5 years enjoy comfort and wellbeing in a 300m² dedicated facility. Open every day, except Saturday, from 8.30am to 5.30pm.
At an ideal location in the heart of the resort, just a short walk from the Children's Village and the ski tow leading to the ESF's Piou Piou Club, you'll find two facilities that specialise in teaching small children to ski.
The new premises accommodate up to 40 children, with a room set aside for babies (6 to 15 months) and another area for older children (16 months to 5 years). They can even play outside in the safety of the garden.
The day nursery has been approved by the child protection authorities and is managed by a non-profit organisation (in accordance with the French law of 1901).
Please contact Avrizou direct as we cannot pre-book this kids club - 0033 4 50 74 24 43
It is advisable to book before you go and in good time as spaces get filled quickly, especially in Peak times. A childhood vaccination record will be needed. 
---
Babysitters (not pre-bookable)
A list of babysitters is available from the tourist office.
Top snow activities to experience in Avoriaz
Please note Peak Retreats do not book any activities and most activities are payable therefore the below is just for information. More detailed information and how to book can be found on the tourist office website.
Avo Kart
For a new type of transport on snow, why not try the Avo Kart for 2023? It's a three-wheeled vehicle, equipped with hydraulic brakes and designed with a low centre of gravity for excellent road handling. Settle down into the bucket seat, take hold of the handlebars, and set off on a long 3.2km track descending 600m.

Ski joëring
For nature lovers, this is skiing while being pulled along by a horse. From 7 years old.
The Igloo Village
Offers skiers and non-skiers alike the opportunity to get together, share a drink on the terrace and bask in the sun. Enter freely into the heart of the giant igloo, and admire our bar entirely sculpted in a mixture of ice and snow. The Avoriaz Ice Bar invites you to an unforgettable experience! Enter the arena and discover a marvellous decor imagined by professional sculptors! Paced by magnificent and dreamlike light projections. Free entry.
Night sledging
Put on your gloves and get ready to sled down the 3km Crôt slope. In the evening, the Crôt slope is dedicated to sledding, an activity only available under the supervision of mountain professionals. It is the ideal activity to have fun with family or friends and to find strong sensations, in total security. Go down a 700m slope, 3100m of descent in 45 minutes. Sledges and headlamps provided. Ascent by cable car. Minimum age 16.
Paragliding/speed riding
Tandem flight above the snowy mountainside, equipped with a small sail and a pair of skis, alternating flying through the air and skiing through the snow.
Fatbike
As part of its partnership with Easybike and its brand of electric mountain bike MATRA, Avoriaz is offering eFatBike. The eFatbike is an electrically assisted bike with oversized wheels for good grip on the snow. A practice offering the joys of electric cycling on the snow trails.
Kids electric snowscoot
Children from 5 to 17 years old can learn to drive electric snowmobiles, specifically designed for their age on a dedicated, enclosed racetrack. Located between the Falaise and Amara areas, by the Trashers slope, the park is open from Monday to Friday.
Snowshoe walking
Guided rambles exploring the forests and spotting animals that live there, in untouched countryside.
Horse-drawn sleigh rides
Guided tours of Avoriaz, a fine example of 20th century heritage.
Dog sledding
Introduction to driving a dog team/forest runs through stunning scenery. This activity requires physical effort.
Experience split board
The split-board practice, recently democratized, will give you immense pleasure. After dividing your snowboard into two separate skis, you will start the day with a climb
With your new "skis" equipped with "skins" to hang climb up the hill; Once at the summit, after a few hours of climbing and a small snack, your guide will make you experience one of the most beautiful snowboarding descent of your life in the most authentic mountain environment.
Guided snowmobiles
Start: at the foot of La Chapelle skilift, in front of the exterior parking. At nightfall, the snow becomes a terrain to discover our mountains from a different perspective. Every day, starting at 5.30pm, Avoscoot offers snowmobile rides supervised by two guides.
Please note: All the above is for information only. For the most up-to-date activities including prices, please visit the resort tourist office website. All activities will be in local currency (€ Euros) and are bookable and payable locally in resort or directly online/by phone with the tourist office or activity supplier.
Avoriaz Tourist Office
www.avoriaz.com
Top activities to experience in Avoriaz
Please note Peak Retreats do not book any activities and most activities are payable therefore the below is just for information. More detailed information and how to book can be found on the tourist office website.
Aquariaz water complex
The 2400m2 Aquariaz water complex in Avoriaz is the biggest swimming pool complex in the Alps! The lush vegetation and rock décor throughout the main chill-out section creates a relaxing aquatic paradise whilst the colourful water-play areas are fantastic for the children.
Facilities include: a large swimming & paddling pools, a flowing river pool, water playhouse with slides, water cannons and a giant water bucket, the Slidewinder flume is for the more adventurous bathers: from 10m up you sit in a rubber ring and slide down a halfpipe, massage benches, climbing walls and an outdoor Jacuzzi heated to 34c!  All pools are heated to 30c. Aquariaz also boasts stunning panoramic views of Avoriaz through its ceiling-to-floor windows.  Avoriaz Quest is the new underwater Escape Game activity to enjoy with family or friends at Aquariaz! The centre is open every day. Open Sunday to Friday from 1:30 to 7:30pm.
Exploratory tours
Learn about the fascinating history of Avoriaz including lots of secrets!
Skating rink
The open air ice rink is located in the heart of the pedestrian resort. This winter at the Avoriaz skating rink, enjoy memorable moments with family and friends. Go to the entrance of the rink to rent skates on site. Don't forget your gloves! From 5 years old.
Ferme de seraussaix
Every Thursday take part in the Farm visit. Reservation at the Tourist board. Visit in French only!
Ice diving - Montriond lake
Prices included: your security with professionals, the equipment (waterproof suits, anti-icing regulators, …), insurance. Lake Montriond (1064 meters above sea level) is the 3rd largest lake in Haute Savoie, after Lake Geneva and Lake Annecy. Its maximum depth is 19 meters, for a maximum length of 1320 m and a maximum width of 235 m!
On-site, all the comfort to equip you at the lake: separate heated man/woman lockers, toilets, hot showers … and all the necessary equipment available: dry suits, all equipped with waterproof gloves, anti-icing regulators.
Bowling
Bowling alley with vintage arcade games of pinball, basketball, punching or compete with your friends in fiery games of Baby-Foot and Air Hockey. And don't miss the new Virtual Reality experience! From 8 years old. Open until 3am.
Cinema
Avoriaz cinema: one hall with digital sound and images, movies in 3D, all the national releases and all the best movies of the moment! Résidence Les Portes du Soleil.
Skydiving
Through Evolution 2. Unforgettable thrills falling through the air above the snowy mountains.
Mont-blanc hélicoptères
Sightseeing flights - Skiers pickups -Tour of Mont-Blanc - Airport transfers - Inter-resort transfers - Transfer for Héliski in Switzerland and Italy. Flights of all kinds on request.
Please note: All the above is for information only. For the most up-to-date activities including prices, please visit the resort tourist office website. All activities will be in local currency (€ Euros) and are bookable and payable locally in resort or directly online/by phone with the tourist office or activity supplier.
Avoriaz Tourist Office
www.avoriaz.com
Avoriaz news & events
What's new for 2023/24:
New chairlift - this winter there's a new detachable six-seater chairlift that will replace the old four-seater Lac-Intrêts chairlift in Avoriaz. It will be able to transport 3,000 people per hour, that's 600 more people per hour than before,
New red run - skiers and snowboarders can enjoy a new red run, Le Creux de la Neige, in the Arare section of Avoriaz. Created along a natural route that needed no development, the run reaches 1.5km in length and descends 300m. The Arare benefits from good, natural snow cover and the new piste will be groomed throughout the winter,
Karting on the slopes - set off down a 3.2km descent with a 600m vertical drop on a kart. You can race down the slopes in three-wheeled vehicles equipped with hydraulic brakes and designed with a low centre of gravity for excellent road handling. 
Events taking place in the 2023/24 season:
Rock on Snow - 15th December-17th December 2023,
2024 Junior World Alpine Skiing Championships - 29th January-3rd February 2024: Haute Savoie and more particularly the Portes du Soleil will host the 4th biggest ski event in the world after the Olympic Games, the World Championships and the World Cups,
Avoriaz Freeride Week - March 2024,
Snowboxx - 16th March-23rd March 2023,
Rock the Pistes Festival - 17th March-24th March 2024: the Rock the Pistes festival is a unique festival. Every day, live concerts on the ski slopes, in the middle of the mountain. International artists. Concerts for all skiers during the day on ephemeral stages spread over the ski area and only accessible by ski. Then after-ski concerts in the resorts to prolong the pleasure! More than 35 concerts during this LIVE week!
Closing week - 13th April-21st April 2024
Check out the Avoriaz Tourist Office website for more resort information and news: www.avoriaz.com.
Aprés-Ski, Bars & Restaurants
Avoriaz has plenty of restaurants and altitude restaurants to experience and various bars and nightclubs!
Why not try the famous Folie Douce in Avoriaz for a different kind of dance scene. This branch of the Folie Douce opened in 2018, introducing the chain's trademark Austrian-style afternoon party scene. You will find 7 other Folie Douce in the French Alps - Val d'Isere opened in 1976, Val Thorens in 2009, Meribel in 2012, Alpe d'Huez in 2013, St Gervais/Megeve in 2014, Chamonix in 2018, Les Arcs in 2019. Access via ski, take the chairlift "Plateau". La Folie Douce is located on the right of the lift arrival. There is also pedestrain access.
---
Amenities
There is a range of amenities in Avoriaz including various supermarkets, local produce shops, bakeries, 2 banks, 1 post office, 1 car garage, gift and souvenir shops, shoe shops, newsagents, clothes and sports shops and hairdressers.
Getting to Avoriaz, France
By road:
Our holidays include a return FlexiPlus Eurotunnel. Accommodation only and ferries can also be arranged. Listen to Autoroute FM (107.7 FM) for traffic news in English.
From Calais, take A26 Motorway to Reims and Troyes, then A5 Motorway to Dijon, then A39 motorway to Lons-le-Saulnier and Bourg-en-Bresse, then A40 Motorway also named 'Autoroute Blanche' heading Genève/Turin. Exit Motorway at Cluses Scionzier (exit no 18) and follow signs for Taninges on D902, drive through Taninges and Les Gets following that road. Turn right on D338 and enter Morzine. Drive through this village following signs to Avoriaz. As Avoriaz is a car-free resort at the entrance of the resort, pull over on the left hand-side next to the covered walkway where you can unload your luggage before parking in the outdoor or covered car parks.
By air:
4 international airports nearby, and a heliport at the foot of the slopes. See our flying page for information on airlines (however we don't book flights).

Chambery Savoie Mont Blanc Airport to Avoriaz is roughly 150 miles, approximately 2 hrs
Lyon-Saint Exupery Airport to Avoriaz is roughly 140 miles, approximately 2hrs 30
Geneva Airport to Avoriaz is roughly 65 miles, approximately 1hrs 30
Grenoble Alpes Isere Airport to Alpe d'Huez is roughly 140 miles, approximately 2hrs 30 mins
Private taxi transfers:
Private taxi transfers from airports and train stations are pre-bookable with Peak Retreats. See our airport & station transfers page for more information.
The nearest train station to Avoriaz are Thonon-les-Bains and Cluses.
Bus transfers:
Altibus/Bens Bus/Snow bus (and the likes of) offer shared bus lines from French/Swiss airports and some SNCF train stations to ski resorts. We don't book these (or have any affiliation with), we invite you to do your own research.
Shuttle service around local villages:
The Balad'Aulps Buses serve all the local villages: Avoriaz, Morzine, Les Gets, Montriond, Le Jotty, Le Biot, la Baume, Essert Romand and St Jean d'Aulps. Connections are possible with several local shuttle bus services to help you explore the Aulps valley and the nearby villages.
Resort parking:
3 supervised payable indoor car parks are open 24/7 with a total of 1730 spaces: Plateau car park, Falaise car park, and Proclou car park.
If your vehicle has a roof box, we recommend you book a space ahead of your holiday, as half the spaces have a 2.3 m. height limit. Electric vehicles: currently 6 charging stations are available in the indoor Plateau car park.
Open-air car park with 900 payable spaces, just 300 metres from the resort entrance. Spaces cannot be booked but the car park is staffed 24/7 and snow shovels can be borrowed if needed.
Every Saturday from 8.30am to 5pm. A very convenient service, ideal for when you want to leave your bags somewhere safe and enjoy your day.
---
Avoriaz

opening dates
Avoriaz is open 03/12/22 - 23/04/23