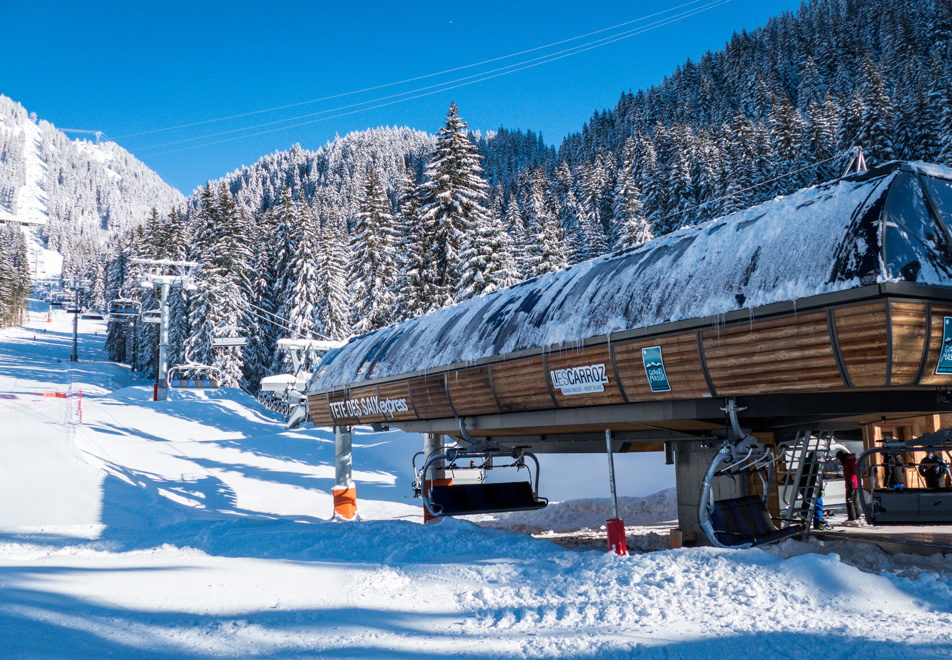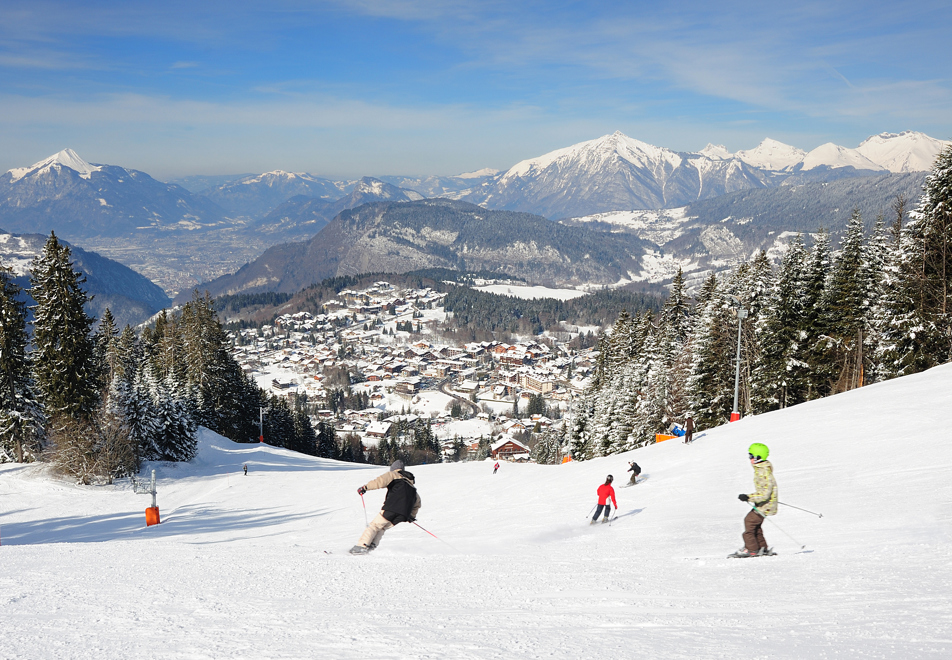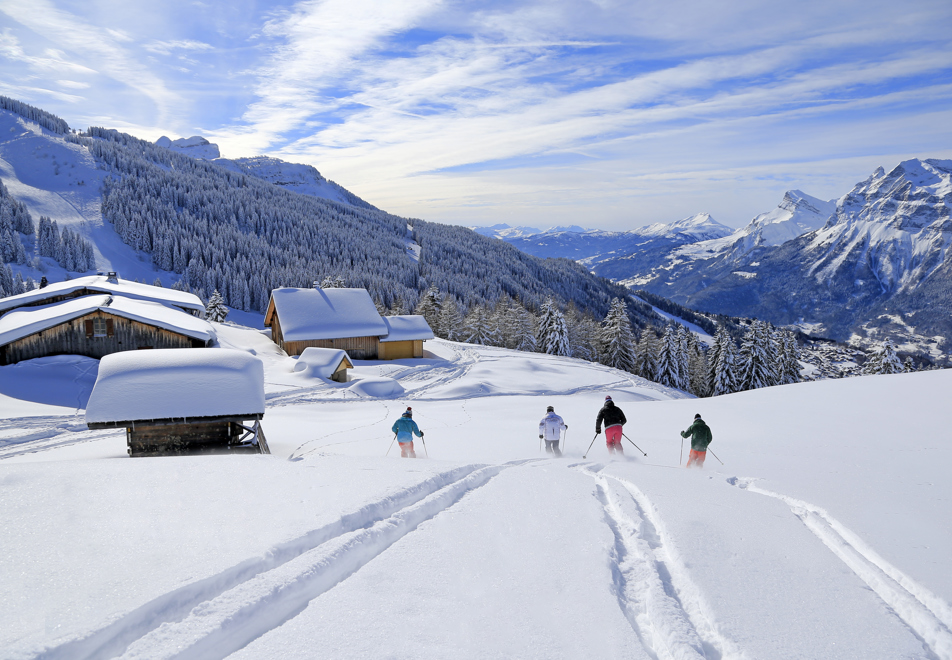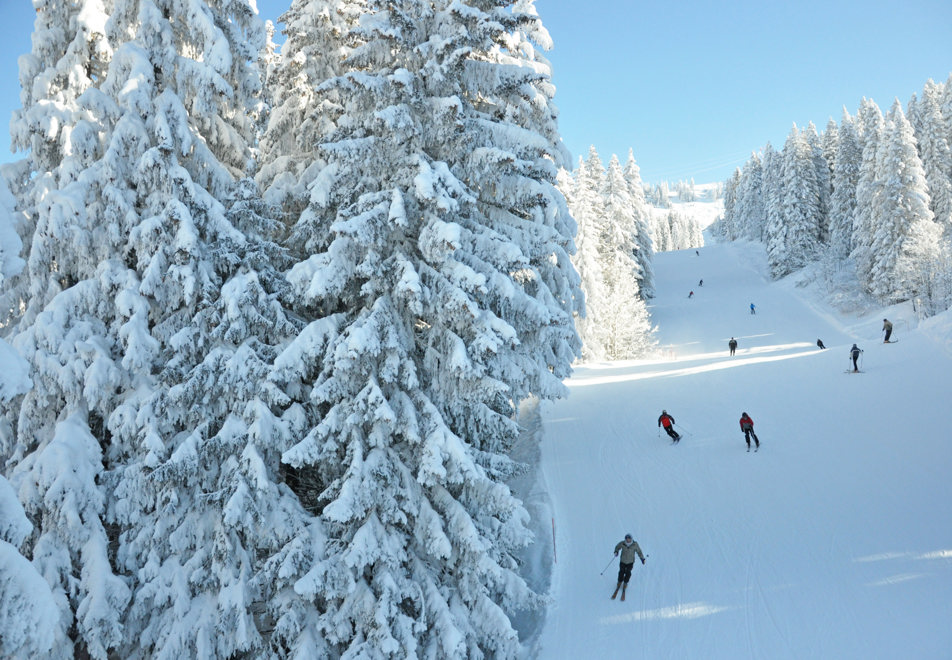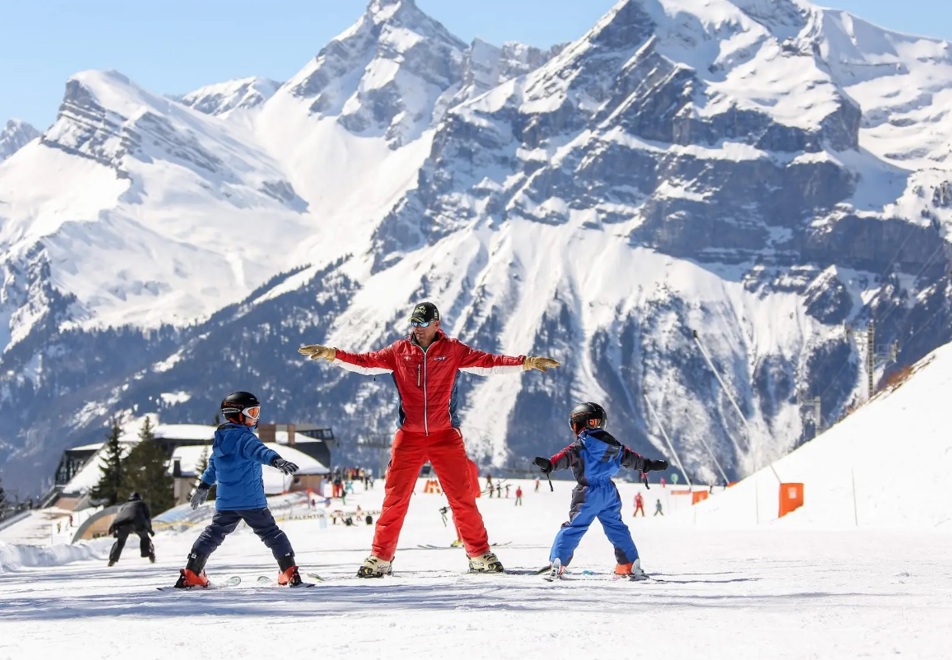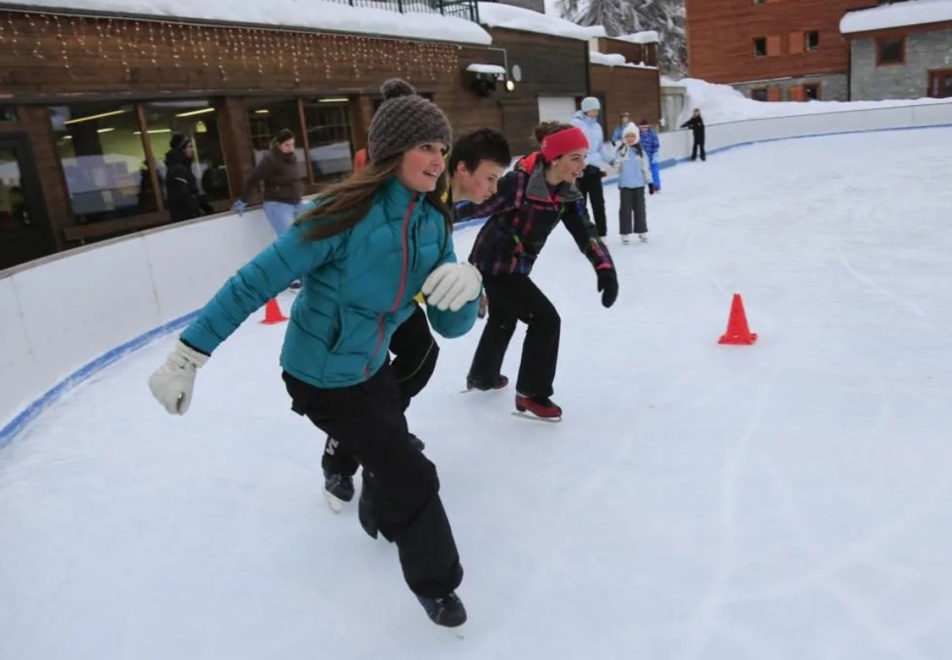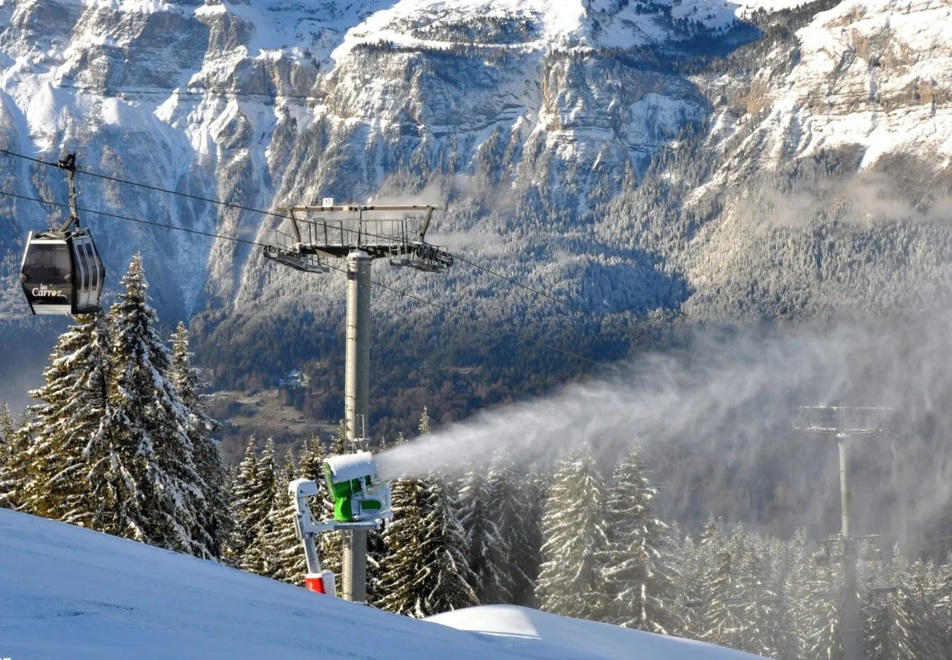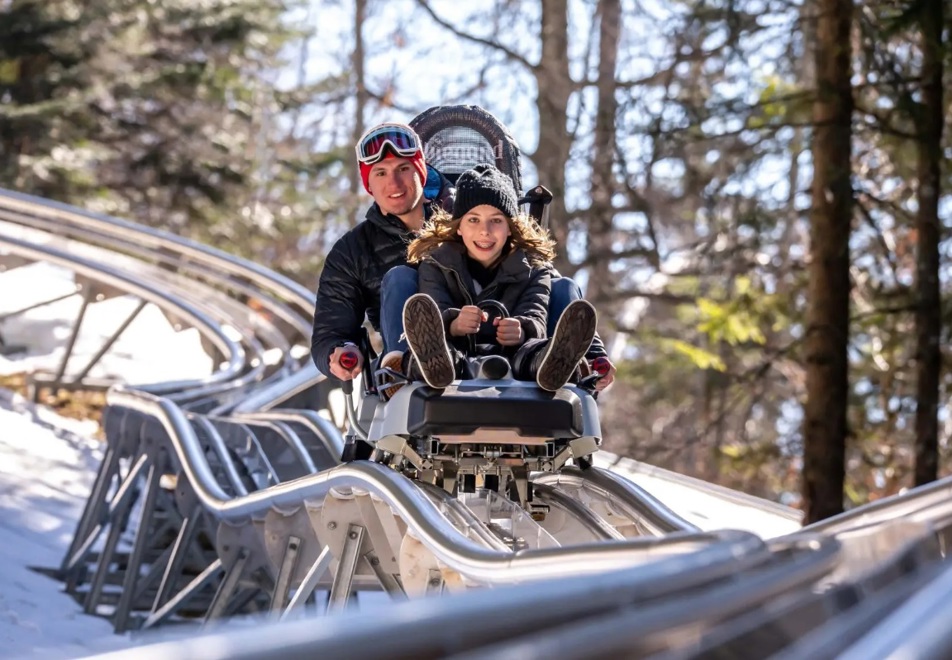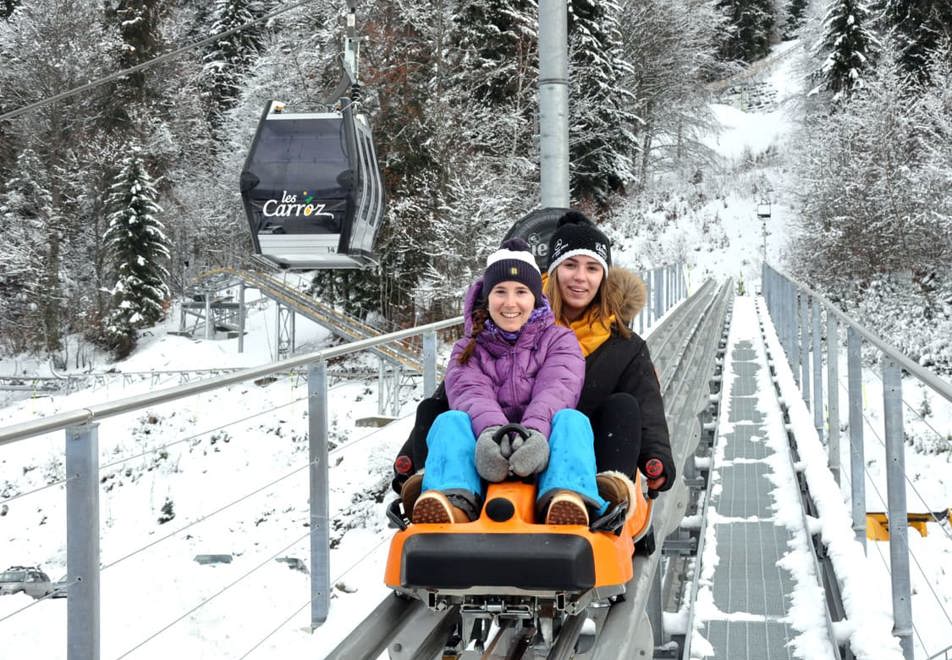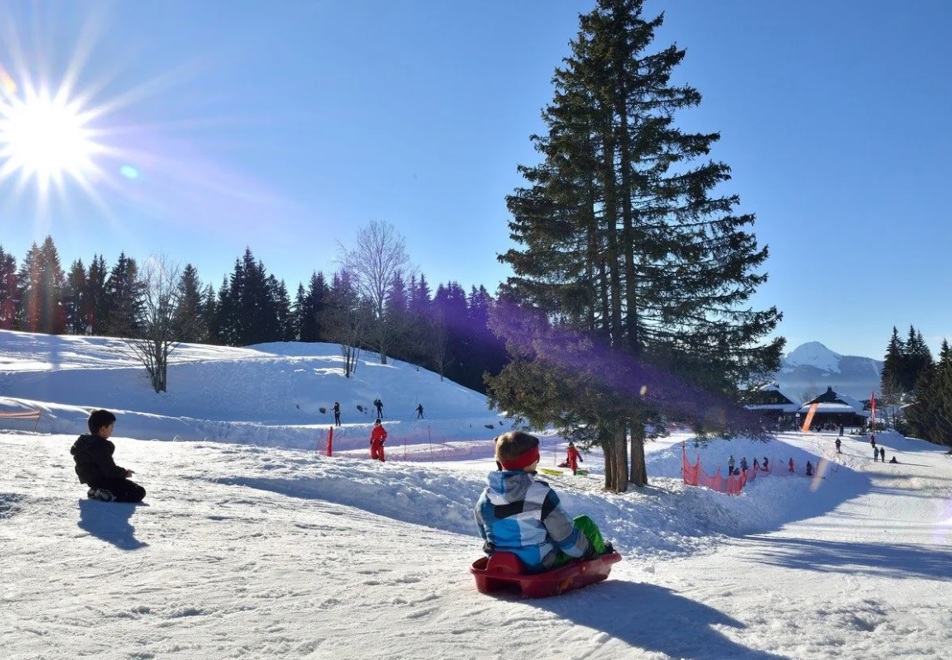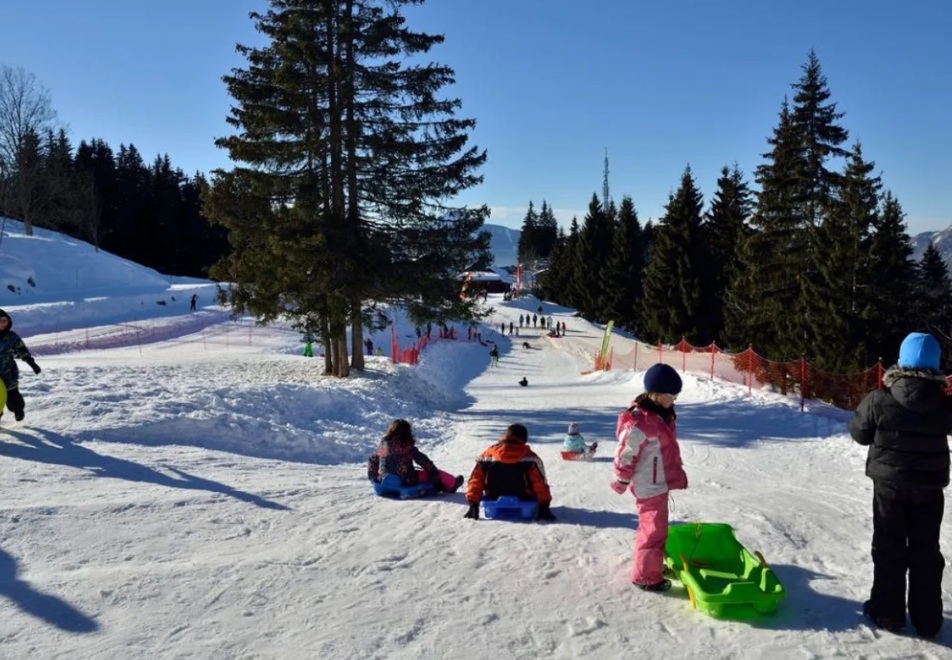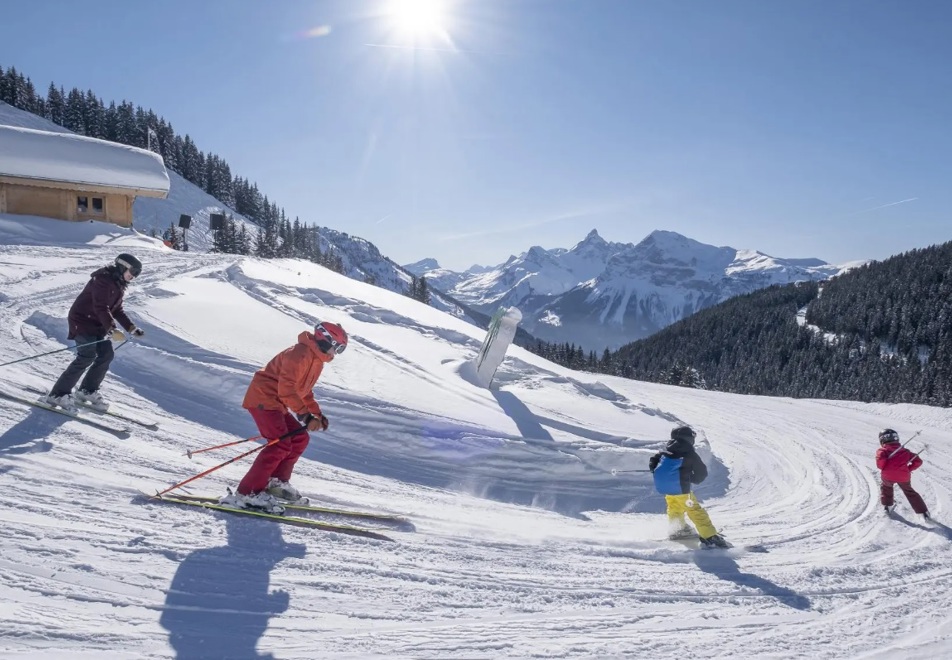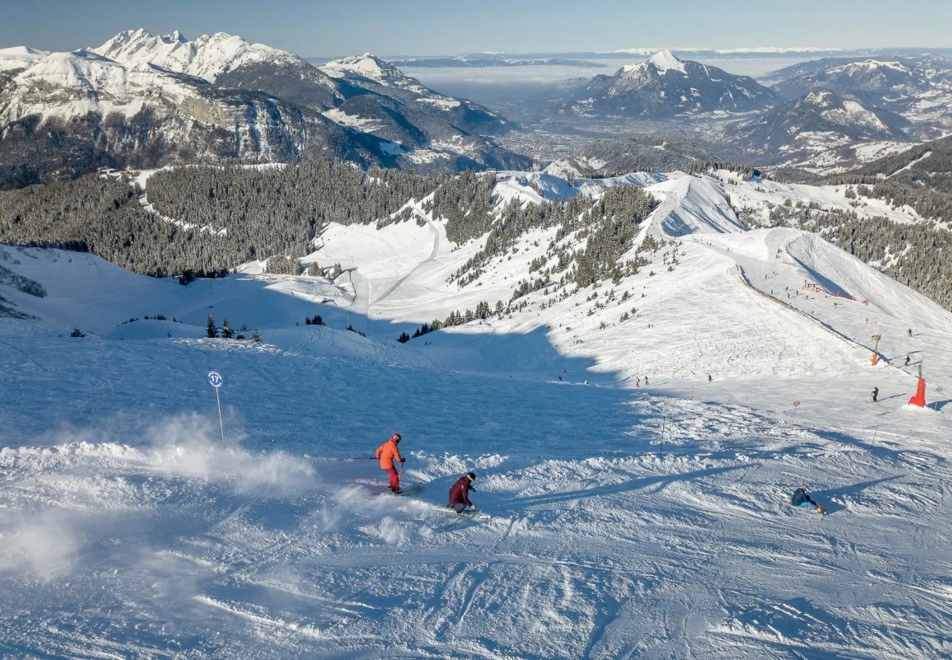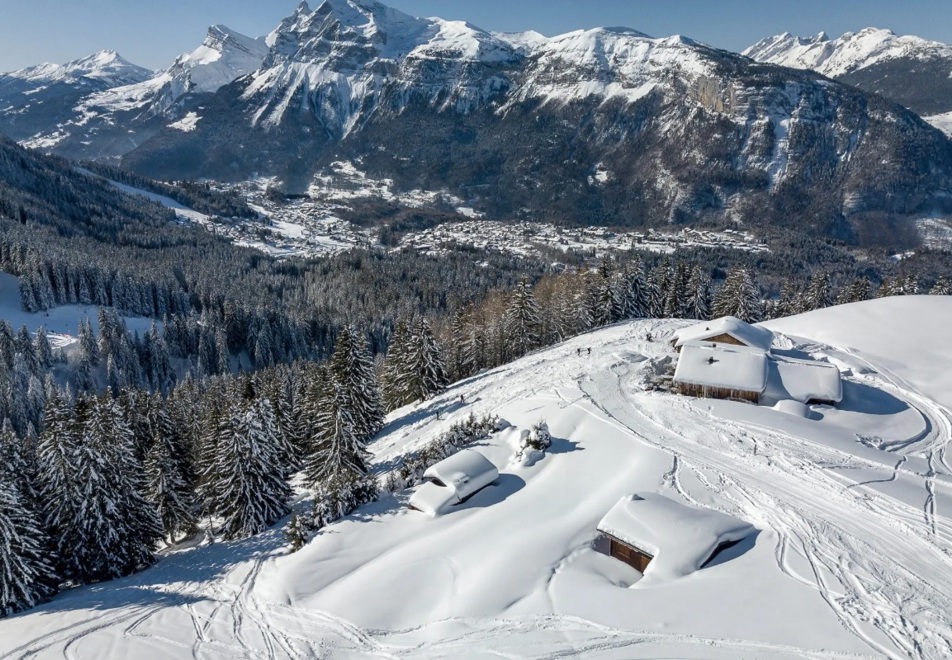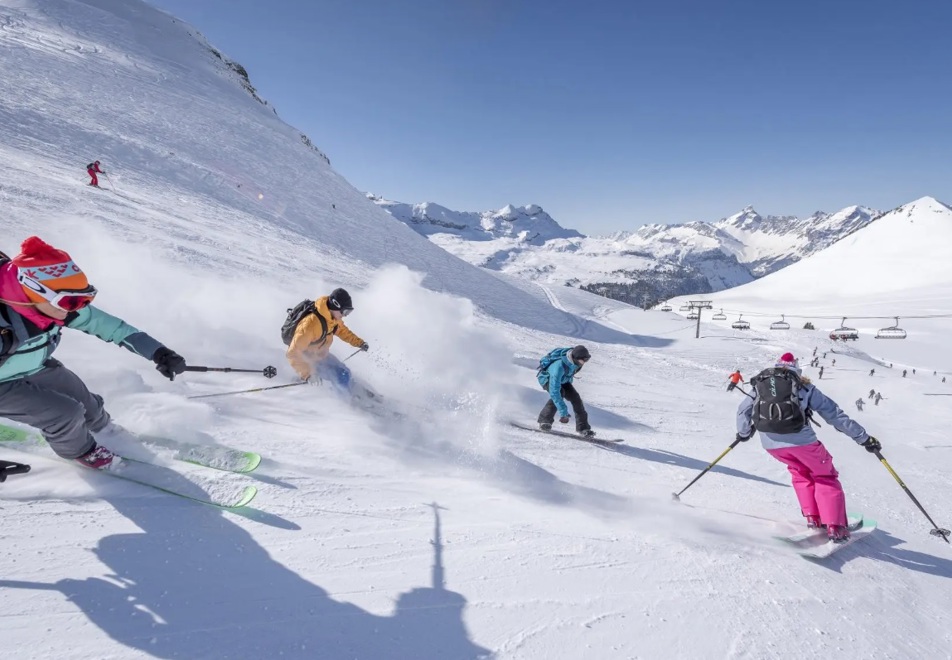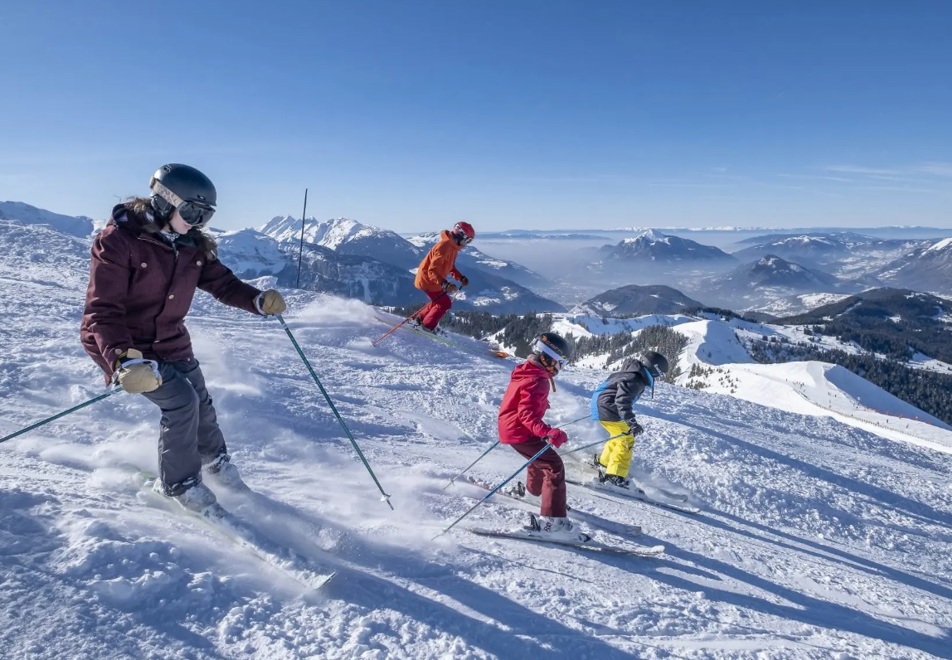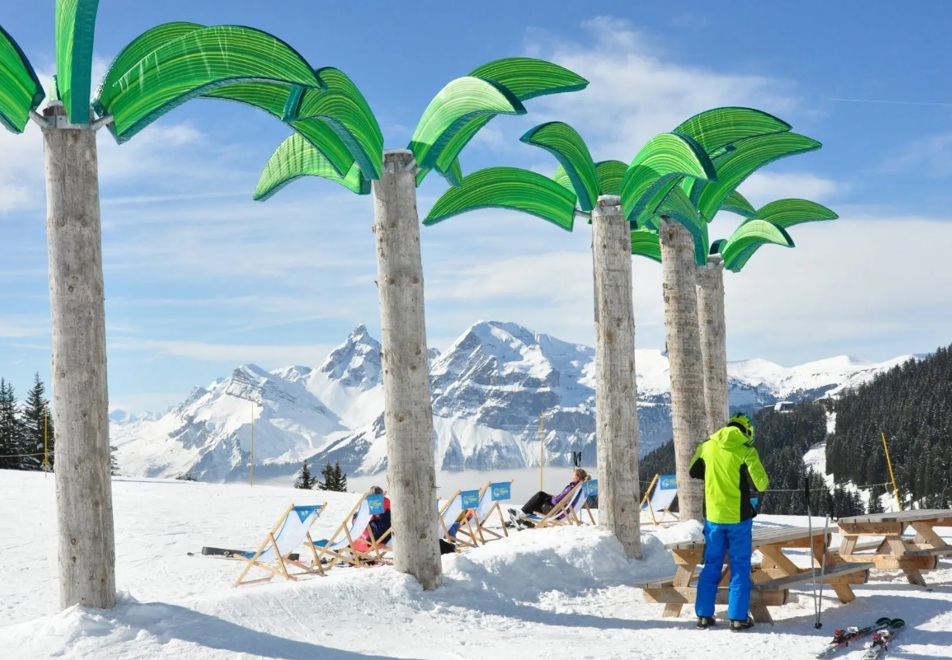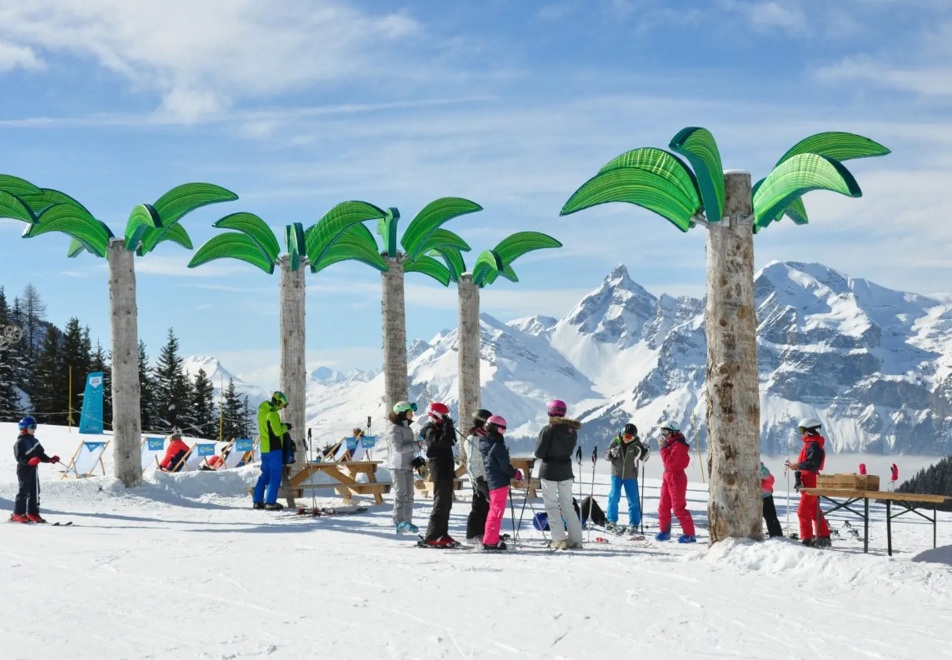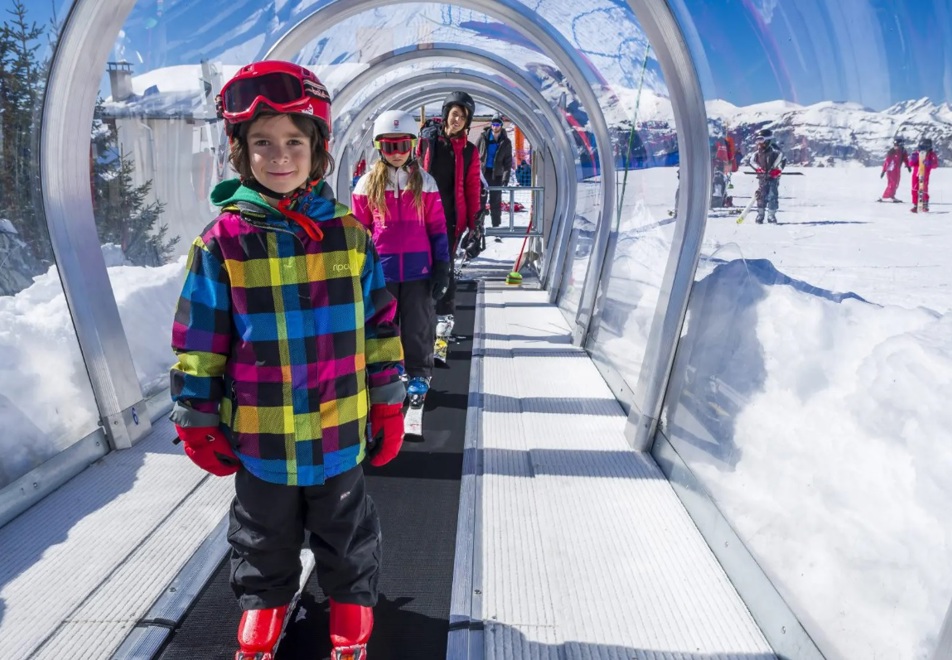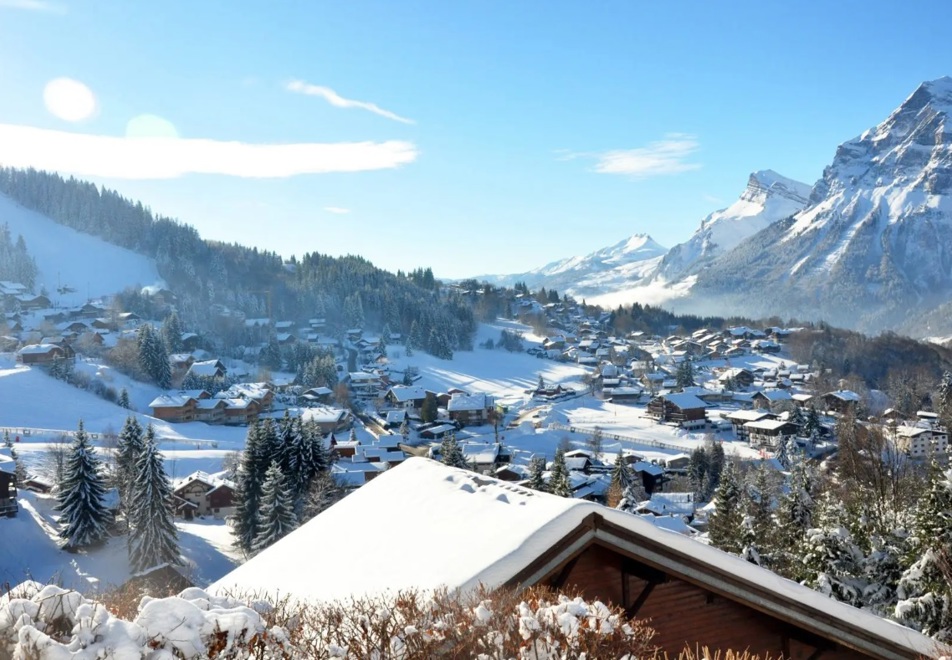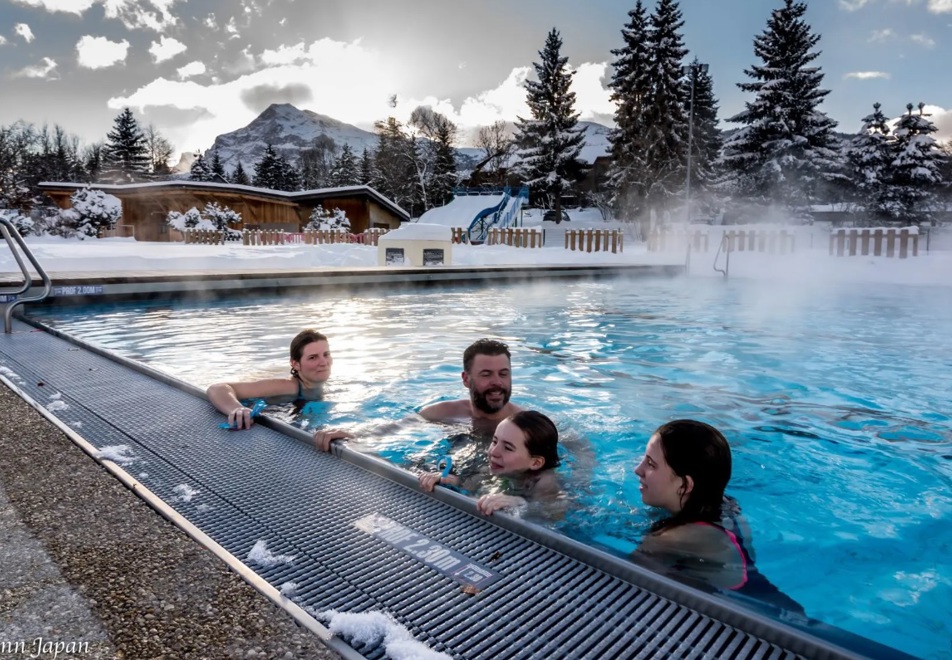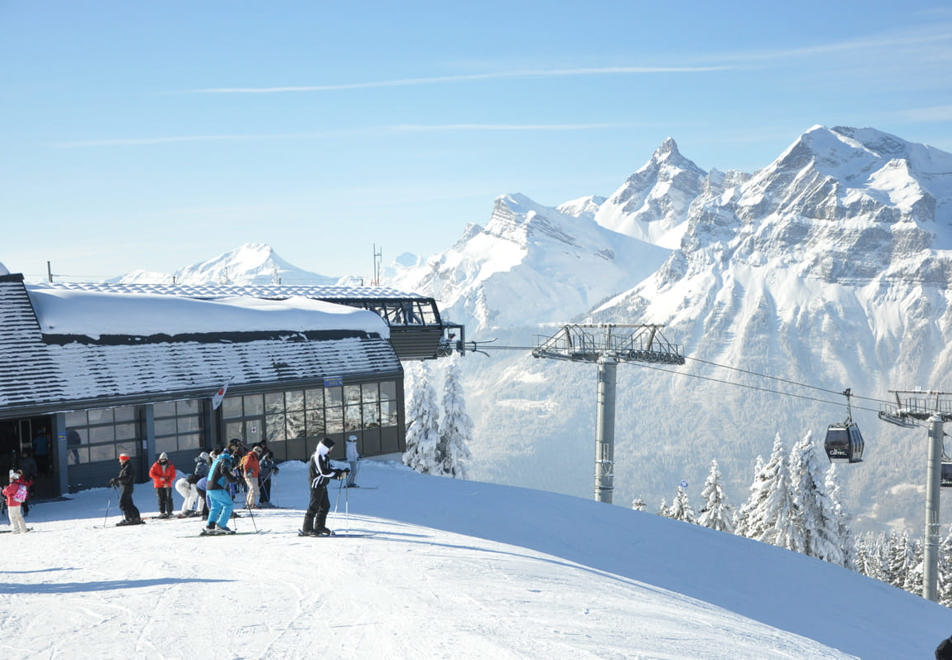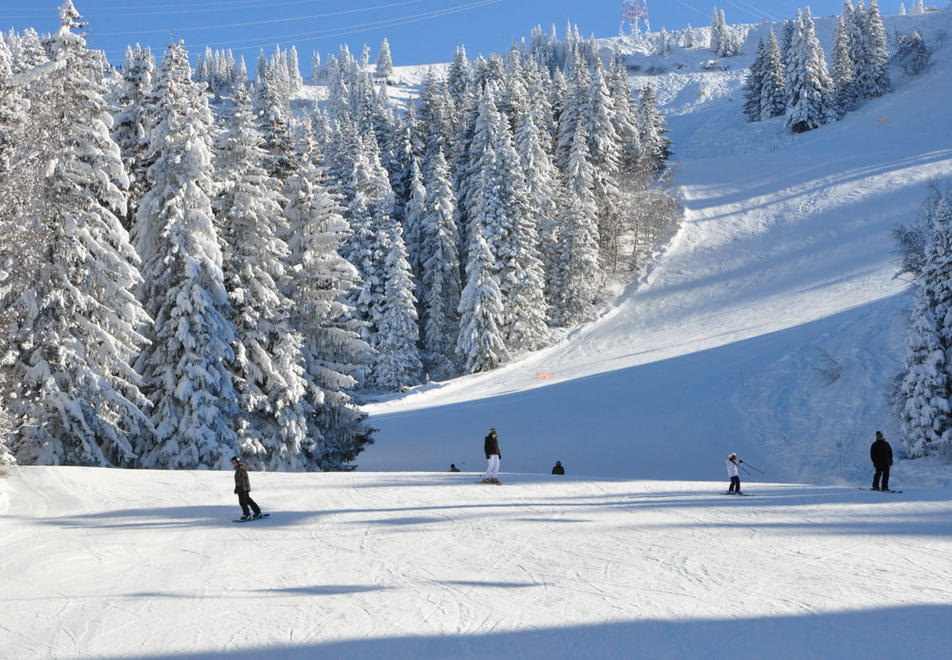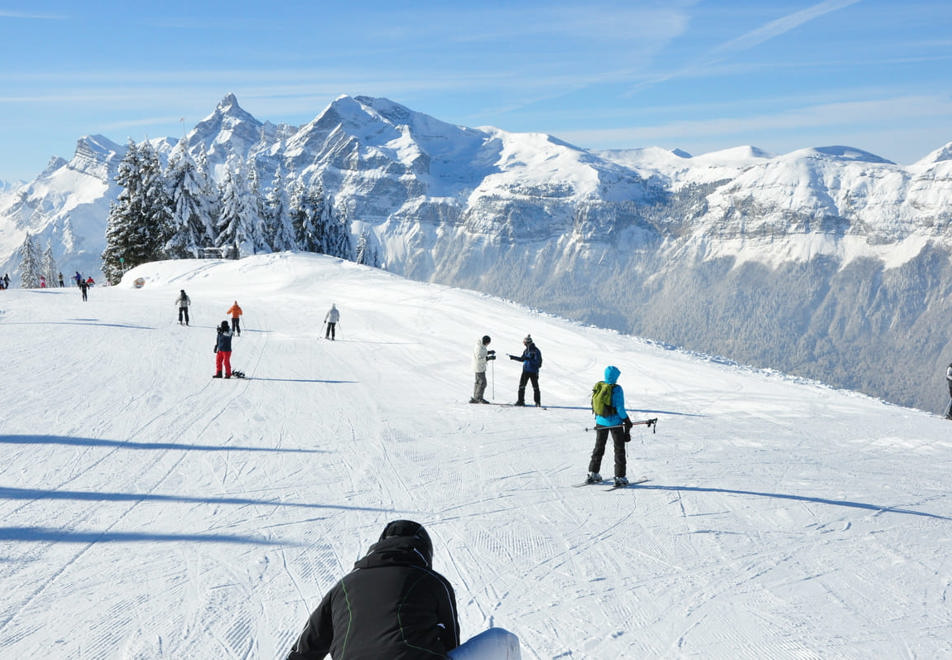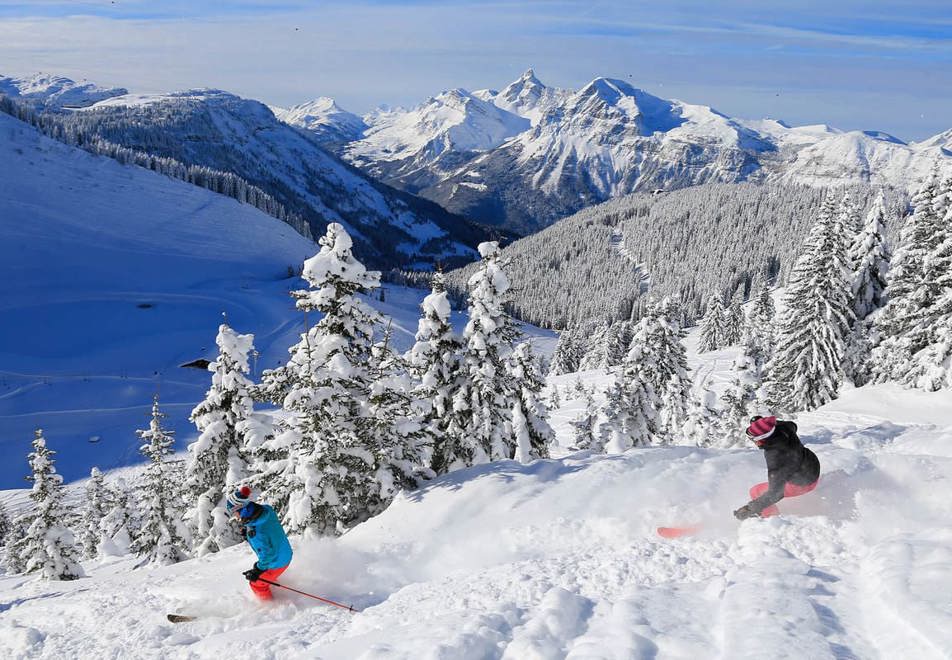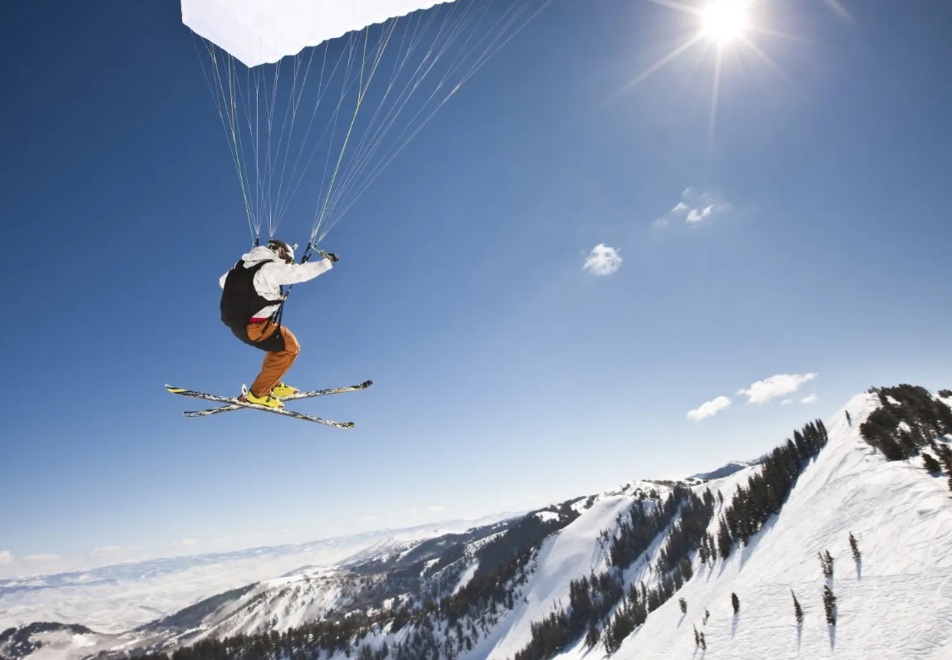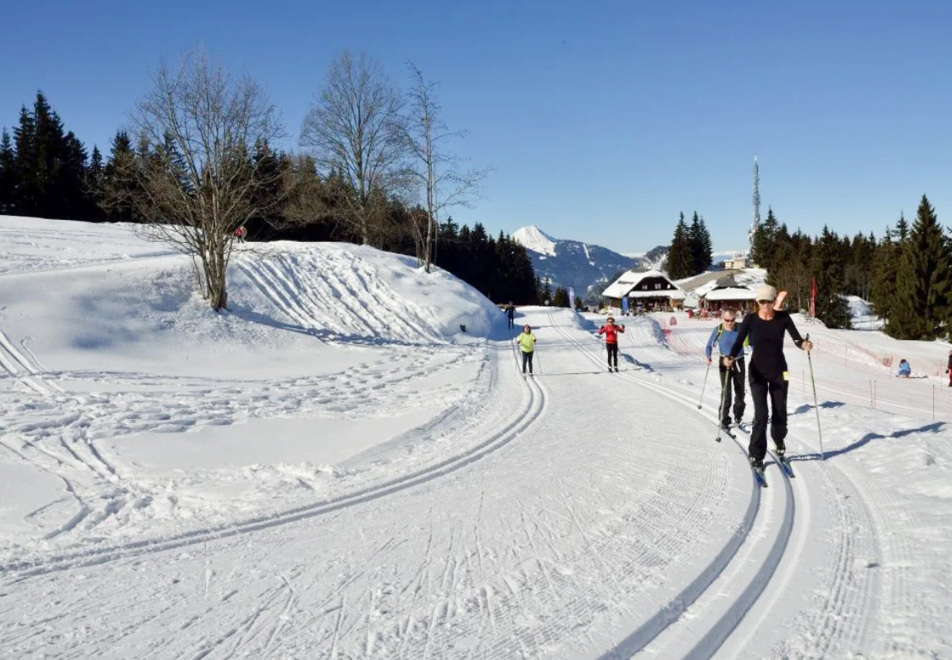 Thinking of skiing in Les Carroz? This traditional alpine village is situated in the heart of the mighty Grand Massif ski area, just one hour from Geneva and Chamonix.
Why Les Carroz Ski Resort?
One of the most accessible resorts in the French Alps - just 1hr transfer from Geneva
Family ski resort with plenty to do
Les Carroz Resort Information
Perched on a plateau at 1140m, Les Carroz is a spacious, sunny, traditional family resort with pavement cafés and interesting little shops which are centred on the main square. The village has managed to preserve its traditional charm in harmony with the beauty of the surrounding mountains. 
Les Carroz d'Araches has a pleasant 'lived-in' feel and animated atmosphere. It has been popular with French families since 1936 when it officially became a ski resort.
As well as ample skiing, there's also plenty on offer for non-skiers - try an air balloon flight, a night time luge, dog sledding, ice skating (some evenings until 10pm), snowshoe outings…
There is a leisure centre with large heated outdoor pool offering an unspoiled view of the Timalets piste and snow-capped peaks. It also features an indoor pool, sauna, steam room and an impressive cardio-fitness room. There is late-night swimming on some evenings.
Les Carroz ski area
Les Carroz - one of the nearest major ski resorts to Geneva - is linked to the huge Grand Massif region, the fifth biggest in Europe (Samoëns, Morillon, Sixt and Flaine). From the gentle slopes at the foot of the resort to the towering peaks reaching up to an altitude of 2500m, the Grand Massif offers a broad-ranging expanse of pistes. It provides extensive skiing for all levels – with very few queues. The gondola and chairlift go straight up to the Grand Massif area.
Thanks to its geographical location, the Grand Massif enjoys abundant, regular snowfalls throughout the season, and the area is well known for its snow quality in spring. As much as 80% of the slopes are north-facing, allowing the snow to lie for longer and remain in good condition.
In Les Carroz itself, there are 103 snow cannons which get their water supply from the Airon Lake and the new Gron Lake. As soon as weather conditions are right, i.e. at least -4°C, the pistes get a top-up of snow ready for skiers the next day.
The Grand Massif offers a variety of pistes for all levels - from complete beginners through to experts wanting to seek off-piste potential. Reaching around 2500m and mostly north-facing, the slopes of the Grand Massif are relatively snow-sure.
Aside from the extensive network of pistes in neighbouring Flaine, the ski runs at Les Carroz are relatively short but offer a wide variety of trails, including more difficult sections at the top of the red runs and some good off-piste. There are some excellent woodland runs just above Les Carroz accessed via a gondola - great on bad weather days!
The ski school's torchlit descent is not to be missed – it starts off with fireworks and ends with vin chaud and live jazz in the square!
Additional ski fact info, main ski info in resort facts box at top of page (22/23):
Grand Massif ski area comprises of the resorts of Flaine, Samoens, Morillon, Les Carroz d'Araches and Sixt fer a Cheval. The largest lift pass covers the whole area and piste numbers can be found in the facts box at top of this page. You can also buy smaller area passes that cover all resorts except Flaine called 'Vill4ges' and then Les Carroz local area.
Les Carroz local area
14 lifts (1 gondola, 4 chairlift, 5 draglift, 5 carpet), 29 slopes:
Green slopes: 4
Blue slopes: 17
Red slopes: 8
Black slopes: 4
Les Carroz skiing info
Beginners
Beginners will find nursery slopes and free draglifts in Les Carroz village to practise on, depending on snow conditions. There are also the green Mollachets and Coin Coin pistes at the top of the Kédeuse gondola, and lots of blue runs to progress on which wind down through Les Carroz's forests (great in bad weather as it's sheltered from the snow and wind) to the bottom of the Kédeuse gondola.
Intermediates
Intermediates will find a variety of runs to improve and progress on with plenty of blue and red runs to choose from - quite a few are tree-lined. The Grand Massif itself has extensive intermediate slopes with big lift networks.
A must! Starting from the Grandes Platières, follow the 14km famous long blue Cascades piste and meet the unexpected landscapes bordering the Sixt-Fer-à-Cheval Nature Reserve. Created in 1994, it is the longest ski run in the Grand Massif. An elevation drop of 1700m separates the start of the run from its arrival in Sixt. Winding through alpine pasturelands and forests, the start has a panoramic view of the Mont Blanc peaks, then throughout the descent views emerge of the peaks around Sixt (the Fiz range, the Fer-à-Cheval cirque, the Pointe d'Anterne, the "Pas de Sales" passage and more). It is not uncommon to spot chamois or ibex from the piste as well which is a nice little bonus. From Sixt, you need to take a 20-minute bus to Samoens or Morillon and catch the lifts back up to Les Carroz.
Advanced, off-piste & ski touring
Experts will find challenging red runs and a few black runs can be found above the Les Carroz ski area. Otherwise, Flaine has some seriously challenging terrain (mostly off-piste though).
Les Carroz resort runs
To ski back to Les Carroz village, there are a series of blue pistes around the Kédeuse gondola, finishing on the Combe piste. There is also the Timalets red piste. Or you can take the gondola down.
Please note: in early or late season, ski back to resort depends on snow conditions
Les Carroz ski hire & lift passes (pre-bookable)
Pre-book your 6 day+ Les Carroz ski hire and/or Les Carroz lift pass with Peak Retreats.
To download the ski extras form see 'Helpful links' further down the page. Please note that prices are for indication only. They will fluctuate based on Euro/£ exchange rate. Please call us for the latest prices.
Other lift passes are available to buy in the resort such as half or full-day passes (for those who only wish to ski the odd day) or one-use lift passes for pedestrians. Some resorts also offer specific beginner area passes and cross country passes.
Les Carroz beginner's lift pass grants access to a few lifts and runs (payable in resort):
Head for the beginner area at the top of the Kédeuze gondola. Make use of the 120m long covered magic carpet and the Crêtes draglift with the Coin Coin piste exclusively reserved for beginners, thereby providing a safe area in which to learn. You can also use the Plein Soleil draglift and chairlift as well as the free beginner ski area at the bottom of the slopes in the village with its covered magic carpet.

Les Carroz group ski school (pre-bookable)
Ski school for children is available to book from 3 years to 17 years, in Les Carroz, with Peak Retreats. 3-5 year olds will go into the Piou Piou lessons. Children can learn to snowboard from 8 years+.
To download the ski extras form see 'Helpful links' further down the page. Please note that prices are for indication only. They will fluctuate based on Euro/£ exchange rate. Please call us for the latest prices.
Les Carroz private lessons (not pre-bookable)
Private lessons with an instructor can only be arranged directly with the ESF ski school. Peak Retreats cannot pre-book these. Private lessons are usually around €40-60 per hour (depending on resort, time of day and period) and becomes cheaper the more hours you take and the more people you have to share the hours with i.e with family members or friends. Some resorts insist on a minimum of 3 sessions to be booked at once.
Contact ESF Les Carroz for private lessons - 0033 4 50 90 02 38
---
Les Carroz childcare (not pre-bookable)
If you are after non-skiing childcare for 6 months-3 years, La Souris Verte will cater for your needs. Open Monday to Friday, 8.30am-5pm. Open from end of December to end of March.
La Souris Verte (Creche), for children aged between 6 months and 3 years (not at school). The Souris Verte offers all of the usual nursery activities in a specially designed room as well as outdoor games in an enclosed garden. Full daycare is only available to children aged over 16 months.
Child Health record and DTP vaccination are obligatory.
Situated in the centre of Les Carroz village, near to the cinema (213 route des Cyclamens).
West Carroz – Shuttle bus line A – "Le Serveray" stop (only in winter)
Please contact the creche direct as we cannot pre-book this kids club - 0033 4 50 47 95 18
It is advisable to book before you go and in good time as spaces get filled quickly, especially in Peak times. A childhood vaccination record will be needed. 
---
The leisure centre (Club des Loupiots) welcomes children aged between 3 yrs old and 12 yrs old (out of nappies).

The club is run by qualified youth leaders who lay on various activities for the different age groups. Join in a range of activities such as ice skating, tobogganing, snowshoe outings as well as indoor creative activities.
Please contact the direct as we cannot pre-book this kids club - 0033 450 90 24 58
It is advisable to book before you go and in good time as spaces get filled quickly, especially in Peak times. A childhood vaccination record will be needed. 
---
Babysitters (not pre-bookable)
A list of babysitters is available from the tourist office.
Top snow activities to experience in Les Carroz
Please note Peak Retreats do not book any activities and most activities are payable therefore the below is just for information. More detailed information and how to book can be found on the tourist office website
Dog sledging
2 companies to teach you how to drive a dog sledge team. Follow the lead with a qualified instructor through the Molliets snowfields and imagine that you are in the Far North. Book early as it is a very popular activity!
Bureau des guides
Day ski touring outings, off-piste skiing, free-ride (e.g. Pas de Sales, Vallée Blanche).
Snake tobogganing
Fun and laughter guaranteed! Have a go at sledging on toboggans linked together, allowing them to snake across the snow in complete safety on a closed piste. Activity for 2 hrs.
Fatbikes
Early morning or evening, come and be guided by a qualified cycling instructor to take to the ski slopes on a fatbike. Minimum 4 people. Evening runs including a mountain restaurant possible. Prices on request, contact tourist office.
Snowmobiling:
Starting just above Molliets. Fantastic evening ride along pistes and through the forest. Warm log fire welcome in a tepee. Snowmobile solo or with a passenger.
Ski joëring
Afternoons only, let a horse pull you along on skis.
Ice quad Flaine
Discover the joys of driving a quad on ice in Flaine. Open every day.
Cross-country skiing
Trails:
Red trail: Pierre Carrée 6km
Blue trail: The Arbaron 3.5km
Green trail: Combe Inverse 3 km. Two (timed)
Challenge trails: 3km and 6km
Tobogganing
2 sledging slopes at the Col de Pierre Carrée for all ages
Virtual reality run                                                                                                                                        Have a go at the virtual reality run, with a family member or friend, sit in the sled while one is at the controls and the other is in virtual immersion with the VR headset. Experience a crazy run and unique sensations combining the speed of the alpine coaster and a funny fantastic universe. 
Top activities to experience in Les Carroz
Please note Peak Retreats do not book any activities and most activities are payable therefore the below is just for information. More detailed information and how to book can be found on the tourist office website
Cinema
One screening at the end of the afternoon and one in the evening with an extra afternoon screening during French half term holidays when the weather is bad. Programme available from the Tourist Office.
Bowling alley
In Flaine (nearby). Special lanes equipped with bumper rails, for children from 2½ yrs old. Snack bar and games room. Shoe rental (size 22+). Open throughout the season. 
Swimming pool
Child tariff for 3 to 15 yr olds.
Alpine Coaster
It is a 4-season toboggan on rails (winter/ summer/inter-season) starting from the Carroz gondola departure platform. Minimum height is 1.05m (approx. 3 yrs. old) and all children under the height of 1.25m (approx. 8-9 yrs. old) must be accompanied by an adult. One or two riders per sledge. Descent punctuated with banked turns, rollers and flip-flops; the whole run (up and down) takes about 4 minutes. Optional Virtual Reality headset: combining reality and virtual reality during the downhill run in the form of a 360 degree 3D film for total immersion in a virtual universe and heightened sensations. Self-service souvenir photosystem (tokens and credit/debit cards).
Library
You can borrow books, DVDs and family games French school holidays: from Monday to Friday. Outside French school holidays: Mondays, Wednesdays and Fridays. Closed on Saturdays and Sundays.
The Pierre a laya goat barn
Come and visit the goat barn and its farm animals and see how fresh cheeses, "crottins" (small cheeses) as well as yoghurts and goats' milk soap are made. Visits and farm shop.
Guided tours of our heritage and religious buildings
Sign up at the tourist office. Tuesdays (only outside French school holidays). Maximum 8 people.
Paragliding:
2 FFVL approved schools for you to discover the pleasures of the air or courses for perfecting your technique.
Aquacime leisure centre
Aquabike:
Sessions held every Wednesday at 11.15am. Booking necessary.
Aqua fitness:
Join in our aqua fitness classes. 30-minute sessions on Mondays and Fridays at 11.15am. Booking necessary. Minimum 3 people: maximum of 12 people.
Cardio fitness room and weight training room:
For anyone who wants to keep in shape! A variety of modern equipment suitable for all forms of muscular exercise
The sauna:
Come and invigorate yourself in these wooden rooms where temperatures can reach 70 to 80o C.
The indoor pool:
For head and body well-being why not dive into the pool with its bubbles, massage jets and waterfalls. Depth 1.30m.
The steam room:
Let yourself go in the 50 oC wet heat of this room.
The Nordic pool:
Experience the pleasures of swimming outdoors in water heated to 32o C with bubble plates and massage jets, surrounded by snow and in full view of the snowy peaks Depth: 1.50m min and 2.20m max.
The solarium:
Soak up the sun on the loungers provided whilst looking out at the pistes and the pool.
Les Carroz/Grand Massif news & events
What's new:
AUTOMATIC SELFIE ON THE CHAIRLIFT - automatic photosystem has been installed on the ride up on the high-speed Tête des Saix chairlift, with a collection terminal on arrival at the top.
NEW 3D 360 VIRTUAL REALITY FILM - 2 virtual reality films available on the Alpine coaster: Alien Coaster and Black Valley. One transports you to the world of the dragons while the second plunges you into the breathtaking, Grand Canyon like landscapes. 
Events taking place in the 2022/23 season:
Treasure Hunt - Discover Les Carroz with this 100% free mobile track game and try to find the forgotten coat of arms! A great family activity. 
Wood Workshop For Children - 17th December 2022 - 31st December 2022 Discover the woodworking easily and go back home with your own creation!
Christmas Market 17th December 2022 - 30th December 2022 Stroll the Place de l'Ambiance, in the heart of the magic of Christmas. 
Weekly Market All-year-round On Tuesday morning a traditional Savoyard market.
Ice Sculpture Show 19th December 2022 An ice-cold, artistic and spectacular performance!
Igloo Building Introduction 17th December 2022 - 31st December 2022 every Tuesday and Thursday. 
Giant Torchlight Decent 18th December 2022 Experience the tradition and participate in the descent and enjoy the show and surprises.
Christmas & New Year's Eve Fireworks and Party 24th December 2022 and 31st December 2022 Let's close this year to 2022 with a colourful fireworks show! To celebrate after meet in the village centre for a party!
More information can be found on the tourist office website: www.lescarroz.com
Les Carroz après-ski, restaurants & bars
Over 20 Restaurants and 7 bars.
1 nightclub: 'Club 74', in the heart of Les Carroz. 
1 Cinema: 'Le Schoucas' with 2 screens.
---
Les Carroz amenities
Les Carroz is served by a range of amenities including mini-supermarkets, cash points, doctors, 1 pharmacy, physiotherapist, dentist, hairdresser, beauty salon, bakeries, several sports shops…Library, 2 art galleries, tabac.
Getting to Les Carroz, France
By road
Driving distance from Calais to Les Carroz 539 miles (approx 7hrs 30) from Calais, take A26 Motorway towards Reims and Troyes, then Dijon, Mâcon then 'Autoroute Blanche' Motorway ( A40 Mâcon – Cluses) exit Cluses Centre (no 19), follow N205 road towards Sallanches. After 3 km follow signs to 'Les Carroz d'Araches' and turn left towards Les Carroz on the D6 road.
By rail & air
Take the Eurostar from London St Pancras (or Ashford, Kent). See our train services page for more information as we can pre-book the trains for you. The nearest train station to Les Carroz is roughly 14km away in Cluses. 
4 international airports are nearby, see our flying page for information on airlines. We don't book flights, we invite you to do your own research.
Geneva Airport to Les Carroz is roughly 73km, approximately 1hr
Chambery Savoie Mont Blanc Airport to Les Carroz is roughly 111km, approximately 1hr 15 mins
Grenoble Alpes Isere Airport to Les Carroz is roughly 200km, approximately 2hrs
Lyon-Saint Exupery Airport to Les Carroz is roughly 193km, approximately 2hrs
Private taxi transfers
Private taxi transfers from airports and train stations are pre-bookable with Peak Retreats. See our airport & station transfers page for more information.
Bus transfers
Altibus/Bens Bus/Snow bus (and the likes of) offer shared bus transfers from some French/Swiss airports and SNCF train stations to ski resorts. We don't book these (or have any affiliation with them), we invite you to do your own research.
Resort shuttle bus
Free shuttle buses run throughout the day linking the different areas of the resort.
---
Les Carroz Opening Dates
Les Carroz Snow Report – 2013-2018 (5 season average)
Les Carroz and more generally the Grand Massif (Flaine) has always benefited from a superb snow record thanks to the microclimate resulting from the proximity of Mont Blanc. Snow cover on at least parts of the ski area is pretty much guaranteed from mid-December until late April. Here is the snow record data for Les Carroz. The first row shows the week for which the measurement applies eg. February 3 is the 3rd week in February. Top slopes shows the average snow cover in cm at the top of the ski area. Bottom Slopes shows the average snow cover in cm at the bottom of the ski area (this is generally where the nursery pistes are located). About 10 cm is generally enough to ski but it very much depends on what's below ie. grass or more rocky surface.
5 year ski season average for Les Carroz:
| | | | | | | | | | | | | | | | | | | | | |
| --- | --- | --- | --- | --- | --- | --- | --- | --- | --- | --- | --- | --- | --- | --- | --- | --- | --- | --- | --- | --- |
| Month | Nov | Dec | Dec | Dec | Dec | Jan | Jan | Jan | Jan | Feb | Feb | Feb | Feb | Mar | Mar | Mar | Mar | Apr | Apr | Apr |
| Week | 4 | 1 | 2 | 3 | 4 | 1 | 2 | 3 | 4 | 1 | 2 | 3 | 4 | 1 | 2 | 3 | 4 | 1 | 2 | 3 |
| Upper Slopes (cm) | 23 | 39 | 44 | 42 | 54 | 85 | 88 | 121 | 136 | 155 | 158 | 160 | 167 | 188 | 190 | 180 | 175 | 170 | 172 | 127 |
| Lower Slopes (cm) | 7 | 10 | 16 | 20 | 33 | 25 | 21 | 37 | 36 | 46 | 47 | 37 | 38 | 54 | 42 | 25 | 15 | 13 | 9 | 6 |
Current snow conditions may be available to view on the Les Carroz webcam, available from the Tourist Office website.
5 year ski season average for Flaine:
| | | | | | | | | | | | | | | | | | | | | |
| --- | --- | --- | --- | --- | --- | --- | --- | --- | --- | --- | --- | --- | --- | --- | --- | --- | --- | --- | --- | --- |
| Month | Nov | Dec | Dec | Dec | Dec | Jan | Jan | Jan | Jan | Feb | Feb | Feb | Feb | Mar | Mar | Mar | Mar | Apr | Apr | Apr |
| Week | 4 | 1 | 2 | 3 | 4 | 1 | 2 | 3 | 4 | 1 | 2 | 3 | 4 | 1 | 2 | 3 | 4 | 1 | 2 | 3 |
| Upper Slopes (cm) | 28 | 41 | 63 | 89 | 112 | 145 | 172 | 228 | 245 | 275 | 288 | 282 | 285 | 317 | 331 | 309 | 311 | 306 | 280 | 240 |
| Lower Slopes (cm) | 17 | 27 | 23 | 29 | 36 | 41 | 39 | 65 | 69 | 86 | 106 | 102 | 92 | 105 | 114 | 100 | 80 | 63 | 49 | 38 |