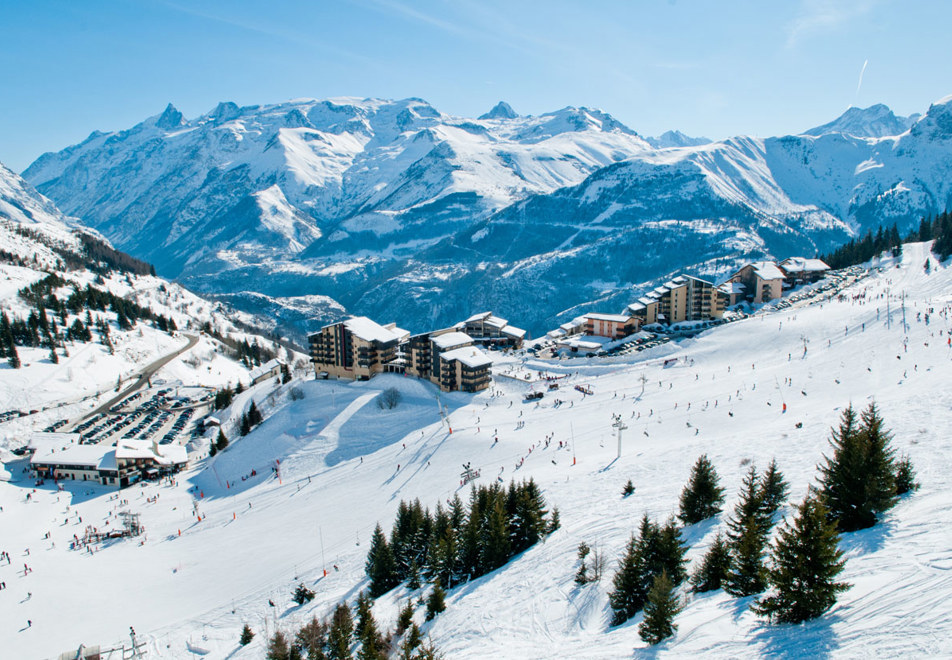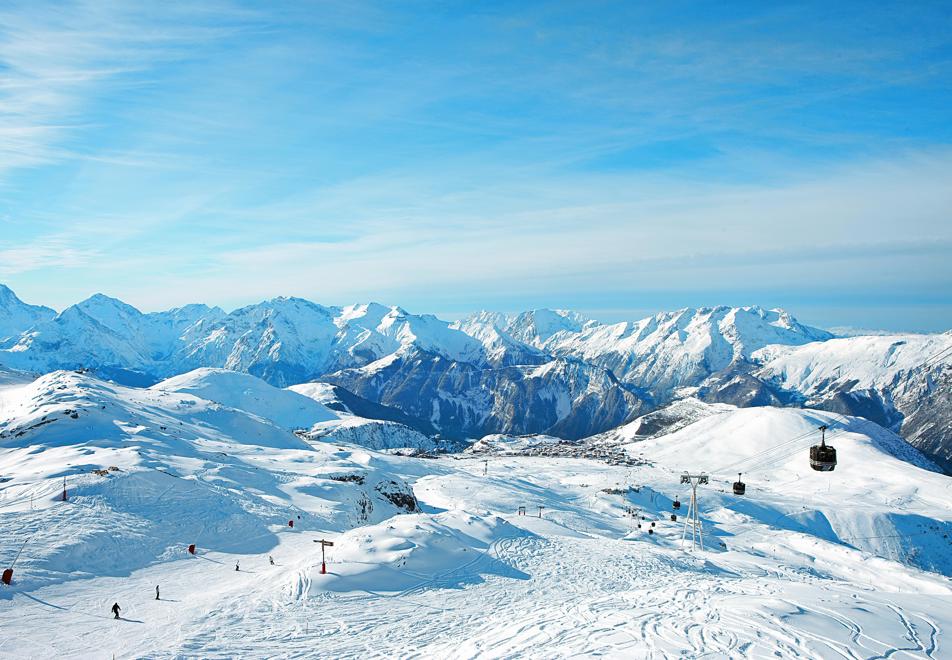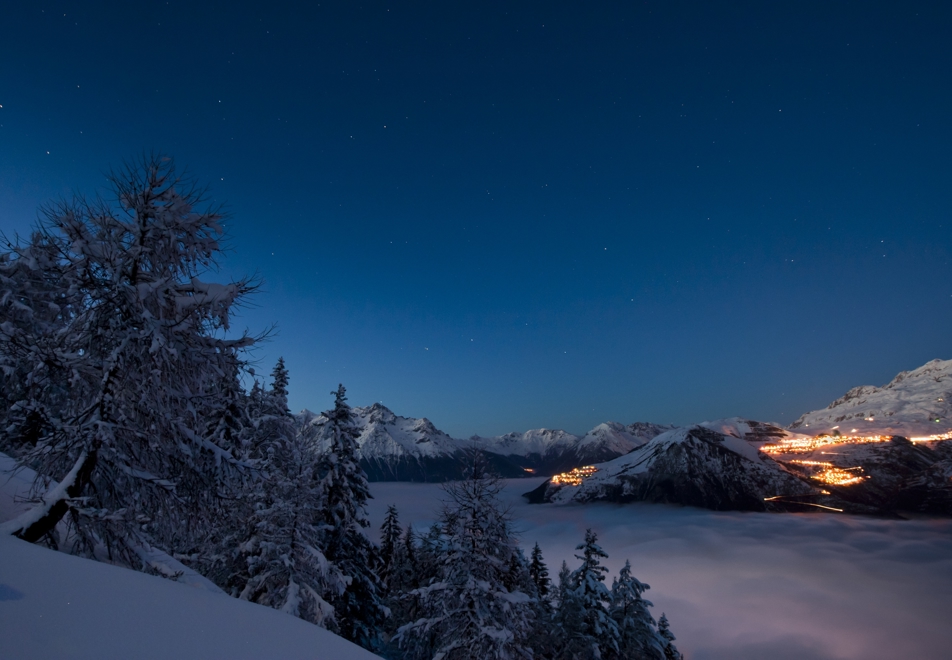 Thinking of skiing in Auris-en-Oisans? Auris is a quiet, family-friendly resort which offers great value for money and skiing on sunny south facing slopes.
Why Auris en Oisans Ski Resort?
Part of a massive snow-sure ski area
Ideal small and friendly resort for families and those seeking a peaceful base
80% of the residences give easy and direct access to slopes
Sunny resort
Auris Resort Information
Auris en Oisans, featured as one of the '15 of the best ski adventures around the world' by Escapism, is located on the edge of the Ecrins National Park at 1600m. From Auris there is a spectacular panoramic view of la Meije mountain range and the national "Parc des Ecrins" peaks.
The modern resort of Auris has guaranteed season-long skiing being lift linked to Alpe d'Huez and the rest of the Grand Domaine. The link to Alpe d'Huez via chairlift takes 10 minutes from Auris, so its easily accessible.
All Auris accommodation is close to shops and restaurants. The animation after skiing is one of Auris's qualities fun rubber rings, family challenges, night skiing... all activities offered are suited for children and parents.
Auris-en-Oisans can be reached in under 90 minutes from Grenoble Airport, under 2 hours from Lyon Airport and 2hrs 30 mins from Geneva.
Peak Retreats features brand new 4* self-catered apartments in Auris en Oisans. Located close to the resort centre and offering fantastic facilities, Les Balcons d'Aurea provides the ideal location for an Auris en Oisans ski holiday.
AURIS EN OISANS SKI AREA
Part of the massive and snow-sure Grand Domaine/Alpe d'Huez ski area, Auris offers world-class skiing (250km of pistes). 
From the summit of Pic Blanc ski area it offers at 3300m unique perspectives of the surrounding mountains to Italy and the Massif Central.
The local area is comprised of 45kms of piste and 12 lifts, linking easily with the Alpe d'Huez Grand Domaine offering a huge 250kms. The Grand Domaine ski domain allows you to ski on 5 resorts: Auris en Oisans + Alpe d'Huez + Vaujany + Oz en Oisans + Villard reculas! The highest point is at 3330m high (Pic Blanc).
For Alpe d'Huez, see details with our sister company Ski Collection
Additional ski fact info, main ski info in resort facts box at top of page
Auris only - 43km of pistes, 11 lifts, 24 slopes:
Green slopes: 5
Blue slopes: 9
Red slopes: 8
Black slopes: 2
(1600m-2176m) 31 snow cannons
AURIS EN OISANS SKIING
AURIS EN OISANS BEGINNERS
The Auris local area is ideal for beginners and early intermediates. There is a secured beginners area and a number of green and blue slopes to progress on. In Alpe d'Huez you will find no less than 20 green slopes all spread along the mountainside. They are accessible straight from the Auris chairlift. It has quite an impressive area for beginners. 
AURIS EN OISANS INTERMEDIATES
Within the Auris local area there are 8 red runs running down from 2176m. They offer some great views over Alpe d'Huez. There are plenty of intermediate runs towards Alpe d'Huez and in an area called Signal. The variety of intermediate slopes is quite vast and in good snow conditions the variety of runs is difficult to beat.
AURIS EN OISANS EXPERTS
Grand Domaine is also home to many black pistes towards Alpe d'Huez. There are quite a few blacks at Pic Blanc, the highest point at 3330m. Don't leave without trying the longest black run in the Alps – the Sarenne. It's a whopping 16km in length. You can ski this run by moonlight with a guide for around €65.
Check out the panorama from Pic Blanc at 3330m, where it's said you can see a 1/5th of France. Then gather your courage for the legendary "Tunnel" Black run before skiing between the rocky outcrops of the "Les Rousses" Red.  Glide across the plateau of Alpette and the gentle Blue of "Chalets" before dropping onto the Black "La Fare".
AURIS EN OISANS OFF-PISTE
Off-piste enthusiasts have an immense choice too, including a run with a vertical drop of 2600 metres. Over in Alpe d'Huez.
Auris en Oisans Ski Hire
Pre-book your Auris en Oisans ski hire with Peak Retreats.
To download the ski extras form, see 'Helpful links' further down the page.

Please note, these Pound Sterling prices are for indication only. They will fluctuate based on Euro/£ exchange rate. Please call us for the latest prices.
Special offers: *7 days for the price of 6.  Free Skis/snowboard & boots (Blue/Red) for party leaders of groups of 10 or more all taking equipment. 1 Free helmet per child aged 6 and under for every adult booking skis or snowboards & boots (must be under same booking reference and requested on form above). Other duration prices on request - Cross Country ski prices on request.
Find out more about Peak Retreats ski hire
---
Auris en Oisans Ski Passes
Pre-book your Auris (Alpe d'Huez) lift passes with Peak Retreats. Find out more about Peak Retreats ski passes

To download the ski extras form, see 'Helpful links' further down the page.
Please note, these Pound Sterling prices are for indication only. They will fluctuate based on Euro/£ exchange rate. Please call us for the latest prices.
Other lift pass on offer (to buy locally in resort in Euros):
Grand Domaine – ½ day and daily rates 17/18:
½ day - €44.50 adults
Day - €43.00 children, €52.50 adults
Auris – ½ day and daily rates 17/18:
3 hours - €32 children, adults
Day - €32 children, €37 adults

Beginners area : €15
Begginers/First ride : €22.50
Auris Ski School
Pre-book your Auris ESF ski school with Peak Retreats. Find out more about Peak Retreats ski school

Ski school for children is available to book from 3 years to 12 years, in Auris en Oisans, with Peak Retreats. 3-5 year olds will go into the Piou Piou lessons. Children can learn to snowboard from 9 years+.

For ski school times and prices, please download the ski extras form from the 'Helpful links' further down the page. Please note these are just guiding prices. Please call us for the latest prices.
Please note that lesson times are subject to change right until the last minute - you will be advised. Outside French school holidays the ski school reserves the right to cancel group lessons should numbers be insufficient.  For peak periods - Christmas, New Year, February half-term and Easter - we strongly recommend that you book as early as possible and in any case at least 6 weeks prior to the required dates. Morning lessons tend to get booked up first and therefore we may only be able to offer afternoon classes within 6 weeks of departure. In some resorts English speaking instructors may not always be available, particularly at peak times.
We cannot always guarantee that prices will be cheaper than in resort. When ski packs prices are calculated, the currency is bought at the exchange rates that apply at the time. You can be assured that once you have booked your extras, if the pound depreciates, you will not be charged more for your ski packs, enabling you to budget for your holiday in advance.
Auris en Oisans Individual Tuitions 

(18/19 prices, NOT pre-bookable)

Individual tuitions can only be purchased directly from the ski school. Peak Retreats cannot pre-book these.

Around €38 - 53 per hour for 1-2 people.

Please note that prices are only an indication and are subject to change

Ski school Auris en Oisans contact numbers for private lessons:

ESF Auris en Oisans +33 (0)4 76 80 15 25
---
Auris en Oisans Child Care
Kids' club "Les Marmottes"
Children aged between 18 months and 3 years are welcome in the kids nursery, and for those aged between 3 and 12 years there is the kids club "Les Marmottes". You can choose the set up that suits you best – full day or half day, and if your children have ski lessons booked with the ESF one of our activity leaders can take them and pick them up. As the number of places are limited, it is advisable to book in advance
For further information & Booking:
Club enfants les Marmottes
00 33 4 76 80 08 36 or 000 33 4 76 80 13 52
clublesmarmottes@orange.fr
www.clublesmarmottes.com
Monday to Friday, open continuously from 9:00 to 17:00.
During the February school holidays, the opening is from 9:00 to 18:00.
Saturday and Sunday hours are from 9:00 to 12:00 and 14:00 to 17:00.
Guide prices 2016/17:
1 hour - 10 €
½ day (3 hours) - 22 €
½ day (4 hours) - 27 €
½ day (15h‐18h) with liaison of ski school ESF - 23 €
3 x ½ days - 55 €
Meal (12h‐14h) with liaison of ski school ESF - 24 €
Meal (12h‐14h) + ½ day - 39 €
Meal (11h‐14h) with liaison of ski school ESF - 30 € 
Auris en Oisans Resort Activities
Auris en Oisans Sledge Slope
The resort offers a free and secured "sledge" area in front of the SATA desks. Careful, sledging is under parent's responsibility and supervision. Helmets are recommended. Sledges are on sale and for rental in most shops of the resort.
Auris en Oisans Snowshoe Walks 
Marc Liotard, mountain guide, with him you will discover mountains by snowshoe: crossing the highest Epiceas forest, join with the Cluy hamlet cut-off during winter or taste a génépi during a night hiking.
The outings program is available each week at the Tourist Office.
Equipment you should get:
-> hight mountain shoes, warm trousers/jumpers (like goretex or other), good glasses, suntan cream, gloves, hat, rucksack, flask and camera.
-> Snowshoes and sticks can be rented in the resort (see in shops).
Tel: 0033 4 76 80 79 27 or 0033 6 82 18 36 80
Auris en Oisans Ski Activities
Cross-country in Grand Domaine
The loop "La Rochette" (8km) is free access in Auris. Other fee-paying circuits are available with the connection to Alpe d'Huez (38 km of slopes).
Night Skiing in Auris en Oisans
Each Monday, the resort lighthens-up the slope (Les Bauchets) so that you can ski a few more hours... It is free if you have a 6 day pass. At this occasion, the Tourist Office team will offer you 2 activities:
- Family challenge (slalom, gifts to win) et
- Kids "slide down" with torches
Auris en Oisans Tourist Office
Tel: 0033 4 76 80 13 52 - accueil@auris-en-oisans.fr - www.auris-en-oisans.fr/en/
Auris en Oisans/Alpe d'Huez News and Events 2018/19
Alpe d'Huez, over the next few years, is investing 350 million Euros into upgrading the ski resort and ski area. The main flagship project to be undertaken is number 1 below:
The flagship project will be to build a gondola link between 

Alpe d'Huez

 

and  Les 2 Alpes

, 

which will create one of the largest linked ski areas in the world (475km). It will be larger, currently, than Tignes-Val d'Isere and Paradiski. Work should be starting in 2019, for a completion date of 2012, and will cost 60 million Euros. The cable car that will cross the valley is planned to take 18 minutes. Starting at 2200m in the area Signal de l'Homme, the cable car will cross the valley passing over Freney-d'Oisans to Mont-de-Lans in Les 2 Alpes

200 million euros will be spent on expanding the accommodation choice including 5* hotels and 4/5* apartments

Roads will become pedestrianised with new underground parking

100 million Euros will be invested in existing lifts to make them faster and increase capacity
Further details can be found on the tourist office website: www.auris-en-oisans.fr
Auris en Oisans Après-ski, Bars & Restaurants
More lively après ski at Alpe d'Huez.
You will find the restaurants in Auris are usually cheaper than in Alpe d'Huez. 
Auris en Oisans Restaurants
On Auris's slopes
High altitude restaurant 'L'Hermine'
High altitude restaurant a few steps away from FrontFroide slope, next to Alp'Auris ski lift and with sunny terraces. 
0033 6.80.24.76.40
In the resort
Café Lili
Caffé Lili propose you a cooking from Italian mountain. A non-stop service from lunch time until the evening.
It's a renovated place, near from the slopes with a sunny terrace. 
Tel: 0033 6 07 43 29 99 - caffelili@live.fr
The Beau Site
Restaurant, bar, lounge with chimney, sunny terraces with deck chairs, panoramic view on the Meije and the Ecrins massif, play area. 
Tel: 0033 4 76 80 06 39
La Bucherie (new owners)
Restaurant-Bar with terrace and direct access to the slopes (access by ski)
Lunch snack and meal of the day. Open in the evening for local 'savoyarde' specialties. 
Tel: 0033 6.07.05.77.87
Le Schuss Bar
Restaurant & bar: tapas, cocktails, crêpes, menus and menu 'à la carte', local specialities (fondues, raclettes…). Themed evenings. Périgorg products tasting. Sunny terrace with deck chairs, wifi access, geant screen (shows sport events). Place des Ecrins.
Tel: 0033 4 76 80 08 44 - aurischuss@orange.fr
Le Tétras
The restaurant/bar/pizzeria's team, welcomes you from 8am to 1am non-stop every day in a warm and friendly ambiance. Pizzas can be taken-out. Fondues, tartiflettes, sweet crêpes, meal of the day. Sunny terrace. Place des Orgières. 
Tel: 0033 4 76 80 11 67
Le Yéti
Raphaël and his team welcomes you all season: restaurant, bar, pizzeria, crêperie, local 'savoyarde' specialties, take-outs, menu 'à la carte', menu, half board. Place des Ecrins. 
Tel: 0033 4 76 80 82 18 - leyetiauris@hotmail.fr
The Hameau des Cours (5 minutes from the resort)
L'Auberge de la Forêt
Situated in the typical hamlet 'Des Cours' (5mins from the resort) in front of the Meije, it's the eldest restaurant of Auris. 
Tel: 0033 4 76 80 06 01
Clapier hamlet
Le Solfège
Restaurant-bar situated in the Clapier of Auris (on the road to Auris in the valley). A good place for a break before going-up to Auris. 
Tel: 0033 4 76 11 01 34.
Folie Douce Alpe d'Huez (alongside Val d'Isere, Val Thorens and Meribel). La Folie Douce concept was created over 30 years ago by Luc Reversade and has become synonymous with apres ski across the French Alps. Each venue has a restaurant  - La Fruitiere - which serves up great food but La Folie Douce is best known for putting on a massive party on the mountain. The new Folie Douce will open at the top of the Marmottes lift in Alpe d'Huez. www.lafoliedouce.com
Auris en Oisans Amenities
Auris is served by a range of amenities including: tabacco, press, gifts and souvenirs.

Mini-market 8am to 8pm.
Bread and pastries cooked onsite, local products, fruit and vegetables, charcuterie, cheese, organic products, take-outs, raclette and fondue machine rentals. 
Mini-market Sherpa
Grocer's, bread, pastries, regional products, charcuterie and cheesses. Take-out pizza. Auris's aperitif on sale.
Various sports shops
Self-service laundry - The resort has a self-service laundry on the 'place des Ecrins' next to the real-estate agency. Open 7 days a week, 24h/24.
Getting to Auris en Oisans, France
By Road: 
Distance from Calais to Oz en Oisans 566 miles (8hrs) A26 Reims, Dijon then A6 Maçon, Lyon then A432/A48 Grenoble, then take the D5/N91 in the direction of Les Deux Alpes then turn onto the D44 following signs for Auris.
By Rail:
Nearest station Grenoble (55k) +33 892 35 35 39. Direct link from Grenoble bus station to resort. Every day during winter Transaltitude buses (connections with TGV/TER) will allow you to go from Grenoble SNCF train station to Auris ski resort
Airports:
Grenoble Saint-Georis is 95km from Auris en Oisans (1 hour)
www.grenoble-airport.com
Chambery is 116km from Oz (1 ½ hours)
www.chambery-airport.com
Lyon Saint Exupéry is 145km from Auris en Oisans (2 hours)
www.lyonaeroports.com
Regular bus Lyon airport to Grenoble bus station.
Satobus +33 472 68 72 17. http://lys-altibus.com/ 
www.lyonairport.com
Geneva Airport is 195km from Auris en Oisans (2 ¼ hours)
www.gva.ch
Turin Airport is 198km from Auris en Oisans (2 ½ hours)
www.aeroportoditorino.it
Grenoble bus station 50 meters from the railway station and arrival station of the buses from the airports of Grenoble and Isere Lyon St Exupéry.
Bens Bus public bus transfers
Although Auris en Oisans is connected by pistes to Alpe d'Huez, it is accessed by a completely separate road which comes up from Bourg d'Oisans. Ben's Bus only offers an airport shuttle to Bourg d'Oisans and from there you will need to make your own transport arrangements for the short journey up to Auris en Oisans. We therefore do not offer direct ski transfers to Auris en Oisans as such and you would need to select a transfer to Bourg d'Oisans on our online booking form. Prices to Bourg d'Oisans are £45pp Return & £25pp Single.
www.bensbus.co.uk/ski-transfer/auris-en-oisans-ski-transfers
To get from Bourg to Auris, you can take a local taxi (best to prebook) or use the public bus service (www.transaltitude.fr/en/timetables-and-booking or www.vfd.fr)
---
Auris en Oisans Opening

Dates
Auris en Oisans ski area is open: 30/11/19 – 25/04/20.