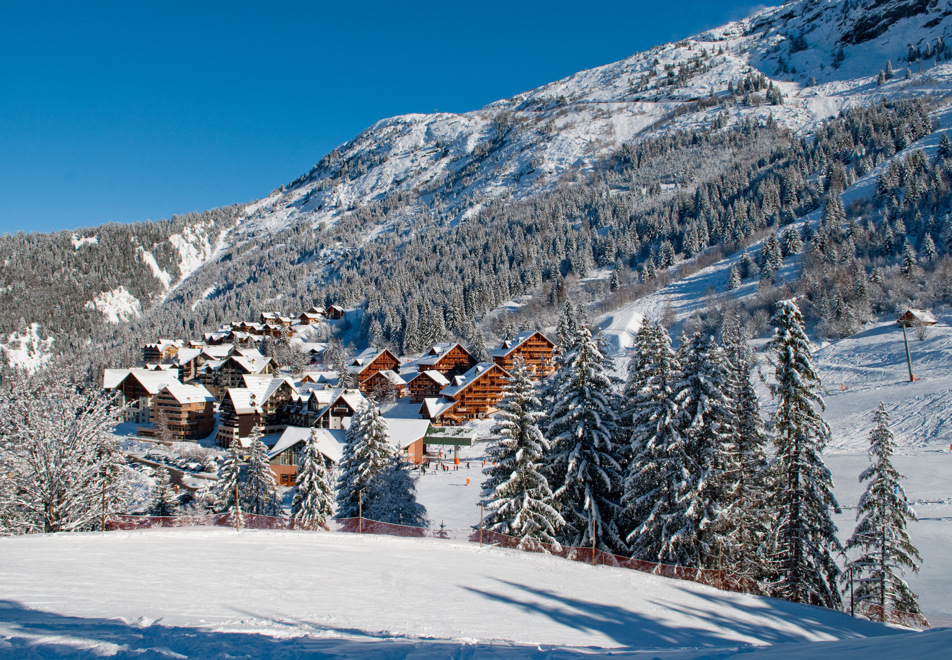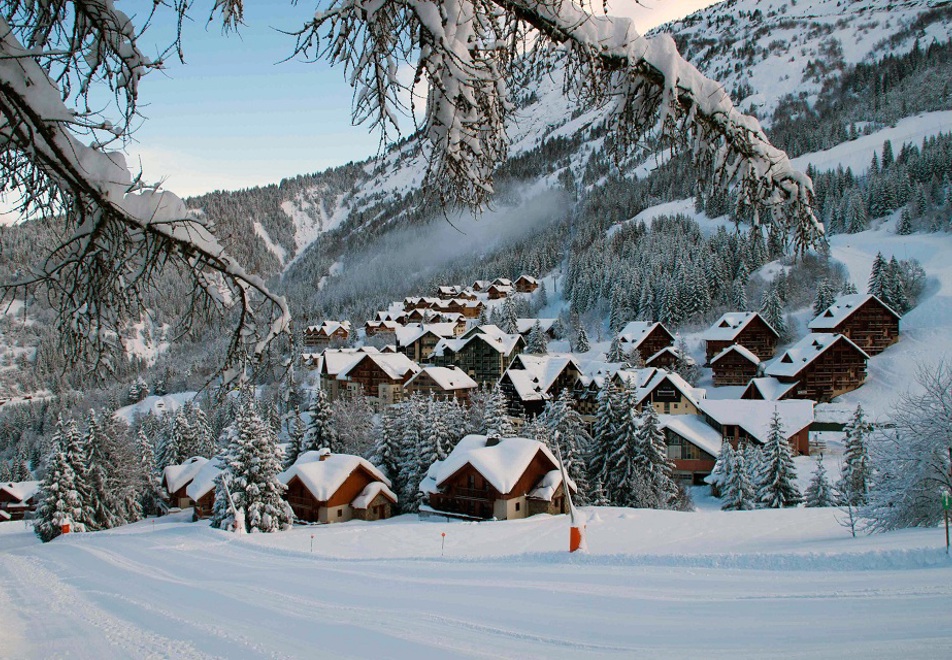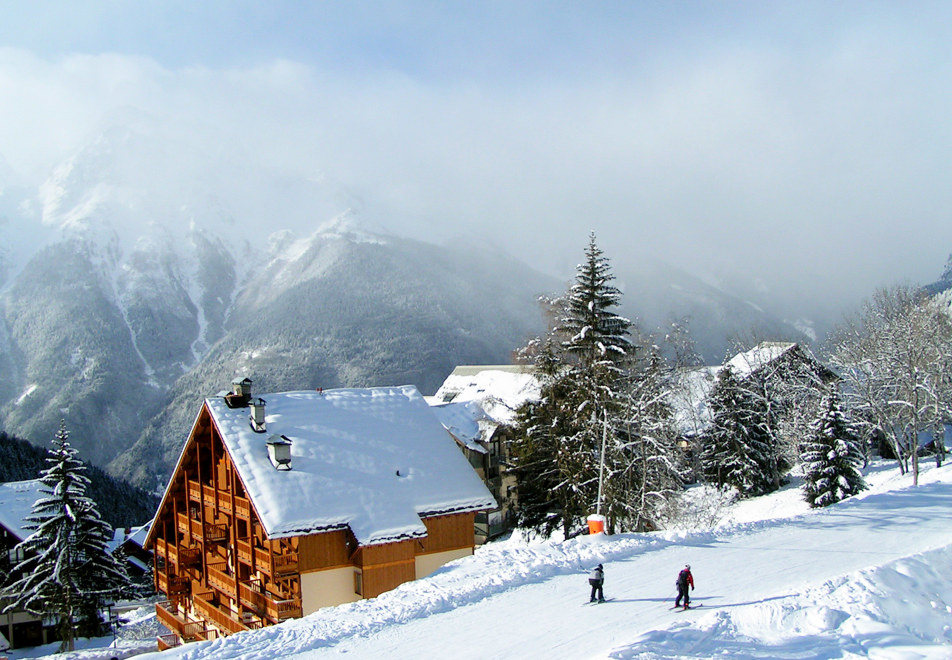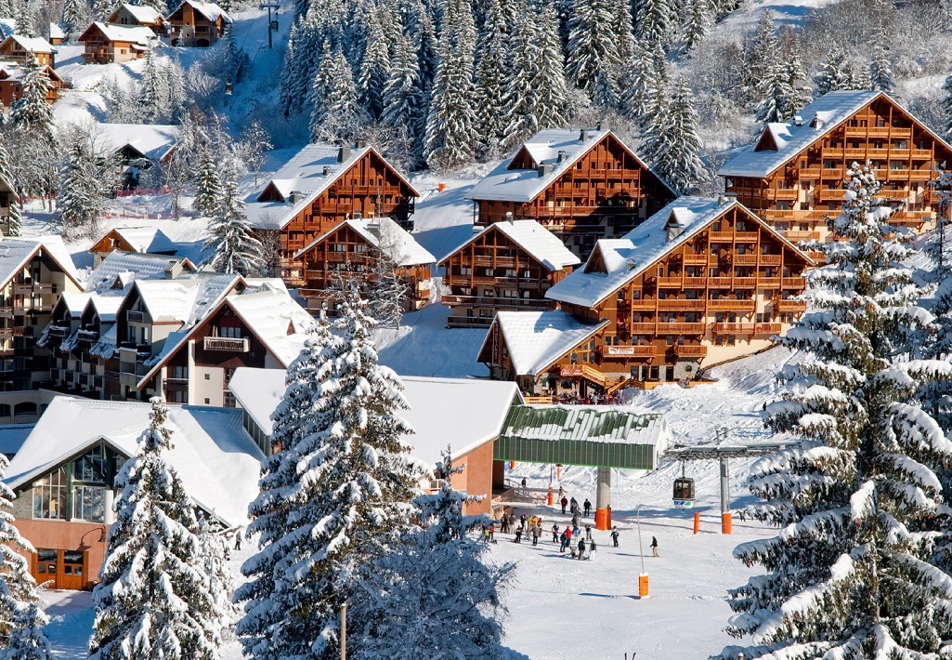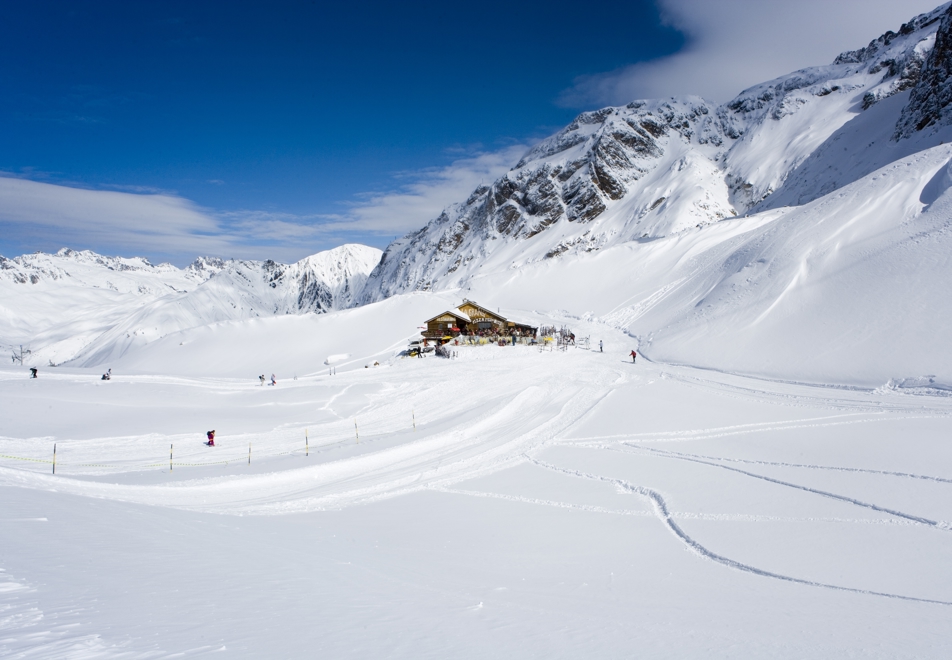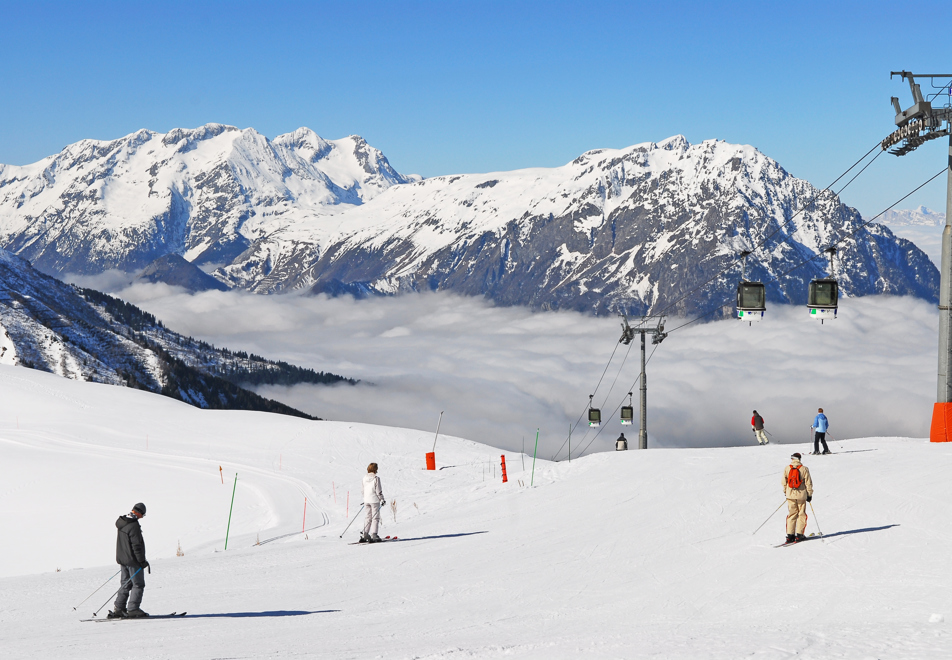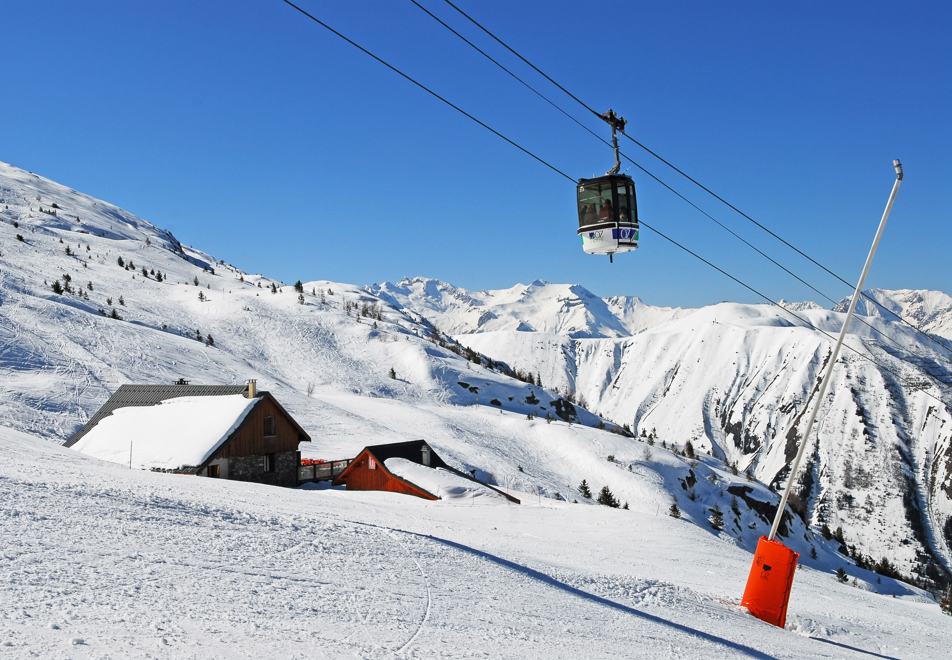 Thinking of skiing in Oz-en-Oisans? Set amidst fir trees just above the village of Oz. Easy access from Grenoble by the main road, around 45 mins driving time. Part of a huge snow-sure ski area.
Why Oz-en-Oisans Ski Resort?
It's part of a massive snow-sure ski area
It's an ideal small and friendly resort for families and those seeking a peaceful base
It's very convenient - all services are within short walking distance
Featured in The Guardian by Sam Haddad, 'A family-friendly ski resort with amazing slopes'
Oz en Oisans Information
It was one of the last resorts to be built in the Alps (1989), and although purpose-built, it has a traditional village atmosphere with attractive new chalets and apartment blocks built predominantly of wood and stone.
Located between the Belledonne and Grandes Rousses mountain ranges, Oz-en-Oisans is made up of 10 hamlets plus the resort of Oz Station itself, reaching altitudes of between 800m and 1350m. The hamlets, Oz Village, le Roberand, le Bessey, Sardonne, l'Ile d'Oz, le Boulangeard, le Pontonnier, la Beurrière, la Voûte, le Pré de l'Arche and l'Enversin are so widely scattered they make Oz one of the largest municipalities in the Oisans.
Well designed and traffic free (there is extensive underground parking), Oz-en-Oisans is safe for children and much quieter than the bustling nearby resort complex of Alpe d'Huez.
The ski school, nursery slopes, main gondola lift, bars, restaurants, sports shops, supermarket, nursery and ice rink are all within a short walking distance of each other in Oz-en-Oisans ski resort. This makes Oz-en-Oisans the ideal resort for a hassle-free family holiday.
Discover what Oz-en-Oisans has to offer at the weekly tourist office's mulled-wine welcome drink and presentation. Après-ski activities include ice skating, snowshoe excursions, a cinema, and children's tournaments (making snowmen, tobogganing etc…).
Peak Retreats offers a range of accommodation in Oz-en-Oisans. All Oz-en-Oisans apartments have been hand-picked and are of a very high standard (3 & 4*), providing the ideal base for a Oz-en-Oisan ski holiday.
OZ EN OISANS SKI AREA
Part of the massive and snow-sure Grand Domaine /Alpe d'Huez ski area, Oz en Oisans offers world-class skiing on 250km of pistes. It has two gondolas that take you onto the higher slopes in no time: one goes to Alpette above Vaujany, where there are further beginner slopes; the other continues in two stages to the heart of the Alpe d'Huez ski area.
Already equipped with one of the largest snow production plants, the area now has a second automatic unit supplying a further 75km of slopes via 923 snow cannons. It's pretty extensive and covers the main runs above Alpe d'Huez, Vaujany and Oz.
From the summit of the Pic Blanc ski area (3300m) there are superb views of the surrounding mountains across to Italy and the Massif Central.
What helps makes this area so satisfying is that fact that its extensive slopes face in so many different directions, enabling skiers to always find the best snow and conditions by simply following the sun! The Grand Domaine is made up of four sectors: three in Alpe d'Huez plus the Vaujany/Oz sector, which consists of largely north-west facing slopes.
Oz has long been the starting point for climbs of the Massif des Grandes Rousses remains at the heart of Oisans, a country of mountains.
The resort provides access to 240 km of slopes at altitudes of between 1100m and 3330m. Experts can take a series of black and red runs from the Pic Blanc at 3300m down to Vaujany village (you can catch the gondolas back up to get back to Oz).
The skiing and snowboarding in Oz is spectacular, with fantastic views all round from glaciers and forests to villages nestling in the valleys below. You can ski back home on a choice of gentle blue or red slopes.
The local Vaujany/Oz local ski area on the west side extends from Oz to Vaujany and Alpe d 'Huez on 70 km of runs from 1100m in altitude to 2800m. It's a particularly sunny part of the ski region. Thanks to the tree-lined slopes, the terrain above Oz is probably the best area for skiing when snow is actually falling.
For Alpe d'Huez, see details with our sister company Ski Collection
Additional ski fact info, main ski info in resort facts box at top of page
Vaujany/Oz only - 75km, 22 lifts, 41 slopes:
Green slopes: 12
Blue slopes: 14
Red slopes: 12
Black slopes: 3
660 snow cannons
OZ EN OISANS SKIING
OZ-EN-OISANS BEGINNERS
There are some nursery slopes at the base of the mountain and further green runs at the top of the Alpette gondola. Take the Poutran gondola (1 and 2) to Alpe d'Huez where you'll find no fewer than 20 green runs spread along the mountainside right above Alpe d'Huez. This is a pretty impressive area for beginners! There's a blue run (Les Chevreuils) down to the resort of Oz, and thanks to snowmaking it's usually no problem to ski back to the resort.
OZ-EN-OISANS INTERMEDIATES
Directly above Oz there are some enjoyable red runs - or you could try the blue runs at Vaujany's Mont Frais area just off the top of the Alpette gondola. There are plenty of intermediate runs towards Alpe d'Huez and in the Signal area. The variety of intermediate slopes is quite vast and in good snow conditions difficult to beat.
OZ-EN-OISANS EXPERTS
The Grand Domaine is also home to many black pistes as you move towards Alpe d'Huez. There are quite a few at Pic Blanc, the highest point at 3330m. Don't leave without trying the longest black run in the Alps – the Sarenne over on the other side of Alpe d'Huez. It's a whopping 16km in length. You can ski this run by moonlight with a guide for around €65!
For what is one of the biggest vertical drops in the world, you can ski all the way from the Pic Blanc to Oz (2205m) without taking a single lift - a dream for the most demanding skiers.
First check out the panorama from Pic Blanc at 3330m, where it's said you can see a one fifth of France. Then gather your courage for the legendary Tunnel black run before skiing between the rocky outcrops of the Les Rousses red run.  Glide across the Alpette plateau and the gentle Chalets blue run before dropping onto the black La Fare run and its forested descent all the way down to L'Enversin d'Oz at 1125m.
OZ-EN-OISANS OFF-PISTE
Off-piste enthusiasts have an immense choice too, including a run with a vertical drop of 2600 metres.
Oz en Oisans Ski Hire
Pre-book your Oz en Oisans ski hire with Peak Retreats.

To download the ski extras form, see 'Helpful links' further down the page.
Please note, these Pound Sterling prices are for indication only. They will fluctuate based on Euro/£ exchange rate. Please call us for the latest prices.
Special offers: *7 days for the price of 6.  Free Skis/snowboard & boots (Blue/Red) for party leaders of groups of 10 or more all taking equipment. 1 Free helmet per child aged 6 and under for every adult booking skis or snowboards & boots (must be under same booking reference and requested on form above). Other duration prices on request - Cross Country ski prices on request.
Find out more about Peak Retreats ski hire
---
Oz en Oisans Ski Passes
Pre-book your Oz en Oisans lift passes with Peak Retreats. Find out more about Peak Retreats ski passes

To download the ski extras form, see 'Helpful links' further down the page.
Please note, these Pound Sterling prices are for indication only. They will fluctuate based on Euro/£ exchange rate. Please call us for the latest prices.
FAMILY OFFER:
Applies to a minimum of 4 people (2 adults + at least 2 children under 23yrs) when proof of direct family affiliation and co-residence can be provided. Must be booked at least 2 weeks prior to departure.
Other lift pass on offer (to buy locally in resort in Euros):
Grand Domaine – ½ day and daily rates 17/18:
½ day - €44.50 adults
Day - €43.00 children, €52.50 adults
Oz/Vaujany – ½ day and daily rates 17/18:
3 hours - €22.50 children, €29.50 adults
Day - €27 children, €35 adults
Oz en Oisans Ski School
Pre-book your Oz en Oisans ESF ski school with Peak Retreats. Find out more about Peak Retreats ski school
Ski school for children is available to book from 4 years to 13 years in Oz en Oisans with Peak Retreats. Children can learn to snowboard from 8 years+.
For ski school times and prices, please download the ski extras form from the 'Helpful links' further down the page. Please note these are just guiding prices. Please call us for the latest prices.
Please note that lesson times are subject to change right until the last minute - you will be advised. Outside French school holidays the ski school reserves the right to cancel group lessons should numbers be insufficient.  For peak periods - Christmas, New Year, February half-term and Easter - we strongly recommend that you book as early as possible and in any case at least 6 weeks prior to the required dates. Morning lessons tend to get booked up first and therefore we may only be able to offer afternoon classes within 6 weeks of departure. In some resorts English speaking instructors may not always be available, particularly at peak times.
We cannot always guarantee that prices will be cheaper than in resort. When ski packs prices are calculated, the currency is bought at the exchange rates that apply at the time. You can be assured that once you have booked your extras, if the pound depreciates, you will not be charged more for your ski packs, enabling you to budget for your holiday in advance.
Oz-en-Oisans Individual Tuitions 

(18/19 prices, NOT pre-bookable)

Individual tuitions can only be purchased directly from the ski school. Peak Retreats cannot pre-book these.

Around €42 - 56 per hour for 1-2 people.

Please note that prices are only an indication and are subject to change.

Ski school Oz en Oisans contact numbers for private lessons:

ESF Oz en Oisans +33 (0)4 76 80 74 93
---
Oz en Oisans Child Care
Oz en Oisans Garderie – 0033 476 80 75 06 or garderie@oz-en-oisans.com
Ski in total peace of mind while your children are having fun at the Daycare centre of Oz en Oisans. Numerous early-learning activities and games are props by the qualified personnel.
For children from 6 months to under 6 years, on a half-day basis (from 9am to 12.30pm and from 1.30pm to 5pm) or on a full day basis.
Meals, provided by the parents, can be taken on site.
Open 7/7 days from Sunday to Saturday.
Tariffs (rough guide):  
Half day: 17 €
Full day: 34 € 
6 consecutive half days: 149 € - 167 €
6 consecutive full days: 197 € - 217 € 
Opening: From 12/12/15 to 22/04/16: open daily from 9 AM to 5 PM. The number of places: 20. 
How to Apply – you will need to call the number above and book directly. 
PMI approved, the Daycare is a collective structure and thus DT Polio vaccination is mandatory. The health record or immunization card to date are now required at registration. For foreigners, a medical certificate indicating the absence of symptoms of tuberculosis is required, and the vaccination card.
Top winter activities to experience in Oz en Oisans!
Please note Peak Retreats do not book any activities and most activities are payable.
Snowsport activities:
Cross country skiing
"Boucle des Lacs" winter trail:
Enjoy cross-country skiing on this track, starting from Oz Station.
"Boucle de Poutran" winter trail:
Enjoy cross-country skiing on the Poutran track.
Winter mountaineering with Bureau des Guides
Destination: the high mountain! Let yourself be guided by a professional to discover the peaks of Oisans.
3 classic climbs to discover during 1day, on the territory of Oisans:
- Le Râteau Ouest (3769m)
- Pic de La Grave (3667m)
- Le Pic Bayle (3465m)
And 2 more serious climbs of the Ecrins massif:
- La Goulotte Fantomas
- La Goulotte Allera-Pelatan
Tariffs - outings by the day or half day. Rates upon request from the Bureau des Guides.
Ice climbing introduction
Discover the ephemeral world of ice in the Grandes Rousses mountain range with the mountain guides. From Oz en Oisans, thanks to Poutran cable car, you can enjoy climbing the ice falls situated at less than a 20-minute walk.
Beautiful ice sculptures adapted to a discovery of ice climbing. No prerequisites.
Snowshoeing
Alain Hilion organises snow-shoes hikes according to your wishes and your level to discover the Grandes Rousses massif. Ask for his programme at the Tourist Office.
"L'Alpette" winter trail
A walk offering a 100% change of scenery, just a few minutes away from Oz! Accessible to all, this track is signposted and entirely secured. All along the circuit, enjoy the stunning panorama over Belledonne and Grandes Rousses mountain ranges.
The starting point of the hike is easily accessible from Oz en Oisans resort by taking the Poutran or the Alpette cable car. In just a few minutes, you find yourself at 2000 m of altitude, on the magnificent Lakes Plateau. Parallel to the cross-country track and close to the ski slopes, the Alpette walk allows you to join your friends, skiers or snowboarders.
Ski touring with the Mountain Guides
The Guides Office offers you ski touring trips of all levels. From the initiation, passing through the most prestigious raids, explore the high mountains universe by ski and sealskins, either for a day or for several days with night(s) in shelter(s).
Led by a professional, discover the Grandes Rousses mountain range in a different way!
Introduction to ski touring, 1/2 day:
- A ski run or an off pist to warm up
- An easy ascent
- A real summit as a goal
- A freeride descent to finish the best way!
Ski touring in the Grandes Rousses mountain range:
- Initiation at Grandes Buffles
- The famous Traversée Intégrale des Rousses in the day
- Pic de l'Etendard...
Dog sledging
Lovers of nature and animals? Share a wonderful moment with Barbara, Erwin and their huskies at a dog sledge baptism. Learn with them the specificities of these dogs full of energy, and the art of driving a sledge! Discover the world of dog sledging in the beautiful forests of the resort, accompanied by a qualified musher. During the winter, enjoy a wonderful family adventure with Siberian Huskies. A 35-minute ride awaits you from the resort. Reservation required.
Alternative sliding
Discover new fun ways to slide on snow. Every week, the resort provides you with various alternative sliding devices free of charge. Airboard, Yonner, Snow skate, Dual, Trikke Skki, Evo snow... everything you need to have fun! Accessible to all ages.
Come and enjoy new thrills and chills! Free of charge
Other activities:
Board games
Board games borrow, for kids and adults. Free of charge. From the tourist office.
Les Cristaux Swimming pool
Indoor swimming pool, heated to 28°C, open to all. Spa area with bubbling baths and jet stream. Terrace/solarium. The sauna and hammam will relax and invigorate you (age: over 16).
Large glassed-wall with a view over the mountains. Solarium terrace. Aquagym courses every week.
Zen evening on Tuesdays (8.30pm-10pm): access to the sauna and hammam, relaxing music and herbal tea
Pool Party evening on Thursday (21h-23h): swimming in music, the cocktail of the day included in the entry price
Facilities and services open to everyone. Swimming short forbidden
Ski repairs workshop
Discover how skis are being repaired! Jérôme welcomes you to his workshop in La Cabane à skis and explains the steps to maintain your skis. Free of charge. On registration, limited places
Please note: All the above information is for information only. For the most up-to-date information please visit the resort tourist office website. All prices for activities are in local currency (€ Euros) and are bookable and payable locally in resort.
Oz en Oisans Tourist Office
Office de Tourisme 38114 Oz-en-Oisans
Tel +33 476 80 78 01
www.oz-en-oisans.com
Oz en Oisans/Alpe d'Huez News and Events 2018/19
Alpe d'Huez, over the next few years, is investing 350 million Euros into upgrading the ski resort and ski area. The main flagship project to be undertaken is number 1 below:
The flagship project will be to build a gondola link between 

Alpe d'Huez

 

and  Les 2 Alpes

,

 which will create one of the largest linked ski areas in the world (475km). It will be larger, currently, than Tignes-Val d'Isere and Paradiski. Work should be starting in 2019, for a completion date of 2012, and will cost 60 million Euros. The cable car that will cross the valley is planned to take 18 minutes. Starting at 2200m in the area Signal de l'Homme, the cable car will cross the valley passing over Freney-d'Oisans to Mont-de-Lans in Les 2 Alpes

200 million euros will be spent on expanding the accommodation choice including 5* hotels and 4/5* apartments

Roads will become pedestrianised with new underground parking

100 million Euros will be invested in existing lifts to make them faster and increase capacity
Further details can be found on the tourist office website: www.oz-en-oisans.com
Aprés-ski, Restaurants & Bars
7 restaurants and 5 more on the slopes, a couple of bars. Other restaurants and bars in the surrounding hamlets (3). More lively après ski at Alpe d'Huez.
You will find the restaurants in Oz en Oisans are usually cheaper than in Alpe d'Huez. 
Restaurants in Oz en Oisans
Ello Restaurant-Crêperie-Pizzeria
Ello Restaurant-Crêperie-Pizzeria proposes a wide selection of pizzas and pancakes, as well as mountain specialties. 
Open daily.
Booking: 0033 4 76 79 88 05
La Ferme d'Oz Restaurant
Located at the foot of the ski slopes, accessible on skis or on foot, the two large Southwest terraces of La Ferla d'Oz Restaurant are ideal for relaxing at lunchtime or in the evening.
Booking: 0033 4 76 11 05 49

Le Poutran Restaurant  
Le Poutran restaurant offers a wide selection of pizzas, onsite or to take away. Enjoy typical mountain dishes in a family atmosphere.
Booking: 0033 4 76 80 78 03
La Causerie Snack-Bar-Restaurant
Located in the heart of the pedestrian centre of the resort, Restaurant La Causerie welcomes you in a warm and family atmosphere. Fast food, regional specialties, takeaways.
Open daily from 8am to 10.30pm.
Booking: 0033 4 76 79 87 86
Le Hors Piste Restaurant
Le Hors Piste Restaurant, furnished in a rustic style, offers a wide variety of regional, French and international specialties including tasty vegetarian dishes. Enjoy the culinary delights prepared by our chef and his team, in a warm and cosy atmosphere.
Open daily from 6.30pm onwards.
Booking: 0033 4 76 79 42 40 
La Potée Oz Restaurant
How about a tasty hot chocolate, or a typical mountain meal after a day of skiing? Check out La Potée Oz restaurant.
Open daily.
Booking: 0033 4 76 11 09 24
Oz en Oisans Altitude restaurants 
Le Perce Neige Restaurant
After a beautiful descent in the Combe de Poutran, sit around the fireplace or on the sheltered terrace to try out our regional specialities.
Open daily from 9am to 4.30pm.
Booking: 0033 4 76 80 69 67
Auberge de l'Alpette
Family restaurant. Fast food at any time, traditional cuisine, specialities of the Oisans region. A stunning view and warm atmosphere.
Booking: 0033 4 76 80 70 00
La Grange Restaurant
Mountain chalet, warm and family atmosphere, home-made dishes, pizzas and desserts. Access by ski or by the Alpette cable car or Vaujany gondola, as well as on foot from Alpe d'Huez, by the lakes circuit.
Open daily from 9am to 4.30pm.
Booking: 0033 4 76 11 03 66
La P'Oz Chez Passoud Restaurant
At the junction of the Alpette slopes, you'll find a winter snack bar and traditional restaurant during the summer. Enjoy panoramic views looking over the cross country ski run circuit and pedestrian trails.
Open daily from 10am to 3.30pm.
Booking: 0033 4 76 80 78 96
Restaurant Le Chalet d'Oz  
On the Olmet run, on the line 2100-Oz resort, a little restaurant in a mountain tradition, facing the superb Belledonne mountain. Warm welcome, specialities to be discovered in a quiet setting along the edge of the ski runs.
Open daily from 9am to 5pm.
Booking: 0033 4 76 80 33 04
Folie Douce Alpe d'Huez (alongside Val d'Isere, Val Thorens and Meribel). La Folie Douce concept was created over 30 years ago by Luc Reversade and has become synonymous with apres ski across the French Alps. Each venue has a restaurant  - La Fruitiere - which serves up great food but La Folie Douce is best known for putting on a massive party on the mountain. The new Folie Douce will open at the top of the Marmottes lift in Alpe d'Huez. www.lafoliedouce.com/
Oz en Oisans Amenities
Oz en Oisans is served by a range of amenities including: general food store, bakers, newsagents/tobacconist, cashpoint (ATM 24hr/24hr), web access with French phone cards. Laundry available in resort open 7/7.
10km at Allemont there is a pharmacy & doctor. In Bourg d'Oisans 20km away there is a dentist and veterinary clinic.
Wireless broadband access in the heart of the resort.
Getting to Oz-en-Oisans, France
By Road: 
Distance from Calais to Oz en Oisans 566 miles (8hrs) A26 Reims, Dijon then A6 Maçon, Lyon then A432/A48 Grenoble, then take the D5/N91 in the direction of Les Deux Alpes then turn onto the D44 following signs for Oz.
By Rail:
Nearest station Grenoble (55k) +33 892 35 35 39. Direct link from Grenoble bus station to resort Saturdays only. Daily coach service from Grenoble bus station to Rochetaillée, then free shuttle bus to resort.
Airports:
Grenoble Saint-Georis is 95km from Oz en Oisans (1 hour)
Regular bus service from Grenoble Saint-Georgis and Grenoble bus station – Autocaars Monnet +33 476 93 40 00
www.grenoble-airport.com
Chambery is 116km from Oz (1 ½ hours)
www.chambery-airport.com
Lyon Saint Exupéry is 145km from Oz en Oisans (2 hours)
www.lyonaeroports.com
Geneva Airport is 195km from Oz en Oisans (2 ¼ hours)
www.gva.ch
Turin Airport is 198km from Oz (2 ½ hours)
www.aeroportoditorino.it
Grenoble bus station 50 meters from the railway station and arrival station of the buses from the airports of Grenoble and Isere Lyon St Exupéry.
Direct Bus
Every Saturday during the winter season, direct buses serve Oz Oz and Village Resort
(Line # 3080) - Transisère: Tel: 0 820 08 38 38 
www.transisere.fr
Bus with correspondence:
Daily liaison with coaches between Grenoble and Allemont or Rochetaillée (10 km from Oz Station)
(line 3000). Then free shuttle to Oz Station.
Information line 3000
Transisère: Tel: 0 820 08 38 38 
www.transisere.fr
Oz en Oisans Airport Transfer
For pre-bookable private transfer rates with Peak Retreats, view here. 
---
Oz en Oisans Opening

Dates
Oz en Oisans ski area is open: 14/12/19 – 24/04/20.