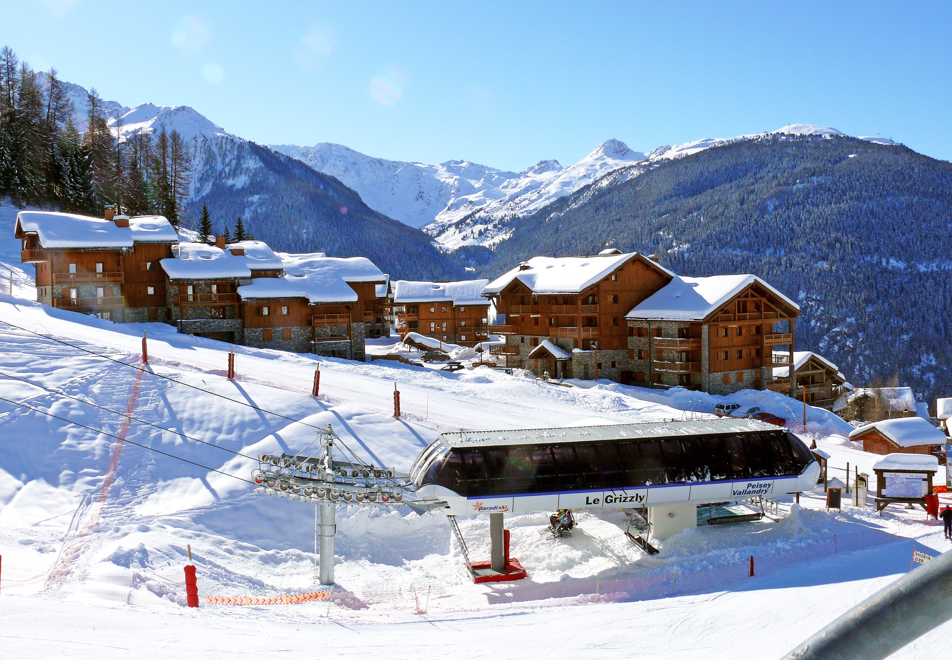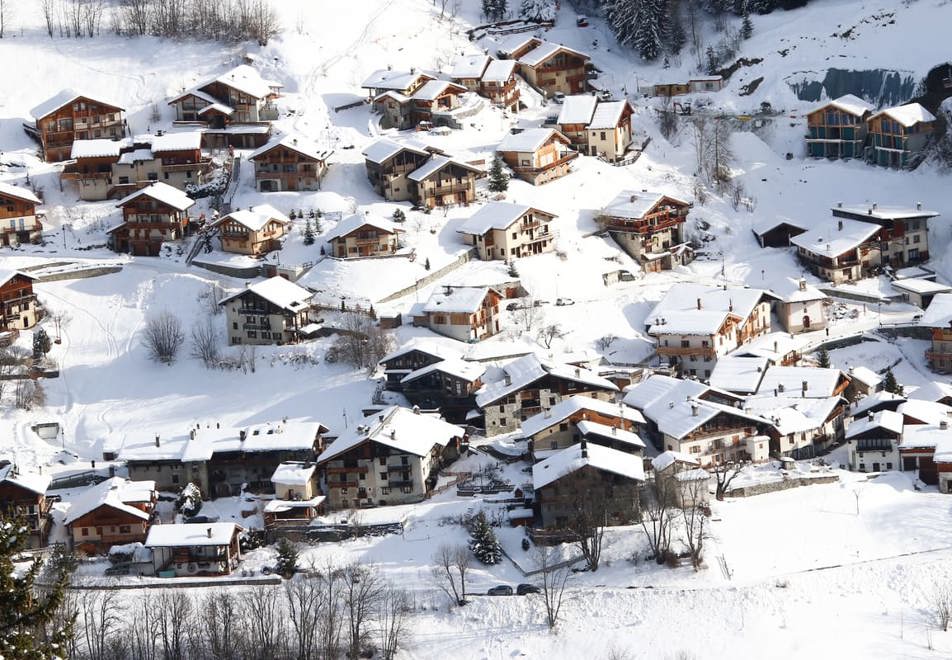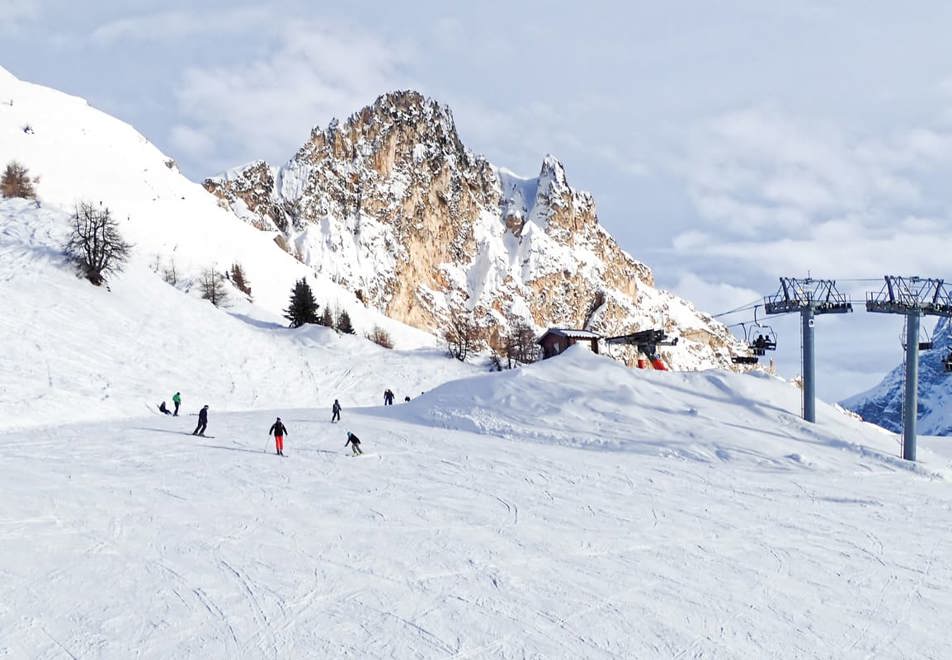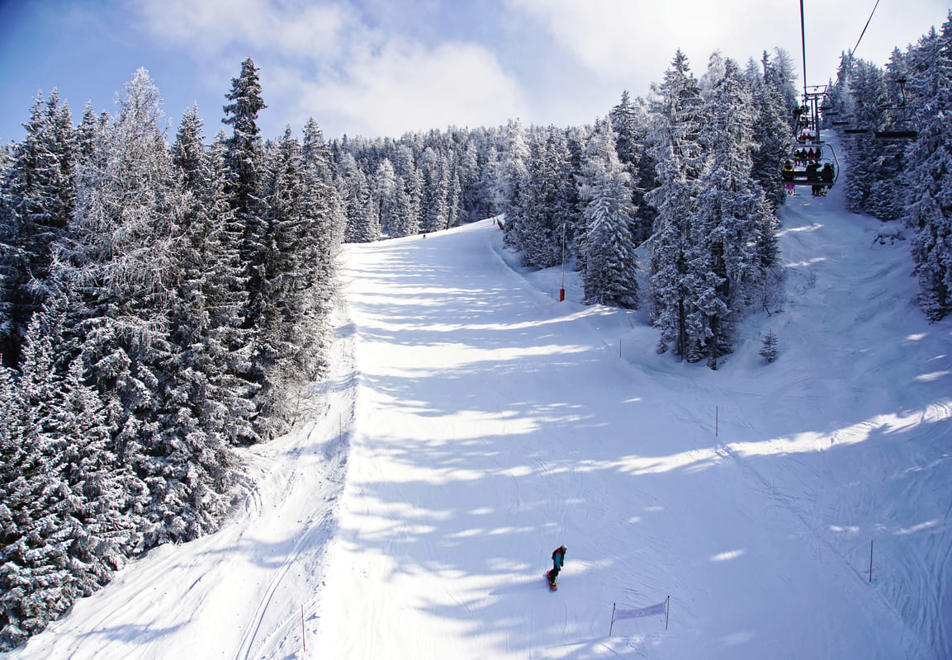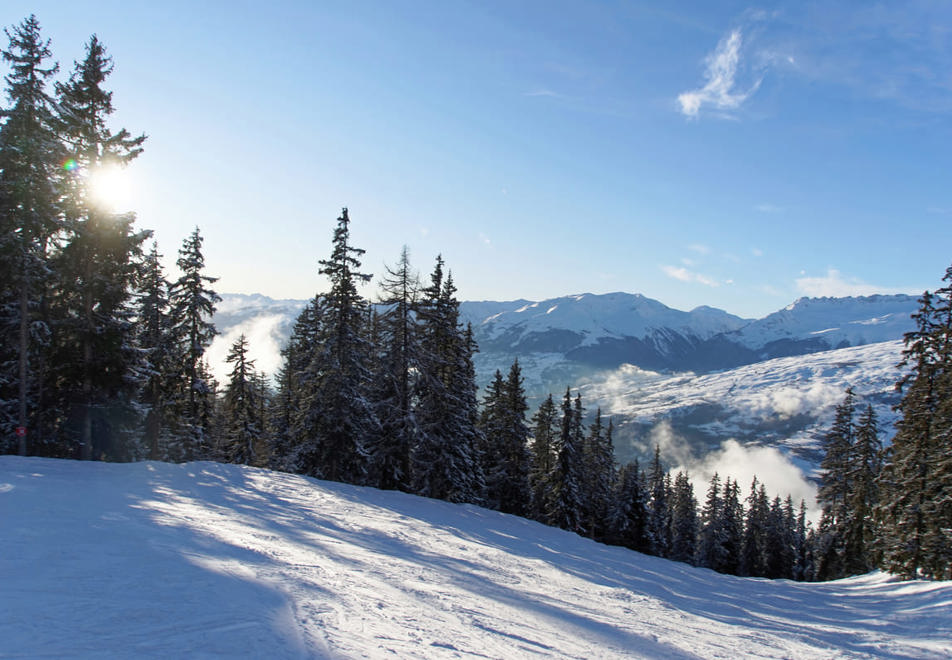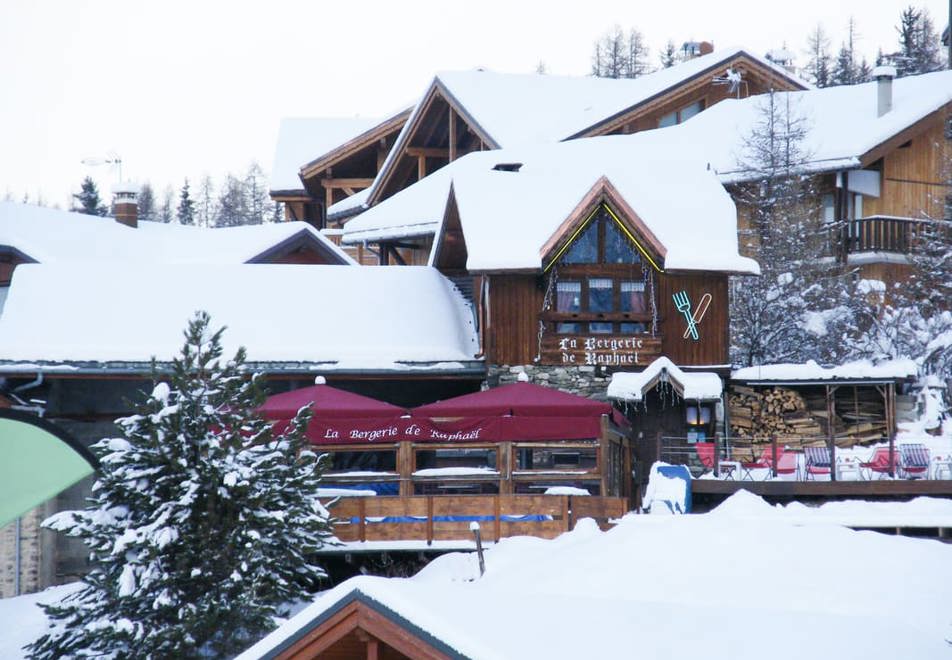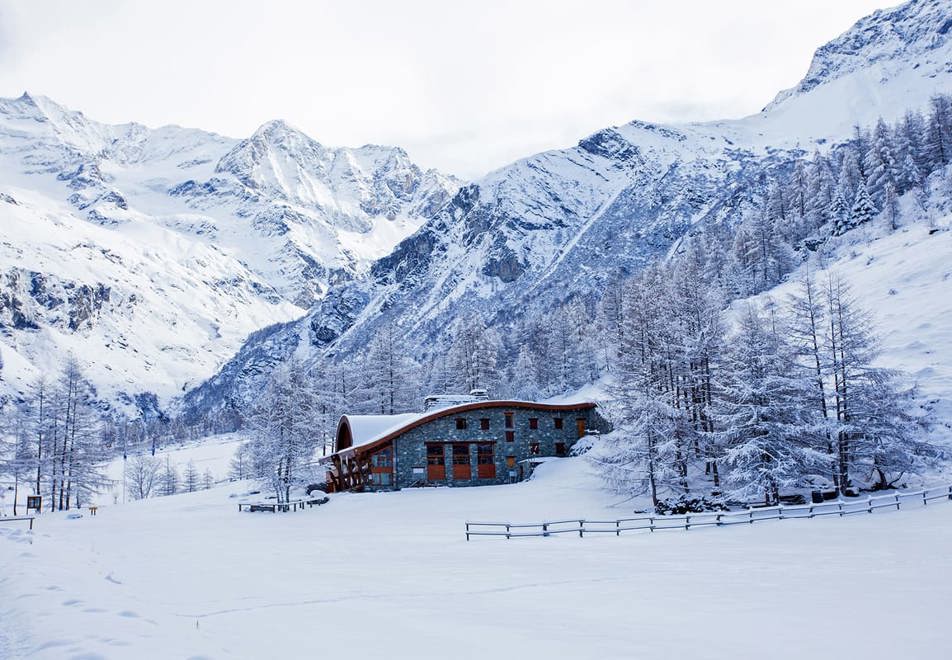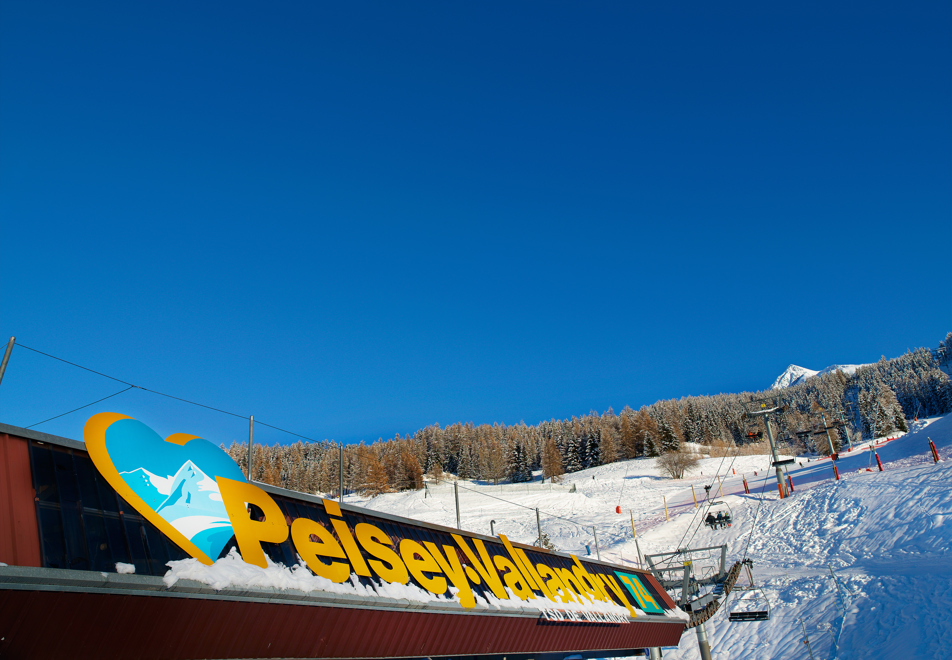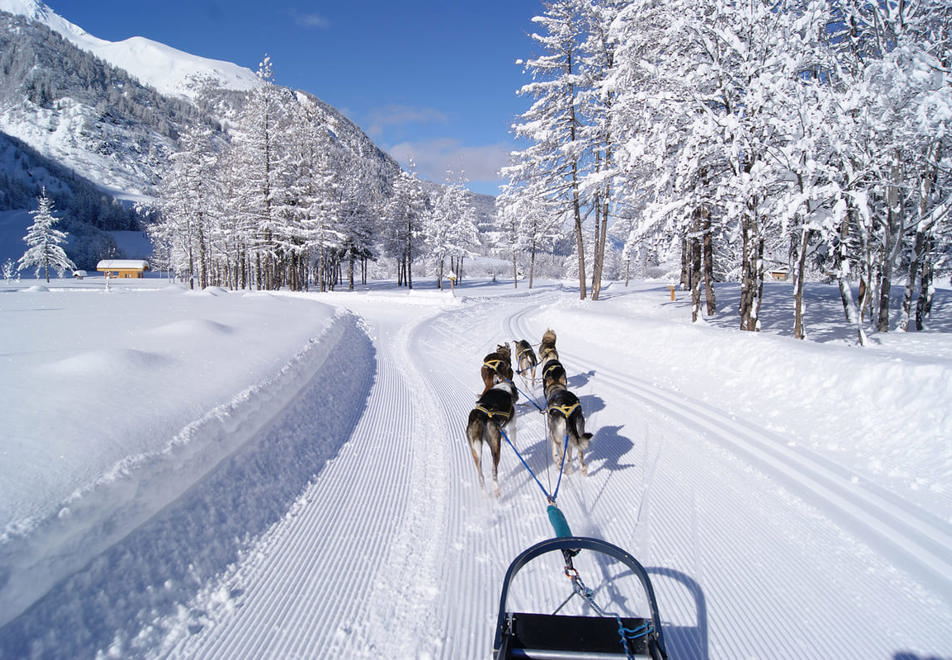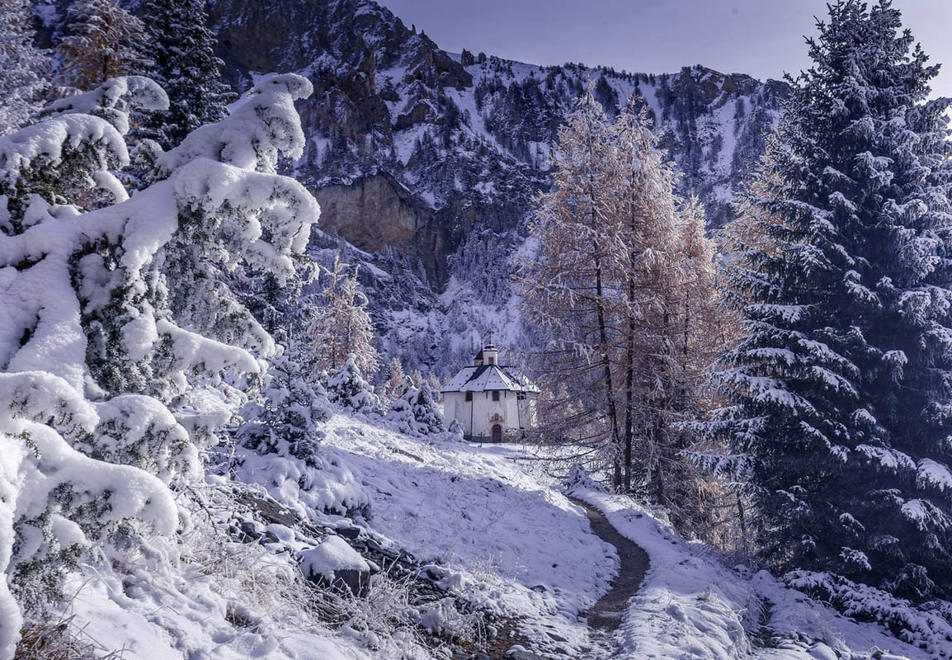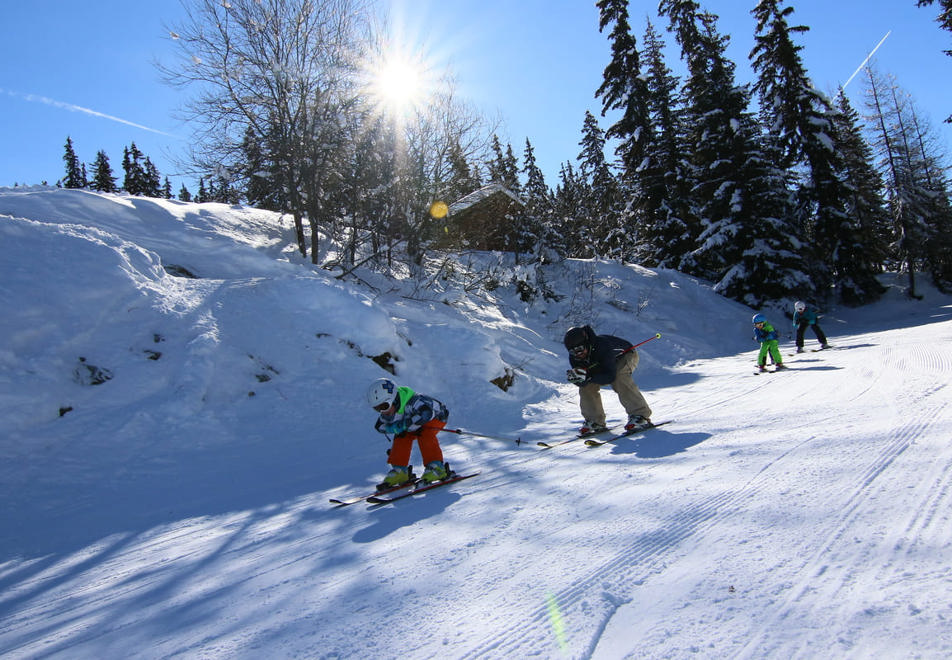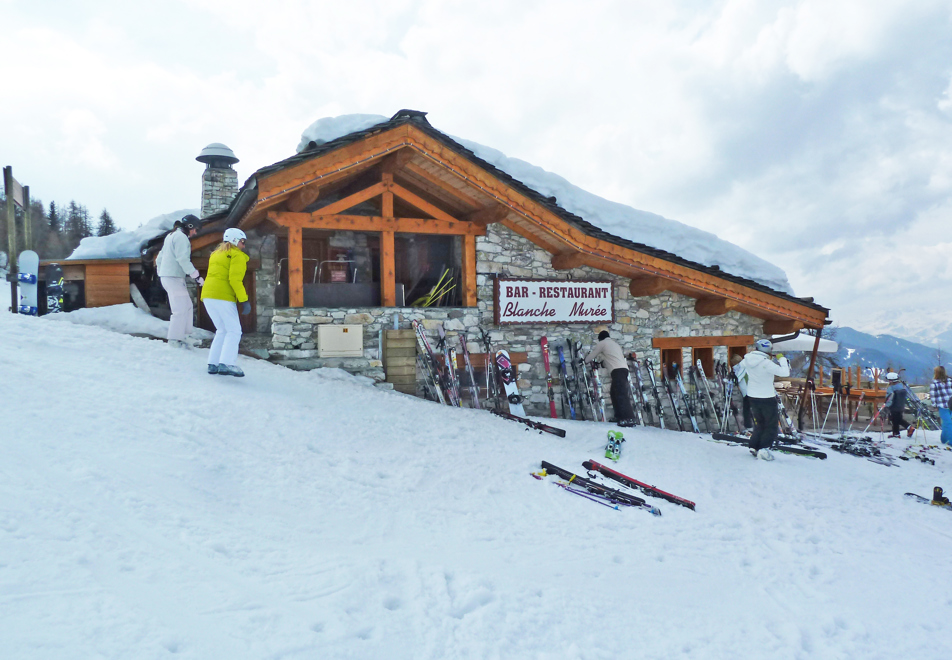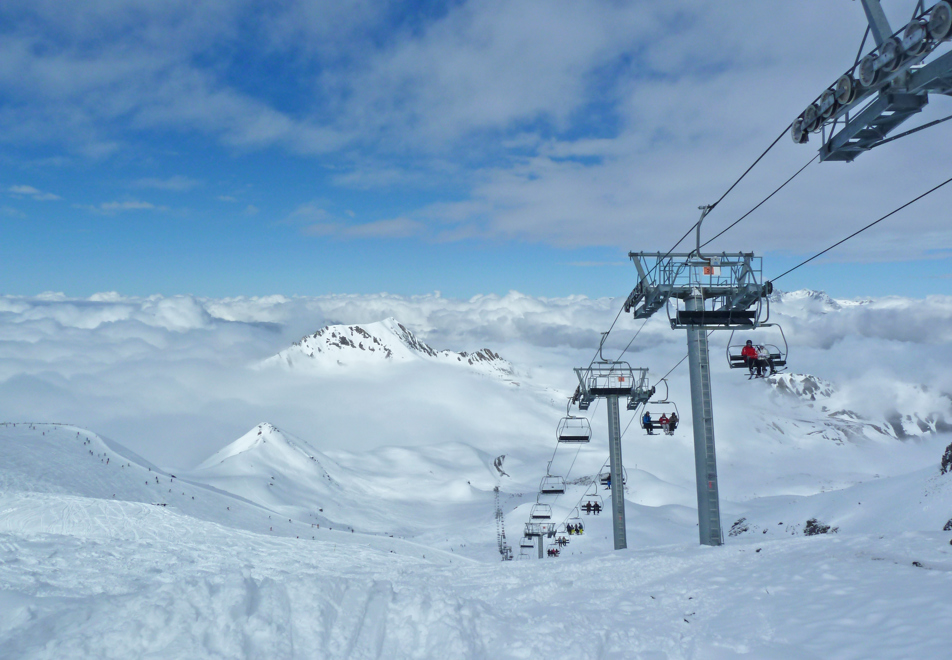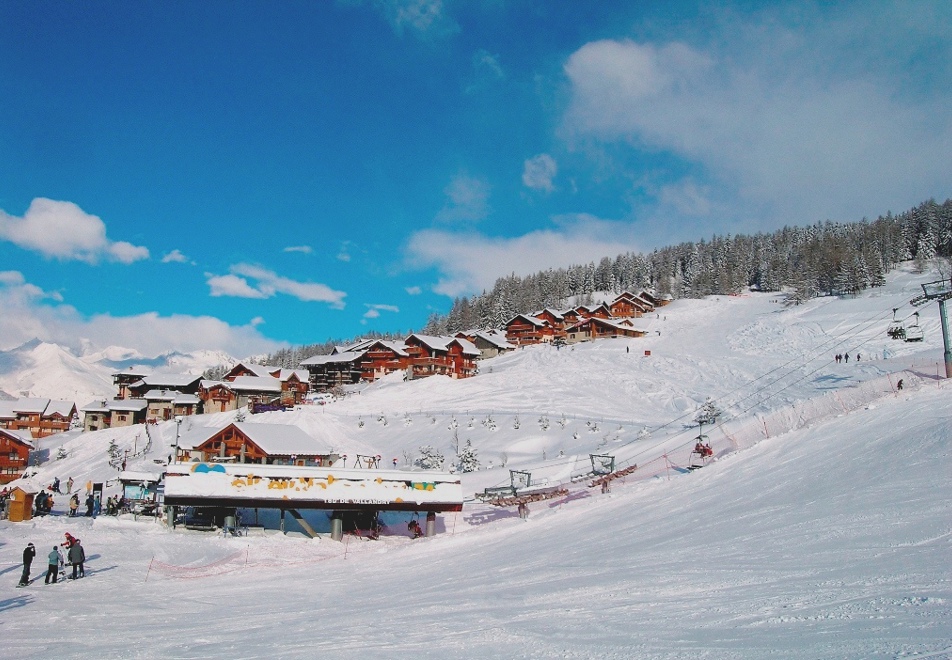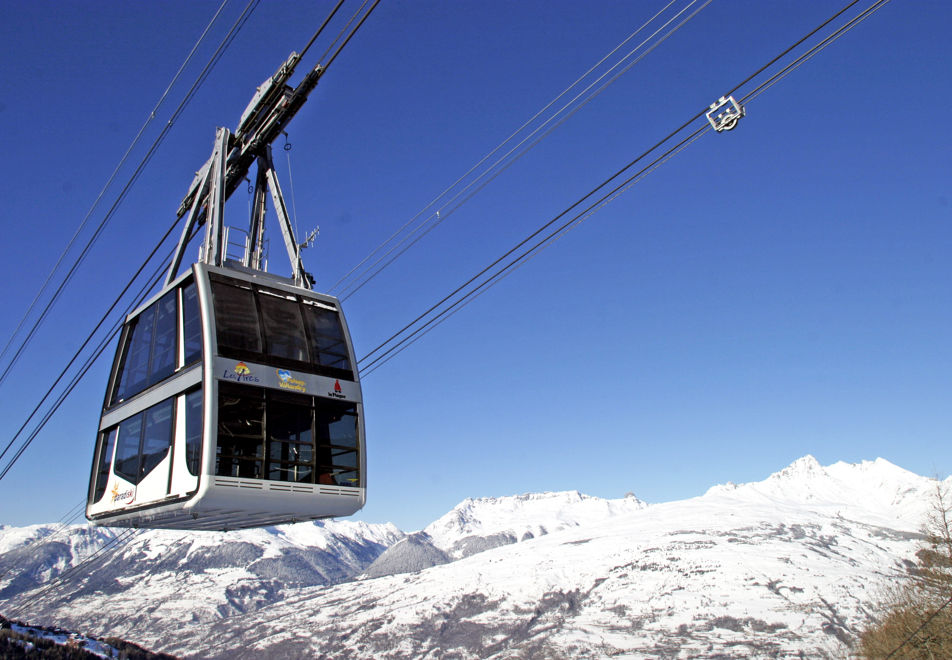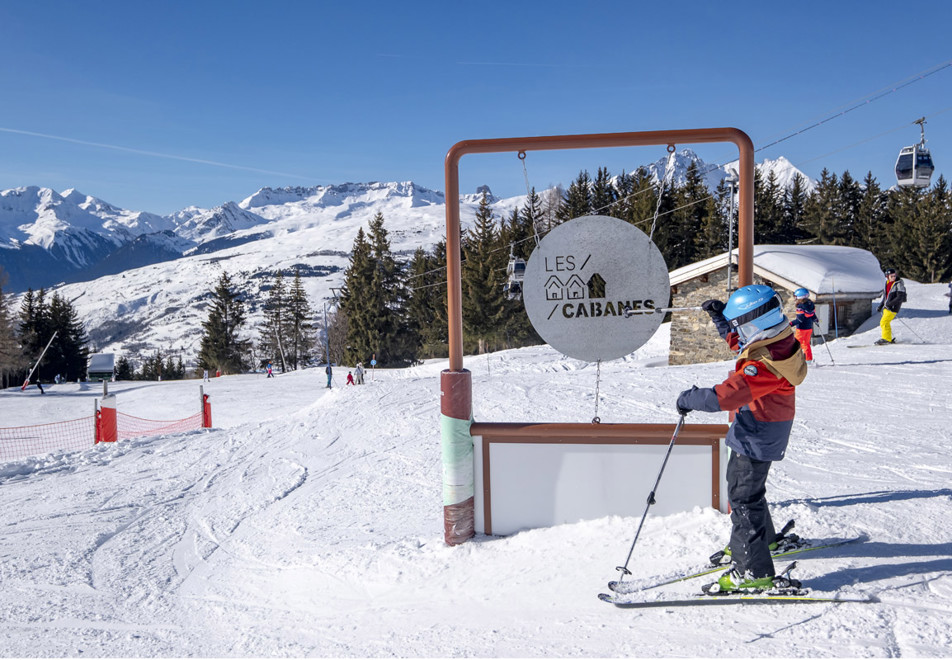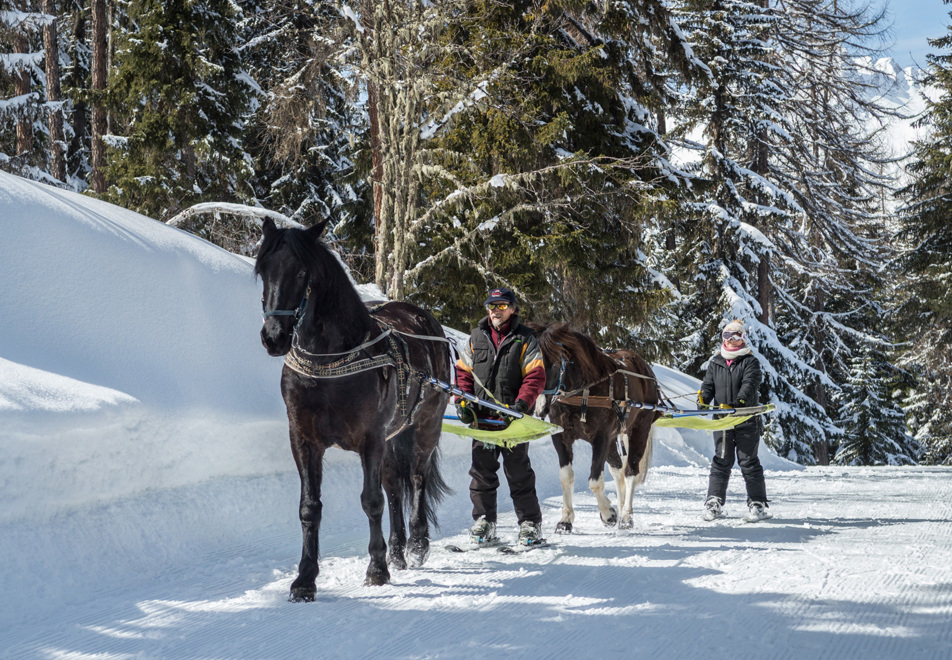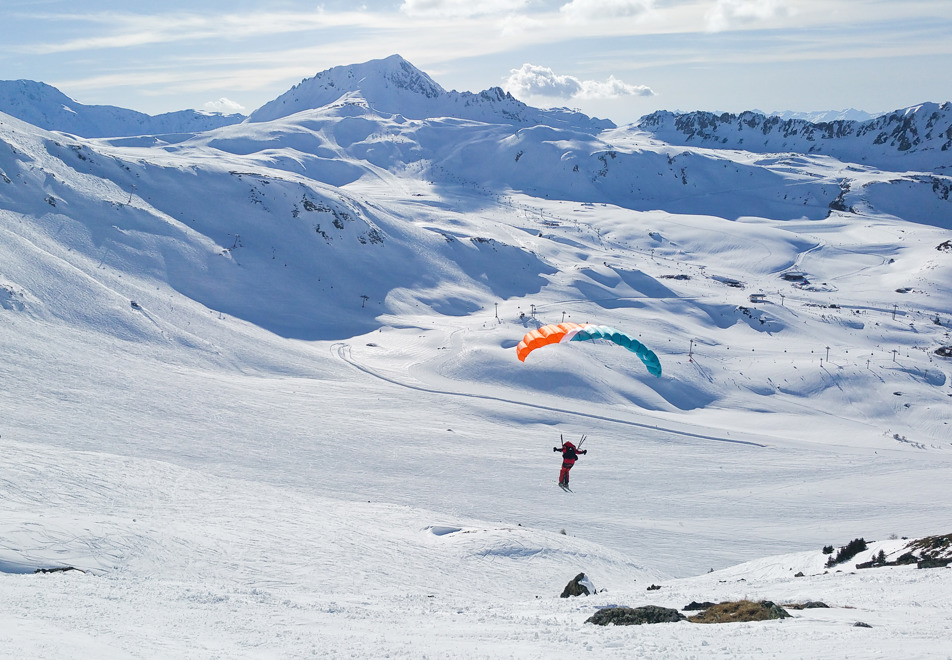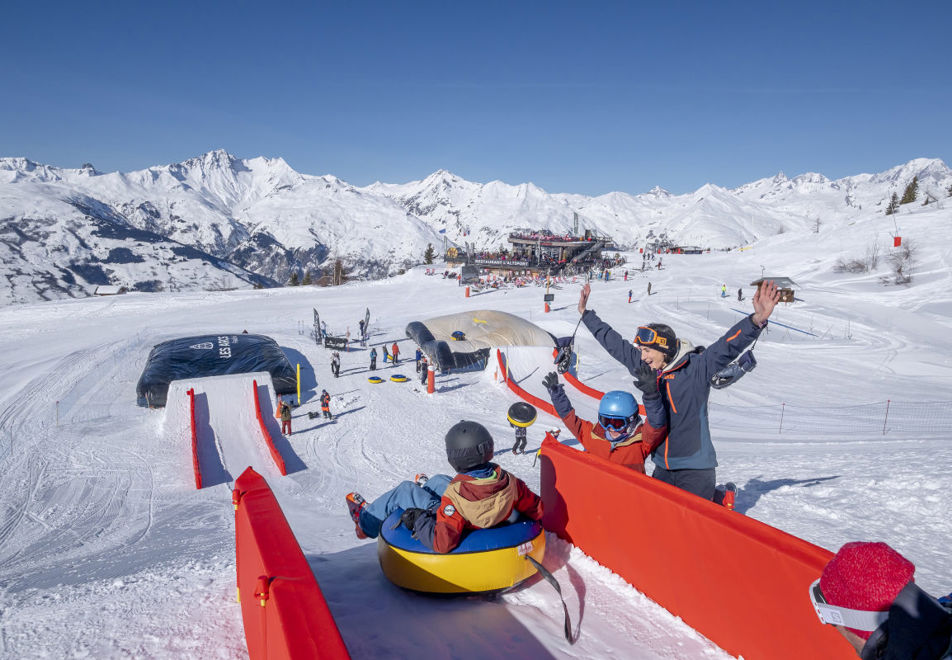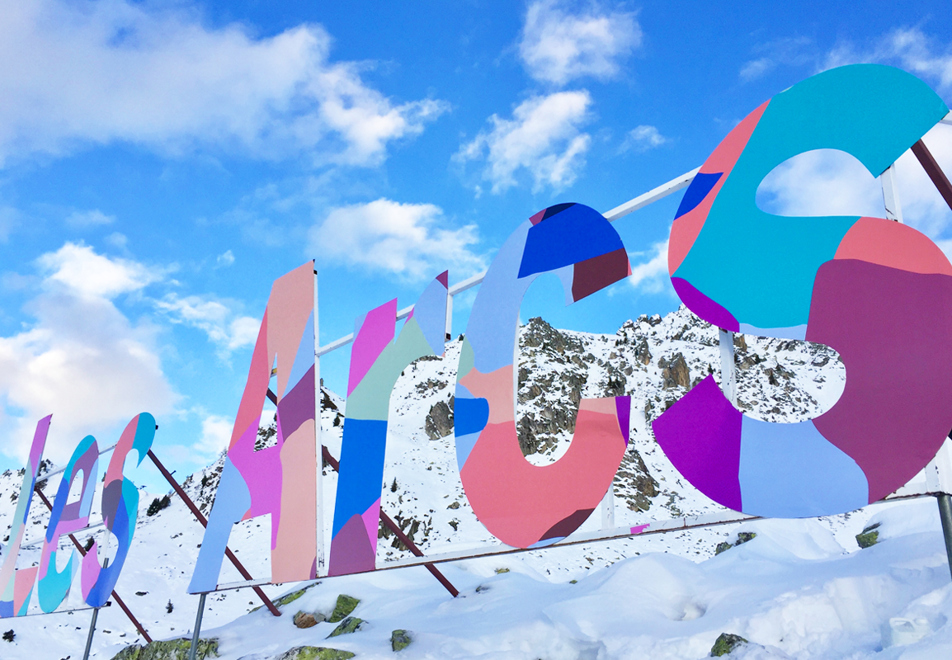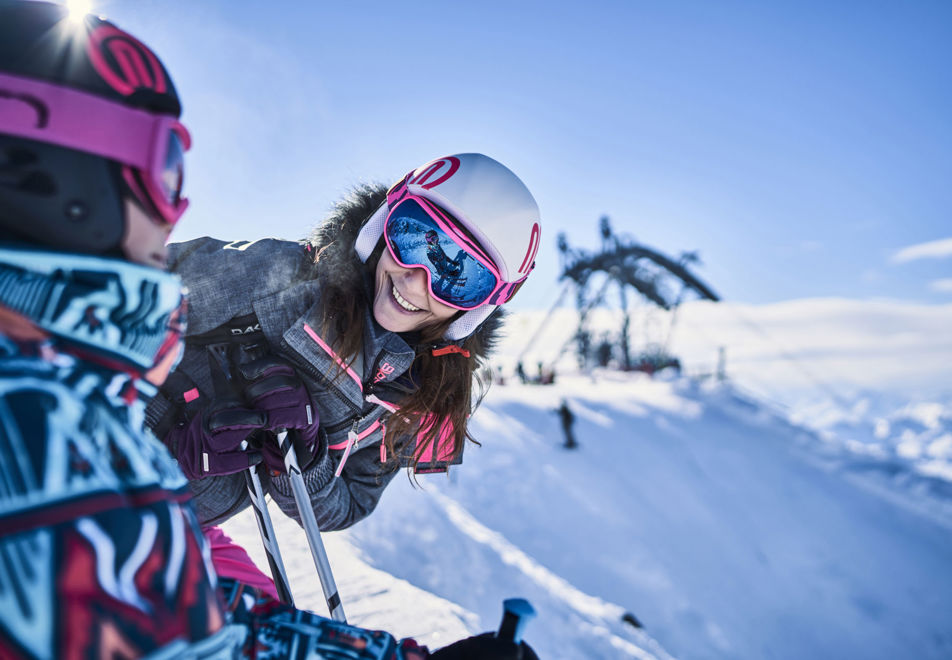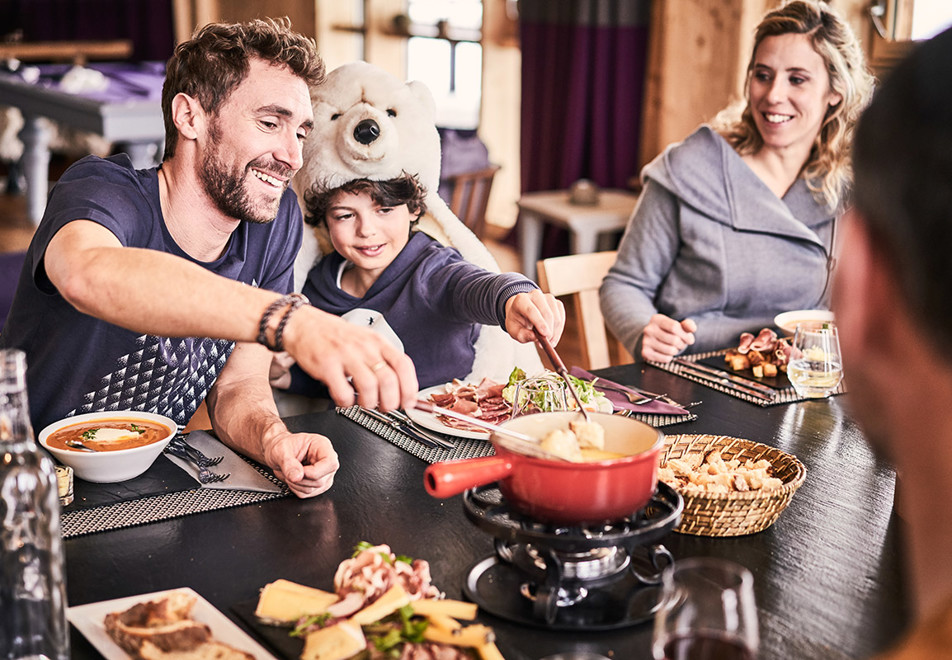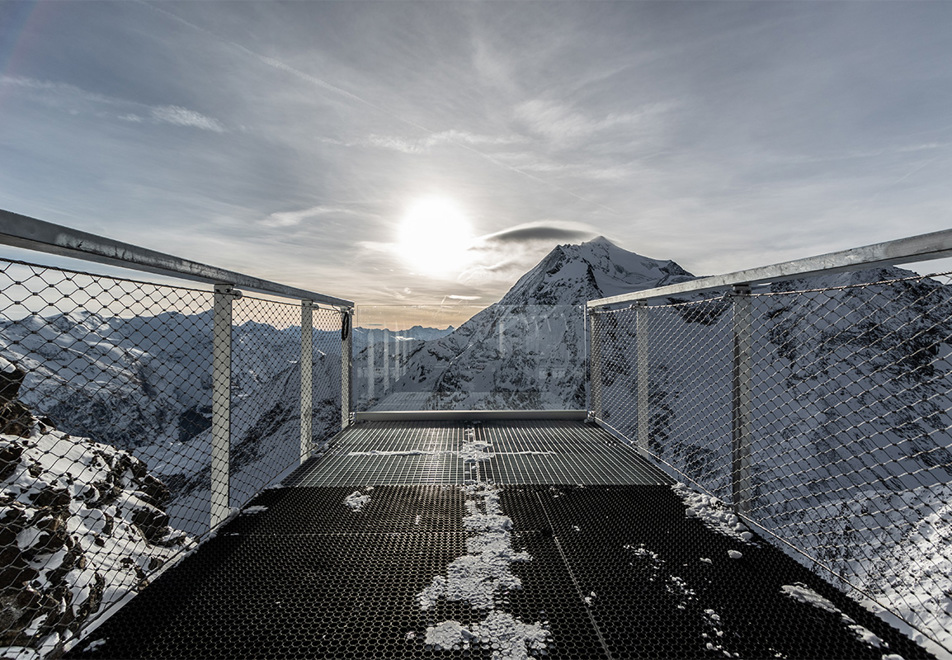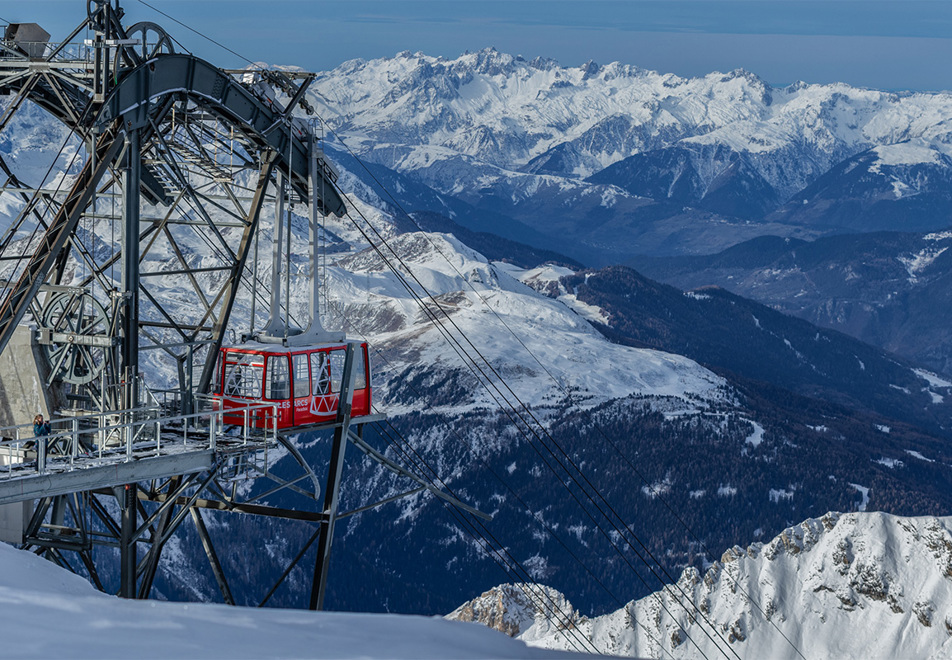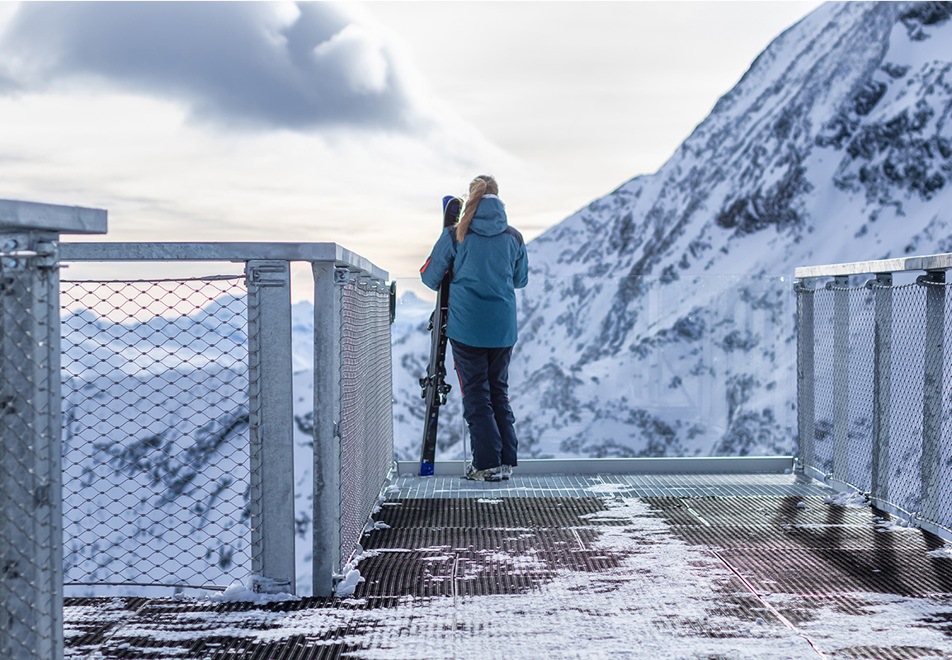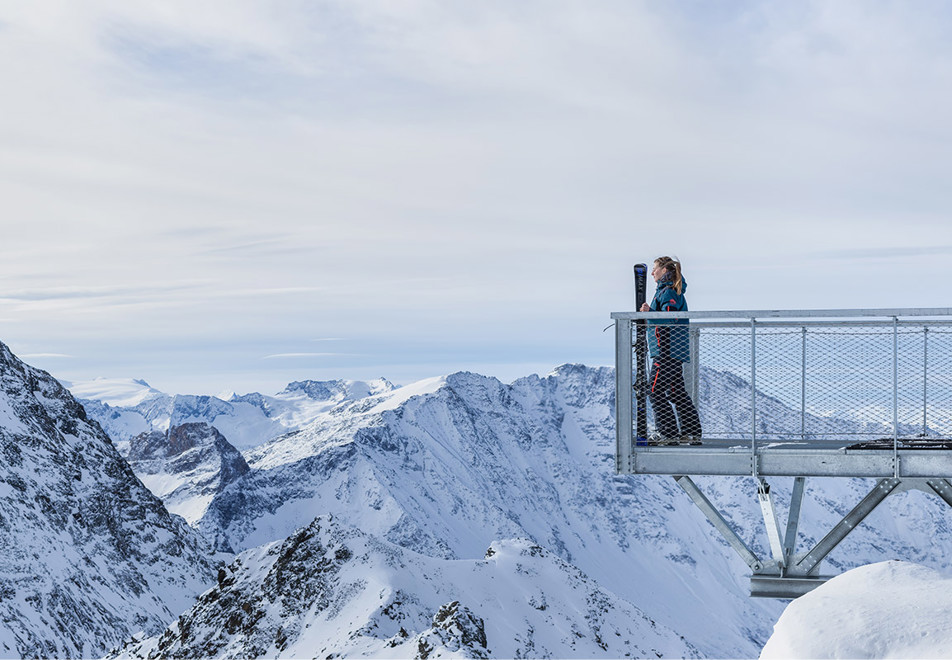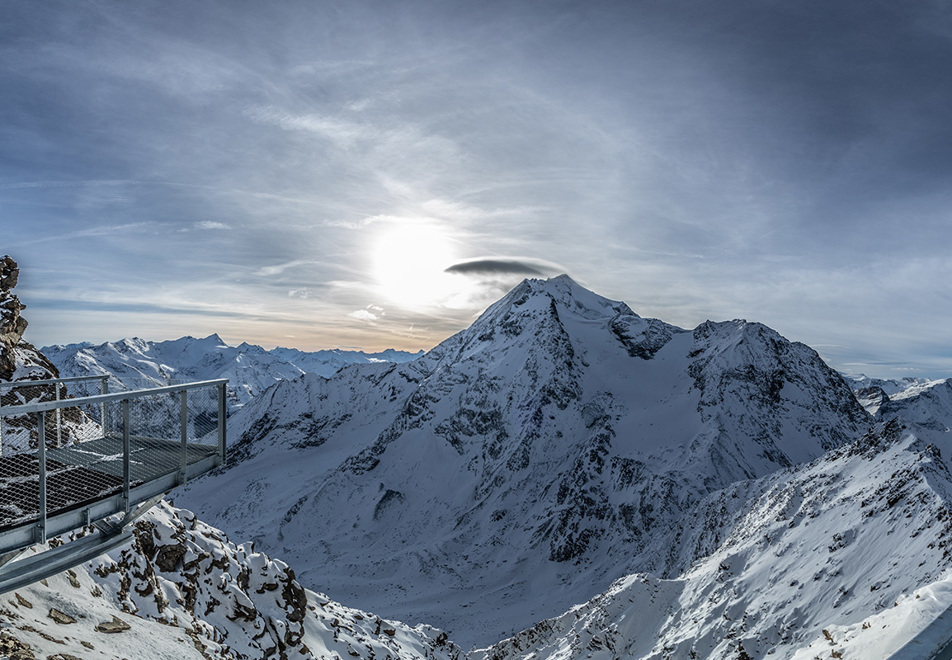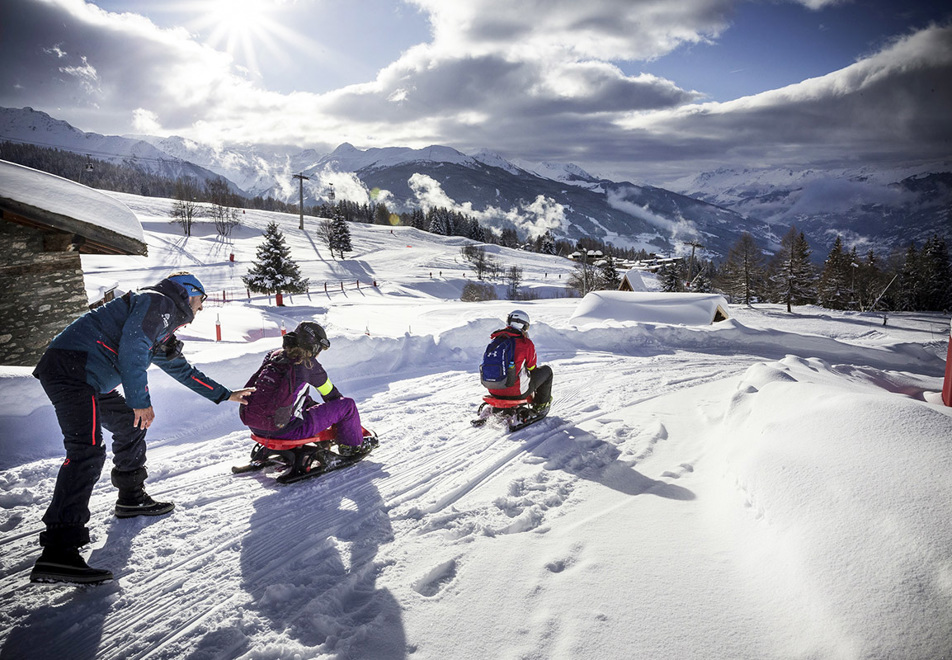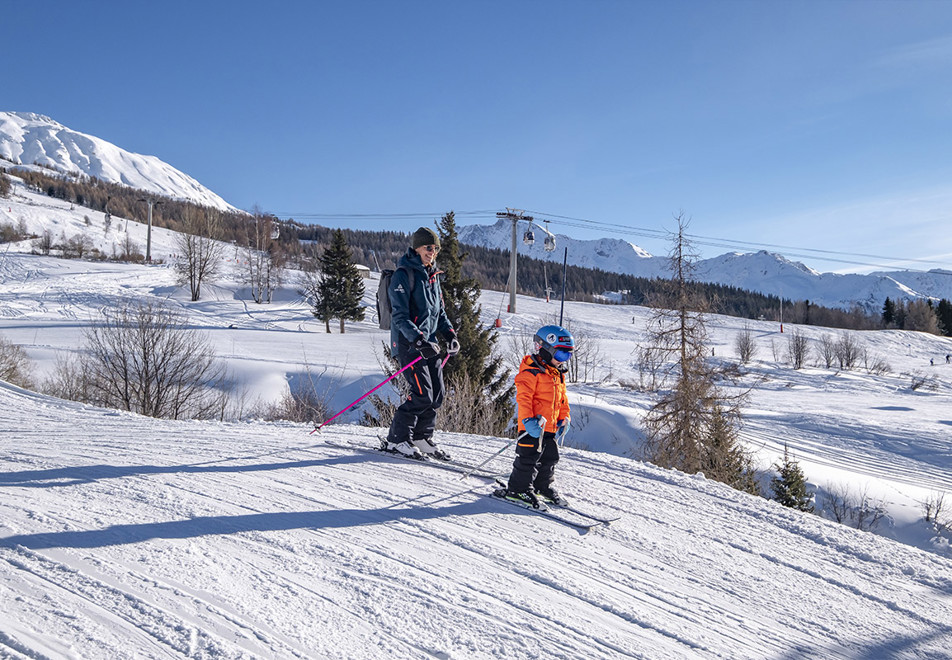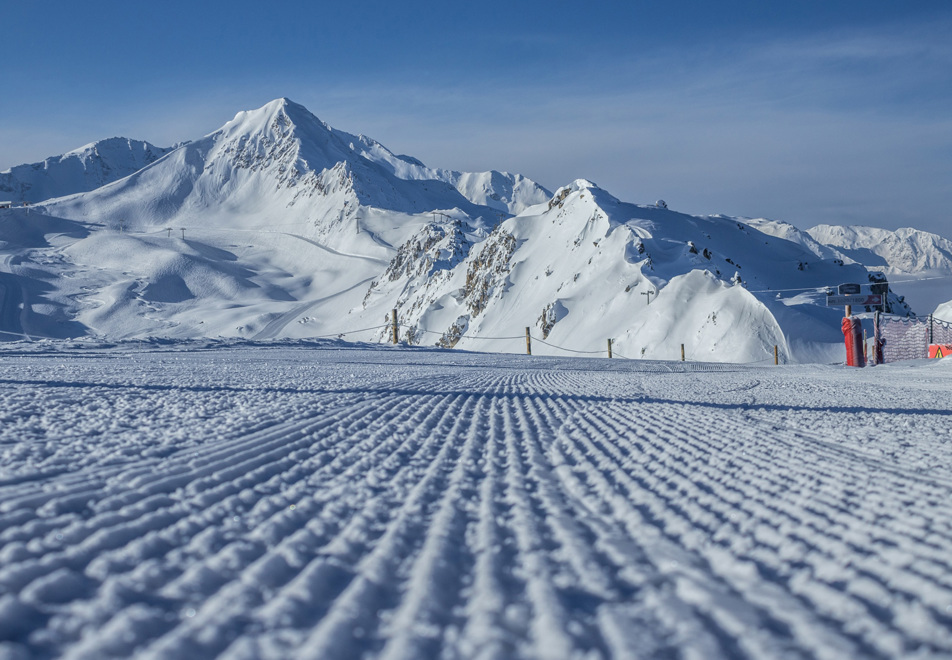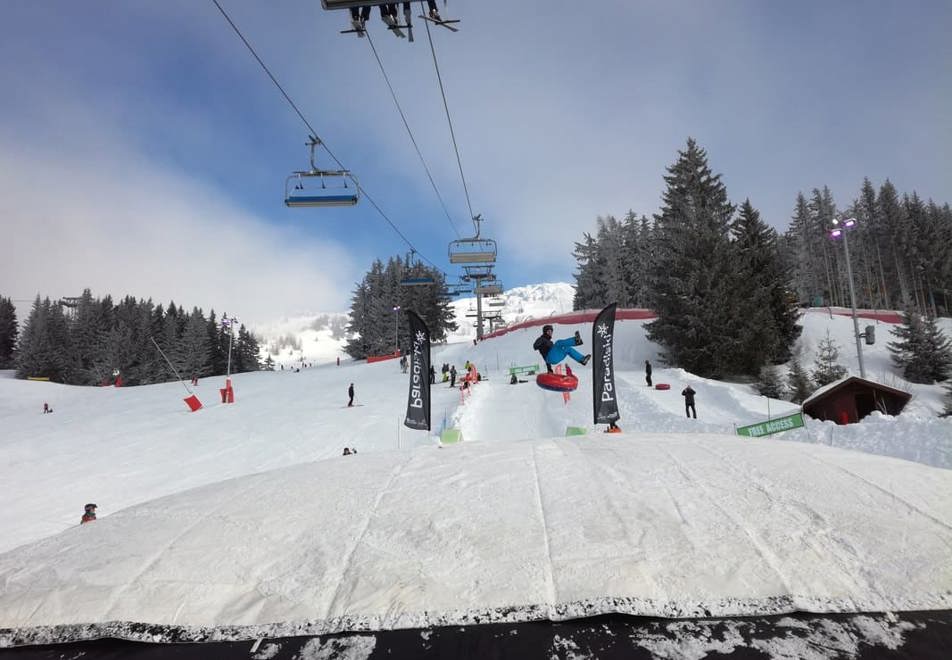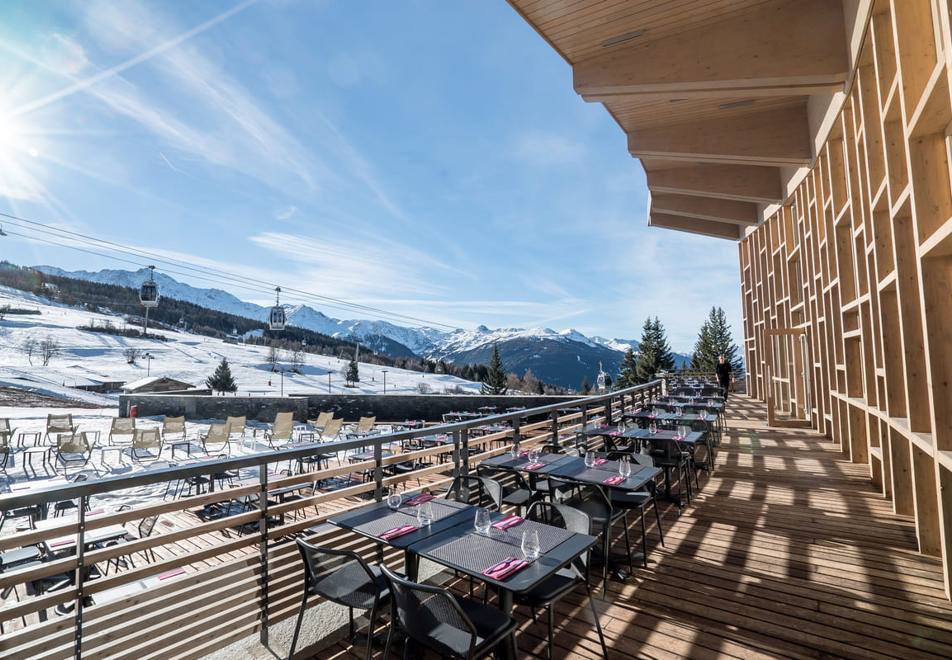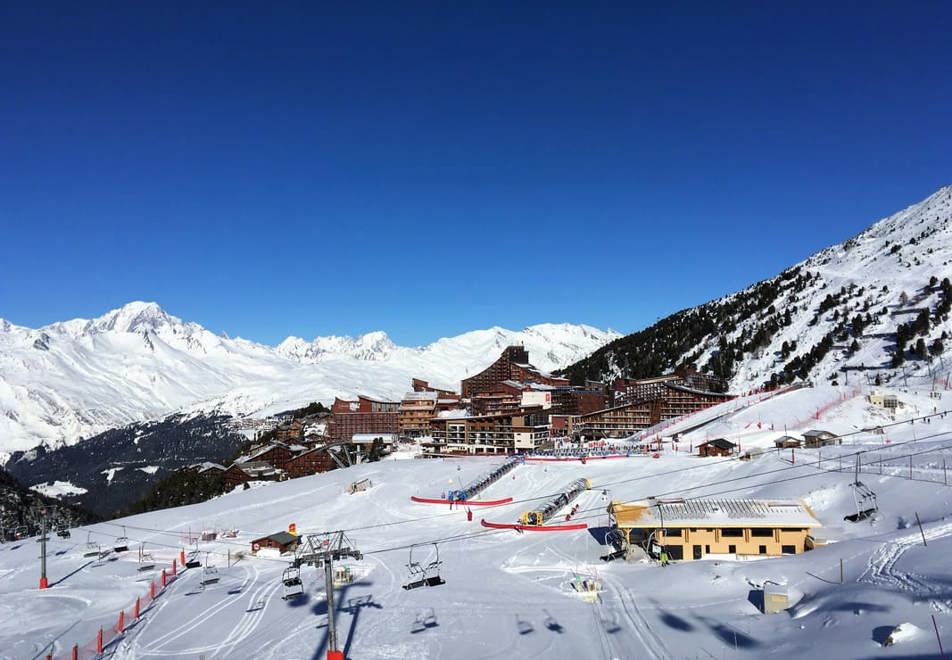 Thinking of skiing in Peisey Vallandry? The ski resort is a great starting point for Paradiski and is split into 5 villages on the Les Arcs massif: Landry, Peisey, Nancroix, Vallandry and Plan-Peisey.
Why Peisey Vallandry Ski Resort?
It's the

best starting point for both Les Arcs and La Plagne ski areas

It's a

quiet alternative to bustling Les Arcs
Peisey Vallandry (Paradiski) Information
Peisey is an authentic, pretty mountain village with real farm buildings and a Baroque heritage. The Peisey Valley has been a tourist destination since the 1920s and there's plenty of culture to immerse yourself in with its diversified heritage - agriculture, Baroque churches and village architecture.
Plan Peisey is a recently developed area that offers a small selection of bars and restaurants, a mini-market, local speciality take-away shop, nursery, chemist and a medical centre.
Peisey Vallandry is a peaceful haven in the giant Paradiski region which links the two major resorts of Les Arcs with La Plagne. The villages are inhabited throughout the year and have kept their souls and their authenticity. Guided visits to Peisey village by torchlight are organised to explore its narrow streets, traditional houses and its baroque church ... an opportunity to discover the authentic charm of a mountain village.
At 1650m, Plan Peisey (where the Arollaie apartments are located) has a panoramic view over the valley of Peisey-Nancroix and Haute Tarentaise. Peisey Vallandry is located at the foot of the Vanoise Express double-decker cable car linking the two massive ski areas of La Plagne and Les Arcs (called Paradiski). It's the departure point for La Plagne.
Vallandry (where the l'Orée des Cimes and l'Orée des Neiges apartments are located) is on the edge of the forest with properties built into the landscape and independent chalets encircling a few old houses. All have beautiful views and an attractive exposure, some with remarkable views of Mont Blanc. None of the buildings are more than 550m from the pedestrianised centre, where you'll find the local shops. Parking is free.
Peak Retreats offers a range of Peisey Vallandry accommodation options. All of Peisey Vallandry's ski apartments have been hand-picked and are of a very high standard (3 & 4*), providing the ideal base for a Paradiski ski holiday.
PEISEY VALLANDRY SKI AREA
Paradiski is one of the largest lift-linked ski areas in the world. The Paradiski lift system is one of the fastest and most modern that exists. The massifs of Les Arcs/ Peisey-Vallandry and La Plagne are linked by the Vanoise Express, the world's largest cable car. This ultra-modern lift, which can carry 4000 people an hour, is a two-level panoramic cabin and crosses between the resort massifs in just four minutes. The double-decker cable car has, in addition to the 360° panorama, a 3-dimensional outlook courtesy of a transparent glass panel inserted into the floor of the lower level of the 2 cabins.
With 70% of the ski runs at heights of more than 2000m, and one of the world's most modern artificial snow systems, Paradiski guarantees top-quality snow conditions from December to April. With the peaks of Mont Blanc and Pierra Menta forming a dramatic panoramic background, Paradiski is also the gateway to the Vanoise national park, a nature reserve of 53,000 hectares.
For those who love relaxing skiing, the greatest concentration of blue and red runs is above Arc 1800 down to the villages of Peisey and Vallandry. Situated at 1600m, the resort is on the edge of a forest sheltered from the prevailing winds, on the sunny western slopes of the Massif of Les Arcs. The imposing view of Mont Blanc is its focal point.
Peisey-Vallandry is split into two skiing villages (and linked by lift to Les Arcs). Plan Peisey is located next to the spectacular Vanoise Express cable car (capacity 200). Vallandry is located a little further away.  Peisey and Vallandry are small Alpine villages linked with the large Paradiski ski area so you really do get the best of both worlds – a vast ski area but intimate village life. Peisey-Vallandry has groomed, tree-lined slopes with a friendly feel. It's uncrowded most of the time, allowing some great, fast cruising.
The Vanoise Express cable car is accessible to skiers and pedestrians. On the La Plagne side though, the cable car actually arrives on the slopes at Montchavin, which you can't reach on foot. In terms of snow reliability, a high percentage of the runs in Les Arcs are above 2000m. There are also wooded areas in the Les Arcs domain to head to when the weather isn't so great - primarily above Peisey Vallandry, where the slopes are usually uncrowded.
Additional ski fact info,
main ski info in resort facts box at top of page

(21/22):

Les Arcs/Peisey local area

200km of pistes, 54 lifts, 123 slopes:

Green slopes: 10
Blue slopes: 55
Red slopes: 42
Black slopes: 18
PEISEY VALLANDRY SKIING
PEISEY VALLANDRY BEGINNERS
There are 10 green slopes in Les Arcs:
Vezaille, Millerette, Piste des Animaux in Arc 1600
Step by step progression zone 1-3 steps (first slides, turns and runs) at Les Cabnes in Mille 8 in Arc 1800
Low KL, Marais in Arc 2000
Flocon, Cabri in Peisey Vallandry
Both resorts have good nursery slopes higher up on the tree-line accessed by a chairlift. Cabri or Flocon are two protected areas with a small ski tow in the upper area of Peisey-Vallandry. The Cabri area is accessible from the Peisey chairlift (61) at Plan Peisey, and the Flocon slopes can be reached via the Vallandry chairlift (74) at Vallandry. The Pre Jeannot dedicated children's snow area is located at Plan Peisey. Complete beginners start at the bottom and then move up to a dedicated area at the top of the chairlift. Although it's graded blue The Forêt run down to Vallandry is gentle enough to be a green! There's is one green run in the Peisey/Les Arcs domain - but it's 7km long, and in the forest!
Skiers can enjoy the whole Paradiski area using just blue pistes to get going (again) gently.
PEISEY VALLANDRY INTERMEDIATES
Paradiski has extensive intermediate slopes with big lift networks. The lower half of the mountainside (1600m-1800m) is great for mixed ability groups with a choice of routes through the trees. For the more cautious intermediate, there's plenty of blue cruising.
PEISEY VALLANDRY EXPERTS
For the more expert, the toughest descents are beneath the Aiguille Rouge in Les Arcs. Indeed, Les Arcs has lots to offer experts with some genuinely challenging runs and lots of off-piste potential. 
PEISEY VALLANDRY SNOWBOARDING
Les Arcs is a hotspot for snowboarders, offering excellent freeride slopes. For beginners and intermediates, there are plenty of wide-open pistes, especially at Vallandry and Arc 1800. Most lifts in the area are chairs and gondolas, and the terrain park has a snowboard-friendly draglift.
PEISEY VALLANDRY RESORT RUNS
Returning to Peisey Vallandry is easy, either on the transverse pistes from Arc 1600 and Arc 1800 or via the Arc 2000 Valley from the top of the Transarc gondola, then taking the Grand Renard piste towards Peisey Vallandry via the Derby chairlift.
THE "NATURE" RUNS
These are eight runs secured and marked by the ski patrol, but where no grooming has been done in order to ensure the runs' natural qualities.  These runs - Crêtes, Dou de l'Homme, Lanches, Robert Blanc, Génépi, Bois de l'Ours, Les 2 Têtes and Malgovert – have been specially adapted for good skiers. So you can learn to ski safely in "off-piste style", but within the patrolled ski area.
Not to be missed when you visit Paradiski!
The 360-degree panorama of La Grande Rochette at La Plagne.
The Aiguille Rouge descent, an epic 7km non-stop run from the glacier at 3226m all the way to Villaroger at 1200m. It's one of the steepest drops in Europe! Once at the top, climb up the observation point and see the views towards the Swiss, Italian and French Alps right to the Jura mountain range. A view like none other!
Peisey Vallandry Ski Hire
Pre-book your Peisey Vallandry ski hire with Peak Retreats.
To book your ski hire and view all options, download the 'Extras Guide Prices 19-20' under 'Helpful links' further down the page. Please ensure you have selected the correct document for your accommodation.
Special offers: Free Skis/snowboard & boots (Superior Carver) for party leaders of groups of 10 or more all taking equipment. 1 Free helmet per child aged 6 and under for every adult booking skis or snowboards & boots.
Find out more about Peak Retreats ski hire.
---
Peisey Vallandry Ski Passes
Pre-book your Peisey Vallandry ski passes with Peak Retreats.
To book your ski hire and view all options, download the 'Extras Guide Prices 19-20' under 'Helpful links' further down the page. Please ensure you have selected the correct document for your accommodation.
Find out more about Peak Retreats ski passes.
Half day and day passes available to buy locally (in €):
These short duration passes are available to book in resort on your arrival, in euros.
Les Arcs has rebranded their lift passes for the 19/20 season so they have different names and different inclusions:
'Premium' (Paradiski) ski pass – ½ day and daily rates 19/20:
Day - €56 children, €69 adults
Pass includes unlimited access to Paradiski, priority queues, Aiguille Rouge queue cutter (1 turn per day), entry to Aquatic centre (1 entry), first tracks (1 time), unlimited luge at 2000 & 1800, ice cave (1 time), families torchlit descent (1 time)
'Essential' (Paradiski) ski pass – ½ day and daily rates 19/20:
Day - €49 children, €61 adults
Pass includes unlimited access to Paradiski, priority queues, Aiguille Rouge queue cutter (50% off), first tracks (50% off), luge at 2000 & 1800 (50% off), ice cave (1 time), families torchlit descent (1 time)
Other extras in the Essential and Premium passes only:
Bourg St Maurice - Entry to swimming pool at the childs rate
Peisey Vallandry - Entry to cinema at childs rate, free days cross country skiing and equipment loan, 15% discount on snowshoe outings (except Saturday)
Arc 1800 - Reductions on spa treatments/products, reductions to intro ski touring on Tuesdays, reductions on snowshoe outings (except Saturday), a bowling game at childs prices from Sat-Mon, reduction on intro to ski jouring on Mondays, reductions on 1800 pool, reductions on Nama Springs.
Arc 1950 - for 2 entries to the Deep Nature Spa, the 3rd is free plus reduction on treatments
Arc 2000 - free entry to ice cave, reduction on Yooner activity, bowling 1 game paid = 1 game free Sat-Mon, reduction on mini skidoo.
'Classic' (Les Arcs) ski pass – ½ day and daily rates 19/20:
1/2 day - €35 children, €43 adults
Day - €44 children, €54 adults
Pass covers Les Arcs ski area only
Extension to cover La Plagne is €20 per day
Peisey Vallandry Ski School
Pre-book your Peisey Vallandry ESF ski school with Peak Retreats. Find out more about Peak Retreats ski school
Ski school for children is available to book from 4 years to 12 years in Peisey Vallandry with Peak Retreats. Children can learn to snowboard from 8 years+.
For ski school times and prices, please download the ski extras form from the 'Helpful links' further down the page. Please note these are just guiding prices. Please call us for the latest prices.
Please note that lesson times are subject to change right until the last minute - you will be advised. Outside French school holidays, the ski school reserves the right to cancel group lessons should numbers be insufficient.  For peak periods - Christmas, New Year, February half-term and Easter - we strongly recommend that you book as early as possible and in any case at least 6 weeks prior to the required dates. Morning lessons tend to get booked up first and therefore we may only be able to offer afternoon classes within 6 weeks of departure. In some resorts, English speaking instructors may not always be available, particularly at peak times.
We cannot always guarantee that prices will be cheaper than in the resort. When ski packs prices are calculated, the currency is bought at the exchange rates that apply at the time. You can be assured that once you have booked your extras, if the pound depreciates, you will not be charged more for your ski packs, enabling you to budget for your holiday in advance.
Peisey Vallandry individual Private Lessons
Individual tuition can only be purchased directly from the ski school. Peak Retreats cannot pre-book these.
From €96 for 2 hours for 1-2 pers
From €144 for 2 hours for 3-5 pers
Please note that prices are only an indication and are subject to change
ESF Peisey Vallandry.
Tel: 00 33 4 79 07 93 77
---
Peisey Vallandry Child Care
Garderie Chat Botte, Plan Peisey
Where our residence Arollaie is located.
The "Chat Botté" (Puss in boots) Children's club located in the Mélèzes building at Plan-Peisey opposite the télévillage, near the ESF (French Ski School) and the ski lift ticket office. 
The "Halte-garderie" welcomes an average of 25 children from 1 to 4 years old. Places are limited for children from 12 to 20 months old.
"Club des grands" welcomes an average of 30 children from 4 to 11 years old with or without ESF ski lessons.
Day or half-day, with or without lunch, with or without ESF ski school.
Garderie Le Chat Bottee
Residence les Melezes
Plan Peisey
73210, Peisey Vallandry
Tel: 0033 4 79 07 91 64
Garderie Tom Pouce, Vallandry
Where our residences l'Oree des Cimes & l'Oree des Neiges are located.
Located at Vallandry snow front, the Tom Pouce activity centre welcoming 35 children from 1 to 6 years of age, which 5 children between 1 and 2 years of age only.
Tom Pouce offers a wide range of activities suited to all age group. Supervised by professionals, the children will discover the mountain. They offer many fun and sporting activities inside and outside.
Reservations will open by phone from early November 4th. However, you can leave an e-mail at tom.pouce.garderie@wanadoo.fr
Open 9am to 5pm daily.
Garderie Tom Pouce
Vallandry
73210, Peisey Vallandry 
Tel: 0033 4 79 07 97 72
Peisey Vallandry Resort Activities
Mille8: 
A new experience in the heart of Les Arcs 1800!
Big changes have happened in Arc 1800 with several new ski lifts plus activities including an aquatic centre, and snow sports areas such as a tubing run, a fun trail course for all abilities, a beginners' area, discovery trail and a children's practice area.
All of Mille8's developments were completed early 2016, with the new Carreley 6-seater high-speed chair lift and lodge with slope side restaurant (Le Lodge), golf simulator and dance floor. With Mille8, Les Arcs has completely re-invented 'apres-ski'. Mille8 is served by the brand new dedicated Villards gondola, and remains accessible every day until at least 7.30pm.
LA LUGE- choose your toboggan, hop on the Villards gondola (accessible to pedestrians/skiers) and get ready for the adrenaline fuelled ride down 900m of twists and turns with a dash through the illuminated tunnel at the finish line. Open from 2pm-7.30pm daily with opening until 8.30pm 3 nights per week.


LES CABANES - a beautiful ski run winding its way through the forest with wooden cabins, lights, and sound. Don't miss out on the Giant Xylophone. Open from 9am-7.30pm daily with opening until 8.30pm 3 nights per week.


LES BOSSES - a freestyle run with an abundance of fun modules and snow-sculptures for all levels. Scan your pass at top and your run will be filmed! Open from 11am-7.30pm daily with opening until 8.30pm 3 nights per week.


LE CUBE - a safe and protected area to help beginners for all ages gain confidence served by a covered and easy to use magic carpet lift. There are stunning views over Mont Blanc. Open from 9.30am-7.30pm daily with opening until 8.30pm 3 nights per week. Hop on the Villards gondola for access (accessible to pedestrians/skiers).


LES PINGOUINS - a dedicated environment for children to progress and play, featuring igloos, a sledging area and a magic carpet. FREE access. Open from 11am-5pm (5.30pm from February).



LES SAPINS - starting at Le Lodge and winding through the forests, the Sapins footpath offers walkers a unique ambiance and areas to relax, rest, or take in the exploits on nearby ski and toboggan runs. Open from 9.30am-5pm daily.
LA PISCINE - a stunning new 3800 square metre indoor aquatic centre directly on the piste with breath-taking views over Mont Blanc … A stunning indoor swimming with Jacuzzis, whirlpools, waterfalls, slide, water play area for children and grottos. A wellness and fitness centre with saunas, steam baths, and a gym. For easy access, a new covered walkway and elevator whisk clients directly from Arc 1800 to the LA PISCINE aquatic centre. Open from 11am-7.30pm daily (except Sats 2pm-7pm) with opening until 8.30pm 3 nights per week.



LE LODGE - is right in the centre of Mille8 slopes and a great place to meet up. It's a restaurant, snack bar, a dance floor and an events location. The restaurant creates chic brasserie food, elegant and refined French cuisine. A prestigious wine list and producers in the restaurant regularly to talk about French wines. Open from 9.30am-7pm daily with opening until 11pm 3 nights per week. Hop on the Villards gondola for access (accessible to pedestrians/skiers).



Access to Mille8 is included with the following ski and pedestrian lift passes of any duration: Les Arcs, Peisey- Vallandry, Paradiski Unlimited. The aquatic centre, restaurant and luge are available at a supplement.
Sledging at Rodeo Park
The Rodeo Park in Les Arcs offers fantastic sledging fun. At the top of the Col de Chal you can make your way down the new 3km long toboggan track with a 400m vertical drop, enjoying the thrills and excitment of every twist and turn!
Open Sunday – Thursday 1pm-4.30pm with extended opening hours every Wednesday for night time toboggan rides! Included in your entry to the Rodeo Park is helmet and toboggan hire. Free entry to all adults with a valid lift pass. Children must be 10 years or older and be over 125cm tall, must be accompanied by an adult.
Tel: +33 (0)4 79 04 24 00. Prices and more information are available at the lift pass offices in resort.
Village Igloo
See details under eating tab
Goats' cheese dairy near Vallandry
Open to the public every evening at milking time from 4pm-6.30pm. Speciality: tomme de chevre, frontine de chevre, saint agathe moelleux de chevre (the equivalent of Reblechon). Farm products sold on site. Accessible by car, 2km from the foot of Vallandry.
Peisey Vallandry Walking/Hiking
Lovers of nature, come and relax at the gateway of the Vanoise National Park. A walk to discover a site where the tranquility is only disturbed  by the flight of an eagle or an ibex track.
Pedestrian lift passes available in resort.
Some suggestions:
Les Esserts: Nice walk on the valley's shaded slopes, crossing a thick forest of spruces. Panorama of the Mount-Pourri and the Mont Blanc.
Plan Bois' forest: Route from Vallandry in a pleasant forest environment (larches, spruces). Beautiful viewpoints of the Mont-Blanc. Coolness under the trees.
Les Montagnettes: nice hike on a large path, winding across forests, clearings and "montagnettes" (alpine meadows' hamlets). Returning by the Televillage's lift.
Notre Dame des Vernettes' Chapel: easy walk, in the heart of the mountain pastures, at 1800 m of altitude. Ideal for a picnic. View of the Aiguille Rousse's cliffs. Beauty and serenity.
Rosuel's scenic path: Pleasant course at the Vanoise National Park's gateway, with many beautiful panoramas to discover the landscapes and the vegetation, thanks to 4 information boards. Benches along the path.
Peisey Vallandry Ice Climbing
Peisey-Vallandry Nordic Ski area is reputed for the opportunities it offers for natural frozen waterfalls climbing.
From initiation classes for the general public to the most challenging routes reserved for experimented climbers. 
Winter, Booking only
Close to the cross-country ski area
Bureau des Guides – 0033 610 09 49 00
Peisey Vallandry Biathlon
In the Peisey valley, discover one of the most beautiful areas of France dedicated to this sport. On an officially approved shooting range, come and test your skill and concentration in total security. Now accessible to amateurs after being for long reserved to the elite in this sport. This activity is now accessible to beginners, thanks to initiation sessions.
Peisey Vallandry Igloo building
Build an igloo with your friends or family with a guide, a very pleasant wintry activity.
Peisey Vallandry Snow sculpture 
Come and join once a week, on the snow front for a traditional Snow Sculpture Contest! Use your knives and imagination to create a sculpture worthy of the greatest artists.  
Peisey Vallandry Dog Sledding
Comfortably installed in a dog sled, in the edge of the Vanoise national park.
With Emmanuel the musher, come for a great escape in the heart of the Nordic ski area, comfortably installed in a big dog sled for 3 persons (2 adults and 1 child). The dogs will take you to the edge of the Vanoise national park and if the weather is fine, you will observe with binoculars: Chamois, mountains goats and the bearded vulture.
Peisey Vallandry Horse Drawn Sleds
Horse-carriage rides pulled by a donkey: The carriage 2 adults, 2 children is available. Length of walk: 20 minutes.
Peisey Vallandry Paragliding
Paragliding discovery flight accessible from 7 to 77 years old. This flight allows you to discover the domain of Peisey-Vallandry by air.
Tel. 0033 6 18 40 31 51
Peisey Vallandry Farm tours
Visit the farm 3 times a week (FREE).
 - Visit goat: goat milking, cheese tasting. Registration and information from the tourist office. Vehicle required, limited seating.
- Visit fold: Come see the young lambs ...
- building inspections: milking cows on a farm pioneering, discovery of housing system and tasting of Beaufort.
Guided tour of Peisey Village
Every Monday at 18h with a guide-lecturer FACIM Foundation (Foundation for International Cultural Action in the Mountains), you will walk the streets of the village of Peisey to explore the architecture of ancient houses of Savoy, to the beautiful baroque church of the Holy Trinity.
You will end your visit in a very friendly, with a tasting of local products. Registration required at the Tourist Office, 3 € per person, free for children under 12.
Please note: All the above information is for information only. For the most up-to-date information please visit the resort tourist office website. All prices for activities are in local currency (€ Euros) and are bookable and payable locally in resort.
Peisey Tourist Office
Chalet de Peisey-Vallandry                              
73210 Peisey-Vallandry                                    
Tel. +33 479 07 94 28 or +33 479 07 88 67
www.peisey-vallandry.com 
Peisey Vallandry 
Ski Activities
Mountain restaurants in Peisey Vallandry
2 in Peisey Vallandry, and there are lots more in Paradiski area.
Nordic Skiing in Paradiski
The Nordic ski centre (1475m-1650m) offers you 43km of packed tracks for classic or skate cross country skiing. Open daily during the winter season. 
Tel: 33 (0)4 79 07 92 65 
Discover for free, daytime Nordic family activities (cross country skiing, biathlon, dog sledding, horse sledding, snow shoes, toboganning).
Cross-country in Peisey Vallandry
The cross country site of Peisey-Vallandry, space of discoveries, offers you of real extraordinary sensations, without limit, at the heart of an authentic, and wild nature. Situated near the door of the National park of Vanoise, 43 km of cross-country ski runs equipped for alternative skiing and skating, you can also find a Ski Cross and a stadium of biathlon adapted for the competitions.
Alternative skiing: 
- 9 km of green
 - 8 km of blue
 - 11 km of red
 - 13 km of black
Skating: 
- 8 km of green
 - 8 km of blue
 - 11 km of red
 - 12 km of black
The nordic site of Peisey-Vallandry also proposes numerous activities such as strolls in snowshoes, walks,  dog and horse sled, waterfalls ice climbing, place for sledging. You can follow the main torrent on 3 km and admire the glacial cirque of le Mont Pourri and les Platières, the mythical North face of Bellecôte, the wood of larches where ibexes and chamoises spend the winter.
Water Slide in Les Arcs
A good laugh for spectators and a wealth of unforgettable memories for anyone brave enough to throw themselves down the run and across the 15 metre-long pool (50cm deep) without taking a tumble! Clair Blanc piste in front of the Altiport snack bar.
Boarder Cross Plan Vert in Les Arcs
A series of "oops" and banked turns on a totally dedicated route; 2 courses at different levels of difficulty for you to experience at your own pace!  Piste du Plan Vert – Vallée d'Arc 2000
Boarder Gliss and Rey Park in Les Arcs
At the top of the Peisey chair lift, you'll find 2 courses for you to have fun on. Accessible to all levels.
Nature Runs in Les Arcs
Natural runs made safe and signposted by ski patrollers, but without any grooming to spoil the authentic atmosphere of the area. Designed for very good skiers: Varet, Crêtes, Dou de l'Homme, Lanches, Robert Blanc, Génépi, Bois de l'Ours, les Bosses, les 2 Têtes and Malgovert. Skiing in its natural state!
Piste Milka in Les Arcs
Located in Arc 1800, this little route tells you all about the mountain flora and fauna. A fun way to arrive in Arc 1800, with information panels and animal silhouettes.
Speed test - in Arc 2000
A special area for you to test your speed, located near the start of the Plagnettes chair lift, where you can test how fast you ski: timing bays with speed displayed at the finishing line (this speed test is one of the initiatives for making people aware of what constitutes dangerous behaviour on the slopes.)
Avalanche Parc
An area totally dedicated to raising awareness of avalanche research and the dangers of off-piste skiing. Located at the Col de la Chal on a major busy crossing point in the ski area, the park is easy to access and there is no charge.
Snowpark in Les Arcs
Whether you're a total beginner, an experienced skier or boarder, a pro-rider or simply a spectator, head to the Apocalypse Parc in the middle of the ski area between Arc 1600 and Arc 1800. It is served by a snowboarder-friendly J-bar lift.
Snowshoe in Paradiski
Once a week during the school holidays. Departs from the "front de neige" at Plan Peisey and arrives at the Nordic ski aream via the village of Pracompuet, to the Vernettes chapel. Hot soup, stories and musical entertainment on arrival. FREE return shuttle bus.
Full moon in Peisey Vallandry
An evening in a mountain restaurant, under a full moon, then ski descent by moonlight. Safeguarded and fully supervised by professionals. Reservation only.
A ski day between Les Arcs and Sainte Foy
Starting from Paradiski, you ski all the way down to Villaroger and cross the other side of the valley at Ste Foy Tarentaise. You ski Ste Foy runs the rest of the day with an amazing view on Mont Pourri and Aiguille Rouge... Ste Foy will also be a very special taste of Tarentaise authenticity, skiing down nice runs between trees. 
You will put your skis on in Les Arcs or Peisey-Vallandry to enjoy the first runs of the day. Then you will ski down all the way from top of the Aiguille Rouge to Villaroger where a shuttle will wait for you. Couples minutes after, you reach Ste Foy Tarentaise on the sunny side where you will ski the rest of the day. After great turns from the top of the resort it will be time for a lunch break with a great panorama on Vanoise massif. You will go back to Les Arcs by skiing too.
Required level: habituated to the red slopes.
Included: 
- Skipass one day - Sainte Foy Tarentaise
- Supervision by a certified professional (ski instructor or mountain guide)
- Lunch
- "Impact Multisport" insurance covering off-piste skiing (offered)
Tel. 00 33 6 18 98 86 46 - contact@tarentaise-tours.com 
Peisey-Vallandry/Les Arcs Resort News and Events
RESORT NEWS
A new comfortable 10-seat gondola open to both skiers and pedestrians has been installed in Peisey Vallandry for the 2021/22 season and will take skiers to 2138m in just 6 minutes. This new lift system has environmentally-friendly features from solar panels to help it generate year-round electricity to recycling the heat produced by the motors. 
At the top of the new gondola will be a new safe skiing zone for children and beginners where they can progress from 'first rides' to 'first turns' and 'first runs' in dedicated areas. The gondola station will also have a new museum space to learn all about mountain flora and fauna. 
Les Arcs has a new zipline for thrill seekers opening in the 2021/22 season. Reach speeds of up to 130km/hour, 'flying' over the top of the old Flying Kilometre run, which held the world speed skiing record for years. 
A new Folie Douce opened in Arc 1800 in December 2019 with a modern style. 3 restaurants to welcome a total of 1100 pers/day in 2000 m2: la Fruitière, developed by the Chef Franck Mischler for a delicious combination of local recipes without altering them in an original and authentic decor. La Petite Cuisine, relaxed, friendly, gourmet and chic self-service. The Butcher, high quality snacking mode. The highest Cabaret in the world every day, with an outdoor 360°-scene during 1 hour (from 13h30)  and electronic music during the Clubbing from 15h to 17h. Located at the top of the leisure zone Mille8, it will be accessible with Les Villards télécabine or on foot from Arc 1800. Accessible on ski from anywhere else on the ski area. Open every day until 19h with a late opening on Thursday evening, la Folie Douce invites any generation to live intense moments. Concept adapted and accessible to any customers, family, young and not so young!
Events in the wider Les Arcs resort:
Les Arcs European Film Festival - 11-18/12/21
Les Arcs Launchpad freestyle ski competition - 4-7/1/22
Arc 1950 Freeride weeks - 15-30/1/22
Mountain bike winter cup Les Arcs - 6/2/22
Electronic Peak Festival - 14-18/3/22
Les Arcs Festislack - celebrating slacklines and highlines - 14-17/4/22
Apres-Ski, Bars & Restaurants
Restaurants can be found in the villages of Vallandry, Plan-Peisey, Peisey and Nancroix. There are 2 mountain restaurants: La Poudreuse and Blanche Murée at Villandry. Peisey - Vallandry is recommended to those looking for genuine Savoyard friendliness.
Why not try the famous Folie Douce in Arc 1800 for a different kind of dance scene. This branch of the Folie Douce opened in 2019, introducing the chain's trademark Austrian-style afternoon party scene. You will find 7 other Folie Douce in the French Alps - Val d'Isere opened in 1976, Val Thorens in 2009, Meribel in 2012, Alpe d'Huez in 2013, St Gervais/Megeve in 2014, Chamonix and Avoriaz in 2018. Ski and pedestrian access by the Villards gondola for Les Arcs FD (free for pedestrians), La Folie Douce is on the left at the finish line. Last descent at 7pm (8pm Wednesday, Thursday and Friday).
---
Amenities
Peisey-Vallandry has a mini-supermarket, farm produce shop, butcher, baker, post office, newsagents, tourist office, petrol station, chemist and cash point.
Getting to Peisey Vallandry, France
By Road
Driving distance from Calais to Peisey 615 miles 8hrs 50.
From Calais take the A26 motorway via Reims, Dijon and Maçon to Lyon A43/A430 to Albertville and then N90 via Moutiers in the direction of Les Arcs, following signs for Landry and Peisey              
By Rail
TGV Direct from Paris - Landry 7km - Shuttlebus +33 479 55 64 76 – Taxi +33 614 82 46 34. Eurostar from London – Bourg St Maurice.
Or Eurostar to Landry. Connection from Peisey-Vallandry train station (Landry) by fare paying shuttle or by taxi: Voyages Loyet: 0033 479 55 64 76.
Airports
Chambery Airport is 114km from Peisey (1 ¼ hours)
www.chambery-airport.com 
Grenoble is 183km from Peisey (2 hours)
www.grenoble-airport.com 
Lyon Airport is 190km from Peisey (2 hours)
www.lyonaeroports.com 
Geneva Airport is 193km from Peisey (2 hours)
www.gva.ch 
Public shuttle bus transfers from the airport
Geneva Airport - Bourg St Maurice (http://www.gare-routiere.com/) 
Getting around Peisey-Vallandry
Free parking facilities and a free shuttle around the resort running from 9am-11pm.
Peisey Vallandry Airport Transfer
For pre-bookable private transfer rates with Peak Retreats, view here. 
---
Peisey Vallandry Opening Dates

Peisey Vallandry ski area is open: 11/12/21 - 30/04/22