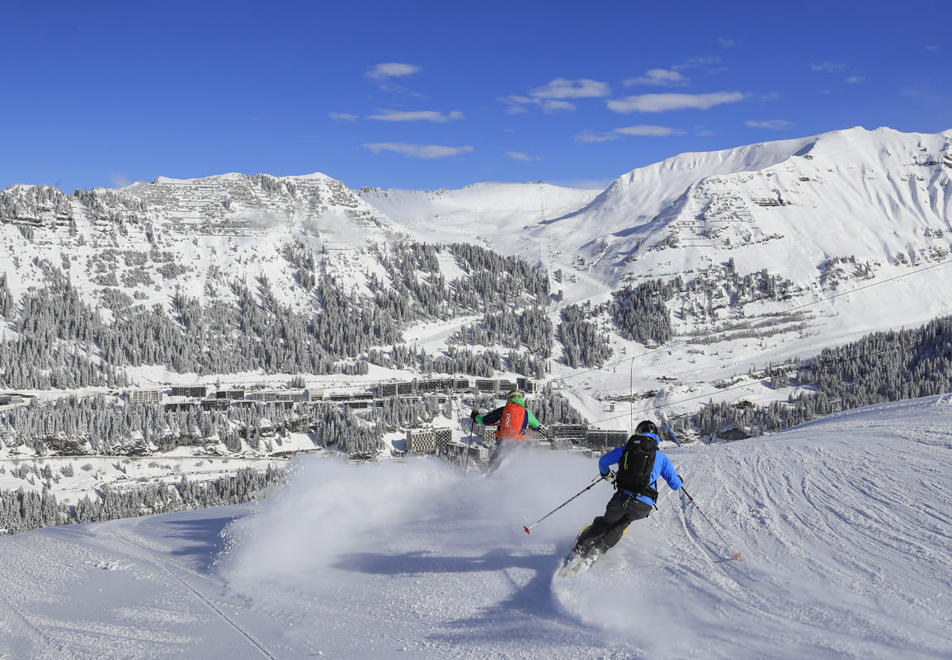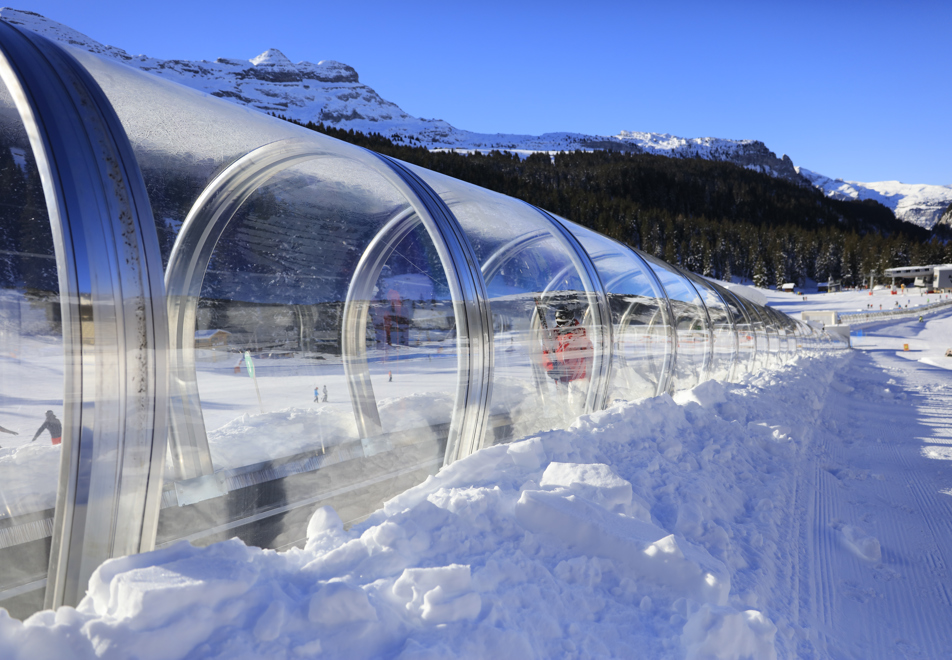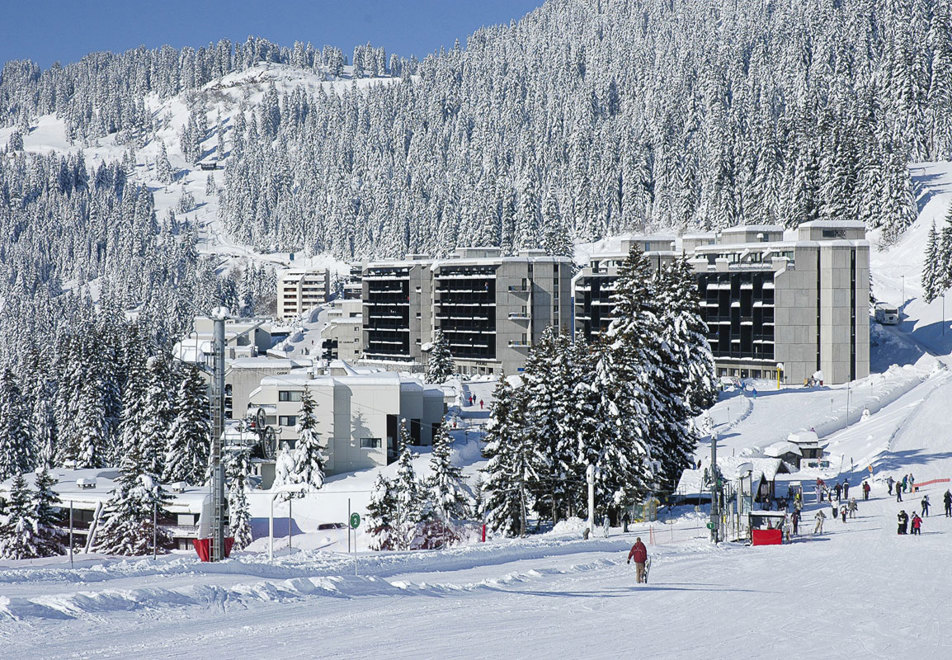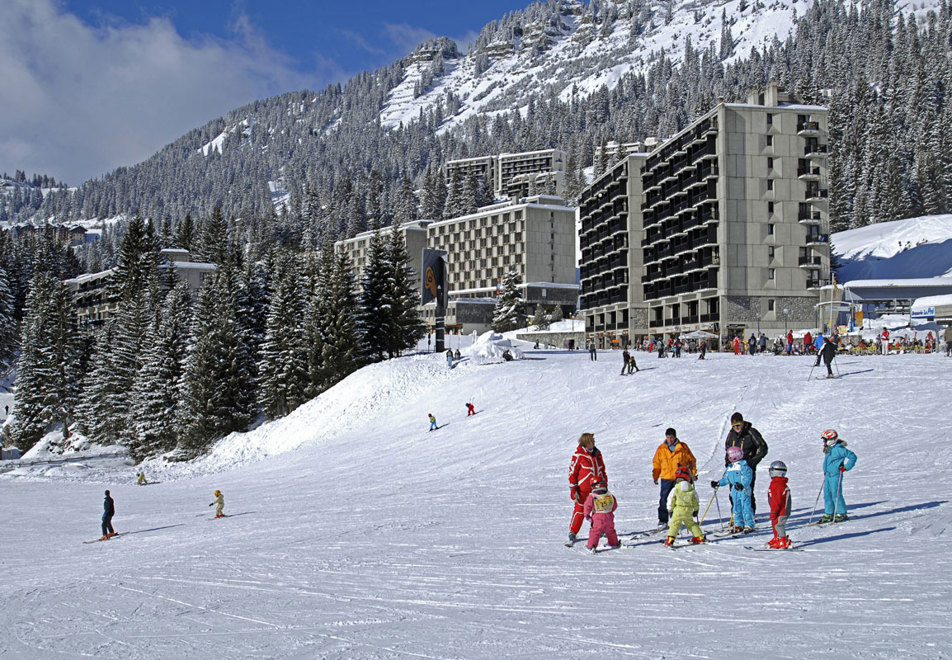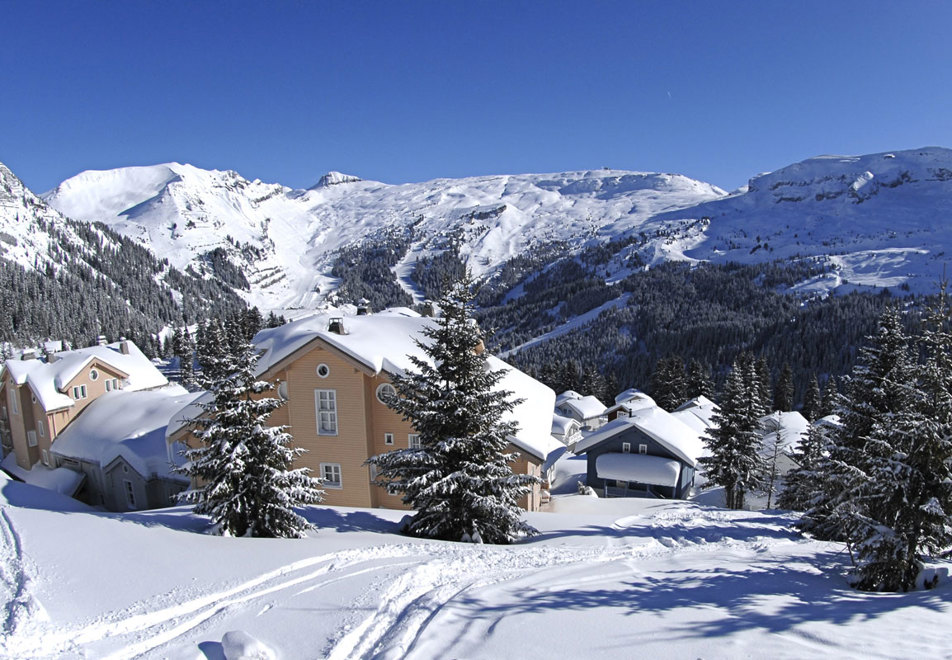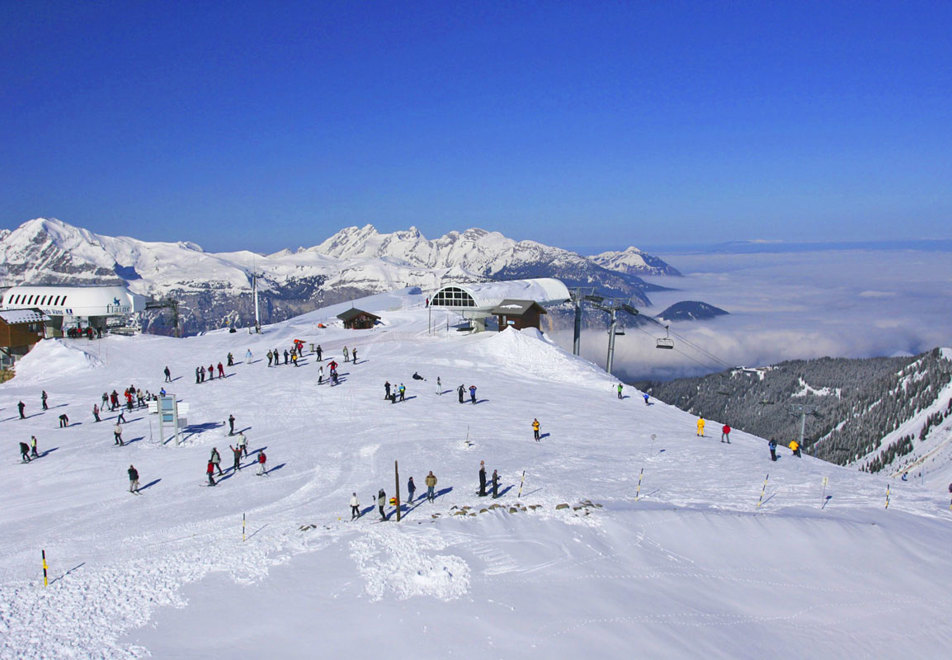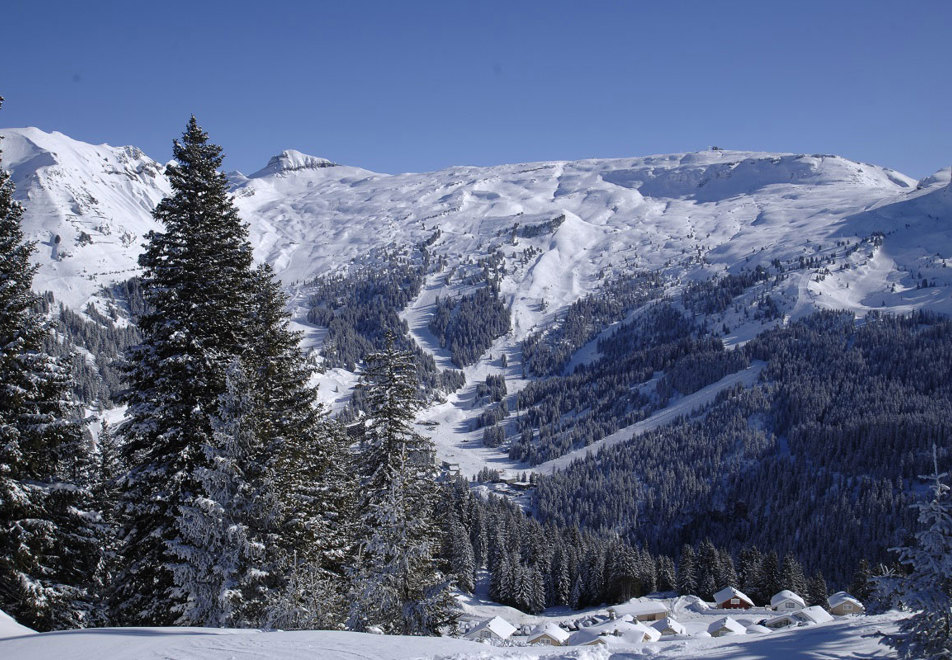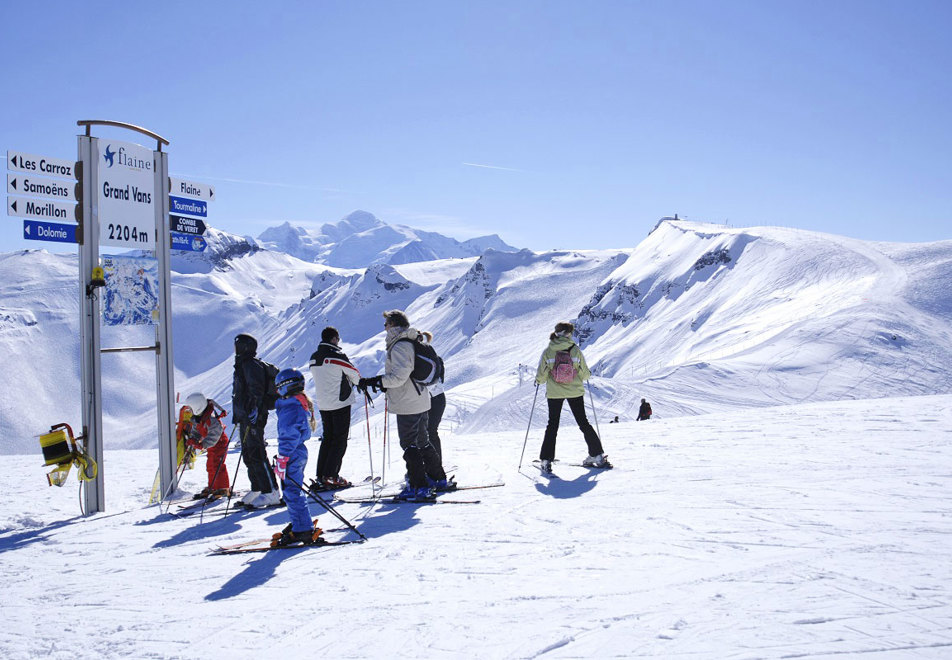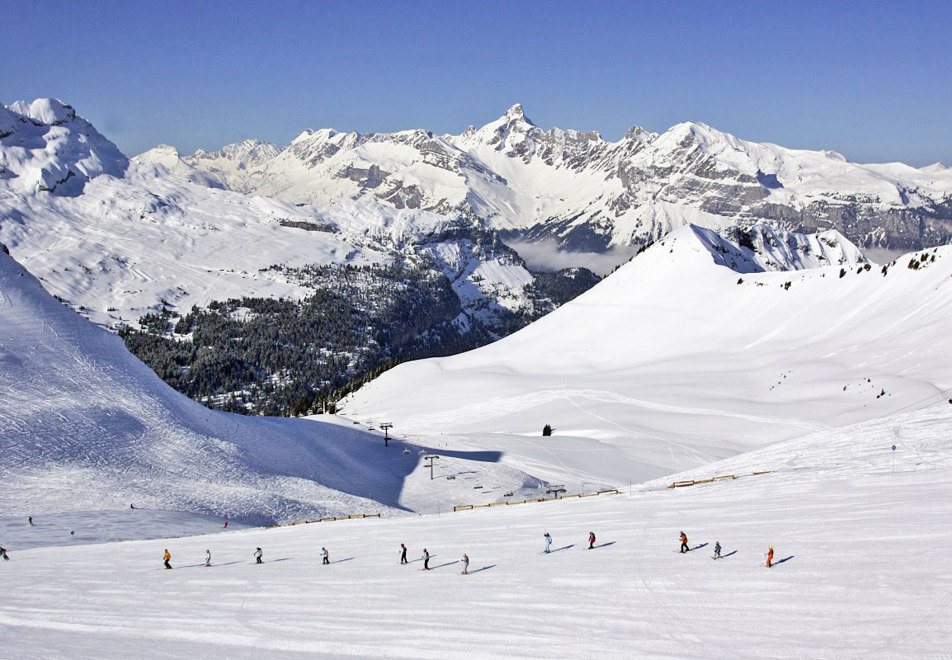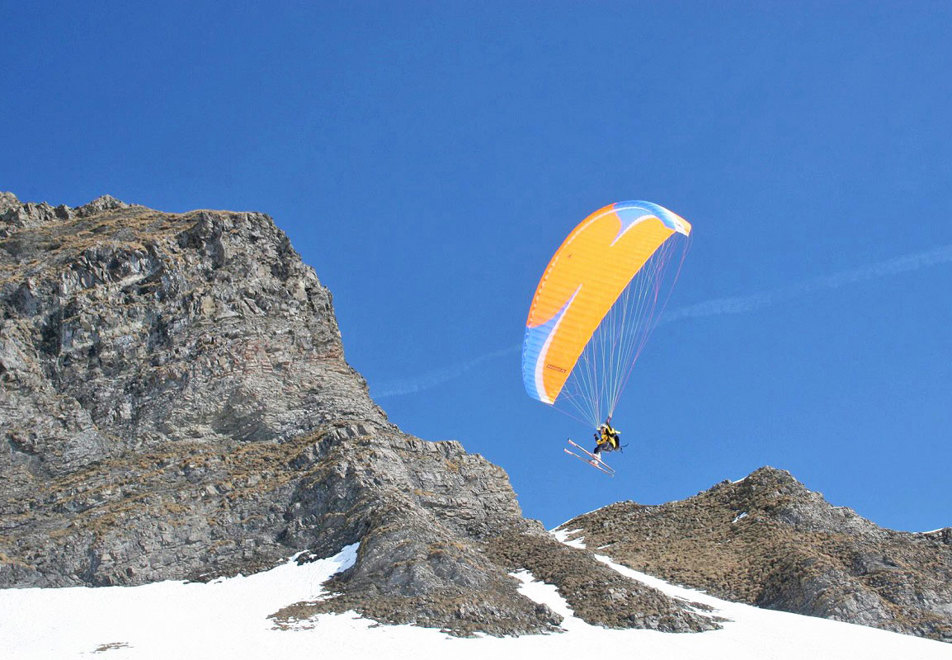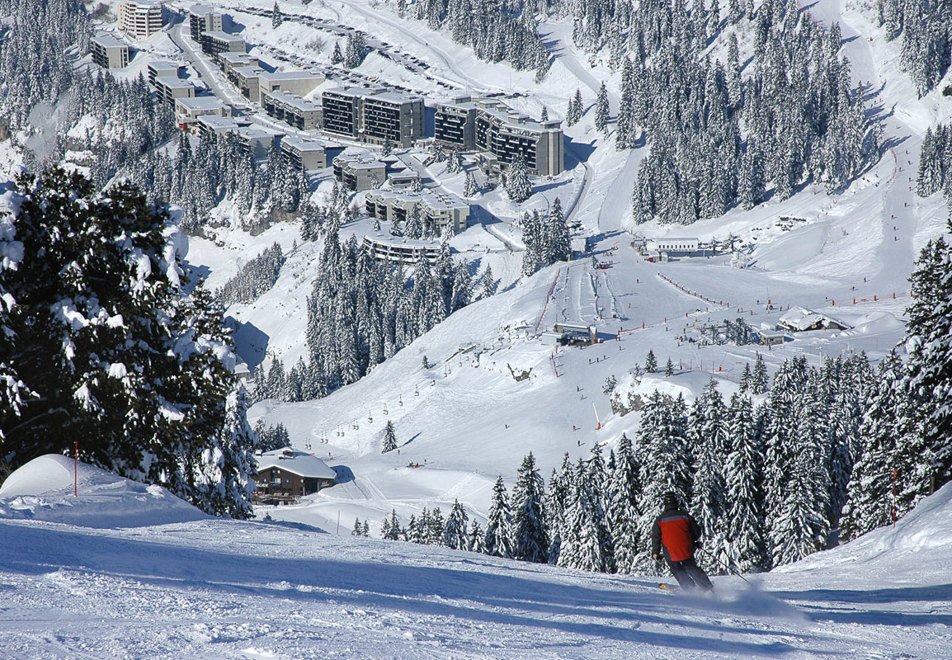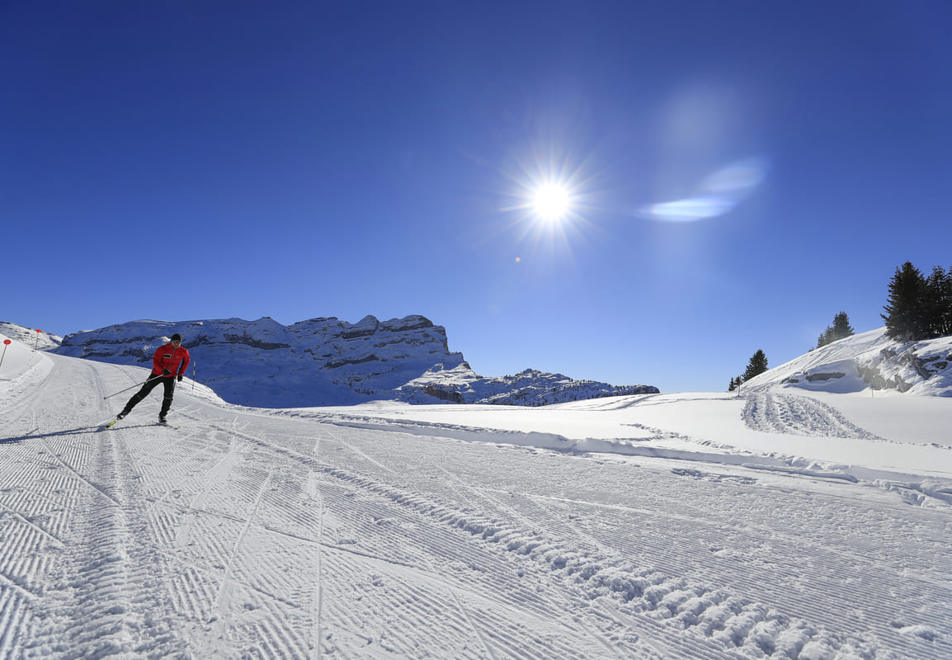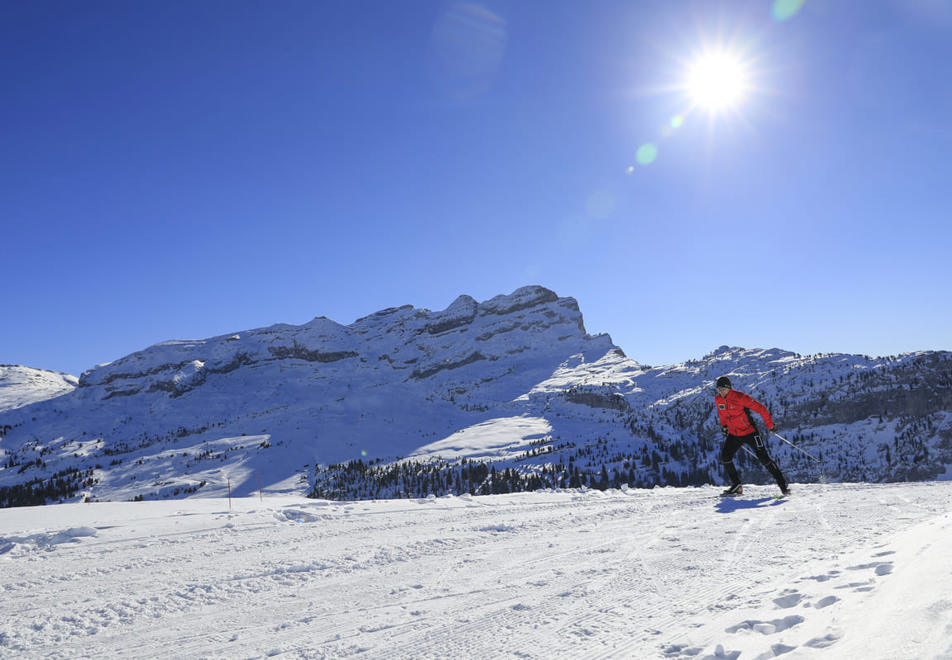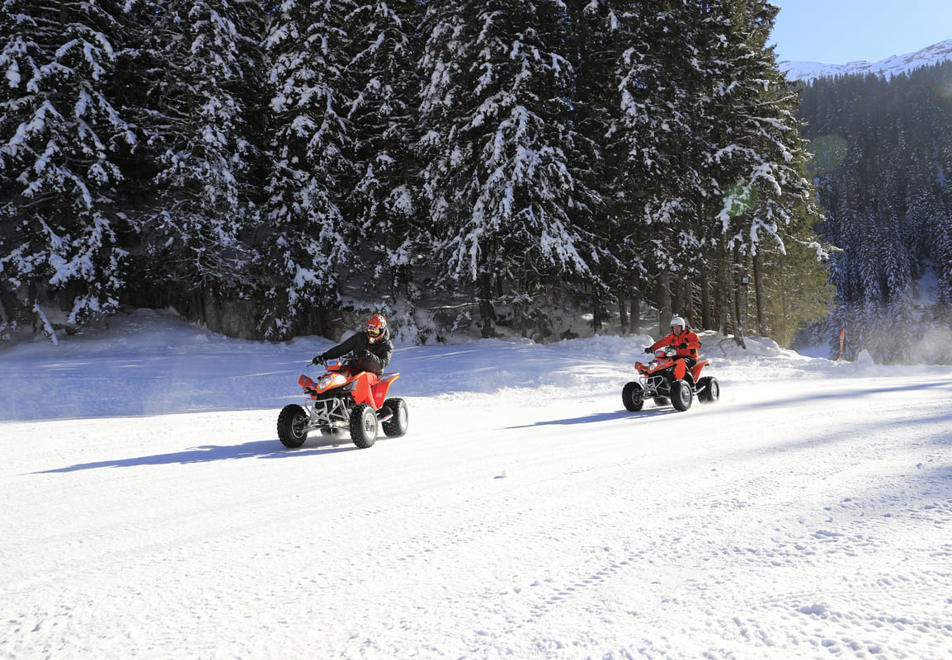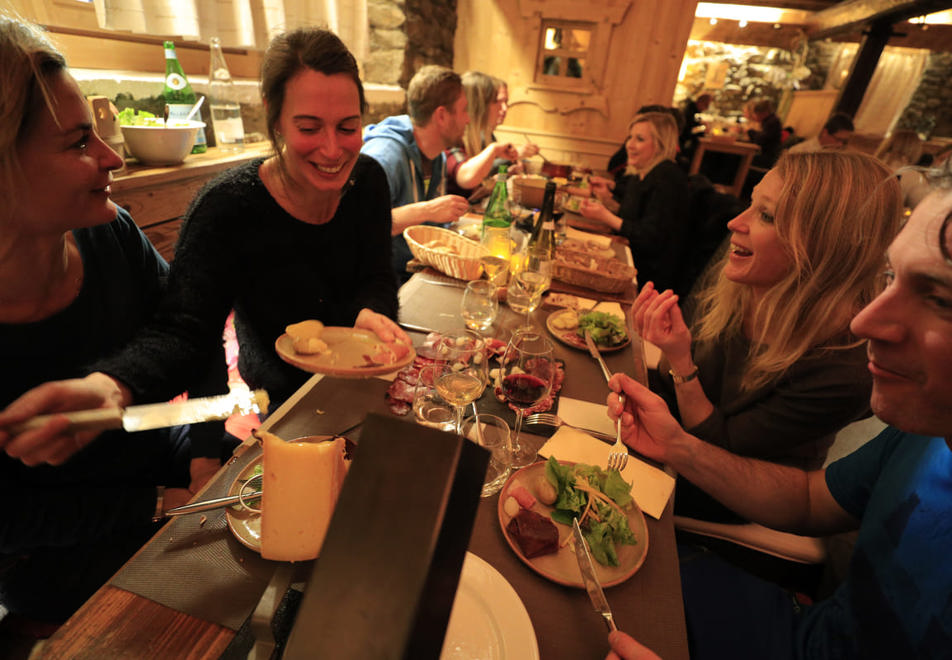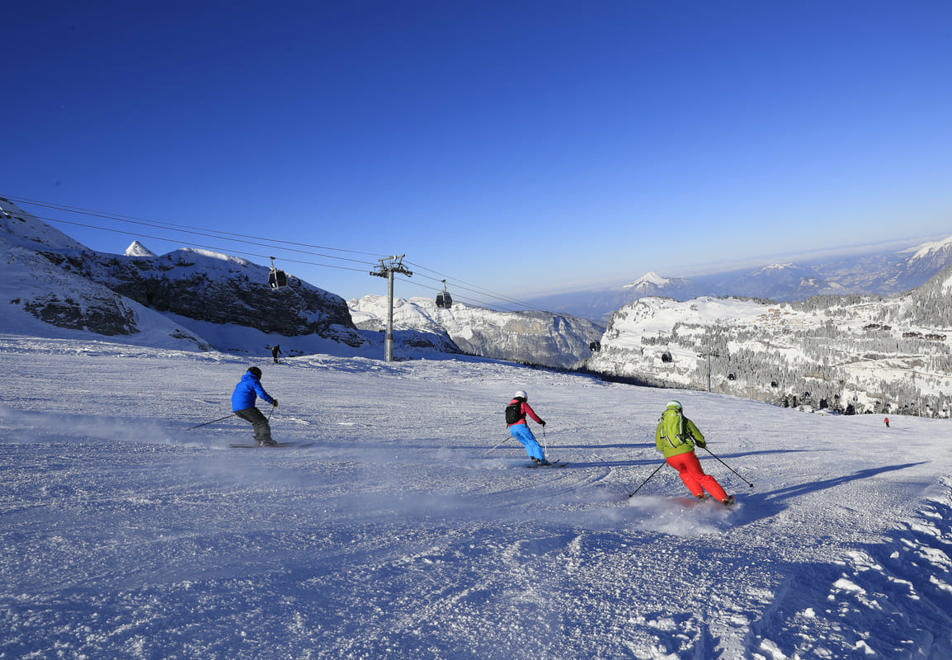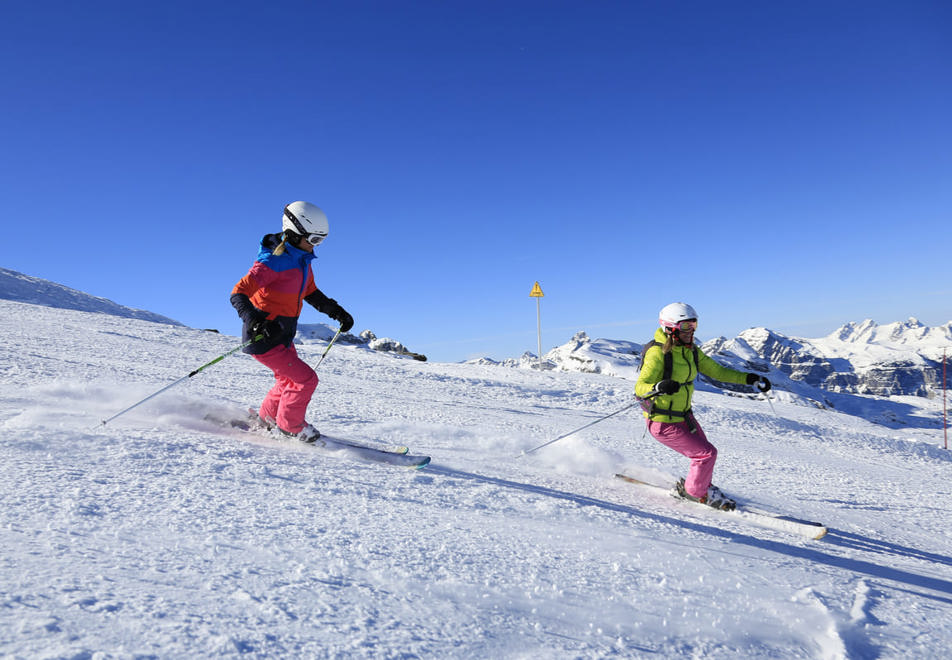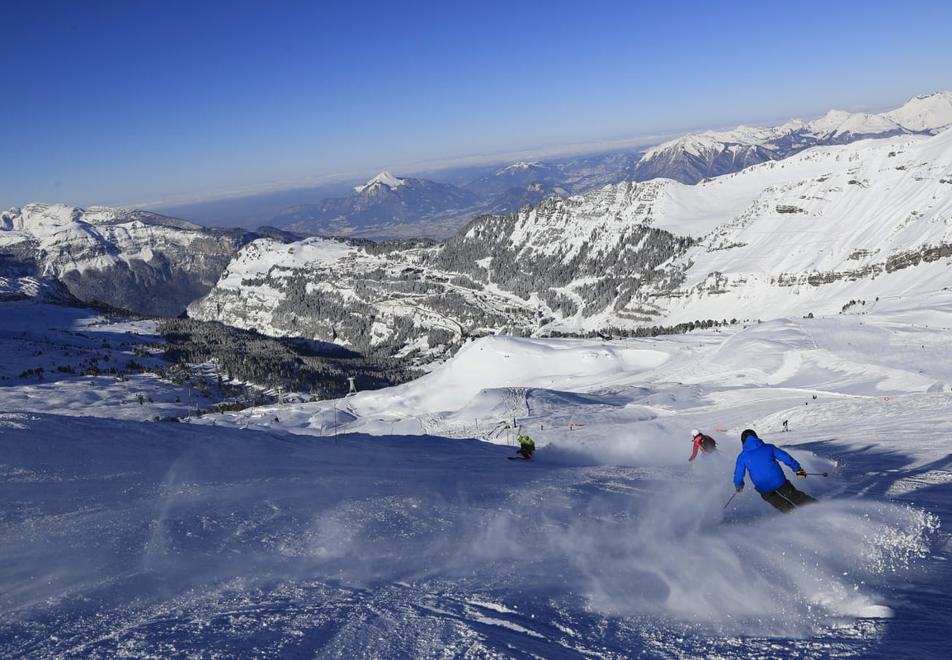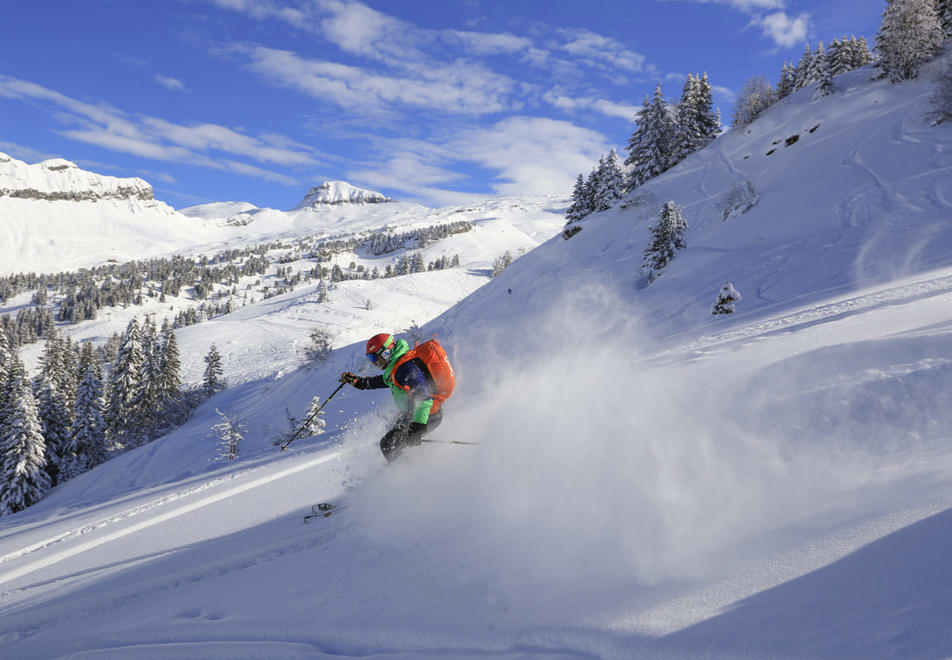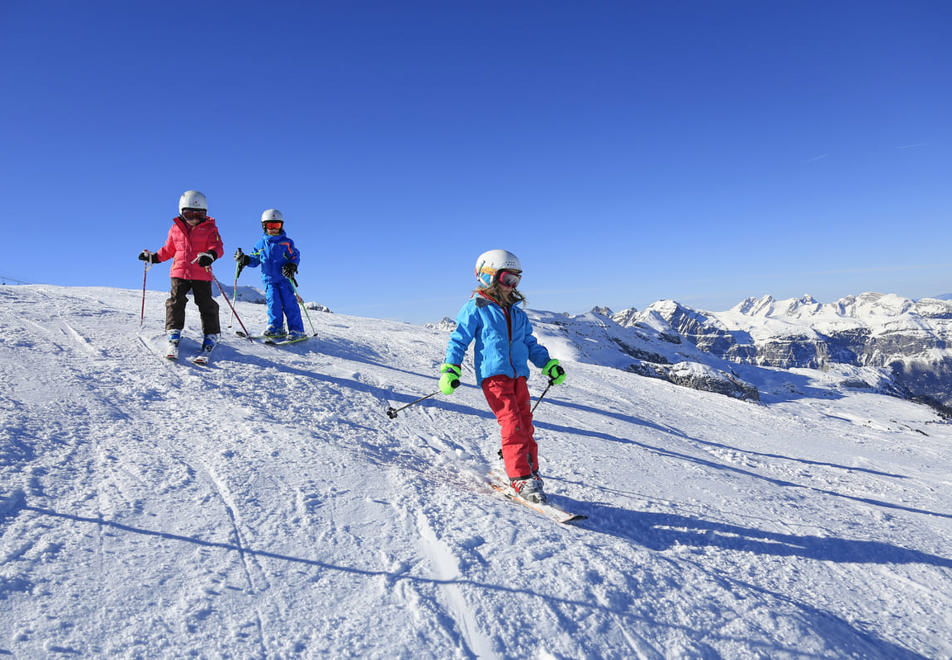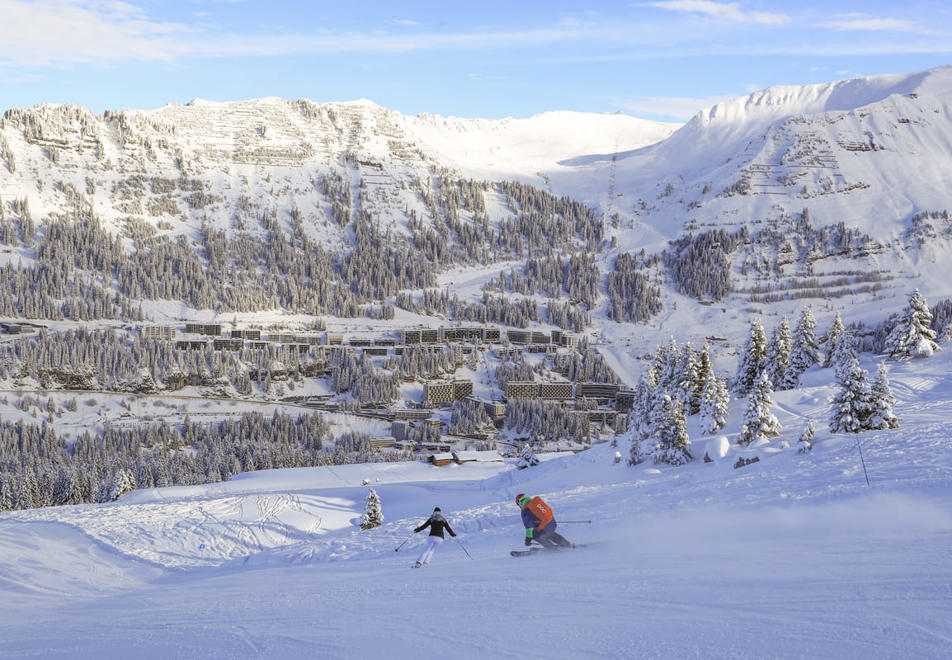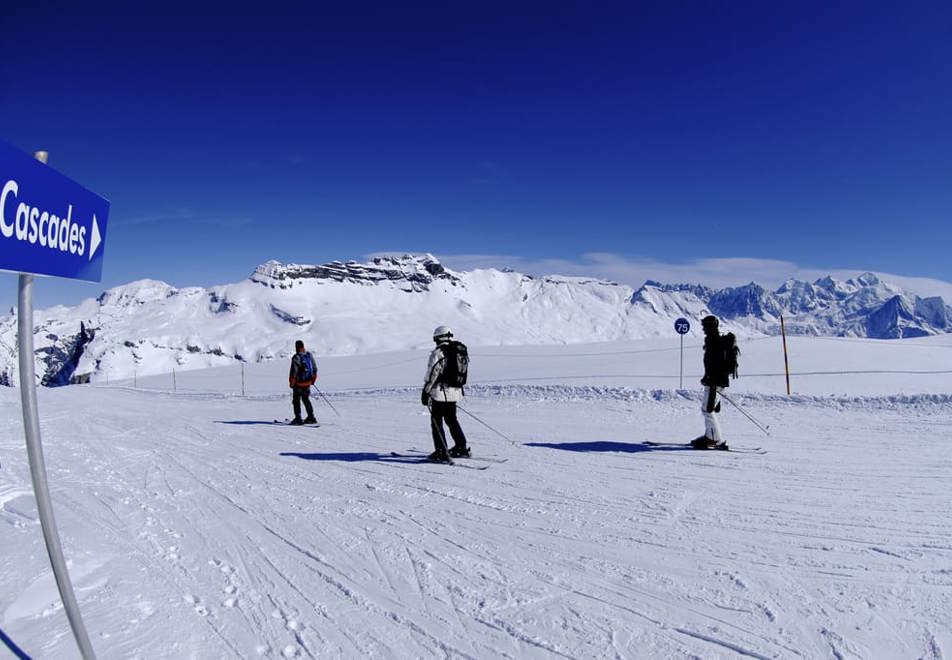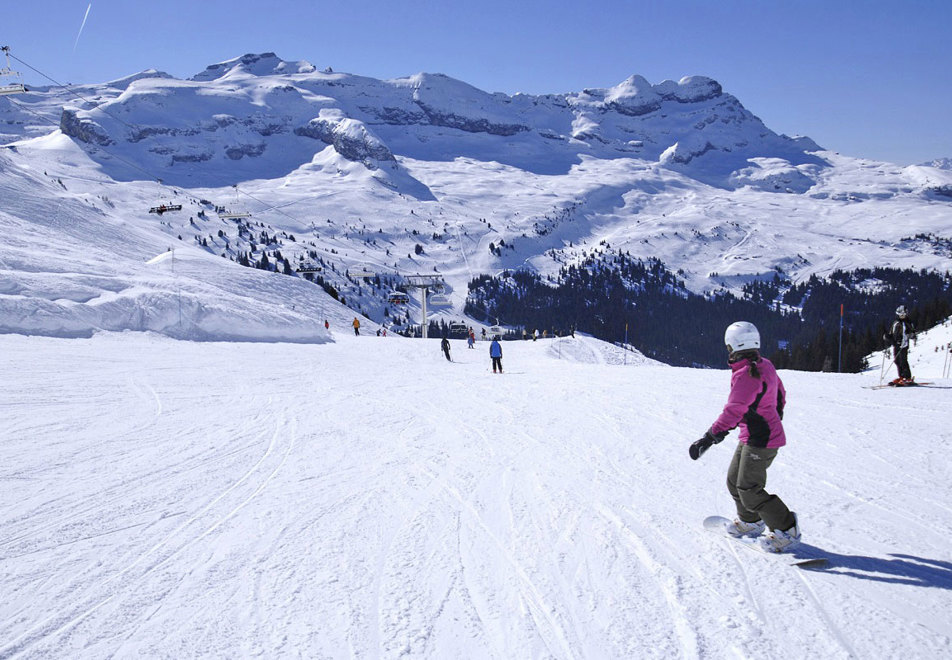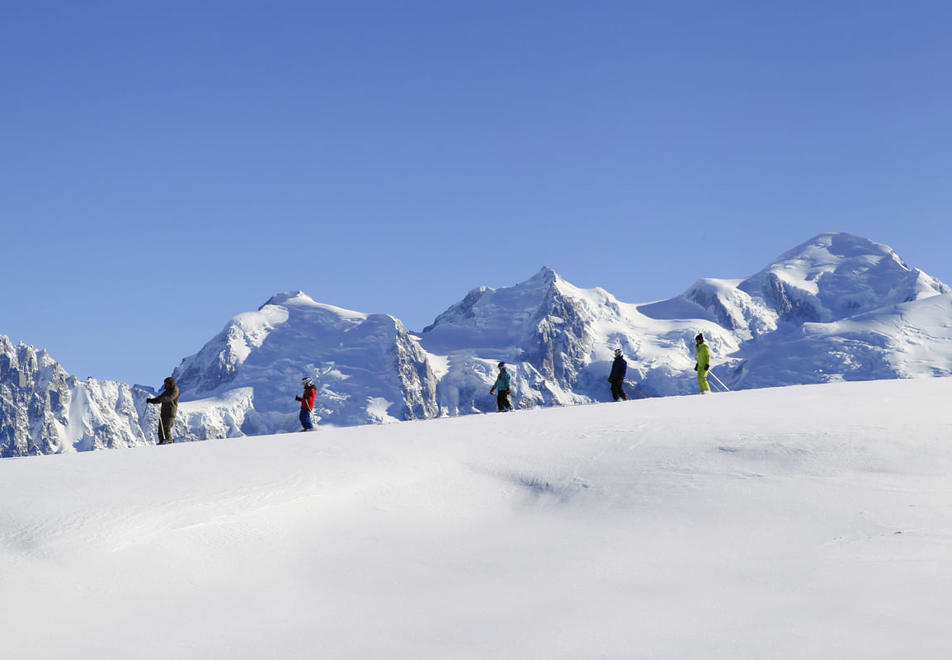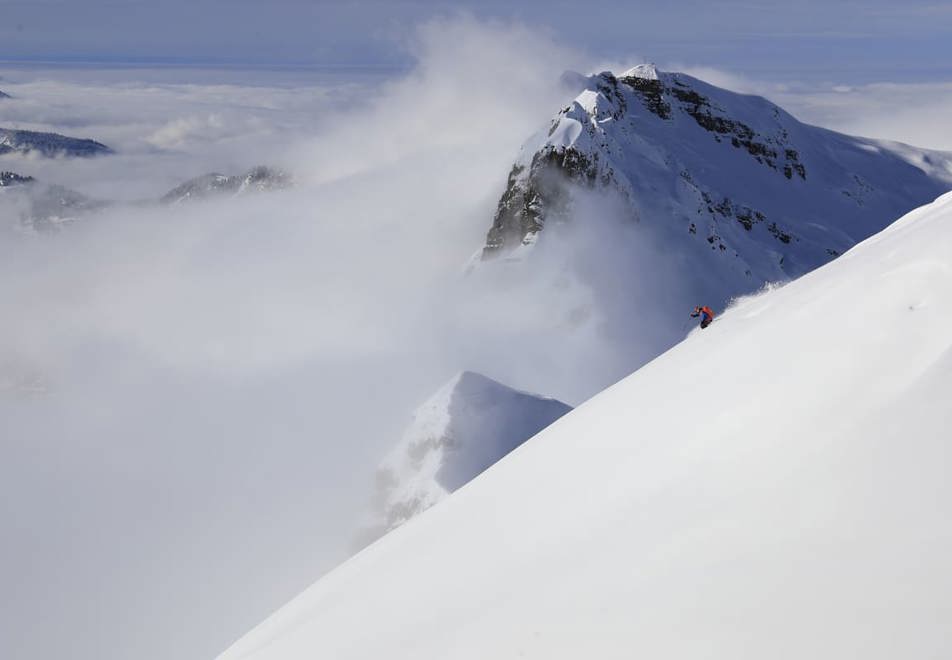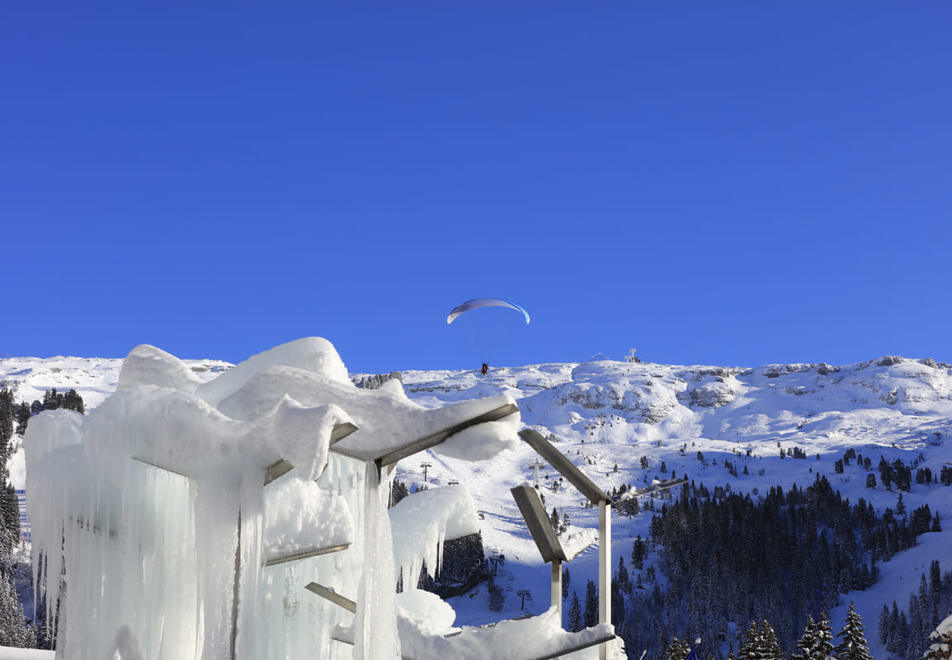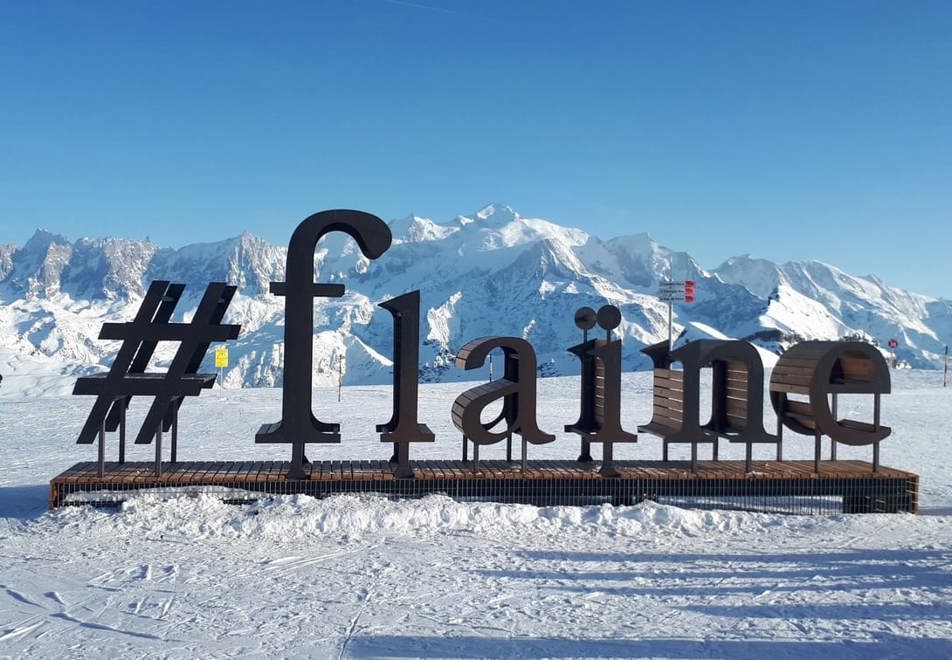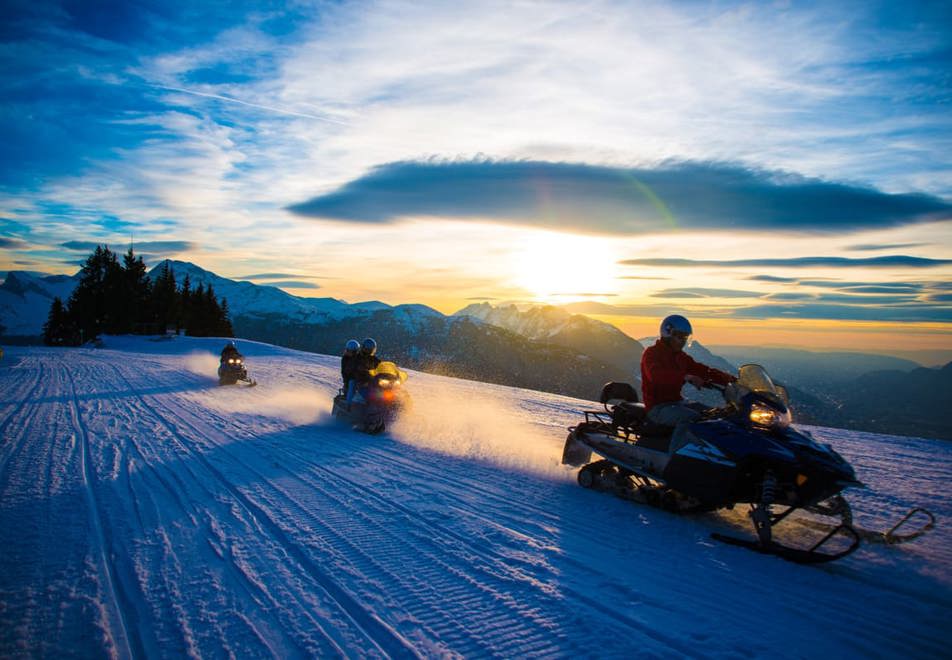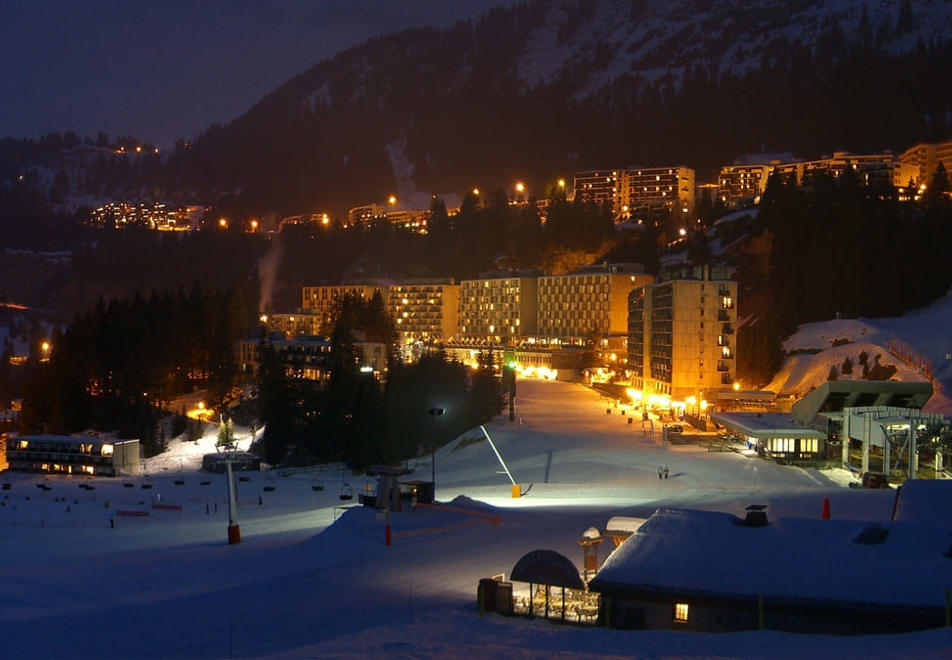 Thinking of skiing in Flaine? This architecturally modern and car free resort offers doorstep skiing and a friendly ambience, making it ideal for families.
Why Flaine Ski Resort?
Located at the heart of the vast Grand Massif ski area

Doorstep skiing with excellent snow records

Great car-free ski resort for families

All amenities and services close by

Close proximity to Geneva Airport
Flaine is a family-friendly car-free resort, with all the shops, services and amenities grouped together just a stone's throw from all accommodation. For your convenience, there is also a free resort shuttle bus service. Flaine is the largest of the Grand Massif ski villages (other being Samoens, Morillon/Morillon 1100, Les Carroz, Sixt fer a Cheval) and is in continuous renewal and expansion. This lively resort at 1600m already attracts lots of ski enthusiasts and has become even more sought after during recent years thanks to the construction of more high-quality, modern and stylish residences.
Flaine ski resort is part of one of the largest skiing areas in France: the Grand Massif. With one of the best snow records in the French Alps (and the most snow-sure), Flaine is very often called the 'Big Snowy Bowl'. Because of this, skiers and snowboarders will enjoy excellent ski conditions all winter, along with stunning scenery.
Flaine is conveniently close to Geneva airport (1hr 15 minutes by car) and with snow on the doorstep of most accommodations, Flaine is also described as a 'Fly-in, Ski-out resort'. Flaine is one of the most easily accessible resorts in the French Alps.
Flaine and the Grand Massif were the first ski area in the world to bear the Green Globe certification; a recognition of the efforts made by companies and organisations that are committed to sustainable tourism.
'Le Flaine Historique' was awarded the "20th Century Heritage" label by the French Minister of Culture. Flaine's ecumenical chapel is classified as a "Historic
Monuments". "Le Flaine" and "Bételgeuse" buildings are listed on the "Supplementary Inventory of Historic Monuments in France".
Flaine ski area
The resort of Flaine is nestled in the peaks of the 5th largest interconnected ski area in France, Grand Massif, with 265km of slopes which are carefully maintained and suitable for all abilities and levels, especially beginners and intermediates. This impressive lift-linked ski area is formed of 5 ski resorts:
Morillon/Morillon 1100
Sixt fer a Cheval
Flaine
At an altitude of 2500m and facing Mont Blanc, the Grand Massif ski area is lucky to be blessed with one of the best snow records in the whole of the French Alps. Flaine's altitude and geographical location guarantee exceptional snow coverage until the end of the winter season in 2,500m of height.
There are plenty of wide and open snowy boulevards, moguls and sunny cruising motorways - offering excellent skiing and snowboarding for all. The tree-lined pistes of Flaine are also perfect on bad weather days, offering shelter and much better visibility when the snow really starts to fall.
From Flaine, you can access the highest point of the Grand Massif ski area by gondola, which takes you to Les Grandes Platieres at 2480m. From this point, you will be able to enjoy a wide series of runs from blue to black all going back down to Flaine. The most famous run from this point has to be the Cascades blue slope which is an impressive 14km long!  This run will take you on an altitude drop of 1800m right down to the village of Sixt Fer-à-Cheval, with glorious scenery in the Ger Valley - not one single ski lift all the way down and the reward of seeing the frozen waterfalls at the bottom! At a relaxed pace, you should allow approximately 4 hours for the round trip. From Sixt the free shuttle bus will take you back to the main cable car in Samoens or Morillon – be sure to check the bus and lift closing times before you head off as we don't want any stranded skiers!
Access to the Grand Massif ski area from Flaine is very easy via the 8-seater Grands Vans lift. This is a high-speed lift and so queues are very short. The blue Dolomie run will then start you off on your journey into Samöens, Morillon and Les Carroz.
In 1973, Flaine was the first French resort to install snowmakers. The innovations have continued to this day: snow factory, hill reservoir, new snowmakers…
Additional ski fact info, main ski info in resort facts box at top of page (22/23):
Grand Massif ski area comprises of the resorts of Flaine, Samoens, Morillon, Les Carroz d'Araches and Sixt fer a Cheval. The largest lift pass covers the whole area and piste numbers can be found in the facts box at top of this page. You can also buy smaller area passes that cover all resorts except Flaine called 'Vill4ges' and then Les Carroz local area.
Flaine local area - 24 lifts (3 gondola, 1 bucket lift, 9 chairlifts, 9 draglifts, 3 carpets), 74 slopes:
Green slopes: 8
Blue slopes: 28
Red slopes: 27
Black slopes: 5 
Flaine skiing info
Beginners
Flaine is great for beginner and low-level skiers/snowboarders. Good nursery slopes are located in Flaine and the rest of the Grand Massif, making this an ideal ski resort for beginners and families with young children. 
A few tips to get the most out of the Flaine beginner zones:
Start off learning to ski on the Pré or Bissac pistes,
Move on to the Mélèze green slope accessed via the Ballacha draglift
Improve your technique by taking the Gèrats chairlift to get to the Balaken fun zone on the Opale green slope and ski on your first blue slope
You can take chairlifts or even the Grandes Platières cable car to admire the view of Mont Blanc
There are 4 free ski lifts in Flaine: 3 covered magic carpets - Le Pré, Le Michalet and Le Bissac, as well as the Télébenne gondola lift.
There is an excellent range of blue slopes. Serpentine and Cristal are wide and gentle and great for progressing beginners to start practising their carving turns.
A must! Starting from the Grandes Platières, follow the 14km famous long blue Cascades piste and meet the unexpected landscapes bordering the Sixt-Fer-à-Cheval Nature Reserve. Created in 1994, it is the longest ski run in the Grand Massif. An elevation drop of 1700m separates the start of the run from its arrival in Sixt. Winding through alpine pasturelands and forests, the start has a panoramic view of the Mont Blanc peaks, then throughout the descent views emerge of the peaks around Sixt (the Fiz range, the Fer-à-Cheval cirque, the Pointe d'Anterne, the "Pas de Sales" passage and more). It is not uncommon to spot chamois or ibex from the piste as well which is a nice little bonus. From Sixt, you need to take a 20-minute bus to Samoens or Morillon and catch the lifts back up to Flaine.
Intermediates
Flaine is very good for intermediates, the majority of the slopes being blue and red. The challenging Faust red slope runs from the top station all the way back down into the resort, with a few short and fairly steep sections that are sure to get the adrenalin going!
Good blues include Tourmaline and Mephisto (blue verging on red).
Advanced, off-piste & ski touring
Runs not be missed include the Fred red run and the Styx and Le Diamant Noir blacks. By taking the Aup de Véran gondola you will find the steep terrain below the Tête des Lindars at 2561m and from here you can cross Le Diamant Noir and take the long Almandine red which will take you back towards the village. Another great red from this sector is the Célestine run which takes you on a lovely winding, twisting and turning run through the forest and will bring you back right beside the village.
The semicircular Combe de Gers offers a great off-piste location for free-riders who love steep slopes, thrills and spills. The Grand Massif ski area overall is a huge playground for free-riders and off-piste thrill seekers. As always, for your complete safety and to get the very best out of the whole ski area we would strongly recommend always hiring a mountain guide when partaking in off-piste skiing.
Flaine resort runs
Flaine's bowl shape means that there are a plethora of pistes that run back to the resort. A few of these run through the forest for sheltered skiing. The pistes are blue and red so suitable for most levels of skier.
Flaine snow record
Flaine has a high level of natural snowfall averaging close to 6m per season at resort level and 15m (annual average) at the top of the 2500m Grandes Platières, making this one of the snowiest skiable mountains in the Alps. One of the reasons the top of the mountain at 2500m is so snowy is that it is one of the highest points on the windward side of Mont Blanc. So this means that not only does it get the full force of storms moving in from the North-West but also Flaine benefits from its proximity to the mountain which forces the air to rise (on a more macro scale) and purge itself of extra moisture. 
Flaine also has excellent snow preservation qualities which is partly because most of Flaine's slopes face north or north-west but also because of the ring of high mountains that surround the village. This partially protects the main bowl against the worst effects of mild west or south-westerly winds.
With thanks to Fraser Wilkin for the technical information
Flaine mountain fun zones
ZE BALAKEN - a veritable family zone covering the entire Opale green run; a fun course to enjoy in the company of Balaken the octopus and his friends the Tootizz.
Access: Gérats chairlift
ZE CROSS - a genuine boardercross on the Méphisto run. Fun route comprising moguls and banked turns. Have the thrill of your life, individually or in a group.
Access: Aup de Veran cable car
ZE FOREST - it features a mix of black country and snowpark. The routes criss-cross, giving you the chance to take a new path as you continue down the run.
Access: Aup de Veran cable car or Bois skilift
URBAN'Z - a protected and accessible zone dedicated to kids and beginners. This learning area, which is served by a covered moving walkway, allows you to discover woops and banked turns in a gentle slope.
Access: Beginner's area of Pré
Flaine nordic skiing
Flaine's Ski Nordic is situated at 1844m at 'Le Col de Pierre Carrée'. This cross-country skiing area is one of the highest in Europe, with the best snow cover in the French Alps. You can enjoy 5kms of marked tracks for skating and traditional cross-country skiing. The 'Agy' area, about 30 minutes from Flaine offers 30km of additional tracks. Pedestrians and snowshoe walkers can also enjoy 5km of marked footpaths.
The free shuttle bus provides easy access to the area and tickets are on sale locally.
Flaine ski hire & lift passes (pre-bookable)
Pre-book your 6 day+ Flaine ski hire and/or Flaine lift pass with Peak Retreats.
To download the ski extras form see 'Helpful links' further down the page. Please note that prices are for indication only. They will fluctuate based on Euro/£ exchange rate. Please call us for the latest prices.
Other lift passes are available to buy in the resort such as half or full-day passes (for those who only wish to ski the odd day) or one-use lift passes for pedestrians. Some resorts also offer specific beginner area passes and cross country passes.
Flaine group ski school (pre-bookable)
Ski school for children is available to book from 3 years to 12 years in Flaine with Peak Retreats. Children can learn to snowboard from 8 years+. 
To download the ski extras form see 'Helpful links' further down the page. Please note that prices are for indication only. They will fluctuate based on Euro/£ exchange rate. Please call us for the latest prices.
Flaine private lessons (not pre-bookable)
Private lessons with an instructor can only be arranged directly with the ESF ski school. Peak Retreats cannot pre-book these. Private lessons are usually around €40-60 per hour (depending on resort, time of day and period) and becomes cheaper the more hours you take and the more people you have to share the hours with i.e with family members or friends. Some resorts insist on a minimum of 3 sessions to be booked at once.
Contact ESF Flaine for private lessons - 0033 4 50 90 81 00
---
Flaine childcare (not pre-bookable)
Childcare from 6 months-3 years (non-skiers)
Parents can entrust their little ones to the child-care centre of the resort "Les P'tits Loups", from the age of 6 months to 3 years old.
Please contact Les P'tits Loups direct as we cannot pre-book this kids club - 0033 4 58 10 03 07.
Open from Monday to Friday. No reservations in summer, just come at the beginning of the week to book your days or half-days.
It is advisable to book before you go and in good time as spaces get filled quickly, especially in Peak times. A childhood vaccination record will be needed. 
---
Babysitters (not pre-bookable)
A list of babysitters is available from the tourist office.
Top snow activities to experience in Flaine
Please note Peak Retreats do not book any activities and most activities are payable therefore the below is just for information. More detailed information and how to book can be found on the tourist office website.
Flaine as a whole offers a vast array of snow sports and non-skiing activities. There are too many to list in detail, but here are a few highlights.
Big airbag
Wedged into an inflatable rubber ring, throw yourself down the slope and take off into the air before landing on a huge inflatable mattress. Making like a pro in complete safety is irresistible fun. Free activity for the over 8s!
Quad bike/buggy on ice
Driving a quad bike or a buggy on the ice and learning to control skidding and steering is so cool! Day or night, it's up to you! Children can join in the fun too with quad bikes available for the over 6s.
Ice driving school
There are certain similarities between steering your skis and steering a car: acceleration, braking, negotiating corners… Whether fast or taking it easy, the ice-driving school offers a range of packages: from introductions to multi-day courses for learning how to master a vehicle on an ice-covered road.
Nordic skiing
This takes place on the Col de Pierre Carrée Nordic areas in the upper part of the resort. Skate and Classic tracks are open to everyone via the blue run.
Dog sledging
If you love nature, snow sports, and animals, an introduction to dog sledging is the perfect thing for you. There's no need to go all the way to Canada to get a glimpse of this world, with our professional mushers you can discover it from the age of 5 (as passengers).
Snow scooter
A snow scooter ride offers a combination of thrills and wild natural landscapes. Ride in between the slopes and the forest at nightfall, when the ski runs have closed. Passengers must be taller than 1.35m. 
Yooner
Glide effortlessly down the slopes, and enjoy even more exciting, surprising thrills… Job done thanks to the arrival of the yooner. Seated 20cm off the ground, you'll experience real excitement on this new snow sports device, similar to a snow go-kart. It's fun and easy to use and gives you total control over your descent. Lightweight and easily maneuverable, it is fitted with a shock absorber to provide even more comfort and a blade to let you "carve corners" just like on skis. Try it, it's a guaranteed hit with the over 8s!
Snowkiting
A word to thrill seekers and anyone thirsting for freedom and wide open spaces! Snowkiting is the activity for you! From the minute the kite rises into the air until it lands on the ground, you'll glide along untouched snow, on the flat, up climbs, traversing, and downhill… you'll glide uninterrupted along the natural contours.
Snowshoeing
Excursions: 1/2 day. Croq Raquette (in the evening with dinner), snowshoes included.
Top activities to experience in Flaine
Please note Peak Retreats do not book any activities and most activities are payable therefore the below is just for information. More detailed information and how to book can be found on the tourist office website.
Flaine as a whole offers a vast array of snow sports and non-skiing activities. There are too many to list in detail, but here are a few highlights.
Ice rink
As an après-ski activity or for a break in your snow sports day, discover new thrills adapted to suit all ages! Little ones and grown-ups will love gliding on the natural outdoor ice rink. It opens in the morning for electric quad biking for the over 4s and in the afternoon for skating for the over 3s. Located in Flaine Forum.
Paragliding
Discover the ski area and the resort of Flaine from the sky on an introductory paragliding flight with an instructor, a beginner's paragliding flight or on an advanced level paragliding course.
Scenic flights
Tour of Mont-Blanc, introductory flying session, drop off at a mountain refuge to discover the region's highest summits… these are just a few of the flight packages offered by Mont-Blanc hélicoptères departing from Flaine
Torch lit descent/Savoyard dinner
If you're more of a night owl, you won't want to miss the "torch lit descent" and Savoyard dinner! After a delicious meal, pretend you're a ski instructor for a while, torch in your hand, for a nightfall descent from the ski area summit at 2,500 metres! 
Indoor climbing
If you'd like to experience the exceptional quality of life this resort offers, Flaine boasts a range of leisure equipment for après-ski relaxation! At the heart of the magnificent Flaine Forêt auditorium, an INDOOR CLIMBING facility is available at the end of the day: free to use with your own equipment or during lessons from Cœur De Montagne.
Bowling alley
Also at the Forêt level in the shopping centre, the bowling alley is open at the end of the day and in the afternoons when the weather's bad.
Aqua-fun centre
The resort's aqua-fun centre offers a 25-metre swimming pool, a children's pool with a waterslide and water jets, two saunas, two steam rooms and two whirlpool baths for your relaxation. And for those who can't sit still or want to discover new sports activities, aqua gym and aqua biking lessons are also available. Open to all resort guests - Le Centaure - Flaine Forum
Cinema
So you don't miss the latest blockbuster or your favourite director's new film, take a trip to the cinema. With 2 screenings a day, your film is sure to be on the bill. Flaine Forum.
Flaine news & events 
What's new:
Spend the morning flying over the ski area and soaking up the stunning Grand Massif landscapes on a hot air balloon flight.  
Rockypop Eat and Drink - The place to be to get together and enjoy a drink or a delicious meal after a fab day on the slopes! Set on the upper ground floor, the bar is the new après-ski venue for cocktails and tapas by the Breuer-designed fireside, for a quick game of pool or table football, or to sing at the top of your voice in one of the karaoke rooms! The evening continues on the lower ground floor, with 3 restaurants to suit all tastes.
Events taking place in the 2022/23 season:
Christmas in Flaine - be part of traditional Christmas and New Year celebrations in a Flaine illuminated by thousands of twinkling lights… Shows, choirs, torch-lit descents, visits from Father Christmas, a huge range of entertainment that will enchant your stay and make it… Unforgettable! Lighted drone shows: Equipped with very powerful LEDs, the drones light up the sky by creating different scenes in a surprising show, as magical as ecological. 
January in Flaine - January in Flaine is all about getting things started, having fun and reinventing yourself… with a huge range of entertainment and activities to share with friends or family: football darts, biathlon, passing your toboggan driving license, laser tag, introductory freeriding, speed skiing and ski touring sessions… There's an experience to suit everyone!
Flainestival in February - strolls, parades, shows, concerts, torchlight descents ... Here is a nice overview of what awaits you in Flaine! With activities planned for everyone, the Flainestival has an exceptional program in store for you to share festive and emotional moments! Lighted drone show: Equipped with very powerful LEDs, the drones light up the sky by creating different scenes in a surprising spectacle, as magical as it is ecological.
Spring in March and April - but that's not all, it's also time to let the many events taking place in the resort work their magic on you. "Printemps de Flaine" will blow you away, with live music from classical to rock, as well as shows, workshops and parades for all ages.
More information can be found on Flaine tourist office: www.flaine.com
Flaine apres-ski, bars & restaurants
In Flaine there are a number of mountain restaurants, bars and restaurants and a nightclub.
---
Flaine amenities
Flaine offers you all the amenities you may need: supermarkets, grocery stores, local regional product shops, bakeries, butchers, newsagents, pharmacy, bank, post office, garage, hairdressers, sport and clothes shops. Most of the services and amenities are grouped together in two shopping arcades, one in Flaine Foret and another in Flaine Forum. 
Getting to Flaine, France
By road
Our holidays include a return FlexiPlus Eurotunnel. Accommodation only and ferries can also be arranged. Listen to Autoroute FM (107.7 FM) for traffic news in English.
From Calais, take A26 Motorway to Reims and Troyes, then A5 Motorway to Dijon, then A39 motorway to Lons-le-Saulnier and Bourg-en-Bresse, then A40 Motorway also named 'Autoroute Blanche' heading Genève/Turin. Exit Cluses Centre (no 19), follow N205 road towards Sallanches. After 2 miles follow signs to 'Flaine' and turn left towards Flaine on the D6 road up to Les Carroz d'Arâches then on the D106. Pass 'Col de Pierre Carrée' and then continue downhill to Flaine for about 1.5 miles.
By rail & air
Take the Eurostar from London St Pancras. See our train services page for more information as we can pre-book the trains for you. The nearest train station to Flaine is 18 miles away in Cluses.

4 international airports nearby, and a heliport at the foot of the slopes. See our flying page for information on airlines (however we don't book flights).

Chambery Savoie Mont Blanc Airport to Flaine is roughly 80 miles, approximately 1hr 40
Lyon-Saint Exupery Airport to Flaine is roughly 132 miles, approximately 2hrs 25
Geneva Airport to Flaine is roughly 43 miles, approximately 1hrs 10
Grenoble Alpes Isere Airport to Flaine is roughly 133 miles, approximately 2hrs 20 mins
Private taxi transfers
Private taxi transfers from airports and train stations are pre-bookable with Peak Retreats. See our airport & station transfers page for more information.
Bus transfers
Altibus/Bens Bus/Snow bus (and the likes of) offer shared bus lines from French/Swiss airports and some SNCF train stations to ski resorts. We don't book these (or have any affiliation with), we invite you to do your own research.
Resort shuttle bus
The convenient free shuttle bus runs approximately every 15 minutes from 08:25 to 18:15, travelling between the resort centre, Le Hameau de Flaine and the Col de Pierre Carrée cross-country/snowshoe trail areas.
Resort parking
For the safety, comfort and convenience of all, Flaine is a completely car-free ski resort. There is free parking of up to 1 hour 30 minutes to unload/reload your luggage. After that you must park your car in one of the car parks at the entrance to the resort.
Free and paying car parks are at your disposal on the outskirts of resort. You will find a car park at every level of resort (Forêt, Forum, Front de neige). Your accommodation is just steps away.
---
Flaine opening dates