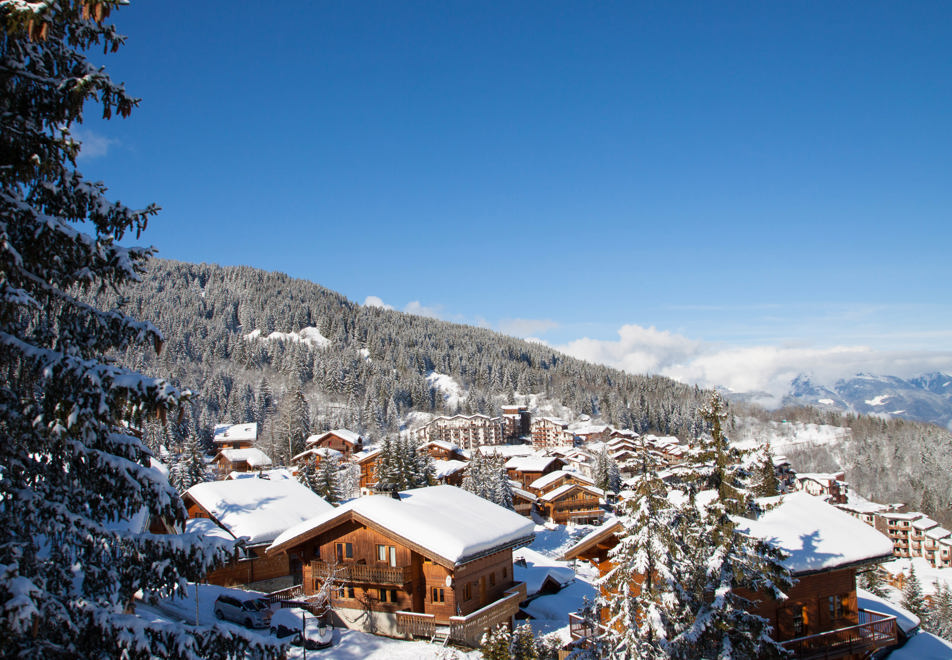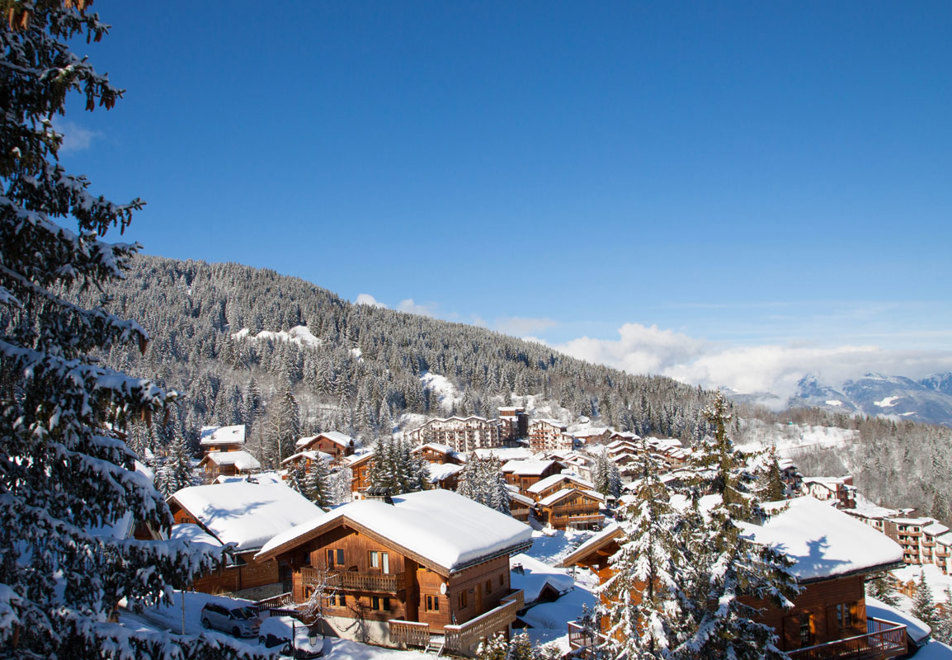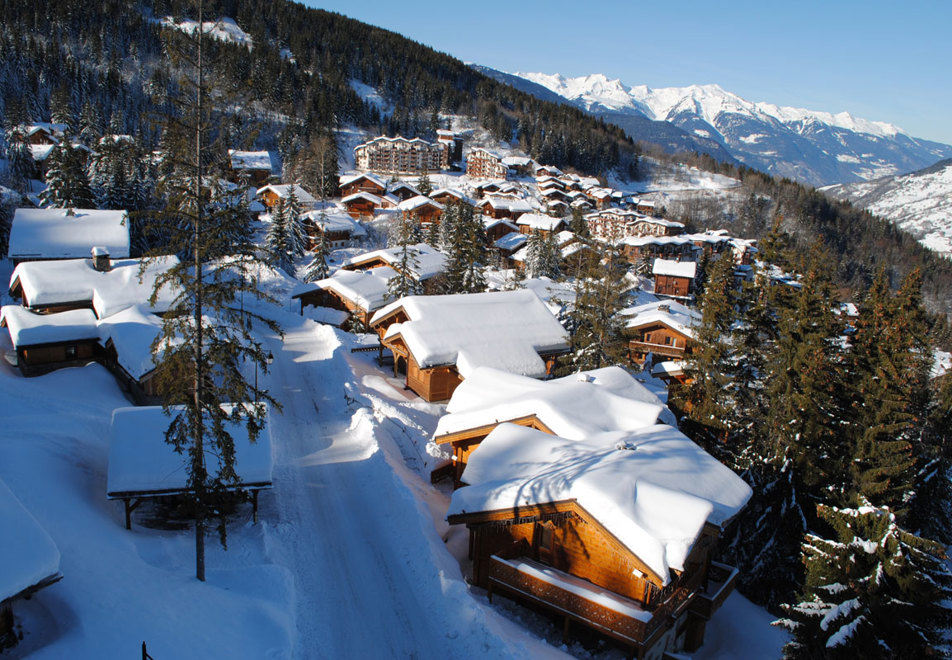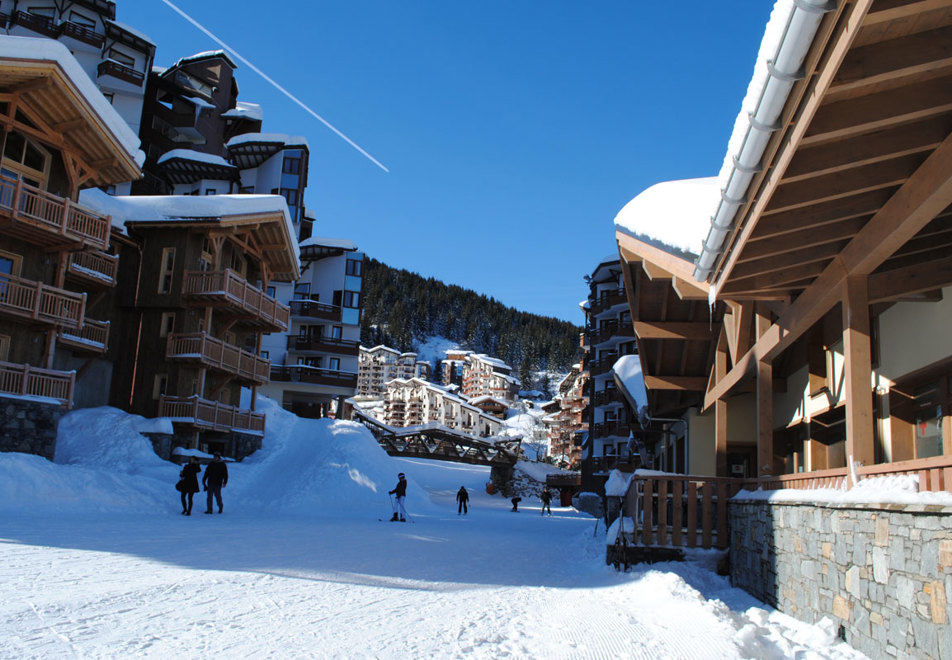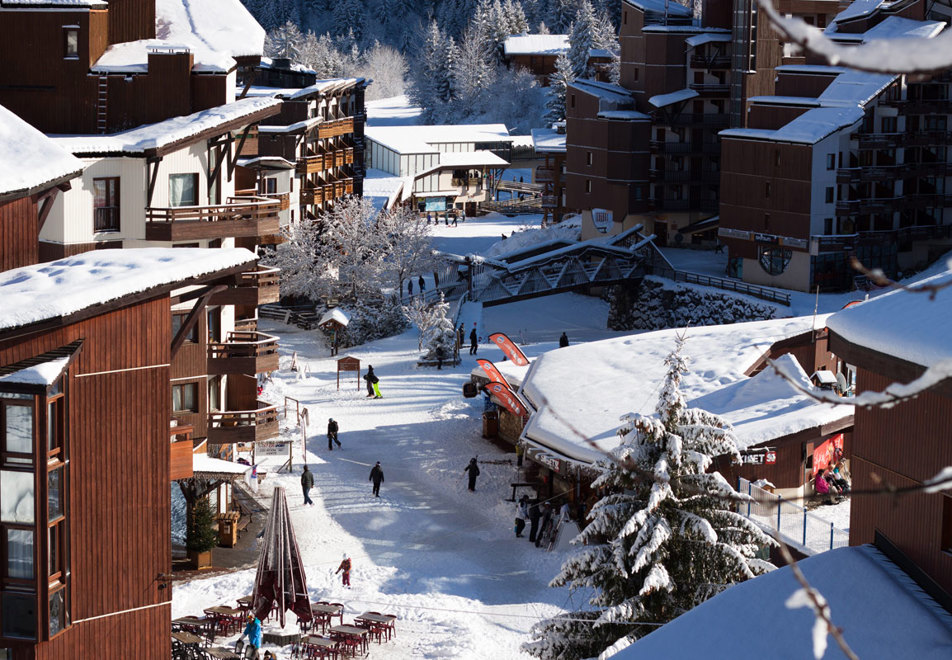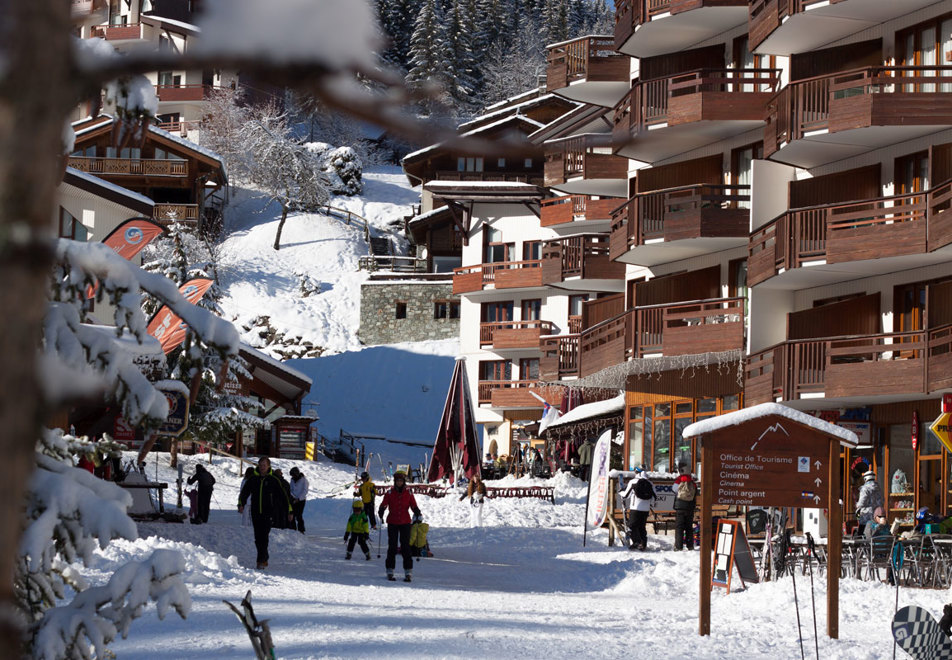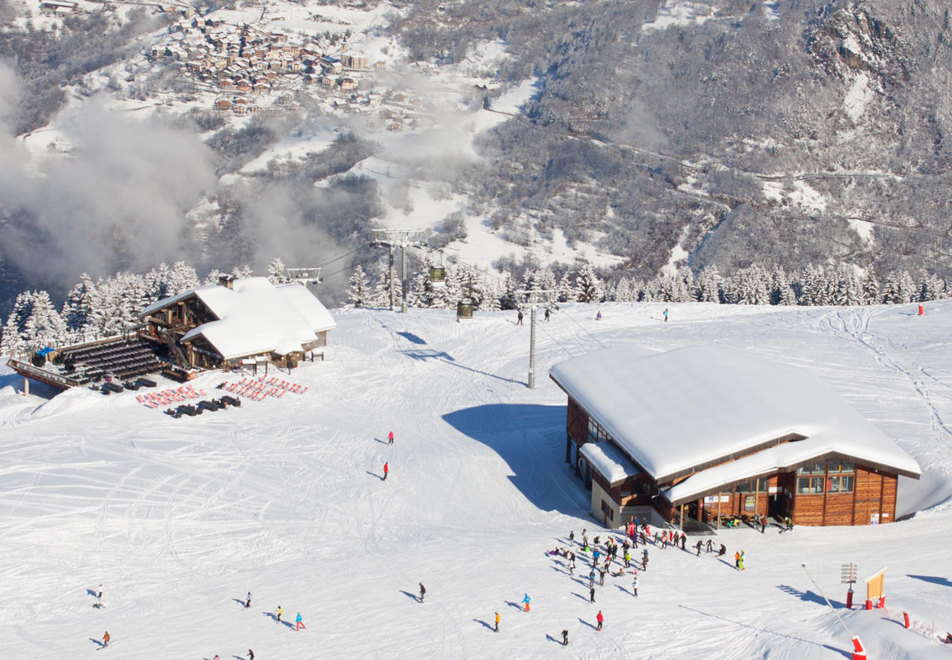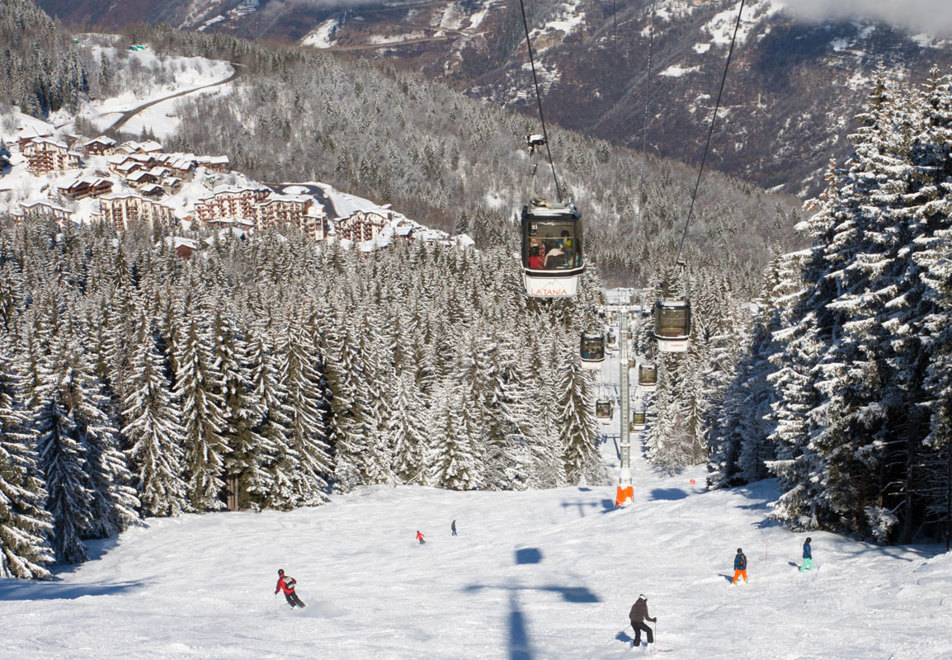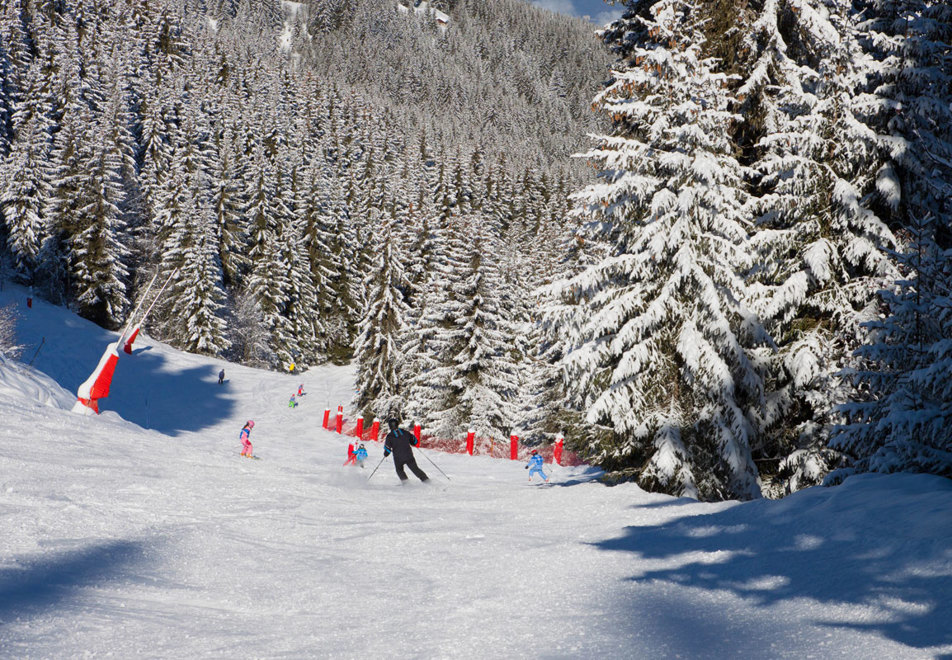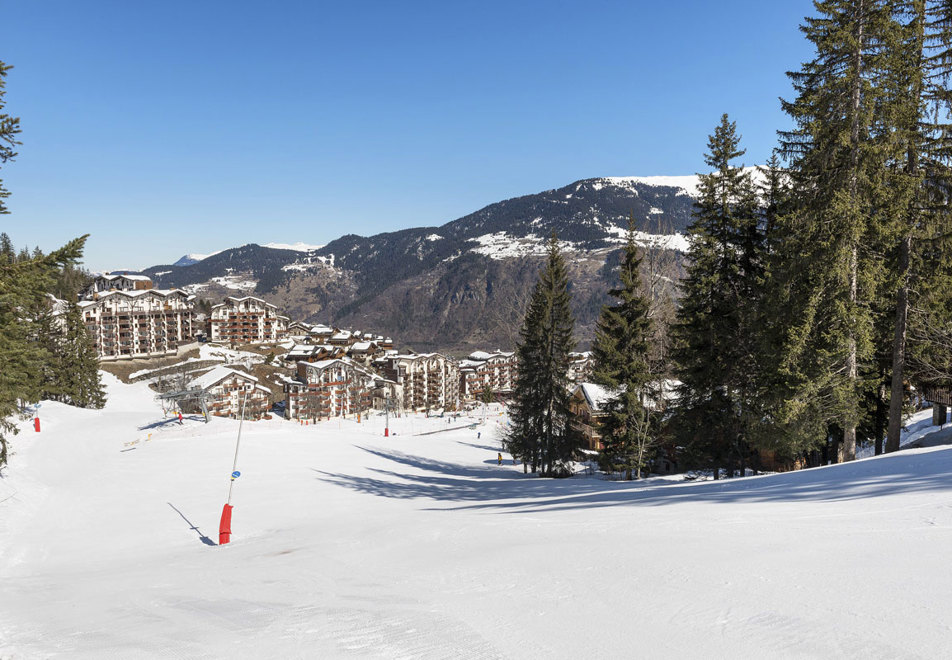 Thinking of skiing in La Tania? La Tania is a family-friendly resort in the Courchevel area of the 3 Valleys. Sitting at 1400m among truly awe-inspiring scenery, just 25 minutes' drive from Moûtiers.
Why La Tania Ski Resort?
Easy access to the huge 3 Vallées ski area (600km pistes)
Child-friendly, safe streets - Fully pedestrianised
Quick transfer 25mins from Moutiers train station or 1hr from Chambery airport
La Tania is largely hidden from the outside world by its peaceful woodland setting
La Tania (3 Vallées) Information
Originally a small hamlet midway between Méribel and Courchevel, La Tania nestles in the heart of a fabulous spruce forest and has been caringly designed with an emphasis on wood and traditional materials. La Tania is the youngest resort in the 3 Valleys – it's entirely pedestrianised with parking located on the outskirts. 
La Tania was developed for the 1992 Albertville Olympics by the same award-winning team of architects responsible for Avoriaz, who were once again determined to respect the natural beauty of the exceptional setting. Recent years have seen the six original timber-clad apartment blocks in La Tania's traffic-free heart joined by smaller chalet-style developments, but the village retains its compact and cosy feel and is largely hidden from the outside world by its peaceful, woodland setting.
Although it may not quite demonstrate the kind of Alpine touch you might find in other resorts, it is, after all, a relatively new ski resort (built in 1991) so it inevitably lacks the history and style of older Alpine villages.
Designed with skiing in mind, this purpose-built resort has a rather modern touch to it, as opposed to "rustic alpine". It's very practical for skiing - much of the accommodation is ski-in, ski-out, and centred around the Front de Neige.
The development of tourism in La Tania has been carried out in accordance with the environmental protection requirements constituting the most wooded area of the 3 Valleys. La Tania also has the Green Resort Award.
Peak Retreats offers a range of La Tania accommodation options. All of La Tania's ski apartments have been hand-picked and are of a very high standard, providing the ideal base for a La Tania ski holiday.
LA TANIA SKI AREA
Arguably the French Alps' best-kept secret, La Tania enjoys a fantastic location in the very heart of the world-famous Three Valleys ski area - the world's biggest linked ski area.
Unlike the rest of the 3 Valleys, La Tania's ski domain is wooded on its lower slopes.
Linking up with nearby Courchevel is relatively easy. Take just two ski lifts to the Col de la Loze and then ski on to Courchevel, Méribel and the whole of the 3 Valleys. From the slopes above Courchevel there are stirring views across to Mont Blanc and over to Champagny/Bellecôte in the next valley. La Tania's detachable Bourc Blanc six-seater lift capacity has risen by 32% thanks to increased power, which also means faster links between the La Tania and Loze sectors and Courchevel.
The 3 Valleys benefit from excellent snow coverage - the minimum altitude level for skiing is 1300m and the maximum is 3230m. This means that a huge 85% of the ski area is located above 1800m. Some 2000 snowmaking machines cover a third of the ski area as well. The 3 Valleys offer wide ski runs that are maintained nightly by 80 piste-grooming machines. While its illustrious neighbours Méribel and Courchevel grab all the media attention, La Tania quietly gets on with doing what it does best: providing skiers in the know with an attractive and affordable base from which to explore the immaculately-groomed and near-limitless terrain of the world's largest ski area.
"A very attractive budget base for the vast slopes of Courchevel and Méribel – and not bad looking for a purpose built resort." So said the Ski Guide of Great Britain in 2010.
The slopes at La Tania are North-East facing. A gondola from the heart of the village leads up to the ski area, with the nursery slope on your doorstep. To reach Courchevel from La Tania village, there's an easy slope but the journey back from Courchevel involves a blue run. The slopes directly above La Tania are wooded so it's ideal for visibility during bad weather (probably the best place in the 3 Valleys for this!). If you go up a little further, the slopes are wide open.
From the main gondola, you can then take chairlifts and/or draglifts to bring you into Courchevel 1550 or 1850. There's a fast link to Méribel via the Col de la Loze.
 For children, La Tania/Courchevel also benefits from the 'Magnestick' lift system. The Courchevel/La Tania/Méribel-Mottaret resorts are always on top of technology for skiers' safety - three years after the development of Magnestick®KID - special safety for transporting small children on chairlifts - the Société des 3 Vallées (S3V) which operates the Courchevel / La Tania/ Méribel-Mottaret resorts will be the first skiing area in the world with 100% of its chairlifts equipped with the very new Magnestick®BAR.
For the Magnestick®KID,  Magnets are used to hold a specially designed child's jacket to the chairlifts.
Eight chairlifts (Dou des Lanches, Plantrey, Biollay, Pralong, Roc Mugnier, Signal and Bouc Blanc) are equipped with the Magnestick®BAR technology in Courchevel making it the best-equipped resort in the world. Magnestick®BAR is the universal safety bar locking system. This innovative technology can be adapted to all brands and all types of chairlifts. It works with the same "magnestism" technology as the Magnestick®KID. When the passenger pulls down the safety bar, it locks automatically. It is then impossible to pull the safety bar up. It is automatically unlocked just before the arrival station.
This also means that no-one on the same chair can pull the bar up too early before the lift arrives, perhaps making other passengers anxious or uncomfortable.
Additional ski fact info, main ski info in resort facts box at top of page (22/23):
Courchevel/La Tania local area - 150km of pistes, 55 lifts (10 gondola, 17 chairlifts, 19 draglifts, + 8 carpet), 109 slopes:
Green slopes: 21
Blue slopes: 39
Red slopes: 38
Black slopes: 11
La Tania only - 8 lifts (1 gondola, 2 chairlifts, 2 draglifts, 3 carpets), 10 slopes (3 green, 3 blue, 3 red, 1 black)
LA TANIA SKIING
LA TANIA BEGINNERS
For beginners, there's a new green run to the village, so it's now easier and more attractive for beginners and cautious intermediates. There are nine free drag-lifts in La Tania and the surrounding areas: Troika in La Tania, Envolée in Courchevel 1330-Le Praz, Roys in Courchevel 1550, Cospillot, Bellecôte and Etoiles in Courchevel 1850 and Mickey, Belvedere/ Petite Bosse in Courchevel 1650. There are also four practice 'Zen Zones' (La Tania, Courchevel 1300-Le Praz, Courchevel 1850 and Courchevel 1650). A beginners' area recently opened at the top of the gondola is served by a moving carpet.
LA TANIA INTERMEDIATES
For intermediates, there are long rolling runs through woods back to the village. On the higher slopes, you have a choice of three or four pistes. Both the red Lanches run and black Dou des Lanches piste are challenging. The 3 Valleys have extensive intermediate slopes with big lift networks.
LA TANIA EXPERTS
The runs above La Tania aren't particularly challenging (although some of the black descents can be tough just because of their length). There's good off-piste terrain beneath the Col de la Loze ridge – and of course, there's plenty of expert terrain over in Courchevel.
Courchevel is due to be one of few resorts in France to be equipped with a new snow-groomer with electric transmission. This cutting-edge technology improves fuel consumption by 20-30% and removes all the uncertainties associated with transmission hydraulic circuits.  How's that for eco-friendly technology!
Things to do on the piste:
Stop zone (Grandes Bosses piste, Courchevel 1650) – set off as fast as you can, see your speed displayed and find out whether you're able to fully control your skis.
Avalanche Camp (Courchevel 1850) – learn and practise essential techniques required in the event of an avalanche
Zone Zen (La Tania) – A specially designed enclosed and safe area for beginners and children. Free Troika lift in the resort centre.
Snowcross – banked bends with turns and whoopties. You set off four at a time.
Family park (Courchevel 1850) – The snowpark is under the Verdons gondola - where you can also enjoy the Canyon fun area
Red Indians piste (Courchevel 1650) - explore the Red Indians' village (activities and games)
The nearest terrain park is in Courchevel.
La Tania Ski Hire
Pre-book your La Tania ski hire with Peak Retreats.
To download the ski extras form, see 'Helpful links' further down the page.
Please note, these Pound Sterling prices are for indication only. They will fluctuate based on Euro/£ exchange rate. Please call us for the latest prices.
Special offers: Free Skis/snowboard & boots (Superior Carver) for party leaders of groups of 10 or more all taking equipment. 1 Free helmet per child aged 6 and under for every adult booking skis or snowboards & boots (must be under same booking reference and requested on form above).
Find out more about Peak Retreats ski hire
---
La Tania Ski Passes
Pre-book your La Tania lift passes with Peak Retreats. Find out more about Peak Retreats ski passes
To download the ski extras form, see 'Helpful links' further down the page.
Please note, these Pound Sterling prices are for indication only. They will fluctuate based on Euro/£ exchange rate. Please call us for the latest prices.
Other lift passes on offer (to buy locally in resort in Euros):
If you wish to book only half day or a day pass, or perhaps a few days consecutive or non-consecutive (Peak Retreats usually only pre-book 6+ days passes), then these can be bought in resort at the lift pass office, in €'s. This may suit those who only ski a few times during the week or who only want to ski the immediate local area rather than the full area (there are usually various lift passes on offer that cover different parts of the ski area). Each resort usually has a beginner's pass too which covers a small area in which to learn, which may be all you need for a few days as a beginner (some areas are even free). Prices can be found on the tourist office website if you need a guide.
Troïka and the carpet at the top of the gondola in La Tania are free lifts.
La Tania Ski School
Pre-book your La Tania ESF ski school with Peak Retreats. Find out more about Peak Retreats ski school. 
Ski school for children is available to book from 3 years to 12 years, in La Tania, with Peak Retreats. 3-5 year olds will go into the Piou Piou lessons. Children can learn to snowboard from 8 years+.
For ski school times and prices, please download the ski extras form from the 'Helpful links' further down the page. Please note these are just guiding prices. Please call us for the latest prices.
Please note that lesson times are subject to change right until the last minute - you will be advised. Outside French school holidays the ski school reserves the right to cancel group lessons should numbers be insufficient.  For peak periods - Christmas, New Year, February half-term and Easter - we strongly recommend that you book as early as possible and in any case at least 6 weeks prior to the required dates. Morning lessons tend to get booked up first and therefore we may only be able to offer afternoon classes within 6 weeks of departure. In some resorts English speaking instructors may not always be available, particularly at peak times.
We cannot always guarantee that prices will be cheaper than in resort. When ski packs prices are calculated, the currency is bought at the exchange rates that apply at the time. You can be assured that once you have booked your extras, if the pound depreciates, you will not be charged more for your ski packs, enabling you to budget for your holiday in advance.
La Tania private lessons (not pre-bookable, book direct):
Individual tuition can only be purchased directly from the ESF ski school. Peak Retreats cannot pre-book these. Private lessons usually start from 2 years old and have no maximum age.
How to book:
You can book online with ESF La Tania or contact them by phone on  00 33 479 08 80 39. It is advisable to book before you go and in good time as instructors get very busy, especially in Peak times.
Prices vary from resort to resort but are around €40-80 per 1 hour lesson for 1 or 2 people (the more people you have the cheaper it usually is so you can split the cost). Most resorts offer a choice of 1 hour, 1.5 hours or 2 hour lessons. These may be in the morning or afternoon and are usually at select times. If you only fancy just one private lesson, this is usually fine. Otherwise, you can book a course of private lessons over as many days (consecutive or non-consecutive) as you'd like. However, it is more cost-effective to book group lessons for the week (which we pre-book).
---
La Tania non-skiing childcare (not pre-bookable, book direct)
La Tanière des Croés - you will find it on the 2nd floor of the Granzeta building in La Tania. This building houses the kindergarten, medical centre, luggage room and showers. The kindergarten welcomes your little ones from 4 months up to 5 full years old and offers a selection of indoors and outdoors activities. Half-days or full days possible, lunch meal also possible. Sunday-Friday 9am-5pm.
Heath books needed.
How to book:
Please contact them direct for prices and to book. It is advisable to book before you go and in good time as spaces get filled quickly, especially in Peak times.
La Taniere des Croes
0033 4 79 41 25 14 
resa.creche@mairie-courchevel.com
List of babysitters available at the tourist office.
La Tania Resort Activities
Husky Safari
Husky Safari offers to introduce you to driving dog sleds. Follow in the footsteps of Jack London in the forest. Starting  from the hamlet of Plantin (possibility of transportation from La Tania).  
La Tania Cinema
Two movies per week
La Tania Sledding
1 at bottom of La Tania gondola, 1 in the Zen zone at the top of the gondola. If you don't have your own sledges/bum boards the ski shops rent these out. You can also rent sledges with steering and brakes. Courchevel 1850 - Grangettes Piste. 2Km toboggan run from Courchevel 1850 to Village. Day: accessible with ski pass or pedestrian lift pass. Evening: Free ski lift until 7.30pm.
Further activities in Meribel and Courchevel: ice rink, swimming pool, bowling, dog sledding, karting, climbing wall etc.
MOTONEIGE, AIRBOARD, SNAKE GLISS, PARETS...SNOWSCOOTERS, AIRBOARD, 'SNAKE GLISS' AND 'PARET' SLEDGING...
+33 (0)4 79 22 16 71
www.courchevelaventure.com
La Tania Forum Ice Rink
The indoor ice rink is located in Courchevel 1850.
La Tania Bowling
Bowling / Billard / Jeux d'arcade – Courchevel 1850
From 11h to 2h Bowling / Billiard / Arcade Games
+33 (0)4 79 08 23 83
Bowling / Billard / Jeux vidéos Bowling / Billiard / Video
Games – Parc Olympique Méribel Chaudanne
+33 (0)4 79 00 36 44
La Tania Swimming pool
Nearest is in Meribel.
La Tania Free activities
Snow football, mini-golf, darts, broomball, badminton, snowman making.
La Tania Paragliding
ATELIER DU VENT : +33 (0)6 71 90 21 95
An activity run by very experienced, state-certified instructors. Takeoff on skis or snowboard from the Col de la Loze departure point (next to the Roc Tania Restaurant). 
Snow shoeing and pedestrian paths in La Tania
Numerous footpaths from La Tania & in the ski area (free buses between resorts). You can follow the pedestrian footpaths map and try Le Sentier des Teppes or Le Circuit des Chevreuils. The free snowshoeing and pedestrian paths guide is available at the Tourist Office.
1. Teppes Trail: From the resort centre, go up the steps located between the Saucisse Savoyarde and the Ski Lodge. Turn left and follow the road for about twenty metres, turn right then go up the metal steps that lead to the Saboia residence. The footpath starts behind the residence.
2. Chevreuils circuit: Start across the road opposite the gondola lift, on your left.
3. La Chapelle and Moulin Trails: The star is common with La Chapelle footpath, then at the first crossing take the path going down to the left.
If you like the idea of getting up really high and enjoying breathtaking views from the Col de la Loze (2305 m)
Guide prices:
1 section: 10 €
2 sections: 16 €
1 day: 23 €
Please note: All the above information is for information only. For the most up-to-date information please visit the resort tourist office website. All prices for activities are in local currency (€ Euros) and are bookable and payable locally in resort.                  
La Tania Tourist Office
La Tania – 73125, Courchevel Cedex
0033 479 08 40 40
La Tania Ski Activities
Fun Zones in Courchevel
COURCHEVEL MORIOND
STOP ZONE
Grandes Bosses piste. Test your speed and stopping skill in this safe area.
INDIAN PISTE
Join in the Indian chief, Grey Wolf's activities at the tipi village.
FEE CARABOSSE PISTE
A fun blue piste with rollers and bends, good  for practising technique and racing friends
SNAKE PARK
With rollers, bumps and bends, a boardercross experience
FUN PARK
A fun natural canyon for young and old
COURCHEVEL 1850
B FAMILY PARK
Under Verdons Gondola. Boarder-cross, kickers, rails, boxes… a little excitement!
AVALANCHE CAMP
Learn about avalanches & practise your search technique
VERDONS BY NIGHT
Night-time skiing at the Family Parc, Wednesdays 6pm-8pm, 6€
TOBOGGAN RUN
Grangettes Piste. 2Km toboggan run from Courchevel 1850 to Village. Day: accessible with ski pass or pedestrian lift pass. Evening: Free ski lift until 7.30pm.
Cross Country Skiing in La Tania
About 100 km of cross-country trails on Courchevel and Meribel valleys. Regularly groomed and marked, the access is free. The free cross-country skiing guide is available at the Tourist Office.
1. La Tania forest circuit / Good skier: From above the Saboia residence and passing through the Teppes clearing, enjoy a stunning view in the picnic area. Reach the Bouc-Blanc skilift, and turn round to come back via Les Teppes.
2. Boucle des Chenus / Easy: A flat piste from the Dou des Lanches summit (2300 m), exceptional view for all levels.
3. You can also reach Courchevel or Meribel-Altiport with 2 paths (12 km, 700 m +) and Courchevel runs with the free shuttle. The access for cross-country skiing is free. Maps and itineraries available at the Tourist Office.
Night skiing in La Tania
From 3 years old: one night a week during the school holidays.
Courchevel/La Tania Resort News and Events 2022/23
Events:
Courchevel

 

and

 

Meribel

 

will host the 2023 FIS Alpine World Ski Championships! This fantastic news means exciting new developments in the area, with a total of 42 million Euros being invested. The competition is an Alpine Ski competition and has six categories run by the FIS (Fédération Internationale de Ski), with many of the top competitors excelling in more than one discipline, they are Downhill, Super G, Giant Slalom, Slalom, Alpine Combined, Parallel Slalom. The competition will run from the 6th-19th of February 2023. Over 600 athletes from 75 countries take part in the competition. Pistes used will be the new Eclipse in Courchevel and the Roc De Fer in Meribel.
News:
A new World Cup 2023 piste (named L'Eclipse - replacing some of the old black 'Jockeys' piste) has been constructed and is running from near the top of the Bouc Blanc chairlift down to Le Praz through the trees (set to be one of the most challenging, fastest and steepest (consistently steep, 30% gradient) race pistes in the World - 3.2km in length (so pretty long, if not longest black in 3 Valleys) and 944m vertical) and finishes on the roof of the new Alpinium building. It gives bird's eye views over Courchevel le Praz and the Olympic ski jumps. Not for the faint-hearted!
New beginners' area - Major work has taken place in La Tania with a whole new beginners area and the re-shaping and moving of the Folyeres piste as it comes into the resort to divert it around the first time skiers allowing them to learn the sport in a protected, safe environment, with new covered magic carpets/travelators (replacing the Troika draglift). The free beginners magic carpet at the top of the La Tania gondola has been moved to the right of the station
New tunnel for Arolles piste/Foret lift traffic under the World Cup piste just above the La Tania gondola (so when competitions are on, it doesn't disturb normal skier traffic)
Ski Lodge will be opening an outside bar for drinks and snacks
New gondola - transports 10 skiers per bubble and takes under 6 minutes to travel from Le Praz to Courchevel 1850.

So you'll now be able to travel between Le Praz - 1850 and 1550 - 1850 from 7.45 until 23.30 on the lifts!

New restaurant - Bistro Machet (from Michelin Star chef Julien Machet of Le Farçon), formely Chrome bar
New re-charge points for mobile phones will be available across Courchevel and Mottaret – you will leave your phone in a locker with a charging point while you do a few runs
The Croisette building in 1850, which dates back to 1971, is being refurbished to allow easier access with escalators and make the building lighter and brighter to overlook the snowfront and provide a space for après-ski events
New relaxation area on the slopes above Courchevel Moriond 1650 - a favourite picnic spot for years, the plateau at the top of Signal chair is now equipped with more picnic tables and wooden sun loungers. This is a perfect spot to chill out on the slopes, offering fabulous views over the spectacular Brêche de Portetta
Giant photo frames - dotted around the ski area. You'll find them on these summits: Signal (Courchevel), Col de la Loze, Roc de Fer, Mont Vallon (Méribel), Roc des 3 Marches (Les Menuires) and 3 Vallées Funitel (Val Thorens), XXL wooden bench at the top of Saulire
The Stade area at bottom of the Stade race slope has had huge land works and re-profiling the slope plus a new 3,000 square metre clubhouse
Aquamotion Restaurant – the restaurant accessible from the Aquamotion swimming pools is changing its name to 'Le Cellier Bis' with new decor and an updated menu. Also at Aquamoton the Ludiboo Club (for 3 to 6 year olds) allows parents a well-deserved break at the aqua wellness area or on the slopes whilst their little ones enjoy fun child-friendly supervised activities
New reservoir between Méribel and Courchevel - there's a huge new water reservoir used for snowmaking in Courchevel above La Tania and Courchevel 1850. Installed in time for both the 2022 World Cup Finals and the 2023 World Championships which Méribel and Courchevel will co-host
For other 3 Valleys news, see our sections on St Martin de Belleville and Brides les Bains. We also feature Courchevel, Val Thorens, Meribel and Les Menuires with our sister company Ski Collection.
Check the Courchevel tourist office website for more exciting news from Les 3 Vallées: www.courchevel.com
La Tania Bars & Restaurants
(including Michelin starred 'Le Farçon')
Le Farçon restaurant gastronomique
+33 (0)4 79 08 80 34
Discover fine-dining! Book for quality service and exceptional food. Reservation advisable in low season.
Enjoy a unique dinner prepared by a chef from the Michelin starred Le Farçon restaurant in the comfort of your own home and served by a headwater. "A la carte" service. Bookings required 48 hours in advance. Enjoy your meal! And if you'd like to go out for dinner, a shuttle bus will pick you up from your accommodation and drop you back home again afterwards.
Les Chanterelles
+33(0)4 79 08 23 25  
Creperie "Les Chanterelles", proposes a range of savoury pancakes (made with buckwheat flour) filled with local cheeses, eggs, ham, potatoes and mushrooms, as well as different omelettes, pasta, grills, and "cripites"… (Wafer thin pizzas which are a speciality of the house). Terrace.
La Ferme de La Tania
+33(0)4 79 08 23 25
At the very end of the Folyères piste… you will find savoyarde cooking, a cheerful setting, a friendly atmosphere and reasonable prices. Fondue savoyarde (with cheese) is their recognised speciality, but also raclette (toasted cheese with potato and ham), tartiflette (bacon potato and cream), local pasta, fondue bourguignonne
(with beef), and other inventive ways of cooking your meat individually at your table.
Pub Le Ski Lodge
+33(0)4 79 08 81 49
The unmissable Pub and Restaurant Le Ski Lodge celebrates 20 years. Serving dishes from around the world: tandoori, chili con carne, noodles with tuna, hearty salads, house barbecue ribs, and a large selection of exceptional burgers. Happy Hours 4pm - 6pm daily. Live music every Weds, Thurs, Fri. Free WiFi. Sports screens. Open daily from 10am-1.30am. Lunch is served noon until 14.30 and evening meals from 18.30-21.30. New for 16/17: brand new heated terrace.
Le Chrome Bar
+33 (0)4 79 07 25 83
At the foot of the La Tania slopes. Delicious fast food and service, unbeatable value for money.

Le Snow Food
+33(0)4 79 08 48 99
At the center of the resort facing the sun. Pizzas, sandwiches, paninis, pasta, fries, chicken nuggets but also desserts and much more.
Les Marmottons
+33 (0)4 79 08 81 63
New Owners since December 2012! At lunchtime, on lovely sunny terrace, you will find a large choice of pizzas, meats, homemade burgers, salads, crêpes and homemade desserts. In the evening, come and try their Savoyard specialities, pizzas and the chefs specials. Open everyday 9am to 11pm. Take-away pizzas.
Taïga
+33(0)4 79 08 80 33
A cocktail hour every day by the fire in the lounge bar and upstairs in the restaurant the varied menu includes a range of Savoyard specialties, vegetarian dishes and daily chefs suggestions. Finish the night off listening to live music, several times a week. At lunch time the 3-course 'skier's menu is great value at €18.50
La Saucisse Savoyarde
+33 (0)4 79 08 07 95
Delicatessen, local produce, take away fondu, raclette & pizzas. 
La Tania Altitude restaurants
Le Bouc Blanc (open everyday). Situated at the top of the La Tania cable car with a scenic view. Open every day, 9am-5pm. Discover our panoramic terrace on sunny days. From February enjoy live music, 2.30pm-4.30pm. Booking advisable.
+33 (0)4 79 08 80 26
Le Roc Tania. At the top of the Dou des Lanches chairlift with panoramic views from the terrace and log fire indoors for those chilly days.
+33 (0)4 79 08 32 34
Indian takeaway - call by 11am to order in resort - 06 80 68 62 54. Free delivery! Same company also does home cooked food to deliver such as chilli, lasagne etc.
La Tania Amenities
La Tania is served by a range of amenities including:
Boulangerie, Sausage shop (also does takeaway dishes and pizza), bars, restaurants, supermarket (all the usual essentials plus hot roast chickens in the evenings, opens at 8am closes at 7.30pm), bakery, sandwich and pizza takeaway, tabac, souvenir shop, Bureau de Change, post office (open 09.30-12/30 and 14.30-18.30), cash point.
Plenty of shops in nearby Meribel and Courchevel and head for 1850 for designer gear including Chanel, Versace…
For a big grocery shop, head to Carrefour in Moutiers about 20 mins away…
For discounted ski gear there is a large Decathlon and Intersport shops in Albertville and Annecy that can be worth a visit at start of end of the season.
WIFI is available at the tourist office (2 terminals) and in many areas in La Tania.
hdr3ntals supply high definition equipment: Large flat screen TV's, Games Consoles and GoPro Action Video Cameras to rent during your stay in The 3 Valleys. Tel +33 (0)646 053315 or email hdr3ntals@gmail.com 
Getting to La Tania, France
By Road:
Driving distance from Calais to La Tania 596 miles (8 ½ hours)
By Rail:
Moutiers rail station (11 miles – 30mins drive).
Airports:
Chambéry is 59 miles from La Tania (1 ¼ hours)
www.chambery-airport.com
Grenoble (St Geoirs) is 106 miles from La Tania (2 hours)
www.grenoble-airport.com
Geneva is 113 miles from La Tania (2 hours)
www.gva.ch/en
Lyon Saint-Exupéry is 112 miles from La Tania (2 hours)
www.lyonairport.com
Public shuttle bus transfers from airports
Lyon Airport - La Tania via Moutiers (www.lys-altibus.com). 
Geneva Airport - La Tania via Moutiers (www.coach-station.com). 
Chambery Airport - La Tania via Moutiers (www.lys-altibus.com). 
There is a shuttle between La Tania and Meribel (La Chaudanne) from Monday-Friday during the season.
La Tania Airport Transfer
For pre-bookable private transfer rates with Peak Retreats, view here. 
Getting around La Tania and nearby areas
There is a free ski bus service between La Tania and Courchevel. It runs via Le Praz, 1550, 1650 and finally 1850. The service runs from the main road and the first bus leaves around 9am and last bus leaves Courchevel at 23.40. The service runs every hour during the day and less frequent in evenings.
Car parking
Two outdoor car parks are available for free: Parking du Saz (on your left at the entry of the resort) and Parking du Formier (at the bottom of the main road, on your right after the Formier). Underground car parks are available (information and booking at Tourist Office). Restricted parking for camper vans on Saz car park.
Other
Luggage room and showers available in the new communal building near to the ski lifts.
---
La Tania Opening Dates