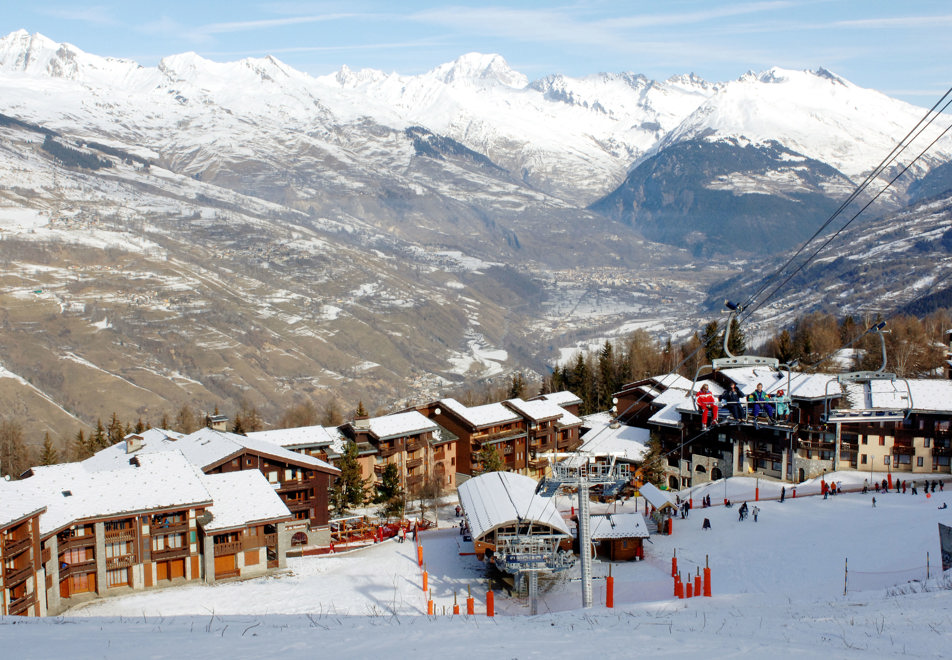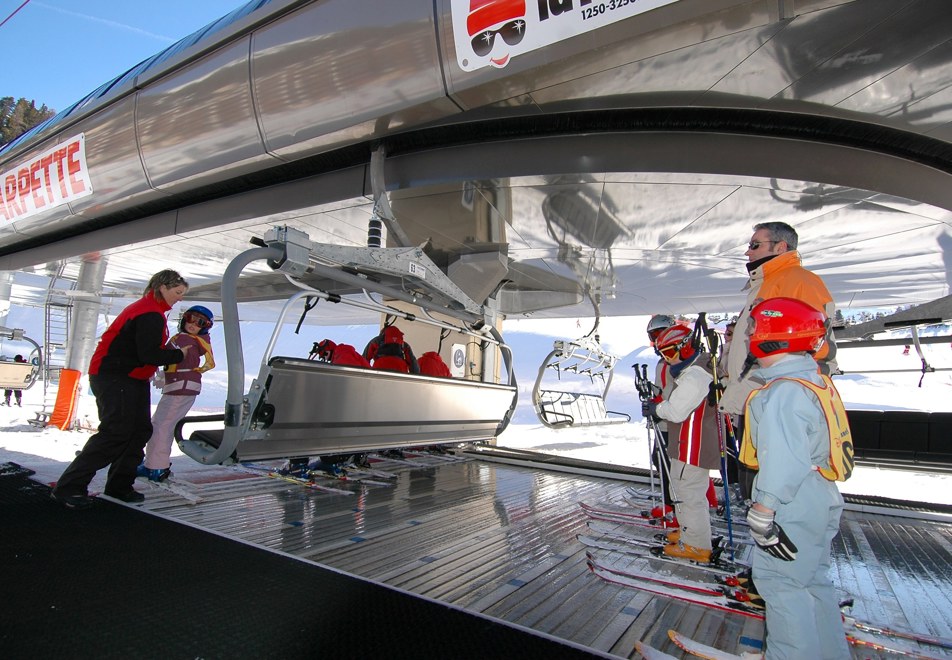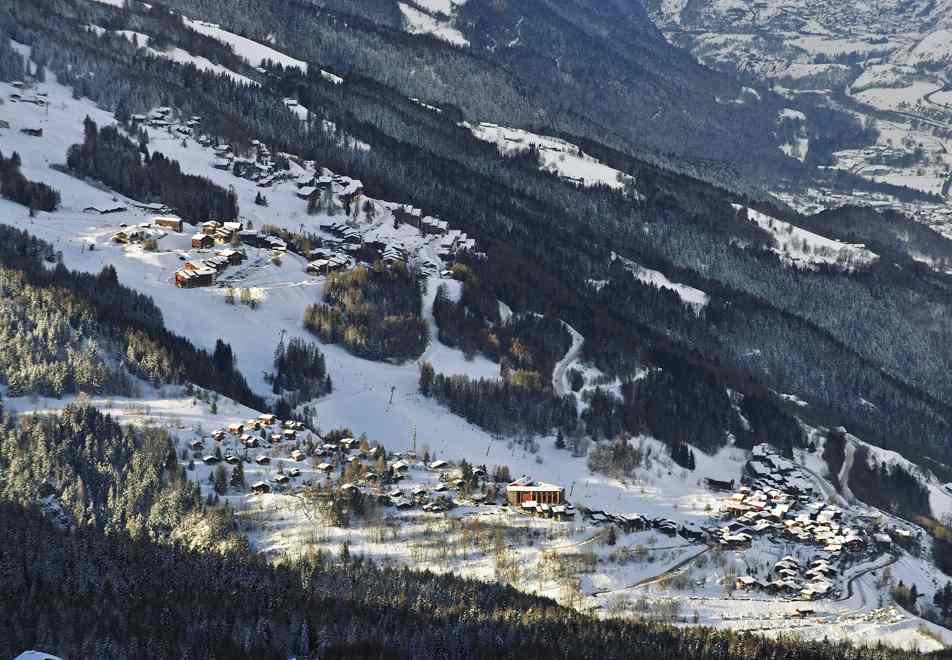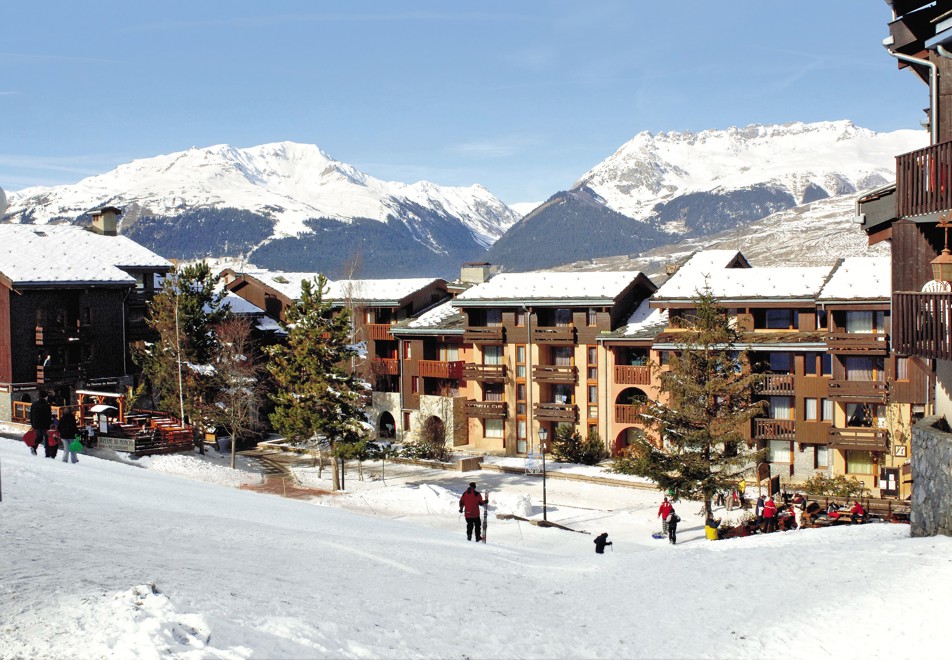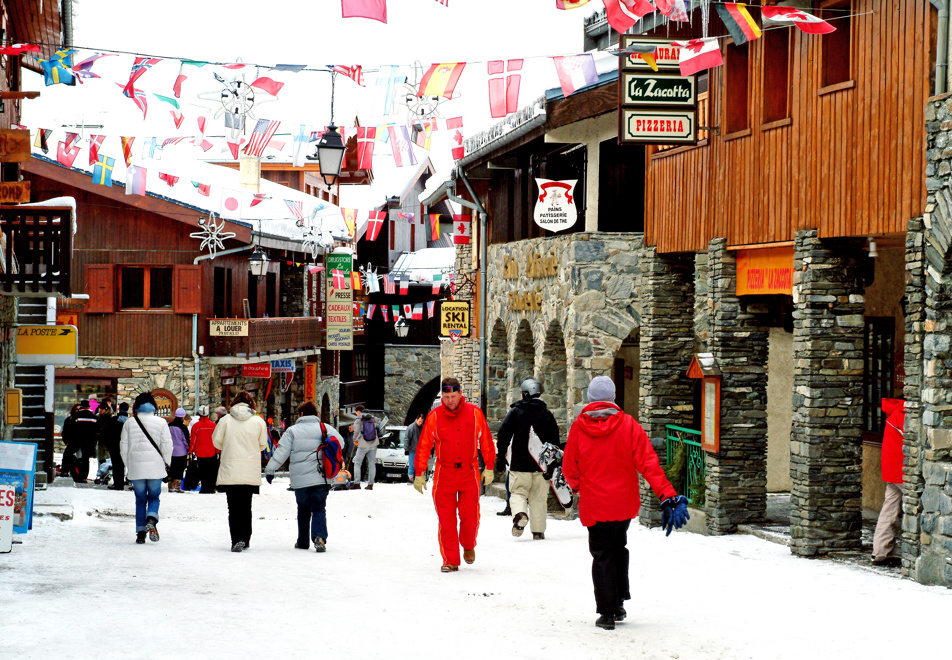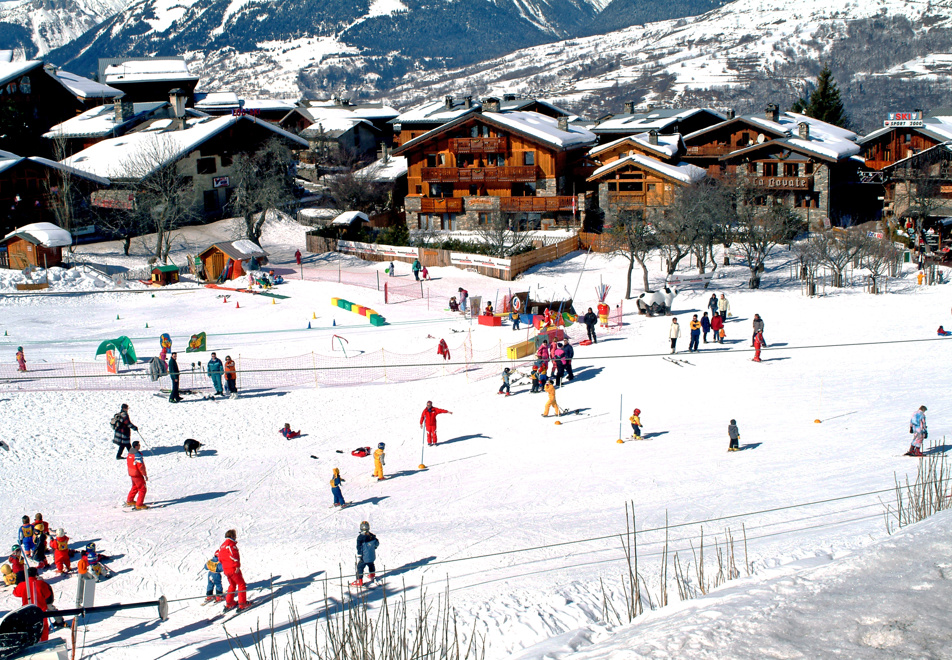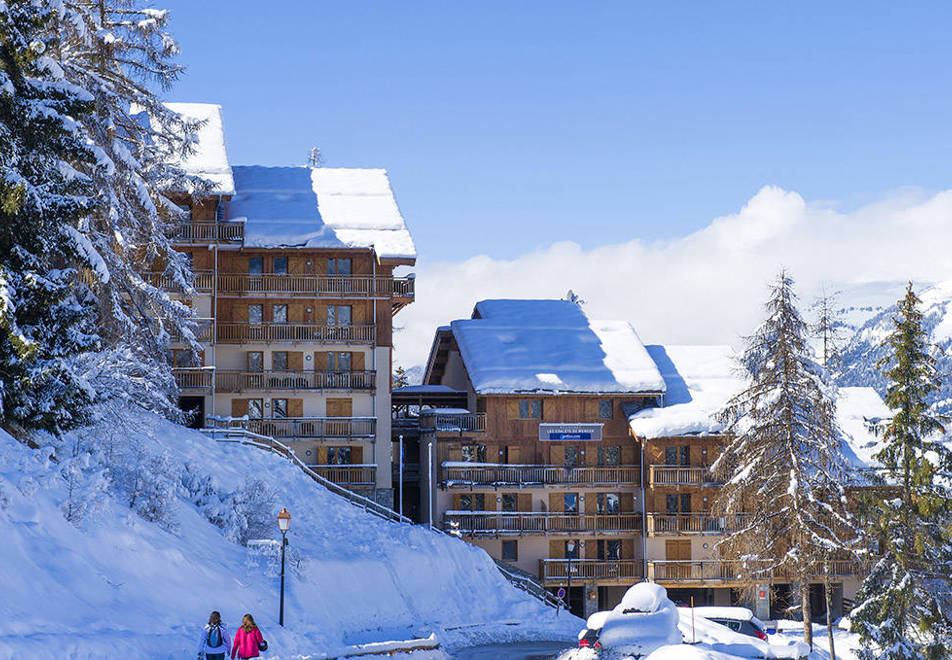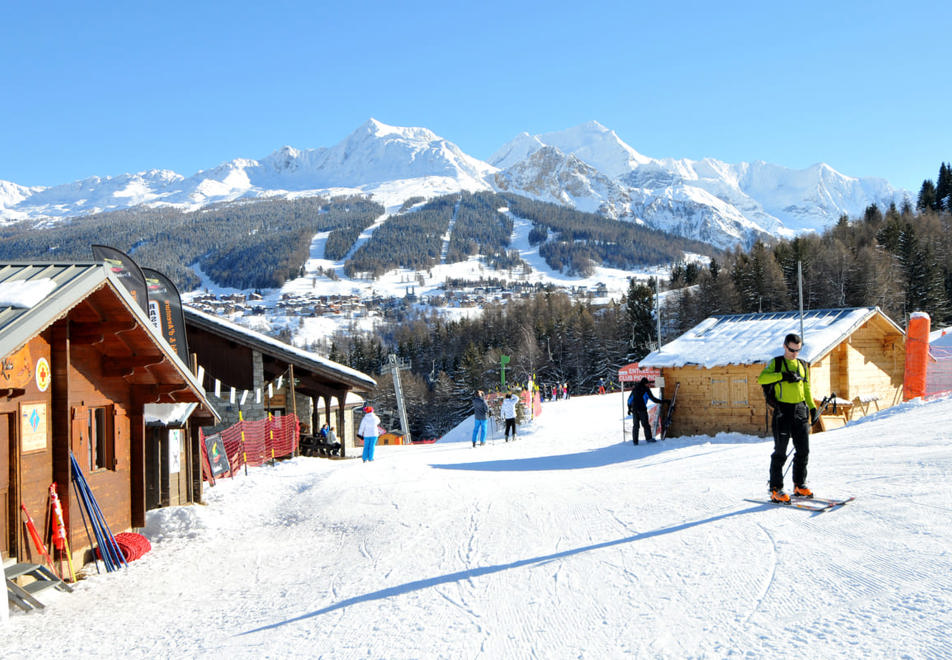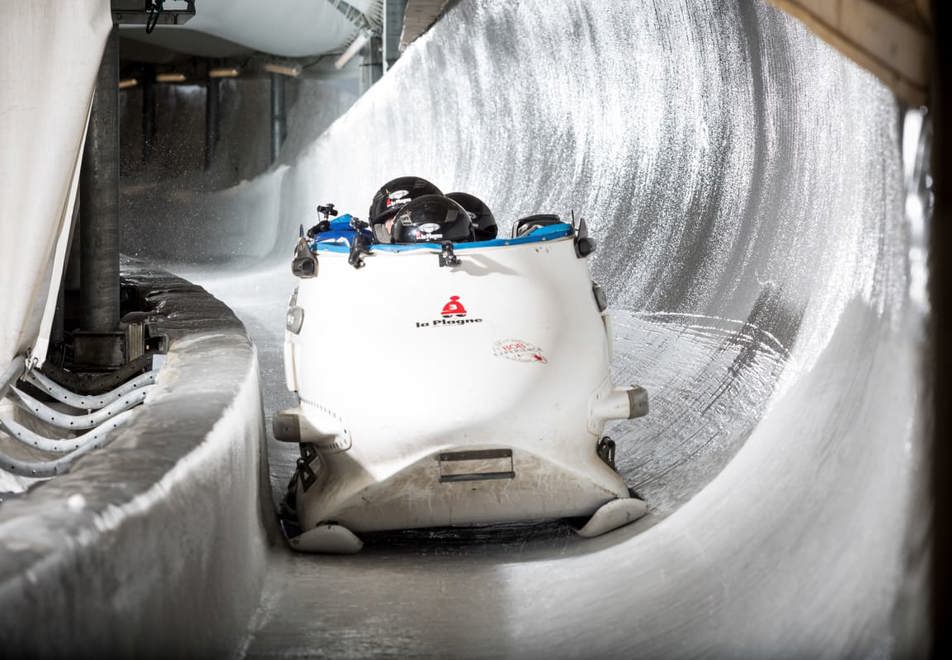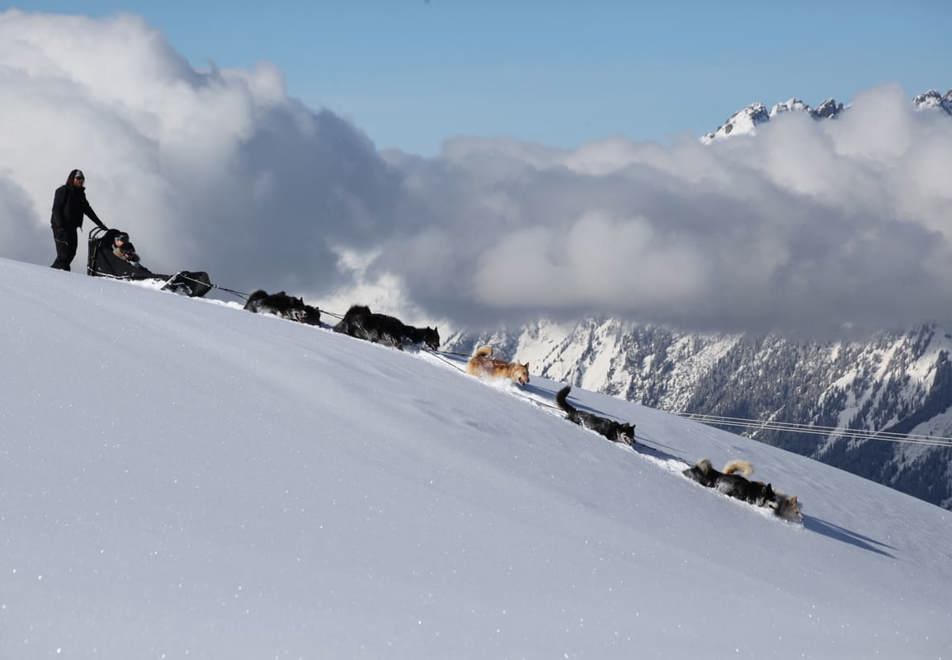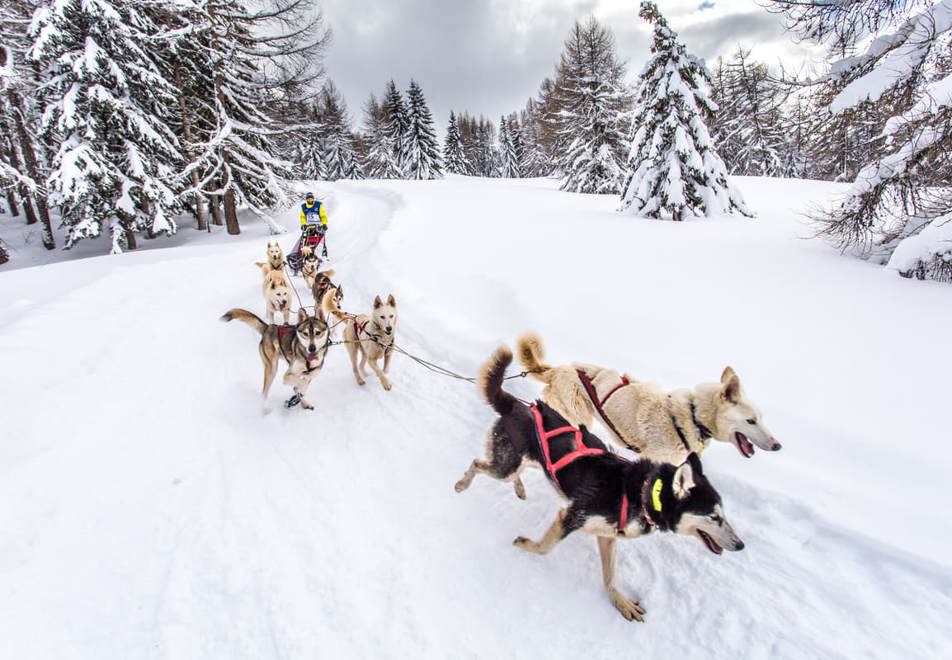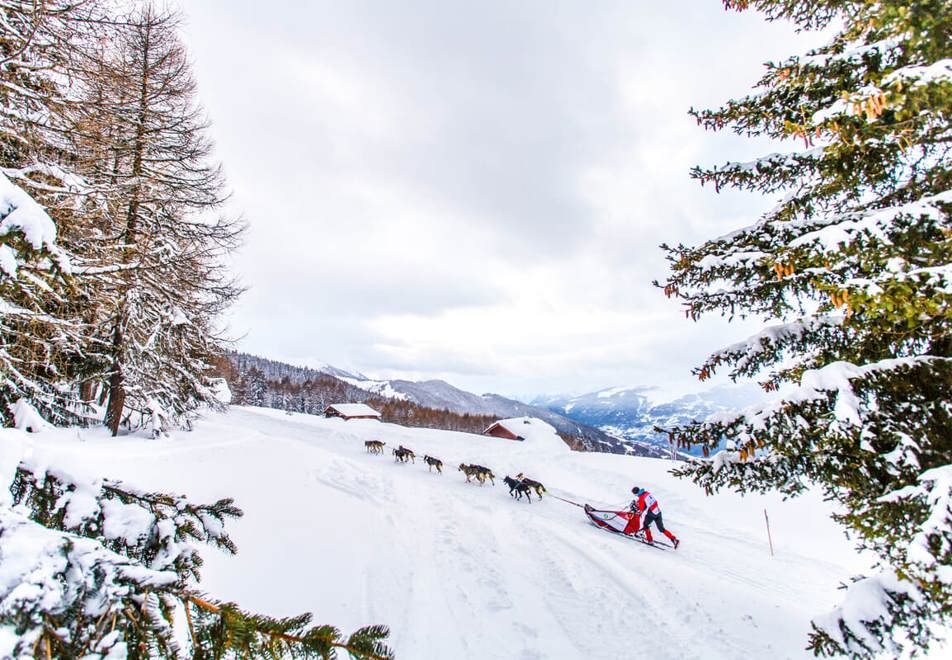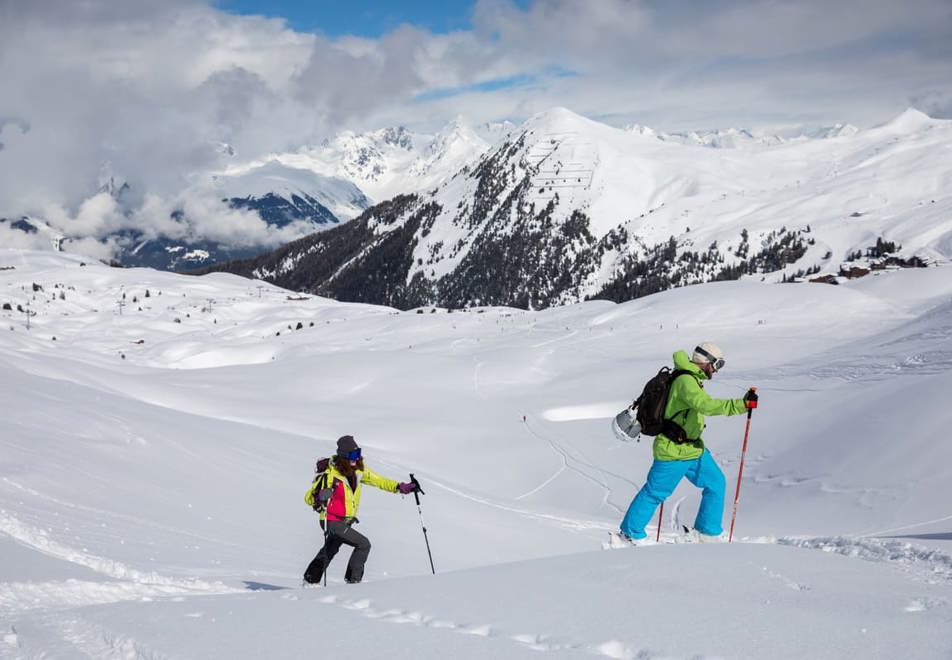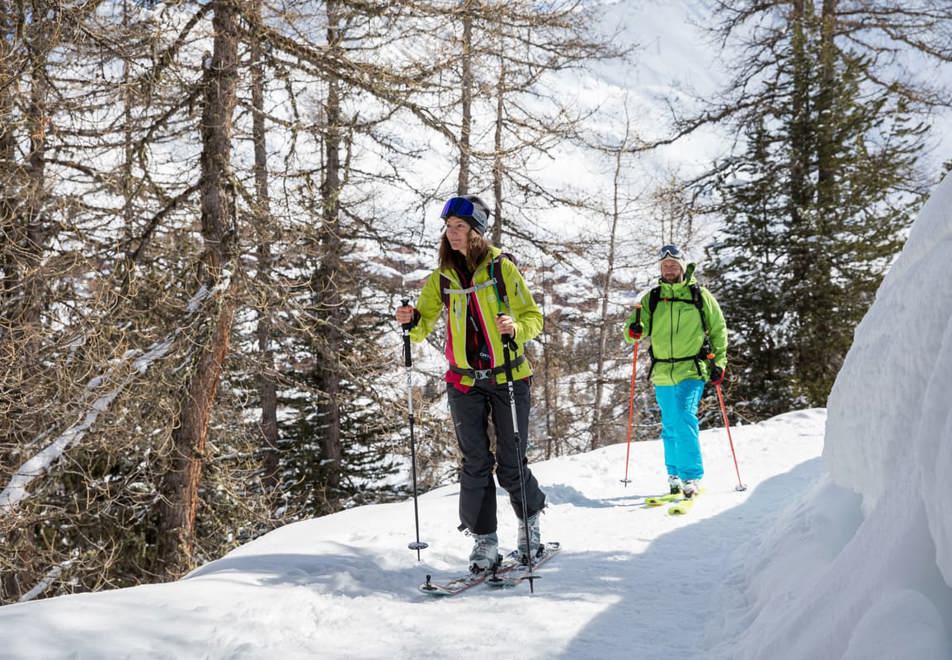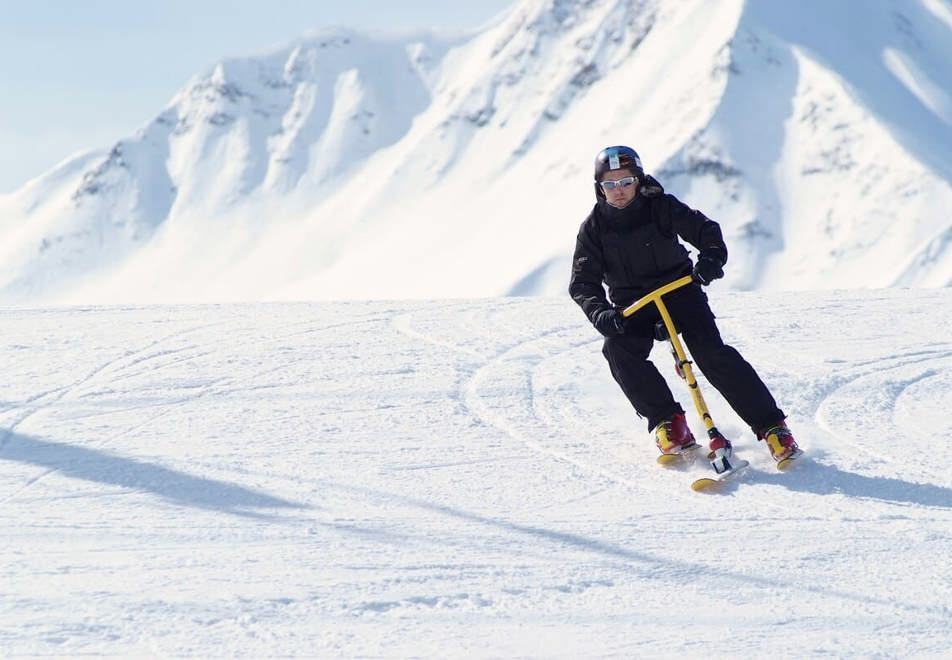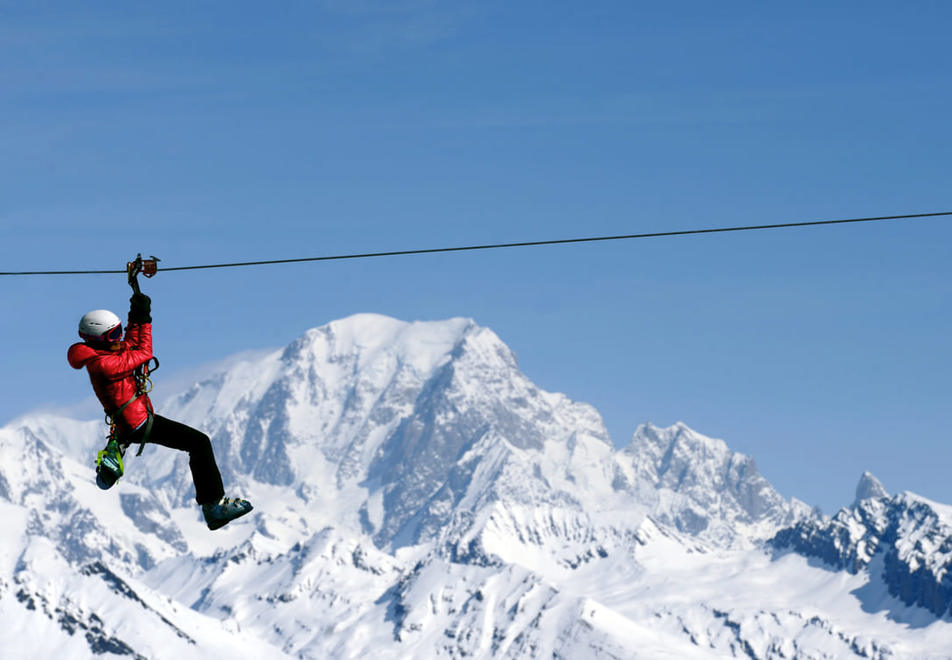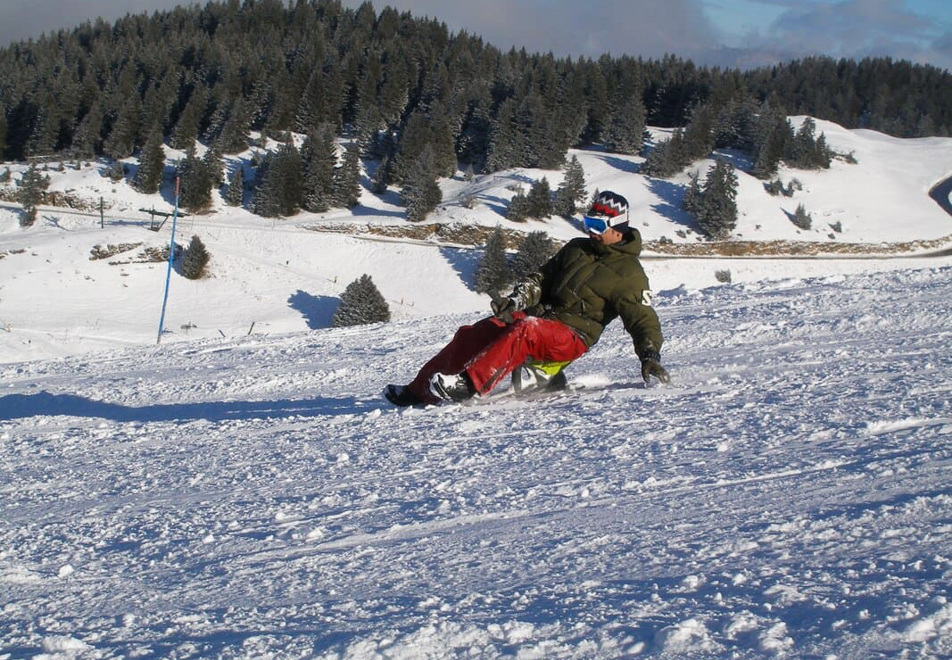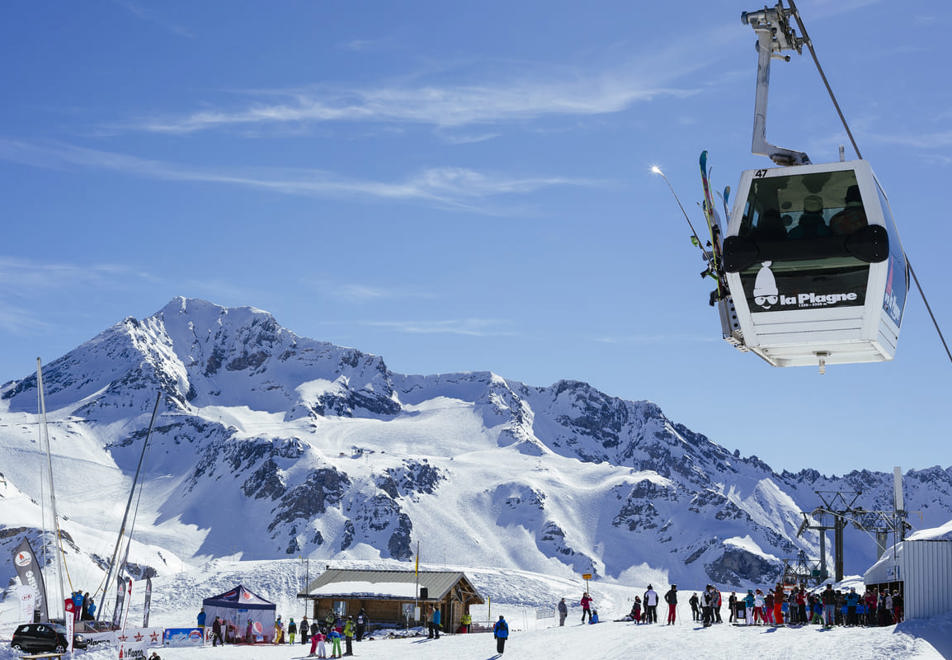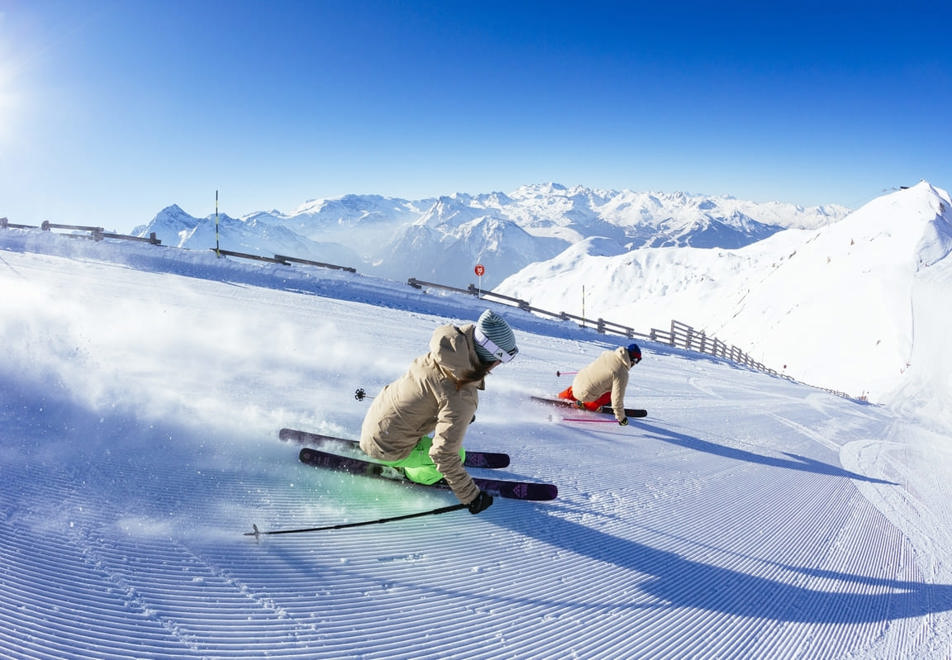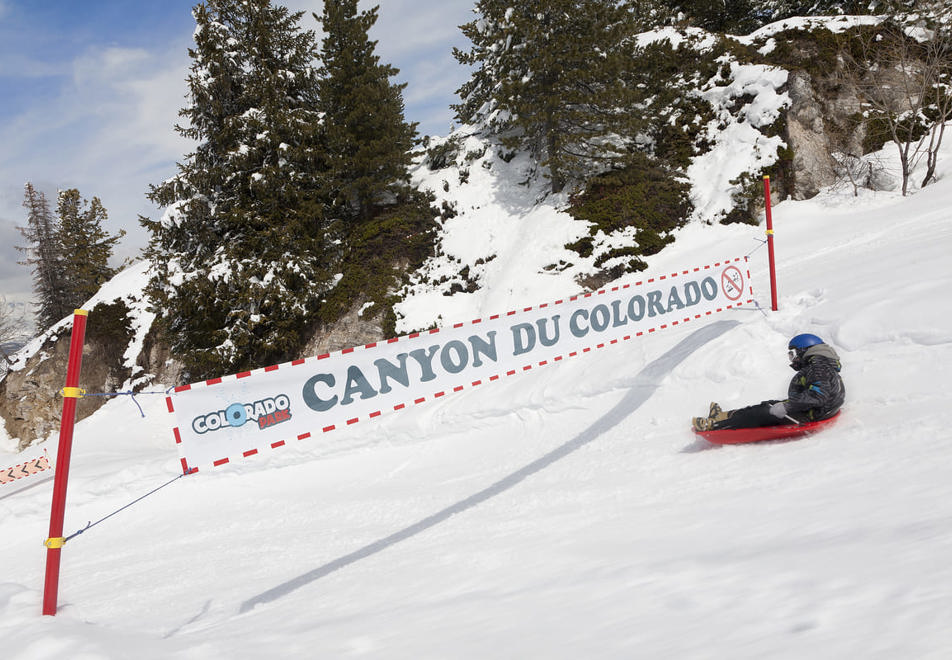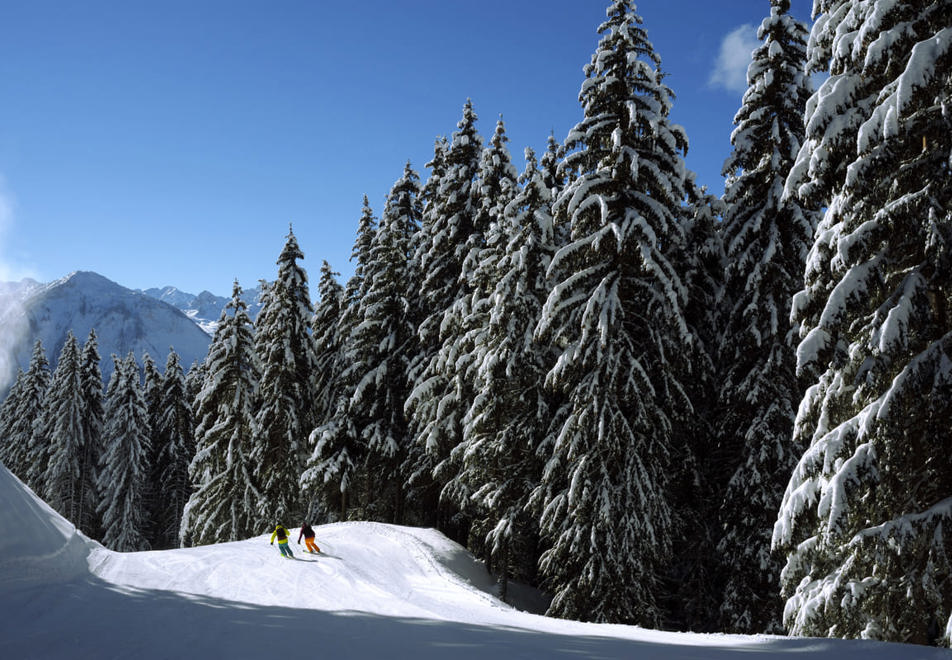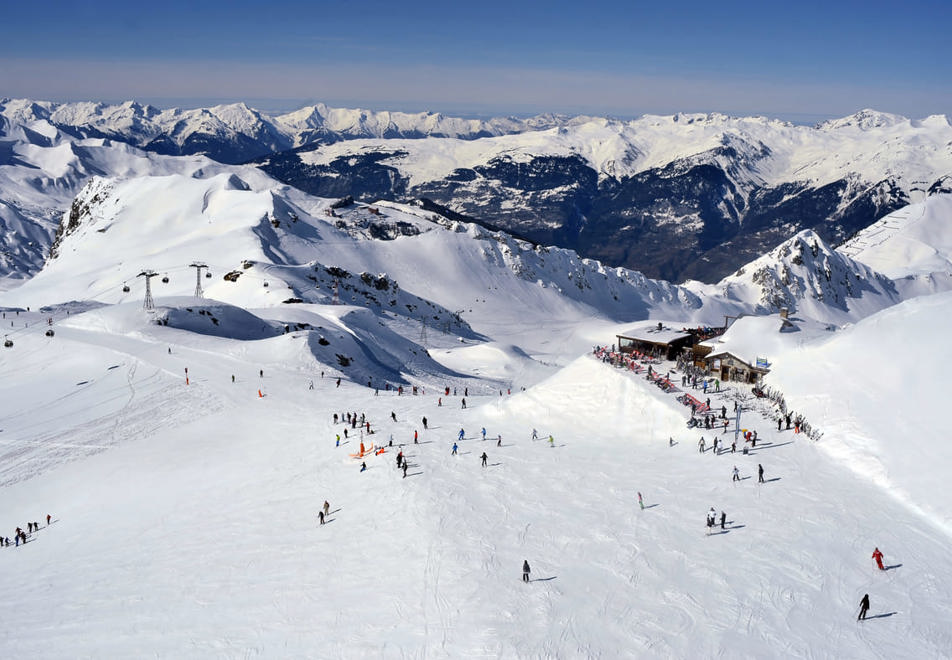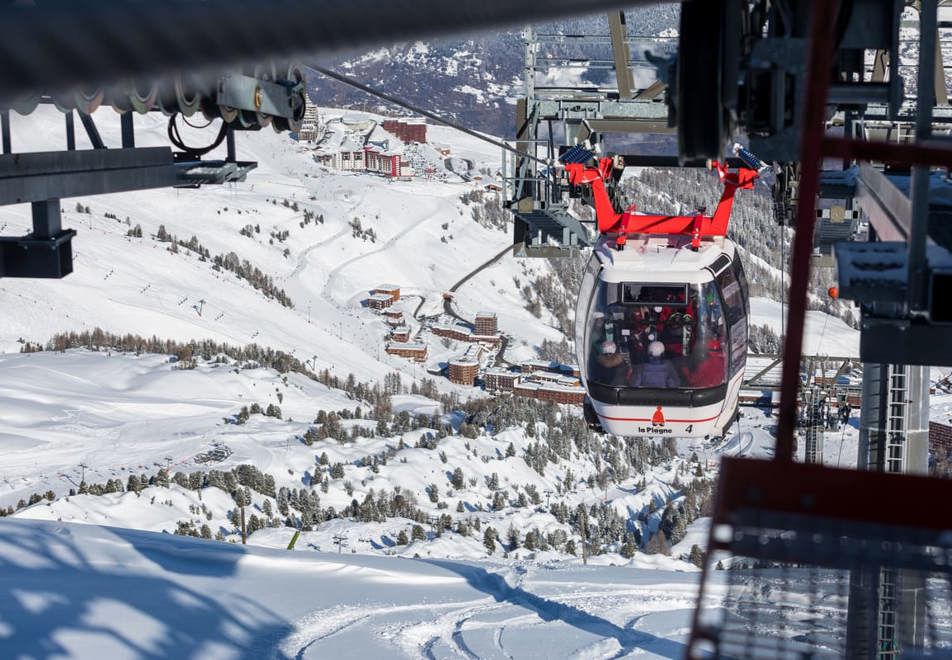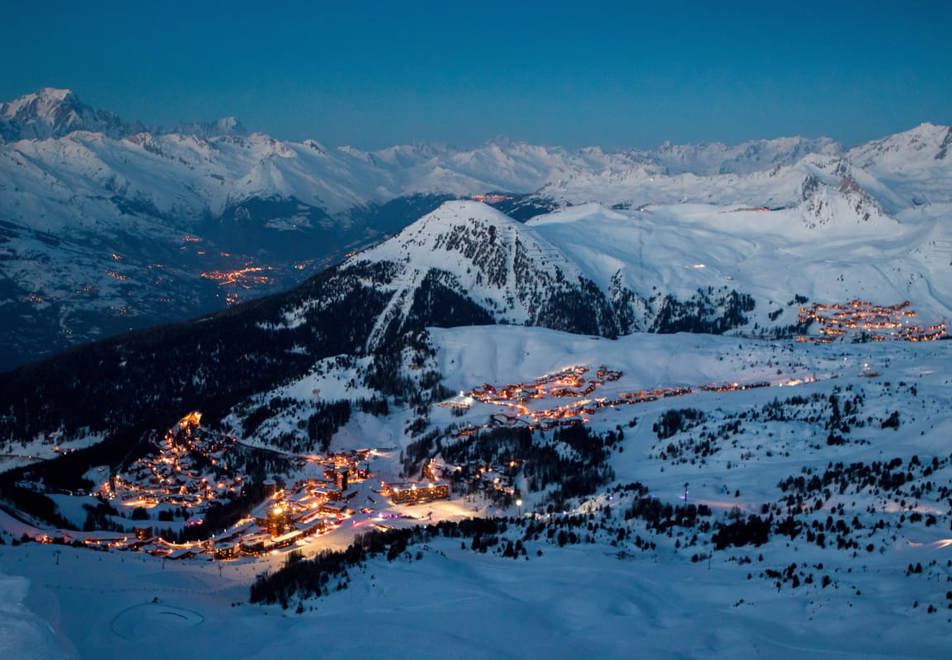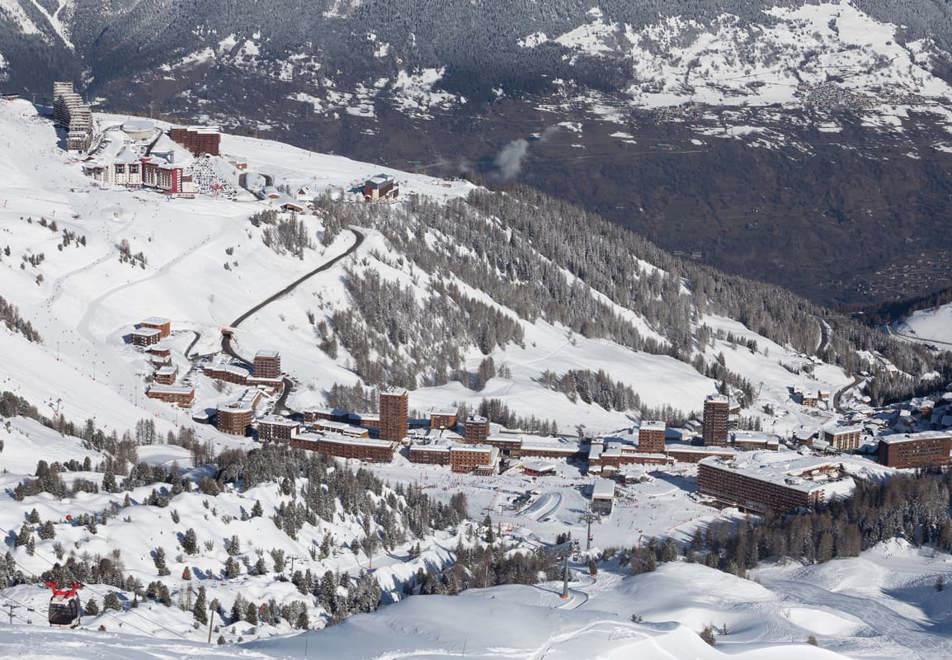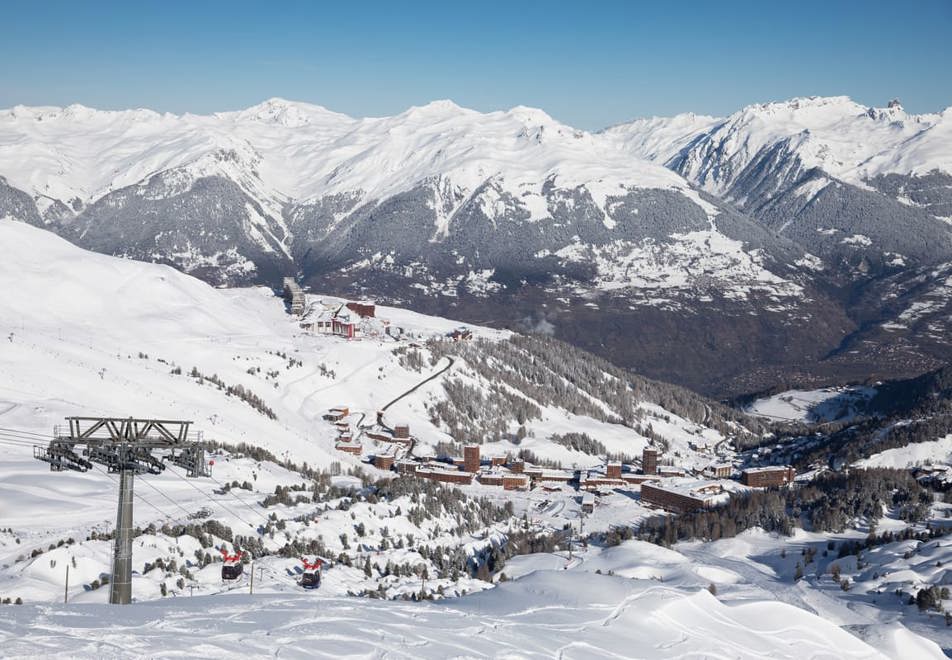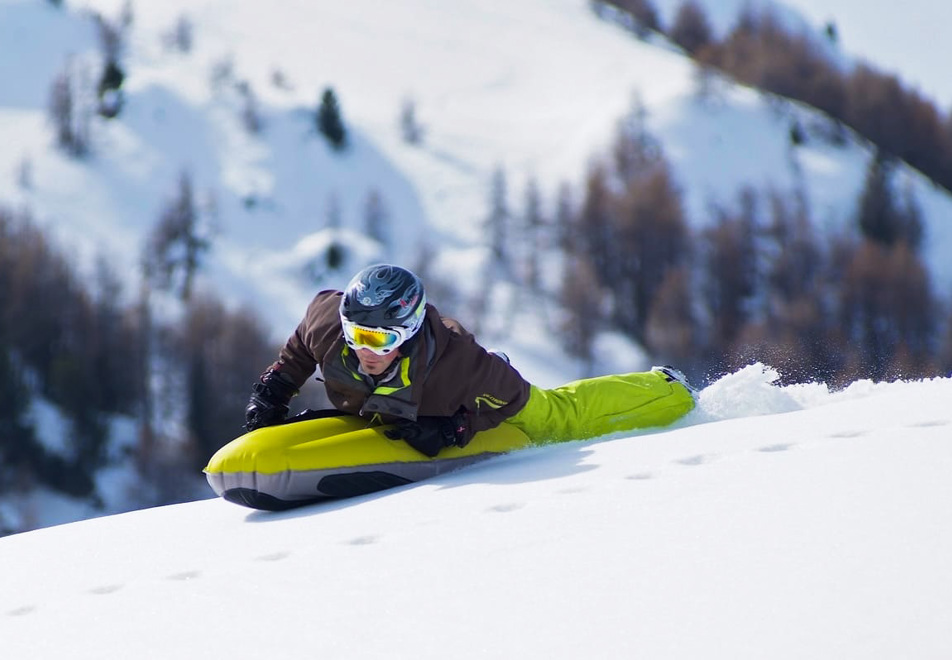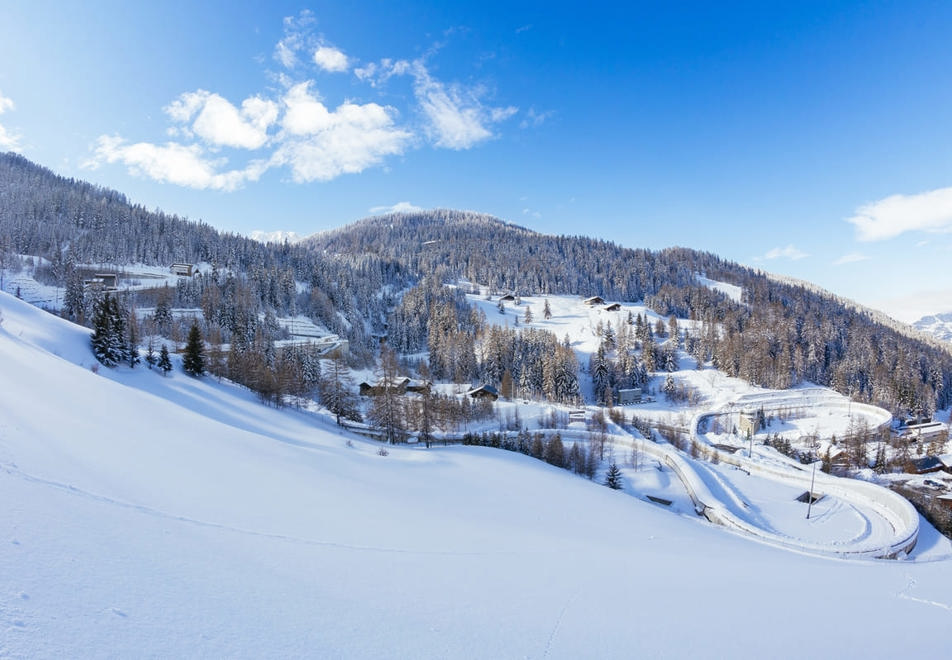 Thinking of skiing in Les Coches? Les Coches is an intimate and modern ski resort, which has been designed to feel like a traditional Alpine ski village. Offering direct ski access to La Plagne.
Why Les Coches Ski Resort?
It has direct ski access to the north-facing slopes of La Plagne
It's located close by the La Plagne-Les Arcs Paradiski area
'Famille Plus' resort - good children's facilities and great for families
It's a quiet alternative to La Plagne
Les Coches (Paradiski) Information
Les Coches is one of the most attractive resorts in the huge La Plagne ski area. It also has the added attraction of being close to the spectacular double-decker Vanoise Express cable car which spans the Ponturin Gorge linking La Plagne with Les Arcs to create the Paradiski Area, one of the world's largest.
There's a selection of shops and restaurants with more at neighbouring Montchavin. The resort is traffic-free and offers children's clubs and a nursery - so it's the ideal location for families
In La Plagne villages nearby there are other activities, including the rare chance for the brave to descend a bobsleigh run, in this case built for the 1992 Winter Olympics staged in the area. You can descend in a 'taxi' bobsleigh at top speed behind a professional driver or jump in a 'self-steering' craft which goes a little slower but still fast enough!
La Plagne ski area
La Plagne is part of the large 'Paradiski' ski area and is the 2nd largest connected skiing area in the world. Paradiski has excellent facilities and with its huge variation in altitude (1200m-3250m) and with over 70% of the area being above 2000m, there is a multitude of different types of scenery and piste to explore. This impressive lift-linked ski area is formed of 18 ski resorts (the first 11 below in La Plagne and the other 7 in Les Arcs):
Plagne Montalbert
Plagne Bellecote
Montchavin
Les Coches
Aime la Plagne
Arc 1950
Villaroger
Paradiski is linked by the Vanoise Express double-decker cable car (since 2003) which can transport nearly 200 people across the valley of Peisey-Nacroix in less than 4 minutes. It is the largest cable car in the world currently. Fun facts: the cabin is 380m from the ground at its highest point and travels at 45km/hour. Its quite a spectacular journey with stunning views.
The departure station is in Plan-Peisey at 1612m of elevation. The arrival station is at 1548m of elevation upstream to Montchavin. In winter, the cable car is accessible to skiers (and pedestrians, see below). On Montchavin side, the cable car arrives on a ski slope. You can't reach Montchavin by foot. It is advised to find a guide to find practicable paths via snowshoe.
Paradiski presents VertiGO thanks to a 1.70m2 transparent glass plate in the floor (since 2015) of the lower level of both of the 2 cabins, passengers can enjoy the view in 3 dimensions, combining a 360° panorama of the legendary surrounding mountain peaks and a plunging view of the Ponthurin valley under your feet!
The lifts in the Montchavin/Les Coches sector are fast. And with 70% of the ski runs at over 2000m and one of the world's most modern artificial snow systems, Paradiski guarantees top-quality snow conditions from December to April. With the best-known peaks, such as Mont Blanc and the Pierra Menta forming a panoramic background, Paradiski is also the gateway to the Vanoise national park, a nature reserve of 53,000 hectares. 
Before venturing on to the vast La Plagne ski area or even the 425km (266 miles) of Paradiski, many visitors enjoy the lovely sheltered skiing above the village on fairly easy tree-lined runs. North-facing slopes and snowmaking means resort-level snow is normally excellent.
To get to La Plagne there are a few lift systems you can take but the local slopes have a number of easy-intermediate runs. Les Coches is a little Alpine village linked to the large Paradiski ski area so you can enjoy the best of both worlds.
The slopes of the La Plagne side are mostly north-facing and between 2000m and 2700m making most of La Plagne's slopes snowsure. The local Montchavin-Les Coches slopes are tree-lined, whereas higher up at altitude the terrain is largely wide open.
Additional ski fact info, main ski info in resort facts box at top of page (22/23):
La Plagne local area
225km of pistes, 76 lifts, 136 slopes:
Green slopes: 8
Blue slopes: 74
Red slopes: 35
Black slopes: 19
Les Coches/Monthchavin local area - 18 lifts (8 chairlift, 7 draglift, 3 gondola)
LES COCHES BEGINNERS
La Plagne is a good place to learn to ski or snowboard, with 18 free ski lifts in the region. Each village has at least one. There are beginners' areas in Montchavin/Les Coches, as well as at Plagne Centre, Plagne 1800, Aime la Plagne and Plagne Bellecôte.  The Plan Bois area above Les Coches has good gentle slopes for beginners served by a six-pack chair; there's also a nursery area on the other side of Les Coches accessed by a bucket lift.
'Cool Ski' areas - easy to find on the piste map since 2014 across La Plagne, the 5 Cool Ski areas have encouraging pink signs marking these gently sloping protected ski areas. Beginners can also wear a bib in the same colours to make them easily identifiable and easy routes are recommended. It has its own daily rate lift pass which you can buy in resort.
Skiers can enjoy the whole Paradiski area using just blue pistes to get going (again) gently.
LES COCHES INTERMEDIATES
Intermediates will find a huge variety of interlinked blue and red runs across the entire region; infact 80% of La Plagne's 225km of pistes are blue or red. It's an intermediates' paradise! It can be fun to try to see how far across this giant ski area you can venture in a day - the lifts and runs seem to go on and on. Paradiski has extensive intermediate slopes with big lift networks.
LES COCHES EXPERTS
Experts will be happy if they sign up with one of the ski schools to tackle the under-rated off-piste or attempt the near 2000m vertical down from the north face of the Bellecôte glacier, one of the world's longest and toughest runs. High-altitude skiing with helicopter drop-offs, ski safaris, ski touring and even ascents of Mont Blanc are possible, always with a professional guide.
LES COCHES OFF-PISTE
Hire a guide and explore the vast off-piste potential in La Plagne. The glacier and Biolley sectors have some excellent off-piste terrain. For the more experienced, the north face of Bellecôte presents a splendid challenge. Within the ski domain there are also 'Natur' Pistes. This means you can learn to ski in an off-piste style safety, but within the ski area on ungroomed runs patrolled by the ski patrol.
Not to be missed when you visit Paradiski!
Don't miss the 360-degree panorama of La Grande Rochette at La Plagne. The Aiguille Rouge descent is a legendary seven-kilometre non-stop run from the glacier at 3226m all the way to Villaroger at 1200m (on the Les Arcs side). One of the steepest drops in Europe! Once at the top, climb up the observation point and enjoy the views towards the Swiss, Italian and French Alps right across to the Jura mountain range - a view like none other!
Les Coches ski hire & lift passes (pre-bookable)
Pre-book your 6 day+ Les Coches ski hire and/or Les Coches lift pass with Peak Retreats.
To download the ski extras form see 'Helpful links' further down the page. Please note that prices are for indication only. They will fluctuate based on Euro/£ exchange rate. Please call us for the latest prices.
Other lift passes are available to buy in the resort such as half or full-day passes (for those who only wish to ski the odd day) or one-use lift passes for pedestrians. Some resorts also offer specific beginner area passes and cross country passes.
Les Coches group ski school (pre-bookable)
Ski school for children is available to book from 3 years to 13 years in Les Coches with Peak Retreats. Children can learn to snowboard from 9 years+. 
To download the ski extras form see 'Helpful links' further down the page. Please note that prices are for indication only. They will fluctuate based on Euro/£ exchange rate. Please call us for the latest prices.
Les Coches private lessons (not pre-bookable)
Private lessons with an instructor can only be arranged directly with the ESF ski school. Peak Retreats cannot pre-book these. Private lessons are usually around €40-60 per hour (depending on resort, time of day and period) and becomes cheaper the more hours you take and the more people you have to share the hours with i.e with family members or friends. Some resorts insist on a minimum of 3 sessions to be booked at once.
Contact ESF Les Coches for private lessons - 0033 4 79 07 80 33
---
Les Coches childcare (not pre-bookable)
Childcare from 5 months to 3 years and 3 years-11 years (non-skiers)
The Câlins des Neiges and Les Cîmes daycare centre offers à la carte and hourly formulas. A flexible approach that makes parents' organisation easier. Open from 8.45am-5.30pm. Closed on Saturday.
Please contact direct as we cannot pre-book this kids club - 0033 673 97 98 60
It is advisable to book before you go and in good time as spaces get filled quickly, especially in Peak times. A childhood vaccination record will be needed. 
---
Babysitters (not pre-bookable)
A list of babysitters is available from the tourist office.
Les Coches Resort Activities
Montchavin Ice Rink
Only 5 mins from Les Coches, at the top of Montchavin gondola lift, 800sq m of artificial covered ice. Night skating available on certain evenings during the week.
Village Igloo
See details under eating tab
Montchavin Espace Paradisio Wellbeing Centre & Pool
Situated to Montchavin-Les Coches (but in the Montchavin sector), in the heart of the resort of La Plagne, this Aquatic Complex (Espace Paradisio) and Wellness will know how to delight all visitors.
There is a well-being inside pool, sauna, hammam, whirlpool baths, affusion showers, massages, water games and aquafusion arrives. 
The Espace Paradisio aqua-centre in Montchavin-les Coches is offering Aquafusion which is a combination of 4 complementary activity groups (aqua bike, hydrotone (water weights), trampoline and weights) to improve muscle tone and physical condition, encourage weight loss and manage stress. A group session lasts 45 minutes. The exercise is intensive and repetitive. Cost: from 14€
Tel: +33 (0)4 79 09 33 20 - www.espace-paradisio.com
Les Coches Dog Sledding
Christophe the musher invites you to discover the resort with his pack of 20 dogs.
Tel. 0033 4 79 08 95 98 - montchavin@evolution2.com
Les Coches Sledge Area
Two areas, one in Montchavin at the bottom of the slopes and another in Les Coches at the bottom of the slopes. Free access under the parental observation.
Les Coches Heritage
Old villages with traditional chalets, baroque churches with lavish reredos made of polychromatic or gilted sculpted wood, the historic town of Aime, the former capital of a Roman province that's home to many Gallo-Roman and mediaeval remains, arts and crafts practitioners, etc.
Bobsleigh Runs
Paradiski offers 3 bobsleigh runs - RODEO PARK is 3km long, COLORADO PARK is 1.5km long and new for 13/14 ARPETTE NIGHT BOBSLEIGH RUN is 3km long.
From December to March, the Olympic luge and Bobsleigh run at la Plagne is open to the public:
Taxi Bob: 1 500 meters run in a four man racing bobsleigh, 3 passengers, over 18 years, are taken for each trip.
Bob Raft: It looks like a conventional bobsleigh and carries for people without a pilot (minimum eight of 1.3m, parental approval mandatory for under 18 years olds, parental presence compulsory for under 15s).
Mono Bob: Just you and the ride of your life. At around 90km/hr, in a semi-horizontal position, all alone in a one-man bob.
Every Wednesday: the Office du Tourisme organises an outing to the bobsleigh run. 
Les Coches Quad Biking
Activity frame and opened to the persons holders of a licence B. Discover the mountain by piloting your quad bike 4x4 Polaris 300 Hawkeyes in excursion around Montchavin Les Coches. 
Quad - Evolution 2
73210 Montchavin-Les-Coches
Tel: 0033 4 79 07 81 85
Please note: All the above information is for information only. For the most up-to-date information please visit the resort tourist office website. All prices for activities are in local currency (€ Euros) and are bookable and payable locally in resort.
Les Coches Office du Tourisme 
73210
Bellentre
Tel: 00 33 (0) 4 79 07 82 82 - info@montchavin-lescoches.com
Les Coches Ski Activities
Les Coches Mountain restaurants
Les Coches has 3 mountain restaurants.
Cross-country in Paradiski
Access to the x-country tracks is free. There are 16 km of marked tracks that may be reached from the vimmages and from the top of the lifts at Montchavin and Les Coches, as well as from the Les Coches and Lac Noir Gondola lifts. Ask for the plan at either Office du Tourisme.
There are also 153kms of cross country skiing in this vast ski area (Paradiski). In La Plagne area there is 80km/50 miles. Try Champagny (Le-Haut) – 14 miles of stunning winding tracks in a sunny valley.
Snowparks in Paradiski
2 snowparks, 6 boardercross, 1 half pipe and 2 big Air Bags. Get the Pass Park for access to la Plagne's freestyle areas.
Les Coches Snakegliss
Snakegliss is an activity of collective sled which is practised in as a family or between friends.
Les Coches Trikke
Get ready to live one piece of new experience on the snow thanks to a really easy handling. After some simple instructions on the use of Skki, you will be ready to slide quite freely on this new machine. Within 30 minutes you will be able to slalom!
Les Coches Snowscoot
The snow scoot is a machine consisted of a frame, two similar different boards in snowboards, a fork and a guidon to direct the board before. The back board is fixed to the frame and that before stands by the fork.
Les Coches Airboard
Airboarding is the bodyboarding of the snow, an inflatable sled that moves using your body weight. 
Les Coches & La Plagne news & events
What's new for 2022/23 season:
The Riders Nation Snowpark - the Belle Plagne snowpark is moving to the 'Dos Rond' sector in Montchavin-Les Coches. A choice spot for evolutive green and blue lines with some expert modules.
Events taking place in the 2022/23 season:
Ice Climbing World Cup 19th-21st January 2023

 

- featuring the best international climbers attempting the most difficult route in the world
Super Salom 1st April 2023

 

- 4km, 350 poles, 800m elevation - equivalent to 7 slaloms rolled into one! The world's longest course, bringing together prestigious ski champions and amateurs
Subli'Cimes 7th-12th April 2023

 

- spring skier madness event on the slopes
Check out the Tourist Office website for further information about what is going on in La Plagne: www.la-plagne.com
Les Coches Restaurants, Bars & Aprés-ski
The shops, restaurants and bars of Les Coches are reached by arched walkways; there is a small choice of good value dining. More bars and restaurants in nearby Montchavin.
Why not try the famous Folie Douce in Arc 1800 for a different kind of dance scene. This branch of the Folie Douce opened in 2019, introducing the chain's trademark Austrian-style afternoon party scene. You will find 7 other Folie Douce in the French Alps - Val d'Isere opened in 1976, Val Thorens in 2009, Meribel in 2012, Alpe d'Huez in 2013, St Gervais/Megeve in 2014, Chamonix and Avoriaz in 2018. Ski and pedestrian access by the Villards gondola for Les Arcs FD (free for pedestrians), La Folie Douce is on the left at the finish line. Last descent at 7pm (8pm Wednesday, Thursday and Friday). Please note, to get back to La Plagne you need to take the Vanoise Express and then lifts (or maybe a bus) back to your accommodation so please check last lift/bus times!
---
Amenities
Les Coches is served by a range of amenities including a natural ice skating rink, snowshoeing, paragliding and walking trails to experience in Les Coches.
Several points offer free Wi-Fi access to skiers throughout the Paradiski ski area and its resorts. Ask more about this service at the ski pass sales counters.
Getting to Les Coches, France
By Road:
Driving distance from Calais to Les Coches 620 miles 8hrs 50.
From Calais take the A26 motorway via Reims, Dijon and Maçon to Lyon A43/A430 to Albertville and then N90 via Moutiers in the direction of Les Arcs, following signs for Landry and Les Coches.             
By Rail:
Landry 10km - Shuttlebus +33 479 55 64 76 – Taxi +33 614 82 46 34.     
Links with Landry Railway station
Important: for return, reservation at the Tourism Offices. 
During school holidays, additional services are available. Daily shuttles (except Saturday, Sunday) from Landry at 8:50 am and from Les Coches at 9:15 am. 
Stops: Les Coches in front of the Tourism Office and Montchavin near the Police Station
Airports:
Chambery Airport is 117km from Les Coches (1 ½ hours)
www.chambery-airport.com
Grenoble Airport is 185km from Les Coches (2 ¼ hours)
www.grenoble-airport.com
Lyon Airport is 194km from Les Coches (2 ¼ hours)
www.lyonaeroports.com
Geneva Airport is 196km from Les Coches (2 ¼ hours)
www.gva.ch
Public shuttle bus transfers from the airport
Chambery Airport - Les Coches via Landry (www.lys-altibus.com).
Montchavin/Les Coches Airport Transfer
For pre-bookable private transfer rates with Peak Retreats, view here. 
Access around Les Coches and Montchavin
Shuttle service between Montchavin and Les Coches: 
Free shuttle between Montchavin and Les Coches each day (last shuttle at the end of the last cinema session). 
Stops: Montchavin Police Station, Les Coches Tourism Office and Les Coches Skating Rink.
---
Paradiski Opening Dates

The Les Coches ski area is open: 17/12/22 - 22/04/23