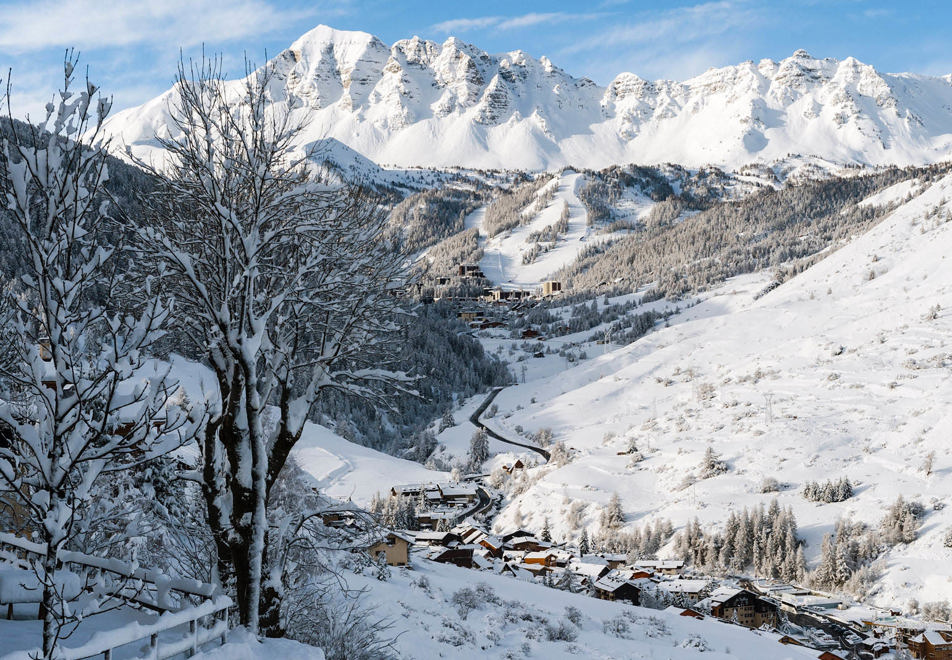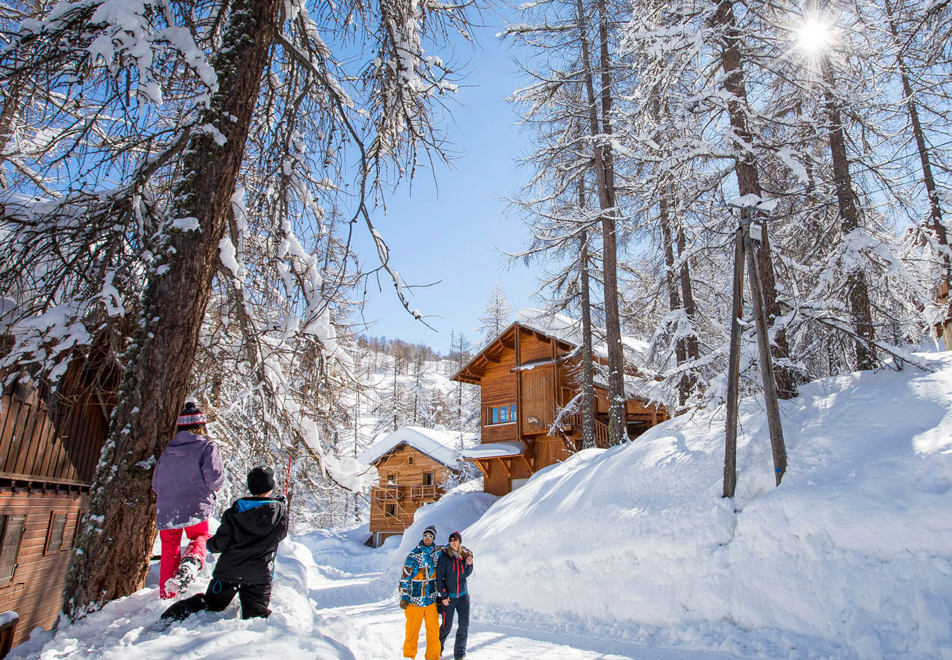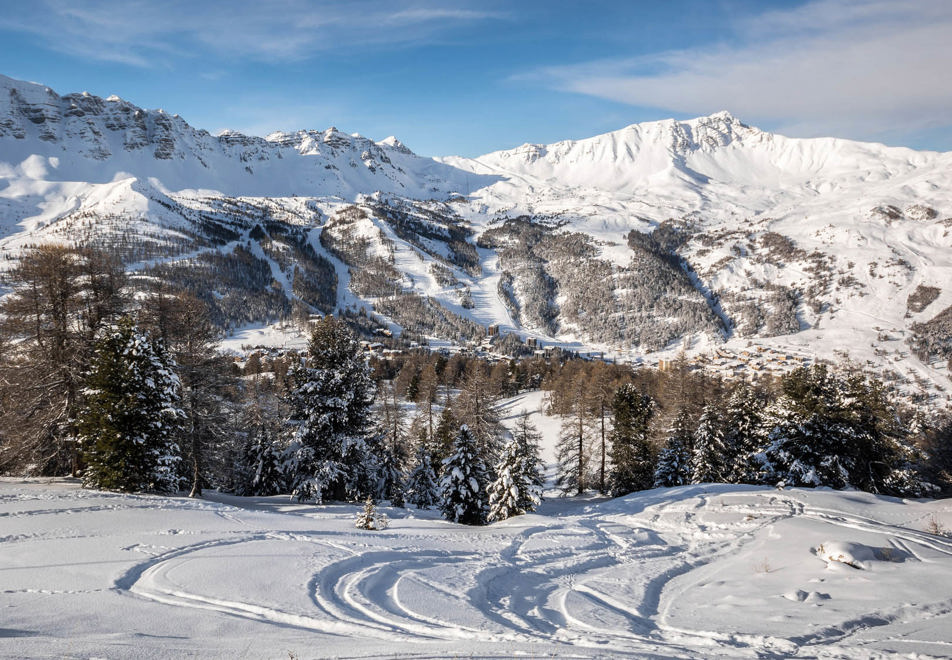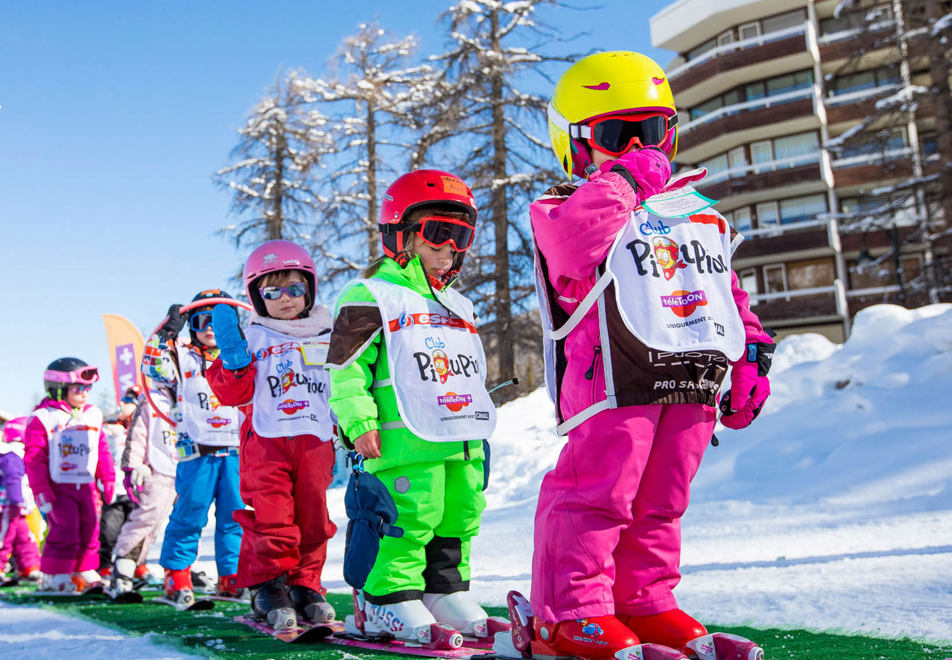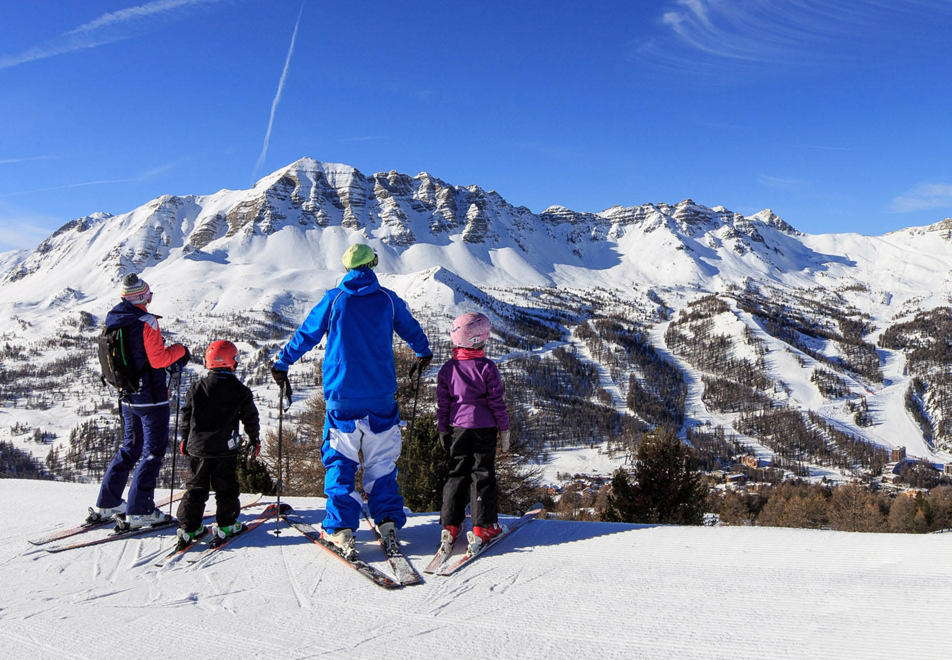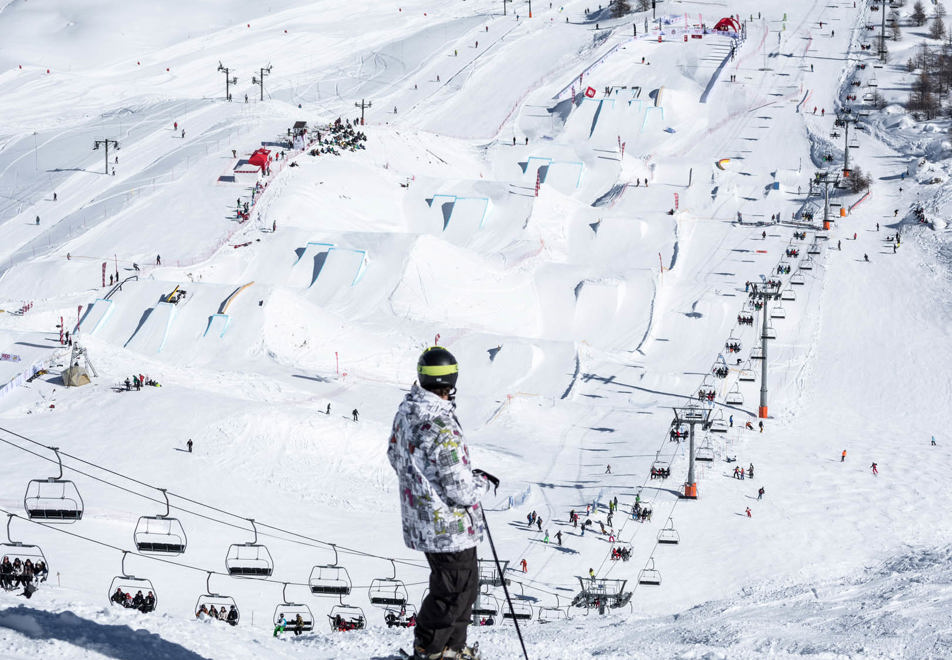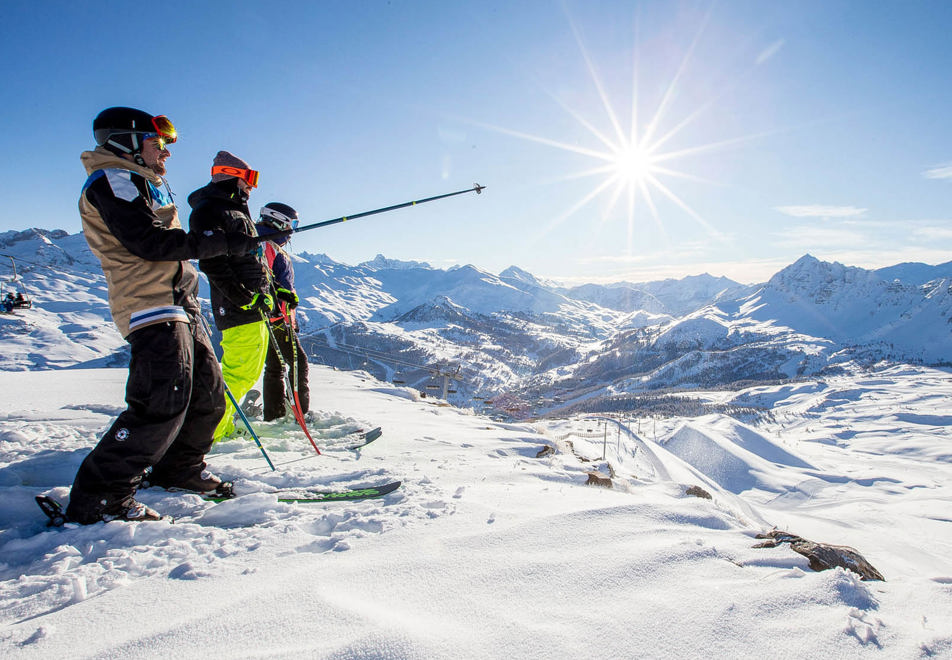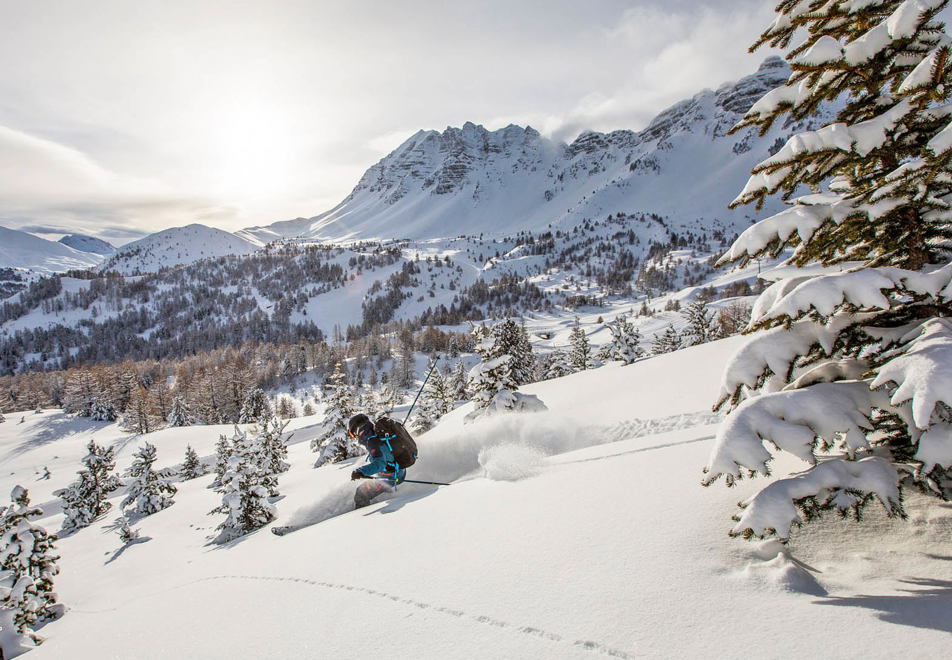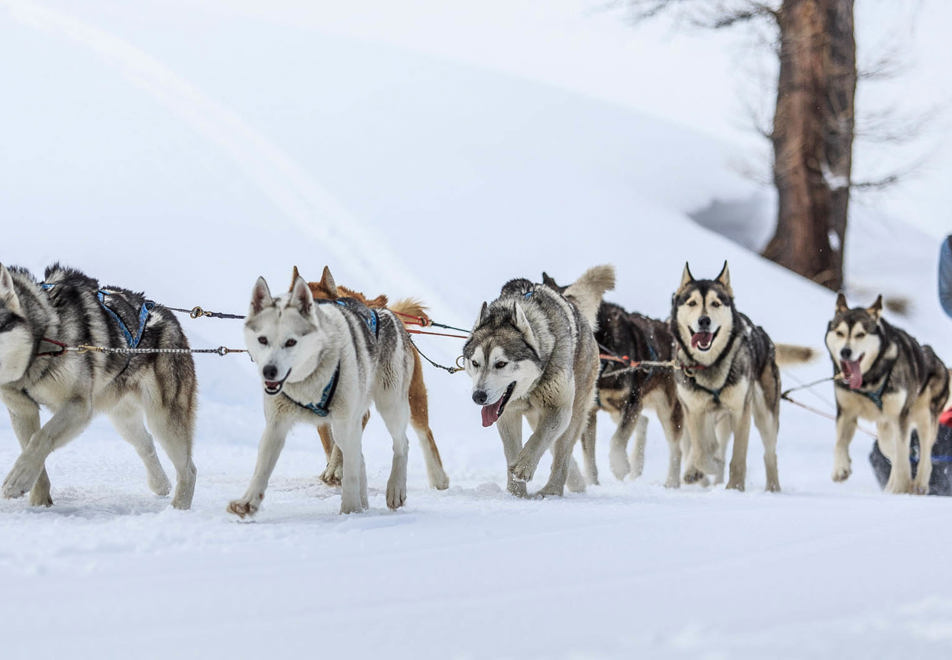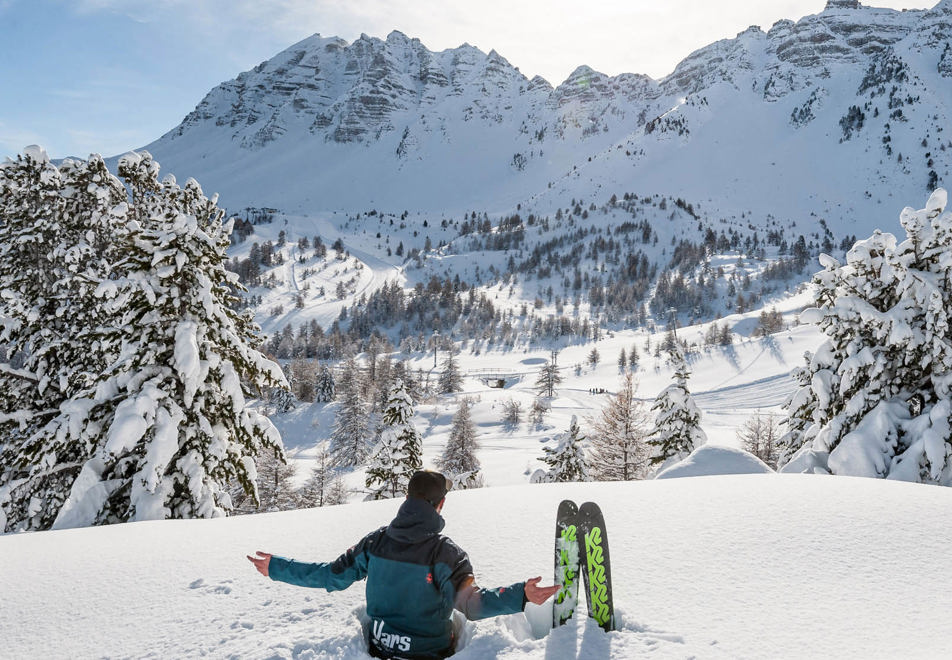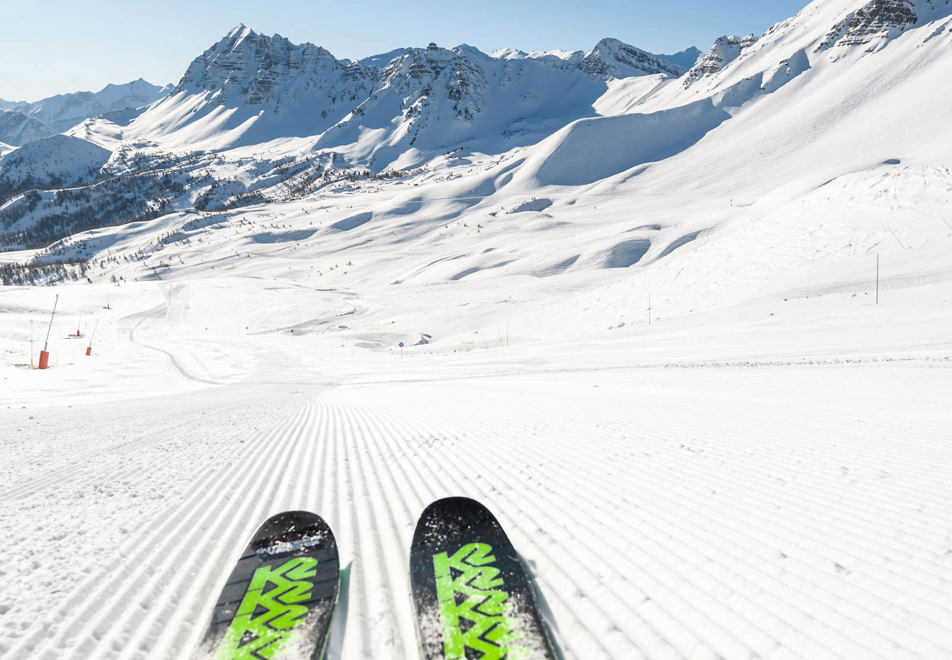 Thinking of skiing in Vars? A traditional French resort, Vars benefits from high altitude and enjoys almost 300 days of sunshine a year.
Why Vars Ski Resort?
Nearly 300 days of sunshine
Great skiing for intermediates and beginners
Traditional French atmosphere
Reasonably snow-sure with lots of tree-lined runs
Family friendly and good value
Vars la Forêt Blanche Information
The Southern Alps ski resort of Vars forms part of Domaine de la Foret Blanche, which is one of the largest ski areas in the Southern Alps.
The resort runs along the length of the valley and is split between 4 hamlets: Saint Marcelin, Sainte Catherine, Les Claux and Saint Marie.
Sainte Marie is the largest of the hamlets and the starting place for skiing with the 5 seater chair lift departing from the edge of the village and connecting it to the resort of Risoul at 1850. It opens up to over 185km of piste and a large choice of ski possibilities.
VARS SKI AREA
Vars has good skiing, particularly for intermediate and beginner skiers. The whole area is accessible via green and blue runs, you can even ski between Risoul and Vars on just blue pistes. Those Expert skiers also have a choice of 10 black runs and plenty of off-piste. The resort offers some good boarding and there are various snowparks.
Pretty wooded slopes surround the village. Vars has slopes on both sides of the valley. The Peynier area is wooded, west-facing and reaches 2275m. However, the main slopes are on the east-facing bowl which links through to Risoul at 2 points (blues at 2435m or a red run from 2750m).
Following several twists and turns, admire the exceptional views from the Col de Crévoux and the breathtaking panoramas of Peyniers and Chabrières. Or try a descent with a change in altitude of almost 1,000m down to the village of Sainte Marie, where farms and chalets showcase traditional architectural features. 
It's reported that over 20 runs (marked on piste map) are ungroomed if there is fresh snow.
VARS SNOWMAKING
The Vars ski resort has extensive snowmaking facilities if snow is lacking at the start and over the course of the season. There as been expanded snowmaking in the Crévoux area, one of the resort's major routes leading to the very best summits! The result will be better distribution of skiers over the ski resort if ever natural snow is lacking, thanks to the help of 37 extra snow machines.
262 snow machines managed 24 hours a day by 4 operators
Snowmaking capacity - 35 % of the Vars skiing area
2 reserves for the supply of water 
VARS SKIING
VARS BEGINNERS
There are a few free lifts for beginners so you can try before buying a lift pass. Progression across to Risoul should be possible for some quick learning beginners.
There are 3 drag lifts available: Les Claux, Baby Ecrins, Jardin d'enfants - G1
VARS INTERMEDIATES
There is a good mix of blue and red slopes in the Vars/Risoul ski area. There are good treelined runs in the Peynier sector including an easy black to try.
VARS EXPERTS
Not many challenging pistes but there is lots of off-piste potential.
VARS SNOWBOARDERS
There is pretty good freeriding and 7 freestyle parks. However, there are a fair few draglifts to tackle.
VARS RESORT RUNS
You can come back to the resort on blue runs.
VARS OFF-PISTE SKIING
The "Y", the "Entonnoir", "La Virgule", the "Petit Col" and even "La Banane" have a number of steep slopes ranging from 30 to 50% less than one hour's walk away, where you'll encounter fine, light powder, made for a dream skiing experience.
Vars Ski Hire
Pre-book your Samoens ski hire with Peak Retreats.
Please note, these Pound Sterling prices are for indication only. They will fluctuate based on Euro/£ exchange rate. Please call us for the latest prices.
Special offers: *7 days for the price of 6.  Free Skis/snowboard & boots (Blue/Red) for party leaders of groups of 10 or more all taking equipment. 1 Free helmet per child aged 6 and under for every adult booking skis or snowboards & boots (must be under same booking reference and requested on form above). Other duration prices on request - Cross Country ski prices on request.
Find out more about Peak Retreats ski hire
---
Vars Lift Passes
Pre-book your Samoens lift passes with Peak Retreats. Find out more about Peak Retreats ski passes
Please note, these Pound Sterling prices are for indication only. They will fluctuate based on Euro/£ exchange rate. Please call us for the latest prices.
Other lift passes on offer (to buy locally in resort in Euros):
If you wish to book only half day or a day pass, or perhaps a few days consecutive or non-consecutive (Peak Retreats usually only pre-book 6+ days passes), then these can be bought in resort at the lift pass office, in €'s. This may suit those who only ski a few times during the week or who only want to ski the immediate local area rather than the full area (there are usually various lift passes on offer that cover different parts of the ski area). Each resort usually has a beginner's pass too which covers a small area in which to learn, which may be all you need for a few days as a beginner (some areas are even free). Prices can be found on the tourist office website if you need a guide.
Free lifts:
3 drag lifts available: Les Claux, Baby Ecrins, Jardin d'enfants - G1
Evolution beginner/intro ski pass:
Ideal for beginners or those seeking a gentle re-introduction to skiing. Accessible ski lifts: Chabrières cable car, Les Claux chairlift, la Mayt chairlift, Peynier Adroit chairlift, G2 and Ecrins drag lifts.
Tenderness beginner/intro ski pass:
This lift pass is valid for the Peynier, Les Claux and Fontbonne chairlifts and Peynier I and II and la Rochette drag lifts.
Vars Ski School
Pre-book your Vars ski school with Peak Retreats. Find out more about Peak Retreats ski school.
Ski school for children is available to book from 4 years, in Vars, with Peak Retreats. 
Please note that lesson times are subject to change right until the last minute - you will be advised. Outside French school holidays the ski school reserves the right to cancel group lessons should numbers be insufficient.  For peak periods - Christmas, New Year, February half-term and Easter - we strongly recommend that you book as early as possible and in any case at least 6 weeks prior to the required dates. Morning lessons tend to get booked up first and therefore we may only be able to offer afternoon classes within 6 weeks of departure. In some resorts English speaking instructors may not always be available, particularly at peak times.
We cannot always guarantee that prices will be cheaper than in resort. When ski packs prices are calculated, the currency is bought at the exchange rates that apply at the time. You can be assured that once you have booked your extras, if the pound depreciates, you will not be charged more for your ski packs, enabling you to budget for your holiday in advance.
---
Vars private lessons (not pre-bookable, book direct):
Individual tuition can only be purchased directly from the ESF ski school. Peak Retreats cannot pre-book these. Private lessons usually start from 2 years old and have no maximum age.
How to book:
You can book online with ESF Vars or contact them by phone on 0033 4 92 46 53 24. It is advisable to book before you go and in good time as instructors get very busy, especially in Peak times.
Prices vary from resort to resort but are around €40-80 per 1 hour lesson for 1 or 2 people (the more people you have the cheaper it usually is so you can split the cost). Most resorts offer a choice of 1 hour, 1.5 hours or 2 hour lessons. These may be in the morning or afternoon and are usually at select times. If you only fancy just one private lesson, this is usually fine. Otherwise, you can book a course of private lessons over as many days (consecutive or non-consecutive) as you'd like. However, it is more cost-effective to book group lessons for the week (which we pre-book).
---
Vars non-skiing childcare (not pre-bookable, book direct)
P'tits Poussins
From 2.5 years to 4 years.
Within a secure and protected area of over 2000m², toddlers will discover the world of snow with fun games and activities.
Included:
1 hour with an instructor to discover skiing
1 hour 30 mins walking activity with snowshoe, sledging, hiking on the squirrel trail (depending on weather conditions, indoor space is provided in case of bad weather)
Heath books needed.
How to book:
Please contact them direct for prices and to book. It is advisable to book before you go and in good time as spaces get filled quickly, especially in Peak times.
P'tits Poussins
0033 4 92 46 53 24
esf-vars@orange.fr 
Top winter activities to experience in Vars
Please note Peak Retreats do not book any activities and most activities are payable
Snowsport activities:
7 freestyle parks/areas
Park 1 - L'EYSSINA
At 2400m altitude – quick and easy access via the 2 Crevoux drag lifts. Located at the foot of the Eyssina ridge, this highly diverse park has something for everyone (blue, red and black lines) including the first 100% jib slopestyle. The park includes numerous snow obstacles, such as big air and tables, as well as designated rail zones. 3 green obstacles, 4 blue obstacles, 5 red obstacles, 5 black obstacles. Cool zone – sound system, Free BBQ – meeting point for all riders.
Levels: beginners – advanced levels
Park 2 - TOTEM PARK
Welcome to Vars' Wild West! Location: At the top of the Sibières chairlift. Access: Sibières chairlift and Eyssina ski lift. One of the most original snowparks you can find. The park blends in perfectly with its surroundings, with stone (pink granite from Guillestre) and wood elements as well as Wild West-inspired obstacles:
Native American village Ride on the various rails and carved totem poles
Wild West Village with features inspired by Wild West buildings
This proline is dedicated to freestyle photography and visual arts with a Vars-style Wild West feel, complete with saloon
Levels: experienced and pro
Park 4 – GIRLY PARK
Location: At the top of the Cabrières cable car. Access: Access via Chabrières cable car and the Clapier piste. This area has been unanimously endorsed by all snowboard users - it's a total triumph! In fact, the park's straightforward features, its original design and guaranteed safety makes freestyle for beginners as easy as tobogganing!
With pretty, pink obstacles, this area is designed for girls but can be used by anyone wanting to discover freestyle thrills. 14 obstacles alternating between boxes, curves and pyramids typical of skate parks give you a choice of routes
Level: beginners - intermediate
Park 5 - PARK DES ECRINS
A park for training and perfecting! Location: Facing the snow of Point Show, on the Ecrins pistes. Access: Quick and easy access from the Ecrins drag lift. This one of France's best parks for experienced riders to practise and hone their skills.
The line includes everything you can find in the Vars snow park (boxes, rails, wall rides etc.).
Level: all levels
6 - Snowtrails
These fun areas on the edge of the pistes (boardercross and hoops) are a perfect introduction for freestyle beginners before they venture into the snow parks. Explore the ski slopes and enjoy a bit of freestyling.
You'll be able to try out your tricks on different parts of the slopes, depending on snow cover.
Level: open to all
7 - Speedskiing piste
Vars la Forêt Blanche has become a reputed spot in the world of glide thanks to the fastest speedskiing piste in the world 254.958km/hr and one of Europe's most beautiful snowparks. The world record was set on 26th March 2016.
The stadium is open to the general public. Naturally, the highest speeds are still the privilege of the champions but the bottom of the piste is an exhilarating playground for discovering and learning speed skiing. Meet Thursday to Sunday at the chrono cabin at the bottom of the Chabrières piste from 10am-3pm. You must be at least a 3-star skier (able to go everywhere on the slopes with skis parallel) and over 6 years old. You'll be given a helmet and a maskl. All the tips and tricks regarding the descent will be given by the piste's former record holder himself, Philippe Billy (243.902 km/h) and by his sons, both of whom are speed skiers of the highest calibre. Every skier who gets timed can push him/herself to their limit and taste the adrenaline produced by this sport, then leave with a personalised certificate stating their time!
Group toboggan ride
Every Tuesday outside school holidays, every Monday and Friday during the school holidays (+ Wednesday during the February holidays), meet other toboggan-lovers of all ages for a full-scale toboggan ride. Unforgettable thrills on the 2km long course, with nearly 400m of descent. When the slopes close, discover a wonderful playground that everyone will enjoy, meet for the last cable car ascent. Helmet, valid lift pass and sledge with metal brakes are mandatory. Suitable for children age 6 and above. Must be accompanied by an adult.
A free tobogganing spot
Safe and well-maintained, suitable for all ages. At the top of the resort, on the slopes of Le Fournet, discover a magnificent playground. Open all day, every day during the winter season (subject to weather conditions)
Guided visit to the snowmaking plant
WEDNESDAY – 10 A.M. The Vars ski resort can guarantee snow to visitors even when natural snow is lacking, providing that the weather is cold enough for artificial snow to be produced. You will hardly notice any difference in the quality of the snow under your skis so you can enjoy the slopes to the full!
Evening skiing
Les Ecrins slopes - VARS LES CLAUX. Les Ecrins slope is open every Tuesday and Wednesday during the school holidays. From 5 p.m. to 7.30 p.m. from 22/12 to 6/01. From 5 p.m. to 9 p.m. from 9/02 to 10/03 and from 6/04 to 22/04. Free activity.
Snake gliss
Information and reservations: Tam Tam Photo Le Seignon shopping mall (opposite the Tourist Office).
Vars Ice Rink
Cours Fontanarosa 05560 VARS LES CLAUX
Other activities:
Vars paragliding and speed riding school
05560 Vars Sainte Marie
www.parapente-hautes-alpes.com
Hiking and snowshoe trails
40km of nature trails and wonderful heritage to explore to your heart's content! Discover the delights of Vars la Forêt Blanche by exploring its ski area, but let yourself be swept off your feet by its heritage, charming villages and natural beauty too. Remember to take the time to explore the narrow, winding streets of Vars Sainte Catherine, Sainte Marie, Saint Marcellin and les Claux - these villages, with their old houses, fountains, quiet church courtyards, pretty chalets and slopes provide you with a chance to escape and an opportunity to admire the valley from both sides of the Chagne.
A free shuttle service allows you to go from village to village and to join the walking/snowshoe itineraries.
Snowshoe treks - www.montagne-liberte.com
Fat bike
This fast-growing sport involves mountain-biking on the snow on a specially designed bike with over-sized tyres: the Fatbike! An electric version is also available. You can try out a Fatbike along the 13.5 km of trails from Vars Sainte Catherine and to Col de Vars. Here you can make the most of the wide-open spaces! You share the trails with hikers on trails 4 – 5 – 12 and 13 as shown on the map available from the tourist office. You can access the Peyrol skiing area with your Fatbike on the ski-lifts. This part of the skiing area is only accessible with a professional guide, who can pass on all the tips for enjoying the sport and guide you along the mountainside Forest paths overlooking the Vars valley.
Please note: All the above information is for information only. For the most up-to-date information please visit the resort tourist office website. All prices for activities are in local currency (€ Euros) and are bookable and payable locally in resort.
Vars Sainte-Marie TO 
0033 492523679
stemarie@otvars.com
Vars Tourist Office
Vars les Claux TO
0033 492465131
info@otvars.com
Vars restaurants
There are around 18 good value restaurants incl. mountain restaurants.
Vars Amenities
Sherpa supermarket - Vars les Claux. Open 7 days a week from 8am to 12.30pm and 3pm to 7.30pm
Delicatessen: cheese, Savoie region and local cold cuts, raclette cheese, fondue and tasting of local specialities etc. Take away, vacuum packed. Regional products, fruit and vegetables: daily delivery, wine cellar
Spar supermarket - Vars les Claux. A large selection of regional products. Self-service butcher (local meat). Groceries, frozen food, fruit and vegetables, fresh produce, wine. Self-service cheese counter, with local products, cut and wrapped at Spar. Open every day during the season: 8.30pm to 12.30pm and 16.00pm to 7.15pm.
Petrol station -  24H/24 - Vars St Marcellin (near the cemetery)
ATM/Cashpoint 24h/24 - Vars les Claux Crédit Agricole - Point Show Post Office- Le Seignon
Pharmacy - Vars les Claux - Ski Soleil
Post office - Vars les Claux – cash point 24/24 Vars Ste Marie – post office - Maison Chastan. From 8.30 to 12.00 from Monday to Saturday .........0033 (0) 4 92 54 10 76
Access to Vars
By Road: 
Driving distance from Calais: 645 miles (10hrs 15)
From Paris: take autoroute A6 until Lyon, then take autoroute A43 until Grenoble, then follow signs for Briançon via the Lautaret pass or Gap via the Bayard Pass, then head towards Embrun-Guillestre-Vars.
From Turin: head for the border at Montgenèvre then follow signs to Briançon - Guillestre - Vars.
By Rail: 
Montdauphin Guillestre station (18 km from Vars)
• Paris/Briançon, direct trains and motorail trains
• Paris/Valence or Paris/Grenoble, high-speed train (TGV) connections,
• Marseille/Briançon, daily connections
Shuttle buses run every Saturday from the Marseille-Provence airport to the Vars ski resort +33 (0) 821 202 203
Airports:
Chambery Airport is 236km from Vars (3hrs 30)
chambery-airport.com
Grenoble Airport is 211km from Vars (3hrs)
grenoble-airport.com
Lyon Airport is 258km from Vars (3hrs 30)
lyonaeroports.com
Turin Airport is 171km from Vars (2hrs 30)
www.aeroportoditorino.it
Nice Airport is 189km from Vars (3hrs 30)
en.nice.aeroport.fr
Marseille Airport is 242km from Vars (3hrs)
www.marseille-airport.com
Resort shuttles:
Vars provides a free shuttle service for easy travel between the villages, the resort and Le Col de Vars.
---
Vars opening dates:
Vars is open 10/12/22 - 16/04/23