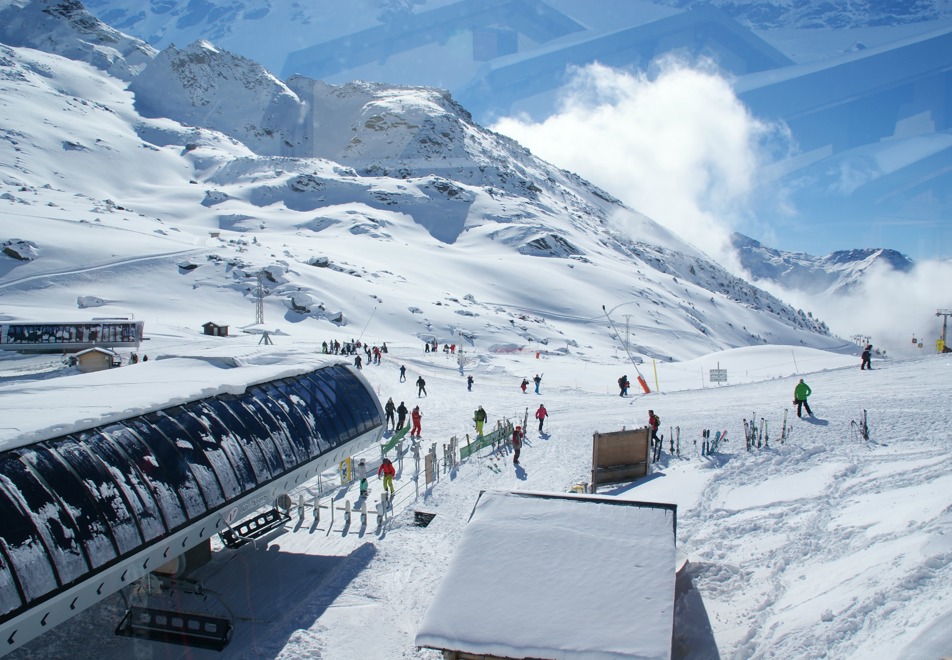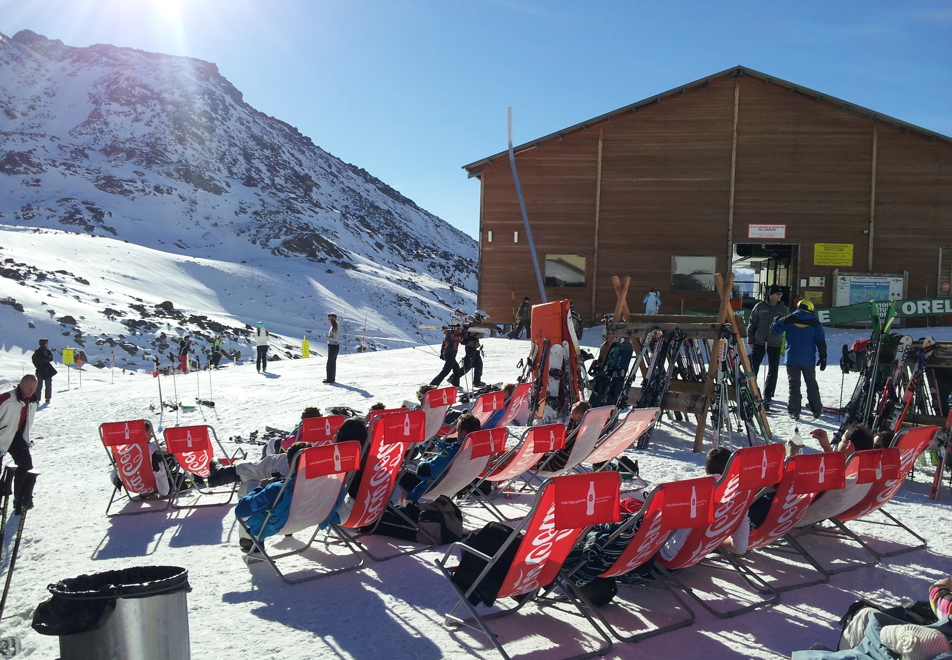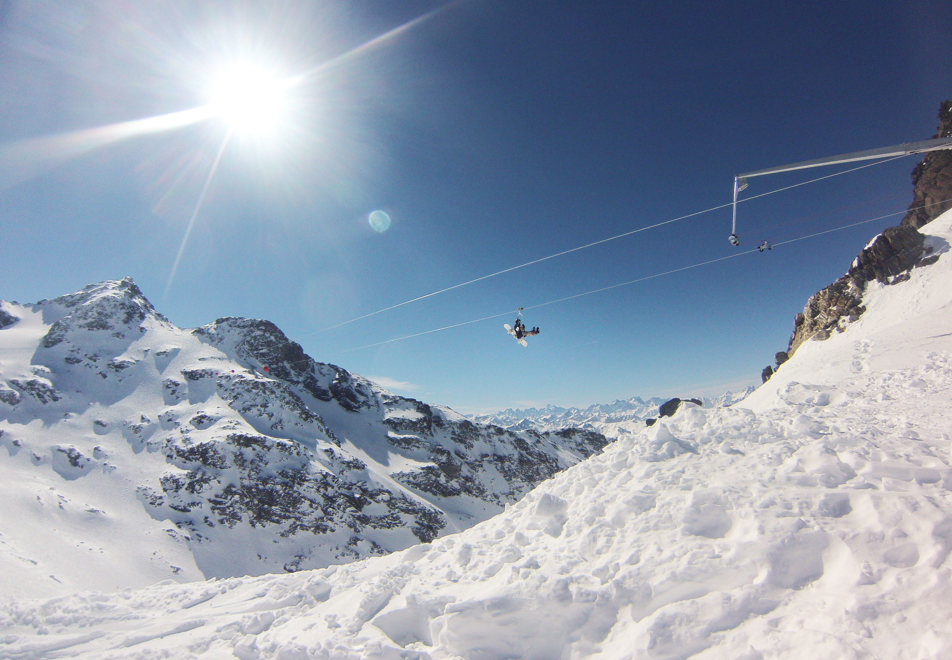 Thinking of skiing in Orelle? Situated in the unspoilt Maurienne Valley region, Orelle offers great links to Val Thorens and 3 Vallees ski area, providing a lower cost alternative.
Why Orelle Ski Resort?
A lower-cost base from which to explore the vast Les 3 Vallées ski area
Home to the highest zip wire in the world
A quiet village with access to world-class skiing
Orelle Resort Information
Orelle is located within the Maurienne Valley region of the French Alps. It's divided into 10 small hamlets. The authentic hamlets are tucked away in a natural beauty spot, near Italy and the Vanoise National Park. The stone houses have beautiful slate roofs and lots of traditional charm. Discover a village with a unique architectural heritage! The area is ideal for those seeking peace, calm and authenticity.
Francoz is home to the 3 Vallées Express gondola that connects Orelle to Val Thorens and the 3 Valleys ski area. A gondola takes you up to an altitude of 2300m in 15 minutes.
Orelle benefits from low prices in the small hamlet but at the same time has access to one of the largest ski areas in the world – the 3 Valleys.
There's is a bar, restaurant and mini-market next to the gondola base station. For a further selection of shops, bars and restaurants St Michel de Maurienne is a five-minute drive. A little further afield, St Jean de Maurienne is a 20-30 minute drive.
Peak Retreats features self-catered apartments in Orelle. These hand-picked ski apartments provide an ideal base for an Orelle ski holiday.
ORELLE SKI AREA
Although Orelle is located in the Maurienne Valley, its ski area is within the 3 Valleys domain. Orelle has a small ski area with a few pistes, but is directly linked to Val Thorens and the 3 Valleys ski area: you can be in Val Thorens within 30 minutes of getting on the gondola at Orelle. And there's now an easier access to the Orelle gondola, with the removal of the old access stairs and a new elevator for disabled users. The new detachable Peyron lift in Orelle is faster (five minutes instead of 15) and easier now that it's been replaced by a six-seater chair, with better wind resistance.
From Orelle you can choose between three primary ski areas:
Orelle-Val Thorens (150km of piste) – see right panel
La Vallée des Belleville (300km of piste)
The entire 3 Valleys (600km of piste)
For Val Thorens, see details with our sister company Ski Collection
Additional ski fact info 2018/19, main ski info in resort facts box at top of page
Belleville only (Val Thorens, Orelle, Les Menuires, St Martin) - 300km of pistes, 62 lifts (6 cable cars, 10 gondola, 28 chairlifts, 6 draglifts, 11 moving carpets), 167 slopes:
Green slopes: 23
Blue slopes: 75
Red slopes: 55
Black slopes: 14
1010 snow cannons (48% of ski area)
Val Thorens Ski Area - 150km, 29 lifts, 85 slopes:

Green slopes: 11
Blue slopes: 35
Red slopes: 30
Black slopes: 9
ORELLE AND 3 VALLEYS SKI AREA
Orelle connects with Val Thorens (and the 3 Valleys) via the 3 Vallées Express gondola. It takes around 15 minutes to take you from 900m to 2350m. To link to Val Thorens you need to take the 'Rosael' chairlift. Otherwise, the very small Orelle area has one green, one blue and two red pistes. There's also a boardercross run in the Orelle ski area.
In the 3 Valleys, 85% of pistes are above 1800m and 100% of the pistes are above 1800m in Orelle/Val Thorens.
VAL THORENS SKI AREA
Val Thorens is Europe's highest resort and therefore snow cover is pretty much guaranteed from the beginning of December till early May. The slopes are mainly north-facing.
Val Thorens itself is suited to all abilities although the connecting pistes up in Orelle are more suitable for intermediates than beginners.
Above Orelle, two chairlifts (Peyron and Bouchet) take you to 3230m on the flanks of the Pointe du Bouchet. This is the highest lift in the 3 Valleys and there are some stunning views from the top. There are two red runs down that merge into a blue run. What was previously graded a black run is now classified as off-piste.
Take the 150-person cable car to Cime de Caron (it's one of the biggest lifts in the Alps). From here there are only red or black descents - however beginners or low intermediates can just catch the cable car back down. The views are phenomenal from here and pedestrians can access the same summit from the base of Val Thorens via a couple of gondolas. No ski equipment necessary! You can also access Orelle from the cable car, although it's a black run at first - then a blue - back to the 3 Vallées Express gondola. Off course you have the whole of the 3 Valleys to explore and the opportunities are endless for all types of skier and snowboarder.
ORELLE SKIING
ORELLE AND 3 VALLEYS BEGINNERS (it's not suited to complete beginners)
At the top of the 3 Vallées Express lift from Orelle there's a small green nursery slope with a beginner lift (suitable for complete beginners even on their first day). The pistes around Orelle and the top of Val Thorens are primarily blue and red (ideal for intermediates). In general, complete beginners will struggle though, so we'd advise that unless you're a very quick learner that the access routes to Val Thorens are only really suitable for intermediates. There is a blue run to practise on in the Orelle sector, but that's pretty much it.
ORELLE AND 3 VALLEYS INTERMEDIATES
Val Thorens has some of the best intermediate terrain in the 3 Valleys. From Orelle and the top of the Val Thorens mountain range there are plenty of blue and red runs. To get from Orelle to Val Thorens there's a lift and then a red slope, followed by blue slopes all the way down to Val Thorens village.
ORELLE AND 3 VALLEYS EXPERTS
Locally, Val Thorens slopes are predominantly red runs and the black runs are quite easy. But the pistes down from Cime de Caron cable car can be more challenging. The Falaise and Variante runs from the Col de Rosael (near the Orelle area) can be challenging too, especially when mogulled. The 3 Valleys have over 600km of piste so if you stretch a little further into other resorts you will find more than enough to keep you entertained,
ORELLE AND 3 VALLEYS OFF-PISTE
Val Thorens itself offers a huge amount of off-piste as well as other areas in the 3 Valleys. The Lac du Lou is a famous off-piste run from the Cime de Caron (near to Orelle), and the views are stunning.  For those with less experience, the Pierre Lory pass is a good bet. In Orelle itself (or the "fourth valley" as it's called), La Combe sans Nom, accessible from Cime de Caron, usually offers superb con
Val Thorens is one of few resorts in France to be equipped with a new snow-groomer with electric transmission. The cutting-edge technology improves fuel consumption by 20-30% and removes all the uncertainties associated with transmission hydraulic circuits. Eco-friendly technology!
ORELLE AND 3 VALLEYS CROSS COUNTRY
There are only 4km of cross-country ski trails in Val Thorens itself. However, there are 130km of cross-country ski trails in the whole of Les 3 Vallées ski area.
Get closer to the summits and enjoy breath-taking scenery such as the Cime Caron with its 360° panoramic views of more than 1000 alpine peaks of the French, Italian and Swiss Alps or the Mont de la Chambre with its clear view of Mont Blanc. There are also various mountain restaurants along the way to stop for a bite to eat or a refreshing drink or two.
Opening 2019/20, La Braiz is the highest cross-country skiing run in Les 3 Vallées! Starting near the Plan Bouchet lift which is at 2,350m, this 1km tour is ideal for those who want to discover the Orelle-Les 3 Vallées area in a different way and work on their fitness!  The trail is accessible with a pedestrian lift pass.
Orelle Ski Hire
Not pre-bookable through Peak Retreats.
---
Orelle Ski Passes
Pre-book your Orelle ski passes with Peak Retreats. Please enquire for prices.
Daily passes to book in resort:
3 Valleys ski pass – ½ day and daily rates 17/18:
½ day - €43.60 children, €54.50 adults
Day - €48.80 children, €61 adults
Vallee des Belleville – ½ day and daily rates 17/18:
Day - €46.40 children, €58 adults
Val Thorens/Orelle - ½ day and daily rates 17/18:
½ day - €37.70 children, €47.20 adults
Day - €42 children, €52.50 adults
Orelle Ski School
To book your ski school, download the ski extras form from the 'Helpful links' further down the page.
Please note that lesson times are subject to change right until the last minute - you will be advised. Outside French school holidays the ski school reserves the right to cancel group lessons should numbers be insufficient.  For peak periods - Christmas, New Year, February half-term and Easter - we strongly recommend that you book as early as possible and in any case at least 6 weeks prior to the required dates. Morning lessons tend to get booked up first and therefore we may only be able to offer afternoon classes within 6 weeks of departure. In some resorts English speaking instructors may not always be available, particularly at peak times.
We cannot always guarantee that prices will be cheaper than in resort. When ski packs prices are calculated, the currency is bought at the exchange rates that apply at the time. You can be assured that once you have booked your extras, if the pound depreciates, you will not be charged more for your ski packs, enabling you to budget for your holiday in advance.
Orelle Child Care
THE KINDERGARTEN « LE MAZOT DES CROÉS »
Looks after your children from 3 months to 6 years old.
Discovery learning workshops, sport, reading, cookery, games, activities around the mountain and the snow, etc.
Elisabeth ANDRÉ or Caroline Neyret
Telephone number: 0033 4 79 59 99 67
Email: haltegarderie-orelle@orange.fr
Booking form: http://www.orelle.net/files/PDF/garderie_orelle_fiche_inscription.pdf
5 or 6 mornings 3 hrs 30  189 €
5 or 6 afternoons 3 hrs  189 €
5 or 6 full days 6 hrs 30  309 € 
• Documents required for registration:
- Child Health record
- 30% of the total amount
• Functioning modalities
Lunch and snack provided by the parents, as well as dummy and blankie!
Orelle Resort Activities
Orelle Tyroleinne
World's highest wire (La Tyrolienne) 
A glide over 1300 m… 1 minute 45 seconds of pure pleasure in breathtaking surroundings, from the 3 Valleys peak at 3230 m, at the top of the Bouchet chairlift in the Orelle resort, over to the Val Thorens crest, at 3000 m, at the top of the Thorens Funitel.
From Orelle to Val Thorens, suspended from a steel cable, comfortably installed in a cocoon of fabric which will take you over the 100 km/h barrier, you can experience what it feels like to be a great bird of prey, soaring over infinite spaces.
Facts:
Length: 1300 m 
Altitude on departure: 3230 m 
Altitude on arrival: 3000 m 
Maximum height above the ground: 250 m 
Speed: 65 to 105 km/h 
Age: 8 to 88 yrs
Weight: 120 kg 
Access is reserved to skiers by the Bouchet chairlift, in the Orelle resort. 
Please note that there are a limited number of places. The use of the Tyrolienne is subject to weather conditions.
Orelle Sledding
A run is available at the top of the gondola. If you do not have a lift pass because you are a non-skier, a pedestrian pass can be bought from the lift pass office.
• Sledge: a sledge run was done up at the top of the cabin.
• Telebaby: at Plan-Bouchet, open from 9.20am to 4pm.
Orelle Snowshoeing & pic-nic
Every Wednesday, go with a guide to discover the Vanoise National Park! Snowshoeing day with a guide for every levels.
Information and registration at the tourist office at least the day before.
Bring your pic-nic, a bottle of water, warm clothes, gloves, head covering, sun glasses. If necessary, cap, suncream, ...
Car necessary; Possibility to share cars.
RDV: 9am in front of the Tourist Office
Orelle 1st tracks with ski patrol team
Every Thursday, we propose you to go up before other, make 1st tracks and have the breakfast at the top, with snow patrol team - d'infos
Programme:
 - RDV at 8.15 am 
- Up in the gondola with the rescue team, at 8.15am
 - First tracks
 - Coffee and croissant in the rescue unit.
 
Booking required at the tourist office, on Wednesday night at the latest.
Train on the champions' stadium in Val Thorens
Skiers can now tackle an exceptional, full-sized ski cross stadium built alongside the World Cup run. 1.4 kilometres of thrills to enjoy for grown-ups…, as well as for children racing alongside their parents. Open access.
Orelle Paragliding
From the Caron's Summit from December - April. Contact 'Libre Envol'. Didier Goujon – 0033 681 55 74 94
At an altitude of 3000m to 650m in altitude, at the top of the chairlift Boismintz or depending on the weather, from the Cime Caron or Peclet Glacier. www.libre-envol.com
Orelle Pedestrian trails
If you want to walk and discover all the beauty of our mountains, a map is available at the Tourist Office.
Orelle Nordic walking
Every Thursday, enjoy this new activity, have a breath, a break around nice lansdcapes ; Learn how to combine soft physical activity and relaxation. 
During the afternoon with a guide for every levels. Information and registration at the tourist office at least the day before.
RDV: 1.30pm in front of the residence
Orelle Torchlight walk
Each week, a small nocturnal torchlight walk, ending with a snack on instead of the gondola. 
Orelle Grand Perron Farm visit
Visit once a week to enjoy cheese and local products
Italian escape to Turin
Each week – On reservation at the Tourist Office. (ID card required)
"Cows, bells and cheese"
Every Friday, spend an afternoon to discover the animals of the farm and taste the local products.
Rates: 13€ adult, 9€ child under 12 years old. 
RDV: Tourist Office
Orelle Cyberspace 
Internet access with printer, CD burner, Messenger, Skype and Office software. Possibility of Wireless connection for laptop.
Orelle Board games
Loan at the tourist office. Afternoon and evening organized plays.
Orelle Library 
Loan of books
Contact the tourist office to book the above.
Orelle Markets
- Modane: Thursday morning
- St-Michel-de-Maurienne: Friday morning
- St-Jean-de-Maurienne: Saturday morning  
Please note: All the above information is for information only. For the most up-to-date information please visit the resort tourist office website. All prices for activities are in local currency (€ Euros) and are bookable and payable locally in resort.
Orelle Tourist Office
Office de Tourisme d'Orelle
Francoz 73140 ORELLE
Tél. / Fax 0033 479 56 87 22 - contact@orelle.net  
Orelle Ski Activities
Mountain restaurants in 3 Valleys
1 in Orelle, plenty in Val Thorens and further afield.
Orelle & Val Thorens Resort News and Events
Resort news:
A new skicross circuit - called The Funslope - opens this season accessible by the Peyron chairlift. It's the equivalent of a blue run level and free to access for all ski pass holders
La Braiz is the highest cross-country skiing run in Les 3 Vallées! Starting near the Plan Bouchet lift which is at 2,350m, this 1km tour is ideal for those who want to discover the Orelle-Les 3 Vallées area in a different way and work on their fitness!  The trail is accessible with a pedestrian lift pass
Orelle has a brand new connection with Val-Thorens! Visitors will now be able to reach the famous Cime Caron in only 20 minutes from the village! 

Snowguns are added at the top of the blue piste Plateaux in order to improve customer satisfaction in this highly frequented area between the snowpark and the FamilyPark. In addition, it will facilitate access to Funitel Grand Fond at the beginning of the season.

The descent speed of Cairn and Caron gondolas will be increased. For our non-skiing customers, those two lifts link the summit of Cime Caron from the resort centre.
A new Igloo Village in Val Thorens will bring little ones and grown-ups into a magical world. The Igloo Village will be easily accessible on skis, on foot, on a skidoo or with snowshoes!
Val Thorens' first 95% organic delicatessen, Red Square, has opened and will offer fresh products from artisans and local producers, as well as a wine cellar and quality spirits, with a wide selection of top-of-the-range products stocked. Packed lunches and sushi are available to order.
Wild & Savage is an original concept to house a bar, tattoo parlour, and snowboarding and streetwear shop all under one roof, bringing in night owls, snowboarders, tattoo fans, and many more besides! They also serve a sweet and savoury brunch, tasting platters and offer a whole ranging of different services in this extraordinary, sociable venue.
Events:
Check the Val Thorens tourist office website for more exciting news from Les 3 Vallées: www.valthorens.com 
Orelle Après-ski, Bars & Restaurants
1 restaurant, altitude restaurant, 1 bars
Bar des 4 Vallées
At the departure of the cabin, Valerie welcomes you in her friendly snack bar. Beautiful terrace from March.
Altitude restaurant
Chinal Donat
Located at the top of the 3 Vallées Express gondola, this mountain restaurant proposes self service or traditional restaurant in a warm ambiance. Traditional and regional food.
In Val Thorens
FROM 3.20PM:
Folie Douce (alongside Val d'Isere, Meribel and Alpe d'Huez). La Folie Douce is a unique concept created over 30 years ago by Luc Reversade. Food and clubbing in Val Thorens. http://www.lafoliedouce.com/
At an altitude of 2,600 metres, this open-air Club is the must-visit venue for a relaxing moment on the slopes of the 3 Vallées. A large balcony welcomes
DJs and live musicians. Overlooking the 700 m² dance floor, they electrify the crowd with powerful vocals and a touch of 'folie'… Located at the top of the Plein Sud chair lift, it's THE spot from which to enjoy the day's final rays of sun and admire the sunset.
Orelle Amenities
Orelle is served by a range of amenities including: ESF Ski School, sport shop, Mini-market, post office, delicatessen. Nearest cash point is St Michel de Maurienne (6km).
Free WiFi
3 zones of free WiFi are available at the Tourist Office on the square from the cable car and the arrival of the cable car. Internet access terminal available at the Tourist Office, with logon tickets on sale. 
Getting to Orelle, France
By Road:
Driving distance from Calais to Orelle 583 miles (approx 8hrs 25)
From Calais, take A26 Motorway towards Reims and Troyes, then Dijon, Lyon, Chambéry. Follow the A43 Motorway to Modane. Take A43 until St Michel de Maurienne then RD1006 to Orelle (6km).
By Rail: 
St Michel de Maurienne/Valloire rail station then taxi (6km).
Airports:
Chambery Airport is 95km from Orelle (1 ½ hours)
www.chambery-airport.com
Grenoble Airport is 164km from Orele (2 hours)
www.grenoble-airport.com
Lyon Saint-Exupery is 180km from Orelle (2 hours)
www.lyonairport.com
Geneva Airport is 180km from Orelle
www.gva.ch/en
Public shuttle bus transfers from airport
Chambery Airport - Orelle (www.lys-altibus.com). 
Lyon Airport - Orelle (www.lys-altibus.com). 
Orelle Airport Transfer
For pre-bookable private transfer rates with Peak Retreats, view here. 
---
Orelle Opening Dates
Orelle ski area is open: 04/12/21 - 08/05/22