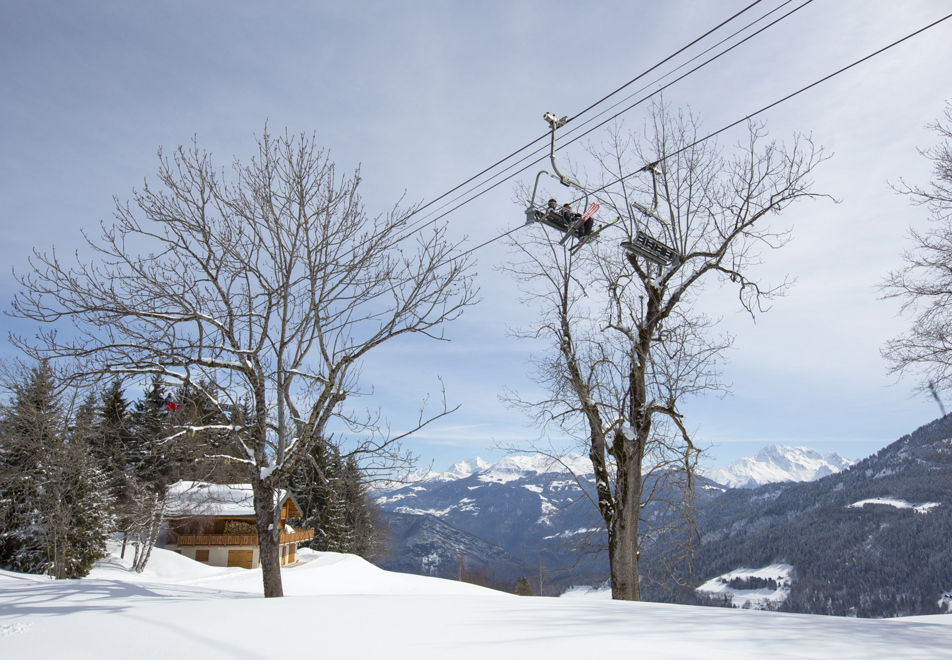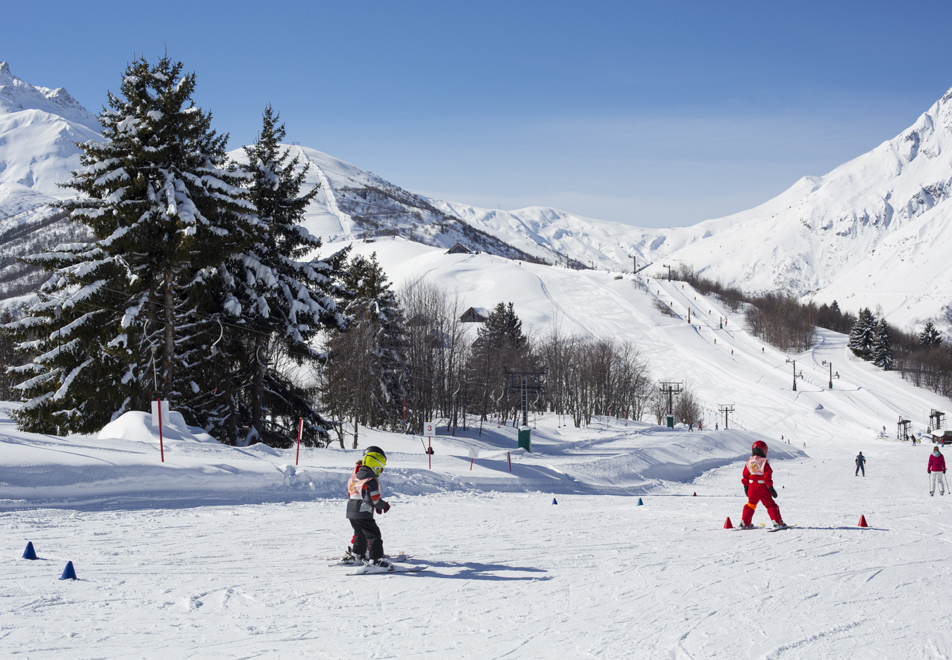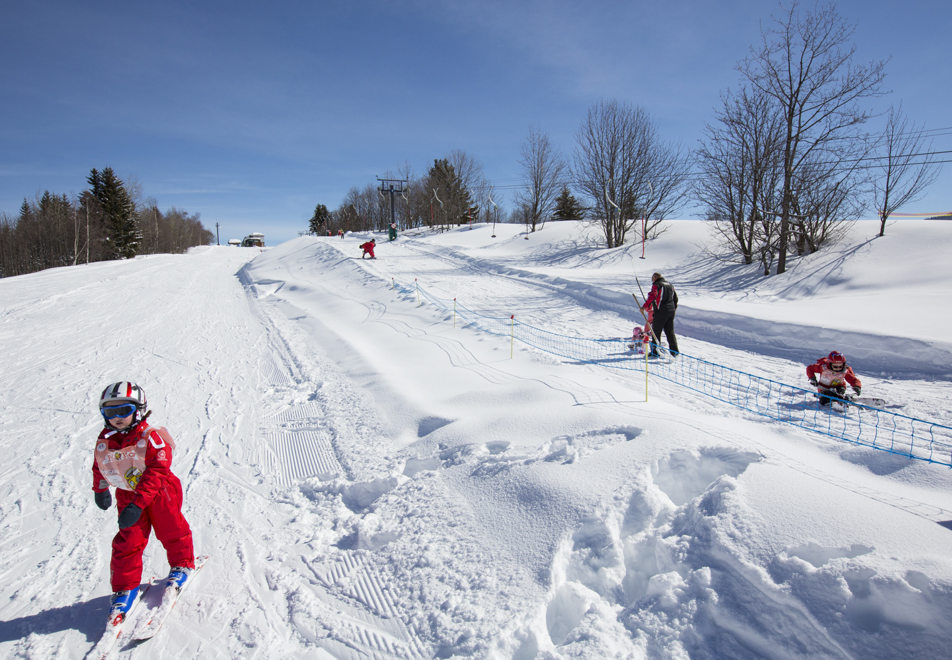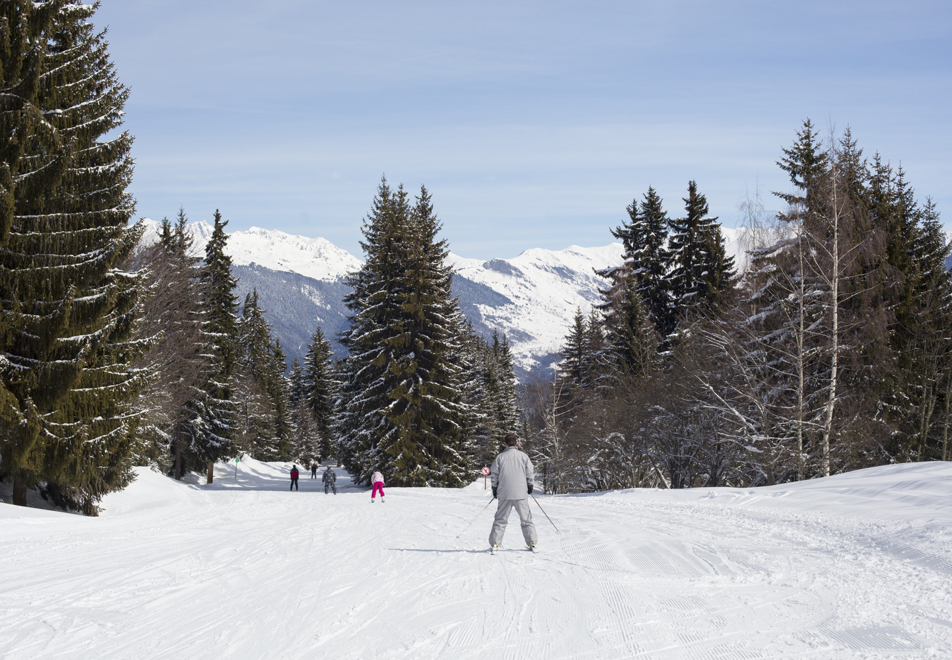 Thinking of skiing in Doucy? Doucy-Combelouviere is an outlying village of Valmorel, a small resort on the edge of the forest with direct access to the Grand Domaine.
Why Doucy Ski Resort?
Sunny south facing slopes

Ideal destination for families

Access to the Grand Domaine ski area
Doucy (Valmorel) Resort Information
With its typical wood-and-stone architecture, Doucy-Combelouvière combines traditional and modern elements. Combined with its sunny south-facing slopes, it is the perfect ski holiday destination for the whole family.
Doucy not only offers amazing views, it is set around its central square which offers a lively meeting spot.
Today, the opening of the Celliers gondola gives access for ski trekkers and snow-shoe walkers to the huge unchanged area of the Lauzière mountain range where nature has stayed in charge.
Road access is straightforward, too, and there are direct TGV high-speed rail services from Paris, plus Eurostar Ski Trains from London, into nearby Moûtiers (15km).
In terms of amenities, there is a Sherpa mini-market, three restaurants, two ski-hire shops, a local products shop, a souvenir shop, Tabac, a bakery and the ESF ski school.
Peak Retreats offers hand-picked apartments in Doucy. The 3* self-catered Residences de Combelouviere provide the ideal base for a Doucy ski holiday.
DOUCY SKI AREA
Doucy-Combelouvière is lift-linked to Celliers, Valmorel and (beyond the famous Col de la Madeleine) Saint François Longchamp. The resulting 165km of pistes are spread across an impressive 3600 hectares, whose combined terrain is known as le Grand Domaine. Currently, there are 50 ski lifts - skier capacity having received a major boost with the addition of two powerful new high-speed installations – a six-seater chairlift and an eight-seater gondola.
Despite the altitude (1300-2550m) being relatively modest, the geographical location attracts dependable snowfalls, and by way of further assurance, 315 snow cannons help maintain snow quality on key runs.
The Grand Domaine's real strength is its suitability for families, early intermediates and beginners.
Additional ski fact info, main ski info in resort facts box at top of page (22/23)
Valmorel only - 31 lifts (4 gondola, 9 chairlifts, 16 draglifts, 2 carpet), 55 slopes:
Green slopes: 13
Blue slopes: 28
Red slopes: 9
Black slopes: 5
Doucy only - 9 lifts (1 gondola, 2 chairlifts, 6 draglifts), 10 slopes (5 green, 4 blue, 1 red)
DOUCY SKIING
DOUCY BEGINNERS
There are beginners' areas for gentle ski learning. These are specially designed, reserved and made safe for learning and improving in complete confidence. Novices can also get a safe, sheltered foretaste of the blue runs on the green-graded Chantemerle run, which drops through the trees into Doucy-Combelouvière. Crossing over into Saint François Longchamp adds a sense of covering some distance (you're now in the Maurienne Valley) and a different perspective on things, without the risk of getting out of your depth, ability-wise. In fact, the additional 57km of pistes on this side are even gentler, being mostly greens and blues.
DOUCY INTERMEDIATES
The local runs are mostly blue graded. They're well linked, to offer some enjoyable cruising. There are some gentle blue runs in Saint François Longchamp too.
DOUCY EXPERTS
At first glance, the flattering, mostly undemanding terrain might put off advanced skiers, but there's worthwhile off-piste to explore and a handful of black-graded pistes include some highly rated runs with dependable snow quality. Not surprisingly, they're accessed above Valmorel via higher draglifts like Mottet (2394m), Riondet (2262m) and Gollet (2000m), or above Saint François Longchamp via Schuss (2099m). More experienced skiers will enjoy the red graded pistes which depart from beside the blacks described above and the descents from either side of the Col de la Madeleine. There are also 'virgin areas', like the Lauzière mountain range, with its numerous gulleys for "evasion" (escaping from the regular slopes) skiing.
Doucy Ski Hire (Pre-bookable)
Pre-book your Doucy ski hire with Peak Retreats.
To download the ski extras form, see 'Helpful links' further down the page.
Please note, these Pound Sterling prices are for indication only. They will fluctuate based on Euro/£ exchange rate. Please call us for the latest prices.
Special offers: *7 days for the price of 6.  Free Skis/snowboard & boots (Blue/Red) for party leaders of groups of 10 or more all taking equipment. 1 Free helmet per child aged 6 and under for every adult booking skis or snowboards & boots (must be under same booking reference and requested on form above). Other duration prices on request - Cross Country ski prices on request.
Find out more about Peak Retreats ski hire
---
Doucy Ski Passes (Pre-bookable)
Pre-book your Doucy lift passes with Peak Retreats. Find out more about Peak Retreats ski passes
To download the ski extras form, see 'Helpful links' further down the page.
Please note, these Pound Sterling prices are for indication only. They will fluctuate based on Euro/£ exchange rate. Please call us for the latest prices.
Other lift pass on offer (to buy locally in resort in Euros):
Valmorel ski pass – ½ day and daily rates 2019/20:
1/2 day - €33.10/adults, €27.20/child
Day - €44.30/adults, €36.30/child
Senior passes also available. Under 5's are free.
Grand Domaine ski pass - ½ day and daily rates 2019/20:
Afternoon from 12.15pm - 35,00€/adults, 28,80€/child
Lie-in from 11.00am - 42,20€/adults, 34,60€/child
Day - 46,60€/adults, 38,20€/child
Doucy beginners' areas Pass (only available in the ticket office) 19/20:
Morning until 1.00pm - 24,90€/adults, 17,80€/child
Afternoon from 12.30pm - 24,90€/adults 17,80€/child
Day - 29,60€/adults, 23,00€/child
Includes:
Combelouvière chairlift
Charmettes drag lift
Echappeaux drag lift
Celliers gondola
Pedestrians pass available (only available in the ticket office):
Lifts open to walkers with pedestrian skipasses from 10.00 am to 4.00 pm:
Lanchettes chairlift
Pierrafort telecabin
Celliers telecabin
Combelouvière chairlift
Altispace chairlift (at a fixed time between 10.00 am and 4.00 pm every day)
Télébourg
Mottet chairlift
Doucy Ski School (Pre-bookable)
Pre-book your Doucy ESF ski school with Peak Retreats. Find out more about Peak Retreats ski school
Ski school for children is available to book from 3 years to 12 years, in Doucy, with Peak Retreats. 3-4 year olds will go into the Piou Piou lessons. Children can learn to snowboard from 8 years+.
For ski school times and prices, please download the ski extras form from the 'Helpful links' further down the page. Please note these are just guiding prices. Please call us for the latest prices.
Please note that lesson times are subject to change right until the last minute - you will be advised. Outside French school holidays the ski school reserves the right to cancel group lessons should numbers be insufficient. For peak periods - Christmas, New Year, February half-term and Easter - we strongly recommend that you book as early as possible and in any case at least 6 weeks prior to the required dates. Morning lessons tend to get booked up first and therefore we may only be able to offer afternoon classes within 6 weeks of departure. In some resorts, English speaking instructors may not always be available, particularly at peak times.
We cannot always guarantee that prices will be cheaper than in the resort. When ski packs prices are calculated, the currency is bought at the exchange rates that apply at the time. You can be assured that once you have booked your extras, if the pound depreciates, you will not be charged more for your ski packs, enabling you to budget for your holiday in advance.
Doucy private lessons 19/20 (not pre-bookable, book direct):
Individual tuitions can only be purchased directly from the ski school. Peak Retreats cannot pre-book these.
1 hour: 1-2 pers - €50
1.5/2 hours, 1-2 pers - €70-100
1.5/2 hours, 3 pers - €80-105

Please note that prices are only an indication and are subject to change
Ski school Valmorel contact number for private lessons:
Ecole du Ski Francais Doucy +33 (0)4 79 24 22 38
---
Valmorel Child Care
Valmorel has held the Famille Plus label for its childcare facilities since 2014.
The Piou-Piou Children's Club
For children from 18 months - 2 years (no ski)
Contact ESF: +33 (0)4 79 24 22 38
Supervision is provided by qualified carers, who are educated and respectful to what the children require or need. The friendly carers will organise fun activities for the children inside or outside depending on the weather. A fact sheet on the habits and preferences of your child must be completed on arrival at Club Piou Piou. Please also provide the health record for your child.
| | |
| --- | --- |
| morning  | from 08:45 - 12:00 |
| afternoon | from 14:00 - 17:00  |
19/20 prices:
SINGLE TICKET PRICE - SUNDAY TO FRIDAY PRICE
1 half daycare session (outside school holidays) - 41€
1 meal - 15€
Kindergarten - 5 half days (morning/afternoon) 
€150
Doucy Resort Activities
Doucy Aperitif snowshoe outing
Bureau Montagne des Portes de la Tarentaise
Phone: 0033 6 14 90 22 06
Mail:  sylvain.jugand@wanadoo.fr
Snowshoe outing for nature and gastronomes... Return by torchlight.
Doucy Quad biking (guided outing)
Phone: 0033 4 79 24 30 32
Mail:  choucasport@wanadoo.fr
Quad outings every evening 5 days a week from 6 pm. 1h15 including snow circuits, guaranteed excitement!
Doucy Dogs sleigh
Escapades nordiques
Phone: 0033 6 87 33 93 49
Mail:  escapades.nordiques@gmail.com
An activity accessible to everyone in which, on beautiful trails, you can meet dogs, husky alaskan or Greenland.
Doucy Paragliding
An wonderful experience!
With David and Christian, nationally qualified paragliding instructors.
Accessible to anyone, All skiing levels 
Non-skiers welcome
50€ for a tandem flight
Book your place at the ESF office!
Please note: All the above information is for information only. For the most up-to-date information please visit the resort tourist office website. All prices for activities are in local currency (€ Euros) and are bookable and payable locally in resort.     
Doucy Tourist Office       
Tel: +33(0)4 79 22 94 17
Fa: +33(0)4 79 24 19 43
Emai: info@doucy-combelouviere.com
Doucy Ski Activities
In addition to the downhill terrain there are seven snowparks, some 50km of groomed routes for cross-country skiers and walkers, plus opportunities to try parapente and speedriding.
On foot or on snowshoes, the 50km of marked and maintained trails discover another side of Grand Domaine. Via the chairlift Altispace, Lanchettes or Combelouviere easily access to altitude range to enjoy a unique panorama.
Nordic skiing at Valmorel (near Doucy)
20 km of marked-out itineraries leave from Les Avanchers and go towards the Empyrée and Pierre Laron. The style here is more Alpine and access is free. From Valmorel, access to the pistes is by free shuttle buses.
Snowparks in Grand Domaine
Charmettes boardercross (blue category)
The Valmocross (blue category) and Mini snowpark (green category): Sector Arenouillaz.
The Snowpark Gollet (red category): modules, boardercross and a Big Air Bag.
Snowcross Gollet (red category), the Snowcross Noire du Mottet (black category) and the Snowcross Riondet (black category): Secured Zones ungroomed.
Doucy Resort News and Events 2022/23
News:
A new automatic ski pass terminal -

 

A new automatic terminal will allow you to purchase your ski pass outside of the ticket office's usual open hours. Available at the Altispace chairlift from 7am - 11pm, this is a fast and convenient alternative way to buy or renew your ski passes.
Digital information panels -

 

These new digital information panels are installed at the top of the Madeleine chairlift and Pierrafort gondola, giving you easy access live information. If you happen to need directions on the slopes, these panels can provide a map to you to prevent getting lost.
Events:
La Grand Odyssee Savoie Mont Blanc 17th January 2023 The Grande Odyssée is a long-distance dog sled race, organised over several stages across the Alps. Since 2005, it has been the annual dog sled event in Europe.
Winter Spartan Race 21st - 22nd January 2023 In 2016, the SPARTAN RACE came to Valmorel for its "winter" version of the race. After the total success of the first editions, the SPARTAN RACE returns to Valmorel for an even crazier obstacle course and always in a snowy setting!
La Valmo'Belle February 2023 La Valmo'Belle

 is a ski touring climb on a marked route in the ski area that takes place over 

2 runs

, with 490 and 560 meters of elevation gain. 

The Valmorel Ski Show 7th - 28th February 

2023

 A Ski Show in the colour of the party and music this winter. You won't miss the chance to dance in the middle of a ski slope transformed into a gigantic dance floor! The first ski show in which YOU will be the hero!
National Paragliding and Ski Challenge 15th - 17th March 2023 

This winter paragliding and skiing challenges are composed of many fun and precise piloting tests in the air and in contact with the snow.
More information can be found on Valmorel tourist office: www.valmorel.com
Doucy Après-ski, Bars & Restaurants
Le Blizzard - Doucy-Combelouvière
73260 Doucy-Combelouvière 
Phone: 0033 4 79 22 55 34  
Le Petit Montagnard - Doucy-Combelouvière
73260 Doucy-Combelouvière 
Phone: 0033 4 79 22 95 45
Bar - Restaurant - Pancakes - Specialities

Doucy Amenities
Doucy is served by a range of amenities including: Sherpa mini-market, 3 restaurants, a bakery, 2 sports shops, local produce shop, souvenir shop, a tabac, and the ESF/Piou Piou office.
Getting to Doucy, France
By Road
:
Driving Distance from Calais to Doucy 570 miles or 8hrs20. Go to Albertville on the A43 from Chambéry or the N 212 from Annecy. Take the dual carriageway RN 90 in the direction of Moûtiers. Take exit 37 for Doucy.
By Rail
:
Doucy Bus Deslandes
Transfer railway station - Excursions
Phone: +33 (0)4 79 24 06 94  - Fax : +33 (0)4 79 09 26 07 
Email: doucybus@wanadoo.fr
Airports
:
Chambery Airport is 90km from Doucy (1 hour)
www.chambery-airport.com
Lyon St Exupery is 180km from Doucy (1 ¾ hours)
www.lyonairport.com
Geneva Airport is 125km from Doucy (1 ¾ hours)
www.gva.ch/en
Doucy Airport Transfer
Pre-book your taxi transfer with Peak Retreats to Doucy.
For transfer prices please click here
---
Doucy resort season dates
Grand Domaine (Valmorel, Doucy, St Francois Longchamp) ski area is open: 17/12/22 - 16/04/23 (this is with connections)