Cross country skiing (also known as 'ski de fond' in France or Nordic skiing) is the oldest form of skiing and the word 'ski' comes from the Old Norse word 'skid' which means a split length of wood. Originally it was a transportation method where folk from the far North were able to move over snow-covered terrain to hunt and visit other communities by strapping two planks of wood to their feet. By the late 19th century it developed into the sport we know it as today (in fact an Olympic sport).
As with downhill resort skiing, the cross-country skiing circuits are all graded from green to black. They vary in length and technical difficulty. The harder circuits can be quite long and with sections that demand certain techniques which must be learnt. You will find no lift systems in cross country skiing.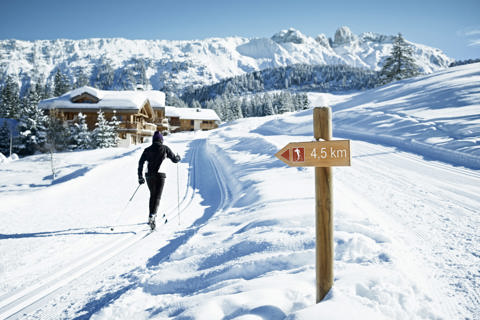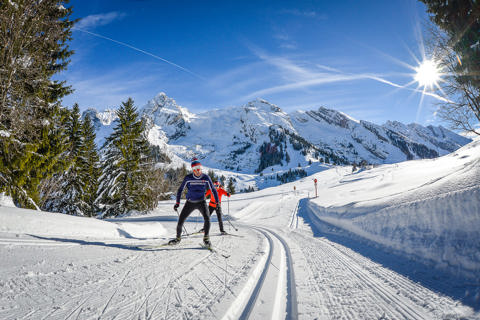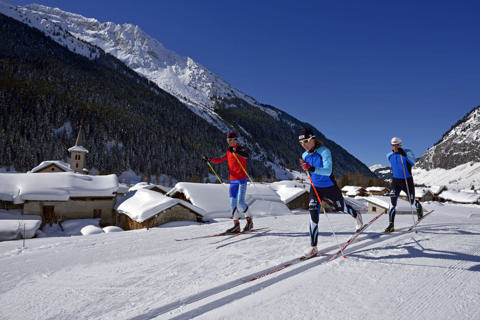 Classic or skate discipline?
Each Nordic (cross country) area is different therefore you need to establish whether you have access to trails that are groomed for both skate and classic. Not all Nordic areas have skate trails (which are harder to learn so as a beginner you will more likely being learning the classic version).
In diagonal stride (a classic ski technique), your arms and legs swing in opposition, which is a very natural human movement. The movement is a bit like running on skis but with a glide, but beginners can just walk on their skis to start with to get the motions.
With classic skiing, you can ski on groomed snow tracks in the specific Nordic areas, or once mastered you can classic ski on un-groomed snow off piste in the backcountry. This therefore gives you flexibility long term. Using the classic style, with skinny skis attached to your flexible boots, you propel yourself along the tracks using an arm and leg action. Once you get into the flow you will find it's a very rhythmic motion and you can easily cover a lot of ground.
Classic skiing has subcategories also:
Back-country skiing as mentioned above
Ski touring
Ski telemarking
For each subcategory, different equipment is required. This means the skis vary in size generally, width wise.
Skating skiing is just that. There are no subcategories as it can only be done on specific skate tracks and not off-piste. Skate skiing is faster than classic skiing, so may appeal more to some. There is also just one set of equipment (unlike classic skiing). It is a completely different action to the classic style and requires both upper and lower body fitness and coordination.
A lot of people come to the (wrong) conclusion that Nordic skiing is rather boring and easy. When practised properly, it is one of the most effective winter sport in terms of stamina, fitness, endurance, strength and of course fat burning. It's a very technical sport and can be quite exhausting at first as you learn to work some new muscle groups (and your lungs!). You need to have a reasonable level of fitness, perhaps more so than downhill skiing. It requires a good deal of anaerobic power. For sure, it's a killer workout!

Conclusion: Choose classic over skate skiing if your fitness is perhaps not as good as it should be! It requires less balance, less energy and is generally easier to pick up. Roller/ice skaters may find that skate skiing is easier for them to begin with.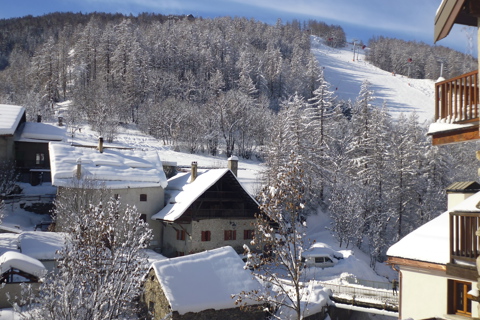 TRY IT IN... SERRE CHEVALIER
Serre Chevalier has 40km of loops from a green graded loop for beginners to longer more advanced trails, all in the stunning valley setting. 
TRY IT IN... LES SAISIES
Les Saisies has the largest Nordic area in France with 120km of slopes and thanks to its high altitude, an excellent snow record. It was the setting for the cross-country events in the 1992 Winter Olympics.
TRY IT IN... LE GRAND BORNAND
Le Grand Bornand has 68km of Nordic ski trails. There are four (free) loops starting from the old village of Chinaillon ranging from 1.4km to 9.4km and even a timed track to measure your performance.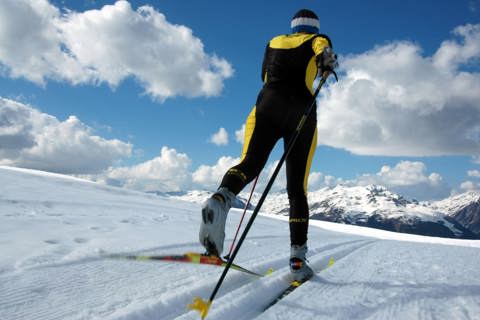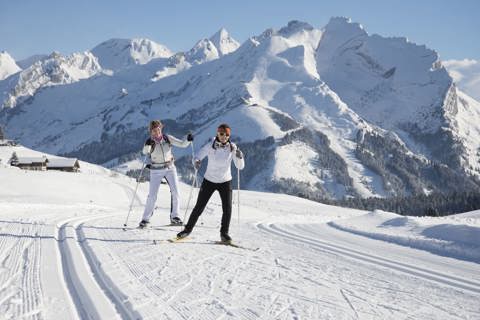 Here are some pros to Nordic skiing (both classic and skate):
More active than alpine skiing and requires a greater strength leading to greater overall fitness
Can be cheaper than downhill skiing depending on the pass needed. Some areas are FREE!
Far, far less crowded than the downhill slopes in a more serene environment
Trails are unspoilt and remote and take you through some breath-taking scenery and landscapes
Often you can start Nordic skiing before the downhill areas have opened meaning a longer season (and cheaper accommodation prices in early December!). Quite often there are special Nordic ski events at the start of the season
Children will find cross country skiing easier to pick up than downhill skiing
Lessons are available through the French Ski School (ESF)
Equipment is cheaper to rent
Clothing needed is cheaper than for downhill skiing as you don't need bulky ski jackets and salopettes (just some lightweight layers – Merino is best!)
It's a great way to maintain cardio-vascular benefits and it also uses just about every muscle in the body (so if you're are an athlete or sports person usually, this is an excellent way to cross train)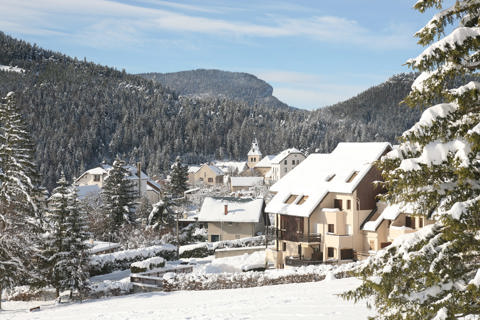 TRY IT IN... VILLARD DE LANS 
Villard de Lans boasts the Haut Vercors Nordic site, a cross-country skiing paradise. This vast area has trails for everyone from beginners (there are 6 green trails) to experts (5 trails are graded black).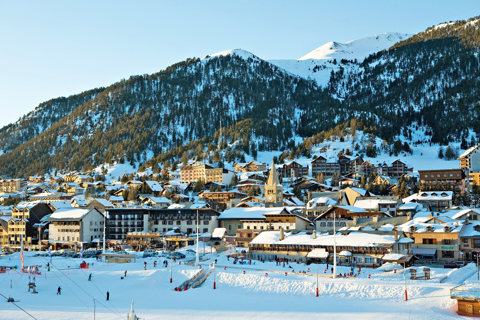 TRY IT IN... MONTGENEVRE
There are 15km of cross-country circuits easily accessible from the village snow front. There's even a fun practice area for those starting out who want to try Nordic skiing for the first time.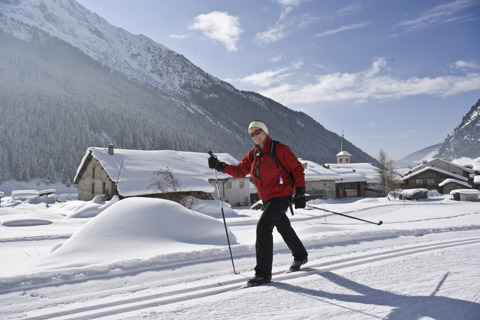 TRY IT IN... CHAMPAGNY EN VANOISE
Champagny Le Haut has 23km of marked trails for cross-country and winter walking. This beautiful area is set at the edge of the Vanoise National Park. Along the trails are signs explaining about local wildlife, you may even see some en route. 
What equipment and clothing do I need?
You don't need perhaps as much heavy clothing as downhill skiing. And as it's more of an endurance sport, you will find your body temperature increasing quite rapidly! Therefore:
Running trousers
Sport t-shirt
Sport fleece
Sport running jacket
Gloves
Scarf
Thin hat
From the hire shop, you will need:
Nordic skis
Nordic poles
Nordic boots (snug fit)
The hire shop can advise what type you need and what size etc. They are of course very knowledgeable. Peak Retreats can pre-book your Nordic ski hire for you in certain resorts. Please call 023 9283 9310 to enquire.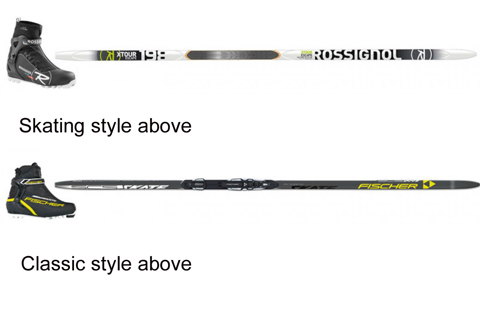 ---
Nordic ski trails and etiquette
As with any new sport, a bit of understanding about the sports etiquette goes along way. The Nordic ski area trails are machine groomed for skate and classic skiing. Classic skiing is done in within the tracks (usually down one side of the trail) and skate skiing is done where the snow is groomed with a corduroy-like surface (like you see with downhill skiing). Sometimes trails are restricted to skate-only or classic-only and some are big enough to have 2 x classic tracks. There are a number of possibilities, so it's best to check trail maps and rules for each area before heading out. Skating over classic tracks ruins the experience for classic skiers, so consideration is needed.
Generally similar rules apply to the likes of downhill skiing like not blocking the trail and checking behind you when moving off trails. It's just simple common sense really. Generally faster skiers will step out the track (for classic skiing) and pass around slower skiers so the mix of beginners/experts isn't usually a problem.
Nordic ski lessons
It is highly recommended to take some Nordic ski lessons as a beginner (or even as an aspiring intermediate). Peak Retreats can arrange this in certain resorts. Please call 023 9283 9310 to enquire.