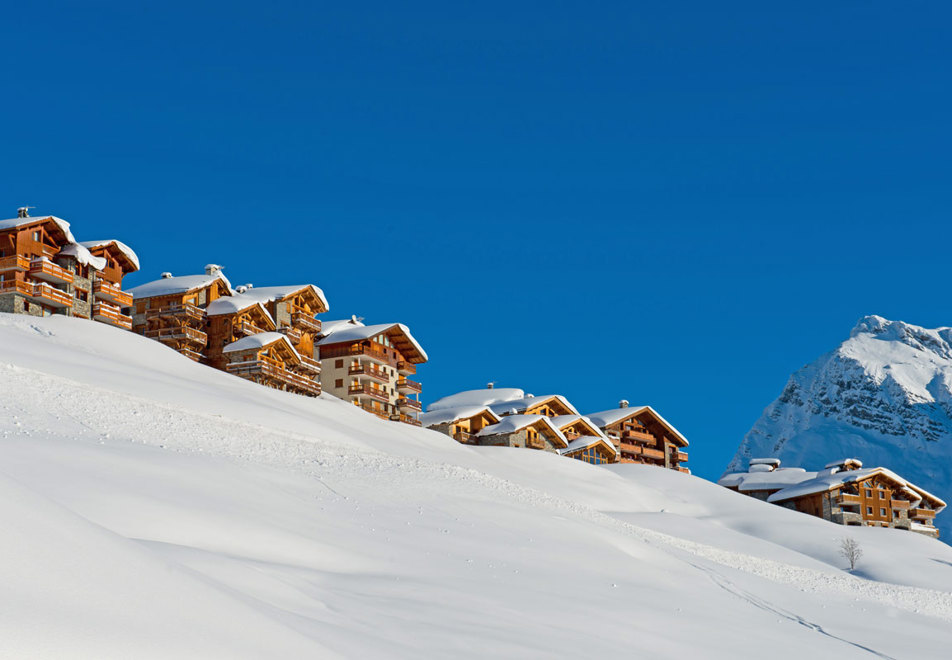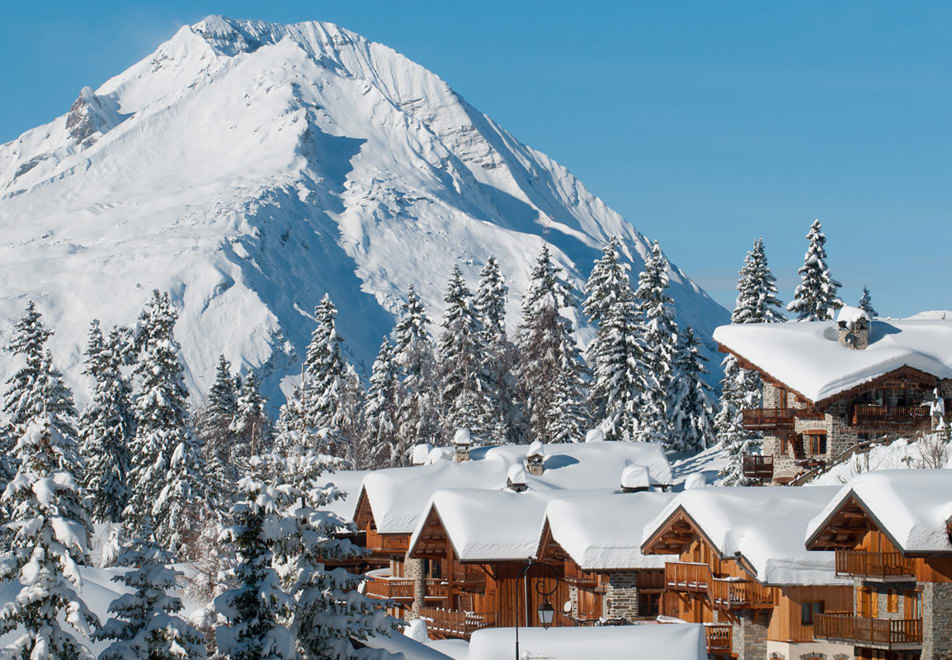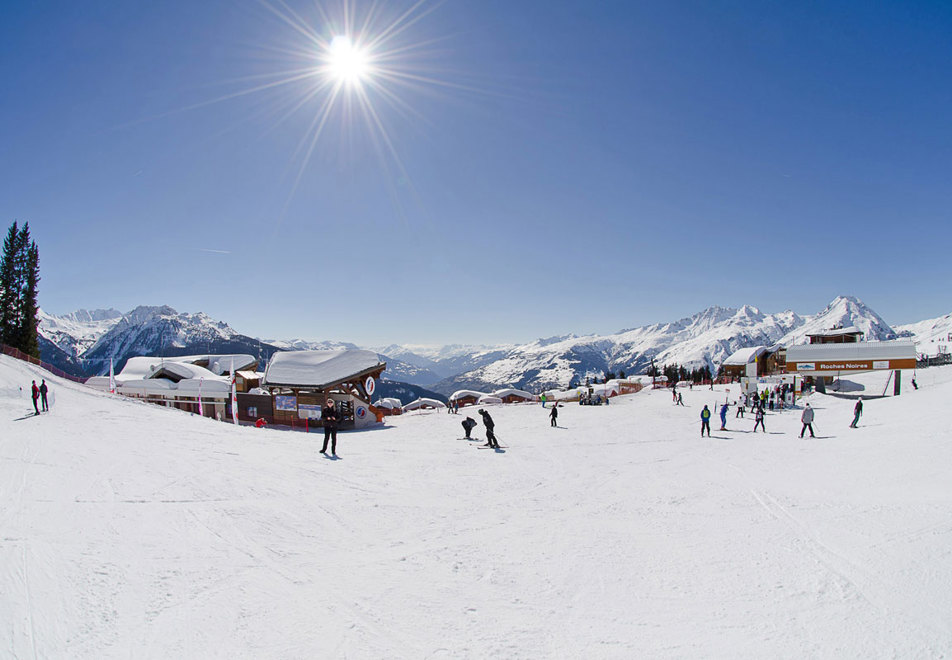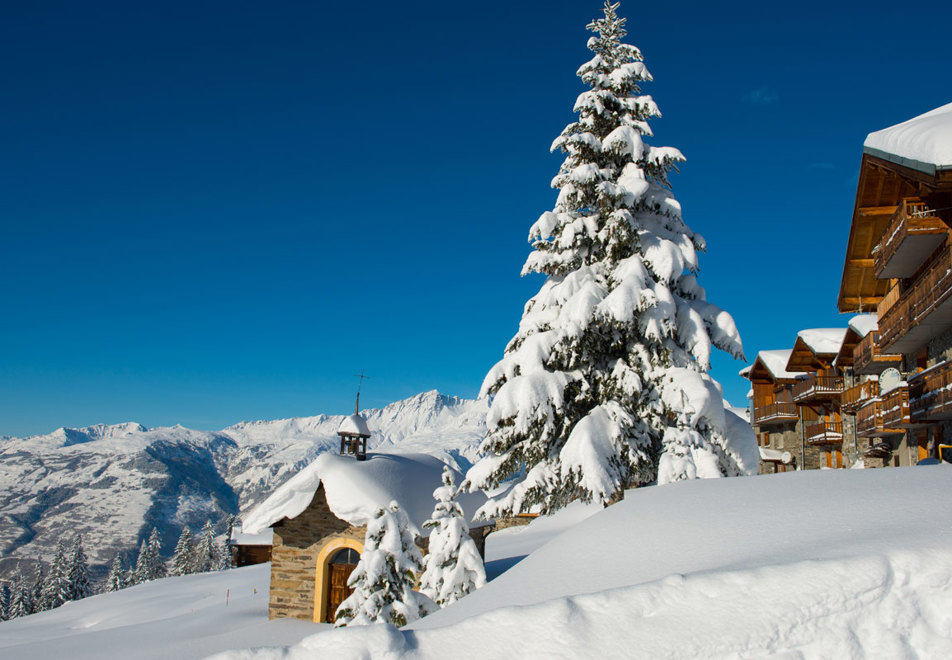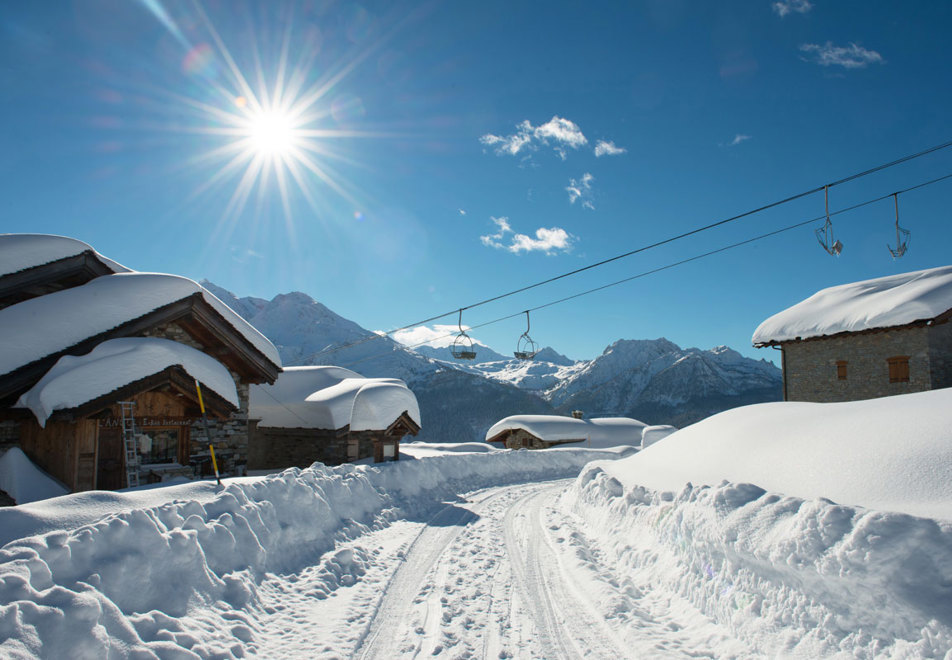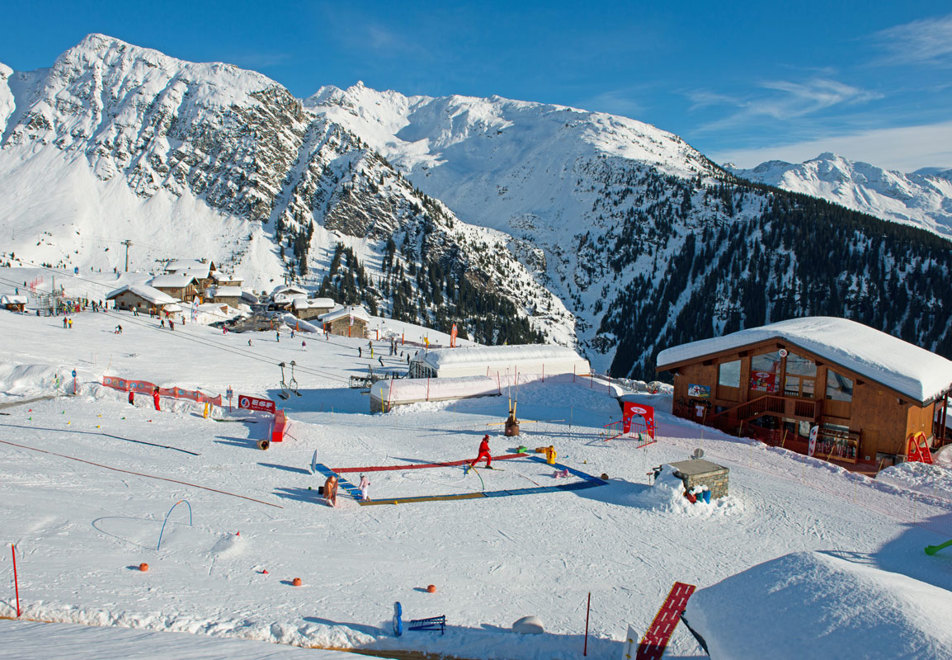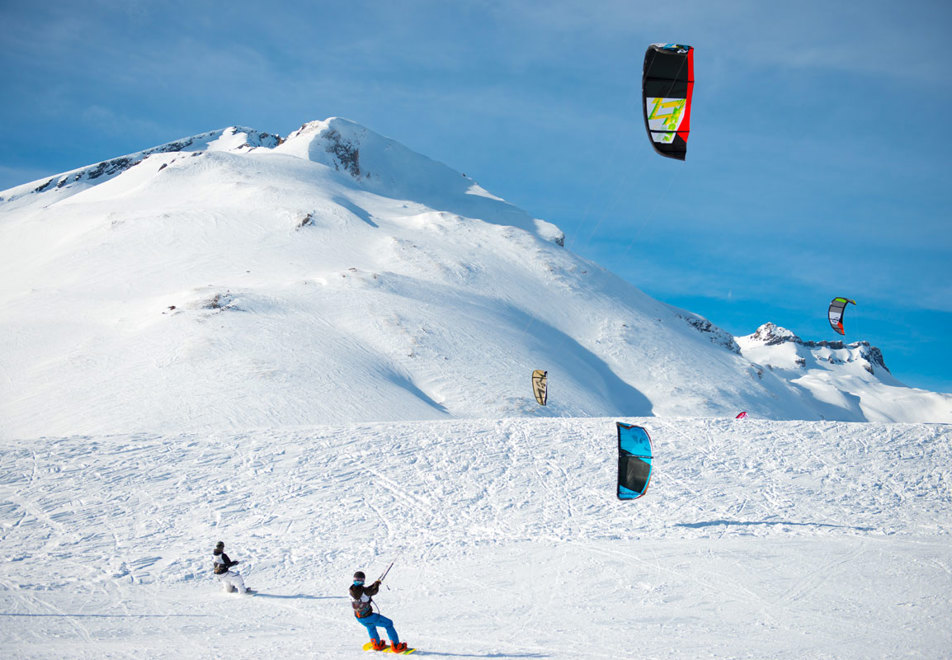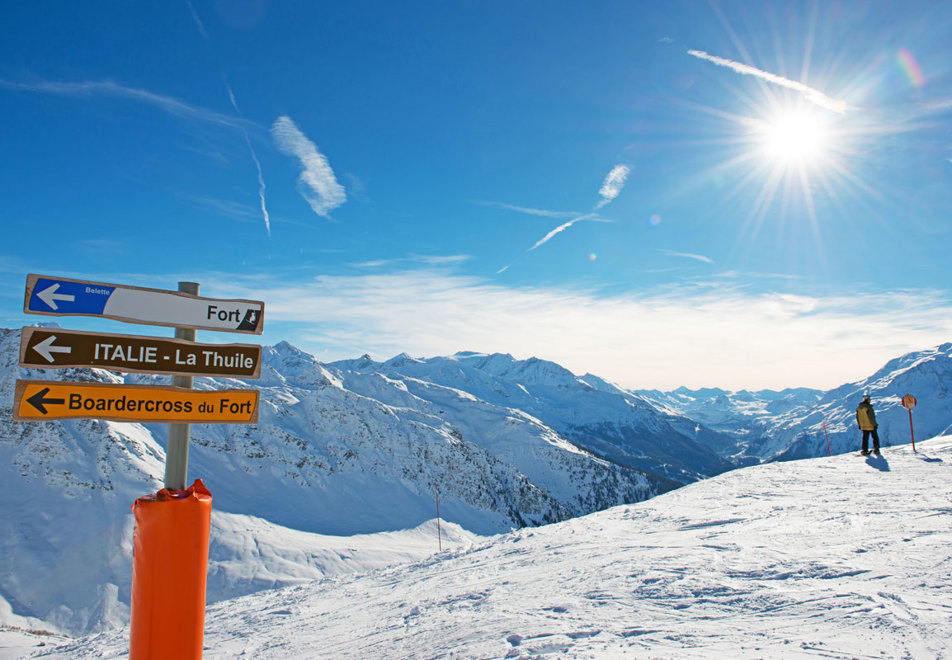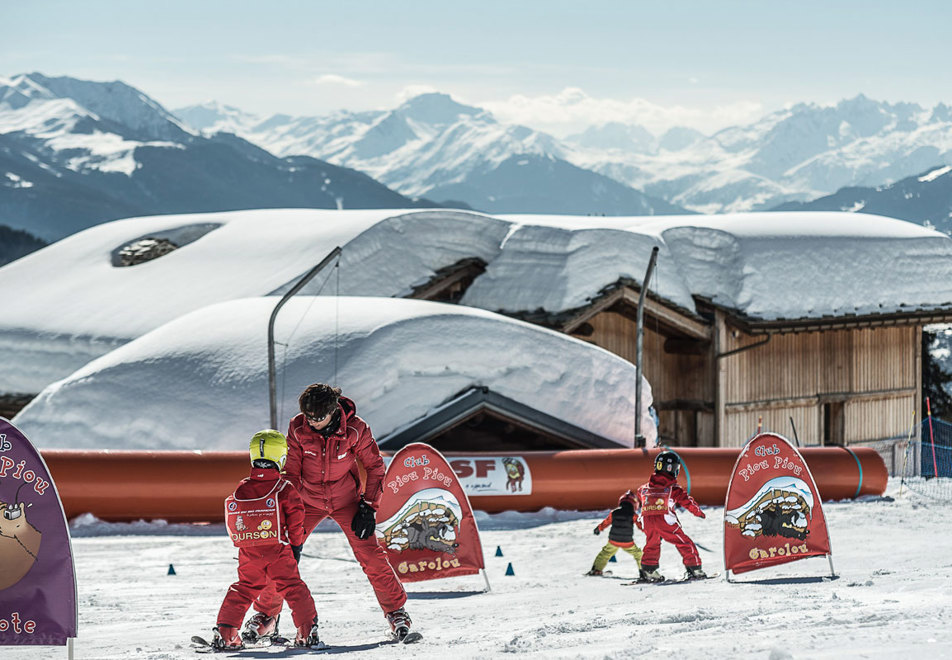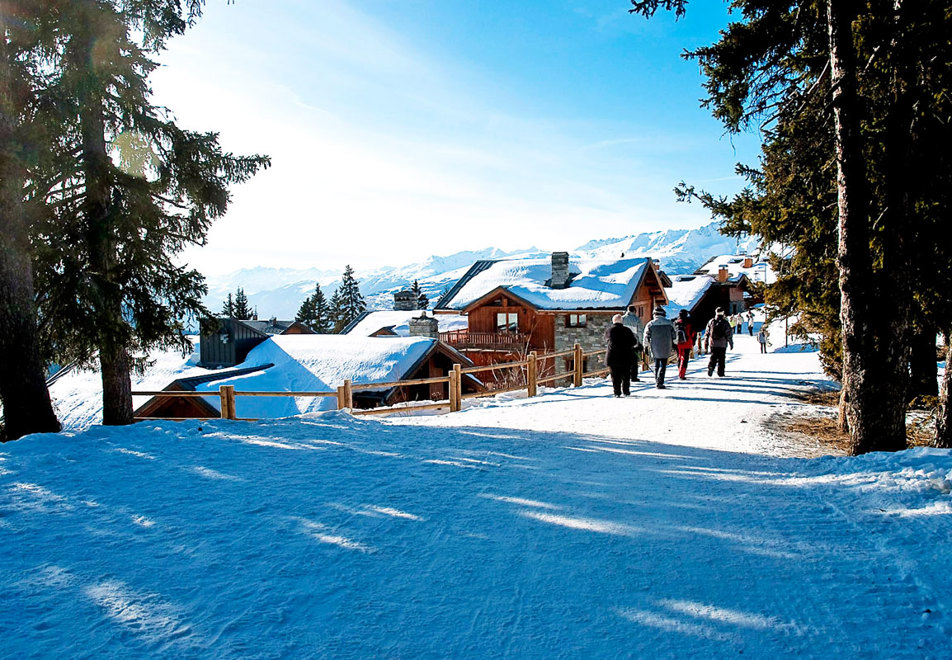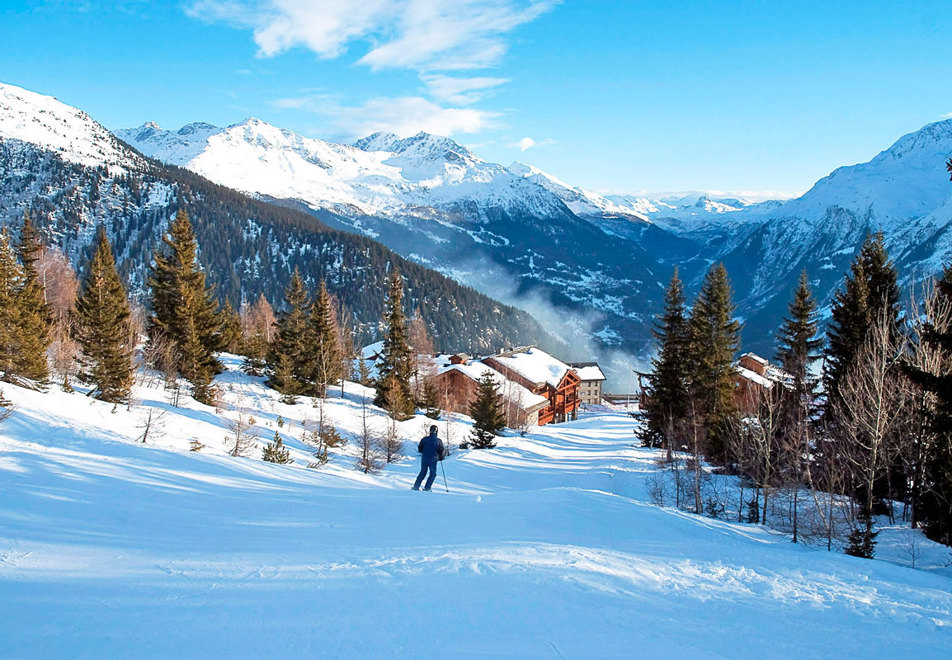 La Rosiere is a great choice for beginners and families in the heart of the Haute Tarentaise, on the Italian border. There are some exciting new ski developments planned for 2018/19 - read on below...
Why
La Rosiere Ski Resort?
It's an

attractive and friendly resort 
It's in a sunny setting with fantastic views

There are

good nursery slopes for beginners
NEW DEVELOPMENTS FOR 2018/19 - Read more at Telegraph Ski & Snowboard by Cat Weakley, Deputy Editor, or visit on our What's New page.


La Rosiere (Espace San Bernardo) Information
La Rosiere is a friendly south-facing resort built in an attractive chalet style in keeping with local architecture. La Rosiere is linked with La Thuile in Italy, it's the only Savoyard resort to offer an international ski area of 160km of marked pisted runs (Espace San Bernardo). La Rosiere is a very family-oriented purpose-designed resort with new additions being made every year, such as a new for winter 17/18 fun track more than 1km long dedicated to the the mascot of Espace San-Bernardo. 
La Rosiere sits high on the sunny slopes above Bourg St Maurice, facing Les Arcs across the Tarentaise Valley. La Rosiere is part of the commune of Montvalezan, comprising around 40 hamlets. The commune's 14 chapels are the jewels in the crown of its rich heritage. Today the resort revolves around two autonomous hubs: the centre of the resort and Les Eucherts village, each with its own shops, high-speed chairlift and ski-lesson meeting points, linked via a pathway through the forest.
La Rosiere vs Les Eucherts
The original village of La Rosiere turned 50 in 2011 but the most recent development has been in Les Eucherts, highlighted by high-calibre slope-side accommodation. Les Eucherts is a newly developed area of La Rosiere which sits to the East of the main village. The development of Les Eucherts incorporates some excellent shops and restaurants, the tourist office, an ice rink and bowling complex and a state-of-the-art nursery as well as ski-school facilities, all only a few metres apart. It's all extremely family friendly so it's no surprise that the village has the highest official 'Famille Plus Montagne' award.
No need to take the car if you want to get from the centre of La Rosiere to Les Eucherts. Just take a short walk through the forest! The forest footpath is around one kilometre long and floodlit at night. It's the perfect place for a stroll, whatever time of the day or night.
Peak Retreats offers a range of La Rosiere accommodation options. All of La Rosiere's ski apartments have been hand-picked and are of a very high standard (3 & 4*), providing the ideal base for a La Rosiere ski holiday. You can find residences Cimes Blanches, Le Refuge and Les Balcons plus Hotel Accroche Coeur in Les Eucherts and residences Lodge Hemera and Chalets des Marmottons in La Rosiere centre.
History
An important trans-Alpine route linking Savoie to the Aosta Valley, the Roman road through the Petit Saint Bernard Pass was built in the late 1800s. Because of its strategic cross-border position, the Petit Saint Bernard Pass and the mountains surrounding it have been the setting for many events and battles, including the annexation of Savoy by France in 1860, and the attacks by the Italian army in 1940. The Espace San Bernardo still shows the scars of its past battles, and to this day symbolically links France, Italy and Europe via its slopes.
Interested in buying an apartment in La Rosiere? See our Buying in the Alps section.
Browse our selection of blogs on La Rosiere which include client reviews. 
Read the Where to Ski & Snowboard review of La Rosiere by Dave Watts.
LA ROSIERE SKI AREA
La Rosière is the only resort in Savoie to boast an international ski area, thanks to its liaison with the Italian ski resort of La Thuile in the Aosta Valley. Thrill-seekers can try their hand at various different disciplines in the "Snowzone" (snowpark, snowcross, and boardercross), in the officially-recognized snowkite area on the Petit-Saint-Bernard pass, or even off the beaten track on a heli-skiing trip. Those looking for a more sedate outing can glide down the long slopes that wind down through the forest into La Thuile, overlooked by the magnificent Mont Blanc massif.
The south-facing resort has a high sunshine record and an excellent snow record (with north facing slopes in Italy). If you have your own transport, you can ski in Les Arcs across the valley and its linked neighbour, La Plagne. You can also reach Sainte Foy by heading up the valley, and a little further still lie Tignes les Brevieres, Tignes 1800 and Val d'Isère. 
For Val d'Isere, see details with our sister company Ski Collection
Additional ski fact info, main ski info in resort facts box at top of page
La Rosiere only - 95km of pistes, 21 lifts, 42 slopes:
Green slopes: 6
Blue slopes: 17
Red slopes: 13
Black slopes: 5
LA ROSIERE SKIING
LA ROSIERE BEGINNERS
La Rosière is a good choice for beginners, thanks to its well-suited terrain and well-designed village base which means that your equipment rentals, the ski school and the nursery slopes are just a few steps from your apartment. Great if you have children! There are three free ski lifts (Clarines 1, Manessier and Dahu) for beginners, plus the Lutins magic carpet.
LA ROSIERE INTERMEDIATES
Intermediates have a huge choice of blue and red pistes on both sides of the border that run out to the peaks of Le Belvedere and Chaz Dura. You get a real sense of travel as you enter Italy, and the Nuova and San Bernardo runs combined give a wonderful 11km run down to La Thuile (Italy) for a lunchtime pizza!
LA ROSIERE EXPERTS
Despite being primarily a family ski destination, advanced skiers can still find plenty to entertain themselves here if they use a little creative thinking. About 15% of the terrain is rated black with 16 runs to choose from in the Espace San Bernardo - the most challenging arguably the 3.6km long Franco Berthod piste.
LA ROSIERE OFF-PISTE
Off-piste areas can be found between the pistes and in the designated freeride area around the top of the Educets chairlift. More serious off-piste can be accessed just outside the lift network.
LA ROSIERE SNOWBOARDERS
For snowboarders, most of the lifts are chairs, so for those just beginning, this is a good resort. Sunny slopes make the snow a little softer - ideal for gentle freeriding!
La Rosiere Ski Hire
Pre-book your La Rosiere ski hire with Peak Retreats.

View here for pre-bookable ski extra prices in £ for La Rosiere 2018/19
Please note, these Pound Sterling prices are for indication only. They will fluctuate based on Euro/£ exchange rate. Please call us for the latest prices.
Special offers: *7 days for the price of 6.  Free Skis/snowboard & boots (Blue/Red) for party leaders of groups of 10 or more all taking equipment. 1 Free helmet per child aged 6 and under for every adult booking skis or snowboards & boots (must be under same booking reference and requested on form above). Other duration prices on request - Cross Country ski prices on request.
Find out more about Peak Retreats ski hire
La Rosiere Ski Passes
Pre-book your La Rosiere lift passes with Peak Retreats. Find out more about Peak Retreats ski passes

View here for pre-bookable ski extra prices in £ for La Rosiere 2018/19
Please note, these Pound Sterling prices are for indication only. They will fluctuate based on Euro/£ exchange rate. Please call us for the latest prices.
Other lift pass on offer (to buy locally in resort in Euros):
La Rosiere ski pass – ½ day and daily rates 2018/19:
½ day - €25 children, €33 adults
Day - €30.50 children, €40.50 adults
Espace San Bernado ski pass – ½ day and daily rates 2018/19:
Day - €34 children, €45.50 adults
Three free ski-lifts are available: Manessier, Clarines 1, Dahu.
La Rosiere Ski School
Pre-book your La Rosiere ESF ski school with Peak Retreats. Find out more about Peak Retreats ski school
Ski school for children is available to book from 3 years to 13 years, in La Rosiere, with Peak Retreats. 

View here for pre-bookable ski extra prices in £ for La Rosiere 2018/19
Please note, these Pound Sterling prices are for indication only. They will fluctuate based on Euro/£ exchange rate. Please call us for the latest prices.
ESF La Rosiere offer over 50 English speaking instructors teaching all levels from beginners to heliskiing, 2 children's areas (La Rosière Centre and Les Eucherts) and 2 separate meeting points plus Les Galopins children's club.
Ski School: Please note that lesson times are subject to change right until the last minute. Outside French school holidays the ski school reserves the right to cancel group lessons should numbers be insufficient. For peak periods (22/12-4/1, 9/2-8/3 & 6/4-26/4) we strongly recommend that you book as early as possible and in any case at least 6 weeks prior to the required dates. Morning lessons tend to get booked up first and therefore we may only be able to offer afternoon classes within 6 weeks of departure. In some resorts English speaking instructors may not always be available, particularly at peak times.
We cannot always guarantee that prices will be cheaper than in resort. When ski packs prices are calculated, the currency is bought at the exchange rates that apply at the time. You can be assured that once you have booked your extras, if the pound depreciates, you will not be charged more for your ski packs, enabling you to budget for your holiday in advance.
Recent feedback:
"Fantastic for young children learning to ski, the ESF ski school in this resort have always been superb with our children who have been learning to ski here over the last 5 years". 
Mrs B, Les Cimes Blanches in La Rosiere, 8 Feb 2014                                                 
La Rosiere Individual Tuitions 

(2017/18 prices, NOT pre-bookable)

Individual tuitions can only be purchased directly from the ski school. Peak Retreats cannot pre-book these.

Around €45-55 per hour.

Please note that prices are only an indication and are subject to change.

Ski school La Rosiere contact numbers for private lessons:

ESF La Rosiere +33 (0)4 79 06 81 26
La Rosiere Child Care
La Rosiere has acquired the Famille Plus label for its childcare facilities. Please view here for more information on the Famille Plus label.
Les Galopins (Creche without skiing)
73700, Montvalezan
+33 (0)4 79 06 89 67 - info@esflarosiere.com 
For children from 18 Months to 3 years old
The Baby-Club "Les Galopins" has two centres in La Rosière Centre and Les Eucherts. Full-trained and qualified staff at Les Galopins offer educational activities both indoors and outdoors, from Sunday to Friday on a half day (with or without lunch) or full day (lunch included) basis.
The meals are professionally catered and adapted for children's needs. There are provided 'quiet' areas for sleeping if required.
The Kids-Club welcomes children from 3 to 13 years old.
Prices 2016/17:
6 Mornings: 8.45 - 13.15 - 160 €
6 Mornings + Lunch: 8.45 - 13.15 - 196 €
6 Afternoons: 13.00 - 17.15 - 160 €
6 Full Days (lunch included): 8.45-17.15 - 300 €
Children's Ski Lessons in La Rosiere
Children can ski from 3 years old in La Rosiere with ESF La Rosiere. See ski school tab. 
ESF La Rosiere also holds kids' ski and garderie sessions, which Peak Retreats can pre-book.
La Rosiere Resort Activities
La Rosiere Indoor Ice Rink
La Rosère's 360m2 ice rink on the Place des Eucherts has tiered seating, a sound system and lighting effects. Gloves and helmets available to borrow. Head there on Wednesday evenings to watch the local ice hockey team play as recommended by our clients - "exciting and unexpected entertainment"! 
+33 6 79 08 30 20
La Rosiere Bowling 
Terrace at the foot of the slopes (you can ski to the door!). 
L'Averne - Place des Eucherts
La Rosiere Helicopter rides
See Mont Blanc from the air. A once in a lifetime experience to fly over the most prestigious summits of Mont Blanc, Mont Pourris, valley of Les Chapieux, Tarentaise valley.
Evolution 2 Ecole de Ski et d'Aventure, Centre Station, 73700 
04 79 40 19 80 - www.evolution2larosiere.com
La Rosiere Paragliding
Discover the freedom and tranquillity of flying whilst witnessing the true magnificence of the mountains. Take off from La Rosière and land in Les Ecudets. Suitable for both skiers and pedestrians.
Evolution 2 Ecole de Ski et d'Aventure, Centre Station, 73700
04 79 40 19 80 - www.evolution2larosiere.com
La Rosiere Panoramic Helicopter Flight
Enjoy spectacular views of Mont Blanc with a fantastic panoramic helicopter flight. 
La Rosiere Dogsledding
Experience the Alaskan sport of dog mushing.
Evolution 2 Ecole de Ski et d'Aventure, Centre Station, 73700
04 79 40 19 80 - www.evolution2larosiere.com
La Rosiere Walking
Explore the forest, the resort or the ski domain via a free 11km network marked and well-maintained trails.
Take the short-cut through the forest to Les Eucherts! This pedestrian path, about a kilometre in length, is easy going for everyone and a special plus is that it is well-lit at night too.
There are three chairlifts are available to walkers (Ecudets, Roches Noires Express and Eucherts Express).
Nighttime Excursion & Savoyard Evening at the Yurt 
Leave from the resort for a nighttime of snowshoeing or sledging under the moonlit, followed by a magical dinner in a Mongolian Yurt at the Wilderness Camp of Le Mousselard.
0033 4 79 40 19 80 - www.evolution2larosiere.com
La Rosiere "Paret" Sledge Descent
Take the last lift and feel free by ending your day ski with a fun and unforgettable descent riding a "paret". Our instructors will take you to the past on that narrow wooden sledge, which was used 100 years ago by the local children of the region to go to school.
0033 4 79 40 19 80 - www.evolution2larosiere.com
La Rosiere Snowshoeing – Petit Trappeur trail
With a professional guide or just with your family or friends, The Petit Trappeur trail is a great way for you and your children to take your first steps on snowshoes in safety.

+33 4 79 06 88 37 - Gregory.henry@lessaem.org
La Rosiere Snowshoeing
Discover the natural beauty of the mountains with a wonderful snowshoe excursion with one of our friendly guides. From beginner to experienced snowshoers starting as young as 7 years old. 
0033 4 79 40 19 80 - www.evolution2larosiere.com
Please note: All the above information is for information only. For the most up-to-date information please visit the resort tourist office website. All prices for activities are in local currency (€ Euros) and are bookable and payable locally in resort
La Rosiere Tourist Office
73700, Montvalezan
+33 (0)4 79 06 80 51 - www.larosiere.net
La Rosiere Ski Activities
La Rosiere Mountain Restaurants
5 including:
LA TRAVERSETTE - At the Fort chair-lift departure point. South-facing terrace. Food served all day. Bar. Snacks. Self-service. Restaurant.
LE PLAN DU REPOS - Bar-Restaurant. Altitude 2100 m. Big terrace with splendid views. Pedestrian access from les Eucherts.
La Rosiere Patrolled Off-Piste
Snow-cross des Zittieux - this innovative off-piste area, which is not groomed but is patrolled by slope security, boasts unhindered views over the Haute-Tarentaise Valley and is open to advanced skiers and boarders who are comfortable on black runs. The area can be accessed via two lifts: the Sévolière drag lift and the Roches Noires Express chairlift. With a 720 m descent, the area is regularly marked out to re-trace the boundaries and signal any dangerous obstacles. Skiers can then cut through the forest onto the Fontaine Froide slope. It's a safer way to get a taste for Freeride…
La Rosiere Ski Jöering
Be pulled along on skis by a horse. Come discover the traditional Norweigan sport of ski jöering for an exciting and unforgettable ride!
Suitable for beginner skiers (who can parallel ski on blue slopes). Starter sessions are in La Rosiere every Friday afternoon and last 20 minutes. 
Evolution 2 Ecole de Ski et d'Aventure - Centre Station - 73700 La Rosière de Montvalezan
Tél: 04 79 40 19 80 - www.evolution2larosiere.com
Snow park in La Rosiere
La Poletta Snowpark - specially designed with various different routes, allowing riders to tackle the obstacles that suit their level: green, blue or red. The snowpark can be accessed via the Poletta drag lift and boasts a sound system, snowpark attendant/shaper, funbox, rails, hip, jumps, handrails and tables (3 red, 3 blue, 3 green). The snowpark is 300 m long and has a 50 m vertical slope.
The boarder-cross is located under Fort chairlift in a red-runs area. This area was designed to be an introduction to boarder cross: banked corners, starting blocks and slalom doors (free entry to boarder cross). There is a beginners' snowpark on the Lièvre Blanc with ground-level modules.
La Rosiere Freestyle Sessions
Freestyle sessions for skiers and snowboarders: learn how to do a grab, to slide, switch on direction... With a experimented ski instructor, ride the jumps, slides, kickers, boxes and improve in safety conditions on the airbag. Discover the 3 Freestyle technics (flat, jump & slide) its language and the different tricks.
La Rosiere Cross country skiing
La Rosière has 5 km of marked and groomed cross-country skiing trails.
3 tracks, 1 black track, 1 red track, 1 green track.
La Rosiere Heliskiing
La Rosière is one of the last remaining French resorts to offer heliskiing with ESF, they are the only ski school in the resort to have 2 fully qualified high mountain guides in their team.
The drops are for groups of 4 people plus the Guide per helicopter. 
You can choose 1 or 2 drops depending upon conditions: The Ruitor (3300 metres), Miravidi, Freduaz, Mont Ouille...
Security equipment included (Arva, rucksack, shovel and probe)
Insurance not included.
A typical day heliskiing:
8h30: ESF office to have a safety talk and get fitted with the equipment. The route and choice of summit will be finalised before leaving. This decision is made for your safety and to find the best conditions possible for your enjoyment.
9h00: Leave on skis towards the Petit St Bernard Pass where take the helicopter (A lift pass is required)
1st drop and lovely descent on the Italian side where you rejoin the helicopter in a remote valley to climb for the second drop. Arrive back in La Rosière around 14h3O (remember to bring water and a snack) A taxi is sometimes required which will be included in the price.
PRICES - HELISKIING DROPS
Drops begin from the 10th January
Prices include: the helicopter, the guide/instructor, the security equipment, the taxi where required.
Prices don't include: insurance in case of injury, the lift pass.
La Rosiere Snow-kiting
One of the best places in Europe where you can experience the thrill of snow-kiting. Start on the flats and progress to using the wind as your personal eco ski lift
to shred the fun, varied terrain in the Petit-Saint-Bernard mountain pass, with stunning views over Mont-Blanc.
+33 (0)4 79 40 19 80
contact@evolution2larosiere.com 
La Rosiere Snowscoot Introduction
Sessions are held in small groups . This snow-scooter is quit easy to drive and the sliding feeling is between snowboarding and biking.
La Rosiere Snowkiting – Kitesurfing
One of the best places in Europe where you can experience the thrill of snowkiting (or kitesurfing). The Petit-Saint-Bernard mountain pass offers guaranteed snow and varied terrains, with stunning views over Mont Blanc.
You are not flying, just riding!
San Bernardo snowkite
++3 6 29 48 02 18
contact@ecole-snowkite.fr
www.ecole-snowkite.fr
La Rosiere Snow cross des Zittieux
Vast expanses of untouched snow and unknown area, stunning runs through the forest… The Zittieux "Snow Cross" is a secured off-piste area, non-groomed, offers competent and expert skiers the opportunity to discover the feeling of freedom that you get when you heading off piste. All skiers must be well equipped (in case of avalanche), and it depending of the snow conditions.
Evolution 2
+33 4 79 40 19 80
contact@evolution2larosiere.com
www.evolution2larosiere.com
La Rosiere Resort News and Events 2018/19
Resort news:
Expansion

 

- in December 2018, La Rosière is expanding the Espace San Bernardo ski area! The 15 million Euro plans include building five new red graded pistes (increasing the total runs to 198km) and adding two new 6-seater lifts. The addition of the new Mont-Valaisan peak will raise the altitude to 2800m and create lots of secured new free-riding opportunities. View the exciting development plans here!
Hotel

 

Alparena

 

& Spa

 

- with its doorstep skiing and breathtaking view, the hotel offers 58 rooms, suites and apartment suites for an ideal stay for couples, families

 

and

 

friends. Relax in the swimming pool & spa (more than 1000m2) and take advantage of our restaurants and their panoramic terrace.

 

See details here
Events:
A Magical Christmas

 

- Walk through the magical Christmas forest, lit up with fairy lights. A wonderfully festive atmosphere which is sure to take you back to your childhood. Join in our Christmas-themed activities for a chance to win plenty of prizes
Freeride senior tour – 12th January 2019

 

- the Freeride Junior Tour will stop off in La Rosière! Skiers and snowboarders will defy the most stunning mountain faces in the Espace San Bernardo
Mardi Gras – 5th March 2019

 

- come and celebrate Mardi Gras. Get into the Carnival spirit by donning your

 

favourite

 

fancy-dress outfit!
Freeride junior tour

 

– 16th March 2019 - the 2019 edition of the Freeride Junior Tour will stop off in La Rosière! Skiers and snowboarders aged between 14 and 17 will defy the most stunning mountain faces in the Espace San Bernardo. It promises to be a spectacular event, with the very best junior riders competing for the coveted French Champion title.
More details can be found on the tourist office website: http://www.larosiere.net
La Rosiere Après-ski, Restaurants & Bars
The après ski is reasonably quiet in La Rosiere with a few bars and a dozen restaurants, some offering takeaway such as pizza. For something different, don't miss watching the local ice hockey team play on Wednesday evenings.
For livelier après ski head to Val d'Isere, Tignes and Les Arcs, just a short drive away. 
La Rosiere Restaurants
L' Ancolie
Village des Eucherts, 73700 
+33 (0)4 79 06 86 71- cat.2704@hotmail.fr
Bowling Kitzbuhel
Ski in/out, just next to the Eucherts Express chairlift. Terrace area with sun loungers. 
L'Averne, 73700
+33 (0)4 79 07 54 46 - bochet.mathias@gmail.com - www.bowling-larosiere.com
Le Genepi
Traditional - A La Carte - Extensive Wine List. 
Le Centre,  73700
+33 (0)4 79 07 52 09 - legenepi@aol.com
La Grange
Variety of Savoyard, Italian and traditional dishes - Sunny Terrace – Foot of the Slopes
Les Marmottes
Grill - Savoyard Specialities - South-facing Terrace
Le Centre, 73700 
+33 (0)4 79 40 19 88 - lerestodesmarmottes@free.fr
Le Mc. Kinley
South-facing Terrace - Foot of the Slopes
Front de neige, 73700 
www.lemckinley.fr
Le Plein Soleil
Inventive and Traditional Cuisine - South-facing Terrace - Panoramic Veranda
Le Relais du Petit Saint Bernard
Family-Friendly - Regional Specialities
Front de neige, 73700
+33 (0)4 79 40 19 38 - restaurant@petit-saint-bernard.com
www.petit-saint-bernard.com
Le Ski-Food
Cosmopolitan - Bar with Games Room - Sunny terrace - Pool Table
Au P'Tit Creux
Eat in or Take Away - Home Deliveries
Le Centre, 73700
+33 (0)4 79 06 05 67
Altitude Restaurants
L'Antigel
Beautiful Terrace - Excellent Wine List
Chalet Anca
Speciality: Homemade Mulled Wine - Fast Food on the Slopes - At the Top of the Fort Chairlift
73700
+33 (0)6 83 30 99 74 - stekaloc@sfr.fr
www.stekaloc.com
Le Plan du Repos
Altitude of 2100m - Large Terrace - Splendid Views - Pedestrian Access
La Traversette
At the Foot of the Fort chairlift - South-Facing Terrace - All-day Service - Pedestrian Access
73700 
+33 (0)6 11 70 51 07 - tonychalet@wanadoo.fr
Bars and Nightclubs
Bar du Petit Saint Bernard
Friendly Bar with Authentic Charm - Panoramic Views - South-Facing Terrace - Ski in/out 
Le Moobar
Lounge Bar and Nightclub
Le P'Tit Bouchon
Wine Bar - Wine Tasting - Terrace
La Rosiere Amenities
La Rosiere is served by a range of amenities including grocery shops, a bakery, butchers, a newspaper shop and a hairdresser. Additionally, there is a doctor's surgery, post office, bank/cash point, chemist, and laundrette.
Sherpa supermarket (Les Terrasses)
Grocery shop, loan of games consoles, regional produce, loan of snow shovels, Sherpa loyalty scheme, loan of raclette and fondue equipment, free home delivery, open 7 days a week, bread delivery.
Le Centre 73700 La Rosière-Montvalezan
Sherpa supermarket (Les Eucherts)
You will find everything you need at the Sherpa in Les Eucherts, just a stone's throw away from your accommodation. Bread and pastry deliveries, newspapers, postcards, etc. Loan of raclette and fondue equipment. Fruit & veg. Fresh milk. Bread & croissants. Regional produce. Roast chickens.
Getting to La Rosiere
By Road:
Distance from Calais to La Rosiere 610 miles (9hrs 15). Motorway A26 Reims, Dijon A6 Maçon A43/A430 Albertville. Main road N90 Bourg Saint Maurice and follow signs for La Rosiere. 
NOTE: The Petit-Saint-Bernard pass is closed in winter!
By Rail: 
SNCF - French Railways (nearest station Bourg St. Maurice)
TGV - Thalys - Eurostar
+33 892 353 535 - www.voyages-sncf.com 
Bourg St Maurice train station private transfer pre-bookable via Peak Retreats.
Airports:
Chambery Airport is 111km from La Rosiere (1 ½ hours)
www.chambery-airport.com
Grenoble Airport is 178km from La Rosiere (1 ½ hours)
www.grenoble-airport.com
Geneva to La Rosiere is 190km (2 hours)
www.gva.ch/en
Lyon Airport is 188km from La Rosiere (2 ½ hours)
www.lyonaeroports.com
Public Shuttle Bus Transfers
Lyon Airport - La Rosiere (www.lys-altibus.com). 
Geneva Airport - La Rosiere via Bourg St Maurice. 
Chambery Airport - La Rosiere via Moutiers (www.lys-altibus.com). 
La Rosiere Airport Transfer
For pre-bookable private transfer rates with Peak Retreats, view here. 
Access Around the Resort
Free shuttle buses throughout the day linking the different areas of the resort. Serving villages and hamlets near La Rosiere and down to Seez (near Bourg Saint Maurice). Schedules posted at the town hall (Mairie), Tourist Office, and at the stops throughout the resort.
La Rosiere Opening

Dates
La Rosiere ski area is open: Saturday 15/12/18 – Sunday 26/04/19.