Skiing for the first time? Have questions? Here at Peak Retreats we will try to answer your ski holiday questions…
As a non-skier having never put your feet in boots and skis, or perhaps coming back to it after a long break, you are probably going to have various questions circling around in your head.
If you are travelling as a family it can be a daunting first time experience but Peak Retreats can help you work through your questions and put your mind at ease.
We have come up with some of the most common questions, but if you want to talk through your queries or requirements with one of our team then you can call us on 0844 576 0170 (Calls cost 7p per minute + any network charges) or drop us an email at reservations@peakretreats.co.uk

QUICK LINKS
Getting Started
Which ski resort to choose?
Do I ski or snowboard?
Which ski resort for complete beginner?
Mixed ability groups
Preparing for your ski trip
What ski clothing will I need?
Where to get cheap ski clothing
Equipment hire
Do I need to exercise before skiing?
Winter sports travel insurance
In Resort
Do I need a lift pass?
Are pistes signposted?
Options for lunch
Childcare facilities
Which ski resort to choose?
This can be a daunting if you don't know much about ski holidays. Whichever company you decide to travel with, you'll need to talk through your specifications:
• How you are going to get to the resort – self drive, fly drive, train …etc
• Is it just skiing you want to do or do you want to mix it up with activities or relaxation days?
• Are you looking for a resort with lots of nightlife? 
• Do you prefer self catered or for food to be included? 
• What level is everyone in your group? 
• Do you have young children in the party? 
• What is your party's budget?
Our resort selector may give you a better idea.
I've never been on a ski holiday before - do I ski or snowboard? 
It depends on what's right for you. Generally children under 8 would learn to ski first. Snowboarding school usually starts from 8 years, but varies by resort. It may be worth considering what other people in your group/family are doing. Either way, whether you choose to ski and snowboard, you'll be bound to pick it up. Patience optional!
I'm a total beginner, which resort is best?
Every resort we offer has nursery slopes, but some are more recommended than others. Things to look for:
Greens slopes are the easiest and then progression to blues. So look for a resort with plenty of greens and blues. On our resort pages we have divided our skiing section into levels so you can easily see what there is for you.
In case you decide it's not for you or you want to mix skiing with leisure, choose a resort with plenty of apres-ski such as an ice rink, swimming pool (whether in accommodation or in resort), shops to walk around…plus other activities.
Our recommended beginner's resorts: Samoens, Morillon, La Rosiere, La Norma, Les 2 Alpes, Sainte Foy, Val Cenis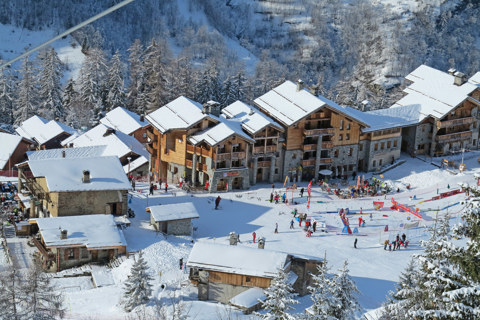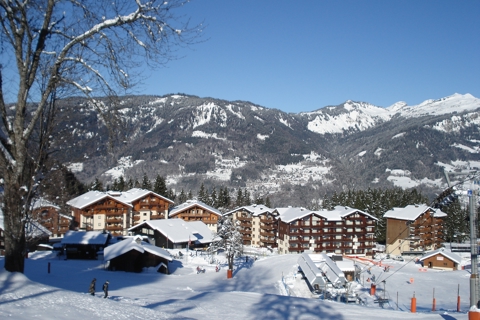 I'm going skiing for the first time but my friends are accomplished skiers. What do I do?
Book yourself into some lessons. Peak Retreats offer group lessons for 6 half days (or full days) or you can book private lessons just for a few hours a couple of times a week if you prefer. If you are doing half day lessons, if you feel confident enough you can always ski with your friends for the other half of the day. See our ski school page for details and pricing.
What ski clothing do I need?
You will need waterproof, warm clothing. This includes a ski jacket, saloppettes (ski trousers), ski socks, long johns if its really cold, under layers such as roll necks/tshirts, scarf or turtle neck, waterproof ski gloves, hat/headband, sunglasses, ski googles. Layering your clothes under your ski jacket is much better than just one big jumper – you'll stay warmer. You will also need some sort of footwear for the evening that has some grip. Snowboots or trainers would be best. Other things you will need to take is high factor suncream; the sun is much stronger in the mountains and it reflects off the snow.
This will be my first ski holiday, but I don't want to spend a fortune on ski clothing in case I don't go again. Can I hire? Are there any cheap shops to buy in?
You can hire ski clothing in UK - a simple Google search will help you. Otherwise shops such as TK Maxx and even supermarkets offer value for money ski clothing or buy secondhand off Ebay!
What about equipment hire?
Peak Retreats can pre-book your ski hire and we have various special offers. See our ski hire page for prices.
Do I need a lift pass?
A lift pass enables you to take various ski lifts within the ski area. Some resorts have free lifts for beginners, although you will probably only use these for a day or two. If the ski resort is large, you may find there are multiple passes on offer from small beginners passes to whole area passes. We are able to book lift passes for you in each resort and advise you which would be best for your party. Children and seniors have a discounted pass and children under 5 are usually free. See our lift pass page for prices.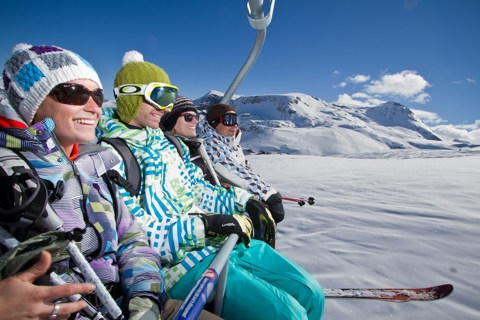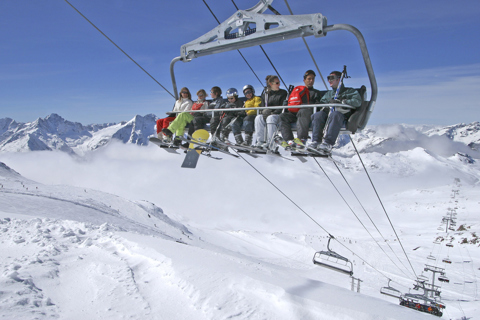 Are the pistes signposted?
The ski slopes are all signposted (except unmarked off-piste) and in France these are the gradings:
Green: Beginner - Very gentle gradient, for the first time skiers.. 
Blue: Easy (Novice/early intermediate) - Improvers area. Able to snowplough turn confidently, and parallel slightly
Red: Medium (Advanced intermediate) - Able to link together short radius parallel turns. Some parts of red runs will have a steep gradient
Black: Difficult (Advanced/Expert) - Able to link together consistent short radius turns and vary speed and direction with ease. These slopes will be consistently steep and often have moguls on them.
Are there mountain restaurants or do I have to go back into the resort for some lunch?
Each ski resort has various mountain restaurants on the slopes where you can kick back on the terrace (if its not snowing!), have a drink and some lunch and admire the stunning views across the mountains.
Can pedestrians go to the mountain restaurants?  
Some mountain restaurants are accessible via gondola/cable car which are accessible by pedestrians. No ski boots/skis needed. What you do need however is a lift pass. Whether you pay just for the return trip or you get a day pass, the choice is yours. Wear suitable shoes (and ski jacket) however as you will likely have to walk on the snow to get to the restaurant.
Are there childcare facilities in resort? What age can my child start skiing at?
Each resort has creche facilities for babies/young children and babysitters available. Normally your child can start skiing from 3yrs (resort dependant).
Should I take some exercise before I go on my ski holiday?
Doing some sort of exercise won't hurt. It'll only enhance your experience on the slopes. You'll be using your legs a lot and burning lots of calories! See our ski safety page for more details.
What travel insurance policy will I need?
You will need a policy that covers you for winter sports. Peak Retreats offer a comprehensive insurance policy – see our insurance page for details and pricing.
You should also take a valid EHIC with you. If you have an accident/illness you'll receive the necessary state-provided medical healthcare at a reduced cost or sometimes free. The EHIC is valid in the European Economic Area and Switzerland. However you still need to take out travel insurance, as an EHIC won't cover all your medical costs, private treatment or repatriation to the UK. Apply for your free EHIC now at: www.ehic.org.uk  
Any other questions you may have, please do not hesitate to contact our team here at Peak Retreats!