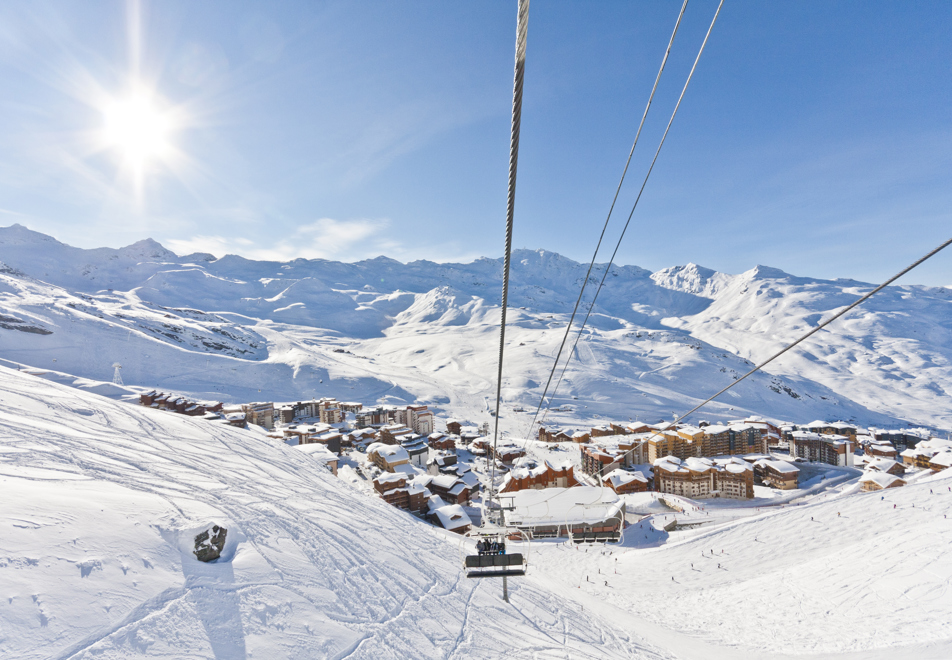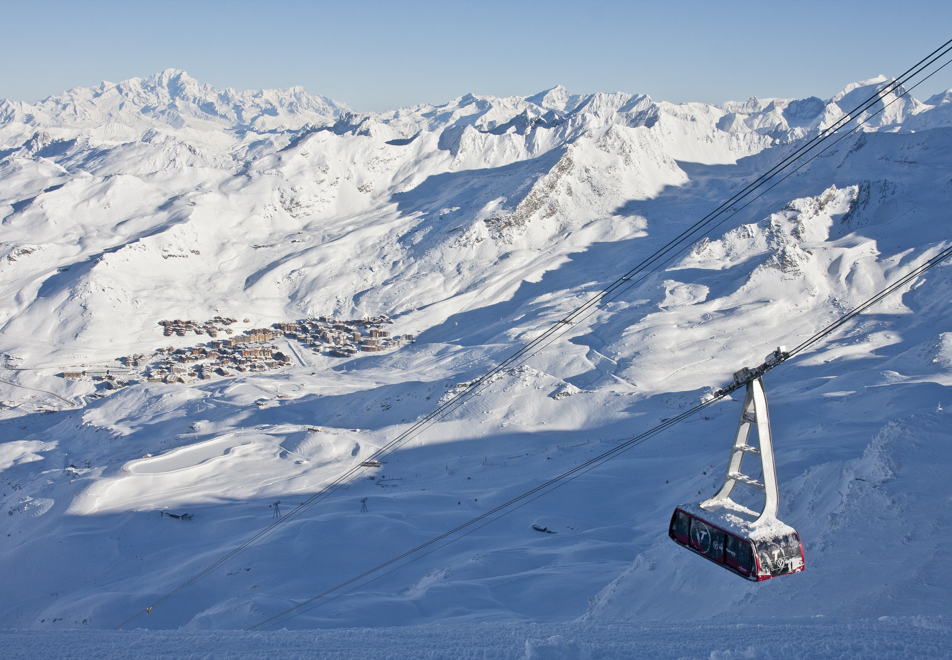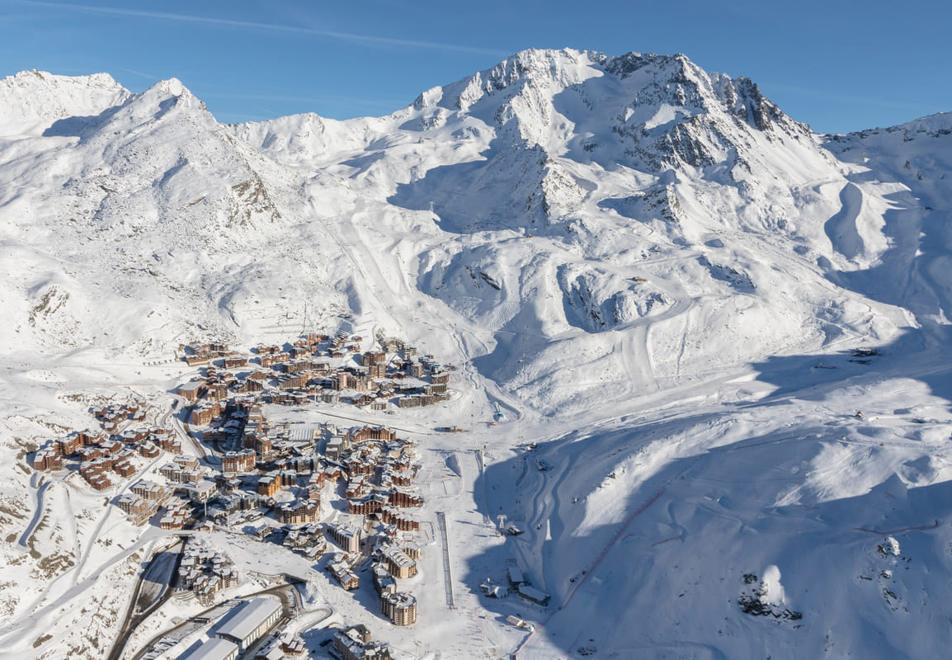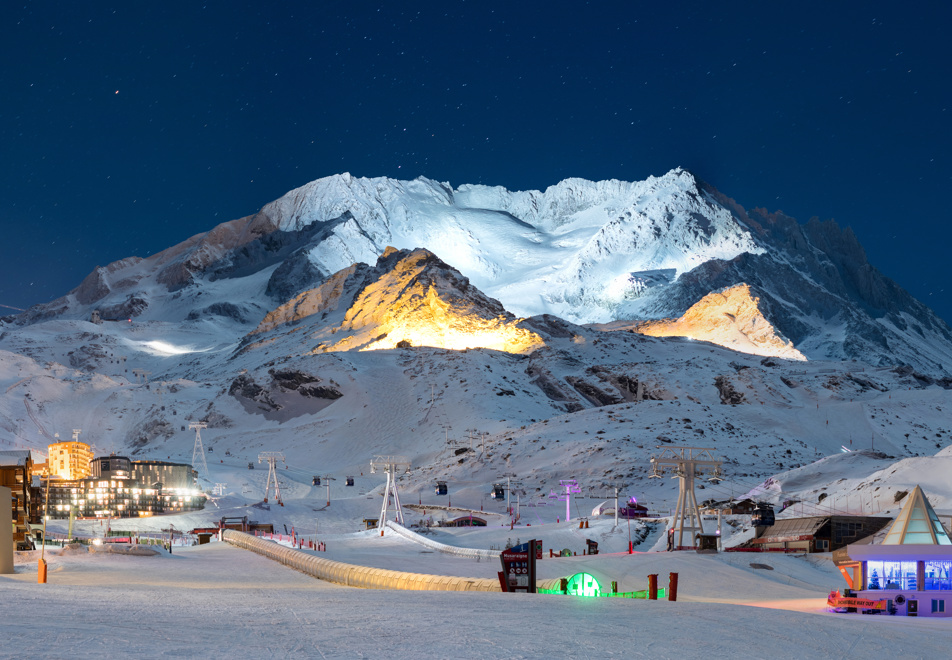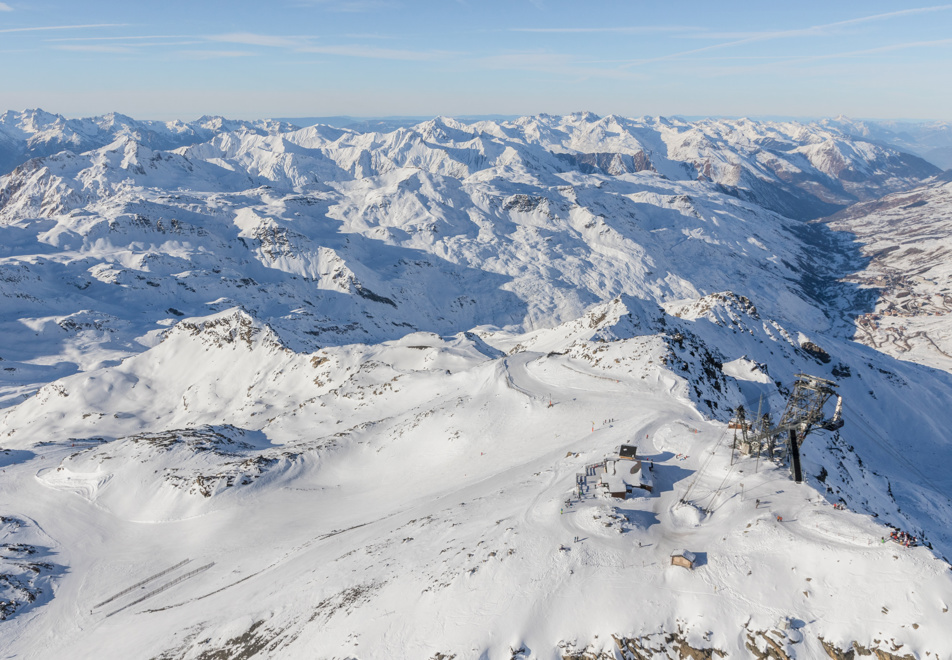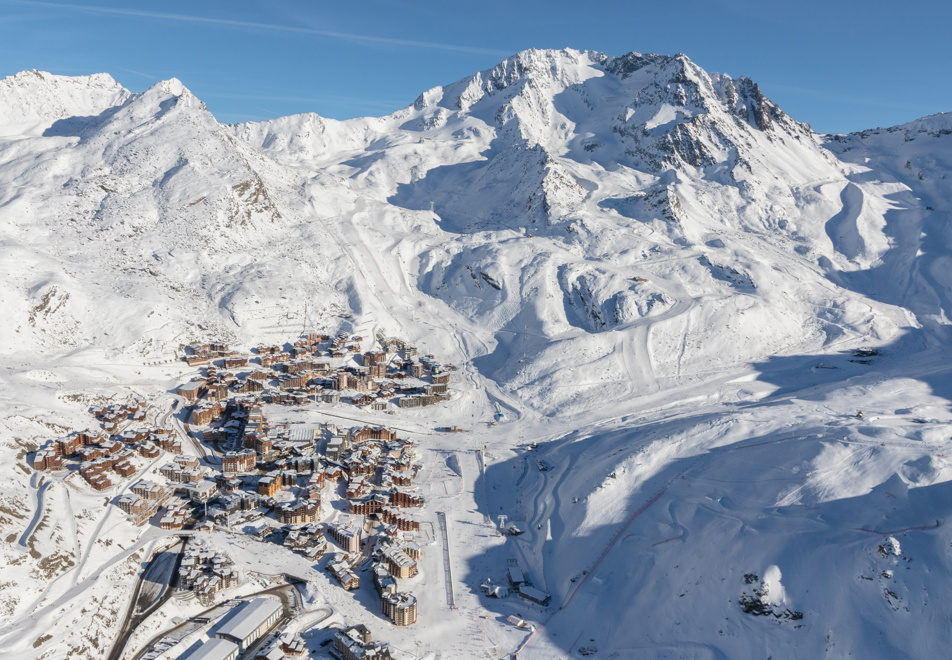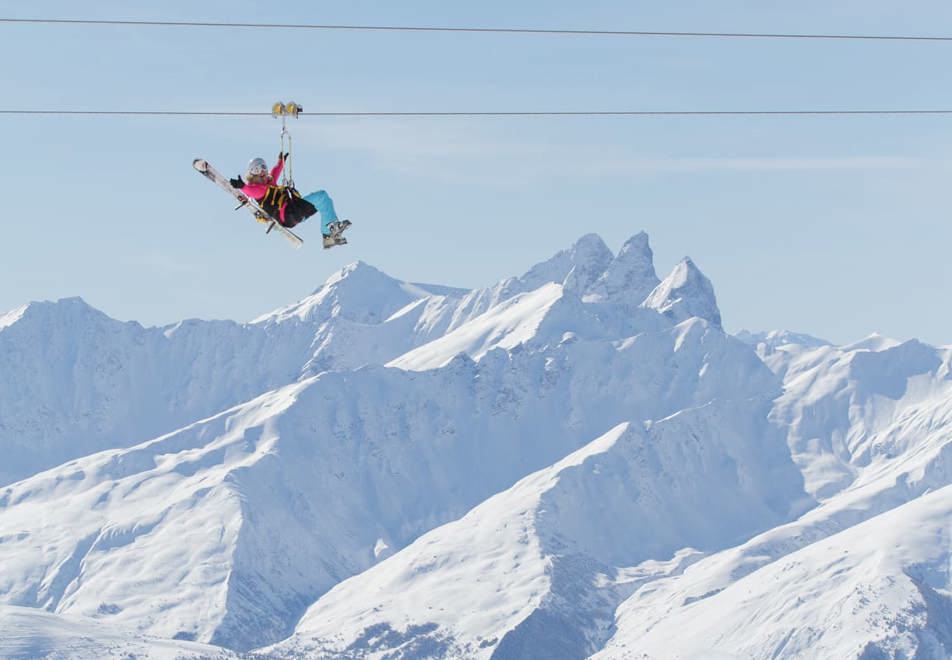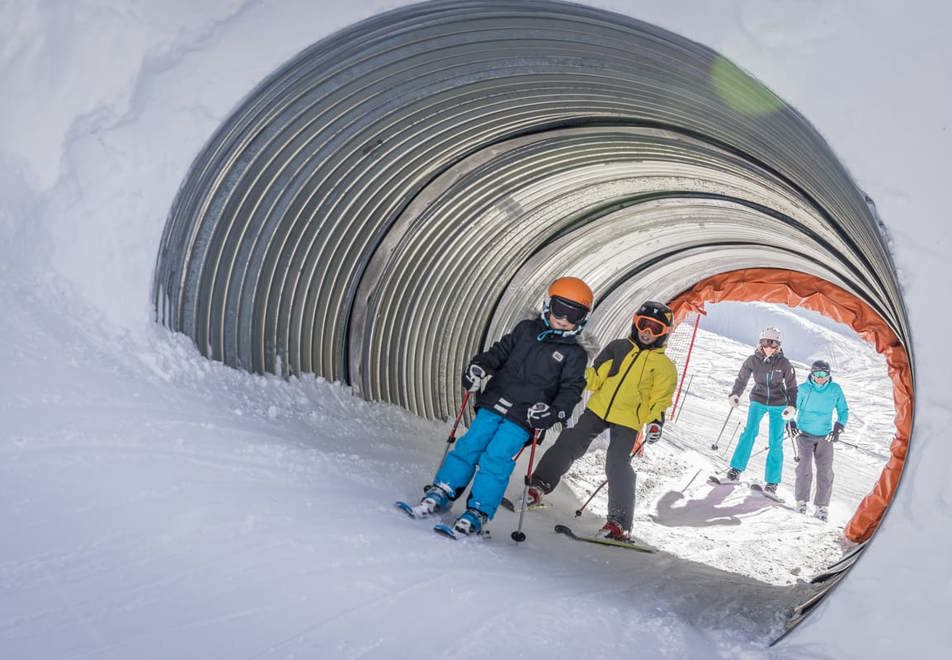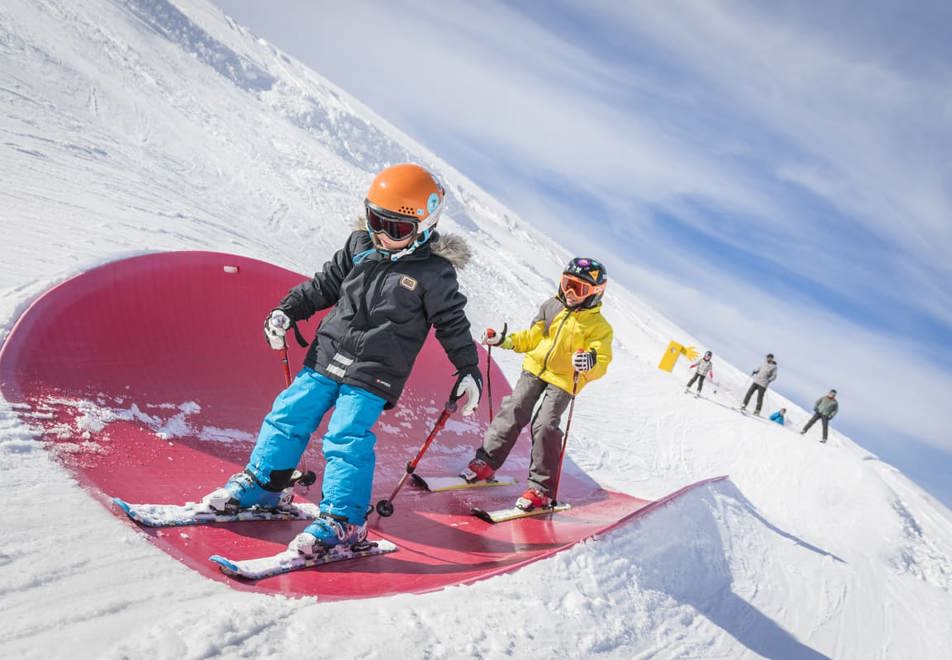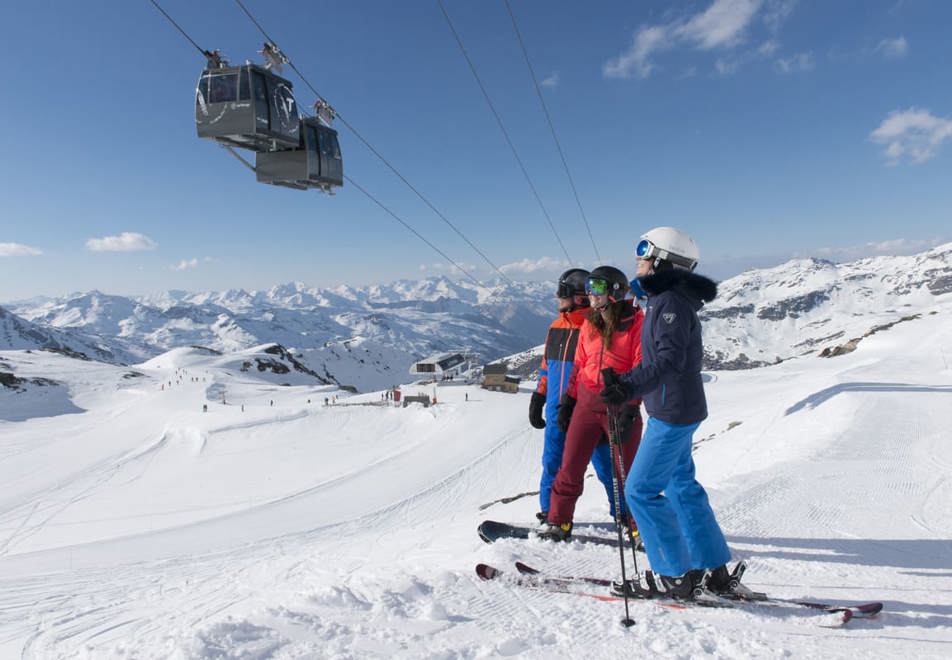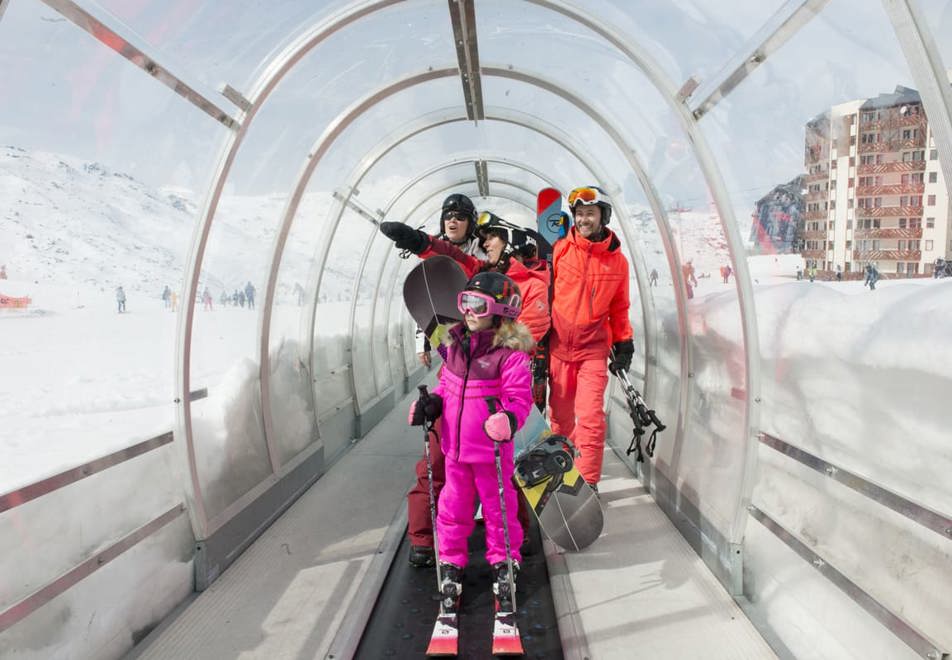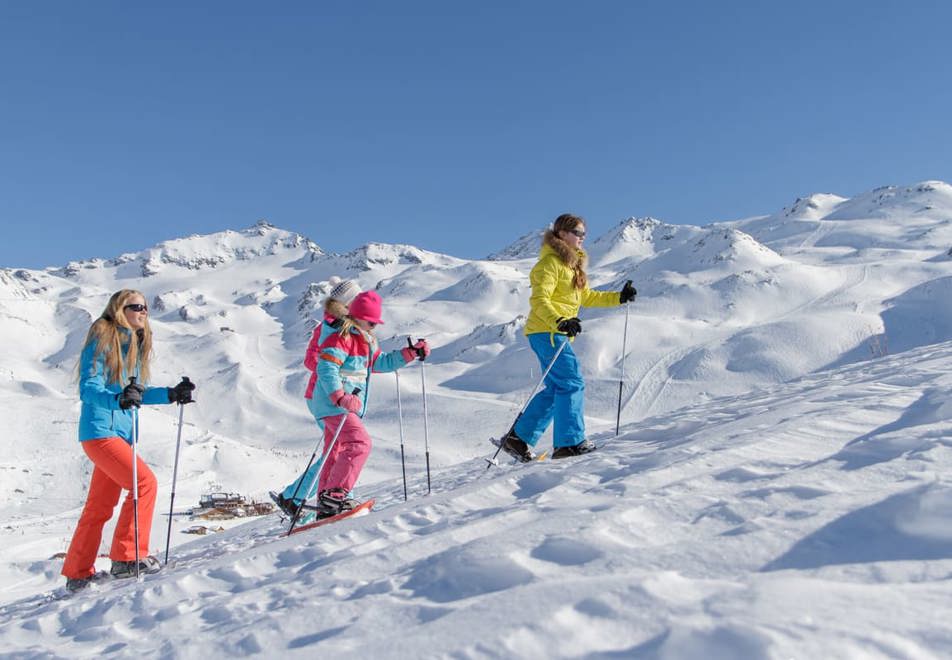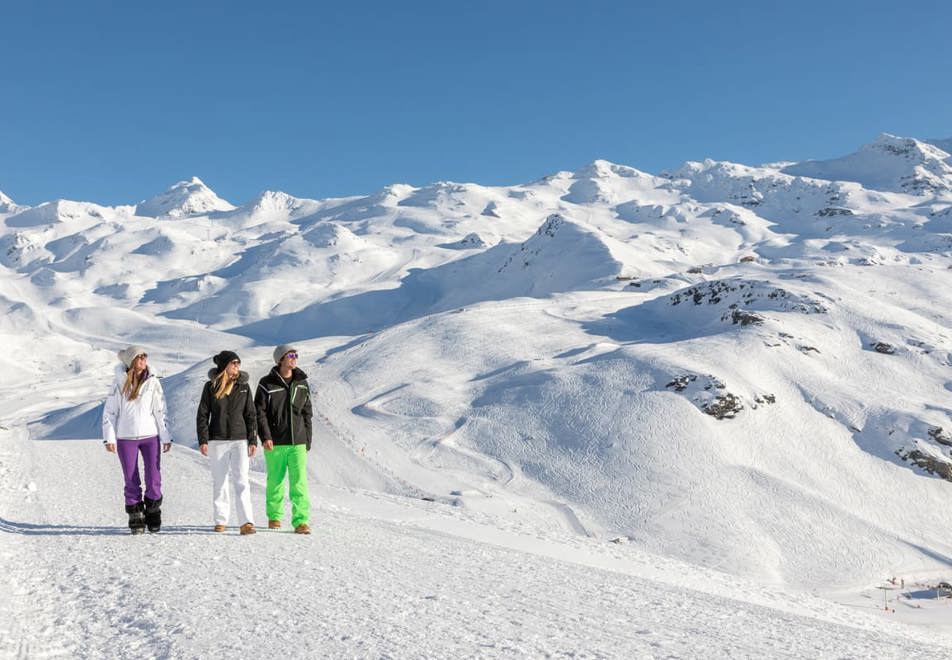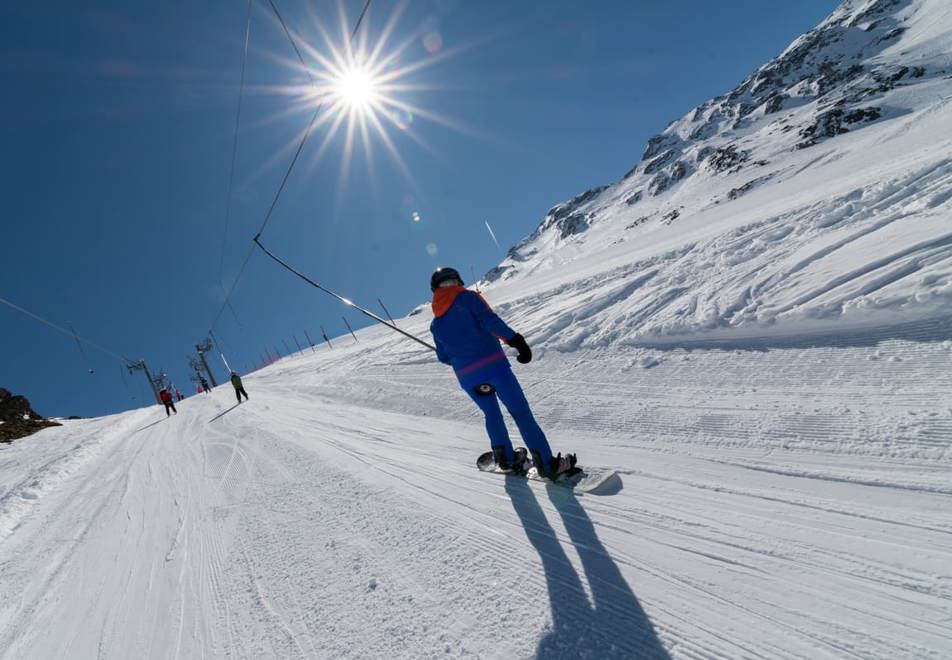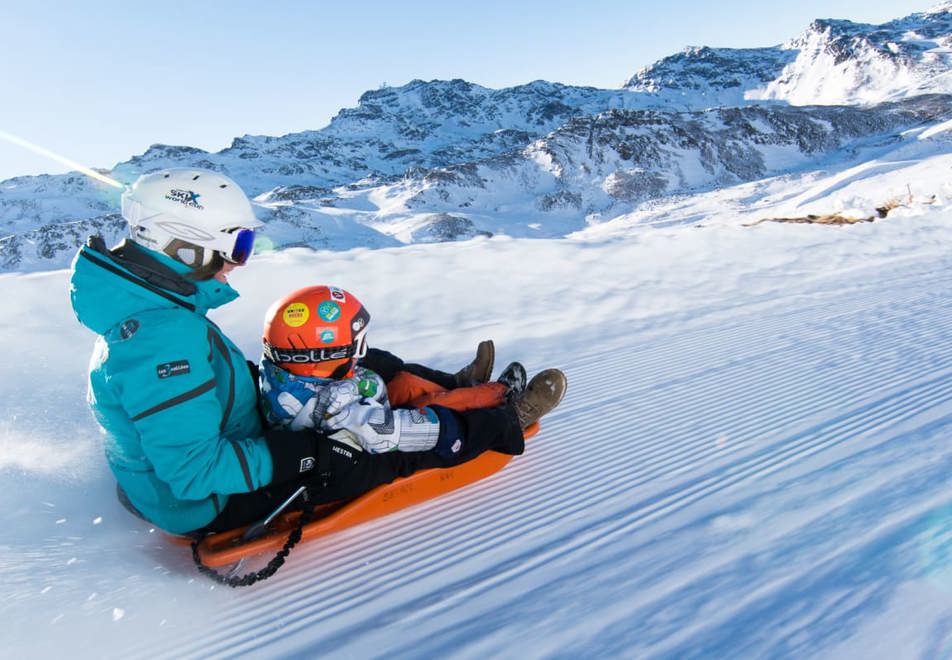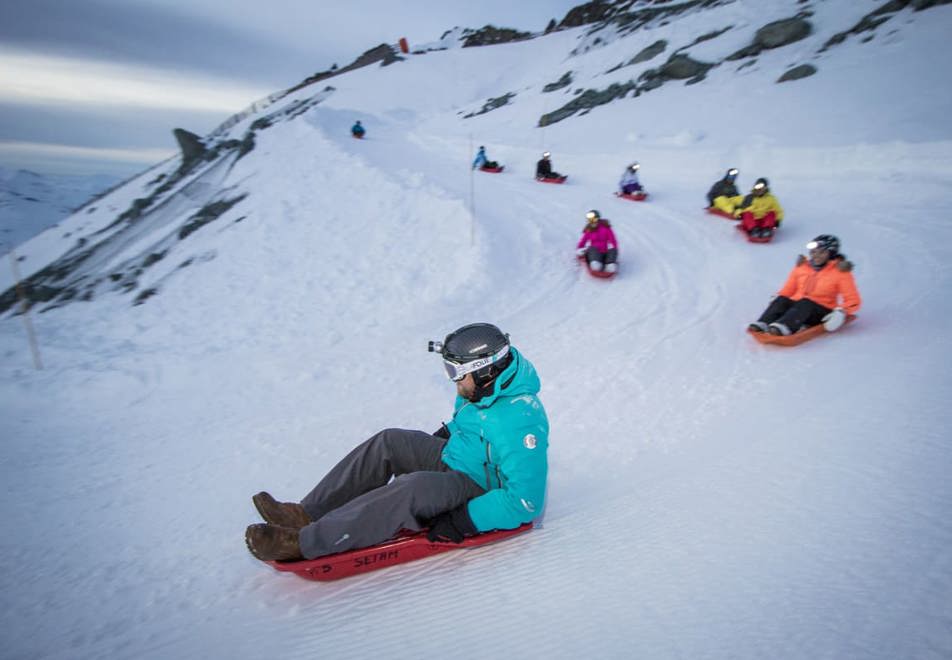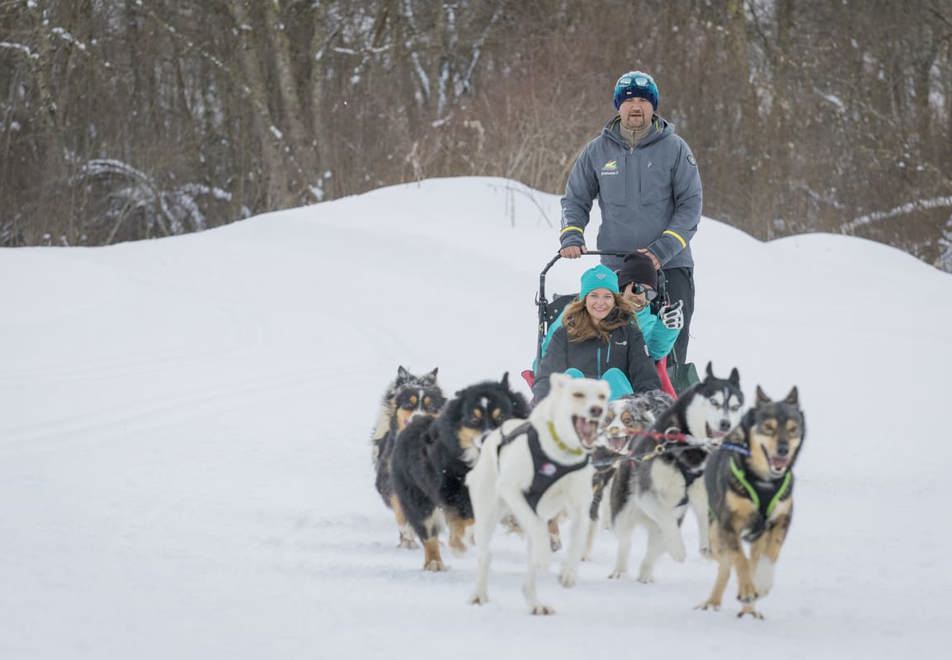 Thinking of skiing in Val Thorens? This large, high altitude ski resort, has won 'World's Best Ski Resort' multiple times. Val Thorens boasts excellent skiing and great range of non-skiing activities
Why Val Thorens Ski Resort?
Literally something for everyone: older and young, beginner to expert, skier/snowboarder or non-skier

The highest ski resort in Europe, meaning snow-sure slopes from November to May

Gateway to over 600km of varied (and pretty amazing!) slopes in the 3 Valleys

Accommodation to suit all: ski enthusiasts, families, groups & couples - from more basic to the last word in luxury

Plenty of doorstep or ski-in/ski-out possibilities

'Famille Plus' resort - good children's facilities and great for families

A very vibrant and outgoing ski resort with fabulous day and nightlife
Val Thorens (3 Vallees) Information
Multiple winners of the World's Best Ski Resort & France's Best Ski Resort.
Val Thorens is a well-established and vibrant purpose-built ski resort created in 1971 at a height of 2300m and about 1km long and half that wide. Although Val Thorens isn't a small village off the beaten track, it still manages to retain tradition in its appearance (not a high-rise concrete jungle) and combines the best of skiing with the best of atmospheres. Although Val Thorens is a high-energy resort and you can throw yourself right in the middle of everything, you can still find accommodation in quieter areas within the resort which may be better suited to younger families or those appreciating more moments of calm.
Val Thorens is lucky enough to hold an exceptional position on a sunny, west-facing mountainside in the Tarentaise area of the Northern French Alps, boasting stunning views of over 1000 summits in the Alps (the 360 degree views from the top of the Cime Caron cable cable in Val Thorens are something else and can't be missed! Open to pedestrians too).
There is a varied choice of ski accommodation from the last word in luxury with their own spas and swimming pools to large standard self-catering apartments sleeping up to 18 people, plus cosy and more traditional hotels - all of which offer either doorstep, ski-in or ski-out skiing possibilities. It has something for all budgets, party size and demographics. 
Areas within Val Thorens...
The ski resort of Val Thorens is split up into 7 areas, the main 3 being Soleil, Péclet and Les Balcons. With skiing in mind and for your complete convenience, each area has its own amenities close by such as shops, restaurants/bars, ski hire shops, ESF ski school office/kindergarten and lift pass office – meaning that your chosen ski accommodation will never be too far from all the important amenities that you need during your ski holiday.
Les Balcons - has a mini-supermarket, restaurants and a ski hire shop. The ESF ski school and lift pass offices are a short 10-minute walk downhill (allow a little longer to walk back!)
Soleil - here you will find one of the main shopping centres, restaurants, ski hire shop, the main ESF ski school office/kindergarten and lift pass office
Péclet - the other shopping centre is located here, along with the ski hire shop, ESF ski school office/Kindergarten, lift pass office, restaurants and the main selection of après-ski bars
Read all about one of our loyal client's trip to Val Thorens in December with her family for Christmas.
Val Thorens ski area
Val Thorens is part of the 3 Valleys ski area (the largest ski area in the world), which many skiers rightly regard as the greatest intermediate ski playground in the world (but don't be put off if you are a beginner or total expert because Val Thorens literally has plenty of slopes for all levels and masses of free-ride and off-piste opportunities). This impressive lift-linked ski area is formed of 8 ski resorts:
Les 3 Vallées, as it's called in French, offers you over 600km of high altitude and snow-sure ski slopes (150km just in Val Thorens itself) - every ski enthusiast's dream! Amazing skiing can be had right from the beginning of the winter season in the Les 3 Vallées ski area and there is something for everyone - no matter what your style or ability. Renowned for its superb quality of snow and modern high-tech ski lift system which is ever-evolving, Val Thorens is a perfect ski resort for everyone.
The 3 Valleys benefit from excellent snow coverage - the minimum altitude level for skiing is 1300m (at Courchevel Le Praz) and the maximum is 3230m. This means that a huge 85% of the ski area is located above 1800m. The 3 Valleys offer wide ski runs that are maintained nightly by nearly 100 piste grooming machines. In Val Thorens you spend most of your time skiing at altitudes between 2300m and 3200m which is pretty exceptional.
As of winter 21/22, there is a new link between Orelle and Val Thorens which creates a new entry point from the Maurienne Valley (and Italy) to the 3 Vallées. For the first time in Val Thorens' history, the summit of Cime Caron at 3,200m will be directly accessible from Orelle thanks to the construction of two new cable cars called "Orelle" and "Orelle-Caron". It means visitors will be able to access Val Thorens directly from the motorway either on skis or by foot!
Additional ski fact info, main ski info in resort facts box at top of page (22/23):
Belleville ski pass area covers Val Thorens, Orelle, Les Menuires, St Martin de Belleville only - 300km of pistes
Val Thorens local area
150km, 28 lifts (13 chairlift, 10 gondola, 1 draglift, 4 carpet), 84 slopes:

Green slopes: 11
Blue slopes: 37
Red slopes: 29
Black slopes: 7
Val Thorens skiing info
Beginners
The large beginner's area is perfect for first-time and low-level skiers and boarders due to its wide slopes. The access is free, so you don't have to worry about investing in a lift pass until you are more comfortable on the snow. This is also where the ski lessons take place for beginners.
The 4 covered magic carpets lead to special ski areas just for beginners, not only making it convenient and easy for them to get to the ski slopes but also allowing them to progress at their own pace and gain confidence away from the more experienced and high-speed skiers.
Once you've mastered the beginner's area and feel ready for your first gentle green run, the Deux Lacs chairlift is the best to take. From the top turn left onto the slope Traversée des Deux Lacs. Here you can either turn left again down the Espace Junior slope or continue to the 'Chalet de Thorens' and take the Combe de Thorens – either route will take you back down to the 'Rond Point des Pistes' where all the lower beginner runs are that you would have practised on. These are the main green runs in Val Thorens.
Once you are ready to progress to blue slopes, the Cascades chairlift is usually the next step. At the top, turn right down the slope Dalles. Other easy blues are Gentiane, Linotte, Moraine, Blanchot and Plein Sud. If you want to get to the top of the mountain and ski down on a fairly easy blue, there's Tête Ronde, Niverolles and Pluviometre.
Always remember that the weather and snow conditions will vary the degree of difficulty of a run. Generally runs will be easier first thing in the morning as they have been groomed overnight. By the afternoon they may be less smooth with many bumpy areas created by the constant flow of skiers and boarders.
Intermediates
Val Thorens has some of the best intermediate terrain in the whole of Les 3 Vallées. By taking the big Péclet gondola to Péclet Glacier or heading to the 'Pointe de Thorens' you will find a great selection of red runs. And don't forget Val Thorens also offers great access to the rest of Les 3 Vallées, with blue and red runs that will take you down to explore Les Menuires and Méribel. 
The local slopes are great for the competent intermediate with fast lifts and red runs starting from high up. The red runs in the lower Boismint sector are excellent and it's usually quieter too (there are lots of easy off-piste adjacent as well).
Remember, that although Val Thorens is high it doesn't necessarily mean steep in all places. Val Thorens is very much an intermediates playground with an abundance of blue and red runs. The slopes are entirely open (and therefore exposed to the elements) except down in the lower Boismint sector where you will find a few trees.
Advanced, off-piste & ski touring
Val Thorens also offers some great runs for experts. The Cimes de Caron cable car will lead you to great black runs down the front of the mountain or down further into the Maurienne Valley. 
For those who want to try off-piste skiing for the very first time in Val Thorens, the Pierre Lory run is definitely the best. For the more adventurous off-piste skiers there is the famous Lac du Lou run, which has a challenging 1400m vertical drop.
Val Thorens together with the Belleville Valley and Les 3 Vallées are regarded as some of the top places in the French Alps for off-piste skiing. For many people off-piste is the very best of skiing and boarding: perfectly fresh powder snow; that tranquil feeling of solitude and pure freedom; away from the crowds, pistes and lifts; surrounded by real natural beauty – nothing beats it and Val Thorens has it all.
As always we highly recommend hiring a mountain guide or instructor to find the best possible off-piste skiing that Les Menuires and Les 3 Vallées have to offer, ensuring your safety along the way.
As of 21/22, there is a new secure and marked zone in the Borgne sector dedicated to ski touring. Without any ski lifts around and a departure from the "Plein Sud" sector, this ski touring zone is made up of one ascent slope, groomed and prepared, and two slopes to descend, one of which is unpisted. This new area is a place to discover or practice ski touring safely, in a natural but marked zone, far from the crowds. This natural space, accessible by the "Pionniers" or "Plein Sud" ski lifts, is perfect for groups to practice avalanche prevention and mountain safety training where they can learn how to use equipment such as avalanche detectors, probes and shovels. The zone will also be linked to the "Camille" slope, an existing ski touring route for those who want to extend and prolong their ascent.
First tracks: a hike up in ski touring gear to watch the sunrise and have breakfast higher up. As the French saying goes: the mountain belongs to he who gets up early Bookable in resort.
Val Thorens mountain fun zones
The Val Thorens' snow park is internationally recognized and rated by experts. Located at 2600m it boasts exceptional snow. The varied components of the park allow both beginners and professionals to improve and have fun on freestyle features adapted to their level. 'Shapers' also create different jumps every year to give everyone new ways to get aerial!

Take the Moutière chairlift at the base of the ski resort and then the Plateau draglift next to the snow park.
There is also the family snowpark. Normally, this snow park is situated in the 'Grand Fond' sector, but this winter it's been moved to a place that is more accessible for beginner skiers and boarders. The family slope will join the Junior Space and Funslope in between the 'Chalets du Thorens' and the slope crossing. This fun zone offers an exciting place to play for even the smallest of skiers!
Val Thorens nordic skiing
Locally, there are 4km of cross-country ski trails in Val Thorens. However, there are 130km of cross-country ski trails in the whole of Les 3 Vallées ski area.
Get closer to the summits and enjoy breath-taking scenery such as the Cime Caron with its 360° panoramic views of more than 1000 alpine peaks of the French, Italian and Swiss Alps or the Mont de la Chambre with its clear view of Mont Blanc. There are also various mountain restaurants along the way to stop for a bite to eat or a refreshing drink or two.
La Braiz is the highest cross-country skiing run in Les 3 Vallées! Starting near the Plan Bouchet lift which is at 2,350m, this 1km tour is ideal for those who want to discover the Orelle-Les 3 Vallées area in a different way and work on their fitness!  The trail is accessible with a pedestrian lift pass.
From Sunday to Friday there is a free inter-resort shuttle bus to take you from Val Thorens to St Martin de Belleville and Les Menuires. 
Val Thorens ski hire & lift passes (pre-bookable)
Pre-book your 6 day+ Val Thorens ski hire and/or Val Thorens lift pass with Peak Retreats.
To download the ski extras form see 'Helpful links' further down the page. Please note that prices are for indication only. They will fluctuate based on Euro/£ exchange rate. Please call us for the latest prices.
Other lift passes are available to buy in the resort such as half or full-day passes (for those who only wish to ski the odd day) or one-use lift passes for pedestrians. Some resorts also offer specific beginner area passes and cross country passes.
Val Thorens group ski school (pre-bookable)
Ski school for children is available to book from 3 years to 12 years (Piou Piou for 3/4 years), in Val Thorens, with Peak Retreats. Children can learn to snowboard from 7 years+.
To download the ski extras form see 'Helpful links' further down the page. Please note that prices are for indication only. They will fluctuate based on Euro/£ exchange rate. Please call us for the latest prices.
Val Thorens private lessons (pre-bookable)
In most resorts, we cannot pre-book private lessons, however in Val Thorens we can pre-book your private lessons for you! Minimum 3 days required, either in the morning, afternoon or a full day. Various group sizes available.
---
Val Thorens childcare (partly pre-bookable, age dependant)
Childcare from 3 months-17 months (non-skiers) - not pre-bookable
Val Thorens has acquired the Famille Plus label for its childcare facilities. Please view here for more information on the Famille Plus label.
Reception is at the Montana building, located at the bottom of the resort.
Please contact the ESF direct as we cannot pre-book 3 months - 17 months - 0033 4 79 00 02 86.
It is advisable to book before you go and in good time as spaces get filled quickly, especially in Peak times. A childhood vaccination record will be needed. 
Childcare from 18 months-36 months (non-skiers) - pre-bookable
However, we can pre-book the creche from 18-36 months.
Reception is at the Montana building, located at the bottom of the resort.
It is advisable to book before you go and in good time as spaces get filled quickly, especially in Peak times. A childhood vaccination record will be needed. 
---
Babysitters (not pre-bookable)
A list of babysitters is available from the tourist office.
Top snow activities to experience in Val Thorens
Please note Peak Retreats do not book any activities and most activities are payable therefore the below is just for information. More detailed information and how to book can be found on the tourist office website.
Val Thorens is not only just about skiing, the resort has more activities than you'll have time to try out on a single trip. And there's something for everyone: those in need of rest can relax in the open air during a dog sled run. Adrenaline junkies can fly down one of two ziplines. In short, whether you're with family, friends or your partner, you'll find something amazing to do when not on the slopes!
Bike activity for little ones - new for 22/23 season
Every Tuesday and Thursday during the French school holidays children can join the ESF, French ski school, on Place Caron for a new activity that's been designed especially for them: little bikes, but on skis! These clever devices on skis are the perfect way to first experience gliding on snow. The activity is open from children from 18 months to 5 years old.
Peclet by night
For those who love a sunset, the Péclet Funitel will stay open until 6.30pm from the start of February. Capture the magical sight of ski runs lit up by the last sunshine of the day with uninterrupted views over the ski area and resort. It's free for all valid ski pass holders.
Bouchet zipline
A Maurienne and Tarentaise valley link between Orelle and Val Thorens – but by air - which imitates the flight of an eagle. Length: 1,300m. Maximum height: 250m. Departure altitude: 3,230m (the highest point of 3 Vallées. Only accessible on skis or a snowboard.
Snowmobile
And what about discovering the snow-covered landscapes by night? Ride your snowmobile, alone or with a passenger and follow your guide on a tour. As you cross the unspoilt spaces, lit up solely by the light of the moon, nature reveals itself before your eyes, incessantly surprising you.
Pow surf
It's snowboarding without bindings where riders move and glide on the snow just as if they were surfing on water! Technique and balance is everything!
Ice diving
Embark on a wild adventure, just a short distance from the resort; a timeless journey beneath the frozen Lac du Lou. After putting on a waterproof drysuit and diving equipment (compressed neoprene drysuit, waterproof gloves, diving mask), it's time for 20 minutes of glacial exploration. Access the lake on snowshoes or cross country skis (40 minutes), followed by a 30-minute ice diving session supervised by our professional diving instructors (includes equipment briefing), then it's back to the resort on snowshoes or skis. Open to anyone aged 16 and over, even if you have never been diving before.
Sledge dogs
Come and experience unique sensations, led by professional mushers. Activity runs from Monday until Friday in the morning. The ride takes 30 minutes per session. They have two sledges which can start together and three sledges in February (please don't exceed 150kg per sledge.) This activity is open from 2 years old. They don't recommend for pregnant women.
Ice driving
Discover the highest ice-racing track in Europe. The Val Thorens Drivers' School wants to initiate you to a number of new sensations. Steering, counter-steering, braking….all the techniques are tried under the watchful eye of a trained professional. The Ice Driving Val Thorens welcomes you on the 'Alain Prost' ice-racing track of VT.
Buggy initiation on ice
An SSV (Side by Side Vehicle), better known as a "buggy", is a motorised vehicle that looks like a quad bike. You get to experience unique sensations driving an 800cc engine buggy on ice. The Ice Driving Val Thorens driving school provides initiation sessions on the main circuit. Two people can ride a buggy together.
Toboggan
Get ready for an incredible experience on a marked-out run in the heart of a magnificent natural valley. All the thrills of a toboggan run for everyone from 5 years old. The longest toboggan run in Europe – the CosmoJet. After an 8 minutes ascent using the Péclet Funitel, you arrive at the departure set at the foot of the magnificent Péclet glacier, at an altitude of 3,000 m. Then it's off for 45 minutes of excitement and sliding entertainment! Helmet provided within the cost. You can also try the evening run! And after all these emotions, the SETAM offers you mulled wine & local mountain Beaufort cheese at the Chalet Cosmojet. For daytime, meet at the Chalet Cosmojet, situated above the bottom of the Cascades chairlift, buy your tickets.
For evenings, be at the Chalet Cosmojet to collect your equipment. It is free for children between the age of 5 and 10 and under 1.25 m tall, on an adult's (above 18) sledge. Only children over 10 years old and over 1.25 m tall are allowed to use a sledge on their own. Children between 9 and 10 years old and over 1.25 m tall can use a sledge on their own if accompanied by an adult on another sledge. Only SETAM sledges are authorised on this run. Helmets and gloves are COMPULSORY for everyone. Don't forget that departure is at an altitude of 3,000m - dress warmly.
Smaller toboggan
For the over 2's, a free, safe and secure "Baby Fun" tobogganing area in the Place Caron at the middle of the resort awaits them. For the 6 – 10-year-olds, dedicated snowsports fans will love the new toboggan run measuring 250 metres in length over a 45-metre vertical drop and featuring a range of banked turns. You no longer need to climb back up to the top pulling your toboggan behind you thanks to the 2 free covered magic carpets located at the bottom of the slopes which let you get back to Place Caron without even breaking a sweat.
Snowtubing - new for 22/23 season
Pick up an inflatable ring for an exhilarating descent! The new snowtubing piste is next to the Campagnol magic carpet. Open to anyone over the age of nine years old and the ticket point is located at the departure of Cosmojet, next to the Campagnol magic carpet.
Snake gliss
Snake Gliss is an activity where up to 10 sledges are tied together, led by a professional instructor. The fun, thrilling activity involves a winding 45-minute descent from the top of the Funitel de Péclet. Fun and laughter guaranteed! 40 places available Monday to Friday. Meet at the Funitel de Péclet departure point. Rapid descent – participants should be physically fit. Equipment: helmet, gloves, après-ski boots and ski lift pass required.
Luge area "téléphérique
Cable car play area - for every kid who has dreamt to be behind the wheel of a cable car it is now possible for their dream to come true in a dedicated area...and as a bonus they will be able to slide on all the toboggans situated around the cable car. Located at the heart of the resort, on Place Caron, near Castor and Pollux magic carpet and the sledge run "Star toboggan run". Free.
Karting
The Ice Driving Val Thorens driving school gives you the opportunity to try ice karting. A 300-m long by 5-m wide ice run is specially set up for karting at the Alain Prost driving circuit centre. Ice karting sessions can be booked throughout the week.
Fat bike on snow
At an altitude of 3000 m, at the foot of the Péclet glacier, in the heart of a sumptuous high mountain decor, hurtle down the 700 m of height difference on the Tête Ronde blue slope. Accessible to sporty ones and experienced MTB riders every Wednesday, Thursday and Friday evening. Information and booking at the Chalet Toboggan, Rond-point des Pistes. Departure from the Funitel Péclet, 20 minutes before. All equipment is provided: bike, protections + accompaniment. Bike characteristics: hydraulic disc brakes, Huge downhill tyres.
Jump airbag
Do you want to learn new moves? Well, now you can do just that in total safety thanks to the airbag! The giant air cushion is the perfect solution if you want to learn or improve your freestyle skiing or snowboard technique. Free entertainment on Monday and Tuesday evenings. The Airbag is located next to 'Le Roc' drag lift at the Rond Point des Pistes.
Please note: All the above is for information only. For the most up-to-date activities including prices, please visit the resort tourist office website. All activities will be in local currency (€ Euros) and are bookable and payable locally in resort or directly online/by phone with the tourist office or activity supplier.
Val Thorens Tourist Office
www.valthorens.com
Top activities to experience in Val Thorens
Please note Peak Retreats do not book any activities and most activities are payable therefore the below is just for information. More detailed information and how to book can be found on the tourist office website.
Val Thorens as a whole offers a vast array of snow sports and non-skiing activities. There are too many to list in detail, but here are a few highlights.
'Le Board' sports centre - new for 22/23 season
The new sports and cultural centre that opens this winter is named after the snowboard-shaped roof. That rooftop offers more than 3,205m2 outside space with an unrivaled view of the ski area and that can host up to 3,000 people for all types of events.
Inside you will find:
More than 1,000m² of aquatic space with three pools, water games and a splash pad. There is also a wellness zone with tea room, sauna, hammam, hot tub, ice wall, cold water plunge pool, sensory showers, baths, a rest room and treatment rooms,
A 1,385m² multipurpose "arena" that can host sports events, musical shows, cultural events or professional activities. It is also convertible into courts for volleyball, table tennis, and badminton etc,
A fitness area with a room for classes and stretching. It includes treadmills, rowing machines, bikes, elliptical bikes and much more. Put in your headphones and warm up your muscles for a challenge that — as a bonus — comes with a great view,
A fun park with trampolines and an adventure course with slides. This is the ideal spot for stormy days, or to stay in shape, jump around and have fun with your children,
A space is dedicated to seminars and business events, with an auditorium seating 446 people and 12 break-out rooms. There's also a lounge space and a terrace with sweeping views of the mountains,
The new bus station will be integrated into the building and have a waiting room, baggage area and welcome point. It will allow a more fluid arrival of holidaymakers, helping them find their way to their accommodation easily. The bag drop will also be useful for people arriving early or leaving late.
Footpaths for walkers and snowshoers
Whether for adventure or meditation, walkers and hikers can enjoy the same high-mountain pleasures as skiers. A lot of trails for pedestrians and snowshoers, allowing them to discover Val Thorens from a new point of view. A detailed trail map is available for free at the Tourist Office.
Val Thorens market
Every Tuesday and Thursday during both winter and summer seasons. From 10am - 8pm in Place de l'Eglise - you can shop for local meats & cheeses, clothing, craft stalls, sweets, wine and local honey.
Ice skating
Located at 'Place Péclet' to discover the joy of skating on the 400m2 ice rink made from completely natural ice. There's also music and a light show. In order to provide guests the best possible
experience, La Patinoire also has a small chalet – a cozy spot to enjoy pancakes and hot chocolate with family or friends. Open for the entire season, from 15h to 21h, subject to weather
conditions.
Laser Quest in the P1 underground parking garage
Dressed from head to toe in protective gear and armed with laser guns, players face each other in a laser game at 2,300m. In the darkness of an underground parking garage, two teams will face
each other in a "real war" in a themed apocalyptic setting. 
Igloo Village - see details under 'Eating out, bars & shops' tab
Bee flying - double zip line
Fly two-by-two on la Bee! The double zip-line has a length of 1800m (65m above ski slopes) and a maximal flying height of 65m! Open every day. Open to pedestrians and skiers, meet at the top of the Moutière chairlift! Accessible to all from 14 years old and taller than 1.40m.
Air tubby
For non-skiers, settle yourself into a rubber ring, slide down the run and land gently on the airbag. Free entertainment on Monday and Tuesday evenings. The Airbag is located next to 'Le Roc' dag lift at the Rond Point des Pistes.
Bowling
The bowling alley features 8 child-friendly lanes (for ages 6 and over), two billiard rooms (American pool and snooker), one games room (for both kids and adults), a sports library, and a sports bar with a giant video screen. Open until 2am.
Helicopter
Fly over the most prestigious summits of the Alps piloted by an expert. 10 minutes of pure pleasure over the largest ski area in the world.
Paragliding
Beneath you, the Belleville Valley, facing the Mont Blanc is revealed. You will be led by state-qualified instructors. Departure from 3000m altitude for a descent of 650m.
Paramotor
A paramotor is a motorized paraglider that enables a pilot and passenger to climb in altitude and stay airborne for as long as they want. Enjoy an unforgettable aerial view as you soar above the valley at a comfortable speed of 35km/hr. Your pilot, Timothy Green, will tailor the flight to your sense of adventure, whether it be a smooth panoramic flight or an exhilarating acrobatic flight. Weather permitting, you can even fly over some of the summits and glaciers in the area to witness an amazing panoramic view of the Massifs de la Maurienne, the Tarentaise, the Vanoise all the way to the Mont Blanc and the Ecrins mountain ranges. To reserve your flight, please contact Ski Cool up to 3 days before the day you want to fly so they can double-check the weather to give you the best flight time and date possible.
Electric motor cross - new for 22/23 season
Evolution 2 launches an introduction to electric motocross with a new guided trip. Climb on — they are simple to use — and enjoy an adventure on the slopes of Val Thorens. The new Swedish electric motorbikes are automatic, so no need to change gear and there's no chance of stalling. Each person drives their own vehicle and there is no need for a specific driving license, although some motorbike experience is preferred.
Please note: All the above is for information only. For the most up-to-date activities including prices, please visit the resort tourist office website. All activities will be in local currency (€ Euros) and are bookable and payable locally in resort or directly online/by phone with the tourist office or activity supplier.
Val Thorens Tourist Office
www.valthorens.com
Val Thorens news & events
What's new for 2022/23 season:
Val Thorens will celebrate its 50th anniversary in 2022/2023 - so this winter and the next will mark a turning point in the resort's history and development - in particular the construction of a new and innovative sports centre which will open next winter. From spring 2019, Val Thorens' sports centre, has been undergoing a transformation including a new aqua and wellbeing area in addition to the existing one, renovation of the entire central area, shopping centre area revamp (now called 'Le Board'). More details in the 'Other activities' tab
A new fun zone in space - the fun zones in Val Thorens are the ideal place to ski together as a family. This season they have been redesigned to allow children and beginners to progress their skills in a fun way. Because of its height and closeness to the stars Val Thorens has always been linked with a moon theme, but now beginner skiers can go into space, discovering the cosmos and moon. This winter you can find Valthy, the Val Thorens mascot, and his friends (Abby the bee, Chamy the chamois and Foxy the fox) on two new slopes and fun zones: the new space slope and the "Expérience spatiale". And that's not all. Your space adventure will continue throughout the resort, with family games on the slopes and in the village. More details in the 'Mountain fun zones' tab
A new picnic zone - once all these space adventures are over, astronauts can reward themselves with a well-deserved break in the new chilled picnic zone with lounge chairs, bean bags and tables to eat or sit down for a minute. And of course, there's a wonderful view of the surrounding mountains
Snowtubing in Val Thorens - for over 9 years old. More details in the 'Snow activities' tab
Electric motocross - More details in the 'Other activities' tab
Bike activity for the little ones - More details in the 'Snow activities' tab
Events taking place in the 2022/23 season:
Val Thorens will host the World Cup Ski Mountaineering on 25-27 November 2022 - last season, Val Thorens hosted two stages of the French Cup Ski Mountaineering, for the first time. That was just an appetizer because this season the best French climbers will meet again in Europe's highest ski resort, this time for a stage of the World Cup Ski Mountaineering. It has just been designated as an Olympic discipline and will feature at the Milan-Cortina d'Ampezzo Winter Olympics in 2026.
Check the Val Thorens tourist office website for more exciting news: www.valthorens.com
Val Thorens après-ski, restaurants & bars
Over 60 restaurants including 11 slopeside restaurants and a Michelin starred restaurant, over 40 bars and various nightclubs.
If you want it, Val Thorens guarantees lively après-ski! With tonnes of choice, you will certainly not go short of places to drink or eat. There is a mixture of traditional, cosmopolitan, lively and chilled-out bars plus various nightclubs/bars for party animals open until the early hours of the morning (most of which can be found in the Péclet area of the resort on Rue de Gébroulaz).
The wide range of great dining establishments include local Savoyarde specialities such as fondue, raclette and pierrade, French cuisine, Thai, Italian, Scandinavian, American, Steak, pizza....something for every taste bud and every pocket!
Val Thorens' first 95% organic delicatessen, Red Square, opened in 2019 and offers fresh products from artisans and local producers, as well as a wine cellar and quality spirits, with a wide selection of top-of-the-range products stocked. Packed lunches and sushi available to order.
Why not try the famous Folie Douce in Val Thorens for a different kind of dance scene. This branch of the Folie Douce opened in 2009, introducing the chain's trademark Austrian-style afternoon party scene. You will find 7 other Folie Douce in the French Alps - Val d'Isere in 1976, Meribel in 2012, Alpe d'Huez in 2013, St Gervais/Megeve in 2014, Chamonix and Avoriaz in 2018, Les Arcs in 2019. Val Thorens FD is accessible to everyone (minors accompanied by their parents). Only those over 18 are allowed on the main terrace from 2pm until closing. Access via ski. Pedestrian access: by Pioneer chairlift for La Fruitière Restaurant only by reservation. Ski back to the centre until the slopes close at 5pm. Last chairlift departure for Méribel, Les Menuires and Courchevel at 4.30pm. Pedestrians: no return by chairlift. Pedestrians must wait for the slopes to close at 5pm and descend on foot accompanied by our security team (20 mins descent). Bring snow shoes! La Fruitière pedestrian customers are invited to wait until 5pm and the radtrack will take them down to Parking P0.
Another great addition is the Igloo Village. The highest of its kind in Europe, it offers an unforgettably cool experience - a living and fun space made from snow and ice. The amazing grotto promises to take people of all ages into a spectacular magical frozen world where they can eat, drink, sleep and play. Set on the Combe de Thorens green slope, the Igloo Village can be reached on skis or by foot. The outdoor terrace is the perfect place to take a break between ski descents or to soak up amazing views over the resort. Covering an area of 150m2, it houses several different zones:
A 50m2 Ice Bar.

Open every day from 10am to 5pm, guests can choose from a large selection of drinks and admire the snow and ice sculptures

A 35m2 restaurant

. Visitors can enjoy an authentic Savoyard fondue all snuggled up in warm blankets. The Igloo Village is open every Wednesday evening for dinner. The €49 set menu includes a fondue and platter of cured meat, as well as wine and dessert.

Booking is required

A specially designed area to

host events and business conferences

.

Bedrooms carved from ice

. Chill out for a super cool night like no other! There are two rooms
available

New 21/22, an ice cave of 150m2 has been added

. It contains about 20 ice sculptures which have a pirate theme. €2 for access. 
There are various Michelin starred restaurants in Val Thorens that serve the most delicious and beautifully presented food. Les Explorateurs at the Pashmina hotel has 1 Michelin star and Restaurant Jean Sulpice within L'Oxalys residence, at the entrance to the resort, awarded with 2 Michelin Stars! 
A few other interesting bars and restaurants include Wild & Savage which houses a bar, tattoo parlour and streetwear under one roof, Le Chalet 360 which offers a packed dance programme throughout the season– including the JBL Snow Party and Afrojack concerts and more!
There are various nightclubs opening until the early hours of the morning including the famous Malaysia club which is situated underground.
---
Val Thorens amenities
Val Thorens has everything you would expect to find in a modern ski resort. The comprehensive selection of shops & services are spread throughout the ski resort but most are housed in the two shopping centres: Galerie Commerciale de Caron and Galerie Commerciale de Péclet. Here you will find supermarkets, convenience stores, newsagents, butchers, local & regional products, decorative household items, bakeries, medical centres, pharmacy, dentist, physiotherapists, post office, banks, launderettes, dry cleaners, hairdressers, clothing stores, jewellery, perfume, souvenir, photo & sport shops. Pretty much most things!
Supermarkets
There are various supermarkets across the resort - Sherpa, Supertte, Spar, Carrefour - about 10! Most open around 7.30 and close around 8/8.30pm.
Getting to Val Thorens, France
By road:
Our holidays include a return FlexiPlus Eurotunnel. Accommodation only and ferries can also be arranged. Once in France, the driving distance from Calais is roughly 590 miles, approximately 9 hrs. 
From Calais, take A26 Motorway to Reims and Troyes, A5 Motorway to Dijon, A39 Motorway to Lons-le-Saulnier/Bourg-en-Bresse, A40-A42 Motorway heading towards Lyon, N504 towards Chambéry, A43 Motorway, A430 Motorway to Albertville, N90 to Moûtiers & D117 following signs to Les Menuires/Val Thorens/Vallée des Belleville (sharp climbing starts here). Drive through Les Menuires following signs to Val Thorens. Do not follow GPS via St Laurent de La Côte as the D96 road is not safe in winter!
Listen to Autoroute FM (107.7 FM) for traffic news in English.
By air:
4 international airports nearby, and a heliport at the foot of the slopes. See our flying page for information on airlines (however we don't book flights).

Chambery Savoie Mont Blanc Airport to Val Thorens is roughly 75 miles, approximately 1hr 30
Lyon-Saint Exupery Airport to Val Thorens is roughly 123 miles, approximately 2hrs 30
Geneva Airport to Val Thorens is roughly 125 miles, approximately 2hrs 30
Grenoble Alpes Isere Airport to Val Thorens is roughly 124 miles, approximately 2hrs 30 mins
By rail:
Take the Eurostar from London St Pancras (or Ashford, Kent). See our train services page for more information. The nearest train station to Val Thorens is roughly 23 miles away in Moûtiers.
Private taxi transfers:
Private taxi transfers from airports and train stations are pre-bookable with Peak Retreats. See our airport & station transfers page for more information.
Bus transfers:
Altibus/Bens Bus/Snow bus (and the likes of) offer shared bus lines from French/Swiss airports and some SNCF train stations to ski resorts. We don't book these (or have any affiliation with), we invite you to do your own research.
Resort shuttle bus:
Although Val Thorens is quite compact and it is usually possible to walk to where you want to go, there is a free shuttle bus service that runs throughout the resort every day from 8am-8pm.
There are also shuttle buses from Val Thorens to Les Menuires then onto St Martin de Belleville. Usually these are for pedestrian and nordic skiers but check at the tourist office.
Resort parking:
For your security and comfort, Val Thorens is a semi-pedestrian ski resort, meaning you can drive through the resort and unload your luggage at your chosen apartment or hotel and then you must park your vehicle in the residence's car park or one of the public car parks in the resort, run by Valthoparc. You can pre-book via their website www.valthoparc.com. You are not allowed to leave your car parked in the street.
There are 3 covered car parks: P0: Rue de la Boucle, P1: Grand Rue & P2: Rue du Soleil. Outdoor parking is also available.
---
Val Thorens/Orelle opening dates
Val Thorens is open 19/11/22 - 08/05/23