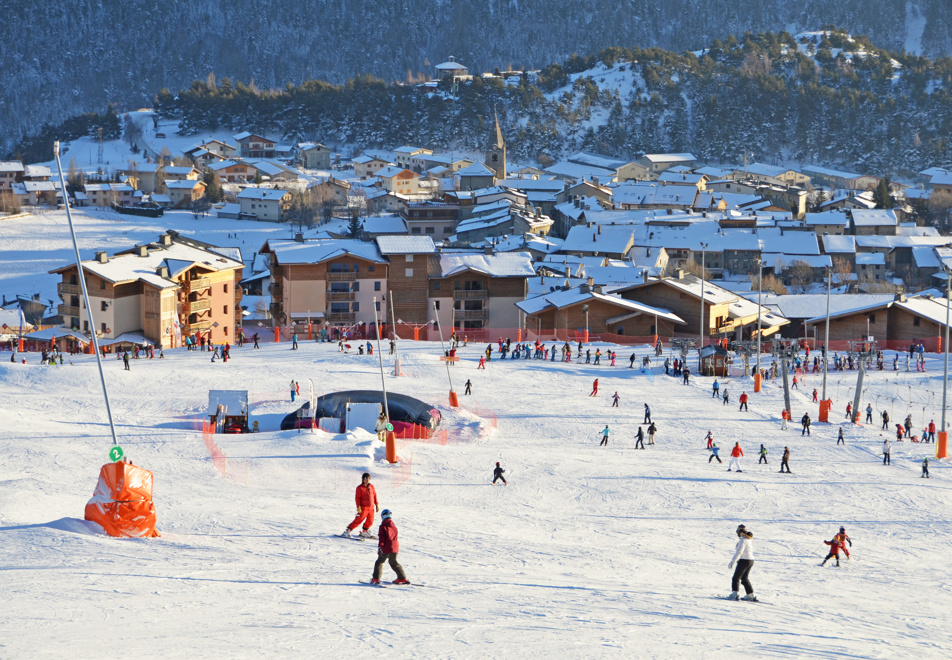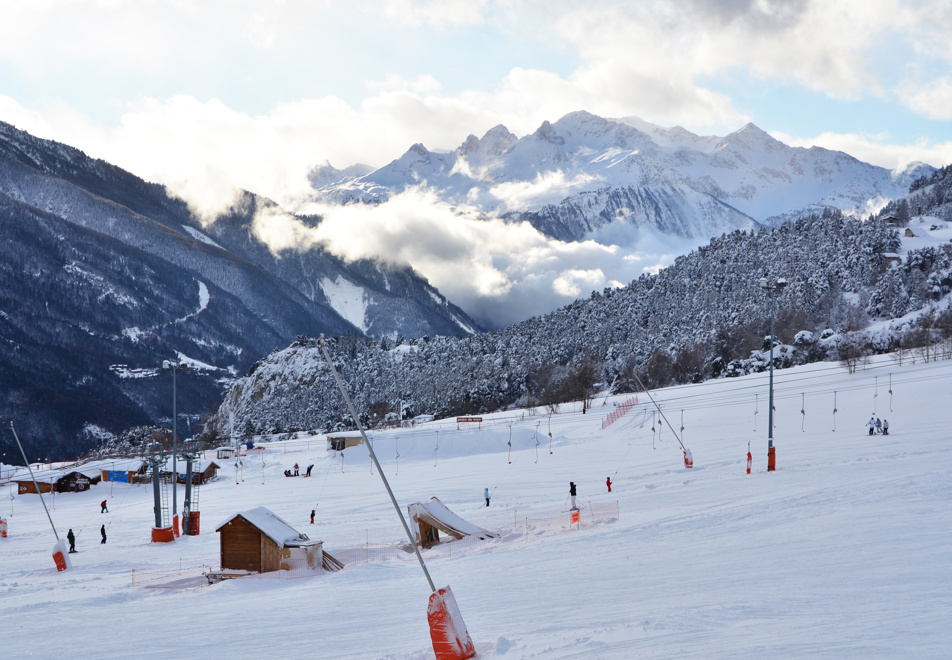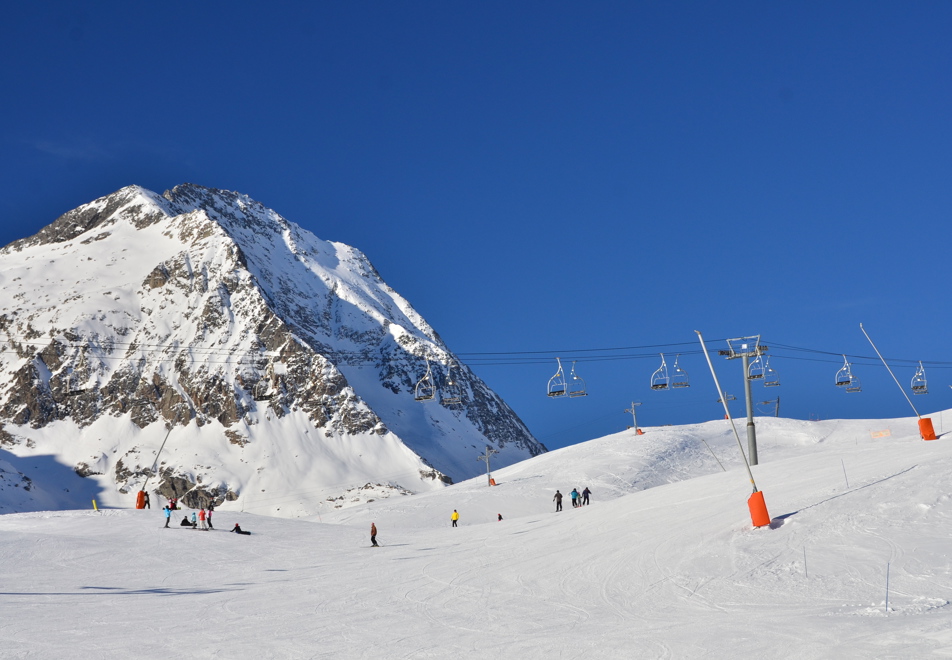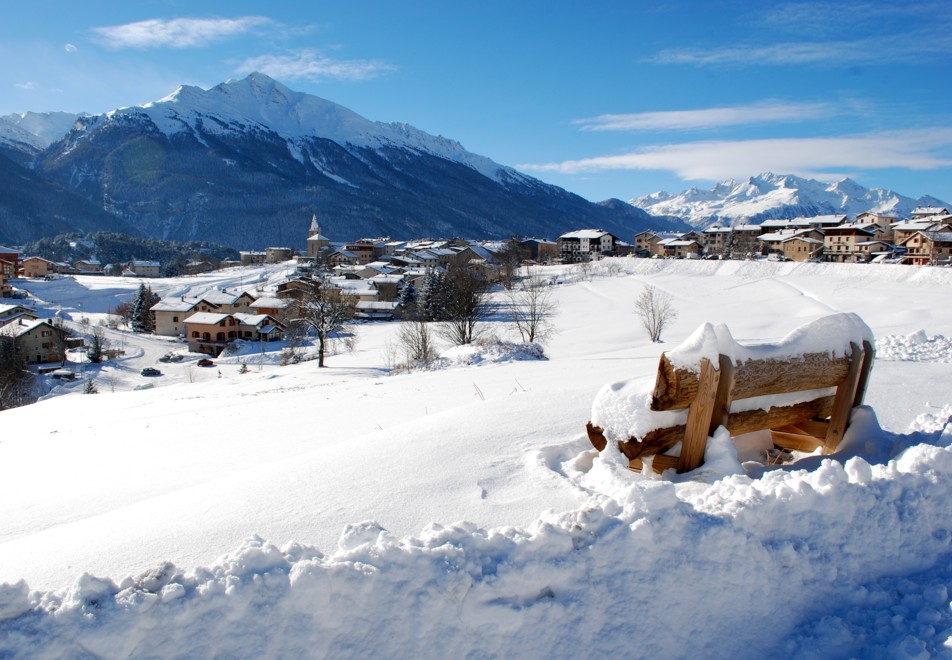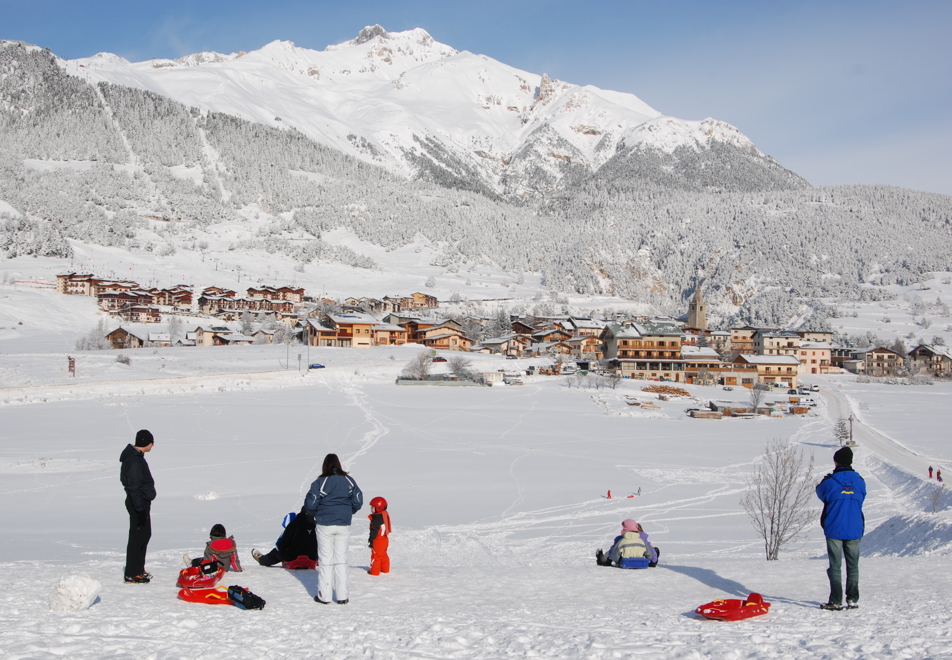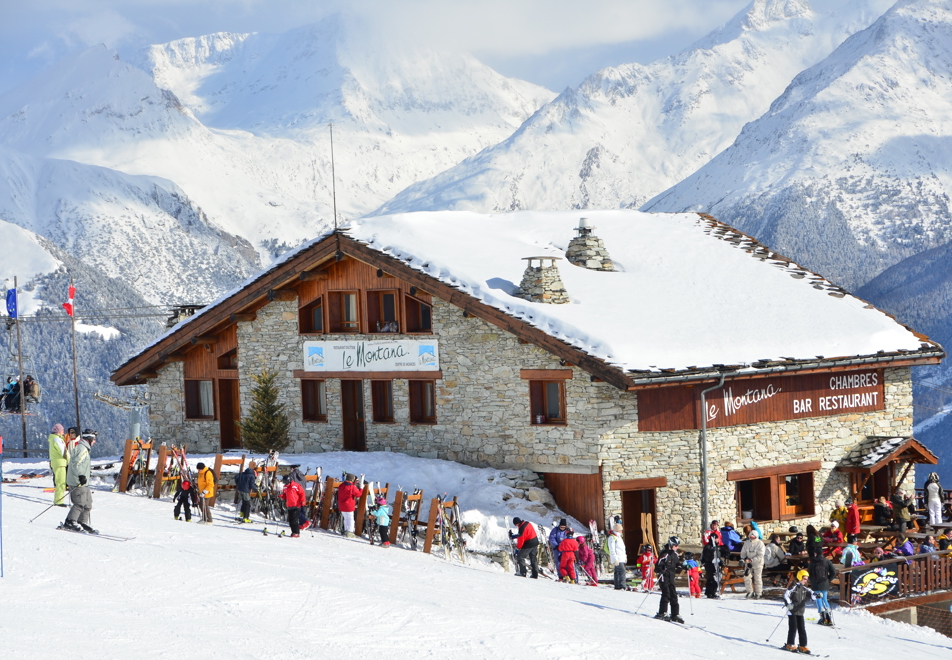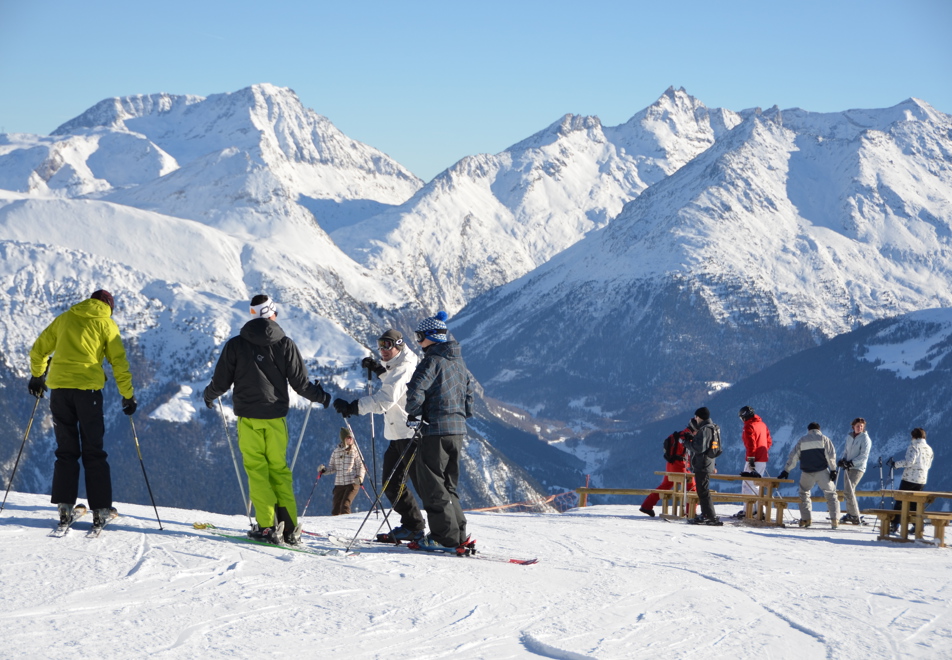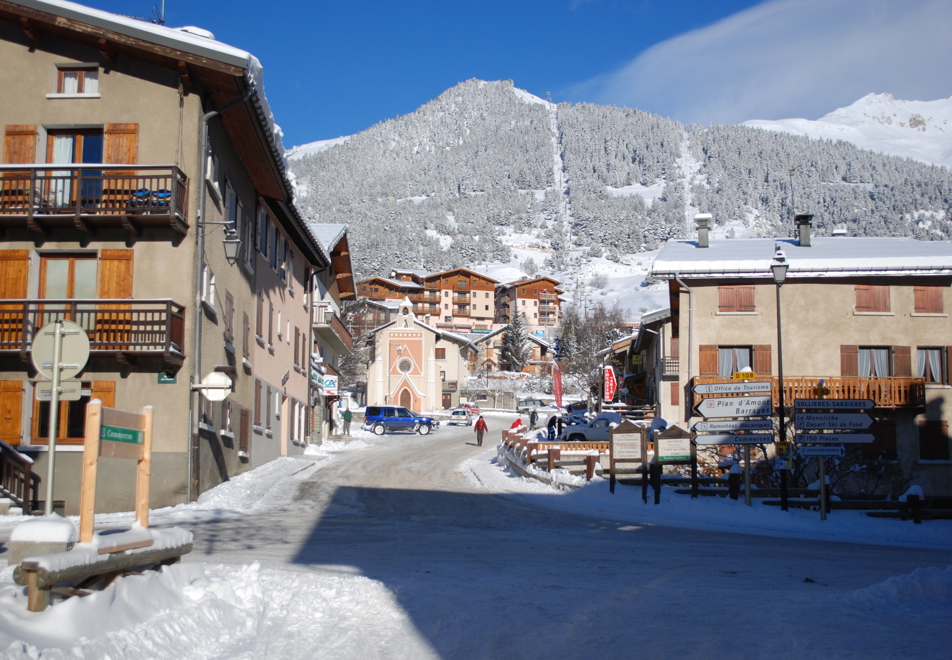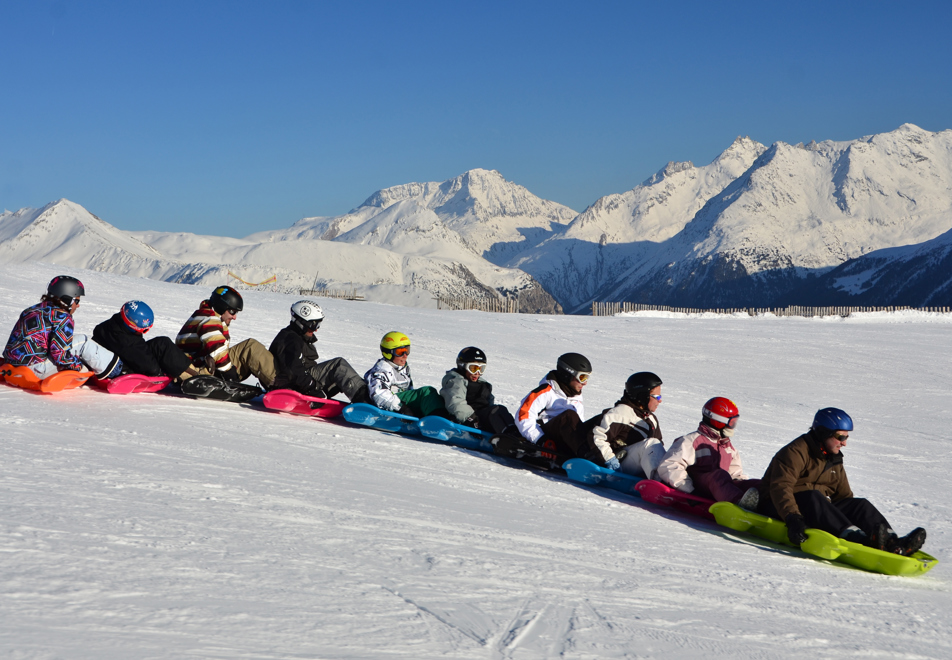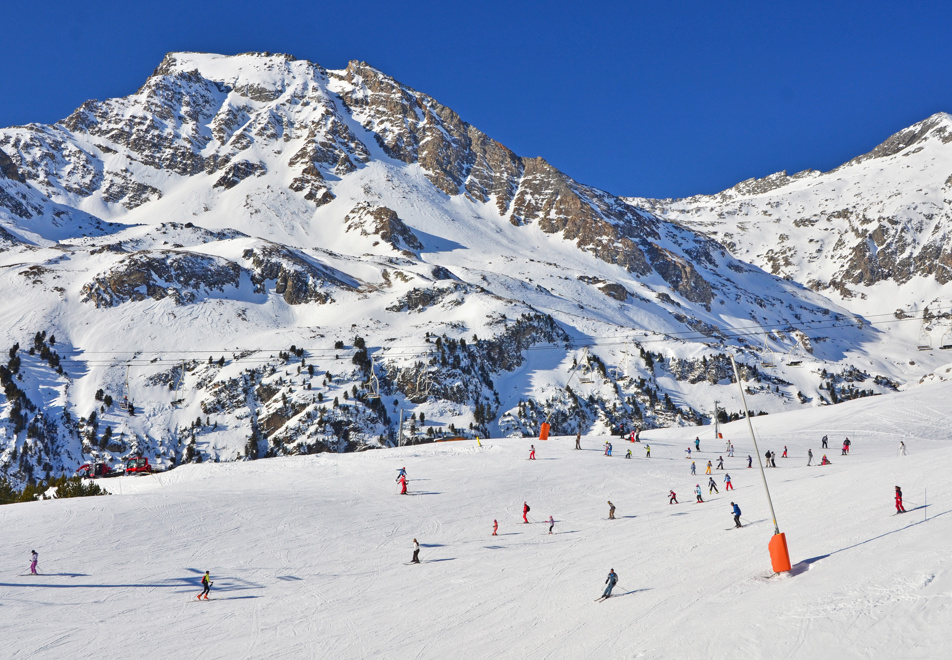 Thinking of skiing in Aussois? Aussois is an enchanting and sunny ski resort with plenty of history and a great atmosphere for a memorable family ski holiday.
Why Aussois (Maurienne Valley) Ski Resort?
It's a traditional, peaceful and uncrowded village with fair altitude – great value for money
It's in a superb setting on the edge of the Parc National de la Vanoise
Easy access to other resorts – Orelle, the back door into the Trois Vallées – is a 20-minute drive away.
There's a wide choice of non-skiing activities and entertainment
Need more reasons to visit Aussois? Read our blog 'Why Ski Aussois?'
Aussois Resort Information
Aussois is a charming and easily accessible resort situated on a wide, sunny plateau at the foot of the 3697m Dent Parrachée in the Maurienne Valley.
This historic village with its traditional stone-and-slate houses, shared in winter by man and beast, is built around the central 'place' or square with its fountain and communal oven.
Despite concessions to modern tourism, Aussois has managed to retain its traditional appeal and makes an ideal base for anyone wanting to combine a ski holiday with the ambience of timeless, rural France.  The colourful Tuesday market in Aussois offers mouth-watering local specialities such as goats' cheese and home-made bilberry tart.
The auto route and the TGV station (four hours by train from Paris) are only a ten-minute drive from Aussois.
Non-skiing activities in Aussois include snow-shoeing, wildlife safaris, paragliding, and ice-climbing. Explore the surrounding plateau by dog-sled or try tubing – tobogganing on mini inflatable rafts. Don't miss a visit to the Fort Marie-Christine esseillon forts, one of a chain of 19th century military fortifications along the mountain range here that has been converted into a gourmet restaurant.
Peak Retreats offers a range of Aussois accommodation options. All our ski apartments are hand-picked and provide an ideal base for an Aussois ski holiday.
AUSSOIS SKI AREA
Aussois is a great family resort. It has 10 lifts serving 55km of piste and is best suited to beginners and intermediates looking for easing cruising runs amid spectacular scenery. However, experts will find something for them too. Usually, the lift pass company allow you to ski 1 day in La Norma, Valfréjus and Val Cenis with purchase of a 6+ day pass.
Although there aren't a large number of pistes, the 1250m (4,100ft) of vertical drop from top to bottom and the varied terrain provide considerable diversity. The slopes are especially suited to beginners and low intermediates, but high intermediates will find red runs to hurl themselves down - and some black runs too.
Every Thursday evening from 9-10pm Aussois has night skiing - opposite the Flocons d'Argent apartments.
AUSSOIS SKIING
AUSSOIS BEGINNERS
Beginner skiers have a good choice of slopes right by the village. There are a couple of nursery slopes served by some draglifts and some longer green runs, and a blue piste from the top of the main lift. 
AUSSOIS INTERMEDIATES
Above 2150m there are mainly red slopes with a few blue ones too.
AUSSOIS EXPERTS
Experts have a good choice of red slopes above 2150m and a few black runs too. There's a long black trail from 2750m called Balmes which takes you back down to village at 1500m (although the last section links up with a green run).
AUSSOIS OFF-PISTE
Off-piste enthusiasts can ski powder snow at 3000m (at the Col des Hauts or Pointe du Fréjus). A one-hour hike opens up 1700m of descent.
AUSSOIS RESORT RUNS
The resorts runs are green, blue, red or black (although the final section of the black run turns into a green) so there's no need to catch the chairlift down at end of the day.   
Aussois Ski Hire
Pre-book your Aussois ski hire with Peak Retreats.
Please note, these Pound Sterling prices are for indication only. They will fluctuate based on Euro/£ exchange rate. Please call us for the latest prices.
Special offers: *7 days for the price of 6.  Free Skis/snowboard & boots (Blue/Red) for party leaders of groups of 10 or more all taking equipment. 1 Free helmet per child aged 6 and under for every adult booking skis or snowboards & boots (must be under same booking reference and requested on form above). Other duration prices on request - Cross Country ski prices on request.
Find out more about Peak Retreats ski hire
Aussois Ski Passes
Pre-book your Aussois lift passes with Peak Retreats. Find out more about Peak Retreats ski passes
Please note, these Pound Sterling prices are for indication only. They will fluctuate based on Euro/£ exchange rate. Please call us for the latest prices.
Special lift pass EASTER OFFER: from 23/03/19, 1 Adult pass bought = 1 FREE CHILD PASS
Must be booked at least 2 weeks before departure.
Other lift pass on offer (to buy locally in resort in Euros):
For complete beginners 18/19 prices (adults and children):
"Beginner" pass – covers Charriere and Muliniere draglifts: €11.50/day
Aussois ski pass – ½ day and daily rates 18/19 prices:
½ day - €23 children, €28 adults
Day - €26 children, €31 adults
ACCESS "pedestrian" 18/19 prices:
(accessible to people who don't have any ski equipment
To discover the summits with an incredible panorama at 2 610m or to reach mountain restaurants:

Gran jeu + Armoise (pass 1 day) € 9 
**Interstation shuttles to nearly resorts
Tuesday - Valfrejus
Departure Maison d'Aussois at 9.45am - arrival at Valfréjus at 10.30am, departure Valfréjus at 5.45pm - arrival at Maison d'Aussois at 6.30pm
Wednesday - La Norma
Departure Maison d'Aussois at 9.15am - arrival at La Norma at 9.45am, departure La Norma at 5.30pm - arrival at Maison d'Aussois at 6.00pm
Thursday - Val Cenis Vanoise
Departure Maison d'Aussois at 8.45am - arrival at Val-Cenis at 9.15am, depart Val-Cenis at 5.15pm - arrival at Maison d'Aussois at 5.45pm
Reservation day before, before 12pm.
€10 per person - minimum 5 persons if no a holder of Eski-Mo pass. Free if holder of Eski-Mo pass (no minimum persons).
Ski in Val Thorens and the 3 Valleys via Orelle
Each Wednesday there is a shuttle running from Aussois to Orelle 17kms away (minimum 15 persons for it to run) for €10 per person. Orelle has a gondola that takes you into the back of Val Thorens. You will need to purchase a lift pass for this area in addition to the shuttle fee. There is usually a discounted fee you can pay, ask at the Aussois lift pass office. Departure Maison d'Aussois at 9.15am - return departure from Orelle at 5.30pm. Supplement to pay for ski pass - €31.50 for Val Thorens, €26.20 for Vallee de Belleville and €36 for 3 Valleys.
Aussois Ski School
Pre-book your Aussois ESF ski school with Peak Retreats. Find out more about Peak Retreats ski school
Ski school for children is available to book from 3 years to 11 years, in Aussois, with Peak Retreats. 3-4 year olds will go into the Piou Piou lessons.
Please note, these Pound Sterling prices are for indication only. They will fluctuate based on Euro/£ exchange rate. Please call us for the latest prices.
Ski School: Please note that lesson times are subject to change right until the last minute. Outside French school holidays the ski school reserves the right to cancel group lessons should numbers be insufficient. For peak periods (22/12-4/1, 9/2-8/3 & 6/4-26/4) we strongly recommend that you book as early as possible and in any case at least 6 weeks prior to the required dates. Morning lessons tend to get booked up first and therefore we may only be able to offer afternoon classes within 6 weeks of departure. In some resorts English speaking instructors may not always be available, particularly at peak times.
We cannot always guarantee that prices will be cheaper than in resort. When ski packs prices are calculated, the currency is bought at the exchange rates that apply at the time. You can be assured that once you have booked your extras, if the pound depreciates, you will not be charged more for your ski packs, enabling you to budget for your holiday in advance.
Aussois Individual Tuitions 
(18/19 prices, NOT pre-bookable)
Individual tuitions can only be purchased directly from the ski school. Peak Retreats cannot pre-book these.
From €43 per hour for 1-2 people.
Please note that prices are only an indication and are subject to change.
Ski school Aussois contact numbers for private lessons:
Aussois ESF: 0033 479 20 37 13
Aussois Child Care
Aussois has acquired the Famille Plus label for its childcare facilities. Please view here for more information on the Famille Plus label.
The day care center "Maisons des Enfants" - NEW 2015/16
Open from 19th December 2015 - 1st April 2016
Only in winter, children from 3 months to 12 years. It is open from Sunday to Friday, from 8.15 am to 5.30 pm.

Half-days mini and maxi have to be absolutely booked 24 hours in advance. Lunch have to be provided by the parents.
Prices 2015/2016:

One hour : 11€
Day without meal : 49€
Day with meal : 59€
Half day without meal or snack : from 25€
6 x half day : 125€
10 meals : 80€


Not pre-bookable through Peak Retreats
Tel: Maison des Enfants +33 4 79 20 22 93
Reservation obligatory 24hrs in advance.
Several entertainments take place there during the day and in the evening (torchlight descents, night-ski, evening "the Big North", brass bands, Carnival, race of the "Ptits Loups"...)
For an easier and faster access with babies, take advantage of the free shuttle provided you with every day during the winter season. The village center is a pedestrian area and invites you discovering the local patrimony.
This natural snow front benefits from some arragements dedicated specially to the children: 
•2 skilifts for beginners for a progressive learning of slide with green slopes of few difference in height,
•kinder garden of the french ski school
•a safety sledge area
•a game area, reserved to children from 2 to 6, where the youngests can play and make "châteaux of snow" (loan of buckets and shovels at the welcome desk into the Maison d'Aussois), snowmen, snowball fights...
•a contemplative area (loan of deckchairs at the welcome desk into the Maison d'Aussois), with tables, for a picnic in the sun or simply a short break. Completed also for the parents who can follow the progress of their children on tracks and wait quietly for the end of the lessons to congratulate them,
•an easy access for the strollers
You want to follow your kids on the slopes but you don't ski? Try the taxi-ski, as you will enjoy with them the pleasure of skiing
Aussois Resort Activities
Aussois Snow tubing
A sort of inflatable raft, takes place inside the village on the track of Dotta under the church.
After a lift along a rope tow, two slides with real banked curves are available for maximum pleasure and sensations.
Daytime and evening With family or friends, please discover this new sport!
Open every day except Saturday from 16h to 20h
Aussois Yooner and Snowscoot
The Yooner is a gliding on which one sits down and allowing the tracks taken by the edging.
This new activity, derived from the "paret", once used in Haute-Savoie, is for all sports enthusiasts and those for which the balance standing on one or two boards is delicate...
- to take the lifts, the users of yooner are considered as pedestrian (with the yooner on hand).
They could take the chairlifts open to pedestrian with a ski pass for skier or pedestrian.
Lifts accessible:  Gran Jeu chairlift, Côtes chailift, Armoise chairlift.
Yooner rental in the sport shops of the resort.
The snowscoot is a downhill sport which is practised in the same environment as skiing. It is composed of a frame, two boards similar to boards, a fork and a handle to guide the front board. The rear board is attached to the frame. In demonstration on the snowpark of Bardonnechia during the Jeux Olympiques of Torino in 2006, we find today users of snwscoot everywhere.
- To practise snowscoot, you have to buy a ski pass.
- Snowscoot rental in the sport shops of the resort.
Aussois Snake Gliss
The Sport shop Léon Sports (Twinner - By Air - Snake Gliss) offers a new activity in Aussois:
The SNAKE GLISS: a train of sleds (10 max) for unforgettable downhill rides and thrills!
2 course test, supervised by a professional
Discovery tour: 500 m descent (children from 12 years)
Sports experience: 1 150m descent (children from 16 years)
Ski pass or ticket for pedestrian and gloves/helmet mandatory
Reservation required with Léon Sports (opposite the lifts)
Phone: 0033 479 203 167
http://www.snake-gliss.com/stations/aussois.php (see for video)
Aussois Big Air Bag
Beginners or experienced, the structure is ideal for making jumps safely regardless of its receipt. Just do it... and have fun!
The BIG AIR BAG is a variation of fall cushion used in the professional world of acrobatics. It is behind a springboard for the snow fall is cushioned. The board is suitable for children and beginners.
AIR TUBBY - sit in a buoy, let you slide... and land smoothly on the big air bag!
Compulsory parents authorization for children under 12.
Mandatory helmet (on loan).
Aussois Dogsledging
'Husky Adventure' organizes dogsledging outings, learn to become a musher, go on raids or 'Croc Blanc' tours: a foretaste of the distant north in Vanoise. Information and reservations: Husky Adventure, Christophe Caron Tel/Fax +33 479 20 41 24
http://www.husky-adventure.net
CARON Christophe
0033 (0)670 807 278
Email: husky-adventure@wanadoo.fr
Aussois Via Ferrata
(Half-way between climbing and walking, a high sensations activity accessible to all – With 6 stages and a total length of 3460m Via ferrata du Diable is the longest in France. Definitely worth a try if you have what it takes? The total course around the stunning Esseillon forts takes 6 to 8 hours.
Information and enrolment: MOUNTAIN GUIDES - 73500 AUSSOIS
Tel +33 479 20 32 48 – Fax +33 4 79 20 31 16 
Aussois Toboganning
"Front neige" sledge run
This run is ideal for babies. It is located down the slopes next to the beginners lifts, the ski schools, the kindergartens, the playground, the shuttle...
Its assets:
* two runs, one is reserved for babies aged 2 to 6 years
* a South exposure
* low difference in height
* a space defined, maintained and secured
* a night light once a week
You will find for rent in each sports shops of the resorts.
  
Toboggan run "Marie-Christine"
Free field located at the exit of the village next to the Esseillon fortifications.
Its assets:
* a long run ending with an ascending curve that allows a graceful shutdown
* a large snow-covered field where everyone has a place
* a clear view
* all ages take a real pleasure
* a quiet landscaped banks
Aussois Devils Park
Adventure and cultural park among trees.
The Angel's Tyrolienne (zip wire): the highest of the region, 200m long and 150m high. Thrills guaranteed! Zip wire over a gorge!
Giant tyrolienne
Phone: 0033 (0) 6 28 23 38 47
Parc du Diable
La Place 73500 Aussois
On request in winter.
Aussois Parapente
Take off and land on skis!
Roll over the ski area with a professional and experienced pilot in safety and with passion.
Philippe HAMICHI
Phone: 0033 684 366 781
Information and booking from the sports shop LEON SPORTS (at the foot of the slopes).
Aussois Ulm (microlight)
New in Aussois! Every day with good weather.
Access for pedestrian and skiers back to the ESF kindergarden, on the left of the piste de la Mulinière.
Information and booking: 0033 608 373 935 - Jean-Baptiste Buttard
Aussois Snowshoeing
Observe the chamois and the wild scenery ...
Information and enrolment: MOUNTAIN GUIDES - 73500 AUSSOIS
Tel +33 479 20 32 48 - Fax +33 479 20 31 16
Aussois Indoor Climbing Wall
An artificial climbing indoor structure of 64m² is available to each one wants to climb. The access is free, ready for the key (on bail of € 50) to the Maison d'Aussois.
You don't need special equipment because the height is about 2.50m and thick mattresses ensure you receiving if you fall. You will be asked to keep the room clean and if possible, to climb with climbing shoes or footwear. Unaccompanied children of adults will be denied access to the room.
Local Markets
The market takes place every Tuesday morning on the street Plan Champ in direction of Sardières.
The Esseillon fortifications
Built by the Piedmont-Sardinia Kingdom between 1817 and 1834 to protect from French invasions, the Esseillon forts are listed "Monuments historiques". Building forts began in 1820 during the reign of Charles-Félix, thanks to the war indemnity levied in 1815, was completed in 1833. The place includes 5 forts which have the name of the royal family of Piedmont-Sardinia who ruled on the Savoie from 1811 to 1860.
Fort MARIE-CHRISTINE
Entirely restored, this fort with its hexagonal yard, have the name of the wife of Charles-Félix.
It is today, a gîte d'étape, holiday center, refuge-gate of the Vanoise National Park and a restaurant.
It can be visited (for the part that is outside the lodgings) all year round and is accessible by car.
Fort CHARLES-ALBERT
Charles-Albert was the king from 1831 to 1849. He abdicated in favor of his son: Victor-Emmanuel II.
Construction began in 1831, it only remains of this building two small buildings of garrison and base of a tower. A long gap was linking it to the fort Marie-Christine to prevent attacks from the village of Aussois. It can't be visited but it is the departure point of the path "Sentier des Bâtisseurs".
Fort CHARLES-FELIX
Born in Torino in 1765, he was king from 1821 to 1831. He is the brother and successor of Victor-Emmanuel 1st.
The fort was commissioned 1827, it has the shape of a star and is much smaller  (garrison of 150 men), but has huge walls. Locally called "the demolished fort", Charles-Félix was destroyed under Napoléon III,when Savoie was attached to France in 1860. Being in very bad repair, visiting the fort is not recommended for your safety. The fort and its romantic setting should be admired from the road.
Fort VICTOR-EMMANUEL 1er
Born in Torino in 1759, he was king from 1802 to 1821. Main fort, it was built to accommodate a garrison of 1500 men. Organized as a real place of life, it includes a chapel, an hospital and a penitentiary. Great site of the department and site of regional interest, this building is now part of an important programme of renovation. Covering the roofs with lauzes has given the fort its former aspect. Since summer 2010, a "Promenade Savoyarde de Découverte" takes you in 1841 in the footsteps of a soldier stationed in garrison at the fort, then called "the fort of the Point of the Day"
Redoute MARIE-THERESE
Marie-Thérèse was the wife of Victor-Emmanuel 1st. This fort, in the shape of a horseshoe, was to prohibit the passage of theroyal road of the Mont-Cenis. Completed in 1825, blocking the route to Italy, it contained twenty cannon casemates, ditch behind a strongly defended. Isolated, it was connected to the whole Esseillon by a cable suspended above the ravine through which transited goods. Later, the men travel the bridge of the Devil's bridge to cross the river Arc.
Entirely restored since July 2007, the fort houses the "Centre d'interprétation du Patrimoine Fortifié", exhibitions, organize thematic visits and evening visits, cultural events...From its 100 metres, the bridge of the Pont du Diable offers breathtaking views of the gorges of the Arc river. It is also a departure point of the Via Ferrata du Diable. You can also have an aerial view practising the giant tyroliennes of Paradise and Devil.
Please note: All the above information is for information only. For the most up-to-date information please visit the resort tourist office website. All prices for activities are in local currency (€ Euros) and are bookable and payable locally in resort.
Aussois Tourist Office
Tourist Board - Maison d'Aussois - 73500 AUSSOIS
Phone: +33 479 203 080 - Fax: +33 479 203 700 - e-mail: info@aussois.com
Aussois Ski Activities
Aussois Cross-country ski
MONOLITHE CROSS-COUNTRY SKI AREA 150m-1600m Sollières-Sardières-Aussois
South exposed but well snow covered, slopes of all level runs througth the forest.
The departure of the slopes is about 800m from the exit of the village in direction of Sardières.
Another departure, advised to beginners, is directly at Sardières.
The 30 kms of slopes are marked for skating and alternative:
•1 red slope of 15 km linking the two villages
•2 green slopes
•1 blue slope
•1 slope in the forest
•1 black slope
•1 sledge run
•1 slope for beginners
•5 snowshoes tracks
•2 pedestrian tracks
Mountain restaurants in Aussois
L'Alpage, Le Montana, Le Panoramic
Aussois Big air bag
Come test BIG AIR BAG at the foot of the slopes!
Beginners or experienced, the structure is ideal for make jumps safely.
Just do it ... and be happy!
The big air bag is a variation of fall cushion, used in the world of stunt work. It is behind a springboard for the snow fall is cushioned.
Area suitable for children and beginners. Plus "Air Tubby"
You will need a lift pass to enter.
Parental consent required for children - 12 years
Mandatory helmet (on loan)
Aussois Night skiing
21:00: EVENING SKIING, appointment at the Charrière skilift to ski free on lightened slopes with music until 22:15. Hot chocolate and hot wine offered by the Tourist Office
Resort News
NEW 2016 – Maison des Enfants – new area dedicated to children
Located in the existing area dedicated to children, this new Children's house is a new space for hosting the children from 3 months to 12 years old.
For the younger, the Halte-Garderie offers amenities throughout the year with restaurants and layers provisions etc.
For the older, many activities with ESF and the tourist offices are organised.
Open every day
From 19/12/2015 to 29th of January 2016 and from 2nd April to 15th April 2016 : 8.15am to 5.30pm
And from 30th January 2016 to 1st April 2016 : from 8.15 to 6pm.
Contact: +33 4 79 20 22 93
maisondesenfants@aussois.com
Aussois Après-ski, Bars & Restaurants
A must try during your stay is the restaurant in the fantastic setting of XIXth century Fort 'Marie-Christine', with menus from only c €14, it offers excellent value for money, and was praised by the famous Gault et Millau guide. Italians even make the journey just to eat there!
Altitude restaurants in Aussois
Le Panoramic (2150m)
Le Montana (2150m) 
Le Montana has great views and a friendly atmosphere. The menu includes many meat dishes; all the local specialities, such as the tartiflette and raclette; and their own burger, the MacMontana XXL. The latter is a large piece of high quality mincemeat between two large pieces of bread, with melted reblochon and raclette cheese, blueberry mustard, grilled speck, onions, tomatoes and gherkins. The Mac Montana XXL is served with fries and costs €16.
www.chalet-montana.com
L'Alpage (2400m)
Le Refuge (1760m)
Aussois restaurants
L'Etagne
Bar-restaurant, specialities
Le Tou Schuss
Take away, fast food
Le Soleil
Restaurant-Gastronomy
La Cave du Père Fressard
Bar-Tapas from Savoie
La Grignott
Take away, fast food
Fort Marie-Christine
Traditional and regional cooking
Le Delta
Bar-Pizzeria-Restaurant
Le Barillon
Specialities of Savoie
La P'tite Bouffe
Crêperie-pizzeria-specialities of Savoie
Les Bouquetins
Bar-Restaurant-Pizzeria
The Cosy Bar
Bar, tapas, fast food
Les Mottets
Bar-restaurant-icemaker-specialities
L'Avalanche
Bar-Crêperie-Restaurant
Aussois Amenities
Aussois is served by a range of amenities including: mini-supermarket, bank with cash point, laundry, bakery, fromagerie, butcher/delicatessen, hairdresser, regional specialties, several sports shops, doctor.
Getting to Aussois, France
By Road:
Driving distance from Calais to Aussois 583 miles (approx 8hrs 25)
From Calais, take A26 Motorway towards Reims and Troyes, then Dijon, Lyon, Chambéry. Follow the A43 Motorway to Modane. Aussois is 7km (10 minutes) from the motorway exit at Modane.
By Rail:
Modane (4hrs from Paris by TGV). 
Airports:
Chambéry is 118km from Aussois (1 hour)
www.chambery-airport.com
Turin is 125km from Aussois (1 ½ hours)
www.aeroportoditorino.it
Grenoble (St Geoirs) is 185km from Aussois (1 ½ hours)
www.grenoble-airport.com
Geneva is 197km fro Aussois (2 hours)
www.gva.ch/en
Lyon Saint-Exupéry is 196km from Aussois (2 ½ hours)
www.lyonairport.com
Public shuttle bus transfers from airport
Lyon Airport - Aussois via Modane (www.lys-altibus.com). 
Chambery Airport - Aussois via Modane (www.lys-altibus.com). 
Aussois Airport Transfer
For pre-bookable private transfer rates with Peak Retreats, view here. 
Getting around Aussois and nearby areas
During the winter season, a free shuttle takes you down the village (Tompaz parking, caravanning, shops) to the lifts and the Tourism Office (Maison d'Aussois), every day and all through the day.
Interbus routes to nearby ski areas
• Bus for ORELLE: On Tuesday
Departs Aussois 9h15 and returns Orelle at 17h30.
• Bus for LA NORMA: On Wednesday
Departs Aussois at 9h30. Return to La Norma at 17h30.
• Bus for VALFREJUS: On Thursday
Departs Aussois at 9h30. Return at 17h45
Your place on the bus must be booked before noon, the day before your departure, AT THE LATEST at the tourist office.
Aussois Opening Dates
Aussois ski area is open: Saturday 22/12/18 – Friday 19/04/19.