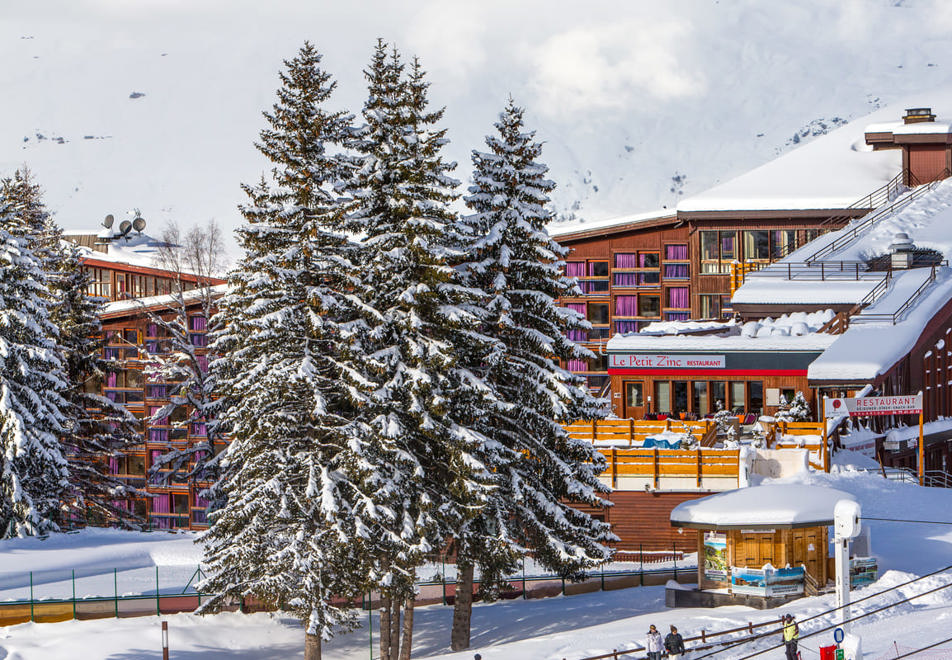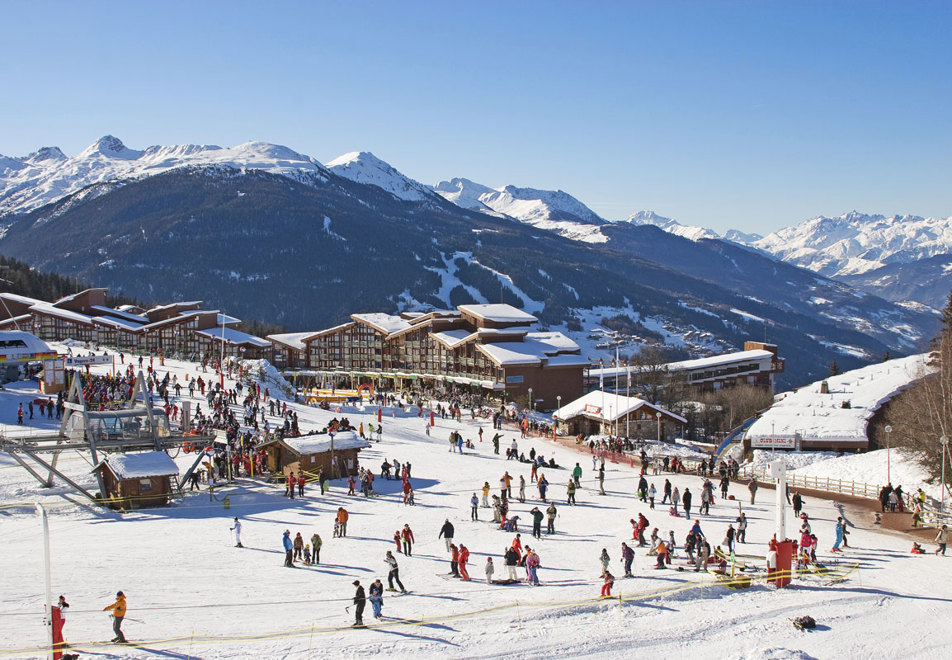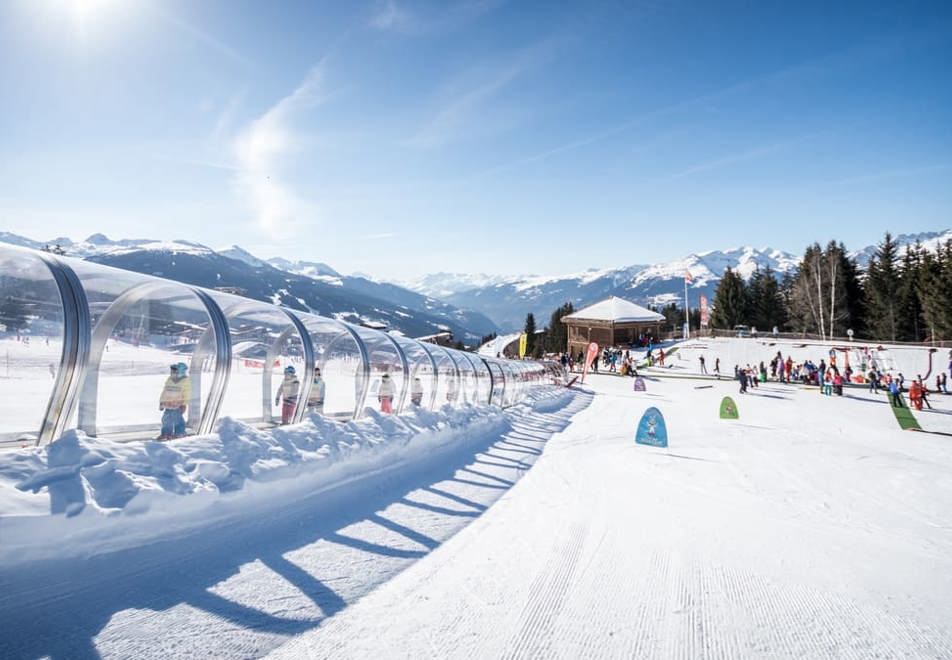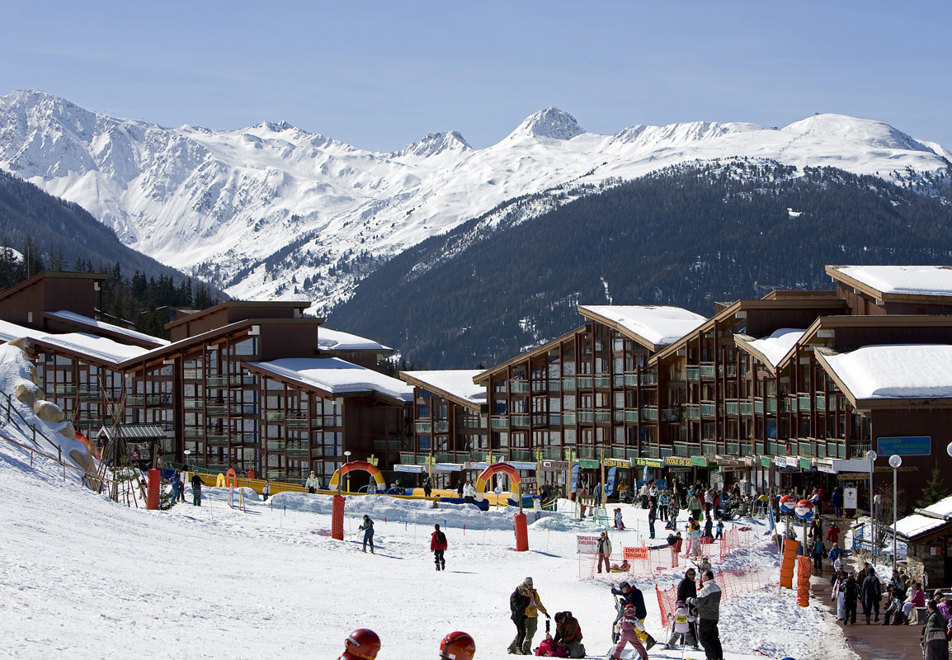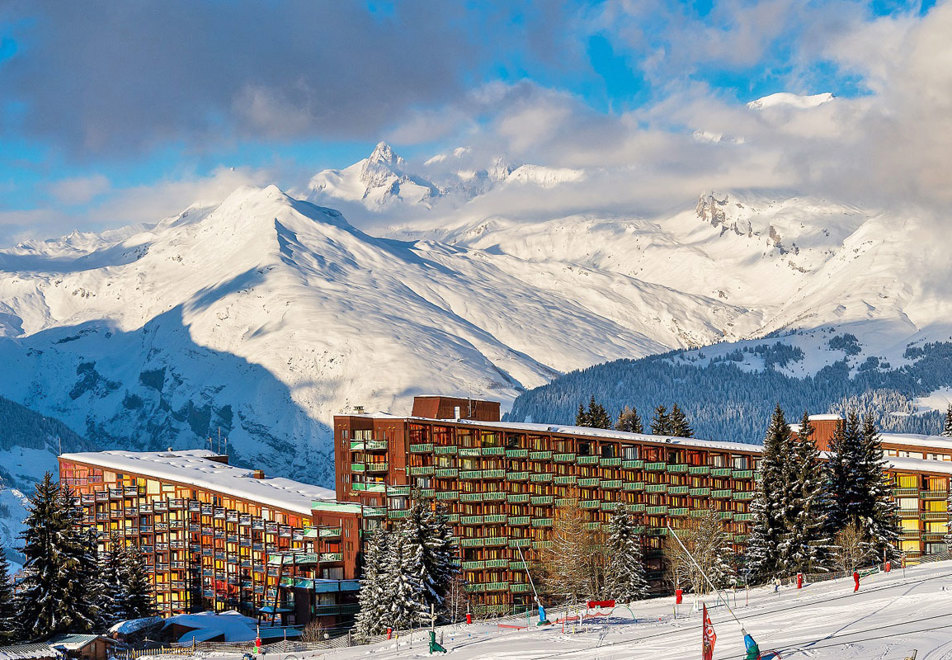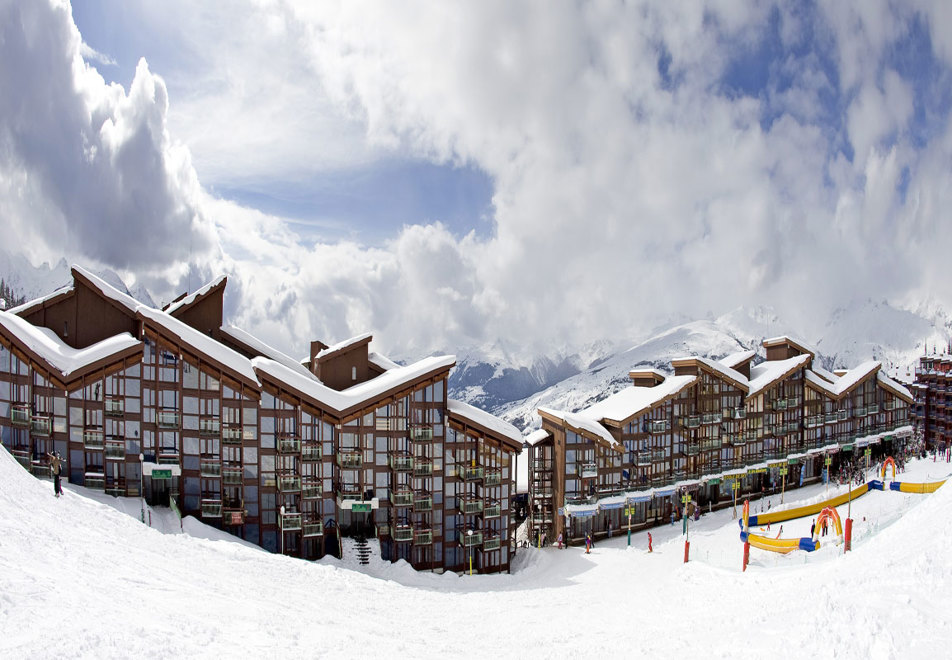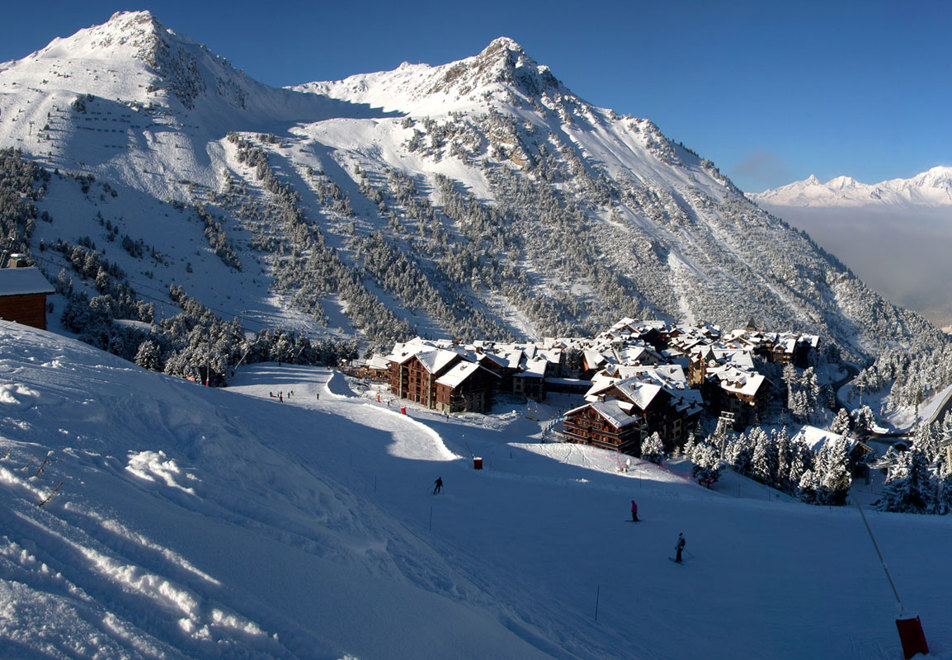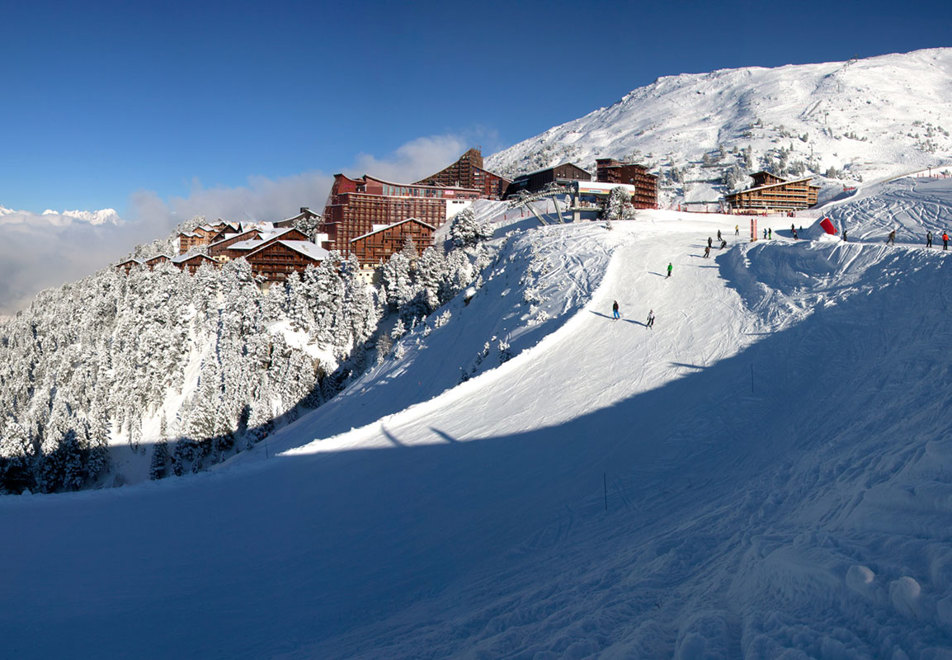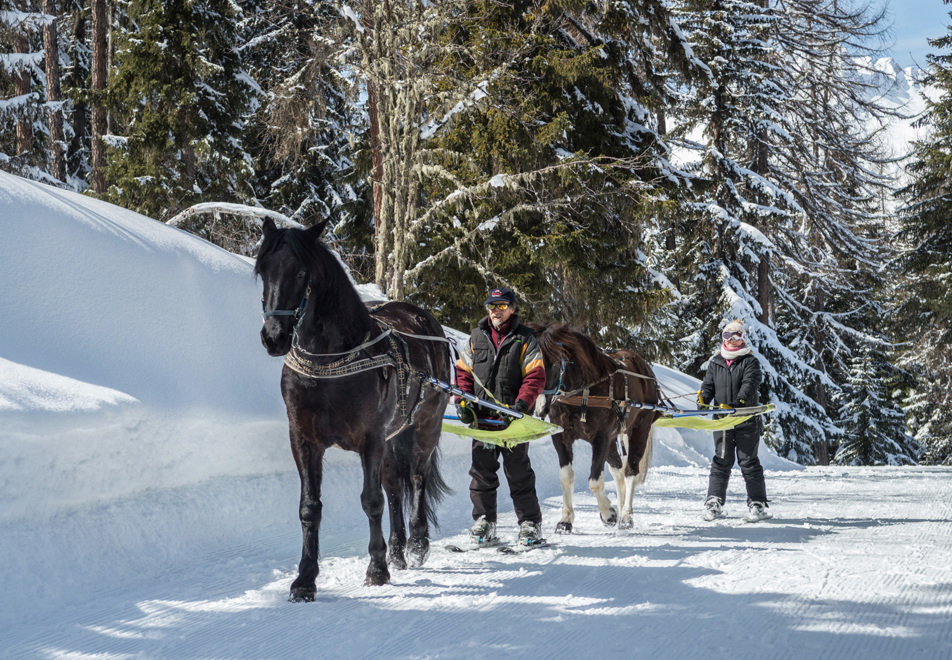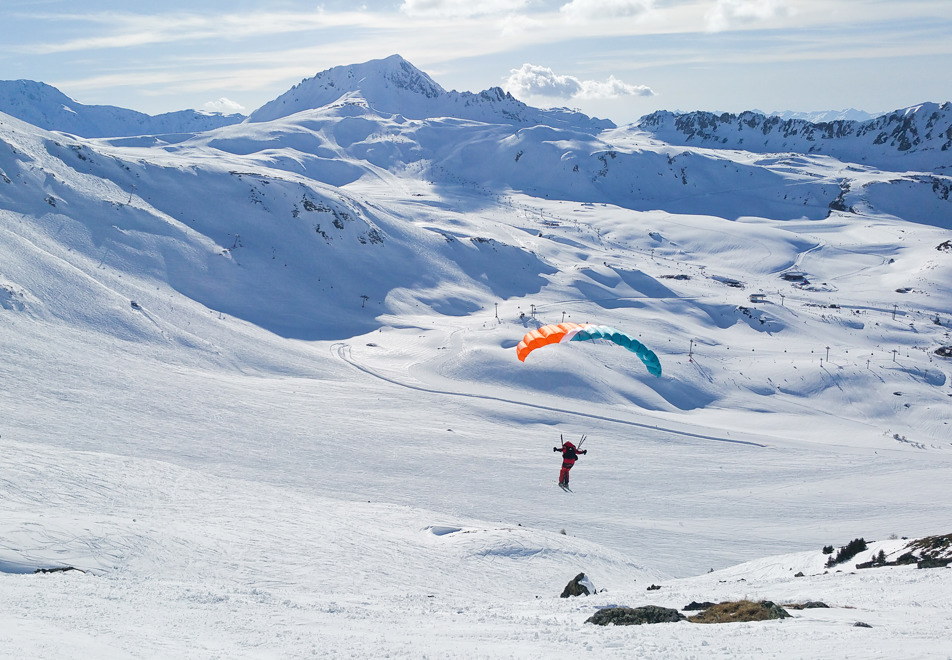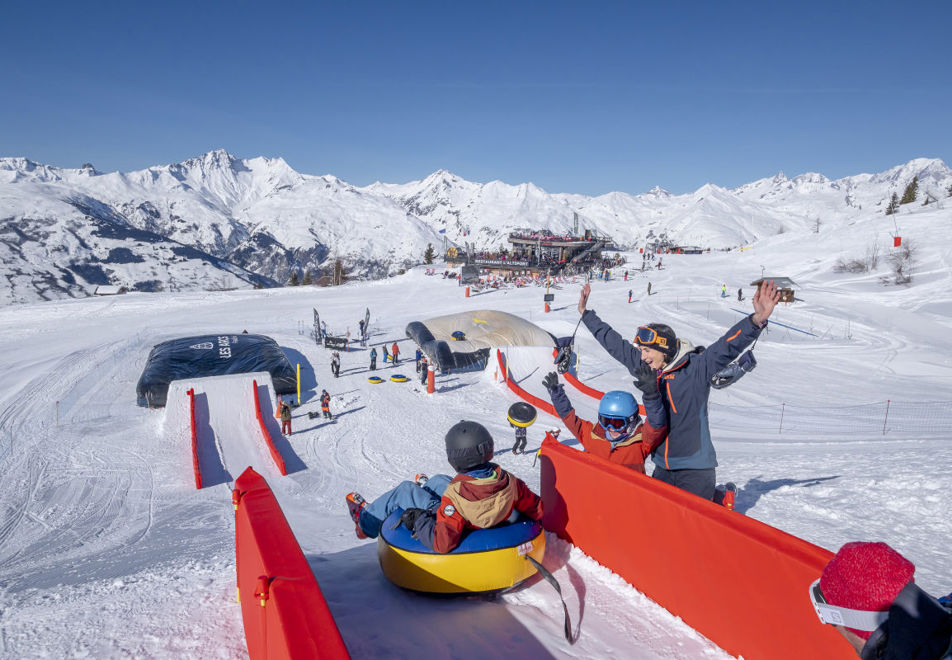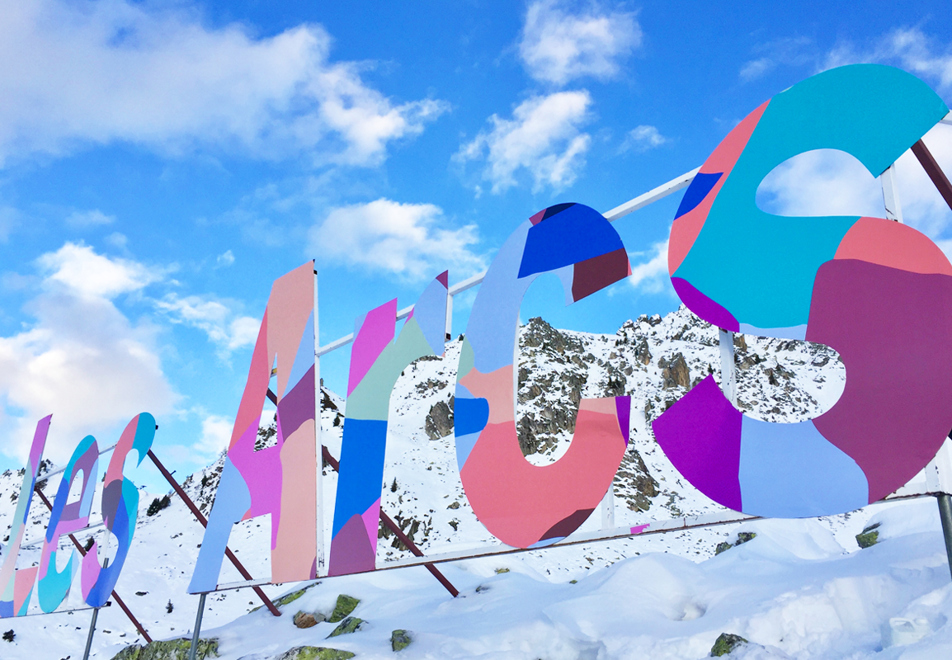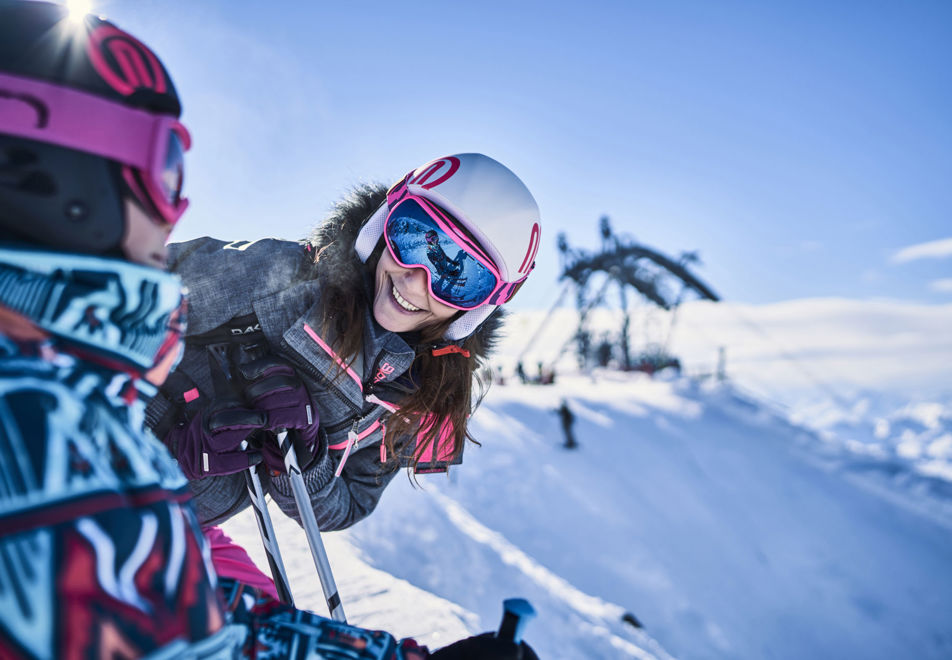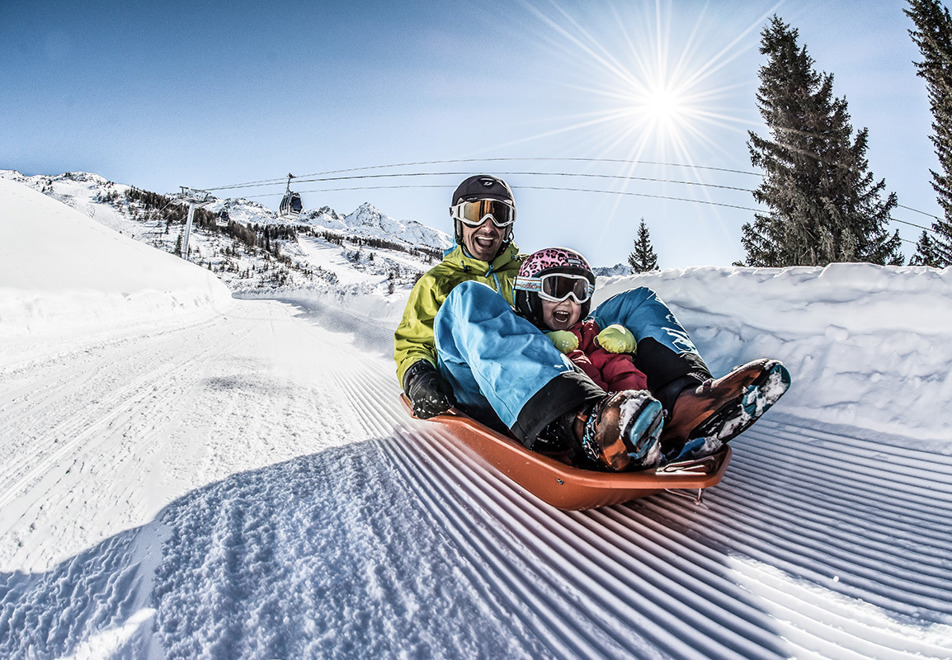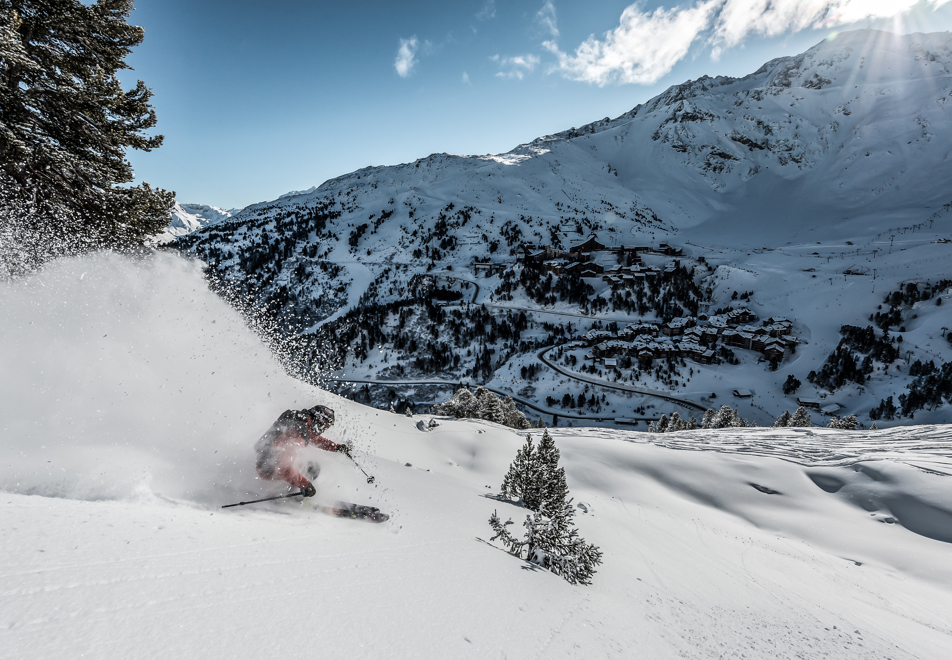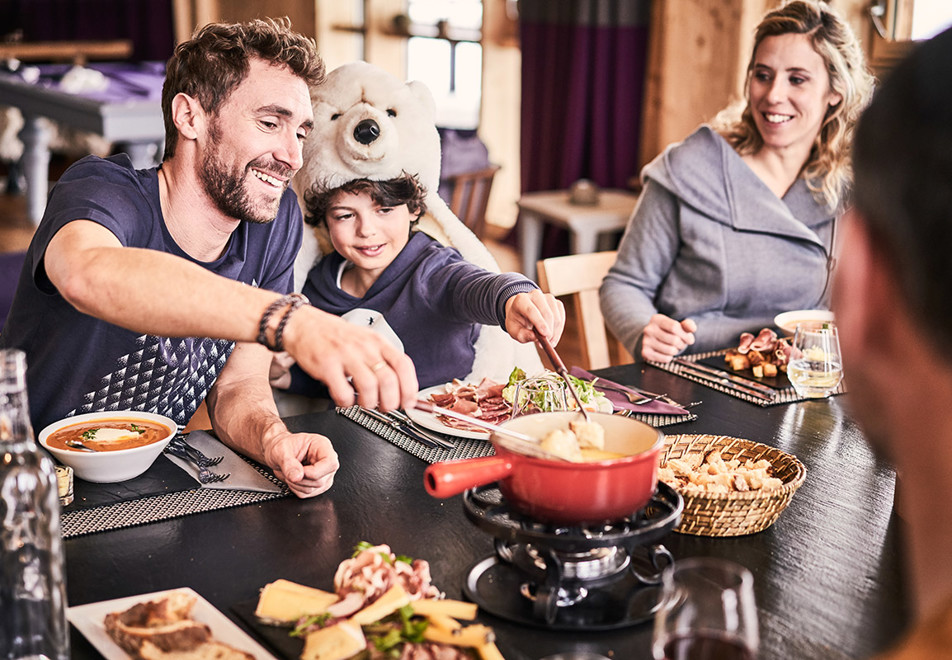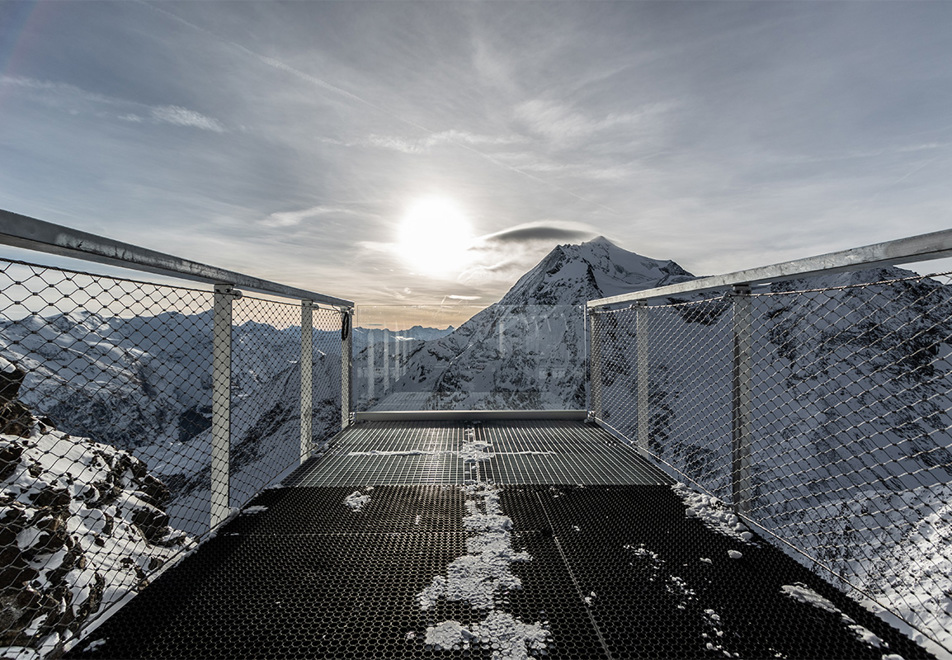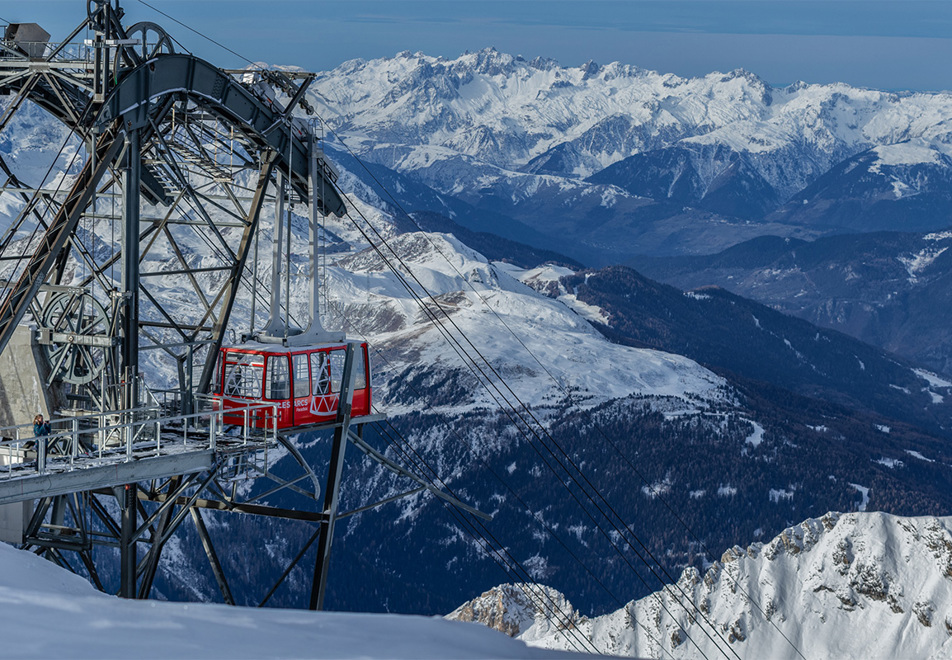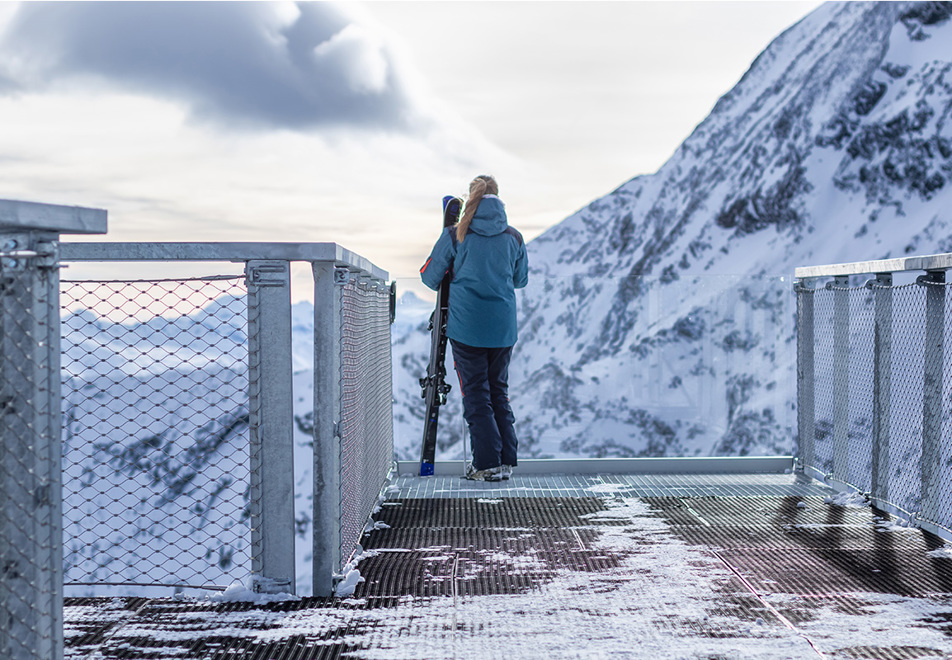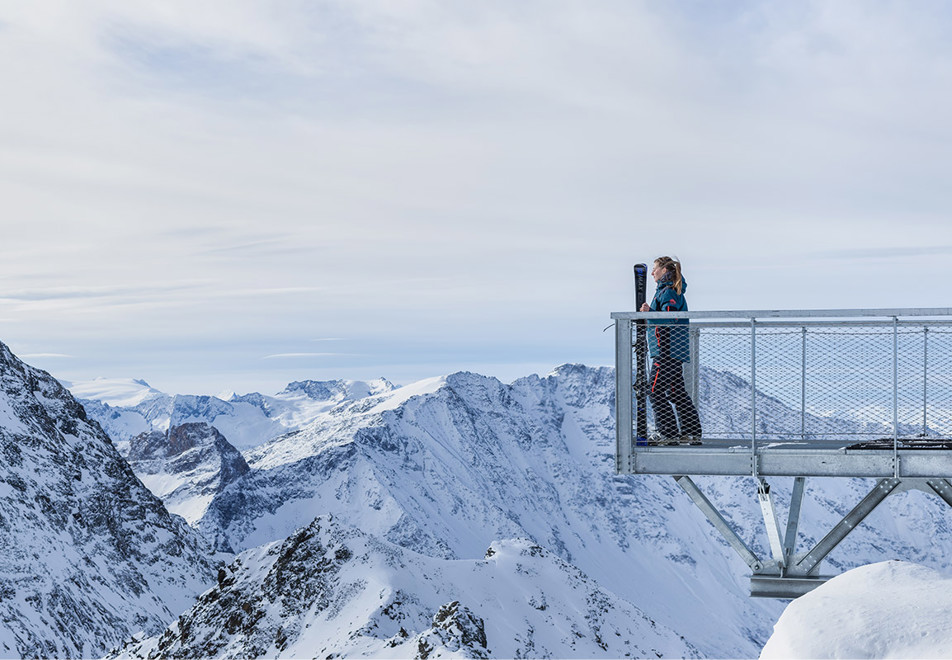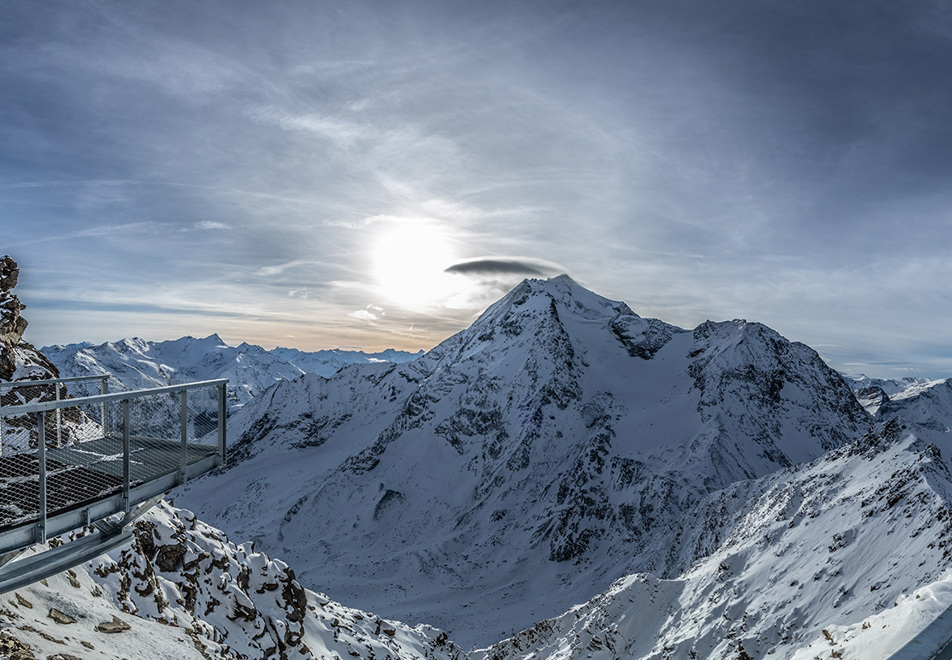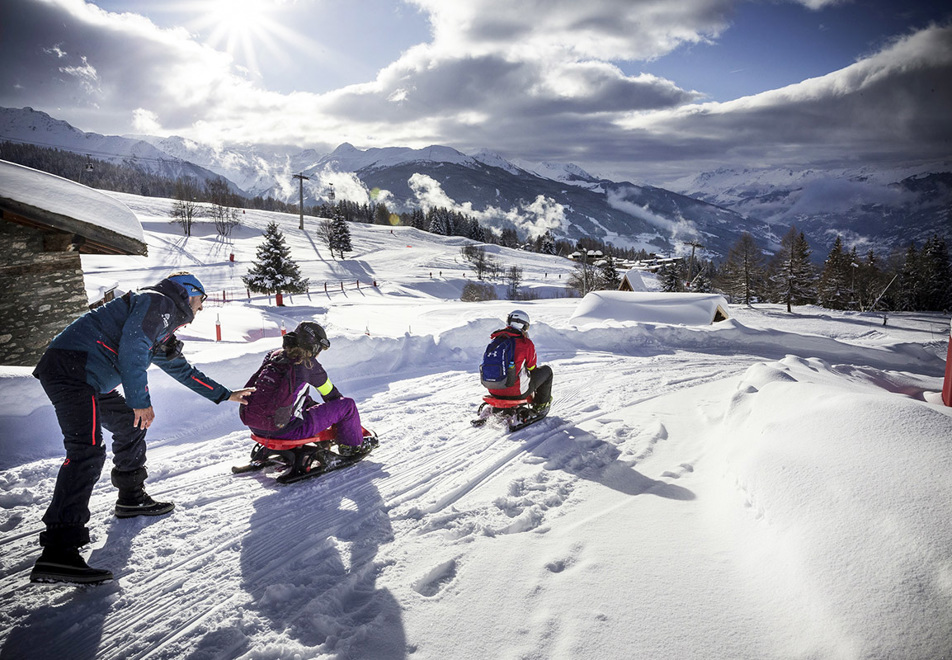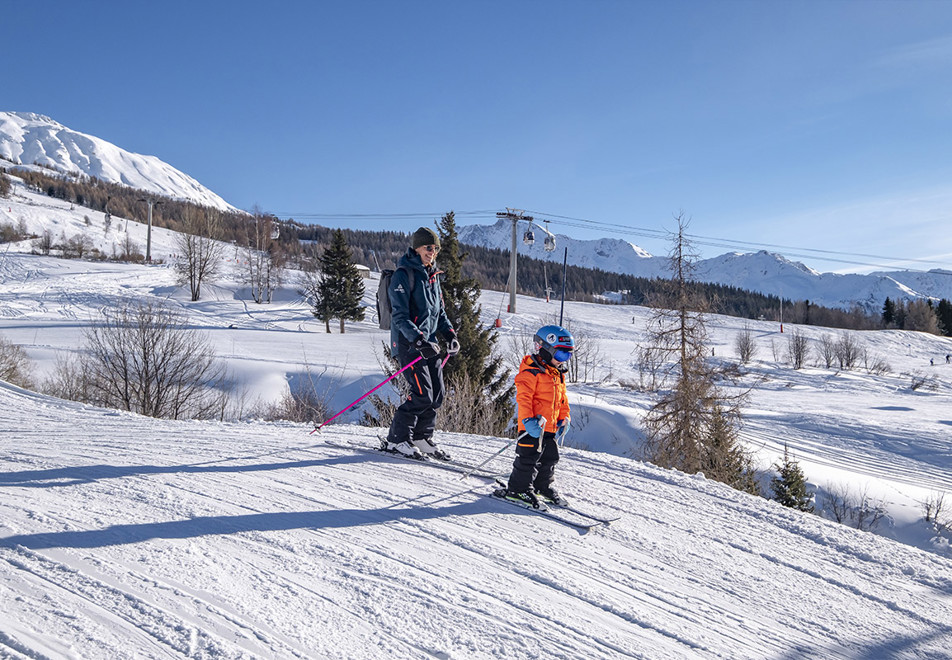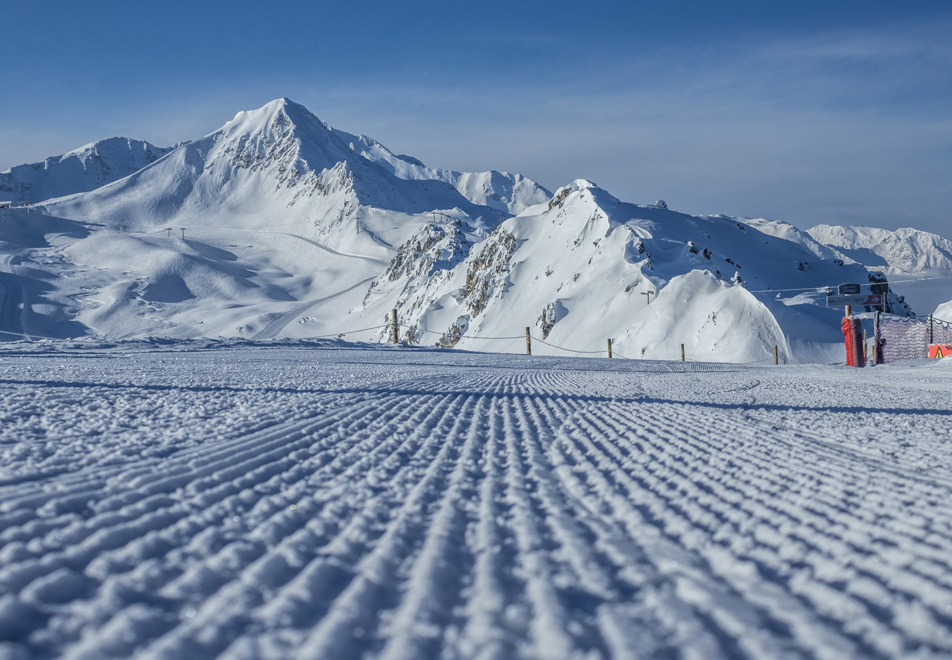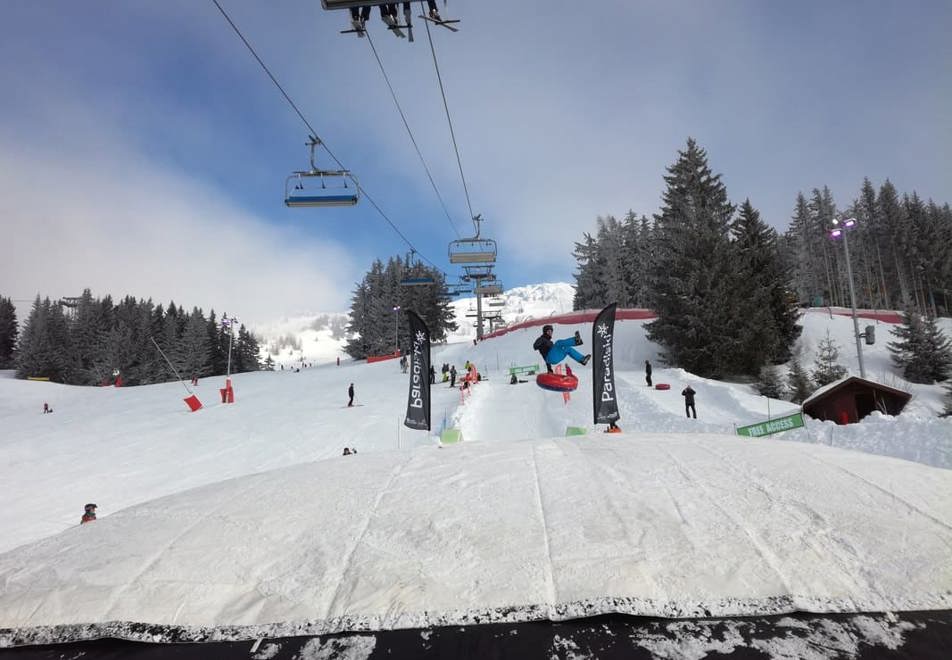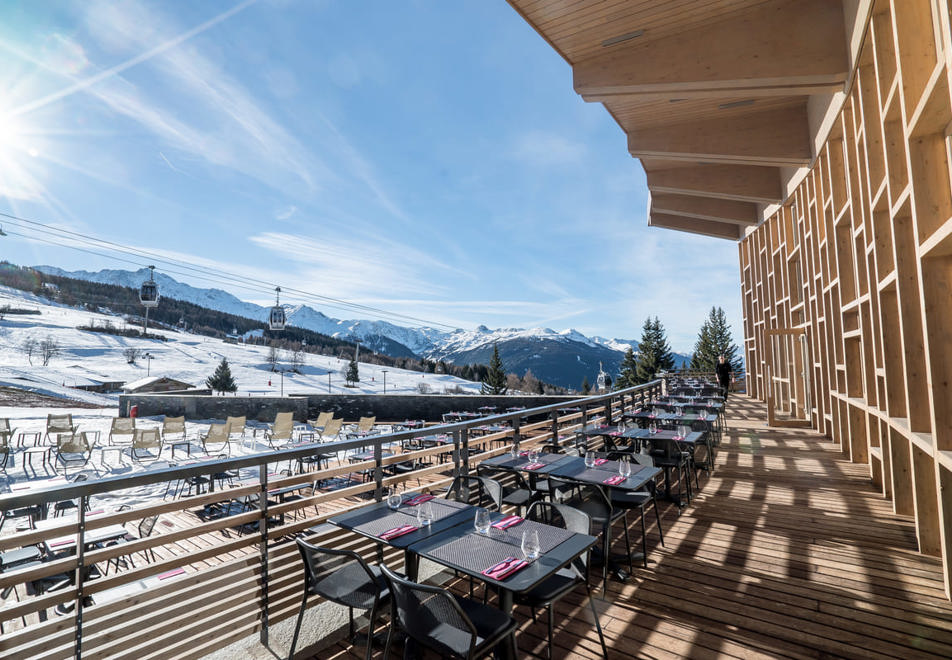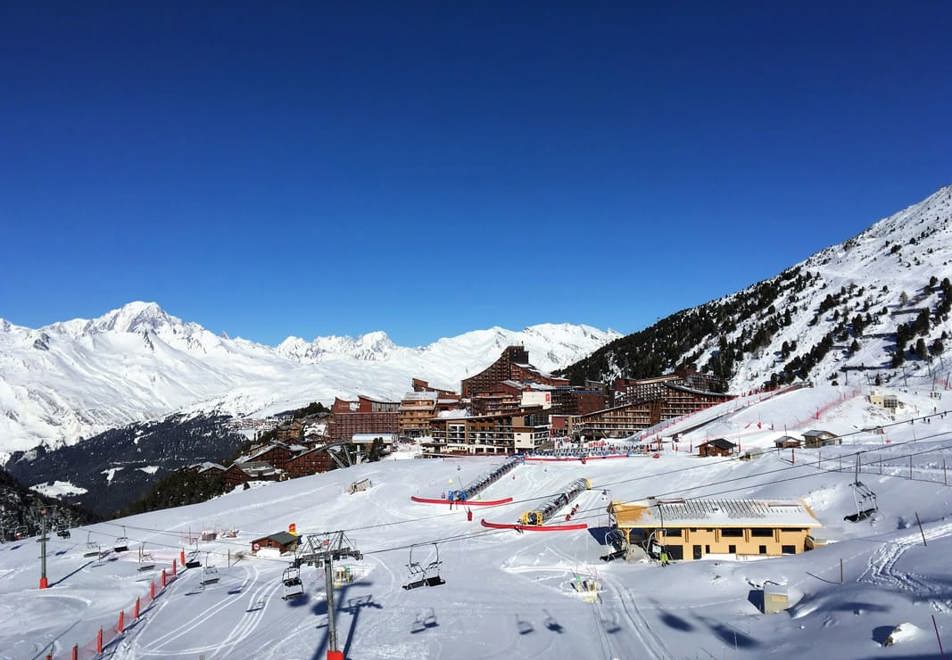 Thinking of skiing in Arc 1800? The bustling and trendy village of Arc 1800 is a very active resort and there is always something going on - with activities and amenities for all the family.
Why Arc 1800 Ski Resort?
Easy access to the Paradiski ski area – one of the largest in Europe!


Great ski resort for mixed ability groups

The largest, most developed & liveliest village in Les Arcs
Highly Commended European Resort of the Year - World Snow Awards 2015
Arc 1800 (Les Arcs) Information
Les Arcs can be found in the Savoie region of France, in the Northern French Alps, on the edge of the Vanoise National Park. It forms part of the massive Paradiski ski area which as well as Les Arcs includes La Plagne. La Plagne and its ski areas can be accessed via the Vanoise Express cable car which whisks skiers across the valley in 4 minutes. The double-decker cable car has, in addition to the 360° panorama, a 3-dimensional outlook courtesy of a transparent glass panel inserted into the floor of the lower level of the 2 cabins.

Les Arcs ski area comprises 4 ski resorts: Arc 1600, Arc 1800, Arc 1950 and Arc 2000 - each a modern, purpose-built resort, developed with superb winter skiing and enjoyment in mind. The older and smaller ski village of Peisey-Vallandry sits lower in the valley of Les Arcs ski resort. It offers a more traditional feel than the other Arcs.
Each Les Arcs ski resort offers a different flavour, from functional to charming, but all providing superb winter skiing with ski-in/ski-out facilities within the Paradiski ski area. Spoilt with both skiing and snowboarding options, the Tarentaise Valley now stretches as far as La Plagne and the whole ski area offers splendid views of the Mont Blanc mountain range.
Arc 1800 was established in 1975, has a west-facing mountainside and is the largest, most developed and liveliest village of Les Arcs ski area. It is made up of four different pedestrianised areas called Charmettoger, Le Charvet, Les Villards and Le Chantel - Les Villards being the centre of the resort where the main amenities and services are located. 
Les Arcs as a whole has been awarded the 'P'tits Montagnards' label which guarantees high-quality facilities for children and their parents on holiday in the mountains. So if you like being at the heart of the action, then Arc 1800 is definitely for you!
For your comfort and convenience, a free resort shuttle bus runs throughout the day from 07.30 - 21.00 between Arc 1800 and Arc 1600 where you can take another bus to Arc 1950 and Arc 2000. Also, gondola Le Dahu operates between the main resort and the Le Chantel area between 08.30 - 23.00. There is also a shuttle bus for this route.
Les Arcs ski area
Les Arcs is part of the large 'Paradiski' ski area and is the 2nd largest connected skiing area in the world. Paradiski has excellent facilities and with its huge variation in altitude (1200m-3250m) and with over 70% of the area being above 2000m, there is a multitude of different types of scenery and piste to explore. This impressive lift-linked ski area is formed of 18 ski resorts (the first 7 below in Les Arcs and the other 11 in La Plagne):
Arc 1800
Arc 1950
Villaroger
Plagne Bellecote
Montchavin
Aime la Plagne
Paradiski is linked by the Vanoise Express double-decker cable car (since 2003) which can transport nearly 200 people across the valley of Peisey-Nacroix in less than 4 minutes. It is the largest cable car in the world currently. Fun facts: the cabin is 380m from the ground at its highest point and travels at 45km/hour. Its quite a spectacular journey with stunning views.
The departure station is in Plan-Peisey at 1612m of elevation. The arrival station is at 1548m of elevation upstream to Montchavin. In winter, the cable car is accessible to skiers (and pedestrians, see below). On Montchavin side, the cable car arrives on a ski slope. You can't reach Montchavin by foot. It is advised to find a guide to find practicable paths via snowshoe.
Paradiski presents VertiGO thanks to a 1.70m2 transparent glass plate in the floor (since 2015) of the lower level of both of the 2 cabins, passengers can enjoy the view in 3 dimensions, combining a 360° panorama of the legendary surrounding mountain peaks and a plunging view of the Ponthurin valley under your feet!
With 70% of the ski runs at heights of more than 2000m, and one of the world's most modern artificial snow systems, Paradiski guarantees top-quality snow conditions from December to April. With the peaks of Mont Blanc and Pierra Menta forming a dramatic panoramic background, Paradiski is also the gateway to the Vanoise national park, a nature reserve of 53,000 hectares.
Les Arcs offers experts some tough descents beneath the Aiguille Rouge. For intermediates, the greatest concentration of blue and red runs are above Arc 1800 and lead down to the villages of Peisey-Vallandry. There are nursery slopes close to all of the Les Arcs villages, but some of the best green runs can be found in La Plagne.
Arc 1800 is located around the tree line, at the foot of the Aiguille Grive and is a great ski resort to stay in if you have a mixed ability group since most routes have both easy and more difficult alternatives. It is also the most conveniently located resort for access to the Vanoise Express and the La Plagne ski area: One chair-lift and a blue run is all it takes to get to the cable car from Arc 1800. The sunny, wide and tree-lined slopes offer everyone plenty of room
The lively resort of Arc 1800, which is also the largest Les Arcs village, continues to increase in popularity with the development of 'Mille 8' in recent years meaning the introduction of some superb new amenities (especially suited to families). Mille 8 is a state-of-the-art, hub of activities/facilities offering skiing until 7.30pm at night, a 3800m2 aquatic leisure centre, themed discovery piste through the forest, a toboggan run, a freestyle obstacle course and videoing conveniences. There are also two areas within the development completely dedicated to beginners and young skiers who can improve in a specialised, safe area.
Handy tip: if possible we would recommend avoiding the bottom of the Charmettoger, Maïtaz and Villards slopes in Arc 1800 where they meet by the Transarc gondola. This area is often quite icy and can get a little busy with people trying to steer clear of the ice! To get up to Arc 2000 we would recommend using the mid-station point of the Transarc gondola.
Additional ski fact info, main ski info in resort facts box at top of page (22/23):
Les Arcs/Peisey local area - 200km of pistes, 53 lifts, 122 slopes:
Green slopes: 12
Blue slopes: 51
Red slopes: 41
Black slopes: 18
Arc 1800 local area - 11 lifts (4 gondola, 4 chairlift, 1 draglift, 1 carpet, 1 rope), 24 slopes (3 green, 8 blue, 13 red)
Les Arcs skiing info
Beginners
There are 10 green slopes in Les Arcs:
Vezaille, Millerette, Piste des Animaux in Arc 1600
Step by step progression zone 1-3 steps (first slides, turns and runs) at Les Cabanes in Mille 8 in Arc 1800
Flocon, Cabri in Peisey Vallandry
Children and beginners are well catered for in Arc 1800 as 90% of the runs back to the resort are blues. There are some free lifts for first-timers: Lapin draglift, Jardin Alpin chairlift and the magic carpet in the children's area. The wide and open nursery slopes in the 'Front des Neiges' area (right in the centre of Arc 1800) are easy and offer plenty of room. Whilst the wide tree-lined runs that lead back to the resort offer great practice space in a really good learning environment. In Arc 1800, the two green pistes can be found at the Mille 8 complex using the step-by-step progression system.
Watch out for the dedicated 'Ski Tranquille' slow skiing and snowboarding areas dotted around Les Arcs, as you may feel a little more at ease in these parts with like-minded skiers and boarders around you and not having to worry about holding anyone up.
Intermediates
Intermediates are sure to love the blue and red runs just above the resort of Arc 1800. The best snow can be found at Grand Col (2800m), which offers equally attractive runs for intermediates and experts. The fantastic Malgovert run into Arc 1600 is often quiet and is accessible from the top of the Comborciere chairlift. Arc 2000 is also brilliant for intermediates with the majority of the runs being red and black. 
Advanced, off-piste & ski touring
Les Arcs has over 30km of black runs for experts. The Olympic speed-skiing track can be tested by strong-hearted members of the public, starting at various heights according to experience.
Arc 2000 is perfect for experts. If you want to try the impressive and demanding longest run in the world, then head to the top of the Aiguille Rouge cable car in Arc 2000. Here you will find the Aiguille Rouge black run which is 16km long! Handy tip: about a third of the way down it does change from a black to a red run and it can get quite busy, so we recommend that you head here early on and make it your first run of the day.
For the mogul lovers out there head to the top of the Comboriciere and Ours black runs. They are steep and demanding and are accessible via the Arc 1800 lifts.
Les Arcs deserves its very good reputation for fantastic off-piste skiing. The powder is excellent, due to the resort being spread over a large area, a lot of which is not touched by lift systems. Arc 2000 offers truly amazing off-piste possibilities. 
The main off-piste area is, of course, the Aiguille Rouge glacier (in Arc 2000), where you have the longest run in the resort at 7km, with a 2100m vertical drop! The most popular runs can be found on the north face with an immense area of off-piste skiing in the direction of Villaroger.
A large part of this area is, in fact, a restricted nature reserve so this really is one of the last untouched areas of the Tarentaise. The most accessible and easiest run is the 'Petit Face Nord' and is easy to get to from the Traversee chairlift. The next step up involves a hike: the 'Couloir Canadian'.
Parts are very steep and avalanches are common. The 'Couloir en S' is one of the hardest descents – a rope and ice axe are useful! An easier alternative is the 'Col du Génépi'. The north-east slopes of the Aiguilles Rouge are classed as moderate. For any off-piste skiing on the glacier we would highly recommend a mountain guide.
The 'Grand Col' at 2835m to Villaroger, beneath the glacier, is a popular off-piste area. Alternatively, a longer climb from 'Grand Col' takes you to 'Col des Roches' on a west facing slope – however getting there does involve a scramble and a cable attached to the rocks would be helpful!
For novices, from the top of the Dos Rond there is a gentle off-piste slope that follows the Les Bauches blue. There is also an eay route from Col de la Chal down towards Nancroix.
Snowboarders
Les Arcs is a hot spot and firm favourite with snowboarders, where many of the Pros choose to come. Les Arcs offers brilliant freeriding including steeps, trees, gullies, natural jobs and hits. Arc 1800 and Peisey-Vallandry offer the best wide-open rolling slopes for beginners and intermediates. 
Tips in bad weather
If the weather turns bad, the clouds creep in and the snow falls heavy it can be hard to know where to ski. Avoid the high and open glaciers at all costs. The trick is to head for the tree-lined slopes as they provide definition when the slopes and the sky merge into one and everything seems white! Head to the lower resorts of Arc 1600, Arc 1800 and Peisey-Vallandry.
From the top of the Chantel and Les Villards chairlifts, you can take some long blue slopes through the trees from Arc 1800 to Arc 1600. La Plagne Montalbert is another safe beat with gentle blues that cut through the trees and as you will be lower here you may even completely miss the high cloud causing the bad weather. There are also plenty of trees to be found in Vallandry, Plan Peisey and Montchavin/Les Coches.
Les Arcs mountain fun zones
You will find Les Arcs' Apocalypse Parc (snowpark named after Regis Rolland for the cult film 'Apocalypse Snow') between Arc 1600 and Arc 1800 and is served by a snowboarder-friendly J-bar lift. For years now this has been one of the most advanced parks in the French Alps and is on a par with the main park at Avoriaz which is highly rated. If you're after snowcross runs, you will find them below Col de la Chal at Arc 2000 or above Plan-Peisey.
Snowpark access:
From Arc 1600, take the Cachettes chairlift then join the Belvédère piste to reach the SnowPark chairlift. 
From Arc 1800, take the Vagère chairlift and follow the Arpette.
From Arc 2000, you have to go downhill to Arc 1950 to catch the Bois de l'Ours chairlift then go back down on the other side towards Arc 1600. You then have a choice of several pistes of different levels to get to the Snowpark.
Les Arcs nordic skiing
The ski area of Les Arcs/Peisey Vallandry has 55km of cross-country trails (131km in La Plagne also).
In Arc 1600 there is a loop starting at Courbaton, the top of the funicular.
In Arc 1800 a trail starts from the top of the Jardin Alpin chairlift.
In Arc 2000 the trail begins near the ESF 2000 ski school office.
Each trail is free to use and is approximately 5km in length.
A longer trail of 15km can be found in Bourg St Maurice and access is via the funicular from Arc 1600.
However, for the best of the best cross-country skiing you need to be further down the valley in the Peisey-Nancroix Nordic area (Peisey-Vallandry), at the entrance of the Vanoise National Park – 44km of well-kept and marked trails await you. There are also paths here for walkers, snowshoe trails and toboggan runs. You do have to purchase a pass to use these trails, but the good thing is that any profit they make purely goes into the daily upkeep of these beautiful trails.
Les Arcs ski hire & lift passes (pre-bookable)
Pre-book your 6 day+ Les Arcs ski hire and/or Les Arcs lift pass with Peak Retreats.
To download the ski extras form see 'Helpful links' further down the page. Please note that prices are for indication only. They will fluctuate based on Euro/£ exchange rate. Please call us for the latest prices.
Other lift passes are available to buy in the resort such as half or full-day passes (for those who only wish to ski the odd day) or one-use lift passes for pedestrians. Some resorts also offer specific beginner area passes and cross country passes.
Arc 1800 group ski school (pre-bookable)
Ski school for children is available to book from 3 years to 14 years in Arc 1800 with Peak Retreats. Children can learn to snowboard from 8 years+.
To download the ski extras form see 'Helpful links' further down the page. Please note that prices are for indication only. They will fluctuate based on Euro/£ exchange rate. Please call us for the latest prices.
Arc 1800 private lessons (not pre-bookable)
Private lessons with an instructor can only be arranged directly with the ESF ski school. Peak Retreats cannot pre-book these. Private lessons are usually around €40-60 per hour (depending on resort, time of day and period) and becomes cheaper the more hours you take and the more people you have to share the hours with i.e with family members or friends. Some resorts insist on a minimum of 3 sessions to be booked at once.
Contact ESF Arc 1800 for private lessons - 0033 4 79 07 40 31
---
Arc 1800 childcare (not pre-bookable)
Childcare from 3 years-8 years (non-skiers)
'Le Mini Club Les Skimomes' is ideally located in les Lauzieres, a stone's throw from the ESF. For additional convenience, you can add to the ski lessons: lunch with child care between midday and 2pm (Monday to Friday) and use of the day nursery. On the programme: snowshoe walks, tobogganing, barbeque with marshmallows, party with Piou Piou, treasure hunts, dressing up, rest periods, videos, games...and a nap.
In the evening it's party time when you can come and enjoy yourself at Les Skimomes between 6.30pm and 10pm (an extra only available during the February school holidays and exclusively for mini club clients).
Please contact the direct as we cannot pre-book this kids club - 0033 4 79 04 24 31
It is advisable to book before you go and in good time as spaces get filled quickly, especially in Peak times. A childhood vaccination record will be needed. 
---
Babysitters (not pre-bookable)
A list of babysitters is available from the tourist office.
Top snow activities to experience in Les Arcs
Please note Peak Retreats do not book any activities and most activities are payable therefore the below is just for information. More detailed information and how to book can be found on the tourist office website.
Les Arcs as a whole offers a vast array of snow sports and non-skiing activities. There are too many to list in detail, but here are a few highlights.
We have included activities below as a whole of Les Arcs and mentioned which part of Les Arcs these are in. It's easy enough to travel around Les Arcs on foot or by ski.
Mille8 - Arc 1800
Located just above Arc 1800, Mille8 in an experience unlike any other for young as for old. Consisting of an aquatic centre and snow sports areas such as a tubing run, a fun trail course for all abilities, a beginners' area, discovery trail and a children's practice area.
All of Mille8's developments were completed in 2016, with the new Carreley 6-seater high-speed chair lift and lodge with slope-side restaurant (Le Lodge), golf simulator and dance floor. With Mille8, Les Arcs has completely re-invented 'apres-ski'. Mille8 is served by the dedicated Villards gondola (new at the time) and remains accessible every day until at least 7.30pm.
LA LUGE

- choose your toboggan/helmet (

Speedy model for the more adventurous or the Roquette or Big Bus models with room for an adult and a small child),

 hop on the Villards gondola (accessible to pedestrians/skiers) and get ready for the adrenaline-fuelled ride down 900m of twists and turns with a dash through the illuminated tunnel at the finish line. Open from 2pm-7.30pm daily with opening until 8.30pm on Thursdays. From 3yrs old.


LES CABANES

- a beautiful ski run winding its way through the forest with wooden cabins, lights, and sound. Don't miss out on the Giant Xylophone. 

Open from 9.15am-7.30pm daily with opening until 8.30pm on Thursdays. Stop off at les Cabanes to enjoy the majestic view over Mont-Blanc and the valley!




LE SLALOM

- compete with friends and video it!


LES PINGOUINS

- a dedicated environment for children to progress and play, featuring igloos, a sledging area and a magic carpet. FREE access. 

Open from 9am-5pm. Access is FREE.




LES SAPINS 

- starting at the top of the Villard gondola and winding through the forests, the Sapins footpath offers walkers a unique ambience and areas to relax, rest, or take in the exploits on nearby ski and toboggan runs. Open from 9.30am-5pm daily. Access is FREE.

LA PISCINE

- a stunning 3800 square metre indoor aquatic centre directly on the piste with breath-taking views over Mont Blanc … An indoor swimming pool with Jacuzzis, whirlpools, waterfalls, slide, water play area for children and grottos. A wellness and fitness centre with saunas, steam baths, and a gym. For easy access, a covered walkway and elevator whisk clients directly from Arc 1800 to the LA PISCINE aquatic centre. Sunday-Friday from 11am-7pm (Saturday from 2pm). Late nights Tuesday and Thursday.


LE LODGE 

- is right in the centre of Mille8 slopes and a great place to meet up. It's a restaurant, snack bar, a dance floor and an events location. The restaurant creates chic brasserie food, elegant and refined French cuisine. A prestigious wine list and producers in the restaurant regularly to talk about French wines. 

Open from

9.30am

-7pm daily with opening until 11pm 3 nights per week. Hop on the Villards gondola for access (accessible to pedestrians/skiers).



Zipline
Passes over the old Flying Kilometre run which held the world speed skiing record for many years of 251.40km/hr. After your descent, don't forget to collect your souvenir photo to share with friends! 
Panoramic Terrace 
If you want to admire the views, a new panoramic terrace 2700m above sea level has been installed with an eco-friendly cafe! With all products being organic and fairtrade, warm up with a homemade soup and baked bread from the woodfire, or enjoy a calzone or pie!
Instagram Terrace 
Get the perfect Instagram on the terrace of Carrely, with its 180-degree panorama of Mont Blanc, skiers can relax on a deck chair with WIFI, take a picture in the swing, have a picnic, or get a selfie with the huge 'LES ARCS' letters. 
Electric Scooter
Take a 2-hour outing on an electric scooteron the snow! Make the most of the mountain scenery, while having fun with friends. 
Arc 1600 toboggan
Built in 2018, take a flight in a buoy and land safely on the Big Airbag. From Monday-Friday 2pm-5pm from 8 yrs old. Located near the snowpark at Arc 1600.
Arc 2000 luge in Rodeo Park
Toboggan track in Arc 2000 - 3km of pure sensations in a dream setting, an absolute must! Track with banked turns, alternating fast and sliding sections, thrills guaranteed. This activity is open to everybody with a valid lift pass. Children must be accompanied by an adult. Entry restricted to a minimum height of 1m25.

Snake gliss - Arc 2000
Toboggan train attached together.

Ski joëring - Arc 2000
Pulled by a horse on your skis.
Ski touring - Arc 1600 & 1800
Try ski touring for a different way of getting about the mountains! Ski touring is the way to get up the steep slopes at the heart of the Alpine landscape like a mountaineer. «Seal skins» fitted under the skis for the climb enable you to lift your heel and turn happily! Take the skins off and ski down like normal. Get away from it all in the countryside at Arc 1800 & Arc 1600's great Alpine landscape by ski touring on a fully marked piste. There are 3 secure tracks - La Trace des Arcs, Les Tetras and Les Verdaches.

The Aiguille Rouge
With its peak at over 3226m, the Aiguille Rouge reveals a breathtaking 360° panoramic view. On foot or on skis, you can discover the Italian Alpine Chain, Mont Pourri, the Pierra Menta and the magnificent Mont Blanc facing you.
To get there from Arc 1800 if you're on skis, you just need to take the Transarc gondola and ski down to the Varet gondola. Once there, go up in the Aiguille Rouge cable car which will take you right to the top.
From Arc 2000, go to the Varet gondola and then the Aiguille Rouge cable car. Easy!
The Aiguille Rouge walkway
A great new addition since 2018, a walkway has been installed so that everyone can admire the exceptional beauty of the Alpine Chain. Access is free for people on foot, children and skiers and bordered with a glass safety rail at the end of each overhang, for extra effect.
Please note: All the above is for information only. For the most up-to-date activities including prices, please visit the resort tourist office website. All activities will be in local currency (€ Euros) and are bookable and payable locally in resort or directly online/by phone with the tourist office or activity supplier.
Les Arcs Tourist Office
www.lesarcs.com
Top activities to experience in Les Arcs
Please note Peak Retreats do not book any activities and most activities are payable therefore the below is just for information. More detailed information and how to book can be found on the tourist office website.
Les Arcs as a whole offers a vast array of snow sports and non-skiing activities. There are too many to list in detail, but here are a few highlights.
Swimming pool at Mille 8
See snow activities tab
Village Igloo
See details under eating tab
Yoga and Brunch
Start off the day with yoga and brunch. Enjoy a one-hour yoga session with a coach and followed by a healthy brunch. You can even surprise your loved one with a healthy message in their coffee. 
Paragliding - Arc 1800
Paragliding School, courses for all levels. Tandem flights for children and adults, summer and winter. 

Bowling - Arc 1800
A bowling alley, games room, bar, giant screens. 8 bowling lanes, 5 snooker tables, mini football, pinball machines, video games, bar and lounge with tapas. From 4 yrs old. Daily.

Laser Tag
Indoor fun and sports centre. Light meals. A chance to see the panoramic views of the surrounding scenery. Minimum 4 persons. From 6 years old.
Please note: All the above is for information only. For the most up-to-date activities including prices, please visit the resort tourist office website. All activities will be in local currency (€ Euros) and are bookable and payable locally in resort or directly online/by phone with the tourist office or activity supplier.
Les Arcs Tourist Office
www.lesarcs.com
Les Arcs news & events
What's new for 2023/24 season:
Nordic zone news - something new is coming to the front of the Nordic site! It has been redesigned and modernized, with a complete renovation of the building and an extension to include a snack room where skiers and walkers can relax and enjoy a warm meal. New facilities have also been added, including ski lockers, boot dryers to keep your feet dry, and a new workshop area for staff. Access: by shuttle bus via the Nordic Express (linking Arc 1800 to the Peisey-Vallandry Nordic site) or by combining the La Lonzagne televillage with the circuit 3 shuttle bus to the Peisey-Vallandry Nordic site. Free transport.
Events taking place in the 2022/23 season:
Les Arcs Film Festival

 

- 10th-17th December 2022
Christmas in Bourg Saint Maurice

 

- 16th-31st December 2022
Les Arcs Launch Pad

 

- 9th-12th January 2023
Coupe d'Europe/Big Air ski & snowboard Arc 1950 Freeride Week

 

- 14th-29th January 2023
Electronic Peak Festival

 

- 13th-17th March 2023
European Gay Ski Week

 

- 18th-25th March 2023
Les Arcs Star Trail

 

- 24 March 2023
La Course du Cœur

 

- 26 March 2023
Les Arcs Winter Festislack

 

- 13th-16th April 2023
Check out the Tourist Office website to find out more about what is going on in Les Arcs: www.lesarcs.com
Les Arcs apres-ski, bars & restaurants
You are completely spoilt for choice of mountain restaurants in the Paradiski ski area. 
Why not try the famous Folie Douce in Arc 1800 for a different kind of dance scene. This branch of the Folie Douce opened in 2019, introducing the chain's trademark Austrian-style afternoon party scene. You will find 7 other Folie Douce in the French Alps - Val d'Isere opened in 1976, Val Thorens in 2009, Meribel in 2012, Alpe d'Huez in 2013, St Gervais/Megeve in 2014, Chamonix and Avoriaz in 2018. Ski and pedestrian access by the Villards gondola for Les Arcs FD (free for pedestrians), La Folie Douce is on the left at the finish line. Last descent at 7pm (8pm Wednesday, Thursday and Friday).
---
Amenities
In Arc 1800 you are sure to find all the shops and services that you need: supermarkets, bakeries, regional products, butchers, delicatessens, sweet shops, chemists, physiotherapists, osteopaths, ski and snowboard equipment hire shops, bookshop, newsagents, launderette, hairdressers and beauty salons as well as numerous gift, souvenir, clothes, perfume and jewellery shops.
Getting to Arc 1800, France
By road:
Our holidays include a return FlexiPlus Eurotunnel. Accommodation only and ferries can also be arranged. Listen to Autoroute FM (107.7 FM) for traffic news in English.
From Calais, take A26 Motorway to Reims and Troyes, then A5 Motorway to Dijon, then A39 motorway to Lons-le-Saulnier and Bourg-en-Bresse, then A40-A42 Motorway heading towards Lyon. Take exit 8, drive through Ambérieu-en-Bugey, follow N504 towards and up to Chambéry, then take A43 motorway and A430 motorway to Albertville. Continue on N90 towards Moutiers and Bourg-Saint-Maurice. Drive trough and follow sign to Les Arcs on D119 (sharp climbing starts here). Make a right turn at roundabout following signs to Arc 1800.
By air:
4 international airports nearby, and a heliport at the foot of the slopes. See our flying page for information on airlines (however we don't book flights).

Chambery Savoie Mont Blanc Airport to Les Arcs is roughly 73 miles, approximately 1hr 30
Lyon-Saint Exupery Airport to Les Arcs is roughly 125 miles, approximately 2hrs 15
Geneva Airport to Les Arcs is roughly 124 miles, approximately 2hrs 20
Grenoble Alpes Isere Airport to Les Arcs is roughly 126 miles, approximately 2hrs 20 mins
Private taxi transfers:
Private taxi transfers from airports and train stations are pre-bookable with Peak Retreats. See our airport & station transfers page for more information.
The nearest train station to Les Arcs is 10 miles away in Bourg St Maurice. You can take the funicular railway from the train station to Les Arc 1600 if you wish. It only takes 7 minutes and runs every 20 minutes, starting at 07:30 and running until 20:00 (until 21:00 on Fridays and Saturdays). From Arc 1600 you can then hop on the free Les Arcs shuttle bus to take you onto Arc 1800 – the buses run from 07:30-19:40.
Bus transfers:
Altibus/Bens Bus/Snow bus (and the likes of) offer shared bus lines from French/Swiss airports and some SNCF train stations to ski resorts. We don't book these (or have any affiliation with), we invite you to do your own research.
Resort shuttle bus:
A free resort shuttle bus operates between Arc 1600, Arc 1800, Arc 1950 and Arc 2000 from 07:30 – 19:40. To travel between Arc 1950 and Arc 2000 the short Cabriolet gondola is available.
The bus route between Arc 1600 and Arc 1800 Les Villards takes approximately 25 minutes, the first bus of the day being at 07:40 and the last at 20:25 (with 2 extra evening buses departing at 20:40 and 21:10 on Saturdays).
There is also a route between Arc 1800 Chantel and Arc 1800 Charvet. The journey time is approximately 5 minutes. First bus at 07:30 and last at 23:30.
Another route goes from Arc 1600 to Arc 1950 then onto Arc 2000. Journey time from Arc 1600 to Arc 1950 is approximately 17 minutes and from there onto Arc 2000 another 3 minutes. The first bus is at 07:20 and the last at 20:25 (with 2 extra evening buses at 20:40 and 21:10 on Saturdays).
---
Les Arcs opening dates

Les Arcs is open 10/12/22 - 29/04/23