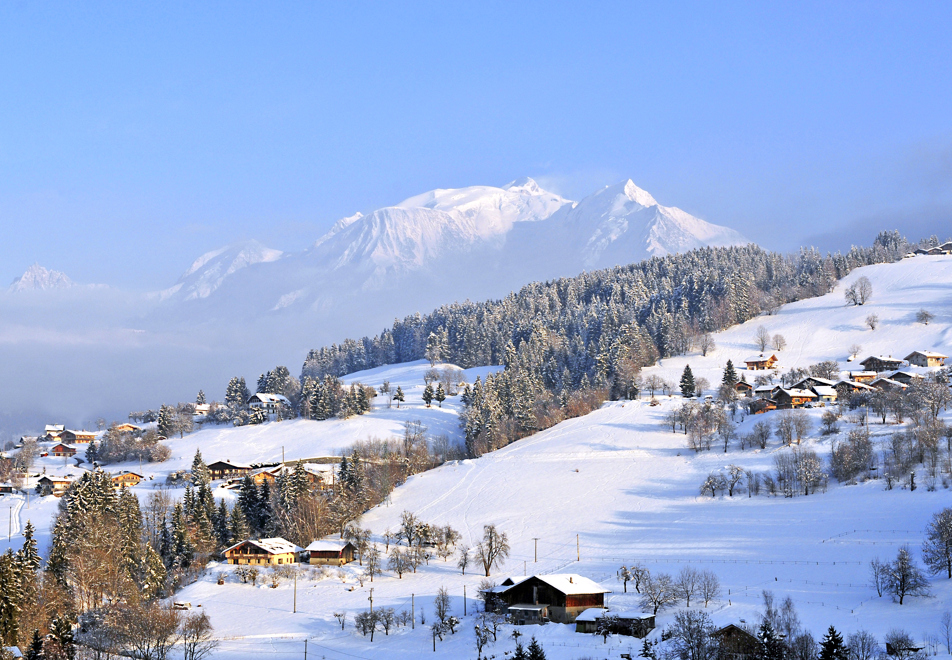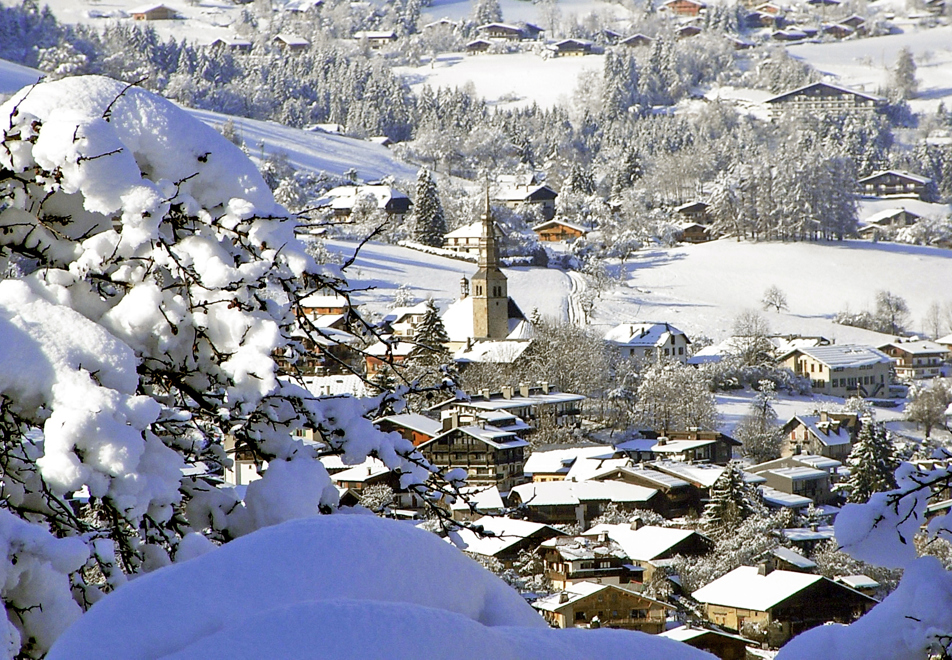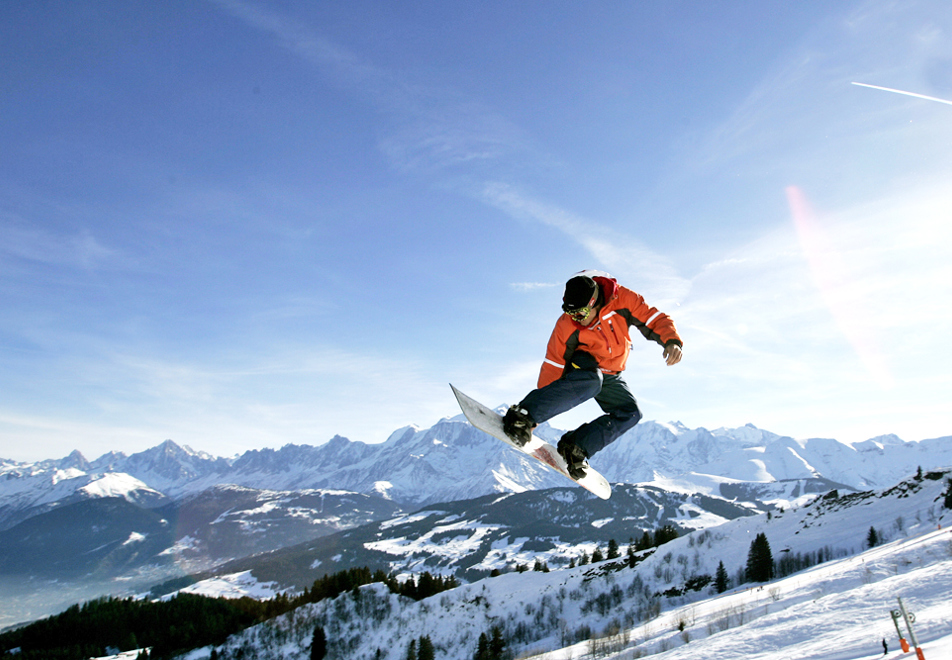 Thinking of skiing in Combloux? Facing the majestic Mont Blanc, Combloux is a traditional Savoyard village situated in a beautiful setting and linked to the huge Evasion ski area.
Why Combloux Ski Resort?
A pretty, relatively undiscovered rural village in a scenic setting with panoramic views of Mont Blanc
Linked to the huge Evasion ski area
Easy access from the motorway, train station and Geneva airport
'Famille Plus' resort - good children's facilities and great for families
Combloux Resort Information
The resort is ideal for winter skiing holidays where traditional style and beautiful scenery are paramount to your holiday itinerary. 
Unspoilt by tourist developments, and with a 360-degree panorama of Mont Blanc, Combloux is often aptly referred to as 'the Pearl of Mont Blanc', respectful of the traditions of the French Alps with its ancient church, medieval fountains, old rustic buildings, traditional farmhouses and wooden chalets. Despite recent growth on the outskirts, the traditional-style bars and restaurants still give a feel for the 'real' rural Alpine France.
Not surprisingly Combloux holds the 'Famille Plus Montagne' label for its children's facilities (nurseries, ski kindergarten, activities…). There are two day nurseries in Combloux for children (aged from three months) to choose from, conveniently situated at the bottom of the ski runs and in the town centre. 
There are plenty of activities in Combloux to keep everyone happy, including non-skiers, such as tours of the village on horse-drawn carriages, numerous scenic snowshoe trails, farm visits, and traditional folklore evenings. Wednesday is market day and there are good amenities such as banks, a library, butcher, hairdresser, and laundry … The luxurious health spa area at Plan-Perret includes two saunas, two Turkish baths and a Jacuzzi. For more things to do, including the prospect of some serious shopping and famous restaurants, a visit to close-by cosmopolitan Megève is a must.
Combloux is only few minutes from Megève (4 km) and Chamonix is only 30 kms away. The resort is very easily accessed from the motorway exit (Sallanches, 8km); a TGV station and only 70km from Geneva airport.
COMBLOUX SKI AREA
Combloux is a well-suited resort for beginners, intermediates and families with all levels catered for. The pistes provide scenic skiing amid Combloux's pine forests and breathtaking panoramas of the Mont Blanc and the Aravis ranges.
Combloux and Megève (Le Jaillet) form one integrated ski area accessed from the village whilst the rest of the Megève-Saint-Gervais ski area is accessed through the main Princesse gondola, a 5-minute drive (there's also a shuttle bus from Combloux). The extensive 'Evasion Mont-Blanc' lift-pass offering 450km of pistes covers Combloux, Megève, Saint-Gervais and Les Contamines and provides varied skiing for all levels. For the more extreme skiers/boarders, Chamonix is only about half an hour's drive.
Skiing in the Combloux area's splendid surroundings where lift queues are virtually unheard of is particularly enjoyable.
Additional ski fact info,
main ski info in resort facts box at top of page

(22/23):

Les Portes du Mont Blanc only (Combloux + Megève Le Jaillet + La Giettaz + Cordon (not connected by ski)

100km of pistes, 29 lifts (1 gondola, 8 chairlift, 17 draglift, 3 carpet), 69 slopes:

Green slopes: 13
Blue slopes: 18
Red slopes: 30
Black slopes: 8

Combloux local area

35km of pistes, 8 lifts (3 chairlift, 5 draglift), 25 slopes:

Green slopes: 8
Blue slopes: 5
Red slopes: 11
Black slopes: 2
COMBLOUX SKIING
COMBLOUX BEGINNERS
Beginners can enjoy the green runs at the top of the Garettes and Bouchet drags and there are more further up the mountain too.
COMBLOUX INTERMEDIATES
There is plenty of choice for intermediates skiers, with lots of red runs just above the main Beauregard chairlift from Combloux. In the Evasion domain, there's more than enough to occupy intermediates of low and high levels.
COMBLOUX EXPERTS
Experts can explore the 425km of the Evasion ski domain where there are almost unlimited red, black and off-piste opportunities. There are also a number of snowparks too.
COMBLOUX SNOWBOARDERS
Snowboarders are also well catered for with a designated snowpark area.
COMBLOUX OFF-PISTE
There are also a number of safe off-piste areas often with a good covering of powder – sometimes reached with a short walk to reach a mountain pass or summit.
Combloux Ski Hire
Pre-book your Combloux ski hire with Peak Retreats.
To download the ski extras form, see 'Helpful links' further down the page.
Special offers: *7 days for the price of 6.  Free Skis/snowboard & boots (Blue/Red) for party leaders of groups of 10 or more all taking equipment. 1 Free helmet per child aged 6 and under for every adult booking skis or snowboards & boots (must be under same booking reference and requested on form above). Other duration prices on request - Cross Country ski prices on request.
Find out more about Peak Retreats ski hire
---
Combloux Ski Passes
Pre-book your Combloux lift passes with Peak Retreats. Find out more about Peak Retreats ski passes
To download the ski extras form, see 'Helpful links' further down the page.
Other lift pass on offer (to buy locally in resort in Euros):
For complete beginners 2016/17 (adults and children):
Combloux beginner pass (Brons, Garettes and Mowgli drag lifts + Télésiège de Beauregard 1 trip) - €12/day
Portes du Mont Blanc ski pass – daily rates 2017/18:
1/2 day - €26.00 children, €32.50 adults
Day - €29 children, €36 adults
Evasion ski pass - daily rates 2017/18:
1/2 day - €34.00 for children, €42.00 for adults
Day - €37.50 children, €46.50 adult
Combloux Ski School
Please note we cannot book ski school for Combloux.
Combloux Individual Tuitions (18/19 prices, NOT pre-bookable)
1 to 2 people (1 hr) from 45 €
3 to 4 people (1 hr) from 54 €
Individual tuitions can only be purchased directly from the ski school. Peak Retreats cannot pre-book these.
Please note that prices are only an indication and are subject to change.
Ski school Combloux contact number:
Ecole du Ski Français de Combloux: 0033 4 50 58 60 87
www.esf-combloux.com 
Combloux Child Care
Combloux has acquired the Famille Plus label for its childcare facilities. Please view here for more information on the Famille Plus label.      
Nursery "Les Loupiots" 
For children aged 3 months – 6 years
Located at the bottom of the slopes, "Les Loupiots" is open 7 days a week. It offers games both inside and in the outdoor enclosed area. Can offer flexible timetables to fit around parents ski lessons. Please note that due to a limited number of places available it is recommended to make advanced bookings.
- morning (9h30 - 12h30): 40 €/day / 6 consecutive days: 207 € 
- morning with meal (9h30 - 14h): 4 7€/day / 6 consecutive days: 242 €
- afternoon (14h - 17h): 40 €/day / 
- afternoon with meal (11h - 17h): 58 €/day / 6 consecutive days: 297 € 
- full day with meal (9h30 - 17h): 61 €/day / 6 consecutive days: 312 € 
Prices for 2018/19
Les Loupiots
La Cry, Combloux, 74920 
04 50 58 30 67 
Daycare centre "Les Copains"
For children aged 3 - 11 years
A variety of activities and outings are organised all summer long; swimming, pony rides, discovering different aspects of the mountain (for example, walking or climbing), themed outings, games, etc. 

Prices for 2018/19
- morning session without lunch (8am - 12:00pm): 26,50 € per day  
- afternoon session without lunch (1:30pm - 6:30pm): 26,50 € per day 
- whole day with lunch (8am - 6:30pm): 49,50 € per day 
Combloux Resort Activities
Combloux Snowshoeing
A pleasant and accessible way that offers to all to discover the beauties and secrets of the silent mountain pastures: Observation of the hares, deers and chamois, Running on the frozen riverbeds, History of the savoy men through the farms and oratories. Various levels: Day, Half-Day and Night Hikes in a high altitude restaurant.
Combloux Sledging
Sledging area in Cuchet
A secured and maintained sledge area is located in Combloux, in Cuchet, near the ski runs. They are both free access and under the responsability of the parents.
Sledge area in the village
A new safe sledge area, for the kids, is located in the center of the village, near the city-hall. Free access to the sledge area and under the responsability of the parents.
Sledging area in la Cry
A secured and maintained sledge area is located in Combloux, in la Cry, at the bottom of the ski runs. It's free access and under the responsability of the parents. Near the free skibus
Combloux Dog Sledding
You want a change of scenery and new sensations, there is necessarily a formula that suits you!
Contact:Jonathan Nachon
www.3d-nordic.com
Combloux Snowmobiles at Night
Meet on the Molliets car park and then let's drive your snowmobile and discover the ski area at night! 2 people on the snowmobile: the Caribou drive, 1 people per snowmobile: the prestige drive and the passenger drive 1 people with the guide. 
Nature Motoneige
Les Molliets
Les Carroz-d'Arâches - 74300 
Tel: 0033 6 12 21 40 60 
www.deltaevasion.com/motoneige
Combloux Carriage ride with horses
You will just have to take a seat in one of these sledge waiting in front of the tourism office. It will then take you up to panoramic sites or down to some picturesque path. For a simple carriage ride, get in touch directly with the coachmen, either by phone, either in front of the tourism office 
Claire Bouchet: 0033 6 20 43 90 11 (winter)
François Duvillard: 0033 6 09 01 29 43 (throughout the year)
Simon Duvillard: 0033 6 70 36 01 61 (winter)
Megeve Sled Dogs
In a family with children or friends, share a true moment of relaxation and escape in the company of the Alaskan malamute. In summer and guided tour of the kennel (1h30) or / and cani-hiking: hiking drawn by a dog on the belt. Winter: discovery of the pack, initiation to driving a dog sled, hike in the day with a musher, nightlife, night trap, multi-activities. Reservations required. Situated above the village of Megève, access on foot in 30 minutes. From 6 years. Rough prices from €100 per day.
Combloux Paragliding 
Aérofiz Paragliding Mont-Blanc
Live the oldest dream of mankind. Learn to fly! Tandem and discovery flights with a certified instructor. Tandem and discovery flights with a certified instructor. Workshops for all levels. From Monday to Friday, learn paragliding in total safety. Practical and theoretical lessons. Individual lessons in two-seater paragliders. 2 days dual control training.
324 Chemin des Parchets
Plateau d'Assy
Passy - 74190
Tel. 0033 6 07 13 59 31
www.aerofiz.com
Panoramic flights over the Alps
Panoramic flights over the Mont-Blanc Massif and its valleys: 
- Megeve Valley (10min)
- Chamonix Valley (Bossons and Taconnaz glaciers 20 min)
- Vallee Blanche (Mer de Glace and Vallee Blanche 30 min)
- Mont-Blanc Massif (All the glaciers 40 min)
Aérocime
3368 Route de la Cote 2000
Megève - 74120
Tel: 0033 4 50 21 03 21
www.aerocime.com
Megeve Olympic Indoor Ice Rink
Markets in Chamonix Valley area and Mont Blanc
Monday – Les Houches (23 km) and La Clusaz (54km)
Tuesday – Les Contamines (18km) and Aoste (82km Italy)
Wednesday – Combloux and Courmayeur (46km Italy)
Thursday – St Gervais (8.5km)
Friday – Megeve (5km)
Saturday – Sallanches (8km) and Chamonix (32km)
Combloux New Sledge "4 Seasons"
A new generation of sledge on a dedicated slope with a tunnel, lights and sounds. 
With your ski pass you can get a free ride every day!
www.lesportesdumontblanc.fr
Combloux Igloo de Baloo
An area spread over 100m2, perfectly safe, where children can enjoy in snow and find a path made only with foam.
Free access. No age limit. At the foot of the slopes
Please note: All the above information is for information only. For the most up-to-date information please visit the resort tourist office website. All prices for activities are in local currency (€ Euros) and are bookable and payable locally in resort. 
Combloux Tourist Office
Tel. + 33 (0)4 50 58 60 49 - info@combloux.com 
www.combloux.com
Combloux Ski Activities
Mountain Restaurants in Combloux
5 mountain restaurants in Combloux/Megeve area and 38 in total in the Evasion Mont Blanc domain.
Vallee Blanche
A getaway in the heart of the Massif du Mont-Blanc: 20 km skiing on a glacier for 2800 meters in altitude with the possibility to vary the routes. An unforgettable day in a setting of rare beauty. Good level of skiing.
Limited to 6 people maximum for comfort and safety. Depending on the condition of the glacier and the General Conditions, the guide may restrict the number of people.
Bureau des guides
76 rue Ambroise Martin
Megève - 74120
Tel: 04 50 21 55 11
www.guides-megeve.com
Off-piste Skiing in Combloux
For some nice off-piste sessions in all types of snow and off the beaten track. Group outings or private outings every day on request. Most often starting from the arrival of ski lifts, but sometimes with a short walk to reach a mountain pass or summit. Lots of itineraries possible, where you can enjoy making your tracks.
The equipment is usually free ride skis, but sometimes it is more prudent to use ski touring equipment, however always over short distances. The main aim is great descents on all kinds of snow.
Bureau des guides
76 rue Ambroise Martin
Megève - 74120
Tel: 04 50 21 55 11
www.guides-megeve.com 
Cross-country skiing in Combloux/Megeve
2 loops (green - 3km, blue - 2.5km) in Combloux, with 5.5km of runs facing the Mont-Blanc (free access) plus 70km of cross-country trails of varied difficulties in Megeve (4km away).  
Beautiful tracks for skating or classic will take you through the 33 km of marked trails of the resort. Megève gives you a choice of routes ranging from the very introduction to loops techniques. One area is paid - Cote Livraz-2000.
Runs: 3 plain Arly km, Cassioz Praz sur Arly-5 km, Mont d'Arbois Encraty-7 km, Cote Livraz-2000 18 km.
Heli-Ski
Prohibited in France, Heliski drops are still possible in other areas, particularly in the Valle d'Aosta (Italy) and in the Valais (Switzerland). Away from the pistes and the crowd of lifts, they'll drop you for a few hours on the slopes of virgin Swiss Alps and Italian descent for a rare intensity.
It is possible to consider several runs with different orientations depending on sunlight and snow conditions at the time.
2 rotations in general suitable for skiers to spend a good day. A meal in a safe altitude allows for a pleasant stop for the lunch break.
Consult with the Bureau des Guides
From € 350 rotation for 4 to 5 persons + € 350 per day + guides related expenses (transportation and meals)
Bureau des guides
76 rue Ambroise Martin
Megève - 74120 
Tel: 033 4 50 21 55 11
Snowparks in Evasion Mont Blanc
1 snowpark in Combloux, 1 in La Giettaz, 1 in St Gervais, 1 in Les Contamines
Combloux Night skiing
Night skiing - Wednesdays at Jaillet and Thursdays at Garettes (French school hols Feb only)
Combloux Ski Joering
Les Ecuries des Ducs horse club, introduces children to ski-joering.
With a graduate instructor status, and with very well trained ponies, we will introduce your children to the joy of skiing behind a pony while directing all 3 paces. Activity for children only, from 4 years old. They should have the Piou-Piou ski level. For advanced, we'll take them to a walk. For younger, pony-sledge.
Les Ecuries des Ducs 
360, chemin des Seugets
Combloux - 74920 
Tél. 0033 6 84 61 59 30 
www.ecuriesdesducs.new.fr
Combloux Resort News & Events 2022/23
Events: 
Christmas Market 

10th December 2022

2nd edition of the Christmas market with a rich program: local producers and crafts stands, sale of Christmas trees and decorations, musical and dancing entertainment, magic show, children's songs, concert, etc. Bar and restaurant on site.

Treasure Hunt 18th December 2022 - 23rd March 2023 Investigate! Take the map and discover the village in search of puzzles to help Jean-Loup, our Combloran, in his misadventure through time.
Horse-drawn Carriage Ride with Santa 20th, 22nd and 23rd December 2022 Santa Claus leaves his native Lapland and takes up residence in Combloux for a weekend. He swaps his reindeer and sleigh for a horse-drawn carriage and invites you on board for a magical ride of about ten minutes in the village.
Electric Mountain Bike Ride On Snow 19th December 2022 - 28th March 2023 Instructors offer you snow hikes to discover Combloux from a different perspective. Mustache Bikes Electric Mountain Bikes will allow you to easily ride on snow and enjoy snowy landscapes.
La Crève-Cœur Ski Touring Race 13th January 2023 La Crève-Cœur is an unmissable event of the winter season in Combloux, which brings together both regulars of the competition and "novices" who wish to challenge themselves and take up this great challenge in a friendly mood.
Combloux Alaskan Game 14th February 2023 A day of entertainment and activities to discover life on a camp in the far north, which you will have to set up with your own hands. In a unique setting, surrounded by sled dogs, learn about life in the wild, the comblorane way!
More information can be found on the tourist office website: www.combloux.com
Combloux Après-ski, Bars & Restaurants
There are 9 restaurants in the village, 5 restaurants at the foot of the pistes and 5 altitude restaurants (mountain restaurants).
Combloux Restaurants
Mountain restaurant "Auberge de Bonjournal"
Authentic woodeen mountain restaurant Restaurant on the ski-slopes in the centre of the link Megève/Jaillet.
Restaurant "Au Village"
Restaurant in the center of the village.
Restaurant "La Stalla"
Pizzeria with a mountain decoration, proposes a big variety of pizza, but also salads and pastas.
Restaurant "Le Loup Comblé"
Restaurant located in the village center behind the Tourist Office. Traditionnal french cook and savoy specialities.
Mountain-Restaurant la P'tite Ravine
Restaurant located on the ski slopes (Jaillet area) Access possible by skiing or hiking. Panoramic view on the Mont-Blanc
Restaurant "Les Clarines"
Located at the bottom of Combloux's slopes, in front of the Ski school
Restaurant "Le Chalet d'Emilie"
In a totally natural setting, accessible the whole year round.
Restaurant "Le Coin Savoyard"
The guesthouse "Le Coin Savoyard" has a reputation for its fine eating experience.
Restaurant "Le Mystic"
The restaurant Mystic is a welcoming, quiet, warm and friendly restaurant
Le Postillon
Propose pizzas, paninis, salads, chips etc
Restaurant "le Gavroch'"
The Joly Site invites you to come try out its new cozy restaurant
La table d'Amélie
Restaurant "La Ferme"
Located in the center of the old village.
Restaurant "Au Petit Cuchet"
Real meeting point for the lovers of good cooking.
Restaurant "La Cassina"
Come and relax on our sunny terrace in front of the Mont-Blanc and Aravis massif.
Restaurant "Le Bistrot de l'Alpen"
50m from the departure of the slopes.
Mountain-Restaurant "L'Alpage de Porrez"
On the "Porrez " or "Grand Cerf" slopes.
Mountain-Restaurant "Le Coeur d'Or"
Le Coeur d'Or, 1525m, in Combloux High restaurant on the slopes during the winter season.
Restaurant "Côté Lac"
An exceptional restaurant facing the most beautiful view of the area, on the first ecological lake in France.
Mountain-restaurant chalet des Bachais
Restaurant located at the top of the slopes. Beautiful view on the Mont-Blanc and Aravis massif.
Getting to Combloux, France
By Road:
Driving distance from Calais to Combloux 549 miles (7 hrs35)
From Calais, take A26 Motorway towards Reims and Troyes, then Dijon, Mâcon then 'Autoroute Blanche' Motorway (A40 Mâcon – Cluses) exit Sallanches (no 20). Follow signs to Combloux (8km from Sallanches).
By Rail: 
Direct access by TGV to the train station in Sallanches, then taxi to Combloux 8km
Airports:
Geneva Airport is 64km from Combloux (1 hour)
www.gva.ch
Chambery Airport is 115km from Combloux (1 ½ hours)
www.chambery-airport.com
Grenoble Airport is 165km from Combloux (2 hours)
www.grenoble-airport.com
Lyon Saint-Exupery is 202km from Combloux (2 hours)
www.lyonaeroports.com 
Bus transfers from Geneva Airport
Book at www.sat-montblanc.com
Getting around Combloux
During lift service, a ski bus runs free between centre of the village (behind Tourist Office) and the pistes (Cry car park). Approx. every 30 mins.
---
Combloux Opening Dates
Combloux opens from 17/12/22 - 26/03/23