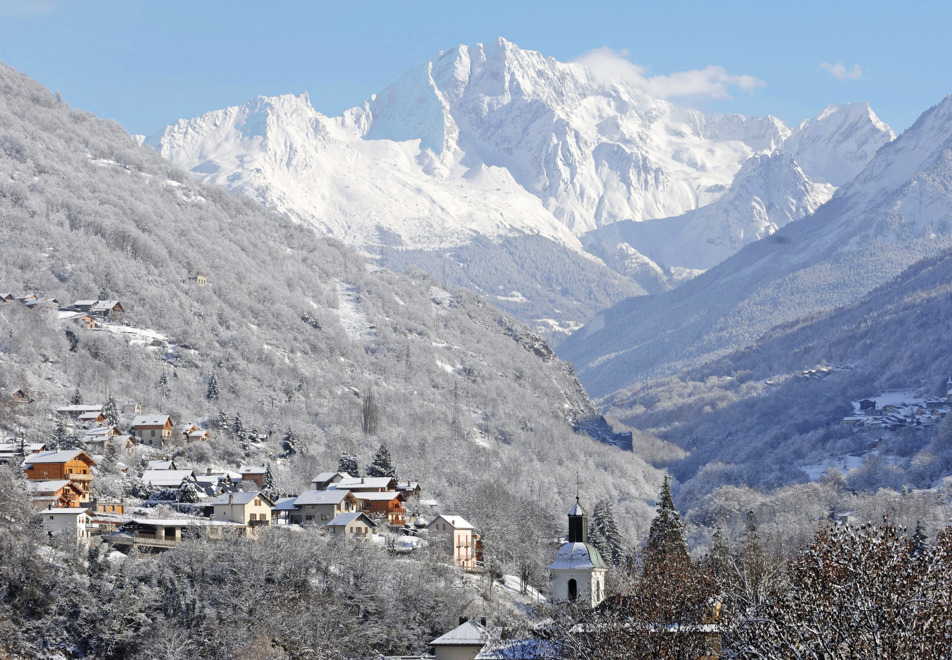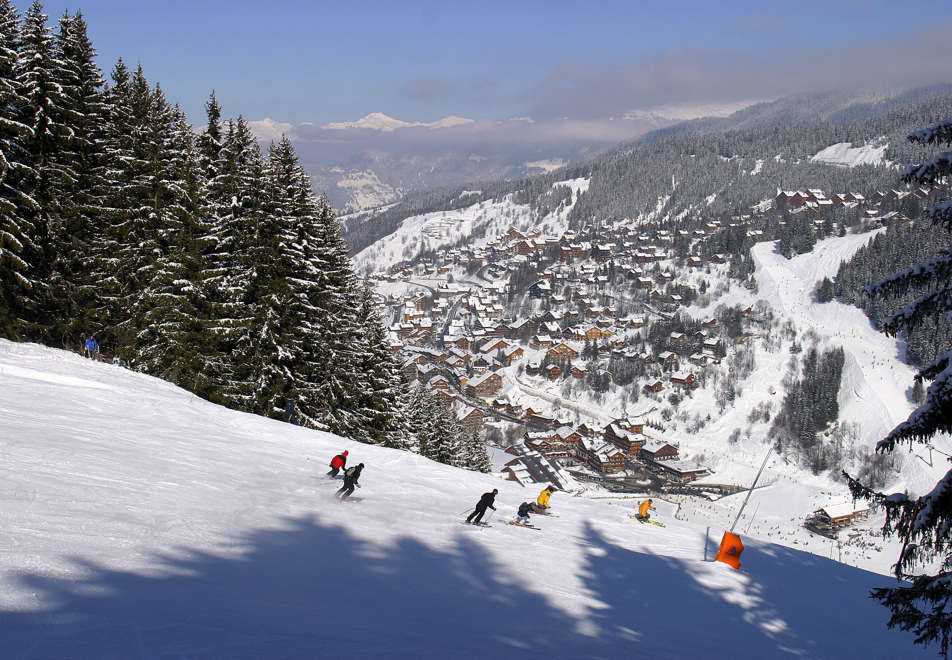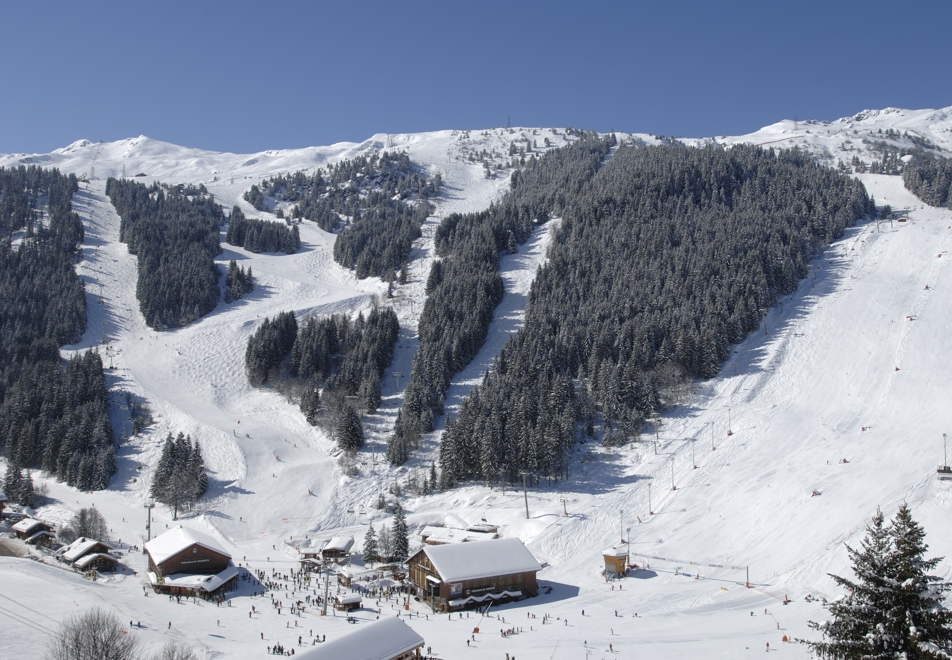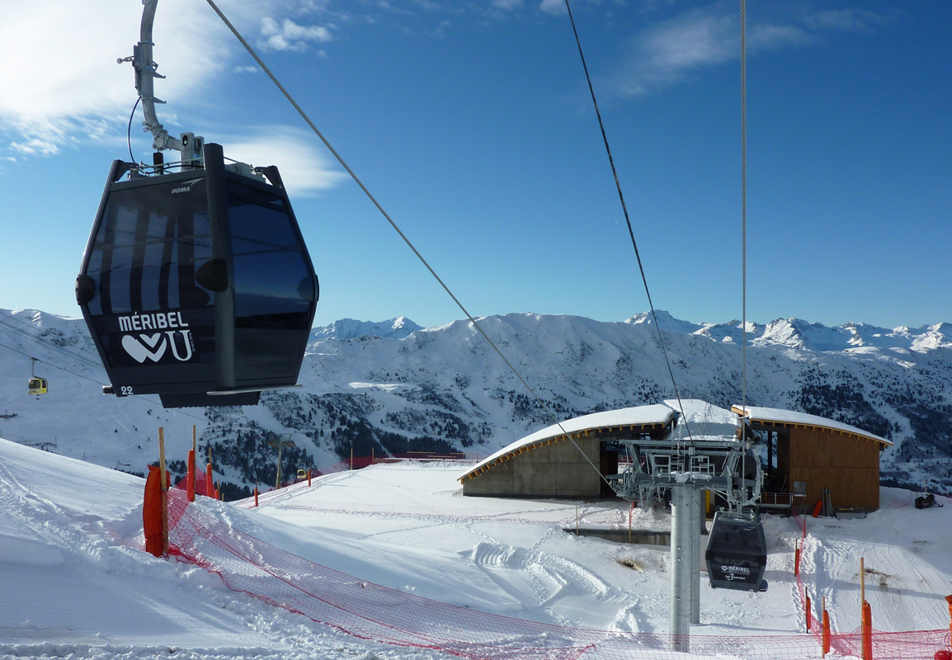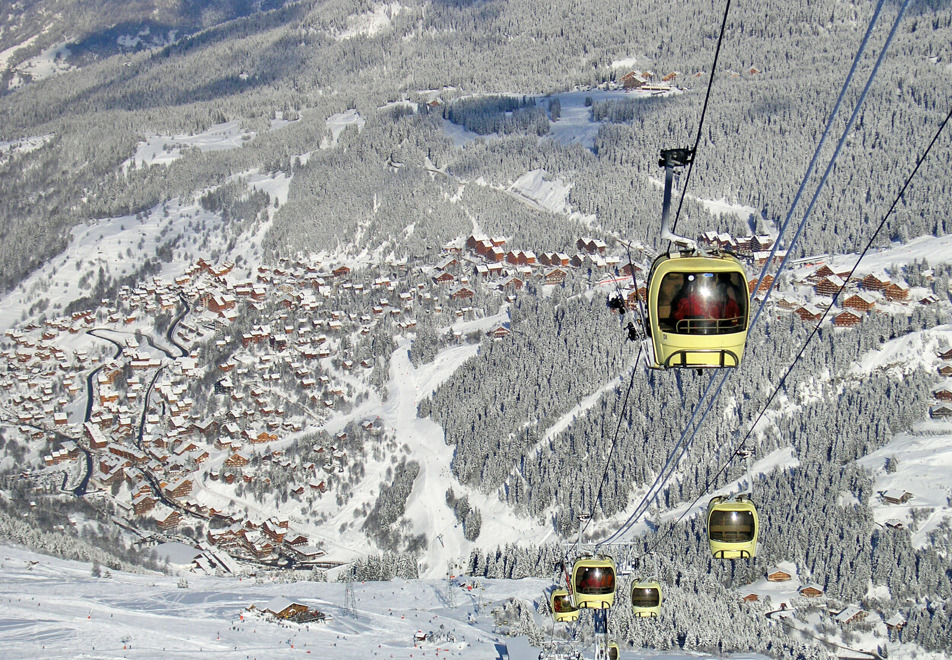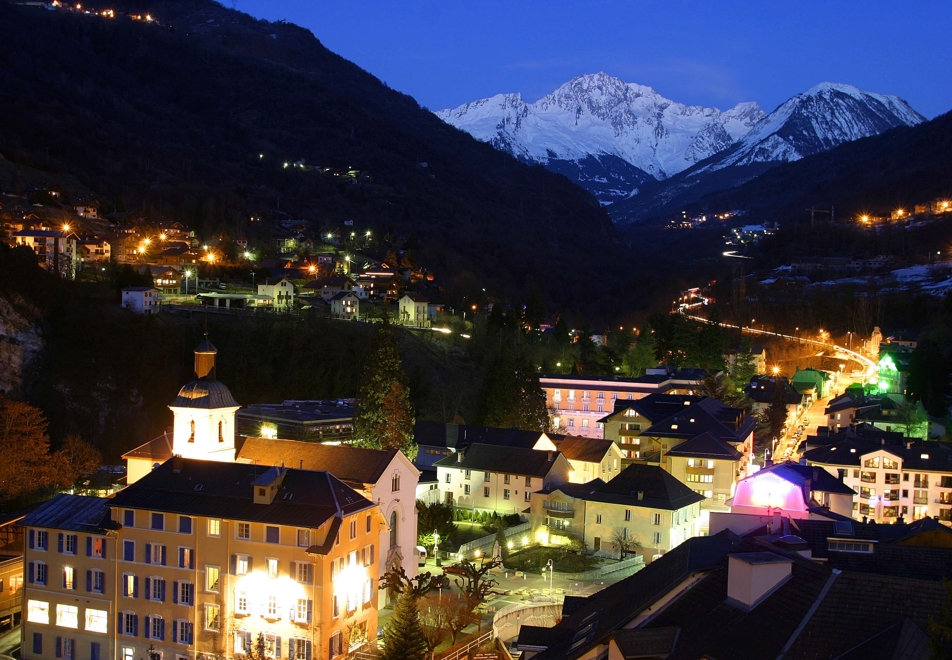 Thinking of skiing in Brides-les-Bains? Brides les Bains is a lovely French Savoyard town renowned for its spas and exceptional value-for-money, with easy access to one of the world's best ski areas.
Why Brides-les-Bains Ski Resort?
Gateway to 600km of pistes in the 3 Vallées (Meribel in 25mins)
Superb value-for-money ski holidays
New large spa centre offering traditional baths, steam rooms and saunas
Offers bars, restaurants & nightclubs as well as the only casino in the 3 Valleys
Brides Les Bains (3 Vallées) Information
The high-speed Olympe gondola connects Brides-les-Bains to the bottom of the slopes in Méribel in 25 minutes and then allows access directly to the heart of the famous 3 Vallées ski area (Méribel, Méribel Mottaret, Courchevel, Les Menuires, and Val Thorens).
Brides-les-Bains has a number of bars and restaurants as well as two nightclubs and the only casino in the Three Valleys, all with prices well below those of Méribel and Courchevel.
Non-skiers or après-ski enthusiasts can relax in the new large spa centre which offers traditional oriental baths, aromatics steam rooms and saunas.
Brides-les-Bains is widely recognised as offering an exceptional value-for-money gateway to one of the world's most prestigious ski areas.
Peak Retreats offers a range of Brides-les-Bains accommodation options. All of Brides-les-Bains' ski apartments and hotels have been hand-picked and are of a very high standard (3 & 4*), providing the ideal base for a 3 Valleys ski holiday.
BRIDES LES BAINS SKI AREA
The Méribel valley is part of the largest ski area in the World: The 3 valleys ski area, with slopes suitable for all abilities, has 220 ski lifts, 600km of slopes between 600m up to 3200m and 1300 snow cannons. To the west, on the Saulire slope, you'll find the valley of Courchevel and La Tania while to the east you can discover the Belleville valley with Les Menuires, Saint Martin-de-Belleville and Val Thorens. There are nine high points on the ridges above Méribel - two entry points to the Courchevel valley, and six entry points to the Belleville valley.
The 3 Valleys benefits from excellent snow coverage - the minimum altitude level for skiing is 1300m and the maximum is 3230m. This means that a huge 85% of the ski area is located above 1800m. Some 2000 snowmaking machines cover one-third of the ski area as well. In Méribel itself, snow cover is guaranteed on 51% of the ski area thanks to 711 snow cannons. The 3 Vallées pistes are situated between 1300m and 3230m and 85% of the ski area lies above 1800m. Twenty-five peaks are reachable by lifts, ten of which are above 2500m. 
There is no actual skiing in Brides itself so the high-speed gondola from the village (built for the 1992 Olympics) takes you to Méribel where you have access to the 3 Valleys ski domain. South of Mottaret you'll find some of the best slopes in the Valley (Plattières-Vallon sector). Most of the slopes in Méribel are above the tree-line but there are some sheltered runs for bad weather days. At the end of the day skiers and snowboarders return to Brides by gondola. There are off-piste routes you can ski to mid-stations (so you'll only need to catch the lower section of the gondola down). And if conditions are exceptionally good you can actually ski off-piste all the way down to Brides itself.
For children, Méribel-Mottaret also benefits from the 'Magnestick' lift system. See more information on the 'Resort' section above under Childcare. Courchevel/La Tania/Méribel-Mottaret are always on top of technology for skiers' safety. Three years after the development of Magnestick®KID - special safety equipment for children on chairlifts - La Société des 3 Vallées (S3V) which operates the Courchevel / La Tania/ Méribel-Mottaret resorts will be the first skiing area in the world with 100% of its chairlifts equipped with the new Magnestick®BAR.
Magnestick®BAR is a universal safety-bar locking device. This innovative system can be adapted on all brands and all types of chairlift. It works with the same "magnestism" technology as Magnestick®KID. When the passenger pulls down the safety bar, the bar locks automatically. It is then impossible to pull up the safety bar. It is automatically unlocked until just before the arrival station. So no skier can raise the bar too early, which can sometimes make other passengers feel uncomfortable.
Additional ski fact info 2018/19, main ski info in resort facts box at top of page
Meribel Valley - 150km, 41 lifts (14 gondola, 16 chairlifts, 6 draglifts, 5 moving carpets), 64 slopes:

Green slopes: 8
Blue slopes: 26
Red slopes: 23
Black slopes: 7
793 snow cannons (55% of ski area)
BRIDES LES BAINS SKIING
BRIDES LES BAINS BEGINNERS
For beginners Méribel has a few excellent slopes and beginners areas, including three enclosed areas ('Zen Zones') at Plattières above Mottaret. There's an excellent long green run (tree-lined lined and gentle) at Altiport. A green run goes from the mid-station of the Saulire gondola so that novices are able to ski from that point.
 A new play area was created recently inside the Espace Ski Cool, next to the Blanchot slope. It includes a rest area with tables and benches, new games for the children and two new slopes for sliding and simply having fun!
BRIDES LES BAINS INTERMEDIATES
Méribel and the 3 Valleys are considered a 'paradise' for intermediates. The 3 Valleys have one-third intermediate slopes with big lift networks. For less adventurous intermediates, the Sittelle blue run from the top of the new Plattières gondola back down towards Mottaret is an ideal cruise. However even early intermediates should find Twenty-five over in the other valleys within their capabilities - there are a vast amount of opportunities!
BRIDES LES BAINS EXPERTS
For experts, you are well catered for! The "Face" run was built for the women's downhill in 1992 Olympics. There are steep runs running from Tougnete back to Méribel. Also, Mont du Vallon has lots to offers for experts. The start of Méribel's most notorious black run, the Vertical Xperience was completed in 13/14. Only the bold tackle this 37-degree couloir - the majority prefer simply to watch. Enjoy the spectacle of experts tackling this impressive slope from the top of Saulire Express gondola lift.
BRIDES LES BAINS OFF-PISTE
There are lots of runs suitable for the more accomplished. Mont Vallon offers a big choice of routes –quite steep at top with easier slopes from the middle.
BRIDES LES BAINS SNOWBOARDERS
Méribel is a favourite amongst the British snowboarders with good, varied terrain and tree snowmaking. Steep free riding can be found untracked on Mont du Vallon. Lots of red runs for intermediate boarders and plenty of blues and greens for those starting out.
Brides les Bains Ski Hire
Pre-book your Brides les Bains ski hire with Peak Retreats.
To download the ski extras form, see 'Helpful links' further down the page.
Please note, these Pound Sterling prices are for indication only. They will fluctuate based on Euro/£ exchange rate. Please call us for the latest prices.
Special offers: *7 days for the price of 6.  Free Skis/snowboard & boots (Blue/Red) for party leaders of groups of 10 or more all taking equipment. 1 Free helmet per child aged 6 and under for every adult booking skis or snowboards & boots (must be under same booking reference and requested on form above). Other duration prices on request - Cross Country ski prices on request.
Find out more about Peak Retreats ski hire
---
Brides les Bains Ski Passes
Pre-book your Brides les Bains lift passes with Peak Retreats. Find out more about Peak Retreats ski passes
To download the ski extras form, see 'Helpful links' further down the page.
Please note, these Pound Sterling prices are for indication only. They will fluctuate based on Euro/£ exchange rate. Please call us for the latest prices.
Other lift passes on offer (to buy locally in resort in Euros):
If you wish to book only half day or a day pass, or perhaps a few days consecutive or non-consecutive (Peak Retreats usually only pre-book 6+ days passes), then these can be bought in resort at the lift pass office, in €'s. This may suit those who only ski a few times during the week or who only want to ski the immediate local area rather than the full area (there are usually various lift passes on offer that cover different parts of the ski area). Each resort usually has a beginner's pass too which covers a small area in which to learn, which may be all you need for a few days as a beginner (some areas are even free). Prices can be found on the tourist office website if you need a guide.
Mini pass - if you'd like a gentle initiation to skiing or snowboarding then the Mini Pass is a pass you can buy in resort. Make your first turns on specially designated green pistes so that you can improve your technique at your own pace in a tranquil environment. 
There are several free lifts for beginners in Meribel: Loupiot, Cotes drag lift (at le Rond Point) Altiport drag and Fontany telecord and also some in Mottaret. 
Meribel Ski School
Brides les Bains has no skiing itself - you need to take the gondola from Brides to Meribel. Ensure your lessons start at La Chaudanne, Meribel. Peak Retreats do not book ski school.
Meribel group lessons (not pre-bookable, book direct):
Various group lessons available with ESF Meribel. Club Piou Piou starts from 3 years old. It is necessary to have a lift pass for Piou Piou. Lift passes are free for children under 5 years old. Please go to lift pass office in resort.
How to book:
You can book online with ESF Meribel or contact them by phone on 0033 4 79 08 60 31. It is advisable to book before you go and in good time as instructors get very busy, especially in Peak times.
Meribel private lessons (not pre-bookable, book direct):
Individual tuition can only be purchased directly from the ESF ski school. Peak Retreats cannot pre-book these. Private lessons usually start from 2 years old and have no maximum age.
How to book:
You can book online with ESF Meribel or contact them by phone on 0033 4 79 08 60 31. It is advisable to book before you go and in good time as instructors get very busy, especially in Peak times.
Prices vary from resort to resort but are around €40-80 per 1 hour lesson for 1 or 2 people (the more people you have the cheaper it usually is so you can split the cost). Most resorts offer a choice of 1 hour, 1.5 hours or 2 hour lessons. These may be in the morning or afternoon and are usually at select times. If you only fancy just one private lesson, this is usually fine. Otherwise, you can book a course of private lessons over as many days (consecutive or non-consecutive) as you'd like. However, it is more cost-effective to book group lessons for the week (which we pre-book).
---
Meribel non-skiing childcare (not pre-bookable, book direct)
There is no childcare in Brides Les Bains. You will need to take the gondola to Meribel.
Les Saturnins day nursery (Meribel)
Located in the grounds of the Olympic Park at La Chaudanne, the daycare centre welcomes your children from 18 months to 3 years old. They are fully equipped and the centre is specially designed for young toddlers.

Your child will be entertained by the professionally trained team of instructors and supervise the children in many fun and educational outdoor and indoor activities. The indoor activities range from reading, singing and drawing and the outdoor activities include tobogganing, various snow games and snowshoe walks in the snow. Open 9am-5pm.
Heath books needed.
How to book:
Please contact them direct for prices and to book. It is advisable to book before you go and in good time as spaces get filled quickly, especially in Peak times.
Les Saturnins
0033 4 79 08 60 31
Meribel and Brides les Bains Resort Activities
Dog sledding, climbing, fishing, paragliding, ice skating, ice climbing, Olympic ski runs, mountain flying, snowshoeing, snow hiking, ice driving, ski jump, spa.
Ice rink in Meribel
In the Olympic Centre, La Chaudanne. Open from 2.30pm to 7pm, except Thursays from 5pm to 7pm (last entry 45 mins before closing). 
FAMILY ICE GAMES. For all the family, mini-tennis, ringuette, balloon-broom, agility course, football and badminton. Free entertainment except for the entrance fee and skate hire.
Indoor swimming pool in Meribel
At the Olympic centre - La Chaudanne
Bowling in Meribel
In the Olympic Centre, La Chaudanne, 6 lane bowling alley equipped with automatic barriers for children from 3 years old. Bar, billiard, video games, TV screens for sports broadcast, Wifi, snacks...Open everyday from 2pm to 2am, and from 10am if bad weather.
Largest Spa in the Alps in Brides les Bains
Brides-les-Bains is renowned for its slimming cures. After skiing it is possible to relax in the spa centre for some massage and hydro-therapic treatments.
As France's leading slimming Spa resort, Brides has become the must for recharging batteries and getting back into shape. It is the biggest Spa in the French Alps...Grand Spa des Alpes® (open 7 days a week) is a palace dedicated to your relaxation. Enjoy the 2100m² site which will take you on a journey designed to give you a new lease of life in a glamorous atmosphere.
The Recreation Area of the Spa consists of:
 - 1 hammam
 - 1 inside jacuzzi and 2 outside jacuzzis
 - 1 aromatic steam bath
 - 1 plant steam bath
 - 1 sauna Ice cold showers and Ice Fountain Experimental showers
 - 1 divana Relaxation rooms
Herbal teas, Terrace and solarium
Brides les Bains Markets
Place du Centenaire
73570 Brides-les-Bains
Wednesday mornings
Meribel Shuttle
Place du Centenaire (Brides les Bains) - Parc Olympique de la Chaudanne (Meribel)
Phone: +33 (0)4 79 55 20 64
Every Tuesday, Brides-les-Bains give you an opportunity to spend an evening in Meribel with its shuttle. Leaves around 8ish and returns around midnight.
Please note: All the above information is for information only. For the most up-to-date information please visit the resort tourist office website. All prices for activities are in local currency (€ Euros) and are bookable and payable locally in resort.           
Brides-les-Bains Tourist Office       
BP 28, 73572 Brides les Bains.
Tel. 00 33 4 79 55 20 64, Fax. 00 33 4 7 55 20 40
Website: www.brides-les-bains.com

Meribel Ski Activities
Terrain Parks in Meribel
There are two parks in this area. The main Moonpark is accessed by the Arpasson draglift (www.moonpark.net). It includes a triple kicker line for all levels with smooth take-offs, and the rails are advanced. There is a step-up to step-down obstacle and S-Box. There is a beginners area – mini jumps, boxes and even a small boardercross.
The Rider Pass. You can access to the Moon Park (10 hecs) and the Snow Park of les Plattières. Price: 24 €.
Skilift access: Olympe and Tougnete gondola, Plan de l'Homme chairlift, Arpasson draglift, Combes and Chatelet chairlift, Cittelles draglift.
Off-piste - A new Moon Ride area! Situated under the new Tougnete skilift. Be careful! These areas remain off-piste.
Snowpark in Meribel
Created in 1995, this 6 hectares snowpark is the oldest of the 3 Valleys. It stretches between 2100 and 2400meter high at the heart of the Mottaret ski area. Famous for its big half pipes, it is adapted to the majority of skiers and snowboarders.
And for kids…
The P'tit Moon, Younger brother of the Moonpark, is specially designed for children from 7-12 years who are good skiers.

It has a miniature boardercross which allows kids to progress in complete safety on the banked turns and whoops.
For those with less confidence
Ski Cool
Cool skiing, a quiet space for skiing. Ideal to learn and improve your ski.
Zen Zones
To enhance ski run safety, Méribel has created ZEN Zones for families and skiers lacking in confidence.
Cross-country ski in Bozel
Located close to famous ski domains (3 Vallées and Paradiski) Bozel is a pretty village, lively all year long thanks to the shops and the activities on every season. Bozel has got a cross-country ski domain and footpath available in snowshoeing or by walk
Blue run 1 piste(s) / 4 km, Ski slope 19 km, Black run 1 piste(s) / 7 km, Red run 1 piste(s) / 5 km, Green run 1 piste(s) / 2 km
Inuit village in Meribel
A fun area which is composed of whoops, banked turns and slaloms. You could also discover lots of games on the theme of Inuit. On the Louveteaux piste (Altiport area), try out various Inuit-themed children's games. The Ski Cool area, dedicated to tranquil skiing, is now even bigger!
Brides les Bains & Meribel Resort News and Events 2019/20
Resort news:
Following a €15 million refurbishment which completed last year, the Grand Thermal Spa now offers 2,700 m2 of luxury treatment and water pool areas - making it one of the biggest spa and well-being centres in France
Snowmaking has doubled in recent years with the expansion of the Altiport and Combes high altitude reservoirs.  4 runs will benefit this year: Bouvreuil Rouge, Mûres Rouge, sections of Combe du Vallon, Choucas
Two new red runs open in the Roc de Fer area which to date has mostly been served by blue slopes. The Gypaete and Daguet pistes can be accessed by the Cherferie and Olympic lifts respectively
Renovation of Méribel-Mottaret's lift pass office has been completed to make it more spacious, bright and convivial, now with 'open sales' desks
Brides-Les-Bains, in partnership with the ESF Meribel, will be running guided tours of the whole ski area every Sunday morning & afternoon to help guests get their bearings and show-off the hidden gems based on the local knowledge of ski instructor guides. Book at Brides-Les-Bains' Tourist Office on Saturday before 17.30. Tickets are €25 per person. Groups of eight people will be guided but you can reserve with fewer people & you'll be buddied up. Skiers must be intermediate level or higher.
Kids aged 6-12 can get pampered. Beauticians at the 4-star Mercure Grand Hotel de Thermes will teach them how to wash they face properly using fun smelling products – candyfloss, chocolate, vanilla and strawberry
Family Cool – near the Altiport, this is a family area serviced by blue slopes.  During school holidays, Intuit entertainers will delight the kids with eagle shows, ice carving, biathlon taster sessions and other surprises.  What's more….it's FREE
After a season off, Jack's Bar returns to Meribel located in new premises – formerly Meribar – on the roundabout near the Parc Olympique. Take in the famous après ski, live music, comedy, themed nights, along with delicious homemade pizzas and top-notch cocktails
Future resort news 2023:
Courchevel and Meribel to host

 

THE ALPINE WORLD SKI CHAMPIONSHIPS!

 To provide the best possible welcome to athletes, journalists and the general public, a number of projects are already underway:
Events:
Check the Meribel tourist office website for more exciting news: www.meribel.net
Meribel and Brides les Bains Restaurants, Bars & Casino
5 Bars, 9 restaurants, casino, nightclubs, cinema, shops, tea rooms. Two or thee evenings per week the tourist office organises themed evenings with entertainment like live concerts, pool tournaments, darts competitions, karaoke….
In Meribel - The Choucas restaurant near the mid-station of the Saulire gondola is to be redesigned to become another Folie Douce (alongside Val d'Isere, Val Thorens and Alpe d'Huez). La Folie Douce is a unique concept created over 30 years ago by Luc Reversade. Just like its big sister in Val d'Isère, La Folie Douce Méribel offers a variety of generous, gourmet cuisine and an ultra-festive, welcoming atmosphere topped off by impeccable service.
Boutique Farto is a new deli in Meribel, set up by local Jonathan Chantemesse, his brother and his wife. The three of them carefully select the best cheeses and the best regional specialties. They favour short-circuit distribution and travel the Alps, across Burgundy and the Maconnais region in search of new flavours. Their wine cellar is a hidden gem.
Clubs
« Le Cythère »
Quartier de l'Olympe
Open from Mid Dec to Mid April, everyday from 4-7pm and then 10pm-4am
« Blue Night »
Casino – Esplanade des Thermes
Open end of Nov to April
Friday and Saturday from 10pm to 4am.
Rue Emile Machet
Brides les Bains Restaurants
La grillade 
Immeuble le royal, Quartier du vieux brides
Pizzeria
BBQ Bar 
Esplanade des Thermes
Themed restaurant
La Petite Auberge 
Rue Emile Machet
Themed restaurant
Le Chalet des Arcades 
Rue Aristide Briand
Themed restaurant
La Montagne 
Rue Emile Machet
Pizzeria, Crêperie
Le Parisien 
Rue Aristide Briand
Brasserie 
Pizza Man
Fast food - eat in or takeaway (salads, panninis, pizzas)
Brides les Bains Amenities
Brides les Bains is served by a range of amenities including: bank, bakery, shops, hairdresser, vet (in Bozel or Moutiers), doctor, chemist, perfume shop, mini market (Spar open 7 h30 – 12h00 / 15h00 – 19h 30), tabac, newsagent, gift shop, garage, laundrette, pharmacy, post office.
Getting to Brides-les-Bains, France
By Road
:
Driving Distance from Calais to Brides-les-Bains 568 miles or 8hrs. Motorways access to Moutiers (6km from Brides-les-Bain)
By Rail
:
Lyon – Moutiers: 2hrs30; Turin – Moutiers: 4hrs; Paris – Moutiers: 4hrs30
Moutiers train station private transfer - from £14pp based on 4 sharing pre-bookable with Peak Retreats.
Airports
:
Chambery Airport is 91km from Brides-les-Bains (1 hour)
www.chambery-airport.com
Grenoble Airport is 160km from Brides-les-Bains (1 ¾ hours)
www.grenoble-airport.com
Lyon St Exupery is 167km from Brides-les-Bains (1 ¾ hours)
www.lyonairport.com
Geneva Airport is 170km from Brides-les-Bains (1 ¾ hours)
www.gva.ch/en
Public shuttle bus transfers from airports
Lyon Airport - Brides via Moutiers (www.lys-altibus.com). 
Geneva Airport - Brides via Moutiers (www.coach-station.com). 
Chambery Airport - Brides via Moutiers (www.lys-altibus.com). 
Access around Brides les Bains
Free Ski shuttle from Brides-les-Bains accomodation to Olympe gondola.
Free shuttle bus service on Tuesday evenings to take you to your après ski activity, shopping or dinner in Méribel.
Brides les Bains Airport Transfer
For pre-bookable private transfer rates with Peak Retreats, view here. 
---

Brides Les Bains Opening Dates 
Brides Les Bains ski area is open: 13/12/19 - 17/04/20