Peisey Vallandry Family Fun Lift Pass Offer 2016/17
Peak Retreats are offering some fantastic special offers for clients staying in Peisey Vallandry or Bourg St Maurice.
Buy 2 x Adult Les Arcs/Peisey Vallandry or Paradiski lift pass* with Peak Retreats and receive the following**...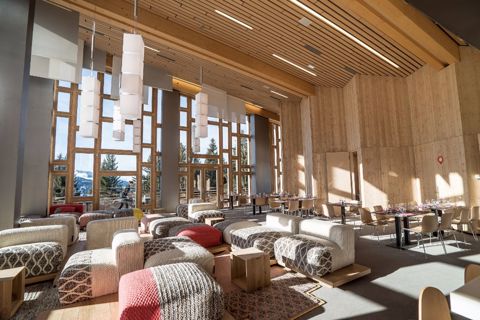 For week 17/12 & Christmas week 24/12
2 x complimentary lunch vouchers at 'Le Lodge' restaurant on the slopes at Mille8 (Arc 1800) per party
Valid for a 2 course meal inc. main course + dessert (excludes drinks) worth €19 per voucher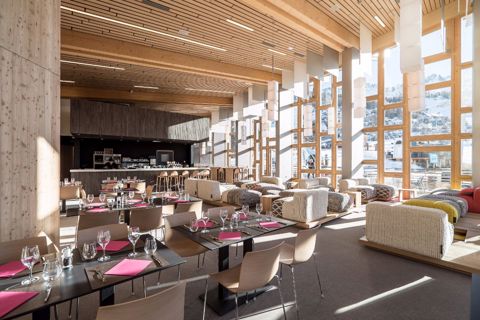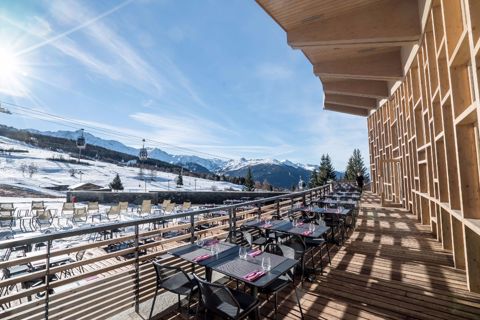 For Easter weeks 01/04 & 08/04
2 x complimentary Mille8 (Arc 1800) or Rodeo Park (Arc 2000) sledge voucher per party
Mille 8 sledge is located on the slopes at top of Mille8. Rodeo Park sledge is located on the slopes at top of Arcabulle gondola (min age 10yrs, min height 1m25)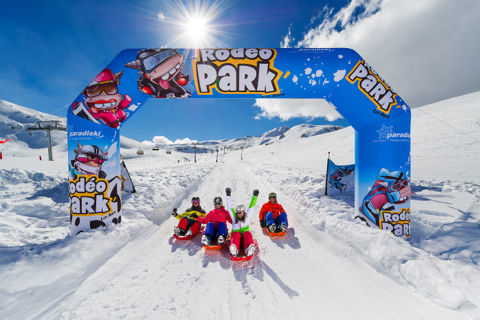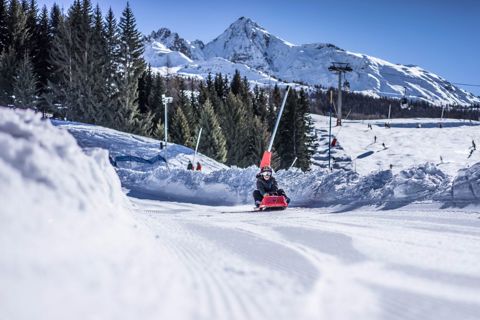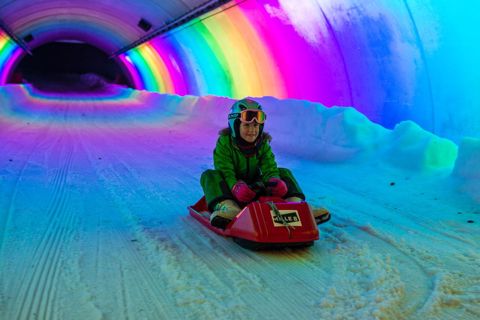 About Mille8 (Arcs 1800)
Big changes have happened in Arc 1800 with several new ski lifts plus activities including an aquatic centre, and snow sports areas such as a tubing run, a fun trail course for all abilities, a beginners' area, discovery trail and a children's practice area.
All of Mille8's developments were completed early 2016, with the new Carreley 6-seater high-speed chair lift and lodge with slope side restaurant (Le Lodge), golf simulator and dance floor. With Mille8, Les Arcs has completely re-invented 'apres-ski'. Mille8 is served by the brand new dedicated Villards gondola, and remains accessible every day until at least 7.30pm. View here for a map of Mille8.
LE LODGE - is right in the centre of Mille8 slopes and a great place to meet up. It's a restaurant, snack bar, a dance floor and an events location. The restaurant creates chic brasserie food, elegant and refined French cuisine. A prestigious wine list and producers in the restaurant regularly to talk about French wines. Open from 9.30am-7pm daily with opening until 11pm 3 nights per week. Hop on the Villards gondola for access (accessible to pedestrians/skiers)
LA LUGE- choose your toboggan, hop on the Villards gondola (accessible to pedestrians/skiers) and get ready for the adrenaline fuelled ride down 900m of twists and turns with a dash through the illuminated tunnel at the finish line. Open from 2pm-7.30pm daily with opening until 8.30pm 3 nights per week.


LES CABANES - a beautiful ski run winding its way through the forest with wooden cabins, lights, and sound. Don't miss out on the Giant Xylophone. Open from 9am-7.30pm daily with opening until 8.30pm 3 nights per week.


LES BOSSES - a freestyle run with an abundance of fun modules and snow-sculptures for all levels. Scan your pass at top and your run will be filmed! Open from 11am-7.30pm daily with opening until 8.30pm 3 nights per week.


LE CUBE - a safe and protected area to help beginners for all ages gain confidence served by a covered and easy to use magic carpet lift. There are stunning views over Mont Blanc. Open from 9.30am-7.30pm daily with opening until 8.30pm 3 nights per week. Hop on the Villards gondola for access (accessible to pedestrians/skiers).


LES PINGOUINS - a dedicated environment for children to progress and play, featuring igloos, a sledging area and a magic carpet. FREE access. Open from 11am-5pm (5.30pm from February).



LES SAPINS - starting at Le Lodge and winding through the forests, the Sapins footpath offers walkers a unique ambiance and areas to relax, rest, or take in the exploits on nearby ski and toboggan runs. Open from 9.30am-5pm daily.
LA PISCINE - a stunning new 3800 square metre indoor aquatic centre directly on the piste with breath-taking views over Mont Blanc … A stunning indoor swimming with Jacuzzis, whirlpools, waterfalls, slide, water play area for children and grottos. A wellness and fitness centre with saunas, steam baths, and a gym. For easy access, a new covered walkway and elevator whisk clients directly from Arc 1800 to the LA PISCINE aquatic centre. Open from 11am-7.30pm daily (except Sats 2pm-7pm) with opening until 8.30pm 3 nights per week.

Access to Mille8 is included with the following ski and pedestrian lift passes of any duration: Les Arcs, Peisey- Vallandry, Paradiski Unlimited. The aquatic centre, restaurant and luge are available at a supplement.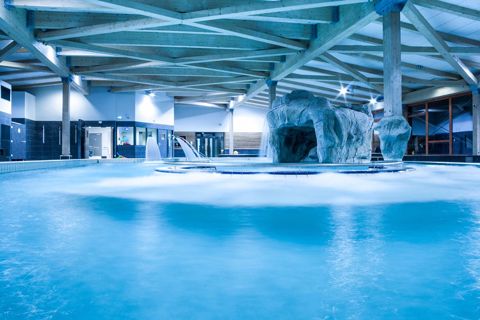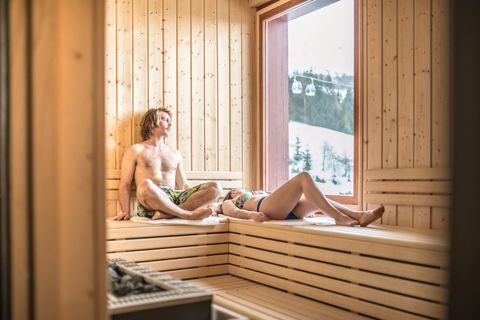 About Rodeo Park (Arc 2000)
The Rodeo Park in Les Arcs offers fantastic sledging fun. At the top of the Col de Chal you can make your way down the new 3km long toboggan track with a 400m vertical drop, enjoying the thrills and excitment of every twist and turn!
About Les Arcs
The Paradiski ski area lies in the Tarentaise Valley and is made up of 3 resorts: Les Arcs, La Plagne and Peisey-Vallandry, offering you a ski area of mammoth proportions and a huge variety of ski slopes. Paradiski is one of the largest ski areas in Europe and is made up of 20 different holiday destinations. With 435km of pistes there is something to suit skiers and boarders of all ages, abilities, levels and experience.
Paradiski has excellent facilities and with its huge variation in altitude (1200m-3250m) and over 70% of the area being above 2000m, there is a multitude of different types of scenery and piste to explore. 
Les Arcs ski area is made up of 4 ski resorts: Arc 1600, Arc 1800, Arc 1950 and Arc 2000 - each a modern, purpose-built resort, developed with superb winter skiing and enjoyment in mind. The older and smaller ski village of Peisey-Vallandry sits lower in the valley of Les Arcs ski resort and offers a more traditional feel, whilst the recently built award winning Arc 1950 has become a well-known village-style ski resort offering the charm of a traditional village with all the creature comforts and conveniences of a modern ski resort.
The Les Arcs ski area is linked with neighbouring La Plagne (6 villages) by the modern double-decker cable car - the Vanoise Express, which is in fact the world's largest cable car!
Accommodation in Peisey Vallandry
Accommodation in Peisey Vallandry - Oree des Cimes, Oree des Neiges, Arollaie


* can be combined with 17/12 offer where you buy 2 adult passes and get one child pass (5-12yrs) FREE
** must have accommodation booked with us