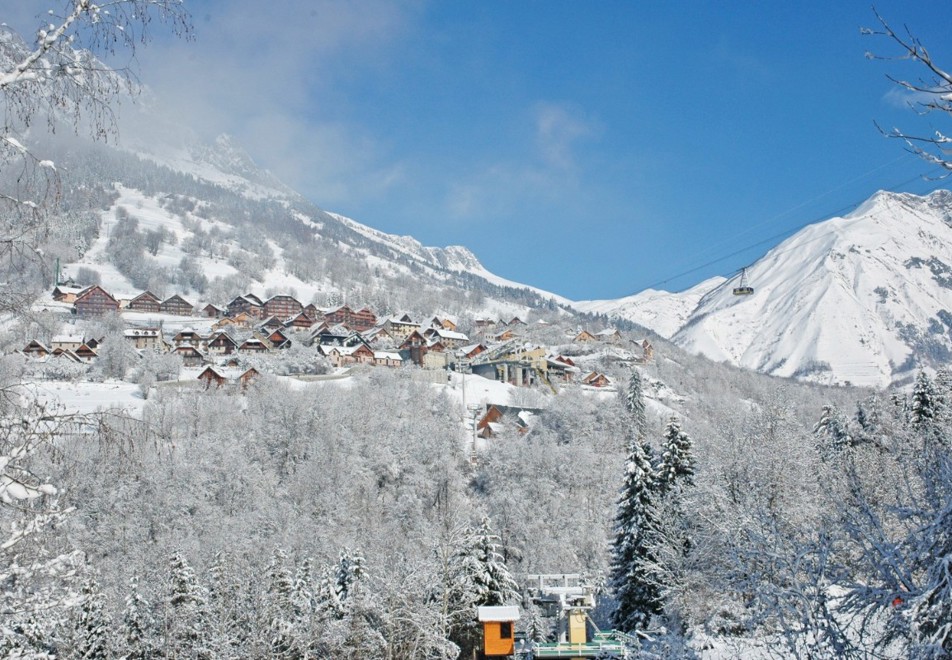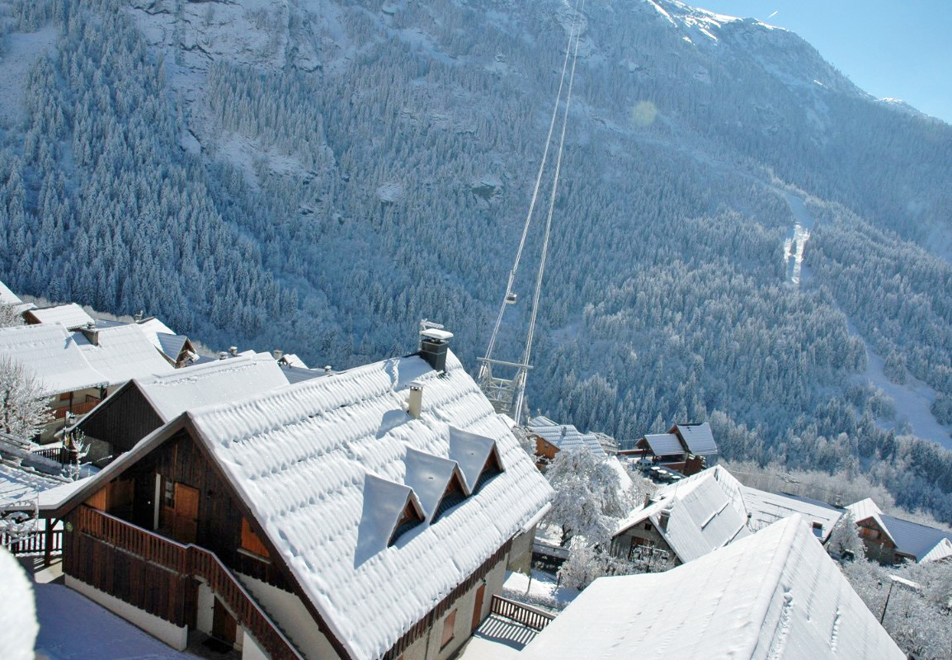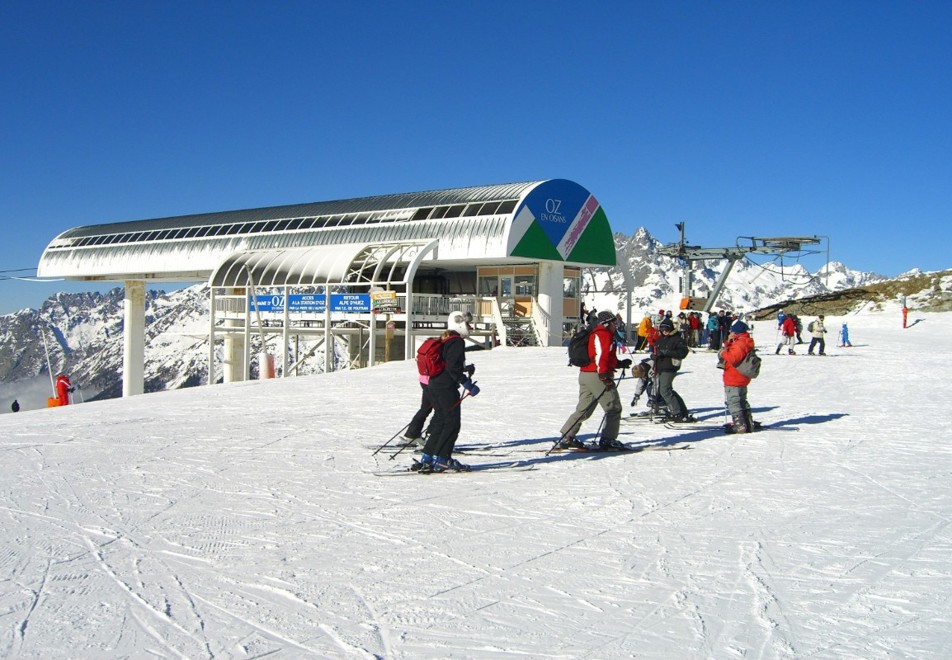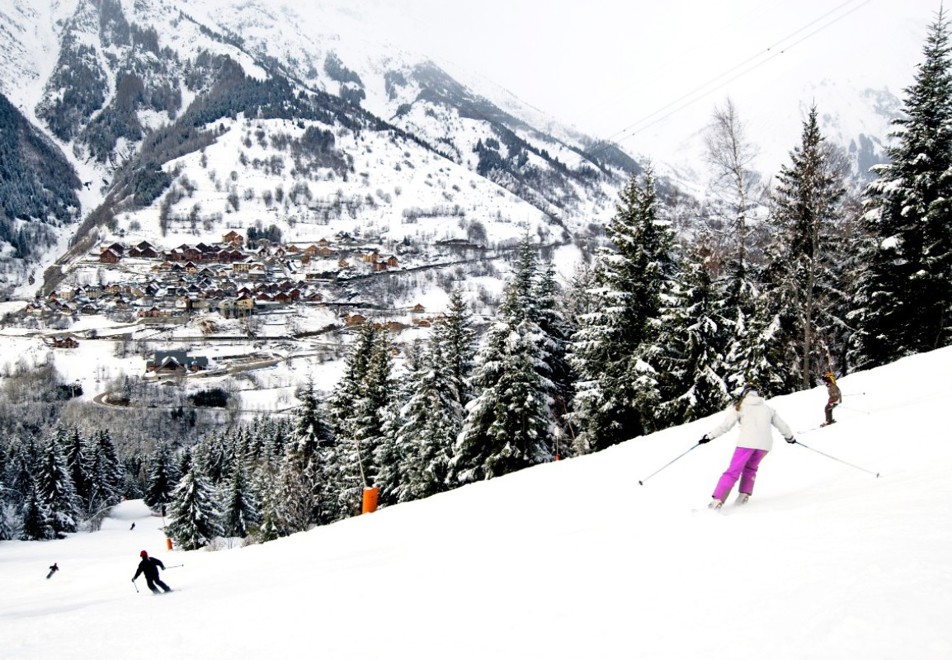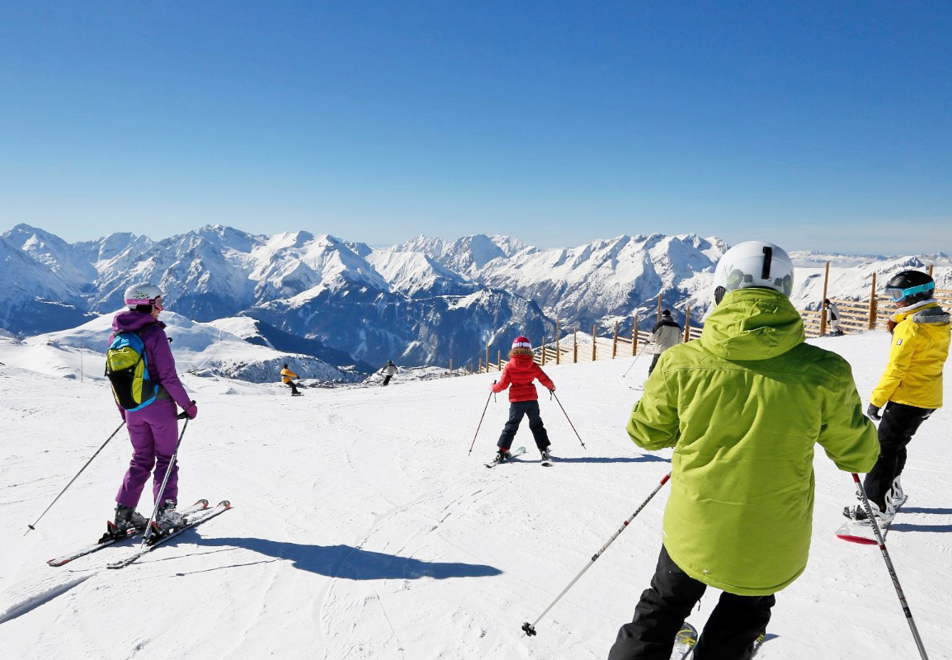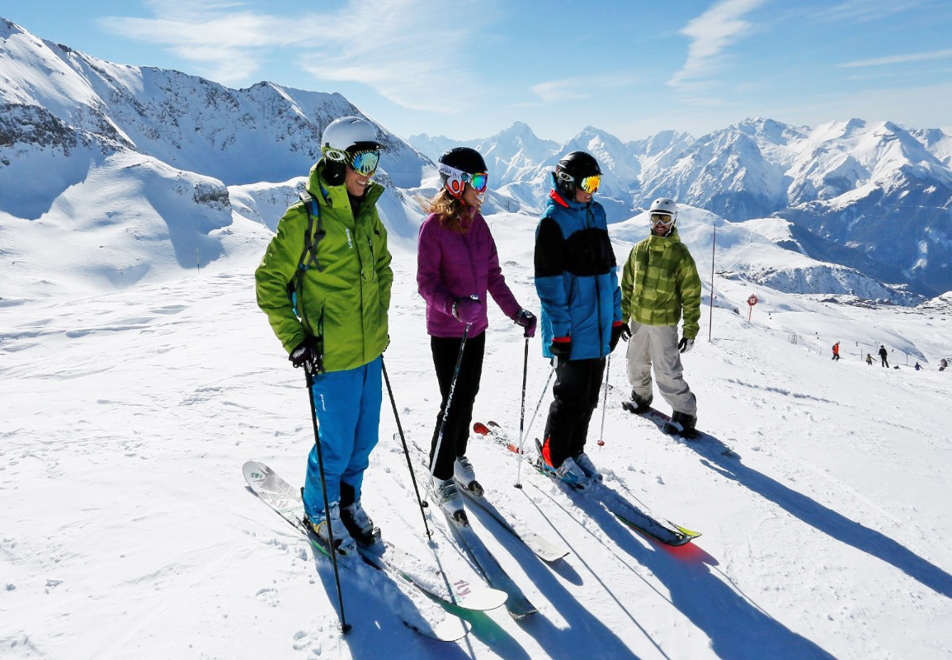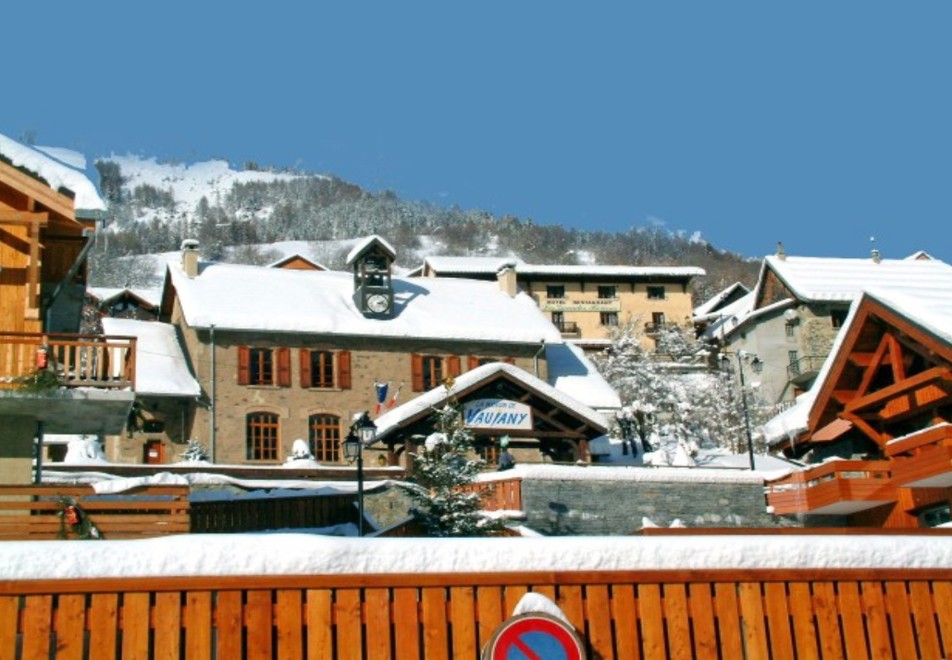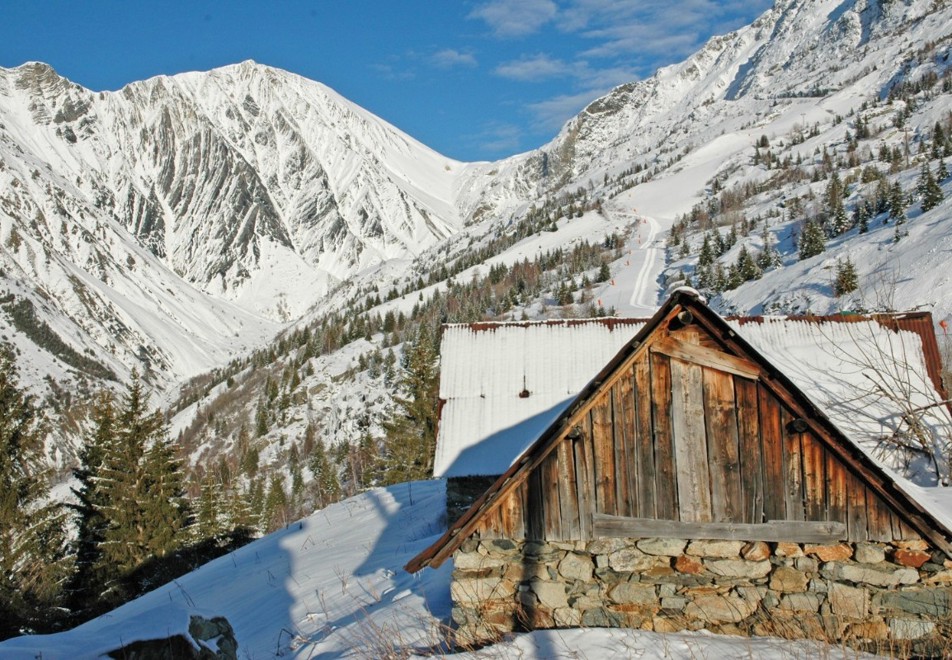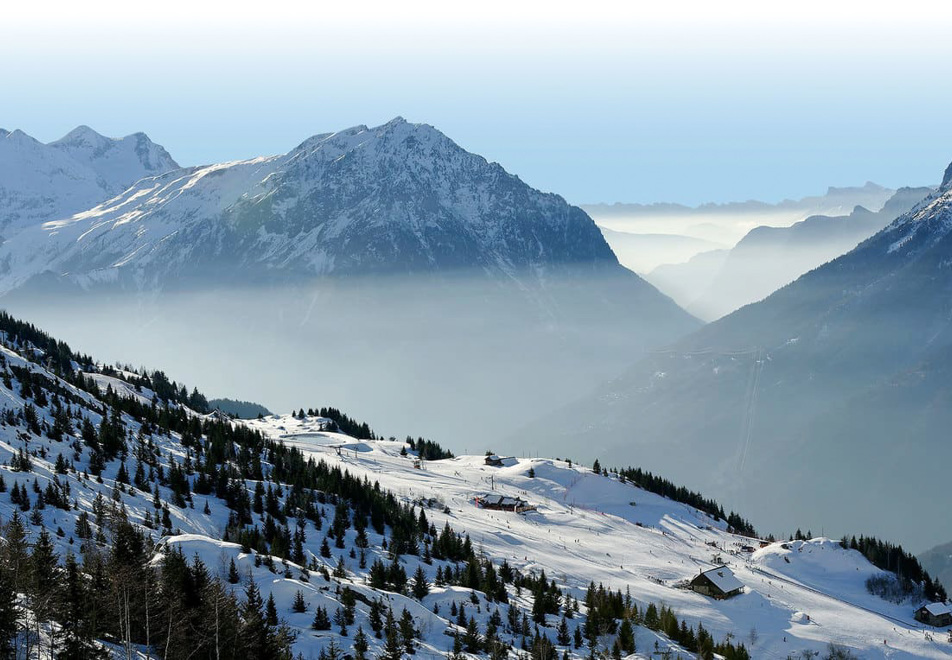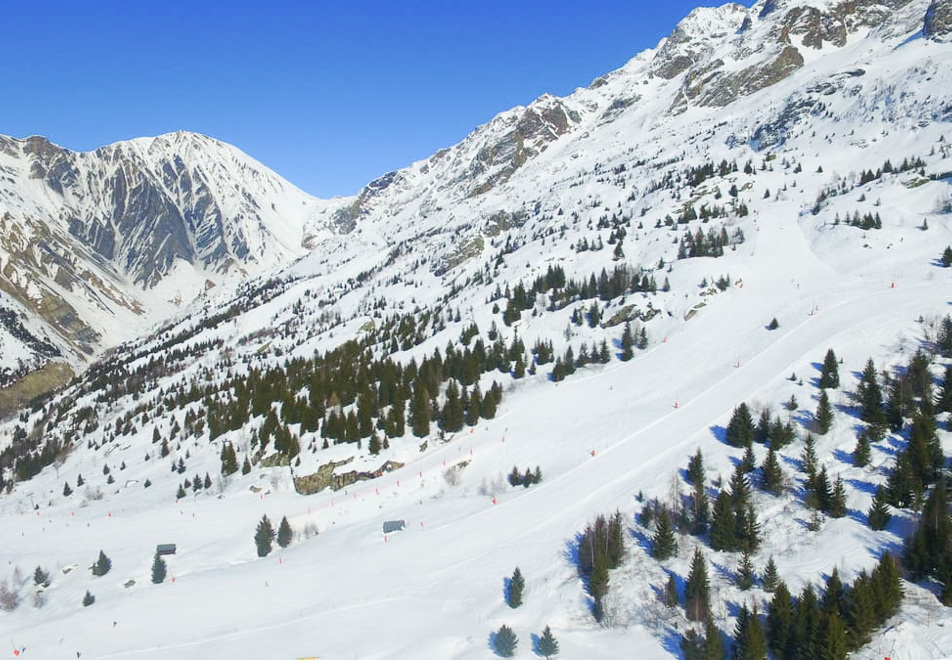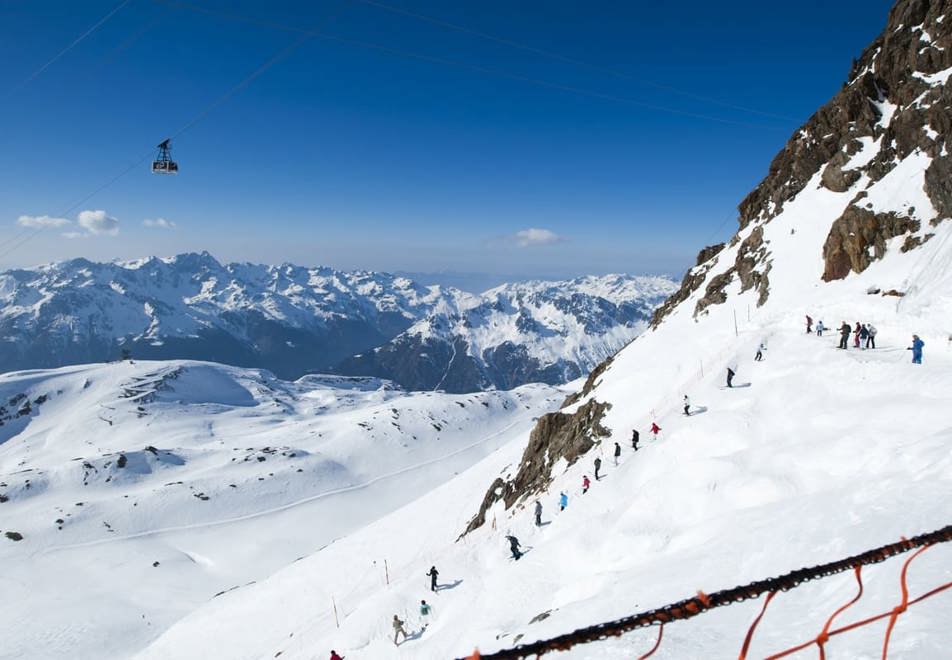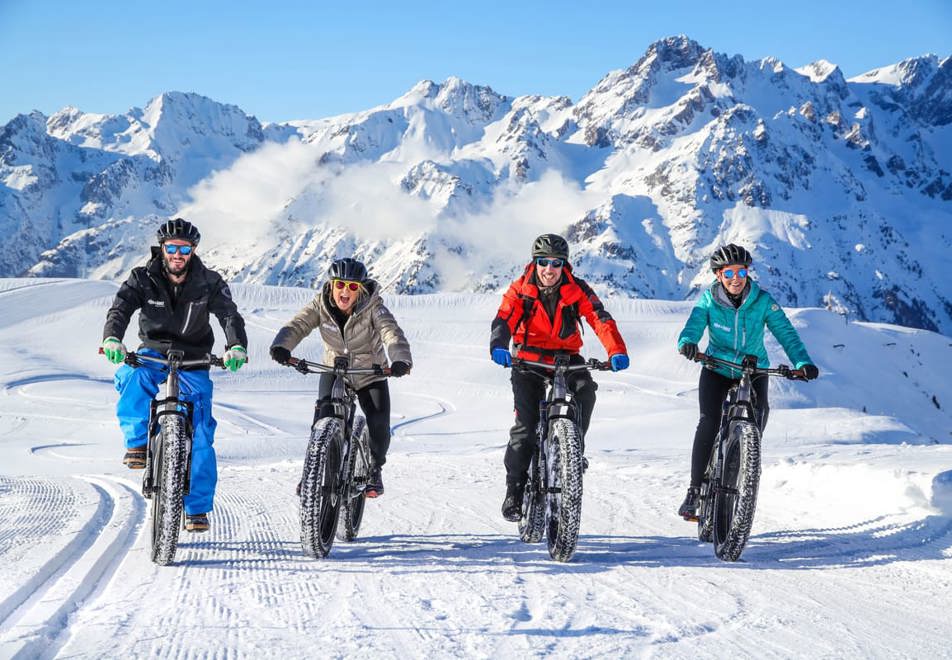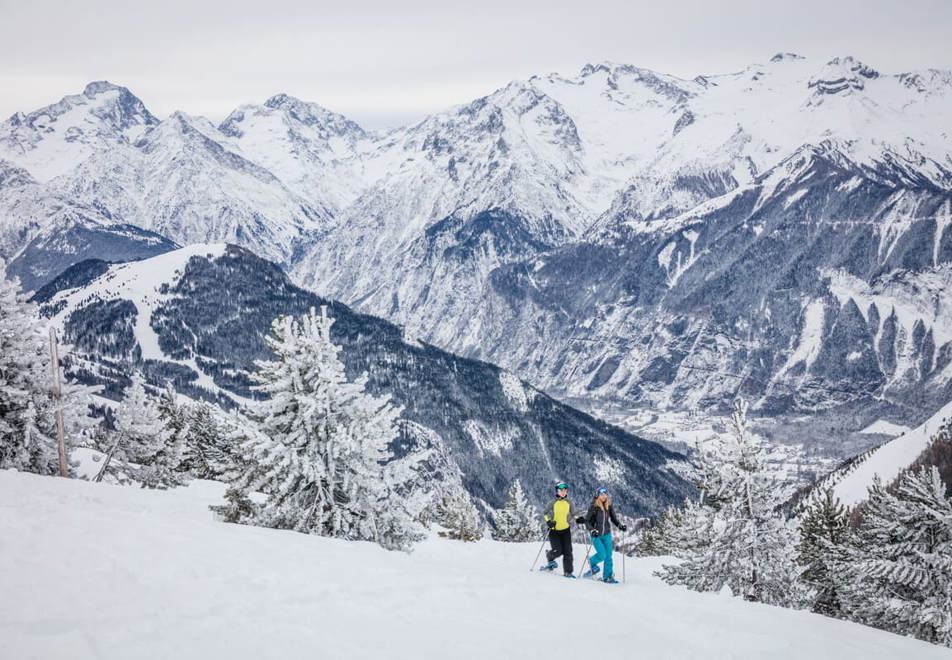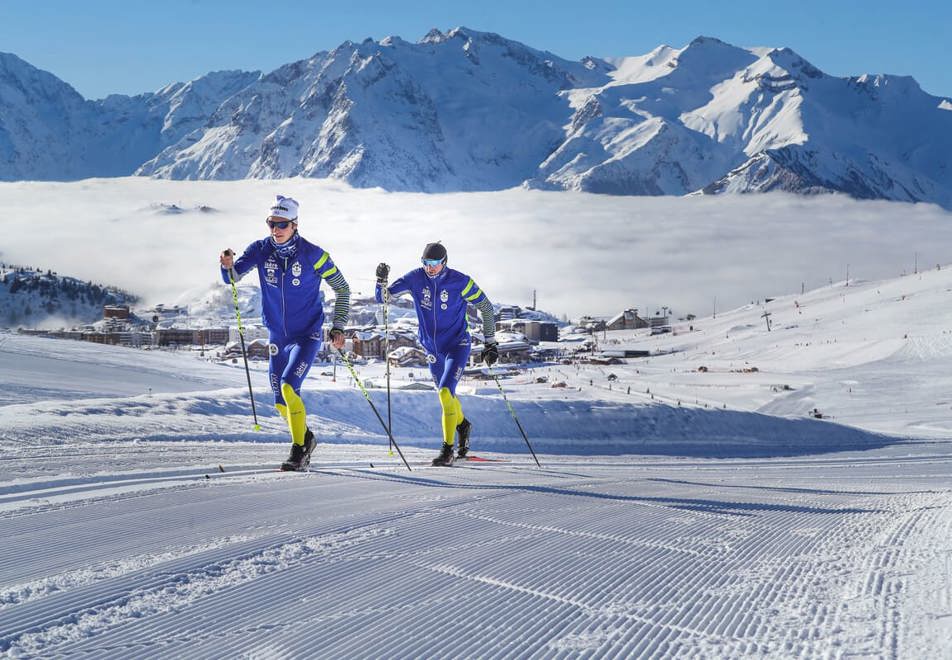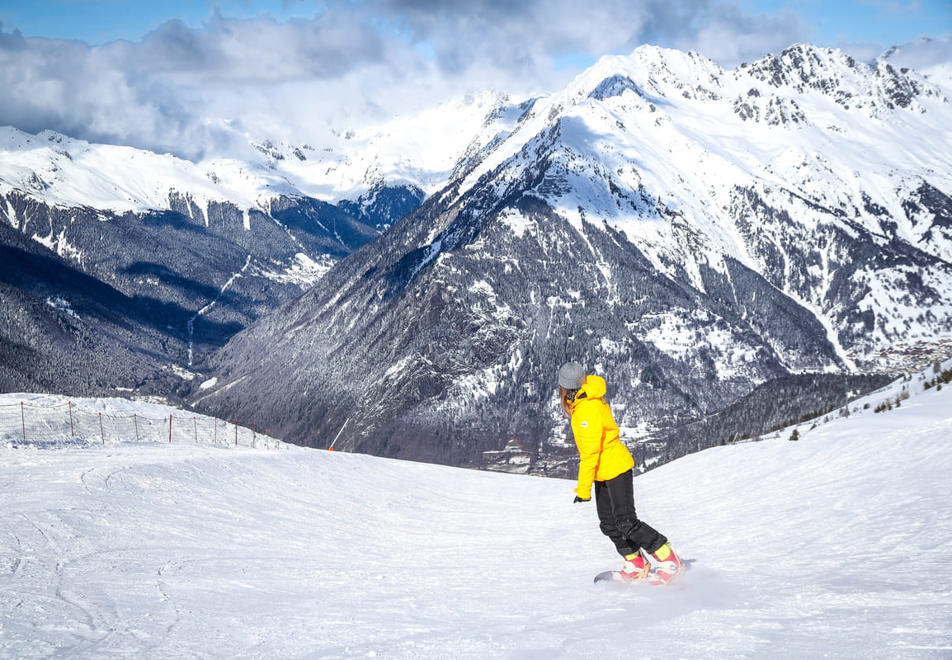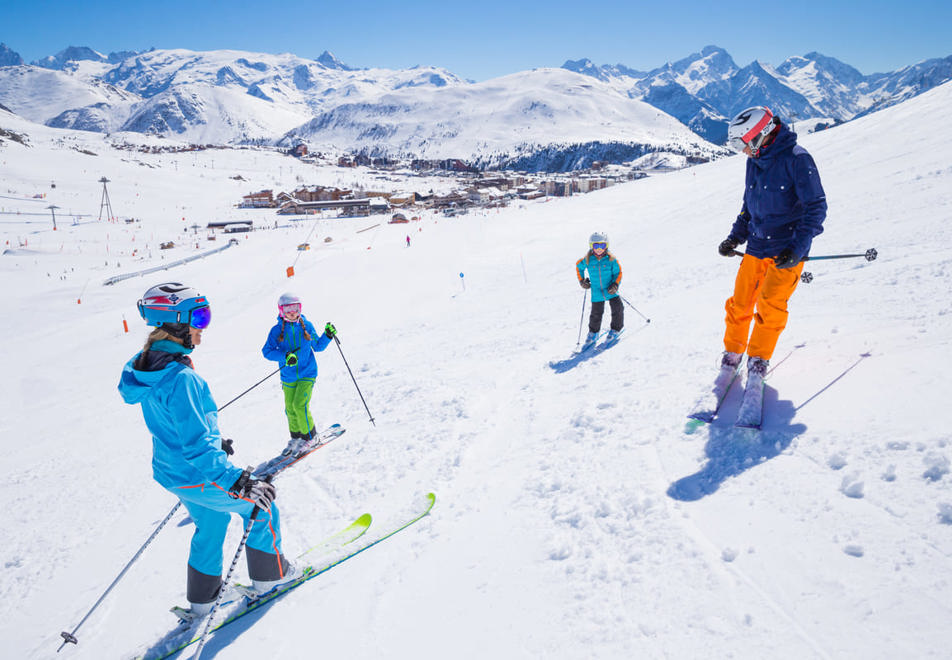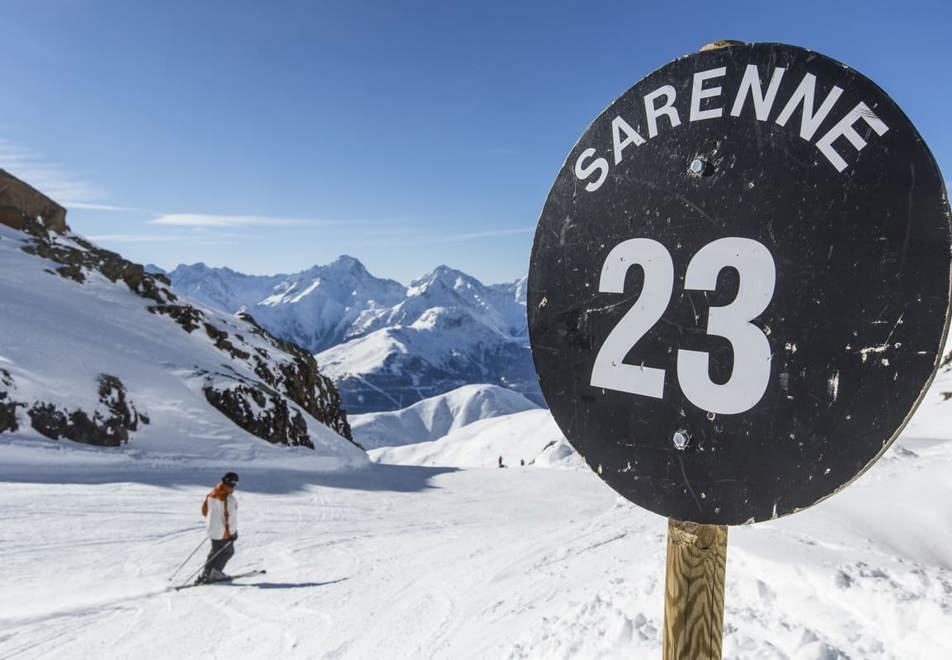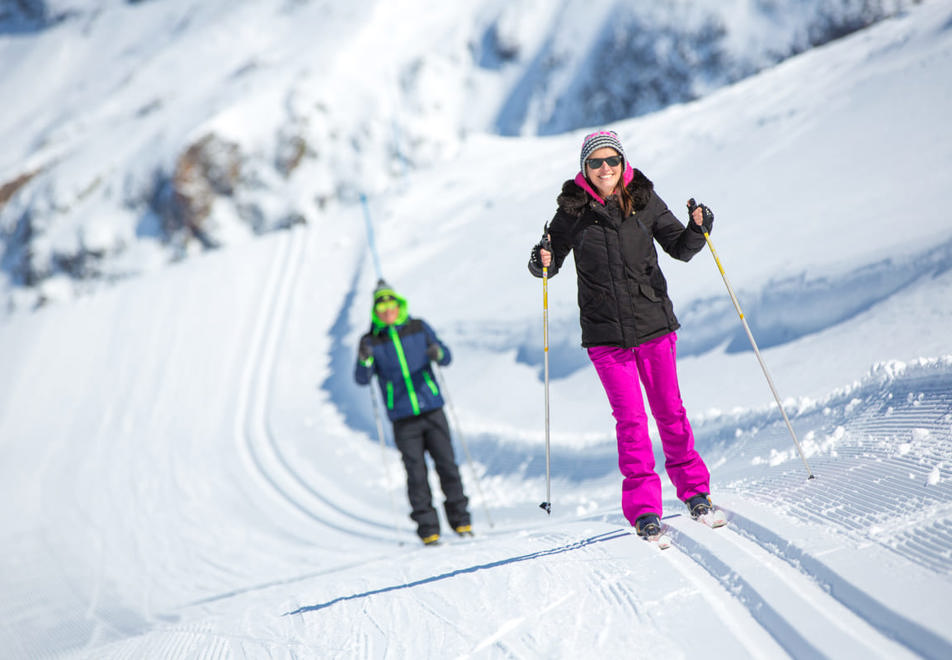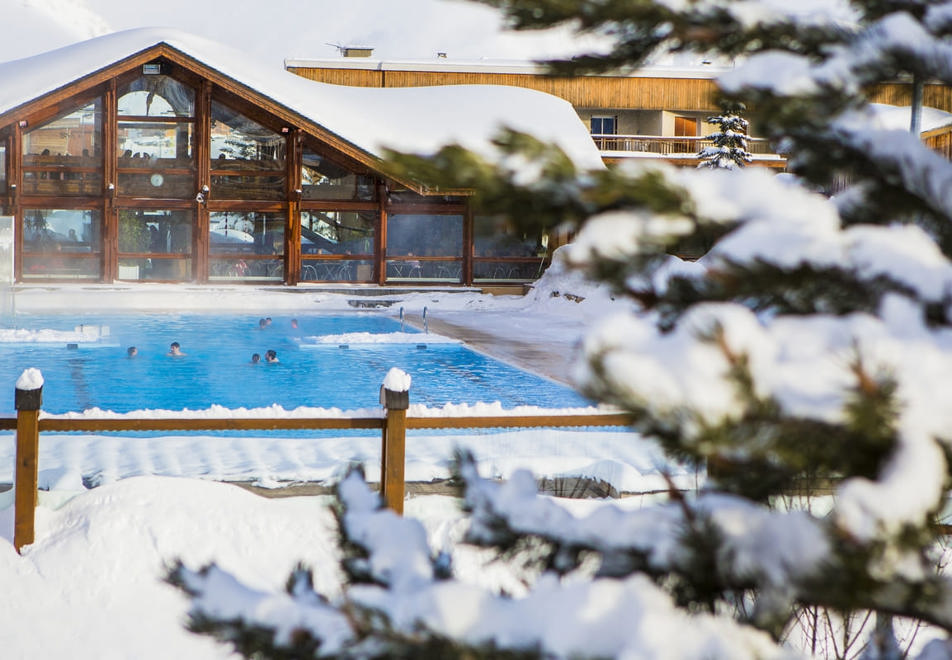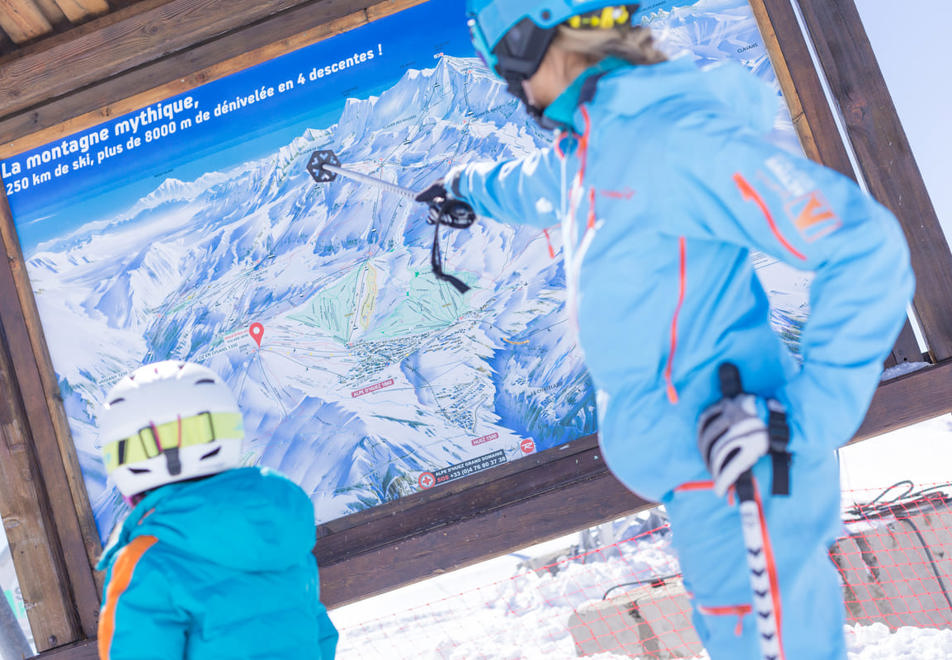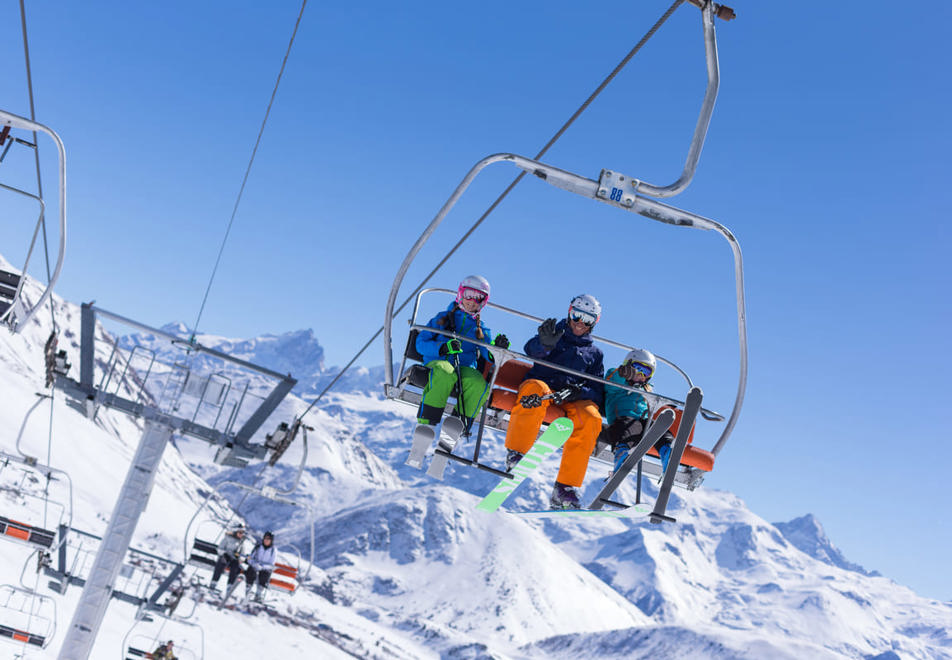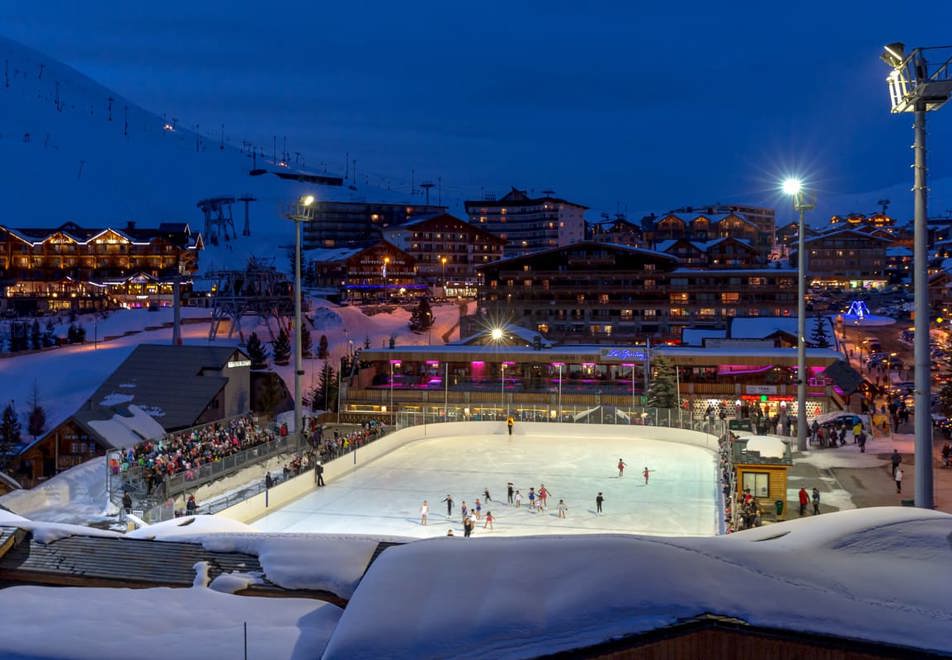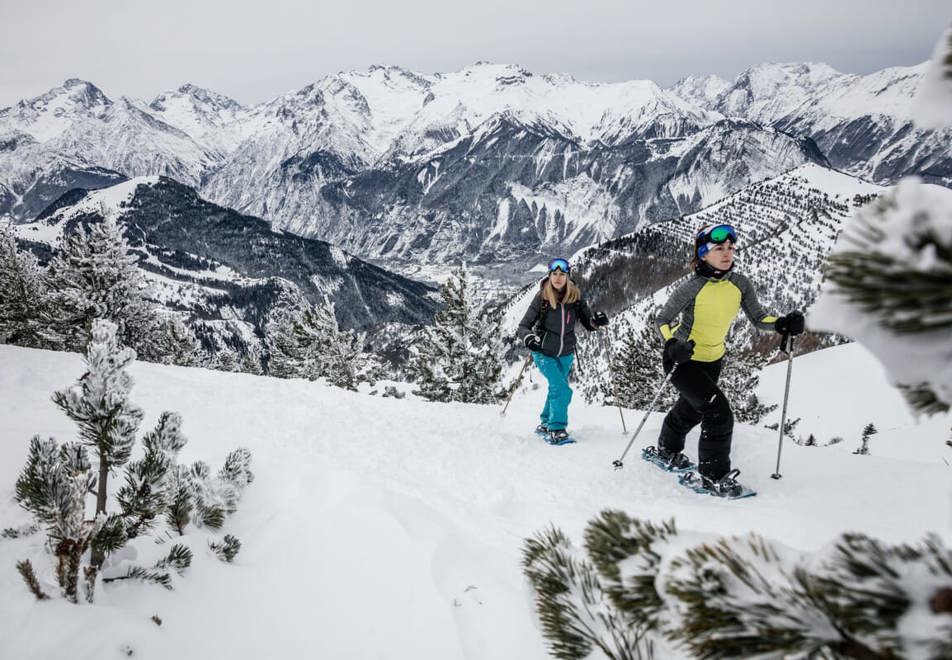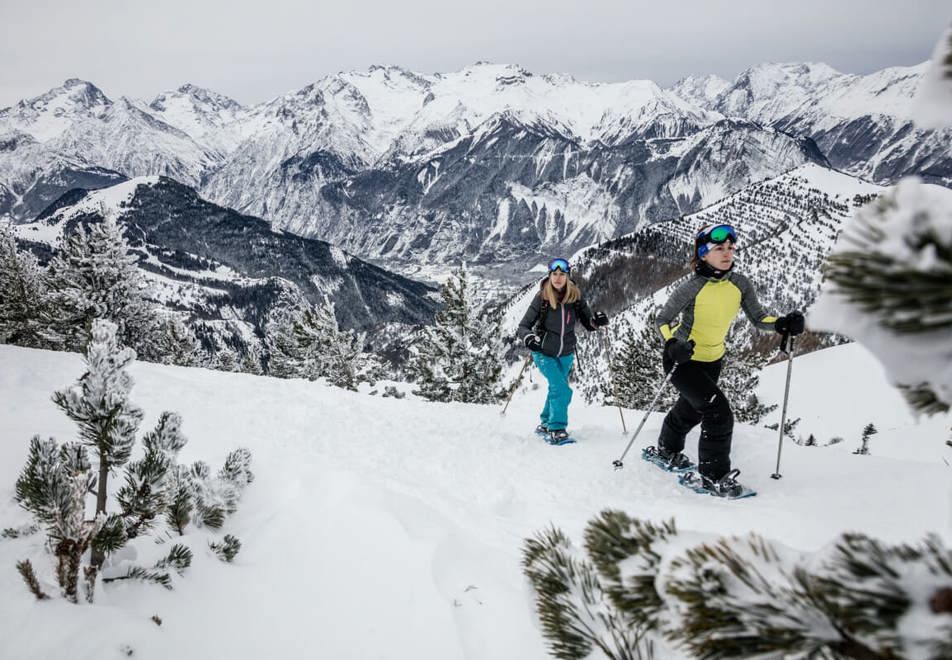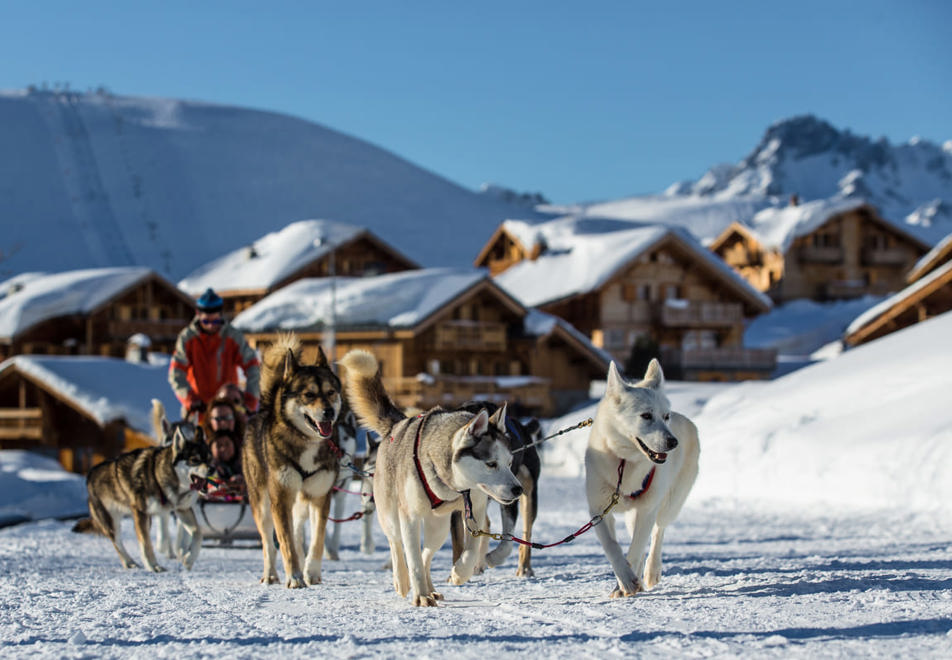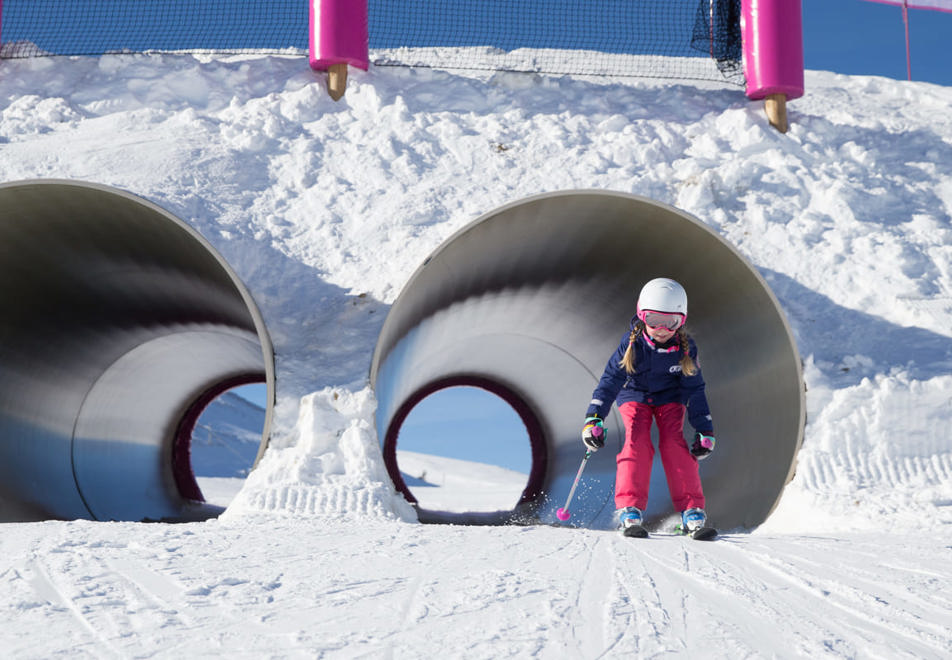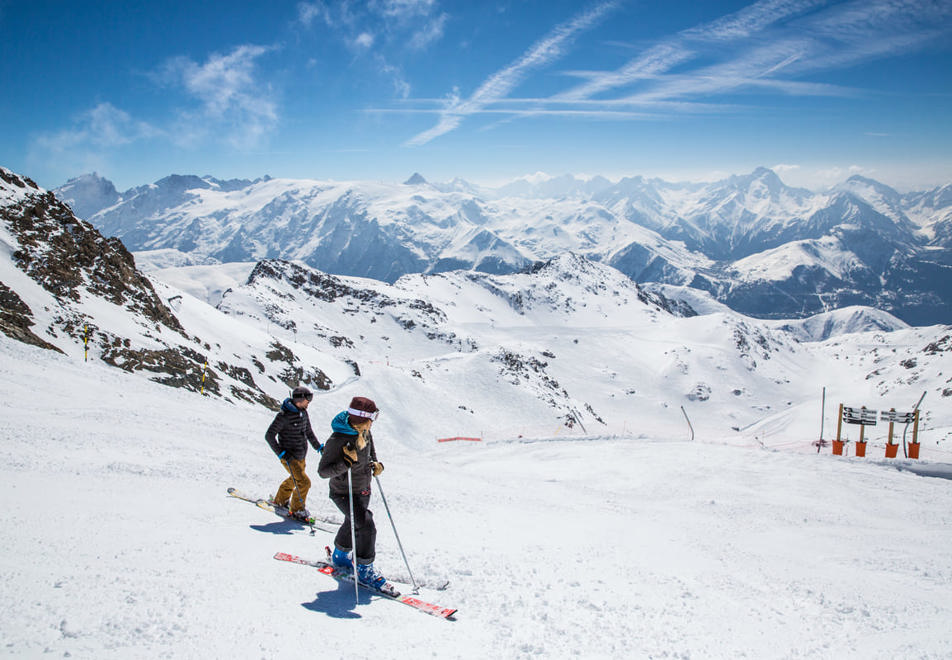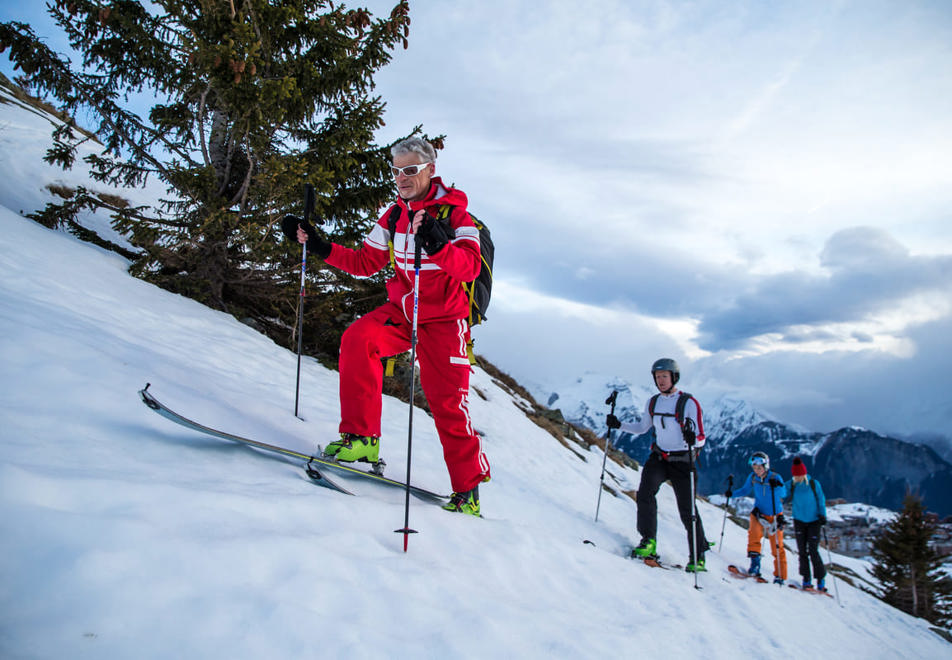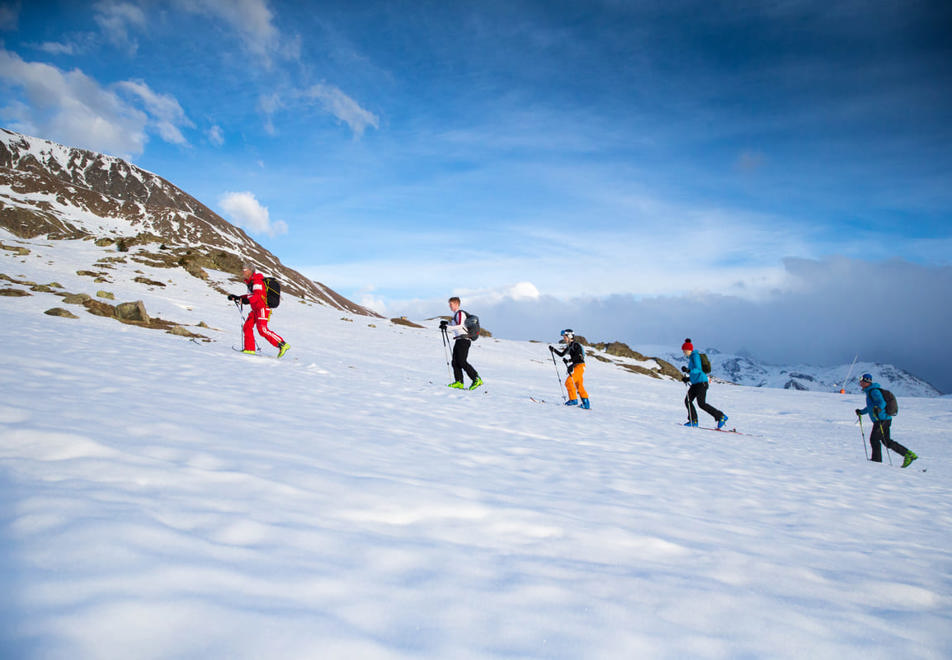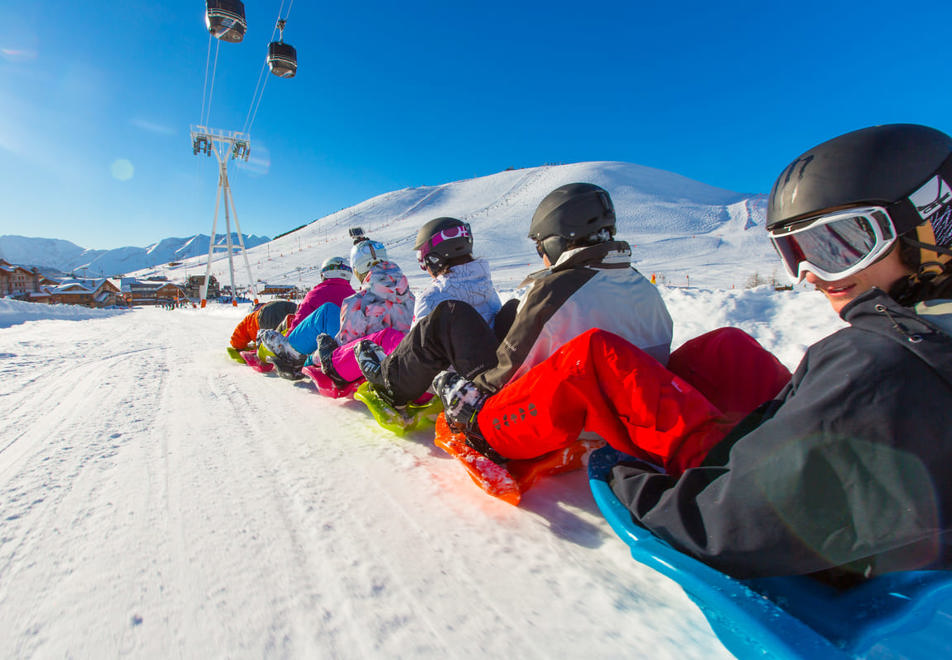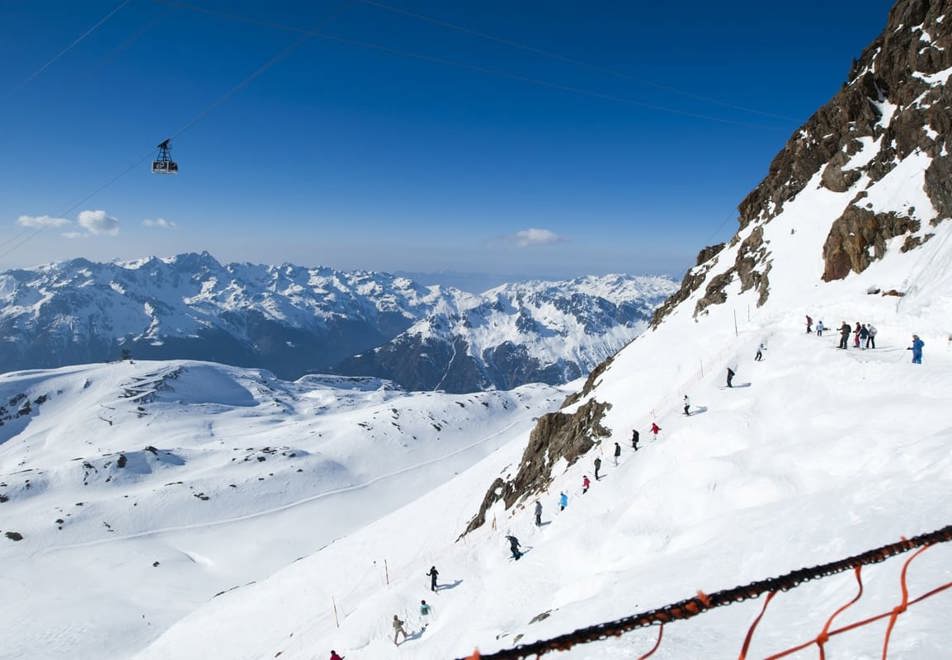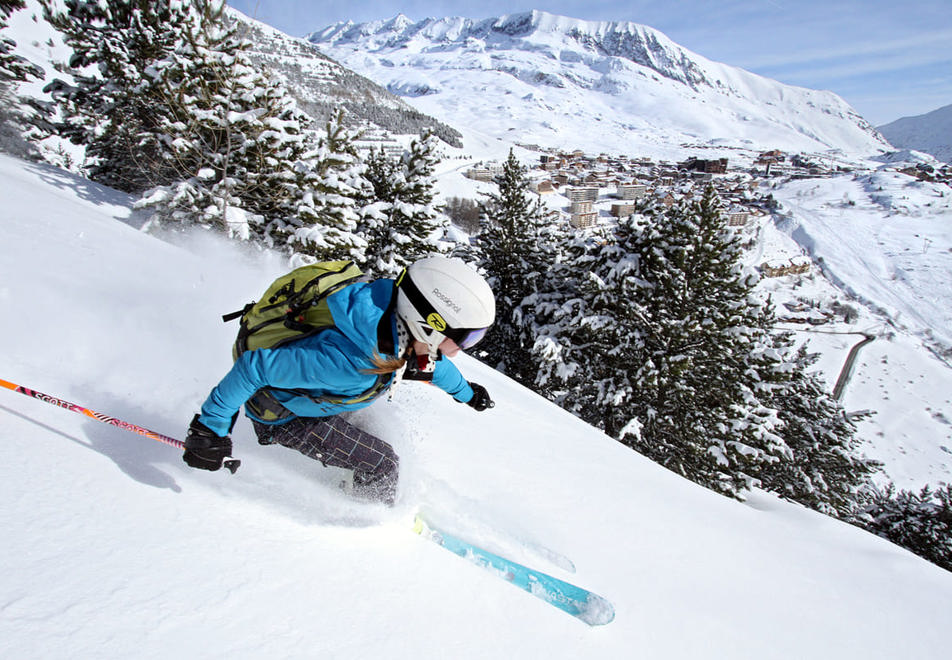 Thinking of skiing in Vaujany? Vaujany has a long history as a traditional Alpine village. Part of the massive Alpe d'Huez ski area, offering world class skiing. One of the best resorts for children.
Why Vaujany Ski Resort?
Vaujany is a charming mountain village
There's first-class skiing for all, with good snow conditions
'Famille Plus' resort - good children's facilities and great for families
The Southern Alps climate means above average sunshine
Vaujany (Alpe d'Huez) Information
Flanked by the Oisans massif to the west and the Ecrins national park to the east, Vaujany is the gateway to the huge Massif des Grand Domaine /Alpe d'Huez ski area. Vaujany itself is a very pretty, charming and peaceful village built on a sunny slope in an area where a micro-climate ensures optimum sunshine conditions.
The facilities and amenities on offer in Vaujany are well beyond those you would expect from a small ski village and include a 160 person cable car that can transport you to 2,800 metres in just 15 minutes! After a day's skiing you can relax in an authentic Alpine ambience without the commercial hype of most purpose-built resorts (likes its huge neighbour Alpe d'Huez). If Alpe d'Huez is more your scene, you can book ski holidays in Alpe d'Huez through our sister company, Ski Collection. 
Après-ski facilities are impressive too in Vaujany ski resort - a new sports centre has a 25m swimming pool, sauna, steam room and fitness hall and there's an indoor ice rink too. To access the lower parts of Vaujany (where the lifts are) from the higher part of the resort (where the shops/restaurants are) and vice versa there is an enclosed escalator which links the two - saving you from having to walk up and down hills!
Each year neighbouring Alpe d'Huez organises the Sarenne SnowBike, an untimed downhill run on the legendary Sarenne descent – said to be the longest black run in the Alps. You start from the glacier at the summit of the Pic Blanc (3330m) and descend to Huez (1460m) after some 1870 metres of vertical descent along 16 kms of skiing track.
Vaujany has a superb and inexpensive day nursery (minimum age 6 months) and a small, caring ski school. Not surprisingly it holds the 'Famille Plus Montagne' label for its children's facilities. Vaujany is easily accessed from Grenoble (50 km) by main trunk road.
The Ski Club of Great Britain has named Vaujany in France as Europe's most family friendly resort.
Peak Retreats offers a range of Vaujany accommodation options. All of Vaujany's ski apartments have been hand-picked and are of a very high standard (3 & 4*), providing the ideal base for a ski holiday.
Read our loyal client's review of her family ski holiday in Vaujany. 
VAUJANY SKI AREA
Linked to the superb resort of Alpe d'Huez and the surrounding "Grand Domaine" resorts, Vaujany's high-capacity cable car departs from the village centre and reaches the top of the Pic Blanc (3330 m) in less time than from Alpe d'Huez itself - and there's less queuing too. Altogether, the Alpe d'Huez Grand Domaine massif covers eight villages, including Auris en Oisans, La Garde, Oz en Oisans, Vaujany and Villard-Reculas, with a total of 250km (800 hectares) of skiing. Already equipped with one of the largest snow production plants, the area now has a second automatic unit supplying a further 75km of slopes using 923 snow cannons, covering the main runs above Alpe d'Huez, Vaujany and Oz.
Vaujany is a pretty little Alpine village which has the unlikely benefit of being linked with the vast Grand Domaine ski area - so you get the best of both worlds: the rural, rustic charm of a small mountain community and a huge expanse of skiing. What makes this area so satisfying are its many-sided slopes. They face in all directions, so skiers can always find the best snow and conditions by simply following the sun! Most of the slopes are above the tree-line.
Four main sectors make up the Grand Domaine – three in Alpe d'Huez itself plus the Vaujany/Oz sector, which consists of mainly north-west facing slopes. The skiing in Vaujany and surrounding areas (Alpe d'Huez, Oz-en-Oisans…) is spectacular, with breathtaking vistas all round - from glaciers and forests to villages nestling in the valleys below. Vaujany itself has a substantial choice of pistes and nursery slopes to delight beginners and intermediates - all easily accessed via the village centre gondola. Gondolas and fast-chairs are the main access lifts serving most of the area.
For Alpe d'Huez, see details with our sister company Ski Collection
Additional ski fact info,
main ski info in resort facts box at top of page

(21/22):

Vaujany/Oz en Oisans local area

22 lifts (1 telemix, 2 cable car, 7 gondola, 2 chairlift, 8 draglift, 2 carpet), 28 slopes:

Green slopes: 6
Blue slopes: 10
Red slopes: 11
Black slopes: 1
VAUJANY SKIING
VAUJANY BEGINNERS
Children are taken to a roped off area at the top of the gondola and adults to the nursery slope at Alpette. There is a self-service restaurant with a sunny terrace right by the children's learning area.
VAUJANY INTERMEDIATES
There are plenty of intermediate runs leading to Alpe d'Huez. And some great cruising runs above Vaujany - the choice of intermediate slopes is almost inexhaustible, and in good snow conditions, the variety of runs is difficult to beat. The red slopes between Vaujany and Alpe d'Huez can be a little tricky.
VAUJANY EXPERTS
The Grand Domaine is home to many black pistes towards Alpe d'Huez. There are also some long and challenging runs, including the longest black slope in the world on the back of the Pic Blanc. The SARENNE (mainly black but it turns into a red run much lower down)  – is 16km (10 miles) long. It is now served by 72 snow-cannons (recently installed), so the piste is guaranteed to be skiable in its entirety all season - as long as the temperature is cold enough to make snow. It's also now possible to descend it at night thanks to L.E.D lights that have been installed!
The black slope beneath the Pic Blanc cable car is another one not to miss. And you can enjoy what is arguably the biggest vertical drop of any pisted descent in the world: 2205 vertical metres, ending in Oz, without taking a lift. It's a strong skier's dream - and takes an exhilarating, thigh-burning 90 minutes or so. First check out the panorama from Pic Blanc at 3330m, where it's said you can see one-fifth of France! Then gather your courage for the legendary "Tunnel" Black run before skiing between the rocky outcrops of the "Les Rousses" Red – and beyond, all the way down to Oz.
VAUJANY OFF-PISTE
Off-piste enthusiasts have an immense choice too, including a run with a vertical drop of 2600 metres.
VAUJANY SNOWBOARDING
There's a lot of good freeriding to be had for experienced boarders. Alpe d'Huez and the surrounding Massif des Grandes Rousses above the village to the north-east provides some exceptional freeride terrain.
VAUJANY RESORT RUNS
There are no slopes directly into the village, but you can ski the blue Vaujaniate run back to the mid- station and ride the Vaujany Villette gondola back to the village. Or take the black La Fare run down to the village of l'Enversin d'Oz and then take the Vaujany Enversin gondola back to the village.
Vaujany Ski Hire
Pre-book your Vaujany ski hire with Peak Retreats.
To download the ski extras form, see 'Helpful links' further down the page.
Please note, these Pound Sterling prices are for indication only. They will fluctuate based on Euro/£ exchange rate. Please call us for the latest prices.
Special offers: *7 days for the price of 6.  Free Skis/snowboard & boots (Blue/Red) for party leaders of groups of 10 or more all taking equipment. 1 Free helmet per child aged 6 and under for every adult booking skis or snowboards & boots (must be under same booking reference and requested on form above). Other duration prices on request - Cross Country ski prices on request.
Find out more about Peak Retreats ski hire
---
Vaujany Ski Passes
Pre-book your Vaujany lift passes with Peak Retreats. Find out more about Peak Retreats ski passes
To download the ski extras form, see 'Helpful links' further down the page.
Please note, these Pound Sterling prices are for indication only. They will fluctuate based on Euro/£ exchange rate. Please call us for the latest prices.
Other lift pass on offer (to buy locally in resort in Euros):
Grand Domaine – ½ day and daily rates 19/20:
½ day - €46.50 adults
Day - €44.50 children, €54.50 adults
Oz/Vaujany – ½ day and daily rates 19/20:
4 hours from 1st lift - €24.00 children, €31.50 adults
Day - €28.50 children, €38.00 adults
Vaujany Ski School
Pre-book your Vaujany ESF ski school with Peak Retreats. Find out more about Peak Retreats ski school
Ski school for children is available to book from 3 years to 13 years, in Vaujany, with Peak Retreats. Children can learn to snowboard from 6 years+. We can also book ski + lunch + ski for 6-13 year olds.
For ski school times and prices, please download the ski extras form from the 'Helpful links' further down the page. Please note these are just guiding prices. Please call us for the latest prices.
Please note that lesson times are subject to change right until the last minute - you will be advised. Outside French school holidays the ski school reserves the right to cancel group lessons should numbers be insufficient.  For peak periods - Christmas, New Year, February half-term and Easter - we strongly recommend that you book as early as possible and in any case at least 6 weeks prior to the required dates. Morning lessons tend to get booked up first and therefore we may only be able to offer afternoon classes within 6 weeks of departure. In some resorts English speaking instructors may not always be available, particularly at peak times.
We cannot always guarantee that prices will be cheaper than in resort. When ski packs prices are calculated, the currency is bought at the exchange rates that apply at the time. You can be assured that once you have booked your extras, if the pound depreciates, you will not be charged more for your ski packs, enabling you to budget for your holiday in advance.
Vaujany private lessons 19/20 (not pre-bookable, book direct):
Individual tuitions can only be purchased directly from the ski school. Peak Retreats cannot pre-book these.
Private lessons from 12pm to 2pm.
1 hour
1 person: 45€
2-3 persons: 52€
4 persons: 62€
2 hours
1 person: 84€
2-3 persons: 96€
4 persons: 115€
Please note that prices are only an indication and are subject to change
Ski school Vaujany contact numbers for private lessons:
ESF Vaujany: 0033 476 80 71 80
---
Vaujany Child Care
Vaujany has acquired the Famille Plus label for its childcare facilities. Please view here for more information on the Famille Plus label.
Le Pole Enfance (Pole Sports et Loisirs)
The children's club welcomes your children: at the nursery from 6 months to 3 years, at the children's club from 3 years to 11 years for many activities and outdoor games.
Open from 9am to 5pm (booking is required)
Contact for more info and prices: 0033 476 11 11 94
email: garderie@mairie-de-vaujany.fr
Route des Combes - 38114 Vaujany
Vaujany Resort Activities
Vaujany Leisure centre
The newly built Leisure Center is composed of different elements:
-An indoor olympic size ice rink with an ice surface of 56x24 meters and stands that will welcome up to 700 visitors, all that being set in a 3000 m² facility and  a view across the valley to the impressive La Fare waterfall.
-A daycare of 300 m² that caters for 60 children.
-A 500 m² spa and balneotherapy area that offers a hammam, a sauna, massages, and even hydrotherapy sessions. 
-A 4 lane bowling alley above the ice rink.
-A restaurant with a capacity of 120 seats and a 50 m² sundeck.
-Parking lots for a total of 120 cars
-Fast access from the village center through 2 cable cars working in synch for a continuous flow.
Vaujany Toboggan
A toboggan Center at the new Sports and Leisure Center with special care given to ensure adequate snow coverage. Benefit of the Alpette toboggan with an access by cable car.
Vaujany Espace Loisirs leisure centre
Swimming pool - all year Swimming
The Juniors swimming area (paddle pool, fountains, Water Toboggan). Dive into the 30 degree Celsius Main Pool with its Toboggan, Water Spout and Sun Terraces with an impregnable view of the Grandes Rousses Massif. Guaranteed entertainment for children of all ages.
- The Main Pool:
 25 metre length with four lanes for competion swimmers
- The Toboggan:
 hair-raiser slides for daredevils
- The Paddle Pool:
 for the children
- Waterfall
Pétanque on ice

Eisstock is a little like curling, it's also referred to as pétanque on ice and is a traditional Alpine sport that has developed in the USA, Canada and South America. Give it a go in Vaujany with a FREE hour-long taster session. For teams of four or eight (aged 10 and up), sessions take place weekly.
Vaujany Walking
Step by step, with respect of the natural evironment, with snow shoes, take the pedestrian trails... 
L'Alpette: 1h45 walking trail
Access by cable car
Poutran: 1h walking trail
Access by cable car and gondola
Montfrais: 40 min walking trail
Access by Montfrais gondola
Vaujany Library
More than 6000 books (comic strips, novels, non-fiction, etc) and board games are available. Free loan. Free internet access.
Vaujany House of the fauna
Learn the secrets of the wildlife of the Oisans. Qualified staff lead this fun and realistic wildlife discovery, using interactive terminals offering a choice of virtual walks with activities featuring mountain wildlife.
Vaujany Heritage Museum
100 years of history of Vaujany told by the inhabitants through photographies and evidences. Free admission.
Vaujany Hydraulic Museum
The history of hydroelectricity through the ages and the amazing story of the building of the Grand'Maison Dam. Free admission.
Please note: All the above information is for information only. For the most up-to-date information please visit the resort tourist office website. All prices for activities are in local currency (€ Euros) and are bookable and payable locally in resort.
Vaujany Tourist Office
Vaujany tourist information 
Maison de Vaujany
Tel +33 476 80 72 37
www.vaujany.com
Vaujany Ski Activities
Snowshoeing in Grand Domaine
Another approach to the mountain. Put on snowshoes and accompany our guide over prepared tracks amidst winter mountain panoramas. You'll discover the wild life, the "chamois" and "chevreuils" (European antilope and alpine fawn deer).
Information, tariffs & registration
Tel: +33 (0)4.76.79.88.71
Get a lift pass according to the chosen intinerary.
Reservation needed and only during the week-end for a minimum of 5 persons.
Terrain parks in Grande Domaine
Situated on the "Montfrais" area above Vaujany, there is Vaujany's snowpark for beginners where you can learn jump, slide... and approach the slopes rules.
Mountain restaurants in Local Vaujany/Oz area
Le Vaujaniat (Montfrais), Les Airelles (Montfrais), Au P'Tit Trug (Montfrais), La Grange (Alpette), Auberge de l'Alpette (Alpette), La P'oz Chez Passoud (Alpette)…
If you dont ski and want to access the mountain restaurants that are not pedestrian access, Vaujany offer a Taxi Ski service - €75 for 2 hours.
Cross-country in Grand Domaine
There are 50km of trails that include 6 loops of varying difficulty all situated at around 2000m and are relatively snowsure.
Vaujany/Alpe d'Huez News and Events 2021/22
News:
New skilift Clos Giraud combining cabins and chairs - this new and very comfortable skilift is equipped with chairs for 6 persons and cabins of 10 seats. It allows a climb up the ascend of 2.5km in 7 minutes to link the Montfrais area to the l'Alpette area. Its flow is scalable and will progress from 1450 to 2000 persons/hour. This skilift offers new possibilities of skiing and new skiing zones. Children will reach more quickly and more comfortably the beginner skiing area situated at Montfrais. This new equipment will change the local approach of skiing, improving the flow of the traffic on the whole ski area.
Events:
Vaujany Hockey World Cup 11th-13th November 2021 International Hocke Tournament: France - Germany - Switzerland - Slovakia. 
FIS Ski Races 15th-16th December 2021
Skating Gala 20th December 2021
New Years Eve Fireworks 31st December 2021
Grand Finale Passion Petanque France 13th-15th January 2022 The ice rink transformed into a petanque court with the presence of the greatest champions. 
Ski and Snow Festival 16th January 2022
European Ski Cup 20th-21st January 2022

Show "On the trail of the trapper"

22nd February 2022

Discovery of Glaciology 24th February 2022
Show "Tao's journey" 1st March 2022
Catch the Peuf tournament 11th-13th March 2022 10th edition of the ultimate frisbee tournament.
French Telemark Championship 2nd-4th April 2022
Master of Fencing 9th April 2022
Cascade De Livres 12th-14th April 2022 Cultural festival, a celebration of the 9th art around animations and dedications. 
End of Season Hockey Tournament 16th-17th April 2022
Curling Tournament 1st May 2022
Further details can be found on the tourist office website: www.vaujany.com
Vaujany Restaurants, Bars & 

Aprés

-ski

Le Stou - new restaurants at Pole Sports & Loisirs leisure centre
0033 476 11 11 93

La Remise - Place de a Fare
0033 476 80 77 11

Le Montfrais
0033 476 79 86 50

La Table de la Fare - Place du Telepherque
0033 476 80 82 40

L'Aigle Royal - Place de la Fare
0033 476 79 58 48

Stiefs Steakhouse Cafe - Place de la Fare
0033 681 58 57 35

Chez Bibi - Place de la Fare
6 mountain restaurants
Bars/pubs
Le Pub Arsen's Cafe (Passage des Balcons), Le Shooter (Place de la Fare)
Alpe d'Huez (30mins drive), offers nightclubs and a cinema for those who enjoy a lively nightlife.
You will find the restaurants in Vaujany are usually cheaper than in Alpe d'Huez.
Folie Douce Alpe d'Huez (alongside Val d'Isere, Val Thorens and Meribel). La Folie Douce concept was created over 30 years ago by Luc Reversade and has become synonymous with apres ski across the French Alps. Each venue has a restaurant  - La Fruitiere - which serves up great food but La Folie Douce is best known for putting on a massive party on the mountain. The newly built Folie Douce will open at the top of the Marmottes lift in Alpe d'Huez. www.lafoliedouce.com
Vaujany Amenities
Vaujany is served by a range of amenities including:
Mini-supermarket, cash point, self-service laundrettes (Place de la Fare and Place du Telepherqiue - open daily), bakery, two sports shops.
2 picnic rooms are available on « Place du Téléphérique » and on « Montfrais » area.
Free WiFi access Place du Téléphérique and Place de la Fare.
Free covered car park at Place de la Fare and place du téléphérique. Open daily
Cash point on the Route des Combes.
Nearest petrol station is 5km at Allemont. Open 24/7.
Getting to Vaujany, France
By Road:
Driving distance from Calais 566 miles (approx 8hrs)
From Calais, take A26 Motorway towards Reims and Troyes, then Dijon, Lyon, Grenoble. Follow the RN91 towards Briançon and then Vallée d'Olle to Vaujany. Vaujany is 50km from the motorway exit to Grenoble.
By Rail:
Grenoble (3hrs from Paris by TGV).
VFD bus company (0033 8 20 08 38 38) or see www.transisere.fr
Airports:
Grenoble (St Geoirs) 96km from Vaujany (1 hour)
www.grenoble-airport.com
Chambery Airport is 121km from Vaujany (1 ½ hours)
www.chambery-airport.com
Lyon Saint-Exupéry 144 km from Vaujany (2 hours)
www.lyonaeroports.com
Geneva 205 km from Vaujany (2 ½ hours)
www.gva.ch
Access around the resort of Vaujany: Covered car parking: at the shopping arcade and central village square. Free.
Vaujany Airport Transfer
For pre-bookable private transfer rates with Peak Retreats, view here. 
---
Vaujany Opening

Dates
Vaujany ski area is open: 16/12/21 - 20/04/22