Wednesday, 21, December, 2016
As a family of four including two 'student age' children we have skied in many different places including USA, Canada, France, Italy and Switzerland. We own a ski apartment in Bansko, Bulgaria but have decided after many years of trying to squeeze everything into suitcases and hanging around airports for endless hours that driving to a resort is definitely the way to go!

Peak Retreats offer so many different resorts across France that they were the obvious choice when it came to choosing our holiday. In the past, I have always 'put together' a holiday myself choosing accommodation, flights, ski passes and equipment hire, car hire, etc. Peak Retreats have now taken the pain out of booking our holidays at a very cost effective price so why reinvent the wheel? T
his blog is about our third adventure with Peak Retreats to a resort call Vaujany in the Grand Domaine ski area which includes access to Oz en Oisans and Alpe d'Huez.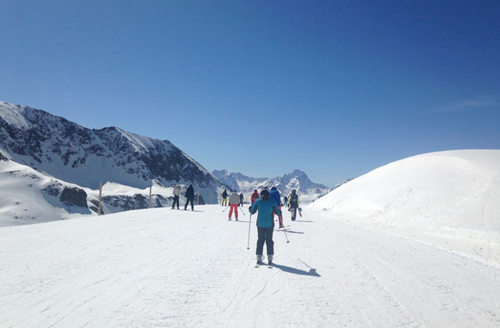 For our last three holidays, we made the decision to ski much later in the season choosing April Easter holidays over the traditional February half term. Not only is it much warmer but also quieter on piste. We are careful to choose resorts that are high enough (thanks to advice from Marie-Anne of Peak Retreats) to ensure good snow on the mountain. We are not too worried about snow in the actual resort so long as there is easy access back to the village/town. This often makes the journey to the resort considerably easier as we are less likely to need snow chains on the car.
Our trip last April started with an event free journey from our home in Hampshire to the Channel Tunnel where the FlexiPlus ticket allowed us to jump straight onto the next available train. On arrival in France we drove through the night and arrived surprisingly quickly in Vaujany at 10am the next morning. The trip was made easier and quicker by the use of a Sanef Toll remote for the toll roads. Very easy to get and it prevented the need to queue and the hassle of handling cash to pay the tolls. The roads were quiet and snow free so a very pleasant journey was had.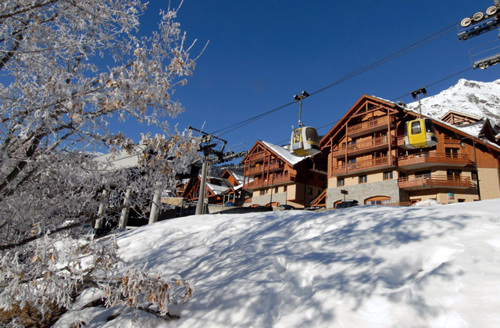 Our accommodation, Residence La Cascades, wasn't quite ready as we arrived so early, but the staff were extremely helpful and expedited the cleaning of our apartment. As our check in time was after 4pm, this was most welcome. We were able to leave our car in the underground car park and spend some time exploring the town. As the town is quite 'hilly' we were pleased to make use of the number of escalators and walkways which made getting around the town much easier. Whilst exploring, we located the ski hire shop which was literally 3 minutes walk from the apartment so we used our spare time to collect our skis and boots which we had pre-booked through Peak Retreats. Everything was available and waiting for pick up so completely hassle free!
We chose Residence La Cascades due to its close proximity to the cable car. We couldn't have been any closer and were delighted with the easy access. We were able to collect our skis and boots from the locker on the lower floor of the residence and be on the cable car in less than 10 mins. No queues or waiting which we really enjoyed. The residence itself was lovely and clean and quite spacious with two balconies overlooking the mountain and lift systems so we could check how busy things were before leaving.
The apartment had everything we needed however, it is definitely worthwhile bringing things from home to supplement what is provided. Because of the type of residence, there were no foodstuffs such as condiments, herbs and typical leftover items you may find in private rentals. As we have rented a few times I had packed these things but worth noting if you are new to renting!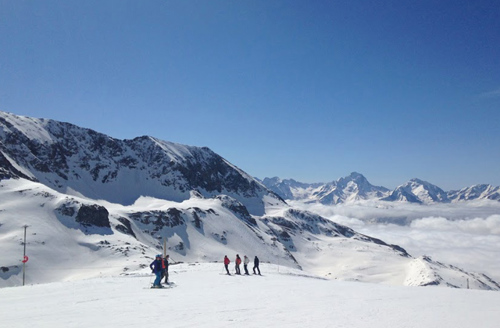 We were up the mountain bright and early on the first day as we had pre-booked our ski passes thus saving more time. The weather for our first two days was bright and sunny however we were unlucky with some high winds later in the week which closed the top of the mountain. We also suffered from thick fog on lower slopes for the next few days which did its best to limit our skiing. Fortunately, as we can all ski well we were able to ski to other areas where the weather wasn't quite so poor. It is always risky skiing so late in the season but one we are willing to take as it generally it turns out well (based on our experience of two previous holidays).
Vaujany has a good selection of slopes for the more advanced skier and links with Alp d'Huez and Oz en Oisans which meant that we could choose to ski from one resort to the next or simply choose a peak and ski a particular area for the day. The slopes were well signed with good piste markers which made it relatively easy to navigate our way around. It is necessary to be aware of lift closing times if skiing to the other resorts as getting back can be a bit tricky unless certain lifts are open.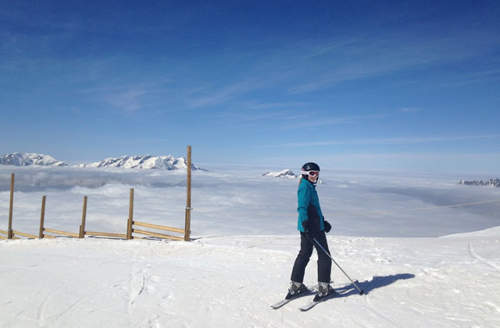 We had a particular problem one day when the fog came down the mountain rather rapidly which reduced visibility to a few feet. It took some time to find our way down the mountain and eventually, due to a wrong turn in the fog, we ended up in Oz en Oisans instead of Vaujany. Although the lifts were closed by this time we were able to phone my husband who fortunately was having a rest that afternoon, to come and pick us up (another benefit of having the car in the resort). There were also taxis available. A bit of a traumatic ski down but all part of the adventure of skiing on unfamiliar mountains. Needless to say, we paid much more heed to lift times and piste signs after that!
There were a number of restaurants in the resort which needed to be booked for dinner. We chose to eat in our apartment most evenings as it can get a little expensive both eating on the mountain during the day and out again in the evening. As there is only one supermarket in the resort we drove to a nearby town and stocked up at a larger supermarket which was far more cost effective. The restaurants we ate at provided good local food but tended to close quite early.
We enjoyed our week in Vaujany and will definitely visit again mainly due to the easy drive to get there, great access to accommodation and shops and a very good lift system. We didn't take advantage of the large sports complex or the pool in the residence as we prefer to relax a bit more in the evenings however there were plenty of facilities for the 'more active' families.
Our drive home however, was far more eventful than the drive down to France. Unfortunately, our car broke down 20 miles south of Lyon and we needed to invoke the invaluable breakdown insurance that I had arranged before we travelled. Fortunately, I had upgraded to a policy with Euro Breakdown which included repatriation of both the vehicle and occupants (an absolute necessity). They organised all of us to be picked up and taken to a local garage where it was decided that the repair would not be quick or cheap.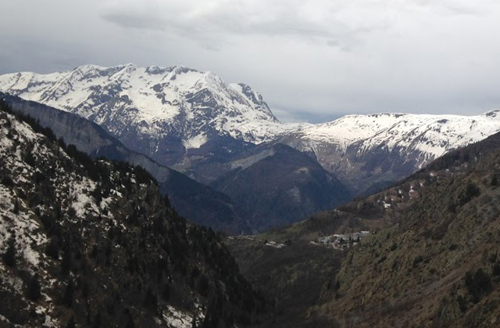 We chose to fly straight home that day and have the car repatriated. EasyJet flexi + tickets were arranged and details emailed to me, as we took a taxi to the airport. Allianz (Euro Breakdown) kept in contact with me by phone and email the whole time. We chose to get another taxi with Allianz from Gatwick, which was waiting for us at arrivals. Not only was everything arranged impeccably but it was also paid for in advance by Allianz so we did not have to claim anything back. The car was returned to my choice of address 10 days later and I am happy to say all repaired now! 
All in all a good trip which could have been spoilt by the trip home had we not been prepared! So good in fact that we have already booked our next trip to La Rosiere for 2017!


This is a Guest Blog written by our client Sue. 
---
Ready to book your next ski holiday? You can book online while you're here, call us on 023 9283 9310 or request a quote and we will find you the perfect ski holiday! Don't forget to sign up to our newsletter to get all the latest ski news and deals.