Wednesday, 21, December, 2022
With four mountain ranges and 21 mountain resorts, France's third biggest mountain destination, Isère is a winter playground for all abilities. With unrivalled diversity of resorts and a wide range of activities to suit all, Isère definitely has a resort for everyone, from pretty, traditional village to world-renowned ski destinations. 
We've put together some of our favourite spots and resorts in Isère, including some well-known names but also some you should definitely get to know! 

Les 2 Alpes is surrounded by dramatic mountain scenery. With one of the highest glaciers in the Alps, and above average sunshine conditions, there's a remarkable variety of slopes with 70% of the ski area being above 2000m! A great base for multi-generational ski holidays, Les 2 Alpes has something for everyone - off-piste or on-piste. 
You can ski a 2300m drop without taking a single lift - get your ski legs ready! Why not stop at of the iconic Les 2 Alpes view points and grab a pic for the 'gram.
The great thing about Les 2 Alpes is that even those starting out skiing, can use the highest point in resort, the Glacier - everyone gets to enjoy the whole of the ski area! 
Children under 10 have their own dedicated freestyle area, Kids Park, with banked turns and jumps! 

If you're after a smaller, more family-friendly sized resort, the small but mighty Vaujany could be the one for you. With its long standing history as a traditional Alpine village, the resort has access to 250km of skiing within the Grand Domaine ski area. Built on a sunny slope in an area where the micro-climate ensures optimum sunshine conditions, you can ski in an area that offers world-class skiing on majority blue-bird days! Vaujany has something for everyone - from a huge sports centre with an olympic sized ice rink, bowling alley and leisure facilities, to a fondue evening on the mountain side.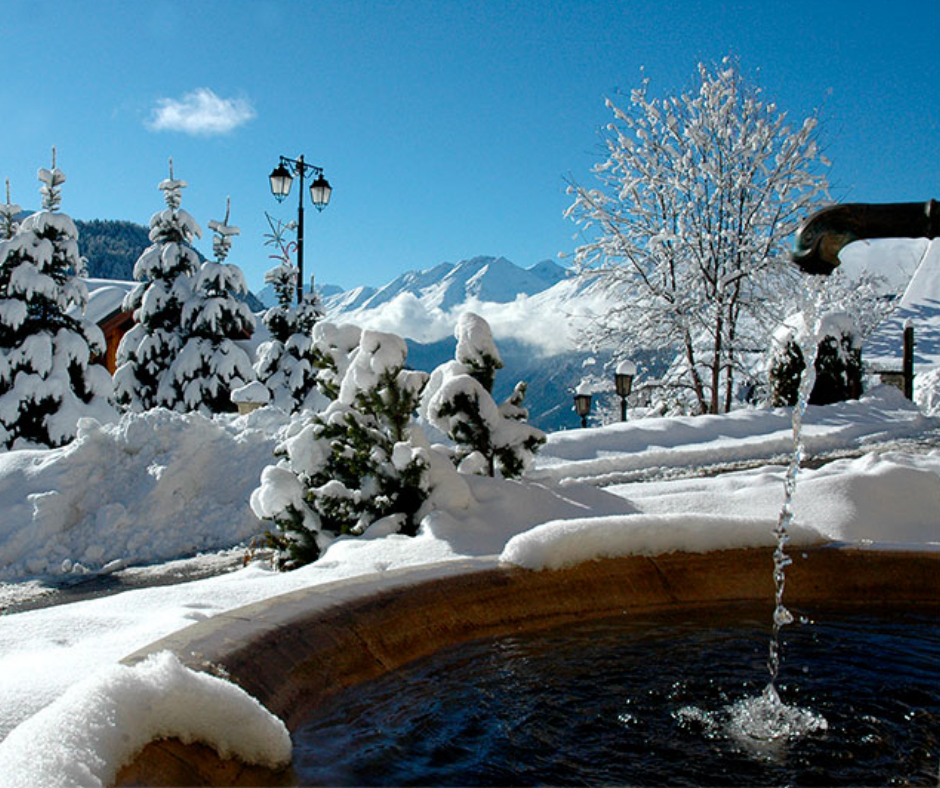 Vaujany has managed to preserve its old-world charm while offering a variety of facilities. Stroll through its narrow streets and discover the fountain, a farm, or its authentic bell tower. Find along the way, l'Eterlou, the chocolate and biscuit factory in the middle of the village. 
Vaujany's impressive olympic-sized ice rink allows you to give Eisstock, a cross between curling and pétanque, a go. Or book an outdoor yoga session in spectacular mountain settings!
Try out the fondue evening. With a return trip back to resort in a piste basher, and fondue in a mountain-side restaurant, it's a joy for the whole family! Children can even take turns sitting next to the driver en-route!

Just 35 minutes from Grenoble and overlooking the city basin, Les 7 Laux is off the beaten track and offers skiing for all abilities within the stunning landscapes of the Pra Valleys. With access to 120km of piste within the Belledonne mountains, the resort has one of the best-rated snowpacks in France. Les 7 Laux is known as an intermediate and expert's playground, but also offers plenty of cruises blues and winding green runs, making it equally great for beginners. 
One for the families, the Wiz Luge mountain coaster is a 723m track where you can reach speeds of up to 40km/h - a proper adrenaline rush! There's also a non-ski play area with play trails and a wooden labyrinth, with tunnels and safe sledging areas that will delight children aged 4-12.
Les 7 Laux's snowpark is particularly respected, being one of the best rated parks in France. Split into 4 different difficulty levels, the park includes a boarder cross run. 
A renowned spot for freeriders, the resort has the largest free-skiing area in the Grenoble region. Perfect for intermediates and experts!

The resort of Chamrousse is relatively small yet has something for everyone, whether skiing or not. With an altitude of 2250m and just 30km from Grenoble, it's a perfect resort for a long weekend on the slopes as it's so easily accessible. The views over Grenoble are magical, and the resort enjoys stunning 360° panoramic views of the city below and the surrounding massifs. 
For an adrenaline rush for all the family, there is a new 2km long zipline, this soars from 2253m high and descends 600 vertical metres alongside the main gondola, to the resort base!
For those that like freestyle, there is a snowpark dedicated to freestyle, with boardercross and the usual jumps that you would expect. For those more comfortable on green and blue slopes, there's a mini timed speed skiing kilometre long run - perfect for the whole family.
Chamrousse has three dedicated ski touring routes, two of which go through the forest and one that is especially for night skiing. 

In the Vercors massif, one of the four mountain ranges that make up Isère, you'll find the lively Villard de Lans and charming Corrençon. Both villages existed long before the development of the tourist resorts, with Villard de Lans being one of the first ski resorts created in 1906 - this heritage is one that the villages have retained alongside their friendly atmosphere, right up to present day.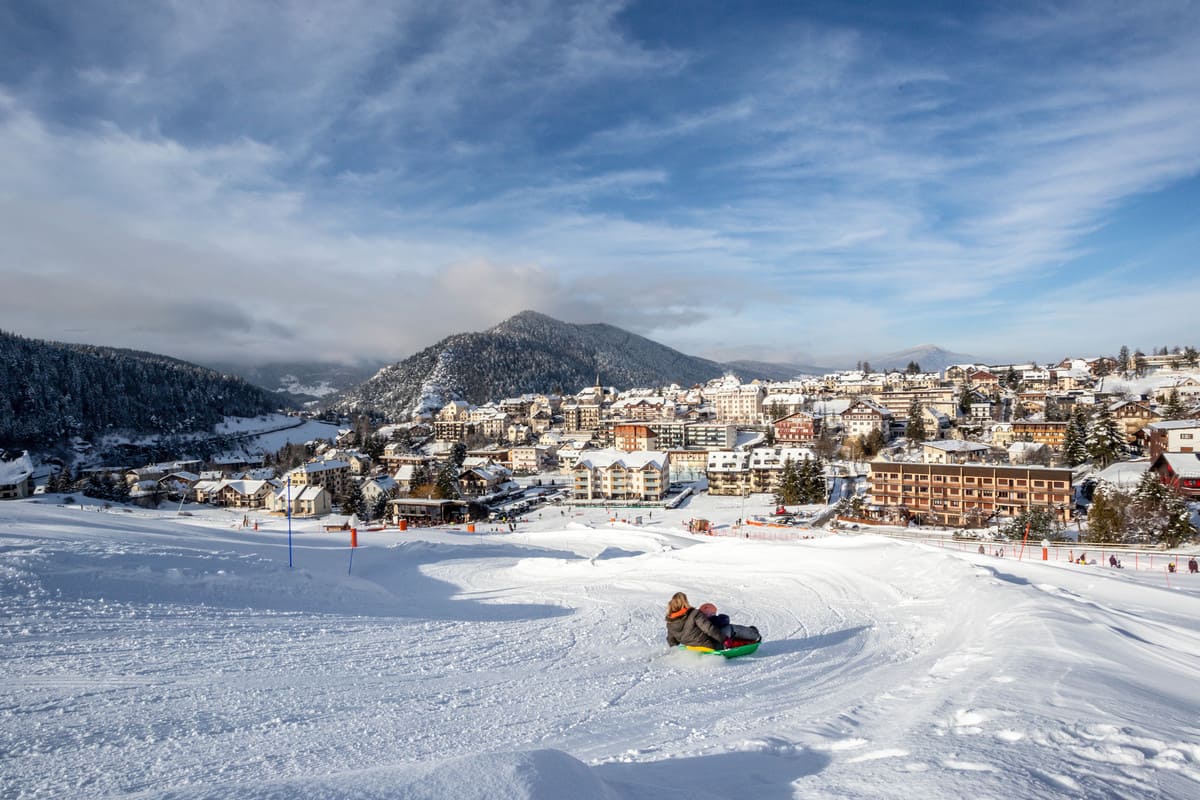 Villard de Lans has the largest market centres and ski resorts of the Vercors massif - lots to explore for all the family, even those that aren't skiing. 
Both villages share one of the largest Alpine and Nordic ski areas in the Vercors, and are really family friendly - with both resorts holding a 'Famille Plus' award. 
Villard de Lans has an innovative luge and ski park with the chance to try luge, snake glass, sooner and air boards! A handful of fun activities to make for an exciting afternoon for all the family. 

Alpe d'Huez is a sunny resort, known for its varied terrain, perfect for all levels. There is access to an impressive 250km of piste and the whole resort has a lively atmosphere. One of the oldest French ski resorts, founded in 1936, Alpe d'Huez has grown on its large sunny plateau above the treelike, from mountain pastures to the well-loved resort that we know and love today! It's very quickly developed into the fifth largest ski area in France!
Why not give the Sarenne a go? Take a trip down the world's longest black run - the Sarenne black piste in Alpe d'Huez requires a strong set of legs! This remarkable run is 16km long and only for the experienced! 
For those who like skiing on sunny slopes, Alpe d'Huez is built on a south-facing plateau. The glorious sunshines hits this part of the Alps on an average of 300 days per year - don't forget to put suncream on if you're visiting! As a result, the resort is home to some fabulous views - you can see a fifth of France from the top of Pic Blanc. 
Beginners can feel right in the heart of the action whilst they master their skills on skis - this high altitude resorts has multiple places for easy cruising, with fun zones in different areas of the mountain. 

Auris en Oisans is located on the edge of the Ecrins National Park, at 1600m. Part of the Alpe d'Huez Grande Domaine ski area, there's a wide choice of 250km of piste and plenty of non-skiing activities; there's something for everyone! Super family-friendly, the resort has lots to keep the family entertained. With spectacular panoramic views of the La Meije mountain range and the national Parc des Ecrins - this is a great value resort linked to the same impressive ski area as Alpe d'Huez. 
Part of the massive and snow-sure Grand Domaine/Alpe d'Huez ski area, Auris-en-Oisans offers world-class skiing on 250km of pistes.
For some adrenaline filled fun, Auris-en-Oisans now has all-terrain 'fat' scooters, effectively fat bike wheels on an electric scooter, with a forest trail to ride through and explore.
80% of Auris en Oisans residences have easy and direct access to the slopes - perfect for families!

Around 45 minutes from Grenoble, Oz en Oisans is set amongst fir trees just above the village of Oz. Located between the Belledonne and Grandes Rousses mountain ranges, the resort is perfect for families and those seeking a slightly more peaceful base. With access across the Alpe d'Huez Grande Domaine ski area's 250km of slopes, you can take advantage of the sunny piste as the ski runs vary from 1100m to 3330m in altitude!
A fun one for even the smallest of your party, Oz en Oisans offers dog-sledding for even the littlest mushers. 3 to 8 year olds can try out a sled specifically designed for them, and learn how to drive a team of dogs. Dog cuddles are of course a requirement!! 
Just a few minutes away from Oz, up the Alpette lift from the centre of the village, you'll find the L'Alpette winter trail. Accessible to all, this track is signposted well and entirely secured. All along the circuit you can enjoy the stunning panoramic scenery over the surrounding mountain ranges. Keep any eye out for Marmottes and mountain goats on you're way around!
Just before the slopes close for the day, head up to the Dome des Rousses at 2800m and make the last descent during sunset. This memorial sunset skiing experience allows you to discover the job of a ski patroller whilst making the vertical descent of 1450m down into Oz en Oisans resort. Definitely one for the bucket list!
As they say in Isère, your place is here... you just need to decide which resort you'll discover this season!