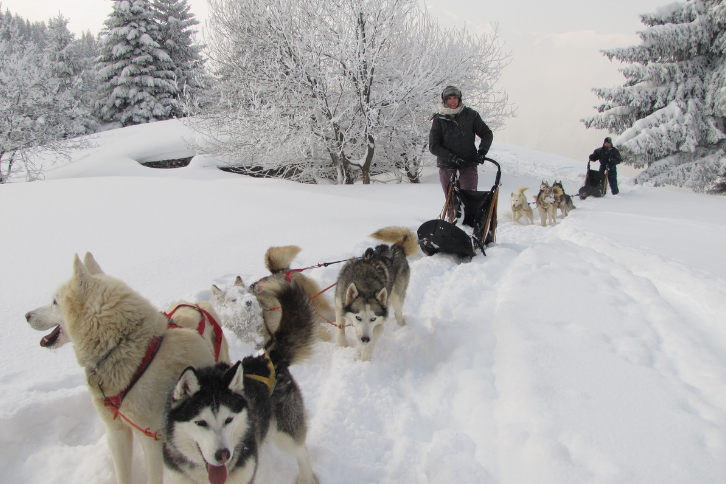 Wednesday, 09, November, 2022
The festive period is a great time to visit the French Alps. Whether it's for a Christmas stay in a beautiful chalet with a log fire or a New Year's celebration in a charming French ski village, there's a resort for every winter whim!
Are you thinking about spending the holidays in the mountains? We have some fantastic festive deals on at the moment but if you need some inspiration here are ten of our best resorts for Christmas in the Alps...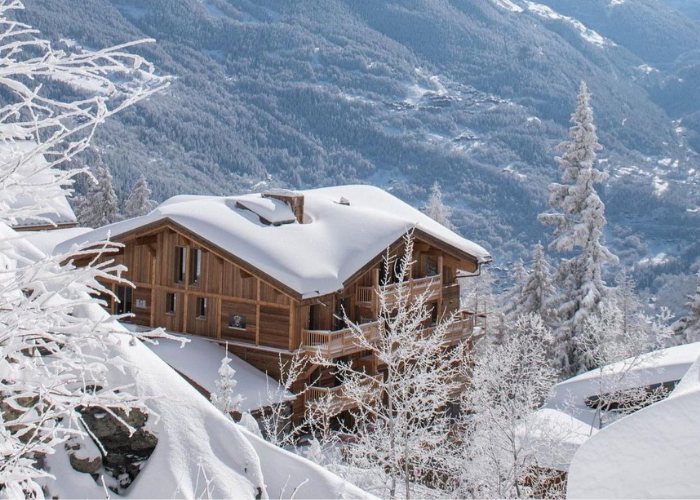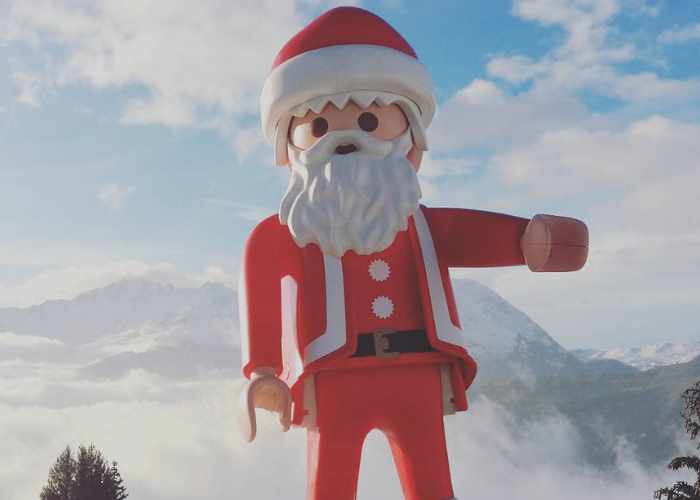 1. La Rosière
On the Italian border, the beautiful resort of La Rosière is an amazing choice for beginners discovering the joy of skiing and families who want to spend precious time together at this special time of the year.
Christmas in La Rosière often sees... the transformation of the magical forest (part of the resort, a beautiful short walk that separates the two villages). There's plenty of festive-themed, family-friendly activities such as storytelling with Christmas candies, chocolates, and other local and traditional sweets! The resort also welcomes Santa Claus every Christmas Eve.
We'd recommend staying in Les Cimes Blanches. It's close to all the main amenities including ski school, ski lifts, shops, and much more, this recently built luxury residence is perfect for your family holiday. What better way to make the most of it than relaxing after a long day of skiing in the amazing spa with a heated pool, hot tub, and steam room.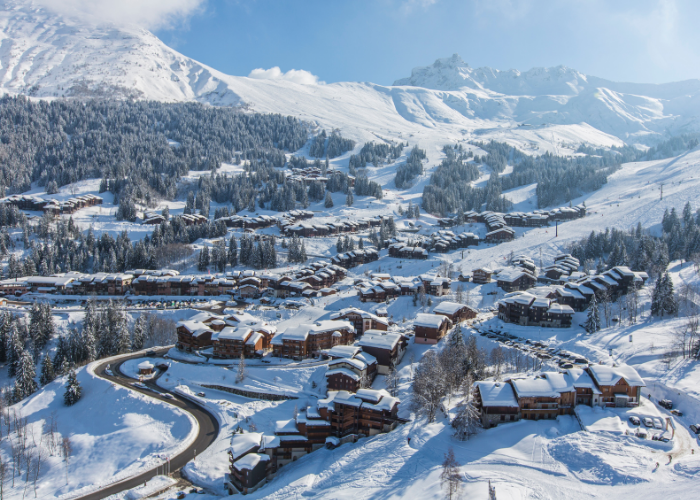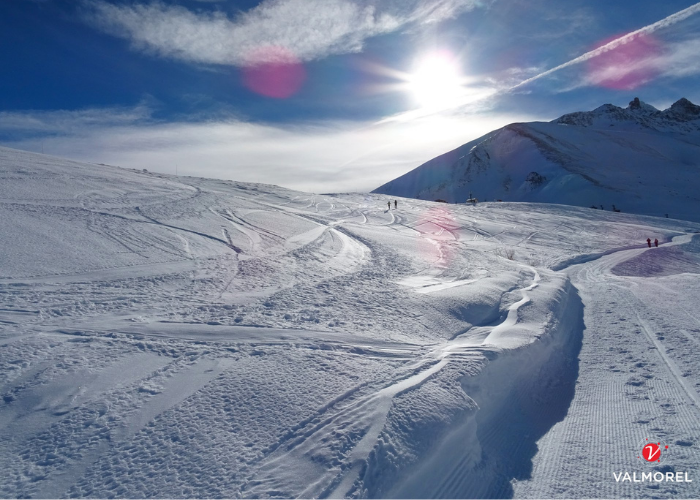 2. Valmorel
This pretty village in the Tarentaise valley is the ideal location for a family Christmas on the slopes. Valmorel has a car-free centre and the majority of its residences are built next to the return runs, thus taking full advantage of the ski-in/ski-out potential. On top of that, the resort has plenty of entertainment and activities arranged for Christmas time.
Christmas in Valmorel often sees... a Christmas Parade! There's a huge daily circus-themed show complete with acrobatic Santa's elves! The holidays have also seen a yule log tasting event with a huge traditional yule log, home-baked by the local artisan of Valmorel village.
We'd recommend staying in La Grange aux Fees. It's ideally located in a quiet, elevated, and sunny position in the Hameau des Lanchettes, this splendid residence offers ski-in/ski-out and all the conveniences only five minutes' walk away.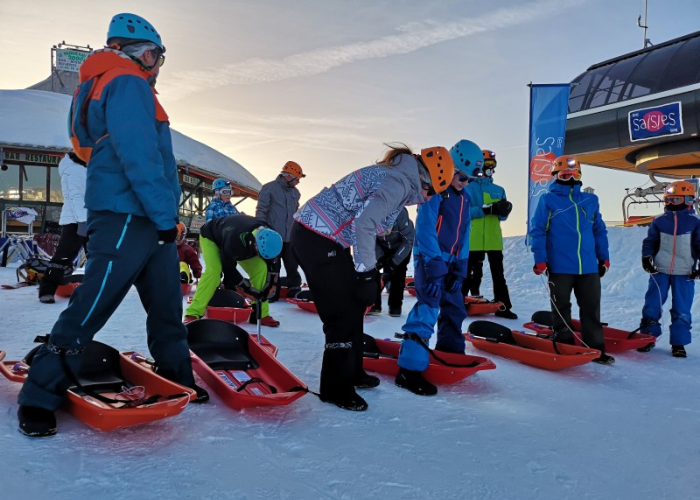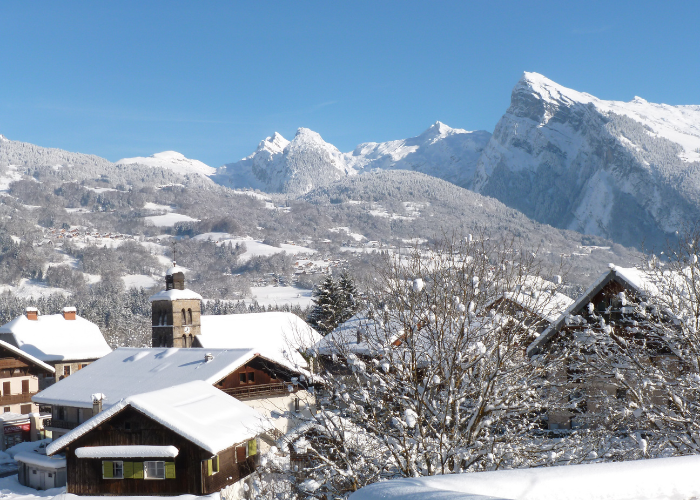 3. Les Saisies
Enjoy a magical and festive week in the mountains of Les Saisies. The enchantingly set resort offer shows, games, entertainment for everybody in a fairytale village of Christmas - and there's plenty of opportunities for a photo with Santa for lifelong memories!
Christmas in Les Saisies often sees... a big family-style resort welcome meal! For the opening of the Christmas Village, taste and enjoy a traditional meal of raclette followed by a gingerbread workshop!
We'd recommend staying in Amaya, perfectly located with ski-in/ski-out possibilities on the Carrets piste, the residence has luxurious facilities such as an indoor heated swimming pool, hot tub and sauna - perfect to relax after a long day of skiing and seeing Santa!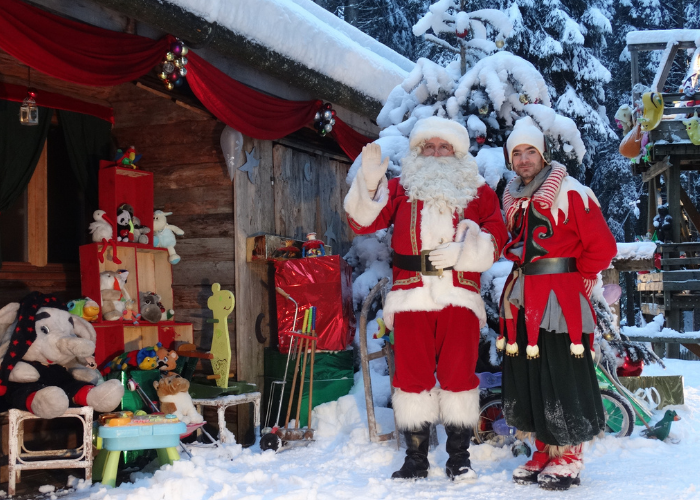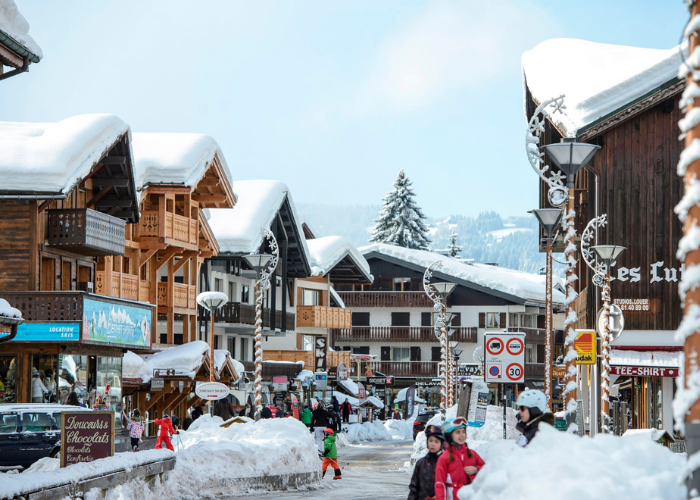 4. Les Gets
This charming village nestling in the Portes du Soleil area has a delightfully traditional character. One of the most easily accessed resorts from the UK by car, Les Gets is an amazing destination for families and non-skiers and has plenty of entertainment at the end of the year.
Christmas in Les Gets often sees... the enchantment of the local forest including the night walk Alta Lumina! In December the forest is enchanted by Santa's visit - definitely one to visit with little ones.
We'd recommend staying in Les Fermes Emiguy. It's 300m from the resort centre and 400m from the main gondola, perfectly located for families with young children. A visit to its on-site indoor pool makes for an ideal end to a day on the slopes!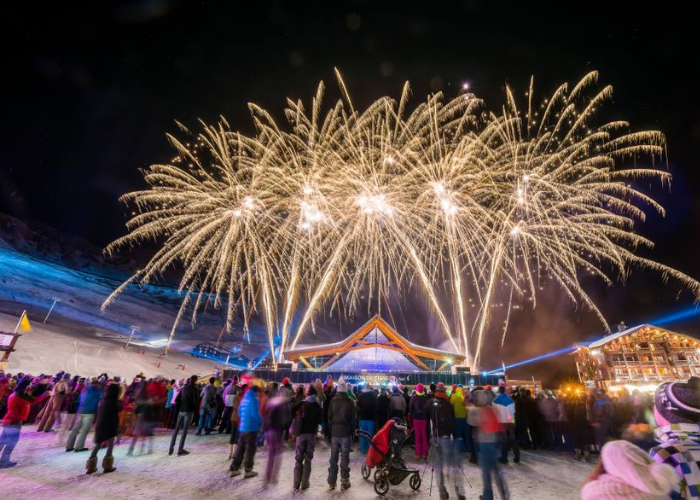 5. Tignes
No need to introduce one of the best-known European resorts, famous for its huge ski area and the superb pistes! Tignes is an amazing destination for a family ski holiday, with a wide range of amenities, activities, and with a pedestrianised village.
The holidays in Tignes often see... the biggest New Years' Eve party in France! This high-altitude ski resort celebrates the new year in style with a huge fireworks display and plenty of après-ski partying!
We'd recommend staying in Kalinda. It's a luxury residence, ideally located at the foot of the slopes. There's an ESF ski school office, boulangerie, and mini supermarket within the residence, as well as an indoor pool and spa.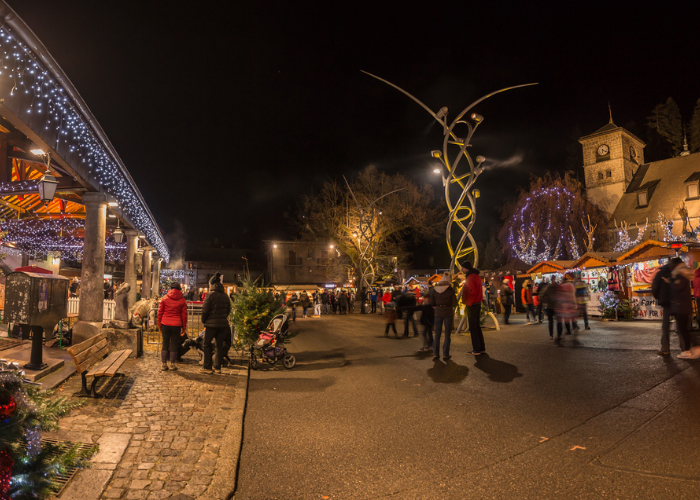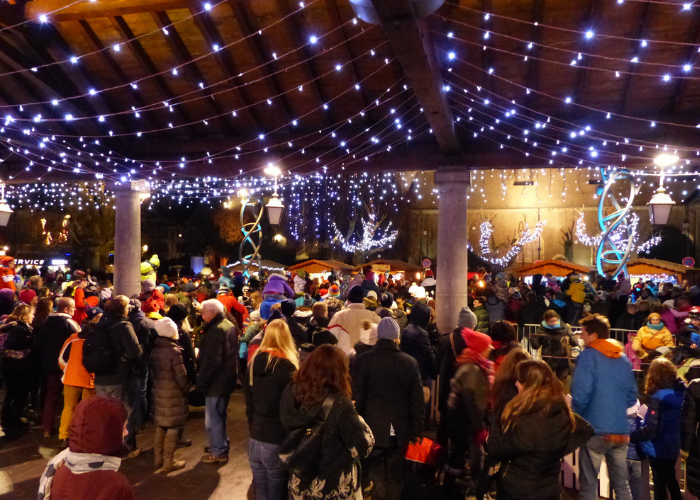 6. Samoëns
Christmas really is magical in Samoëns, a picturesque traditional village that has retained its heritage and charm. Its narrow streets lined with cafés and independent boutiques are the perfect place to find unique gifts.
Christmas in Samoëns often sees... A traditional Christmas market; the village has an historic covered marketplace and hosts a weekly market all year round but in December it pulls out all the stops with an atmospheric Christmas market in the pretty centre. 
We'd recommend staying at the luxury residence Alexane. It's close to the centre of Samoëns and boasts an indoor pool and large wellness area, as well as a piano-bar (perfect for cosy winter evenings).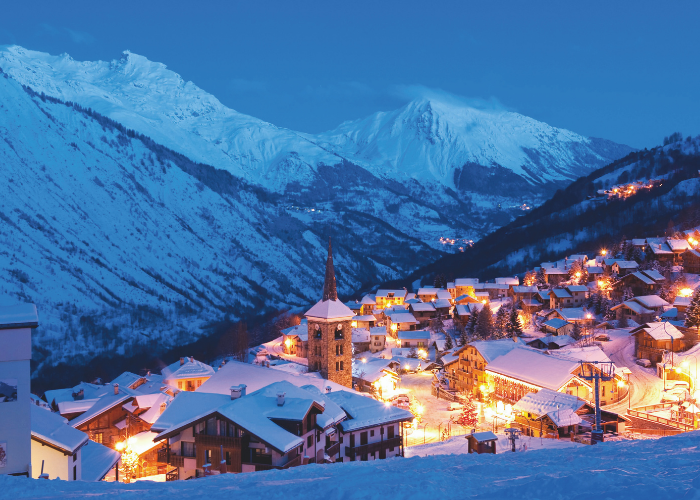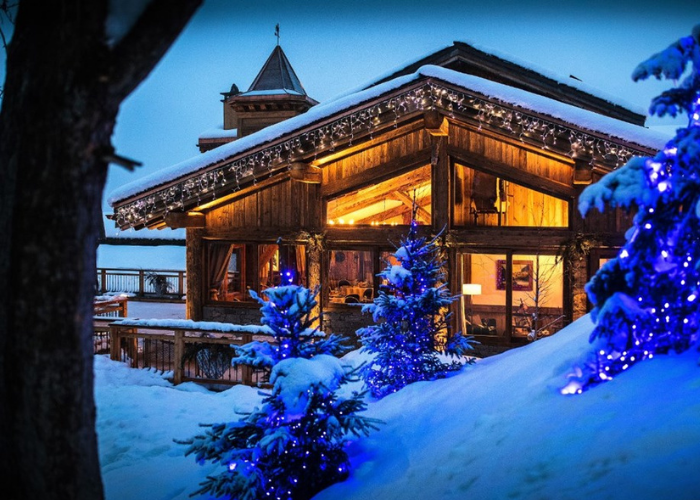 7. St-Martin-de-Belleville
The unspoiled lived-in village of St-Martin-de-Belleville is perfect for a Christmas getaway to the Alps. With a charming old church, small square, and buildings of wood and stone, you truly have the best of both worlds in this quiet location close to the famous 3 Vallees ski area. 
Christmas in St-Martin-De-Belleville often sees... A beautiful white Christmas on the slopes. Be enchanted by Christmas card sceneries for the festive occasion in the authentic village while skiing the largest ski area in the world. 
We'd recommend staying in the luxurious Chalets Caseblanche which opened in Christmas 2018. The south-facing complex of 34 luxury chalets and apartments is in an excellent location just 50m from the gondola and ski school meeting point, and 300m from the resort centre. These beautiful appointed spacious chalets and apartments all have either a wood burner or open fire and self-catered chalets have a private sauna.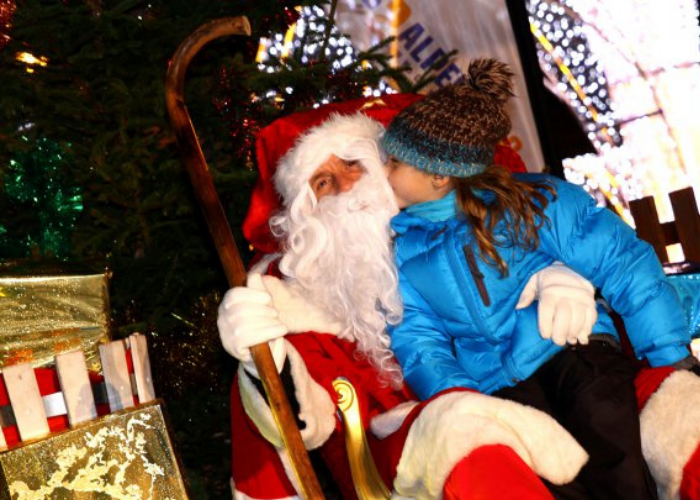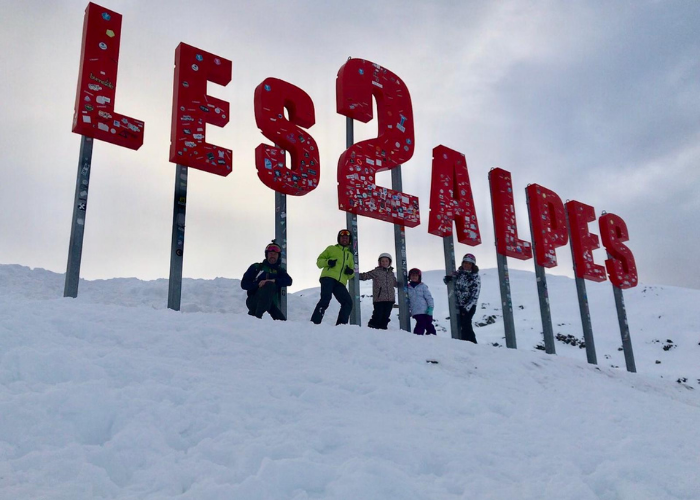 8. Les 2 Alpes
One of the highest altitude ski areas in the world, Les 2 Alpes is a picturesque setting surrounded by dramatic mountain scenery. With above average sunshine, you certainly won't get bored of the views with the sun rays warming up your face. 
New Year in Les 2 Alpes sees... end of year celebrations from decorations, magic avenue strolls, fireworks, torchlight descents, and much more fun!
We'd recommend the brand new 4* Les Clarines residence opening in December 2021 in the heart of the Clarines district. This residence is close to the slopes and ski lifts on the Vallee Blanche side and the main ski lift departure is a short bus ride away. Bars and restaurants are a convenient 5 min walk away as are the nearest shops.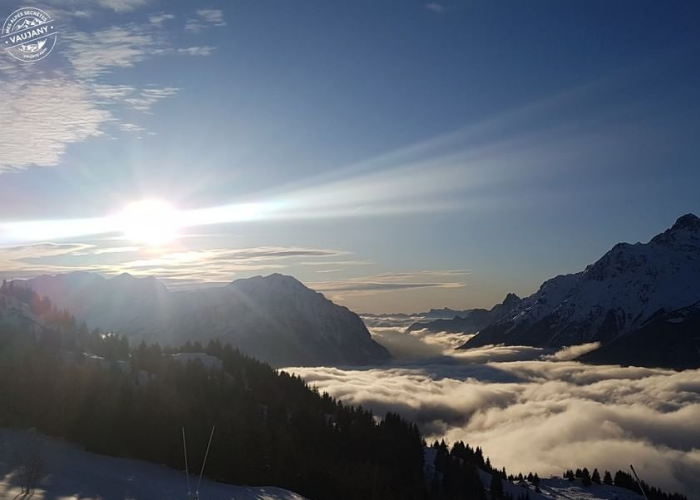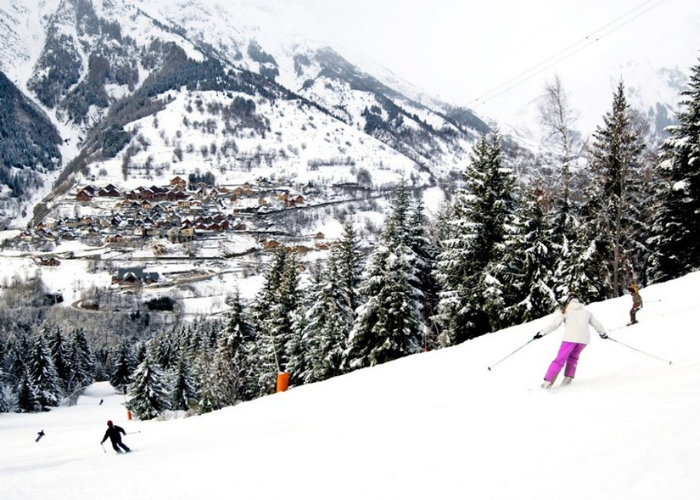 9. Vaujany
One of the best ski resorts for children, Vaujany offers first-class skiing for all with good snow conditions in the sunny Southern Alps. The Ski Club of Great Britain named Vaujany Europe's most family-friendly resort which is unsurprising with the facilities and amenities on offer that are beyond those you would expect from a small ski village!
Christmas in Vaujany sees... a torchlight descent led by Father Christmas snaking down La Fare piste opposite the village just before the fireworks start, alongside many Christmas markets to explore with the family. 
We'd recommend staying at the new south-facing residence, Les Edelweiss, opening in December 2021. Made up of cosy apartments in traditional chalet-style buildings approximately 300m from the nearest cable car.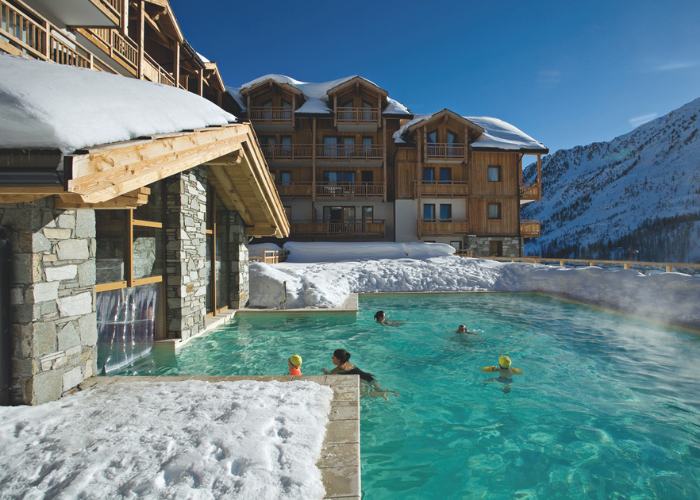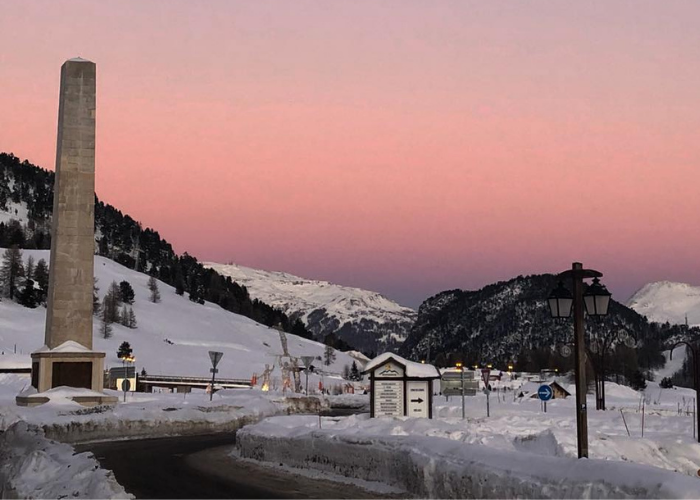 10.
Montgenèvre
Nominated the Family Resort of the Year in 2017, Montgenèvre is a snowsure resort, offering plenty of intermediate cruising and facilities including nurseries and a cinema. This historic ski resort sits on the Italian border, linking with many Italian ski resorts!
Christmas and New Year in Montgenèvre sees... the arrival of Father Christmas on Christmas eve for his big night to distribute presents. Celebrate the New Year in style with fireworks, torchlight descents, wine, hot chocolate, and much more, nothing quite like it to finish off the year! 
We'd recommend staying at the superior 4* The Le Hameau des Airelles. These apartments offer doorstep skiing and are 200m from the Chalvet cable car. Facilities include an outdoor heated pool, a spa with hot tub, sauna and steam room, and a dedicated space for teens.
---

Don't forget all the traditional and local activities that will make your winter holiday unforgettable...
Some resorts, such as Les 2 Alpes, offer horse-drawn sleigh rides which are perfect for taking in those idyllic mountain views, especially during Christmas time.

For dog-loving families, resorts such as Chamonix offer the chance to sit on a sledge and discover the amazing peak and landscapes. For those who want more, they even teach you to mush a team!

If you're looking for something truly unique, why not go for a walk with the friendly llamas in Valloire? An unforgettable moment for the whole family and one you're unlikely to forget!
Is there a better way to spend the best time of the year than under the first snowflakes of winter with your family and friends?
If you want to organise your ski holiday with a multiple award-winning French Alps specialist, then you've come to the right place! You can book online, call us on 023 9283 9310, or request a quote and we will find you the perfect ski holiday! Don't forget to sign up for our newsletter to get all the latest news and deals! You can also find us on Facebook and Instagram for regular updates on all things French Alps related!