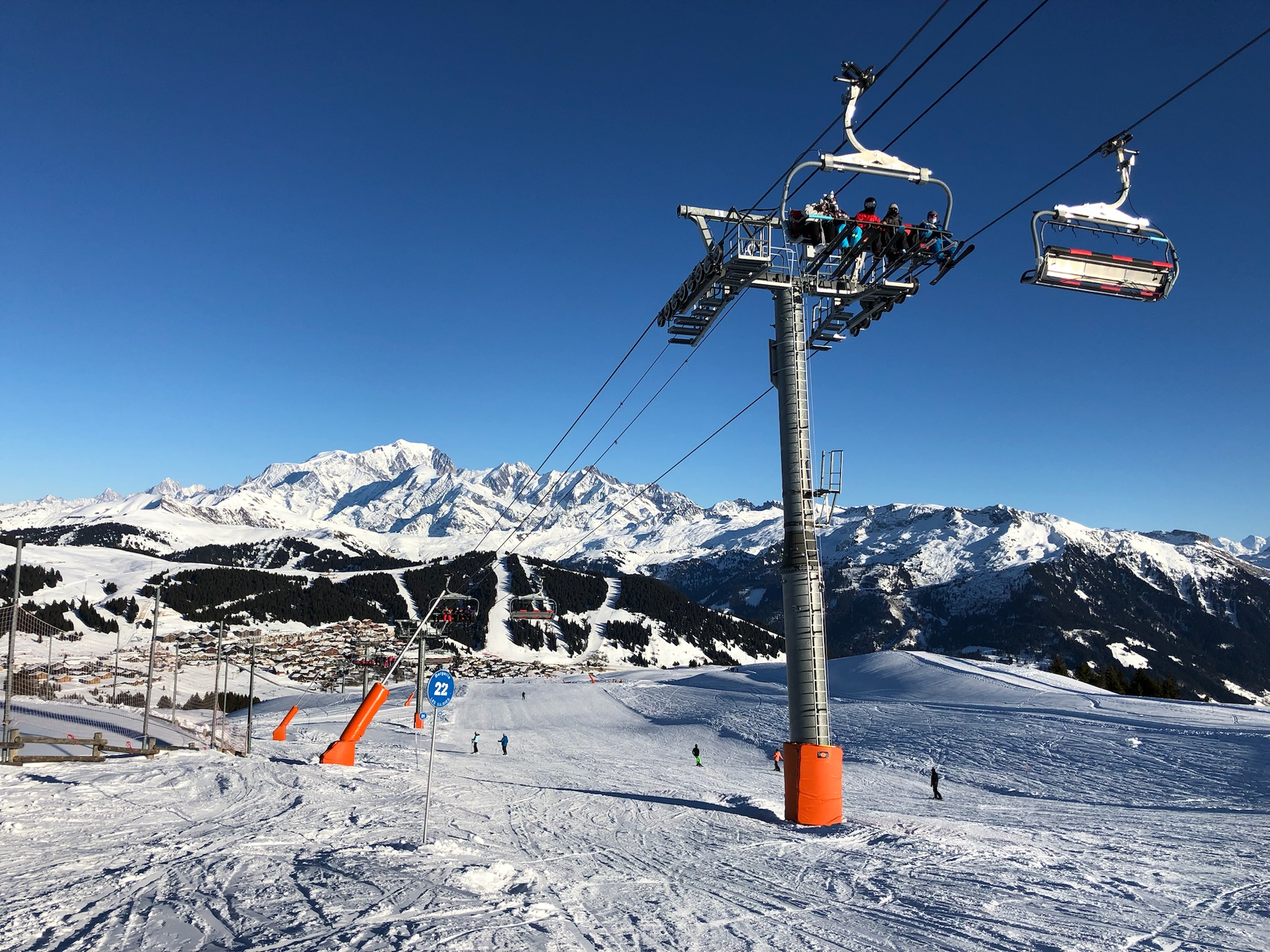 Thursday, 03, March, 2022
Les Saisies, known as France's top Olympic cross country ski area, is a vibrant resort with great après-ski. This charming resort is easily accessed by the motorway and has great views of the famous Mont Blanc. Our loyal client and her family headed to Les Saisies last Christmas for a festive break, read all about it below!
As we stood on our balcony at Residence Amaya and took in the beautiful view over the tree-lined pistes, we felt an overwhelming sense of relief that we had made it to the Alps. Two days earlier our son had managed to return from university covid free, our cases were almost packed and we had even looked up our cabin numbers for the Portsmouth to Caen ferry. Then the French travel restrictions were announced throwing carefully laid plans into disarray when we realised our overnight ferry would not arrive in time. Thanks to the most efficient customer service from Peak Retreats, we were able to switch to Eurotunnel Flexiplus to reach France in time and our alpine accommodation was also brought forward by a night, giving us an extra day's skiing.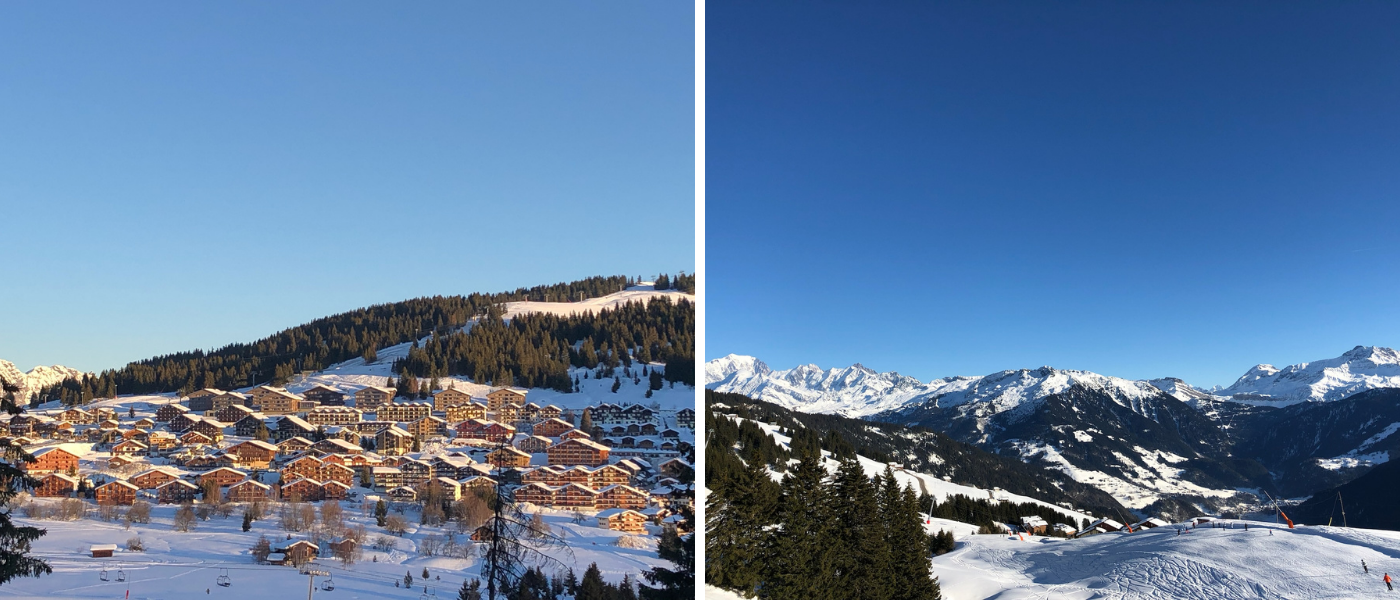 Whilst Eurotunnel was far busier than usual with so many people trying to get to France before the deadline, we enjoyed stopping to pick up food ranging from "Naked" soup to reindeer cakes at the Flexiplus lounge! By late morning we had reached France for the first time in two years, our new Sanef télépéage tag gave a reassuring bleep and we were cruising down "l'autoroute des Anglais" towards our stopover hotel. The next day, after leaving the motorway at Sallanches we picked up groceries and a few Christmas decorations at Casino supermarket in Megève and then had a picturesque drive to Les Saisies, through snow-laden villages resembling scenes from a Christmas card.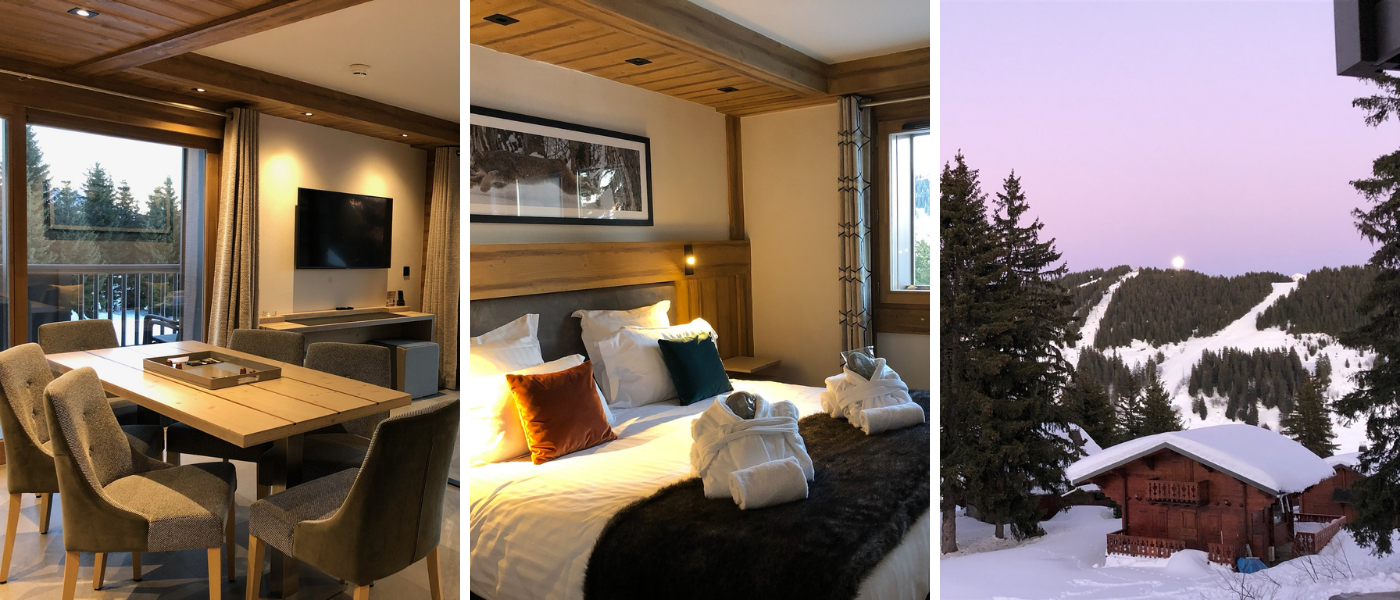 Residence Amaya is situated in a peaceful forest location with views towards the centre of Les Saisies resort. Our two-bed apartment was sparkling on arrival, with the warm scent of the Spa wafting from a diffuser in the living room and robes and slippers provided for all the family. There was a rain shower in the master bedroom ensuite, a state-of-the-art kitchen and a comfortable living area. Most of all we loved the view of the mountains and ski runs by day and the twinkling lights of Les Saisies by night. Later in the week, we would enjoy watching the Christmas Eve fireworks from our apartment balcony.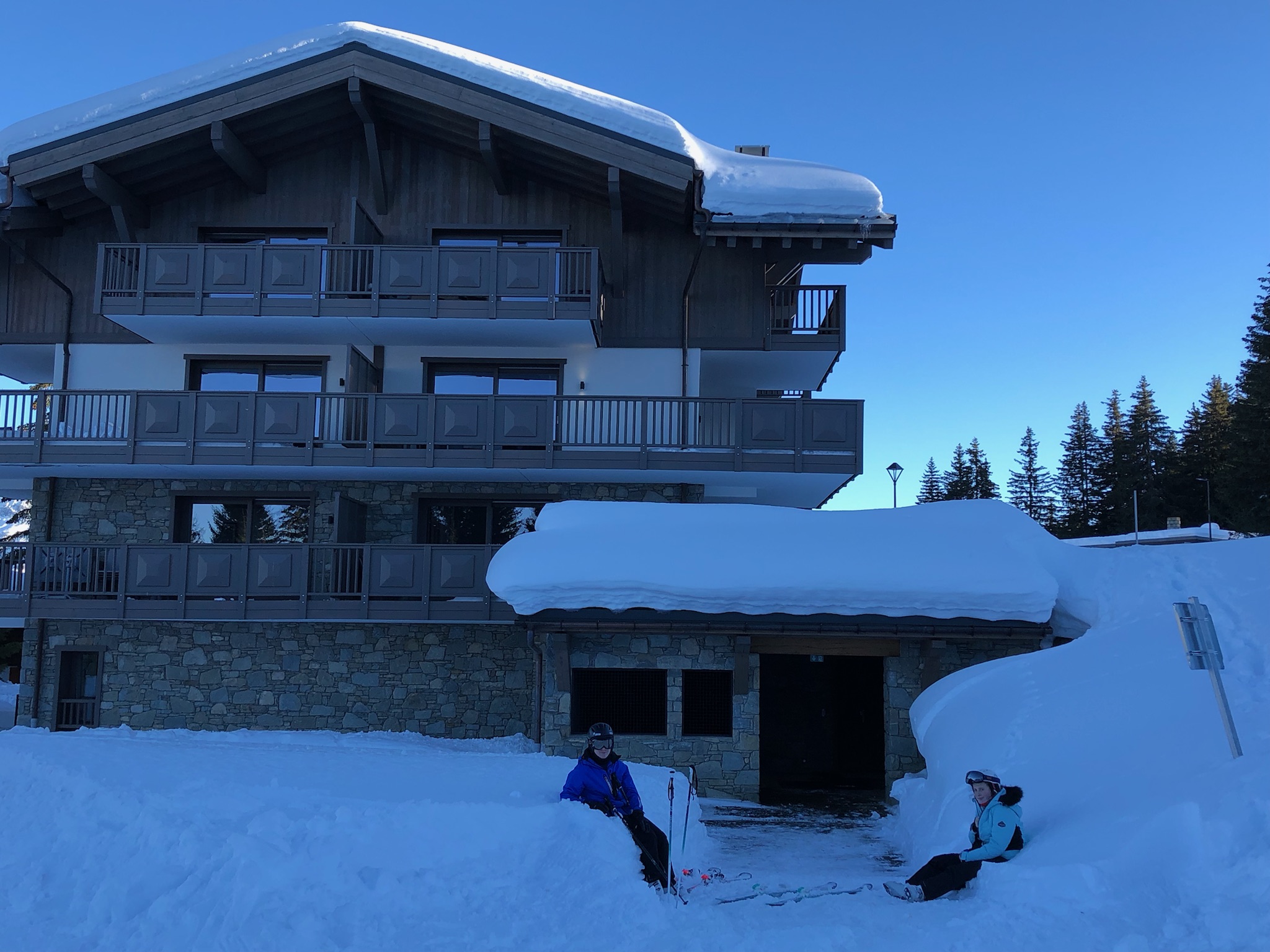 The reception staff were most friendly throughout our stay and Alexandre gave us a tour of the residence on the first afternoon. He said the snowplough would be round that evening to create the piste to and from the ski room door. The spacious heated locker had ski and helmet holders as well as the usual boot warmers. In the morning one can ski straight down to the Carrets or Légette chairlifts and the route back is via the Bisanne or Manant lifts.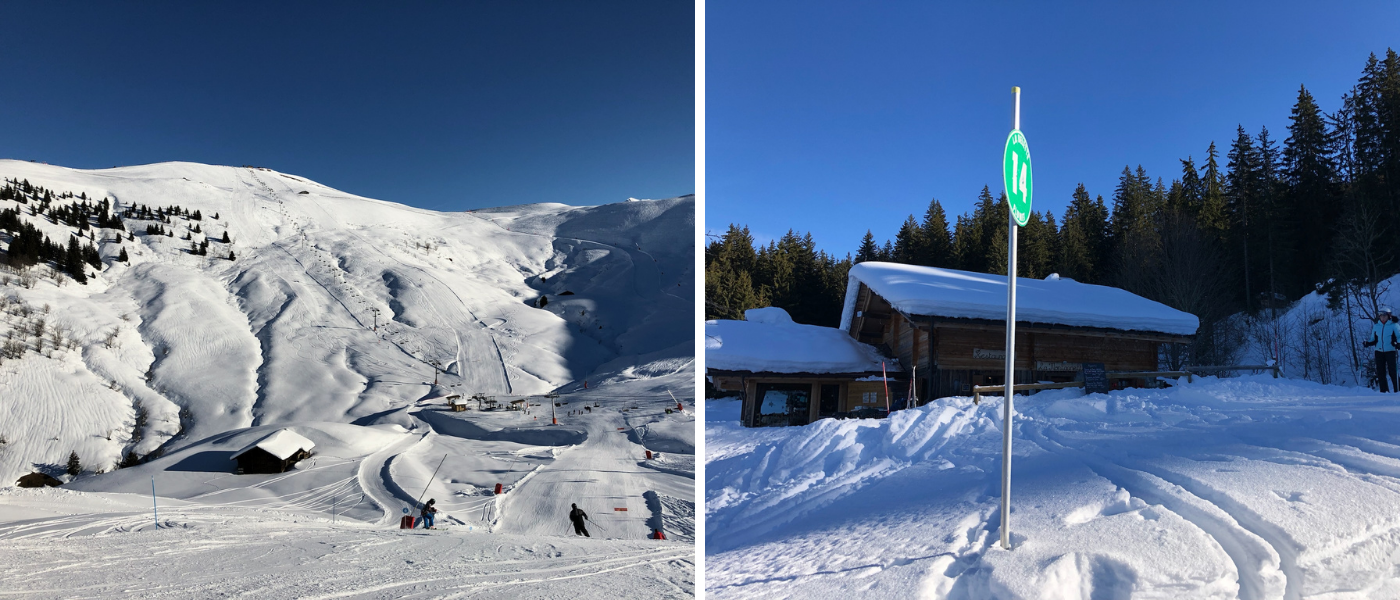 Whilst we had skied in Les Saisies some years earlier, this was the first time we had had the opportunity to explore the whole Espace Diamant, in superb snow conditions with every run open. Early in the week, we skied to Praz sur Arly, stopping for coffee at Le Petit Tétras café in the Crêt du Midi area, whilst taking in a panoramic view of Megève. We loved the scenic and peaceful runs above Praz sur Arly and Flumet and stopped for lunch at Restaurant la Montagnette on the Belette piste, where our daughter's face was a picture when her pasta dish was brought in the European style with a raw egg on the side! From the top of Mont Reguet we split in two with my husband and daughter going back via Notre Dame Mont Rond, whilst my son and I skied down to Notre Dame 1100 and discovered we were the only passengers for the short bus link to Crest Voland. After skiing the red Chardons and Stade pistes we had a quick rest in a deckchair at La Belle Metairie, at the summit of Mont Lachat before skiing back to Les Saisies.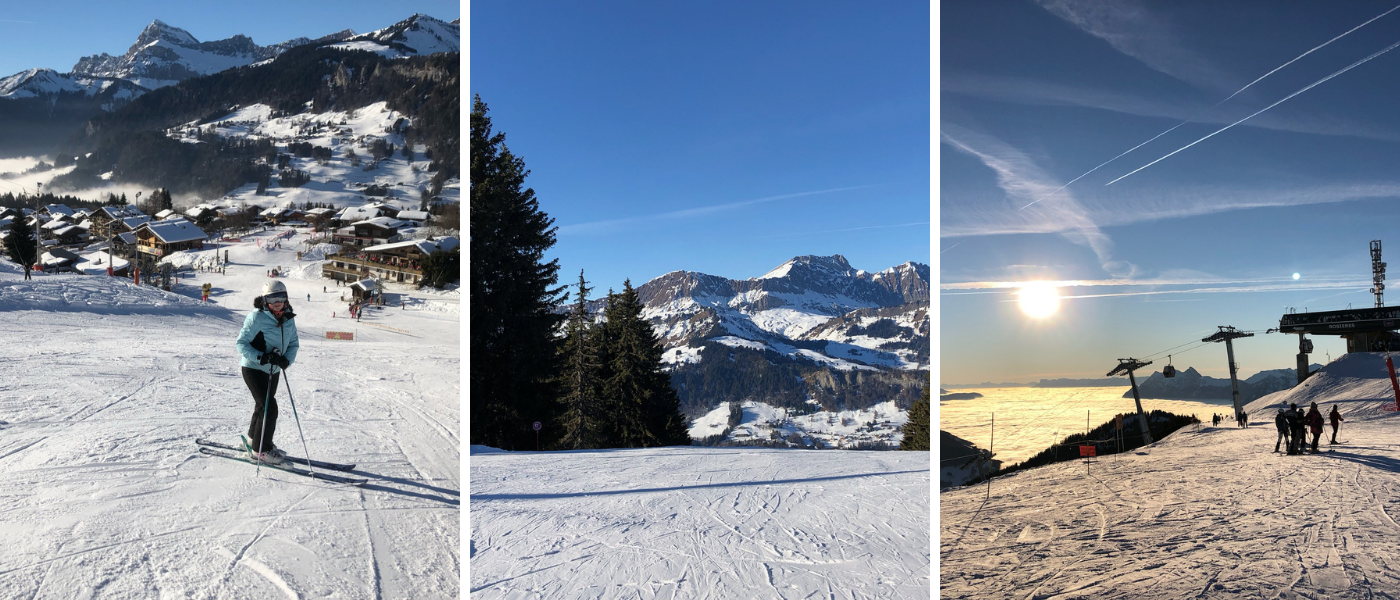 We also thoroughly enjoyed the skiing in Les Saisies itself. One of the newer runs is the La Chapelle piste and halfway down we discovered Chalet du Mignon, a family-run restaurant with views to Mont Bisanne from its sunny terrace. Whilst there are several gentle runs in the centre of the resort, there is also plenty to keep intermediates happy for the week. Our teenagers enjoyed it all from the Perdrix black piste off the Légette lift, to whizzing around the snow park and skiing from Mont Bisanne to Crest Voland on a long green run through the forest. They found the Espace Diamant ski area far more extensive than expected.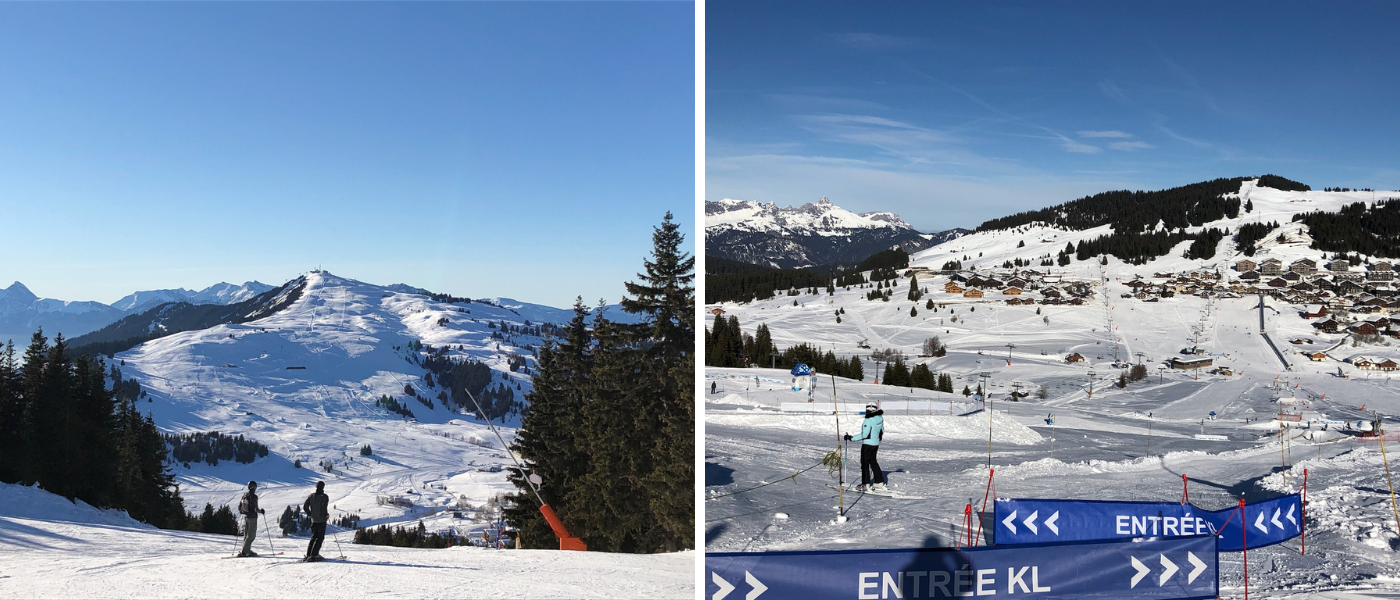 After several days of sunshine, the skies clouded over but visibility was still reasonable on the many tree-lined pistes. Our thoughts turned to finding a special mountain restaurant for Christmas day lunch and we settled on Le Bonnet Blanc above Notre Dame de Bellecombe 1450, where to our delight large fat flakes of snow began falling as soon as we arrived. We had a delicious lunch in this cosy mountain restaurant and had an enjoyable day skiing on almost deserted pistes in the beautiful Mont Rond area. One of the unexpected excitements of the holiday was the range of interesting lift experiences in the wider Espace Diamant, from drag lifts turning multiple corners through the forest, to chairlifts you can board in the middle, and a few slow scenic chairlift rides, of which the most memorable was the Lac which carries one from deepest Mont Rond to one of the highest points in Les Saisies. Our daughter warmed up with a "chocolat viennois" from the kiosk before getting on. L'Espace Diamant is perfect for those who like to ski off the beaten track in a picturesque setting.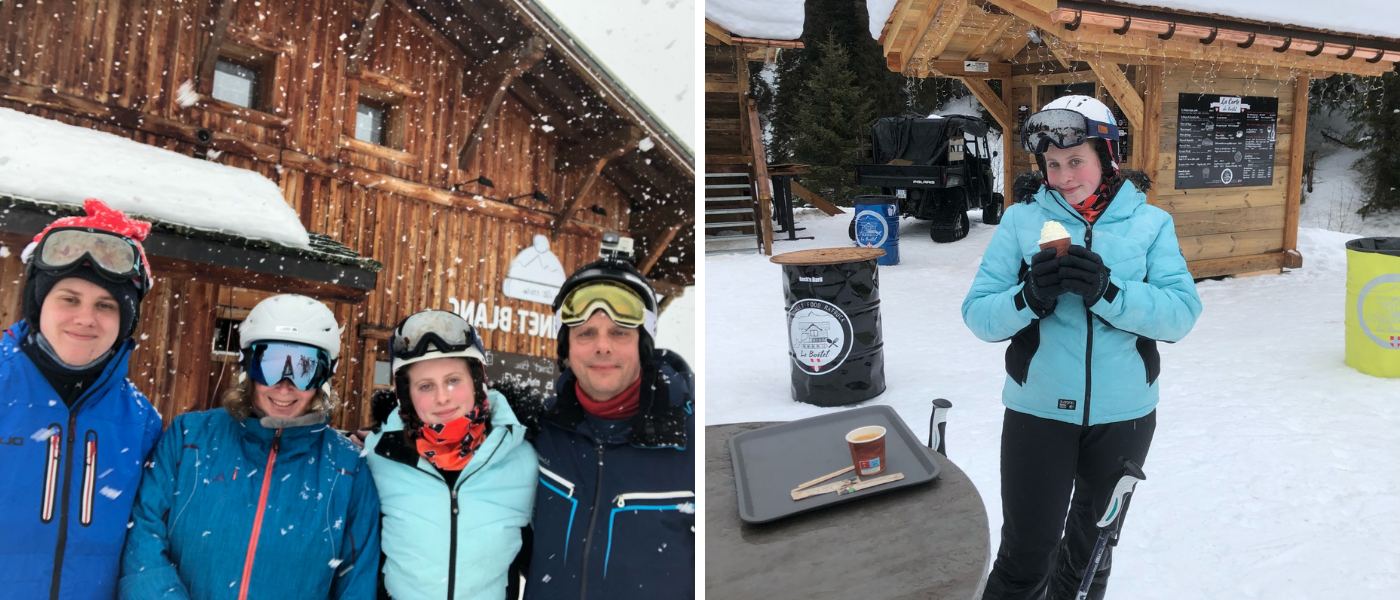 The village of Les Saisies is family orientated and from Residence Amaya you can walk to the resort centre across the piste or drive there in a few minutes. We picked up a few provisions in the small Carrefour and un gâteau Norvégien (ice-cream encased in marshmallow) from the bakery to have after our Christmas Eve fondue. Whilst there are plenty of family-orientated après ski activities in Les Saisies, including the mountain twister, we opted to spend our evenings at Residence Amaya. The residence has a lovely pool and relaxation area which is only shared by forty-four apartments, so it was possible to find quieter times to go there. The pool was a pleasant temperature and we enjoyed the hot tub and steam room after a full day's skiing. Whilst one of the aspects of Les Saisies I like best is being able to converse in French with the locals in a resort with few English voices, the rest of the family were pleased to find BBC1 on the list of TV channels. We ended our stay watching Christmas Day TV whilst beavering away at our 1000 piece festive jigsaw, which was eventually completed at midnight.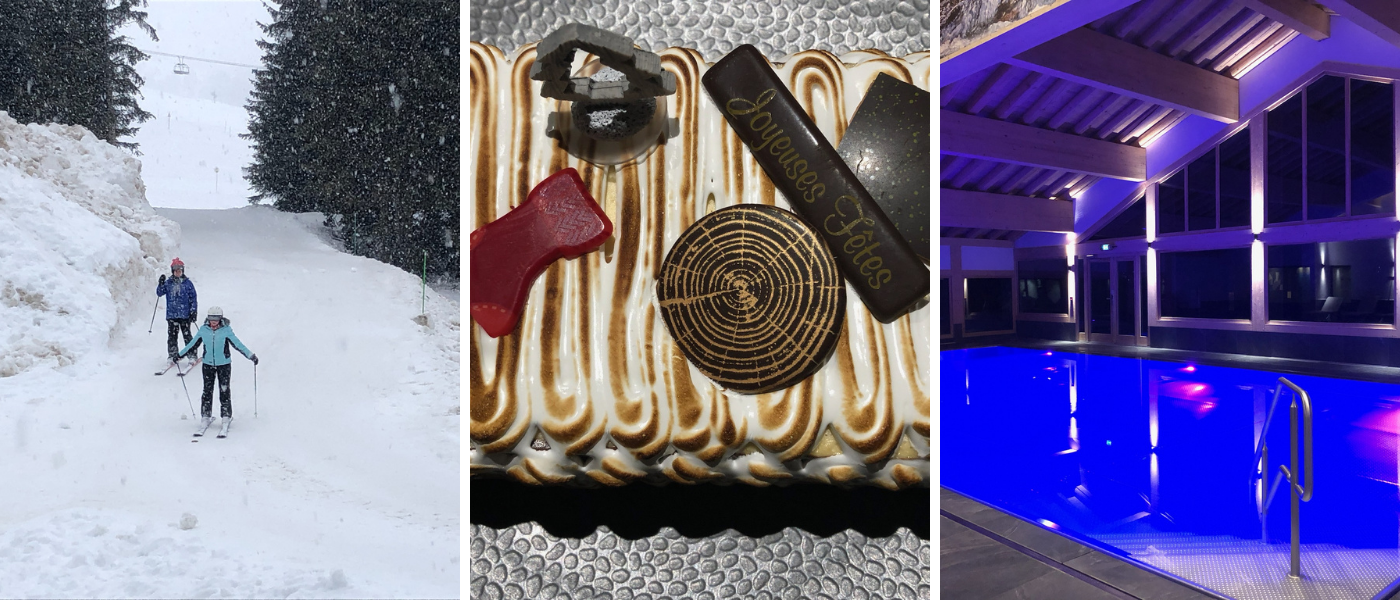 If you're ready to book your next ski holiday or if you need some advice on where to stay, call us on 023 9283 9310 or request a quote and we will find you the perfect Alpine holiday! Don't forget to sign up for our newsletter to get all the latest news and deals.