Pre-book your summer ski school lessons
Ski school is an important part of most people's skiing holiday whether they are beginners or just wish to improve style and technique. All our resorts have extensive ski school facilities. The Ecole de Ski Français (ESF) is by far the largest and longest established. We can pre-book ski school at Tignes and Les Deux Alpes and we would particularly recommend that you do to avoid possible disappointment. The ski schools have English-speaking instructors.
If you have any queries about summer skiing, please do call our team of friendly Alpine experts on 023 9283 9310 - they'll be able to advise you when to go and the best places to stay.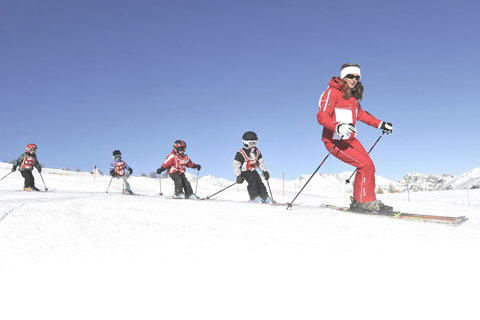 How can I pre-book my ski school? 
Call us on

023 9283 9310

and detail your requirements to one of our team
Send us an email detailing your requirements to reservations@peakretreats.co.uk.

Please include, if possible, your booking ref. and ski level for each party member plus the duration of lessons

When you booked and you receive your invoice pack, they will be a 'Ski Extras booking form' for you to fill in. All you need to do is send this back to us and we will add your requirements to the booking and send out a new invoice
How much does ski school cost? 
ESF group lessons for summer ski 
Mini group ski or snowboard lessons for adults and children from 6 years old.
They run between Sunday and Friday from 9am-12am (3hrs). 
Pricing is dependent on the number of days but ranges from approx. £140 for a 3-day course to £190 for a 6-day course*.
Please call us on 023 9283 9310 for the current rates.
ESF private lessons for summer ski
These can be arranged all summer and are ideal for children aged 5/6 years as they cannot do the group course.
Minimum of 3 days and 2 hours per day. Lessons are between 9am and 1pm
A guide for pricing is as below, but please call us on 023 9283 9310 for the current rates.
1-2 persons £98 per 2-hour session*
3-4 people £128 per 2-hour session*
*Please note a £9 booking fee applies to ski school per party, not per person.