Pre-book your summer lift passes with Peak Retreats
We can pre-book your summer ski lift passes for Tignes & Les Deux Alpes.
Why book in advance?
By purchasing your lift pass in advance, you can take advantage of reduced rates and not have to worry about the expense or fluctuating exchange rates in resort. There are reductions for children and senior (usually over 60) whilst over 70 and under 5 are generally free. Please bring one passport-sized photograph of yourself with your name clearly printed on the back (some resorts may not need this).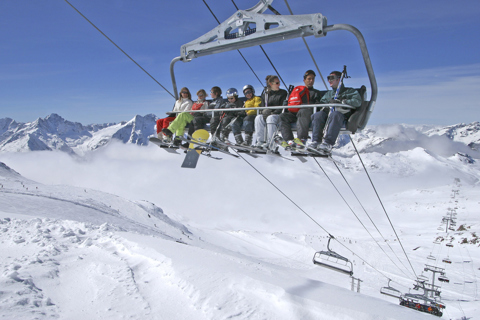 How can I pre-book my summer ski lift pass? 
Call us on 0844 576 0170

(Calls cost 7p per minute + any network charges)

 and detail your requirements to one of our team
Send us an email detailing your requirements to reservations@peakretreats.co.uk. Please include, if possible, your booking ref. and dates of birth for your party and detail who needs what pass. See price categories below
When you booked and you receive your invoice pack, they will be a 'Ski Extras booking form' for you to fill in. All you need to do is send this back to us and we will add your requirements to the booking and send out a new invoice
Discounts maybe available for SENIORS. Often children under 5 are free but it is dependant on resort. If you require a lift pass for longer than 6 days please enquire with a member of the Peak Retreats team for costs.
Many lift passes will now work on an automatic hands free lift pass system where the pass operates the turnstiles as you approach (providing the pass is kept in your left hand pocket as the turnstiles will be on your left as you approach).
Lift passes – Summer 2016 – Les 2 Alpes
Summer ski-passes are available which give you access to the summer ski area and use of the tourist lifts (walkers and mountain bikers). Skiing is free for children under 5 years old and adults aged 72 years and above.
Summer Glacier Skiing Leisure Lift Pass

 

     Adults     

Junior under 13
Senior 65-71

2 days

62

50

3 days

91

73

4 days

120

96

5 days

140

112

6 days

155

124

7 days

180

144

8 days

206

165

9 days

231

185

10 days

257

205

11 days

283

226

12 days

308

246
Passport photo necessary. Prices are in £ Sterling and payable to PR.
2-5 day passes include one access per day to the swimming pool and ice rink (hire excluded), 3 descents on the summer toboggan.
6 day and above passes include one access per day to swimming pool and ice rink (ice skate hire excl.), 6 summer toboggan runs, use of tennis courts, 1 session of archery, I session of golf practise, special price on Adventure Parc. 1 day access to the lifts (pedestrian and mountain bikers) in each one of the 4 Galaxie resorts (Alpe d'Huez, Serre Chevalier, Montgenevre, Puy St Vincent). 
Lift passes – Summer 2016 – Tignes
GLACIER SKIING CONSECUTIVE LIFT PASS

 

      Adult      

Junior under 14
Senior 65-74

3 Days

£58

£46

4 Days

£87

£70

5 Days

£116

£93

6 Days

£116

£93

7 Days

£144

£116

8 Days

£173

£139

9 Days

£173

£139

10 Days

£202

£162

GLACIER SKIING NON CONSECUTIVE LIFT PASS

3 Days

£71

£57
 Ski passes of 2 days or more include free unlimited Lagon pool access (1 access per day) 
Children under 5 and seniors over 74 FREE.