Walking & Mountain Activities in the French Alps
The vast and changing landscape of the French Alpes provides the most fantastic scenery, clean fresh air, stunning mountains and crystal clear lakes. All the traditional lakes and mountains holiday activities are on offer from high adrenalin rushes to gentle strolls. For information on the activities, contacts and guide information please see the contact information on the resort pages, or the Tourist Offices who have literature and more details of all activities in their area.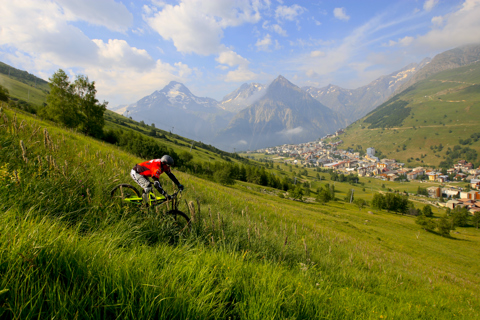 Mountain Biking in the French Alps
Mountain bikes make easy work of getting up hill, but ski lifts are better! Cycle round at altitude then off-road it home down some fairly serious ski pistes. Trails are marked and maintained by organisations in each area. Maps and details of guide services in the area are available from Tourist Offices. There are some 500 miles of mountain biking trails in the Portes du Soleil for instance. Les Gets is the mecca for mountain bikers.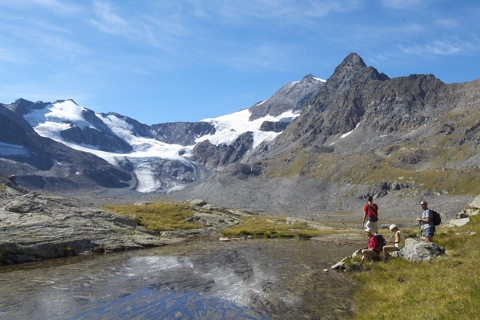 Walking in the French Alps
Pedestrian trails are maintained by organisations in each area, which guarantees a consistent signpost system and high quality up-keep of the area. Maps are available from Tourist Offices. For instance, there are 400 miles of marked hiking routes in the Portes du Soleil region – see Les Gets. There are also 350km of marked walking trails in the Chamonix Valley that would be worth exploring. Not to be missed is the Vanoise National Park too – see Champagny.
'Walking in the Alps' from Guide publisher Cicerone is worth acquiring visit www.cicerone.co.uk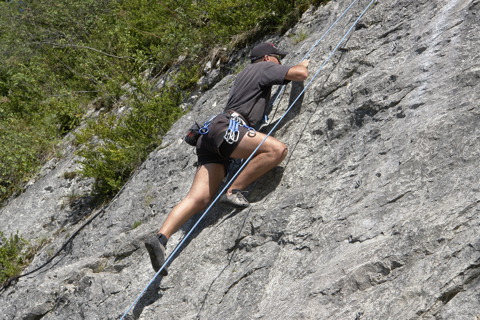 Rock climbing in the French Alps
Top roped for safety, clinging to training faces, instructors are available to help you climb up and abseil down the rock faces safely using harnesses and ropes. Each climbing area will have a number of graded routes to cater for all abilities.  Children usually need to be 8 or older to participate. See the Tourist Offices for details. Try climbing in Les 2 Alpes, where there is also an Adventure Parc in nearby Venosc to climb in too!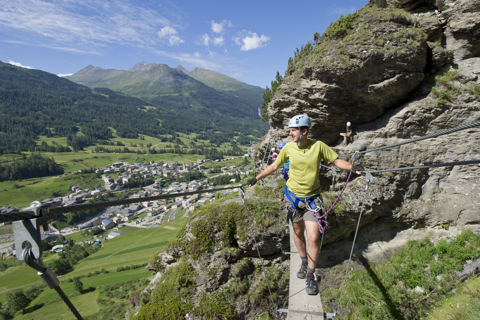 Via Ferrata in the French Alps
A challenging and demanding combination of scrambling and climbing rockfaces with man-made courses of pegs and cables, fixed ropes, ladders and hand rails. They vary in length and difficulty to suit most people's appetites for adventure, and some sites have special courses for children. Helmets and harnesses are provided for safety. Try the recommended Via Ferrata in Les Saisies or Aussois.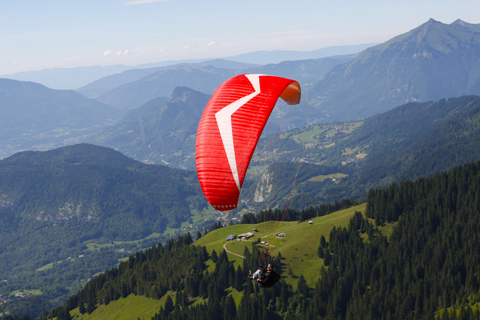 Paragliding in the French Alps
Fly with the birds and see the Alps from a different view. Starting on top of a hill and running till airborne, paragliding is similar to hangliding, using an inflatable parachute to catch thermal air currents and gain height. Full training and instruction given. Tandem flights, where you are strapped in front of an instructor are popular as a first experience flight.  Try paragliding in Annecy or in Mieussy which is where the sport was invented in 1978 – it's near to Les Gets and Samoens.