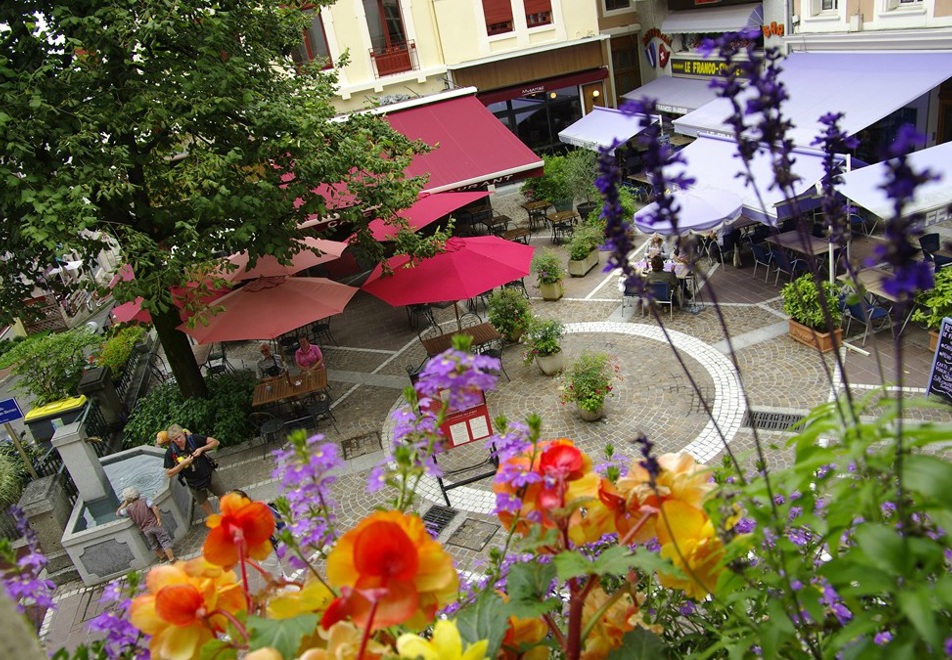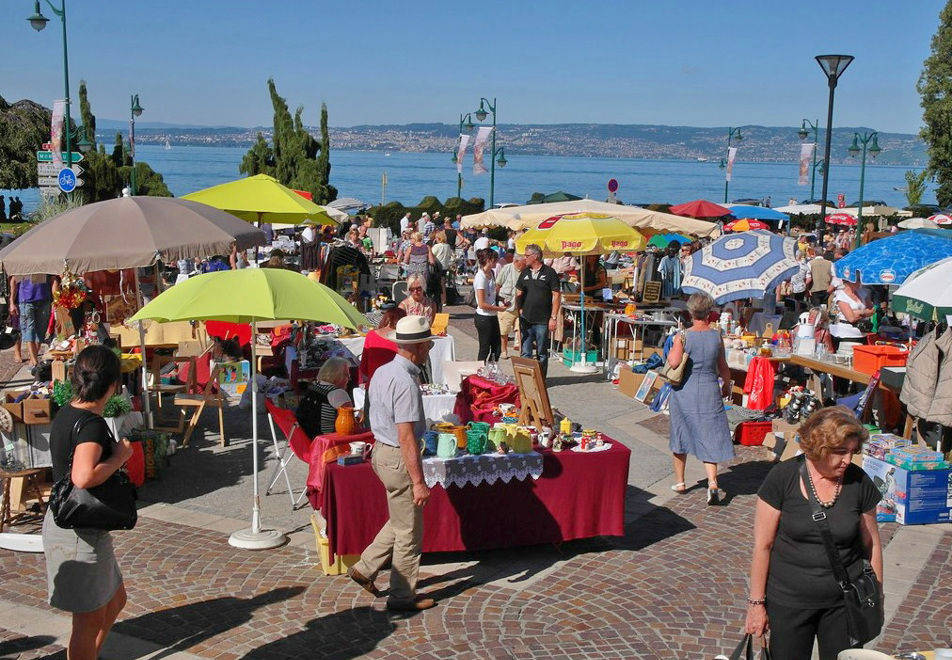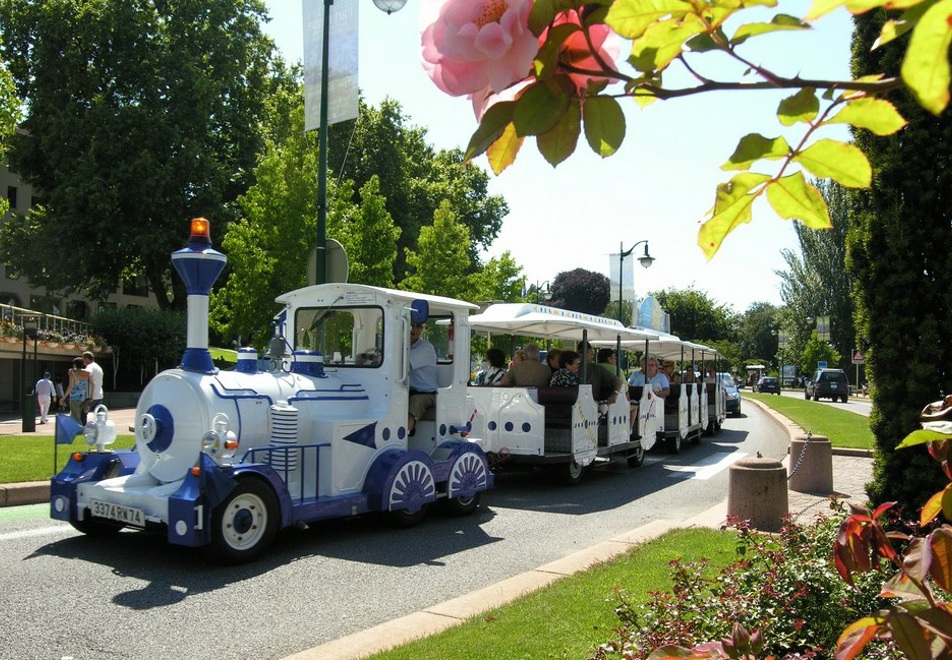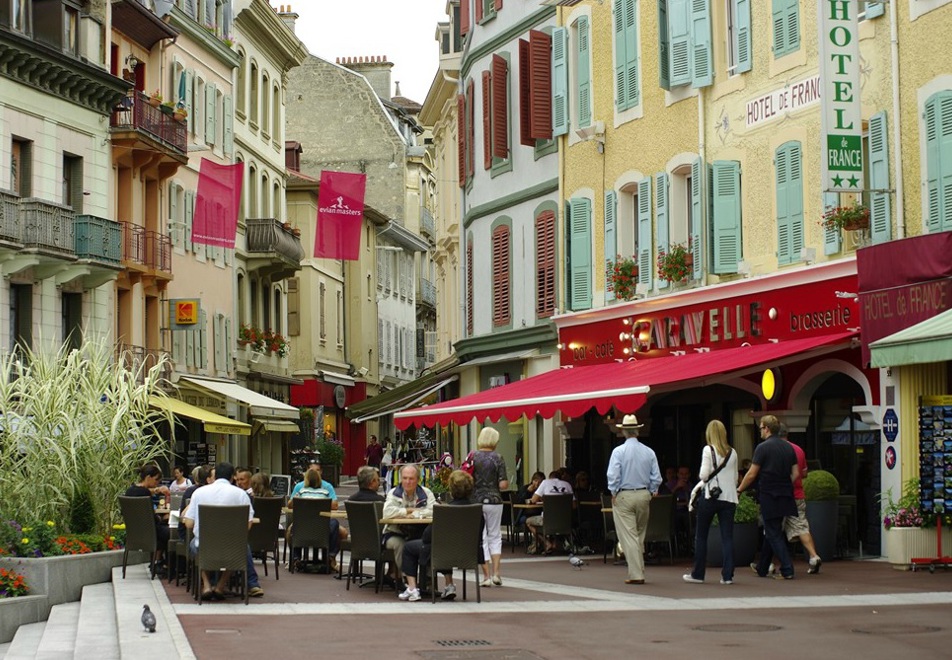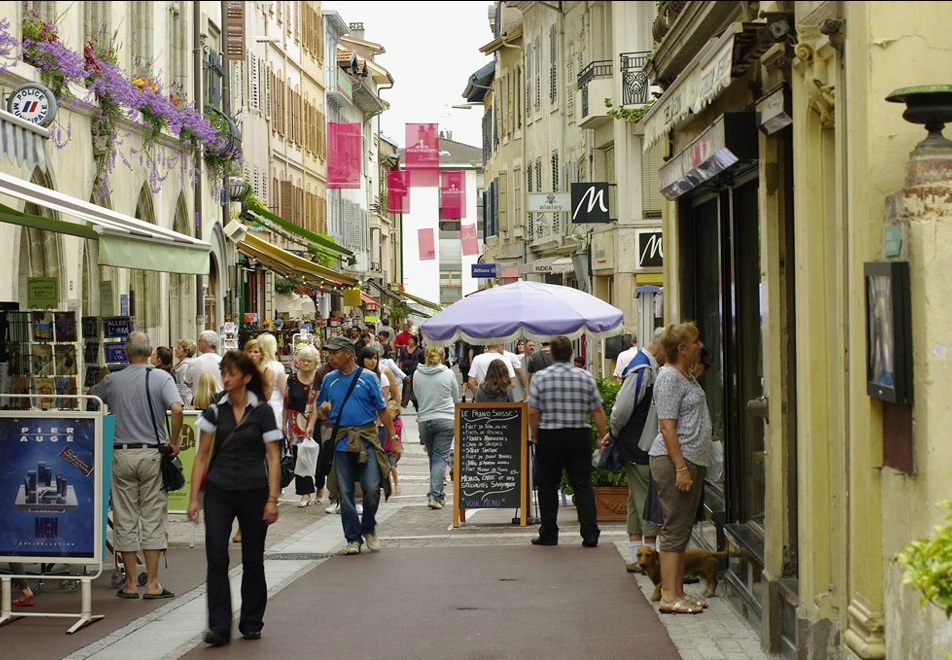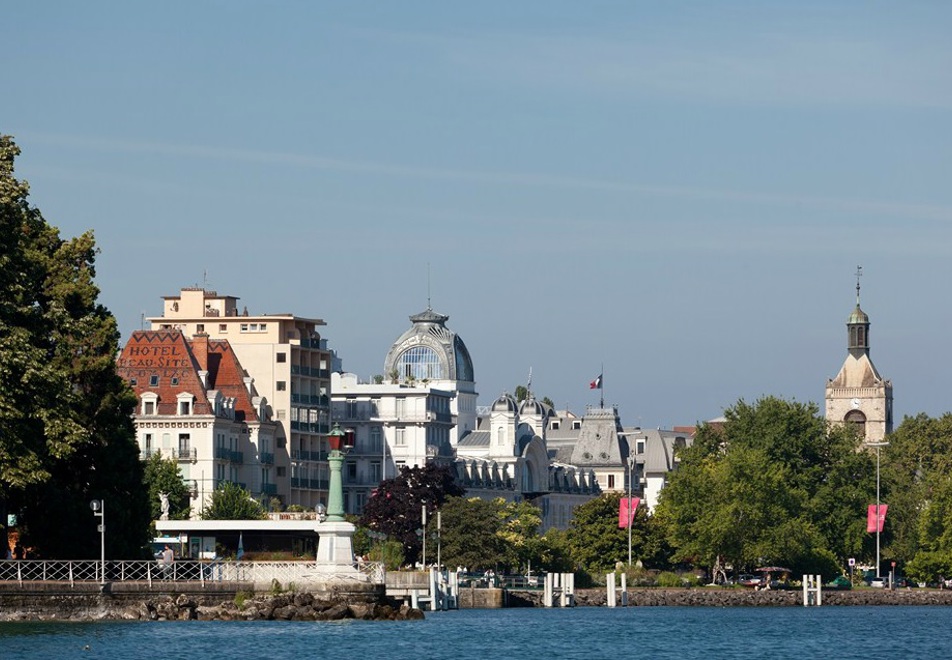 Poetically known as the "pearl of Lake Geneva", Evian is remarkably well situated between the lake and the foothills of the Chablais mountains.
This famous spa town is also a lakeside and climatic resort, and a centre of fashionable entertainment. Opulent public buildings, a tree lined promenade, and palace-hotels nestling amongst the greenery are characteristic of this international holiday resort, where taking the waters is not the main preoccupation.
Lake Léman (or Lake Geneva) was created by the retreat of the Rhône Glacier nearly 15 000 years ago. Lake Léman is the largest lake in Western Europe. The Rhône River enters from the east and exists by the west.
Lake facts:  
Surface area: 583 km2
Length: 73 km
Width: 13,8 km between Evian and Lausanne
Altitude: 372 m
Maximum depth: 309 m
Volume of water: 89 million m3
The medicinal properties of Evian water were only discovered in 1789 when a gentleman from the Auvergne realised it was dissolving the stones he was suffering from. The lakeside promenade was built in 1865 partly over the water and is backed by the Éstablissement thermal (thermal baths). The new baths are to be found in the Parc Thermal, a new marina has been constructed to the east of Evian town, and a modern water-sports centre has recently been added to the west of town.
Lake Geneva, or Lac Léman as it is known locally, bordered by France and Switzerland, is surrounded by dramatic scenery and offers a superb range of sporting activities. From gentle strolls through the lakeside towns to hikes or bike outings in the Chablais mountains, there is an excellent network of itineraries. A little further afield the Mont Blanc country provides countless opportunities for day trips.
The Evian Masters Golf Club is an integral part of the Evian Royal Park. In splendid surroundings it is a 'must' for any golf buff.
The medieval town of Yvoire (25 km from Evian) - Listed as one of "the most beautiful villages of France", the medieval town of Yvoire is an authentic fishing village. Beautifully landscaped and bustling with artists and craftsmen, Yvoire is one of the region's most remarkable sites.
The lake's temperature easily reaches 22 to 25°C in summer. Take part in swimming, sailing, boating, water skiing, diving, rowing, canoeing, kayaking, pedal boating, etc. The marina («Les Mouettes») offers 800 docking spaces.
Virtual Visit
View here for a 360 degree view of Lake Geneva(1) and Lake Geneva(2)
(hold down the left click of your mouse and drag left right up and down whilst still holding on the left click button to move 360 degree)
Places of interest in Evian
·          Exhibition and information centre about Evian water, housed in the former Art-Nouveau pump room
·          Jardin Anglais – Delightful gardens with lovely views of the Swiss shore
·          Fontaines musicales – The fountains are situated on the edge of the lake and perform a ballet to well known classical music.
·          Boat excursions on the lake – make a round tour of the lake, or cross over the lake to Switzerland.
Top summer activities to experience in Evian
Please note Peak Retreats do not book any activities and most activities are payable. For more information about pricing and availability, please contact the Evian Tourist Office on 0033 450 75 04 26 or visit www.eviantourism.com
Evian Markets
Every Tuesday and Friday mornings from 08.30 to 12.30 the market is bursting with local produce. Try Savoyard cheese (Tomme, Abondance, Reblochon...) salted meats and fish caught in the lake, regional wines and many craft stands with a variety of products.
Evian thermal spa & baths
Place de la Libération 
74500 Évian-les-Bains 
www.lesthermesevian.com
A thermal cure in Evian is an opportunity to enjoy all the beneficial effects of Evian mineral water, thanks to the "drink cure" and thermal treatments (showers, baths, thermal pool...) that help keep the body looking young.
Enjoy Evian Spa for a day with the "Total Fitness" entrance:
Enjoy access to fitness and aquafitness collective courses (except aquabike, aquarun, aquatraining, yoga and pilates). Free access to the room of cardio-body-building, sauna, hammam, hot tub, playful swimming pool (except during collective courses in the swimming pool).
Cruises on board "la Savoie"
Place du port de commerce
74500 Évian-les-Bains
This faithful reproduction of the traditional lateen sailboats that used to sail on the lake now departs from French ports.
Port des Mouettes Marina
Quai Paul Léger 
74500 Évian-les-Bains
Nearby the city centre, the marina offers 850 docking spaces with all equipment for the welcoming of yachtsmen and visitors.
Evian Resort Golf Club
Route du Golf 
74500 Évian-les-Bains
The varying design of the Evian Masters course makes it a marvel of sloping fairways and elevated greens in the heart of 60 hectares of delightful rolling wooded parkland. Softened by the surrounding greenery, this legendary 18-hole course located between Lake Geneva and Alpine summits offers every golfer who comes to play on it a championship round.
18-hole course - Par 72 – Shop – Restaurant – Practice facilities
Académie de l'Evian Resort Golf Club 
Route du Chablais 
Gros Bissinges 
74500 Évian-les-Bains
On a 15-hectare estate overlooking Lake Geneva, this unique training centre reinvents the way golf is taught! The Evian Masters Training Center recreates the challenges of a championship course. With 8 training modules to reproduce the sensation of playing on a real course, and 4 "Evian Masters" holes, beginner golfers and more experienced players have the chance to test their progress in a match-play situation.
Evian swimming pool
Avenue du Général Dupas 
74500 Évian-les-Bains
The "Evian-Plage" pool complex offers swimmers safe access to the lake, with numerous other services and activities available (2 heated pools, games, restaurant, free kids' play area with pool and games, swimming lessons.
The Musical Fountains of Evian
Square Henri Buet 
74500 Évian-les-Bains
On the marina, by the lake, our musical fountains do their show for 30 minutes. Free of charge.
Evian Minigolf
2 courses each with 18 holes. Take the tropical or the alpine course. Or, whilst you're there, try out their bungee trampolining! 
Topic'Alp Golf Adventure
220, Route old Mottay
74500 Amphion
Evian horse riding
Riding school, pony club, competitions and teaching practices.
364 le Pré des Portes 
La Verniaz 
74500 Évian-les-Bains 
Evian Cachat spring
Avenue des Sources 
74500 Évian-les-Bains
Open throughout the year daily. Free.
The Cachat spring – formerly known as the Saint Catherine Fountain, is the most famous of the many natural sources in Evian. Built in 1903, at the same time as the pump room opposite, the spring runs all year at a constant temperature of 11.6C.
The Pré Curieux water gardens
This lakeside garden is located at the west of Evian. A wetland research and information centre, it presents - via an exhibition and a discovery trail through the park - the various watery ecosystems: ponds, mountain streams, marshes.
The Funicular railway
Rue du Port 
74500 Évian-les-Bains
From 1907 to 1913, the funicular carried spa-goers from the grand hotels in upper Evian to the spring, the thermal pump room and the thermal spa (today's Palais Lumière). The free funicular runs from May to September.
Free of charge
Evian Casino
"Europe's largest theme casino"
250 slot machines (stakes from 1 centime to 2€). Gaming tables feature all the European and American favourites: roulette, Blackjack and Stud Poker. 
Quai Besson 
74500 Évian-les-Bains 
Open daily.
Many restaurants, bars, creperies, cafes...
Raphaël Vionnet is a very talented chef who earned his first Michelin star in only a few months at the Auberge des Bois Prin in Chamonix. He is opening his own restaurant, Restaurant Raphaël Vionnet in Thonon-les-Bains, by Lake Geneva. He is preparing an inventive and colourful menu for the opening early June 2014.
Evian also has its night spots!
In addition to its night bars and clubs open all year long, numerous bars and restaurants, including the Casino, organize evening concerts during the summer months.
Nightclub
Discothèque Le Madison
1, rue de la Source de Clermont
Open from Wednesday to Sunday (and on Tuesday in summer), from 23.00
Other bars
Le Purple Lounge
Casino d'Evian
Quai Baron de Blonay - Tel. 0033 4 50 26 87 07
www.casino-evian.com
Jazz on Thursdays, DJ Fridays, classical Sundays… varied programme planning. Open from Thursday to Saturday from 18.00, on Sunday from 16.00 – free access
Why Not Bar
1 ter, avenue Anna de Noailles
Tel. 0033 4 50 75 29 94
Thematic evenings, every Sunday and Thursday: Karaoke Party. Daily open, from Sunday to Wednesday: from 18.00 to 3.00 and from Thursday to Saturday: from 18.00 to 5.00 
The holiday resort town of Evian has 28 000 inhabitants and a lively shopping and market town all year long. The town offers over 250 shops and services.
A wealth of restaurants and bars, modern and traditional shops, craft shops, Casino, nightclub, theatre, cinema, museums, exhibitions, Thermal centre, Exhibition hall of Evian mineral water, Watersports centre, Olympic swimming pool, library. 
By Road:
Driving distance from Calais to Evian 790km (approx 7hrs)
From Calais, take A26 Motorway towards Reims and Troyes, then Dijon, then take A39 towards Poligny to exit 7, and the A5 and A1 past Geneva then A5 along the south bank of the lake past Thonon-les-Bains to Evian-les-Bains.
By Rail:
Evian SNCF Railway Station. Daily high-speed TGV + TER service from Paris/Evian via Bellegarde: takes approx 4hrs14mins
High-speed TGV service direct from Paris/Evian on certain weekends in summer.
Airports:
Geneva is 71km from Evian (1 hour)
Annecy Airport is 84km from Evian (1hour)
Chambery Airport is 124km from Evian (1 ½ hours)
Lyon Saint-Exupery is 193km from Evian (2 ¼ hours)
Grenoble Airport is 214km from Evian
Evian transport
The Funicular railway
Rue du Port
74500 Évian-les-Bains
Open from 15/05 to 15/09/13: open daily from 10 AM to 6.40 PM.
From 1907 to 1913, the funicular carried spa-goers from the grand hotels in upper Evian to the spring, the thermal pump room and the thermal spa (today's Palais Lumière). The free funicular runs from May to September.
Prices: Free of charge
The tourist little train
Quai Baron de Blonay
Ponton du Casino
74500 Évian-les-Bains
From 13/04 to 30/06/13: open daily from 1.30 PM to 4.30 PM except on Mondays.
From 01/07 to 31/08/13: open daily from 10 AM to 6.15 PM.
From 01/09 to 30/09/13: open daily from 1.30 PM to 4.30 PM except on Mondays.
The Evian tourist train cross the town every 30 minutes from the quays to the pedestrian center. 8 stations are scattered on his route to propose you differents stops.
Adult: 6 €
Child: 4,50 €
Boat crossings
Lausanne / Evian: daily
35 mins to cross
Fare: 17,40 € - half-price child (6-16 years)
Regular bus lines
Evian / Thonon
from Monday to Saturday except public holidays every hours on the morning - every half-hours on the afternoon
fare: 1,50 €
Evian / Geneva
from Monday to Saturday except public holidays
fare: 10,50 €
Evian is open all year round.