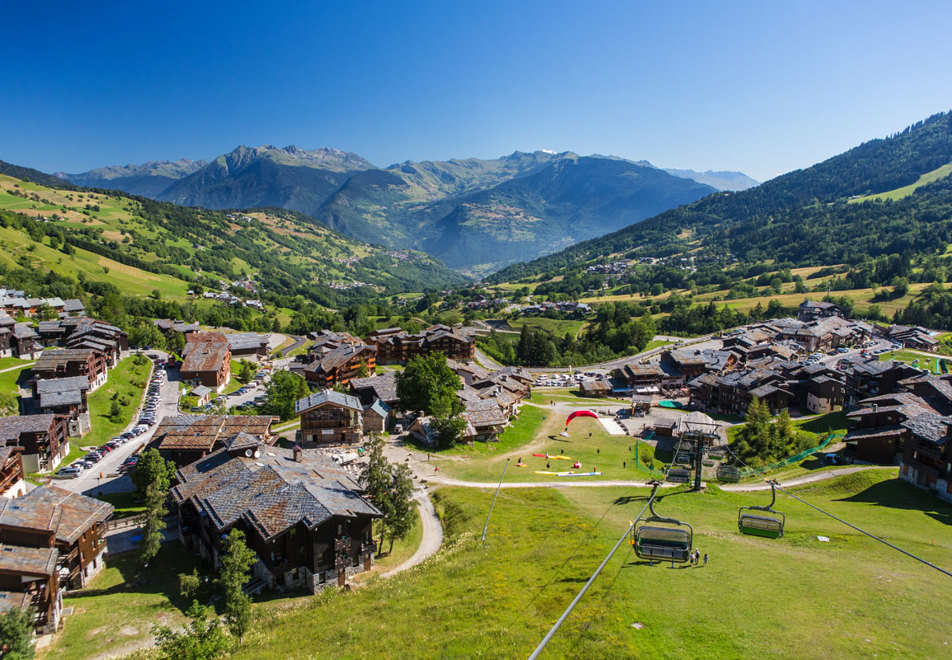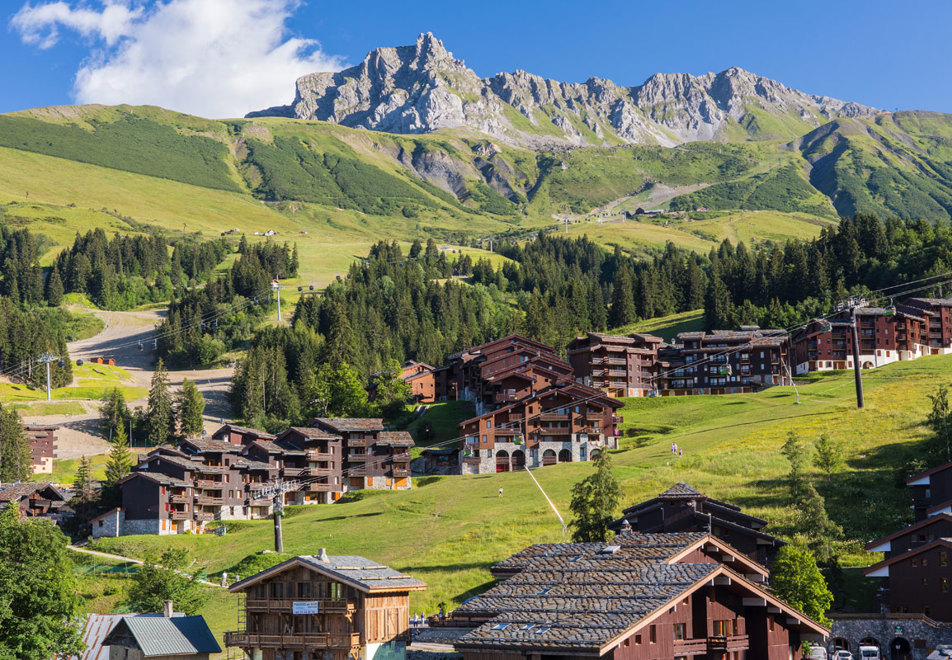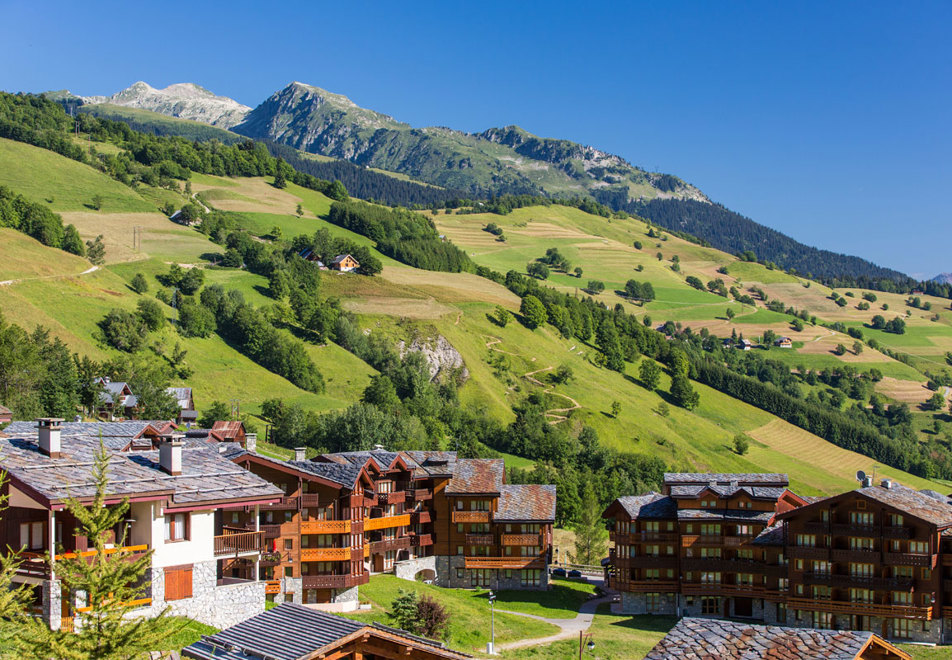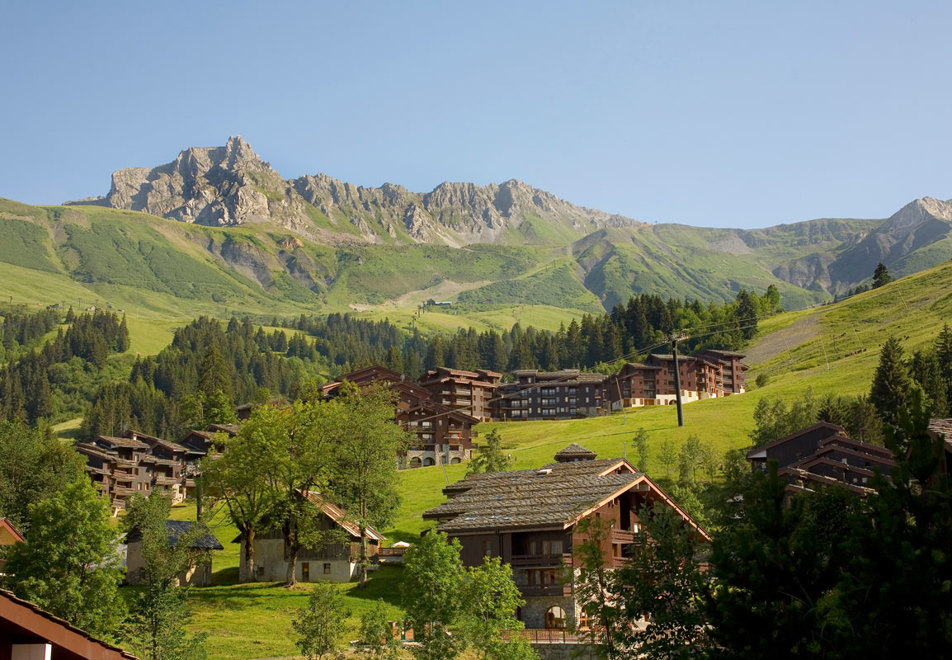 Thinking of a summer holiday to Valmorel? Located in the heart of the Massif de la Tarentaise, is beautiful Valmorel, a firm family favourite.
Valmorel Resort Information
Valmorel village has been developing steadily since the late 1970s, as a result of which important lessons learnt elsewhere have been put into practice here; particularly in the architectural style used.
Low-rise chalet-style developments have a pleasing, premium look, are well proportioned and incorporate stone, timber and attractively painted stucco, with traditional Savoyard design features. The end results integrate successfully with the surrounding unspoilt high-mountain landscapes, whose aspect is softened locally by extensive tracts of forest.
The compact heart of the village has most essential services located conveniently around a single, car-free street; elsewhere development has been mostly in clusters. Road access is straightforward, too, and there are direct TGV high-speed rail services from Paris, plus Eurostar Trains from London, into nearby Moûtiers (15km). You'll need to pay for car parking in the traffic-free village, although there are 180 free unsecured parking spaces in nearby Crey (1.5km). For anyone with the urge to add a little variety to their stay, the range of outdoor activities.
Peak Retreats offers apartments in Valmorel. All our accommodation is hand-picked and of a very high standard (4*), providing the ideal base for a Valmorel ski holiday.
Interested in buying an apartment in Valmorel? See our Buying in the Alps section
Top summer activities to experience in Valmorel
Please note Peak Retreats do not book any activities and most activities are payable. For more information about pricing and availability, please contact the Valmorel Tourist Office on 0033 479 098 555 or visit www.valmorel.com
Valmo'Branch
The largest park in Savoie welcomes you every day during the summer.
There are:
31 zip lines including 1 of 240m long
30m: this is the length of our famous pendulum jump.
8m: this is the height of the new children's course (equipped with a continuous lifeline)
Adult routes:
Green (accessible to everyone)
Blue
Red
Red plus
Black - High (15m), very sensational
Super Black - Take the challenge
3 routes in the air dedicated to children less than 10 years for a great time of fun and adventure:
Course with nets from 3 years to 6 years

Children's course between 1m and 3m high (from 5 years old)

A course of 3m to 8m high for adventurers
Rafting in Savoie
Located about 45mins drive away near to La Plagne. The Isère river allows you to take part in a lot of white water activities like hydrospeed, rafting, hotdog… Some activities are suitable from 8 years old.
Valmorel swimming pool
At the heart of the resort, there is a heated outdoor swimming pool of 25m and a paddling pool.
Paragliding
Tandem flight takes place in the afternoon, to take advantage of the more "generous" but also more eventful aerological conditions. The flight time is about 20-30mins.
Donkey rental
Donkey rental, without accompaniment, enables you to discover the donkey rides at your own pace on marked and varied routes. 1 donkey for every 4 people.
Valmorel leisure park
At the leisure park, kids have fun and parents relax. A paradise for everyone, even adults! Trampolines, ball pools, inflatable structures, flight simulator and acro-bunjee. Playground for children from 2 to 12 years old.
For teenagers and adults: trampolines, acro-bunjee, flight simulator.
For children 2 to 12 years old: trampolines, ball pools, bouncy castles.
Valmorel farm visit
A small farm of Shetland ponies, Comtois draft horses, its farmyard, rabbits, goats, sheep, donkey, pig and its pond. Free visit for all animals: free access (picnic area). Become a farmer and take care of animals with the family: from 9:00 am, with equipment provided (gloves, hats, hooves depending on weather): feed poultry (grains, water), prepare "bron..né" pig, wear hay and straw with sheep or setting in park, management of pastures and parks, driving of the tractor and its tools (minimum age: 7 years), driving of the wheelbarrow for bigger and smaller.
Shepherd's evening with the family around the fire: putting animals in the park, setting aside the farmyard for the night, preparing bedding, fencing and wake around the fire.
Bars & Restaurants
Valmorel has a number of restaurants and bars so there is plenty of choice.
Valmorel restaurants and bars
Le Ski Roc – Valmorel
33 Bourg-Morel
Open daily. 
Phone: 04 79 09 83 17 
Quality food - Wine bar - Chalet style
Le Prariond - Valmorel
Open daily from 9.30 AM to 10 PM. 
Phone: 06 09 88 44 05
Quality cuisine - Evenings - View of Mont Blanc
La Source - Valmorel
3 Bourg-Morel
Open daily. 
Phone: 06 31 46 88 47
At the bottom of the pistes - Cocktail - Grill - Ambience
Les Marmottons - Les Avanchers-Valmorel
La Charmette
Open daily.
Phone: 04 79 09 81 80
Refined and savoyard cuisine - Open fireplace
Les Voiles du Nant - Valmorel
Top of télésiège de l'Altispace
Open daily.
Phone: 06 12 32 27 71
Pedestrian access, view of Mont Blanc , on the liasion with Saint François Longchamp. Every Tuesday lunchtime: tasting of regional products+ diots. Every day from 3pm: ice bar.
Hôtel du Bourg - Pub - Valmorel
Bourg Morel
Open daily. 
Phone: 04 79 09 86 66 
Terrace - Open fireplace - Billiards - Internet
L'Aigle Blanc - Les Avanchers-Valmorel
l'Empyré
Open daily.
Phone: 04 79 09 83 76 
In the heart of the forest - Savoyard specialities
Table du Berger - Valmorel
22 Bourg-Morel
Open daily. 
Phone: 04 79 09 83 19 
Savoyard cuisine - Grill - Pancakes - etc...
Le Jimbo Lolo - Valmorel
29 Bourg-Morel
Open daily from 8 AM to 2 AM.
Phone: 06 86 97 37 14
Bar tapas & Tex Mex - South america atmosphere
La Flambée - Valmorel
Bourg-Morel
Open daily. 
Phone: 04 79 09 81 61 
Pancakes - Raclette - Specialities
L'Ecuelle - Valmorel
Hameau de Crève-CÅ"ur
Open daily from 8 AM to 11 PM.
Phone: 04 79 09 80 84
L'Altipiano - Valmorel
Top of Télécabine de Pierrafort
Open daily from 9 AM to 5 PM.
Phone: 06 60 85 85 22
Pedestrian access - Lounge - Play area - Live music
Le Café Alpin - Valmorel
5 Bourg-Morel
Open daily. 
Phone: 06 03 11 62 51
At the bottom of the pistes - A la carte - Specialities - Pizzas
Le Petit Prince - Valmorel
7 Bourg-Morel
Open daily.
Phone: 04 79 09 81 71 
Savoyard specialities - Pierrades
Getting to Valmorel, France
By Road
:
Driving Distance from Calais to Valmorel 570 miles or 8hrs20. Go to Albertville on the A43 from Chambéry or the N 212 from Annecy. Take the dual carriageway RN 90 in the direction of Moûtiers. Take exit 37 for Valmorel.
By Rail
:
Quick access with the TGV which arrives at the Moûtiers-Salins/Brides les Bains train station.
Transdev Savoie
Transfers: Train station - Valmorel - Airports correspondances
Phone: 0820 205 330 - Website: www.mobisavoie.fr
Buses from the Moutiers bus and train station to the resort, meet trains and coaches throughout the weekend. Click here for timetable and traffic conditions. 
Airports
:
Chambery Airport is 90km from Valmorel (1 hour)
Lyon St Exupery is 180km from Valmorel (1 ¾ hours)
Geneva Airport is 125km from Valmorel (1 ¾ hours)
Public shuttle bus transfers from airports
Lyon Airport - Valmorel via Moutiers (www.lys-altibus.com). Adult return €115. 
Geneva Airport - Valmorel via Moutiers (www.coach-station.com). Adult return €115.
Chambery Airport - Valmorel via Moutiers (www.lys-altibus.com). Adult return €60.
Car parking
PLEASE NOTE: In Valmorel, all the car parking is payable. Depending on what you are looking for, there are 530 underground parking spots and 1200 outdoor parking spots. http://www.valmoparc.com  
Airport Transfer
Pre-book your taxi transfer with Peak Retreats to Valmorel.
From Geneva Airport to Valmorel– from £128 per person return based on 4 people sharing. 
For transfer prices please click here
The Mad Trail 16th to the 17th of July. Participants can choose between five races, ranging from 3km to 63km. The shortest race is open to children from 7 years old.