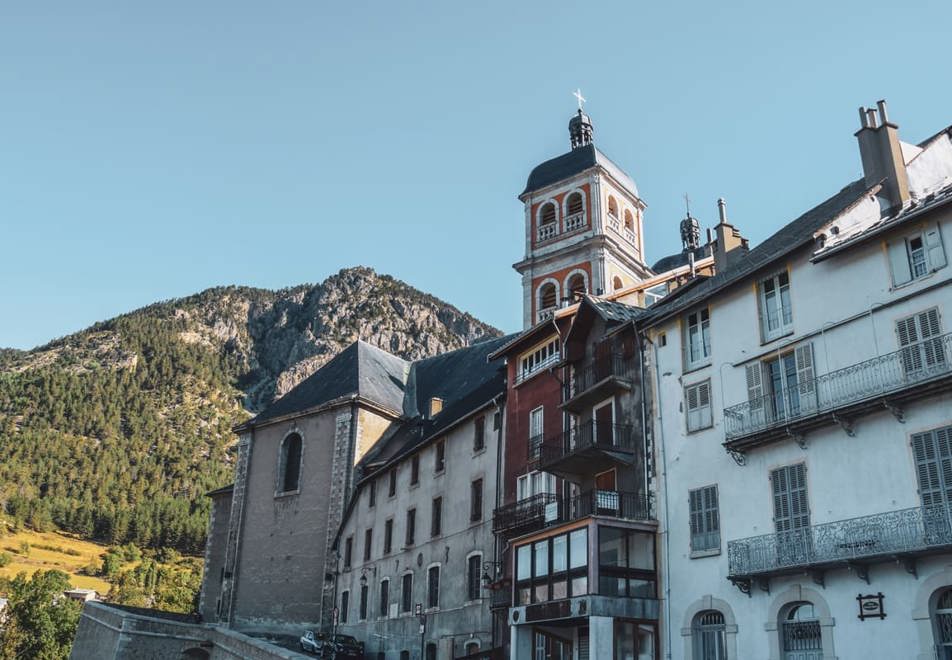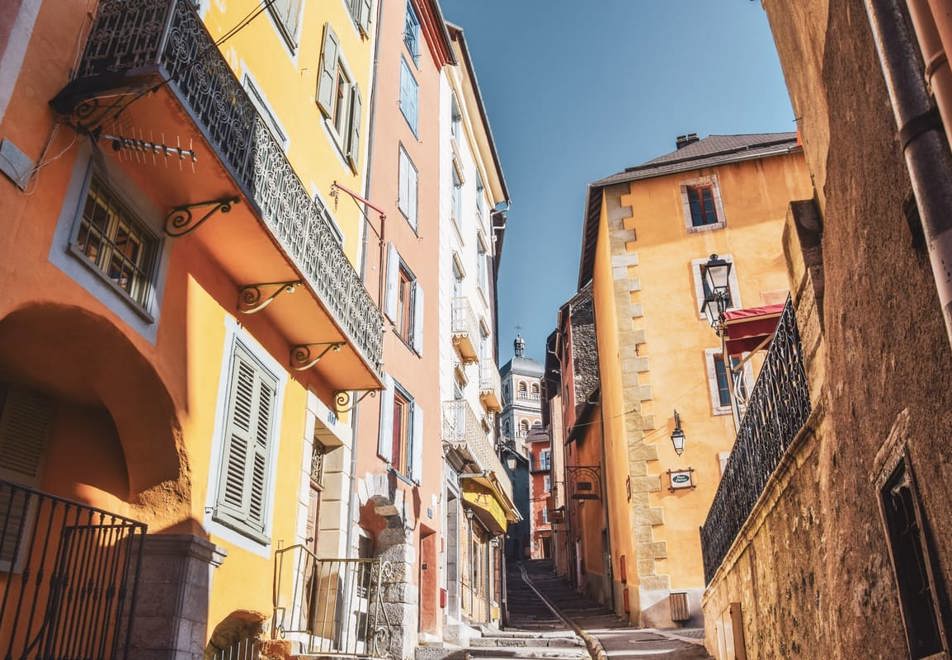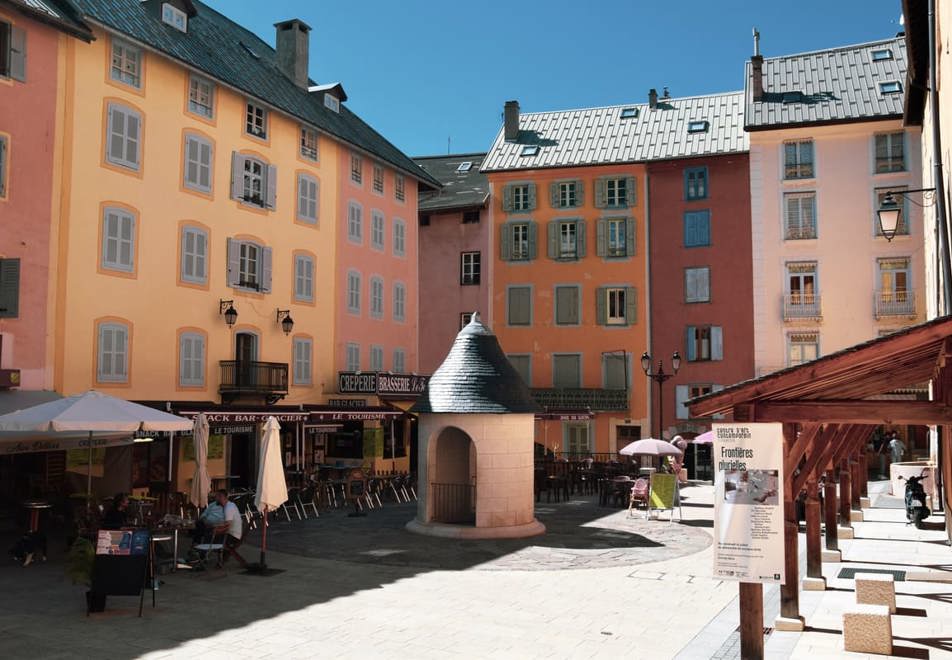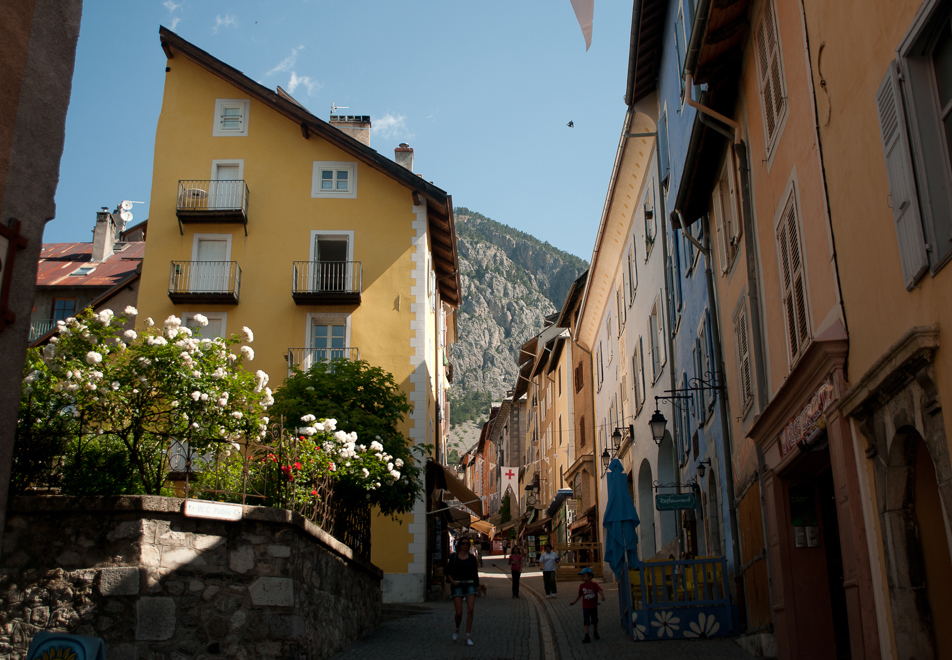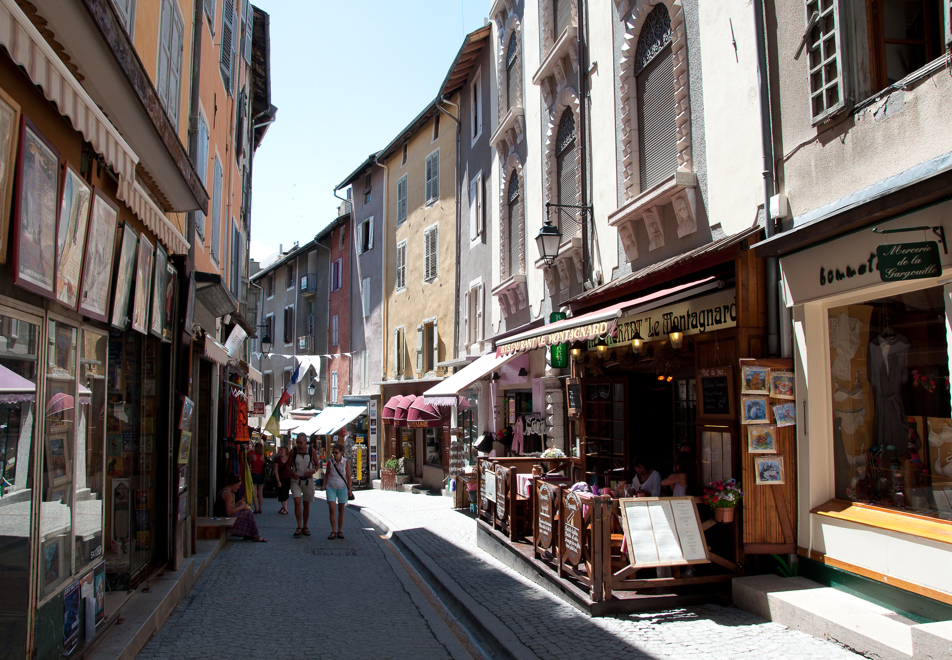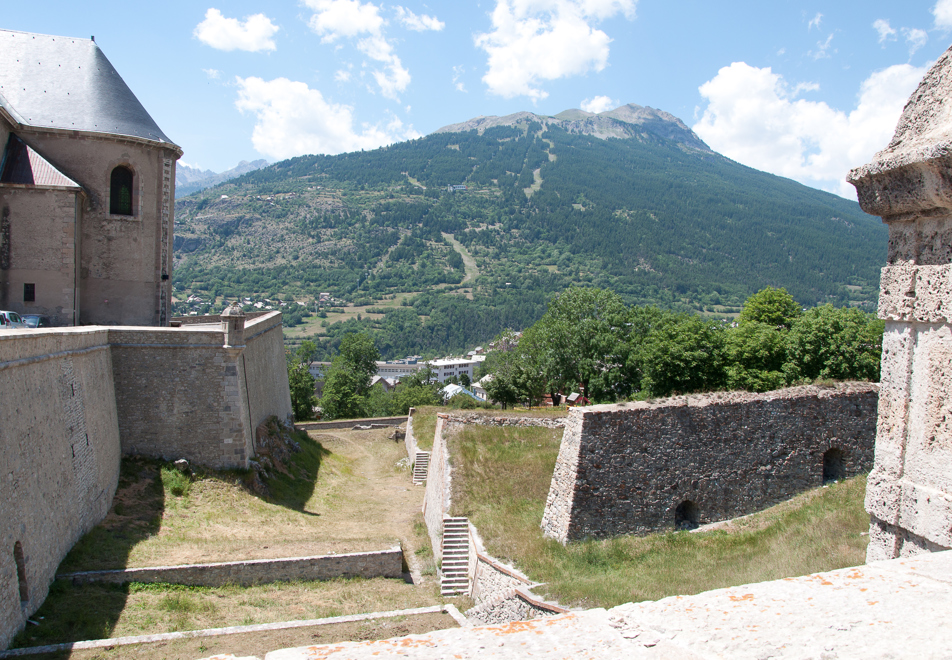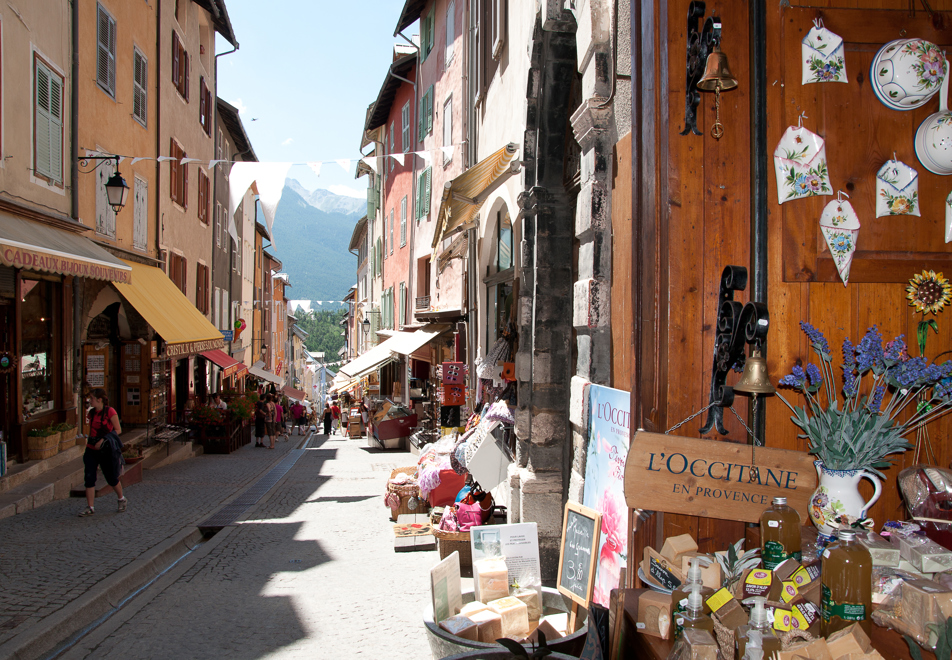 At 1326m officially Europe's highest town, Briançon does have a strong identity that goes beyond winter sports for the summer months with lots of great shopping and other facilities.
These include several museums, one specialising in ski history; a casino, several cinemas and a theatre. Dining choices are another strong point, with around 30 restaurants to choose from including the Michelin Guide rated Le Valentin.

Serre Chevalier is the resort name for the four main villages located in a sunny south-facing valley at the foot of the most beautiful peaks in the Ecrins National Park. There are actually 13 villages in total forming Serre Chevalier.

The other 3 main villages close by are Chantemerle (Serre Chevalier 1350), Villeneuve and Montier les Bains. Montier les bains is home to the Serre Chevalier Spa which opens late until 10pm.

The old town of Briancon has a very attractive ancient centre. As you ascend above in the gondola you'll see a variety of 17th century fortifications that developed over several centuries laid out below you.

Indeed many people will enjoy just wandering around the streets of Briançon and taking in the fountains, squares, sundials, the twin-towered eighteenth century church and its ancient streets complete with 'gargouille' - a small canal that runs down the centre of the street. The lower town is the most active area with shops, market, cafés and restaurants clustered around Rue Centrale leading to the Rond Point du Quyeras. In 2008 several buildings in the town, including its walls and fortress, were classified World Heritage Sites by UNESCO.

Leisure facilities include an indoor swimming pool complex incorporating an Olympic size pool, a hot tub, massaging waterfalls, rivers, geysers, massage jets and a 65m long giant slide. There's also a spa section complete with sauna, steam room, Jacuzzi, and relaxation solarium.
Briançon also has a reputation for sunshine, receiving an official average of 300 days of sunny weather each year. So it is a major outdoor activity centre year round often hosting starts and finishes of stages of the Tour de France and the Giro d'Italia.
Top summer activities to experience in Briancon
Please note Peak Retreats do not book any activities and most activities are payable. For more information about pricing and availability, please contact the Briancon Tourist Office on 00 33 (4) 92 21 08 50 or visit info@ot-briancon.fr
Serre Chevalier Water activities
Jour de Raft
319 route de Grenoble
05220 Le Monêtier-les-Bains  
Rafting - Family (from 8 yrs old ) and sportif (from 16 yrs old )
Canoraft (from 12 yrs old )
Serre Chevalier Bungy Jumping
Adrenaline Bungee
Pont d'Asfeld
Cité Vauban
05100 Briançon  
Jump in elastic of the Bridge of Asfeld 60 meters in height. Situated at the heart of the old town. Min age 15 years.
Serre Chevalier Road Biking
The Briançon region has an incredible choice of routes for road biking enthusiasts. You will discover a countryside full of contrasts, from small winding roads to great balcony routes and including some of the most famous climbs and descents in the world of cycling. 
Cycle around Briançon along the roads used by the greats, such as Eddy Merckx, Bernard Hinault, Fausto Coppi and Lance Armstrong.
•The Col du Galibier (2645m) is one of the most beautiful mountain passes in the Alps.
•The Col du d'Izoard (2361m) is one of the most famous road climbs.
•The Col du Granon (2413m) was part of the Tour de France in 1986.
Serre Chevalier Mountain biking  
There are kilometres and kilometres of marked paths for mountain bike enthusiasts in Serre Chevalier… 
- 11 cross-country routes (181 kilometres) which belong to the Grand Briançonnais area where you can find 506km of marked trails 
- 3 terminal services for Mountain bikes are available for free (wash – inflation) and are located in Saint Chaffrey at the bottom of Luc Alphand piste, in Monetier les Bains and in Villeneuve near the chairlift Casse du Boeuf 
- All trails are accessible to everybody
Special signs are used to discern downhill trails to Xcountry ones. 
The Briançonnais is recognized since 2008 by the French Federation of Cycling as a Mountain Bike spot.
Bike park – Downhill
Serre Chevalier offers a "bike park" with 11 downhill pistes (1 green, 5 blue, 4 red and 1 black). They differ from xcountry trails and are maintained daily by a team of professionals. Specific signs distinguish the downhill trails from xcountry ones.  Reach the top of pistes thanks to 4 lifts open daily in summer. They take you up to 2450m. Several restaurants are available. 
Bike Park has got:
- various wooden modules for experts 
- Ludic park, at the bottom of lifts, which suits beginners in order to improve their practice 
- new expert run and beginner run has been created for summer 2014 
- BMX track, Dirt lines and pump track: courses for young people are proposed by professionals.
Materials are available on site.
MTB to rent:
Luc Alphand – Sport 2000 in Chantemerle. Open the middle of June to end of August. 
Serre Chevalier Hot Air Ballooning
P&C Adventure Company
17 Rue du Temple
05100 Briançon  
Serre Chevalier Hiking
370km of paths to explore in Serre Chevalier and the National Park. 
Grands Bains du Monetier
Les Grands Bains
le Monêtier les Bains
05220 Le Monêtier-les-Bains  
http://www.lesgrandsbains.fr/en/
Over 4500m2 dedicated to rest and relaxation!
The outside pool, open in winter and summer, covers over 300m2 and is equipped with a wide variety of water features and effects: fountain jets, river chute, relaxation zones and outside Jacuzzi.
The indoor pool is over 300m2 and is fed by naturally heated hot water with a Jacuzzi, water-massage course, bubble beds, underwater shower columns, micro-bubble zones and spouts…
Around the indoor pool: three traditional Roman bath features (frigidarium, tepidarium, caldarium), steam room, salt-water pool, mineral grotto, musical grotto, steam/fog makers… and children's area.  
Serre Chevalier Biological Swimming Lake
Parc des Colombiers
05330 Saint-Chaffrey  
Pure water that does not sting the eyes and does not damage the skin. A guarantee not to use any chemical. Completely redesigned, the park of Colombiers now covers four hectares and is environmentally friendly.  
Bars, restaurants, cinema, shops
Discothèque le Baroque
route des maisons blanches
05100 Briançon
0033 6 59 81 21 88
Bakery, cash point, supermarket, tobacconist, chemist, laundrette (2 rue Pasteur), post office
By Road:
Driving distance from Calais to Briancon 613 miles (9hrs50)
Take A36 through Reims, Dijon A6 Maçon, A48 + N91 from Lyon & Grenoble
A21 from Italy
Take N91 then follow signs for Briancon.
By Rail:
Briancon railway station.
From Paris:
Direct night train to Briançon, Daytime: via Valence or Grenoble
Oulx Direct TGV (high speed train) - 4.30 hours (35km from Briançon)
From Lyon or Grenoble:
Direct trains to Briançon from Grenoble or Lyon
Direct trains to Oulx from Lyon and Chambery
Bus connections with TGV Paris-Grenoble
Airports:
Turin Airport (Italy) is 125km from Briancon (1 ½ hours)
www.aeroportoditorino.it
Grenoble Airport is 154km from Briancon (2 ¼ hours)
www.grenoble-airport.com
Chambery is 174km from Briancon (2 ¼ hours)
www.chambery-airport.com
Lyon-St Exupéry is 251km from Briancon (2 ¾ hours)
Connection by bus from Saint Exupéry airport or Grenoble railway station –
www.vfd.fr  
www.lyonairport.com
Geneva Airport is 295km from Briancon (3 ¼ hours)
www.gva.ch/en
Marseille is 300km from Briancon.
Bus service (www.navettesblanches.com) - €90 per family, €35 per adult and €17 per child return. Meets one BA flight and one easyJet flights from London Gatwick until 28/03.
SHUTTLES:
Oulx railway station <=> Briançon railway station
16,80 € return
+33 (0)4 92 20 47 50 
Turin Bus station <=> Briancon-Serre Chevalier
On Saturdays and Sundays.
Everyday from and to Claviere on the Italian border (20km from the resort)
Need an Airport Transfer? Prices from £210 per person based on 3 sharing a private return taxi from Grenoble Airport to Serre-Che. Call our reservations team for details on 0844 576 0170 or email reservations@peakretreats.co.uk