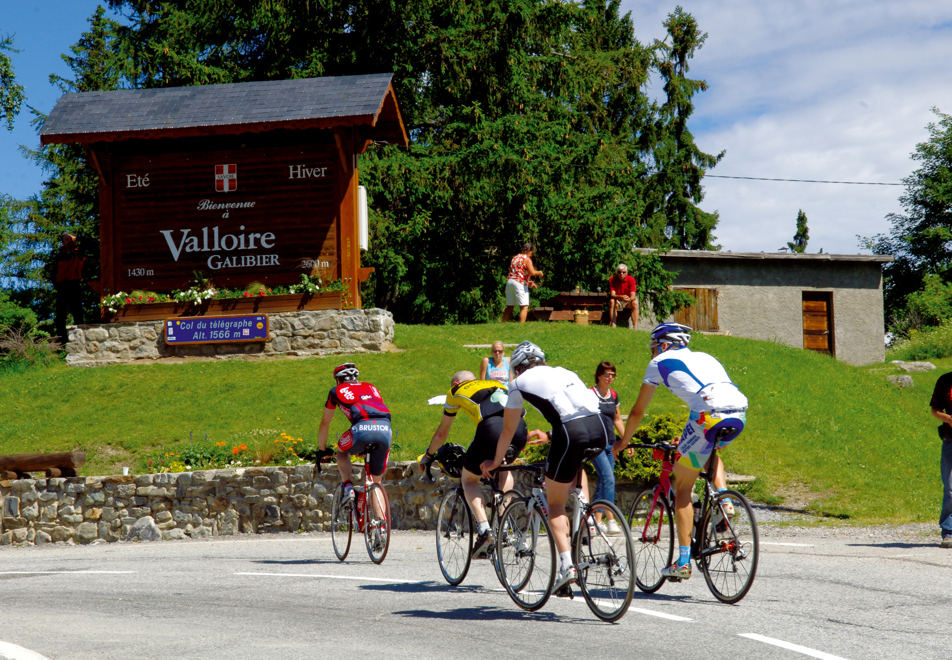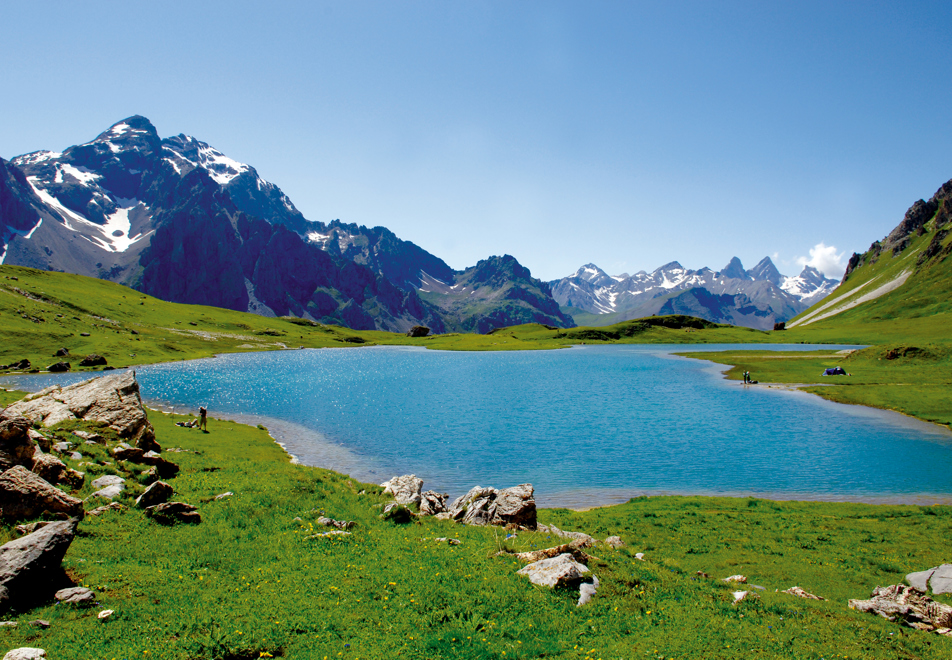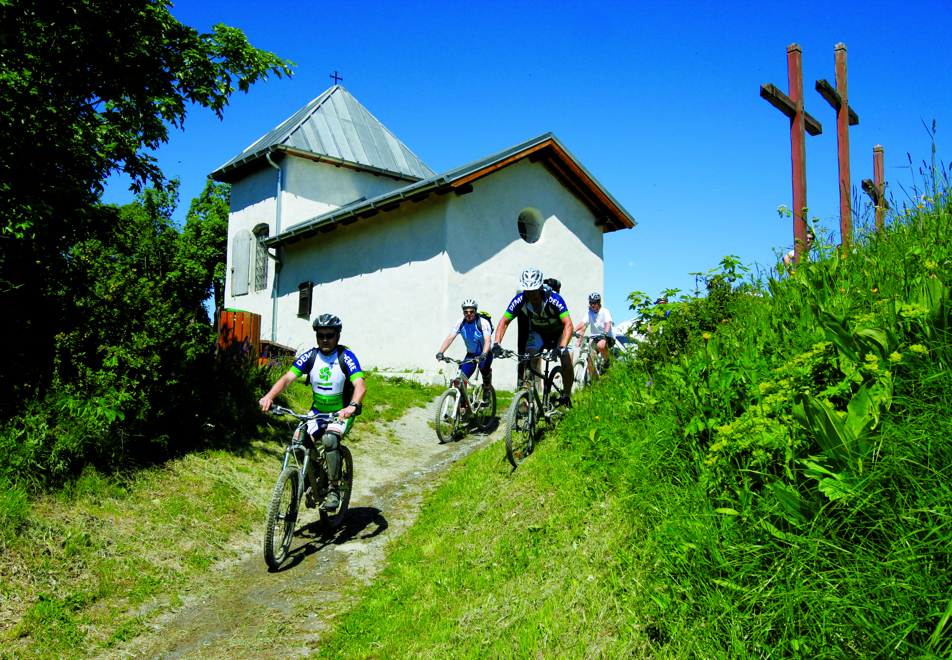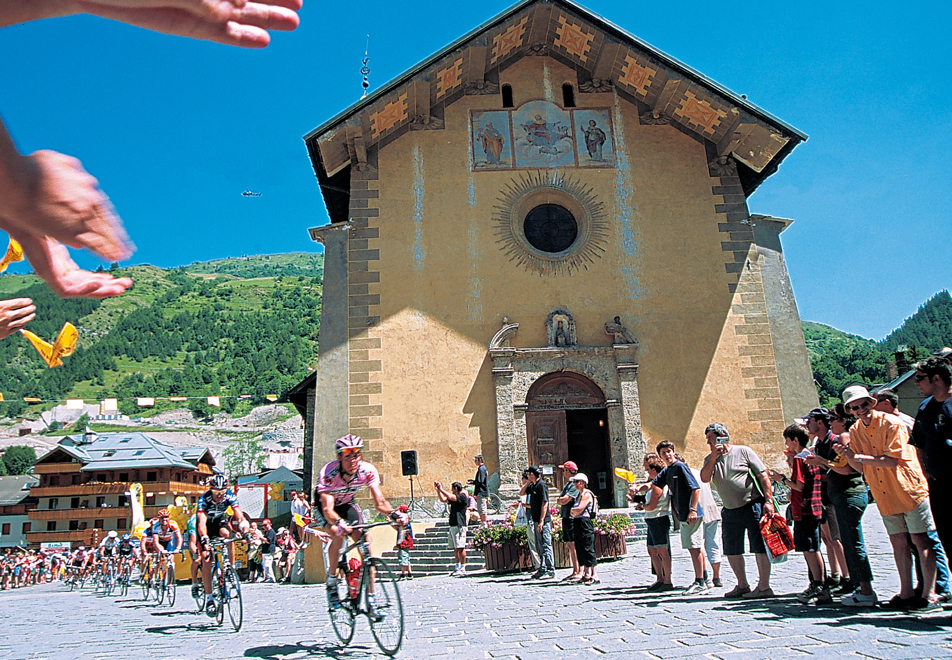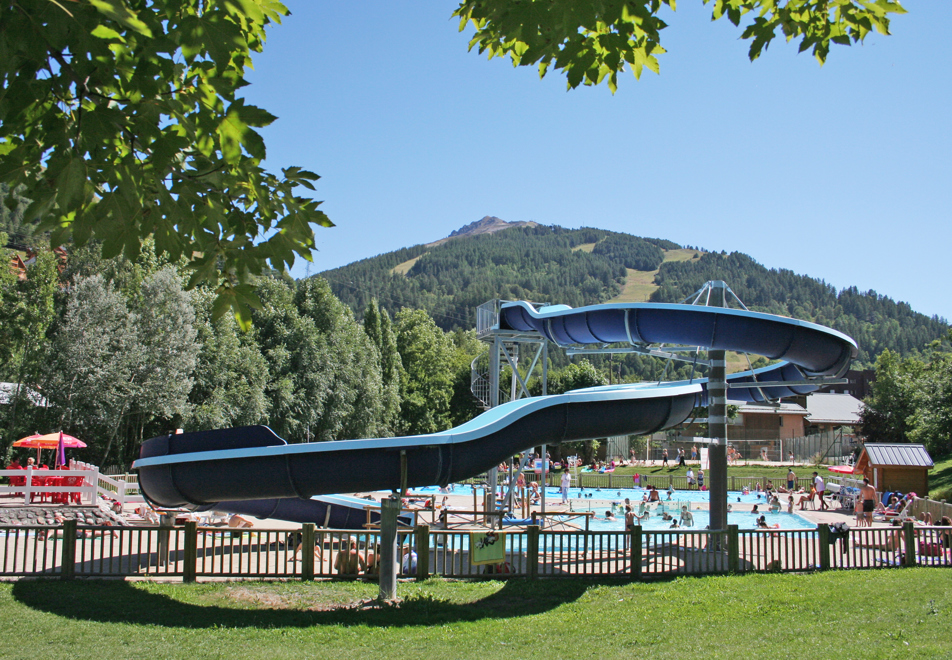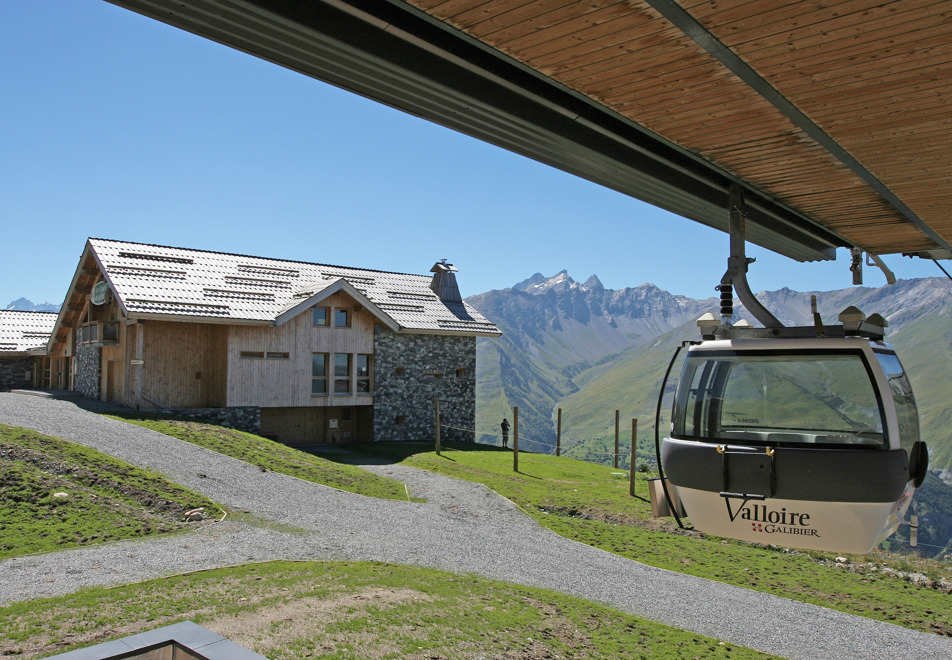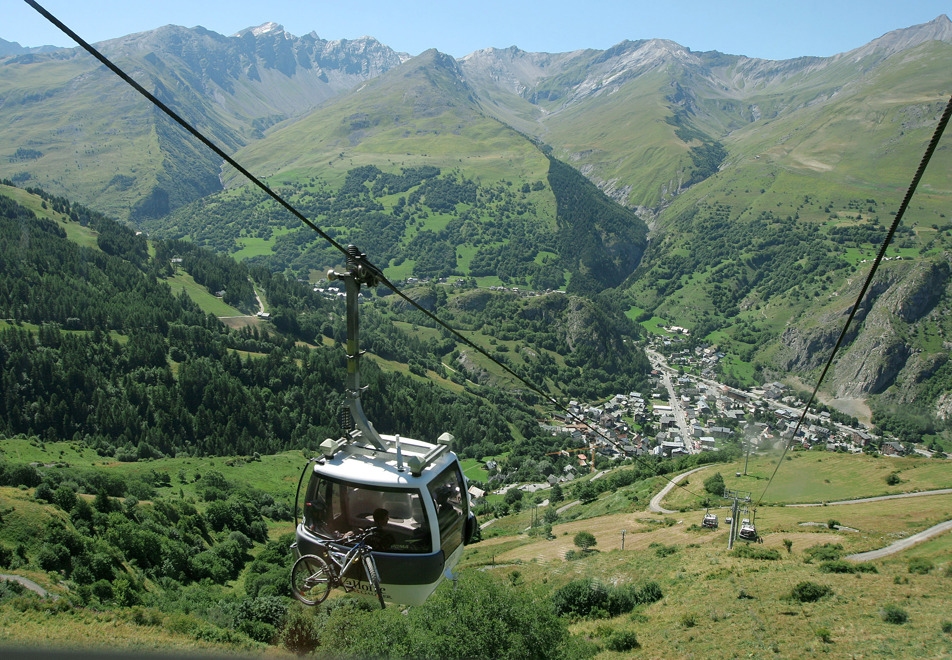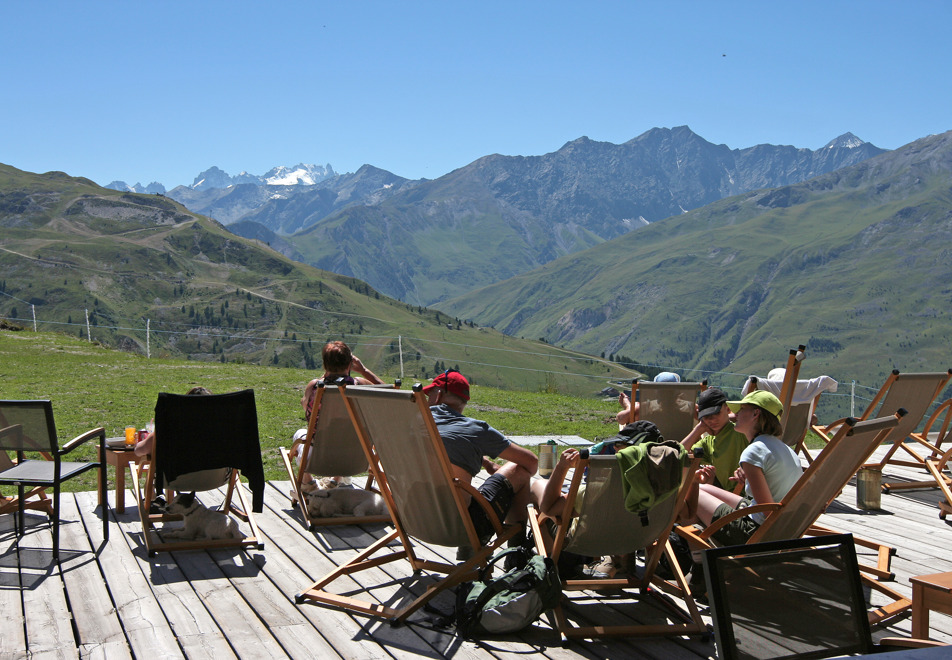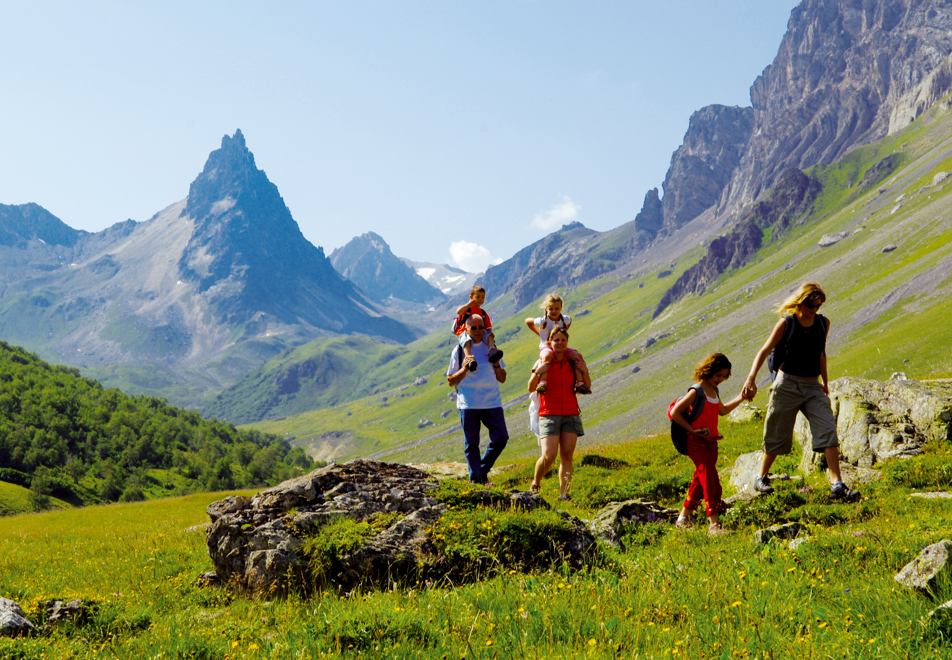 In the 'Golden Valley', at the bottom of the Galibier Pass, Valloire with its 17 hamlets and 16 chapels is a reasonably large traditional year-round village.
Built around a XVIIth century Baroque style church, Valloire has retained the charm and authenticity of days gone by with friendly welcoming residents. The pretty village lies between the mythical Télégraphe and Galibier passes which are crossed by the Tour de France. It is a mountain bike centre with 135 km of path leaving from Valloire and 11 mountain-bike itineraries.
In Valloire, you will benefit from mountain advantages: three rivers, the Aiguilles d'Arves summit, mountain lakes, forest, the impressive Grand Galibier summit...
At the foot of the famous Galibier Pass, Valloire is accessed via the motorway exit and TGV station at St Michel de Maurienne (17km and 4 hrs from Paris by train). The Col du Galibier in 1911 was made famous by Tour de France between Southern Alps and Northern Alps. In the summer Valloire being at the foot of the Col du Galibier boasts many beautiful mountains such as the Aiguilles d'Arves, the Cerces, the Thabor peaks and National Parks of Ecrins and the Vanoise nearby.
Top summer activities to experience in Valloire
Please note Peak Retreats do not book any activities and most activities are payable. For more information about pricing and availability, please contact the Valloire Tourist Office on 0033 479 59 03 96 or visit www.valloire.net
Valloire E-pass Loisirs
How does the e-pass loisirs works?
UNLIMITED ACCESS: SWIMMING-POOL - CABLE-CAR - ICE-RINK  - By booking accommodation with the E-pass logo, you can benefit from access to the swimming pool, ice-rink and lifts for 2,50 €/day/person. (minimum 3 consecutive days).
AN ELECTRONIC PURSE TO BENEFIT FROM TONS OF ACTIVITIES  - Whether you booked an accommodation subscribing to the e-pass loisirs or not, you can credit your card with an amount allowing you to easily enjoy lots of activities: zip-lines, fishing, airbag, swimming-pool, tennis, golf, Val Form' fitness centre...
You have the choice to use the e-Pass loisirs for unlimited pool access, ice-rink and lifts, for the electronic purse or for both! The electronic wallet is rechargeable only:
at the lifts,
at the Base de Loisirs,
at the restaurant Alp 'de Zélie,
online at www.valloire.com
Walking and mountain biking
A map is on sale at the Tourist Office.
It will allow you to discover, on foot or by mountain-bike, the Golden Valley, and its most beautiful sites: the Galibier, the Aiguilles d'Arves, Mount Thabor…
Poingt-Ravier thematic path: an educational and marked path in the forest
Health Circuit along the Valloirette stream: 2 km – 5 exercises
"La Séa" path: Reach the top of the mountain in less than 10 minutes. Thanks to the cable-car "Crêt de la Brive" (2100 m) and the chairlift "Lac de la Vieille", have an access to the mountain. Sip a drink at the restaurant "L'Alp de Zélie" or go for a stroll on the thematic path "La Séa". Then you have the choice to go down on foot or by the cable-cars.
Given its unique position at the foot of the col du Galibier, near the col du Télégraphe and in the heart of the prestigious Route des Grandes Alpes: Valloire is the kingdom of the bicycle. The site is accredited by the French Cycling Federation.
The Galibier Pass
Culminating at an altitude of 2642m, the Col du Galibier connects St Michel de Maurienne and Briançon via the Col du Télégraphe (north) and the col du Lautaret (south). Halfway through, Valloire is an essential stage! The first Tour de France run through the Galibier on July 10th, 1911. The road is closed from late October to late May.
The Galibier pass climb from Valloire:
Departure: 1430 m - Arrival: 2642 m
Length: 17 km - Elevation in level: 1212 m
Average %: 7.2% - maximum %: 12%
La route des Grandes Alpes
This is a legendary route providing an excellent way of meeting locals, nature and having a look at the high peaks. It is a beautiful itinerary from Lake Geneva to the Mediterranean sea through the wild Alps. Valloire and the Galibier pass are a major stopping places on this road. The route meanders along mountain roads for almost 600 km. Crossing 16 passes, this road is one of the most famous in Europe.
Valloire mountain biking
Enduro - Downhill - Freeride
FFC approved:
17 slopes including 1 international DH and a 10 km itinerary
33 km of slopes fitted with: North shore, curves, jumps...
2 lifts between 1430 and 2300 m high
5500 m of cumulated difference in level
Associated services:
Bike wash
Free downhill circuits map
2 specialised shops (rental, selling, repairs)
Lac de Vielle chairlift and Brive gondola
Thanks to the cable-car "Crêt de la Brive" (2100 m) and the chairlift "Lac de la Vieille", one has access to the mountain pastures. Open daily in July and August.
Climbing and Via Ferrata
In Valloire, 3 Via ferrata introduce you to a world of verticality, in complete safety, with cables and rungs. There are also a hundred climbing tracks!
Via ferrata 
Poingt Ravier Via Ferrata:
Graded PD (not very difficult), for every levels from the age of 7.
Length: 500 m - Variation in level: 200 m (from 1430 m high till 1630 m)
Rocher St Pierre Via Ferrata:
1st part: sporting and elevated circuit, for those who practice regularly climbing or mountaineering - easy variations. Graded TD ( Very difficult)
Length: 400 m - Variation in level: 150 m
2nd part: elevated circuit with many footbridges. Graded AD (fairly difficult)
Télégraphe Via Ferrata:
Graded AD to D (Fairly difficult to Difficult)
Variation in level: 900 m - Departure from St Martin d'Arc: 6h return.
Rock climbing sites
Valloire proposes a hundred tracks.
Saint Pierre:
12 tracks (difficulty: 4 to 6)
Poingt Ravier:
via ferrata area: 26 tracks (difficulty: 3 to 6b)
"La Chapelle" area: 69 tracks (difficulty: 3 to 7b)
Valloire outdoor swimming pool
Heated outdoor swimming pool 25m at Base de Loisirs. Slide, padding pool, lessons, water aerobics, bar, fast food, toilets. Open daily in July and August.
Valloire covered ice rink
Ice rink at Base de Loisirs. Open daily in July and August.
Golf des Verneys
Two kilometers from Valloire. A 6-hole circuit. Open to everyone! In Les Verneys hamlet.
Valloire Archery
Located behind the tennis courts next to the campsite! Booking compulsory.
Valloire Adventure Parc - Forêt de l'Enfer
An acrobatic circuit in the trees. For each person a degree of difficulty.  Minimum height: 1,30 m. For those less than 1,30 m: kids and Super kids circuits, from the age of 2.  Length of circuit: 2h30.
Bob-kart
An unforgettable 1 hour downhill from the restaurant "Les Mérergers"!
La Séa games
Access by Brive gondola: Big Air Bag, tubbing, panoramic view... Big airbag: from 55/56 lbs. Tubbing: for children between 2 and 6 years old. 

The Eagle and Eaglet ziplines
At an altitude of 2300m, fly away on the zip-line! Fly over the lake for great sensations!
Access by the Lac de la Vieille chairlift.
Eagle Zip-line for + 25 kg
Eaglet Zip-line for children between 4 and 12 years old 
Sand sculptor
In the garden behind the Town-hall. Each Monday in July and August, a sand sculpture will be made by a professional sculptor.
Other activity contact details 
Restaurants and bars in Valloire
Various bars and restaurants plus mountain restaurants. A vast choice is available to you.
Valloire amenities
Mini-supermarkets, several cash points, doctors, pharmacies, physiotherapist and dentists. Library, fitness centre, beauty parlour, 3 hairdressers, launderettes/dry cleaning, bakeries…
Valloire is one of the first resorts to benefit from a fiber optic network! There are a dozen WiFi hotspots spread across the resort:
TOWN-HALL place
In front of the TOURIST OFFICE
Place Claude Pinoteau (in front of the Cultural Center)
Brive and Sétaz SNOW FRONTS
VERNEYS: skilift desks - Camping Car Park - Golf course
Thimel and Brive restaurants (at the top of both gondolas)
Departure of Les Verneys chairlift
Arrival of Cornafond and Brive chairlifts

Col du Télégraphe

Base de Loisirs 
Valloire App!
Available on iOS and Android, the app includes all the information you need during your stay:
weather forecast
activities
calendar of the events
practical information
shuttle timetable
Wifi
Try the walk, trail or mountain-bike circuits! Many audio-guided tours are available in the app.  Download maps, activate geolocation and off you go!
Accessing Valloire
By Road (self drive options pre-bookable with Peak Retreats): 
Driving distance from Calais to Valloire 580 miles (8hrs30)
From Calais, take A26 Motorway towards Reims and Troyes, then Dijon, Lyon, then A43 Motorway Exit no9. Follow signs to Valloire (17 km from the motorway exit).
By Rail (pre-bookable with Peak Retreats): 
Saint-Michel Valloire station. Transfer by bus or taxi.
By Plane (not pre-bookable):
Chambery is 118km from Valloire (1 hour)
www.chambery-airport.com
Grenoble is 179km from Valloire (1 ½ hours)
www.grenoble-airport.com
Turin Airport is 147m from Valloire (1 ¾ hours)
www.aeroportoditorino.it
Geneva is 190km from Valloire (1 ¾ hours)
www.gva.ch/en  
Lyon Saint-Exupery is 189km from Valloire (2 ½ hours)
www.lyonairport.com
Summer shuttles
A shuttle connects different hamlets. Shuttles are free and available from Monday to Friday.
Two routes:
Valloire - Les Verneys - Plan Lachat
Valloire - Le Col du Télégraphe
Valloire Airport Transfer or Car Hire (pre-bookable with Peak Retreats):
Call our reservations team for details on 0844 576 0170 or email reservations@peakretreats.co.uk for a quote and availability.