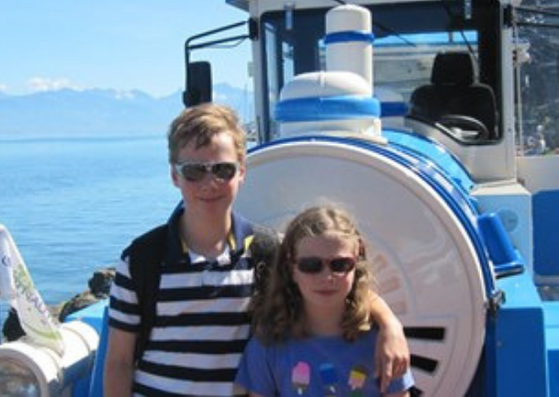 Saturday, 11, October, 2014
One of our loyal clients travelled to the French Alps in August with her family on an unforgettable summer holiday. They stayed for two weeks - their first in Samoëns while the second was in Châtel. Here is the second instalment all about their week in Châtel!
After a fun filled week in Samoëns, we were off to Châtel for the second week of our holiday. We thought Châtel would be a lesser known base from which to explore the Portes du Soleil area and we were also attracted by its proximity to Lake Geneva (known locally as Lac Léman) and Switzerland for day trips. Last but not least we could not wait to try the new MGM residence in Châtel, Les Chalets d'Angèle.
As we drove into Châtel we noticed a sign saying "Ville Fleurie" and sure enough wherever you looked, the buildings were decked with colourful window boxes and hanging baskets and there were beds of pretty wild flowers along the streets.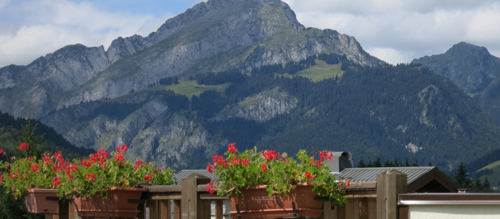 On arrival at Les Chalets D'Angèle, we were delighted with our third floor apartment which was comfortably furnished in warm colours and sparkling from top to bottom. Stepping out on the large corner balcony, we took in the spectacular views of La Linga and the Abondance Valley. We also looked up to the village of Châtel and the pretty church, which was illuminated at night.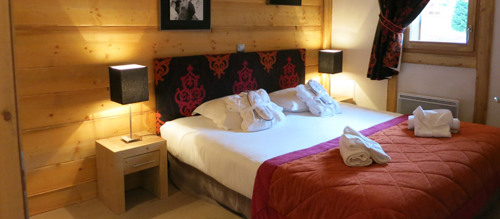 The leisure area at Les Chalets d'Angèle was palatial. The facilities included a large pool, a separate toddler pool, two large Jacuzzis, two saunas and a good sized steam room with blue lighting. We also enjoyed a visit to the spa, which offered a range of massages and other treatments. The leisure facilities and other communal areas were kept in immaculate condition throughout the week.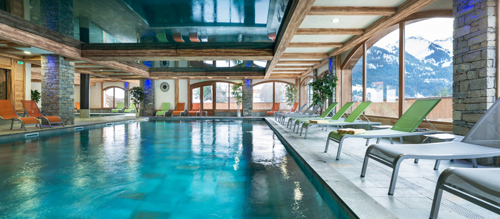 At reception we were given details of the food ordering service, which included morning bakery goods and the option to have evening meals, ranging from Raclette and fondue to lasagne, delivered by a local traiteur. At the welcome drink the next morning, the Manager, Pascal, talked most enthusiastically about the residence itself and then gave an overview of walks and activities in and around Châtel. After we'd enjoyed a glass of Kir, it dawned on us that we would not be able to use the car for the rest of the day and that the village centre was a good fifteen minute walk uphill from the residence!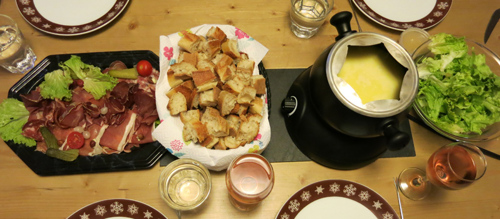 One of the attractions of the Portes du Soleil in summer is that you can buy a Multi Pass for a couple of Euros a day which gives unlimited access to all the open chairlifts and gondolas, plus free entry to activities such as swimming and mini golf.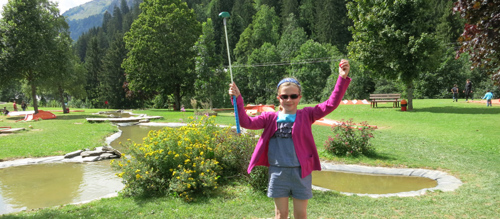 On the Super Châtel side we particularly enjoyed a twenty minute walk from the top of the Morclan chairlift to the next ridge, where there was a stunning panoramic view of Lac Léman.  Another day we took a series of chairlifts up from Pré-la-Joux and discovered a scenic walk towards a waterfall in the Lindarets area, stopping to pick wild blueberries along the way. It was fun travelling to and fro between France and Switzerland by chairlift. As far as we could tell the area looked ideal for mountain bikers who would be able to travel some distance round the Portes du Soleil circuit.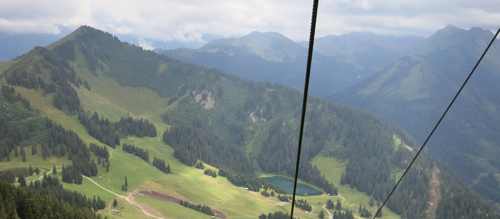 Our children enjoyed participating in an introductory fishing session organised by the Tourist Office which took place at the Lac de Vonnes. The session started with an interesting talk about different types of fishing in the local area and then live maggots were passed round! It was soon time for the practical fishing session which unfortunately took place in torrential rain. There was great excitement when one of the French children caught a trout and our children were described as "stoïque" by the locals for persevering in the monsoon conditions!
Despite having wonderful pool and spa facilities at Les Chalets D'Angèle, we could not resist trying out the new Forme D'O swimming complex in the village as well. A large area of the centre was free with the Multi Pass and this included an outdoor pool with various jets and bubbles, an indoor lazy river and a pool with traditional swimming lanes.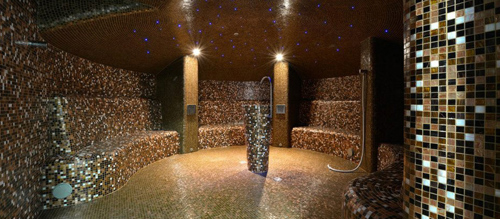 There was a supplement to access the adult only area where there was yet another lovely pool with massage jets at one end. Whilst the intention had been to swim, I soon found myself reclining on a bed of bubbles at the edge of the pool, looking at the beautiful view towards Super-Châtel. From there I moved on to the darker of the two steam rooms, which had pretty twinkly lights on the ceiling, giving the effect of a starry night sky.
The centre of Châtel looked even more colourful on Wednesday with the local market taking place in the village square. There were stalls selling meat, fish, fruit and vegetables and a wide range of Savoyarde specialities such as nougat, saucisson, Reblochon and …..er loom bands ("les élastiques")! After exploring the market and making a few purchases, we pottered round the village and chose some restaurants to return to later in the week. Our children's favourite restaurant was Le Fiacre which does good pizzas and is comfortably furnished and family friendly. We also had a delicious meal at Le Vieux Four which has a rustic "oldy worldy" interior and offers an extensive menu of traditional French dishes.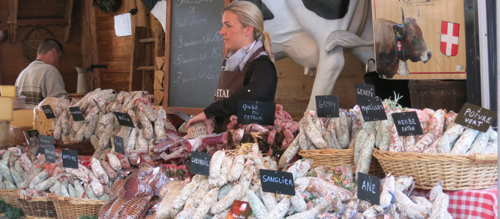 Towards the end of our week in Châtel, we went for a day trip to Evian on the shore of Lac Léman.   It was a glorious day and as we reached the lake we were struck by the beautiful trees, shrubs and flowers along the front. "Le petit train d'Evian" was about to depart and we jumped on and enjoyed the tour of the town and waterfront.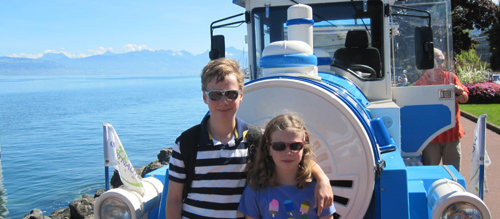 We found a perfect spot for lunch, reclining on sunloungers looking out over the lake which glistened in the sunshine. However we were a little put out that the water that came with lunch was not Evian!
The afternoon's activities included taking a ride on the free funicular railway, pausing to watch fountains that danced in time to music, and a short boat trip on Lac Léman. The trip was rounded off with ice creams and a refreshing cup of tea at a café called La Symphonie des Gourmets, which certainly lived up to its name.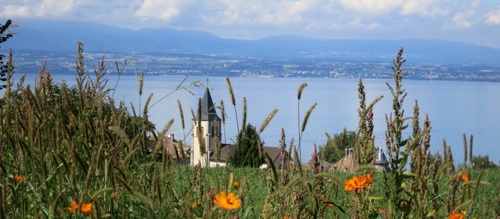 Having been looked after so well at Les Chalets d'Angèle by Pascal and his team, it was sad leaving the residence at the end of the week. However at least this time we had one last excitement to look forward to. When we were an hour's drive away from Paris, we surprised the children by announcing that we would not be rounding off the holiday with the usual stopover in Reims, but with fireworks at the castle at Disneyland Paris instead!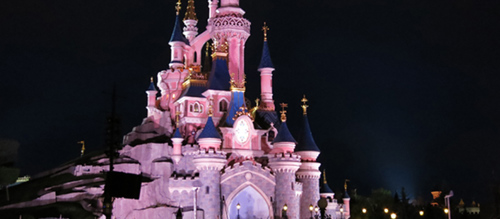 Our thanks to Steve and everyone at Peak Retreats for another exciting and memorable holiday!