Wednesday, 06, April, 2022
Some of our team took a trip to Les Sybelles and got all the behind the scenes action! From exploring the operations of the chairlifts, learning how piste grooming actually works, discovering what is new to the ski area and much more...
About Les Sybelles
Located on the border of Isère and the Hautes Alps, the Sybelles massif is the fourth largest ski area in France and the biggest in the Maurienne Valley at an altitude between 1,100m and 2620m. There is something to accommodate everyone with 21 fun areas specifically adapted including a snowpark, an easypark, boardercross, freeride slopes, Snwopy Mountain fun area, a fun Vikings route, Sybelles Explor Games®, beginner areas and luge-sledding areas! You'll also find nursery ski schools, 67 ski lifts and 136 slopes for all skiing levels. 
The Les Sybelles name is a play on words, the "Six Belles" (six beauties) being the six resorts that form the area. These are a mix of traditional villages and resorts designed with skiing in mind. We have selected the best that Les Sybelles has to offer below!
Sitting in the heart of the Maurienne Valley, Le Corbier is an easily accessible resort that is 100% pedestrianised and only 1hr from Chambéry. Known for its children's facilities this Famille Plus resort guarantees a friendly welcome and lots to offer for the whole family.
With easy access to Les Sybelles, the largest ski area in the Maurienne Valley, La Toussuire is a small, uncrowded and friendly resort. Located on a plateau with vast amounts of sunshine, this modern car-free resort is perfect for a peaceful winter escape. 
Surrounded by stunning scenery, the quaint mountain village of St Sorlin d'Arves consists of preserved Savoyard farmhouses and amenities built around the early 17th-century Baroque church. A must for those who love authentic mountain resorts.
Exclusive behind the scenes at the Chavin Express lift station: 
In 2016, the Chavin Express in Saint-Jean d'Arves was installed to allow skiers quick and convenient access to Le Corbier, taking skiers directly from the snow front to the rest of Les Sybelles. The upstream station uses a DirectDrive motor which is slow motor technology operating without a reducer which helps reduce energy consumption. The impressive thing is how it transitions from 5m/s to a walking pace. As can be seen on the video with the seats coming in fast and then they are released from the main cable and they go through a secondary system, each tyre that can be seen in the video spins at a different speed, slower and slower and this slows down the chair up to the point where the passengers come off. Then within 3 seconds, it accelerates back massively until it reaches the cable speed again and then it gets reattached to the main cable. This is why they are called detachable chair lifts.
Facts:
Operating seasons: Winter & summer.
Capacity: 6 people.
Ascent flow: 2000 people per hour.
Descent flow: 1000 people per hour. 
Travel time: 5 minutes. 
Operating speed: 5.5 metres per second.
See pictures below of how the station works in operating the chairlifts.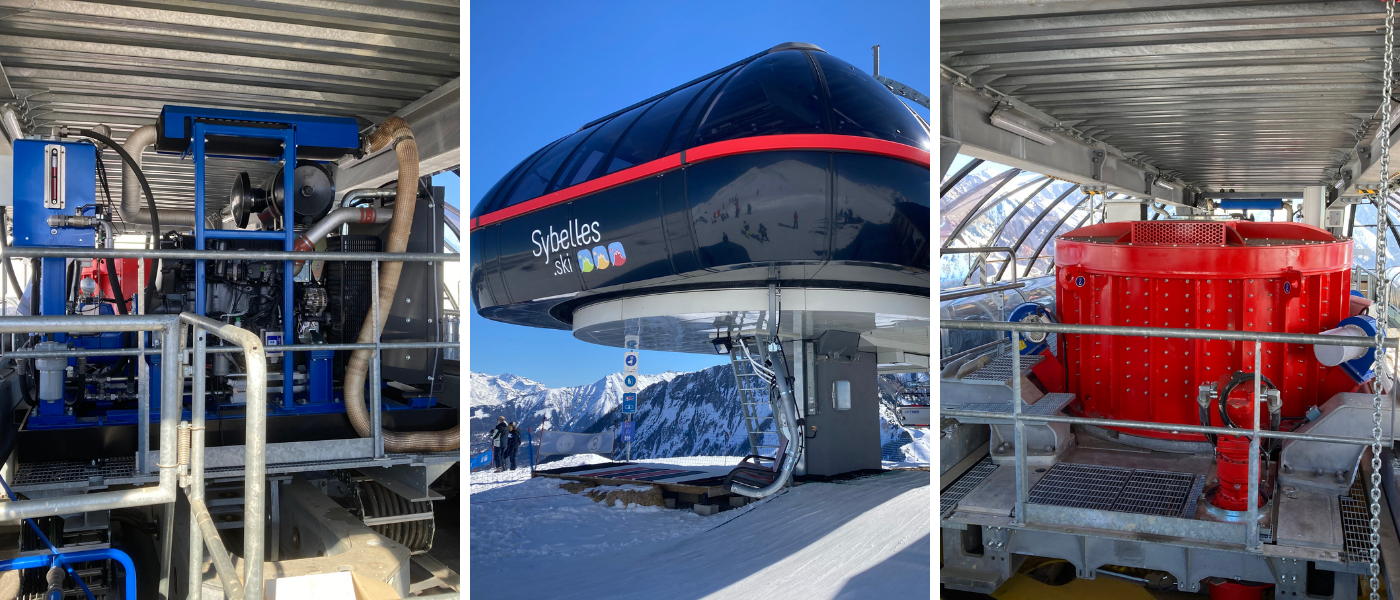 Ever wondered how a piste basher works?
While our team were out in Les Sybelles, they had the opportunity to jump on board the piste bashers and see first-hand how it is really done!
Equipped with a shovel at the front and a cutter at the back, piste bashers drive over the snowfield while working at the same time to push snow ahead of it and smooth out the surface for your perfectly groomed piste. It takes a minimum of three years to become an experienced driver of this machinery.
Did you know piste grooming is done using very precise GPS measurements? The driver has to know the exact snow depth meter by meter and adjusts the grooming to the terrain very accurately. Piste bashers cost an excess of 300,000€ - a little like driving a supercar!!!
What's new in Les Sybelles
NEW SKIING ADVENTURE GAME APP
Something entirely unique to the ski area of Les Sybelles, the Sybelles Explor Games is a guided adventure game that allows you to discover the pistes in-depth and to flit from one area to another in an exciting way! This fun app is downloadable on IOS and android.
Take a look yourself in the video and see what it is all about! Download the app from the Apple Store or Google Play store. 
NEW PISTE
Freeriding area in Le Corbier! Marked out, secured, but not groomed, the Jonquilles black piste is located under the Mont Corbier chairlift and joins the other 3 freeriding pistes created last winter.
This is all in line with Les Sybelle's sustainable approach, so you can enjoy the slopes while preserving the natural environment!
Les Sybelles sustainable approach
Les Sybelles are aware of the major issues relating to tourism and climate change, so have decided to take action and move towards a more sustainable and responsible approach in line with Challenge Zero CO² to reduce the impact while finding a balance between accessibility and respecting the environment.                             
But how?...                                                                                                                                                                                                                               
The energy consumed is 100% renewable. 
Chairlift operators are given eco-operation training.
Specialised management of grooming and snow production allows a 5% reduction in water consumption. 
Fewer hours spent grooming the slopes reduces fossil fuels. 
There is now an environmental observatory for developments meaning all environmental elements are taken into account when implementing a new project. 
When ski lifts need replacing, slow motors are installed to reduce the energy consumption and acoustic emissions by 5%. 
Les Sybelles works in conjunction with 'Les amis de Nebeday' charity in Senegal. 50,000 trees were planted around the Sengalese houses this year.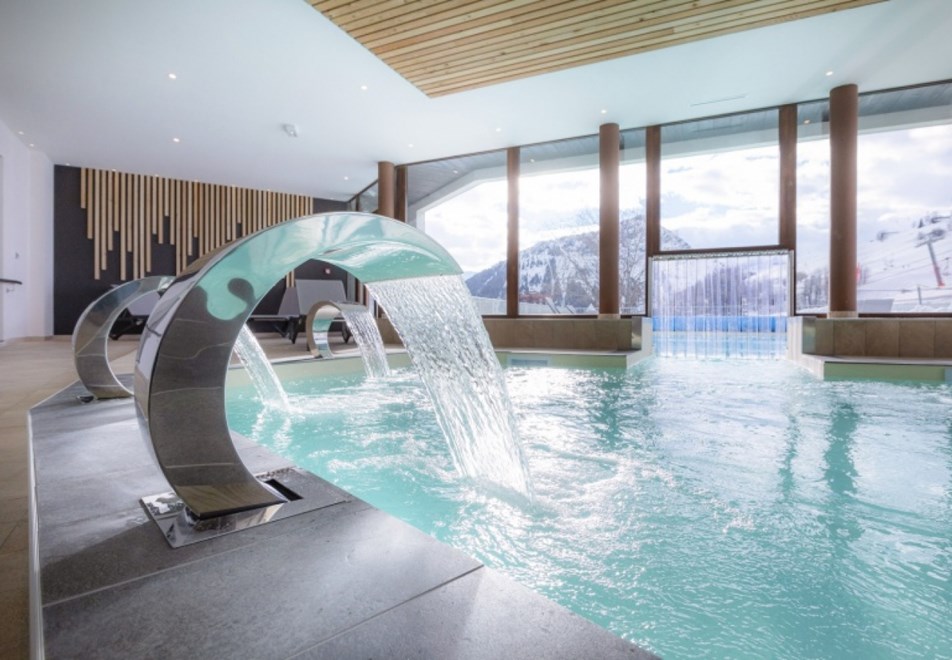 Recommended stay: First modular residence in wood construction 
Stay at the newly built Etoile des Sybelles in Le Corbier, the first apartment block to be built entirely from modular blocks and the largest 100% modular wooden project in Europe. The offsite manufacturing process combined with renewable materials makes for a 30% reduction in CO² emissions. Furthermore, falling in line with the sustainable vision, this residence is designed to be run as a developing business. 
Facilities include an indoor and outdoor swimming pool, an aquarelaxant area with a sauna and steam room, childcare clubs and facilities. 
If you're ready to book your next ski holiday or if you need some advice on where to stay, call us on 023 9283 9310 or request a quote and we will find you the perfect Alpine holiday! Don't forget to sign up for our newsletter to get all the latest news and deals.