Experience a different summer holiday – discover the French Alps
The French Alps in summer remain one of the best kept secrets for nature lovers and also families. With plenty to keep you busy the more active person will find a great choice of activities where as those in search of a more relaxing stay can discover the unspoilt environment, stunning scenery and glorious sunshine.
The astounding beauty of the mountains is hard to beat with their dramatic skyline of rugged peaks and glaciers (some skiable in summer e.g Les Deux Alpes or Tignes), crystal clear mountain lakes and green meadows.
Some resorts offer up to 40 different lakes and mountains activities for adults and children of all ages alike.
The Alps in summer offers superb value for money, especially when compared to other favourite holiday destinations in France. See price examples below and then book your alpine holidays!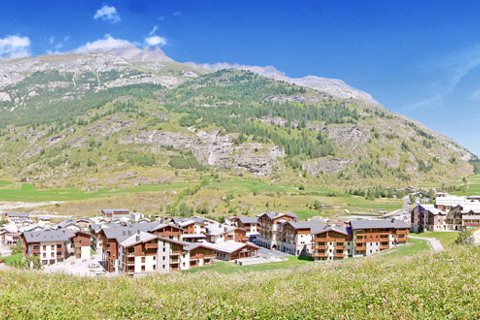 So why holiday in the French Alps this Summer?
Unspoilt traditional villages and towns away from huge crowds and mass tourism
Experience the 'real' France with good food and wine at reasonable prices and that 'Je ne sais quoi' peace of life equal total relaxation
Sunshine and temperatures 5-10°C higher than in the UK, always a bonus!
Uncrowded and pollution free
Vast amount of activities ranging from peaceful walks, family adventure areas and sunbathing to adrenalin pumping active pursuits such as white water rafting and bungee jumping
Plenty to keep the kids busy with a real emphasis on family togetherness. Resorts have kids clubs and activities geared towards a fun filled week (or two!)
Bagsful of accommodation of a superior standard, plenty of space for families yet with character
Excellent value for money
Activities the French Alps has to offer
The vast and changing landscape of the French Alps provides the most fantastic scenery, clean fresh air, stunning mountains and crystal clear lakes. One can chose between the traditional holiday activities the French Alps can offer or the more challenging ones sure to get your adrenalin pumping! There are plenty of alpine rivers and lakes in the Alps that provide an endless playground for those of you who love water. The activities are for both adults and children, although some of the more adventurous activities may envisage a minimum age restriction. Of course there is tuition and guidance to make your experience the best possible and in the safest way possible. Below is a list of a few activities on offer; there are just too many to list!
Paragliding– see the alps from above…an exhilarating experience
Hydrospeed– using a float you ride the waves down a course steering with flippers
Pot holing – explore to discover underground rivers, caverns and rock formations. All equipment is provided
Kids clubs - age varies with some geared for younger children and others teenagers. Half and full day formulas are normally available. General activities could include mountain climbing initiation and outdoor games. Each club is required to meet strict safety regulations and employ qualified staff so your children are in safe hands
Adventure parks – these are located in the tree canopy and both adults and children can take part. Strapped into a safety harness and suspended 15m above the ground you move between trees along the steel cable or perhaps just balancing over wooden trunks, its great fun for all the family!
Walking/hiking – want to experience the mountains from a substantial height? The ski lifts enable you to get there without wearing yourself out on the hike up. There are many pedestrian trails with signposts to keep you on track. Guides are also a possibility
Mountain biking – using the ski lifts (if you want) you can cycle around at altitude then off-road it back to the resort. Perfect for the experience and extreme mountain biker, and less intense routes for the novice!
Mountaineering/Rock climbing– climb up and abseil down the rock face with the security of ropes and harnesses. Normal starting age is 8yrs
Via Ferrata– walking and rock climbing is involved in this activity with the challenge of getting around a course using fixed ropes, ladders etc with helmets and harnesses used for safety
Summer ski– a couple of resorts in the French Alps offer summer skiing on their high altitude glaciers in July and August. Les Deux Alpes and Tignes are both open for summer skiers
Price examples
Mountain
Chalet Rose in Samoens, Grand Massif. Private outdoor pool shared between 3 apartments. From £199pp for 7 nights, based on 5 sharing Rose 1 in June.
Price includes a standard return mid-week ferry crossing with a car. For weekend ferry rates please see our transport page.
Lake
Les Chalets d'Evian in Evian les Bains, Lake Geneva. Private complex outdoor pool with views over lake. From £174pp for 7 nights, based on 5 sharing a 2 bedroom apartment in July.
Price includes a standard return mid-week ferry crossing with a car. For weekend ferry rates please see our transport page.
Summer Ski
Alba in Les 2 Alpes, Oisans. 4* residence. From £151pp for 7 nights, based on 5 sharing a 2 bedroom apartment in August.
Price includes a standard return mid-week ferry crossing with a car. For weekend ferry rates please see our transport page.