The Savoie and Haute-Savoie offer a diverse variety of golf courses offering an equally wide range of facilities, with peaceful un-crowded fairways and fresh clean mountain air.
The technical features vary with the diversity of the sites; they are all located at the heart of the Alps with magnificent scenery, panoramic views of the major Alpine lakes, green valleys and mountain streams, in top international resorts within a few hours drive from the international airports of Lyon and Geneva.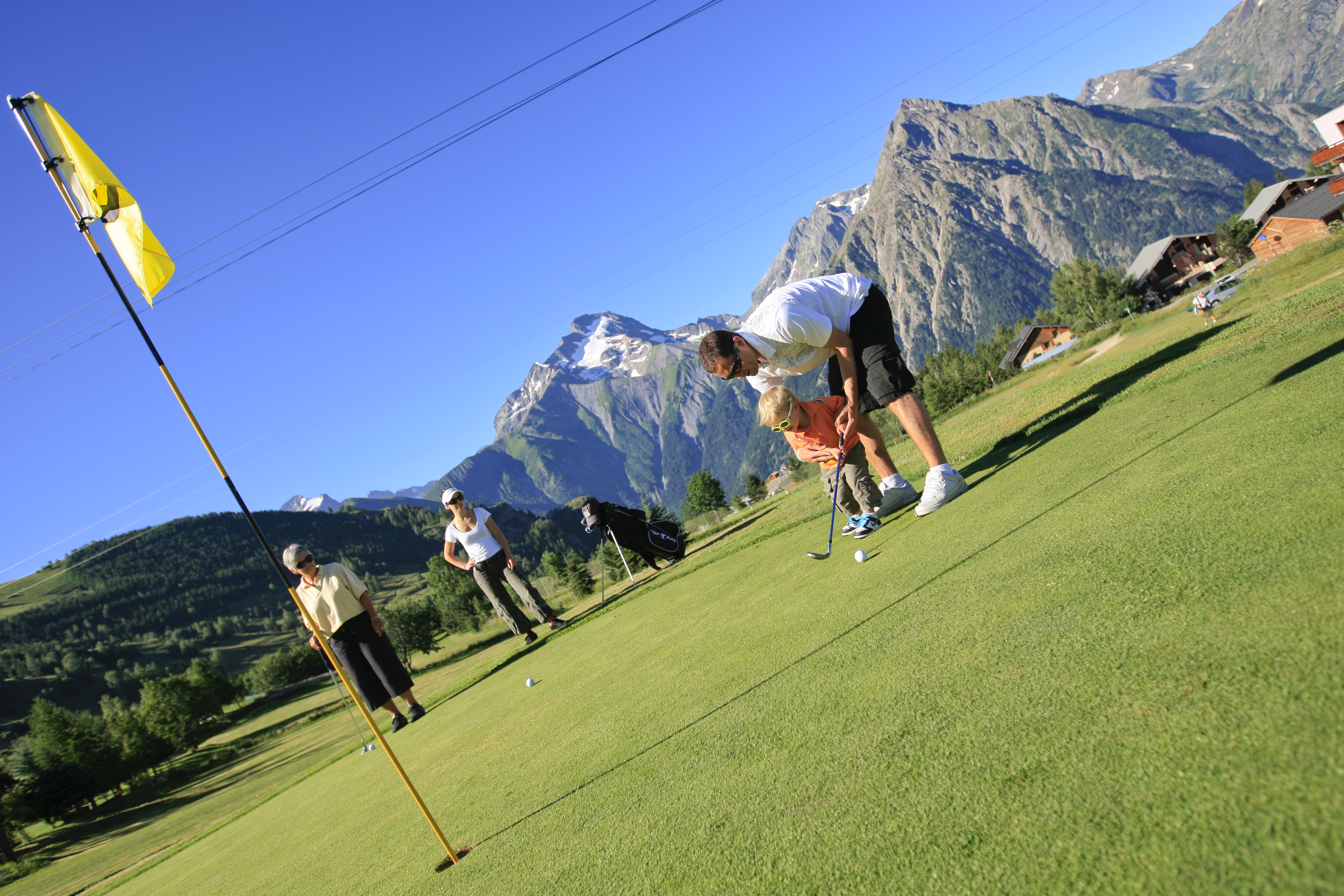 Grand Massif and Portes du Soleil

Golf de Flaine - Les Carroz
Tel. 00 33 4 50 90 85 44 (during the season)
18 holes, length 4026m, par 63. Open: July to September.  
The Col de Pierre Carrée golf course boasts extraordinary Alpine panoramas.

Practice de Golf du Lac aux Dames, Samoëns
Tel : 00 33 4 50 34 40 28
Length 150m. Open July and August
Driving range over water plus 9 hole putting green.
Golf Les Gets, Les Gets
Tel: 00 33 4 50 75 87 63
18 holes, length 5264m, par 70. Open: June to October.
Mountain golf course with a superb panoramic view

Golf d'Avoriaz, Morzine
Tel: 00 33 4 50 74 17 08
9 holes, length 2923m, par 36. Open: July and August.
Mountain golf links at the entrance to the resort of Avoriaz. Superb panoramic view.


Tarentaise
Golf des Arcs, Les Arcs
Tel: 00 33 4 79 07 43 95
Open: June to September.
Set on the mountainside overlooking the upper Tarentaise Valley, this Golf Club offers you the choice of 2 courses:
the 18-hole par 70 le Chantel course of 5497 metres.
the 9-hole par 27 le Beauchet course of 1045 metres.
Golf de Méribel, Méribel
Tel: 00 33 4 79 00 52 67 
18 holes, length 5540m, par 71. Open: June to November.
All its fairways are bordered by woods and its greens are extremely well kept. A high level of play is required.

Golf de Courchevel, Courchevel
Tel: 00 33 4 79 08 17 00
9 holes, length 1020m, par 27. Open: July to October
A compact golf course located at the foot of the Saulire mountains at 1800m altitude. Mountain lovers can discover the combined pleasures of admiring nature and playing golf in a real training centre.
Annecy
Golf Club de Lac d'Annecy, Lake Annecy
Tel: 00 33 4 50 60 12 89
18 holes, length 5008m, par 69. Open: All year except Christmas holiday.
Superb panoramic view in the immediate vicinity of Lake Annecy over a protected nature reserve.
Golf de Giez, Lake Annecy
Tel: 00 33 4 50 44 48 41
18 holes, length 5820m, par 72. 9 holes, length 2250m, par 33. Open: All year
Two play site, with panoramic views over the upper part of Lake Annecy. Flat course landscaped with stretches of water.
Golf Club d'Aix-les-Bains, near Annecy
Tel: 00 33 4 79 61 23 35
18 holes, length 5519m, par 70. Open: all summer
One of the oldest golf courses in France located in the outer reaches of the town, approx 30 minutes from Annecy.


Mont-Blanc & Chamonix Valley
Golf-Club de Chamonix, Chamonix 
Tel: 00 33 4 50 53 06 28
18 holes, length 6076m, par 72. Open: June to September
At the foot of the famous Mont Blanc peaks.

Golf Club du Mont d'Arbois, Megève
Tel: 00 33 4 50 53 06 28
18 holes, length 6100m, par 72. Open: May to November.
On the Mont d'Arbois plateau, above the village of Megève.


Massif des Aravis
Golf Le Rocher Blanc, Le Grand-Bornand
Tel: 00 33 4 50 02 70 11
9 holes, length 1625m, par 30. Open: May to October.
Compact course ideal for beginners, in the heart of the Aravis valley also has a pitch and putt. 

Practice des confines, La Clusaz
Tel: 00 33 4 50 02 47 43
10 holes. Open: May to August plus weekends in September and October
Driving range, practice holes, and putting green. Private or group lessons and courses are available.
Ready to book your summer holiday? Have a look at our summer offers, browse our Alpine resorts, give us a call on 023 9283 9310 or request a quote and we will help you get summer sorted! If you have any questions, give us a call and we will be able to help.