General Accommodation Info
Your accommodation
In each resort, we have handpicked superior accommodation offering an excellent level of comfort and spaciousness. Peak Retreats has been set up by two French Anglophiles, who previously were directors of well-known UK tour companies that operate lakes and mountains holidays to France. Their extensive experience means they understand the needs and expectations of British holidaymakers. In addition, they have the benefit of an excellent network of local contacts and have a clear advantage in dealing with French supplier partners. The directors personally select and visit all the accommodation featured.
Our accommodation ranges from self-catering studios in standard residences to individual chalets sleeping up to 20 people. We also offer a selection of character family-run hotels. Apart from high standards, we have chosen holiday homes for their individuality, good location and quiet environment. Ease of access is an important factor in our selection, the chalets, residences and hotels selected in each resort are all located either within easy reach of the mountains and/or the village.
All our accommodation prices include water and electricity charges. In some chalets, wood for the open fire is supplied free of charge, in others, there will be a supplement. Pets are often allowed in the accommodation but there may be a charge - please enquire with us first. Unless otherwise specified, the change-over day for all properties is Saturday.
Finally, we are not professional photographers and in some cases have had to rely on the owners' photographs - so some of the pictures shown in the brochure or on our website will not always do justice to the accommodation featured. Some photos were also taken during the winter, which explains a certain abundance of snow! Regardless, our objective is that accommodation should always exceed your expectations. 
Individual detached self-catering Chalets
All privately owned, these properties are generally second homes. Built in typical Savoyard style, usually in wood or stone, the detached chalets we have selected are all tastefully decorated by their owners. 

They offer the ultimate level of independence and are ideal for large groups or families. They all have a well-equipped kitchen and a large living room. Often there is a south-facing balcony to enjoy breakfast with magnificent views over the nearby mountains. 

All have ample parking outside, and some have a garage. The majority are set in their own grounds to afford a good level of privacy.
Some are even lucky enough to benefit from the use of private leisure facilities - some have a sauna/steam room and others even have outdoor covered pools.
Individual Apartments
These apartments are all privately owned and decorated to the taste of their owners. Rather than being in a large residence, they are generally part of a chalet or house. 

We have selected these apartments for their convenient location and excellent value for money. They are generally more spacious and better equipped than our standard apartments.

They provide you with all the home comforts you would expect, and as many of these are English owners they really can be home from home.
You will find a good selection of individual apartments throughout our programme. 
Standard Apartments
We have selected some of the leading self-catering providers in France – all well known on the French market for the quality of their accommodation. All residences are built in keeping with the traditional style of the region and have standard facilities such as a reception, ski lockers, parking spaces...

Most of our residences were built within the last six years and the apartments are all fitted and furnished to a good standard of comfort and convenience and are fully equipped for basic holiday needs. Some are particularly luxurious. This will be noted in the relevant description.

Most ski apartments are built to offer a warm, cosy feel and can be more compact than some of the other accommodation we offer, which means that if you are looking for extra comfort, it makes sense to choose a type that sleeps more than the number in your party and not to use the extra sleeping capacity in the lounge.

Prices include fully equipped apartment with bed linen (unless otherwise specified). Towels, TV, baby kit (cot, high chair, bath) are sometimes included - or they can be hired locally for a small supplement.

Enjoy a relaxing swim at various residences, which have their own indoor swimming pool.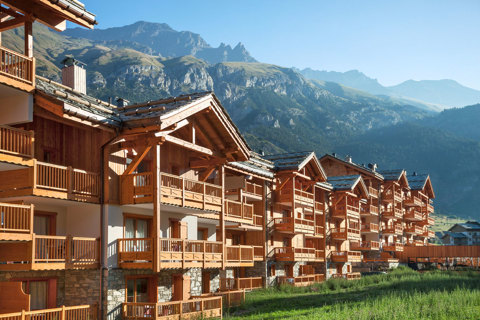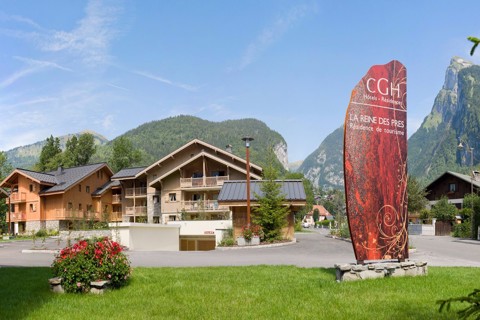 Alpine hotels
The hotels featured have been carefully selected to reflect true Alpine hospitality. Almost all are small, friendly and family-run. Ranging from underrated two star hotels to luxury five stars, they are all comfortable and attractively decorated, featuring natural wood interiors. 

Most have a lounge with an open fire around which to unwind around after a long day skiing, all have en-suite bathrooms and those with restaurants offer dinner based on local cuisine. All are within easy reach of the resort centre.

Rooms can accommodate between 2 and 5 people with possible interconnecting rooms, which makes staying in a hotel suitable for the whole family. Some hotels have indoor leisure facilities. 
Self-catering
As our prices are based on a 'per property' basis you can enjoy the comfort of a larger property with no extra charge for the accommodation. It is acceptable for friends to come and stay with you provided the stated maximum number of occupants is not exceeded, each apartment being furnished, equipped and insured for a stipulated number. If you know you are having friends to stay for part of your holiday let us know and we will tell the owners; this avoids any potential misunderstandings. There is, of course, no charge for your guests.

Arrival day is Saturday unless otherwise stated. Your accommodation will generally be ready for you to arrive between 5 and 7 pm and you are requested to leave by 10 am. In case of later arrival you must call the accommodation reception, owner or caretaker to inform them as soon as possible to obtain new instructions as otherwise you will be locked out once reception is closed. Chalet owners or their representative will normally hand the keys directly to guests on arrival, unless otherwise indicated. Any queries you may have can usually be cleared up there and then. Keys for apartments will be collected directly at the residence's reception. Exact instructions will be sent with your travel documents.

The damage deposit (cash, card or cheques depending on accommodation) and the local tourist tax will be collected upon arrival. The local tax is a holiday tax levied at the discretion of the local authority. The deposit is refunded at the end of your stay or sent to you shortly afterwards provided that there are no damages and that the accommodation is left in perfect order, clean and tidy. End-of-stay cleaning is not included unless otherwise specified in each accommodation description and cleaning products are not normally provided. You can choose to do this yourself or pay a supplement in most resorts - this will be detailed in the description. In any case properties must be left clean for the next occupants. If this is not done, money will be deducted from your deposit.

These apartments are designed for the rental market so they will be functional but they will not offer full home comforts. The kitchenettes for instance will generally be compact and may only have equipment suitable for basic cooking rather the full range that you may have at home. Our individual privately owned apartments generally have more extensive facilities and equipment.

With most apartment residences, local French safety standards do not usually require that smoke alarms are fitted in individual apartments although strict local fire regulations must be adhered to in order to be allowed to operate.

In all our apartments and even those in our 4-star luxury selection, the living areas are generally designed to be used as additional sleeping areas. As a result there is likely to be a maximum of one or two sofas in even the largest apartments and these will be convertible sofa beds rather than the types of sofas you would usually have at home. Often apartments on the higher floors have rooms in the eaves with low ceiling height in part of the room.
Hotels
Meal arrangements: Half-board includes breakfast (sometimes continental, often buffet) and dinner. Meals are usually based on a table d'hôte fixed menu, though usually alternative dishes will be available on request. Meals usually start with dinner on the first day of your arrival in resort and will finish with breakfast on your day of departure. Please note that some hotels may be unable to cater for strict special diets and whilst most can cater for vegetarians the choice of menu is often extremely limited.

All rooms are allocated on arrival, specific request for a shower or bath can be noted but not confirmed. Generally, a room for three will be a double bedroom with a folding single bed, though the extra bed may limit space.

Check-in/Check out: Rooms are normally available mid-afternoon and you will normally be required to check out at 10.00 hrs on the day of departure.