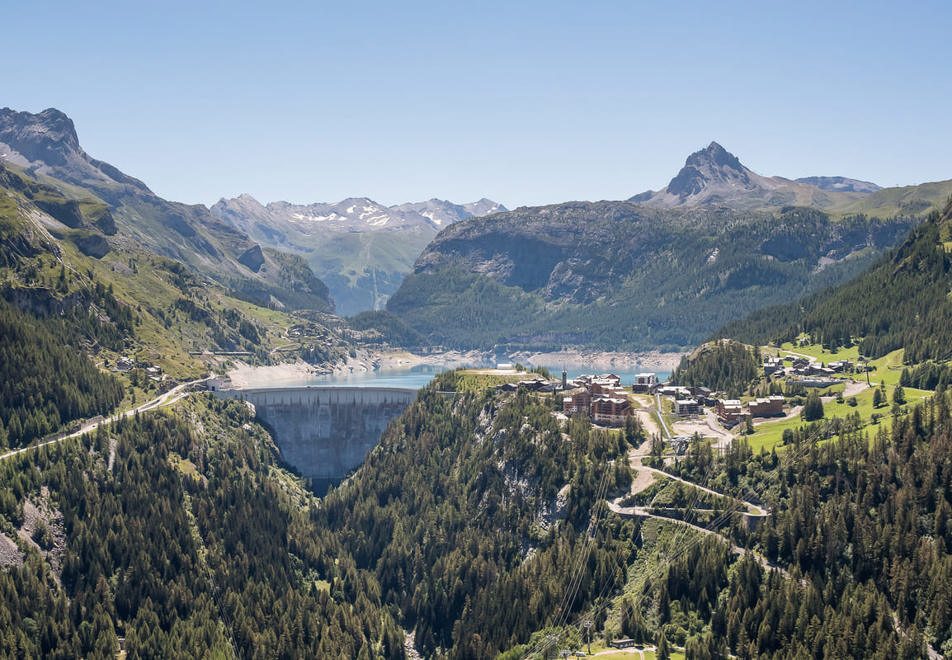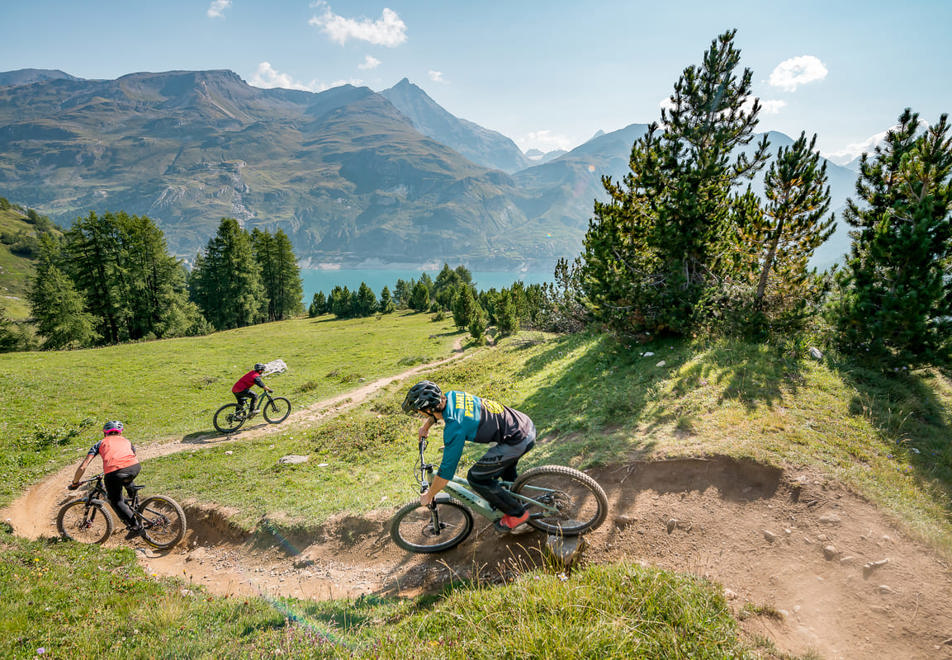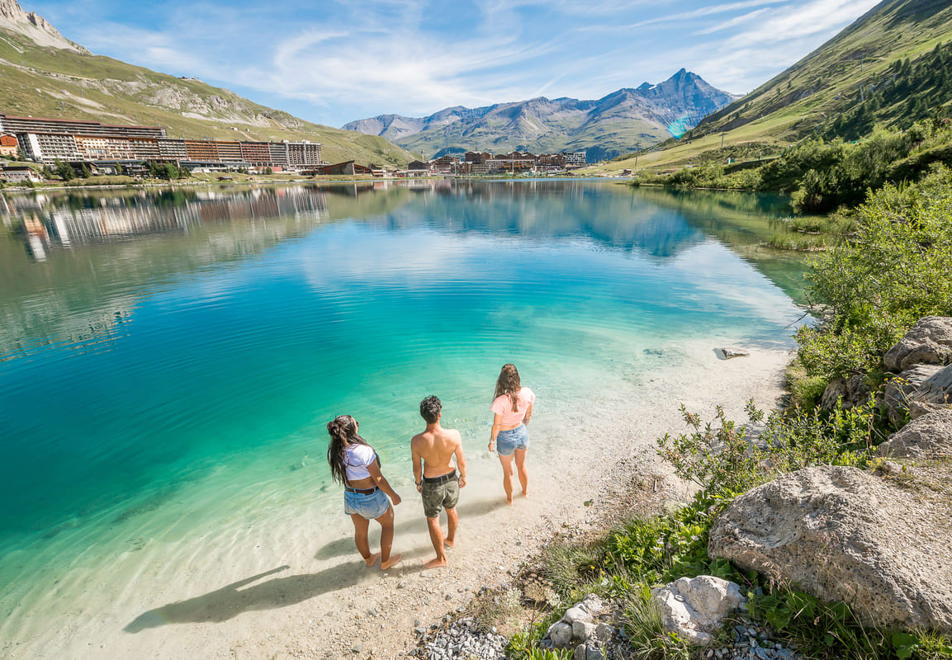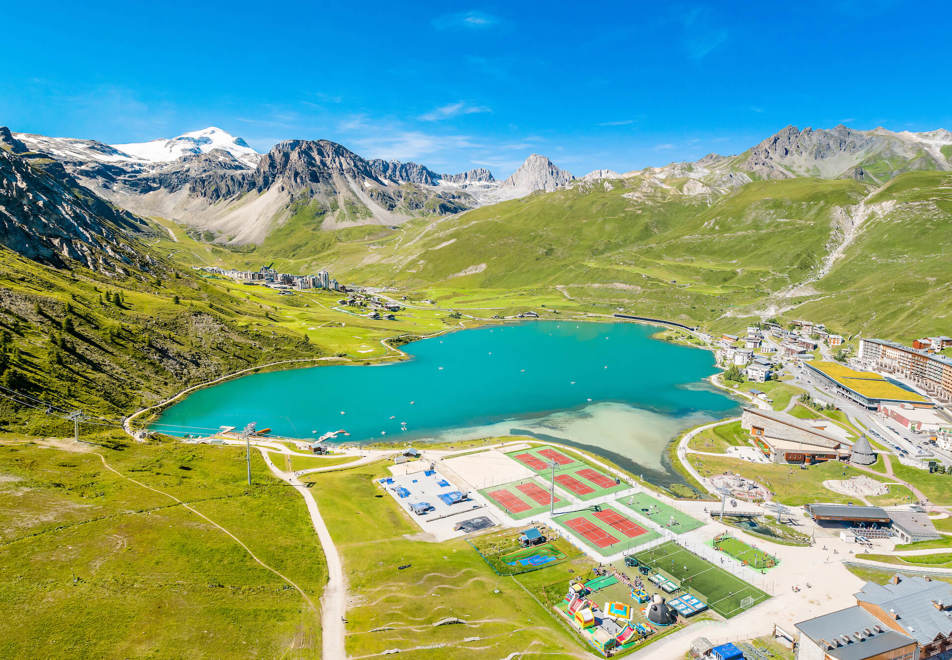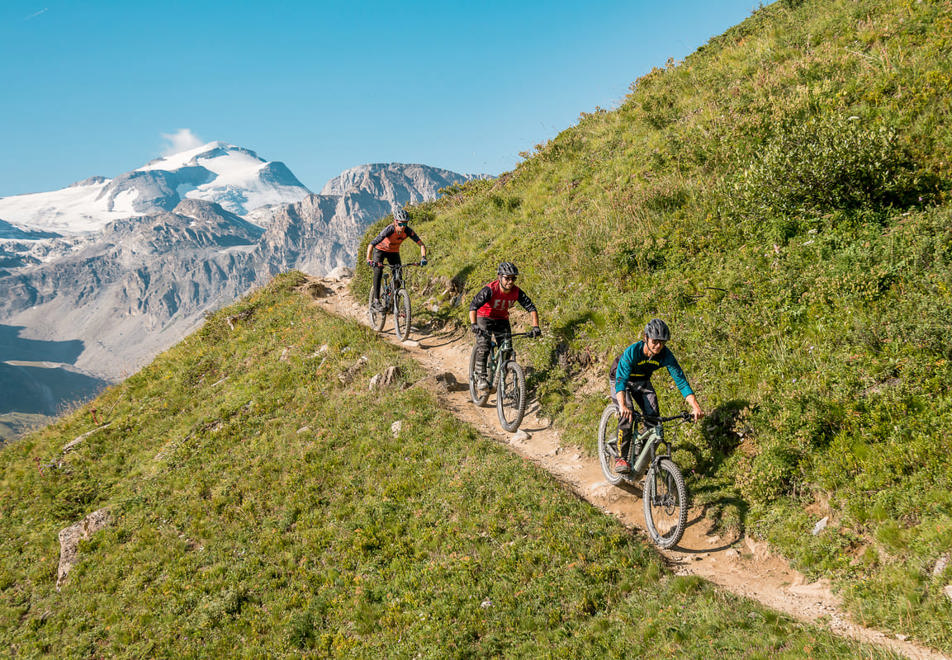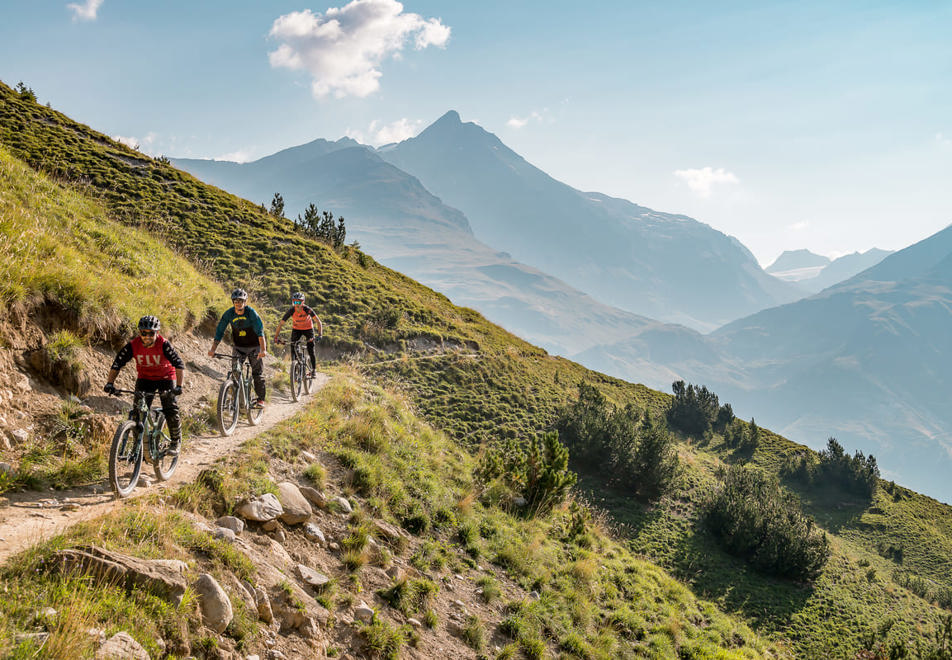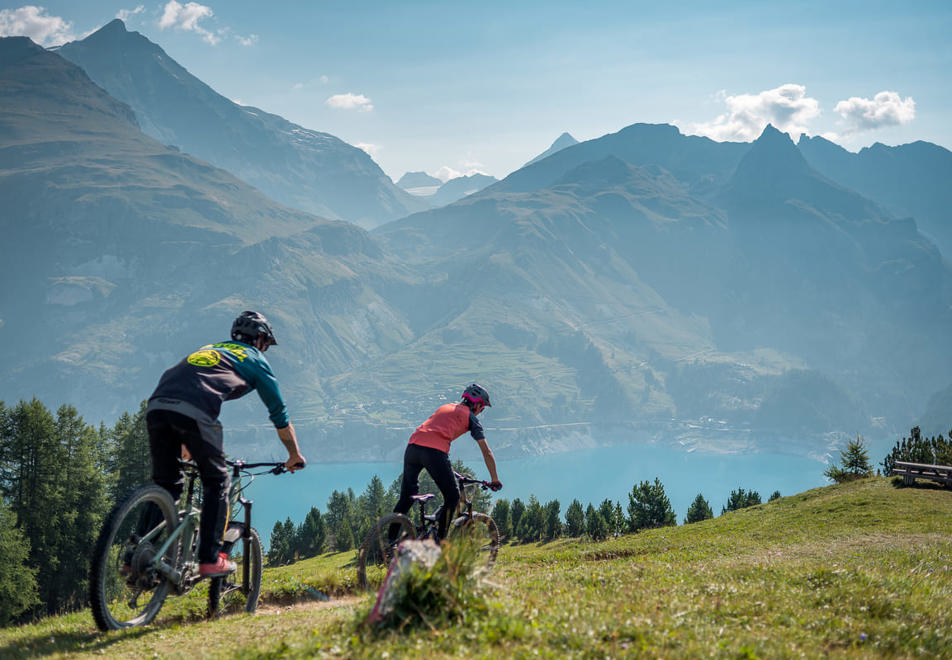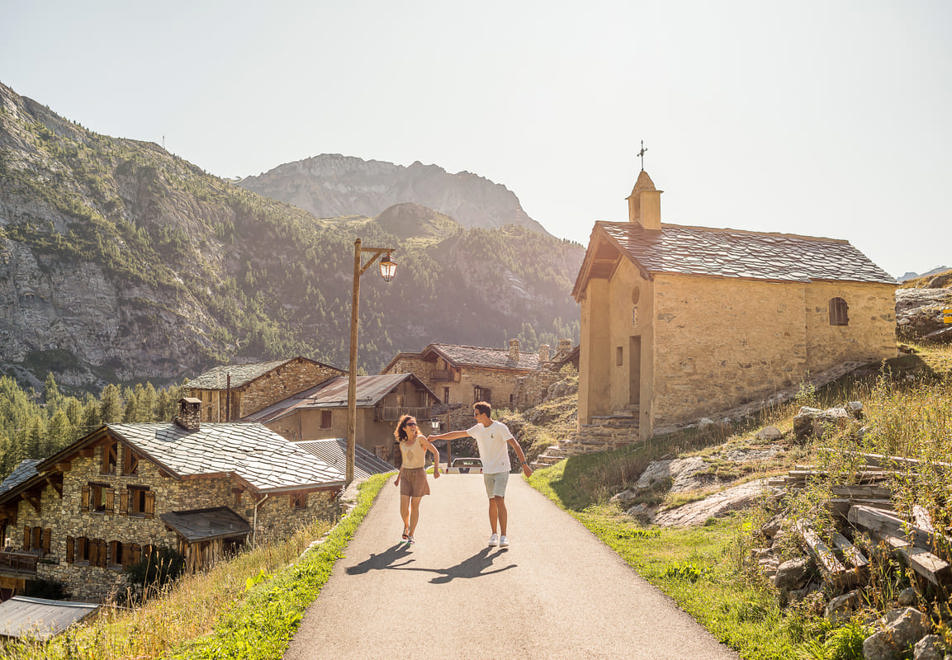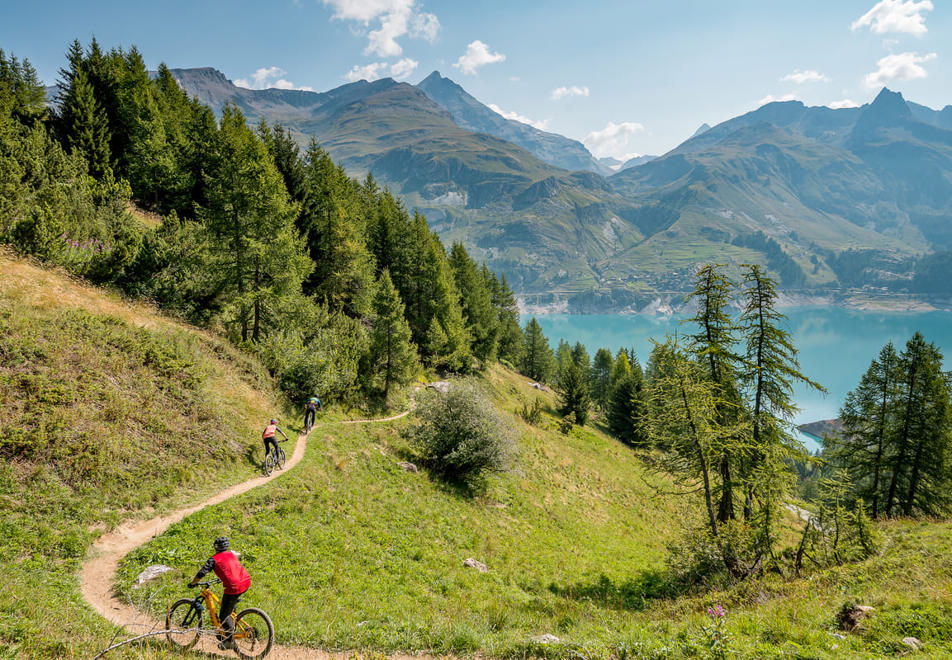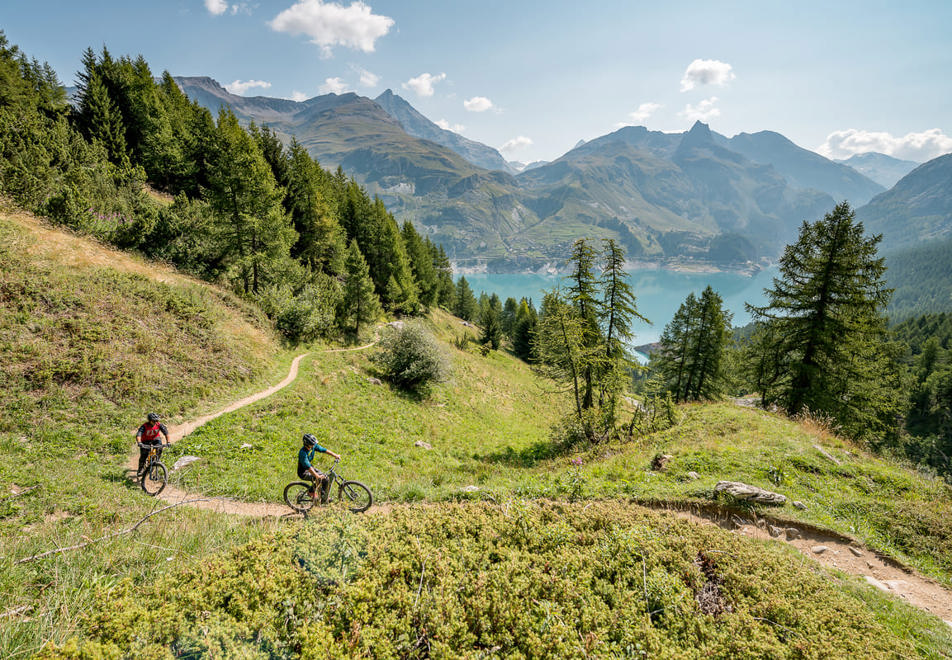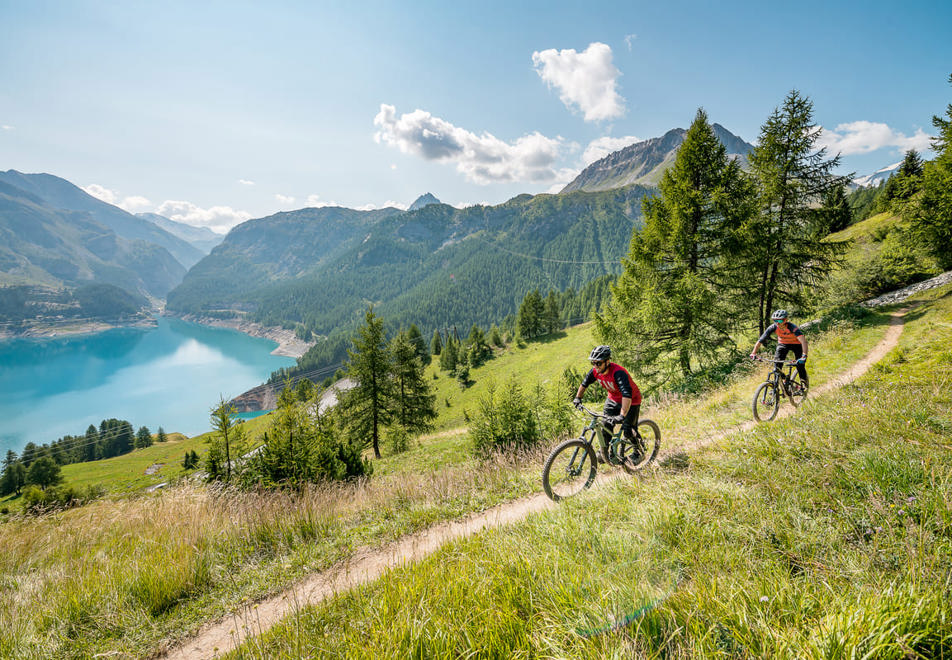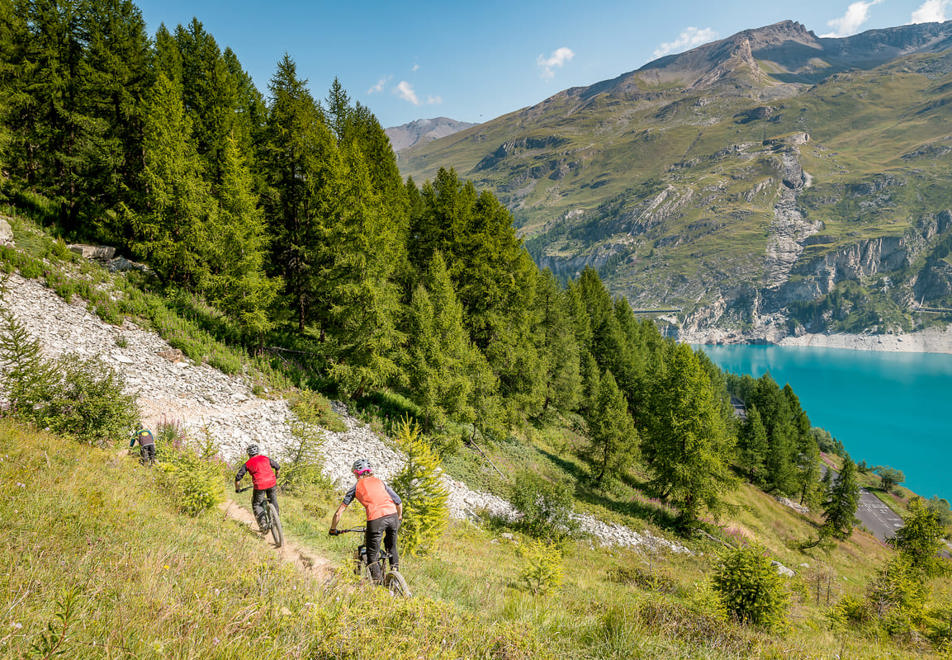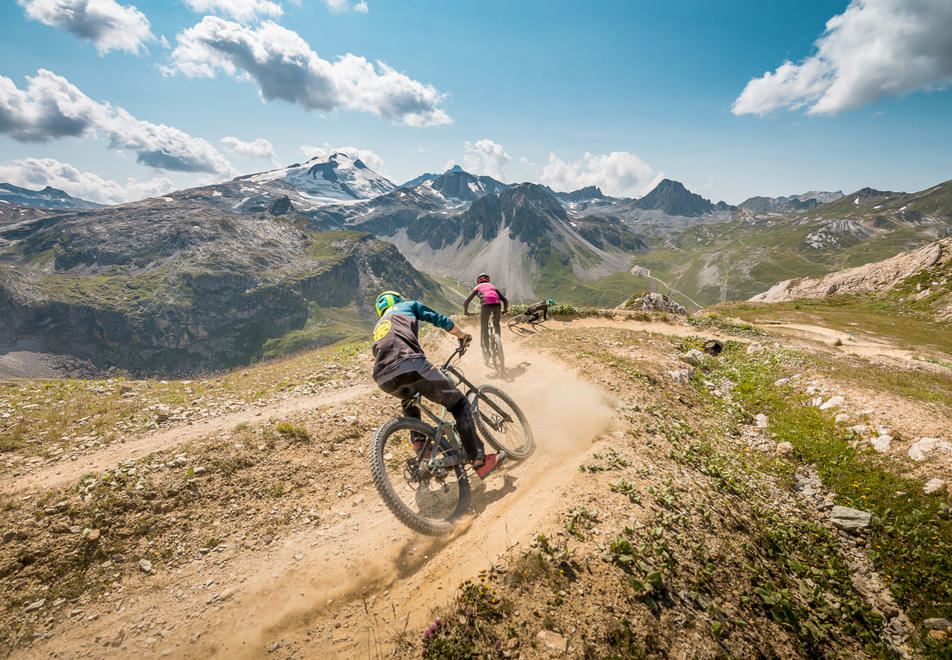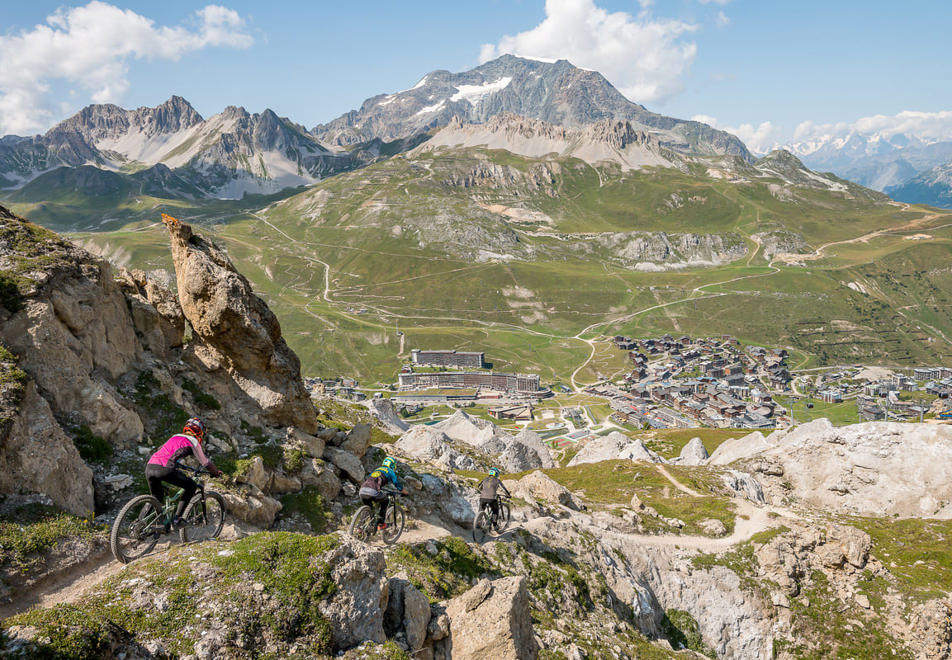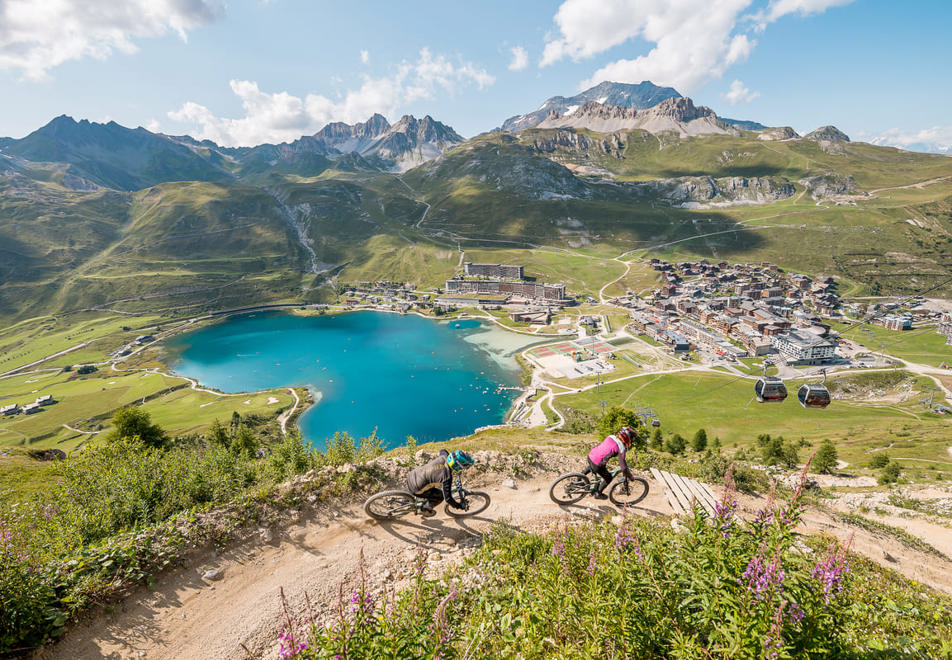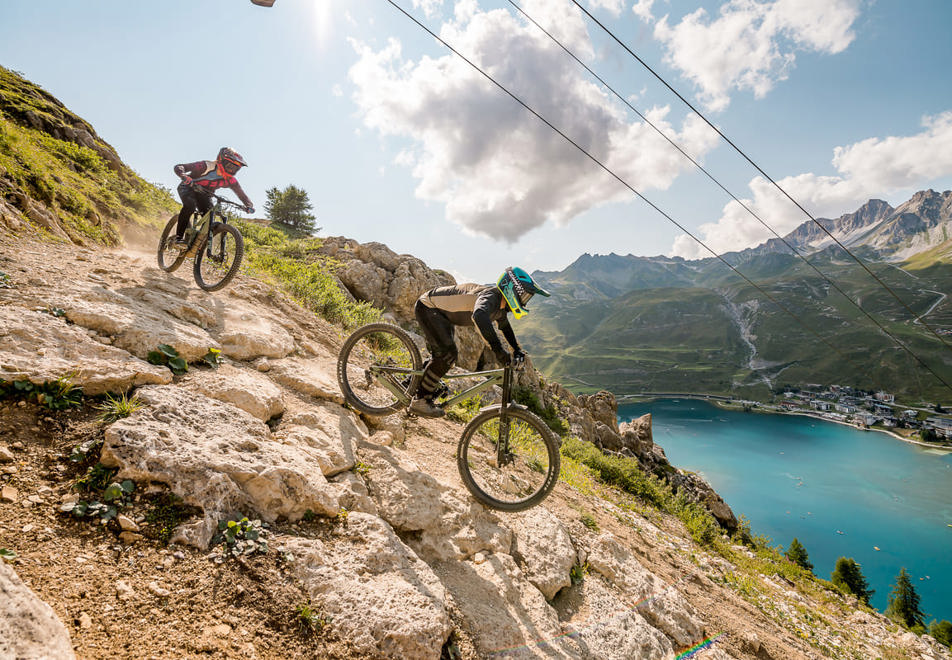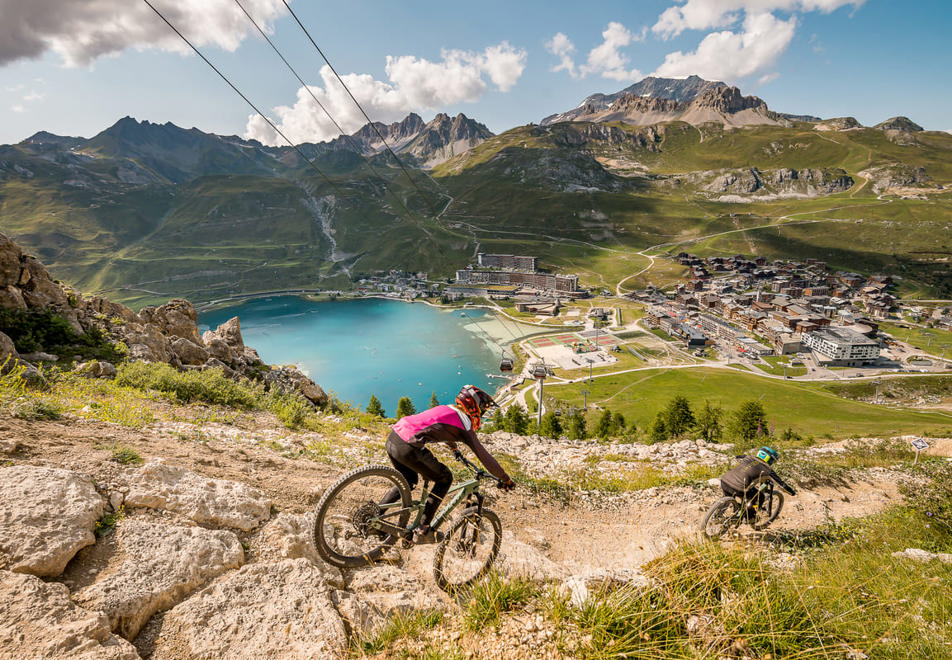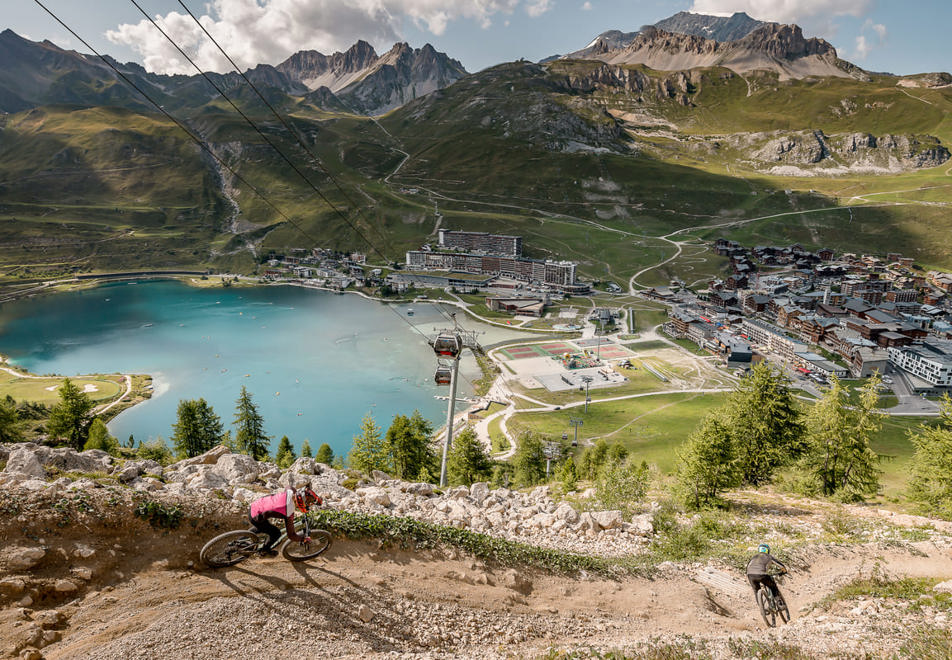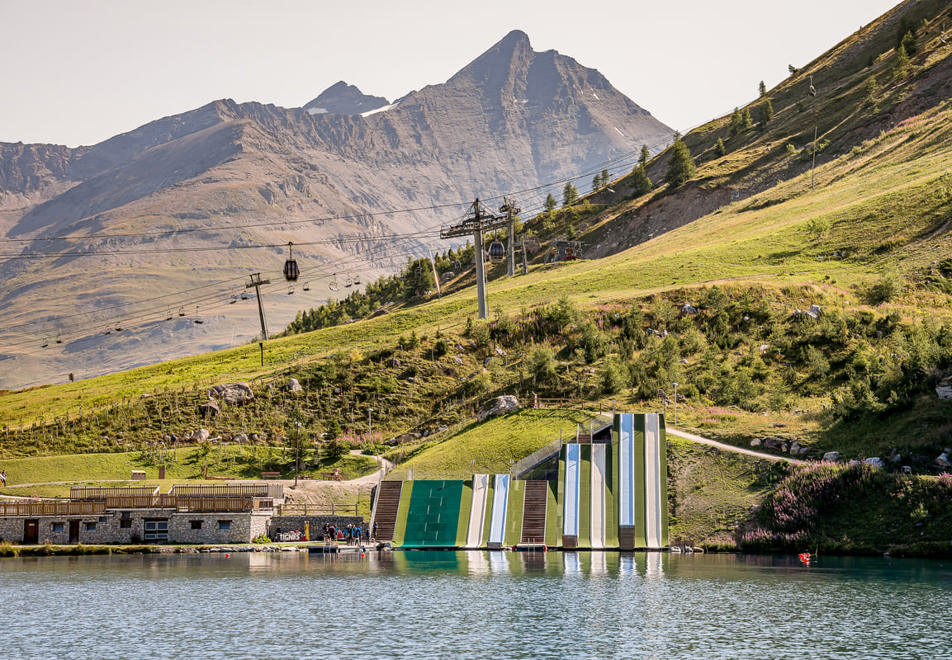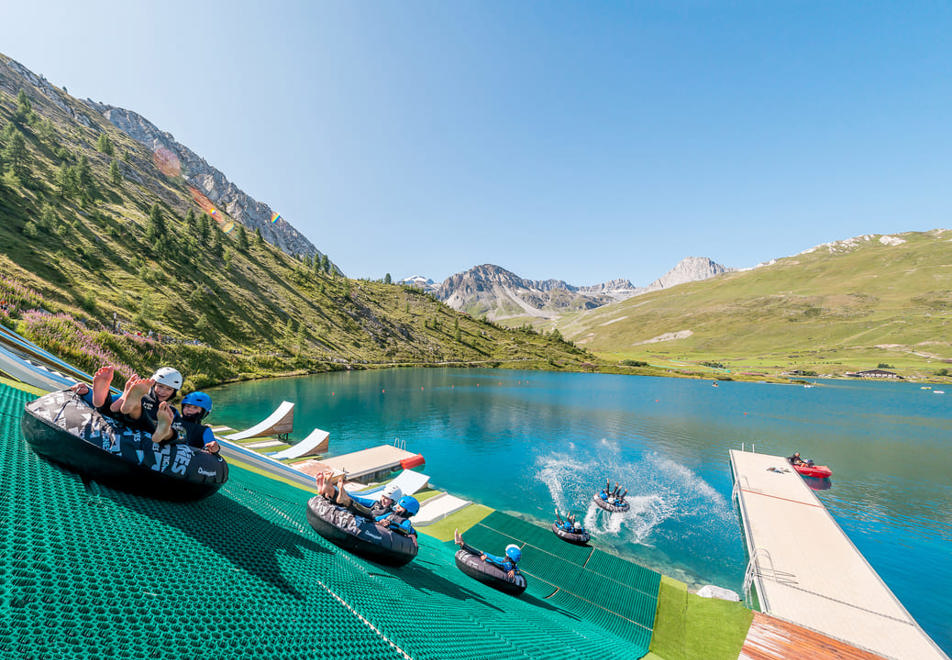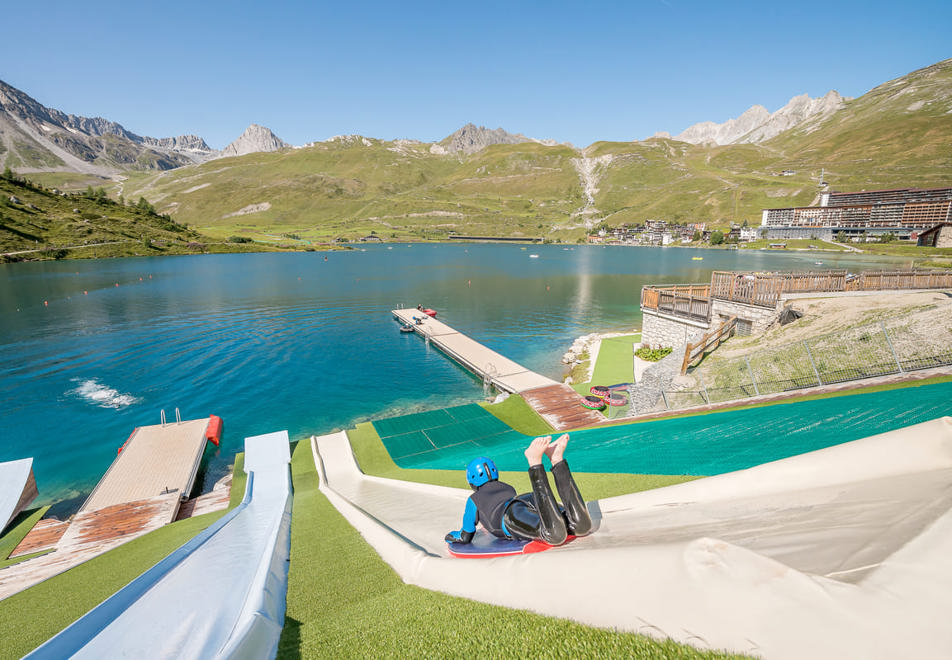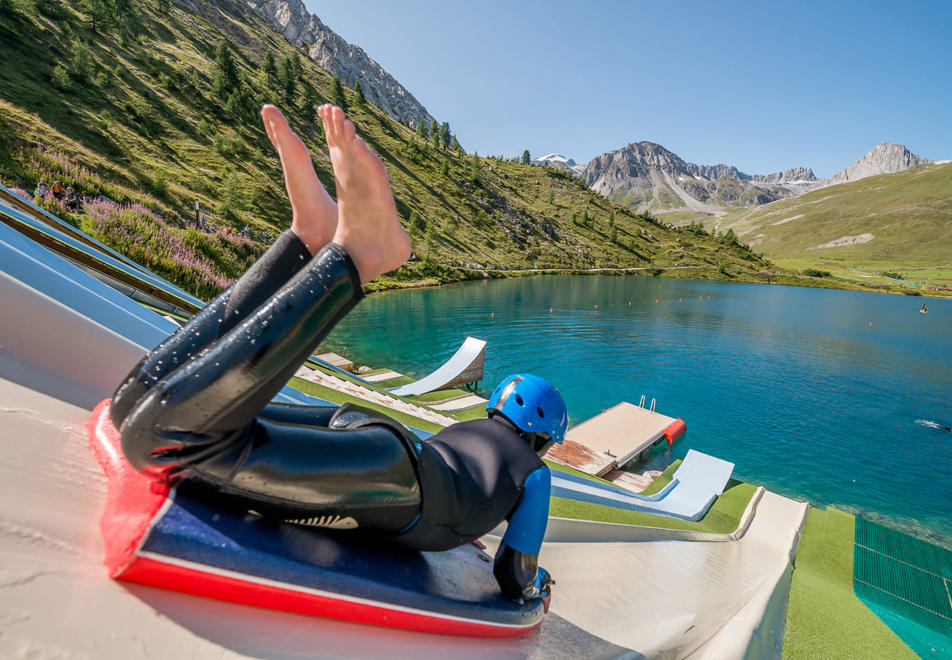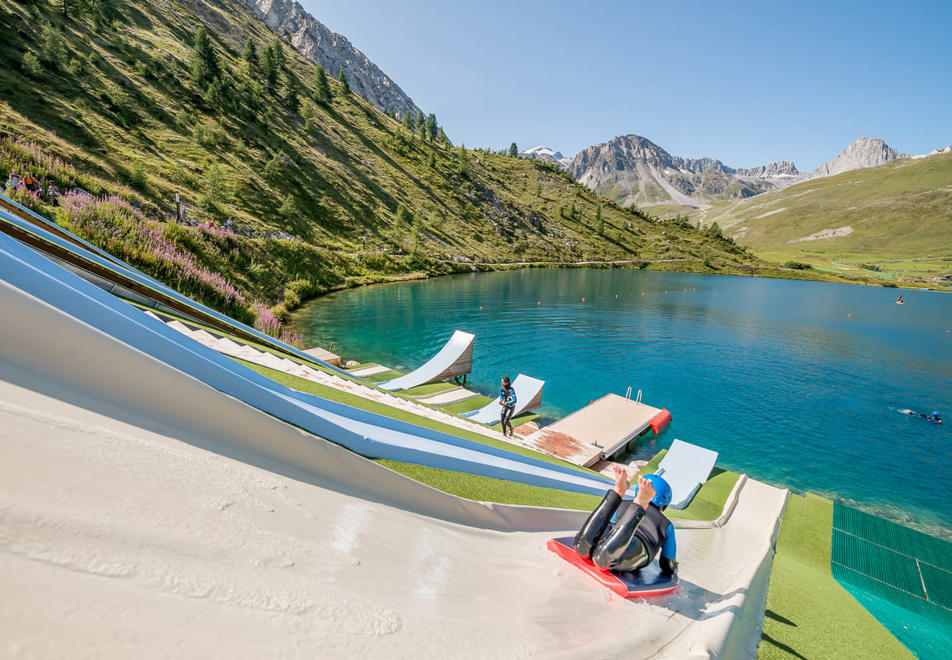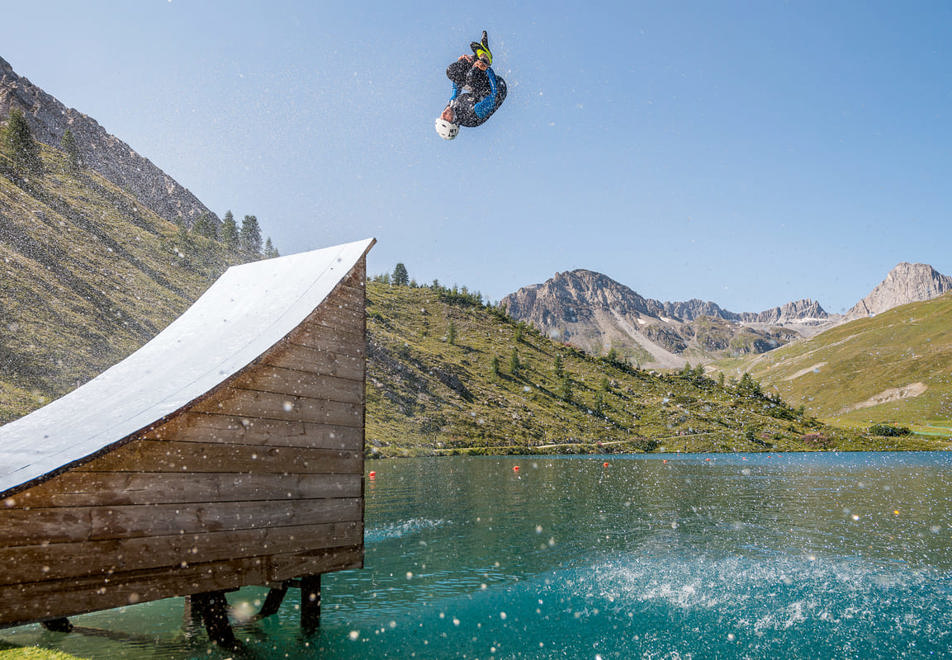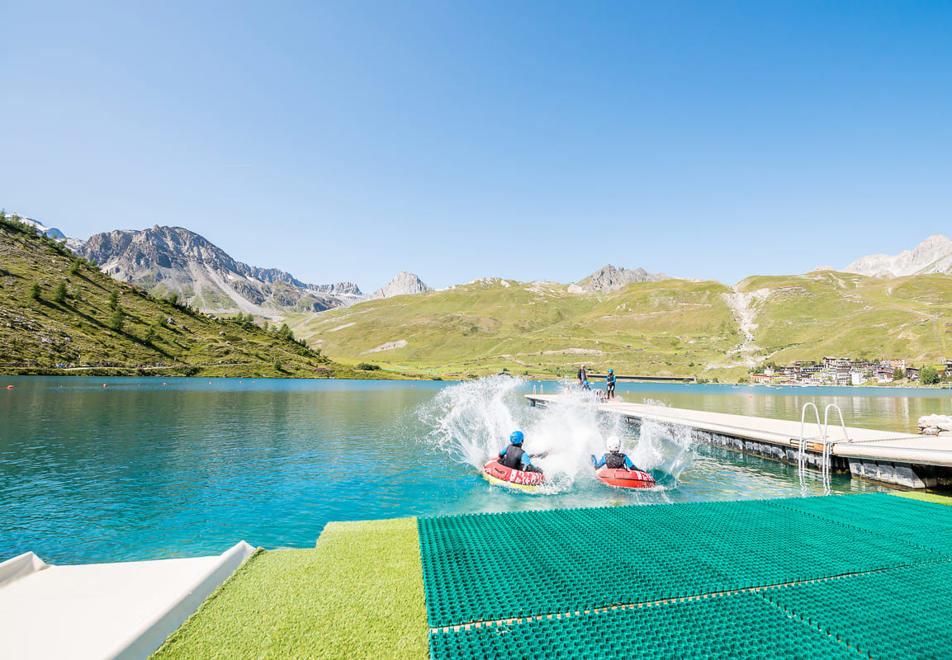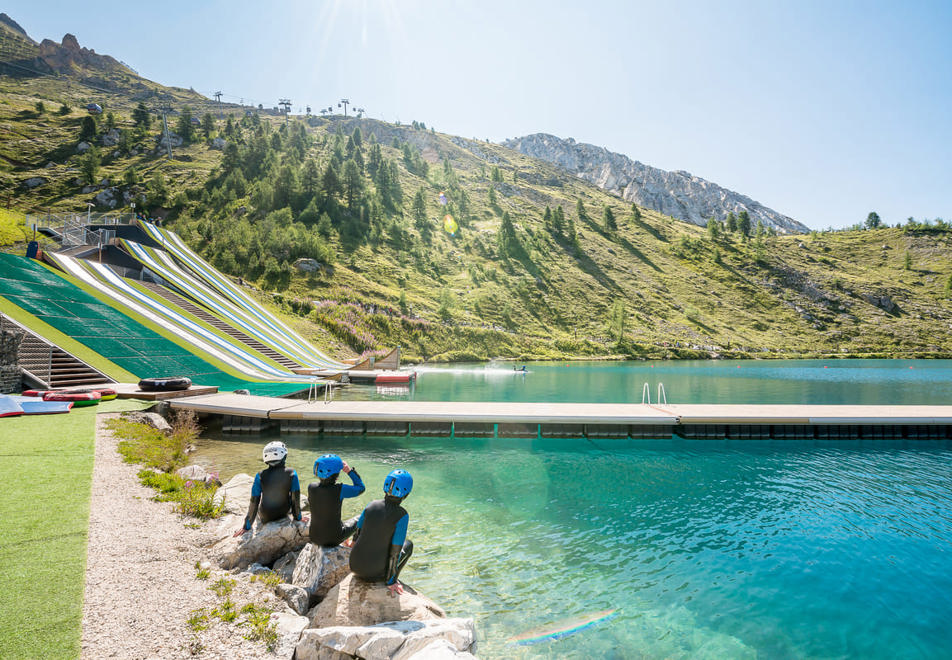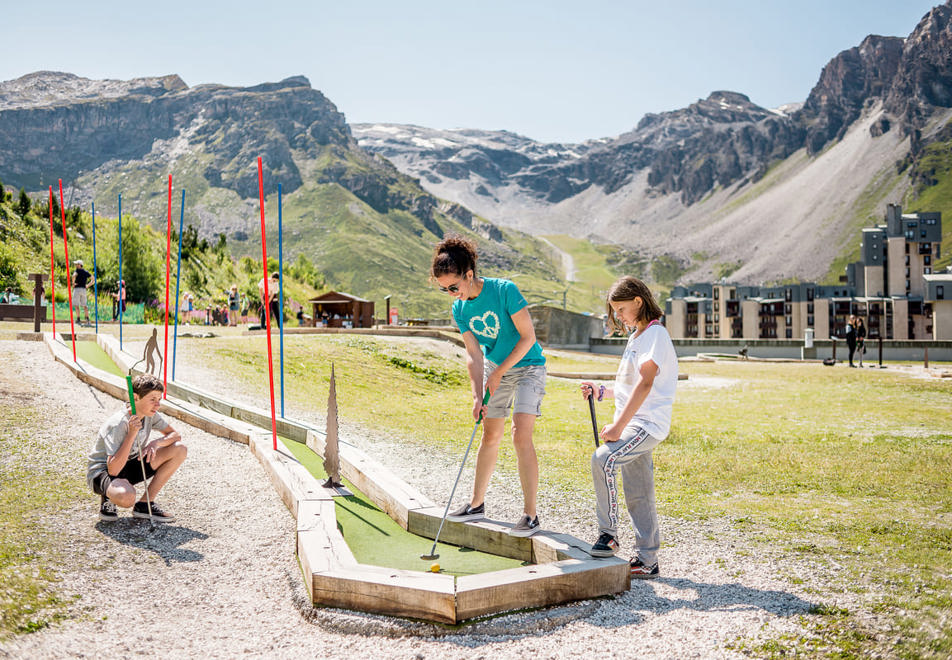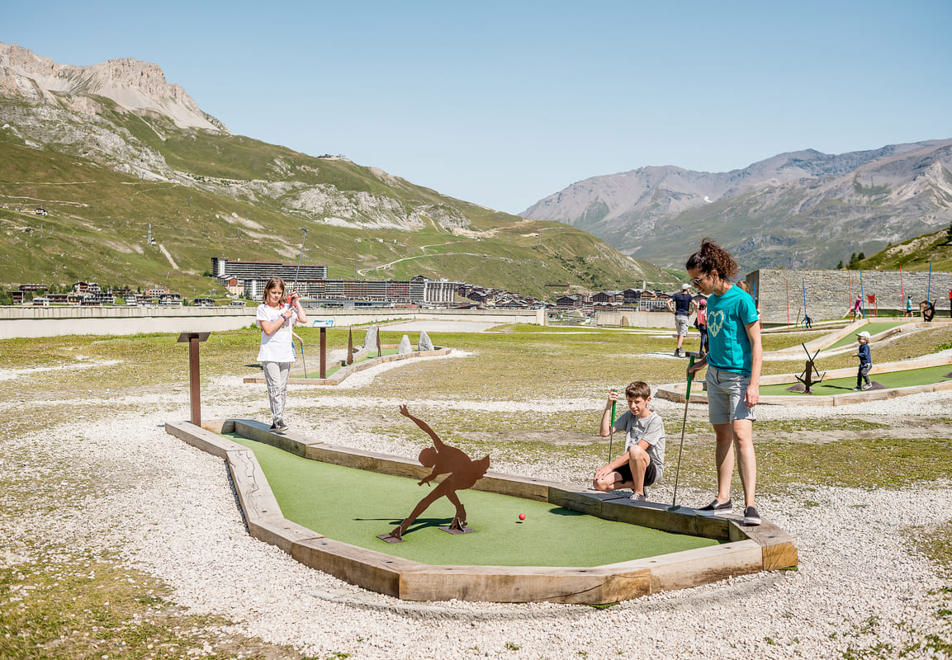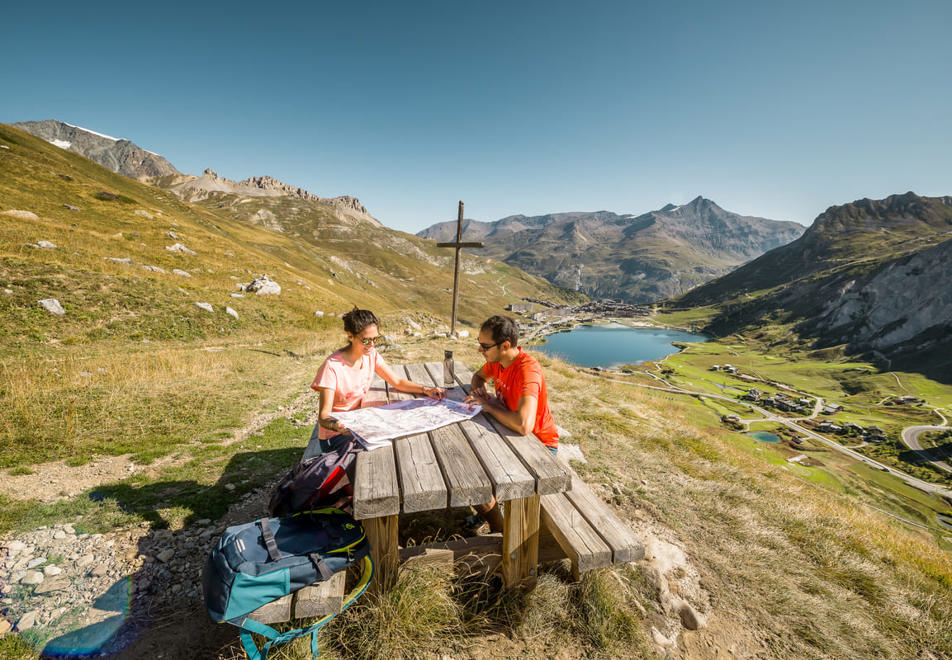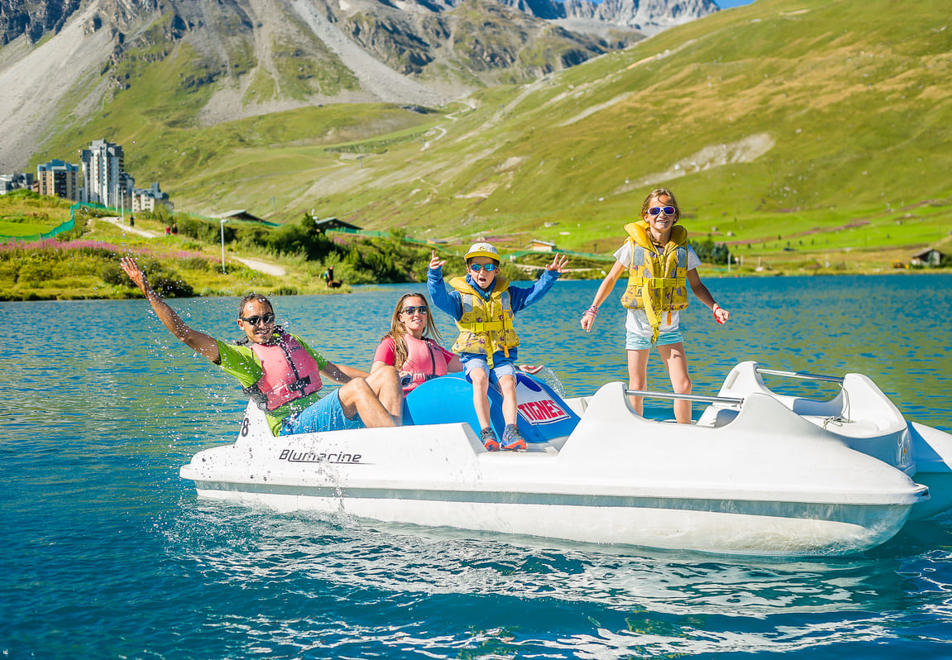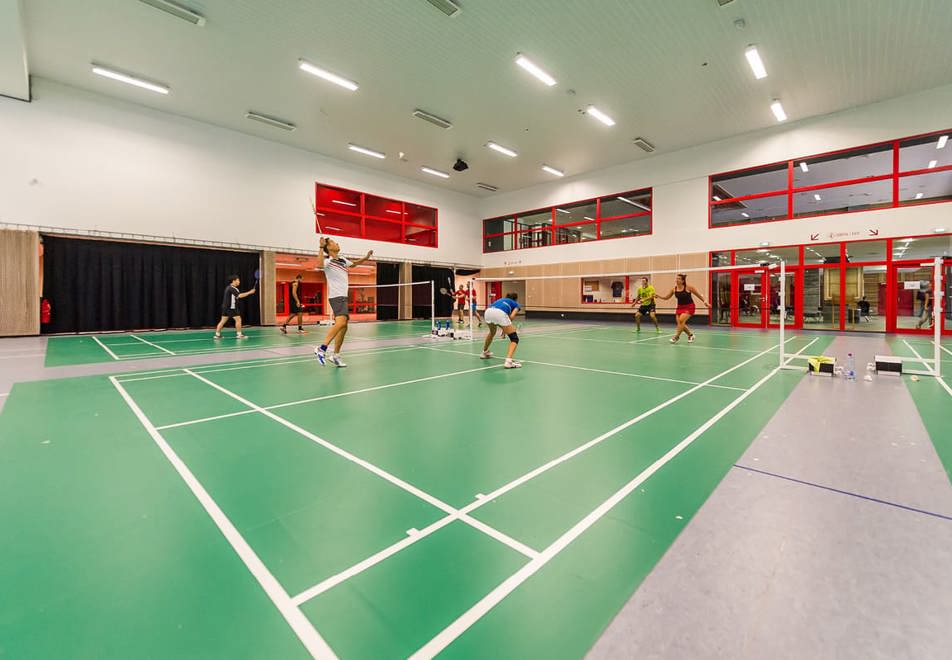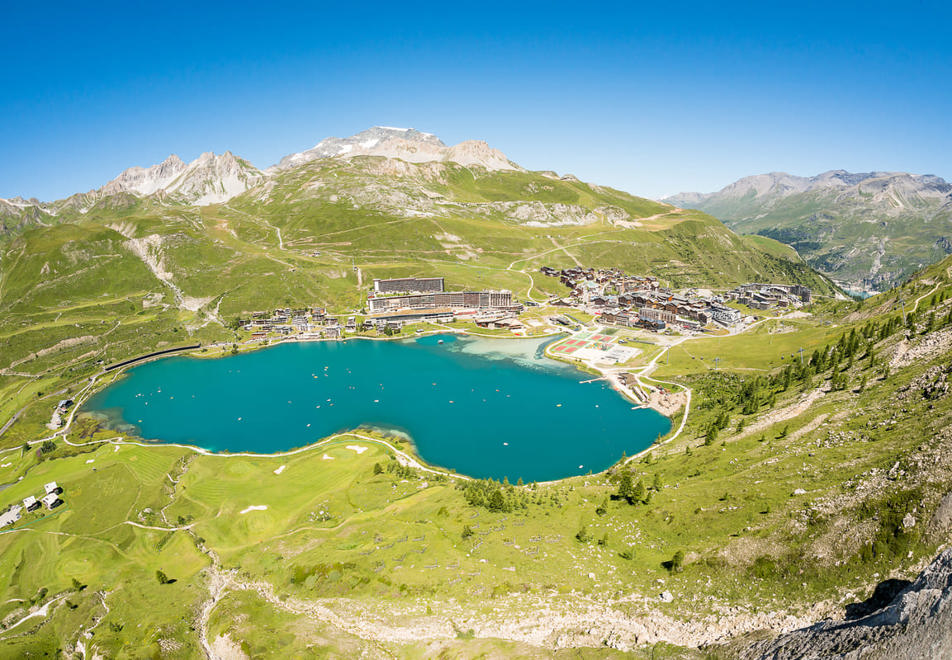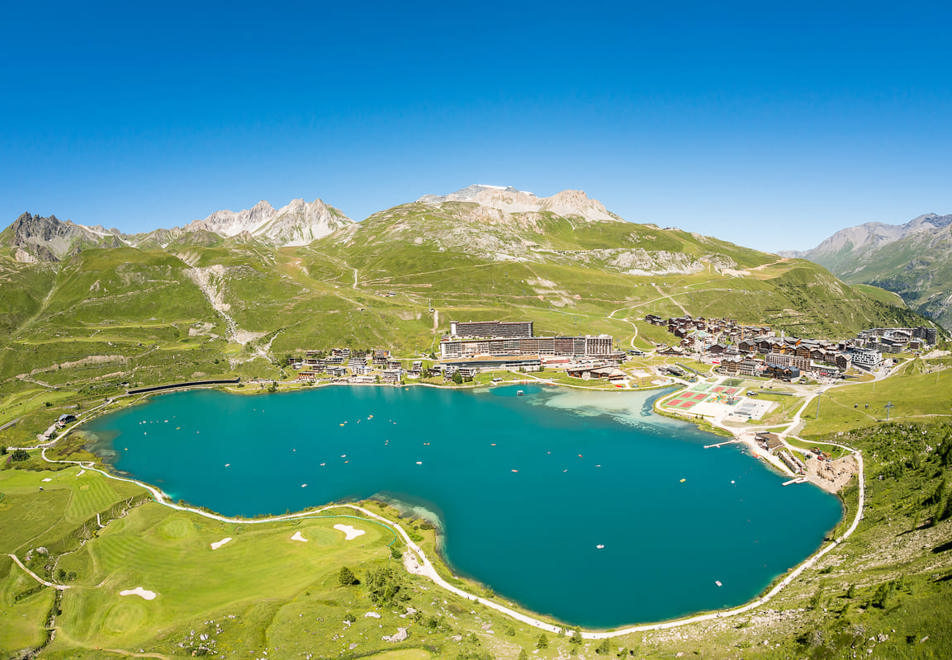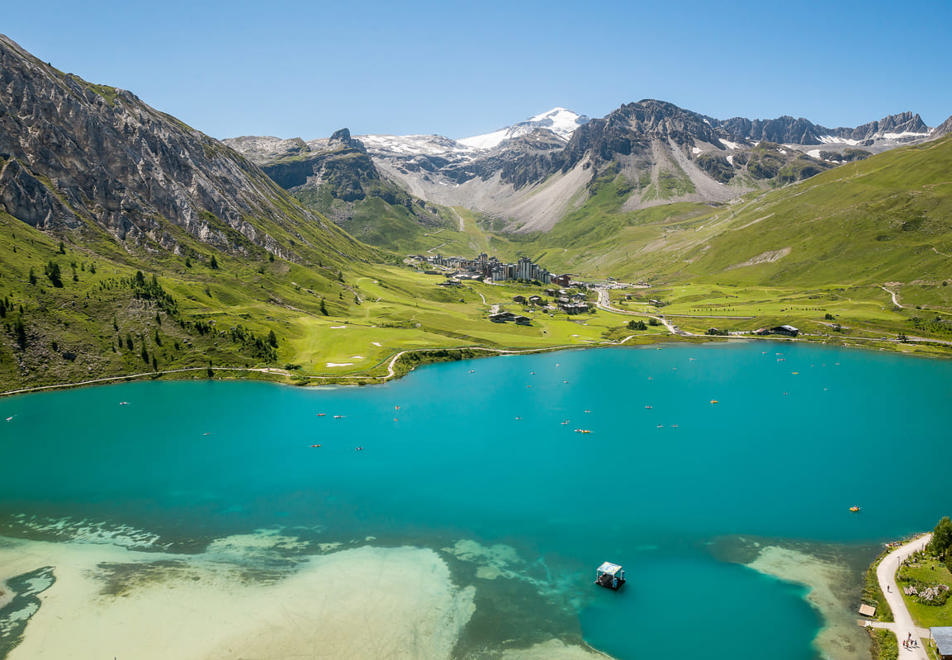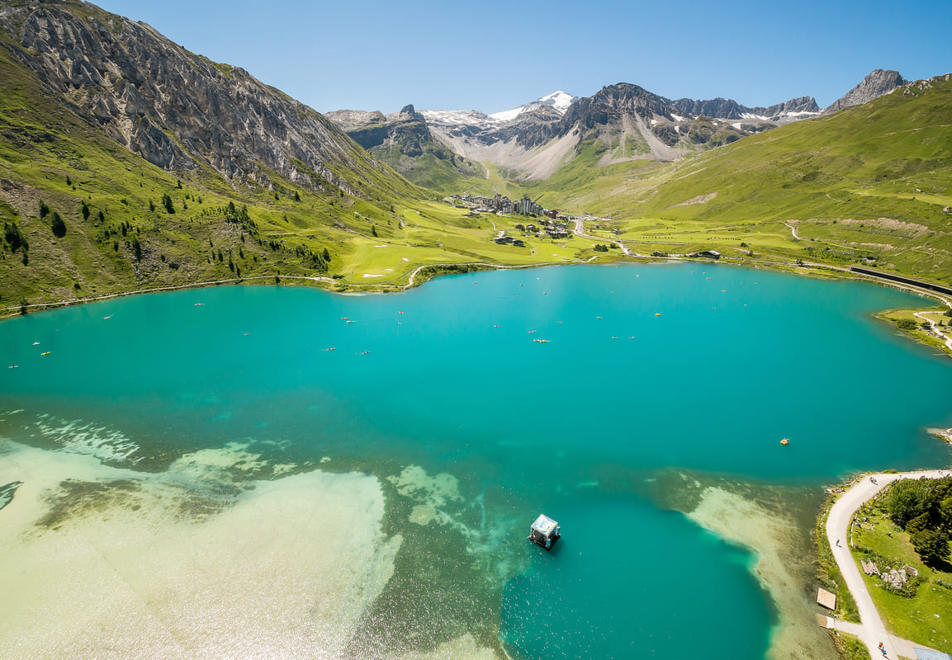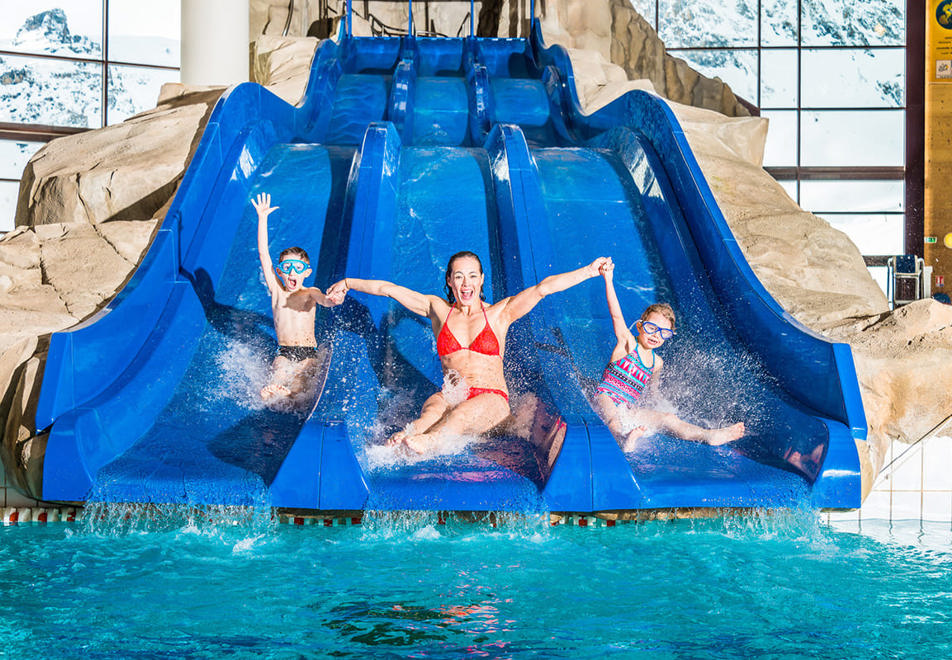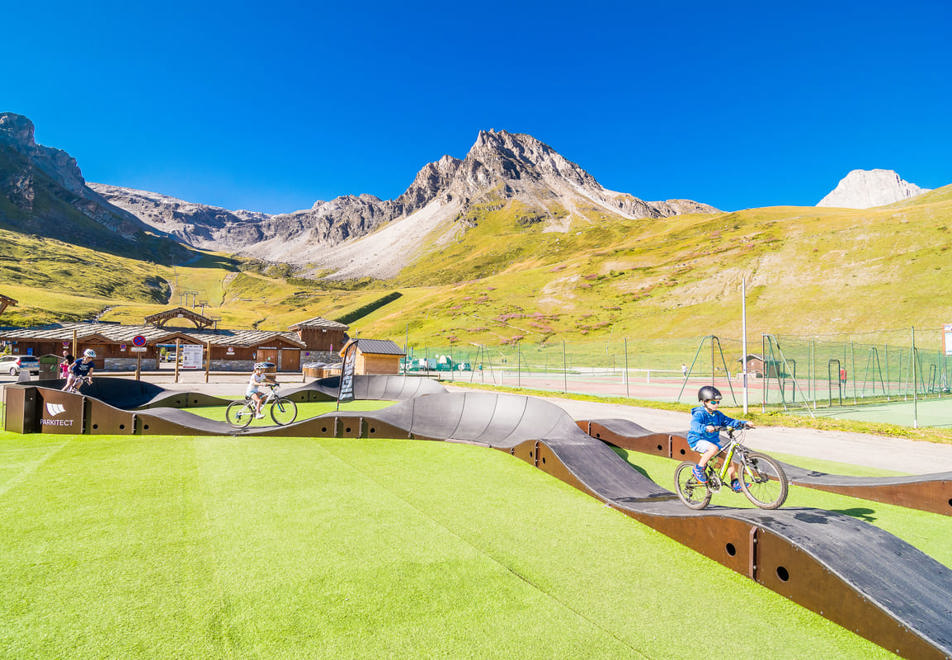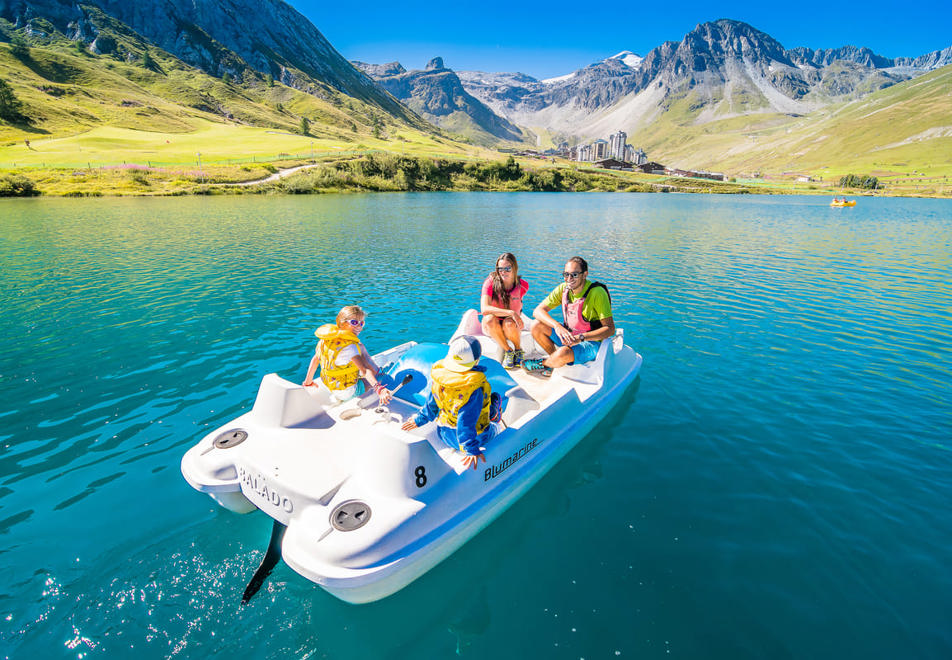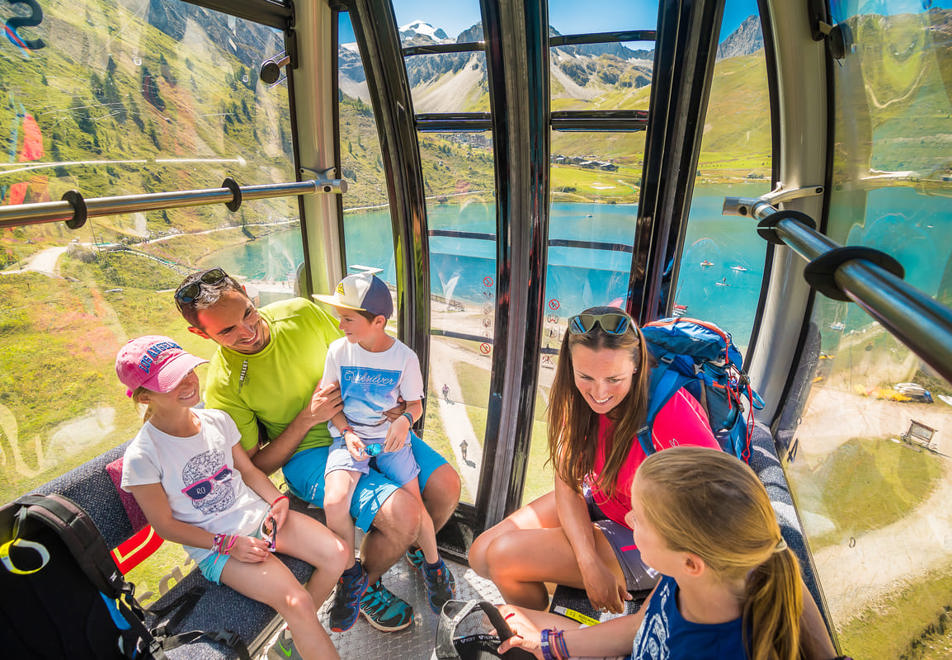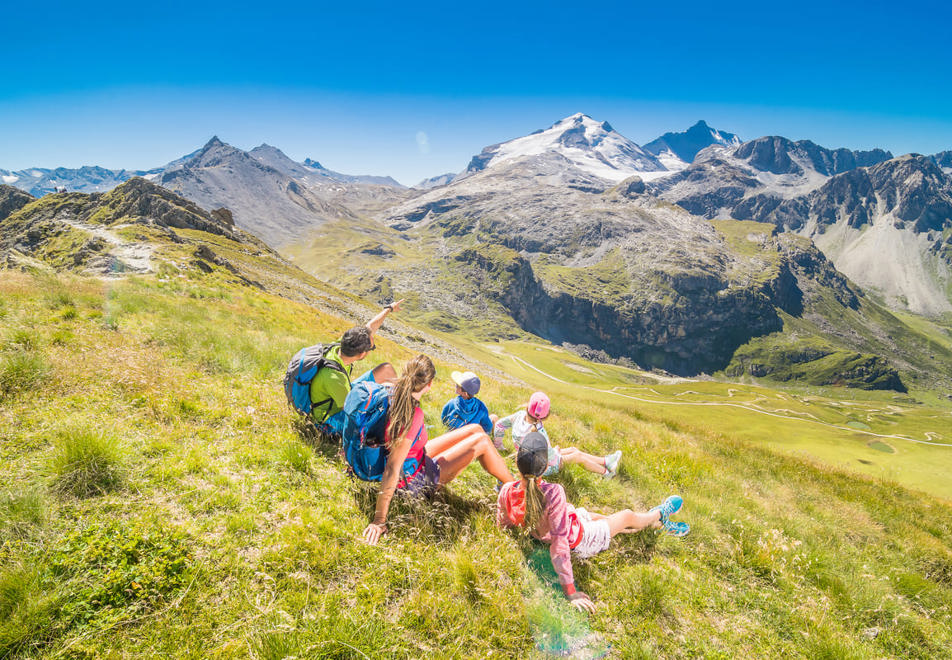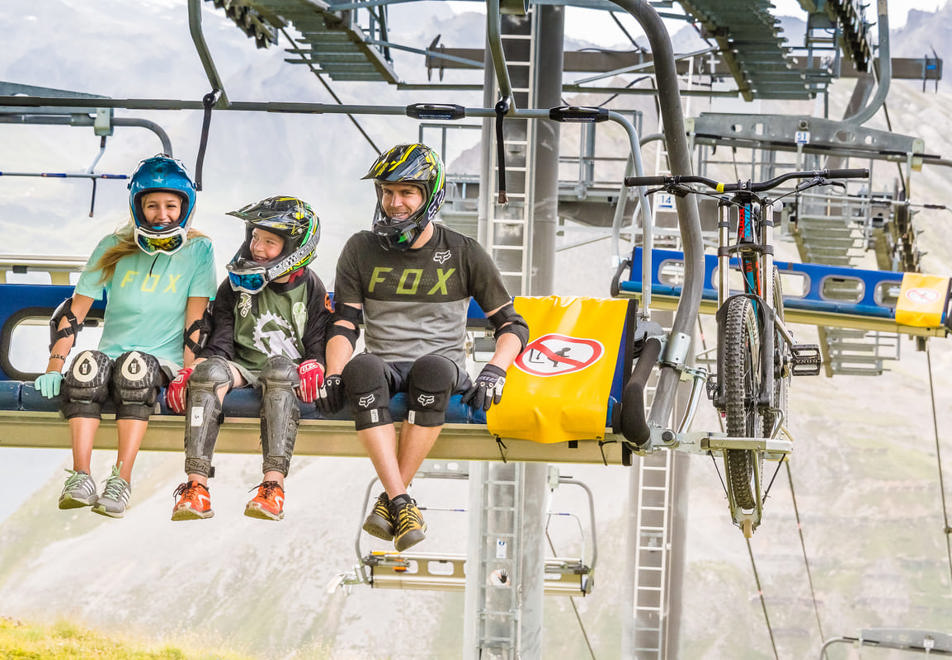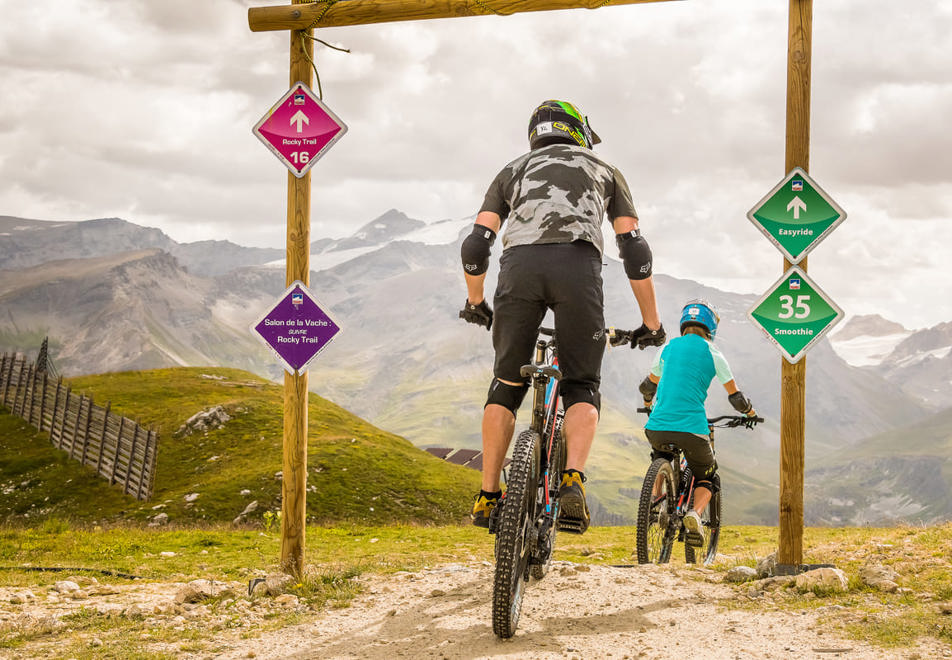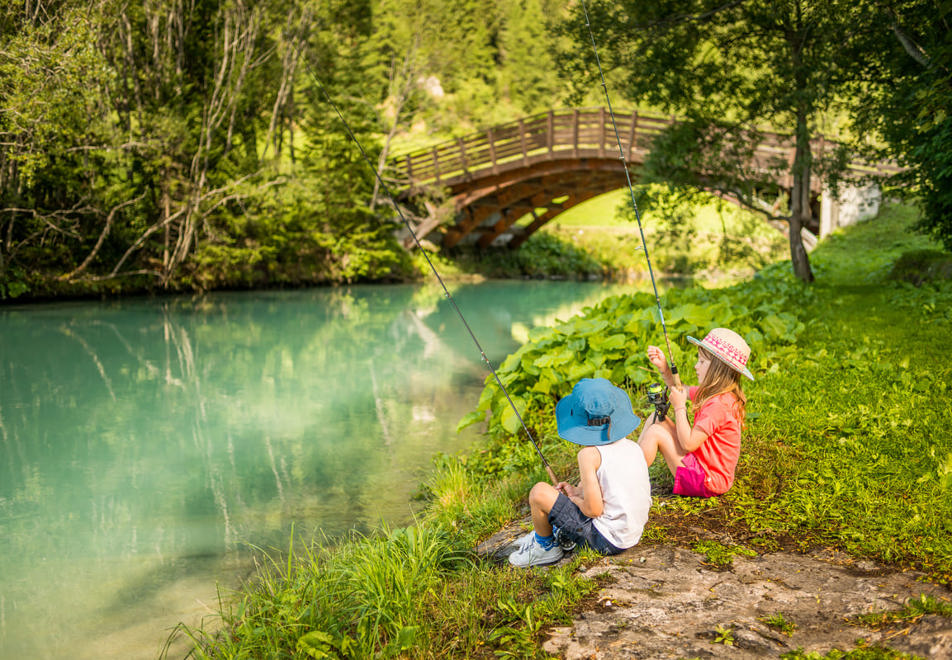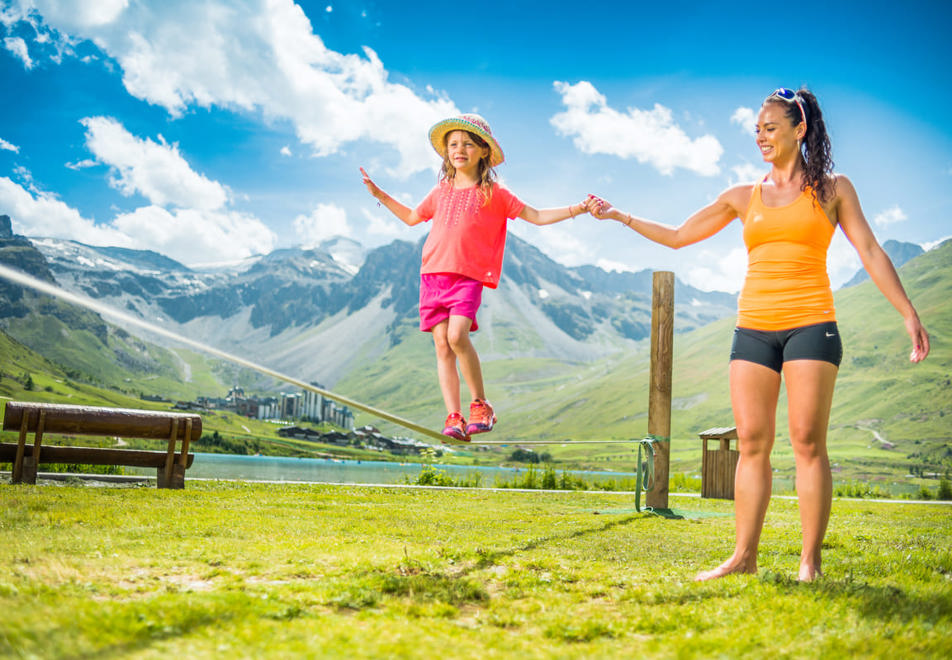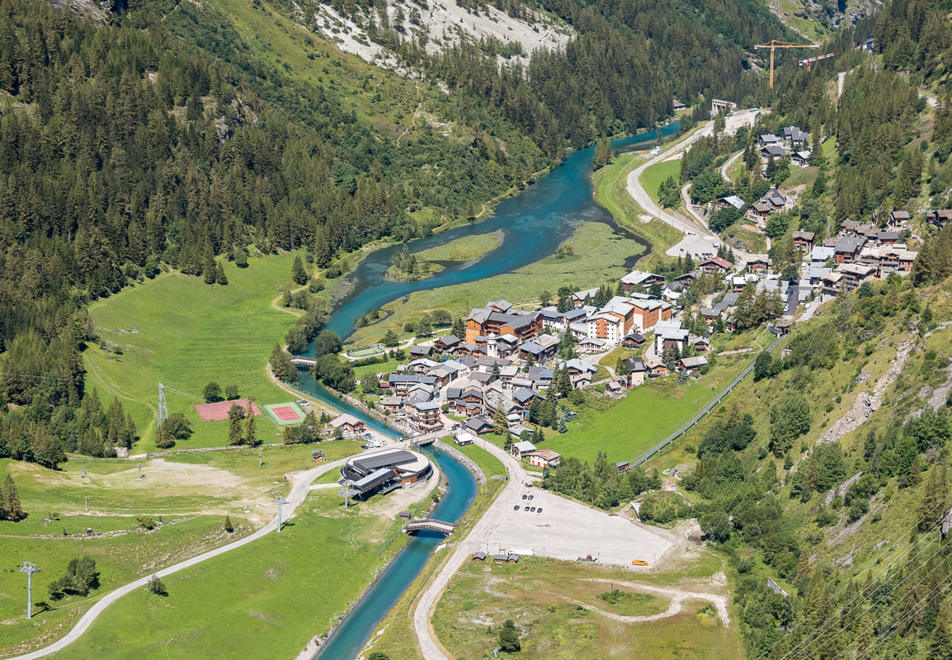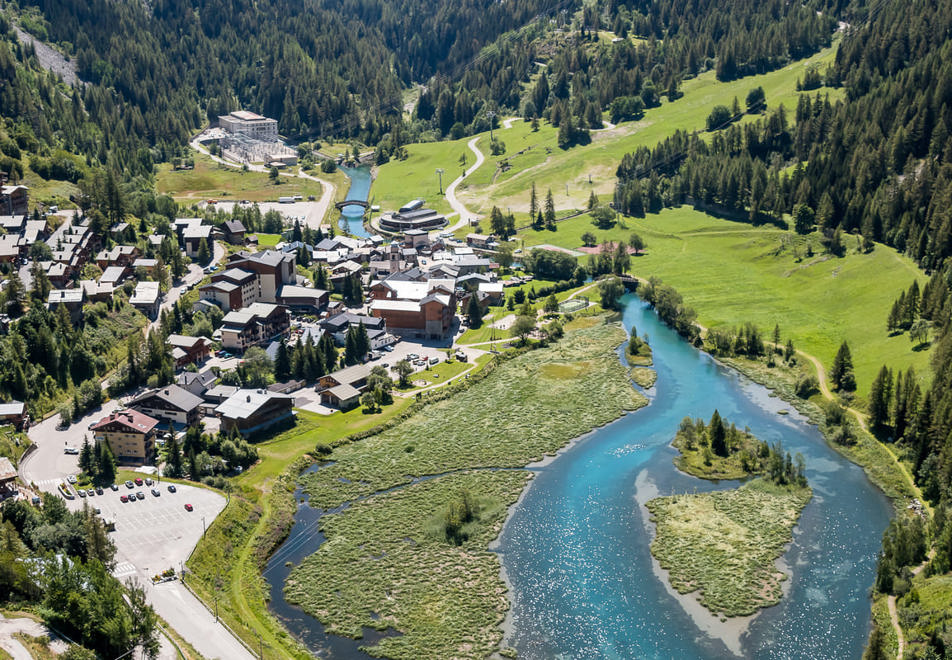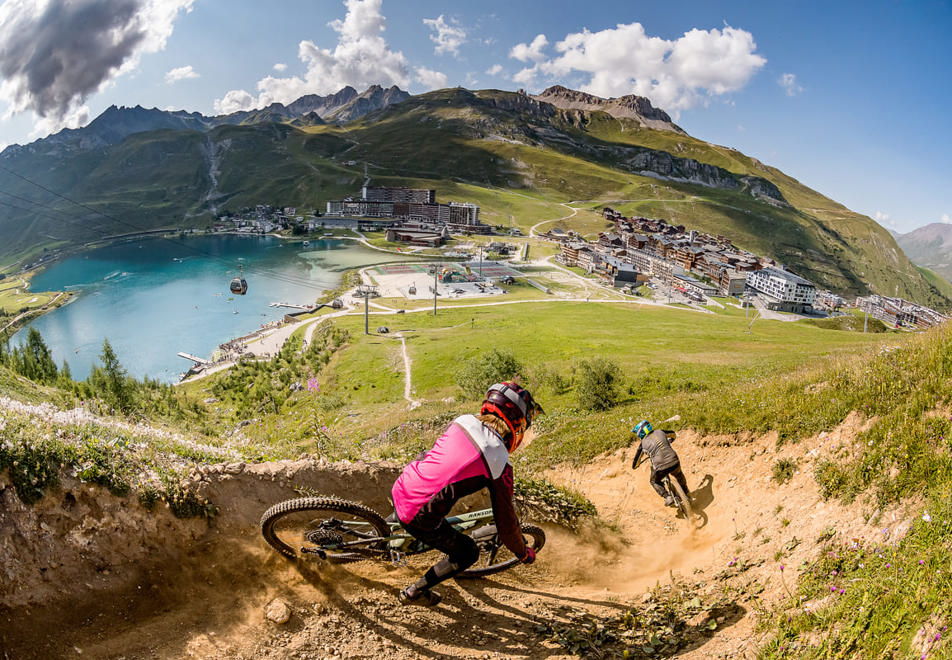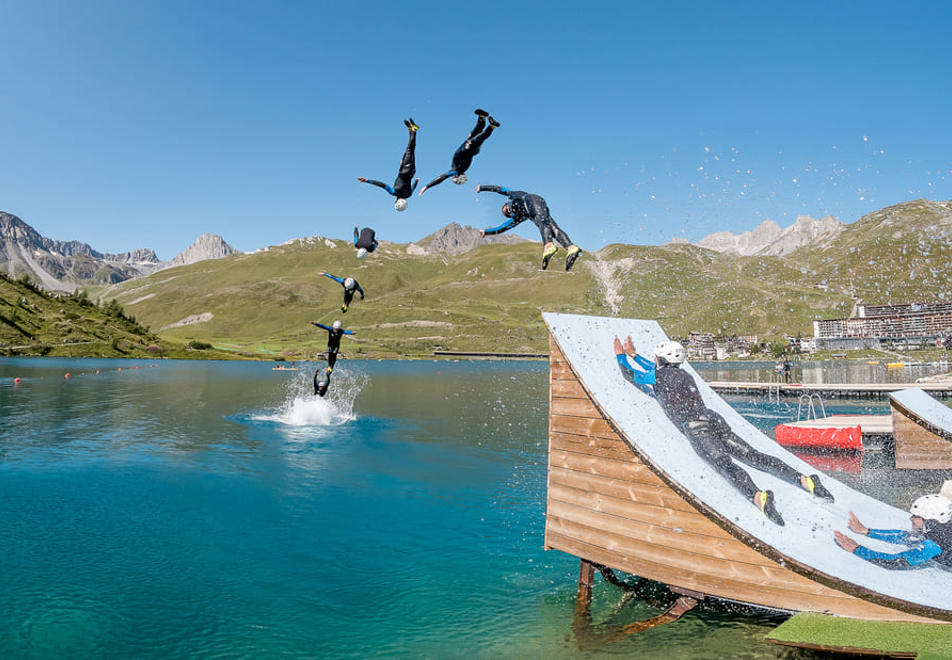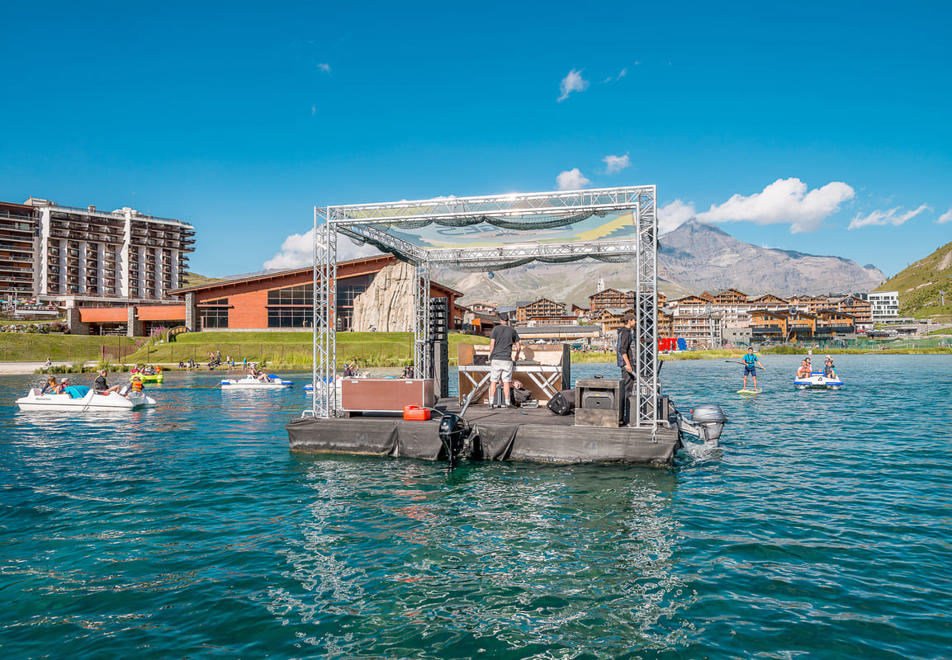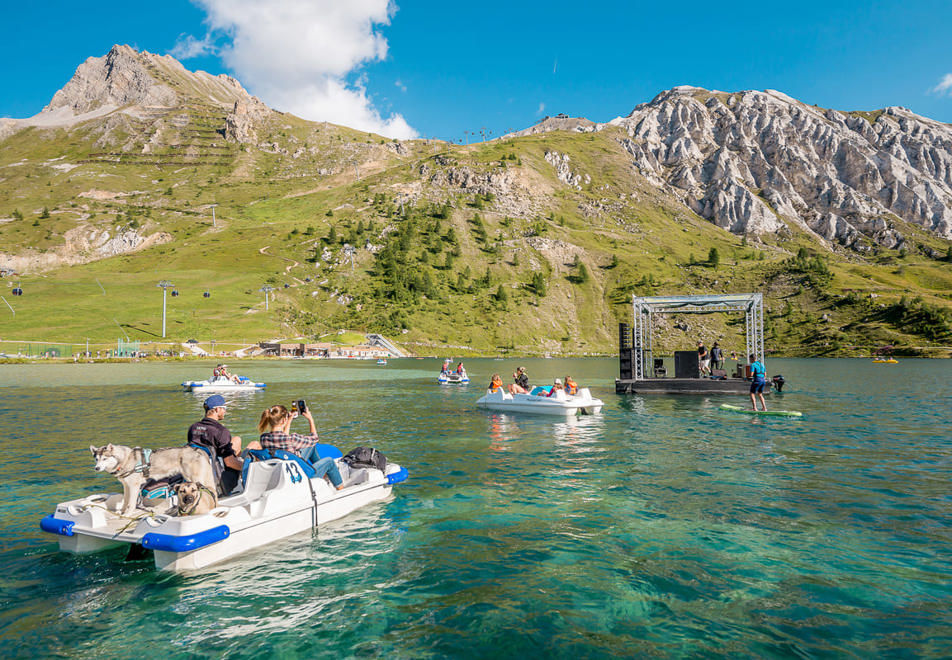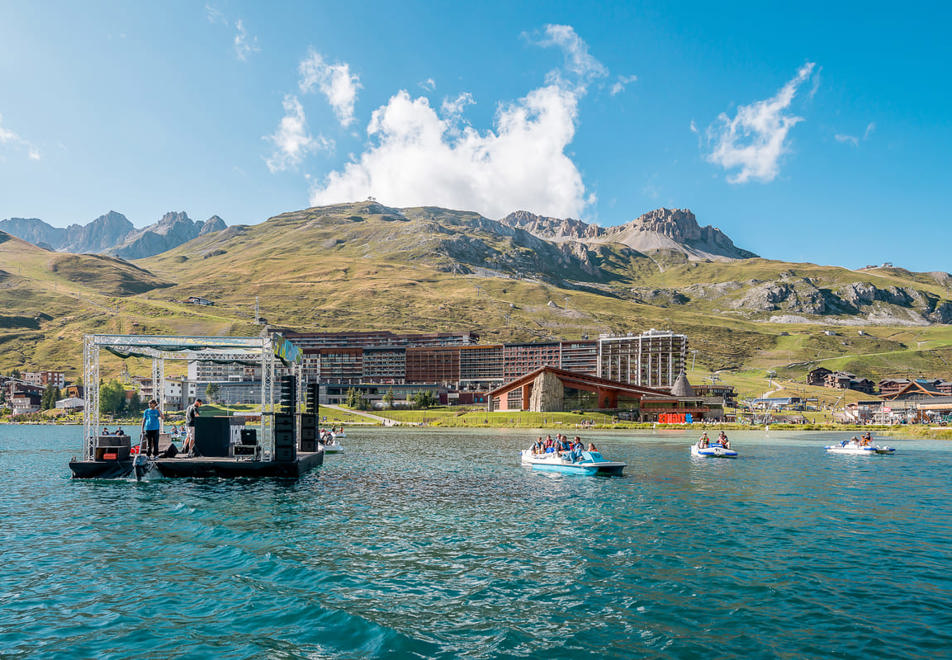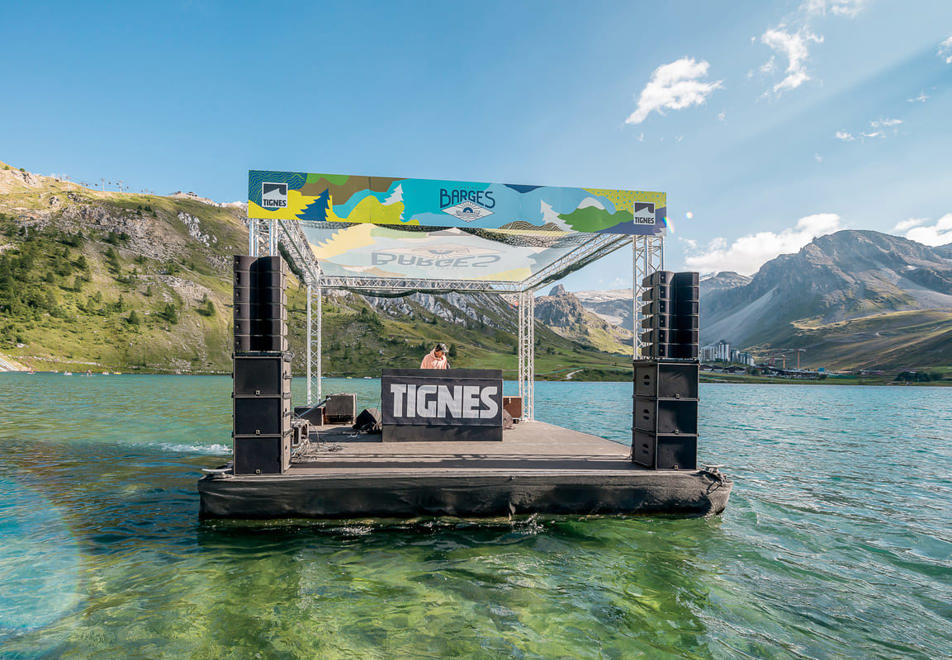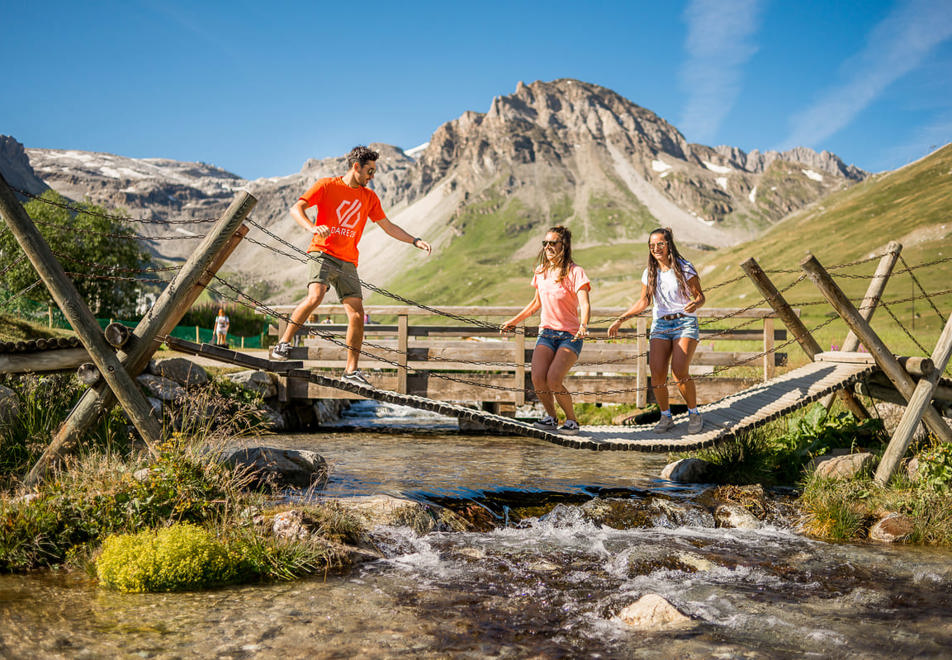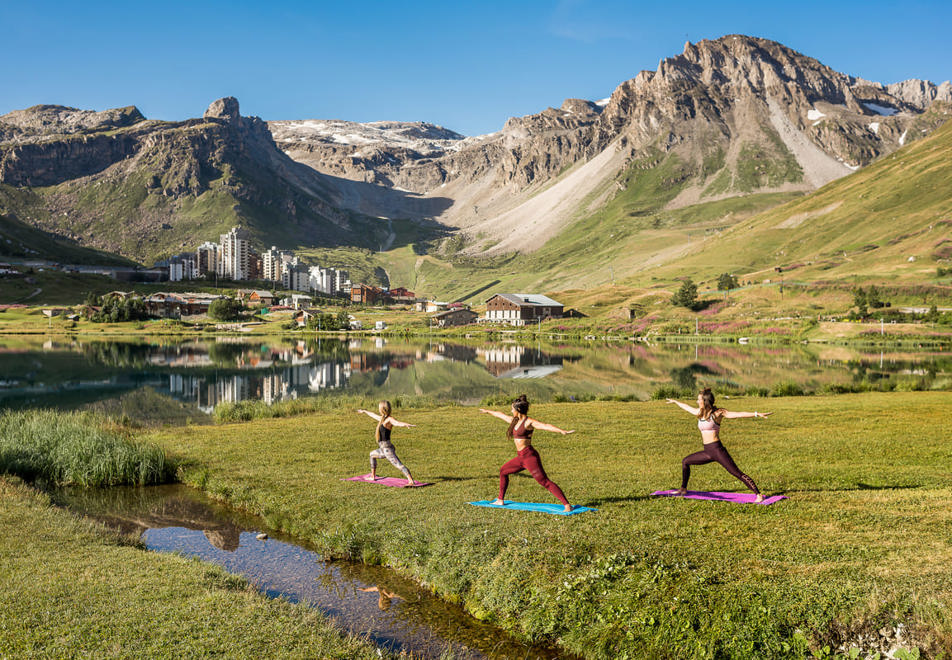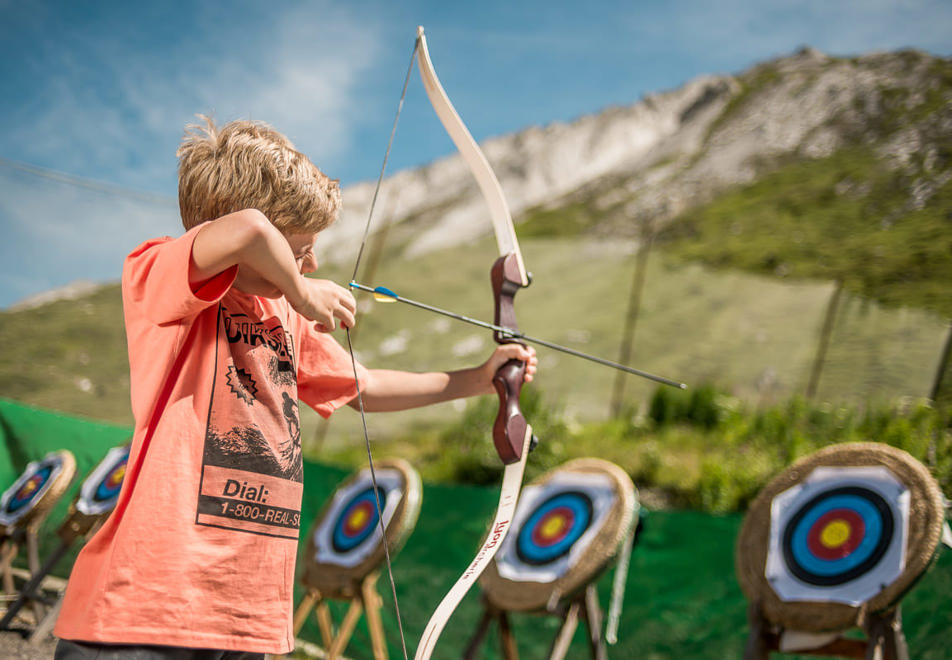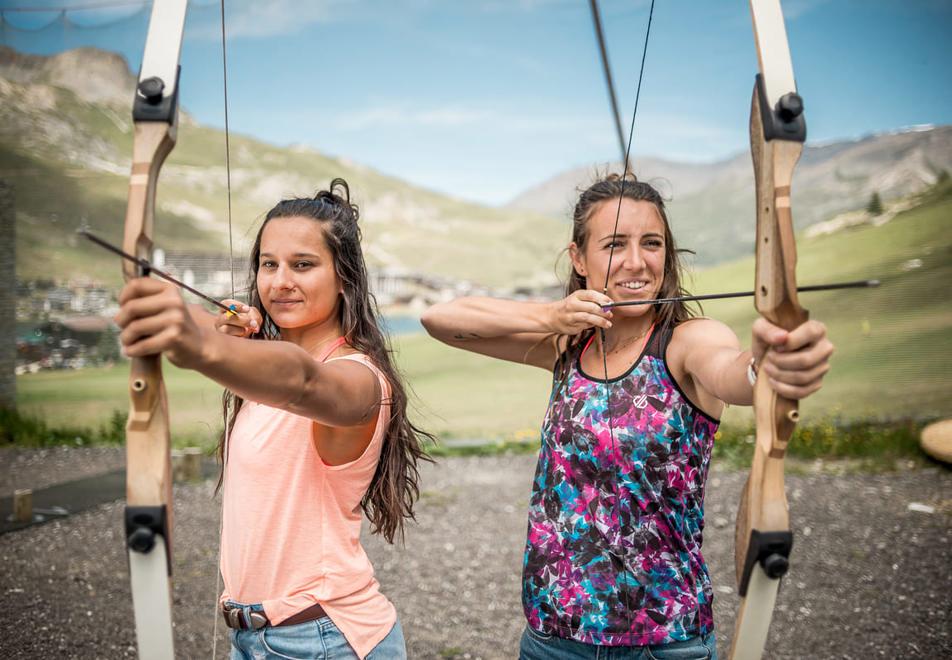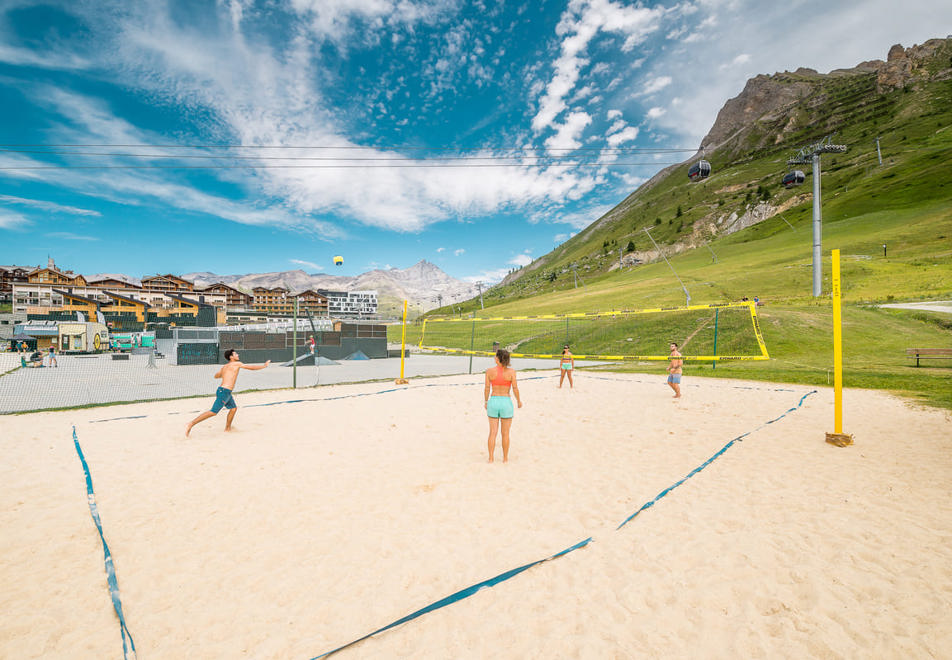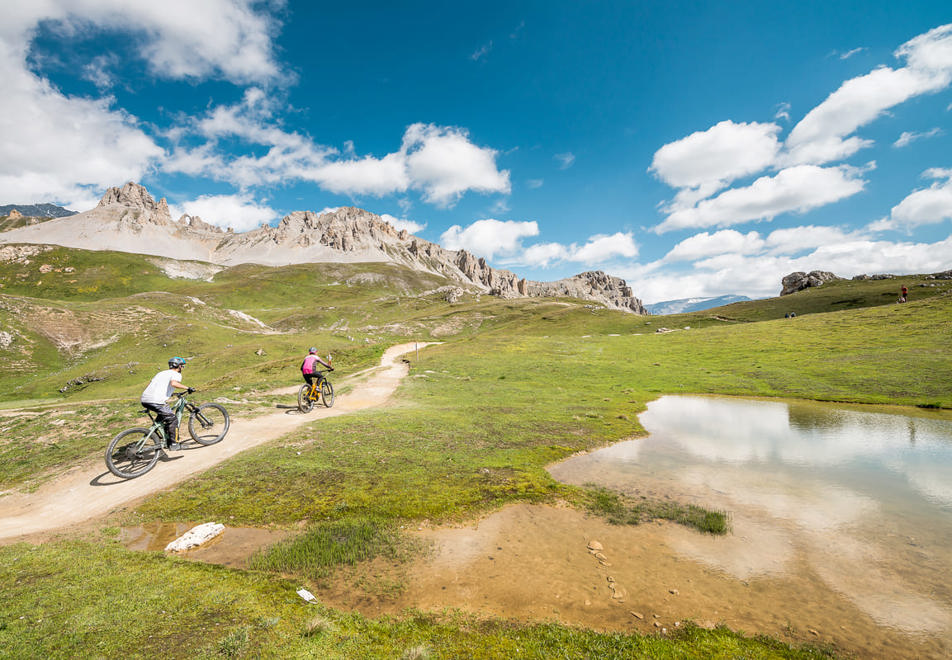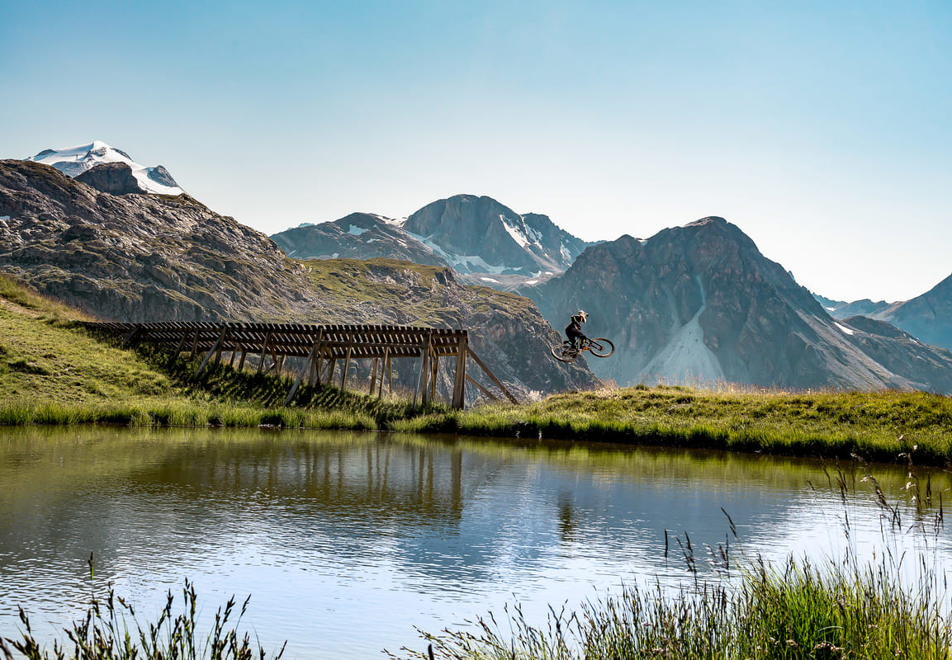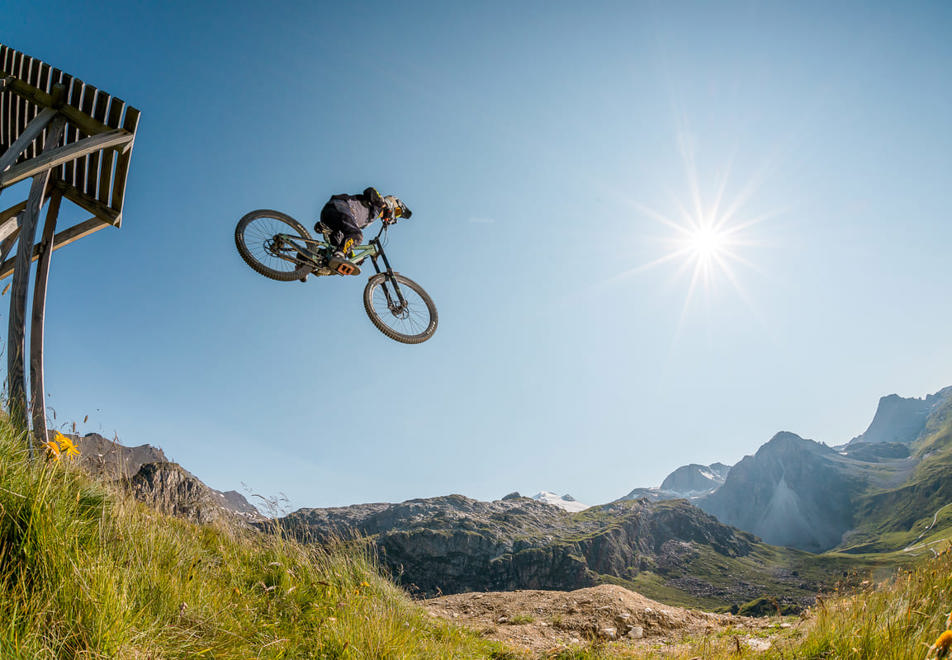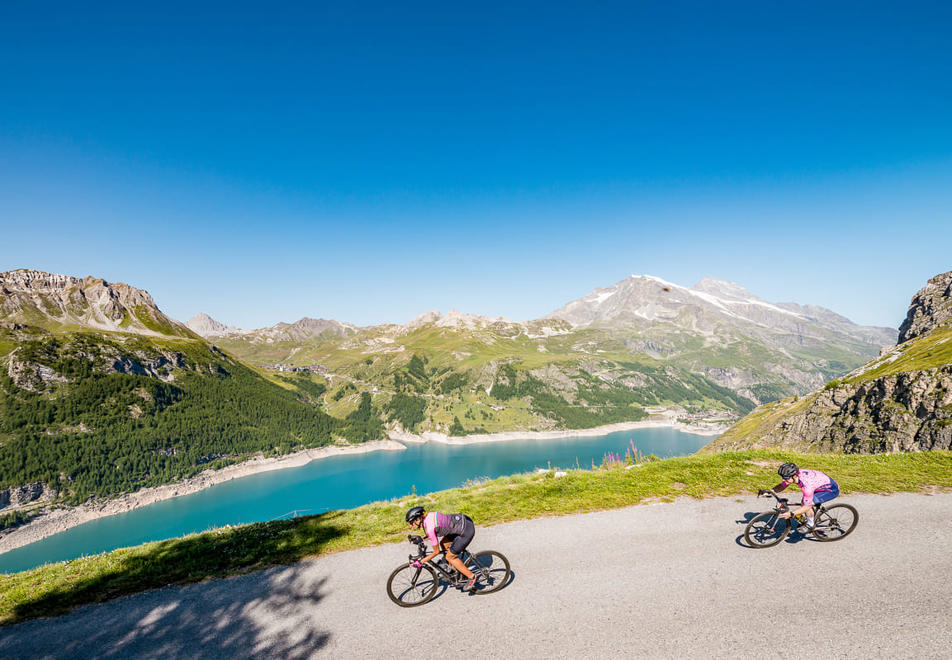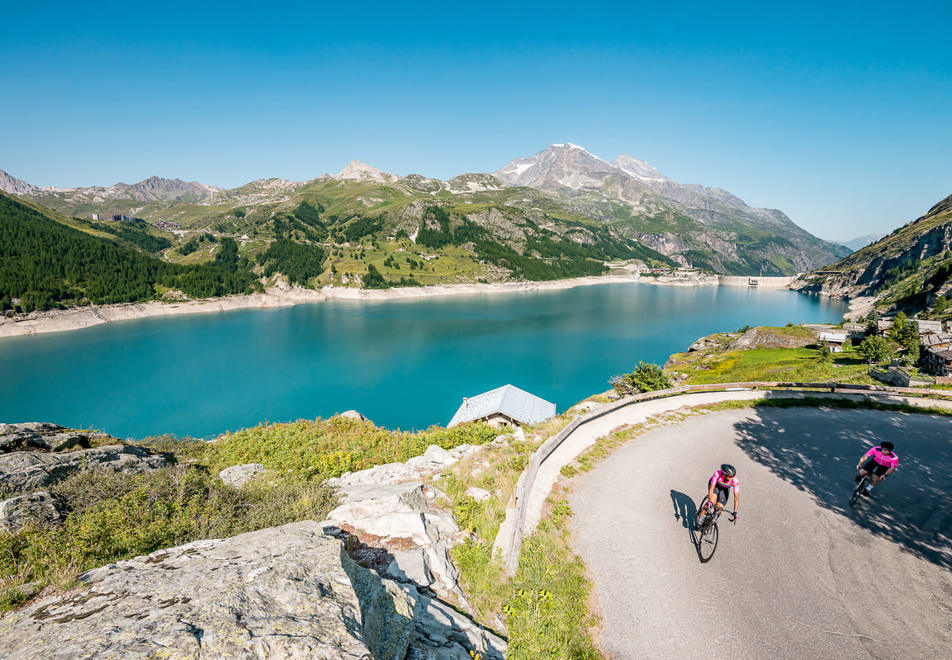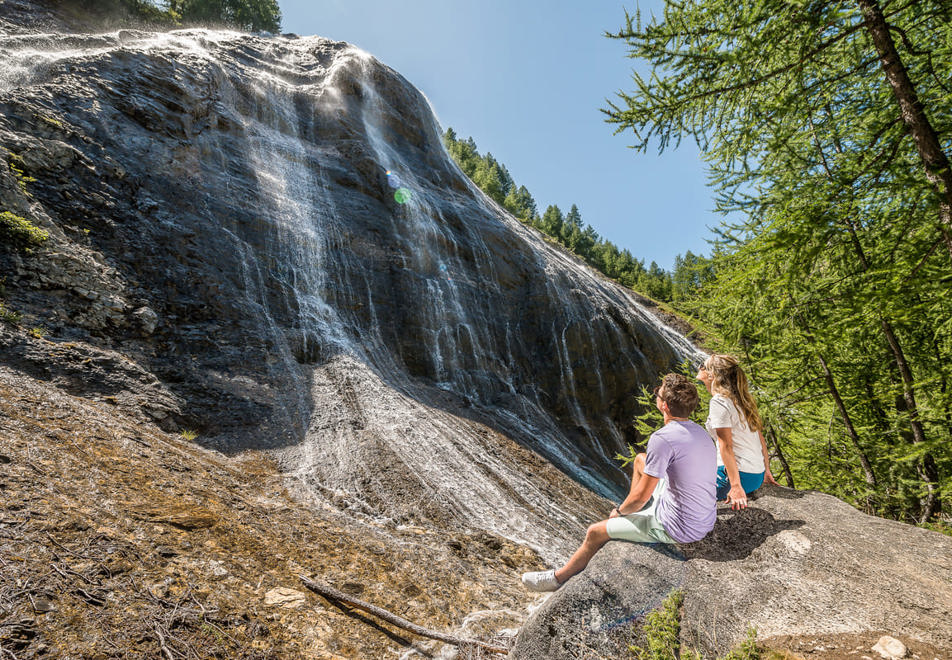 Tignes 1800 opened its doors in December 2013 and is structured around the Church of Saint Jacques de Tignes, built in the 50s, which is a replica of the one that was destroyed when the dam was open.
Tignes is made up of Tignes Les Brévières (1550m), Tignes Les Boisses (1800m), Tignes Le Lavachet, and the purpose-built villages of Tignes le Lac and Val Claret (2100m). There is plenty to do in Tignes in the summer including skiing/snowboarding on the Grande Motte Glacier.
The Perce-Neige funicular transports skiers/pedestrians, from Val Claret at 2100m in 7 minutes, to the slopes of the Grande Motte. On arrival at 3032m, you can then transfer to the Grande Motte cable-car that brings you to 3456m (11,339 ft), the highest point in Tignes.
The Tignes Glacier rises from 2700m to 3600m and boasts 20km of ski runs, 12 lifts, 750m of vertical, a snow park and an ice grotto, not to mention having breathtaking views. From its summit of 3656m, the Grand Motte glacier dominates the surrounding area. Grande Motte Glacier is open during the summer months allowing freestylers to practice in the snow park or watch the professionals complete their summer training. For beginners, the soft summer snow is ideal.
Tignes is host to a whole array of activities in the summer including mountain biking sports. Tignes is a very popular destination with many British and French tourists alike due to the range of activities available. There are many bars and restaurants in each of the Tignes villages and 4 nightclubs up at 2100m.
Interested in buying an apartment in Tignes? See our Buying in the Alps section
Top summer activities to experience in Tignes
Please note Peak Retreats do not book any activities and most activities are payable. For more information about pricing and availability, please contact the Tignes Tourist Office on 0033 479 40 04 40 or visit www.tignes.net

Tignes Summer Ski*
The Perce-Neige funicular transports skiers/pedestrians, from Val Claret at 2100m in 7 minutes, to the slopes of the Grande Motte. On arrival at 3032m, you can then transfer to the Grande Motte cable-car that brings you to 3456m, the highest point in Tignes.
Ski on the 20 km of pistes of the glacier, try new tricks on the snowpark, go cross-country skiing and improve your suntan on the terrace of the Panoramic restaurant in unique surroundings!
* Please note that extreme (heatwaves) temperatures like Europe encountered in the middle of June 2022 can affect a glacier's snow cover sadly and preventative measures to protect the glacier can be taken by local authorities at fairly short notice. This could include restricting opening hours to just early morning, partial closure or even premature closure". UPDATE Regrettably, the Tignes glacier closed earlier than scheduled this year and closed on 1/7/22 due to snow conditions, in order to protect the glacier. 
Tignes Mountain biking
Tignes Val d'Isère Bike Park is open in July and August. Enjoy unlimited trails and MTB lifts with Tignes and Val d'Isère, access via these 5 lifts:
Tignes - Palafour chairlift, Tufs chairlift, Tovière gondola (access to Val d'Isère)
Val d'Isere - Olympique cable car, Borsat chairlift

You will need:
Specific equipment (MTB designed for downhill, all-mountain or cross-country)
Specific body protections: helmets are compulsory and other body protections highly recommended (for your back, knees, elbows, hands etc.)
Basic knowledge in mountain biking, that you can learn from an instructor

Downhill (DH) trails. Please note the following signposting for the trials:
GREEN: beginners
BLUE: improver
RED: advanced
BLACK: expert
DOUBLE BLACK: elite
All-mountain (AM) (ex. enduro) - all-mountain trails go mainly down but can feature some portions going uphill and are quite technical. Best for experienced riders!
Cross-country (XC) - both cross-country tracks feature ascents and descents as well as flat portions. For tough riders!
Or try yourself in the bike park!
Tignes Cycling
Discover Tignes on your bicycle thanks to the many routes that start from Tignes or lead to the resort...
A few examples:
Bourg Saint Maurice - Tignes / 31.4 km / 1.450 m difference in height!
Sainte-Foy-Tarentaise - Tignes
Tignes - Col de l'Iseran
Check all these routes and many more on the official website of Savoie Mont Blanc. 
The Lagon
Swimming Pool - 25m swimming pool, water slide, bubble bath, toddler paddling pool, waterfall...During the summer the access to the "Lagon" is FREE with your ski pass (for the glacier).
Gym - rowing machines, bikes, weight-training machines, dumbbells, weights, pull-up bars, bench press, exercise benches, medicine balls, treadmills…

Exercise studio
Tignespace Sports Centre
Dedicated to team and individual sports including handball, volleyball, basketball, trampolines, tennis, badminton, squash, ping pong, athletics zone (5 lanes 80m sprint/hurdle track, pole vaulting pit, long/triple jump, high jump, golf simulator plus climbing wall.
Climbing wall - An FFME (French Mountaineering and Climbing Federation) certified climbing wall with:
Bouldering wall (bloc): 9m long x 5m high
Beginner wall: 15 belay stations, 8m long x 7m high
Experienced to expert area: 55 belay stations, 34m climbing wall x 16m high, 6 and 8m high overhangs
Activity areas
Sports beach at Tignes le Lac - crazy airbag, tennis, table tennis, beach volleyball, beach soccer, beach rugby, basketball, football, multisports areas, trampolining, pétanque, balance bike, roller skate and skateboard hire, children's games, inflatables for children.
Val Claret Base - tennis, paddle-tennis, football and rugby on the Fabien Galthié and Eric Cantona pitches, volleyball, archery, air rifle shooting, horse riding, children's games.
Watersports base at Tignes le Lac - pedalos, Stand-up paddleboarding, canoeing, kayaking, catamaran sailing, Acroland: hot-jump, water jump, blob jump.
Tignes 1800 - sports pitch.
Tignes les Brevieres - tennis, pétanque, children's games.
Tignes Tennis
The resort offers 20 outdoor courts – more than Roland Garros!
Sports Beach (Tignes le Lac)
Lavachet Activities' Area
Val Claret and Brevieres activities' area
Restaurants and bars in Tignes
There is no shortage of restaurants or bars with nearly 60 of each to choose from in the Tignes area. There are also a few nightclubs open until the early (or late!) hours (two in Val Claret and one in Le Lac).
There are five restaurants and two bars in Les Brevieres and also three restaurants (plus two bars) in Tignes 1800.
Tignes amenities
Supermarkets (mini), sports shops, bakeries, boulangeries, gift shops, tabac...plus many more. The bulk of the shops are in Tignes le Lac and Tignes Val Claret.
In Tignes 1800 there is a Spar supermarket and boulangerie/bakery shop. In Les Brevieres there is a Sherpa supermarket, post office.
Accessing Tignes
By Road (self-drive options pre-bookable with Peak Retreats): 
A430 Chambery – Albertville, dual carriageway to Moutiers, N90 to Bourg-St-Maurice, D902 to Tignes 1800.
Warning: if you use a GPS it may advise you to go through the Petit Saint Bernard or Iseran pass. Remember that these passes are closed in winter!
By Rail (pre-bookable with Peak Retreats): 
Daily train and TGV services to Bourg-St-Maurice.
By Plane (not pre-bookable):
Chambery is 135km from Tignes (1 ¾ hours)
www.chambery-airport.com
Grenoble Airport is 204km from Tignes (2 ½ hours)
www.grenoble-airport.com
Lyon is 211km from Tignes (2 ½ hours)
www.lyonairport.com
Geneva is 214km from Tignes (2 ½ hours)
www.gva.ch/en
Shuttle bus - www.satobus-alps.com
Tignes Airport Transfer or Car Hire (pre-bookable with Peak Retreats):
Call our reservations team for details on 0844 576 0170 or email reservations@peakretreats.co.uk for a quote and availability.
Parking in Tignes
Tignes altitude villages are car-free. There are lots of car parks dotted around the resort and under accommodations. You will need to leave your car in one of these.
Shuttles around Tignes
Tignes has developed its own free shuttle service: 23 stops from Tignes 1800 to Tignes Val Claret Grande Motte.
Tignes Resort News 2020
Tignes Unveils World's Largest & Highest Open-Top Cable Car 
Last year, Tignes has unveiled its upgraded Grande Motte glacier cable car, and the big news is that now you can ride up on top of the cabins. Climbing from 3,034m to 3456m in five minutes, the cable car originally opened in 1975 and the new cabins are part of a full overhaul of the area. The two new 'open-top' cabins offer passengers a unique 360-degree view of one of the most beautiful panoramas of the French Alps with views of Mont Blanc, the Cime de Bellecôte and the Aiguille de la Grande Sassière. Each cabin can hold 100 people indoors and 20 on the roof.
MY TIGNES (Summer Activities Card)
Available to purchase in the resort, the MyTignes card is valid for summer stays. With the card, you can enjoy a number of free activities per day such as stand-up paddleboarding, canoe, swimming pool, tennis and mini-golf to name a few. You also get unlimited access to the bike park in Tignes-Val d'Isère. More than 150km of trails await you. And lastly, the pedestrian lifts are also unlimited during your stay.
Summer ski opening dates
For summer skiing (on Grande Motte Glacier) from Saturday, 19th June - Sunday, 1st August 2021 (subject to snow conditions).
For pedestrians and MTB (Tignes & Val d'Isère area) from Saturday, 26th June - Sunday 5th September 2021 (subject to snow conditions).