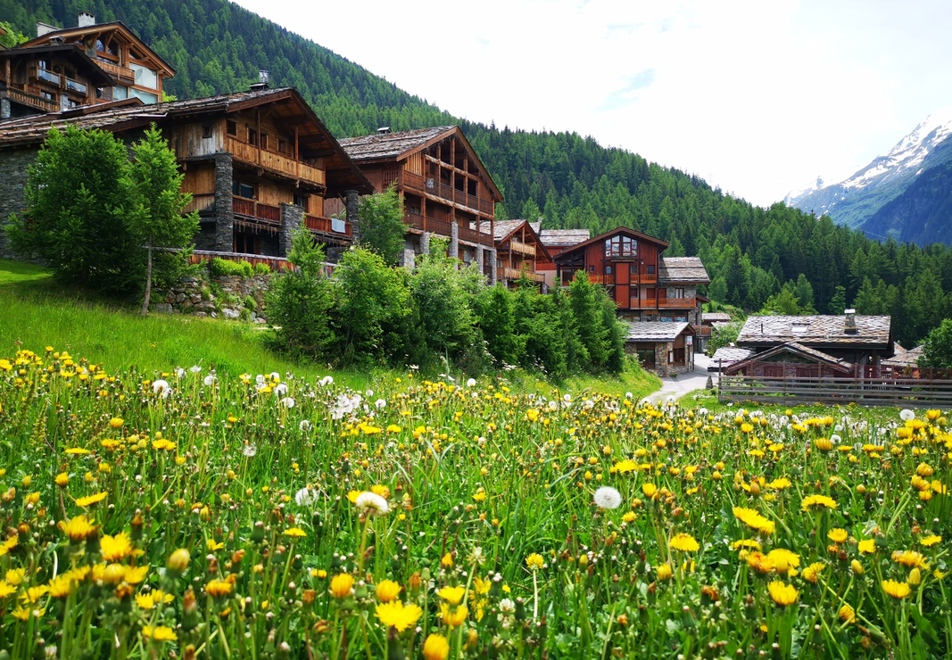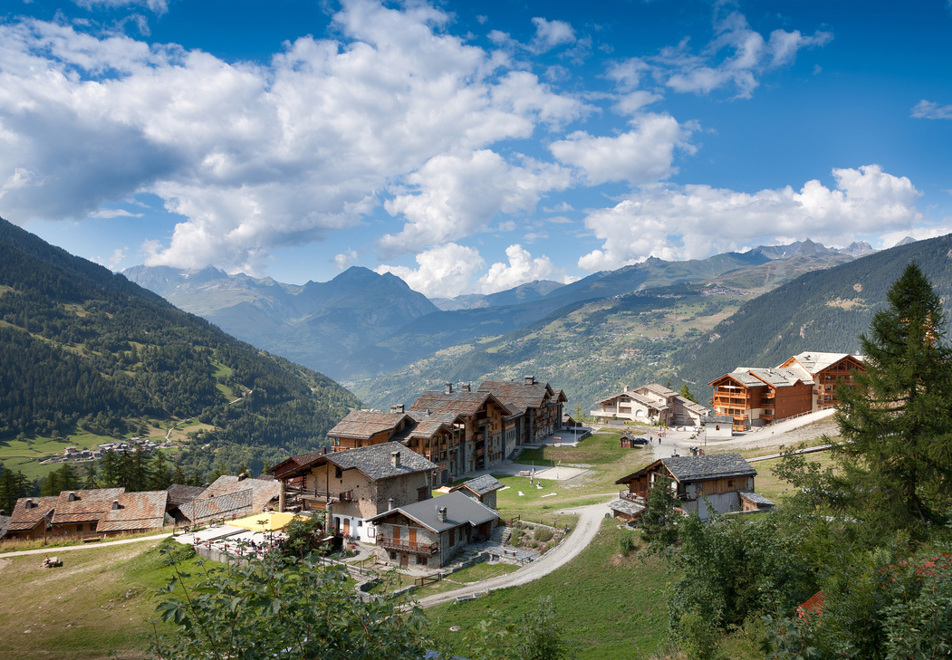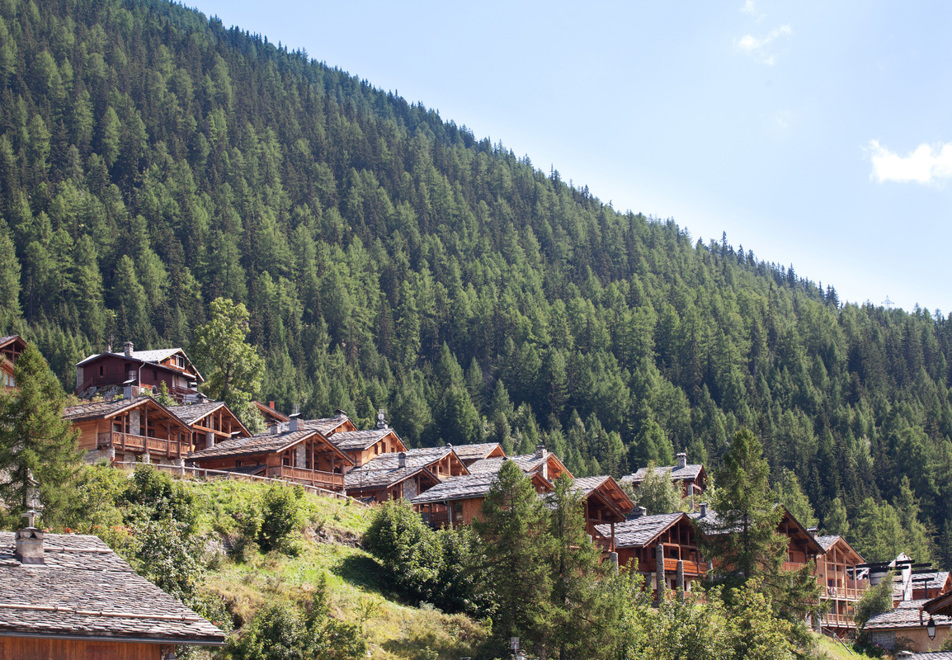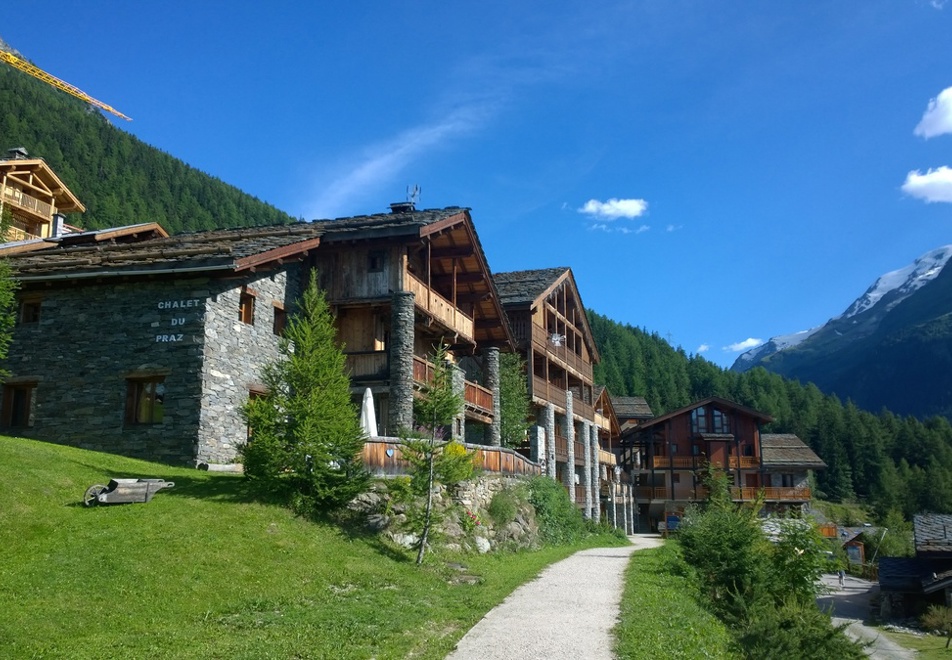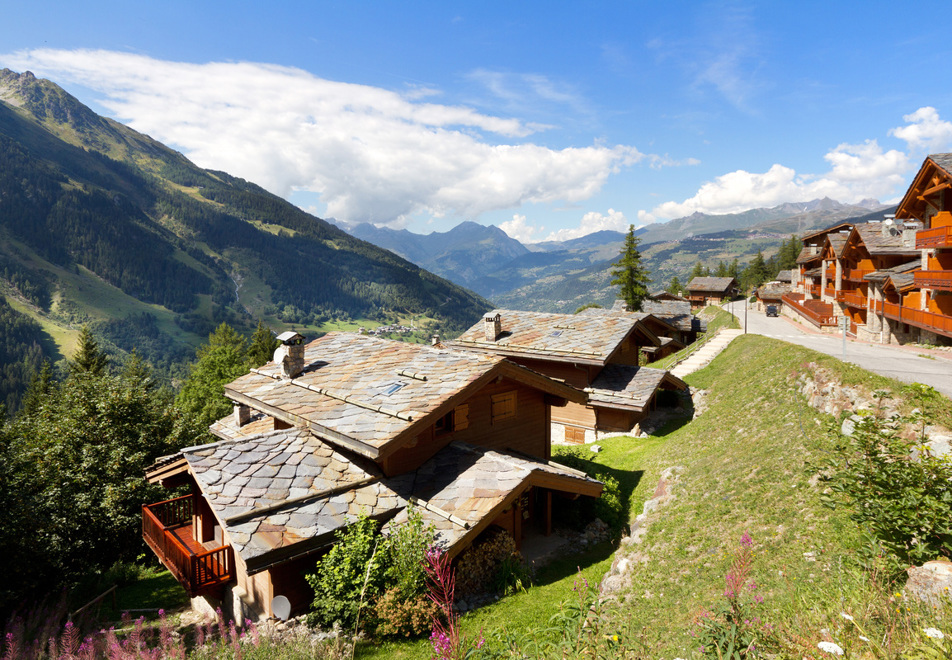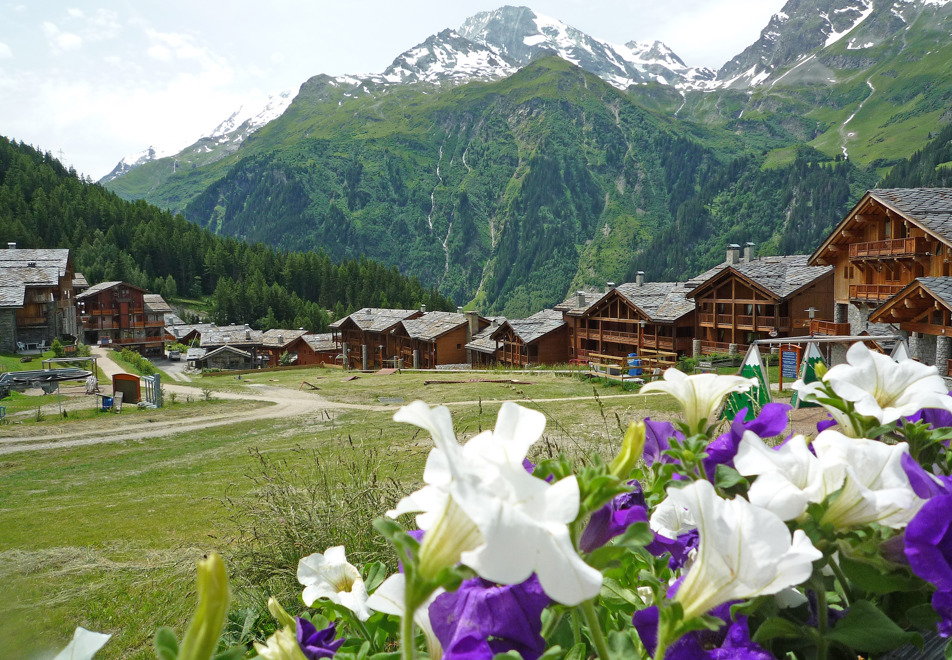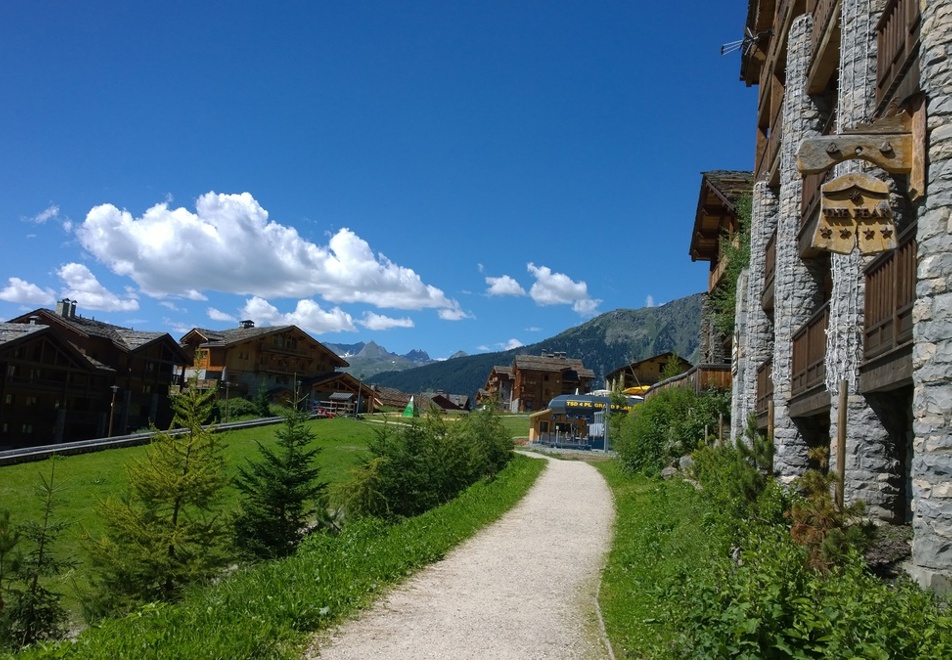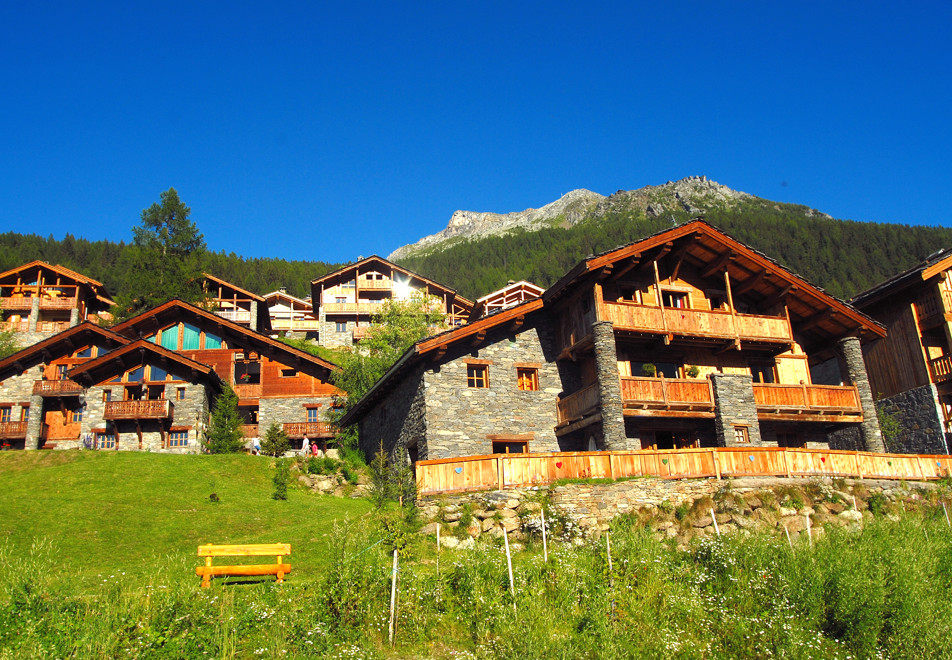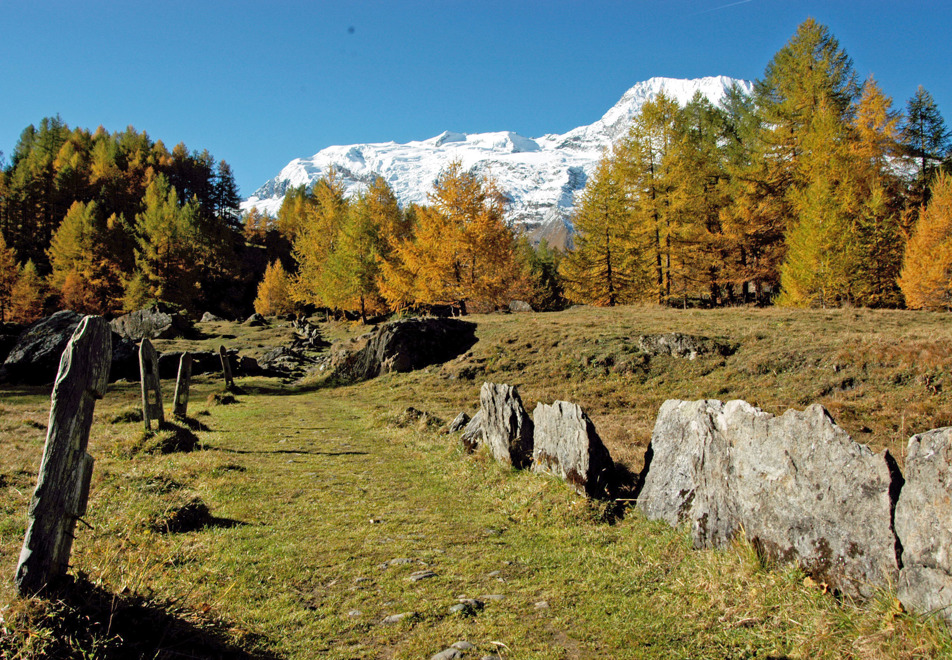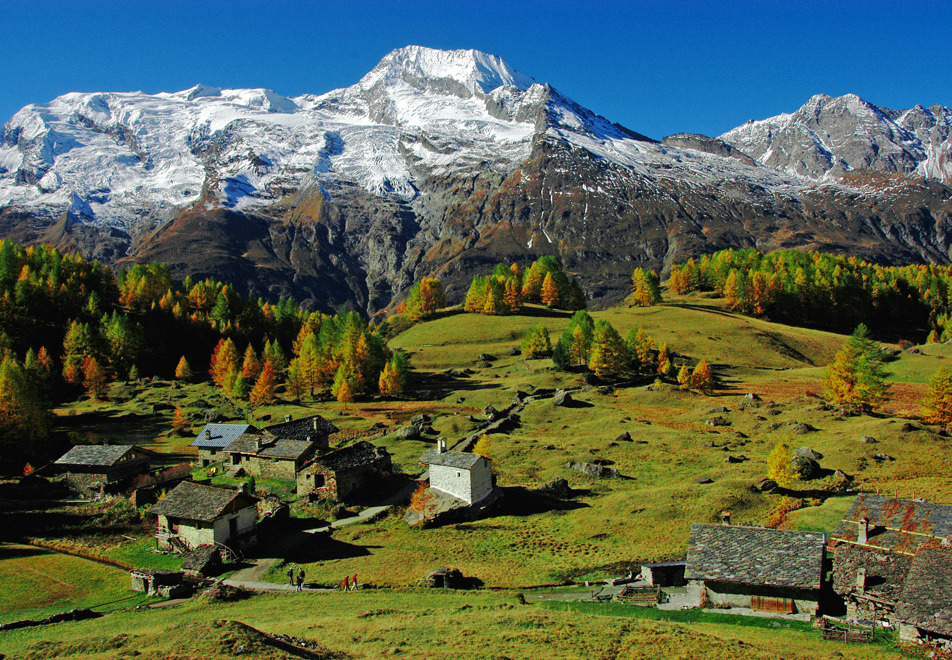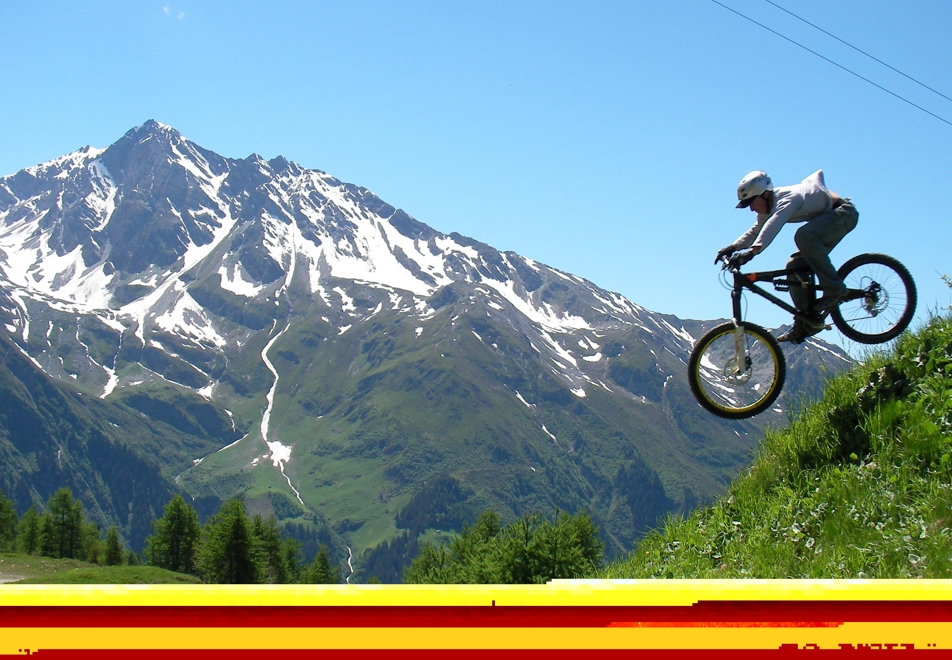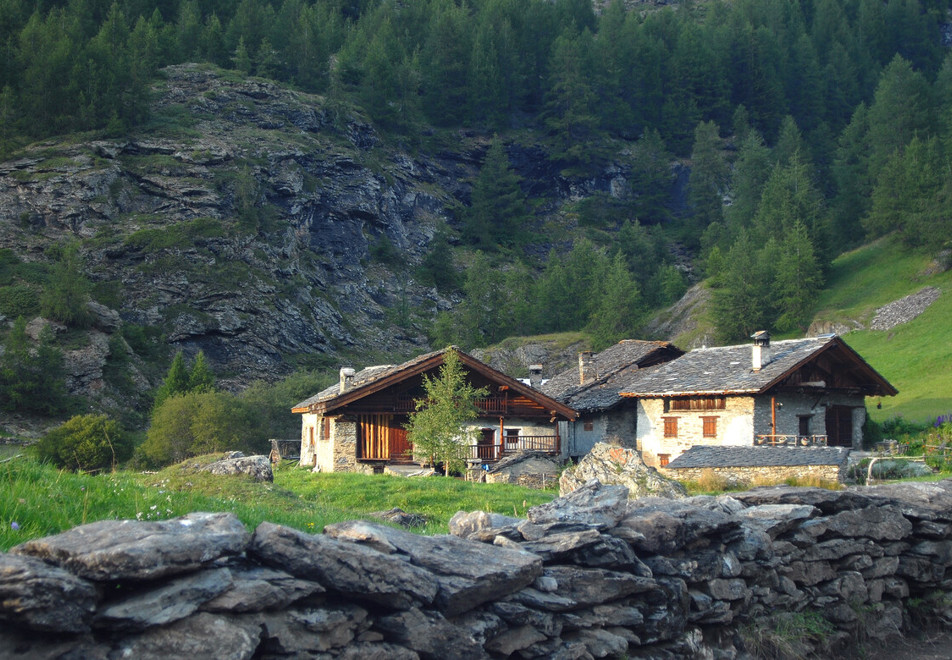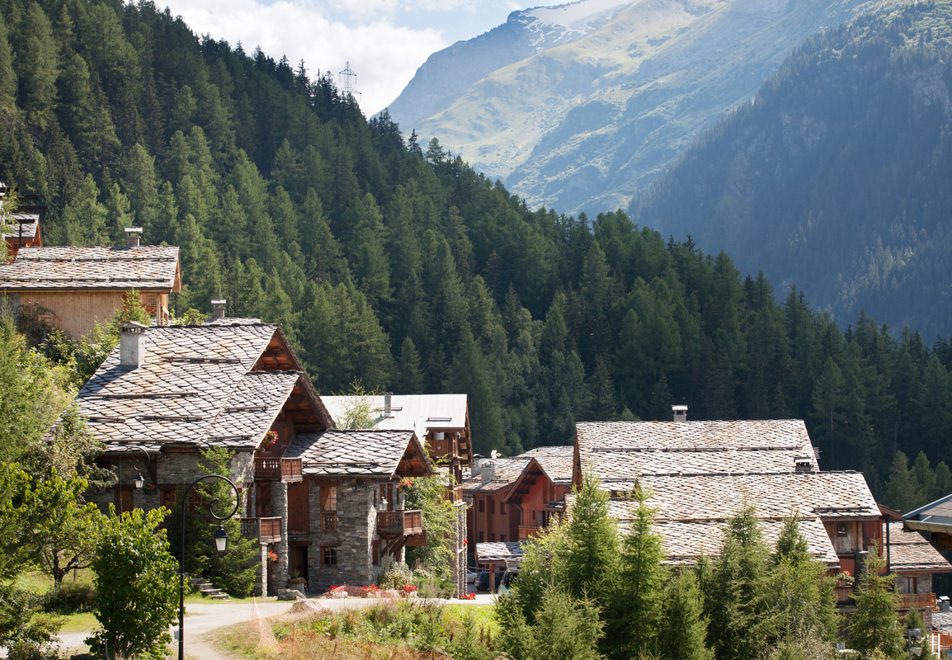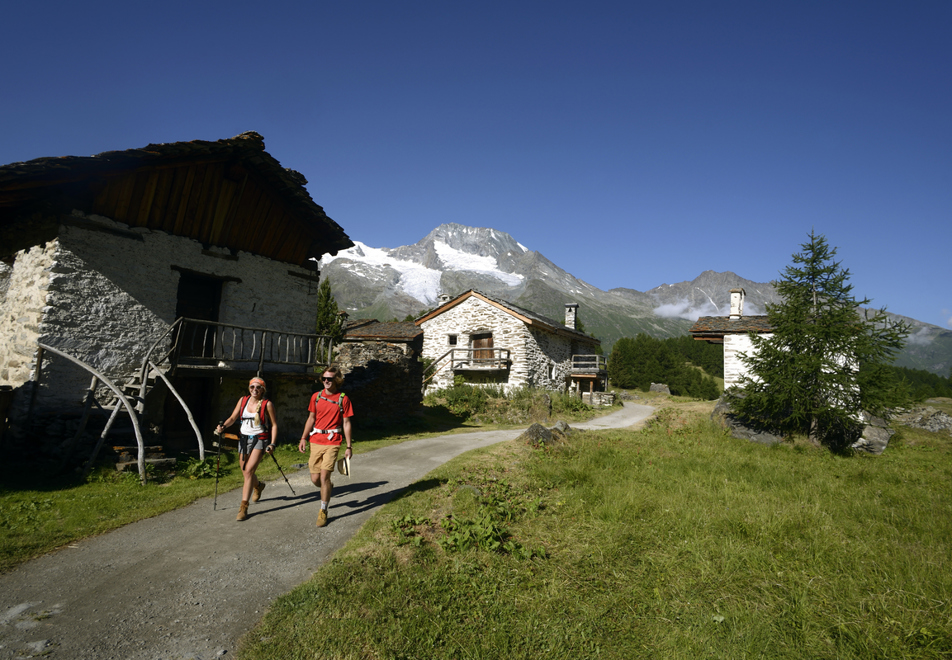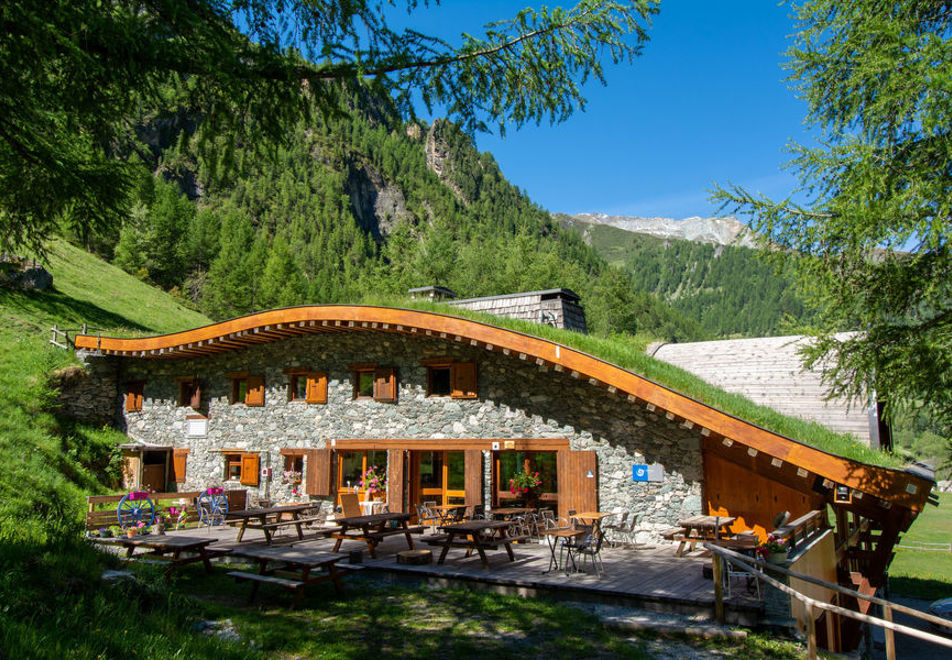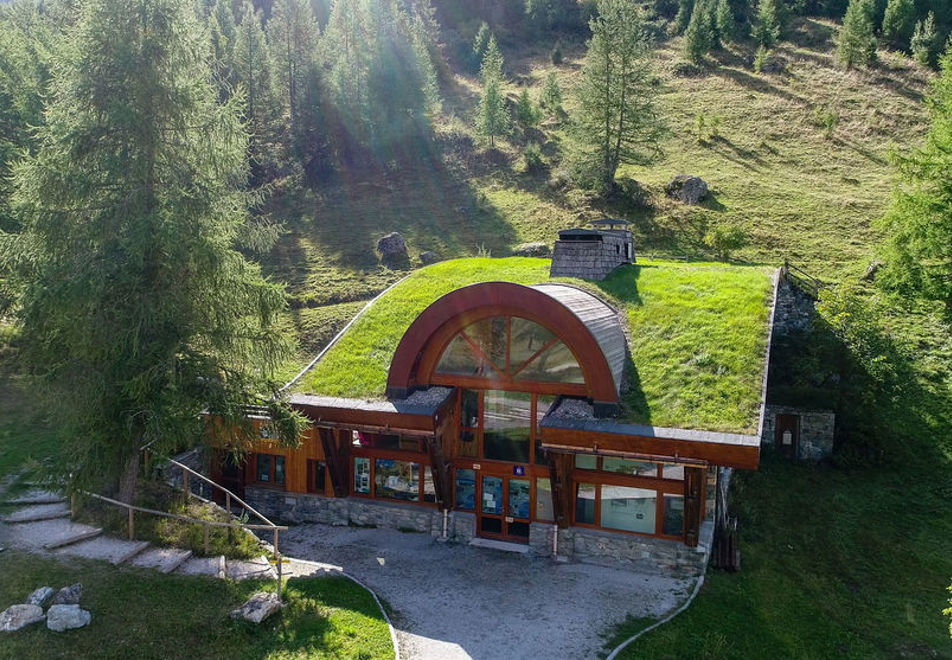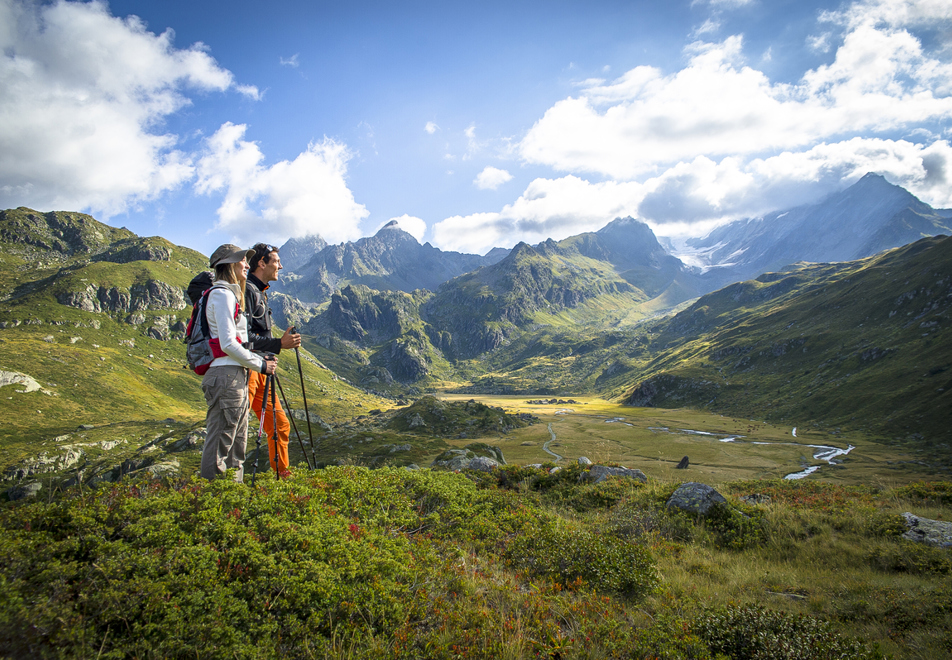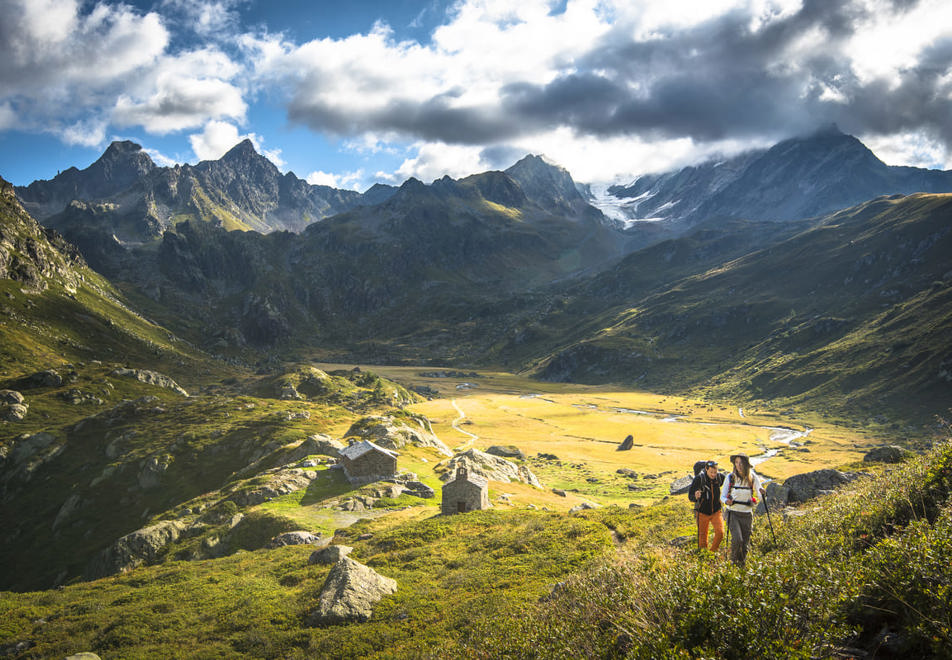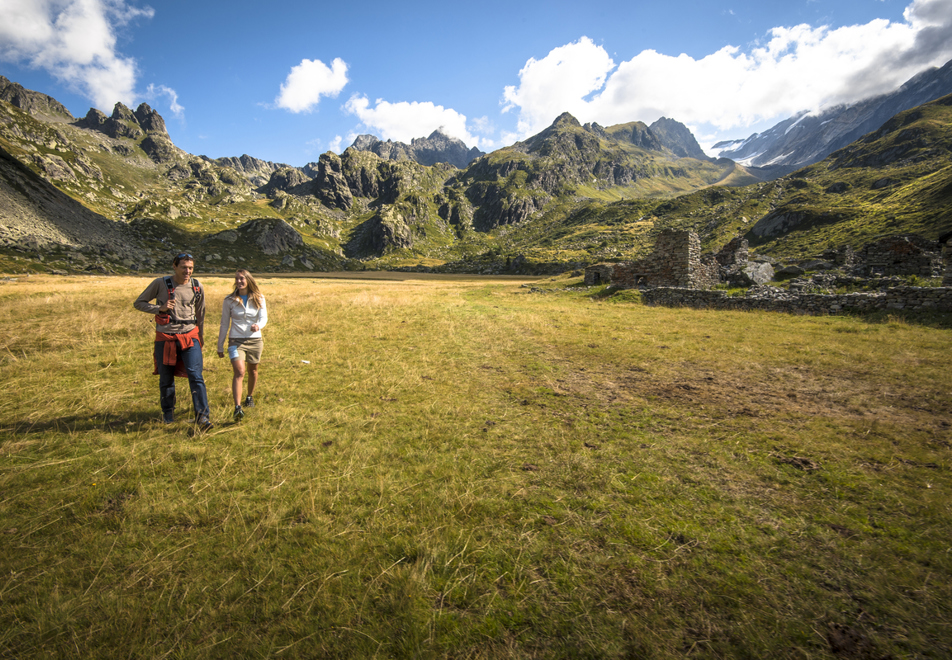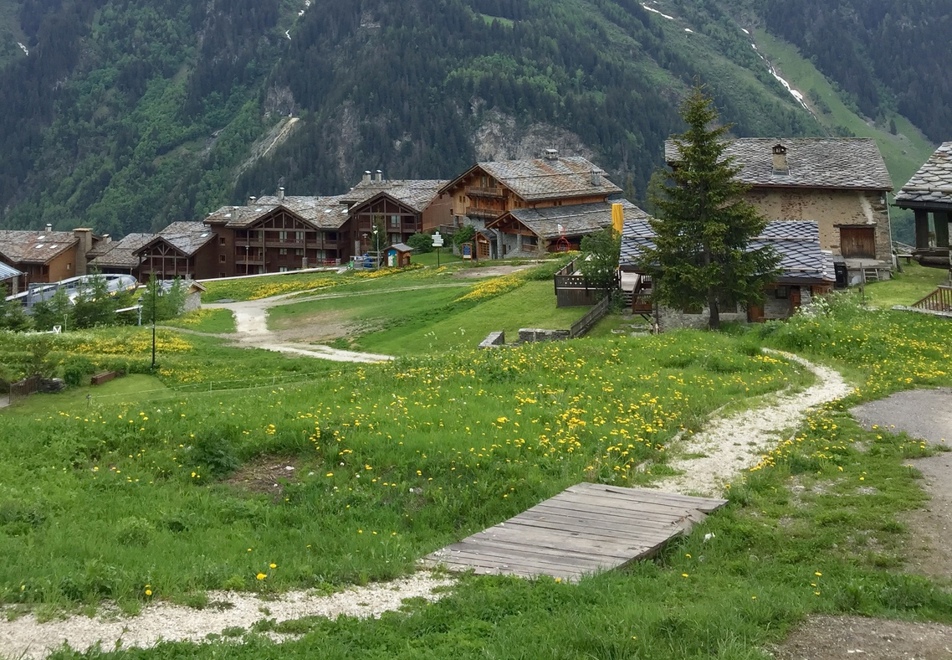 Sainte-Foy is very much a gem of the Rhône-Alpes region and the area around it is one of pristine landscapes uncluttered by crowds.
It's the place to go to really get away from it all. Bordered to the south by the Isère river and to the north by the Italian border, this resort makes a great base for mountain biking, river rafting, rock climbing and hiking. Our accommodation is located in the 'resort', not village (which is lower down).
Choose between a gentle trek up to the high mountain pastures to admire the pretty Tarine cows or, for more challenging walking, there are plenty footpaths close to the Vanoise national park as well as projects like the "Glacier Haute Route". Many of the area's waymarked paths pass through unspoilt traditional Alpine villages and peaceful mountain lakes like the Lac Noir in the Clou valley. Some offer stunning views of Mont Blanc, the Lord of the Alps.
Sainte-Foy is at the centre of some of the largest resorts in the Tarentaise which makes it wonderful mountain biking territory. Near the Vanoise national park, there are some exhilarating freeride descents in a wild untamed setting where routes of more than 1000 vertical metres take in goat tracks and shady forest paths.  
The commune of Sainte-Foy is actually made up of 100 hamlets in total including Le Miroir, a protected site which is known for its eye-catching Italian-style colonnaded chalets and important religious architectural heritage. The listed farming village of Le Monal has a breathtaking panorama of the Mont Pouri glaciers. There are several excellent eateries in the area offering Savoyard specialties in charmingly rustic surroundings. 
Within easy driving distance of Sainte-Foy are the resorts of Tignes (Tignes les Brevieres, Tignes 1800, Tignes le Lac & Val Claret), where it's possible to practice summer skiing, and Les Arcs and Val d'Isère which both offer a wide range of additional activities for the whole family. La Rosiere is also a little bit further down the road. Day trips to Italy are also a possibility from here. 
Our top things to do in Sainte Foy this summer
The Vanoise national park – located between the Tarentaise and the Maurienne, the Parc de la Vanoise is one of Europe's oldest and largest protected areas and the home of a 2000-strong herd of ibex. One of the country's loveliest villages, Bonneval-sur-Arc, is also to be found there. With summer glaciers, raging rivers and stunning scenery, the park is a taste of paradise for hikers.
Le Monal, between nature and heritage - guided Tour of the alpage village, which nestles in the tamed wilderness before the glaciers of Mont Pourri. In July and August, meeting every Thursday at 11am at the St Clair Chapel in the Monal, except in bad weather. No reservation required. Duration Approx. 1h15mn. Anticipate 1 hour 30mn easy walk from the resort.
Guided tour to the parochial Church of Villaroger - thanks to its baroque styles and preserved furniture, the Church is a beautiful example of « Alpine Baroque ». In July and August, every Monday meet at 10am at Villaroger Church. Duration approx 1h15mins. No réservation required.  On request for groups of adults, families or students.
Top summer activities to experience in Sainte Foy
Please note Peak Retreats do not book any activities and most activities are payable. For more information about pricing and availability, please contact the Sainte Foy Tourist Office on 0033 479 06 95 19 or visit www.saintefoy.net
Sainte Foy chairlift
The Grand Plan chairlift is open for a round trip to pedestrians and mountain bikers. Open July and August, every day except Saturday with a break at lunchtime.
Family Adventure Park
10 aerial routes accessible to children from 7 years, accompanied by a responsible adult.
Equipment on site. Minimum height 1.30m. Open in the afternoons in July and August, every day except Saturday.
Sainte Foy Mini Golf
Free 5 games in the resort centre
Open daily in the morning and the afternoon
Clubs available from the tourist office – with a deposit & ID
Rental for 2 hours
Tennis Court
A tennis court is located at Sainte Foy (Chef Lieu). Reservations at Santa Fé (Situated in Sainte-Foy village).
Volleyball Pitch
A free Volleyball Pitch is situated at the Center of this resort. Free ball available from the Tourist Office.
Ping Pong
Free table tennis available on the decking "Les Charmettes".  Bats and balls available from the tourist office. Deposit required. Also, balls available to the "Supermarket Utile" (0.50€).
Children play area/park
In Sainte Foy village, by the Church, on the road towards Villaroger, by the multisport area or in Sainte Foy resort, located in the centre.
Sainte Foy Bouncy Castle
Bouncy castle with ball pit and 1 trampoline are available for children at the resort, under parental supervision.
Hiking around Sainte Foy
It is an ideal base for walking, having more than 70kms of footpaths and being close to the Vanoise National Park and new projects such as the "Glacier Haute Route".
It offers some exceptional walks for all levels: hiking and mountaineering, family walks, full or half day excursions, and even treks of several days staying in mountain huts, in France and/or Italy. Sainte Foy borders Italy for 25kms, offering many opportunities for border crossings, the two most common being the Col du Rocher Blanc, and the Col du Mont. The many manned mountain huts, in France and Italy, offer the possibility for trips lasting several days.
Hiking guides:
Jean Pierre Lamic
Le Fenil 73640 Ste Foy Tarentaise
www.vanoise-ecotourisme.com
Many of the footpaths pass through the traditional alpine villages. Others lead to the calm and tranquil mountain lakes, such as the Lac de Clou, the Lac Noir in the Sassière valley, the Lac Noir in the Clou valley, the Lac Longet, the Verdet lakes, the Lac Blanc, and the Lake Brulet. Many walks offer outstanding views of Mont Blanc, "the roof of Europe".
Guide to the walks around Sainte Foy is on sale in the Tourist Office.
Big hikes:
Intervillage Route: a loop of 150km, you can join at any of the
communes in Haute Tarentaise
High Glacier Route: a hiking trail on signposted paths about
70km with a glacial passage of about 3km.
The Alpine Road: 5000km of pedestrian paths to cross the 8 countries of the Alpine arc, the French side joining Monaco to Haute Savoie. At Sainte Foy, the Alpine Road crosses by the Col du Mont, descends towards the refuge of Archeboc.
Mountain Biking in Sainte Foy
Sainte Foy Tarentaise is a unique riding spot in the Tarentaise Valley.
A network of natural trails offers superb all-mountain descents and long cross-country routes in one of the most unspoiled parts of the region, close to the Vanoise National Park. The routes allow vertical drops of more than 1,000m on trails running through alpine meadows and forests. The cross-country routes vary from half-day 15km routes to full-day 40km routes.
The Mini Bike park
From 5-10yrs, training and learning sessions on teaching modules for mountain bikes on the mini bike park in the presence of a qualified instructor. Mountain bike rental included.
Horse Riding
Riding poneys, horses and also in a horse-drawn carriage with Montagne Cheval Évasion.
Sainte Foy Paragliding
Laurent Ottobon
laurentottobon@gmail.com
Paragliding instructor, tandem flights on offer. Come and appreciate the wonderful landscape from the sky of the Haute Tarentaise valley during an unforgettable aerial promenade.
Climbing around Sainte Foy
La Combe; Le Monal: Grades 5 to 8a
Le Ruitor (Vallon of La Sassiere): 16 routes from 4c to 6
Escalade dans les gorges de la Daille, Val d'Isère/Tignes, Savoie, 73, MR hard rock climbing
Watersports
If you are amateur of thrills or simply if you search escape, come on to discover our activities whitewater rafting at Bourg Saint Maurice. Raft, canoé, kayak, swimming whitewater (from 9 years old). Every day from May to September, morning and afternoon.
Rafting, white water swimming, canoë
Colin Waeckel – EVOLUTION 2
www.evolution2saintefoy.com
Trip to Aosta (Italy)
One day a week in July and August. Market in Aosta. Departure Bourg St Maurice. Option of free guided tour of the town.
Booking obligatory
TRANSDEV MARTIN
Archery
Come to practice archery with a professional this summer, lessons for children and adults.
Material provided. One morning and one evening per week.
Information and registration with Bruno Belissard.
Guide publisher Cicerone is worth a look at for books on Walking in the Tarentaise and Beaufortain Alps visit www.cicerone.co.uk
Restaurants and bars in Sainte Foy
Le W restaurant
Residence l'Etoiles des Cimes
The new W restaurant with bar food cafe and take away will be open all summer. Everything is homemade including salads, local specialties (fondue, raclette etc), evening mussels and chips events.
It's a cosy place with canapés under the roof on the second floor where you can try local cheese and meat with a glass of something! Take away menu includes pizzas, cold meats, cheeses and desserts with over 30 wines in the cellar to choose from! Outside terrace with a trampoline for the kids.
The Yeti Boots 
Come enjoy the terrace, trampoline and petanque. The Yeti boots also offers a food corner all day long. Burger, pancakes, ice Cream.
La Maison à Colonnes
0033 479 06 94 80
william.tirouflet@orange.fr
Open for the summer season, this ancient farm at the foot of the Grand Plan chairlift welcomes you on reservation. 
Restaurant Le Monal
Restaurant Le Monal, Chef-lieu – 73640 Sainte-Foy
Tel: 0033 479 06 90 07
Free shuttle available on request.
Eden's Kitchen
The White Eden
Station- 73640 Sainte-Foy Tarentaise
0033 457 37 24 57
Eden's Kitchen provides simple and creative dishes based on organic and great local produce. The terrace with fire pit and warm interior decoration offers you a cosy experience.
Open in the evening every day and Sunday lunch in the summer months.
Amenities in Sainte Foy
Cashpoint, delicatessen, newsagent, sports shop, post office, pharmacy, Superette mini market.
RENT YOUR POCKET WIFI - Hippocketwifi
At Sainte Foy Tarentaise Tourist Office, private wifi anywhere in the station. Connect up to 10 devices.
Accessing Sainte Foy
By Road (self drive options pre-bookable with Peak Retreats): 
Driving distance from Calais to Sainte-Foy 610 miles (approx 9hrs15)
Motorway A43 Lyon/Albertville
Main road N90 Bourg-Saint-Maurice
By Rail (pre-bookable with Peak Retreats): 
Eurostar runs direct services from London to Bourg-Saint-Maurice on Friday night and Saturday. Or take the Eurostar service to Paris or Lille and change to regular SNCF services to Bourg-Saint-Maurice.
By Plane (not pre-bookable):
Chambery Airport is 111km from Sainte Foy (1 ½ hours)
www.chambery-airport.com
Grenoble Airport is 178km from Sainte Foy (1 ½ hours)
www.grenoble-airport.com
Geneva Airport is 190km from Sainte Foy (2 hours)
www.gva.ch/en
Lyon Airport is 188km from Sainte Foy (2 ½ hours)
www.lyonairport.com
Sainte Foy Airport Transfer or Car Hire (pre-bookable with Peak Retreats):
Call our reservations team for details on 0844 576 0170 or email reservations@peakretreats.co.uk for a quote and availability.