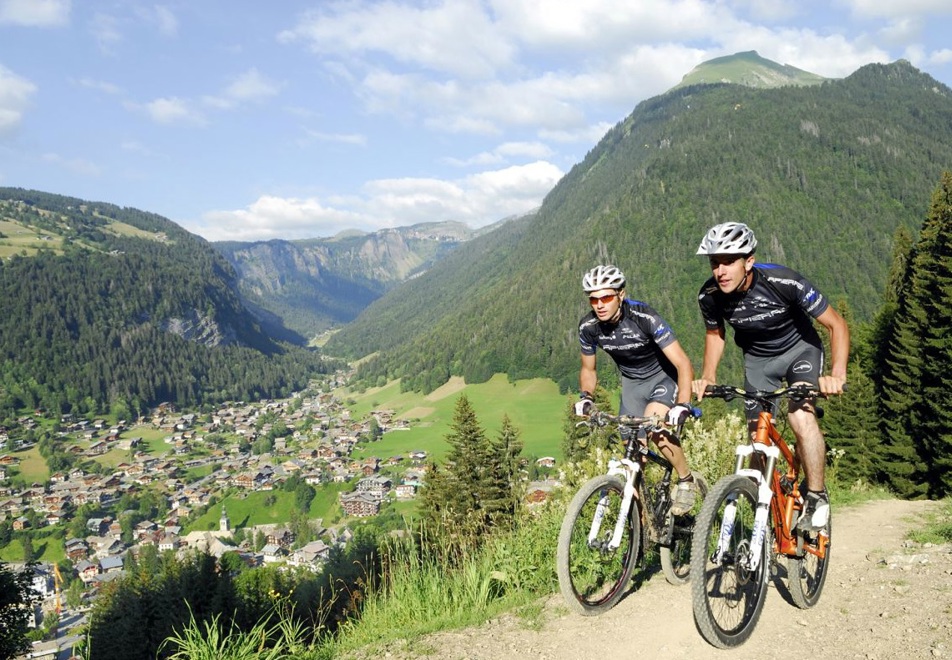 One of the best loved resorts in the Alps, Morzine scores on many points.
It is a charming, traditional village that is a world away from the hustle and bustle of modern life and yet it's one of the closest resorts to the Channel and only an hour from Geneva.
Morzine is an unspoilt, historic resort dating back to the 16th Century, with its own Gallic identity, yet there's a wide choice of restaurants and bars for much livelier and varied evening entertainment than most resorts offer.
With its Savoyard chalet-style buildings, wooden facades, carved balconies and slate-covered roofs, Morzine offers more than 30 bistros and restaurants, including some of the best in the whole region. There are three discos, two cinemas and many bars. The swimming centre in Morzine offers 2 pools (1 Olympic size), a large paddling pool with water games and water jets plus various other sports activities for all ages. The indoor ice-skating arena hosts the world's top skaters but is also open for public skating and has a panoramic bar-restaurant. In addition a fitness centre with weights room, sauna and hot tub, has been installed in the Sports Centre.
Portes du Soleil Multipass
The Portes du Soleil Multipass offers unlimited access to more than 54 activities, available at the 12 resorts of the Portes du Soleil area. For all holidaymakers staying at a participating accommodation provider, the Multipass provides unlimited access to numerous activities and a 20% discount at various partners throughout the Portes du Soleil area for only 2€ per day.
For 2 € per day, the Multipass gives access to:
• 23 ski lifts for pedestrians
• 4 swimming pools and 2public lakes
• 3 mini-golf pitches
• 3 ice rinks
• Museums and cultural centres: Les Gets Mechanical Music Museum, Vallée d'Aulps Abbey Discovery Centre, Abondance abbey, Maison du Val d'Abondance, Chatel's Smuggling Exhibition Centre, the Troistorrents' Moulins de la Tine
• 9 tennis courts
• Inter-resort shuttles
Access to these facilities is unlimited.

For those spending one day in the Portes du Soleil, the Multipass is also a day pass: 8€.
Offer valid from 25 June to 5 September 2016
For children under 5 years old, the Multi Pass Portes du Soleil is FREE!
A supplementary hands-free card purchase is compulsory and non-refundable, price 1€. This card can be used again.

More information available here.
Morzine Trekking
A wide range of hikes available:
• ½ Day themed treks–wildlife, plant-life, views, snacks in mountain farms.
• Family day-hikes with a foodie touch (forests, mountain pastures, lakes rivers...) followed by a meal cooked with mountain plants and cheeses.
• Day treks: Roc d'Enfer, Cornettes de Bise, Dent d'Oche, Pointe d'Ireuse, Pointe de Tréchauffé, les Dents Blanches.
All activities are accompanied by qualified hiking guides.
"Alpi'Rando et VTT"
Hervé Le Sobre
Mob. +33 (0)6 19 42 95 57
contact@alpirandovtt.com
www.alpirandovtt.com
Morzine Nordic Walking
A fast waking technique using specially adapted sticks 1-2 hour walks, with a gymnastic warm up before hand and stretching afterwards.
This activity is supervised by mountain specialists.
"Alpi'Rando et VTT"
Hervé Le Sobre
Mob. +33 (0)6 19 42 95 57
contact@alpirandovtt.com
www.alpirandovtt.com
Mountain Biking in Morzine
Morzine is in the heart of one of the world's biggest MTB areas, the Portes du Soleil:
• 12 linked resorts offering a network of 24 chairlifts and cable cars, all equipped to take mountain bikes.
• An 80km circuit on the French/Swiss border.
• Dozens of downhill runs, all levels.
• Bike-handling schools, recreational MTB runs and beginner area.
As Morzine is in a valley, most of the Portes du Soleil's cycle tracks that start at the top of cable cars and chairlifts lead back down into Morzine.
In the village itself there are all the necessary services, specialist bike shops with qualified staff, and great après-MTB
Mountain Bike Rental
All kinds of bikes and equipment for rent, for all styles of riding: trekking, free-ride or downhill.
A map of mountain bike and electric mountain bike trails is available for free at the Tourist Office.
Lift prices 2016:
Pléney and Nyon Lifts for mountain bikers
One way from €5
6 ascents from €20
Pléney and Nyon Lifts for pedestrians
One way (up or down) from €4.80
Return from €5.80
Nyon cable car ascent (the descent is free) from €3.80
Avoriaz lift network for mountain bikers and paragliders
Valid for the following mountain lifts: Super Morzine bubble lift, Lindarets chairlift, Mossettes chairlift, Zore chairlift, Chaux Fleurie chairlift, 3S Prodains Express.
One trip from €5.40
Avoriaz lift network for pedestrians
One way (up or down) from €5.40
Return from €6.40
Portes du Soleil – MTB lift-pass
One day from €26
6 days from €104
Free Walking guide for Morzine available from Morzine Tourist office.

Morzine Trekking with Donkeys
Various options:
• Guided trekking with donkeys.
• Hire a donkey for an unaccompanied full-day or half-day trek (map and advice provided).
Bureau des Guides
Tel. / Fax +33 (0)4 50 75 96 65
info@guides-morzine.com
www.guides-morzine.com
From €18 
Morzine Canyoning
Morzine-Avoriaz guides can take you out for a half-day in the wonderful Nyon canyon, situated 2kms from Morzine's centre. Swim down mountain rivers and through gullies, specially kitted out for this activity (abseiling, jumps, natural toboggans, etc).
Equipment and wetsuit provided. Activity organised and accompanied by mountain guides. From €40.
Bureau des Guides
Tel. / Fax +33 (0)4 50 75 96 65
info@guides-morzine.com
www.guides-morzine.com
Morzine Aqua Hike
• River hiking supervised by a qualified mountain guide. No specific equipment or gear required (just sports clothes and shoes).
• Activity by half-day.
Eric Delale
Mob. +33 (0)6 70 79 69 80
eric.delale@orange.fr
Morzine White water activities
A wide choice of sports:
• Rafting (down a river in an inflatable canoe with a team of people paddling)
• Hot-dogging (same as rafting but on a smaller scale)
• Hydrospeed (down a river with floating equipment and flippers)
• Kayaking (down a river or on lake Geneva in a solid craft)
Activities organised and accompanied by professionals.
Evolution2
Tel. +33 (0)4 50 74 02 18
avoriaz@evolution2.com
www.ecoledeglisse.com
Morzine Via Ferrata
Climb/scramble around a specially equipped cliff (ladders, steps, cables, abseiling etc).
Activity organised and accompanied by mountain guides.
Evolution2
Tel. +33 (0)4 50 74 02 18
avoriaz@evolution2.com
www.ecoledeglisse.com
Morzine Speleology
Underground caves exploration.
State qualified guides supervising.
Evolution2
Tel. +33 (0)4 50 74 02 18
avoriaz@evolution2.com
www.ecoledeglisse.com
Morzine summer sledge
Sledges on wheels along 1 of 2 runs that vary in length and difficulty, both starting from the top of the Crusaz chairlift. 
1 ride from €5, unlimited use for 2 hours from €30.
Morzine Paragliding
State-Qualified instructors.
Various options:
• Introduction tandem flight.
• Beginners sessions.
• Small-sail lessons.
• Lessons and improvement courses for all levels.
• Tandem discovery flights
Prices from €75 for adults. 
Paragliding School Portes du Soleil
862 road dravachet
74110 Montriond, Morzine
Tel. +33 (0)4 50 75 76 39
cochard.laurent@free.fr
www.parapente-morzine.com
Morzine Downhill All Terrain Scooter
• Ride the ATS downhill, and use the chairlifts to climb back up.
• Accessible from 12 years old with no particular training required.
• Supervised by a qualified instructor.
• Activity per ½ day (scooter and gear included).
Activités Morzine
Mob. +33 (0)6 85 02 37 09
info@activites-morzine.com
www.activites-morzine.com
Horse-drawn sleigh rides in Morzine
There is a large choice of trips around Morzine: tour of the old town, the different hamlets, ride up to lake Montriond, etc. 
Tours from 15€ to 90€.
Start from the Tourist Office square or from your holiday home.
Morzine Parc de Dereches
This park is accessible by a lift from the centre of Morzine or with the little tourist train that runs from the Tourist Office, passing by the Town Hall.
http://www.parc-dereches.com/en/
Below activities in the park:
Morzine Indiana Parc (adventure park)
Indiana'Ventures Dérêches Park
• P'tit Kid from 2 years old, under parents' supervision
• Indiana Kid: 2 adventure trails for children with continuous safety line
• Indiana Parc: 5 adventure trails of increasing difficulty, accessible for children over 1m35 tall
Tel. +33 (0)4 50 74 01 88
From 11€
info@indianaventures.com
www.indianaventures.com

Available at the park - Disc-golf - A fun activity inspired from golf.
The club and ball are replaced by a Frisbee thrown toward a bin. Reach 9 bins on the course in a minimum of throws.
They also arrange paintball and laserquest games at the park.
Indoor pools
• Sport swimming pool 25 x 15 m (heated to 27°).
• Learning pool 125 m2 (heated to 28,5°).
• Paddling pool 50 m2 (heated to 31°).
• Balneo area: 160 m2 with 3 saunas, 2 hammams.
Outdoor pools
• An Olympic sports pool 50 m x 21 m.
• 1 paddling pool with water games.
• Giant slide (80 m).
• Sun terraces and sun-loungers.
• Bouncy castle.
At the pools they can arrange beginners scuba-diving: first dives and beginners courses (PADI).
Tennis
• 9 tennis courts, 2 of which are clay courts.
• 2 training walls.
• Club house.
Tennis courses and private lessons, for both children and adults.
A fitness circuit with 20 training obstacles, in the Dérêches Park.
Riding centre
Activities accompanied by qualified instructors.
For adults and children: Riding lessons for all levels.

Skateboard park
A specially adapted area with ramps and jumps (no access for bikes or BMX).

Ice-rink
Indoor ice-rink. Skate rental.  
Morzine Golf
Morzine-Avoriaz
• 9 holes, par 36 golf-course, 2,930m long.
• Facilities: green-fees, practice area, equipment rental, golf academy (private lessons, training sessions, a round with a pro, introduction to golf).
• Club-house.
Golf Morzine-Avoriaz
Tel. +33 (0)4 50 74 17 08
golfavoriaz@orange.fr
www.golf-morzine-avoriaz.com
Climbing
Beginner or expert, the guides of Morzine propose to accompany you, at your own pace, to the discovery of the climbing sites of the region of Chablais or the Massif du Mont-Blanc.
Tel:  04 50 75 96 65
Helicopter flights
Following on from steady growth, the company has a fleet of 30 helicopters most of which are from the Eurocopter line. Mont-Blanc Hélicoptère is now considered one of the major players in the French helicopter airline sector. Helicopters are our business, our passion, and first and foremost must remain an enjoyment for our passengers.

Please note:

 All the above information is for information only. For the most up-to-date information please visit the resort tourist office website. All prices for activities are in local currency (€ Euros) and are bookable and payable locally in resort.
Morzine Tourist Office
Morzine Tourist Information
Tel: 00 33 4 50 74 72 72 - info@morzine-avoriaz.com 
www.morzine.com
26, Place du Baraty
74110 Morzine
From 8h30 to 19h30.
Multitude of restaurants, shops and bars. Cinema, musical evenings, nightclubs.
Hairdresser, spa, florist, garage, doctors, pharmacy, post office, tobacconist, bank
By Road:
Driving distance from Calais to Morzine is 538 miles or 7hrs30
A6 motorway via Macon followed by the A40 motorway towards Geneva. Exit 19 at Cluses and follow signs
From Northern Europe, access via the Swiss motorway towards Martigny. Exit Portes du Soleil, 20 minutes from Chatel.
By Rail:
Thonon-les-Bains SNCF railway station (TGV – high speed train) / Transfer by shuttle, 40kms (approx cost 10€). Monthey railway station (Switzerland) / Transfer by taxi, 25kms.
Airports:
Geneva Airport is 90km from Morzine (1 hour) www.gva.ch/en         
Chambery Airport is 123 km from Morzine (1 ½ hours) www.chambery.aeroport.fr
Grenoble Airport is 210km from Morzine (2 hours)www.grenoble.aeroport.fr
Lyon Saint-Exupery is 211km from Morzine (2 ½ hours) www.lyon.aeroport.fr
Getting around Morzine
Free shuttles in Morzine
Free shuttle buses and a little train will offer you free transport within the village during the winter season to help you get around easily.
Airport Transfer
Pre-book your taxi transfer with Peak Retreats
From Geneva Airport to Morzine – from £81 per person return based on 4 people sharing. 
For all other transfer prices click here.