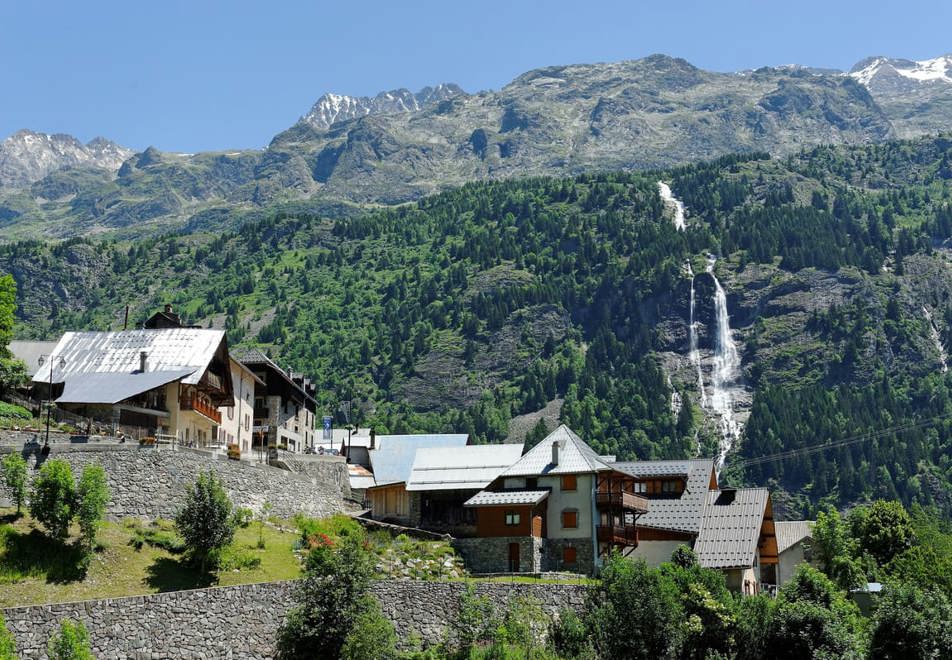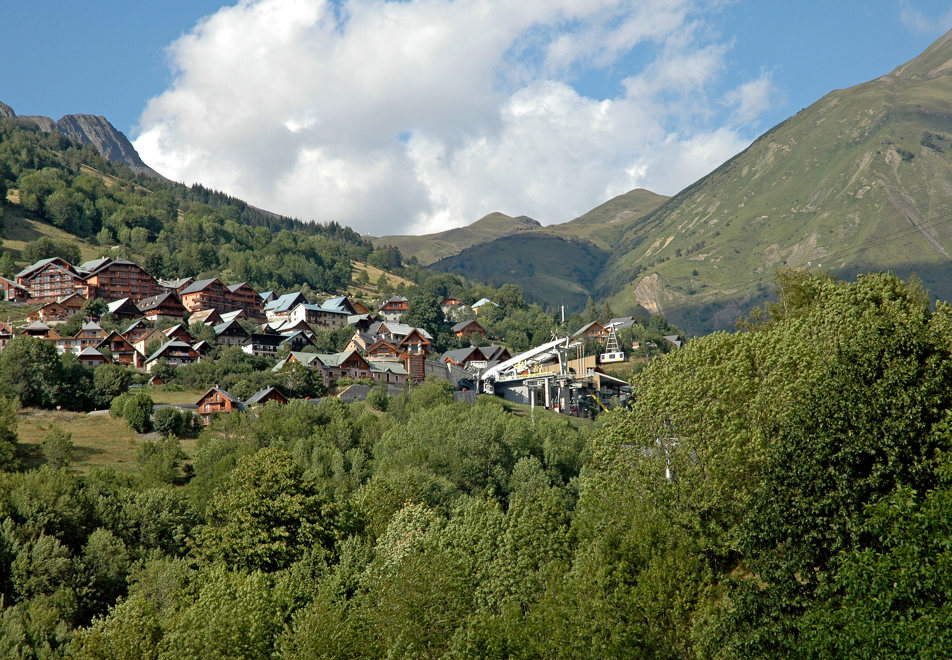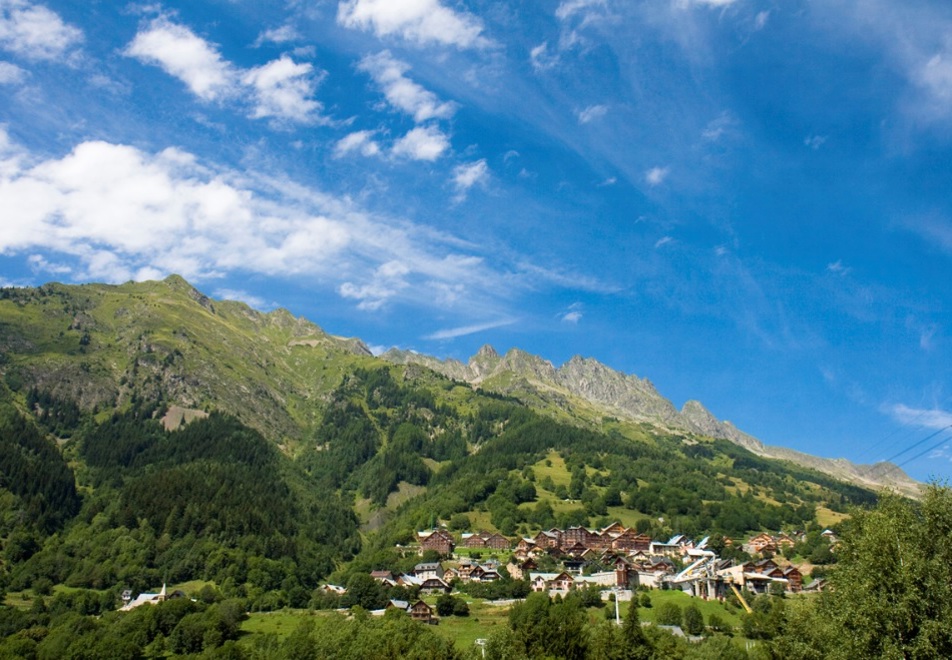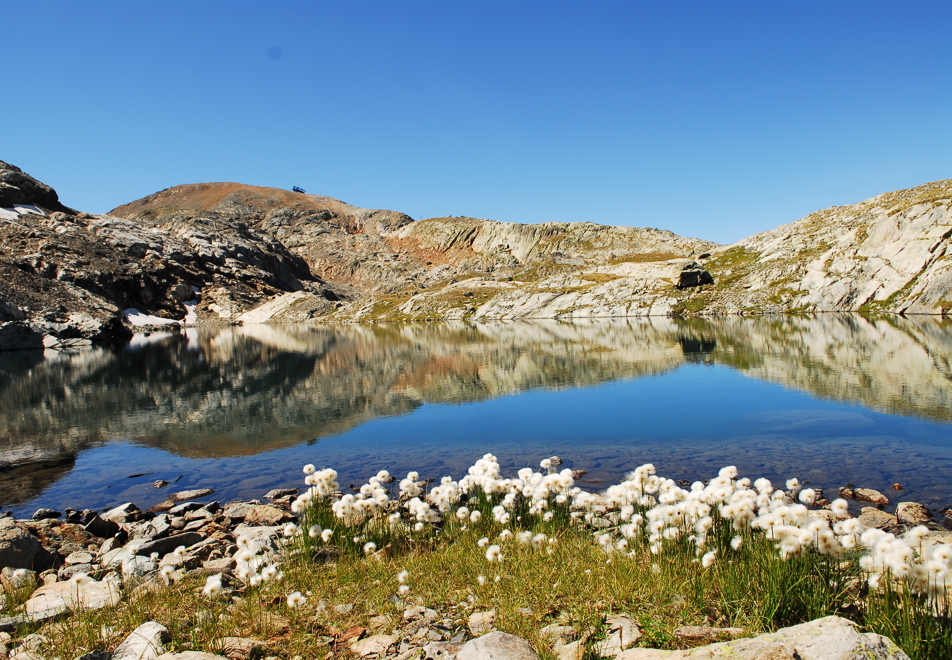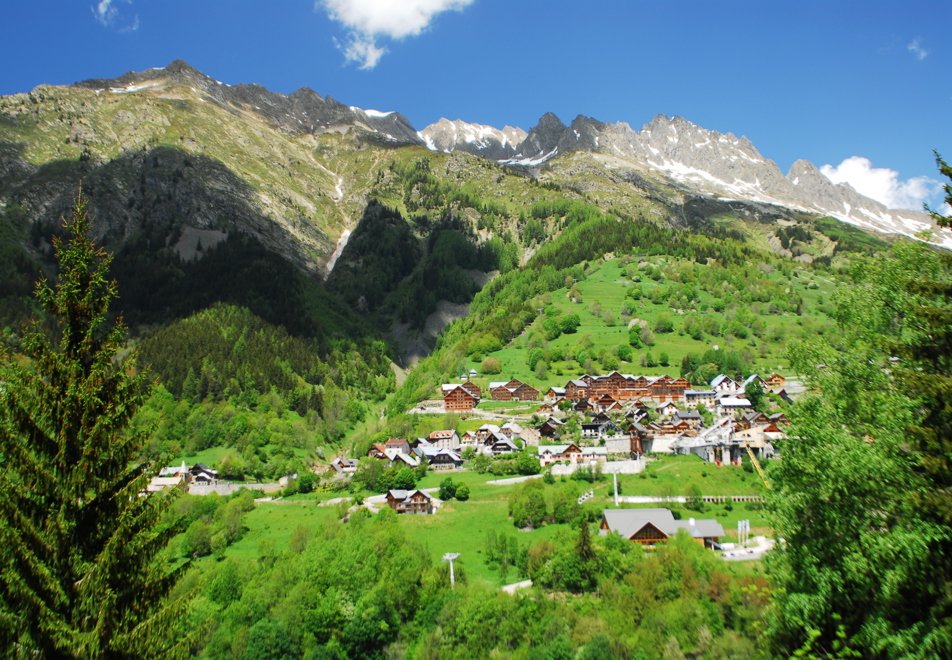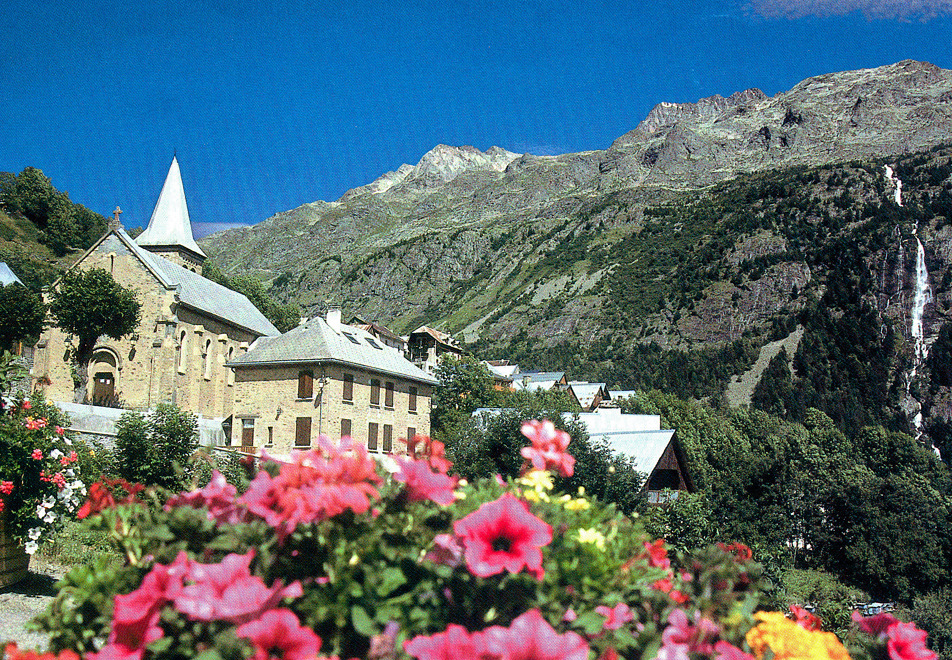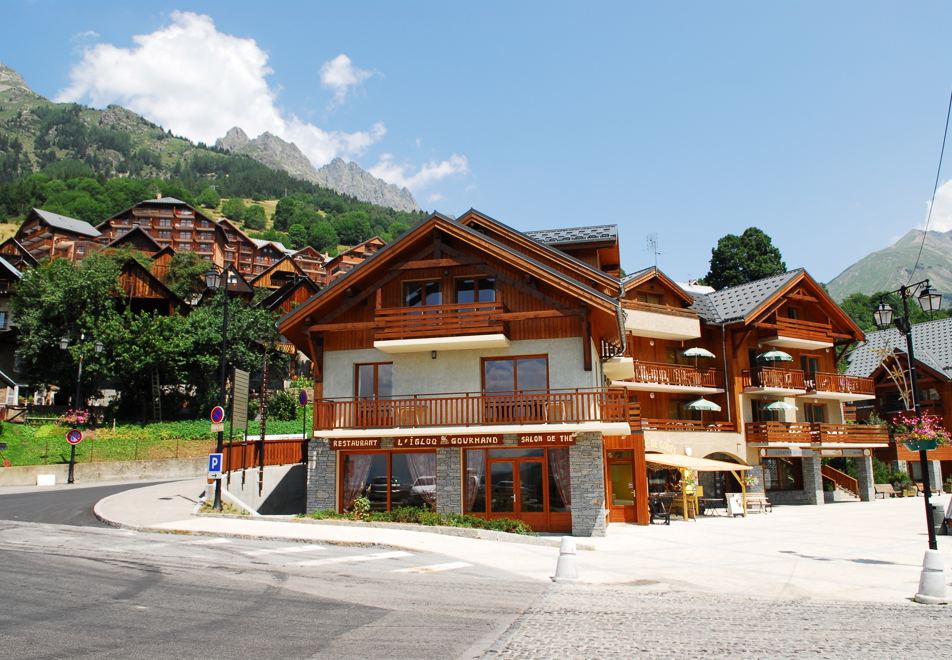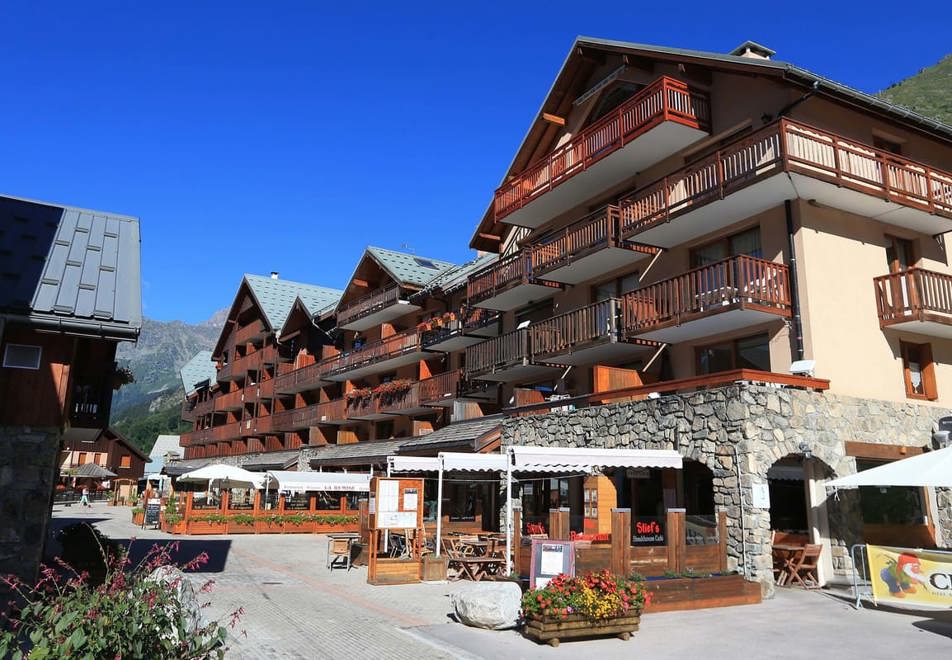 A very pretty, charming and peaceful village where farming families have lived for generations.
Vaujany takes great pride in it's efforts and success in conserving its traditional Alpine authenticity. There are traditional, almost unchanged small alpine mountain farms or crofts offering mountain cheeses, fresh butter, milk, honey, fruit conserves and a local génépi liquor made with Alpine flowers.
Vaujany is situated on a sunny slope and the village also benefits from a new sports centre with swimming pool, sauna, steam room and fitness hall. There are 90km of marked trails for solo or guided walks to experience the wealth of mountain flora and fauna, plus tennis archery, and fishing. The Alpette cable car operates from July to September to ease your ascent. Check times and prices at the tourist office. For water activities, the Verney Dam is 5km away.
The children's clubs in Vaujany are very active with professionally accompanied activities for youngsters including climbing, archery, tennis, and visits to the cattle herds with the shepherd.
Easily accessed from Grenoble (50 km) by main trunk road, Vaujany has a long history as a traditional Alpine village.
Places of interest in Vaujany
·          Vaujany Hydro-Electric Museum: From history to modern times, see how water has been harnessed as a source of energy.
·          The Alpine Wildlife and Minerals
Museum at Bourg d'Oisans
·          Vaujany Fauna Museum
Top summer activities to experience in Vaujany
Please note Peak Retreats do not book any activities and most activities are payable. For more information about pricing and availability, please contact the Vaujany Tourist Office on 0033 476 80 72 37 or visit www.vaujany.com
Vaujany Mountain Biking
The Collet and its bike park allow beginners and families to practice without risk. The cable railway will allow the more expert mountain bikers to go off to explore all the spots of the Massif des Grandes Rousses.
During all summer, there is a Showroom of road and mountain bikes at the "place du Téléphérique". It will be possible to test the equipment as well as purchase.
Vaujany Via Ferrata
On the sides of the Massif des Grandes Rousses, this new via ferrata starts at the edge of the magnificent waterfall of "La Fare". Several practicable sections separately compose the accessible route for beginners and experienced climbers.
Vaujany Pony Rides
In the "Centre Estival du Collet"
Vaujany Indoor Ice Rink
Vaujany Swimming Pool
L'Espace Loisirs (Sports and Leisure Complex):
The main pool, the paddling pool, the toboggan, sauna, spa, hammam, health/fitness centre. 
- The Main Pool: 25-metre length with four lanes for competition swimmers
- The Toboggan: hair-raiser slides for daredevils
- The Paddle Pool: for the children
- Waterfall
Vaujany Bowling
4 lanes bowling. An inclined elevator link from Center to the cable car station.
Bars,restaurants, discos, shops, Espace Loisirs sports centre
Mini-supermarket (Sherpa), cash point (Place Centre Village), self-service laundry (Galerie Marchande and Place Centre Village), bakery, two sports shops, sports and leisure complex.
Launderettes Place de la Fare and Place du Téléphérique.
Free wifi access Place du Téléphérique and Place de la Fare.
Free covered car park at Place de la Fare and place du téléphérique. Open daily
Cash point Route des Combes
By Road:
Driving distance from Calais to Vaujany 566 miles (approx 8hrs)
From Calais, take A26 Motorway towards Reims and Troyes, then Dijon, Lyon, Grenoble.
Follow the RN91 towards Briançon and then Vallée d'Olle to Vaujany.
Vaujany is 50km from the motorway exit to Grenoble.
By Rail:
Grenoble (3hrs from Paris by TGV). Peak Retreats can arrange your Taxi with Alp'Taxi Esposito please enquire for prices. Car hire can also be organised.
Airports:
Grenoble (St Geoirs) 96km (1 hour)
www.grenoble-airport.com
Chambery Airport is 121km from Vaujany (1 ½ hours)
www.chambery-airport.com
Lyon Saint-Exupéry 144 km (2 hours)
www.lyonairport.com
Geneva 205 km (2 ½ hours)
www.gva.ch/en
Car parking:
Free covered car park at 'Galerie Marchande', 'Le Rochas' and 'Place Centre Village'.
Around the village
Courtesy mini train in the village to get around without the car.
Need an Airport Transfer? Prices from £97 per person based on 4 sharing a private return taxi from Grenoble Airport to Vaujany. Other airports include Lyon, Chambery and Geneva. Call our reservations team for details on 0844 576 0170 or email reservations@peakretreats.co.uk